With this data in hand, you can target your ad campaigns at the entrepreneurs, for example, who may be interested in the corporate software which you promote. You can also tailor the emails specifically for marketers and entrepreneurs who likely face a problem that your marketing tool can easily solve. The specific work-related information about your customers opens up incredible opportunities for marketing personalization.
Objectives, values, and pain points
Now is time to reveal your inner human-nature researcher. Interview your existing and prospective customers to identify their behavioral drivers, motivations, and life goals. Define your buyers' values to make content even more persona-specific.
With a whole lot of empathy, you should step into the customer's shoes and strive to understand the main pain points. It will help you find out how your brand can help prospective buyers reach their goals and overcome the challenges.
Here you can check a free persona template created by HubSpot (again). It is an excellent example of how you can structure the target audience's goals and pain points.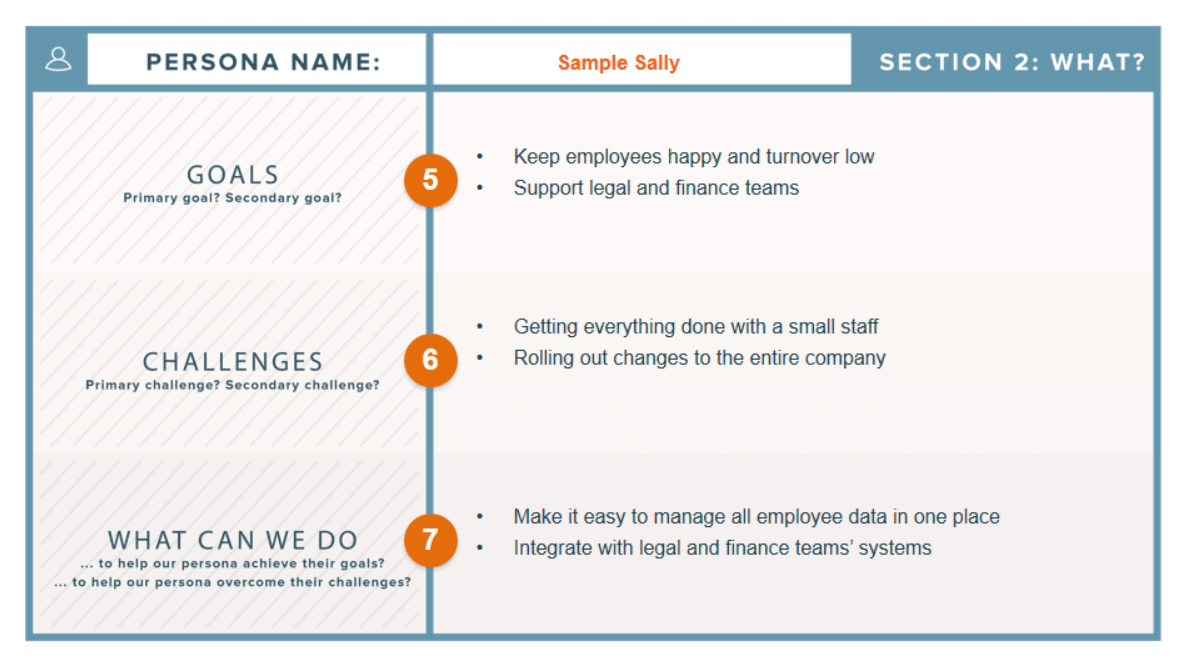 How to Create a Buyer Persona?
Way 1. Dig into your website analytics

Discover your target audience by checking your site analytics. There you can see where these people have come from and what keywords they used to find your products or services. This information is especially precious for a customer persona since it shows your customer's needs and desires that led them to your company's site.
Way 2. Social media research
You can use social networks as a social listening tool. You can ask your followers specific questions, monitor their comments and reactions, and air the problems which your company can solve.
Moreover, social media analytics tools such as Facebook Audience Insights or statistics on Instagram can give you plenty of demographic data, information about the customers' main interests, and lets you tap into what kind of content evokes the most engagement.
Way 3. Interview your existing customers
Your customers are the most abundant source of insights. If you can not find whatever you need in the analytics, you can ask your customers directly. Send the questionnaires via email, ask people to specify some information when they subscribe to your newsletter or even conduct real interviews with customers.
Marketers should also tightly collaborate with sales and customer support teams to listen to their insights crystalized during communication with real customers.
Way 4. Reach out to prospects
If your company has just started entering a market and does not have customers yet, you can interview people who could fit into your customer personas. You can start by interviewing your employees that have some similarities with the targeted persona. Talking to real people who share similar opinions on a product as the independent reviewers may be extremely useful.
Conclusion
Finally, give a name to your customer persona and let your marketing team understand that this a real human with real needs, desires, and goals. We should keep in mind that we create for human-beings, first of all. A more humanized approach is the number one demand for business success today.
In this article, I overviewed buyer persona elements and the best practices to create a list of personas for your business. I hope that these persona examples will be helpful in your research. Apply the presented free persona templates inside and start building a realistic image of your target audience that will help you understand people who you devote your marketing to!