Content marketing is, without a doubt, a very powerful tool that can boost your brand's recognition and help reach larger audiences.
However, it's only efficient and capable of driving business results if you know how to use it properly. Here's where many companies stumble upon a bit of a problem: how to successfully and cost-efficiently implement a marketing strategy without having to acquire additional knowledge on the subject in addition to composing a scalable content team? 
*Outsourcing content marketing enters the room*
Yes, there are multiple benefits of outsourcing content marketing, and I'm going to explain them in detail. 
Generally, you'll learn:
What is outsourcing content marketing?

Why outsource content creation?

Where to find competent outsourcing content creators?

How to choose and hire an outsourcing marketing agency?
Let's dive into it right away!
What is Outsourcing Content Marketing?
Content marketing is a strategic approach that involves creating various materials (blogs, videos, social media posts, etc.) aimed at promoting the brand in question. Using online media tools, you incite curiosity or interest in potential clients. This type of marketing builds your brand's web presence and helps it become more recognizable on a local or global market. 
The CMI report suggests that over 79% of B2B marketers have an integrated content marketing strategy, and over 85% of respondents consider their strategy moderately to very highly successful. Thus, content marketing keeps proving itself to be a very useful tool when it comes to brand recognition on a large scale.
So now that the benefits of content marketing are clear, let's answer another important question: what is outsourcing content marketing? 
You see, not all businesses have the resources, time, or desire to manage a full-on marketing department, and nowadays, that's not a complete must. Thus, they prefer to delegate the development and implementation of their marketing strategies or separate tasks to professional third-party service providers, be they a freelancer or an agency. The process of assigning some business processes to another executor outside your organization is called outsourcing.
The good news is that there are various tools and solutions that you can turn to these days if you want to improve efficiency and successfully manage outsourcing projects, such as HiByron. The right platforms can save you a lot of time, and can make managing your projects far easier.
Other CMI statistics report that 49% of respondents say their company outsources at least one content marketing activity. And interestingly enough, large companies are more likely to outsource. 
Outsourcing content creation is by far the most popular service (86% out of all outsourced activities), followed by content distribution (30%), followed by editorial planning (11%). This means that this particular activity is cost-efficient and compatible in regard to being delegated to a partner.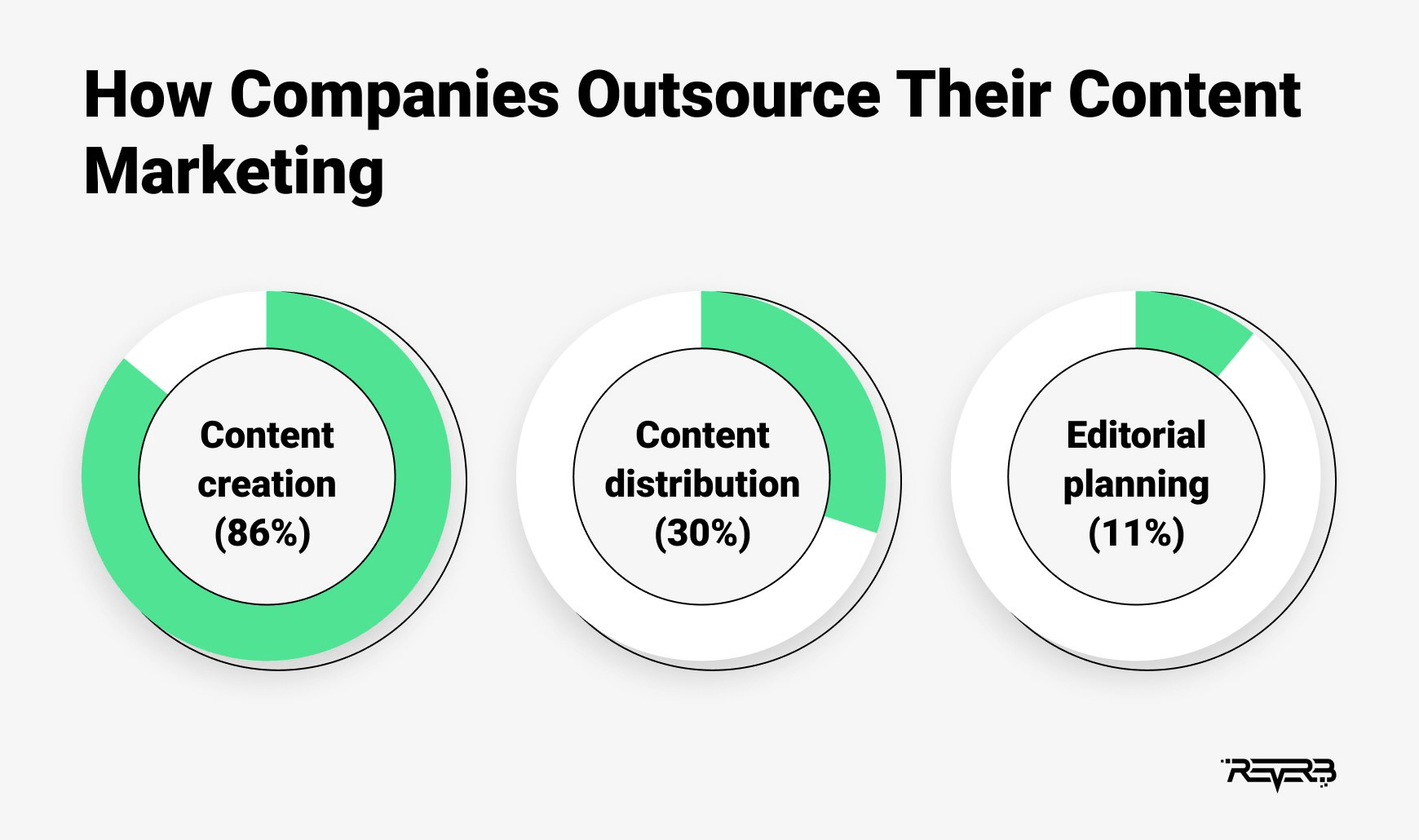 Despite the fact that many businesses are hesitant to embrace outsourcing as an effective game-changer due to a lack of trust or clear return on investment metrics, I want to show you that this mode of cooperation has multiple advantages that are hard to overlook. 
Why
Outsource Content Creation
?
There are several reasons, which can shed some light on why outsourcing content to a marketing agency is a perfect option for your business: 
1. Versatile range of services
Not only can you delegate a couple of activities that your company struggles with the most, but it is also possible to get the full range of marketing services under one roof. 
The list of services offered by marketing agencies is quite impressive and includes such content creation activities as: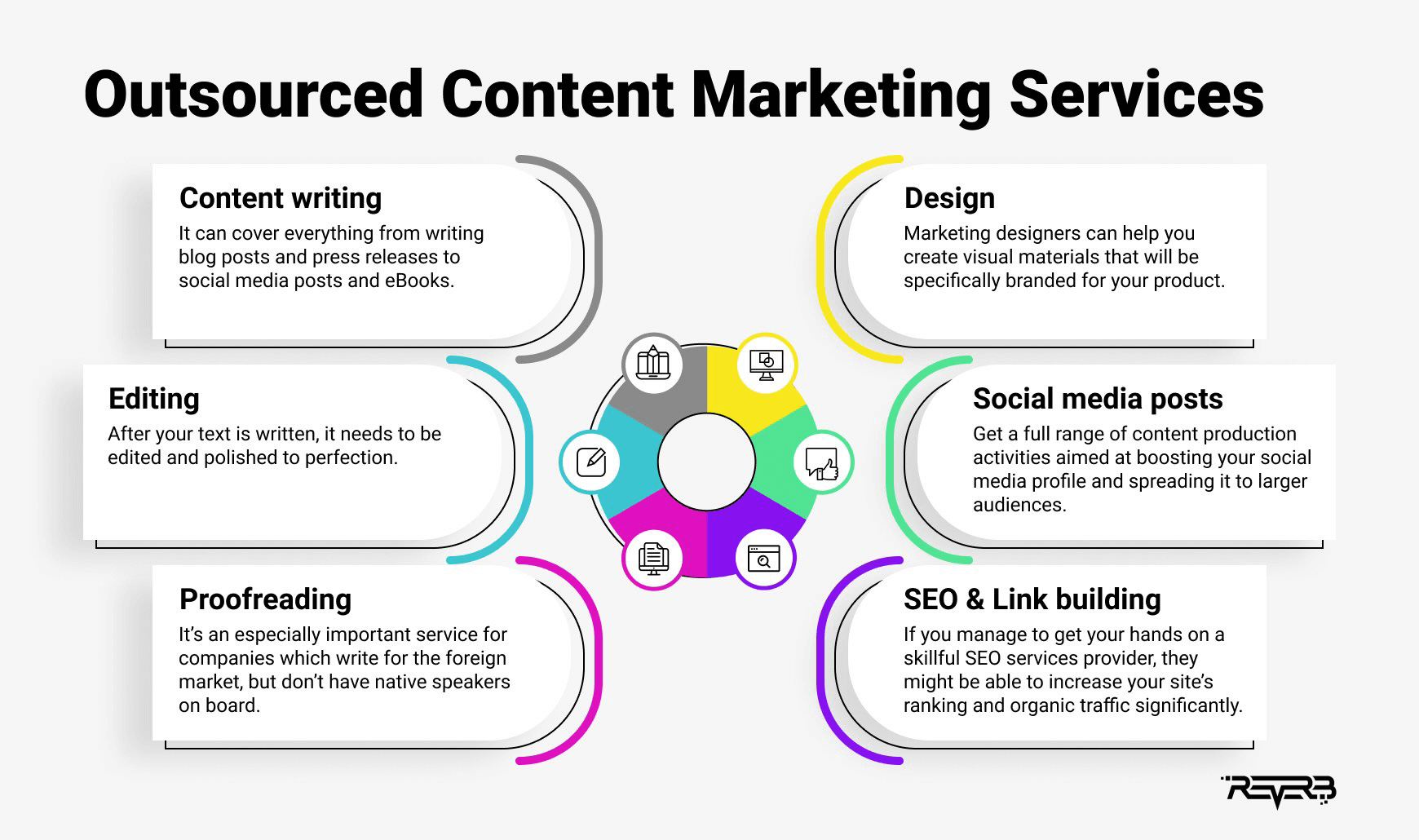 Content writing:

For many companies, it is one of the most frequently delegated tasks. It can cover everything from writing blog posts and press releases to social media posts and eBooks.

Outsourcing

article writing

can easily help your blog expand very rapidly! 

Editing:

After your text is written, it needs to be edited and polished to perfection, and that's where an experienced

copy editor

steps in.

Proofreading

: Even when you have the most talented writers and editors, there's no way to guarantee the copy will be "spotless" unless you hire a proofreader to keep an eye on grammar and syntax. It's an especially important service for companies that write for the foreign market but don't have native speakers on board.

Design

: This is another popular activity that is often outsourced.

Marketing designers

can help you create visual materials that will be specifically branded for your product.

Social media posts

: Here, you get a full range of content production activities aimed at boosting your social media profile and spreading it to larger audiences.

SEO & Link building:

This skill is not easy to come across in a usual content strategist. However, if you manage to get your hands on a skillful

SEO services provider

, they might be able to increase your site's ranking,

Domain Authority

, and organic traffic significantly.
2. Lower cost of
outsourcing content creation
in comparison to hiring an in-house writer
As mentioned before, insufficient ROI metrics can become a reason for a company to turn to a marketing agency. And here's the deal: outsourced content writing is actually considerably cheaper and, quite often, faster!
A respectable marketing agency dispenses a handful of competent and experienced writers who are familiar with SEO principles and will do a great job creating content for you. They usually work independently or on a contractor basis and don't require special training or equipment, which cuts your costs significantly. This is not just talking about spending on other social benefits that an in-house employee would require.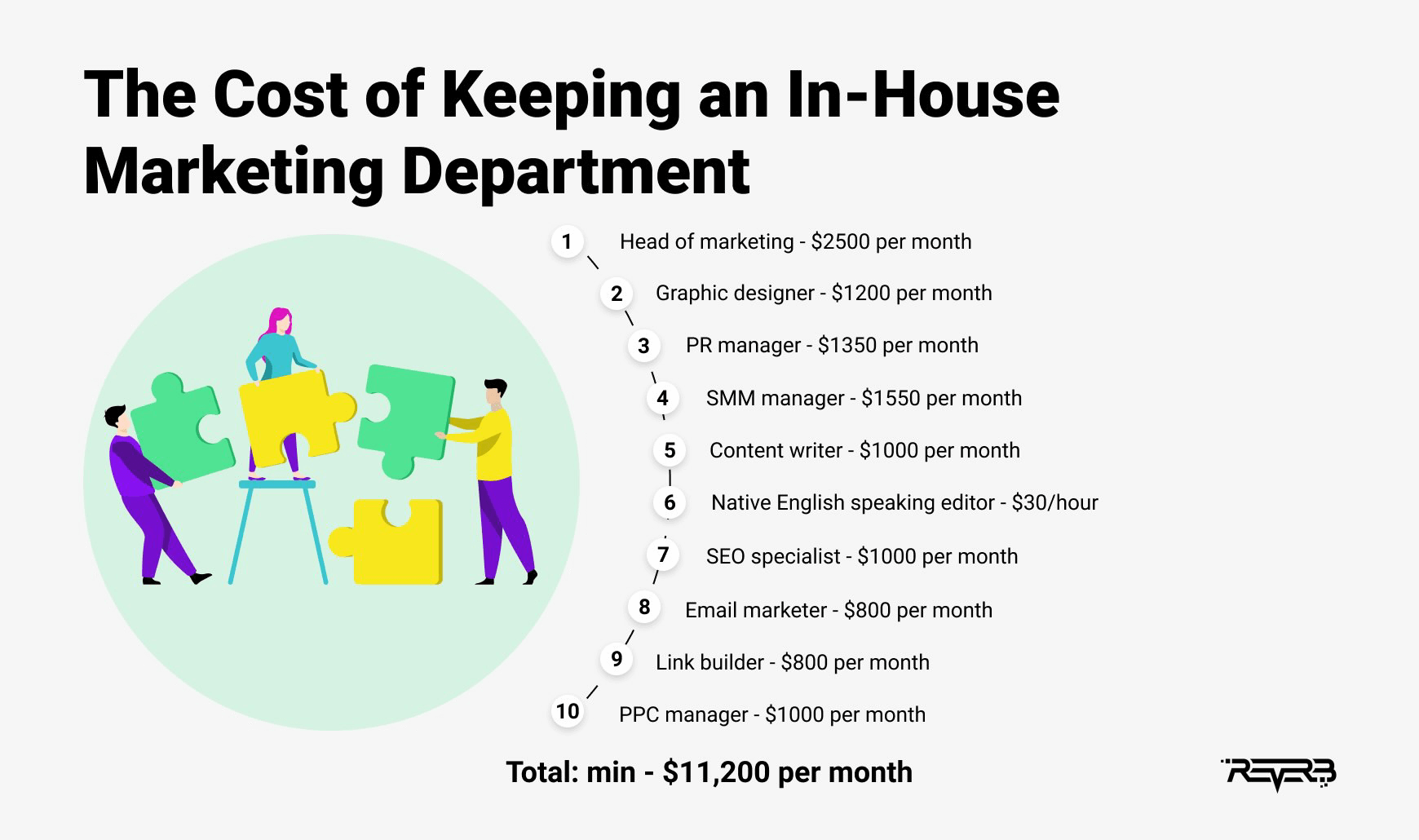 3.
Outsourcing content writing
allows you to publish more 
The well-known marketing tendency goes as follows: the more you publish on a regular basis, the more your conversion grows. However, publishing high-quality content consistently is one of the most significant challenges that any business faces. An in-house writer would require several days to provide you with a single blog post that will check all the SEO boxes. 
If you decide to outsource content to a marketing agency, you will be able to delegate a big portion of your content to several people at the same time, who will be able to do the job faster. Plus, the outsourced content creation typically includes proofreading and editing services so you get a high-quality product at the end without having to worry about a thing yourself!
4. You receive more flexibility
Yes, stability is an important factor when deciding between outsourcing writers and hiring a full-time content writer. However, what many businesses don't take into account is that along with the growth of the company, the tone of voice and its message may evolve and alter, and an in-house writer might not be able to keep up with the change.
When you outsource content writing to several writers, you have the flexibility to choose people who comply with all your requirements and deliver the message that fits the bill. The bottom line is you can choose a writer to your liking without worrying about internal staff turnover. 
5. You will get a possibility to expand your audience
One of the many benefits of outsourcing content creation is that it's usually supported by active link building. A marketing agency will help you not only prepare a top-notch piece of content but also promote and distribute it across popular media platforms.
This simple fact allows you to gain new channels and makes it easier to reach larger audiences across the internet. The more people read it, the more traffic you will be able to achieve as a result.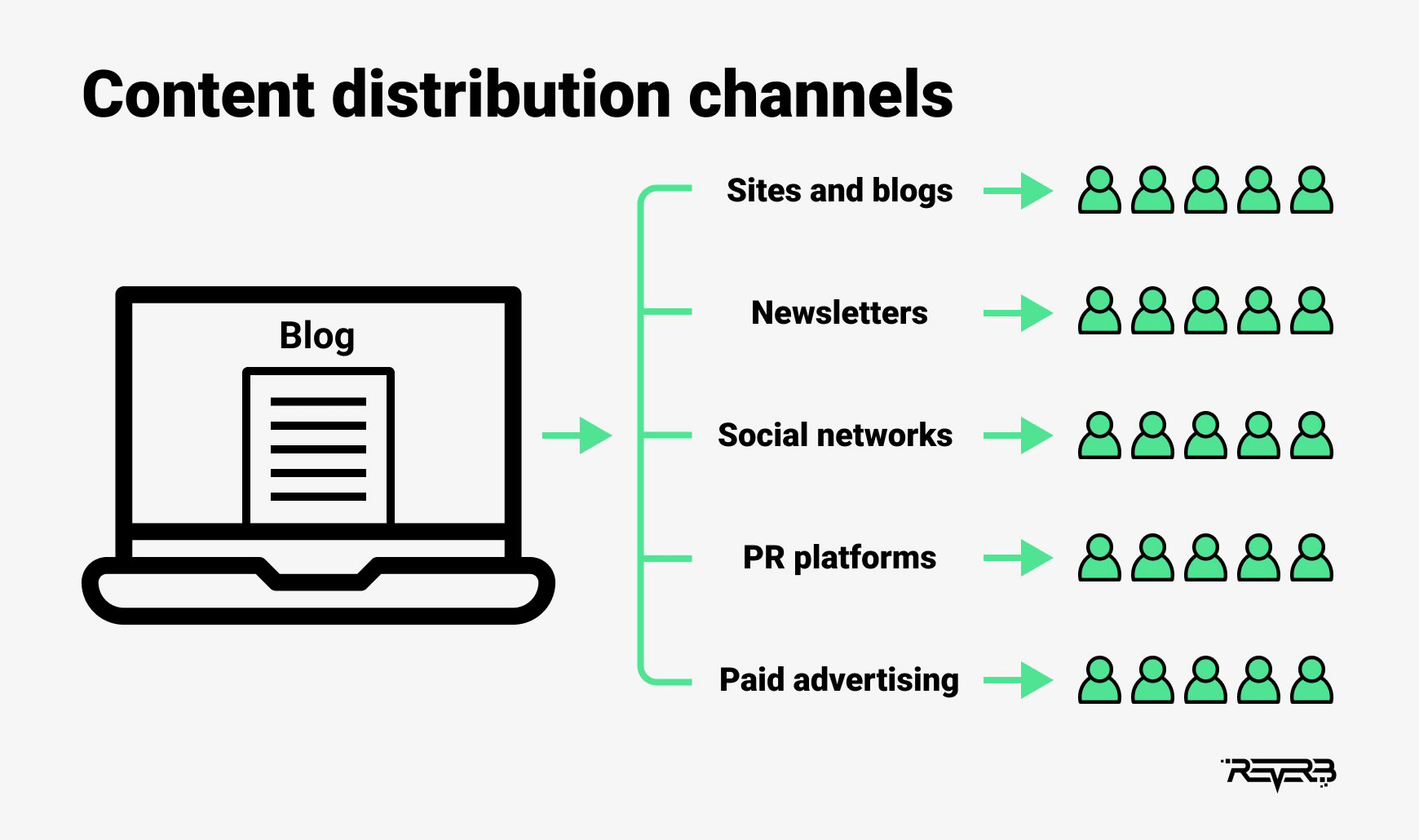 6. Content marketing strategy will increase your ROI
If you're not sure whether cooperating with a marketing agency is worth all your money, I can give you some hints on how to actually check and verify this.
First of all, any marketing agency will offer you a comprehensive marketing plan that will include strategies for your blog, social media, website, etc. If this plan is any good, it will help increase revenues and conversions. 
The indicators of a successful marketing strategy are:
Increase in likes and follows on social media.

Increase in views and conversion of a specific content piece.

Increase in your overall company revenue and so on.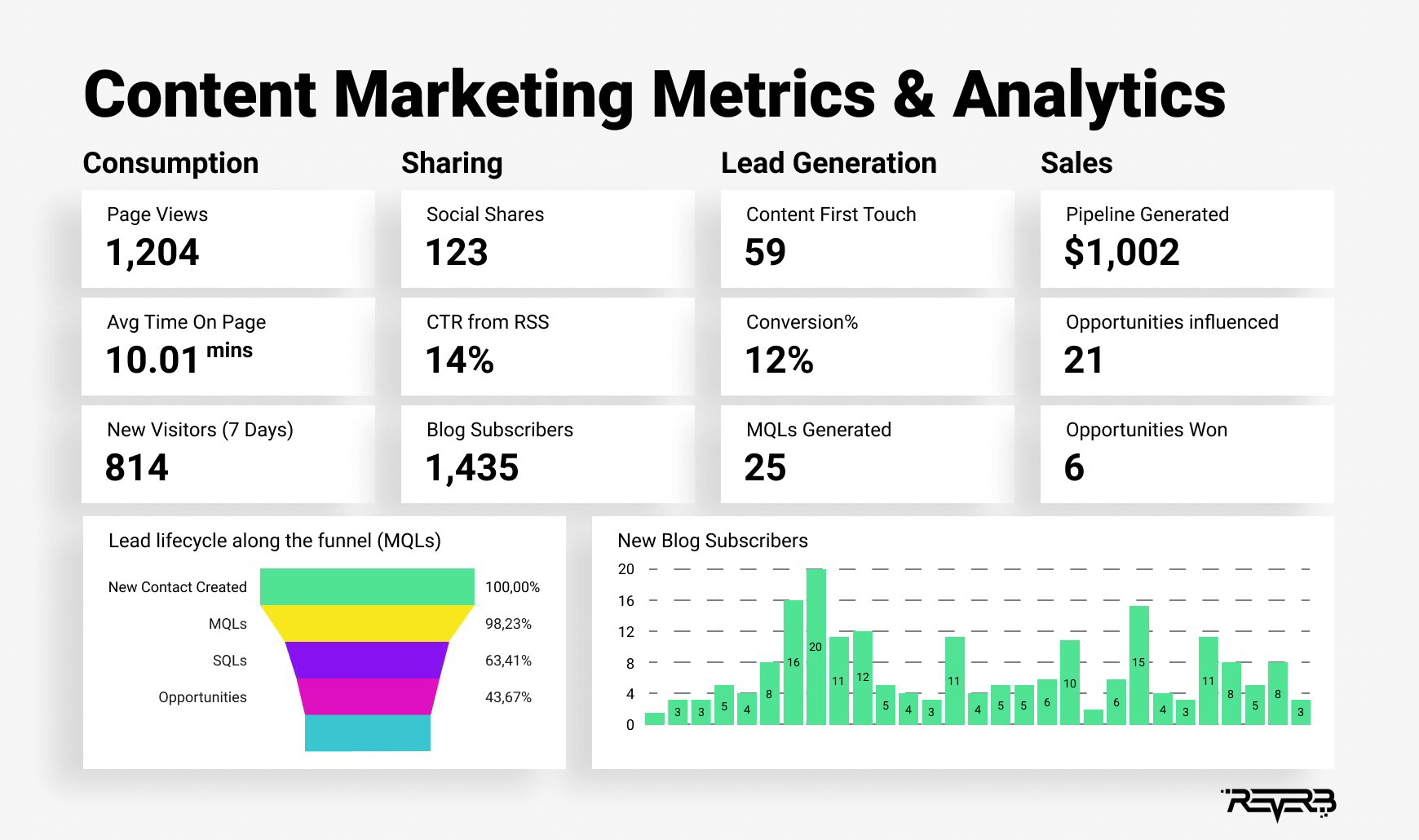 Everything described above can be easily checked using Google Analytics along with a handful of other tools. A marketing assistant will draft the statistics based on your outsourced content and show you the numbers regarding the way your revenue increases.
Where to Find Competent Outsourcing Content Creators?
Now that you know about the meaning and importance of outsourcing content marketing, you need to take care of the most important deal – finding an excellent contractor who will handle your marketing. 
The first question that might pop up in your head is where you should start looking. Well, the simplest thing to do would be to seek the required specialists on the internet. Then, you can also go searching in other places such as:
How to Choose and Hire an Outsourcing Marketing Agency?
Glad you asked. This is one of the most important questions since you need to be well-informed before you dive any deeper into outsourced content marketing services. Having a plan in place is a must, and I'm here to help you write it down. 
So let's go together over a couple of crucial steps: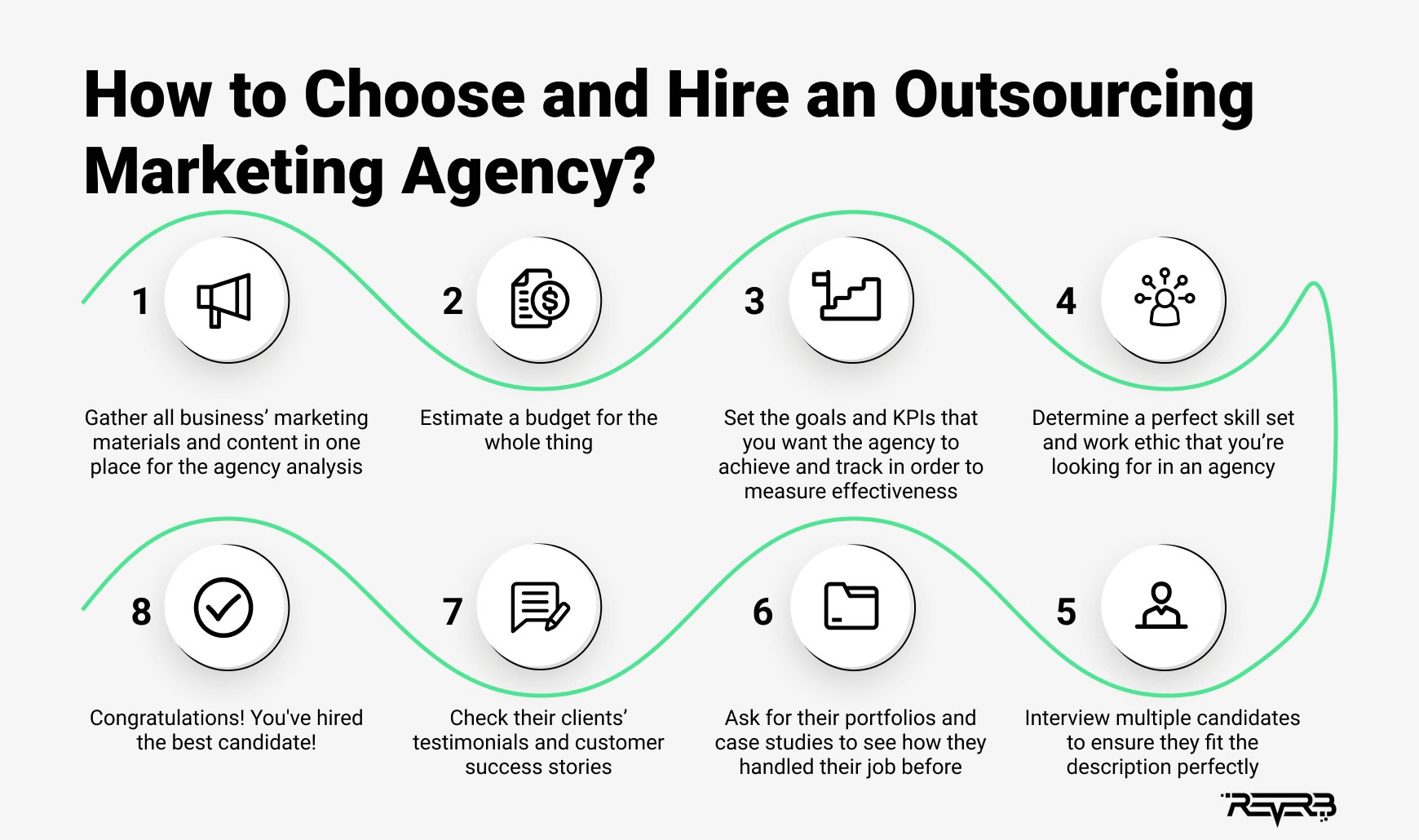 Gather all business' marketing materials and content in one place. A marketing agency will definitely need something to work off of, and if you have developed a certain online presence for your business prior to hiring new specialists, it will come in handy when trying to outline future steps. 

Set the goals and KPIs that you want the agency to achieve and track in order to measure effectiveness. 

Estimate a budget for the whole thing. 
Now, let's figure out how to actually tell if the agency/freelancer you're interested in is any good.
To tell you the truth, there's no specific rule that will help you spot a good agency or a freelancer at first sight. These things vary just as they do when you actually hire a person for a full-time job – they seem perfect during an interview, but after some time they prove to be less efficient or motivated than they previously claimed. 
Luckily for you, the modern world gifted us with the ultimate deal-breaker – internet reviews, which can shed some more light on the efficiency of an agency or freelancer in question. 
However, don't base your decision on this one factor. Use some other assessments to choose the best candidate:
Determine the perfect skill set and work ethic that you're looking for in an agency/freelancer, and interview multiple candidates to ensure they fit the description perfectly. 

Ask for their portfolios and case studies to see how they handled their job before.

Check their clients' testimonials and customer success stories.
A little piece of advice – don't settle for less. There's plenty of "fish in the sea," and the perfect partner is worth the wait.
Conclusion
In this article, I explained in detail why you should outsource content creation to specialized service providers, and I hope my advice will help you find a first-grade marketing assistant. 
Looking for a perfect partner is not easy in both business and life. It can take time, and it can disappoint you, but when you find one, there's nothing but growth that awaits you ahead. 
Lastly, if you're about to cooperate with a marketing agency, ReVerb is here to become your reliable partner! Our team of expert content creators and marketers will provide you with cost-efficient and timely services that won't cease to impress you. Sleep well while we're making the most out of your content marketing strategy!