What is the gender of your client/customer/follower? Are there more women or men? Why?
What is their average age?
How do your customers/followers start their day? What are their morning habits?
Where do your customers/followers work? How do they commute?
How many friends do your clients have? Where do they shop? How do they find new vendors?
What are your followers' hobbies? How much time do they spend on them?
Questions might vary depending on the type of product or service you provide and your primary goal in the campaign. The only thing that is essential to remember here – the devil's always in the details.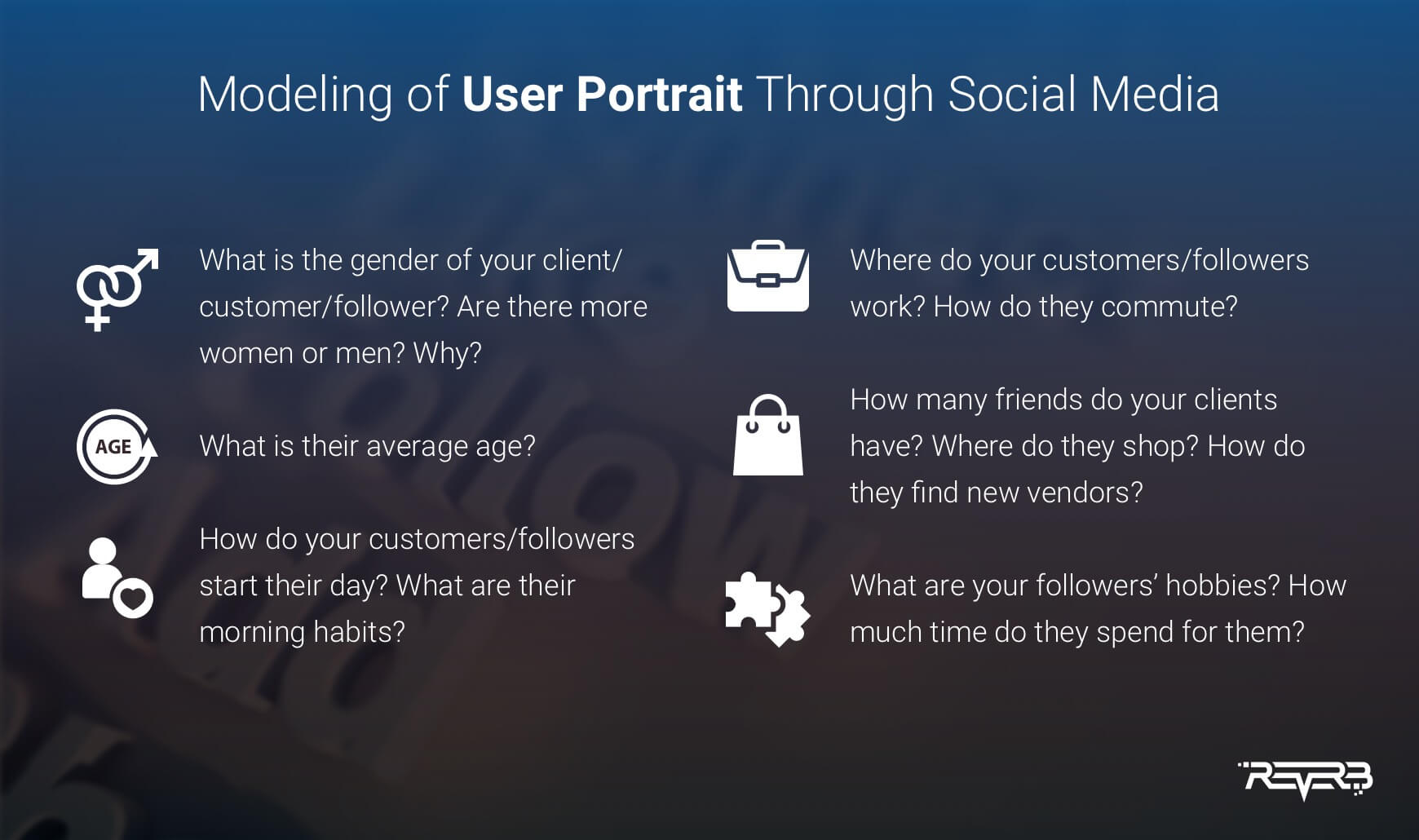 What social media channels to choose?
Even if you study social media marketing for dummies and do not pretend to be a pro, knowing all the leading social media channels is a must.
There are lots of social media platforms out there that have millions of users in their audience ready to grant you with the most valuable asset they have – their attention. With such a wide choice, you'll be tempted to opt for all of them.
Nevertheless, professional digital marketers believe that is the wrong strategy. The best solution is to focus on 2 or 3 of them to target a relevant audience.
Here is a short overview of the most popular social media platforms in 2020:
Facebook
This platform stands at the core of the majority of social media campaigns. Its audience ranges from young people to older ones, so you're sure to find your segment.
Furthermore, Facebook is loyal to businesses as it allows creating your corporate pages with all the necessary info for your customers. You can add followers to your page, manage comments, fill in the working hours, add products, etc. There is also a possibility to view statistics and measure your performance based on the engagement rate and the number of new followers.
If you want to boost your business promotion, you can also initiate an ad campaign. In such a way, you can target a specific audience based on their age, location, gender, etc. It is really beneficial when you are heading to some event or conference.
You can set up an ad campaign to target people in the venue where the event takes place, so everyone will be aware that you're nearby and want to connect.
Instagram
Even if you're a dummy in social media marketing, you've probably heard of Instagram. This social network is frequently called the most visited platform due to the highest engagement rate in the market.
Instagram is quite popular among online store owners and businesses operating in the fashion & beauty industries. When you ask what a successful social media marketing campaign for Instagram is, the answer is to show as many attractive photos and stories as possible.
There are lots of apps and extensions designed to assist you with social media metrics evaluation. The most popular are InstaFollow, Crowdfire, Squarelovin, Hootsuite, etc.
Twitter
Twitter is about speed and news. It is often called the most dynamic social media platform. You have only 140 characters to craft a message and initiate discussion to engage your audience.
So, what is a social media campaign for Twitter? Be provocative and concise at the same time, trigger conversation and speak to your customers.
LinkedIn
Are you running a B2B business and want to get in touch with your target audience online? Then this platform is for you. Designed for recruitment purposes, LinkedIn evolved as a social media platform where you can enrich your network, build working relations, find vendors, speak to recruiters, and find relevant educational materials.
So, if you're looking for the ways to connect with businesses worldwide, consider this platform while creating a social media campaign for your brand.
TikTok
A successful social media marketing strategy means you catch up with all the relevant trends that your audience supports. TikTok is perhaps one of the trendiest social networks among youngsters, and it's not going away.
While some skeptics considered TikTok to be a useless platform for kids and teenagers, companies have already realized its potential and use it to spread viral content.
Nike, Pepsi, and Skittles are just a few brands that revolutionized the social marketing landscape with their promotional videos, and you can become the next to create hype here.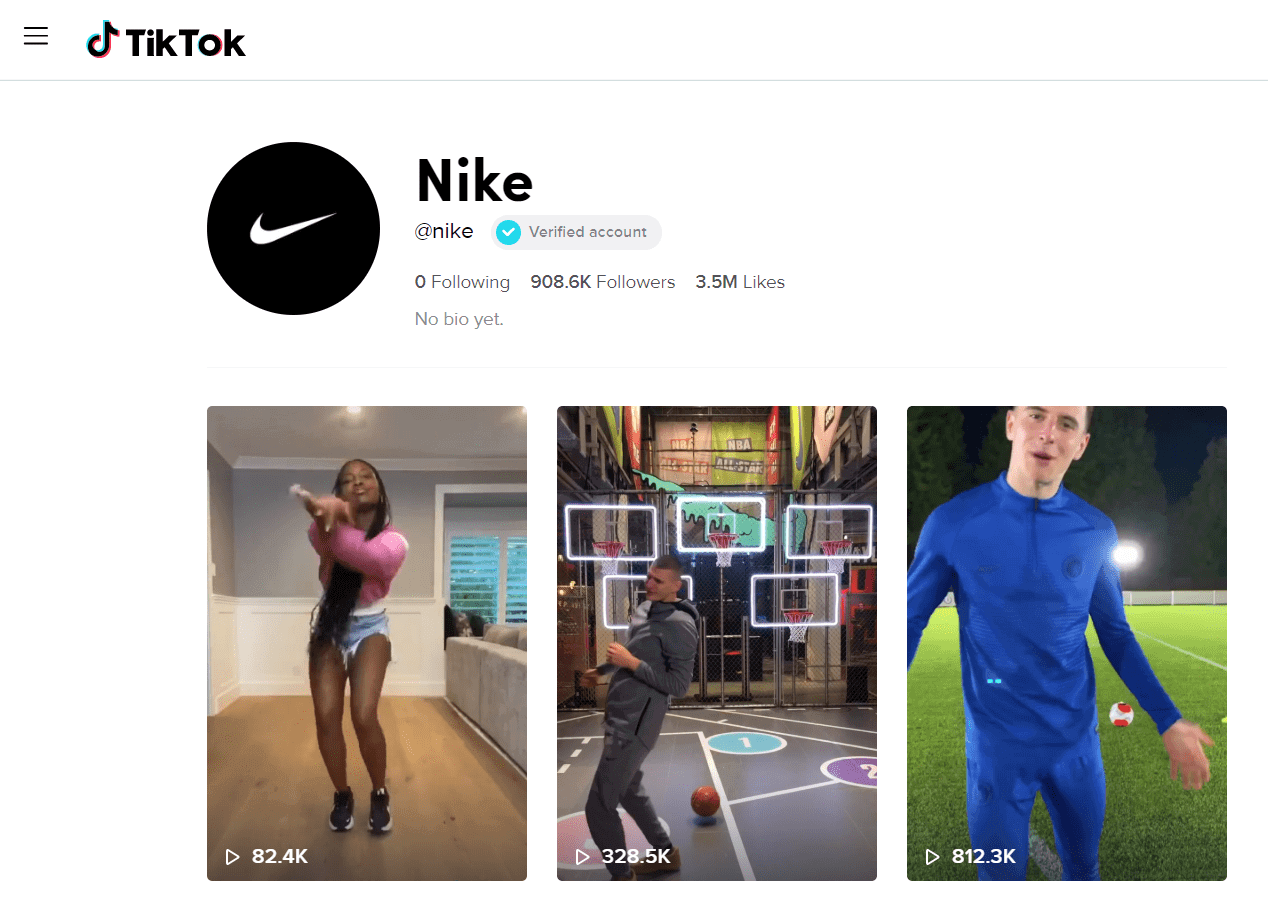 YouTube
When we talk about video content, YouTube is the platform that cannot be omitted. With billions of channels on the net, it stands out as the most popular and impactful social media that has already transformed the media industry.
By providing YouTubers with a possibility to monetize their content, it enables journalists, activists and all content makers to express their ideas without the fear of being banned due to censorship policies.
If you're just a dummy in social media marketing, YouTube is not something you can master quickly and easily. That's why we've prepared this ultimate guide to YouTube marketing. Learn how to develop a cutting-edge video marketing strategy and capture YouTube in 2020.
Also, keep in mind that the platform has a number of rules on the use of audio and video content, such as songs of famous artists or video clips. You can easily be banned for breaking the rules, which will cost you a fortune in the end.
Finally, we recommend you pay attention to targeting. If you don't find your audience with the first video, you might end up showing irrelevant content to your viewers.
Pinterest
Since Pinterest places much focus on saving content rather than distributing it, there is not much room for social media marketers. However, there are some brands, which use the power of visual content to create successful social media marketing strategies for their businesses.
For instance, Forever 21, a renowned brand of clothes and accessories, regularly posts pictures of its new collections on Pinterest to motivate users to buy those items.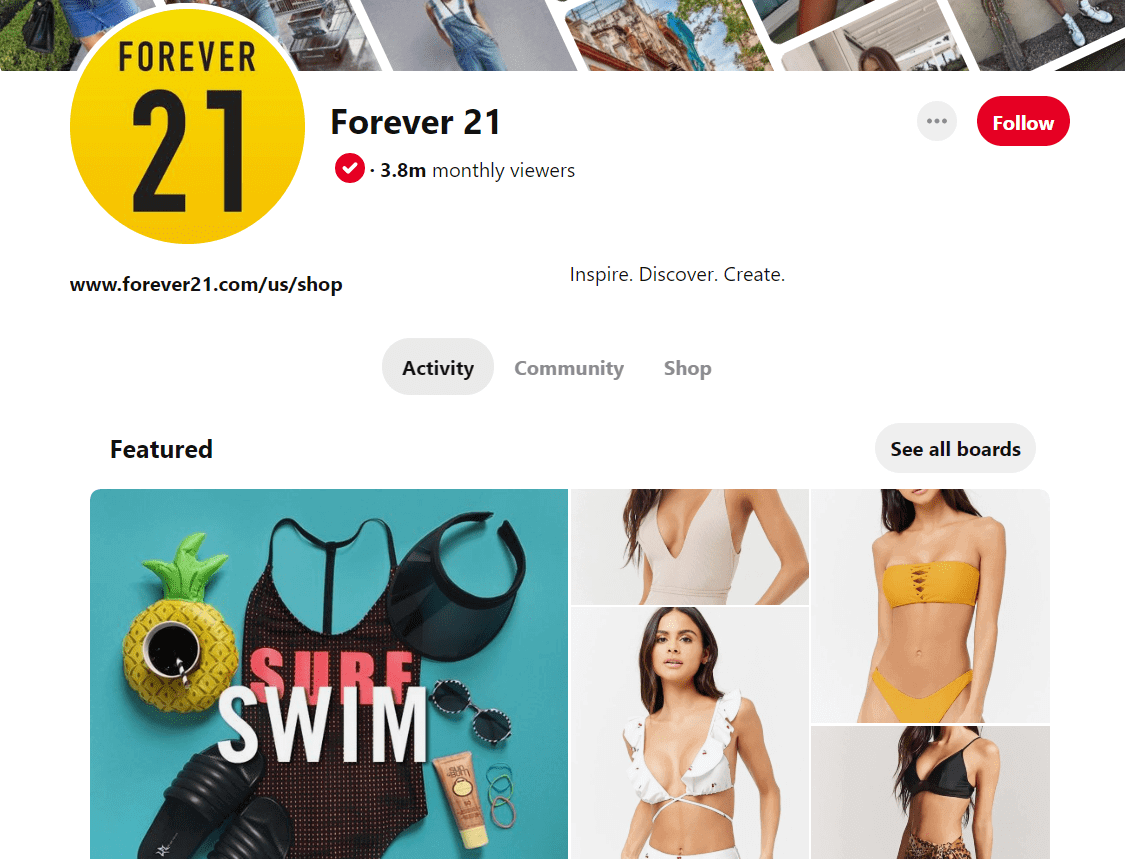 What are the basic activities in social media marketing?
When you have selected platforms to promote your brand, it is time to decide what you're going to do to promote your company and reach the goals you've set.
There is a list of social media activities you can undertake:
Share Branded Content. Create valuable content for your users to increase the engagement rate. For instance, many companies distribute their blog posts to drive traffic to their websites and make the audience interested in their services. The research shows that the best time to make a post is on Tuesdays and Thursdays.
Produce Videos. According to numerous studies, videos are more popular among users than other types of content. They are entertaining and visually appealing, so your customers are more likely to watch them rather than spending time on reading a long post.
Organize Giveaways. Everyone likes gifts, so do your customers. Organize a giveaway to get noticed and stand out in the crowd of your rivals.
Work with Opinion Leaders. Opinion leaders are hard to reach and difficult to work with. Keep in mind that they won't promote your brand if they don't like the product or service. But if you manage to talk them into it, your efforts will be profitable.
Stream Video Content. Are you visiting a famous event? Stream from your presentation or some fascinating show to your customers. You'll create valuable content for them, which your followers will definitely rave about.
Hold Contests. It's one of the most engaging social media marketing ideas. By inviting users to take part in your branded contests, you improve the visibility of your company page and build new relationships.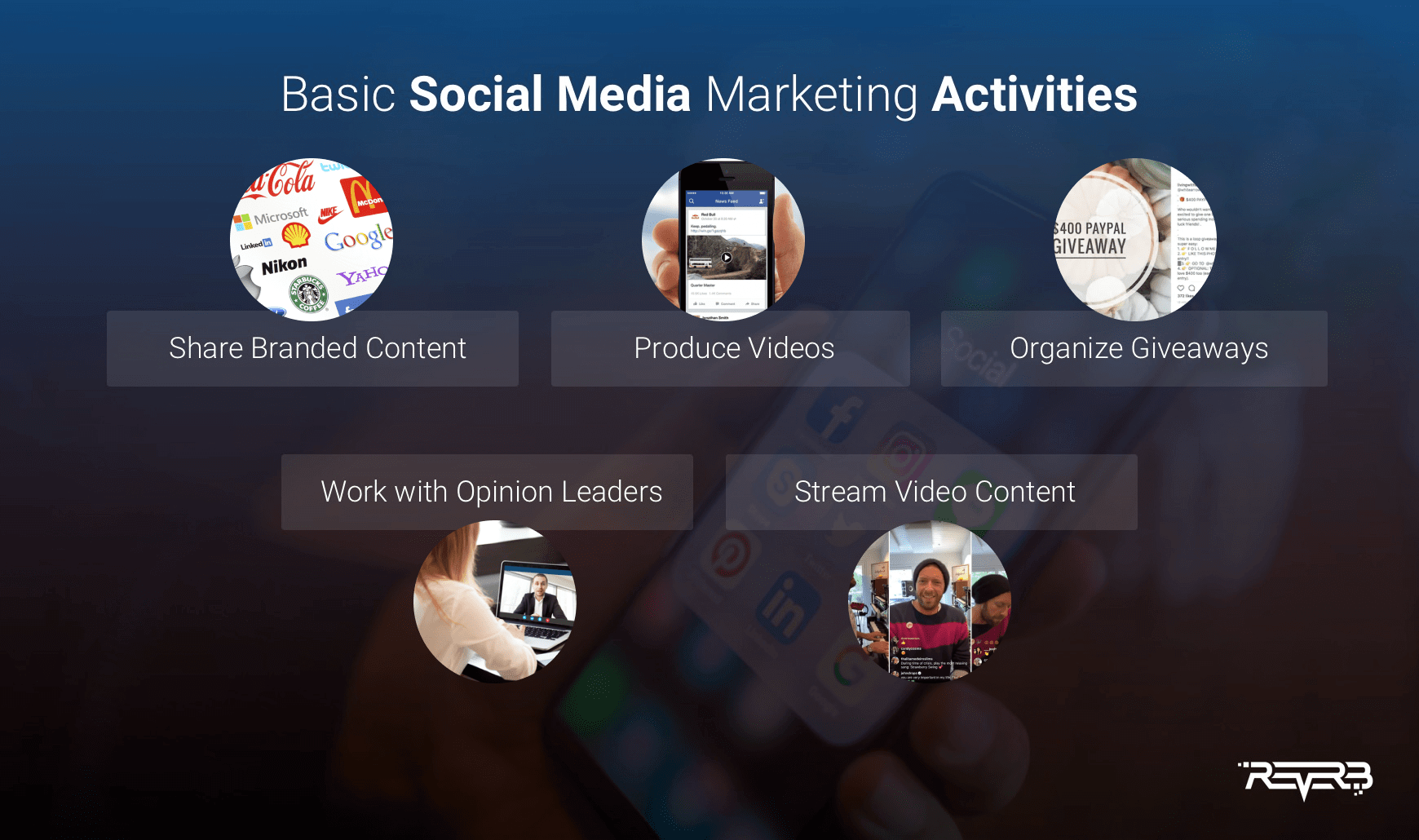 A media plan template that will organize your work and save your time
Whether you're a dummy in social media marketing or an experienced professional, you'll definitely need a media plan to keep track of all the activities on the net.
Together with our high-end team, we created a media plan template to assist you with this task (Copy this sheet and enter the actual data according to your social media marketing strategy and calendar):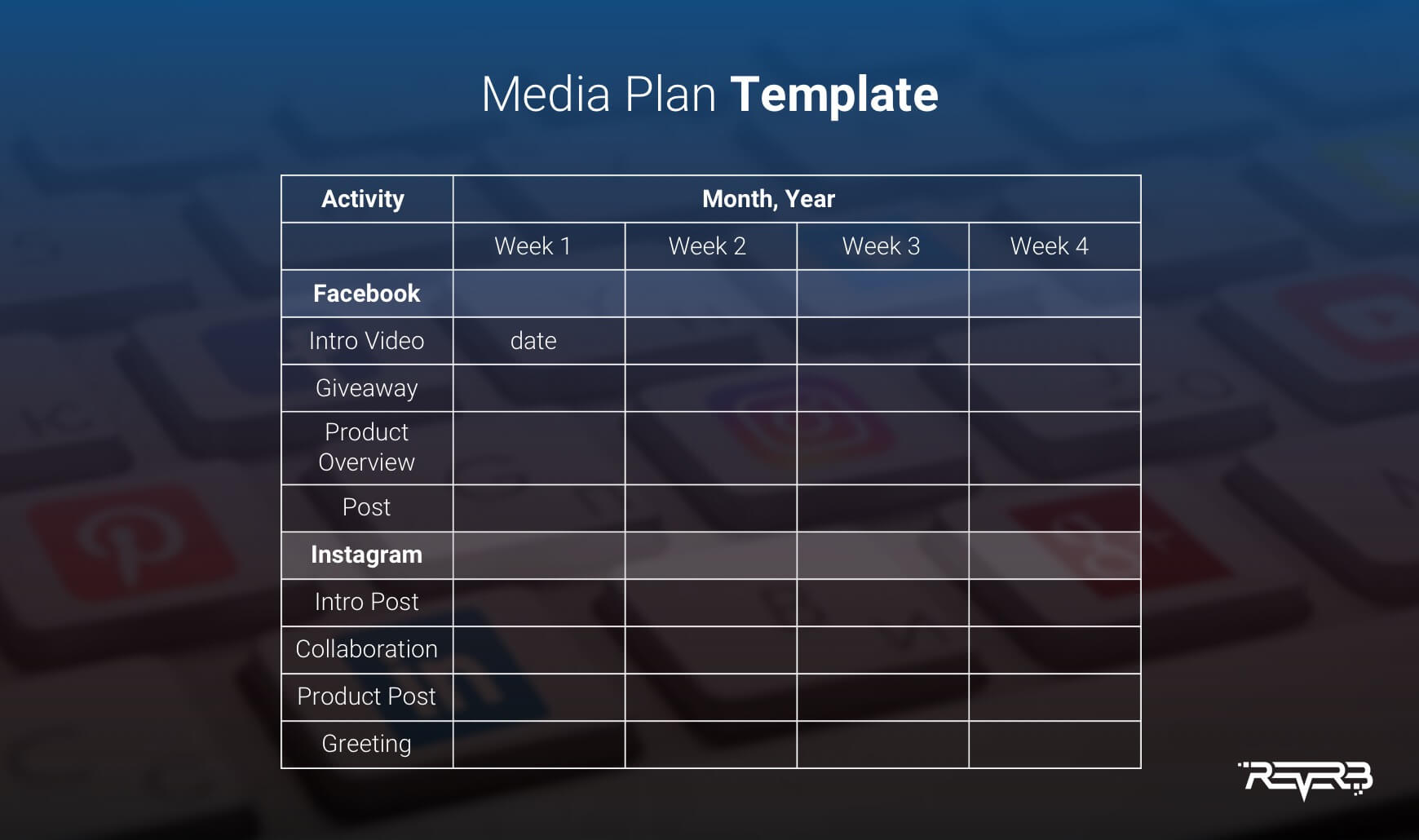 Conclusion
Social media marketing may become a helpful tool in the hands both of dummies and professionals. We equipped you with all the necessary knowledge to create a successful social media campaign that will help you to get noticed in the digital landscape.
Now you're aware of all the popular social media channels, know how to choose them wisely and have a well-structured media plan template ready to be filled in. In case you still don't have a clear idea about where to start, Reverb, one of the top social media marketing agencies, will gladly help you take the first and next steps!