One of the most prominent benefits of investing in great content is its enormous potential for building brand awareness and generating organic traffic to your website. 
Moreover, when combined with the right conversion rate optimization strategies, content marketing can allow you to attract, impress, and convert your target audience into long-term customers. And it can do all this in a way that won't completely deplete your marketing budget.
But what many business owners (and even some professional marketers) often forget is that there are additional ways that content can benefit your brand. It can improve engagement and product buy-in or even directly contribute to conversions. And, sure, great content usually does a good job of driving engagement and conversions. 
If you're looking to maximize the effectiveness of your content strategy, the following tactics will help you get the biggest bang for your buck.
8 Proven Tips To Make The Most Of Your Content Strategy
1. Boldly take advantage of readers who are ready to convert
One of the best ways to guarantee that your content marketing efforts deliver positive results is to approach the production process with a user-first policy. 
To accomplish this goal, publish posts that genuinely benefit your prospects. This can happen through educating readers, which has been shown to improve conversion rates by an impressive 131%. 
You can use your brand's blog to help prospects make better purchasing decisions, driving them to perceive your business as trustworthy. Or, you can provide web visitors with valuable resources that solve their pain points, facilitating brand credibility and encouraging potential customers to keep returning to your site.
However, if you're looking for an advanced strategy for publishing content that directly contributes to your site's conversion rate, invest in at least some resources optimized for the transactional type of user intent.
Yes, indeed, sales shouldn't be the primary objective of your content strategy. In fact, aggressive sales methods rarely work, with their most likely outcome being consumer withdrawal. Nonetheless, this doesn't mean you should never promote your products through your content. 
As a rule of thumb, you should try to use one out of every five or ten blog posts to assertively put your product in front of your reader and boldly describe its advantages. 
No, this won't contribute to your main content marketing goals. But it will allow you to nudge frequent web visitors towards a conversion or encourage first-time visitors who are ready for an impulse purchase to try your products.
An excellent example to learn from:
A superb example of a brand doing precisely this comes from Transparent Labs. In its What Is the Best Creatine Supplement article, TL aims to educate readers about different creatine formulations. 
But in addition to this, it also uses multiple opportunities to promote and discuss its products, complete with product links and conversion CTAs. For instance, while discussing the supplements that can improve the benefits of creatine, the post links to the brand's Glucose Disposal Agent product page. 
Moreover, the bottom of the page directly discusses the Transparent Labs Creatine HMB product, explaining why it might be a bit more expensive than competitor products and quoting some of its research-backed benefits, like the addition of hydroxy-methyl butyrate, which enhances the effectiveness and absorption of creatine monohydrate.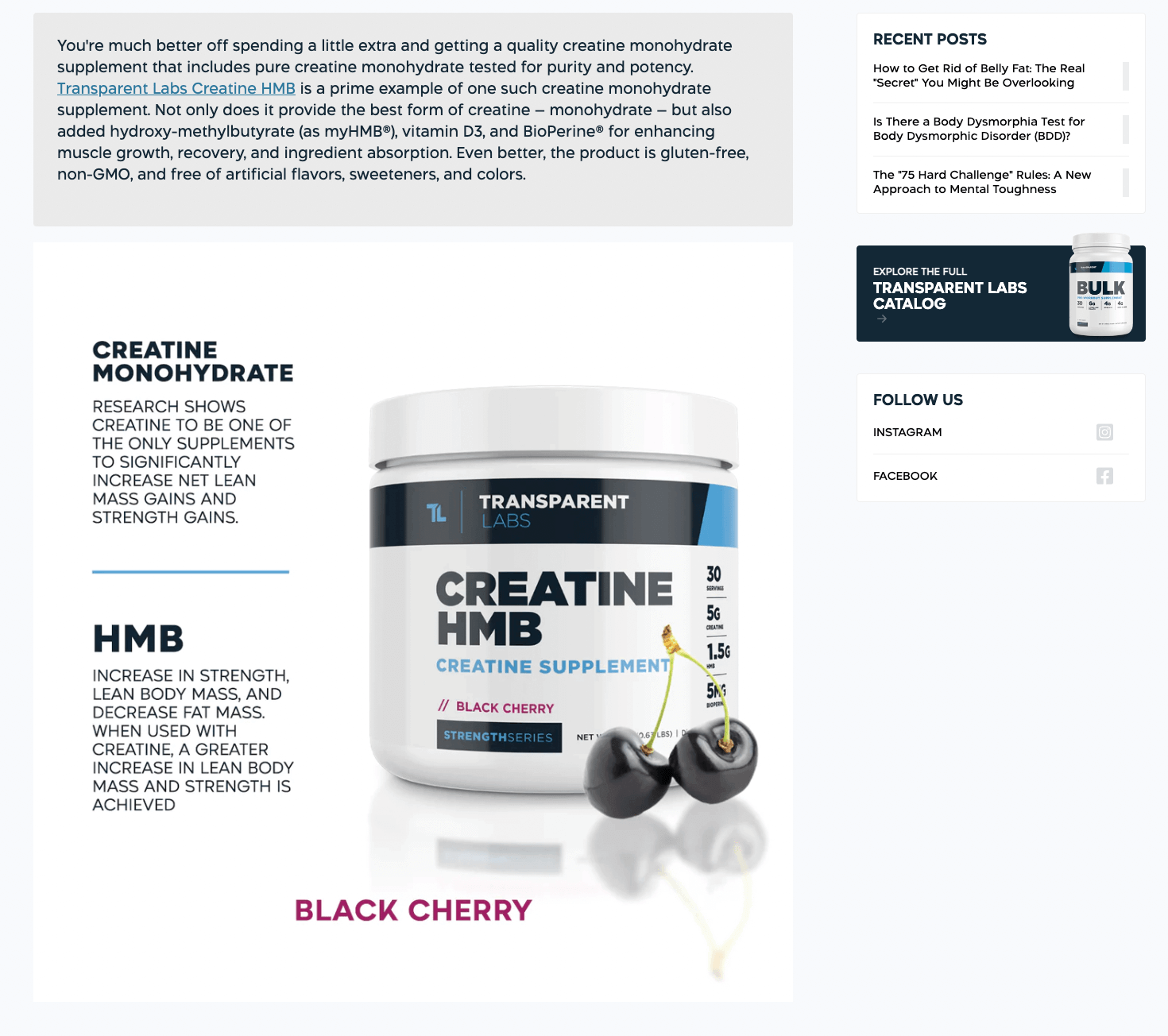 2. Pitch your product as an alternative to a complex solution
Sometimes, the best way to use your site's content to get readers to convert is to paint a picture of what the world would look like without your product.
As you already know, people read blog posts because they have specific pain points. And the most likely scenario is that they're searching for solutions to those pain points, which is why they visited your site in the first place. 
Now, if right off the bat, your solution to their problem involves them spending $10, $100, or $1,000 to buy your product, the most likely scenario is that they'll navigate away from your website and look for advice elsewhere (or give up on their search). 
However, if you're ready to roll up your sleeves, you can land an effective and natural sales pitch guaranteed to convert even those consumers who have yet to plan on spending a single cent. All you need to do is take the time to describe the laborious process of solving your prospects' complex problems without your solution.
An article like this will present your target audience with a ton of helpful and unique information — because, let's be realistic, how many of your competitors publish articles that teach people to do something for free? 
But while this approach may seem counterintuitive, it will help you improve your conversion rates and impress users who are not ready to purchase yet but have the potential to change their minds.
An excellent example to learn from:
For an excellent example of a business that uses this strategy to drive conversions, check out Going. Essentially, this membership service provides customers with flight alerts that allow them to save 40-90% off regular airfare prices. But if you look at the website, you'll also see that the brand helps non-members find affordable flights using alternative tools like Google Flights.
Their post describes a complex process of finding and booking cheap fares. Now, note how the writer makes mention of using the Going service in conjunction with Google Flights right at the end of the article – when the reader has already absorbed the complexity of using Google Flights alone.
This is essentially a blog-embedded sales pitch, but considering that the previous steps describe a process that necessitates no small amount of dedication and patience, the subscription naturally presents itself as a far more attractive alternative.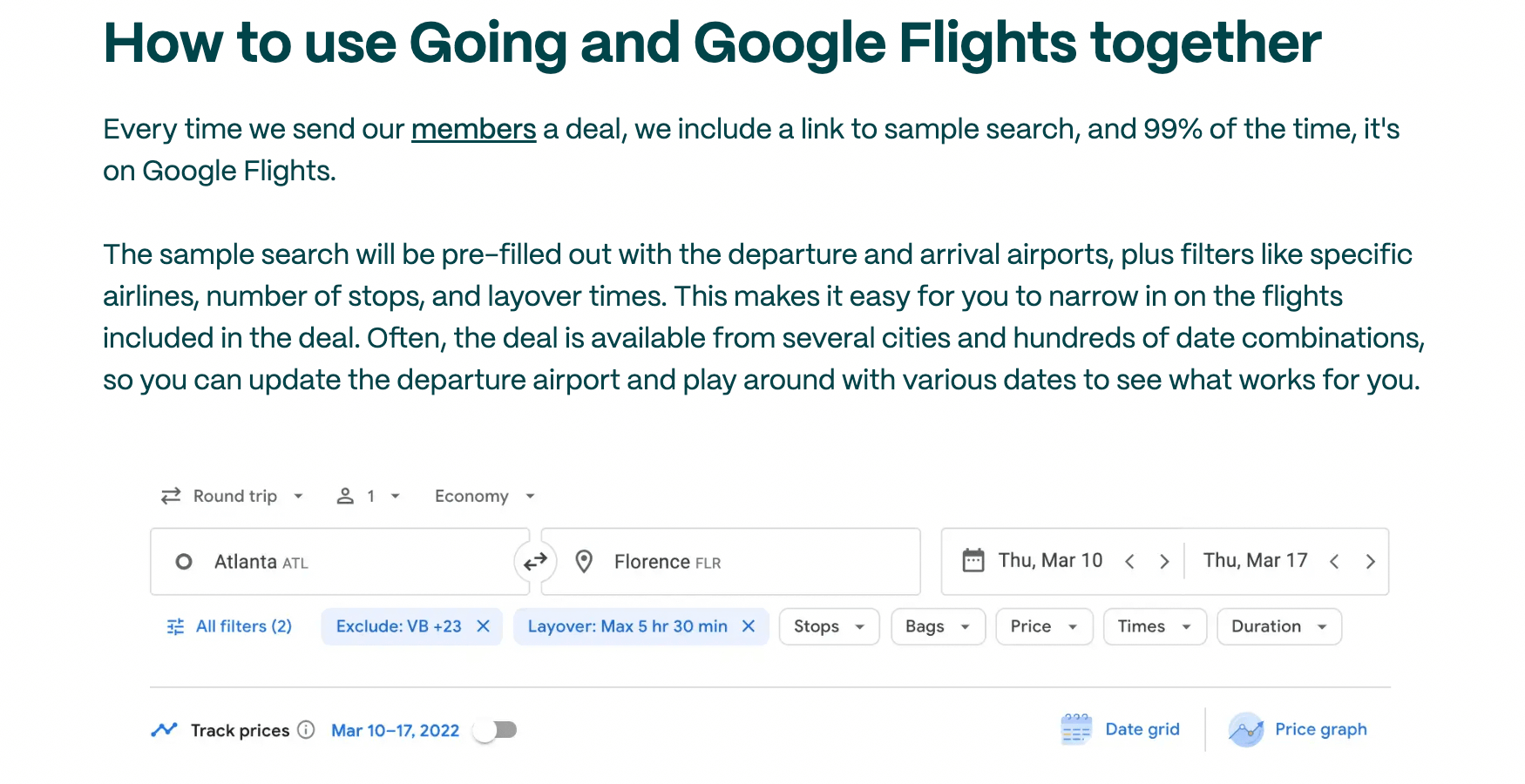 3. Use content to establish exceptional credibility and authority
Earning consumer trust is a well-known prerequisite for boosting sales. Research has shown that people regularly reward trustworthy businesses by making more purchases (71%), recommending them to friends and family (61%), joining their loyalty programs (41%), and posting positive social proof on social media (40%).
But what is it that generates brand trust? Well, one of the main requirements of having your audience perceive your business as dependable is to prove your expertise. So, if you can use your content strategy to establish credibility and authority in your field, you'll directly impact site conversion rates.
An excellent example to learn from:
Long-form articles are a superb format for showing your brand's insight and opinion on topics relevant to your audience. For example, a few weeks ago, Ahrefs published an article examining whether going viral would positively impact SEO. 
By using its proprietary tools, having its experienced experts look at the data, and supporting every claim with visual evidence, the piece presented readers with new and original conclusions, which just so happen to contribute to the brand's reputation as a credible resource in the SEO industry.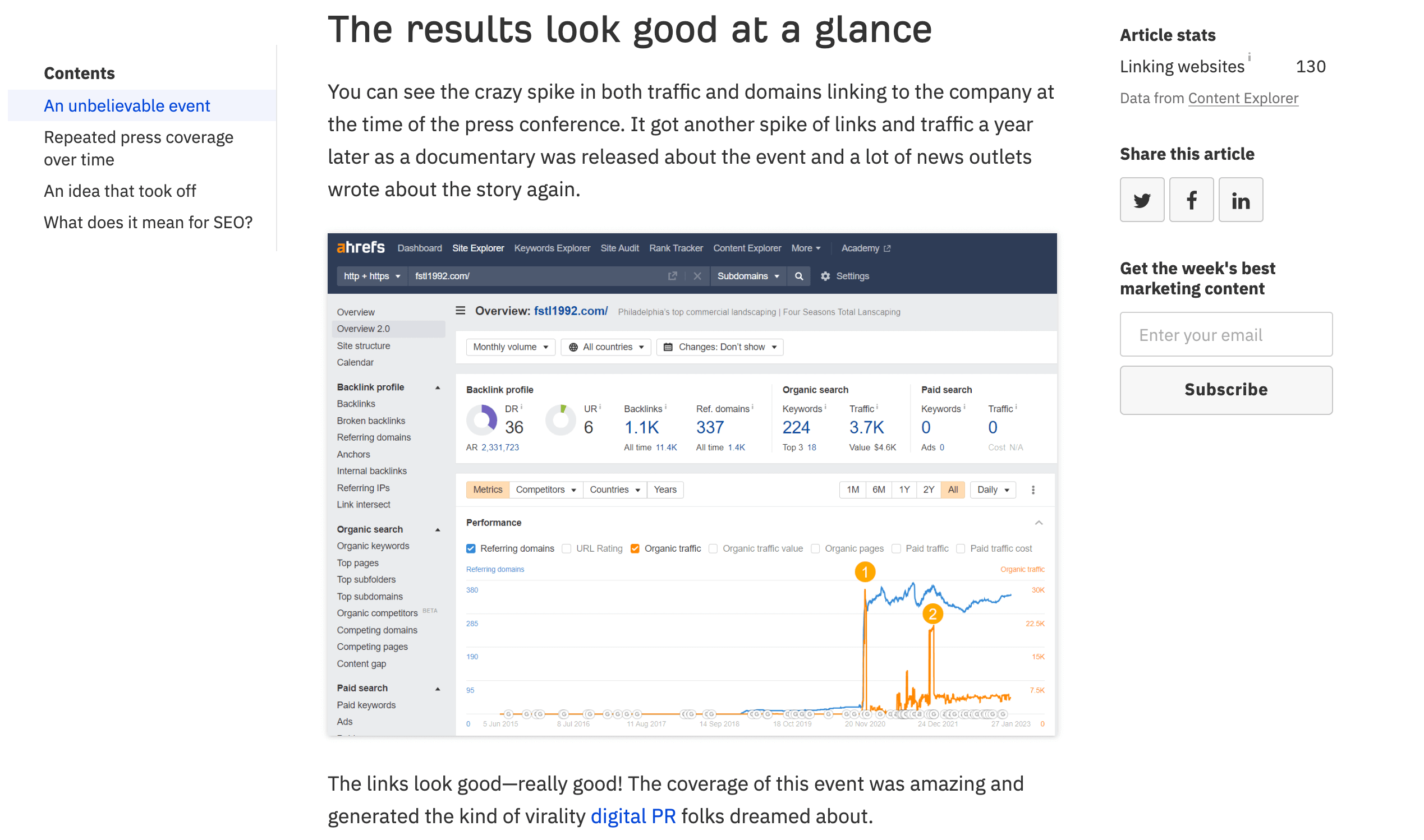 But if you're willing to take things a step further, you could expand your content strategy with original reports similar to the annually published Video Marketing Statistics survey from WyzOwl. 
This example of long-form writing is a prime example of how a brand can prove its expertise and establish itself as a trustworthy source of valuable information in a competitive industry. After all, the fact that the report earned more than 70k inbound links proves that people consider the document relevant, credible, and helpful. 
And knowing that a trustworthy reputation drives conversions, it's easy to conclude that collecting and publishing original data makes for a great way to position a brand as an industry authority.

4. Provide instant access to your product on content pages
Great content works by identifying and addressing one of your audiences' specific pain points and solving it by providing relevant, helpful, and original information. But while focusing on relevance (optimizing for user intent) does a fantastic job driving organic web traffic and positioning your brand as a reliable source of info, it's not always enough to keep your readers engaged.
If you think about the typical online behavior of one of your first-time web visitors, you'll discover that they'll:
Reach your site from Google.

Find the information they were looking for in your blog.

Leave, having solved their pain point or gotten a better idea of what to do next. 
However, you could also use your high-value content to take advantage of your readers' potential interest and introduce them to your solutions right where they are — without forcing them to click away from the page.
By doing this, you're not only minimizing the number of clicks your prospects have to make to realize that your brand's products could benefit them. But more importantly, you maximize the chances of not-yet-ready-to-convert web visitors discovering your solution and being impressed by its capabilities, which automatically shortens the sales cycle.
An excellent example to learn from:
You can see a fantastic example of this content strategy on this UnscrambleX page. This brand attracts its target audience's attention by efficiently explaining the concept of anagrams and how they relate to games like Scrabble. 
But UscrambleX's approach stands out at the top of the post, which features a free anagram solver tool. The interactive feature allows readers to instantly generate new ideas for word games, helping them win and encouraging them to use the brand's tools the next time they play a similar game.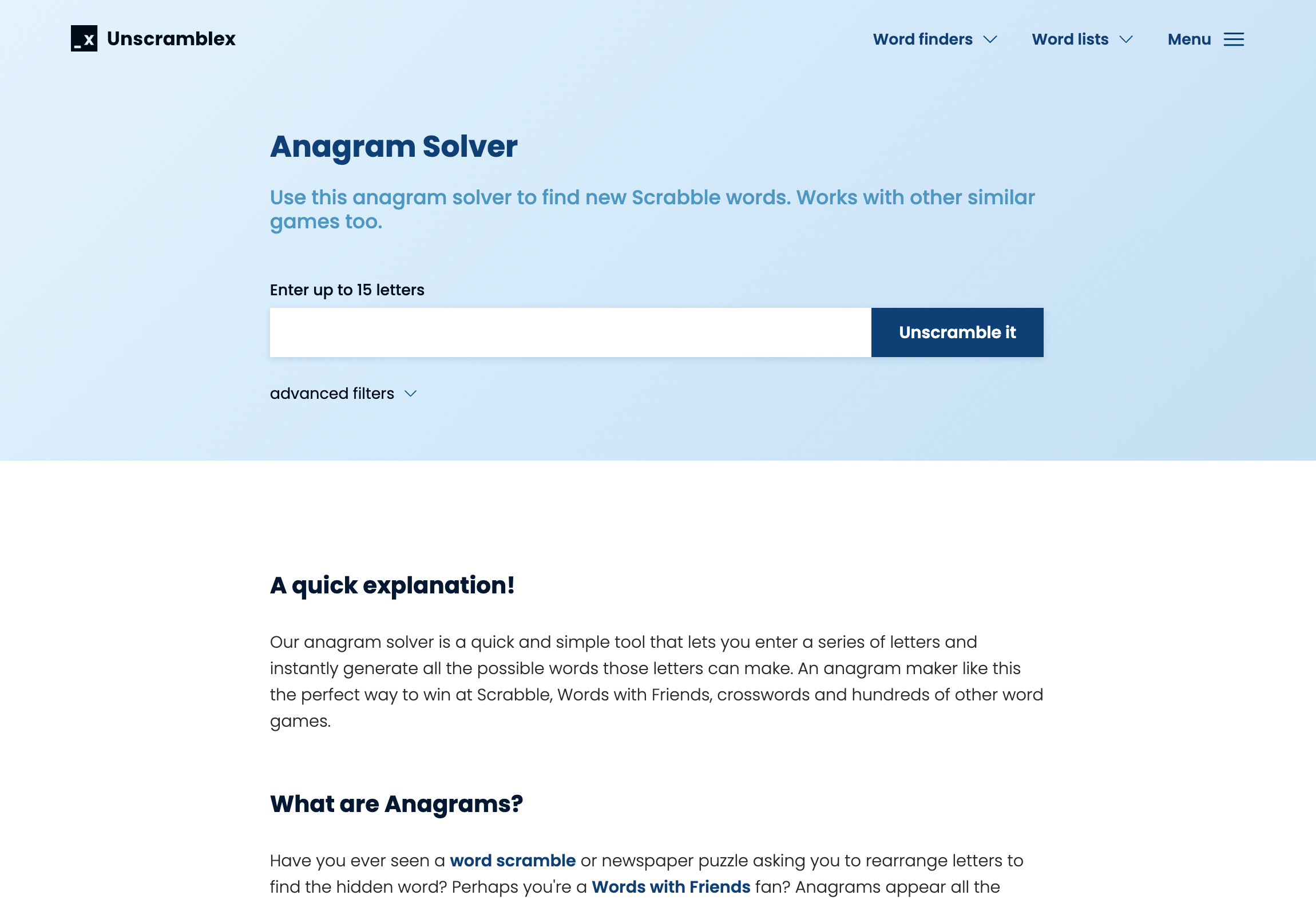 5. Showcase your product at its best
Many factors impact consumers' purchase intent. These include value for money, convenience, and a great shopping experience. But take a deeper look into the characteristics which affect purchase intent. You'll discover that visual appeal ranks high on the list of factors — especially when for lifestyle items.
For this reason, you need to focus on presenting your products in their best light. Product photography, video, and well-written descriptions will go a long way in doing this. But so will your blog posts.
By harnessing the power of storytelling and combining it with emotional imagery, a simple informational blog post can go from being a utilitarian piece of content aimed at solving a customer pain point to becoming a piece that transforms your products into aspirational items for your audience (and helps boost your conversion rates).
An excellent example to learn from:
To see a great example of a brand that uses visual storytelling to drive conversions, check out Gili's guide to Stand-Up Paddleboarding. This resource is chock-full of handy information to help SUP beginners get the hang of the tricky skill. But what differentiates it from similar resources is the clever use of imagery, with each photo depicting an attractive lifestyle that readers will start to associate with owning Gili's products.

6. Use content to give readers a reason to return to your site
Research data shows that it takes, on average, eight touches to generate a conversion. And if you're a B2B organization, you also need to convince anywhere between six and ten decision-makers and make it through a six-step evaluation process to make a sale. 
In other words, you need to understand that a single website visit (usually) won't be enough to get your prospects to make a purchase. 
So, to overcome this obstacle, you need to think about ways to use your content not only as a reason for readers to click through to other pages on your site but also to come back to a specific page on your blog. 
The best way to do this is to invest in evergreen content. This type of long-form article can be a great way to rank for high-volume keywords popular in your industry and niche. Plus, if you do things well, you'll have created a valuable resource your readers will appreciate, bookmark, and even share with friends or family.
An excellent example to learn from:
An inspiring example of an evergreen post is The Ketogenic Diet Detailed Beginner's Guide from Healthline. This 3,000-word article goes into a lot of detail about the science-backed benefits and disadvantages of the popular diet. 
Moreover, it uses lots of H2 and H3 formatting techniques to make the article read more easily, including images and videos. Plus, it's regularly updated, keeping it relevant and one of the best resources on the topic.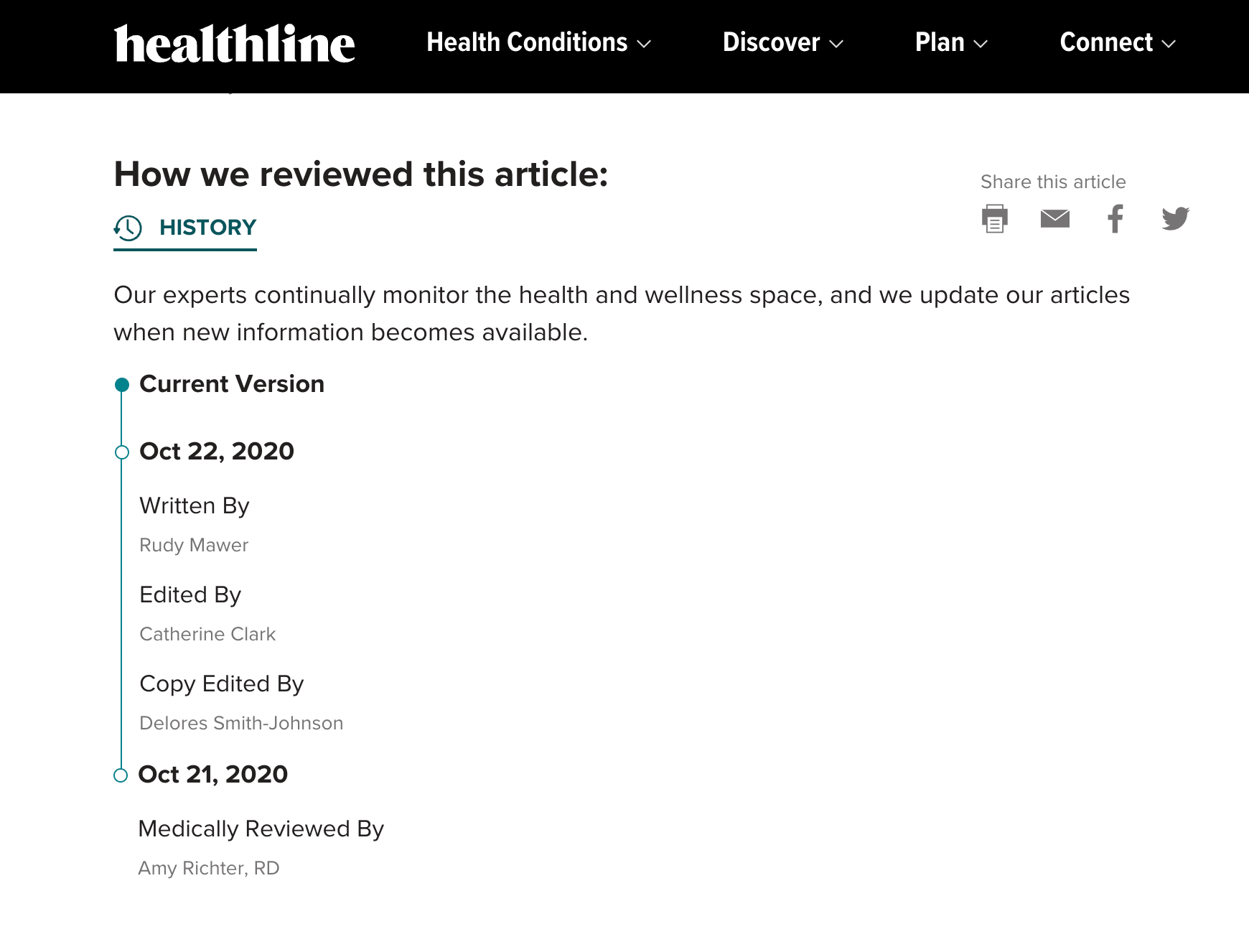 7. Use your blog to tell inspiring customer success stories
Towards the later stages of the customer journey, most people do a good amount of research to ensure they're making the right buying decision. 
According to data, 53% of shoppers always do research before buying a product. And not just for big-ticket purchases. In December 2022, Nielsen IQ discovered that people conduct research even before buying groceries, using the internet to compare prices and study brands to ensure they're getting a good deal.
With this in mind, you should consider using your blog to present your audience with information that could help reassure them that your brand is the right choice.
In addition to displaying traditional formats on social proof throughout your site — such as customer reviews and ratings — you could reserve a part of your content marketing budget for telling detailed customer stories. 
This is a super-effective way to push your leads into the conversion space, giving them real-world data about how you've helped your customers and making a strong case for them to invest in your solution.
An excellent example to learn from:
An impressive example of a brand using customer stories to inspire prospects to consider a conversion comes from Drip. In its The Spice House case study, the brand presents one of its main clients and describes, in detail, the implemented strategies that helped the user boost YOY sales by 90%, achieve a 183x ROI, and increase list size by 40%. 
Furthermore, the process is also described in video form, with an easy-to-consume 5-minute interview that boosts engagement and further increases the case study's conversion-driving potential.

8. Use content to reinforce the market for your product
Lastly, if you're searching for advanced ways to use your content strategy to attract, engage, and convert your target audience, don't forget that, in some cases, the most impactful thing you can do is to use your blog to reinforce the market for your product.
Often, you will have site visitors coming to read your blog who don't know they could benefit from investing in your solutions. But if you can paint a picture of how a purchase could positively impact them, you'll automatically turn casual readers into quality leads. And then, you can easily use social media or email marketing to nurture them into loyal customers of your brand.
Naturally, the best way to achieve this effect is to focus on producing high-quality educational content. Do your best to help your audience understand the solutions to their pain points and the benefits of your products/services. 
And don't forget to stay objective. After all, the goal of publishing this type of content isn't to make a sale, no matter what. It's to get people who could genuinely benefit from your products to become long-time customers of your brand. 
An excellent example to learn from:
To see this strategy in action, check out MarketBeat's resource page on penny stocks. It's an amazingly detailed report that educates potential customers about the concept of penny stocks and describes the factors that affect the value of these stocks. 
Now, note that MarketBeat's product includes access to advanced reports and analyses of the factors discussed in the article. As you can guess, this gives the article a whole new dimension, transforming it from just a helpful piece of content to a resource that's one of the brand's most effective tools for converting customers who wouldn't have invested in a report otherwise. 
Moreover, if you take a look at the various internal links, which allow readers to check out the types of analyses they'll get access to by subscribing, it's easy to see how the brand managed to identify a high-volume keyword and use content marketing to create a demand for its product that most beginner investors wouldn't even have known existed.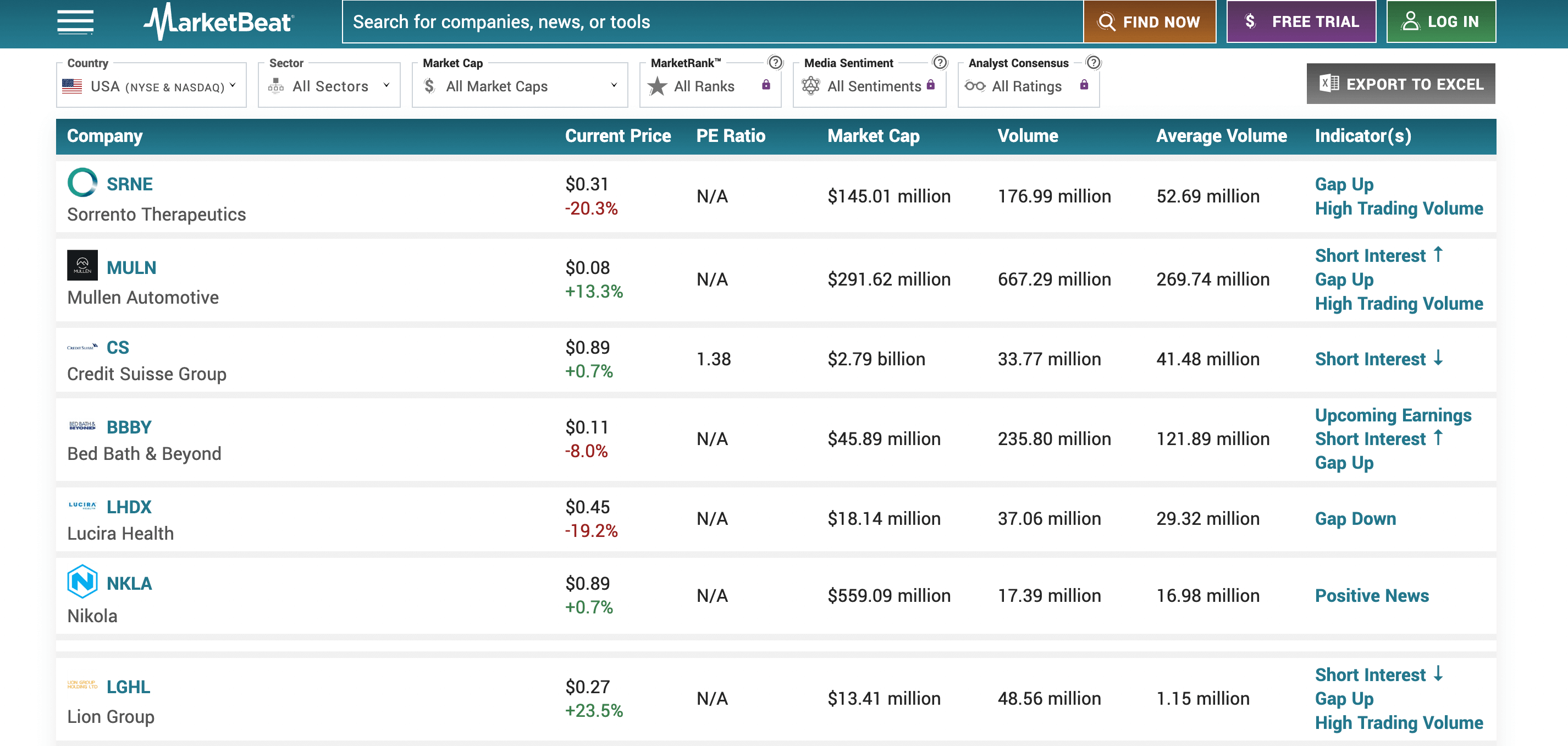 Conclusion
There's more than one super-efficient way to do content marketing well. And as the strategies described in this guide show, you can easily employ your company blog to boost reader engagement and even directly contribute to a higher website conversion rate.
So, whether you plan to experiment with one or all of the tactics mentioned in this guide, rest assured that they'll deliver results. Of course, the one thing you absolutely must do to guarantee that those results are positive is to focus your energy on quality over quantity and to pay attention to your audience's needs so that you can present them with content that's original, relevant, and, most importantly, tailored to them.
Creating engaging and high-converting content is a fine science that requires time, skills, and inspiration. Getting assistance from a professional content marketing agency might be a winning choice for you. Get in touch with ReVerb, a house of top-level copywriters and SEO experts who'll help you make the most of your content and website promotion!