Difficulty: medium. It takes some effort and imagination to come up with exciting newsletter ideas that will be interesting not only to you but also to your readers.

Tips for creation:

Be laconic. No one expects to see a long read in the inbox. Diversify the text with images and highly interactive calls to action, such as read, download, watch a video, etc.
Simple design. A great company newsletter should be divided into logical blocks so that the reader can easily navigate within the material.
One of the good newsletter examples is informing the readers about some of the upcoming events organized by your company.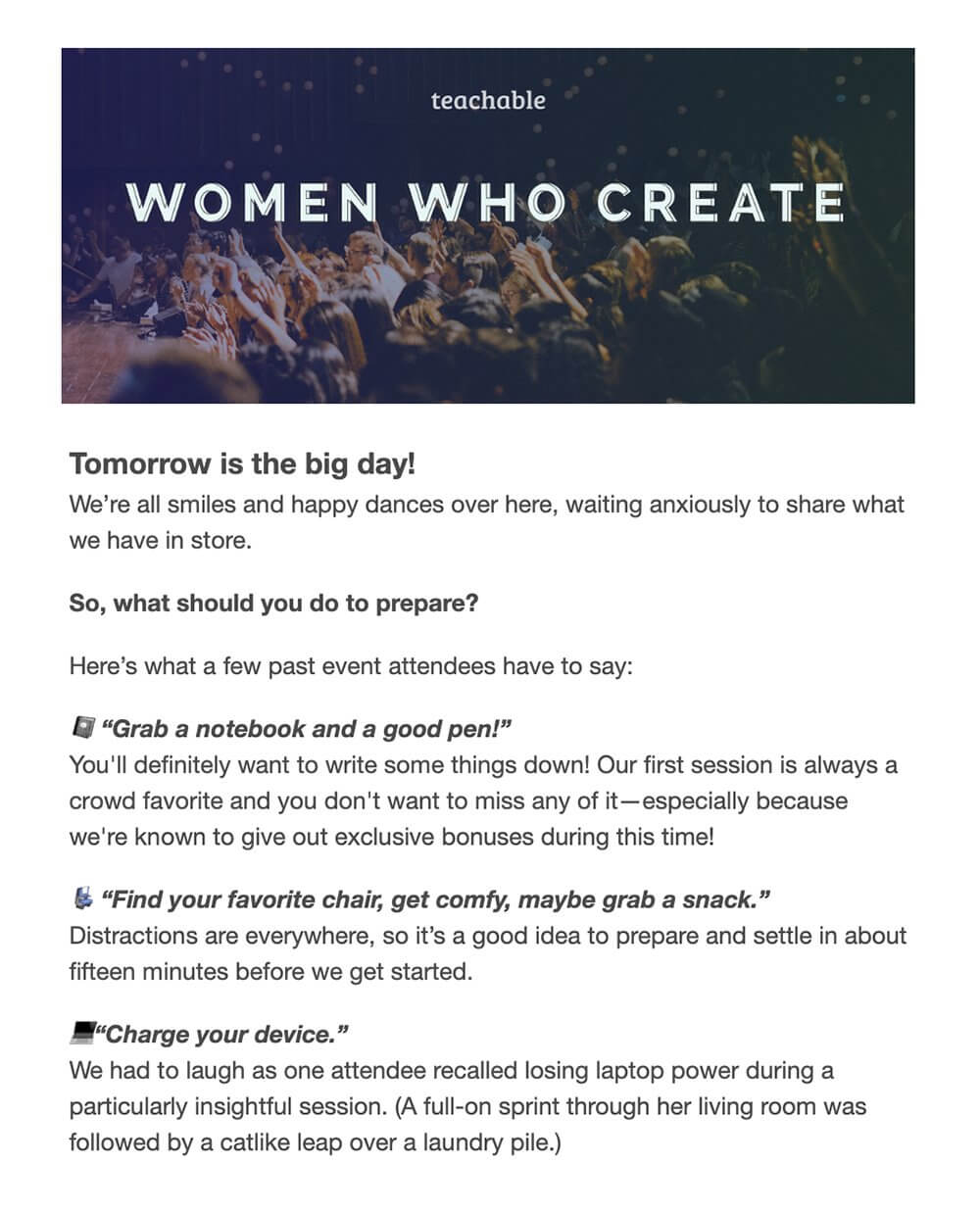 Don't expect sales. This type of email is based on a less aggressive approach than advertising layouts. The purpose of the newsletter is not to sell here and now. With the help of such letters, you are trying to build trust and loyalty. Companies that share their internal news with subscribers are getting closer to them.
Provide contact information. Make sure that users can get in touch with you. The best places for presenting the contact info are the header and/or footer. It's up to you what contacts to specify – telephone number, email, address, name, etc. Don't forget to insert the links to your company's social networks.
5. Recommendations & Tutorials
Purpose. Share tips on how to get the most out of your product or services. Thus, you help people understand the benefits of your product better and increase your brand credibility in the occupied market segment.
Difficulty: medium. You will have to spend some time on preparing guides in simple language.
Tips for creation:
Create valuable content. The key to the success of this type of company newsletter is to provide users with actionable and required advice. Help solve actual problems. Tell about simple life hacks to overcome certain difficulties. And most importantly, give recommendations on how customers can improve their experience of using your product or service.
If you sell sports equipment, send an email with tips on how to care for those items. Is your product bathroom fixtures? Give recommendations on how to install them quickly and safely. No matter what your business is circled around, collect the tips that will benefit your customers.
I like the way RaulphLauren.com presents its store navigation with the same style as the brand itself.
Check it twice. When sending a letter that is designed to increase your expertise in the eyes of potential customers, make sure that there are no grammatical, punctuation and stylistic errors. Nothing reduces authority like mistakes made in the text, wrong facts or an incorrectly formulated phrase.
Customers are a priority. Email newsletter best practice says that your letters should be first aimed at the recipients' needs and goals. Remember that you work for buyers. Nice newsletter examples are mentioning that you're always here to help subscribers and are open for a consultation.
Purpose. Provide customers with industry-specific knowledge related to your business or product. This gives the customers confidence and adds value to your relationships with them.
Level of difficulty: average. It takes time to brainstorm, compile a mailing list calendar, and process suggested blog and newsletter ideas. Your letters should demonstrate professionalism and be written in a language accessible to all.
Tips for creation:
Offer relevant content. Share information that recipients can efficiently apply in life and at work. For example, a job search site can send readers information on how to build an HR department in their own company and other recommendations from this field of activity. The same approach refers to any other industry.
Present information in convenient blocks. Compose the letter in a way that the recipient sees the title of the article and its announcement. You can insert several articles in one email at once, the so-called weekly or monthly round-up.
Accompany each message with related images. In this way, a subscriber will immediately understand what he will read about. The link should lead the client to your blog page with the full material. This is also a good way to popularize your blog and direct traffic to the site.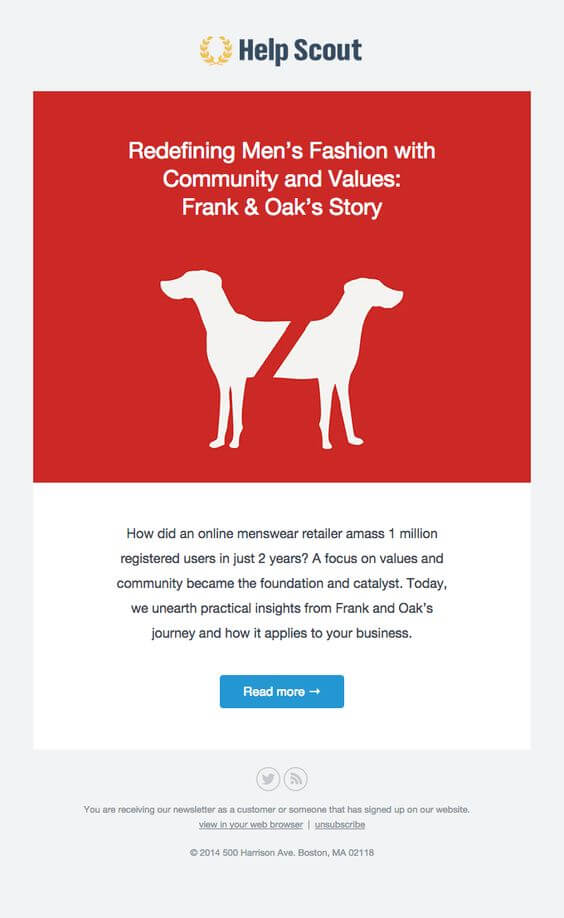 A bit of advertising won't hurt. This type of company newsletter considers advertising as an appropriate email element but in small quantities and on the topic. Make the main emphasis on educational information, only slightly mentioning that readers can get more benefits or a discount by registering in the system, testing a product, etc.
7. Follow-ups
Purpose. Inform a customer that he/she hasn't completed a purchase and the desired product is still in their cart, or that a discount expires soon. The notification depends on your business specifics.

Level of difficulty: high. Thinking over the text motivating users to buy something again, complete the purchase or extend the validity period isn't an easy task. What's more, some marketing automation expertise to send personalized notifications is required.
Tips for creation:

A clear call to action. The purpose of the reminder letters is to encourage the customer to make regular purchases or order services. Make a link to those products that the customer has already bought and offer related ones.
Show the need for a repeat purchase. The client must clearly understand why it is important to replenish stocks of previously purchased goods or extend the service. You can also give a discount to regular customers, which is valid for a limited time, in order to encourage customers to make a quick order.
Remind about past purchases and positive experiences with you. Indicate in the letter the products that the customer has already bought. It will simplify the re-purchase process since, in case of a positive experience, buyers are likely to order the same products again.
Huckberry's email newsletter best practice was to offer a free shipping option to the users who had cart abandonment. Quite a smart decision, yep?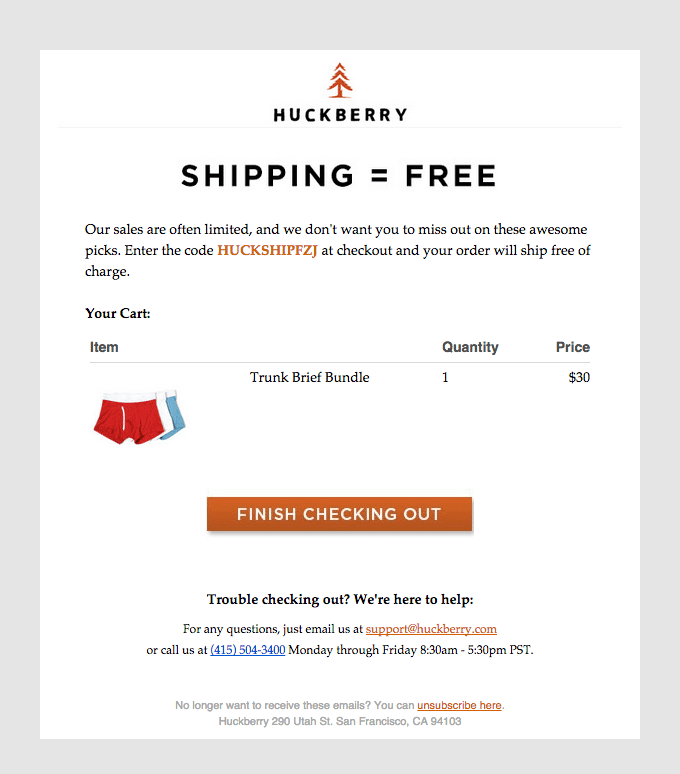 8. Reviews
Purpose. Strengthen the value of your business or product in the eyes of customers based on social proof and customer feedback.
Level of difficulty: high. It takes a lot of time and perseverance to collect feedback from loyal clients.
Tips for creation:
Create a vibrant email design. Design plays an important role in the review letters. They should be attractive, laconic and easy to read.
Add a beautiful image. If you sell clothes, shoes, furniture, etc., reinforce the review text with an appropriate product image. In case you're a SaaS company or a service provider, the photo of a customer (by agreement) can be a nice visual alternative.
Additional information. Direct readers to the testimonials page on the website, where they will read even more reviews. Also, in this letter, you can invite a user to share his/her experience.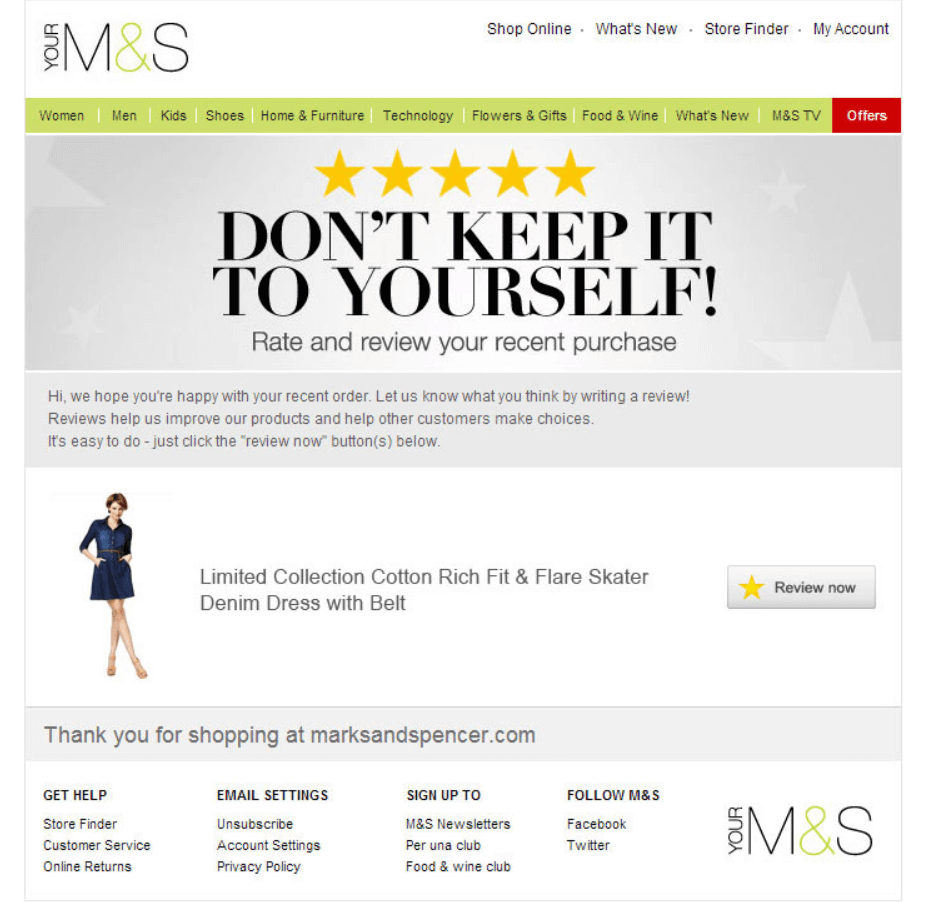 Conclusion
Today marketers are provided with an unlimited range of engaging email marketing tools and newsletter ideas. It's a direct way to customer base growth if you implement all these techniques properly.
Once you establish a trusting relationship with subscribers, the return will be huge. Believe me! This is a long-term investment that will provide you with an income for many years to come.
Do you use all of the listed company newsletter types? What are your favorite newsletter examples and tricks? Specify them in the comments. My team and I are so excited to know about your experience!