Reverb Is Thriving by Honing Its Customer-Centric Solutions to Transform Businesses.
Incorporated in 2018 and based in Dodge Center, Minnesota, ReVerb is an American digital agency presenting a complete cycle of marketing services for IT companies, ICO projects, hi-tech startups, and industrial enterprises. 
The company delivers services that include but are not confined to technical content creation, web development, ICO promotion, web design, video production, public speaking, and a few others. The professionals believe promotion and branding are the best aspects of business growth and development, attracting new customers and maintaining the existing ones. With the high-quality content and impressive design concepts, the professionals guarantee customers to expand their clientele base, thus increasing their total income. 
The fact is that present users are fascinated by unusual solutions and out-there creations in the realm of technology; ergo, ReVerb strives to give them a chance to be a part of that innovative world. 
Moreover, the professionals gathered practical approaches and techniques designed to captivate even the most indifferent people with client services. They offer an excellent opportunity for clients to promote their business. Clients can show how their company is growing by sharing the latest news and updates and establishing positive communications with their target audience through exceptional marketing tools and channels. 
Interview Series by GoodFirms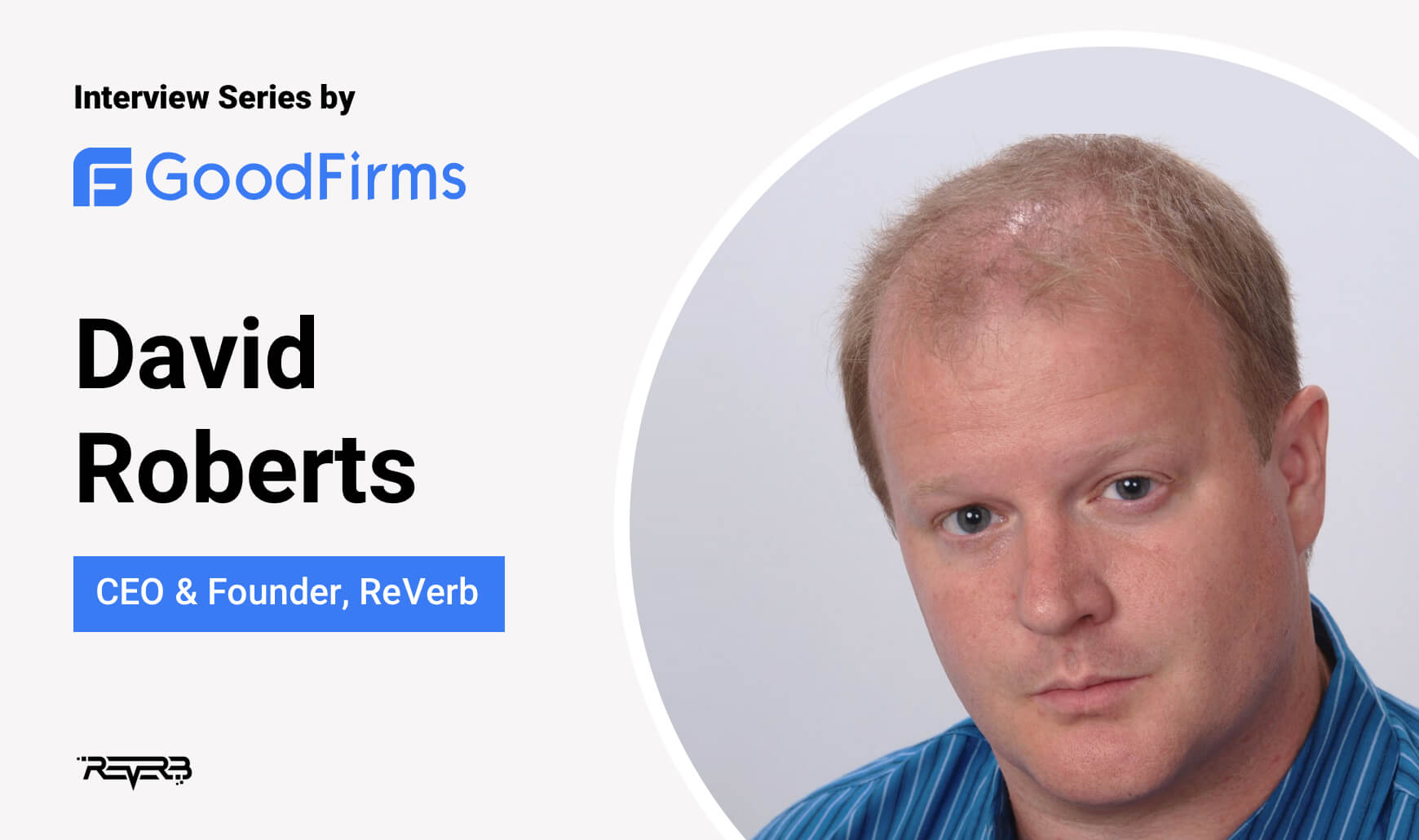 ReVerb's CEO & Founder, David Roberts, explains to GoodFirms how the company has built a platform for growth to support the future power grid.
Starting with the interview, David mentions that he manages many projects, as well as editing for clients, and sales. Adding to this, David says that his hobbies include learning other languages, powerlifting, and spending time with his family. Lived in the USA, Kazakhstan, Estonia, Austria, and Costa Rica, David has worked in 50+ countries. He converses Russian as a second language and speaks English with a Minnesotan accent.
Talking about the idea behind the commencement of business, David reveals that ReVerb is a digital marketing agency he started back in 2017. David works from Rochester, MN, but most team works from other locations from their home office or favorite coffee shop. 
The thought about ReVerb came about as a process. After his animation business in Tallinn, Estonia failed in 2012, David worked as a marketing consultant with various excellent tech companies and startups. Later on, he kept getting invited to speak at tech events, mentor at hackathons and generally was more involved in the tech community. 
"It was always a lot of pleasure and interesting to be involved in the early stages of a new startup," says David. "It got limiting to work with one or two clients at a time. It also was the case that many companies just needed several tasks here and there, such as localizing their texts in English or writing some sales emails."
Eventually, David started hiring more staff to help keep up with demand, and currently, ReVerb has worked with about 800 different tech companies and startups, mainly in Europe, Israel, and Singapore.
Further, David quotes,
"ReVerb is like the secret weapon of some of the most successful companies in Eastern and Central Europe. For instance, most of the "Big Companies" from Ukraine and Belarus have ongoing or have had relations with ReVerb in some or other way." 
Talking about the company's business model, David mentions that ReVerb has an in-house team of content producers, ICO specialists, graphic designers, marketing experts, SEO specialists, and others. He further adds that rarely, a client needs a service that ReVerb does not deal with, and therefore, they hire professionals related to that with the guidance given from clients for the services they need.
The first amendment ReVerb tried to make out of the way was looking at how to leverage the best practices from each business and how to continue to expedite that moving into the future. David explains this by saying that the team and the organization overall have an extreme lean production focus and the company's foundation is based on safety, quality, delivery, and cost. The experts' team manages this through key performance metrics and drives root cause and remedial action for upshots. That sets the tone for how ReVerb operates every day.
The professional marketers' team provides services to clients like giving keywords on web pages, articles, and other marketing assets that influence customer outcomes. With ReVerb's affordable SEO services, clients will get the right words and phrases everywhere in the content to ensure potential users find clients' websites.
Professional SEO demands technical and copywriting abilities, which is what ReVerb provides to clients. The organization caters to clients with high-impact SEO consulting services, resulting in web traffic increases, and helps clients generate more qualified leads from an influx of visitors. ReVerb holds a well-versed and able team of digital marketers catering to the clients with the services that are thoroughly checked for furnishing 100% quality assurance and high-quality deliverables within 48 hours of the order laid. 
Thus, making it possible to make an enormous impact with a smaller investment, ReVerb gets dubbed as one of the preeminent digital marketing service providers in the United States at GoodFirms.
The review displayed below reflects the quality of service offerings rendered by ReVerb.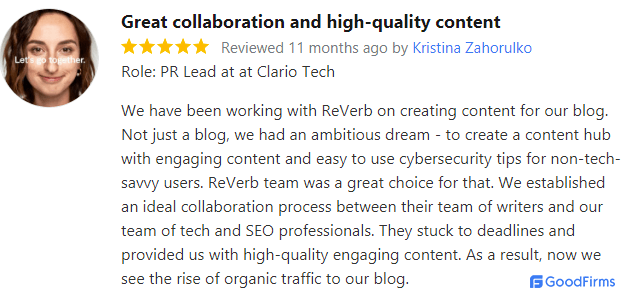 Apart from this, David elaborates on content marketing services rendered by the experts at the company. He states that ReVerb did have a Ukrainian client using a guy who worked in Ukraine as an English teacher to write and edit his texts. The client couldn't understand why his texts were so poorly written. Therefore, he thought hiring an assistant to his writer might be the solution and approached ReVerb. 
The expert content marketers found the texts were written at a 5th grade level with deplorable grammar and limited vocabulary. This American was taking advantage of his local friends by presenting poor service and charging too much.
"Not everyone in your country who is a native English speaker is a good writer or editor,"
says David. 
The professional content marketing team at ReVerb likes to concentrate on the targets set by the clients and not only to hit them but to surpass them. By this, the company's mission is to append meaning to the clients' affairs by a thorough understanding of their goals and to produce the best possible solutions that undoubtedly impact their bottom line. 
ReVerb holds an experienced professional team that is well-acquainted with laser-focused and customer-centered copy. The expert writers at the company also control what data the users get about the clients' business, which urges them to take steps and ultimately transforms visitors into customers for the long term. Thus, the team of ReVerb, with its expertise and knowledge, has earned a secure position amongst the top content marketing agencies enlisted at GoodFirms. 
The review obtained at GoodFirms proves the quality of content marketing services provided by ReVerb.

ReVerb is expanding so much these days as its HR Manager is constantly hunting for new staff. ReVerb identifies early on to take a more significant, more prominent role in their long-term success. It also has some good insight into which companies will be successful in the long term and may start taking equity in these companies.
Thus, having read the summary mentioned above shared by David Roberts, one can also go through the detailed interview he gave to GoodFirms.
About GoodFirms
Washington, D.C.-based GoodFirms is a maverick B2B research and reviews firm that aligns its efforts in finding digital marketing and content marketing agencies delivering unparalleled services to its clients. GoodFirms' extensive research process ranks the companies, boosts their online reputation and helps service seekers pick the right technology partner that meets their business needs.
About the Author
Working as a Content Writer at GoodFirms, Anna Stark bridges the gap between service seekers and service providers. Anna's dominant role lingers to form every company's achievement and critical attributes into words. She strongly believes in the charm of words and equips new approaches that work, always with concepts, something new to create, and something unique to enhance the firm's identity.