Google can also understand quick commands and give you instantaneous results showing the information you need at the top of the search page. Below you can see the commands you can enter to get quick answers.
Keep in mind these google search hacks to increase your productivity both at work and in daily life:
Time in <city>g
Typing "Time in <city>" easily checks the current time in a specific location. It is particularly useful for team collaboration, when you need to define the time for a meeting, keeping in mind that all your colleagues are at different places on the planet now. For example, a search query "Time in Toronto" will show you a snippet with local time in Toronto, as you can see it below.
Temperature, Weather & Forecast
Enter "temperature," "weather," or "forecast" followed by the name of city or zip code to get the weather forecast in a specific location. Putting "Weather in London," will see such a snippet with all the information you need:
Timer and Stopwatch
No need to spend time looking for a timer or stopwatch on your smartphone, you can quickly find them on Google and start counting.
Calculator
You can easily do math by using the Google Calculator that has an online keyboard with all possible math operations.
Google Translator
Translate any word or phrase into all languages Google knows. Enter "translate <keyword> into <language>" to see a quick translation at the top of a page with the search results. For instance, you can type "translate smart lighting brand into German" to get the following result.
Package Tracking
Type a tracking number into a search tab to monitor information about your package.
Stock Quotes

Easily track stock quotes on Google. Just enter what you are interested in and get a whole set of information about stock quotes of a particular company.
Google secret tricks to get answers to specific questions
Ask Google to do the math and it will give you a fast solution at the top of a search page: "5 to the fifth power," "350*40," "180/3," etc.
Use it to solve geometry: "solve rhombus."
See public data such as unemployment rate USA, for instance.
Retrieve your public IP address
Find specific information about a company: "CEO Johnson & Johnson."
Get information about the word etymology: "corporation etymology."
Separate number by two periods to see results that contain numbers in the given range: "dslr $300..$500."
* Use Google to convert values
Google quickly calculates distance, weight, length, physics values, as well as the exchange rate. To convert one value into another, you can use both "in" and "to" in the search queries like:
5 km in miles
4 Kg to lb
18 Fahrenheit into Celcius
10 usd to euro
120 inch in cm
Google tricks 2019 for different daily tasks
Easily find flight information. Put down the flight number to get actual information about flight delays, check-in, etc. You can also enter "<city>-<city>flights" to find flight tickets and prices ("Rome-Paris flights").
Ask Google to help you find places like restaurants, hostels, banks nearby. Typing "restaurants near me," you will get a list of the closest locations marked on Google Maps.
Find "all books by <an author>," "all songs by <a singer>," "all movies by "a producer," etc.
Easily learn what a day of the week will be in 60 days, for example.
Determine any changeable holiday date by entering its name.
It's time for fun! Google likes it, too
Leo Tolstoy said that, "The Beauty will save the world." However, we can contradict it saying that "Humor can save the world, too." Here are some google fun tricks you can enter to raise your mood and switch the attention from work. Type the following key phrases on Google and see what happens:
"Do a barrel roll" – rolling Google page screen.
"Askew" – a page with the search results will be shifted right.
"Google in 1998" – Google page in the old-school style.
"Google sphere" – see a rotated version of Google.com
"Atari breakout" – take a mental break playing the old-school game, putting this key phrase in the image search.
"The loneliest number" – surely, it is about the number "1" type this key phrase to get plenty of Google results devoted to this topic, including funny songs about the number 1, philosophic discussions, movies, etc.
"Flip a coin" – enter it to decide who is washing dishes today, for example.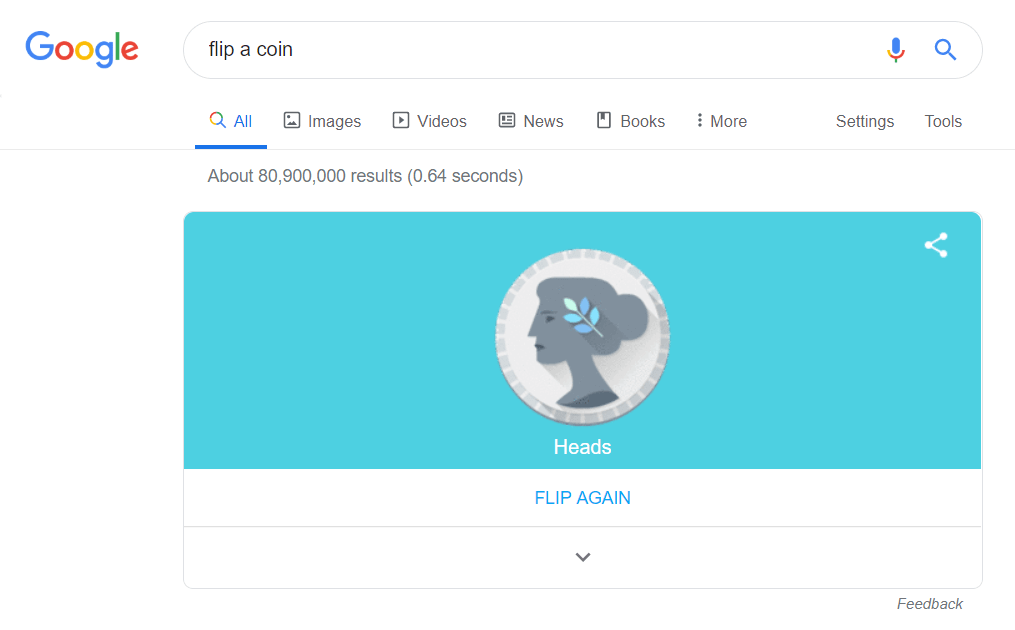 "Answer to life, the universe, and everything" – you might be surprised, but it is 42. Yes, I have not misspelled, the number 42 was calculated as the answer to life, the universe, and everything. You can check here how Wikipedia explains it.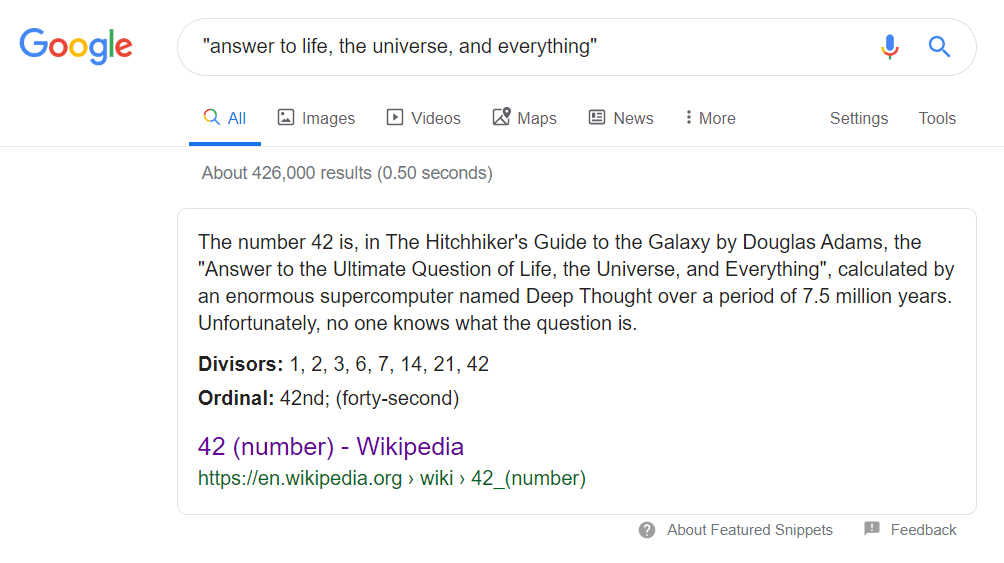 Bonus: quick google search hacks and tips
Explore other search apps offered by Google, such as Google Trends, Google Images, Google Scholar, etc.
Use tabs to customize your query in the shopping, image, or video search. For example, you can choose the "Large" size of the image and "Black and White" color in the search settings to get more specific results.
Do not care about misspelling too much. Google will likely understand what you mean, by giving you search results that are very close to a misspelled keyphrase. If you enter "The weathr in Lndon tday" Google will assume that you mean "The weather in London today."
Usually, Google does not recognize symbols and punctuation. However, there are some exceptions you should know to save time when entering keyphrases in the search box:
"@" – use it to search for social tags
"+" – you can utilize plus when searching for healthcare-related things such as blood type
"&" – apply the ampersand when searching for strongly connected ideas and phrases
"%" – you can use it when searching for percent values
"#" – apply the number sign when searching for trending topics that use hashtags
"-" – you can use a hyphen when searching for words that are strongly connected
Conclusion
In this article, I have overviewed the best google search hacks that will definitely improve your research results. Now you know a great variety of operators and google secret tricks to restrict search results and extract only essential information.
Don't forget to take a mental break by enjoying the google fun tricks! I hope all the above-mentioned techniques simplify your life, increase your productivity at work and make you the main character of the next Sherlock episode!