Due to the COVID-19 pandemic, most of the population was forced to stay indoors due to health and safety risks.
Since people aren't going out, Internet usage has increased tremendously (by 70% since the start of 2020!), and this number will only keep growing! 
People's lives have been greatly affected by the COVID-19 pandemic. Businesses, schools, workplaces, and other public spaces have been closed off, forcing the human race to carry out their responsibilities at home online. 
With the entire world tucked away in their houses, how else would you be able to make cash? There are many ways that you can earn money online, like putting up an online store, but we'll focus on one of the simplest opportunities to get passive income that grows over time with affiliate marketing.
And now you may wonder:
What is affiliate marketing?

How to start affiliate marketing? 

How to become an affiliate marketer? 

What are the best affiliate marketing programs for beginners?
Let's answer these questions together!
What is affiliate marketing?
First, let's talk about the affiliate marketing definition while being aware of potential affiliate marketing scams.
Affiliate Marketing is the process by which an affiliate partner gets a commission for advertising or marketing a product or service that is owned by someone else.  It's a kind of promotion when you get people to buy what they are advertising, and they earn a commission whenever they get a sale.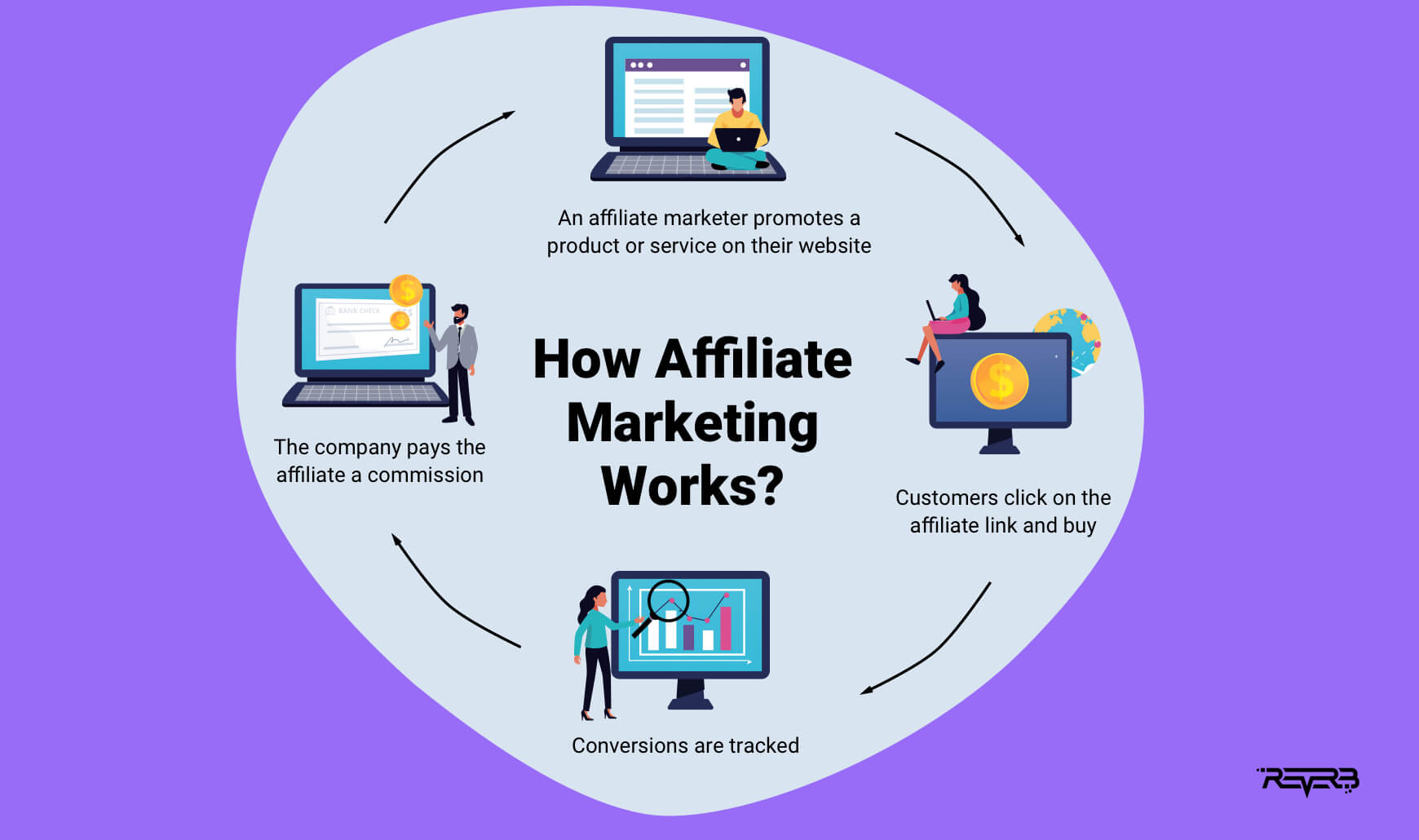 Affiliate marketing is known to be one way you can make money passively, which means that you can choose to focus on affiliate marketing alone or have another job. Usually, affiliate partners have side businesses or even full-time jobs. In reality, anyone with perseverance can start his or her own affiliate marketing business.
Let's go ahead and find out how to start an affiliate marketing business that's beginner-friendly!
What are the steps to start an affiliate marketing business?
Literally, anyone on the planet who has access to the internet can start an affiliate marketing business. As long as you take the necessary measures to make your business grow, your passive income will keep growing as well. 
Now, let's talk about the steps that you must take to start. Keep in mind that these steps are only a guide for you to begin your journey. In reality, there are many ways for you to open up a business like this.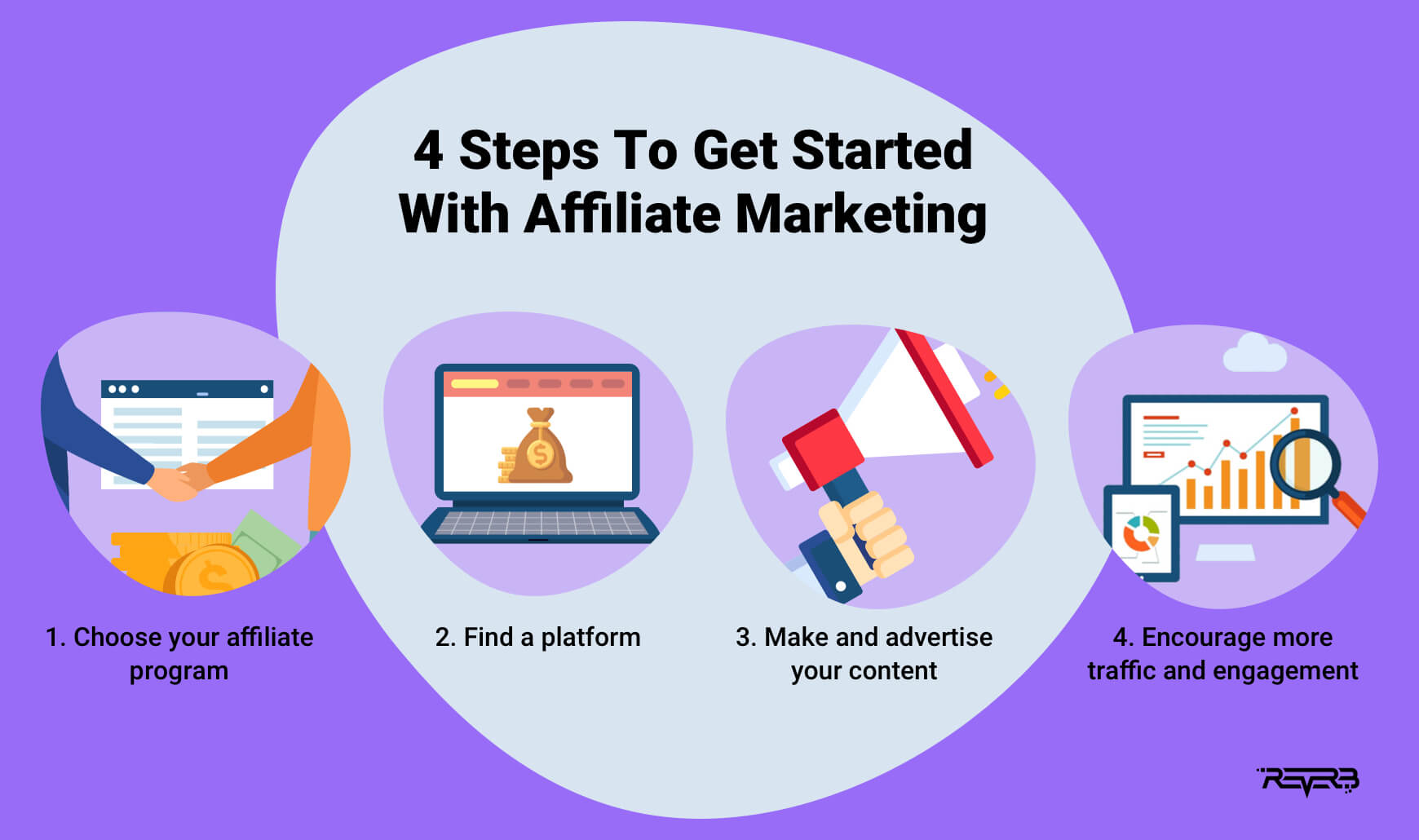 1. Choose your affiliate program
The first step to starting an affiliate marketing business is to choose your affiliate program. We suggest that you choose a program that you're experienced in. If, for example, you are well-versed in commerce, you can get started with a program related to eCommerce or retail.
If you've got a love for culinary arts, pick a program that will enable you to get inspired and interested. 
No ideas? Explore this list of the best affiliate programs for beginners to find your cup of tea.
So that later on, you can create content that will drive people to your chosen program, or if they offer products, purchase their items.
One important thing that is often overlooked is when people select affiliate programs that will bring them the most cash immediately. Take note that building this kind of business will take a lot of time and effort but will surely pay off in the end.
2. Find a platform
The next step to starting an affiliate business is finding the perfect platform you are comfortable with and where you can easily build an audience. Social media platforms like Facebook, Instagram, and Twitter are great channels for beginners. 
Once you have decided, you can make a business page or personal profile and begin connecting with people you think can benefit from your affiliate program.
We suggest creating a personal social media account, a LinkedIn account, and a personal blog. 
Here's why:
Personal Social Media Account
A personal social media account (on Facebook and/or Instagram) allows your website viewers (or audience) to catch a glimpse of your casual side. You may share posts related to your chosen program and include short anecdotes and personal thoughts.
LinkedIn is a professional networking site that allows you to connect with other professionals. It's one of the fastest-growing websites, and you want to take advantage of that. Connect with professionals whom you think will benefit from your affiliate program. 
A personal blog will cost you a few dollars every month, but this platform allows you to create content to drive more people to your website and, hopefully, earn you a commission if they decide to purchase from the program you signed up for. Don't you know where to start? Take a look at the best affiliate programs for bloggers and jumpstart your journey.
3. Make and advertise your content
When you have your platform and profiles ready, you should now create content around your affiliate program. This will get people to trust your word and have them convinced that they should purchase from you. 
Content examples for beginners could be blog articles, reviews, and more. Remember, you can sign up for multiple affiliate programs, but what's important is that you get people to purchase from them so you can earn a commission! Building your audience's trust in you also builds your website's credibility. The more people flock to your site, the more chances for you to earn a commission are.
Advertising your content is the next part of this step. If you have multiple platforms, decide which platform you want to focus on. Optionally, you could spend some cash on Facebook or Instagram ads so that you can get more people to see your posts.
4. Encourage more traffic and engagement
Lastly, be engaging! Whenever someone shares and comments on your posts, make sure that you bring them into a conversation or a small exchange of thoughts. Never forget to ask for the opinions of your website viewers. You can also comment on other professionals' posts.
Conclusion
After reading this article, you'll realize that it doesn't take a lot to start your own affiliate marketing business. You might be a beginner now, but with a bit of work, you'll become a successful affiliate marketer with a regular passive income in no time!