Knowing the importance of outreach marketing is vital for business growth.
We've already discussed this on our blog, so if this is a new topic for you, check out our introduction guide. Once you're done and ready to really get your hands dirty, keep reading!
Our team here at ReVerb has conducted in-depth research and put together 13 killer outreach email templates that proved their efficiency with high response rates. Outreach marketing doesn't have to be difficult; it can be as easy as copy and paste.
Use the email template examples provided below, customize them for your business, and you're ready to go!
Outreach Email Templates for Your Next Campaign
Templates for guest post outreach
Guest blogging is self-explanatory: contacting other sites and requesting that they feature a guest article of yours on their blog. This article will let a wider audience of people learn about your business, along with providing backlinks to your website. 
Here are two types of outreach emails you can send to other companies for a guest article, long and short versions.
Var 1. Long version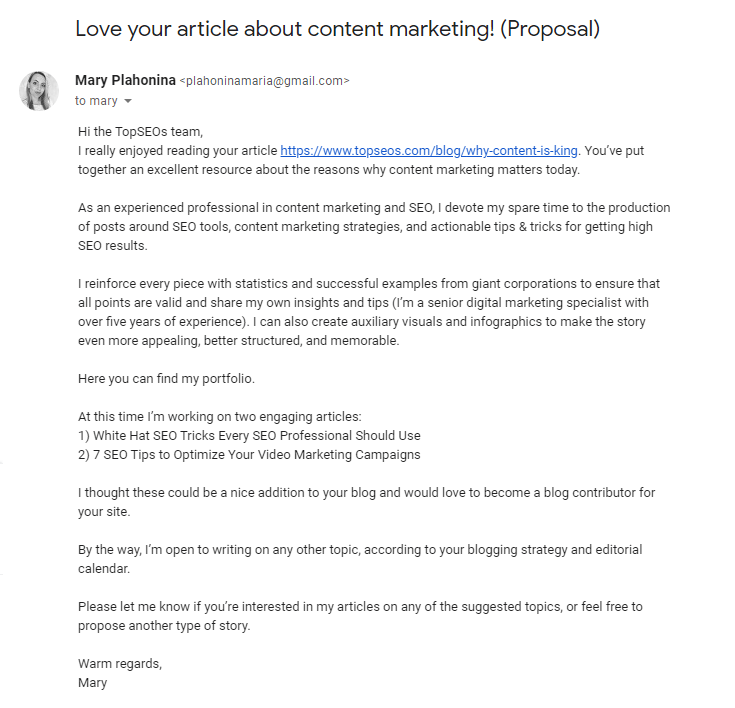 Var 2. Short version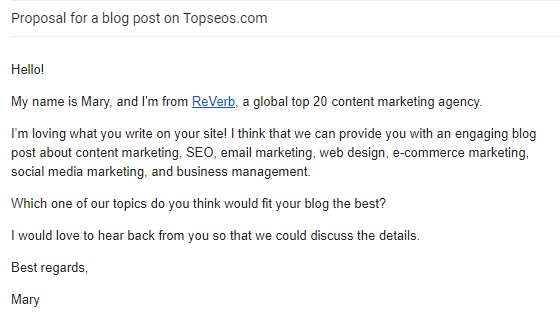 Pro tips and insights:  These types of outreach emails are straight-to-the-point and highly professional. They let the reader know what your business is, how you can be of advantage to them, and why they should say yes to you! With these templates, you'll surely score a guest article.
Template for improvement of published articles on other resources
You may be at the point of growth where other businesses talk about your industry in their articles. But just as with most things, surely some industry links and information change after these articles are written. 
What if there's a broken link or outdated information in your niche-related article on some authoritative resource? It's an opportunity for you to update their material with your site link. 
All you need to do is to find relevant articles on trustworthy sites, check to see if their information is outdated, and ask the editors to refresh their content with your data.
Here's an outreach template you can send to editors with a request for modifications.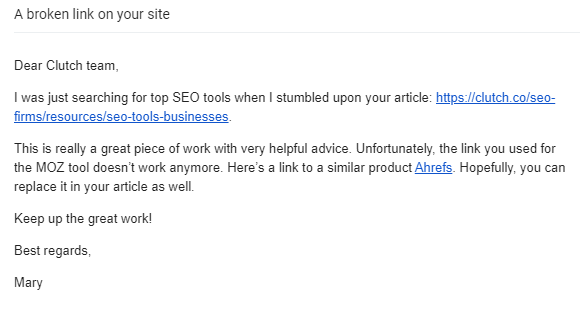 Pro tips and insights:  This outreach email template is great, as it starts off with a compliment, then follows up with a request. Editors don't like broken links and obsolete info on their articles either, so it's a win-win situation for everyone!
Template for influencer marketing
In the 21st century, influencer marketing is one of the best ways to let people know about your products and services. But it's important to do some research to find bloggers, vloggers, and other niche influencers that have a target audience who would be interested in what you have to offer. Once you have your list of people drawn up, it's time to start contacting them. 
Here's a blogger outreach email template you can use for your marketing strategy. 
Pro tips and insights: This collaboration email example is a great one to use, no matter what sort of influencer you're reaching out to. The paragraph about the social media share can be modified or removed, according to your needs. 
The outreach template shows genuine interest in the influencer's works while also offering a potential work relationship. Very short, sweet, and not too direct!
Template for writing blog articles about TOP…
Writing interesting articles about different products and services that are currently trending in your niche market is a great way to provide helpful information while also getting noticed. Once the article is finished, you must write an outreach email to these companies, asking them to share the content they're mentioned in. 
Here's a sample outreach letter you can edit and send to other businesses and influencers featured in your article.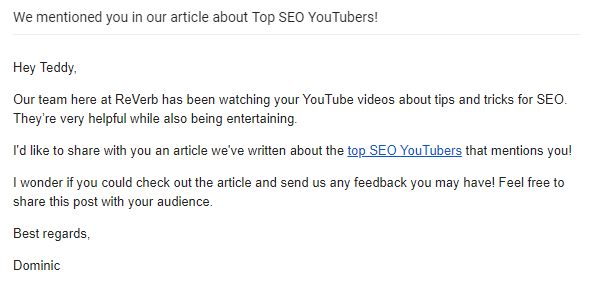 Pro tips and insights:  This outreach template starts off with a nice compliment and follows up with your content link. The last section also leaves room for further communication and maybe even collaboration. 
If this is your first time reaching out to the influencer or company, then a little insider tip is to include "Re:" in the subject line. This can boost your open rates, since people will think it's a thread they've previously replied to. 
Template for requesting article exchange
Collaborating with other businesses can also be done indirectly. One way is to contact sites with similar audiences and ask them to publish your article on their blog. As a mutually beneficial term, you may propose to publish their article on your blog as well. 
Here's a sample outreach letter for an article exchange.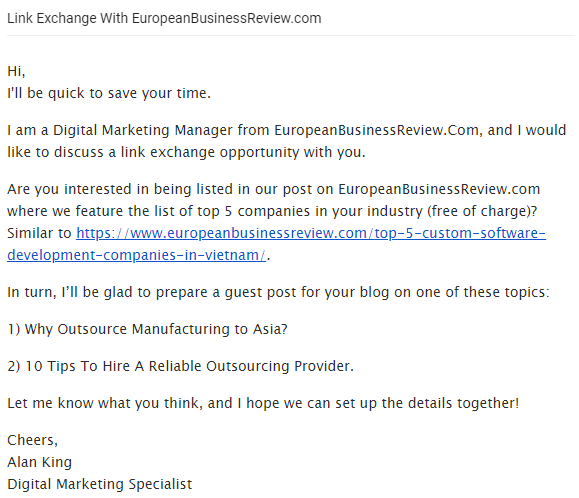 Pro tips and insights: The key for a guest post exchange is to be direct and straight to the point. Make sure you provide a couple of exciting guest post ideas with attention-grabbing titles. 
Template for turning unlinked brand mentions into links
When an article mentions you, but there's no link to your site, consider this a lost customer. To avoid this, you must keep up with your company's mentions on other sites. 
If there's no link, you should reach out to the editor and ask them to insert your backlink. You should also track your business mentions on social media so that you can engage in conversations and start interacting with interested users. Mention.com provides this feature.
Here's an outreach template to request a backlink insertion.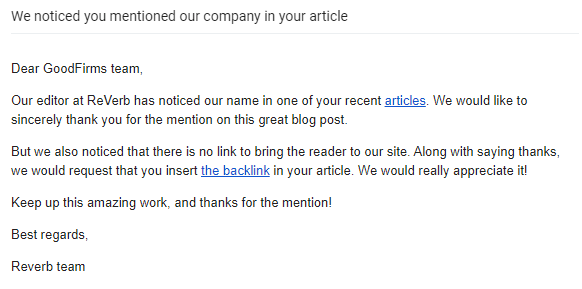 Pro tips and insights:  Remember to always thank editors for the mention, as they're bringing your products and services to new customers. Don't stall too long and get to the point! Always provide them with the exact link you wish to be inserted. 
Template for copyrighting scraped content
The internet is a limitless place, and it's very easy to find content to plagiarize. 
What do you do if you find content copied from your website? You can reach out to the editors and request to insert a backlink to your blog. Keep in mind that this tactic won't always work, but it can't hurt to try. 
Here is an outreach email you can send about scraped content.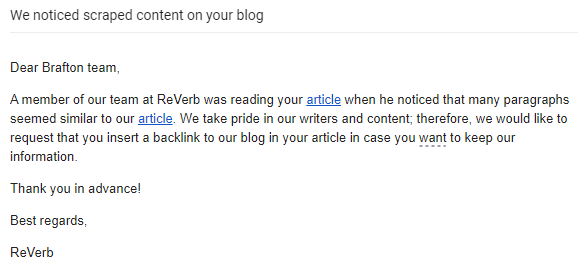 Pro tips and insights:  This is a simple template that can be modified heavily. If there are a few examples of plagiarism, then you may also mention legal action in your email as well. For a more solid case, you may show proof, such as highlighted similarities between the content or a plagiarism checker percentage. 
Template for requesting client's testimonials
As knowledgeably as you write about your own products and services, people always want to hear other opinions. Ask your clients to write a short review of your services and products on their site or social media page, linking it to your site. You can also ask them to review the products on your own site as well.
Here's a template to use when reaching out to customers.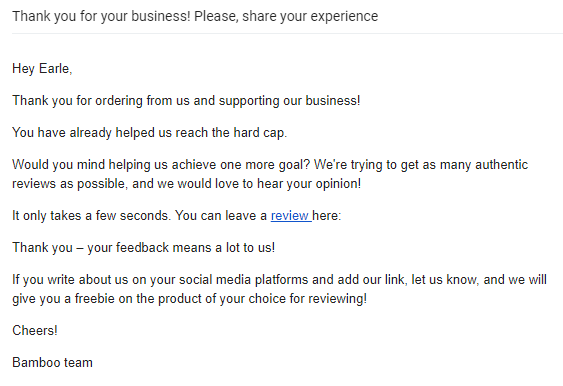 Pro tips and insights: When reaching out to customers, remember to stay authentic and genuine. People hate robotic and monotone emails, so be real. The discount and freebie are optional, but we recommend them as added motivation to write about you. 
Template for pitching exclusive infographics
People love visuals and are more interested in data in a dynamic form. Creating an infographic with useful information for readers will make them more inclined to share it on their social media platforms and blogs. It's a great idea to prepare exclusive infographics and pitch them to authoritative sites. 
Here's a template to help you reach out. 
Follow-up (to write after 3 days without response):

Template for inviting influencers to test your product or service
Influencers have a lot of influence over people, just like the name says! When someone with many followers reviews and recommends your product, people are likely to check it out. To motivate posts about your products, reach out to influencers with an offer, a request, or freebies. 
Use this template to reach out to bloggers and influencers in your niche market.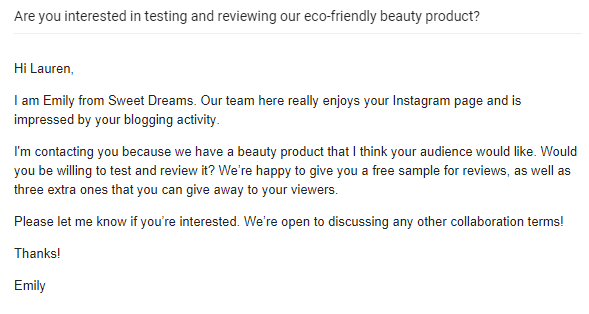 Pro tips and insights:  This email is direct—you suggest a free product in return for a review. Many influencers will be happy to oblige with this offer. By providing three free products for their fans, you'll give them the chance to reward their audience and further solidify their loyalty. This generosity can go a long way and lead to a longer-lasting relationship and further collaboration. 
Template for asking for the market leaders' opinion
Opinion leaders like feeling valued and important, so what better way to do that than by asking their opinion on a specific topic? Later, you can publish your talk in an article or an interview and ask the author to share it. 
Here's a template you can use to reach out to opinion leaders.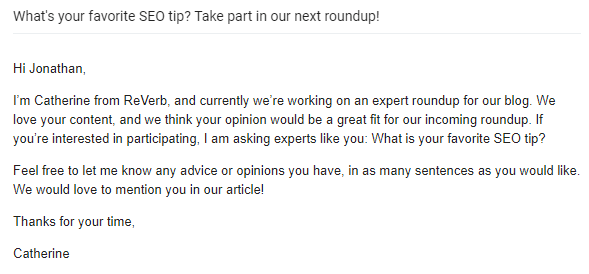 Pro tips and insights:  As always, this email also starts with a compliment. You must provide a genuine request that shows why you are asking that specific influencer. Don't put too many limits on your requests; you can edit the answer for length later as needed. Remember to follow up once you've published their response!
Conclusion
With ready-to-use templates, outreach marketing isn't as difficult as it may seem. Customize our emails to your marketing campaign, and you'll be collaborating with market leaders in no time. We wish you luck in all your future endeavors!