At the start of COVID-19, when everyone was in self-isolation, most people turned to binge-watching, reading, and what's even more fascinating, listening to different forms of audio such as audiobooks and podcasts.
Yes, podcasts have become a lifebuoy for people all around the world.
Amid the pandemic, there were more than 103 million US podcast listeners, and this number is expected to almost double by 2023!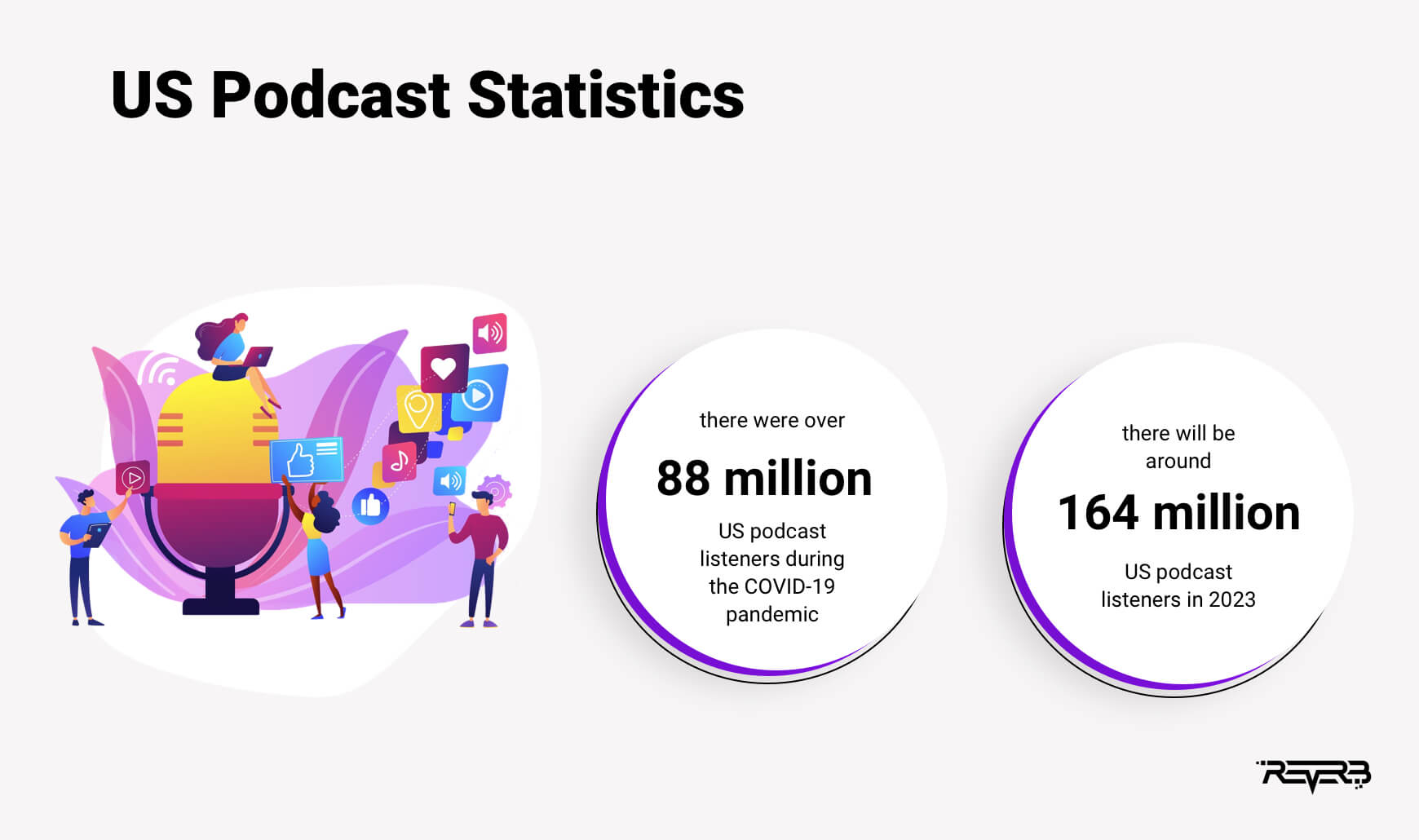 Podcasts are quickly becoming one of the most successful tools for broadcasting, announcing, and of course – marketing!
But how do you promote your podcast efficiently? When and where to do it? That's quite a few questions, and I'm going to answer all of them in this article. So enough talking – let's dive into the podcast marketing waters.
What Is Podcast Marketing,
And Why Is There So Much Hype Around It?
Let's start with the definition of a podcast (although you probably already know). A podcast is a series of audio recordings dedicated to a specific topic. So, it follows that podcast marketing is a way to endorse your webisode campaign using different strategies, channels, and tricks.  
What's all the fuss about podcast marketing? Can't you just put your episodes on Apple, Spotify, or Youtube and wait till it gains notoriety? 
You can. But will it be just as effective as using a proper promotional plan? No.
As an executive or business owner, your goal is to constantly increase the value of your product, and ensure you reach as big of an audience as you can. If you're still not convinced, let me show you a couple of reasons for podcast promotion: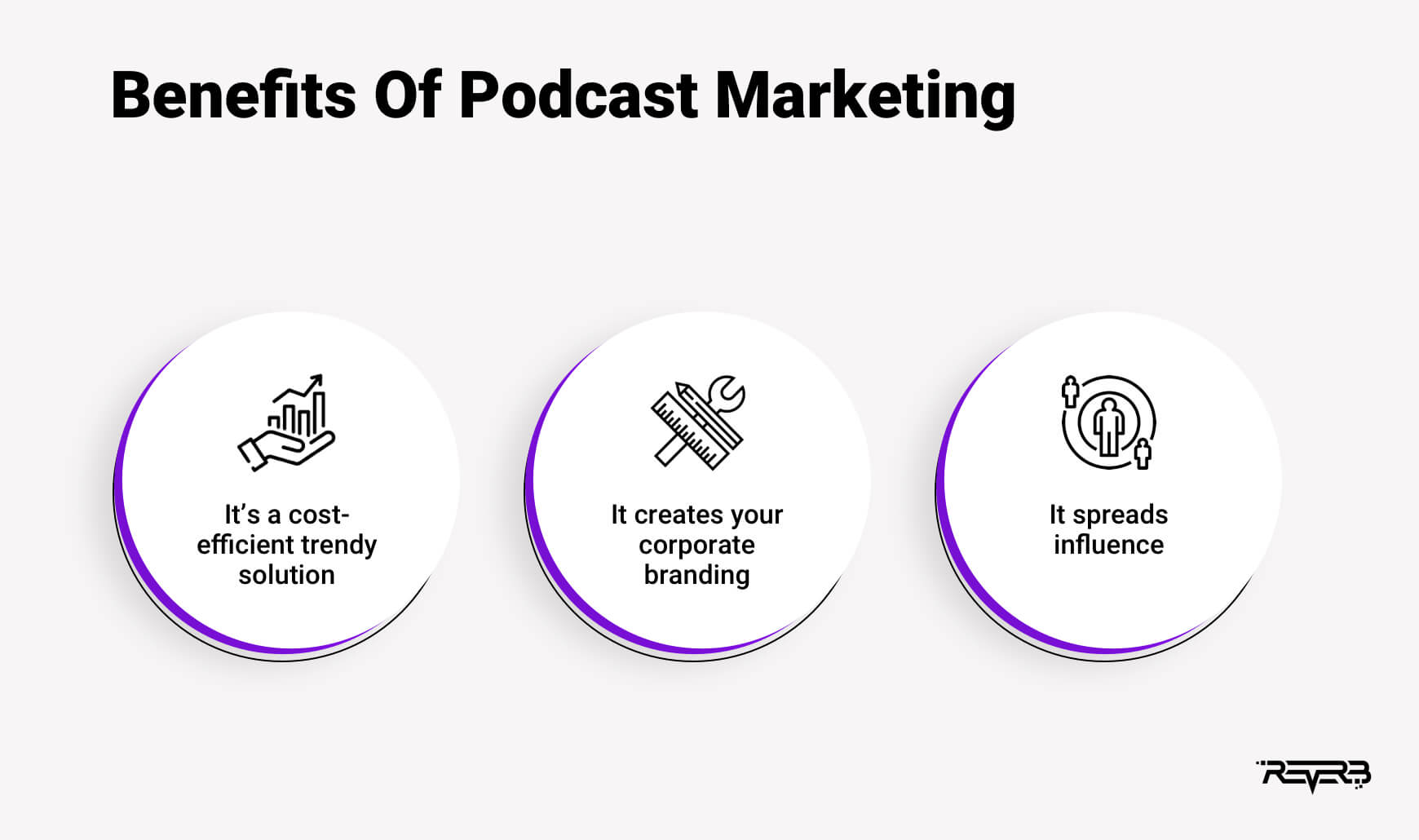 It's a cost-efficient trendy solution
To succeed in business, you can't neglect digital marketing trends under any circumstances in the 21st century. And while the top marketing trend today, video production, requires lots of know-how, technical and editorial skills, in addition to professional equipment, podcast creation really only requires an intuitive and low-effort approach.
Through your show, your listeners not only see your company or your product, per se. Instead, they can hear your story of how you started your business, or the importance of your company, for podcasts are a fascinating way to establish a closer connection with your audience. And if you're implementing the podcast marketing strategies correctly, it will even create an entire loyal fan community.
In today's business world, it's essential to position yourself as an industry leader. That's why different companies invest money into all kinds of self-promotional activities, such as interviews, webinars, conferences, etc. Currently, podcasts are the most powerful way to speed up gaining influence and open the doors to fruitful business collaborations. 
Now that you've learned about podcasts and their benefits, let's get to the most exciting part – podcast promotion strategies that actually work!
Podcast Marketing Strategies: 9 Ways To Market Your New Podcast
Strategy #1: Build your audience
Before you try to move mountains, make sure you have at least a small loyal community. By doing this, you'll have an easier time implementing the next podcast marketing strategies. 
Here are a few tips:
Publish 3-5 episodes when initially launching
If you're only starting your podcast, it's vital to have at least three episodes of the show ready to launch. The particular reason for that is that once the audience begins exploring your content and they like it, the chances are they'll want to binge-listen. And if you only have a single episode, it will upset your listeners. So the more you post on launch day, the merrier.
Engage with your audience
CTAs are important in any marketing strategy, and podcasts are no exception. You need to make sure you always ask your followers to like, share, and subscribe. However, make sure not to cross the line and sound too pushy. Instead, talk in a friendly and honest way. 
In addition, prompt your audience to send you their reviews, questions, or ideas via email. In this way, you'll be able to establish a closer connection to your listeners and support continuous communication, which also shows your listeners that you care.
Inspirational example: Kermode and Mayo's Film Review Podcast is entirely based on two speakers reading listener's stories and movie reviews and discussing them together during the show.  
What's the point of your quality content if you don't post the freshest podcasts regularly? Then, when your episodes are loved, you can be sure that people will wait for your podcasts to air at a specific time – daily/weekly/monthly. 
Additionally, it's essential to publish at strategic times. Take your time and do research when other podcasts are posting, or check your analytics to see when you have the biggest number of listeners. If you see a pattern, follow it.
Strategy #2: Submit to podcatchers
A podcatcher, (also known as a podcast aggregator), is a special application that allows listening to podcasts. Apple Podcasts is considered to be the most famous podcatcher as it comes by default for all iOS users.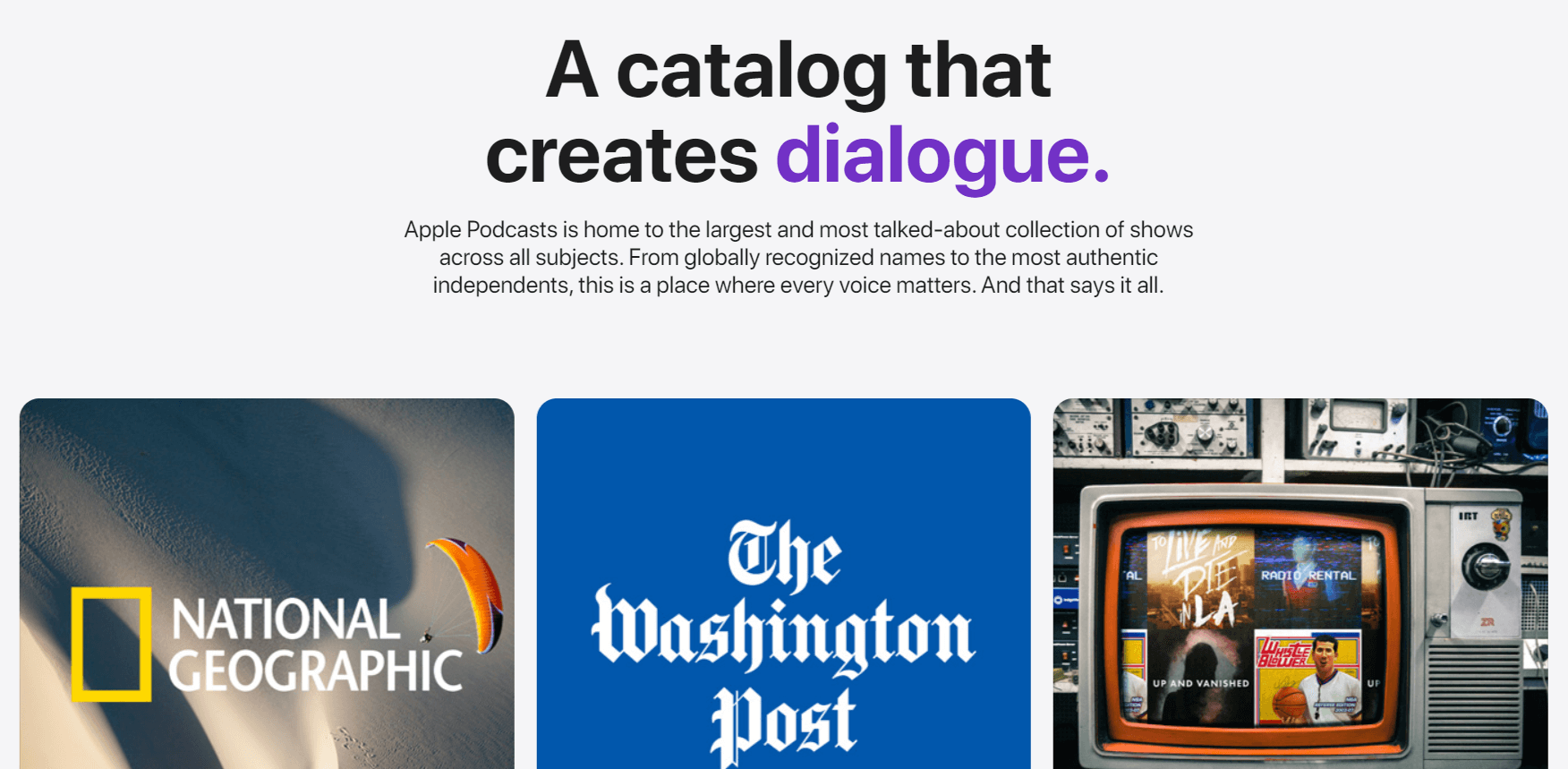 There are dozens of other podcatchers to consider:
Using these podcast directories will make it easier for your audience to enjoy your content, and help expand your fan club by exposing you to new audiences. Just create several accounts with different aggregators, and submit your feed to each of them so that your new podcasts will automatically be downloaded onto the platform. 
Trust me, it's one of the most effective and simplest tactics you could possibly use.
Strategy #3: Promote via social media
Social media is one of the best options for distributing a podcast. If your audience doesn't like Facebook, they can find you on TikTok, and if they don't use Twitter, you'll catch them on Instagram. So your objective is to cover different social media platforms and promote your podcast there. 
Instead of simply posting links to your podcasts without any enthusiasm, try adding value and build social media campaigns around your brand's goals, values, and topic. Be open and unique.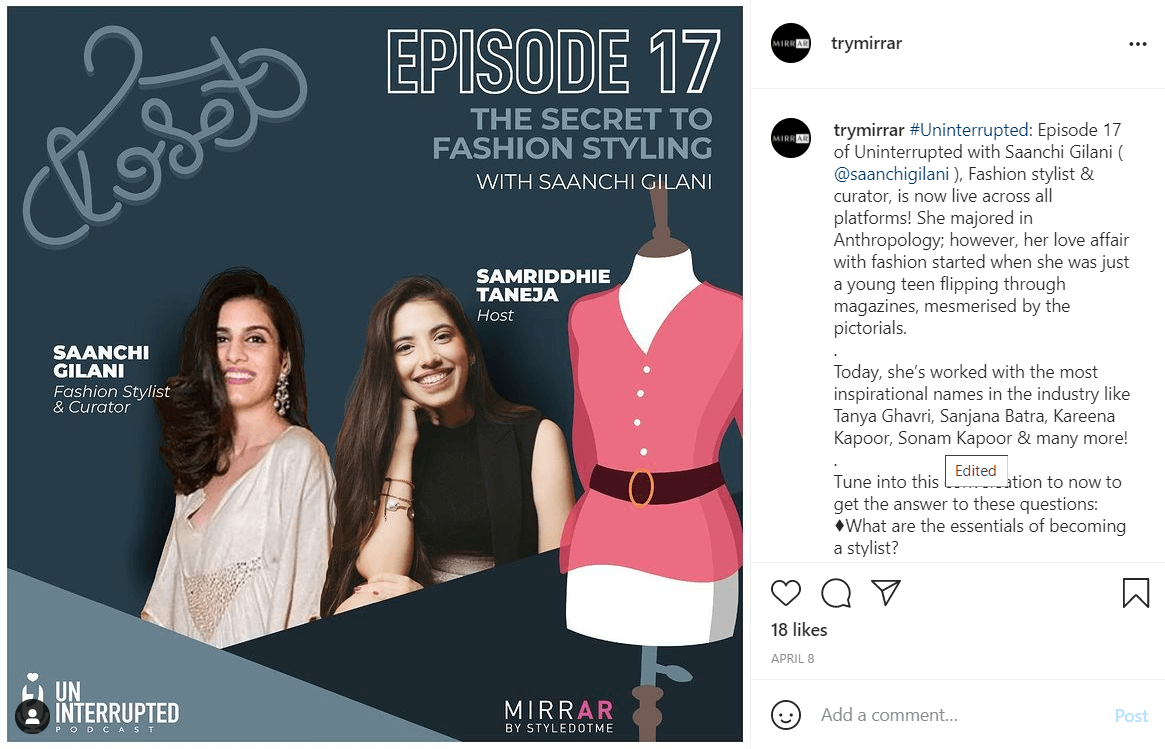 Here are some creative ideas:
Create a fun questionnaire on Twitter that you'll discuss on the next episode

Convert your podcast to a YouTube video 

Cut a 15-second clickbait clip, and upload it on Reels in Instagram

Make a catchy or even controversial teaser for the next episode

Create a funny behind-the-scenes video – followers just adore that!
As you can see, there's no limit here – social media is indeed the crème de la crème podcast marketing strategy.
Strategy #4: Run contests
It's no secret that people love winning. Thus, giveaway contests are considered to be a great way to attract new listeners to your podcast and spread the word about it to the masses.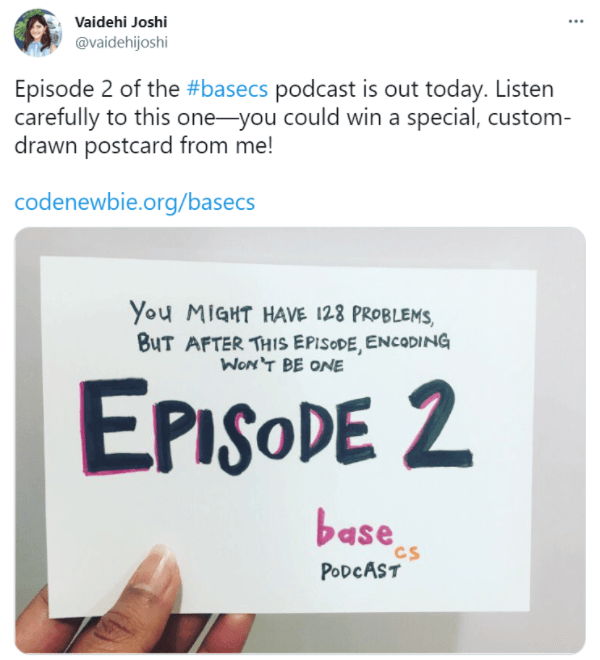 However, make sure to make your contest authentic – don't give away generic gifts that have no value or connection to your brand. 
So what can you offer as a prize?
Your merch, (t-shirts, stickers, notebooks, posters)

Product discounts, (or even free products, depending on your business area)

Guest spots on the show
In return, ask your listeners to participate in the contest by following and sharing your new podcast, or writing feedback on it. 
Inspirational example: The Girls Talk Too Much Podcast attracted new listeners by collaborating with a nail polish brand and giving away some exciting prizes.
Strategy #5: Collaborate and establish partnerships
In any business, connections are important. So when you want to distribute your new podcast, building a partnership with niche-related people and/or companies makes sense. 
Think about the following collaboration opportunities:
A free way to promote your podcast material is to do an ad swap – you promote each other, and both profit from audience growth.
You can invite experts, celebrities, friends, fans, or other useful connections to your show and observe how your ratings increase. The mouth marketing works better than you can ever imagine – your guests most likely use social media, so they're going to mention you one way or another.
Attend events and give a speech
Another excellent way for promoting a podcast and making more people aware of your brand is to become a speaker at a relevant event. Remember – to get noticed, you have to create truly valuable, unique, and fantastic content that will be interesting to the participants. What's more, while attending special events, you can also benefit from networking, and find new partnership opportunities.
Strategy #6: Keep SEO in mind
Just like search engine optimization (SEO) is important in blog articles, audio media also requires SEO to rank the content higher on search platforms. Therefore, your podcast marketing should include a relevant title and description, well-chosen keywords, and meta tags.
Inspirational example: Let's take a look at Neal Schaffer's podcast. If you search for "social influence" on any podcast platform, you will find Neal's material in the first position. It's all due to choosing a proper title and applying SEO rules – just as easy!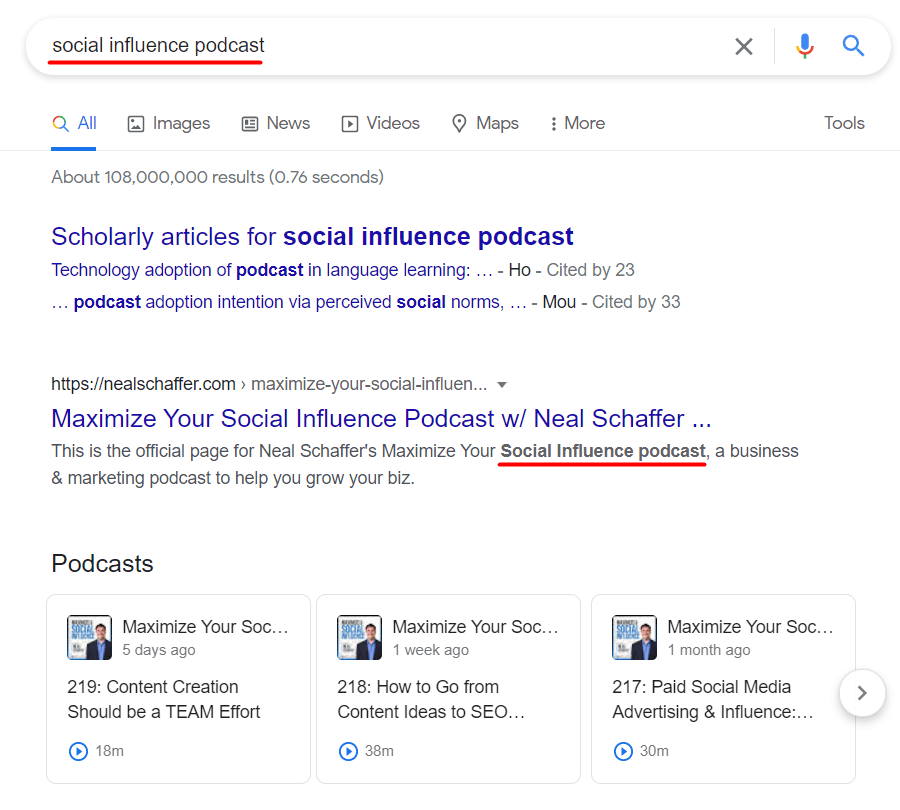 Strategy #7: Include transcription
Some people prefer reading while listening, some only start in order to learn the language, some may have APD (Auditory Processing Disorder) – either way, transcriptions are extremely popular among listeners. You can hire a professional, or use AI software to transcribe your entire show and post it along with the episode launch. Also, you can post snippets on your social media accounts.
And what else is transcription good for? For SEO. Add key phrases, some interlinks – and boom, your podcast skyrockets in the rankings.
Inspirational example: This American Life's podcasts have a special 'Transcript' button on their website that opens a link containing the whole podcast text.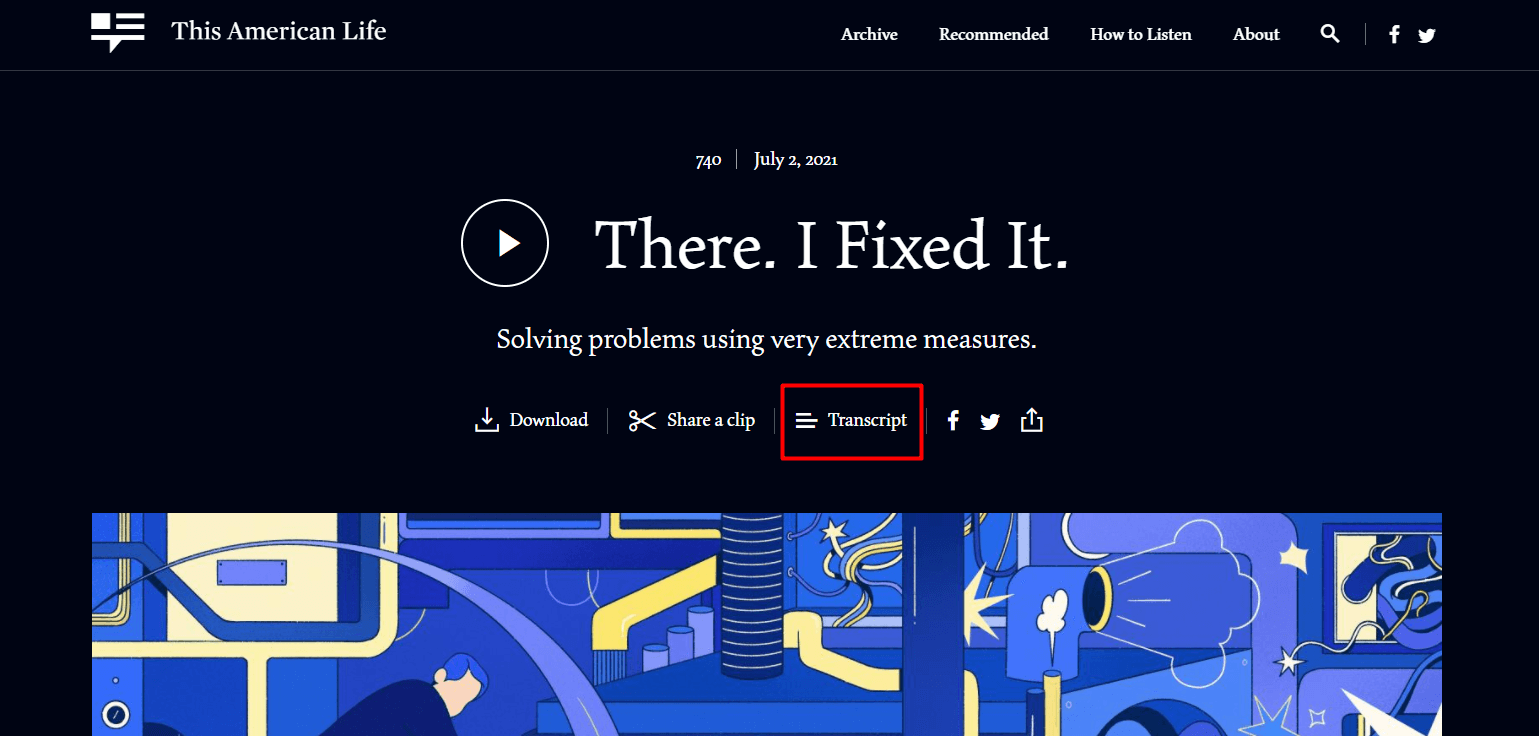 Strategy #8: Launch sponsored ads
Sponsorships have been proven to be unbelievably effective. So, it's no wonder it was predicted to gross $1B in 2021. 
Sponsored advertising involves you buying an ad slot on other podcasts. Depending on the promoter's audience size, popularity, or relevance to the topic, prices can vary drastically. So when trying to promote your podcast via sponsorship, make sure you focus on these above-mentioned core suggestions. And always remember to negotiate, providing your podcast's mission, adding value to ensure your brand is broadcasted in the best way possible. 
PRO Strategy: Hire a Digital Marketing Agency
The easiest, and in my opinion, the best way for a company to promote its podcasts is to refer to a digital marketing agency and allow them to do all the "dirty work."
Why?
It's easier

It saves energy and time

It guarantees results (in most cases)

It gives you access to wide audiences and useful podcast marketing tools

It's generally just a MUCH better and efficient option
All you have to do is focus on creating killer webisode content while the agency promotes your brand using the best podcast marketing strategies. Or, perhaps the digital specialists can even help you with the content production process as well.
Solution: ReVerb
You're a step away from making your podcast thrive. So let us help you!
ReVerb will use its years of practice, know-how, and skills to make your business stand out and be like no other on the market. We know exactly how to promote a podcast and make it profitable and popular on any platform. So contact us right now, and let's start broadcasting your ideas to the whole world!