A long-term marketing strategy is a foundation that guides a company throughout its entire lifecycle. The majority of promotional channels don't bring profit immediately. It may take you months to start seeing results from SEO and content marketing, for example. 
Do you want to get sales from day 1? Well, that's where one-off sales promotions come in handy. Promo campaigns are irreplaceable when you need to boost sales and create some noise around your brand in a wink. 
In this article, I've collected ten highly-converting sales promotion ideas for your next campaign. 
Top Sales Promotion Ideas Suitable For Any Business
All of the listed sales ideas are industry-adjustable, reusable, and can perfectly complement your general marketing strategy. So, take out your notebook!

#1 Sales promotion idea. Create a shoppable video
Video is the most adored type of content among modern users. Conversion-boosting videos' possibilities are almost limitless, and shoppable video is one of the most highly-converting sales ideas. 
Why is it a perfect promotion tool? The answer is that you give users their favorite content format, visually show the capabilities, features, and benefits of your product, and offer to purchase it in just one click.
Shoppable videos can work as one-time ideas for sales, for example, if you want to promote your bestseller, or they can become your constant assistants. Create shoppable videos for the most popular (or vice versa, unnoticeable) products in your assortment and post them on your product pages and YouTube. Plus, you can advertise them on social media as a part of your social media marketing strategy.
Here's a brilliant sales promotion example of a shoppable video сreated by United Colors of Benetton used directly on the sales page.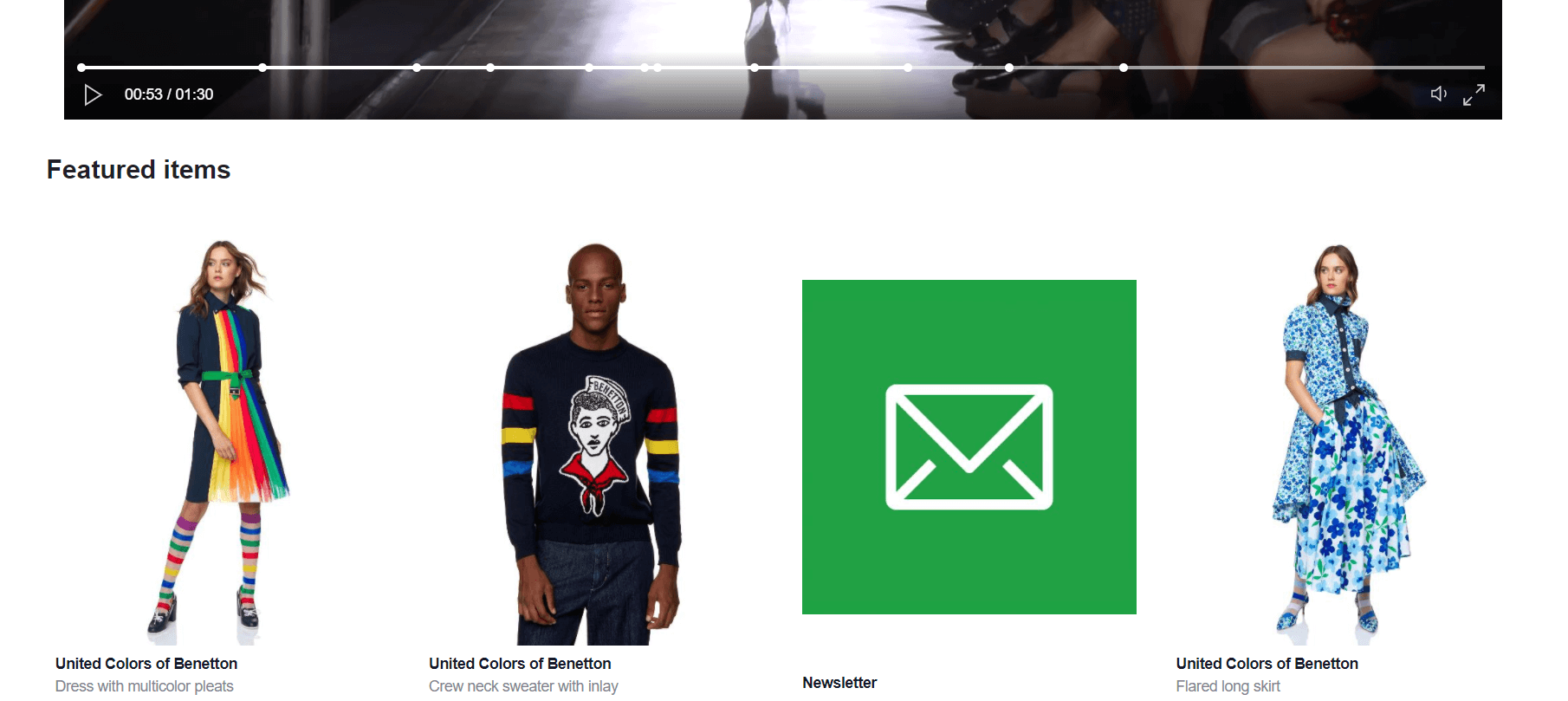 You can also consider creating customer testimonials to boost close rates. Using video for sales is simple yet efficient when you know how to collect these types of customer stories properly.
#2 Sales promotion idea. Sell more bestsellers with GIF-reviews
The best sales ideas come from the intersection of several approaches. The next idea is just about that.
Here's one of the GIF-reviews promotion examples that you can implement in your next email marketing campaign.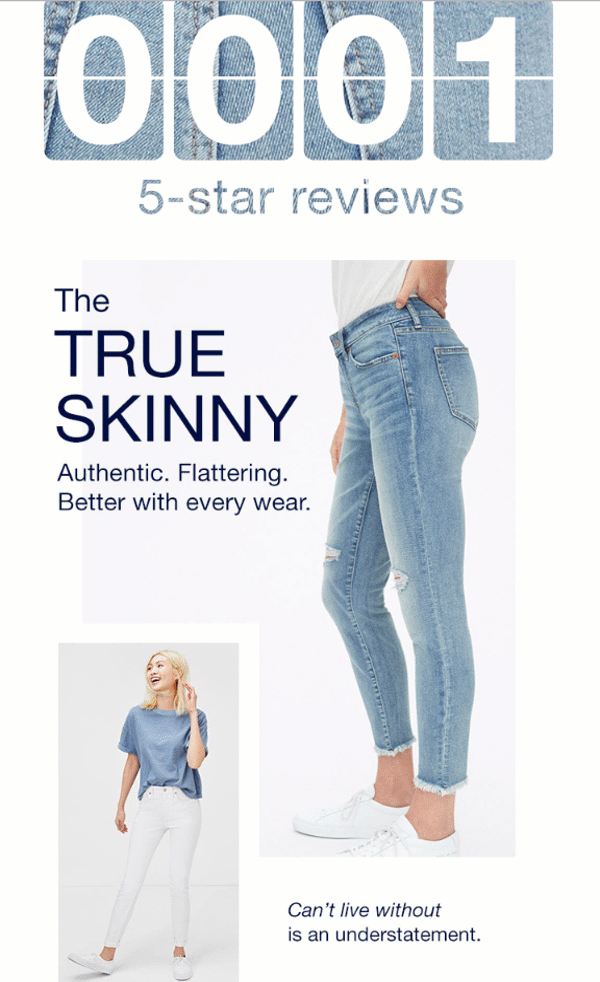 This GIF image sent to email subscribers achieves two significant sales goals:
demonstrates the product itself and its properties

allows users to immediately see real customer reviews about this product
Try this quite simple but very effective email marketing idea enhanced with beautiful graphics and GIF reviews, with the possibility to buy the rated products right there.
#3 Sales promotion idea. Invite your followers to vote for the best product in exchange for a discount
And here is a very playful sales promotion idea. Invite your Instagram followers to take part in Story voting. The essence of voting is to put "Yes" or "No" (or any other appropriate options) to each product from the selection. Each user who expresses his opinion about each of the products from your selection can get a discount on any of them.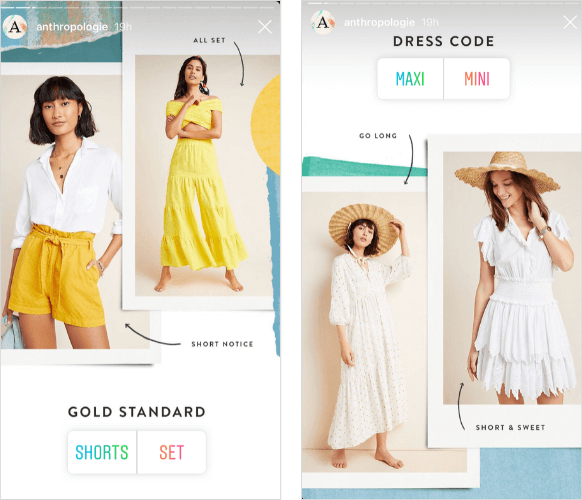 This is a good promotion example to achieve these goals: 
Here is how it may work. Ask subscribers to choose between two items, or ask them to say whether they would or wouldn't like to buy a certain good. 
Prompt! During the promo campaign, add a short sentence like "Vote and win a prize" to your bio.
#4 Sales promotion idea. Use influencers promo codes
Want to try influencer marketing for the first time? Let's start with an easy sales promotion example. 
Typically, influencers collaborate with big brands on an ongoing basis, by creating a kind of native content that has good advertising potential due to the influencer's authority in the eyes of subscribers. However, influencer marketing is also effective for a one-time promotion, especially if you can tie the influencer's personality and your brand together.
How to do it? The easiest way is to create a personalized promo code consisting of your brand name and your influencer's name and giving referrals a certain discount.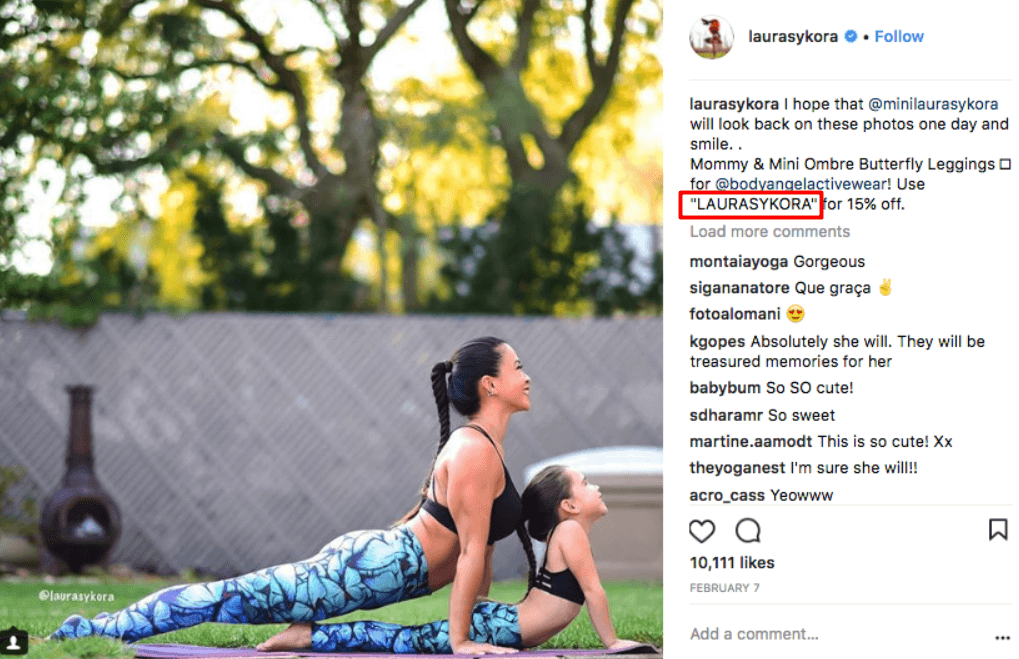 This simple and affordable idea will help you assess the effectiveness of influencer marketing for your business and possibly come up with further strategies.
#5 Sales promotion idea. Add a "Customers' Favorite Picks" page
It's another sales promotion idea that perfectly combines the power of a promotion and a recommendation engine. 
Create a Favorites page on your site and collect the best products and bestsellers there. This way, your visitors will be able to start searching right from this point and spend significantly less time on the selection. 
Here is Pandora's Best Sellers page.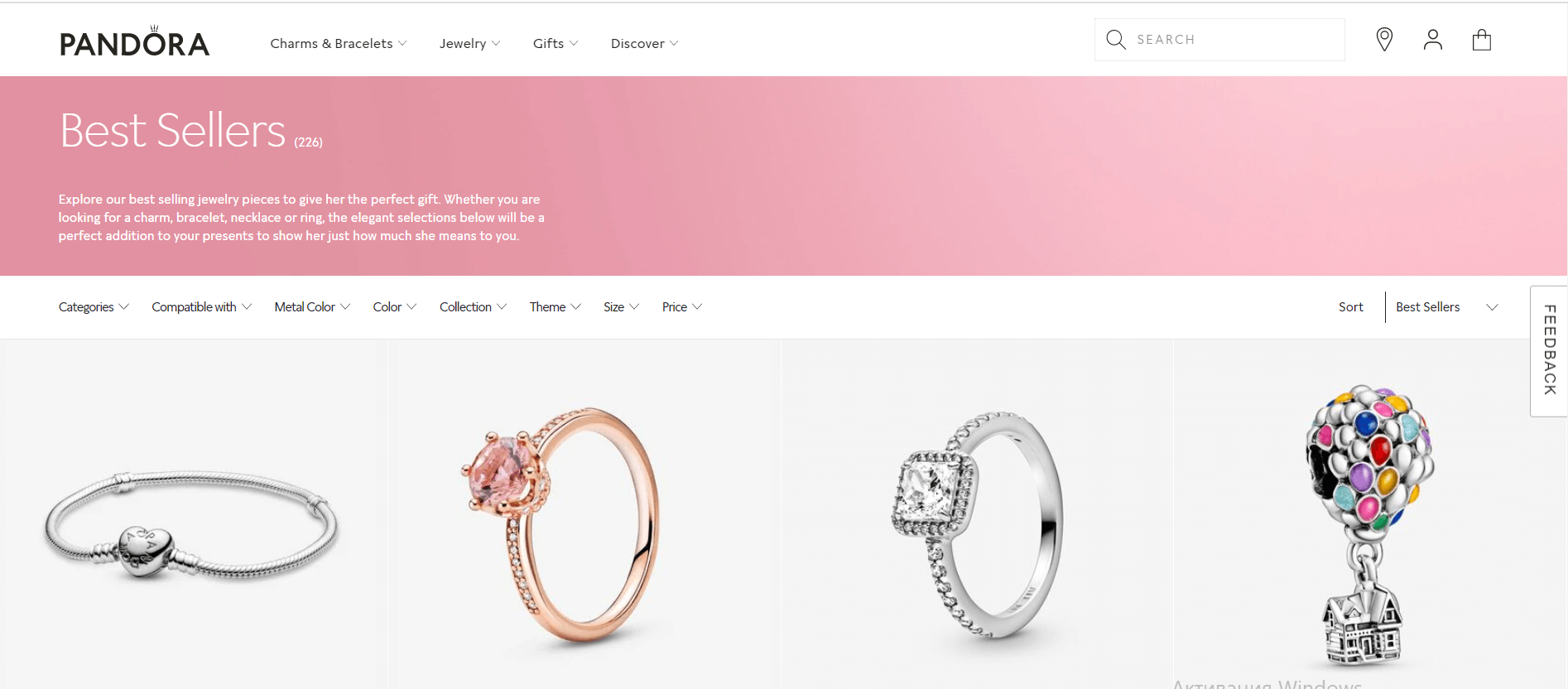 A great promo campaign idea can be to add discounts and bonuses to your best products, personalize your offers, track user behavior, and target them using email marketing and social media.
#6 Sales promotion idea. Launch a contest and advertise it via a pop-up on your website
Business owners typically run contests on social media, but why not run a contest on a website? Modern tools for creating pop-ups allow you to produce any design and tie them to specific user behavior. 
For example, you can invite your new customers to take part in a lottery, competition, or prize drawing using a pop-up window. To participate, they need to register on the site and make a purchase of at least $15.
Here is a nice promotion example of this type.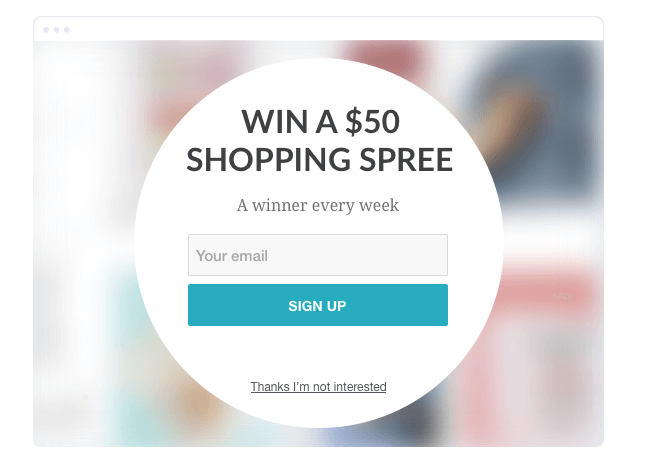 #7 Sales promotion idea. Be creative and urgent with a countdown timer
The countdown timer is an old marketing ploy, but it still works successfully to create a sense of urgency. However, why not get a little more creative with this promotion idea?
For example, you can move away from the standard timer indicating the days, hours, and seconds remaining until the end of the promotion, and replace it with
a creeping line that will be painted over every second

hourglass sagging on a granule of sand

or a transparent jug of water that loses drop by drop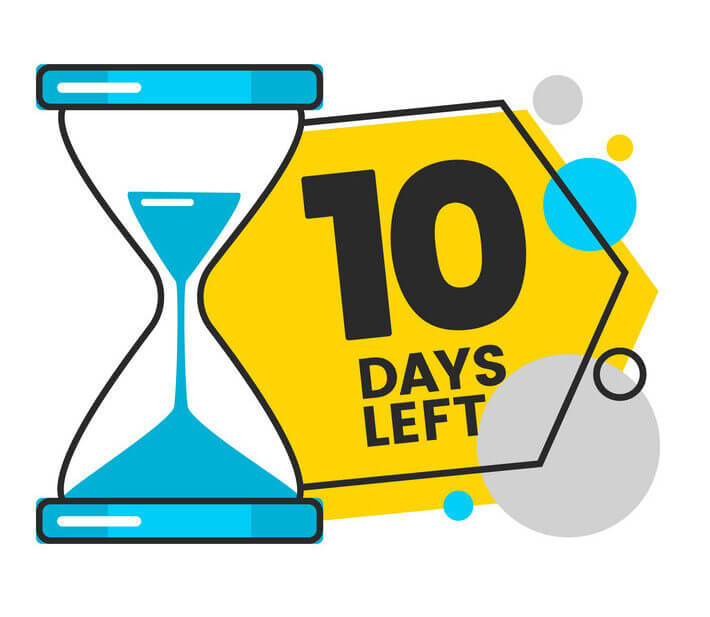 These are more interesting and attention-grabbing sales promotion ideas with a philosophical connotation. They make one remember that, as Remarque wrote, "Every time our future lasts until the next breath," which means there is no point in denying ourselves what we want right now.
Another hint! Do not forget to announce your promo on Instagram and use the countdown in the Instagram Story. Plus, you can set up a notification for your subscribers when the time comes to the end.
#8 Sales promotion idea. Create a premium club
The premium club is a pretty powerful marketing ploy. You can get started with this sales promotion idea by inviting your members to join the club and open up access to the best deals. If you do everything right, this lure can become a separate marketing strategy.
To begin with, you can invite your most loyal customers to join the club. Allow them to start using their privileges immediately. For example, this could be lifetime free shipping, a permanent discount on your items, or earlier access to other promotions. 
For example, Marks & Spencer invite users to join their Premium Club just for £10/month and get financial perks.
#9 Sales promotion idea. Launch a great sale on personalized terms
Thinking of a huge sale with great discounts, free shipping, and other offers? Users love to receive something valuable for much less than it really costs. Therefore, let's strengthen their desire with the following idea for sales.
You can organize a big sale, but say that each buyer will choose the conditions for himself. For example, a customer can find out the amount of a discount only after he clicks the "Checkout" button, or personalized promo code can be sent to an email after a new customer registers for a sale.
Prompt! These conditions are also suitable for short-term, flash sales.
#10 Sales promotion idea. Offer earlier access to a certain group of customers
Early Access is also something like a Premium Club, just less pretentious. Here is how this sales idea works.
For example, the Ukrainian marketplace Kasta offers access to the best deals five minutes earlier if the customer uses the mobile application instead of the website. Thus, the company wins twice – users actively use the branded application, and sales are automatically stimulated.
Think about the ways you can implement this promotion idea for your business. As an option, you can implement something like a Happy Hour or holiday promotion with earlier access for a certain range of customers (for example, those who were the most active last month or those whose Birthday is coming).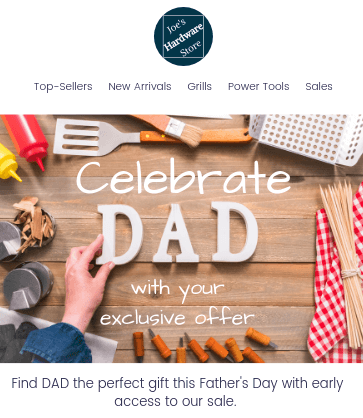 Conclusion
Already feel inspired by these sales ideas? Or have more suggestions? Let's bring them to life together! 
Our creative marketing team can assist you with the implementation of both long-term strategies and one-time promotions. Drop us a line right now!