What B2B Marketing Strategy To Choose?
It's crucial to use profitable marketing strategies for the business-to-business market to remain competitive in the b2b field. How many strategies should you include? Which of them is the most effective?
We suggest mixing and experimenting. And these are our must-have solutions that you should definitely apply in 2022 and the years to come:

1. SEO in conjunction with content marketing

SEO isn't dead, it's a fact. Almost 90% of b2b representatives do the organic search through Google to find contractors for their projects. 57% of B2B marketers say that SEO brings more customers than any other type of b2b advertising.
By doing SEO, including keyword selection, on-page optimization, link building with grey hat SEO hacks, and mobile-first indexing, you have an excellent chance to be noticed by the incredibly wide range of Google users with minimum financial investments.
Add SEO power to your content – create unique SEO texts, graphics, and videos and actively distribute them. The content becomes outdated slowly and works longer for your reputation in comparison with direct advertising.
2. Social networks
The oft-expressed view that social networks are for b2c only is unforgivably outdated. Look at LinkedIn. Company pages work here as prestigious business cards with the possibility to display vacancies, the latest updates, and blog posts. A lot of C-level executives prefer Twitter. Why not target them?
Here is one of the b2b marketing examples that deserve your attention. Amazon impresses the audience with nontrivial customer feedback:

3. Influencer marketing
Opinion leaders, represented by bloggers and niche leaders, nowadays have a powerful voice in favor of brands. It will be beneficial for you to make some reputable influencers loyal to your company; thus, they can recommend you to an extremely large audience.
Think about what you have in common and how you can be useful to each other. For example, if you're a software development firm, you can suggest the free development of some helpful app in exchange for advertising. Believe me, the payoff for such an investment of your time and resources will not keep you waiting.
By the way, influencers aren't just individuals but entire business entities, startups, event groups, etc.
That's how Tyler Garcia Posey, a famous American actor, advertised H&M: Tyler Posey H&M Christmas Ad.
To make the most out of your store development, consider getting b2b eCommerce consulting.
4. B2B email marketing
The same as SEO, do you think email marketing is dead? No. It just has changed. Keep in mind the fact that company employees spend 13 hours in their mailboxes. Can you ignore this factor? A few years ago, $1 spent on newsletters generated almost $40.
Today successful marketing email campaigns look like personal letters and have these important features:
come less often;
don't sell upfront;
are aimed at making the reader accustomed to the sender and gaining confidence.
Don't know what types of letters to include in your b2b email marketing strategy? Think about sending promotions, discounts, life stories of your customers or company founders, company updates and news, and educational blog posts.
By the way, we've recently listed some immortal newsletter types in our article 8 Must-Have Company Newsletter Types Suitable For Any Business [With Examples and Tips For Creation].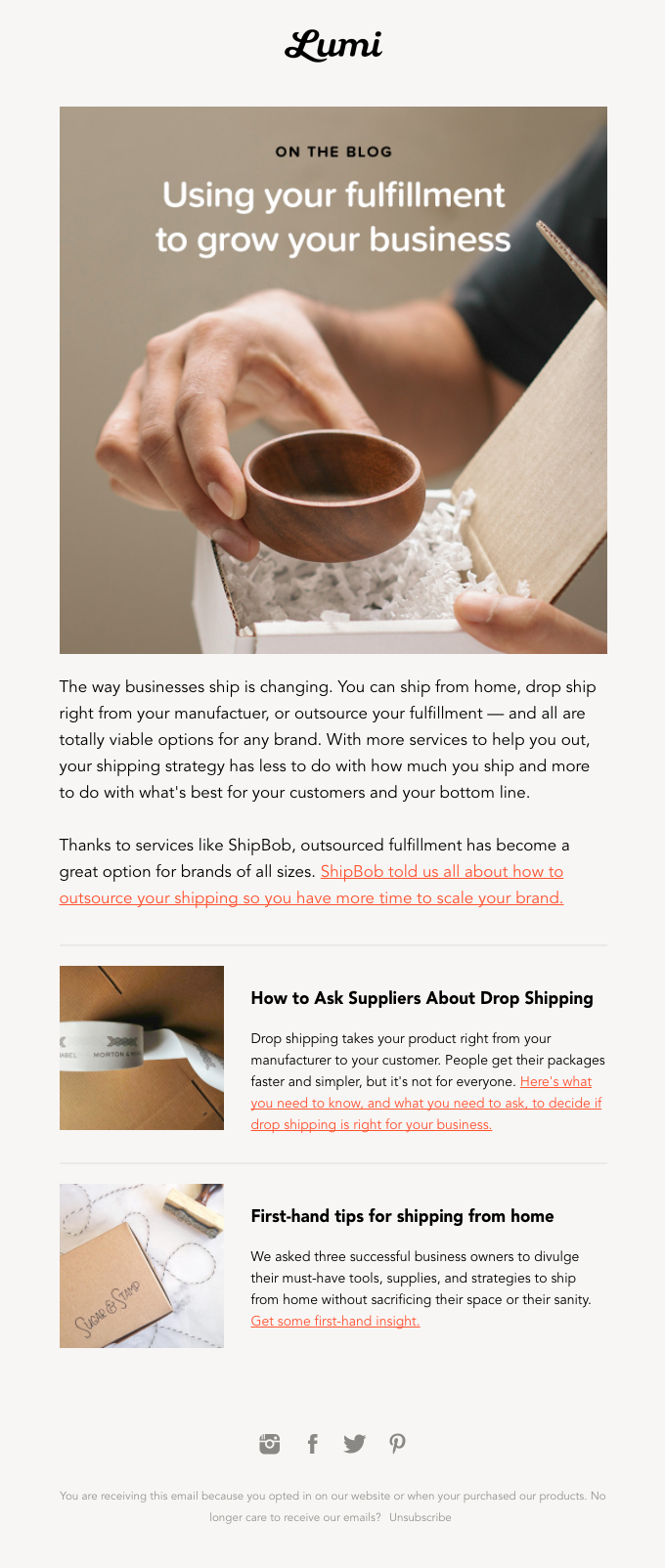 5. B2B advertising
To place paid advertising, you are provided with numerous platforms:
Social networks (Facebook, Linkedin, Twitter, Instagram, Pinterest, Quora, etc.);
Sponsored publications in related niche blogs;
Contextual advertising in SERP (Google, Bing, Yahoo);
Retargeting. These are ad blocks that are formed on the basis of cookies and catch up with users with relevant advertisements based on their actions on your website. The conversion rate of retargeting can reach 70%.
The good idea is to start by looking at Native advertising, which appears less annoying and obvious.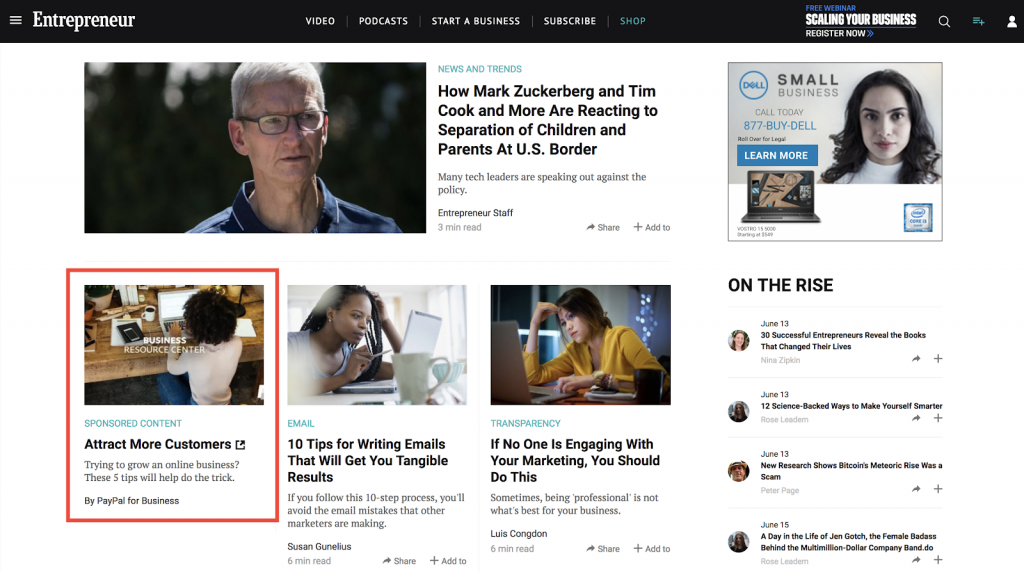 6. Chatbots
Chatbots are virtual assistants which perform the role of a company manager. By adding the chatbot to your website or Facebook page, you will collect valuable data about your customers for future sales and increase the conversion rate by 3 times. 85% of all customer interactions are handled without a human agent.
Luckily, you don't need to be a technician to develop your own chatbot. You can easily implement it with no code and technical skills using such tools as ManyChat, AirChat, or ChatFuel. To get more ideas for chatbot conversational flows, you can use the ready-made templates from Botmakers.net designed for various industries.

7. Account-based marketing

This approach implies adapting your strategy and sales mechanics to the particularities of the accounts you are interested in (your ideal customers). Today, it's not the number of subscribers that matters but their quality. It's necessary to focus on the interests, geography, involvement, and other parameters of the target audience, which can increase sales by an average of 35%.
That's where you can't go far without big data. Applying big data in your advertising campaign means constantly collecting and analyzing information about each user so that you can use it for successful targeting and personalized sales.
According to McKinsey's report, 75% of what users watched on Netflix, and 35% of what they bought on Amazon, was done thanks to recommendations based on the results of smart algorithms.
Grammarly is obviously using Big Data to make their marketing campaigns more personalized, too.

8. Mobile-first strategy
More than half of global traffic is mobile. This fact cannot be ignored. Without the mobile-first strategy, you lose almost half of your customers. We described how to adapt your site to the needs of mobile users and to boost sales in our article Mobile Optimization Strategy And Best Practices That Will Get Your Site On Top Of The SERPs.
The Major Mistakes That Marketers Make When Implementing The B2B Plan
Here are some bonus tips which will help you avoid failure with your b2b marketing strategies.
Don't:
Ignore the audience. By defining your audience incorrectly or ignoring its diversity, you can generate irrelevant content or spend money on attracting the wrong traffic.
Neglect the necessity of a mobile-first strategy. Mobile traffic prevails today, so the mobile-first strategy is a "must-have" component, especially for b2b eCommerces.
Lack of communication between the marketing and sales departments. Marketers can spend a lot of effort and money on lead generation while sales managers process the client's request incompetently.
The dominance of tactics over strategy. Chaotic actions toward increasing sales only impede the implementation of the strategy. All marketing activities must be structured, and consistent, and pursue the overall goals of the company.
We're Here To Help You!
What do you do if you're afraid of wasting money on implementing ineffective b2b marketing strategies by yourself? The ReVerb team will gladly support you by forming an actionable plan based on your business specifics, goals, and requirements.
Contact us now to find details on how we collaborate with companies and the results you can achieve by working with us. We are here to make your b2b marketing strategies even more effective and profitable.