Can you imagine that the emergence of marketing and the sales funnel date back to the dawn of civilizations? At the moment an ancient Greek told another ancient Greek that his neighbor creates the most powerful iron swords, the primitive sales funnel started to work.
Today, things have changed a lot. It's not enough to share one sales message to pursue a person to purchase something or become a loyal client, especially in the web space. The digital marketing funnel needs to be thoughtful, tested, and bring specific value to your target audience. That's what I'll help you with.
In this guide, we'll walk this path together – from creating your first inbound marketing funnel to generating repeated sales. 
Let's dive in.
The Digital Marketing Funnel and Its Components
So, let's start by defining a digital marketing funnel and its main components. 
Simply put, it's a customer's journey with your brand. It involves a set of specific stages that your potential customers pass through before buying your product or ordering a service. 
The times when it was enough to say 'Hey, I produce the best iron swords!' are behind us. Nowadays, you have to build a smooth and gradual customer interaction before trying to sell.
Every interaction of a potential buyer and your company should be very careful and natural – as if you met your old friend in a park just by chance.
By analyzing the most efficient marketing funnel examples, we'll see that a well-built digital marketing funnel is based on a regular data analysis, testing of different approaches, and evaluating the results at each stage.
Fortunately, the structure of a digital marketing funnel is quite simple and consists of three core elements: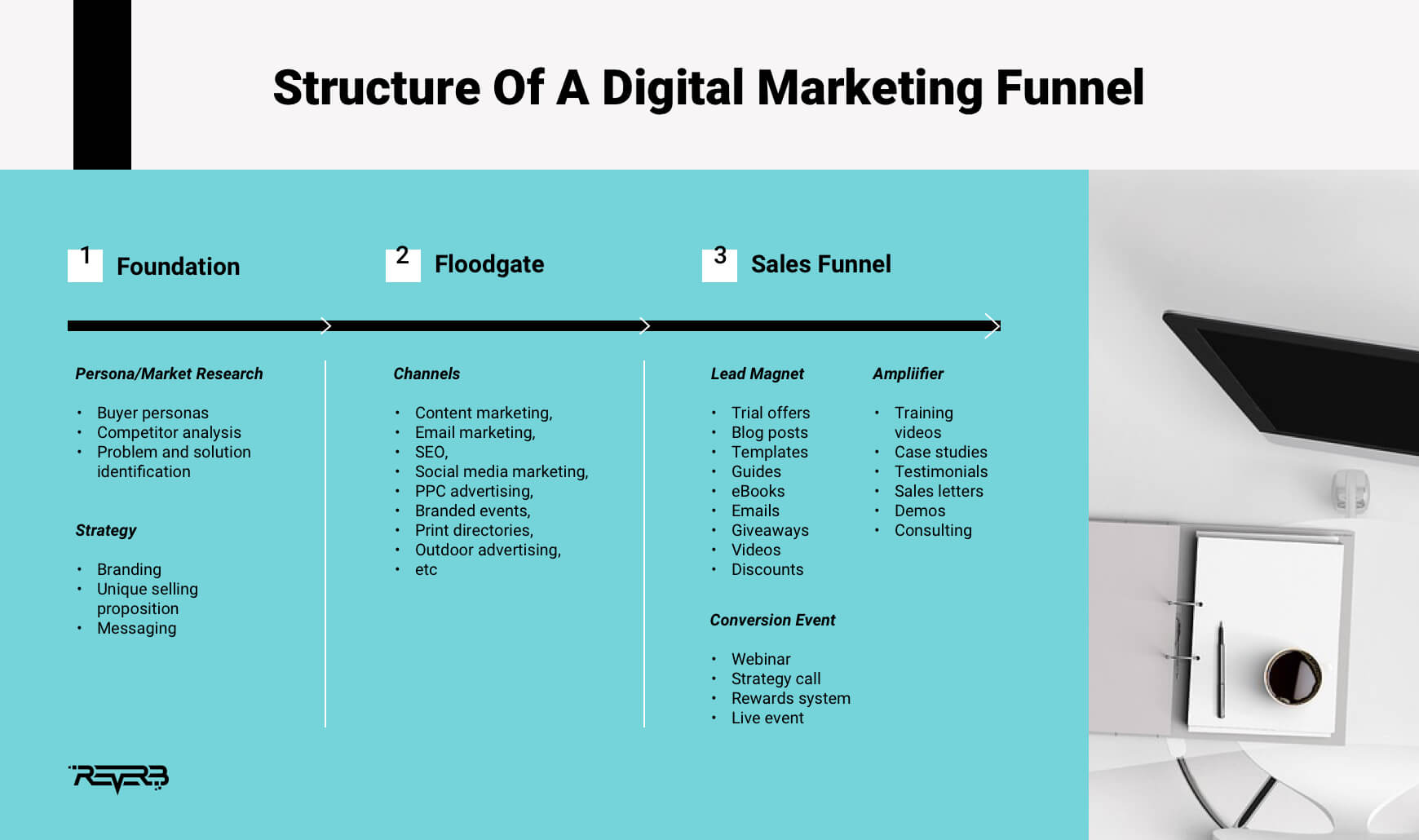 1) A foundation
The foundation of your marketing funnel is a deep understanding of your customers, their pains and problems, main characteristics, as well as peculiarities of perception and buying behavior. It is impossible to build a highly-converting funnel without knowing what baits and hooks will work out well in relation to your target audience.
For example, you cannot sell a house or a car to a typical millennial unless you convince him that paying on a mortgage is more profitable than renting an apartment and owning a personal car is more convenient than a taxi and car-sharing.
Problem identification and coming up with the best solution are at the top of the marketing funnel.
2) A floodgate
The floodgate brings together all the channels you use to drive a lead through the digital marketing funnel – from first acquaintances to repeat sales. 
You can incorporate content marketing, email marketing, SEO, social media posting, paid advertising, branded events, print directories, outdoor advertising, and everything else required for an engaging user experience.
3) The actual sales funnel
This is the result of your efforts to implement the previous funnel components. That is, it's a sequential chain of your tactics and client actions necessary to bring the deal to an end.
Digital Marketing Funnel
Stages and The Right Way to Drive Leads Through Them
Note that the components and stages of a marketing funnel are not the same things.
Components are the strategic part.

The stages are the practical part.
Generally, we can define three major stages of any marketing funnel: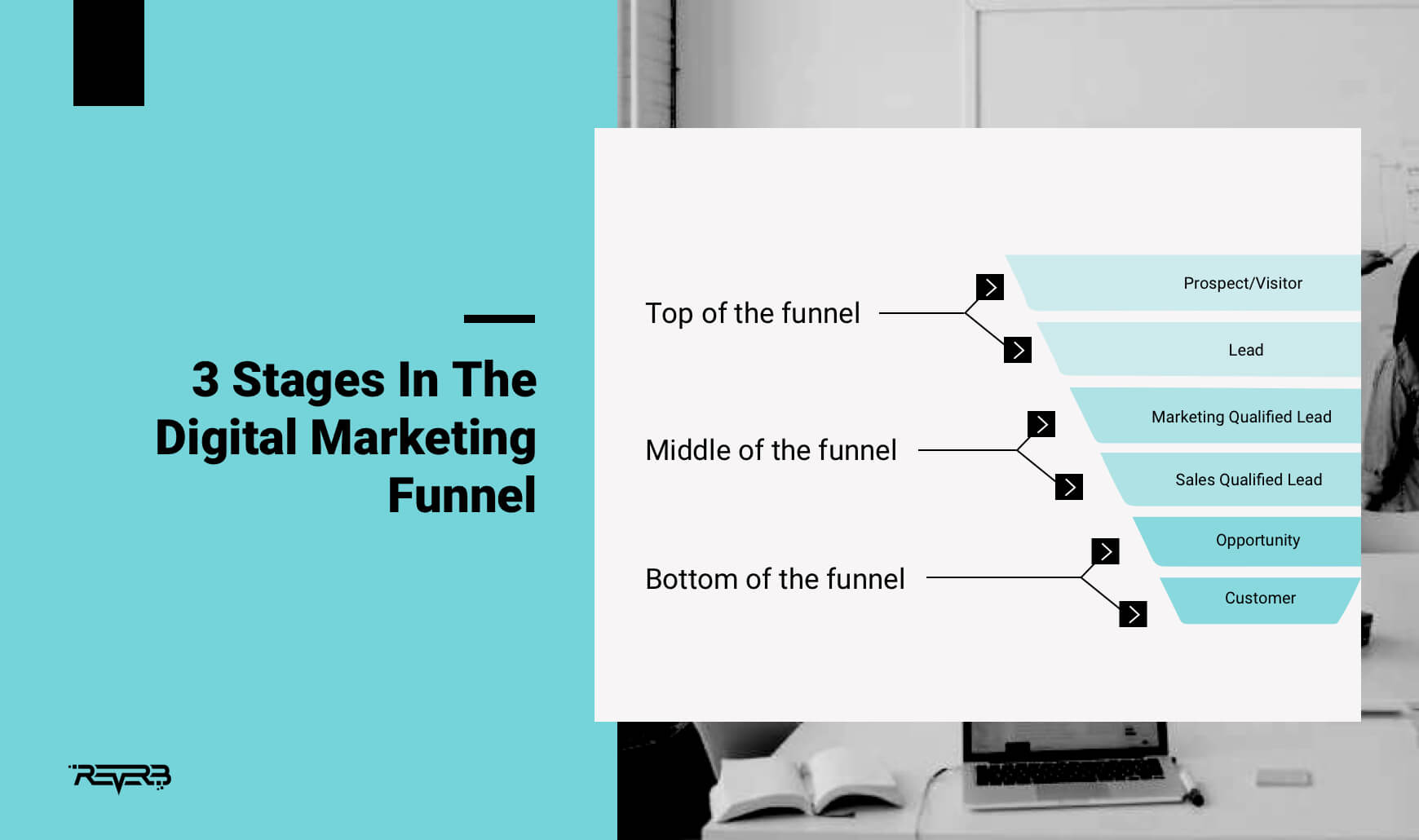 Top of the Funnel.

Here we carefully present our business to prospects, avoiding any intrusiveness and pressure.

Middle of the Funnel.

Here we propose to continue acquaintance, share the company offer, give time to think about it and compare options.

Bottom of the Funnel.

At this point, the user makes a purchase, but the funnel doesn't end. Here we continue to build relationships and boost customer loyalty.
Now, let's talk about the purpose of every stage.
Earlier, marketers defined the purposes of stages of the marketing funnel following the AIDA concept. I bet you know it well.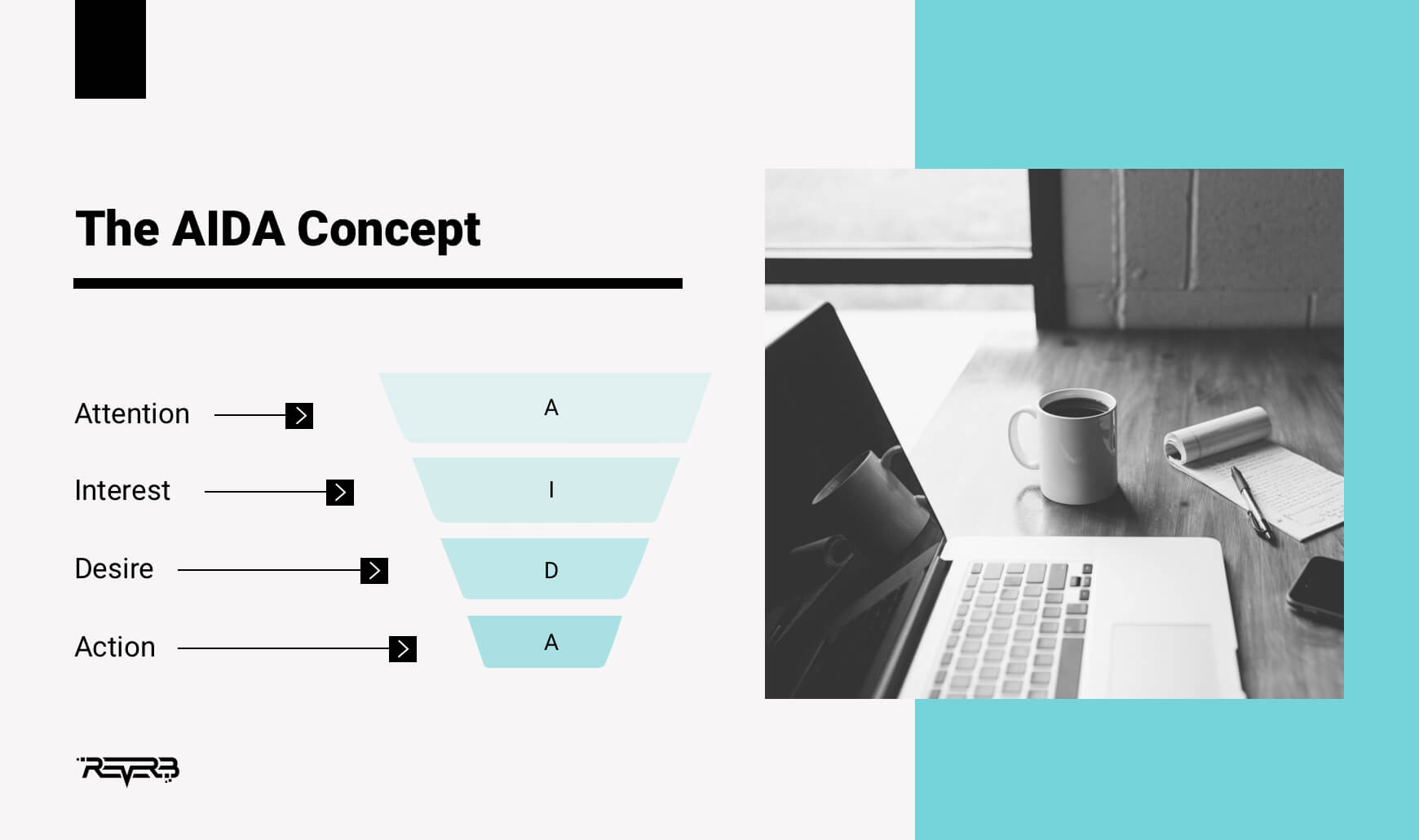 AIDA stands for: 
Awareness
Interest
Desire
Action
Almost all of the marketing funnel examples were built according to this algorithm. In that case, it was necessary to tell the user about your business, arouse his interest, provoke a desire, and motivate him to take action. Everything is simple and obvious, isn't it?
However, today the funnel based on AIDA's digital marketing funnel template is no longer working as well as before. User behavior and preferences are changing, becoming more sophisticated and demanding.
Therefore, I suggest you take a look at a slightly modified but much more efficient digital marketing funnel: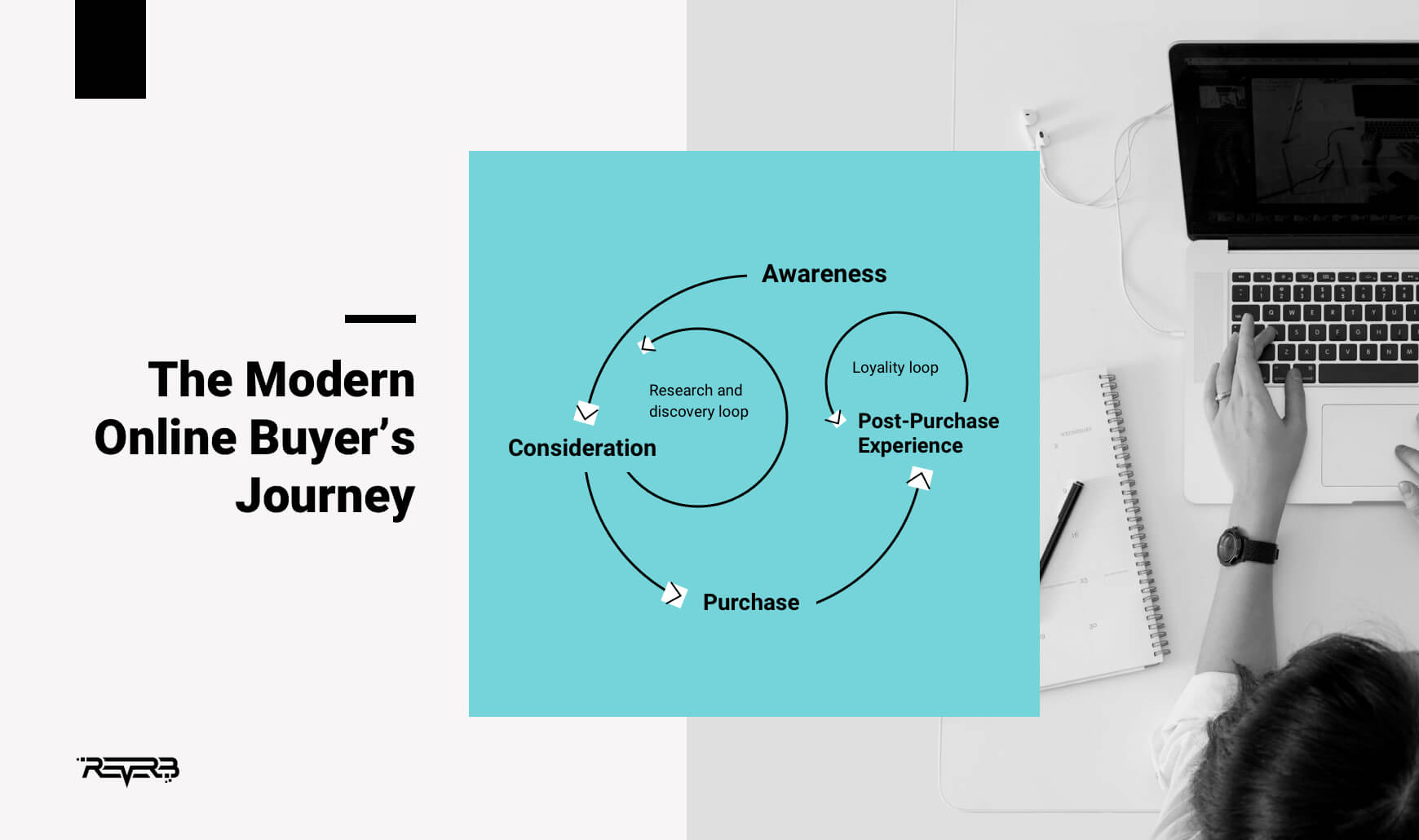 Awareness.

This is the first stage of the funnel. Its task is to make an acquaintance with a user and tell him something like "Hi! Here we are! We are here to solve your problem!"

Consideration.

At this stage, we should give the customer some time to analyze our offer, compare it with the competitor's ones, and approach the final decision. 

Purchase.

This is the key part of the funnel. At this stage, a customer makes a purchase, and this means that two previous stages are successfully passed. 

Post-purchase.

This stage is as important as the previous one. Now it's time to continue the development of the relations between your brand and your customer, ensuring that he'll make repeated purchases.
You can notice that the actual stages are almost similar to the AIDA, but there's one significant advancement. Did you find it?
Yes, the difference is in the cyclical nature. The new funnel doesn't end so abruptly as AIDA. Instead, businesses focus on post-purchase relationships with clients and buyers. 
Now, 'Action' isn't the ultimate goal. It's only the beginning. The ultimate goal is to provide a fascinating post-purchase experience for customers, making them want to return to your brand again and again.
Customer Funnel Template
to Grab on the Go
Bookmark this digital marketing funnel template and organize your marketing & sales strategy around it: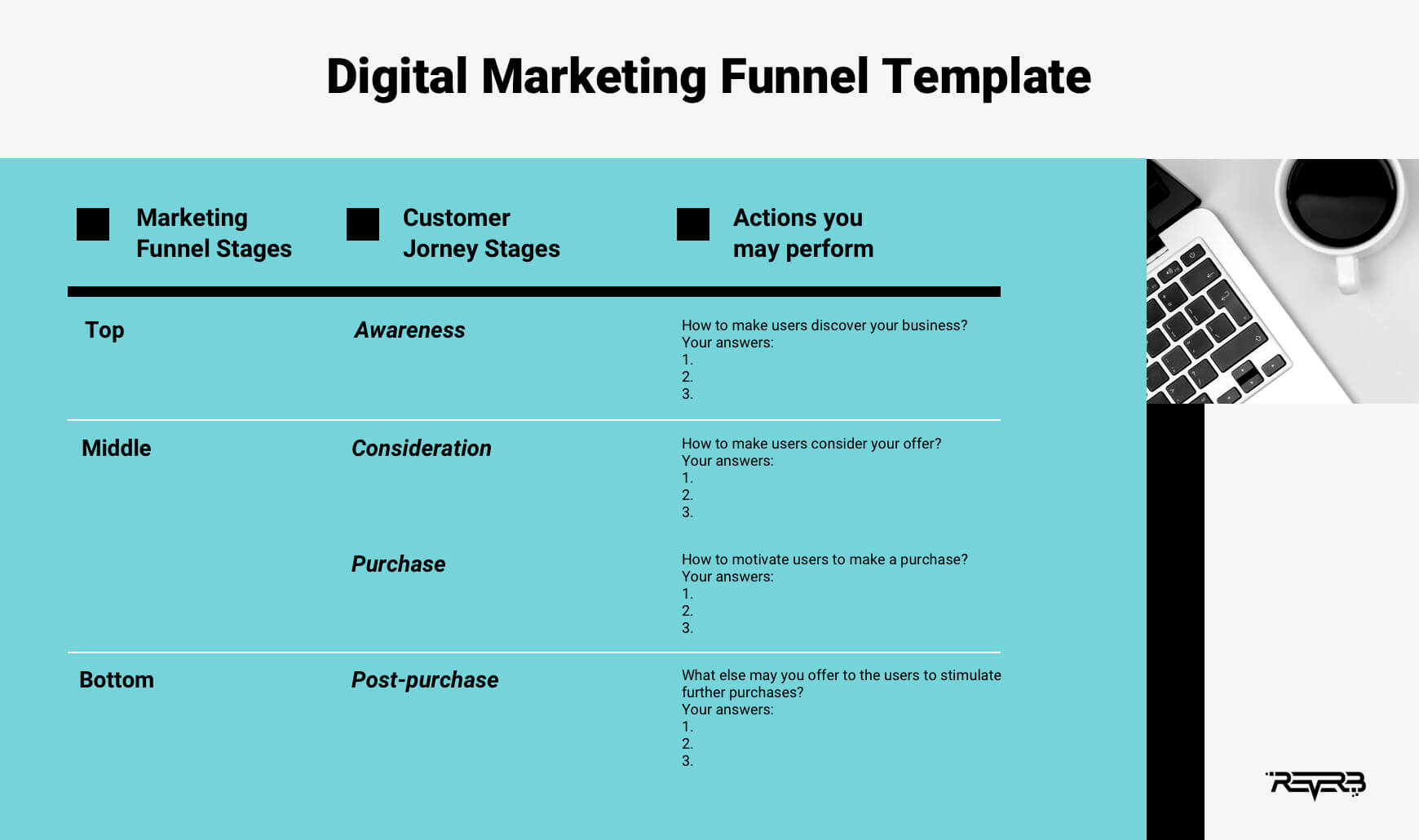 How to Apply the Digital Marketing Funnel Template
Surely, I'm not going to leave you without any hints on what you can do to complete each of the stages of your funnel according to our customer funnel template. 
Let's find out what digital marketing types and tactics you may use to attract your users to your funnel and make them move from its top to the bottom. Step-by-step.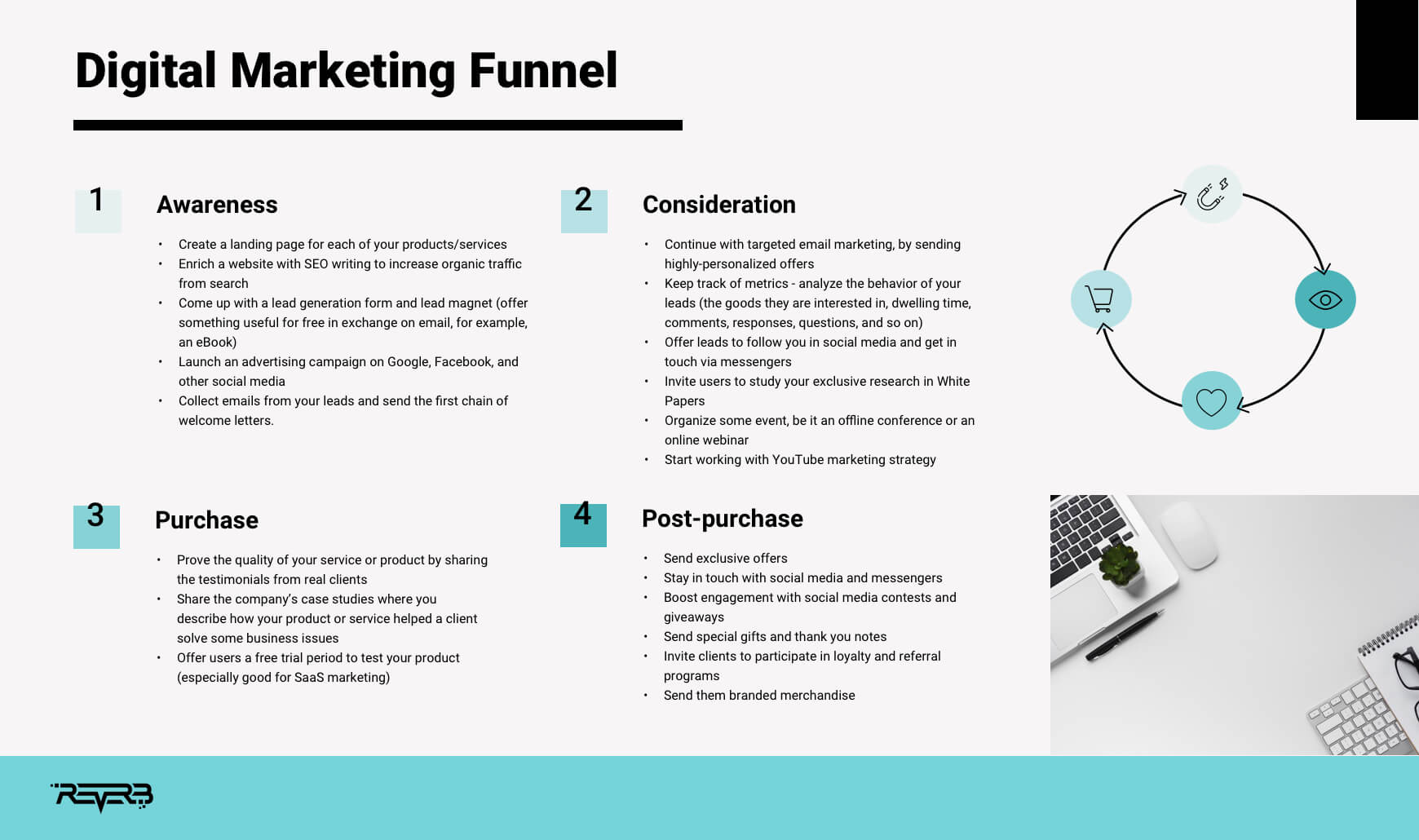 Stage 1. Awareness
So, what can you do to boost user's awareness about your company? 
Create a landing page for each of your products/services

Enrich a website with

SEO writing

to increase organic traffic from search

Come up with a lead generation form and lead magnet (offer something useful for free in exchange for an email, for example,

an eBook

)

Launch an advertising campaign on Google, Facebook, and other social media

Collect emails from your leads and send the first chain of

welcome letters

. 
Stage 2. Consideration
Now, propose users consider your offer and explain what is so unique about it: 
Continue with

targeted email marketing

 by sending highly-personalized offers

Keep track of metrics – analyze the behavior of your leads (the goods they are interested in, dwelling time, comments, responses, questions, and so on)

Offer leads to follow you on

social media

and get in touch via messengers

Invite users to study your exclusive research in

White Papers

Organize some event, be it an offline conference or an online webinar

Start working with a

YouTube marketing strategy

(64% of users are more likely to buy a product after watching a video about it)
Stage 3. Purchase
It's the most critical moment – trying to motivate users to make a purchase:
Prove the quality of your service or product by sharing testimonials from real clients

Share the company's case studies where you describe how your product or service helped a client solve some business issues 

Offer users a free trial period to test your product (especially good for

SaaS marketing

)
Try out these little tricks:
Give users some time after sending your personalized offer.

If nothing happens, return to the behavior analysis and try to find the mistake.

If there is no mistake, use the hackneyed marketing tool that always works – send them a reminder with a countdown timer. 
Stage 4. Post-purchase
As I've told you before, making a purchase or closing a deal is just the beginning of a customer's journey. The real adventure starts here. Be creative, thankful, and attentive to strengthen your relationships with the clients:
Send them exclusive offers

Stay in touch with social media and messengers

Boost engagement with social media contests and giveaways

Send special gifts and thank you notes

Invite them to participate in loyalty and referral programs 

Send them branded merchandise
Conclusion
So, now you see that a well-built digital marketing funnel is a scalable and comprehensive strategy with a cyclical nature. Feel free to use our marketing funnel template, and keep in mind that your inbound marketing funnel shouldn't be static. You should always test different channels and approaches and analyze the results if something seems to work differently than expected.
What is more, the ReVerb team is always here to help you. If you have difficulties in attracting and retaining clients, our marketing strategists will generate a highly-converting digital marketing funnel specifically for your business!