Videos. Depending on your audience and goals, consider different video formats like backstage (to demonstrate the process of creating a product), DIY, tutorials, product reviews, and so on. Instagram even introduced the IGTV feature in 2018 to get a piece of YouTube's pie and stimulate users to produce more video content. Learn how to get started with YouTube marketing in 2020 in our recent guide;
Checklists and infographics. Social media isn't a place where people expect direct sales, so useful content is a great way to engage with your audience and show that you care about them;


User-generated content. User-generated content (UGC) is a great way to get social proof that your brand is in demand and popular. Learn from Bath and Body Works, Zappos, Apple, and other brands that pick the best pictures of their followers and repost them with credits. User-generated content and communities are definitely one of the most actionable digital marketing tips in 2020.
3. Care about visuals and storytelling

Did you know that visually pleasing images matter in 93% of cases when users are making a purchase? Beautiful pictures sell.
As the social media best practices state, if you're working with Instagram, make sure you've got a harmonic and appealing grid that catches user's attention and stirs curiosity. Illustrations, stock photos, and low-quality images perform the worst and receive the least of user engagement and reactions.
Storytelling is another powerful way to tell the story of your brand. Brands leverage the power of storytelling through stories about their staff (Starbucks posts stories behind their baristas emphasizing their openness to diversity), history of the brand, the process of product creation, and so on.
Video interviews, trivia, quotes, and narratives are popular formats to tell a powerful and engaging story. For example, see how Starbucks celebrates a #BlackHistoryMonth and tells about their African American employees to speak about their achievements in the company and highlight the company's contribution to society
4. Engage with your audience through influencers
Influencers are bloggers with a specific target audience (like busy moms or globe trotters). Influencers are able to impact people's purchasing decisions due to their authority, popularity, relation with a particular field, and other factors.
Before engaging with an influencer, figure out their target audience: how similar it is to yours, what values and pain points they share, how they make a purchasing decision, etc. Admit it, it would be weird to collaborate with a fitness guru to promote desserts and pastries.
Metrics like engagement rate (how actively the audience reacts to blogger's posts), follower growth, and comments/likes ratio can help you figure out if collaboration is reasonable.
By the way, micro-influencers with a small audience (up to 5.000 thousand followers) gain popularity due to their small, but loyal follower base which is more likely to buy the product or service promoted by an influencer.
As an alternative, some businesses collaborate with influencers to boost their brands.
For example, ASOS actively engages with micro-influencers to literally turn them into brand ambassadors. Each influencer gets a nickname @asos_<name> that indicates an affiliation with the brand. ASOS brand ambassadors post pictures in ASOS apparel and share promo codes and deals on their Instagrams.
5. Keep your content balanced
Ready to build a content strategy? Think about content formats and their ratio first. As you may have already understood, social media isn't a place where people expect sales pitches.
So, keeping a balance between educational, engaging, fun content and promotional posts is a must. This principle is the foundation of all social media best practices.
Guess what, the Pareto principle is applicable even on social media. Experts claim 80% of a social media account should comprise useful and compelling content that'll stimulate the audience to share it and engage with it.
Content that goes viral is a great bonus that comes with creating truly appealing content. The other 20% must be promotional and contain powerful call-to-action that'll make your audience perform the desired action: from learning more about your business to buying from you.
6. Keep consistent communication
Brands resort to Tone of Voice (ToV) to ensure consistent communication all over social media outlets, owned websites, etc. A Tone of Voice is a set of guidelines that stipulate how a brand sounds: is it formal or informal? upbeat or strict? respectful or frivolous?
Finding your own voice and keeping to it across all communication channels helps you become recognizable, trustworthy, and resonate with your target audience. For example, Dove uses an upbeat and affirmative language to boost the confidence of their target audience and strengthen their relationships with customers.
7. Stay in touch with your audience

Simply posting and sharing content on social media won't work without communication with your audience.
Social media best practices are based on the tendency that people are becoming more demanding. 42% of American consumers expect to get a response in at least 60 minutes after their request.
If you fail to meet their expectations, 1 in 5 customers won't use your product or service because of a slow response.
7 Don'ts For Your Social Media
Don't want to jeopardize the success of your social media? Then avoid these at any cost:
1. Duplicate content over your social media accounts
It's a rule of thumb among social media marketing do's and don'ts, create unique content for each social media.
As we mentioned earlier, different social media serve different purposes. Your followers don't expect longreads on Instagram just like they don't expect product showcase videos on LinkedIn.
However, it doesn't mean that you can't repurpose and adapt your content for each social media account you own.
If there's a newsworthy event coming up, consider different content formats like video storytelling, images, or written form for different social media.
2. Ignore the negative feedback
People tend to leave feedback on social media and it's not always positive. However, it doesn't mean that you must ignore negative feedback, remove comments or direct messages, or get into arguments.
When negative feedback occurs, make sure you:
Respond quickly and in a respectful, polite manner;
Don't patronize your customers;
Resolve conflicts one-to-one. Shift conversations from a public place like comments to email or telephone communication.
Here's an example of an immediate and sincere reply to the public's reaction on T-shirts that reportedly showed disrespect to China's National Sovereignty by Versace: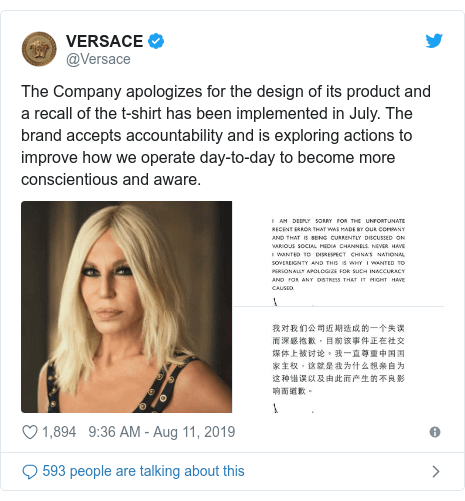 3. Blindly copycat your competitors
It may be tempting to try to repeat the success of your competitors with proven cases.
However, blind copying your competitors is dangerous. Your audience quickly notices your attempt to copy the content while the authors of an original idea may even accuse you of copying ideas.
If some brilliant ideas still can't get out of your head, steal like an artist. Modify the original idea, adapt it to fit your unique brand, and give credit for the inspiration.
4. Ignore the analytics
Good social media marketing is numbers-driven marketing.
Most of the platforms, including Facebook, Instagram, and LinkedIn include simple analytics tools that allow you to track important metrics like audience reach, engagement rate, number of followers, conversion rate, etc.
As a rule, social media marketers measure the overall performance of an account on a weekly basis as well as each post to figure out what topics and content resonate the most with their target audience.
For instance, it's been estimated that photos with people in them perform 40% better than photos without them.
So, don't forget to regularly check the performance of your posts to figure out if you need a content strategy pivot for better engagement.
Some advanced social media analytics tools that can come in your handy are Buffer Analyze, Sprout Social, Hootsuite and more.
5. Take into account vanity metrics
Vanity metrics are the current state of a product and are often satisfactory on paper, but don't give you much insight into future marketing decisions.
Vanity metrics on social media include shares, likes, comments, and a number of followers.
Why are they tricky? Because they change quickly (for example, due to seasonal activity spikes), can be manipulated (with the help of viral content or mass following), and they don't represent the real value of a business: conversions and desired actions from followers.
6. Perform grey-hat social media activity
Mass following, mass liking, mass watching, activity chats, etc. are a so-called grey-hat SMM that helps you boost your account for a short period of time, but the quality of that boost is questionable.
Think of it: when you get followers from activity chats or giveaways, they won't become your loyal audience truly interested in your content. More than likely, they're interested in a mutual following or getting profits like a prize in a giveaway.
What's left is getting a loyal follower base through an organic promotion like:
A collaboration with influencers with a similar audience;
Guest posting;
Posting content with relevant hashtags;
Posting an evergreen content that resonates with your target audience and stirs their interest;
Posting during the right time (analytics tools can help you check the time your audience engages with your account the most);
A paid promotion like target ads.
7. Invest in the paid promotion too early
Last but not least, invest in paid promotion only after you've already got at least 10 posts on your social media account.
For new social media accounts, it's important to follow an AIDA rule and draw attention, stir interest and desire, and finally get people to action: follow, comment, like, etc.
Make sure you've got an appealing page description that describes your business and states the benefit (why users should follow you) and several relevant, informative, and engaging posts to attract and retain customers.
Conclusion
In this post, we've stated the most important social media marketing do's and don'ts you should follow when creating a brand new account or reviving an existing one. These social media best practices and rules are applicable to basically any platform, so if you don't know where to start – start with them.
Remember to post about 80% of relevant and useful content and 20% of promos. Track actionable metrics and make pivots to improve your SMM strategy.
Got other exciting ideas? Let's discuss them in the comments below!