Plagiarism is a severe issue for marketers and businesses. 
One of the main reasons you need to check plagiarism in content is that search engines, especially Google, penalize websites in Search Engine Results Pages (SERP). Take a look at our previous post on this important topic every marketer needs to know about:  5 Types Of Plagiarism You Should Avoid By Any Means.
In this article, we have reviewed the top plagiarism checkers such as Grammarly, Content Watch, Text.ru, Copyscape, and PrePostSEO and assessed whether they're really the best plagiarism checkers for marketers and businesses.
One of the main questions arising when choosing a plagiarism checker is, "Are their algorithms 100% accurate?" Usually, reliance on inaccurate software can cause unnecessary and wasteful problems for freelance content and copywriters, agencies, and marketing teams. 
That's why we conducted a quick experiment to define how well different plagiarism checkers do their job and whether you can blindly trust them.
Theory: Why do businesses need to avoid plagiarism? 
Whatever form plagiarism appears in your web copy or content can have a massively detrimental effect on marketing efforts. Google can knock your website down in SERP rankings overnight, which means it won't appear on the same pages for the search terms you want it to. 
When Google and other search engines penalize a site, inbound web traffic will drop or fall off a cliff, depending on the amount of plagiarism on a website. If that's a crucial part of the marketing and sales funnel, it will impact sales, conversions, and ultimately, revenue and profits. It's not worth the risk. 
Naturally, you want to avoid this, whether you're a content writer, a marketing manager, or a C-suite executive. Below, we review the best plagiarism checkers on the market and assess their ability to detect copied parts of the text accurately. 
5 Top Plagiarism Checkers: Comparison + Experiment
According to available data, Grammarly is the market leader, founded in 2009, with $200 million in funding behind it — at a $1 billion valuation — with at least 10 million daily active users. 
Features: 
Grammarly comes with a wide range of features, from spelling and grammar to checking for plagiarism across billions of websites and web pages/articles, to assessing sentences for variety, formatting, conciseness, tone, and numerous other aspects of writing. It's AI-based and is continually improving to make millions of writers work better across the world. 
Pricing: 
Grammarly comes in a range of pricing options, from a free version available as a range of web browser extensions (Chrome, Firefox, Safari, Internet Explorer). 
Premium versions are also $12.00 a month, or $12.50 (monthly), per user. The business version is for teams from 3 to 149, according to Grammarly pricing. 
Review: 
Overall, testimonials for Grammarly are positive. On Trustpilot, for example, there are 3,559 reviews with a 4.5 rating and 82% either excellent or great. Grammarly Business reviews on GetApp are equally positive, with a 4.7 rating from 3,100 reviews, with the majority at 5 or 4 stars. Numerous other review sites show the same sort of results. 
As a writer, Grammarly is one of the easiest and most effective and accurate solutions on the market. Hence its popularity as the leading best free plagiarism checker and premium software tool to check plagiarism. 
Experiment:
As a way of testing the accuracy of Grammarly and other plagiarism checkers, we used an original article we crafted for a client (not published yet) and put it into these tools. 
Here are the results from a Grammarly plagiarism check. 100% unique text – no wonder we write every single line from scratch!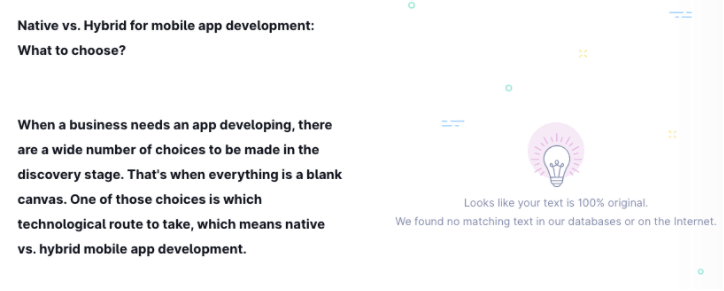 Features: 
This scanner is mainly used to detect plagiarism and identify text that needs changing, editing, and improving. It is pretty basic compared to other scanners, with more features in the premium version. 
Pricing: 
There doesn't seem to be any pricing in US$, but based on pricing in Russian Rubles, there appears to be a range of options from approximately the equivalent of $1 to $73 as a monthly subscription. 
Review: 
As this was developed in the Czech Republic, it's been marketed heavily across Central & Eastern Europe (CEE). Text.ru, also known as 1TEXT is popular with companies and marketing teams in former Soviet, Eastern Bloc countries, and the Russian Federation. 
Its primary function is to check for plagiarism and is mainly used as a free plagiarism checker. However, in an attempt to copy the success of other plagiarism scanners, it will pick out words, phrases, and parts of sentences that aren't plagiarism. We expect this is one of the ways they encourage people to pay for the VIP rewriting service. However, there have been recent algorithm updates, which should have made it more accurate. 
Experiment:
With the same text we checked using Grammarly, Text.ru, as expected, shows a lower uniqueness score, despite being identical.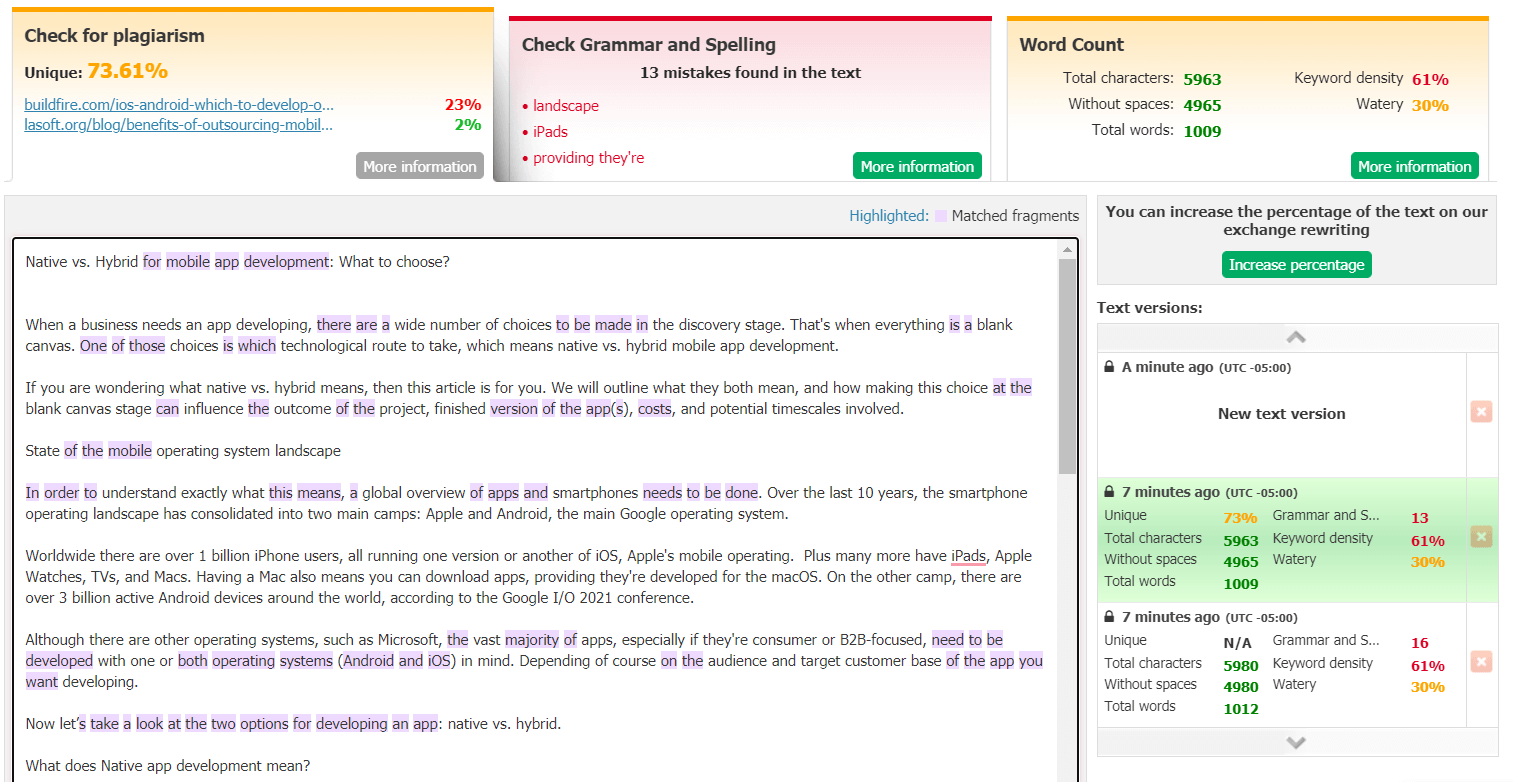 As you can see, text.ru detects plagiarism incorrectly – some general words, phrases, and keywords that relate to the topic are evaluated as plagiarism, which isn't the case, as the Grammarly check on the exact text concludes. No writer can simply omit these general words in any passage of text. 
Features: 
Content Watch was founded in 2000 and now includes a wide range of products "consisting of ContentProtect MDM, and ContentProtect Professional, ContentProtect Security Appliance, ContentCleanup, Net Nanny for Windows, Net Nanny for Mac, Net Nanny for Android, Net Nanny for iOS, and Net Nanny Social." 
Pricing: 
Free trials and volume pricing is possible with Content Watch, and the premium version starts with a 5-seat minimum, for $39.99 for Windows and Mac. 
Review: 
Content Watch has a limited number of reviews online, although most are good or excellent. What this shows is that compared to more modern SaaS-based solutions, marketing efforts aren't as proactive and probably aren't focusing on customers who share as much online. 
It doesn't necessarily mean that the product is of poor quality or unpopular, just that it was developed before newer market leaders and doesn't have the same traction in the market, partly thanks to a lack of VC-backed funding. 
Experiment:
Yet again, the algorithms behind Content Watch include common words, phrases, and keywords, such as "hybrid" and "apps" and "that," which are naturally going to appear in millions of articles and web pages. The patchy approach to flagging them shows that this isn't accurate, as these aren't plagiarized and can't be omitted from the text.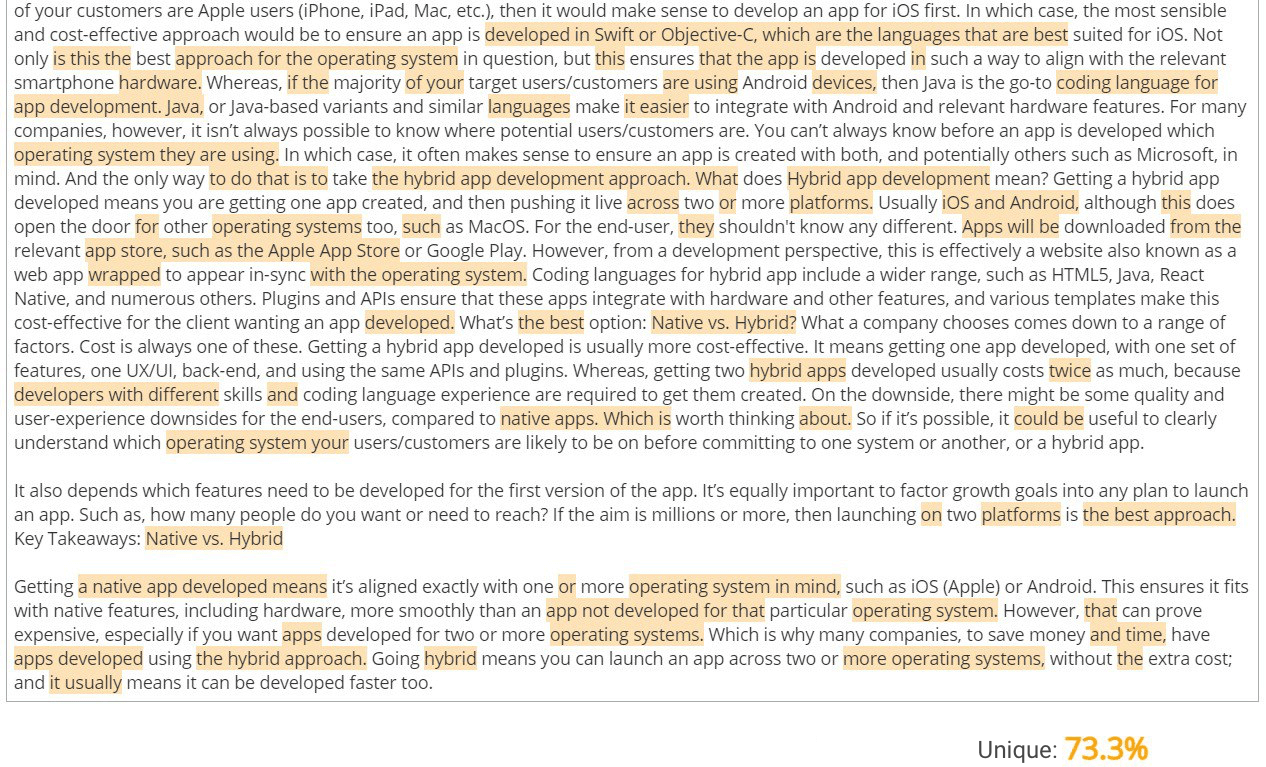 Features: 
PrePostSEO is an impressive suite of 195 search engine optimization tools that empower millions of marketers daily. Most of them are free, including one of the best free plagiarism checkers. There are many more tools in this collection. 
Pricing: 
The plagiarism checker tool in the PrePostSEO collection is completely free. Although it's relatively basic, it may not work as well as other solutions on the market. 
Review: 
Although free, it does come with a handy "exclude quotes" feature, which means it should recognize when something is a quote and not plagiarised, providing a source is cited or linked to. In particular, online reviews about the plagiarism checker tool are not massively favorable, citing problems such as a poor database of comparisons for the text being checked. 
Experiment:
When we conducted another trial with the same passage of text as above, the results showed 95% uniqueness. Although better than Text.ru and Content Watch, it still demonstrates the same sort of accuracy issues (defining keywords as plagiarism) compared to Grammarly.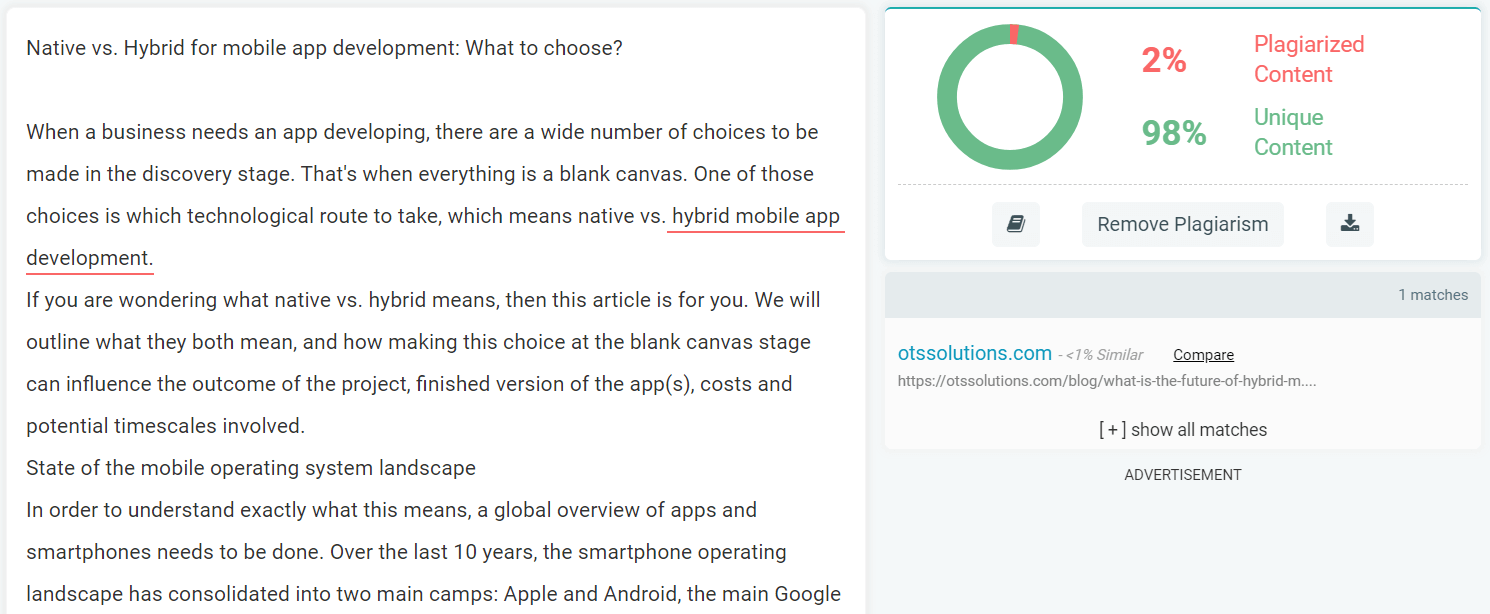 Features: 
Copyscape was launched in 2004 by Indigo Stream Technologies, Ltd., and you will see signs of it online when websites have the "Protected by Copyscape" logo visible. It's known as one of the best free plagiarism checkers, with a premium option that includes a broader range of features.
Pricing: 
For the Premium version, pricing seems to be based on the number of words and searches conducted to check for plagiarism. With another product they offer, Copysentry, pricing is based on the number of pages scanned, at a rate of $4.95 for ten pages, or the Professional level, $19.95 for ten and $1.00 per month for every additional page. 
Review: 
On Capterra, there aren't many reviews (50 in total), but they are generally positive, with a rating of 4.8/5. Although it can't conduct as in-depth text analysis as Grammarly, it works well for checking for plagiarism. Yet again, this falls into the more traditional category of free plagiarism checkers (with a premium option) that works reasonably well for that purpose but doesn't live up to the standards set by more modern solutions. 
Unfortunately, we weren't able to conduct an experiment with a passage of text, as Copyscape does not offer free trials. 
Key Takeaways 
For the sake of your website, marketing, and sales campaigns, plagiarism is best avoided. Google and other search engines penalize websites, which knocks them in search results and consequently affects web traffic and everything that flows from that. 
One of the most effective ways to change and improve this is using plagiarism checkers. However, the algorithms behind all these tools are not equal and do not produce the same results. That's how our experiment showed Content Watch and text.ru flag words and phrases common in many millions of articles and web pages, while AI-based Grammarly defines 100% uniqueness. 
You can also try the same experiment and get similar results, which will demonstrate the superiority of Grammarly over other plagiarism scanners. Suppose you are using another tool and have any doubts about whether anything is copied, then in our opinion. In that case, checking the same text using Grammarly will verify whether there is any actual plagiarism in the text.  
Alongside these software solutions, tools, and checkers, working with the right content marketing agency, such as ReVerb ensures your company benefits from high-quality content. 
Our expert writers create unique materials, relying on rich experience and professional knowledge and insights, ensuring we avoid plagiarism for our clients!