Are you looking for any YouTube hacks that can help your channel grow?
There are some simple yet effective techniques for novice YouTube vloggers which don't require you to buy a course of any kind. 
Keep reading: here are ten plus easy things you can do right away to obtain more views and subscribers with ultimately increasing the revenue of your channel.
10 Most Obvious But Underestimated YouTube Hacks
№1. Work on the SEO: optimize title, tags, and description
YouTube is a huge search engine, and this means you need to put some effort into your channel's SEO (search engine optimization). The basic SEO procedures include optimization of your video's title, description, and tags. 
So you should start small, and take care of the following basic SEO elements:
Choose the quick-win keywords. Do the research and find low-competition, high-traffic keywords that match your video's topic.

Write the main keyword into your title.

Write a 200+ words description with all of the keywords included.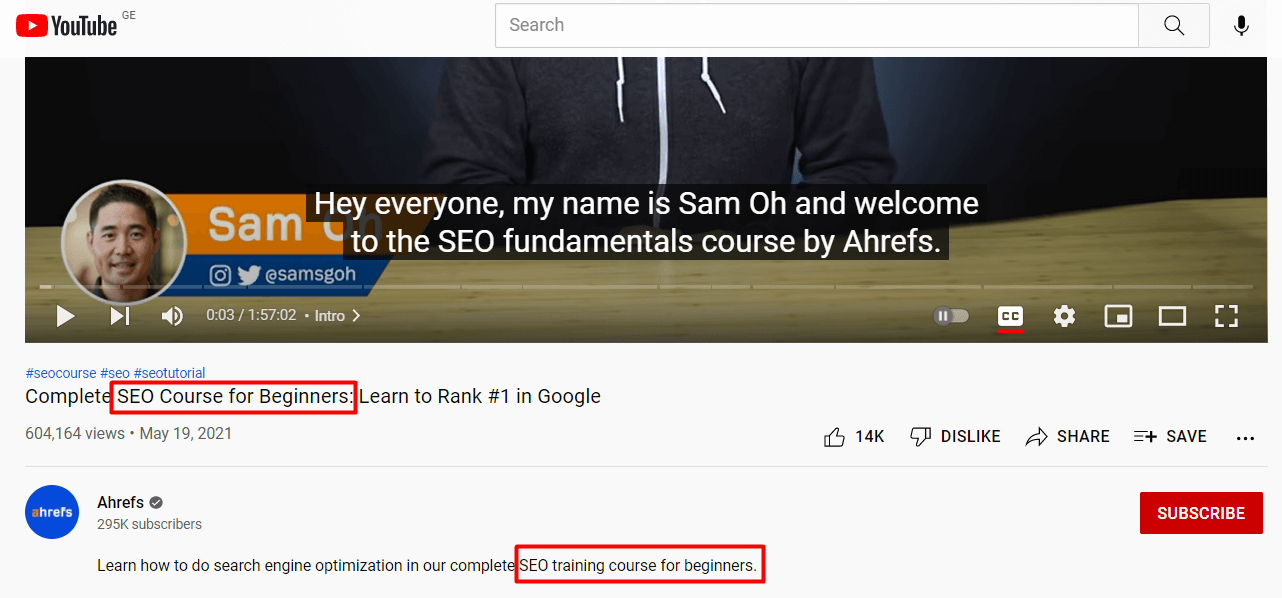 4. Add up to 10 relevant tags.

№2. Create videos optimized for "Watch Time"
A video's watch time is the total time users spent watching it ever since its publication.
YouTube places a lot of importance on the videos' watch time metric. It went as far as to state in the YouTube Creator Academy that, 
"…Channels and videos with higher watch times are likely to show up higher in search results and recommendations."
This is why aiming for increasing your watch time is one of the most effective YouTube tricks to rank better.
Here are a few tips to improve watch time:
Make longer, on-point videos packed with value. 

Keep them crisp, structured, and easy-to-follow. Plan and prepare in advance by writing a script or at least a detailed outline. This will also make your videos flow smoothly and help you avoid fluff and irrelevant detours.

Use concise intros (up to 25 seconds in length) that inform your viewers exactly what the video is about. 
There is no direct way to perform a YouTube views hack, but optimizing watch time gets quite close to it.
№3. Add subtitles for your target audience's languages
Subtitles may have a huge influence on whether people watch a video and if they watch it until the end.
There are multiple advantages to having captions that ultimately all lead to a better user experience. Captions is an "all-rounder" YouTube hack that can serve as an edge against competitor channels, improve watch time, ranking, viewers count and subscriber count.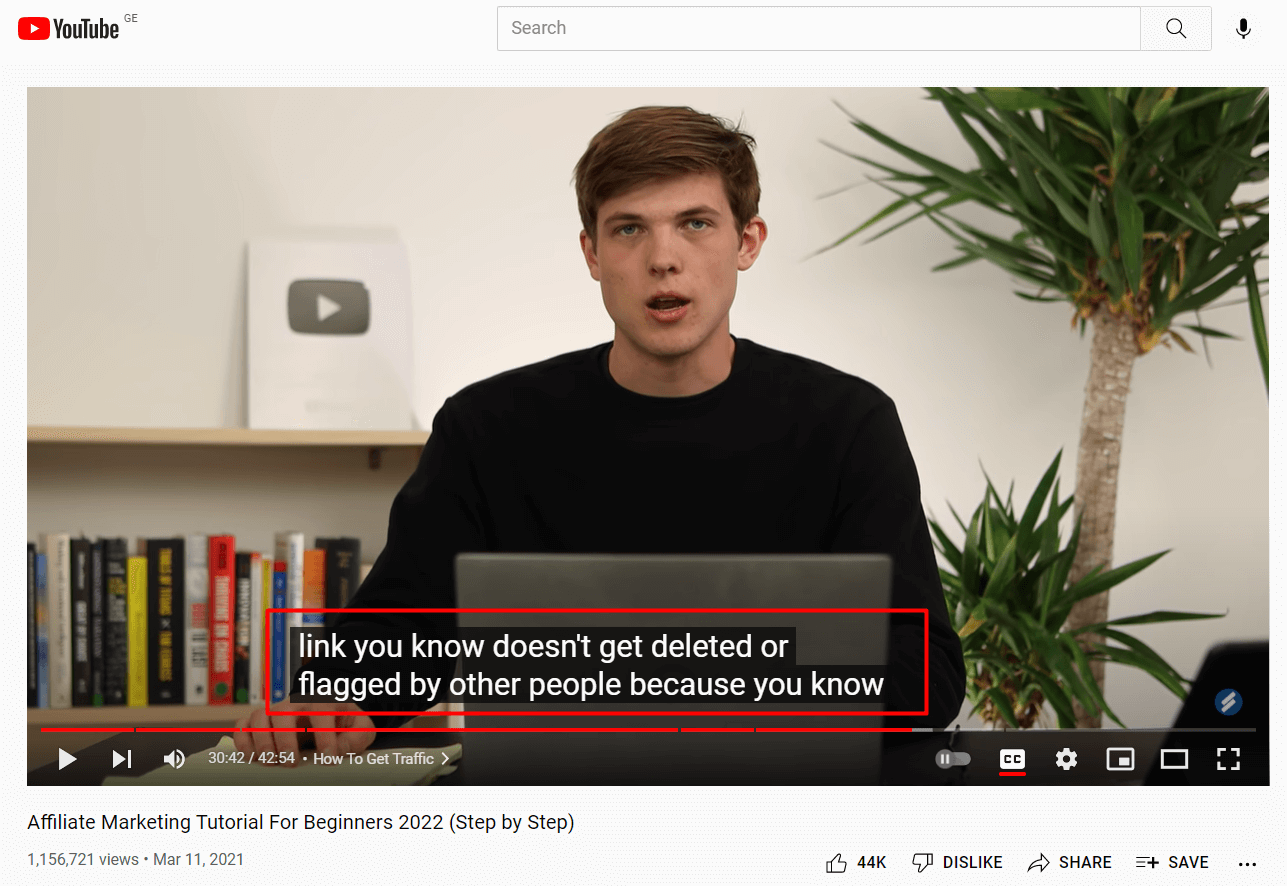 This is how subtitles can become a game-changer in your YouTube marketing strategy:
They improve SEO and Google ranking. Search engine bots cannot crawl a video, but they can do so with subtitles. Then, the video would appear in Google's search results via the relevant queries. Cool Youtube tricks like this one would bring you traffic both from inside of the platform and from Google as well.  

Captions make it easy to understand for people who watch the videos in mute in their timeline.

They are helpful to people with hearing issues.

Adding subtitles in other languages helps get viewership among those who do not speak your language. YouTube is available in over 100 countries and across 80 languages, which is a huge pool of potential viewers. Adding captions in multiple languages is one of the ultimate Youtube tricks that lets you tap into it and grow your audience. The best part of it is that you can easily implement it with YouTube's automated subtitles function.
№4. Create and promote optimized playlists
YouTube prefers people to stay on the platform and keep watching, so videos that cause people to go on watching other videos will be promoted, and the videos that cause people to leave YouTube will be demoted. 
Though this isn't one of Youtube's hidden features, many creators and marketers are not aware of such a tendency.
That is where playlists come in; they are a list of videos talking about subtopics within a bigger topic.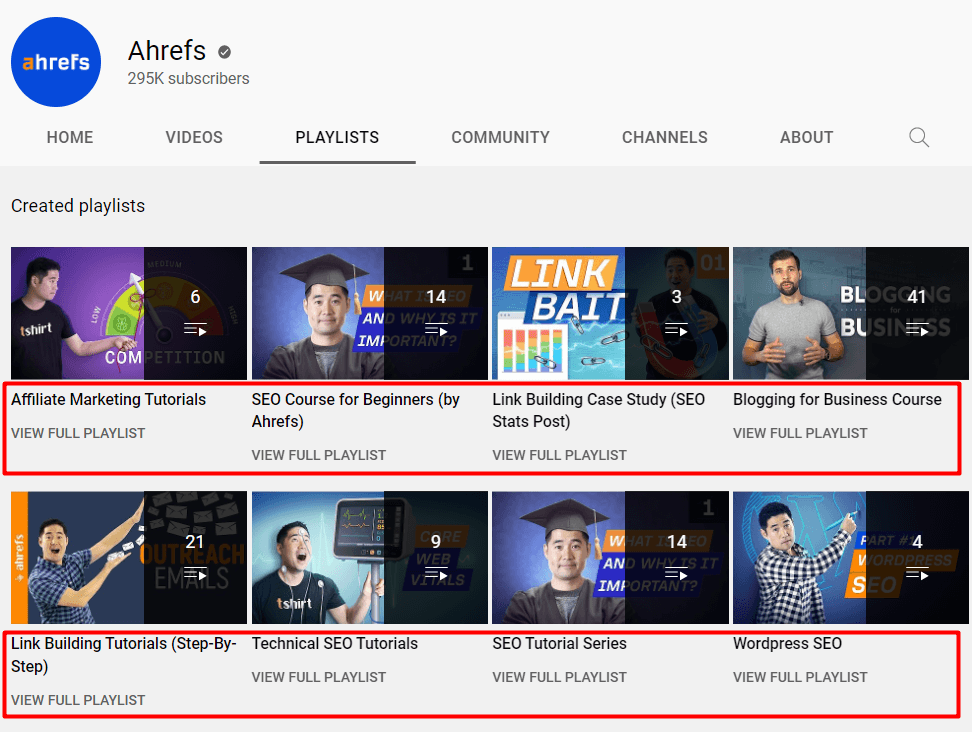 Playlists can increase the session time  – the amount of time people spend on YouTube after they've started watching your video. Session time is a ranking factor, too. 
Playlists are one of the underestimated Youtube hacks but it is an effective way to get more viewers. A nicely done playlist can also offer a great user experience, covering everything the viewer needs from scratch to advanced and keeping them on your channel instead of going elsewhere.
№5. Use time links that start at specific time frames
A YouTube timestamp or time link is a way to link to an exact moment in the video. A list of timestamps for the whole video can serve as a menu for it, accomplishing two things: letting people know what exactly it is about and a way to go straight to what they are interested in.
Time links are also a good alternative to one of YouTube's hidden features that lets people share a video at a specific point.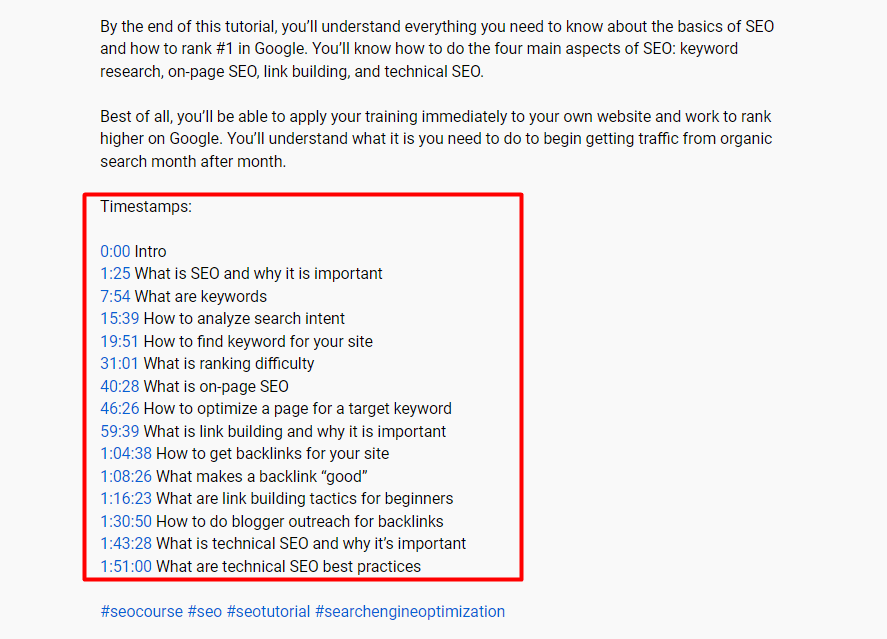 Overall, they are a simple but powerful YouTube hack that improves viewer experience and, as a result, raises the retention rate.  
№6. Use high-resolution thumbnails that stand out
90% of great-performing videos on YouTube have custom thumbnails. Thus, today's thumbnail is an essential element of any growing channel.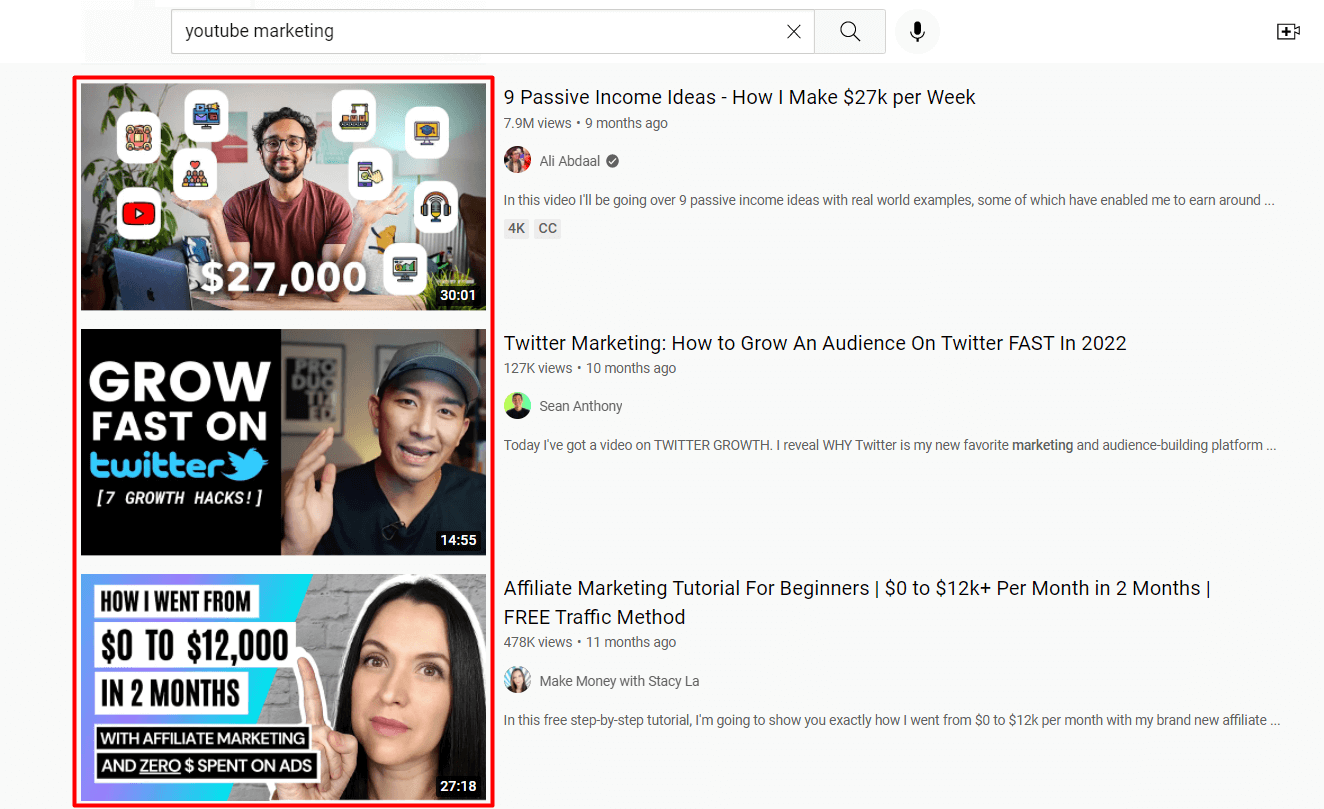 Here are a few Youtube tricks to make your thumbnails stand out and attract attention:
Use multiple colors and have them clash with each other. 

Use colors that are different from "common" YouTube colors. The color theme of the platform is white, red, and black, so consider choosing something different from these three.

Use high-resolution images and avoid blurry, pixelated, or strange-looking pictures.  

Upload an eye-grabbing banner related to your channel's topic (for example, use a YouTube banner maker for Minecraft if you're a gaming streamer).
№7. Add links promoting your other videos 
It is a basic SEO practice for websites to link to other internal resource posts or product pages where said the video is relevant. Just like with websites, links to other clips in the video work great too, although for different reasons. It is better if they are used together with other YouTube tricks listed in this article. 
Let people know and promote your other great videos with these easy techniques: 
Mention it in your talk and add a clickable link right in the video with the YouTube cards feature.  

Add links to your other content to the end screen. 

Add references in the description.

Create playlists.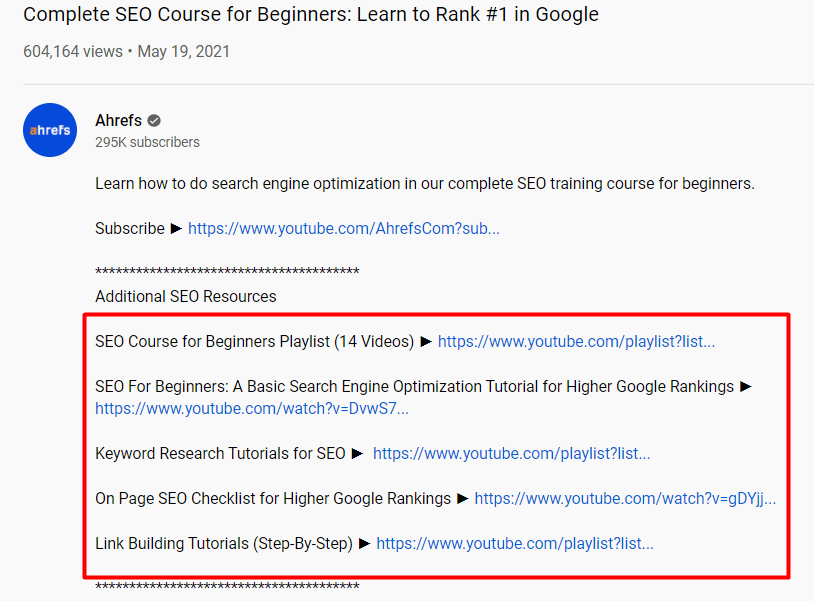 №8. Remind people to like and subscribe
Reminders are a great way to retain people. This straightforward and simple Youtube hack goes after viewers who like your video, but often forget to like or subscribe for whatever reason.
Ask them to like or subscribe once you are halfway or more through the video. A short sentence or two, even a joke, will do the job without annoying the viewers.
№9. Create custom URLs
A shorter, easy-to-remember URL is convenient for the viewers and simply looks better than a default string of symbols. It is a relatively old hack among Youtube features as it first appeared in 2016.
How effective it would be is going to depend on your viewers' habits – some people bookmark videos or add them to a watchlist, others just follow what shows up in their feed, and only a fraction pays attention to the link. 
That's why a custom URL is one of Youtube features that is more about branding and good impression than it is about getting viewers and subscribers. Ultimately, having it would still lend itself to the end result.
№10. Create custom end screens for placing a CTA or promote extra content 
The end screen of a video is a free, easy-to-use, effective advertising board that can help you promote your other content on the platform, your website, or send people to your paid product via a call-to-action (CTA).
End screens can be added to the last 5-20 seconds of the video. If you are looking for Youtube tips and tricks for making the most out of your end screens, the following are things that you would not want to miss: 
Decide on one single goal for the video's end screen. 

Build the end screen around that goal: put a single CTA with a link if it's to promote a product, or add up to 4 links with thumbnails to suggest your other videos.  

Another effective Youtube subscribers hack is adding a call-to-action to subscribe on the end screen.
[Bonus] Four More YouTube Tips To Raise Number Of Your Viewers and Subscribers 
Write a catchy title that makes people want to click. For example: "How to Get 4 Million Visits Per Month With One Simple Keyword Hack", (a title of an existing video by Neil Patel that raked over 200,000 views to date).

Make a short, straight-to-the-point intro up to 25 seconds long that tells viewers what exactly the video will talk about. 

Create a description that is useful to viewers and for SEO as well. The platform gives channels about 800 words for it – the size of an average blog post. A description of 200+ words is a sweet spot that provides enough information to both viewers and Youtube's search robots. 

Think about the introduction of innovative tech solutions: Youtube already introduced AR technology into videos in 2019. It is also possible to watch 360 videos and virtual reality content on the platform as long as you have the devices needed. AR and RV will continue to progress, attracting more and more people to video and streaming platforms, and making Youtube a more effective marketing channel than ever. Thus, catch onto this trend before it becomes mainstream.
Conclusion
These are 10+ cool Youtube features and hacks that can help you consistently get more views and subscribers. Grow your channel and secure your own audience, so that you can stay relevant even as new technologies take over marketing and big brands fight over consumers. 
Does the promotion on YouTube sound scary and too challenging for you? Or would you want to skyrocket your results and viewership by working with a professional marketer? Contact us today and we'll help you create a winning YouTube marketing strategy and apply the most actionable YouTube hacks to grow your channel in a short time!