It may seem insignificant, but an article's headline plays a crucial role in your SEO strategy – it makes the first impression on users even before they visit your site. The attractiveness of your title is a deciding factor for the page's open rate, users' behavior on your website, and the conversion rate. 
Together with my teammates, I've researched, analyzed, and gathered 25 best headline examples that will help you come up with fantastic titles for your own future posts. We also left some room for bad headlines so that you can see the difference and learn from the others' mistakes. 
Where's your popcorn? The show begins!
Good
Headline Examples
That Get Clicks… a Lot of Clicks!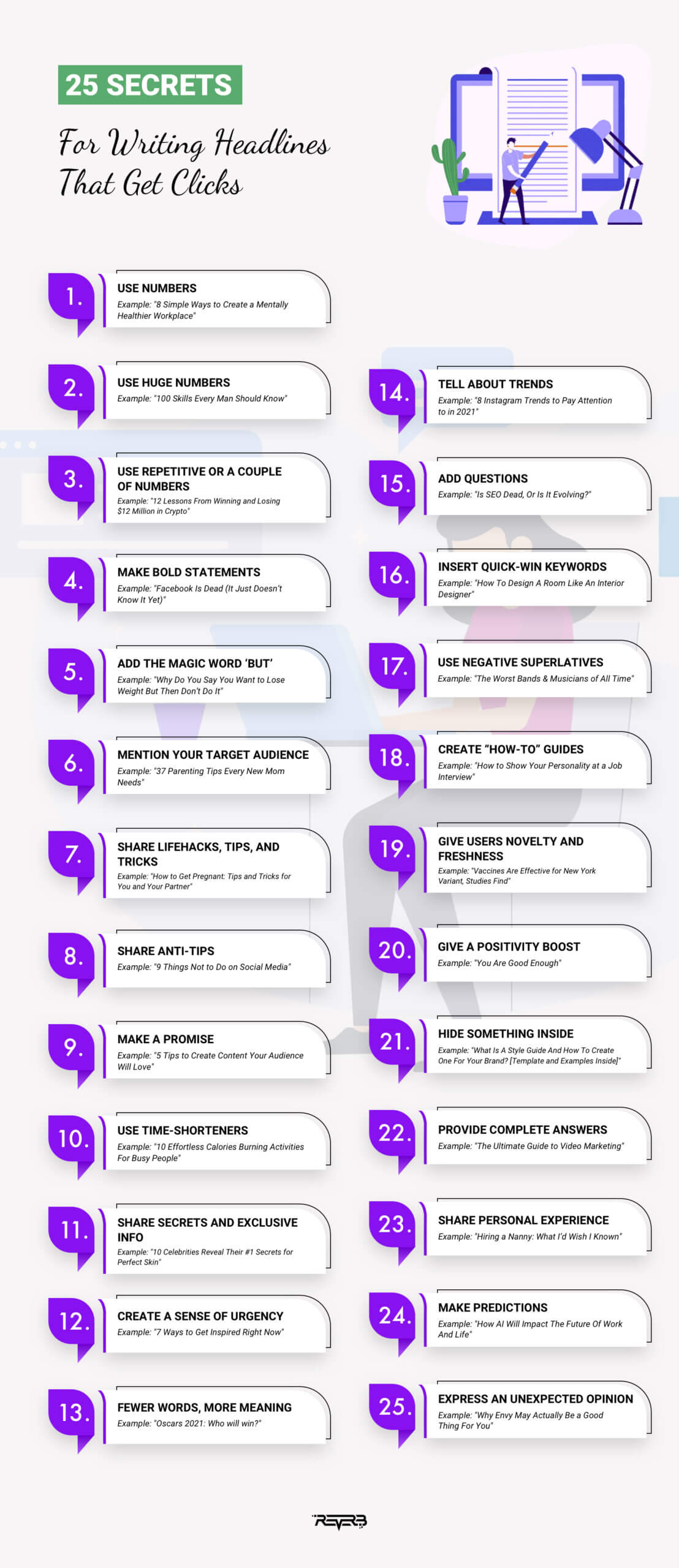 These creative, effective, and attention-grabbing headlines attracted a lot of readers. What's their secret? Let's find out together!
1. 8 Simple Ways to Create a Mentally Healthier Workplace |
Inc
The secret sauce – numbers. Using numbers in a title is quite an old approach to headline creation. But it still works very well and makes users click through! Looks like people adore structured posts with numbered lists!
The secret sauce – huge numbers. Huge numbers in article titles are a winning tactic. They hint to the users that there is deep research inside, and they may get tremendous value from the reading.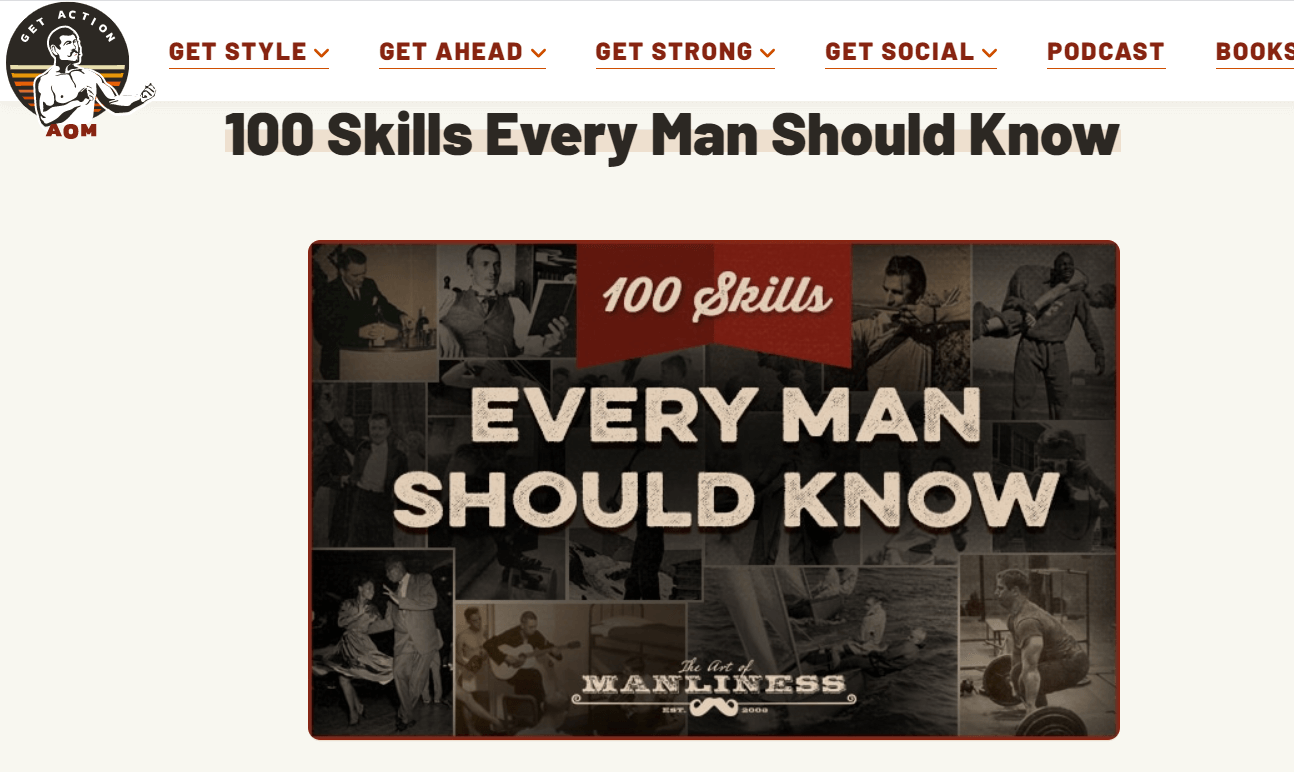 3. 12 Lessons From Winning and Losing $12 Million in Crypto |
CoinTelegraph
The secret sauce – repetitive or a couple of numbers. Using numbers twice in your headline is a strategy that's 2X as effective. The provided headline example is powered by personal experience and a huge number ($12 million!), which evokes interest and promises a lot of valuable insights. 
4. Facebook Is Dead (It Just Doesn't Know It Yet) |
Better Marketing
The secret sauce – bold statements (which are often provocative). Experience suggests that if an author makes bold claims, then they have a strong argument to support this idea, which means it's worth reading. At least, it would be exciting to engage in a mental debate! 
5. Why Do You Say You Want to Lose Weight But Then Don't Do It |
Psychology Today
The secret sauce – the magic word 'But.' The word "but" makes a certain psychological impact. Depending on how you use it in your headline, it can evoke a wide spectrum of emotions, from confusion to rage. For example, our headline example from Psychology Today evokes a mixture of shame and curiosity.
Try experimenting with the word "but" when coming up with titles for your articles. The result may be unexpected, but it still may drive good behavioral patterns in your readers.
6. 37 Parenting Tips Every New Mom Needs |
Parents
The secret sauce – target audience mention. Specifying the target audience right in your article title is one more winning headline idea as it helps you to attract the attention of specific users and generate more prospective leads. Our example also contains another actionable approach – the use of numbers Perhaps every new mom would like to discover such a huge list of tips. 
7. How to Get Pregnant: Tips and Tricks for You and Your Partner |
Flo Health
The secret sauce – lifehacks, tips, and tricks. Articles sharing practical tips, tricks, and life hacks are some of the most popular forms of content. You may realize a lot of creative and attention-grabbing headline ideas while creating such materials. 
For example, you may start it with "how to" like in the great headline example above, add the number of tips (the more the better), make a hint at the final result, and motivate users to take action. The amount of possible options is almost unlimited in this case so consider conducting A/B testing to find out what approach works best for your audience. 
The secret sauce – anti-tips. While tips may work well, anti-tips lists are also an interest-provoking tactic. A lot of users would like to read 'bad recommendations' to make sure they do everything right, so consider adding several "not to do" lists to your content plan. 
9. 5 Tips to Create Content Your Audience Will Love
|
Moz
The secret sauce – promise. Modern users' passion for tips isn't always enough to motivate them to open your webpage. To capture their attention, you need to provide some kind of a guaranteed value. The perfect strategy is to specify the users' final goal right in your article title. Use this headline example as inspiration. 
10. 10 Effortless Calories Burning Activities For Busy People |
Lifehack
The secret sauce – time-shorteners. Most people look for simple ways to solve complex problems. The title of your article is a great opportunity to hint to them that they will find some simple, easy tips in your material.
11. 10 Celebrities Reveal Their #1 Secrets for Perfect Skin |
Byrdie
The secret sauce – secrets and exclusive info. People adore the feeling of exclusivity and secrecy. This is a great way to generate curiosity and draw their attention to your content. In the article headline example above, you can see the combo tactic – celebrities' secrets. Mentioning public figures can be even more interesting than just using secrets alone.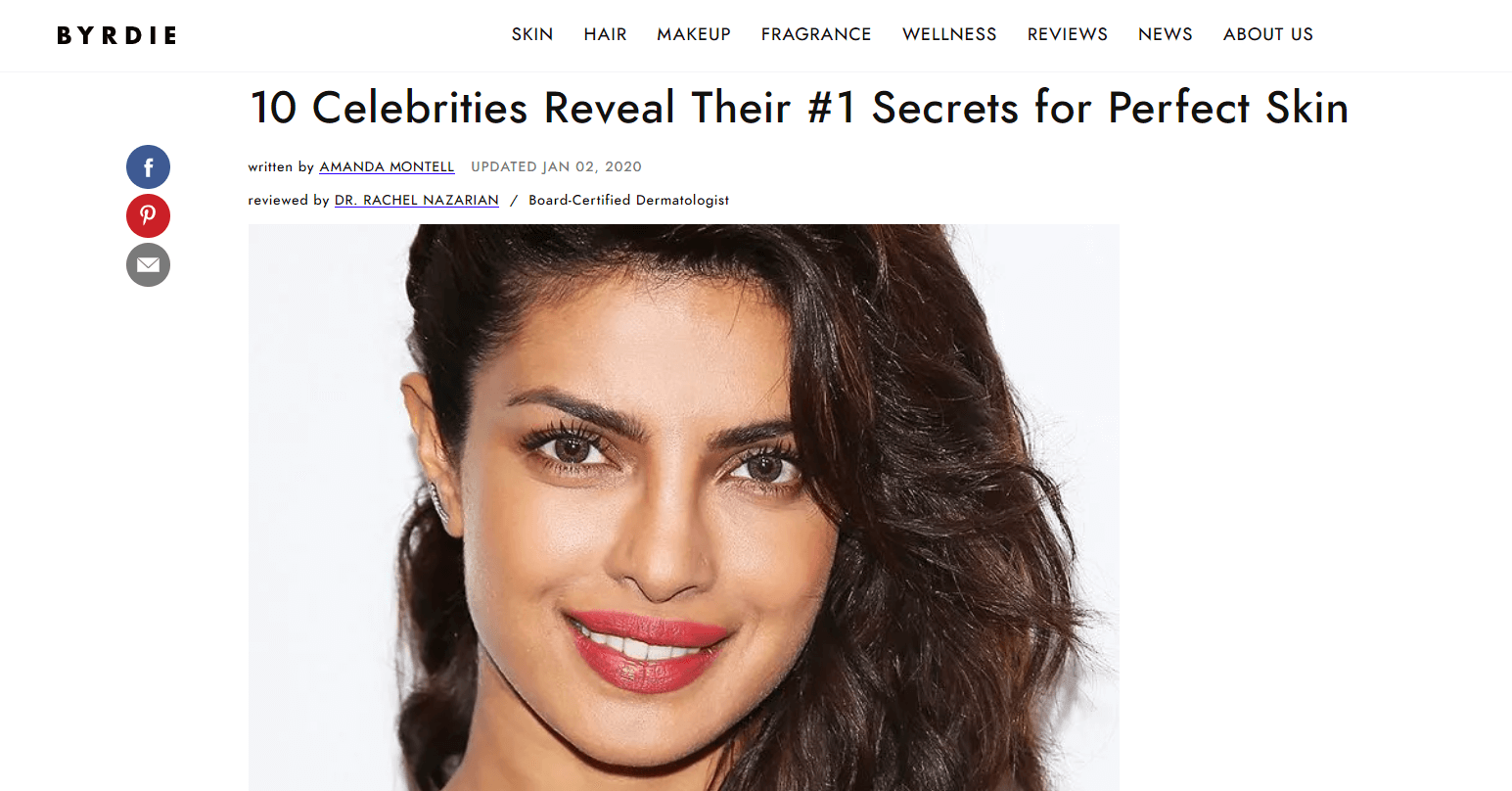 12. 7 Ways to Get Inspired Right Now |
The Muse
The secret sauce – urgency. The fear of missing out (or FOMO) is a favorite tactic used by marketers and content creators. You may do it as well by adding some urgency and motivation to your article title. 
13. Oscars 2021: Who will win? |
BBC
The secret sauce – fewer words, more meaning. Using fewer words while putting more meaning in each of them is one of the best headline examples. BBC is famous for creating such laconic titles that are used in the article preview. They perfectly convey the main essence of the post in just 4-5 words. 
14. 8 Instagram Trends to Pay Attention to in 2021 |
Sprout Social
The secret sauce – trends. Driven by the desire to stay aware of the current trends, modern users will definitely open your new 'trendy' article. In your post headline, specify the number of trends and emphasize the necessity to learn about them. 
15. Is SEO Dead, Or Is It Evolving? |
Forbes
The secret sauce – questions. Asking a question is a good strategy when you need to engage users with your content. However, this is one of the most challenging headline ideas to implement – your question should be both provocative and reasonable. 
For example, try playing with contrasts and opposites, as Forbes did. They managed to create intrigue and allowed you to look at the problem from different angles, giving readers a complete topic overview.
16. How To Design A Room Like An Interior Designer |
GreenHouse Studio
The secret sauce – quick-win keywords. When creating compelling titles, keep your SEO strategy in mind. The task is to insert the primary keyword in a way that looks natural and organic. The example above is well done – the title perfectly combines a quick-win keyword and is still meaningful, short, and value-promising. 
17. The Worst Bands & Musicians of All Time |
Ranker
The secret sauce – negative superlatives. Using negative superlatives is a powerful approach for creating a sensational headline. Surprisingly, negative superlatives in the title attract more attention than positive ones, so this is the opportunity to make some noise. However, you should carefully avoid clickbaits and offensive statements. (We will show a bad headline example further down and you will feel the difference). 
18. How to Show Your Personality at a Job Interview |
The Balance Careers
The secret sauce – how-to. "How-to" guides are one of the most popular content types. There is nothing difficult in their title creation, in contrast to the article body. 
19. Vaccines Are Effective for New York Variant, Studies Find |
The New York Times
The secret sauce – novelty and freshness. In addition to following trends, most users would also like to stay aware of the latest updates. News and reports become even more valuable if you back them up with the research. Specify it right in the headline. The NYT is famous for creating the best headlines, so take some of their ideas to power your next company update or news. 
The secret sauce – positivity and motivation. In our opinion, this is one of the best headline examples since it's short, bold, and positive. Addressing a reader using "You" in the title is a great approach to establish an emotional connection with the users and making them feel that you are here to help them. So, there is no surprise that such a title is used by Psychology Today.  
21. What Is A Style Guide And How To Create One For Your Brand? [Template and Examples Inside] |
ReVerb
The secret sauce –  something inside. Users love free but valuable perks. Hint that the special value is hidden right in the article. All they have to do is open it and scroll to the end.

22. The Ultimate Guide to Video Marketing |
Hubspot
The secret sauce – finality. Most users would like to find complete answers and explanations to their questions, so add some finality to your title. Use words such as "ultimate," "absolute," "everything," or "сomplete" to create an instant impression of deep research which is the basis of an article. 
23. Hiring a Nanny: What I'd Wish I Known |
Financial Times
The secret sauce – personal experience. Personal experience – even of those you don't know – works as social proof, and your headline is an opportunity to immediately tell about it. Take a look at our headline example once again – the author shares personal experience and offers some valuable lessons that may be quite useful for those looking for a pitfalls-free way. 
24. How AI Will Impact The Future Of Work And Life
|
Forbes
The secret sauce – predictions. A human is a very curious creature, especially when it comes to a vague future. Use this innate trait as a positive trigger for opening the article in your headline. 
Forbes did an excellent job of combining the predictions with a trending topic (AI), and the words "life" and "work" which have a huge meaning to most people.
25. Why Envy May Actually Be a Good Thing For You |
Andy Mort
The secret sauce – unexpected opinion. Taking a look from an unexpected angle is one more approach to creating sensational headlines. For example, try turning bad into good. As for this headline example, pay attention to the word "actually" – this is a way to amplify the message of your headline.
10
Bad Headline Examples
to Avoid
The list of best headline examples may go on and on. However, it would also be useful to analyze some bad headlines, learn from their mistakes, and avoid them in your content.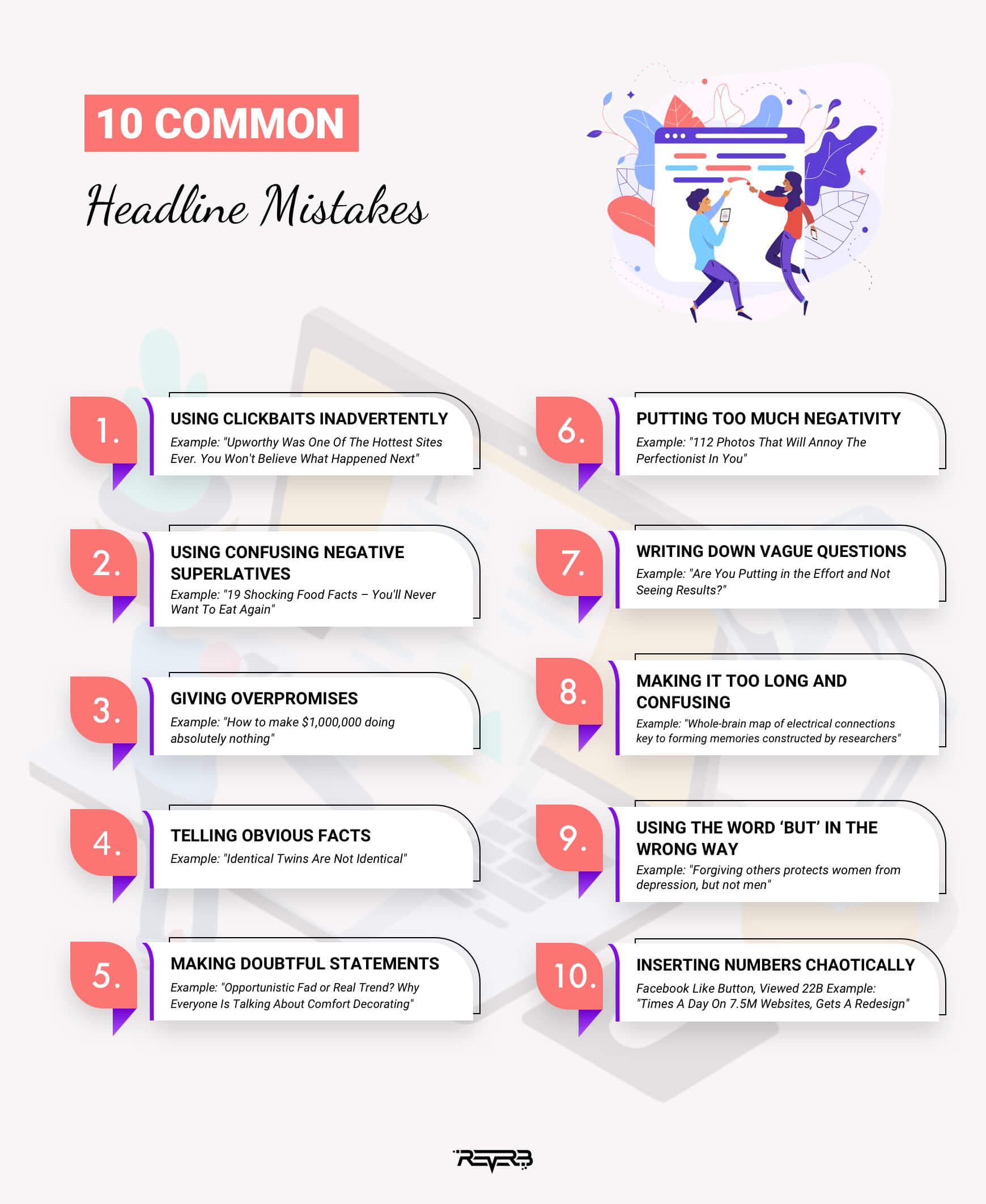 1. Upworthy Was One Of The Hottest Sites Ever. You Won't Believe What Happened Next
|
NPR
Don't – use clickbaits inadvertently. Clickbaits are annoying and deceiving. Never use them if you don't provide a clear answer in the article body. Instead, try focusing on the core value of your content and put it in your headline.
2. 19 Shocking Food Facts – You'll Never Want To Eat Again |
Funotic
Don't – use confusing negative superlatives. Most likely, the author wanted to create a sensational headline, but the result is a clickbait-like title. What's more, it does not even arouse curiosity – in this case, most users would prefer not to know what horrifying things are hiding on their plates.
3. How to make $1,000,000 doing absolutely nothing |
Ladders
Don't – give overpromises. Overpromising is quite harmful to your reputation. The provided article title example seems to be an attempt to use numbers and create some intrigue; however, it fails because of the obvious contradiction – you can't reach great goals by doing nothing. At least, not in a fair way.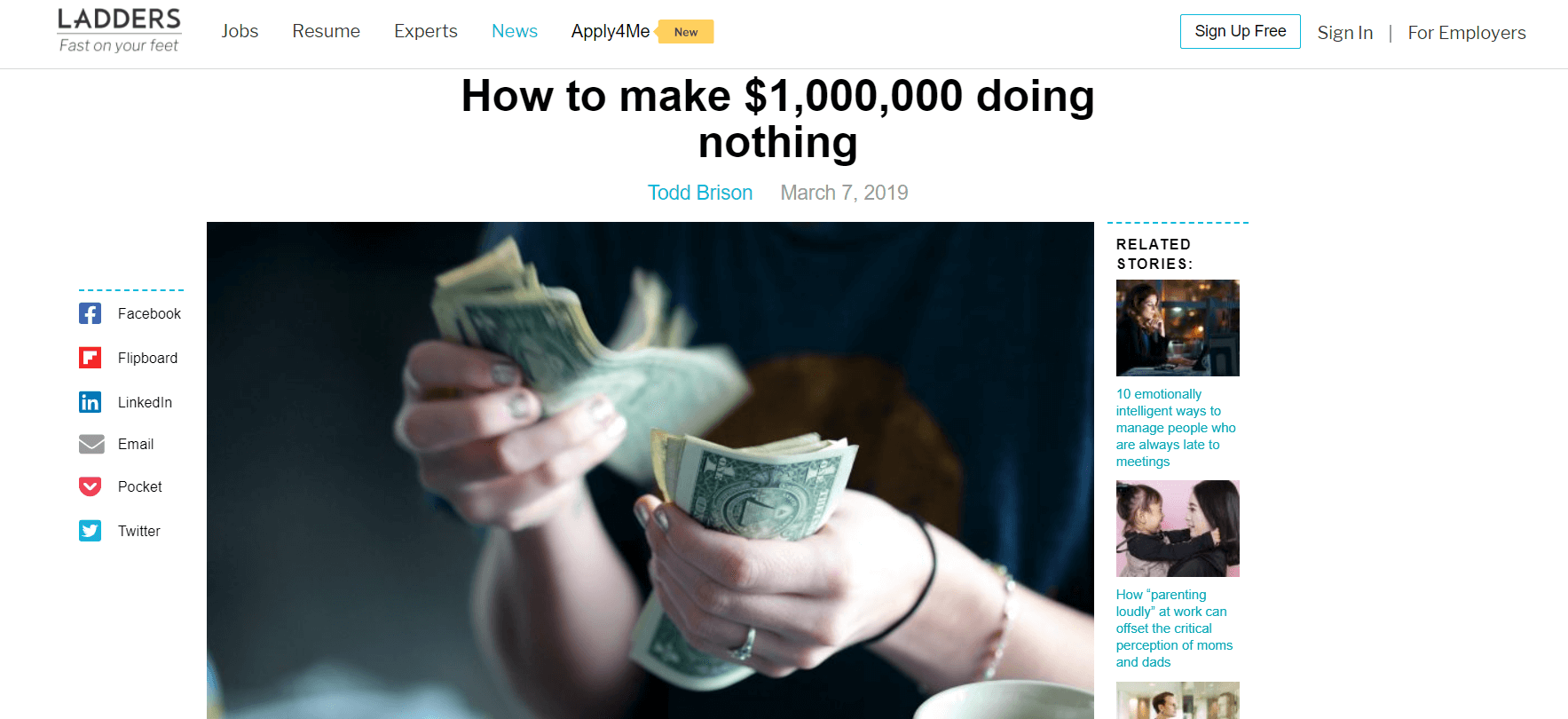 4. Identical Twins Are Not Identical |
MCGill
Don't – tell obvious facts. It could be a good attempt to create a short, bold, and capacious title, but it won't work if you state something quite obvious. 
5. Opportunistic Fad or Real Trend? Why Everyone Is Talking About Comfort Decorating |
NEWS18
Don't – make doubtful statements. We don't talk about it. Maybe, you know somebody who talks? Using "everyone" isn't the best tactic for headline creation since usually such statements can't be supported with facts and research. Try to avoid generalizations in your copies. 
6. 112 Photos That Will Annoy The Perfectionist In You |
BoredPanda
Don't – put too much negativity. Although the title contains huge numbers, it turned out to be extremely negative. The author was not too lazy to collect so many photos to annoy the user 112 times in a row. It could have been worth adding a drop of kindness and saying something like "Don't see these 112 photos if you are a perfectionist" so that the headline doesn't sound like a torture invitation. 
7. Are You Putting in the Effort and Not Seeing Results? |
QT Transformation
Don't – write down vague questions. A good title with a question should contain at least a hint of an answer. This example does not do this. 
8. Whole-brain map of electrical connections key to forming memories constructed by researchers |
Science Daily
Don't – make it too long and confusing. This title is too difficult to understand due to the extremely intricate structure of the sentence. Try to create short and simple titles so as not to confuse your reader even more.
9. Forgiving others protects women from depression, but not men |
Science Daily
Don't – use the word 'but' in the wrong way. It could be a bold and capacious title if the author made it a bit more consistent. In comparison, the phrase "Forgiving others protects women from depression, but it doesn't work for men" conveys the meaning more clearly. You can see how the correct use of the word "but" generates a wave of interest instead of confusion.
10. Facebook Like Button, Viewed 22B Times A Day On 7.5M Websites, Gets A Redesign |
Tech Crunch
Don't – insert numbers chaotically. Using numbers is often an amazing headline idea. However, in this title example, the numbers look somewhat confusing. It would be better to hint at the result of the redesign instead of inserting numbers in the middle of the title. Digits work better at the beginning. 
Conclusion
Creating appealing and catchy headlines can be a real headache. You not only have to apply your creative skills and inspiration but also follow SEO rules and take into account some psychological aspects. 
The ReVerb team copes with headline creation brilliantly – otherwise, you wouldn't be here. Our aesthetic vision, plus a deep understanding of SEO and marketing concepts help us develop attention-grabbing headlines, SEO-friendly articles, and compelling calls to action. Feel free to tell us about any content creation challenges you face and request your first article today!