You know about the importance of local SEO. Otherwise, you wouldn't be here.
Do you want to learn how to meet the expectations of users and Google using local SEO best practices? Well, our local SEO checklist will help you make the most out of your web presence and get to the TOP 3 search engine results by geo-oriented queries.
First Off: What Is Local SEO?
Local SEO is the process of improving your business's SERP positions by locally-oriented and geo-specific searches. 
And here is the most interesting thing. The evolution of Google continues. Already, it knows how to determine the intention, geolocation, mood, and sentiments of users by analyzing their behavior on the web and specific search queries. That is, in most cases, Google itself understands when a user is looking for a local provider.
But even if the user's intentions are different, then the local result will be the first or one of the first, depending on the request. Therefore, when developing both general and local SEO strategies, you need to take into account a lot of subtleties, which I'll explain below.
If you feel like you're lost, start with SEO basics. 
Local SEO Marketing
vs Global – What Is the Difference?
First off, the difference between local SEO marketing and global SEO approach is in your target audience and the market which your business is focused on.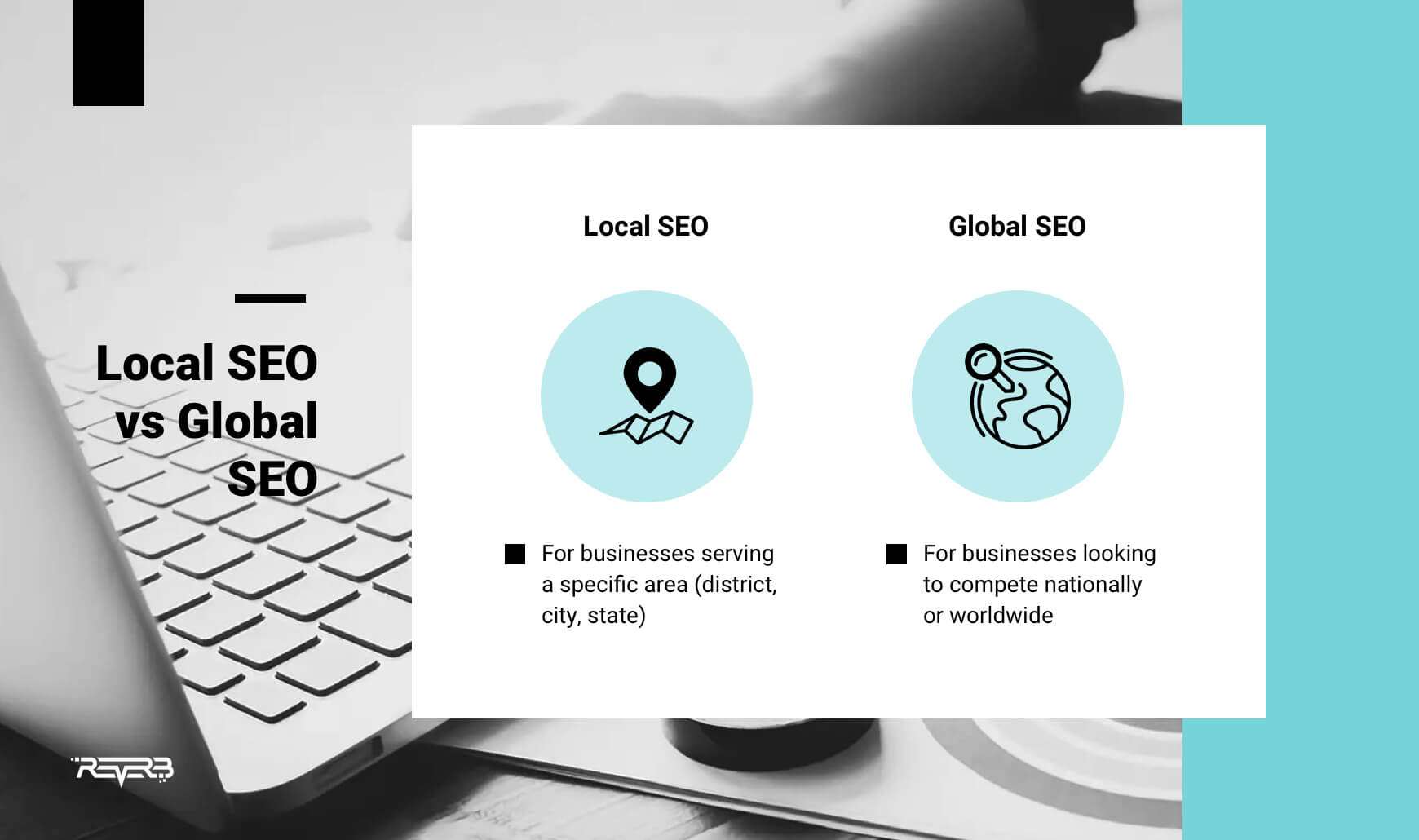 From the technical perspective, the biggest difference is in the algorithm which Google runs when a particular search query is executed. Just in case, let me remind you that there are three types of search queries:
Navigational search queries – eg.,

ReVerb International Marketing Agency

Informational search queries – eg.,

How to get started with an Instagram promotion in 2020? 

Transactional search queries – eg.,

book a hotel in Barcelona
Local search will work on the first and last type of queries. In addition, in the first case, the user may not have a clear intention to visit a local business – for example, he may just want to read news about the company in the press or study its reviews. However, a local search will still work. 
So this is a pretty tricky algorithm that assumes that a user can get search results with local services, even if he didn't look for them deliberately.
Local SEO Checklist
to Make Your Business More Visible On The Local Market
If everything is clear with the question "what is local SEO?", let's find out the local SEO best practices that will skyrocket your business in the local search.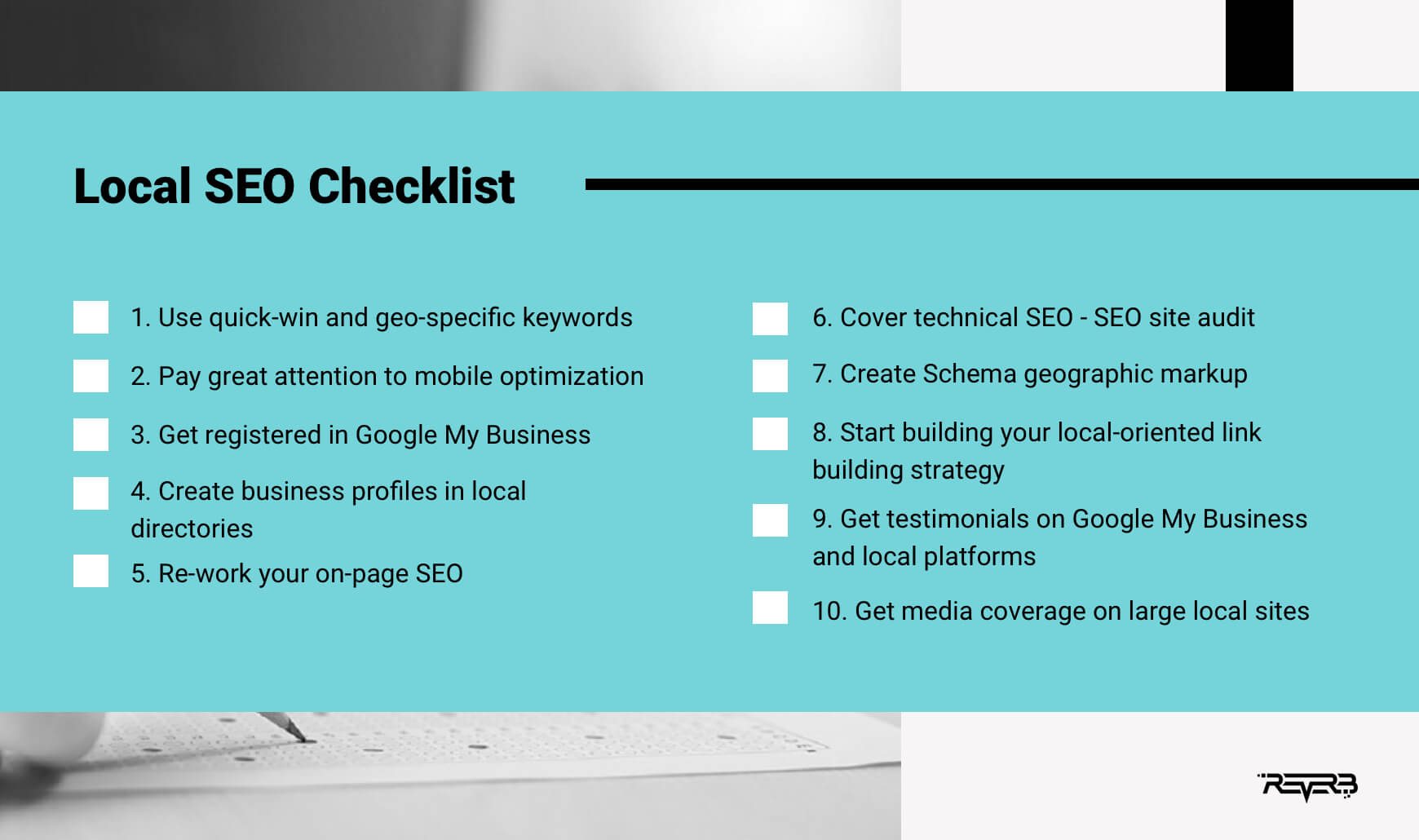 1. Use quick-win and geo-specific keywords
In order for Google to correctly index your page and show it in response to local queries, you need to tell the search engine: 
Who are you and what are you doing?

Where is your business located? 
The first goal can be achieved with quick-win keywords (ones that have a low competition level, typically, long-tail), the second goal can be met with geo-specific keywords.
Hint! You can easily find quick-win keywords using keyword research tools such as Ahfres or Uber Suggest. In Ahrefs, go to the 'Keywords Explorer' tab, choose the GEO you're focused on and type in the relevant keywords.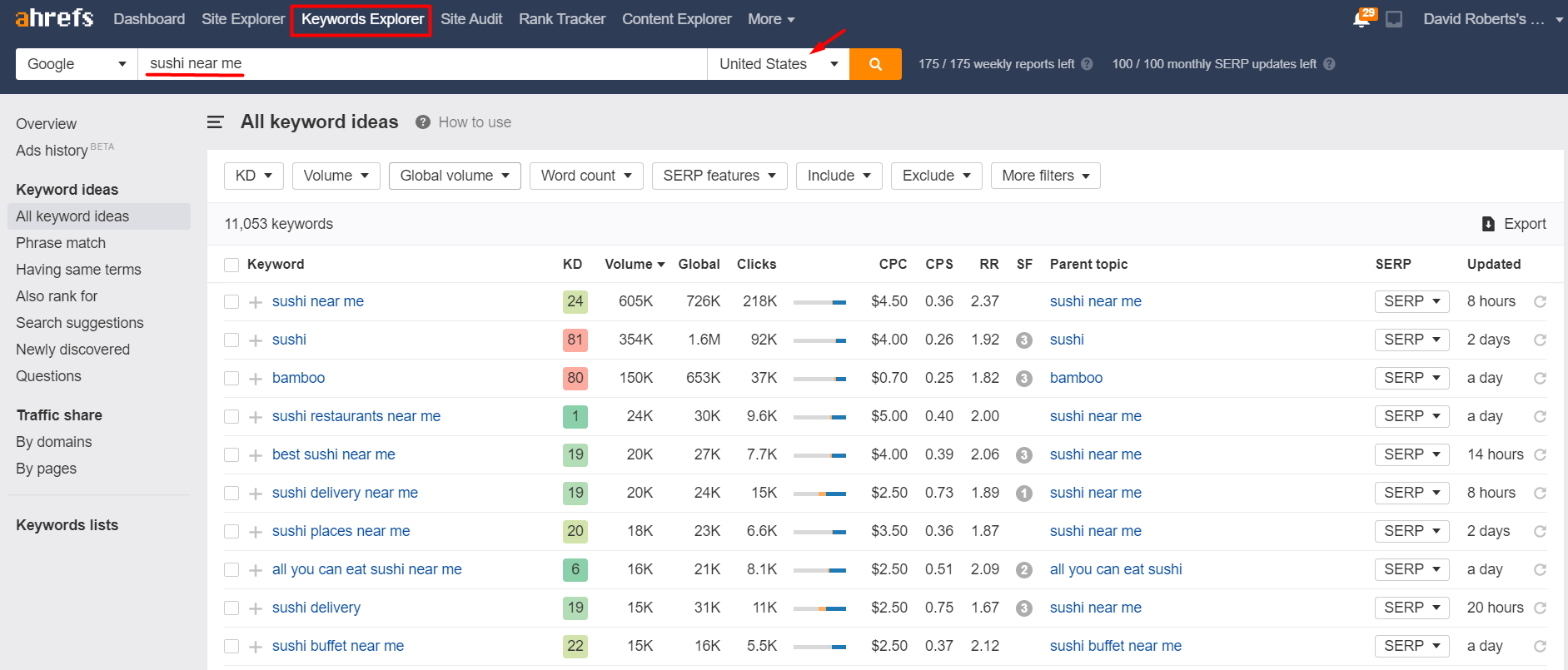 If you're pretty young on the market, select the keywords with the keyword difficulty (KD) no higher than 15. Go through the list of results and pick at least 5 contextually related keywords, a general keyword, and several long-tail options.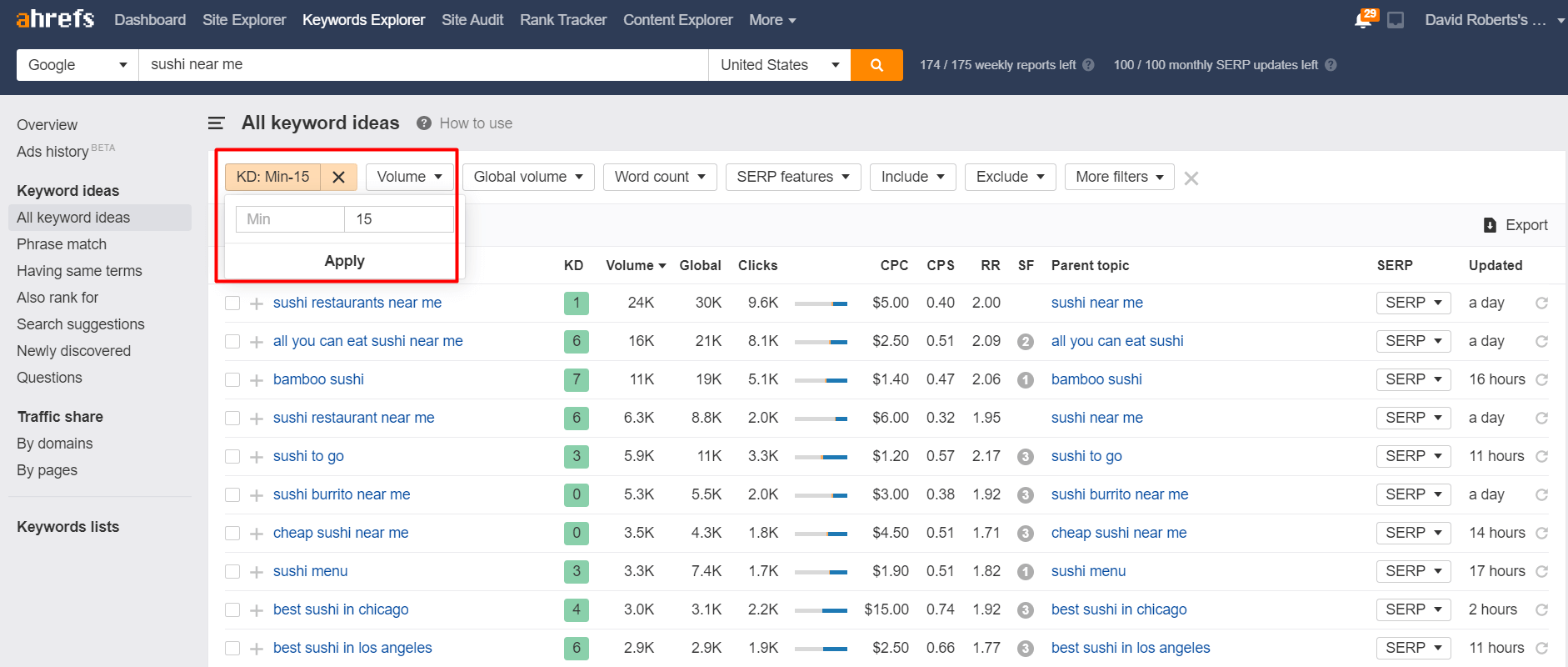 Then, just add your geo modifier (that is, the name of the city or district) to some of them. For example, suchi near me → sushi near me in Texas. 
Use one keyword for every 200 words of text, and alternate between regular words and georeferenced ones. Next, we'll show you how to use the keywords you already have for on-page SEO.
2. Pay great attention to mobile optimization
Mobile optimization is important for traditional SEO, and even more important for local SEO. The majority of users use smartphones to search for local businesses in the hope of not only finding the right product or service, but also the most convenient place to purchase them, plus a step-by-step route from the user's current location to your establishment.
At this point, Google correlates the user's search query with his geolocation (and there is no way to stop Google from tracking it, even if your geolocation feature is enabled), and shows a list of the most suitable companies or establishments located near the user.
However, if your site isn't mobile-optimized, your business will end up in a vicious cycle.
Firstly, Google will always underestimate its position – both in regular and local search results.

Secondly, users will quickly abandon the idea of ​​working with you – a high bounce rate will be a clear proof of this.
Therefore, mobile optimization is the first and perhaps the most important local SEO tips.
3. Get registered in Google My Business
Getting registered in Google My Business (GMB) is one of the top local search marketing tips, however, just getting registered isn't enough. Today Google takes a lot of factors or signals into account when showing your company in a listing. The most important of them are:
Complete information (address, working hours, phone, etc)

Proximity and keywords match

Reviews and behavioral patterns (that's why your website should be mobile optimized)

Visual presence (business photos and videos)

Activity (posts and updates in GMB)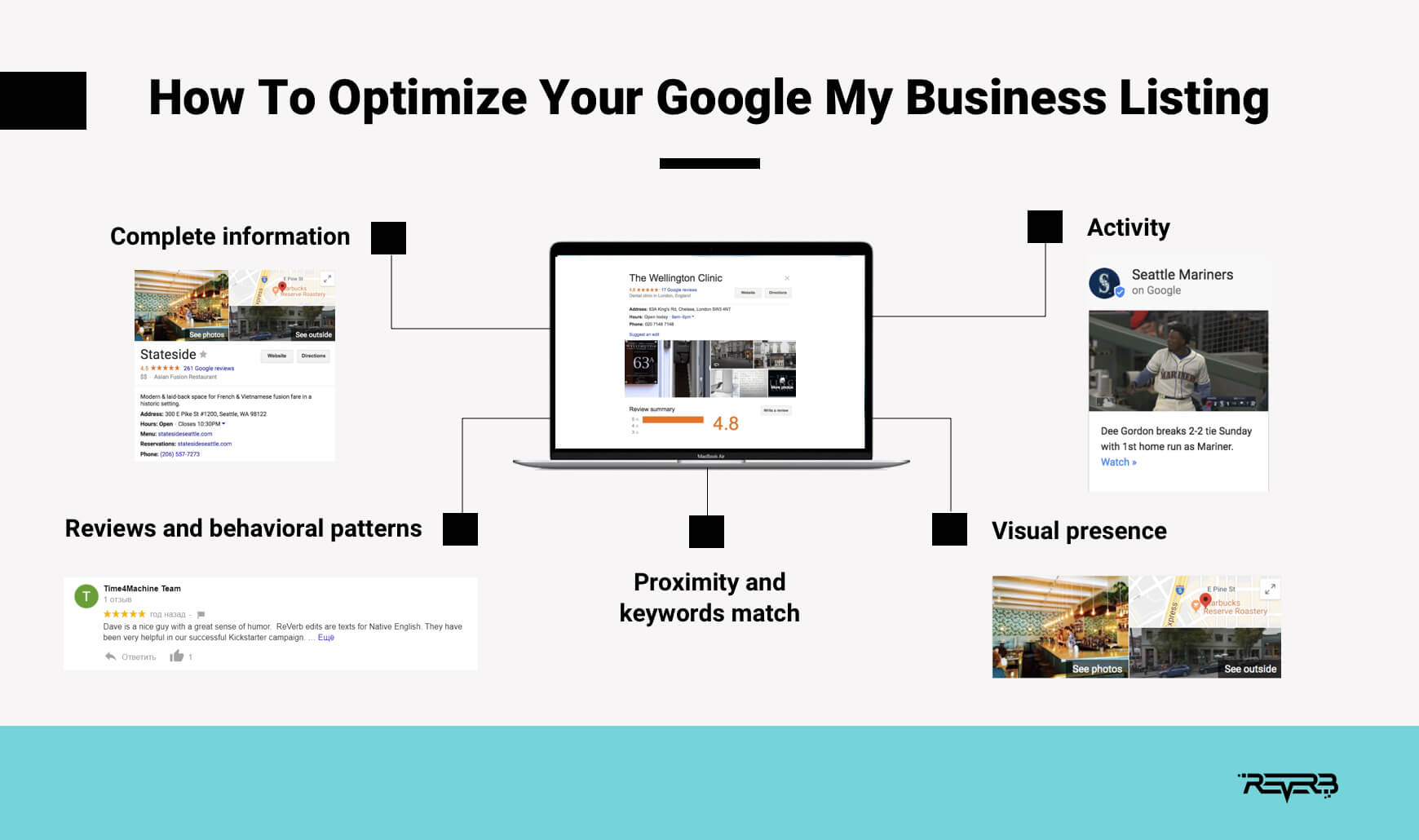 As you can see, registering with this platform is just one step towards a successful local SEO. Much depends on the other characteristics of your site, and they must meet the expectations of Google and users for Google My Business to make sense. 
For example, companies whose websites have a high bounce rate will be ranked lower in GMB. I will continue to address these issues in the next paragraphs of our local SEO checklist.
4. Create business profiles in
local directories
Why do you need local directories and how do they affect the success of your local SEO strategy?
First, users use them to compare companies and their services and read unbiased reviews from other customers.

Secondly, registering in local directories allows you to build up citation volume.
In a nutshell, a citation is a mention of a Name, Address, Phone number. Local directories are the best places to collect mentions and increase your citation volume. 

The most famous platforms users use to look for local services are Yelp, Yellow Pages, Angie's List, Show Me Local, and a lot more! Select the resources based on your niche and target location.
Pro tip! In order to strengthen this citations collection strategy, some businesses create Find Us web pages and place their links to local profiles there. 
5. Re-work your on-page SEO
On-page SEO is equally important for traditional and local promotion. In order to get better results from your local SEO for a small business, you should optimize the basic things but with a local promotion in mind. 
Here is how.
Optimize your URLs. Add geo mentions for locally specific pages. 

Optimize your Title tags and include the name of your city or district.

Optimize meta-description in the same way – you should give enough signals to Google and make it understand that this or that page should be ranked locally.

Make content improvements and enrich it with the geo- and location-specific keywords we've already mentioned.

Optimize your images by including a location name to the alt tags.

Revise your internal linking scheme and link-local pages with the main ones.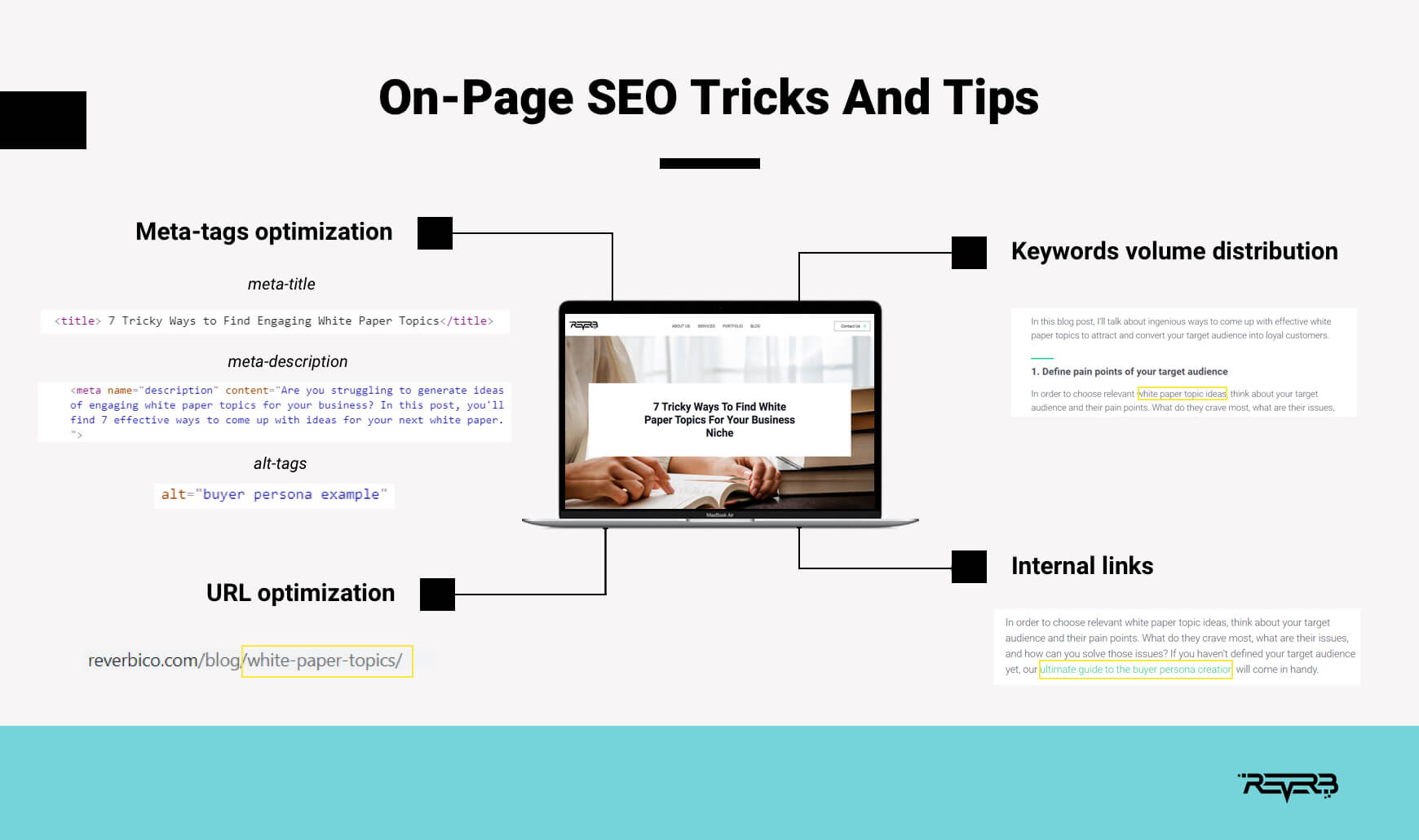 6. Utilize technical SEO best practices
You may need to do some tweaking to ensure your site meets Google's technical requirements for a successful local search. 
Here are the main criteria:
Availability of the Contacts page with a description of addresses and phone numbers.

Your contact details should be clearly visible on the home page. They must be clickable for mobile.

You must have a Scheme markup.
Check your site's technical SEO state using the above-mentioned tool, Ahrefs. 
Navigate to the tab 'Site Audit,' add your website there and run the crawling process. Then, optimize the content and fix the technical errors according to the report.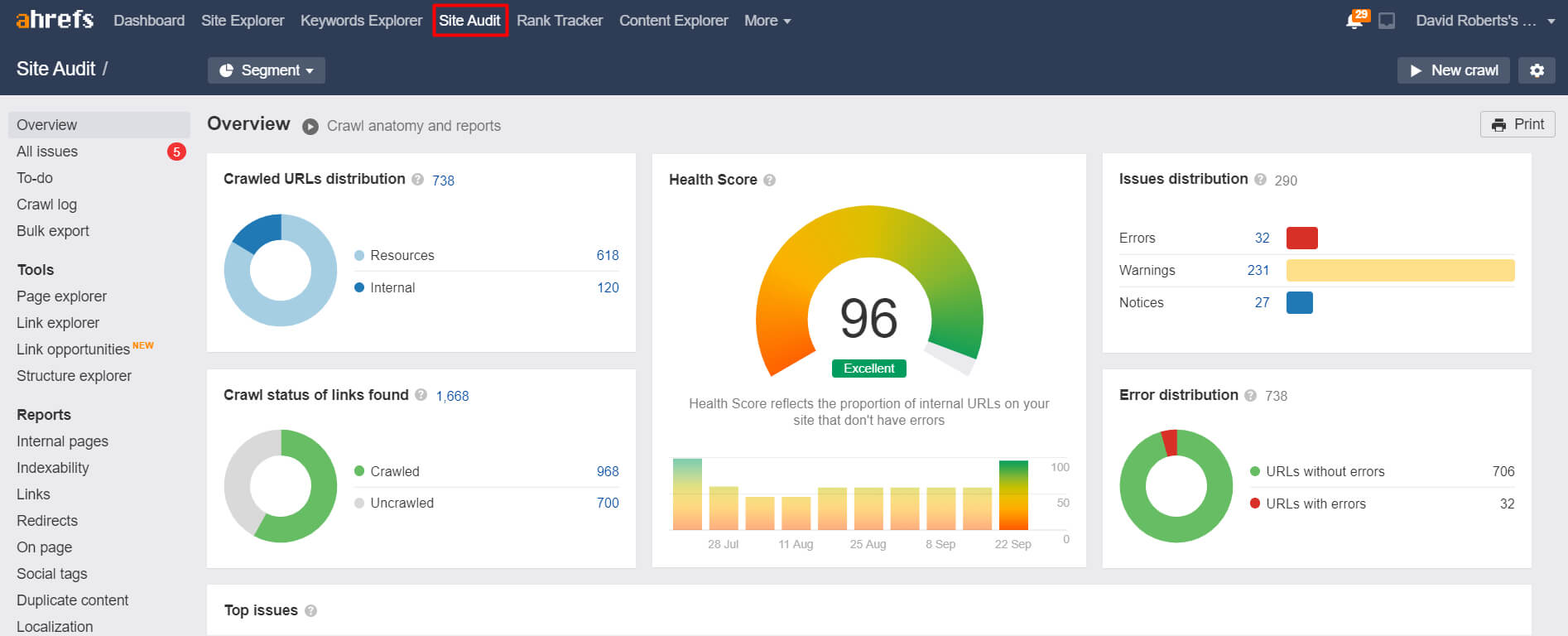 7. Create Schema markup
A few words about Schema markup as a part of local SEO for a small business.
This feature allows users to find out more about your business without jumping to your website. With the markup, your rating on GMB, location, working hours, and average price (if you have indicated it) are clearly visible on the first search results page just under the clickable name of your business. 
This is one of the important technical SEO aspects that will help your company to be ranked better. Plus, it's a brilliant way to improve the experience of your future customers giving them short but comprehensive answers to the main questions.
8. Start building your local-oriented link building strategy
Backlinks are one of the most important local SEO tips that Google takes into account. In order to strengthen the local position of your business, you need to collect backlinks with geo modifiers. That is, the anchors that will lead to your site must be geo-specific.
What is more, it will be better if local non-competitive sites contain links to your business. In order not to manually search for these sites, there are automated solutions for accumulating quality backlinks and guest posting, for example, the Adsy. With this service, you can choose from a large database of local websites and order a publication with a geo-specific backlink to your business. 
Also, there are some innocent grey hat SEO hacks that will help you get quality backlinks with minimum effort.
9. Get testimonials on Google My Business and local platforms
Previously, reviews were only social proof. Today, reviews based on their quantity, velocity and diversity are one of the most important local SEO ranking factors. That is, all other things being equal, Google will show users the companies with the highest ratings and best reviews.
Reviews posted on third-party resources also matter. For example, if a user enters a query like the best pizza, then the first results will be a Google listing linked to the location, and the next search line will be a rating site like Yelp. 
Consider collecting user testimonials and getting high ratings from them for the best local search marketing results. That's how you can collect testimonials effectively.
10. Get media coverage on large local sites
This is one of the somewhat unusual local SEO tips since the interconnection between the local SEO and media coverage is not so visible. 
However, everything is very simple.
Firstly, mentioning and backlinking to your business by an authoritative local website is one more way to get high-quality backlinks which are equally necessary for local and traditional SEO.

Secondly, this is a great way to improve your brand recognition. Even if there is no link to your website from a local site's publication, your customers are still able to discover your business by name. Probably, they will google you after reading the article. And this is the point when all the above

local SEO tips

will be as useful for you as possible. 
Conclusion
I've explained what local SEO is and powered our explanation with an ultimate local SEO checklist. Hope the topic is completely revealed and you know what to do next.
Do you have something to add to our list? We'd be super glad to learn about your exclusive local SEO tips! Feel free to share your experiences and local SEO best practices in the comments.