We are proud to announce that ReVerb has been recognized as a top ICO marketing agency by Software World and GoodFirms, the leading review platforms that help digital businesses connect with their potential clients.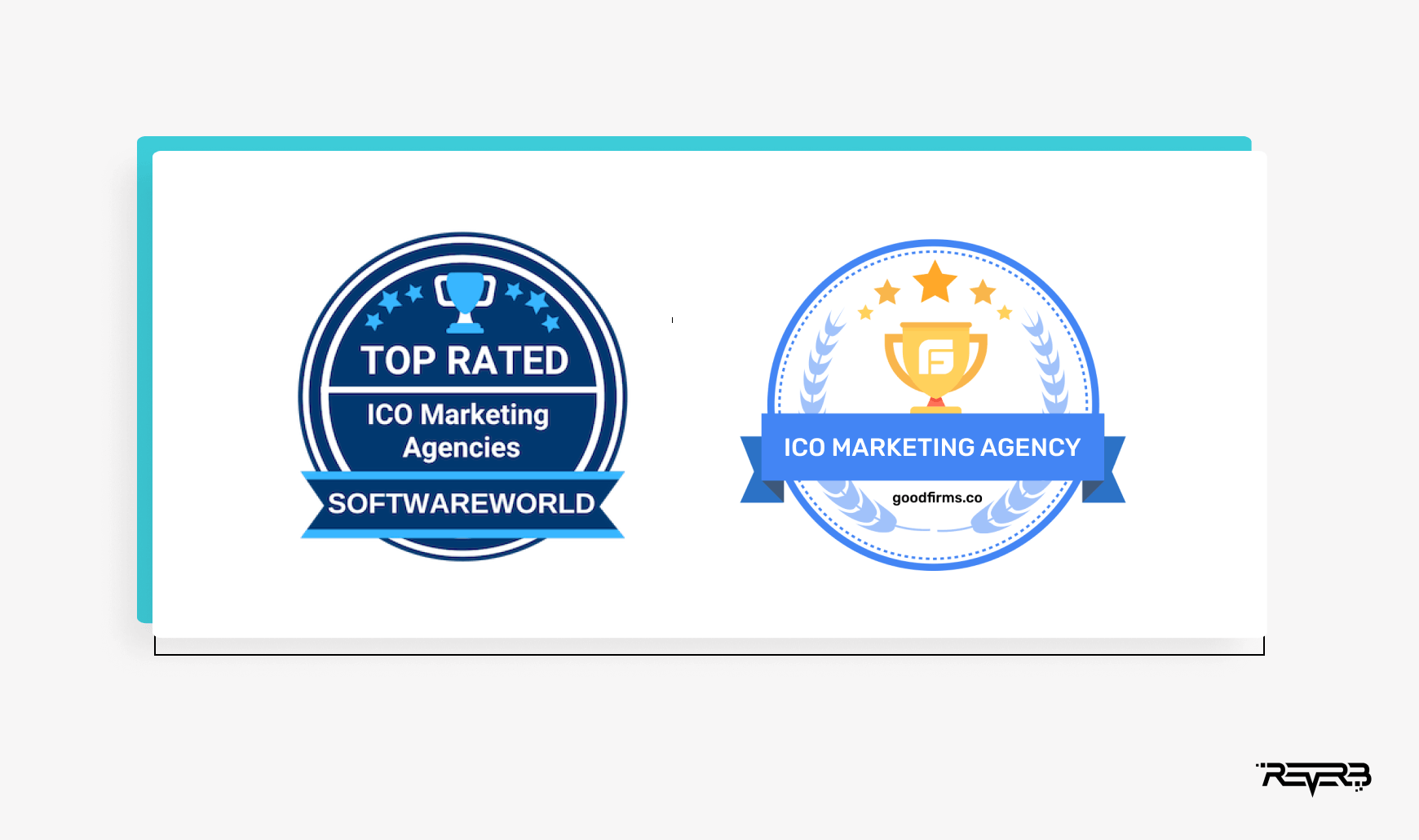 In addition, ICOlink has rated ReVerb as the leader on its top ICO marketing agencies list.
We've been working hard to achieve such high recognition.
A robust marketing strategy for ICO is vital. In today's increasingly competitive market, you can't expect investors to start buying your tokens unless you understand their needs and preferences and have a unique branding or commercial proposal.
At ReVerb, we use our extensive marketing experience and ICO expertise to help our clients build solid branding and project presentation and reach their target audiences. Our qualified specialists use a variety of marketing tools to put your ICO in front of as many people as possible in the shortest time.
How We Can Help You: A List Of Our Crypto Marketing Services
As a trusted crypto marketing company, we strive to live up to our well-deserved reputation, delivering high-grade services to promote new crypto projects — whether it's a token, an NFT startup, an ICO, or an STO.
Our international team of crypto and Web3 experts have worked with numerous ambitious startups raising pre-seed, seed, series A, and ICO funds. We've helped our clients raise over $30 million so far. 
We offer full-cycle crypto marketing services, meaning that our team will support you at every stage of the crypto marketing life cycle. From market research and website development to writing white and lite papers to PR launches and SEO blogging, we provide expert assistance to grow your project's credibility, scope and reach. As a result, you will generate more leads and raise more funds.
We provide the following crypto marketing services: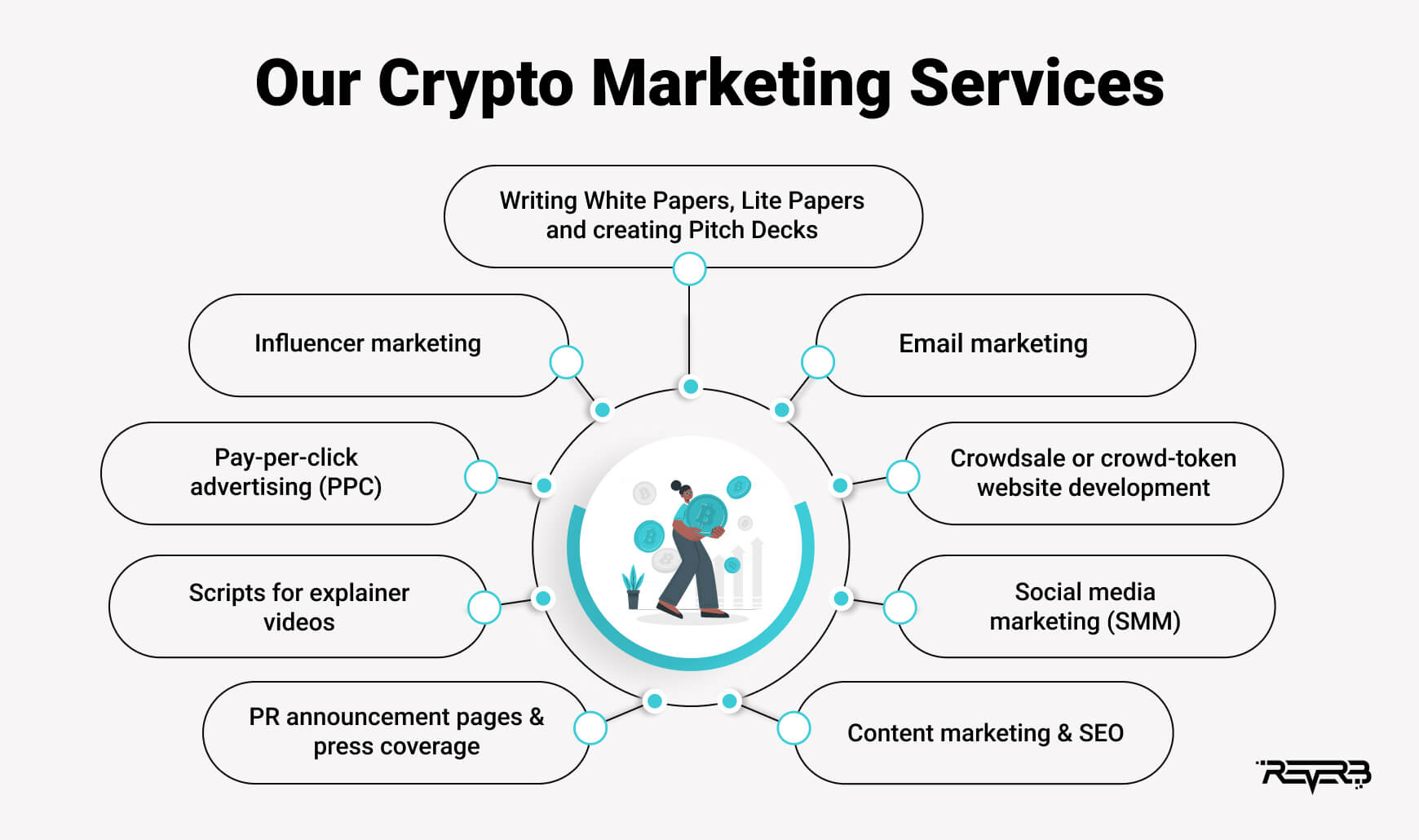 Writing White Papers, Lite Papers, and creating Pitch Decks
Our dedicated team of crypto-savvy writers and blockchain consultants can help you prepare a unique lite or/and white paper as well as pitch decks. These important marketing materials effectively introduce your product to potential investors, describing the problem it solves, its underlying technology and tokenomics, its product-market fit, and other essential project aspects. 
Expertly written and visually attractive white papers, lite papers, and pitch decks can go a long way toward presenting your project and highlighting the benefits of investing in your ICO.
Crowdsale or crowd-token website development
Entrust us with the development of a captivating crowdsale website for your project promotion while you focus on other critical business tasks. 
A professionally built website will not only serve as an efficient platform for sharing information about your tokens but also act as a sure indicator that you are serious about quality.
Social media marketing (SMM)
The creative SMM experts at ReVerb can give you a hand in leveraging the most popular social media platforms for your growth. 
According to the approved strategy, we'll help you launch and manage business pages on Facebook, Twitter, Instagram, Discord, Telegram, and/or other channels. Our skilled designers and writers will implement an exciting content plan to keep your audience engaged, and a PPC expert will set up social media advertising to drive qualified leads.
Content marketing & SEO
As a professional ICO marketing company, we know the true value of having a prominent content strategy in place. We boast a great team of tech-savvy writers who are passionate about crypto and are brilliant at creating engaging blog posts and other types of content for your online channels. 
In addition, we approach crafting content with SEO (search engine optimization) in mind to help you reach broader, more relevant audiences through organic search.
Email marketing
Regular communications are essential to nurture leads and build trust in your project. At ReVerb, we pay particular attention to establishing continuous interaction with potential investors through newsletters and online communities. We have carried out many successful email marketing campaigns that have helped our ICO clients drive more coin purchases. 
According to the proven approach of our crypto marketing agency, we carefully segment audiences, prepare captivating newsletters, and implement email workflows to ensure that your messages get to the right people at the right stage of a sales funnel.
PR announcement pages & press coverage
We partner with a wide network of highly reputable crypto-focused media outlets and closely liaise with their editors to help our clients publish promotional articles, news, and press releases aimed at making some noise about their ICO projects. 
Scripts for explainer videos
Discover the enormous potential of explainer videos with our ICO marketing agency. We'll help you effectively explain complex concepts with short, clear videos. Our writers know how to translate technical terms into simple words and write compelling video scripts, while the experienced video production team we partner with takes on animation and voiceover to create a WOW clip.
Pay-per-click advertising (PPC)
With years of experience in PPC, we can tailor a winning pay-per-click advertising strategy, helping your ads appear in front of the right audiences at the top of Google's SERPs. Our PPC specialists are bidding wizards who know how to nail the quickest results at the lowest cost.
Influencer marketing
Alongside the traditional channels most crypto marketing companies use, we also work with crypto-community influencers who'll help you increase your brand recognition, web traffic, and token sales volumes.
Why Partner With Our
ICO Marketing Agency?
As one of the top-rated ICO marketing agencies, we do our best to maintain this title, and we are always learning and improving our skills to drive even more impactful results for our clients. 
By hiring our crypto marketing company, you'll experience the following valuable benefits: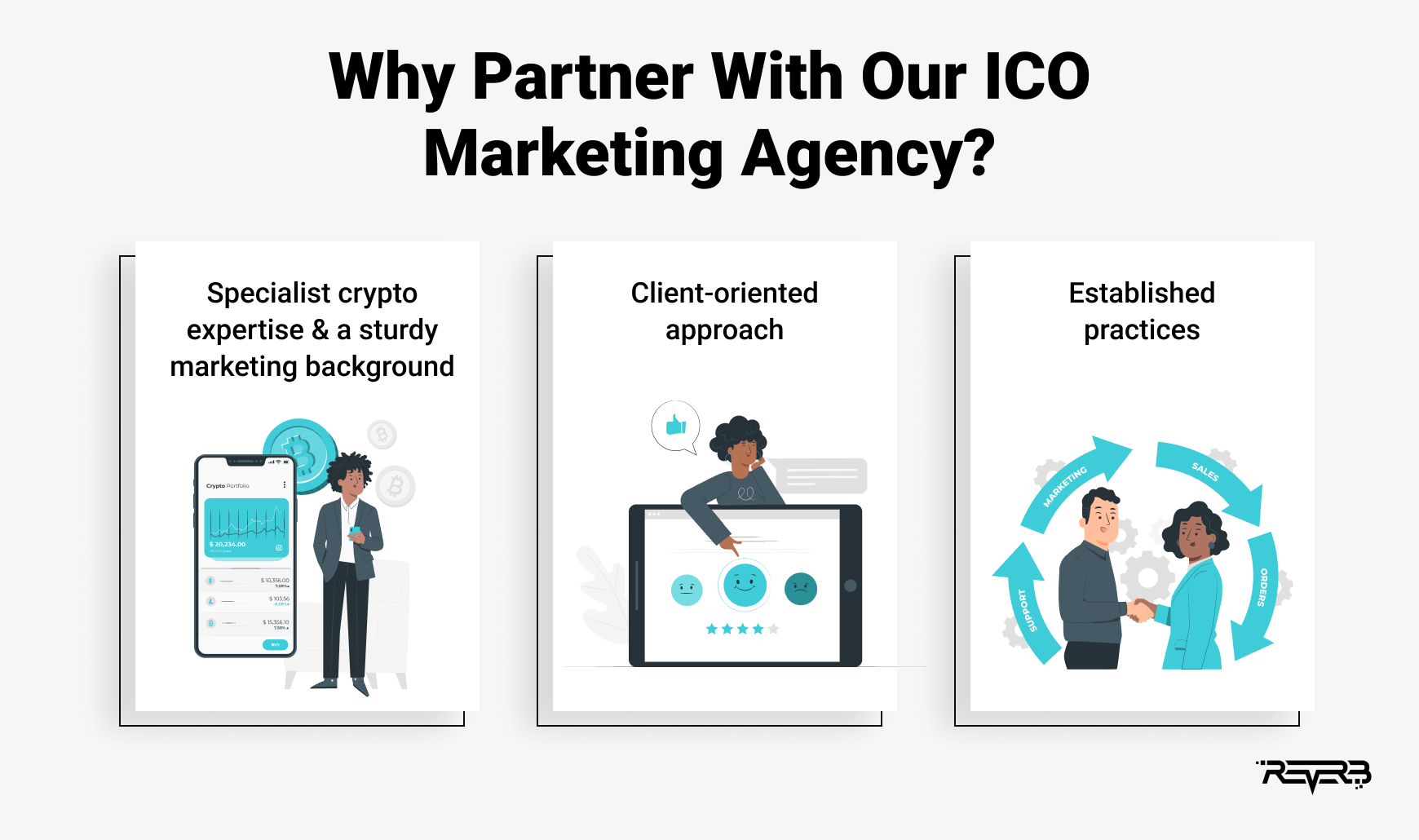 Specialist crypto expertise & a sturdy marketing background
The team at ReVerb has years of experience in digital marketing, which we successfully combine with our profound knowledge of crypto technology. This enables us to design the most effective strategies for your growth and project promotion across the crypto landscape.
Client-oriented approach
We clearly understand that every ICO is unique, and that's why one of the core values of our blockchain marketing company is the client-oriented approach. We never promote a new cryptocurrency without thoroughly researching your market and niche and analyzing your specific business goals and needs.
Established practices
Thanks to our broad experience in ICO marketing, we have a great set of established practices within various marketing channels to help you reach your project goals effectively and in the shortest possible time. We know what works best for crypto promotion and are eager to share our knowledge to promote the prosperity of your token.
How We Work: Our ICO Marketing Process Explained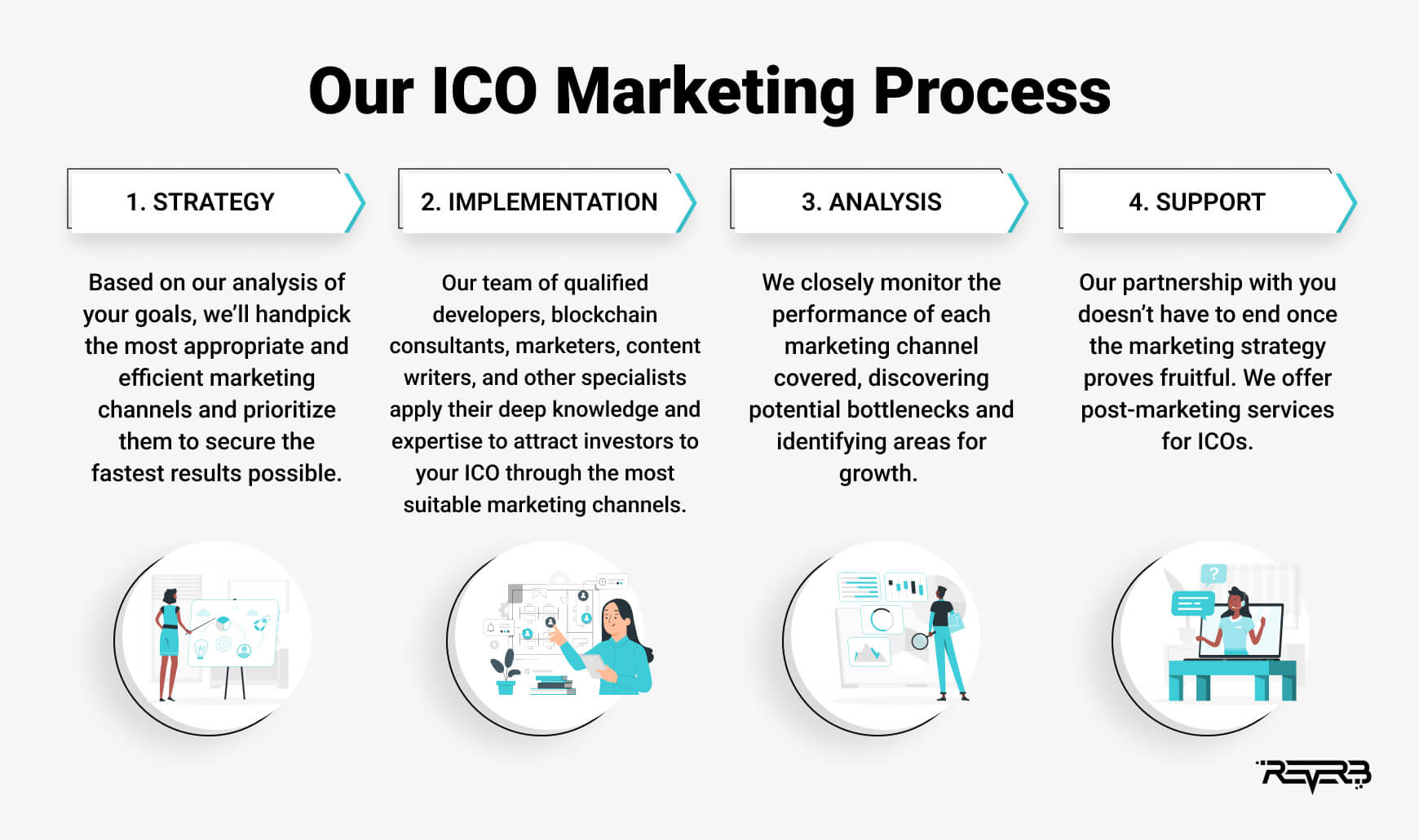 1. Strategy
If you refer to our crypto marketing agency with no clear project promotion plan in mind, we suggest you start with developing an ICO marketing strategy. Based on our analysis of your goals, we'll handpick the most appropriate and efficient marketing channels and prioritize them to secure the fastest results possible.
2. Implementation
After you approve the overall marketing strategy, we get down to its implementation. Our team of qualified developers, blockchain consultants, marketers, content writers, and other specialists apply their deep knowledge and expertise to attract investors to your ICO. 
We can help you with:
website development

writing white/lite papers

writing and distributing press releases

launching influencer marketing campaigns

setting up pay-per-click advertising

managing social media marketing campaigns

covering content marketing and SEO tasks

implementing email marketing campaigns

video production
3. Analysis
The marketers at our blockchain marketing agency are obsessed with data and closely monitor the performance of each marketing channel covered. We thoroughly analyze metrics, discovering potential bottlenecks and identifying areas for growth. Based on this analysis, our experts re-strategize the marketing plan if needed, concentrating the budget on the most effective channels.
4. Support
Our partnership with you doesn't have to end once the marketing strategy proves fruitful. We offer post-marketing services for ICOs, including:
educating your users on your token

updating content on your website

ongoing SEO and link building

managing social media pages and online communities

various other tasks at your request
Hire An ICO Marketing Agency That Drives Results
Being designated as one of the best ICO marketing agencies inspires us to work even harder to deliver the best possible results for emerging crypto projects. We place an incredibly high value on the trust and recognition we've managed to achieve and are determined to do our best to live up to this distinction.
If you're looking for a trusted ICO marketing agency that is sure to deliver results, hire ReVerb — our professionals will assist you in attracting a continuous stream of investors to your initial coin offering, from strategy to implementation to ongoing support!