Running your own cryptocurrency is one of the best money-making business trends today.
The best part of it – you can make a new coin with minimum capital by attracting massive investments over a short period of time. To do it, you need to come up with an awe-inspiring project idea and presentation and then implement a flawless technical foundation. 
You're in the right place if you want to learn how to start with cryptocurrency. 
I'll explain:
What is cryptocurrency?

Difference between coins and tokens

Benefits of launching your own coin

How to create a cryptocurrency step-by-step

ICO marketing tips & tricks
Let's find out whether the game is worth the candle!
What Is Cryptocurrency? 
Before learning about how to make your own cryptocurrency, you need to start off with the fundamentals. More specifically, understanding what lies beneath the word that gets more and more popular nowadays.
In simple terms, cryptocurrency is a virtual highly secured form of money that does not exist physically (in contrast to fiat money). There are only special electronic registries that keep records of how much cryptocurrency users have and from whom and where it transfers. These journals are called blockchains.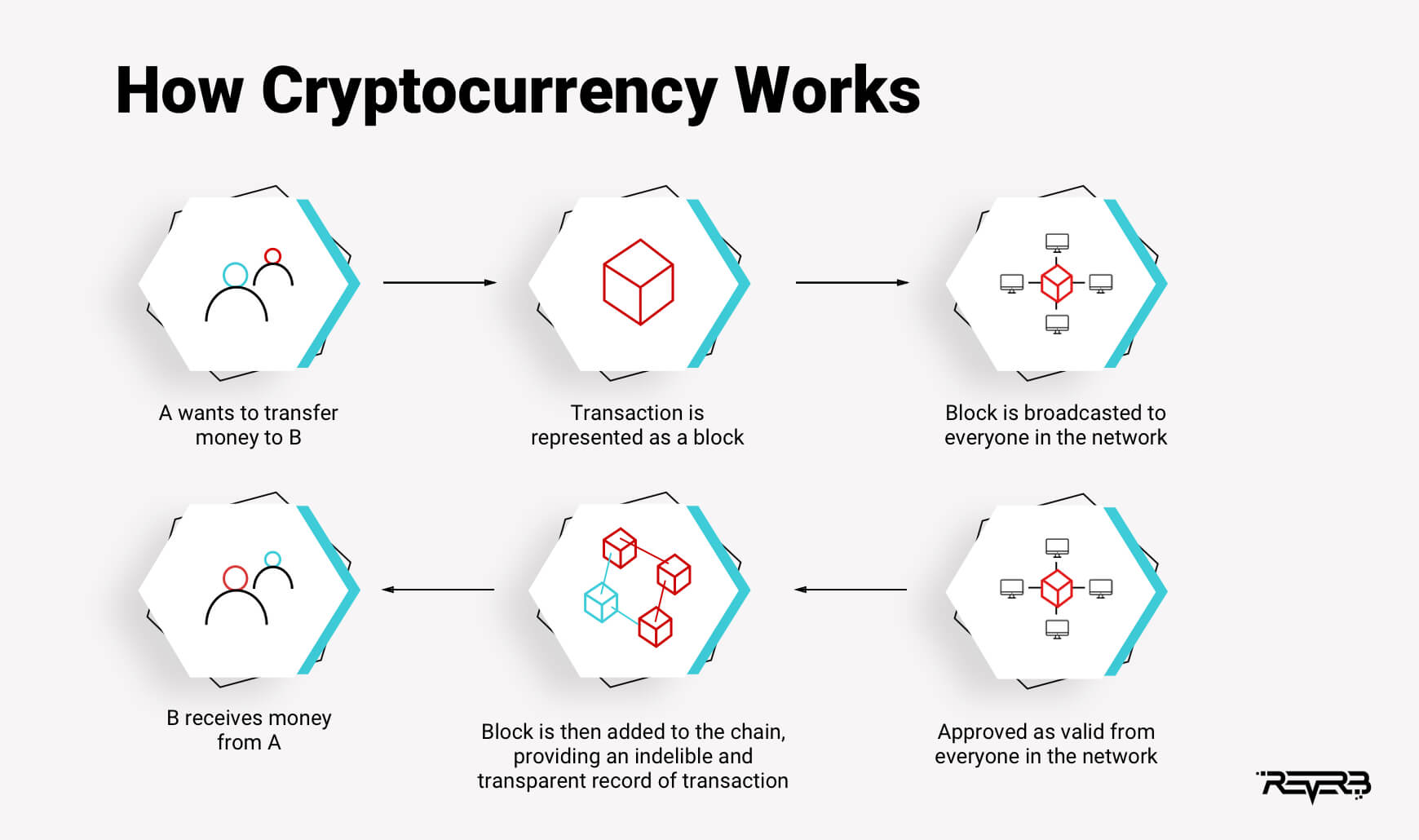 Cryptocurrency can boast many unique features. Nonetheless, its craziest and most prominent function is to serve as an electronic money system that does not belong to any of the counterparties. 
Today, many companies take part in the crypto race by launching their own cryptocurrencies, also known as tokens, that can be spent on goods and services within their internal ecosystem.
But here I need to make a small clarification.
Difference between coins and tokens
Oftentimes, you could notice how people mix up tokens with cryptocurrencies and use them as synonyms when in fact these are two different things.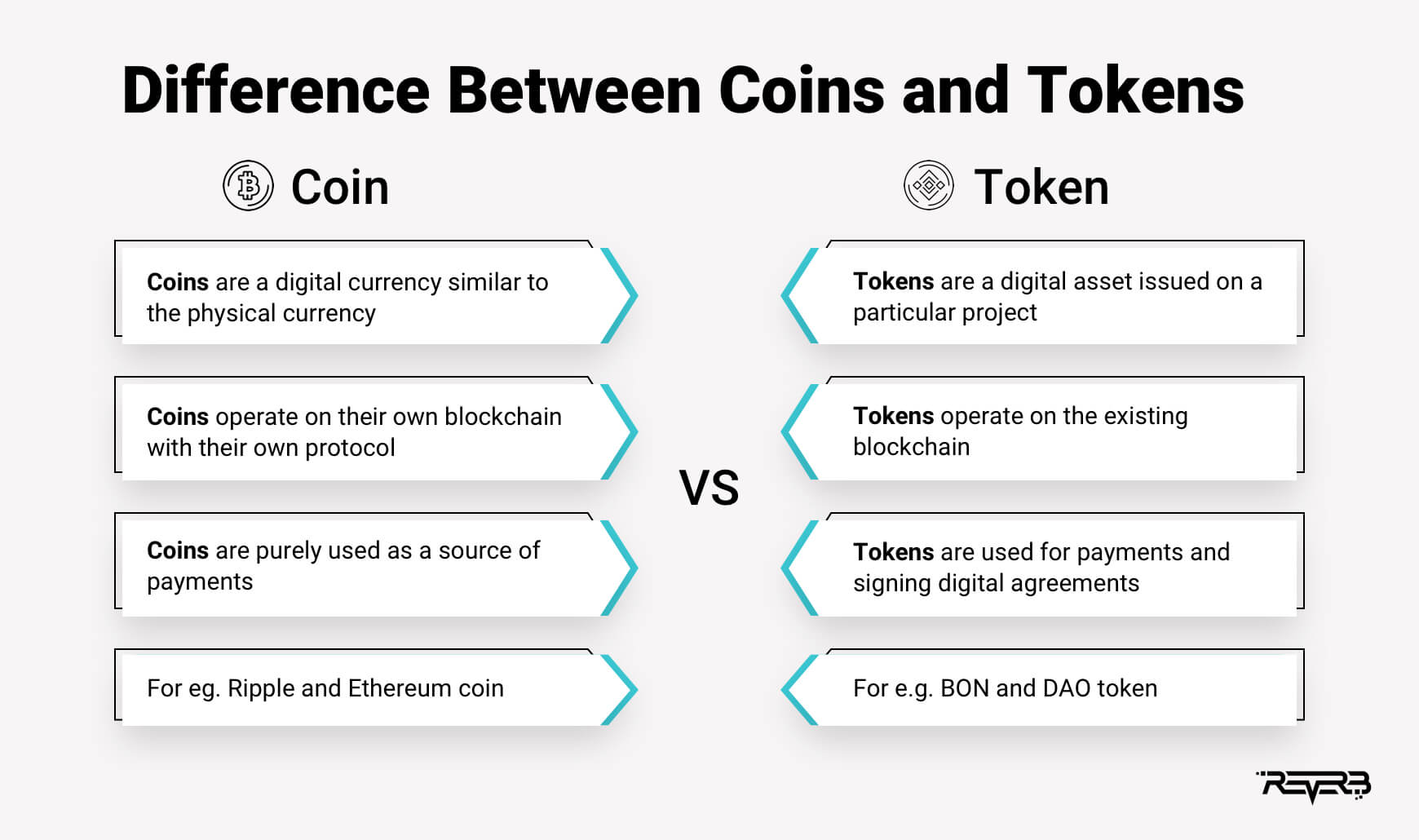 The first decision you must make when determining how to create a cryptocurrency is deciding whether you need a token or a coin. Do you want to come up with something absolutely new? Or will you develop a token based on the technology that already exists, is trustworthy, and is widely available? 
Here is a significant distinction between these two terms: a coin has a standalone independent blockchain, while a token is constructed on an existing blockchain. Since tokens are created on top of the existing system, they are easier to produce. 
What's more, tokens are restricted to a certain business or group, whereas coins may be used anywhere. For instance, you can use or get tokens as loyalty points from local businesses that you often purchase from or connect with. It can even be an app's token. You can buy them with the help of coins, but you can't convert tokens into real money. 
It frequently occurs that startups start by distributing their tokens but then swap them and move to their own blockchain. As a result, tokens become coins. Some notable examples are EOS, Polkadot, and BNB.
Why are people so fascinated by the idea of running their own cryptocurrency today?
Benefits of Launching Your Own Coin
Well, there are many perks of diving into an exciting cryptocurrency journey! But let's list the most alluring ones: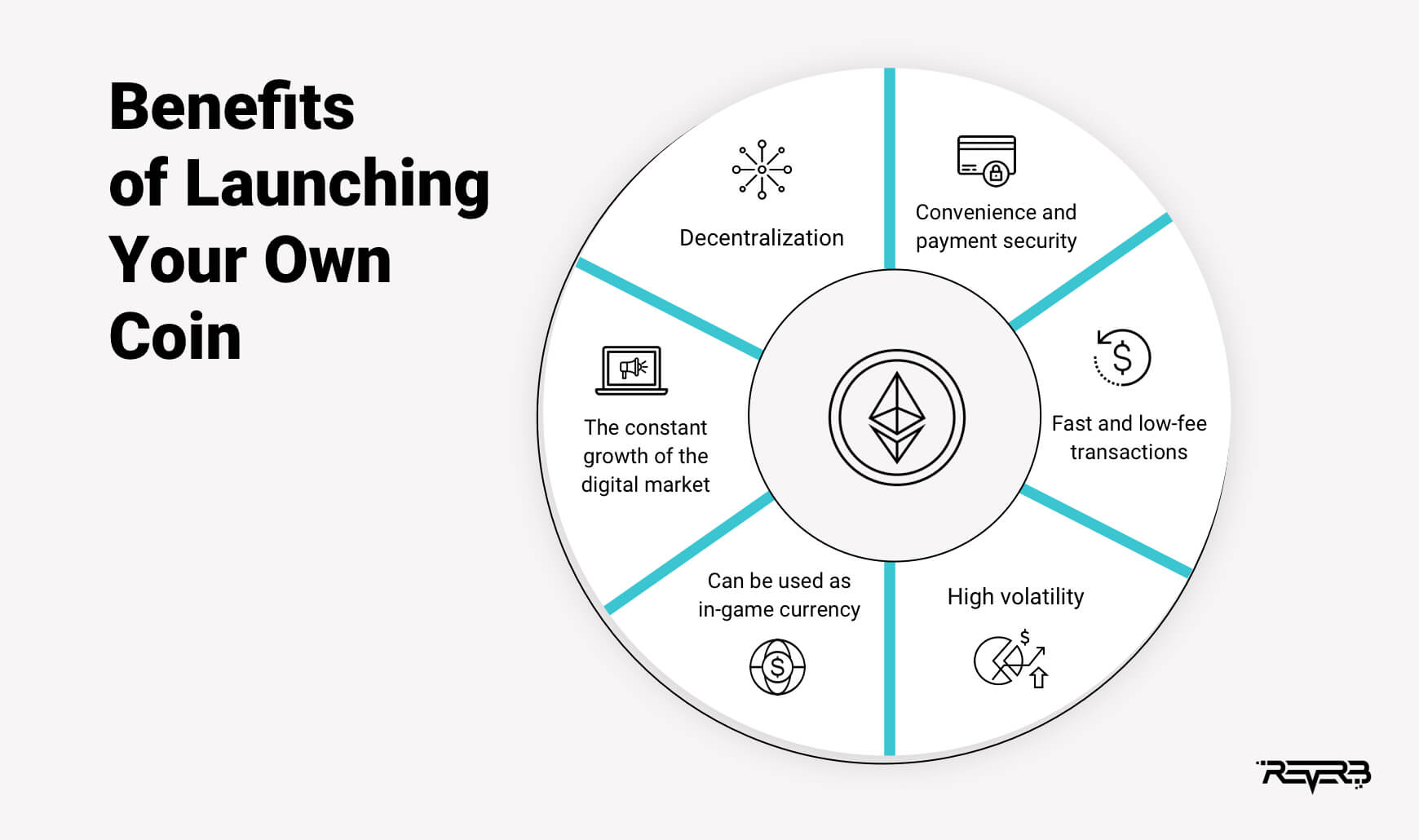 Governments do not control cryptocurrencies. No one sets the rules for cryptocurrency developers. They are not backed by gold reserves or any other assets, which makes crypto fully independent. You possess the ability to transfer and withdraw cryptocurrency without stressing about taxes.
Convenience and payment security
If you have an international platform that accepts settlements in many directions, you can think about creating a universal, convenient payment instrument for all users, providing the most secure transactions.
Fast and low-fee transactions
While fiat currency takes some time to process and requires a specific amount of fees, with crypto, you won't only receive and make payments immediately but will also be able to save on transaction fees. There will also be no limit for transactions, so that's surely a bonus.
Coin prices have a tendency to fluctuate greatly. This is a high risk but simultaneously a high chance for coin holders to produce large sums of money quickly in contrast to the banks' deposit terms.
Can be used as in-game currency
You can also create your own cryptocurrency to use on any of your game platforms as a server to accept payments from users.
The constant growth of the digital market
Modern Internet users more and more frequently include coins in their life while some of the large investors gather their own digital currency collections.
How to Create a Cryptocurrency Step-by-Step
To launch a viable, fascinating, and thriving crypto project, you will not only need solid technical resources (a sufficiently powerful PC with access to the network and a team of skilled blockchain developers and analysts) but also assistance from top-notch crypto marketing experts. It may take a while to synchronize all parties and present your sensational invention to the world, but trust me, the outcome is going to be worth it!
To make the new cryptocurrency development process clearer and easier for you, I divided it into the five most important steps:

Step #1. Clearly outline your idea
The idea to create your own coin may come to you all of a sudden, but to stand out in the real business world, you will have to develop a detailed plan that will help you showcase your value. 
No matter how hard you work on your cryptocurrency idea, if people are not willing to do anything with it, the efforts will probably be in vain. That's why you should conduct an in-depth market analysis and create a valuable proposal to spark clients' interest in your cryptocurrency during a token sale.
Step #2. Pick a consensus mechanism
In terms of cryptocurrencies, consensus algorithms are a critical element of every blockchain as they are responsible for maintaining the integrity and security of these distributed systems. There are several types of consensus algorithms you can choose from. 
The most common are PoW and PoS. The first consensus algorithm that was created is PoW. It is used by Bitcoin and other cryptocurrencies. The PoS consensus algorithm, on the other side, was developed as an alternative to PoW. While PoS and PoW have similar goals, they present some distinctive characteristics and differences.
Each has its own advantages and disadvantages as they're trying to balance security with functionality and scalability.
Step #3. Choose a blockchain platform that suits you
To create a cryptocurrency, you will need to choose a fundamental blockchain platform. The selected consensus mechanism determines which blockchain platform works best for you.
Some of the best blockchain platforms in the world you might want to consider:
Ethereum (a market leader with 82.70% shareholding)

Waves 

Hyperledger Fabric

NEM

IBM Blockchain

Nxt 

HydraChain

BlockStarter

BigChainDB
Step #4. Design nodes 
Before designing the nodes (a distributed network of computers running software), you must first decide on the scope of functionality of your blockchain. Will the permissions be private or public? Will the hosting be in the cloud, on-premises, or a combination of both? What are the hardware requirements for the execution? 
Answer these and other key questions related to the software operations to arrange the nodes in the best possible way.
Step #5. ICO marketing tips & tricks
When the development process is over, it's time to share your creation with the world and start monetizing it. The most common way to do this is by running an ICO (initial coin offering). ICOs are carried out to fund new crypto projects. In order for a cryptocurrency to be successful in 2021 and in years to come, you must have a strong ICO marketing plan in place to promote it and achieve expected fundraising results.
People have the opportunity to invest in your project at different stages. Some of them decide to support your cryptocurrency right off the bat because they like the idea behind it. Others suggest that the value of the coin will increase over some time, and they'll purchase it later.
But how can you convince someone to contribute to your project on the whole? With the following marketing channels and tactics, this becomes an easy task.
– Write down an inspiring White Paper
The creation of a technically perfect cryptocurrency system is not enough. The inspiring idea hidden behind it is what motivates people to choose you among your competitors. Investors will not put their money in obscurity. Thus, you should tell the world about the unique features and benefits of your upcoming project in a White Paper.
The White Paper is a core document essential for the success of ICO. It describes the company's idea and mission, as well as the advantages and technical details of your cryptocurrency. You should also share the info about your company, team members, roadmap, token sale dates, and other prominent facts.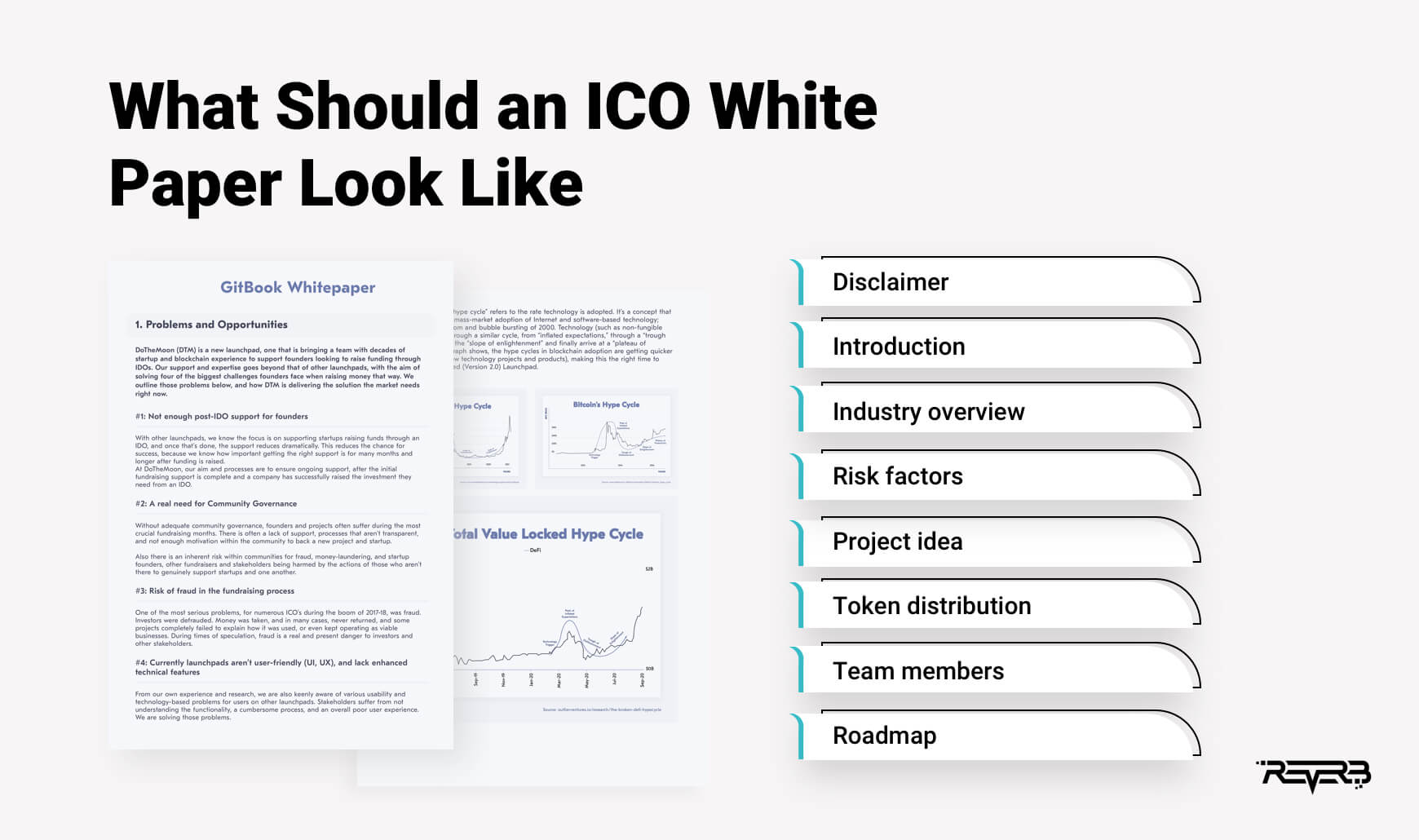 Upon its completion, spread this document to the community via your website and other channels and wait for the first investments obtained from impressed readers.
– Develop a crowd-sale website
Wait a sec! To spread a White Paper on your site, you have to develop it first. Pardon my inconsistency.
An eye-grabbing crowd-sale website is a must-have resource to create a significant buzz on the market around your project. It's exactly what will provide your company more credibility and give you a chance to make an excellent first impression on your target audience. 
Before launching your ICO, it's crucial that you do your best in building and optimizing your website: 
Follow the common web design rules and tips. Plan the site's layout

beforehand

and make it convenient to navigate. 

Stick to simplicity. It will help visitors get a bigger load of information in the shortest period of time. A website that is filled with a lot of useless information can be overwhelming and quickly push visitors away.

Present as much project information as possible to make your site visitors build trust in you and get all the necessary answers without even asking.

Make sure your website has a few catchy calls-to-action inviting investors to participate in the token sale.

Optimize your site to mobile devices

, ensuring that it has a high loading speed, is still user-friendly, and provides users with primary functionality.
– Refer to PR and community growth 
Reinforcing your project promotion with PR services is a great option if you have some extra room in your budget. Here at ReVerb, we can manage all of your public relations and media outreach initiatives, giving you widespread exposure and ensuring that your name is on everyone's lips. 
Having a loyal community that supports your ICO through public relations channels (forums, interviews, press releases, etc.) will increase project credibility. Third-party endorsements are quite a powerful branding tool. Although PR campaigns could be costly, they're extremely efficient for nurturing leads at the early stages and raise your chances of making a larger profit during token sales. 
– Be active on social media
These days, a profitable initial coin offering is almost impossible without the use of social media. The way you convey your ICO to your target audience makes the difference between success and failure. Social media networks are an excellent way to publicize your ICO and get confidence from the community and potential investors. 
Facebook, Reddit, and Quora are brilliant channels for this purpose. On your Facebook page, you can share your company news, updates, and important numbers, as well as announce the upcoming token sale. 
There are also some specialized crypto forums you can try out. Most of the people passionate about cryptocurrency regularly visit them to learn more about the world of digital money and the hot opportunities available out there. 
A no less in-demand channel gathering crypto fans is YouTube, so think about adding YouTube marketing to your promotional strategy, too.
– Launch bounty programs 
Bounty programs mean rewarding individuals with free coins in exchange for completing specific activities aimed at advertising and improving project functionality. This can be a revision of the project's code by external developers or its promotion in media channels by bloggers and influencers.
Various initiatives can help promote your ICO if done correctly. Outside players can greatly raise awareness about your company on the market. Bounty programs should be managed carefully since too many free tokens might harm your ICO's reputation.
Conclusion 
Any new digital coin can replicate and even surpass the success that Bitcoin has today. That's the goal of almost all enthusiasts entering the crypto game. So why don't you start your own cryptocurrency and try your hand? 
You can actually make a coin that goes viral. It's enough to have a prominent idea, a little luck, a great desire, and act like a professional. It's possible to create a cryptocurrency even with a minimum budget if you have something worthy to offer and a proficient team that can help you with this complicated at-first-sight task.
Attracting additional money from investors for launching your own ICO is an easy task if you know how to convince people that your project perspectives are truly cosmic and supported by technological innovations. 
Hire ReVerb's dedicated ICO expert team to launch your own cryptocurrency with success. We provide a broad variety of ICO marketing services for crypto-based businesses. ReVerb can assist you with anything, from initial strategy to writing White and Lite papers, web design, production of videos and content, PR, social media, and other promotional activities. We will gladly help you encourage people to support your project and invest in your cryptocurrency!