The manner you speak with your customers is as important as the quality of the products and services you offer them. 
Are you sure you deliver truly memorable messages to the customers? Are their impressions of your brand holistic? Defining your brand tone of voice will help you to positively answer both questions. But how to achieve this tricky goal?
In this article, I'll reveal:
What is the tone of voice?

Why is your tone of voice important?

What are the

types of the tone of voice?

How to find and develop your exclusive

brand tone of voice. 
Let's dive right in.
Foundation: What Is the Tone of Voice?
So, let's get started with the tone of voice definition. I adore this explanation: "It's not what you said. It's how you said it."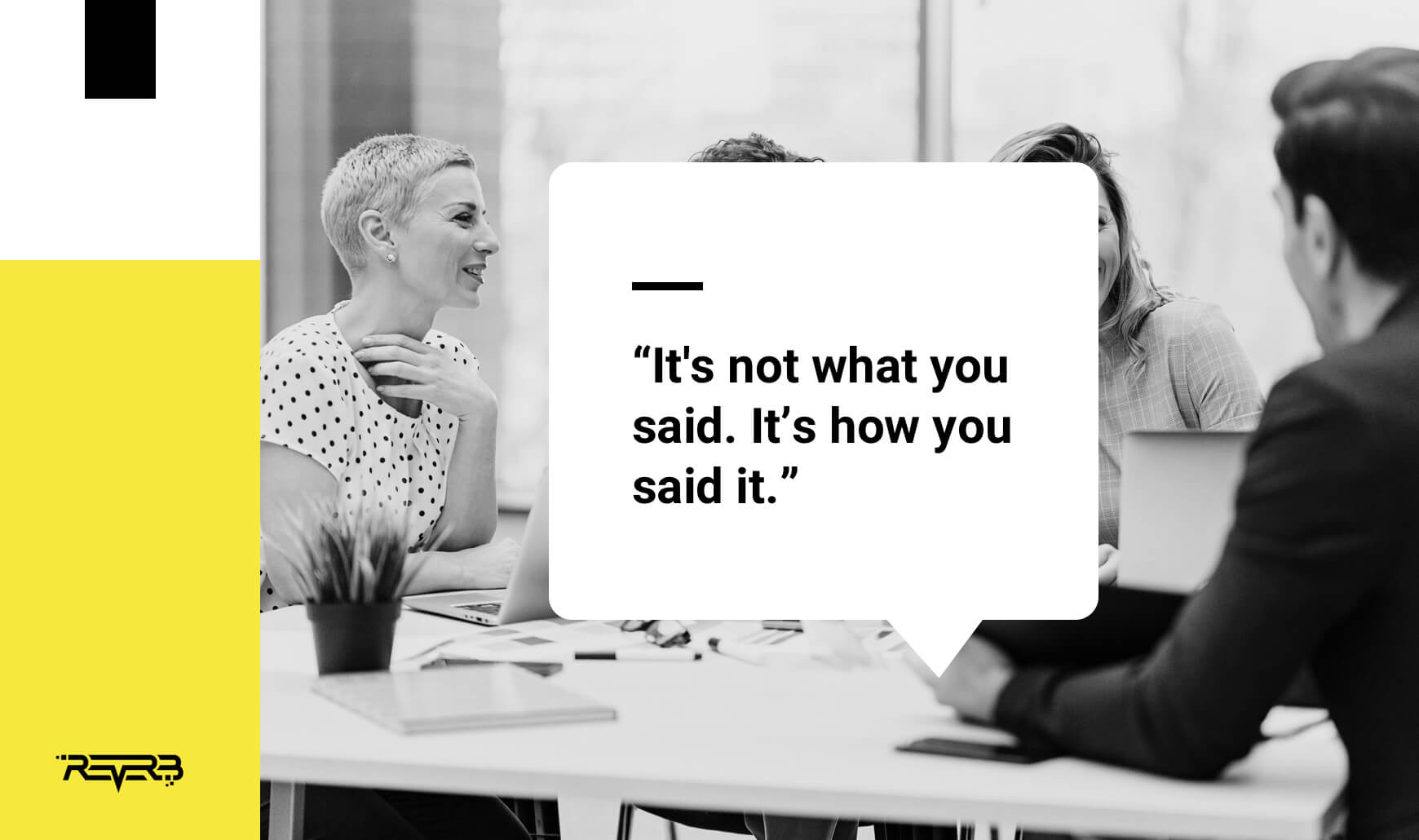 So, your tone of voice can be defined as your consistent manner of communicating with others, as a specific communication standard in your company. It includes the words, slogans, and style guide elements (colors, fonts, images, etc) that you use, as well as the messages and ideas that you convey to customers.
What is more, the tone of voice tends to cover the entire company and is not limited to communication with customers only. Most likely, the company's employees communicate with each other in the same style, and the company hires people who are ready to share in this manner.
Thus, your brand tone of voice is not what you tell your customers. It is rather the way you say it to them and the impression you make on them, accordingly. This is one of the reasons determining the tone of voice as one of the brand elements is important.
Why Your
Brand Tone of Voice
Is So Essential
In this ever-changing world, where marketers are increasingly embracing automated campaigns and the widespread use of AI, having a unique tone of voice is crucial. It's what will set you apart from the competition, and this is not just a new marketing trend—it has always been and will always be essential.
If we analyze several brand voice examples (and we'll definitely do it in a few minutes), then we will see that the tone of voice performs several key tasks and offers some key advantages to the companies who've managed to make their tones of voice consistent. 
Here they are: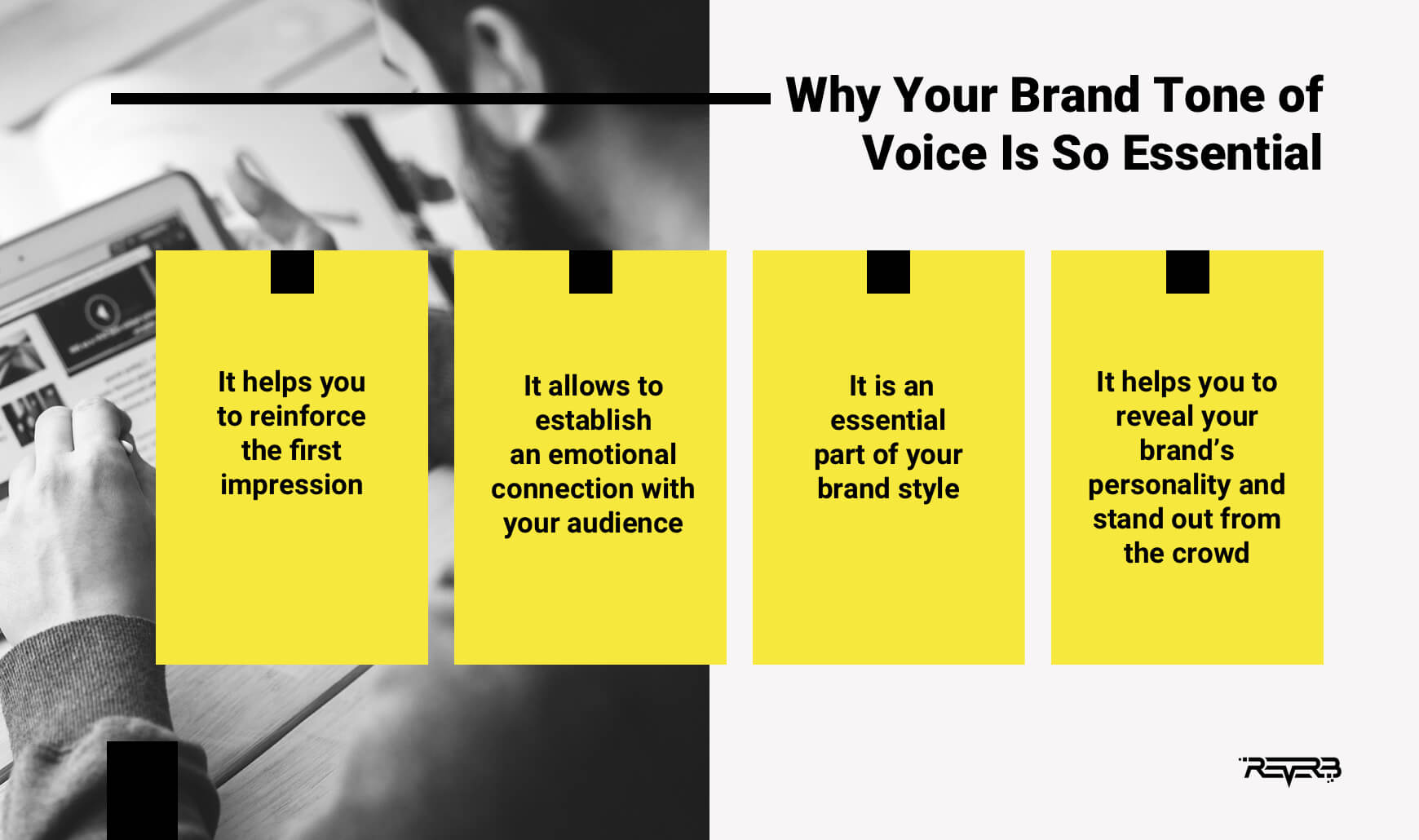 It helps you to reinforce the first impression.
As a rule, the first impression your customers get is visual. Having an impressive interactive brochure or flyer might be an excellent first step in capturing potential clients' interest. And only after the visual impression is formed and it meets the expectations of your audience they proceed further, discovering all the other features of your brand.
At the top of the sales funnel (by the way, here is the guide to the sales funnel development), your tone of voice helps your customers to reinforce the first impression and make the next decision – either to leave or to move further. 
It allows you to establish an emotional connection with your audience. 
62% of buyers say emotional contact and a sense of the brand taking care of them is important when deciding on a long-term relationship with a company. 
Do not be surprised, but an emotional connection can be established in completely different ways because psychology distinguishes 27 human emotions, each of which can be used to connect with your customers. The following tone of voice examples will help you to fully understand how it works. 
It is an essential part of your brand style. 
We've already shared the guide to brand style development and have mentioned the tone of voice as one of the essential elements of your whole style. 
Thus, your tone of voice should be in line with all the other elements and help your customers to develop a comprehensive impression and opinion of you. 
It helps you to reveal your brand's personality and stand out from the crowd.
There are a lot of types of tone of voice; however, consistently following the chosen one allows you to develop the personality of your brand and associatively put that impression on your customers' minds. This is one more opportunity to be better identified among competitors and become better recognized by the audience. 
8
Types of Tone of Voice
and Examples From Famous Brands
Here are the main eight types of tone of voice you may choose from, reinforced by examples of popular brands. 
1. Positive and inspiring – Nike
A positive, friendly, inspiring, motivating, and leadership tone is the choice of Nike, as well as the millions of customers of this brand who share its values.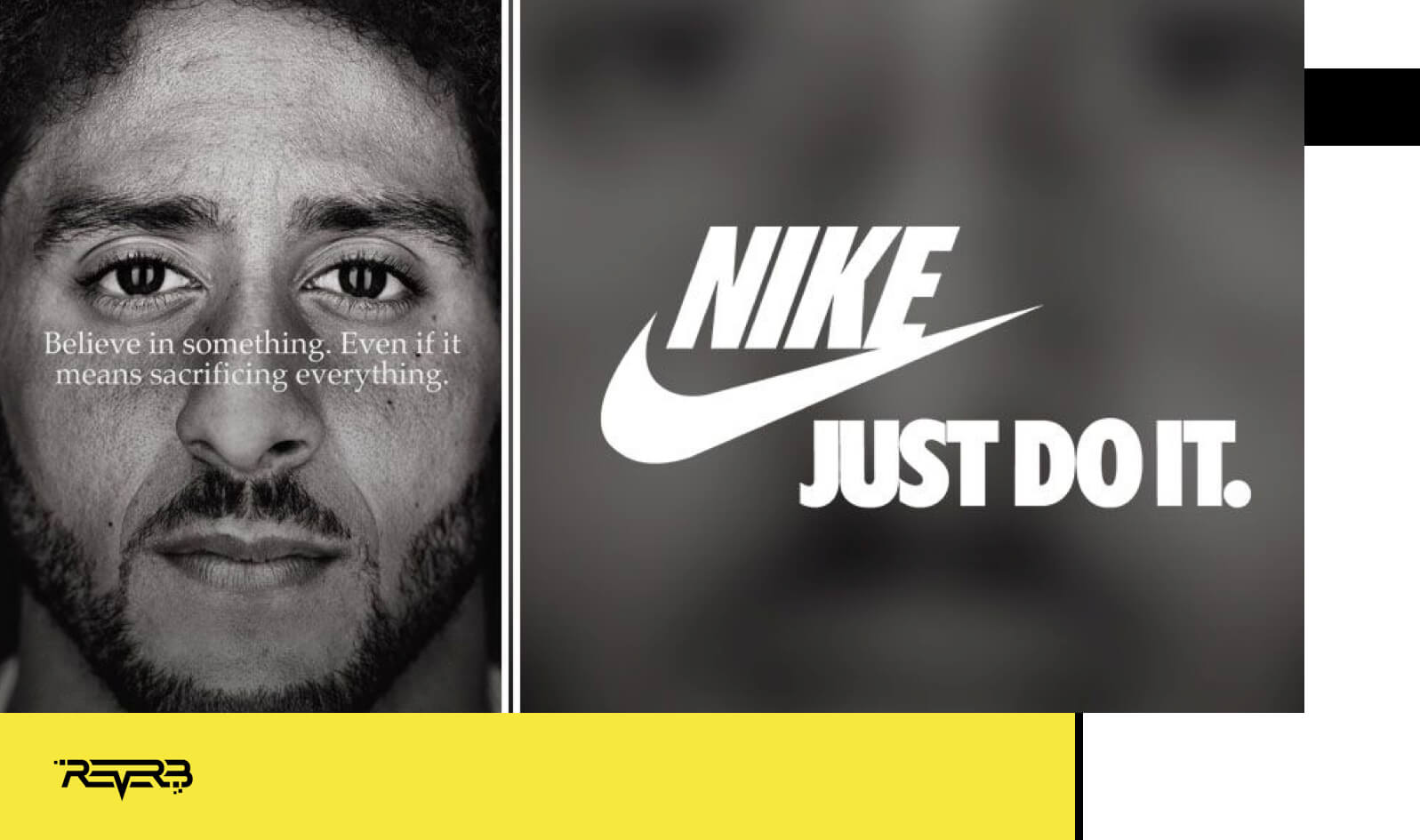 "Just Do It" is not just words. This is a holistic concept that is perfectly integrated with other branding elements. Perhaps this is one of the best brand voice examples when the tone of voice perfectly fits the product and the target audience's values and lifestyles. 
2. Humorous – Fridababy
A humorous tone of voice is a good strategy for helping your clients cope with complex, new, and atypical situations. 
For example, with the birth of the first child. Fridababy thinks it will be very difficult to deal with this challenge without a dose of good humor, so it uses a humorous tone of voice that allows clients to recognize themselves and the situations they find themselves in.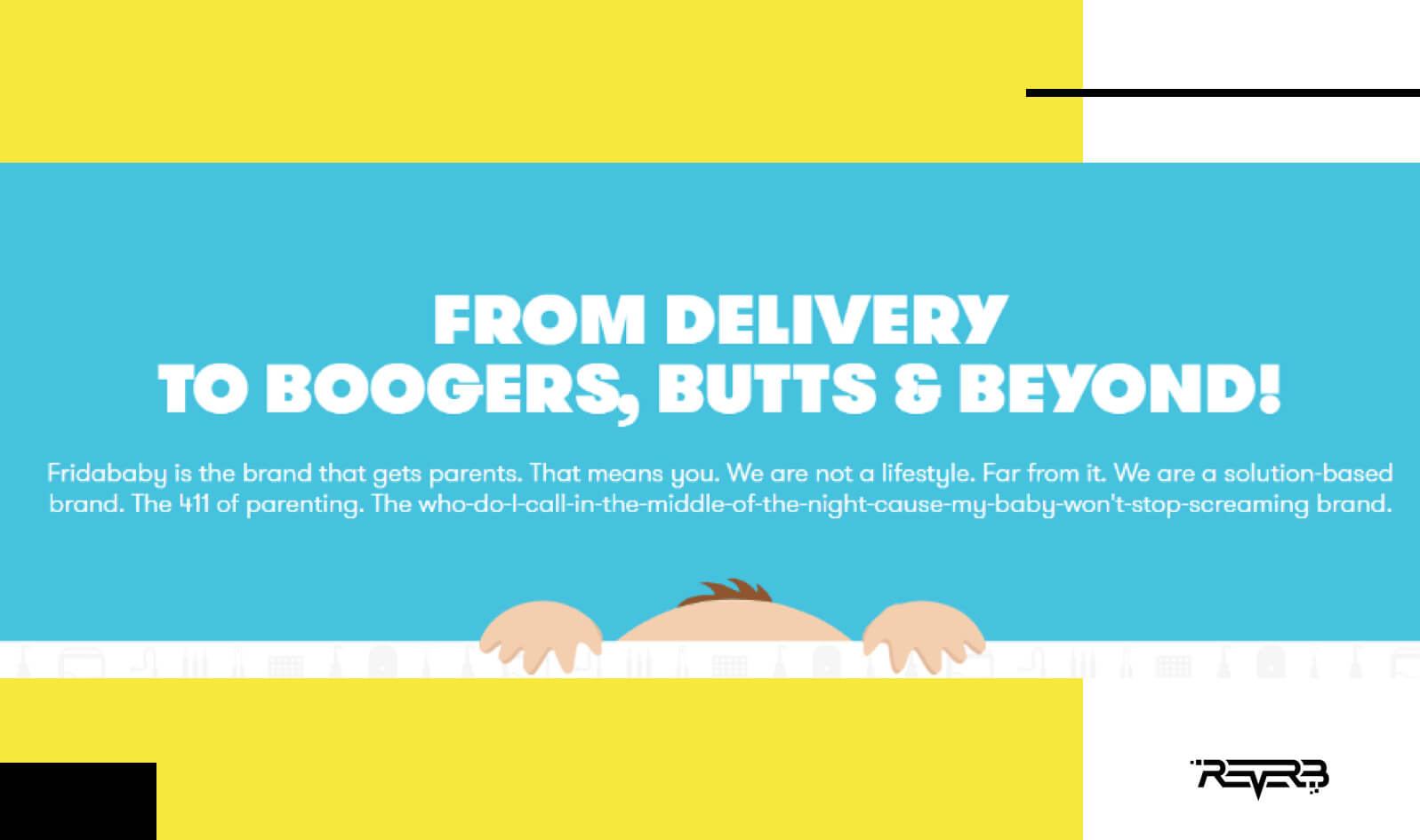 In this way, the brand establishes an emotional connection, takes care of, and nevertheless supports young parents whenever possible.
3. Strong and aggressive – Harley Davidson
As for a strong and aggressive tone of voice example, Harley Davidson needs neither an introduction nor an explanation. You may use this style if the product you offer personifies strength, masculinity, confidence, steadfastness, and other strong qualities.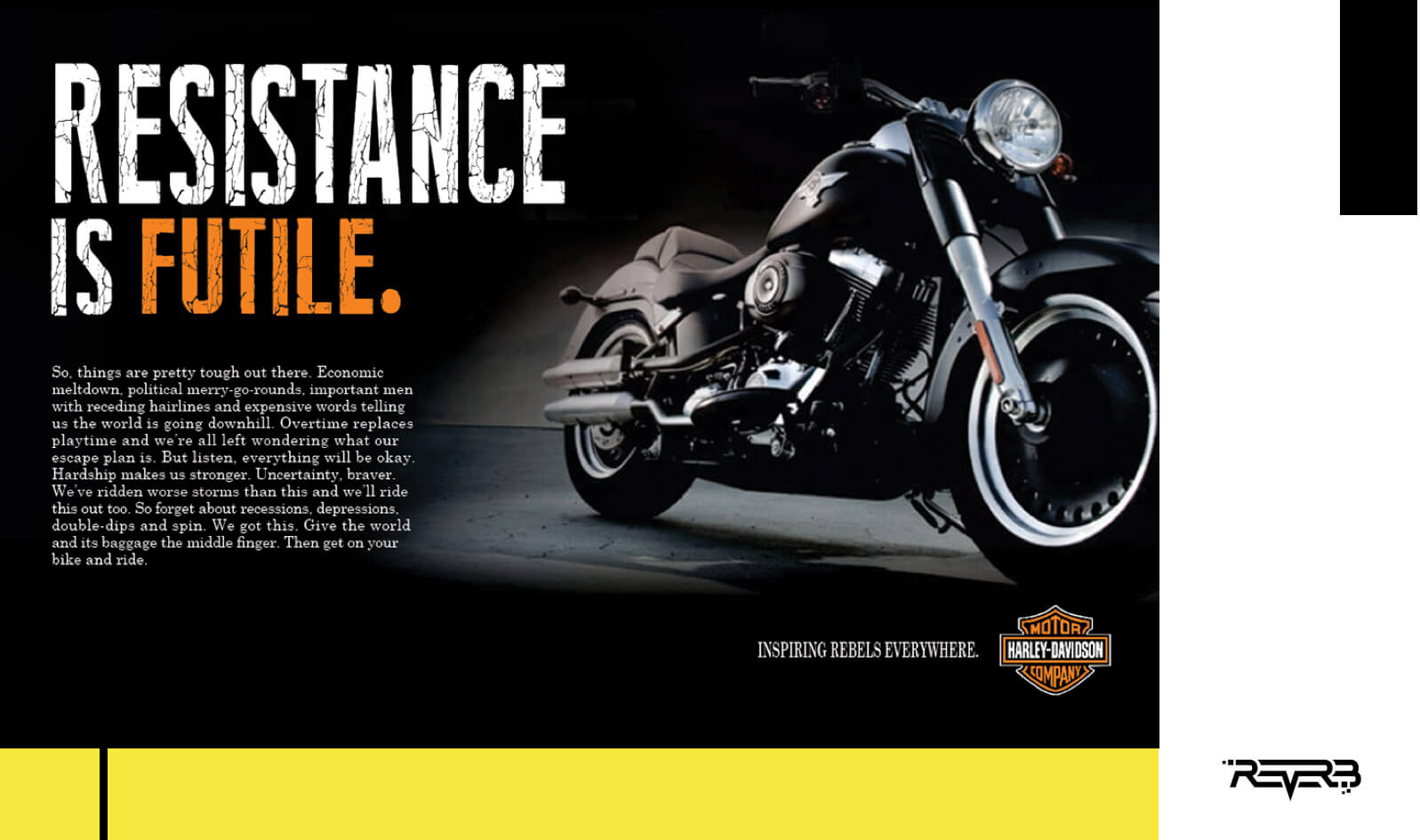 4. Proud and exclusive – Ford
Expensive products or services with a long history of development and rich heritage, like Ford, for example, can afford to use a tone of voice that speaks of their exclusivity and pride for themselves.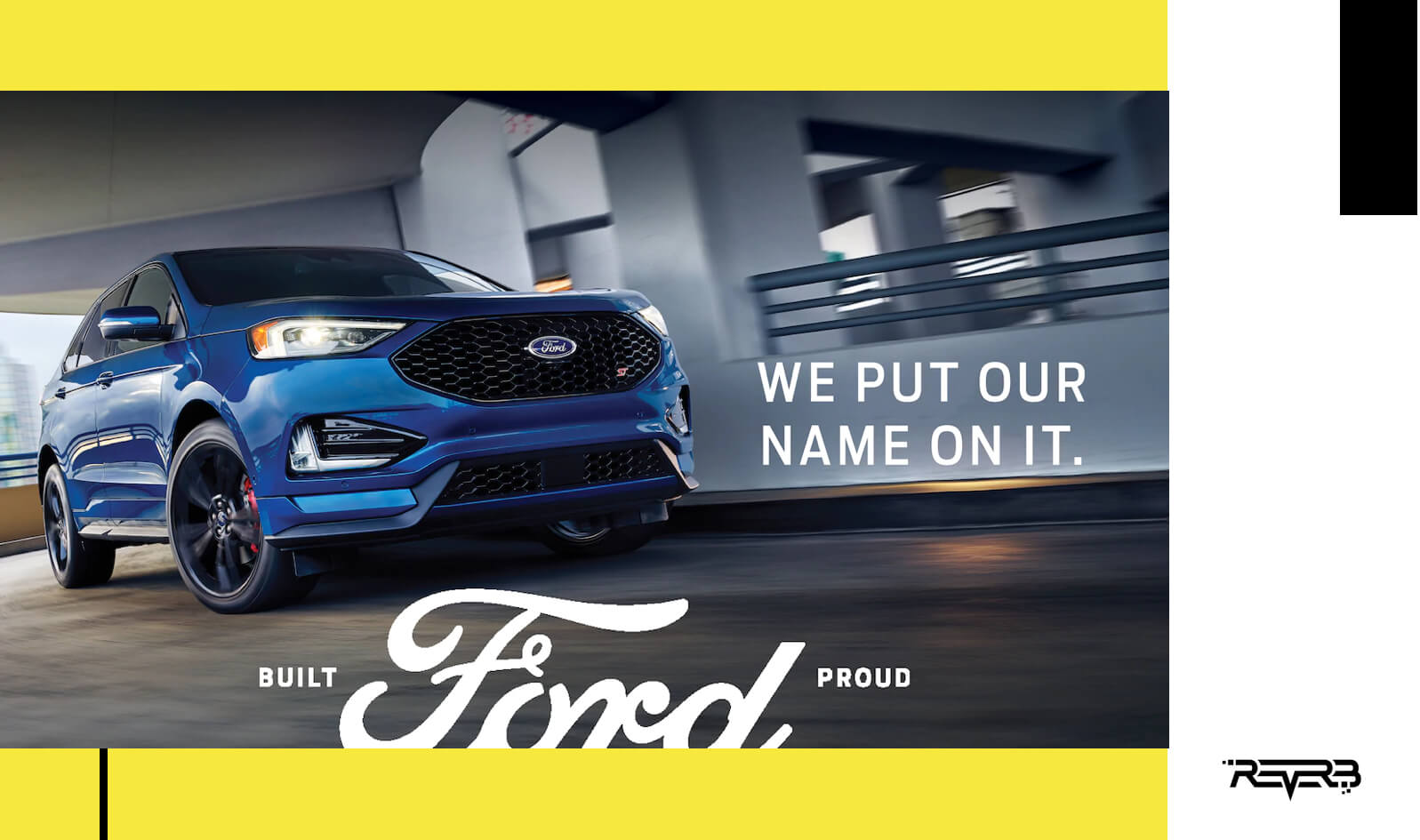 This tone of voice hints at the existence of a certain closed club whose membership you receive automatically after purchasing this product or service.
5. Considerate and simple – Good American
This is almost a universal tone of voice, but keep in mind that with it, you will have to look for additional ways to make your brand unique. 
Let's use the Good American brand voice example. In fact, there is nothing so special about the clothes they offer. However, they keep the tone of voice quite simple and considerate.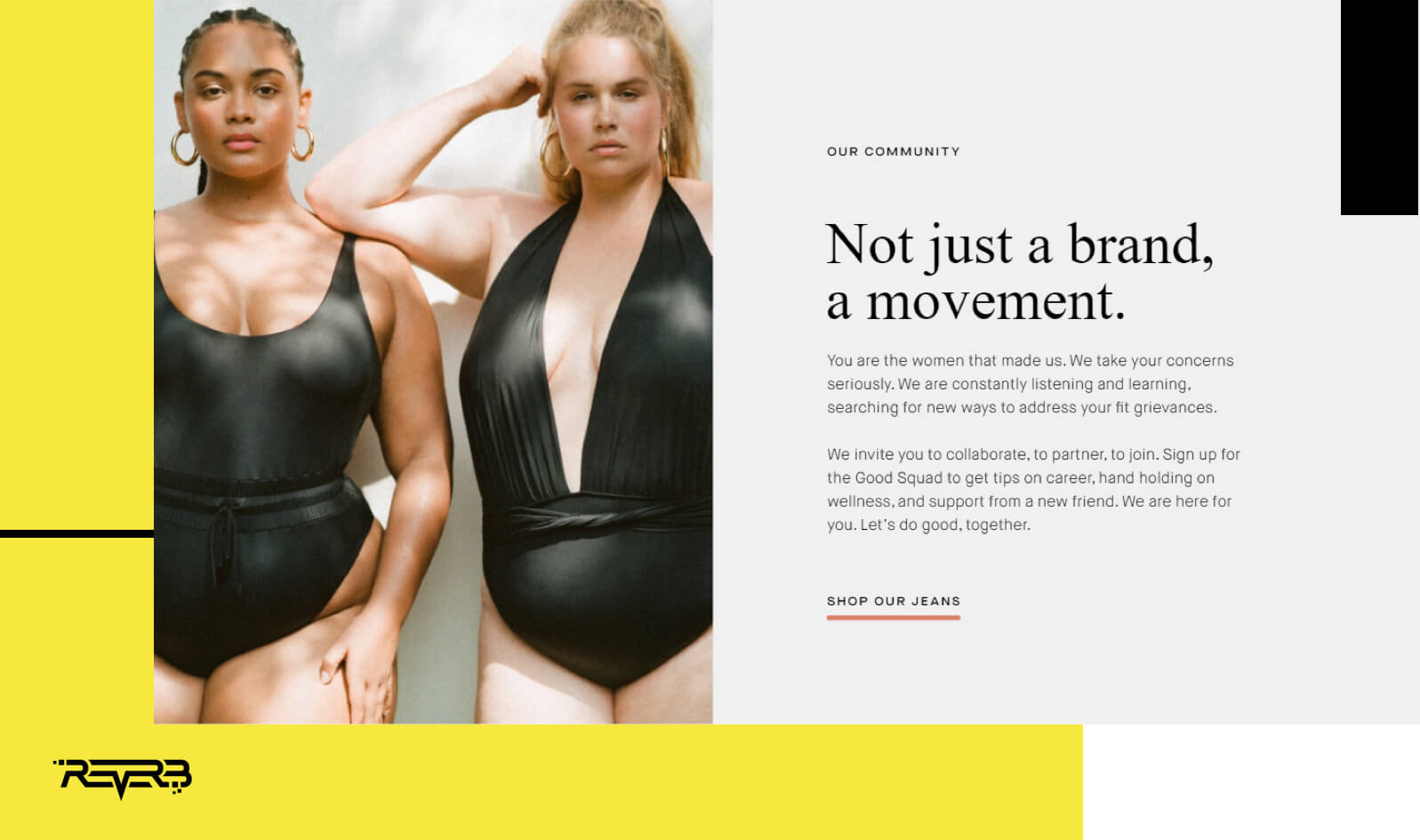 The "All bodies, all sizes, no compromises" concept sounds simple and bold at the same time. 
6. Highly emotional – Always
As for a highly emotional tone of voice example, Always (female products brand) is a brilliant example. Every word they use as part of their branding and marketing strategy carries an emotional connotation and is intended to evoke at least half of the existing 27 emotions – from admiration and happiness through empathy to disgust and embarrassment. This can be a good strategy when there is no other choice.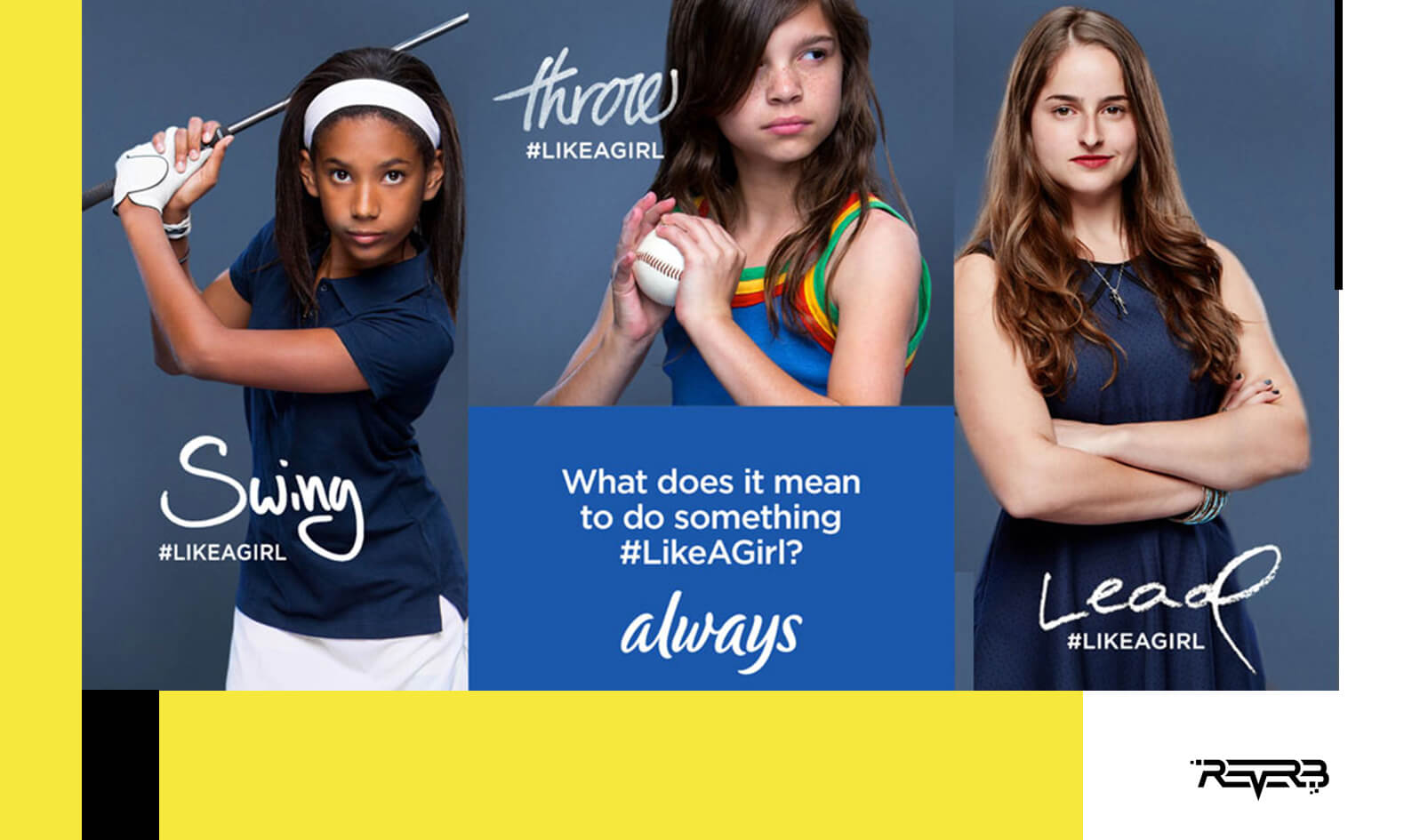 7. Elegant and sweet – Tiffany
Glamor brands for girls don't need anything ingenious or overly complex. Just speak their language. Yes, as Tiffany does.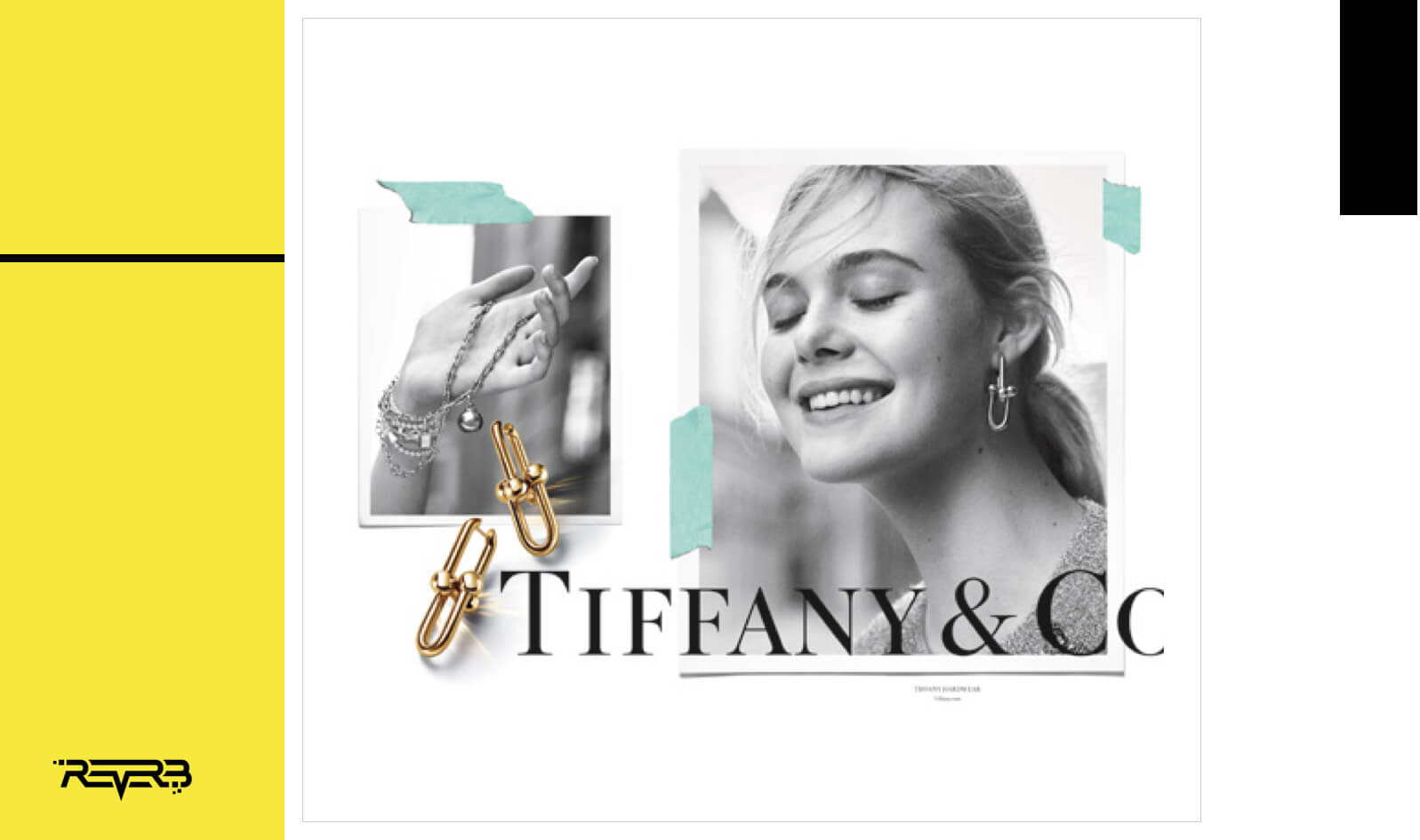 8. Absurd and weird – Old Spice
Oddly enough, oddities are attractive. However, you need to be careful with this tone of voice, as the risk of being misunderstood is very high.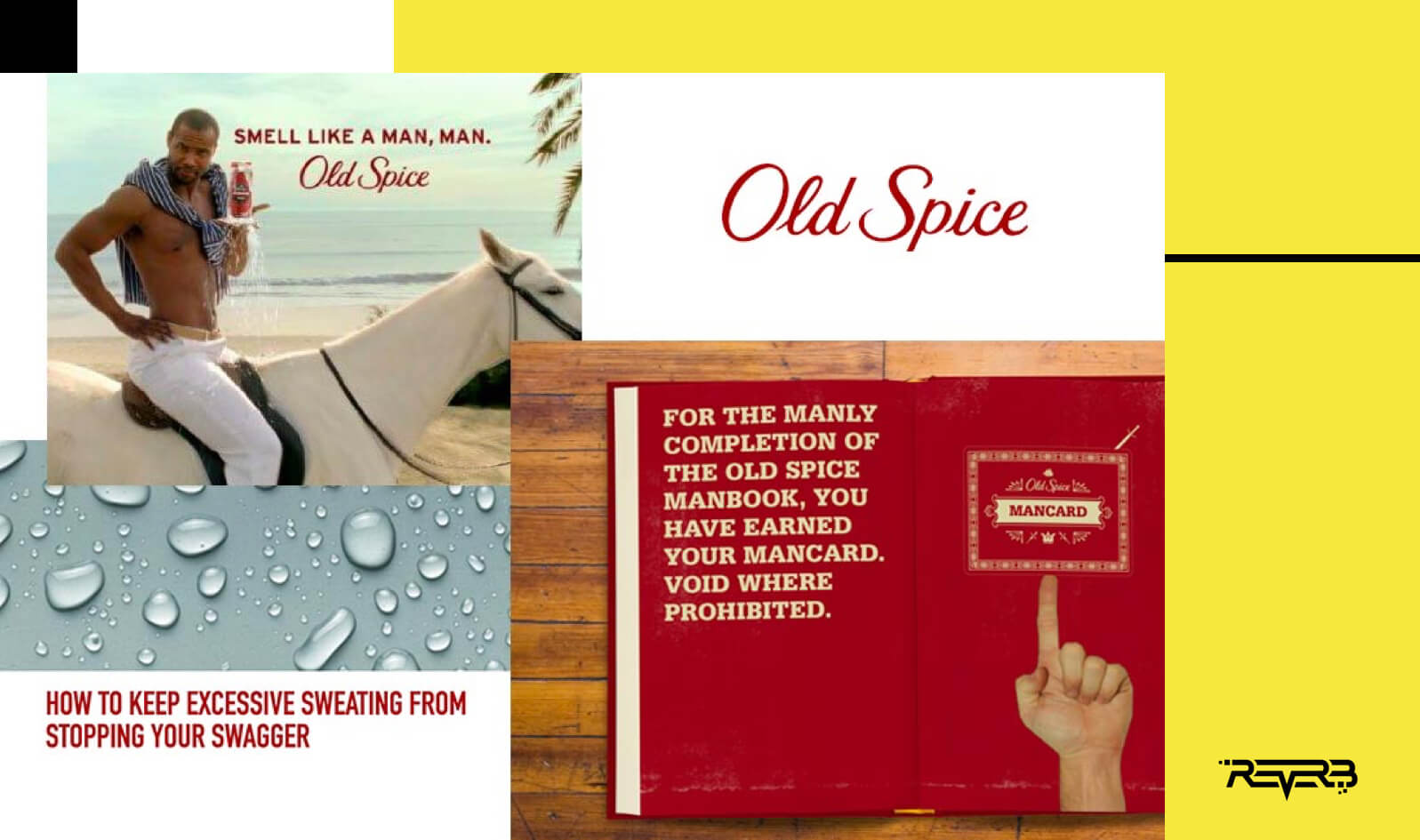 Nevertheless, Old Spice has been on the market for many years, periodically shocking its clients with commercials. Oddity, weirdness, and absurdness are the main marketing approach of the company, which can be seen in all of its promotional campaigns. But I won't deny – their bold tone of voice is truly memorable!
How To Find and Develop Your Unique Tone of Voice
So, we figured out the types of tone of voice and corresponding examples. It's time to find yours. 
Here is how you do it in five simple steps: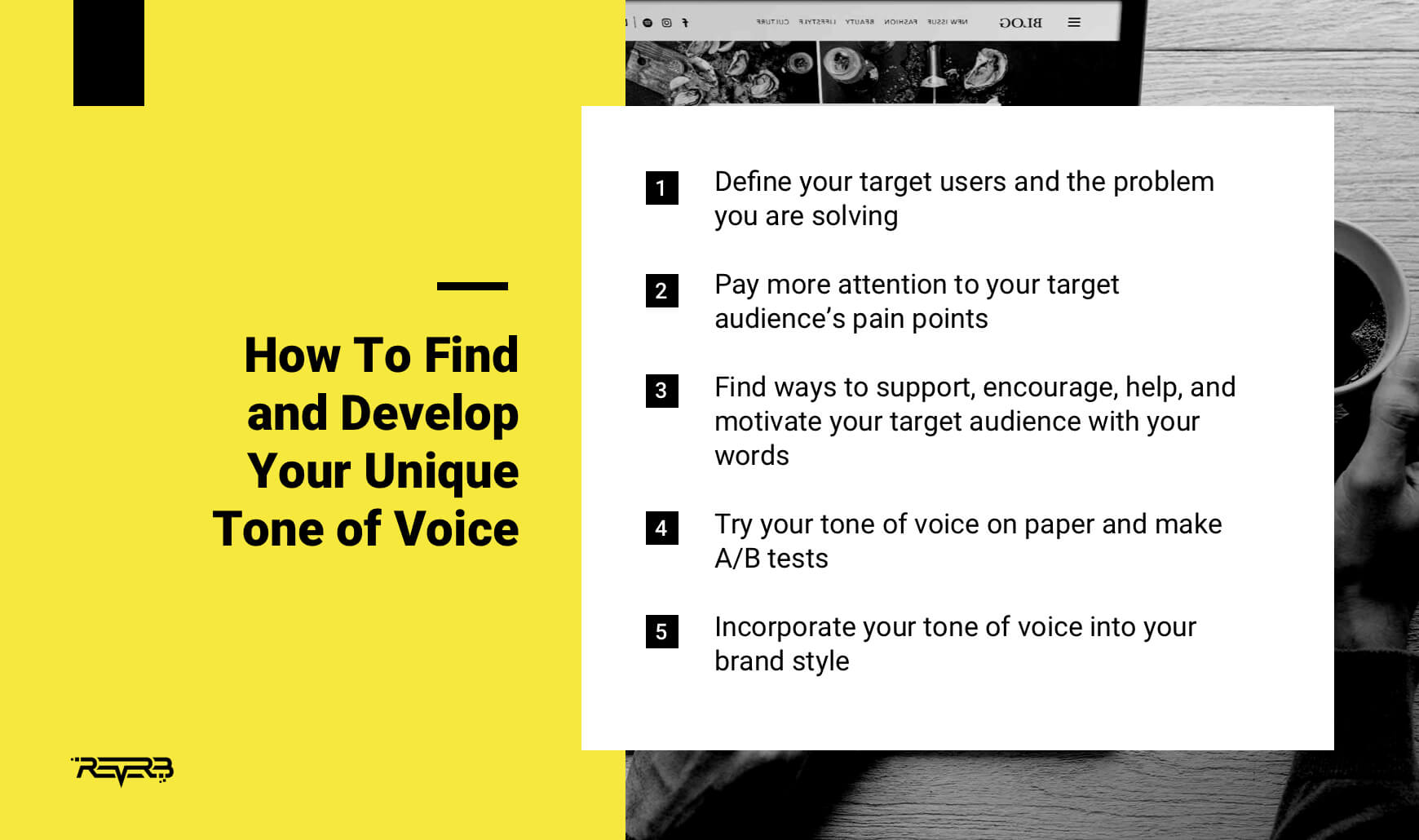 Define your target users and the problem you are solving. Who are they? Are the carefree Gen Z fond of TikTok challenges? Or are they bearded guys in expensive suits buying stock portfolios? And what is the core problem of your target group? 
Pay more attention to your target audience's pain points.

What do your customers feel about their problems? Is it easily solvable, and do they need some support from you? Or is the problem highly technical and complex? Will they accept some humor or is this definitely not the case?

After finding the answers to these questions, use our tone of voice types classification to define which one or several of them may suit you alternatively.
Find ways to support, encourage, help, and motivate your target audience with your words.

Now you need to find and feel the emotional bonds that will connect you with your users via your tone of voice. There is only one way to do it – put yourself in their shoes and try to imagine what you would like to hear if you had such a problem as your users have. 

Try your tone of voice on paper and make A/B tests

. Now, it's time to create some drafts using your tone of voice and test them. For example, try to write text for the About Us section on your website. Also, if it seems that two different tones of voice may be equally suitable, create two pieces of text and test them among focus groups. 

Incorporate your tone of voice into your brand style.

After you have made the final decision with your tone of voice, make sure it is in line with other elements of your brand style. Perhaps you would like to change and improve something to make the impression of your brand holistic. 
Conclusion
So, even if everything is clear with the brand tone of voice definition and its importance, finding the right one for your brand on the verge of creativity and analytics may still be a difficult task. 
Our marketing specialists know how to balance between the edges of this abyss, so we'll be happy to help you with finding and developing your exclusive brand tone of voice. Let's produce materials your customers will love!