eCommerce is a highly competitive field due to the relatively low threshold of entry and the enormous number of merchants. In addition, users today expect nothing less than a huge selection of goods and exceptional customer service. 
But even in such dynamic and demanding market conditions, you still have a chance to get ahead of the competition, by using some special eCommerce conversion rate optimization tactics. 
In fact, the average eCommerce conversion rate is 2.86%. Below, I'll outline eight effective techniques that will help you increase this number.
Start applying these actionable tips in your unique style right away to skyrocket your eCommerce sales!
8 Most Effective Tips To Boost Your Ecommerce Conversion Rates 
1. Offer regular promotions and discounts
Promo offers and discounts are some of the most profitable marketing tactics to increase eCommerce conversion rates. Both buyers and store owners love them for their versatility, ease of use, and great selling power. 
You can offer a discount linked to a specific holiday (Mother's Day), send personalized offers to your most loyal customers by email, use countdown timers, set special prices on your bestsellers, and so on. You may come up with hundreds of promo sales ideas for your next promo campaign. 
Inspiring example – See how H&M invited buyers to try their luck in a time-limited lottery and get 15% off everything for the win. Plus, buyers could get an extra 10% off their first purchase by registering on the website.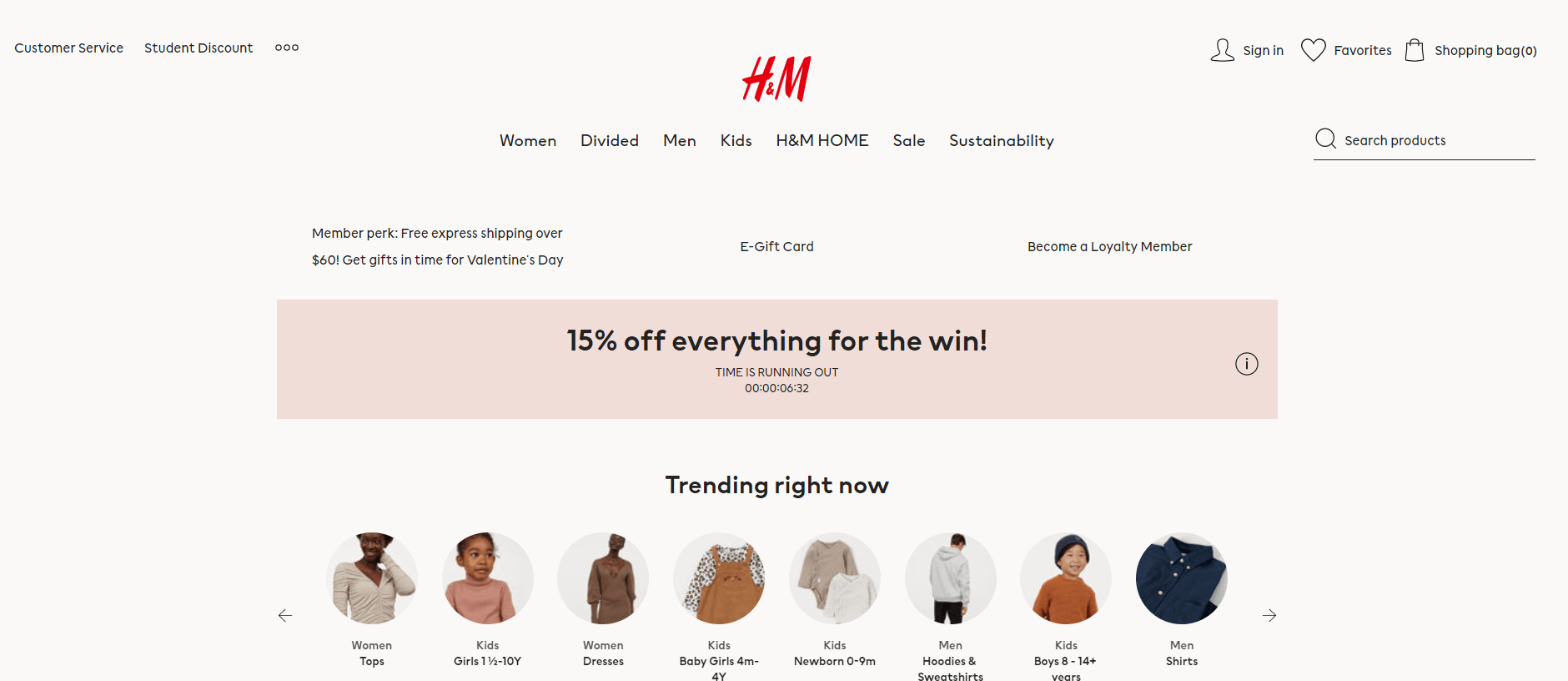 2. Write SEO-focused product descriptions
A written product description is a common element aimed at listing the essential product features and specifics. A more advanced approach includes highlighting emotion-provoking and purchase-stimulating product benefits. 
Now let's dig even deeper and enhance your product descriptions with some SEO-focused elements. This will allow your product pages to be better indexed and discovered based on the relevant keywords.
Inspiring example – Let's analyze how Biossance prepares SEO-based descriptions. They use a product-specific keyword (Phyto-retinol serum) in the web page's URL, in H1, and in the main text.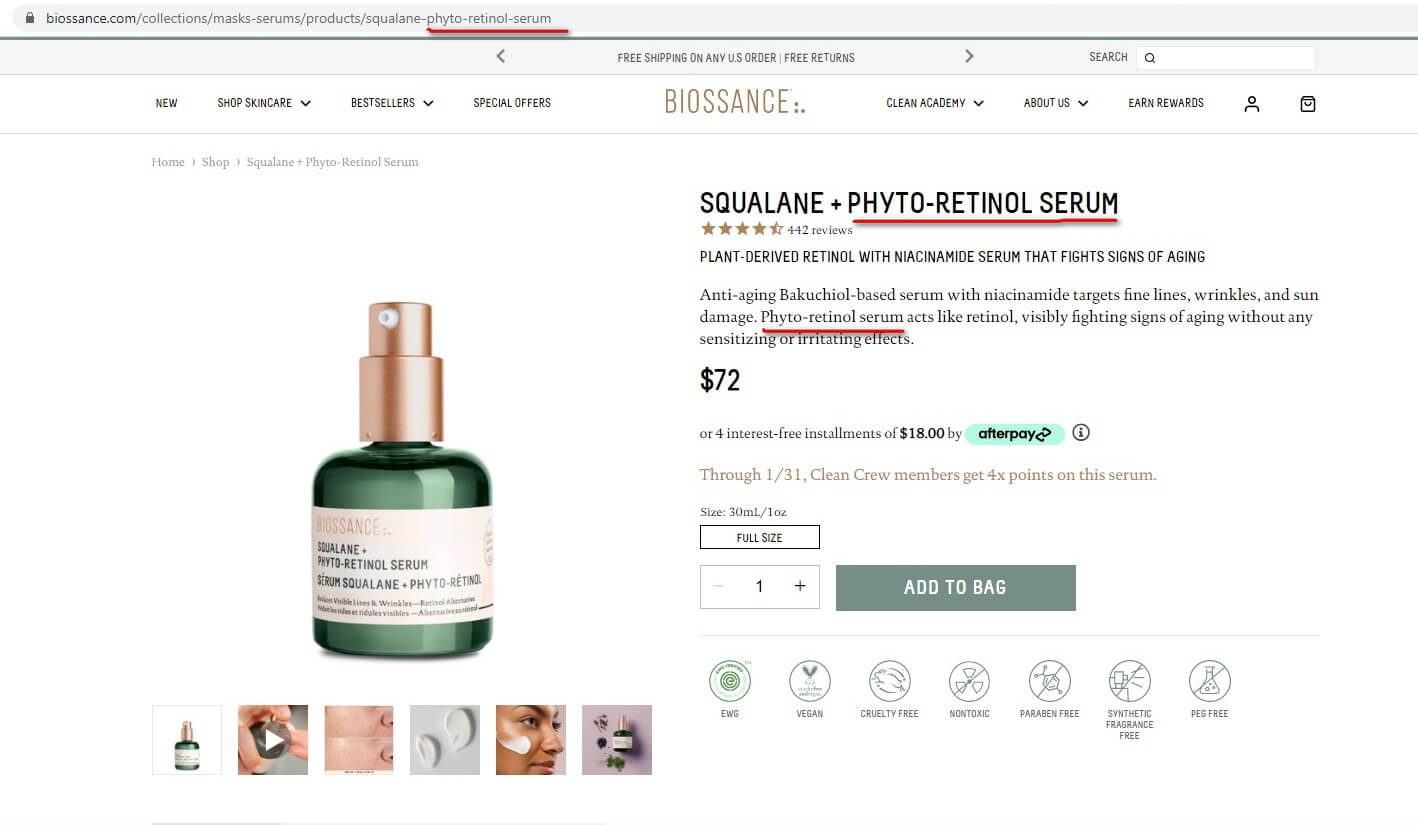 In fact, for the short product description, these elements are enough to let the users (and search engines) find out what the page is about and what is so special about the product. The result – you drastically improve your eCommerce conversion rate by providing the goods that completely match buyers' search queries!
3. Pay attention to local SEO
Let's talk a bit more about SEO, which plays a crucial role in successful eCommerce conversion by attracting qualified leads to your store. 
In case you have a physical store in addition to the eCommerce site (or vice versa), making your shop findable becomes even more important since 46% of all Google searches have local intent. And it's not surprising. The majority of buyers prefer to evaluate the product in person before or instead of buying it online. Thus, optimizing your website for local search makes it easier for the users to find you online and locally. 
To get started with local SEO, take one more look at the content of your pages and enrich them with geo-specific keywords like "buy X product" in "your location." Also, pay attention to the long-tail keywords which end with "near me," "nearby," or "close by" since their usage share grew by 900% in 2018-2020. 
As the next step, register for Google My Business (GMB) to show up more often in local search queries. To enhance your GMB listing, regularly collect testimonials from your customers that will be directly visible in search results.
Also, you may get registered on Yelp, since most users will check your reputation after discovering your store in an online search for the first time. 
Inspiring example – Here is what a Google My Business listing looks like when it's perfectly designed according to local SEO.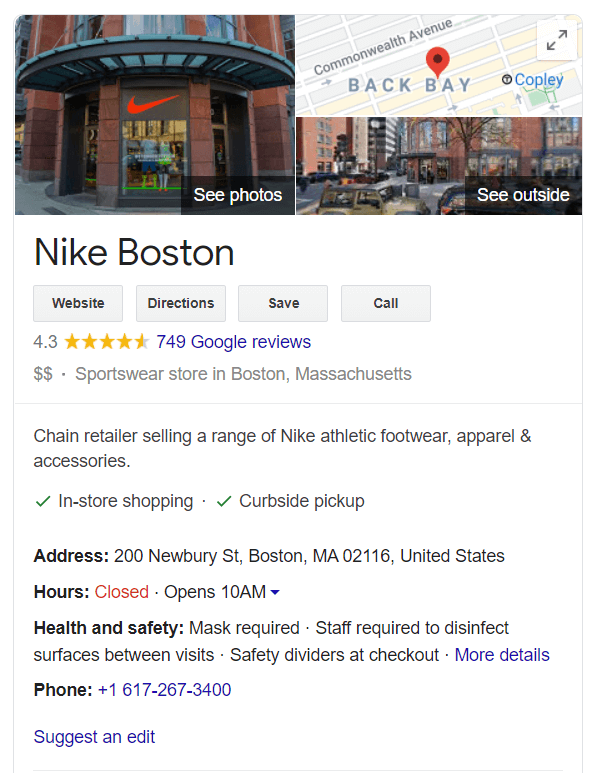 4. Attract qualified leads with Google Ads
Google Ads (as a part of the SEM strategy) is another marketing technique that allows you to bring in visitors with high purchase intent. 
By launching a Google advertising campaign, you can attract potentially interested users to your store from day 1! The flexible ad settings and accurately selected keywords will make your ad visible to users only in response to their specific search query. 
You can use your brand name or product-specific keywords to put your pages at the top position in search results, thereby increasing your website conversions. 
Inspiring example – Create ad campaigns around your different product categories and prepare target as for each item like on the screen below. This way, you'll make sure that only relative ads are shown, and you won't waste money on off-topic queries.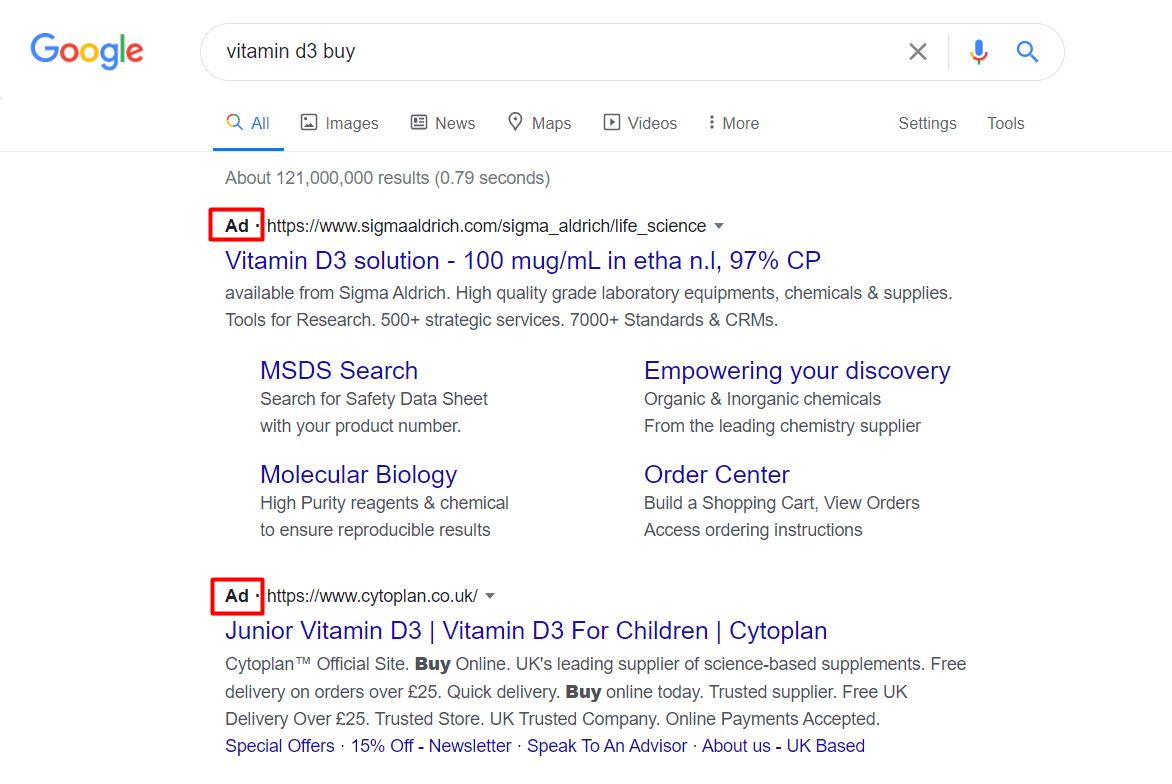 5. Collect user data with lead magnets
Some of your store visitors are consumers with low purchase intent who are just browsing the range. They're at the top of your sales funnel. To move them to the bottom and motivate them to take a target action, you have to use some special lead nurturing tactics; for example, purchase-stimulating lead magnets.
Lead magnets are attention-grabbing forms that offer users to get some sort of bonus, free item, or service in exchange for their contact data (usually, email). What's more, after collecting user data, you can keep regular communication with subscribers via email that ultimately will improve your eCommerce conversion rates. 
Inspiring example – Just like bioClarity, you can embed your current promotion in a lead magnet with a special message like, "Save 15% on your first order!"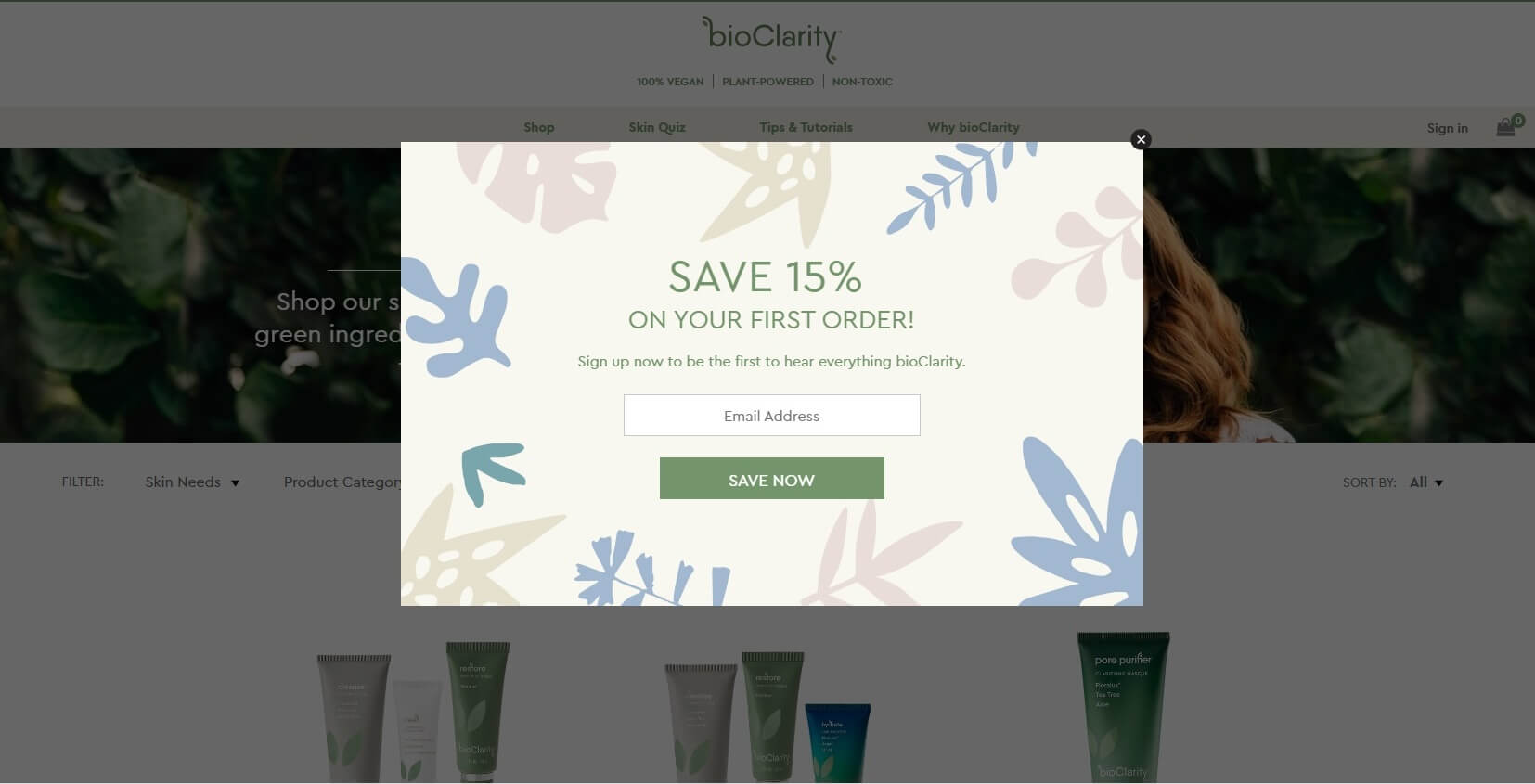 Or you can display a personalized exit-intent popup with an offer to subscribe right now and get a discount on the product that a user has recently viewed.
You can test numerous lead magnet ideas and proceed with the one that turns out to be the most appealing to your target audience. 
6. Prove quality with video testimonials
Customers' testimonials are quite powerful purchase triggers since they work as strong social proof. However, some customers may not believe reviews since there are a lot of fake spammy quotes.
That's where video reviews come to your aid. Videos look more reliable and authentic, thus, they're one of the most effective eCommerce conversion rate optimization tools. Today, companies actively invest in video testimonials because they really help persuade customers in their favor. 
You can try this strategy as well. Ask your most loyal customers to shoot a short video where they will be talking about your products and showing them in real life. In this case, amateur videos work even better than professional ones since they seem to showcase real-life instead of a pre-rehearsed performance. 
However, you should slightly edit the video testimonials created by your customers with the help of video editing apps to give them all a cohesive look. 
Inspiring example – Here's a brilliant real-life overview of a body wash product. The customer not only shares his honest feedback but also demonstrates the purchased soap in use.
7. Enhance customer support with Interactive Voice Response (IVR)
A well-developed interactive voice response system is another way to enhance customer service and optimize your eCommerce conversion rates. Since IVR isn't widely used in eCommerce, it will definitely give you a competitive advantage.
However, although interactive voice response is a very useful tool, it can destroy the user experience if you build it imprudently. It might be quite annoying for users to spend 10 minutes listening to the possible options before getting the answer they need. 
Thus, you have to prevent customers from losing patience before they get a response from the support team. Do this by personalizing the call flow and preparing quick, clear answers to their most frequent questions.
Inspiring example – To boost the conversion rate of your online store, you can use IVR to tell clients about special offers or upcoming deals. 
8. Ask influencers to share promo codes
Influencer marketing is an ideal marketing solution for improving eCommerce conversions and boosting sales of an online store. A wide product assortment enables influencers to create different types of content relevant to their target users.
For example, your influencer can make a video showing how your products look in reality, or they could recommend your product, giving a special discount promo code.
Inspiring example – Body Angel Activewear, an online store with women's yoga and workout attire, asked Laura Kasperzak, a yoga blogger, to promote their clothing and offer a discount promo code.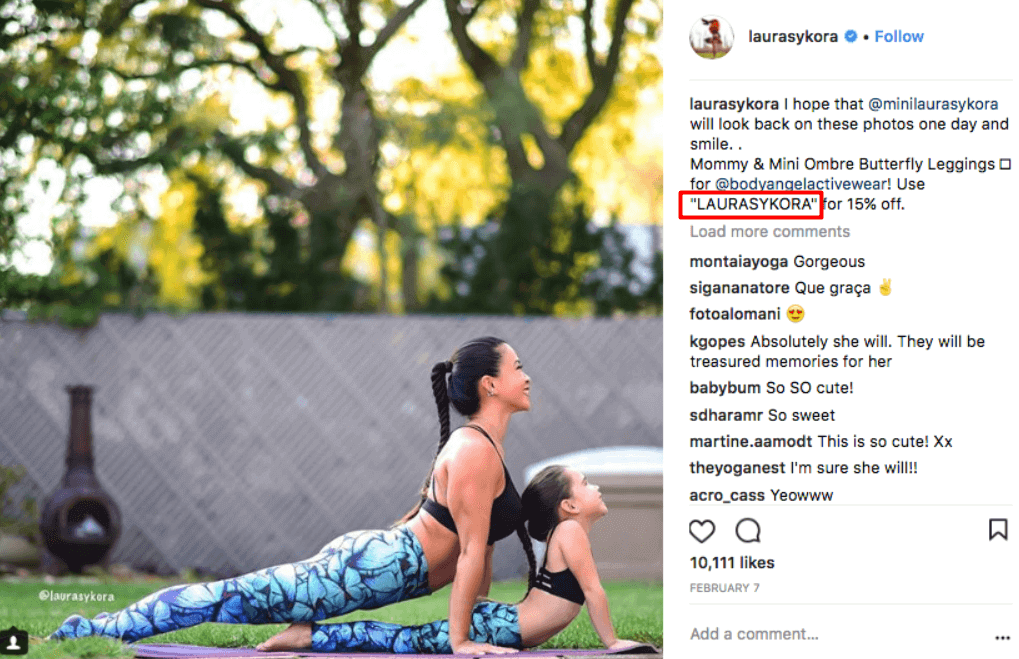 Conclusion
As you can see, there are a lot of ways to increase the conversion of your eCommerce website. By incorporating new techniques into your marketing strategy, you'll be more likely to boost sales. Eight actionable techniques = 8x eCommerce conversion rate optimization. So please, get started!