So, you've created social media accounts, figured out the tone of voice and message you want to convey to the public. What's next? 
The next thing you need to do is create a comprehensive social media content plan for you and your team.
What is a social media content plan? Well, it's a definitive guide that will help you to structure your work and get social media success. It will encompass everything from outlining your goals to defining the metrics you will need to monitor regularly. 
All that will help you achieve better consistency in producing and delivering content to end-users and help engage people with getting high conversion rates for your business. 
Forget about chaotic posting and lack of user engagement with the following steps towards organized and steady workflow!
In this article, I'm going to share some strategic tips which will show you how to create a social media content plan that makes things clear and productive. 
So buckle up because we're about to hit the runway! 
Essential Steps To Create A Powerful Social Media Plan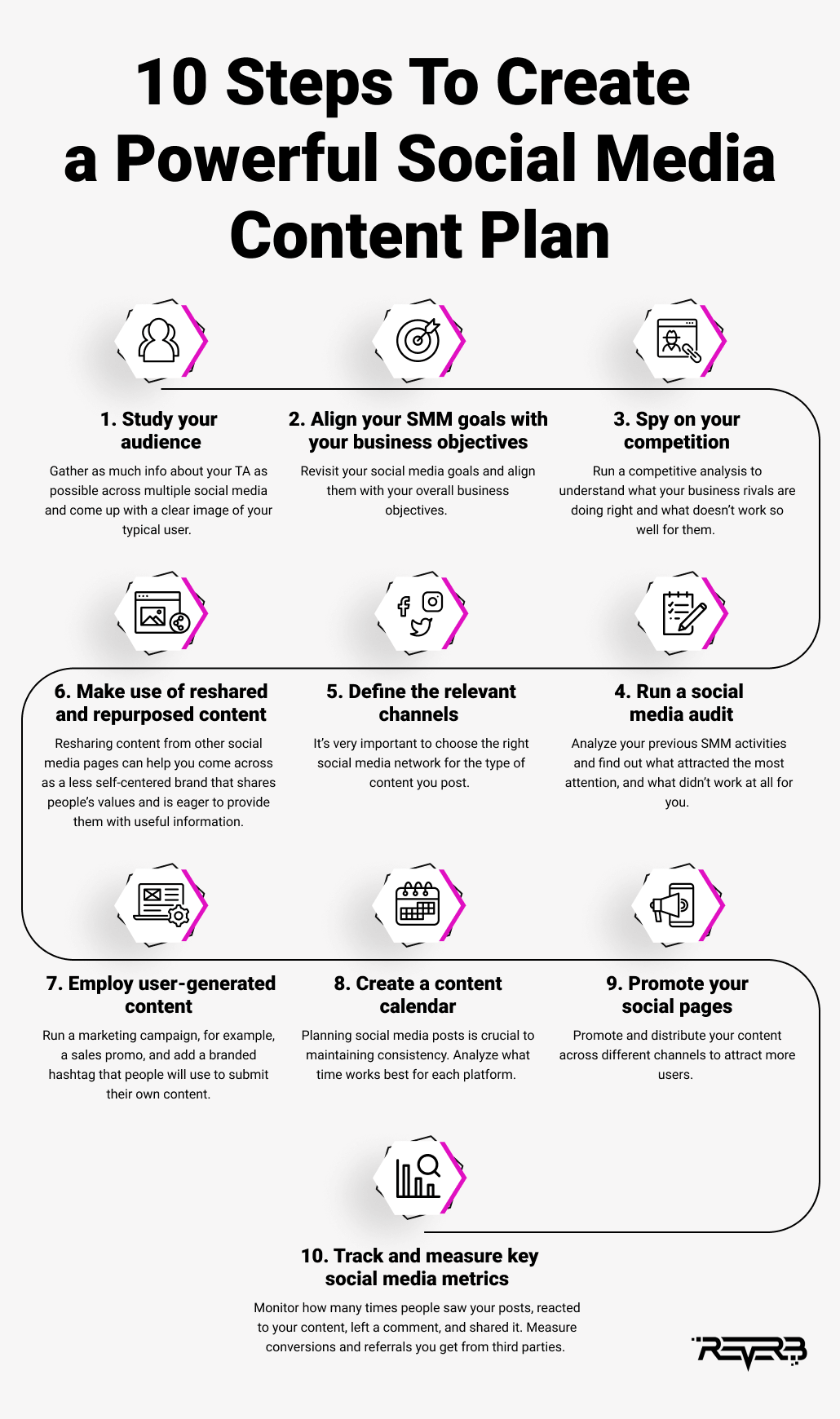 Step 1. Study your audience
The first step on our agenda is studying your target audience's characteristics and creating a buying persona for your company.
So here are the things you need to focus on when analyzing your typical consumer:
Try to gather as much intel as possible across multiple social media and come up with a clear image of your typical user. 
It might look somewhat similar to this buyer persona template: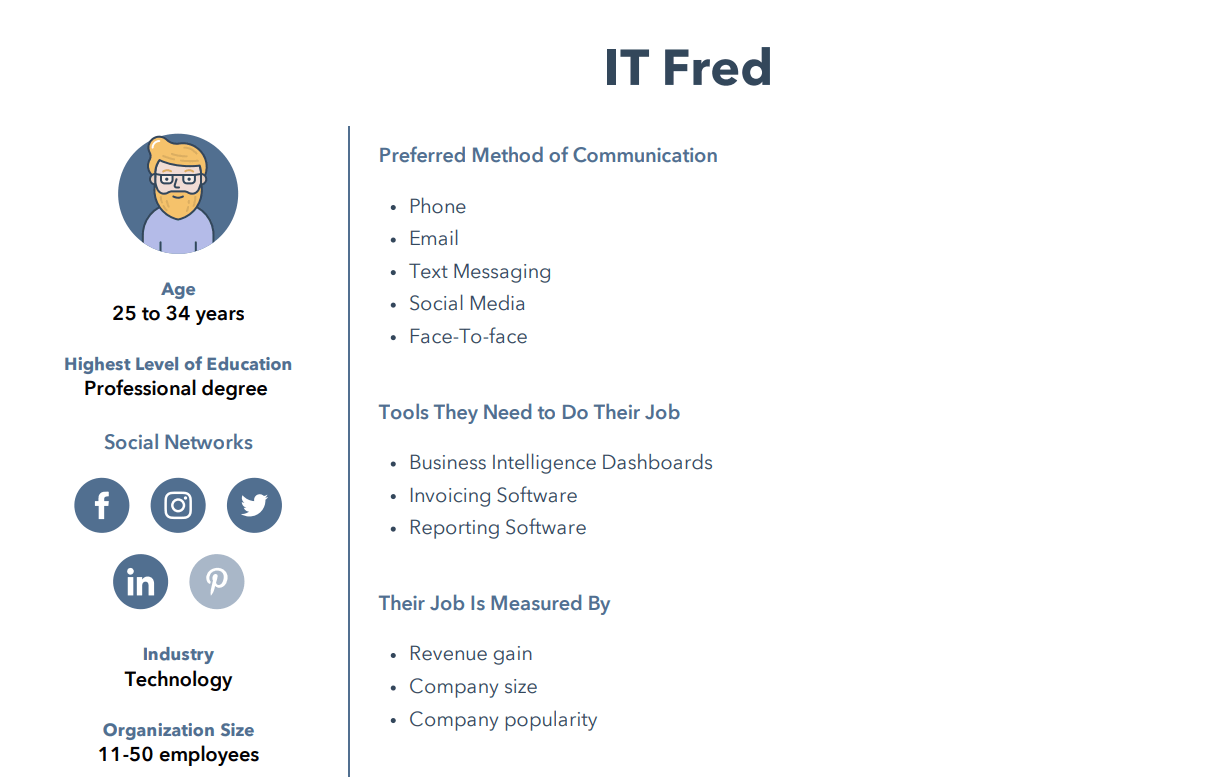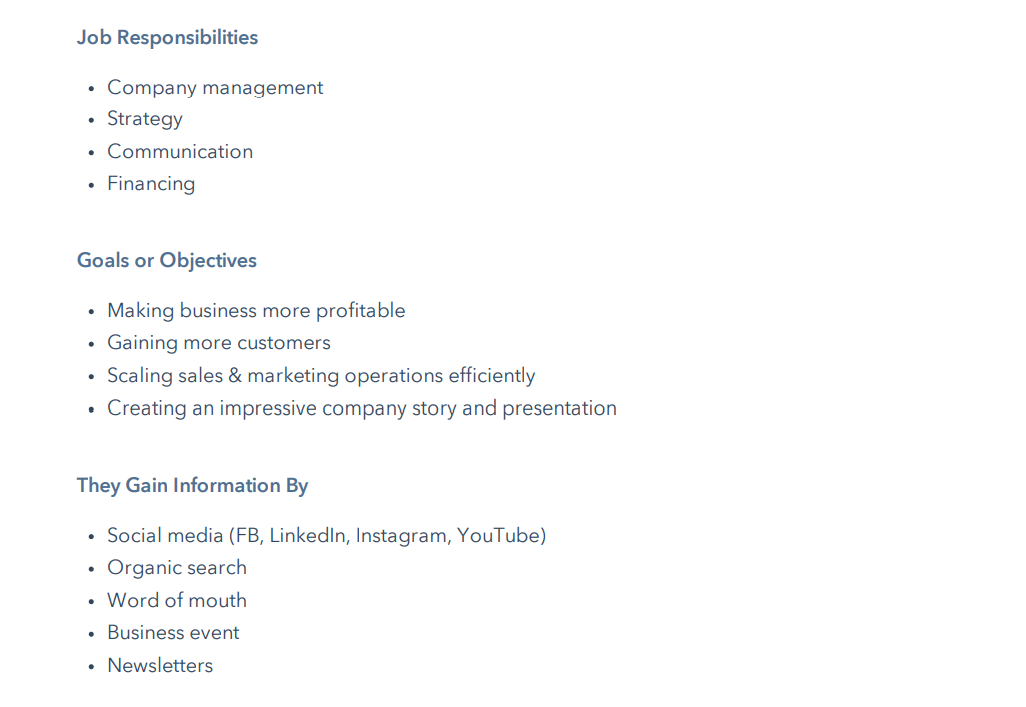 With this useful analytical data, you'll be able to determine key factors that will help engage this particular audience with your content. Tailor your social media posts according to your buyer persona's interests.
This way, you potentially transform a social media user into your customer.
PRO tip:
If you run a corporate blog, use Google Analytics to see what content attracts the most traffic and user engagement. This will give you some insights into what might interest your audience in the social media space. 
Step 2. Align your SMM goals with your business objectives 
Now that you know every aspect of your audience, you might want to revisit your social media goals and align them with your overall business objectives.
In general, there are several possible goals to pursue when working with social media:
Increase brand awareness

Generate sales or/and leads

Increase community engagement

Grow your brand's audience

Increase web traffic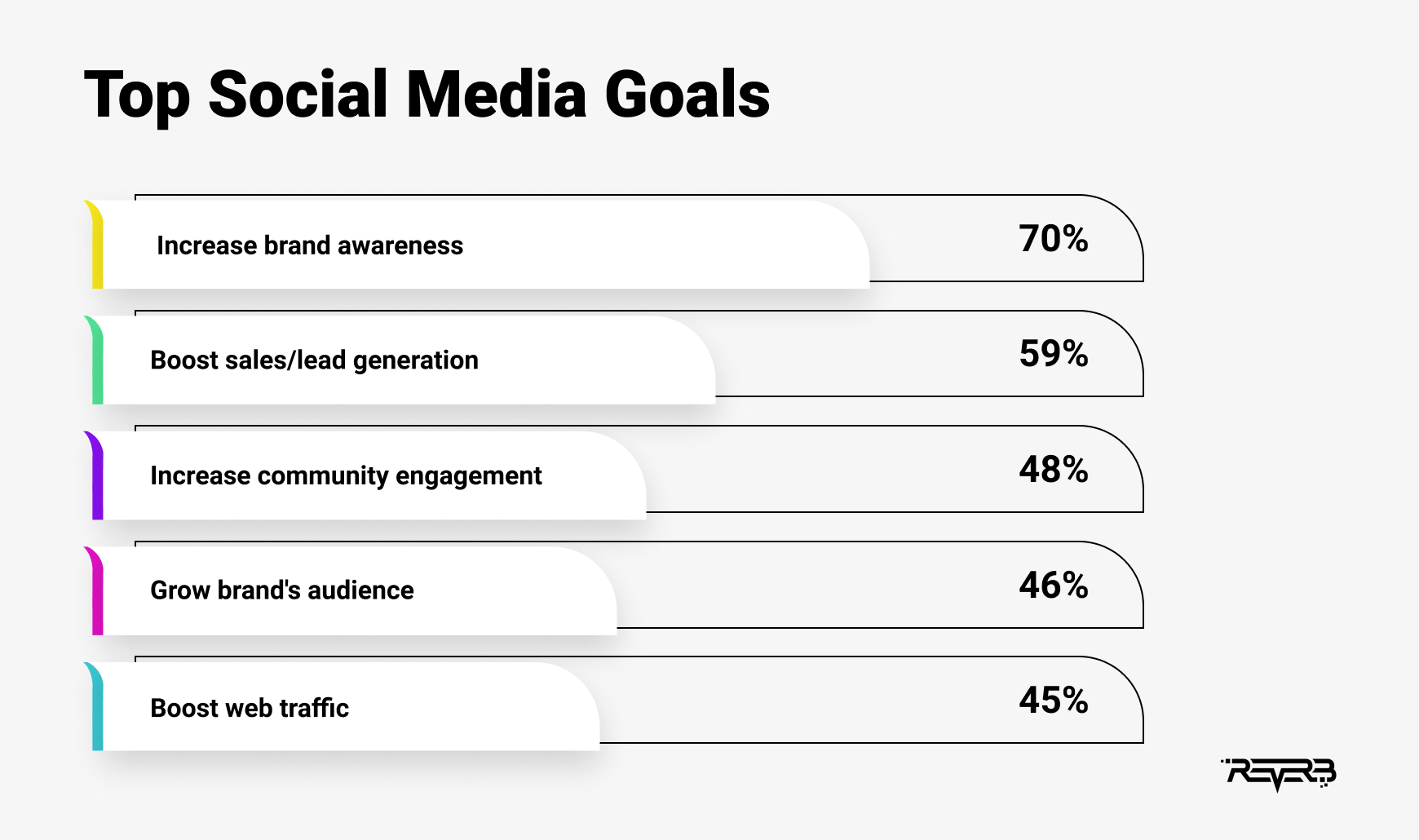 On average, the first and foremost goal for any developing business is to increase brand awareness. Therefore, you need to employ specific website marketing strategies that will let people know that your brand exists. Educational posts and case studies are the perfect content types at this stage.
If you curate social media profiles of a well-recognized brand, your ultimate goal is to generate sales or/and leads. Hence, you choose a different approach which might include building links to your landing page inside your posts. 
Step 3. Spy on your competition
Most likely, your main competitors are actively using social media marketing as a part of their marketing strategy. Thus, why not examine their activity across multiple platforms and define some actionable techniques for your social media content strategy? 
Run a competitive analysis using this powerful template to understand what your business rivals are doing right and what doesn't work so well for them. It will outline some important social media targets to pursue and things to steer clear of. 
A well-conducted analysis can also result in discovering potentially winning opportunities for your business. It will show you the rivals' gaps that you can fill with your content. 
For instance, you conduct research and see that most of your competitors have chosen Instagram as their primary social platform but seem to overlook Facebook. This gives you a perfect opportunity to cover the Facebook community. 
PRO tip:
Apply Hootsuite as a useful social listening tool for monitoring your competitors. Conduct research using relevant keywords to the competitor's company name. This way, you will know what content they share and how people react to it. 
Step 4. Run a social media audit
A social media audit will be useful for those businesses that already have social media accounts set up. 
So what you might want to do now is go to your social media profiles and run a thorough analysis of your previous activity. 
Find out what attracted the most attention and what didn't work at all for you. Who is engaging with you the most, and who is subscribed to your social but is not active at all? 
Then, you might want to assess your gains and losses by putting all your strategies and techniques together and figuring out what to strive for in the future and what to leave behind.  
Create a social media audit spreadsheet and fill it out with  information such as:
Channel 

Goals 

Audience demographics 

Followers

Engagement

Top content

Performance

Action steps
This audit will be able to give you a clear image of your brand's online activity. It will show you your strengths and gaps to fill in. 
PRO tip:
As your audience grows, make sure to verify your account. It will help your business gain additional credibility.

Search for imposter accounts that use your brand's or product's name and report them. Their activity can be harmful to your business and negatively impact your reputation.
Step 5. Define the relevant channels 
It's very important to choose the right social media network for the type of content you post. 
Each social media site has its audience and displays a specific type of content. Thus, it's always a good idea to designate each account to a unique purpose instead of just cross-posting the same content everywhere.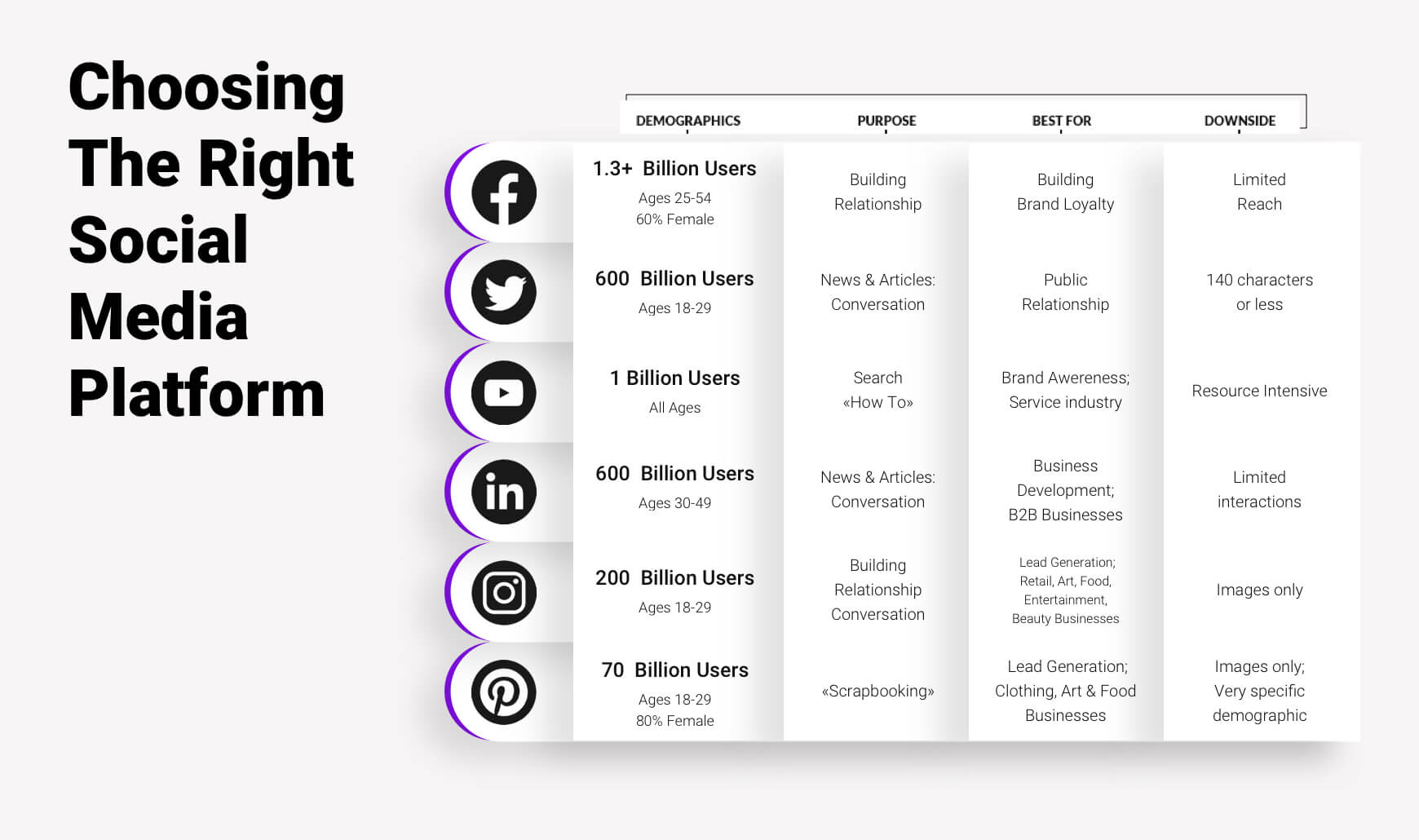 If you produce video-based content, platforms like TikTok, Snapchat, and Instagram with their Stories and Reels will fit you perfectly.

On the other hand, it will be optimal to dedicate your Twitter account to customer service.
You can use Facebook for posts that redirect your audience to your landing page with the purpose of selling your goods.
Linkedin is mostly used for promoting your company's culture and values.
PRO tip:
Use the social media audit spreadsheet (described in the previous chapter) to define the goals for the selected channels. This will help produce the relevant types of content for every platform.
Step 6. Make use of reshared and repurposed content
This is another useful tip about how to plan content for social media. Resharing content from other social media pages can help you come across as a less self-centered brand that shares people's values and is eager to provide them with relevant information gathered across media space. 
However, this is a huge responsibility because by resharing someone's content, you sign under their brand's mission and goals (unless you state the contrary in a comment).
But first and foremost, you need to ask yourself one question before reposting content: "Will this information add value for my users?" If the answer is yes, go ahead and do it! Just make sure you don't violate any property rights.
Another useful strategy in your content plan is sharing repurposed content across your social networks. 
Pumping out new content every day can be quite problematic and tiring. So don't be shy to repurpose already existing content. 
For example, if you have a fully-functioning blog, find an article that works best for your users, and tweak it a bit into a social media post. Repurpose bits and pieces of this content on your pages – and voila – new unique content is ready to be shared.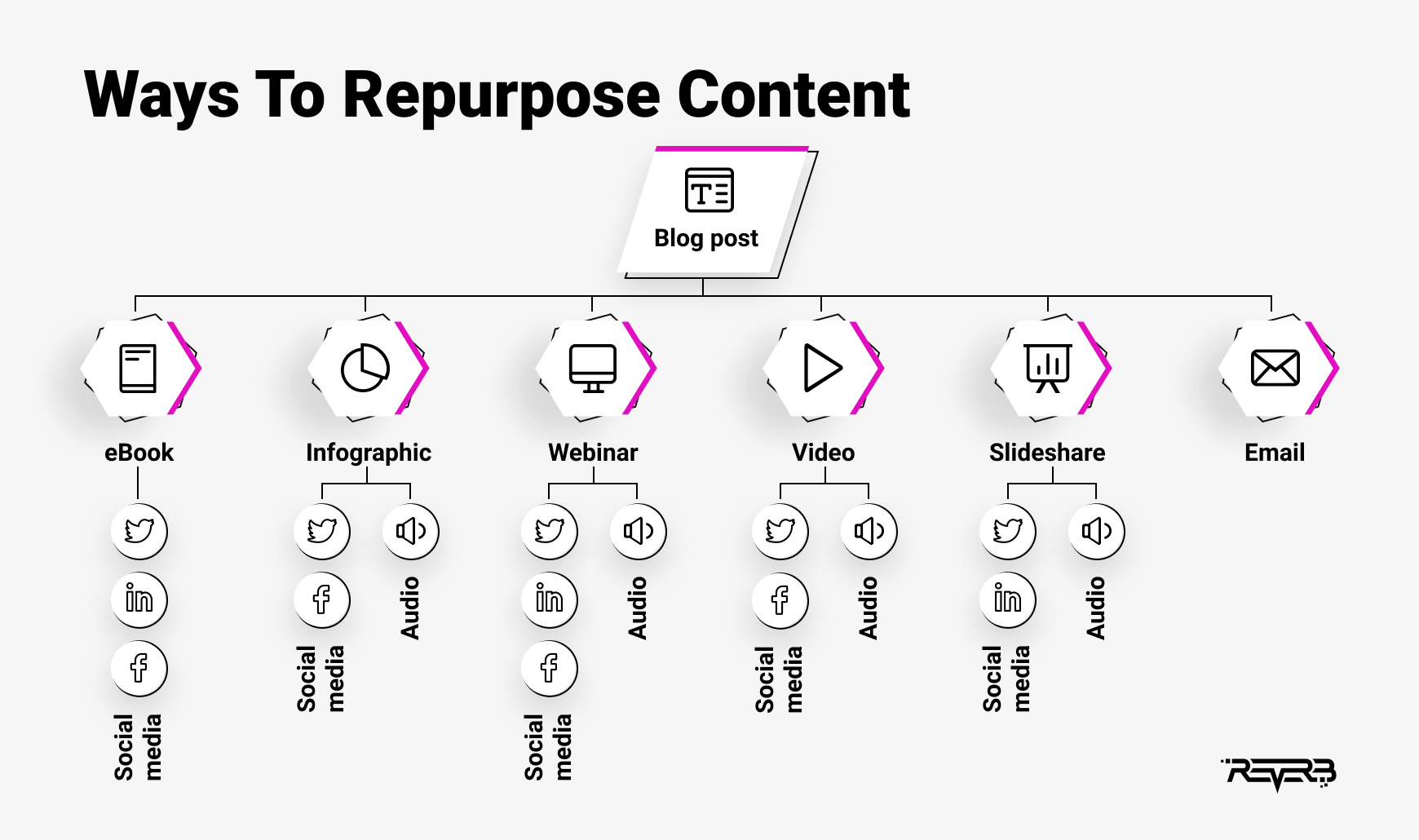 PRO tip:
If you have a TikTok account, share your videos on Instagram and Twitter. The audience there seems to receive this type of content very well.
Step 7. Employ user-generated content
So far, you have made use of fresh, repurposed, and reshared content in your pipeline. 
What options are left? Now it's time to put one of the most important pieces of a puzzle: user-generated Content or UGC.
UGC is a type of content that your followers and subscribers create for you. 
Surveys have established that 60% of users think that UGC brings authenticity to the table.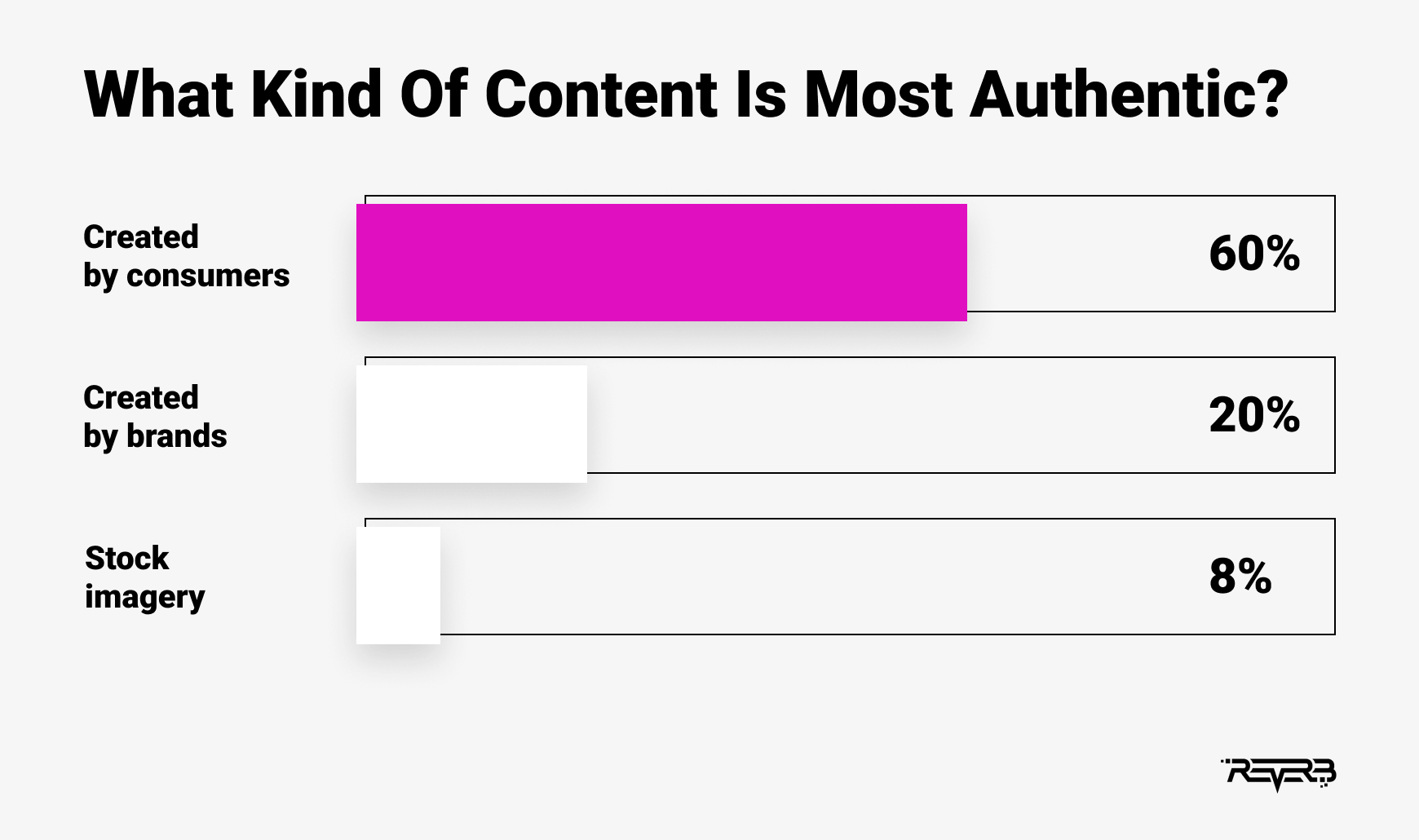 What's more, 85% of responders share that they deem user-generated content more influential than any other branded materials. 
So how do you make your followers and subscribers create content for you?
Easy. All you need is to run a marketing campaign, for example, a sales promo, and add a branded hashtag that people will use to submit their own content. 
Step 8. Create a content calendar
Now that you've identified your goals and figured out what content works best for you let's schedule it wisely!
Planning social media posts is crucial to maintaining consistency. But before rushing and posting to every social site every day at the same time, do your homework. Analyze what time works best for each platform. 
Moreover, prioritize quality over quantity. Yes, consistency in posting is extremely important, but before you're able to produce high-quality content for all your channels on a daily basis, try to focus more on what message you're bringing to each social media platform. One high-quality post is better than three mediocre posts published on the same day. 
A content calendar will let you see the bigger picture and visualize your ideas to create a consistent strategy. And organizing social media content is just another way of saving yourself some time and effort.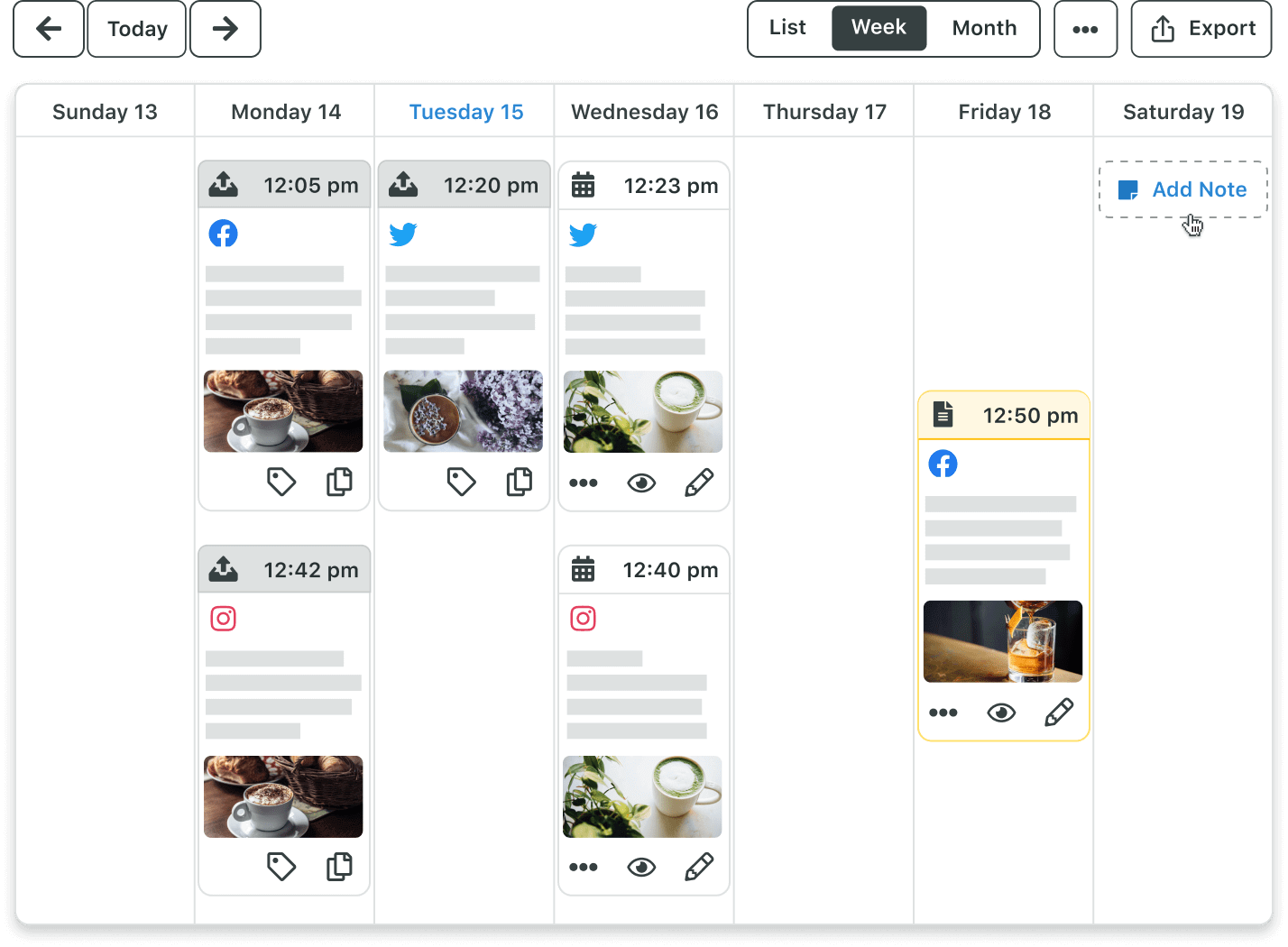 PRO tip:
Use the following task management and content calendar tools with built-in templates to schedule your posts better:
Buffer and Hootsuite for instance, have an automatic posting feature and will help you customize your content for every social media platform.
Step 9. Promote your social pages 
A good content plan for social media involves steps for promoting and distributing your content across different channels to attract more users. 
You can employ both paid social media advertising and free strategies that attract organic traffic.
Here are some of the most popular ways to boost your organic social media reach:
Create evergreen content for your social media profiles, and try to post less content with an "expiration date."

Create giveaways and ask your subscribers to tag their friends under the post and repost it to their stories.

Create keyword-rich descriptions across your social media accounts and add trackable links to your website. 

Use features like hashtags and mentions and create custom ones for your followers to reshare.

Repost people's stories and posts where they mention your brand.

Create custom memes. People love sharing memes.
However, if you feel like it's time for your product to get broader recognition, make use of paid advertising.
Almost all social media platforms allow you to promote your content for money. This is an effective way to reach target audiences that wouldn't notice your brand otherwise. 
Paid ads have several benefits:
They funnel traffic to your social media pages and website.

They boost your page's engagement.

They increase brand awareness.

They promote conversions.
PRO tip:
Networking with bloggers and influencers in your niche can also bring tremendous results. They are more likely to share your content if you have built a professional relationship with them first.
Step 10. Track and measure key social media metrics
The last (but not least) step in our guide is measuring results.
A sustainable social media content strategy requires constant tracking of its effectiveness. Keeping an eye on key metrics can help you better measure your strategy's success over time and avoid mistakes.  
Some of the most important metrics on social media to follow are:
Impressions and reach

Response rate and time spent on the page

Engagement and click-throughs

Return on investment (ROI) and conversions
Basically, you need to monitor how many times people saw your posts, reacted to your content, left a comment, and shared it. Lastly, measure conversions and referrals you get from third parties.
Don't forget that every social media channel uses specific metrics. So be sure to track them accordingly using in-built analytics systems.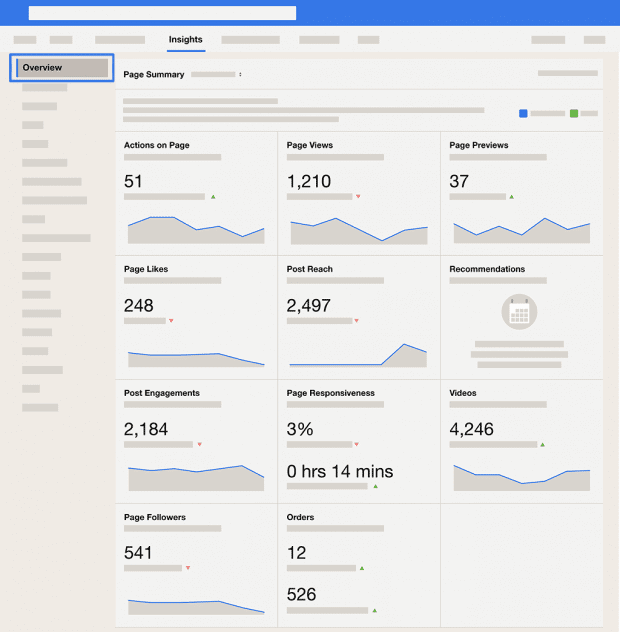 For instance, when working with LinkedIn to attract traffic, measure click-through metrics. CPC (cost-per-click) is a typical metric for Facebook ads. On Instagram, focus on story views and reactions. 
Useful
Social Media Content Plan Templates
Now, to put our guidelines into a broader perspective, check out these three super-efficient social media content plan templates. Apply them to your workflow to save your time and keep things more organized!
Social Media Content Plan Template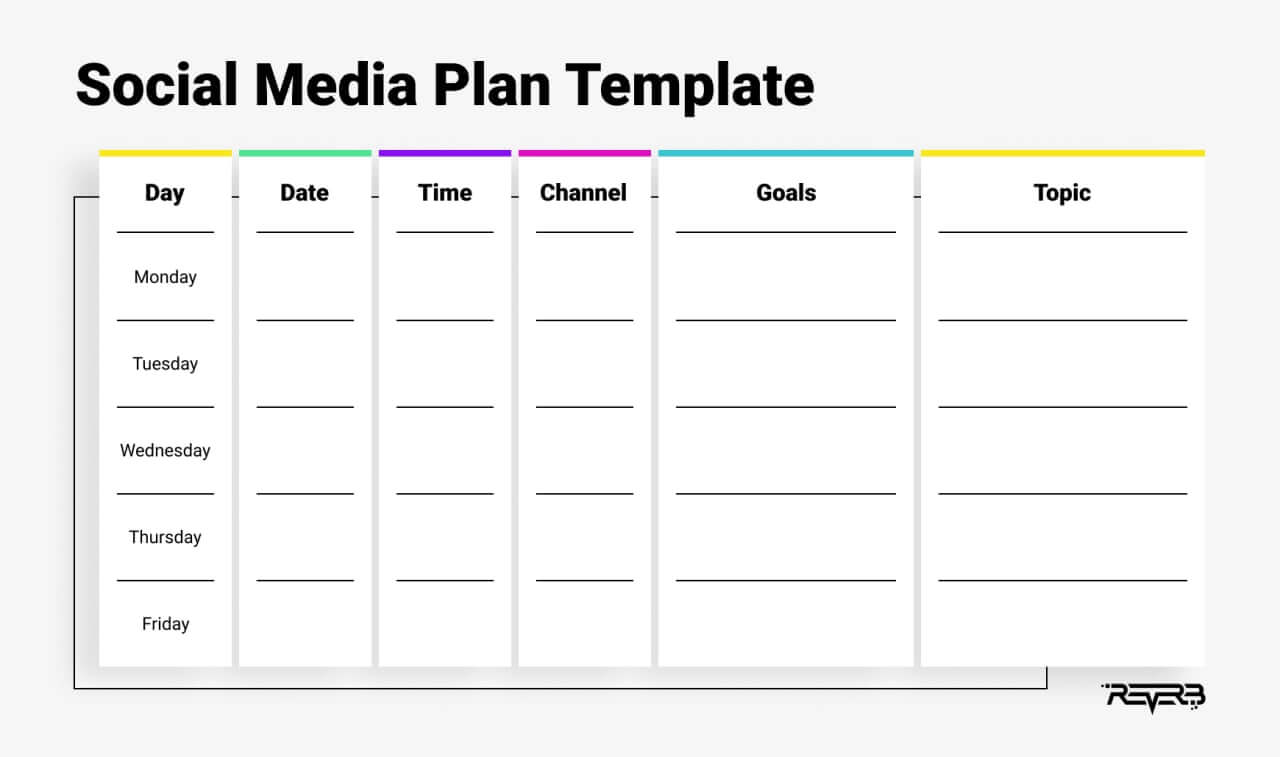 Social Media Planning Calendar Template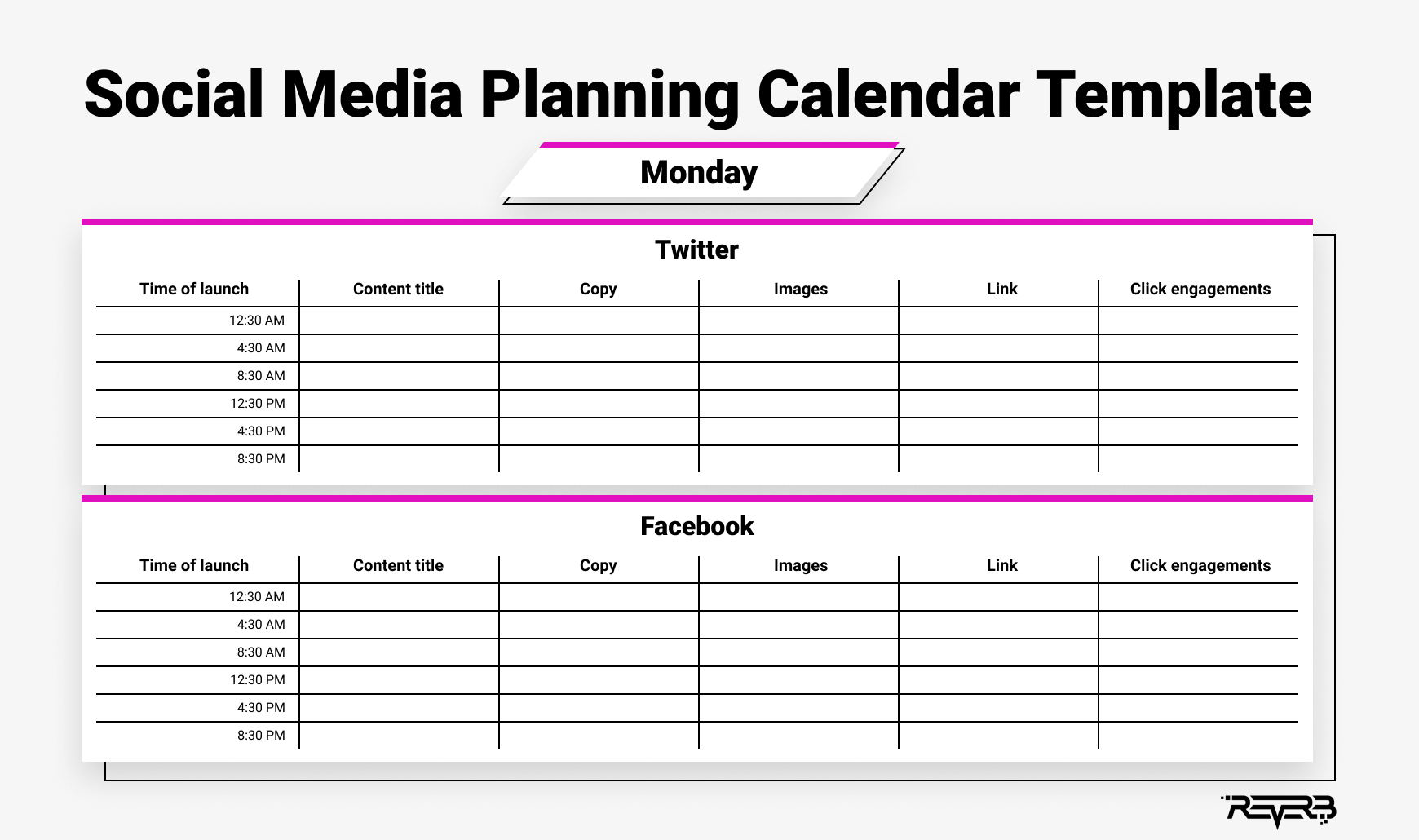 Social Media Audit Spreadsheet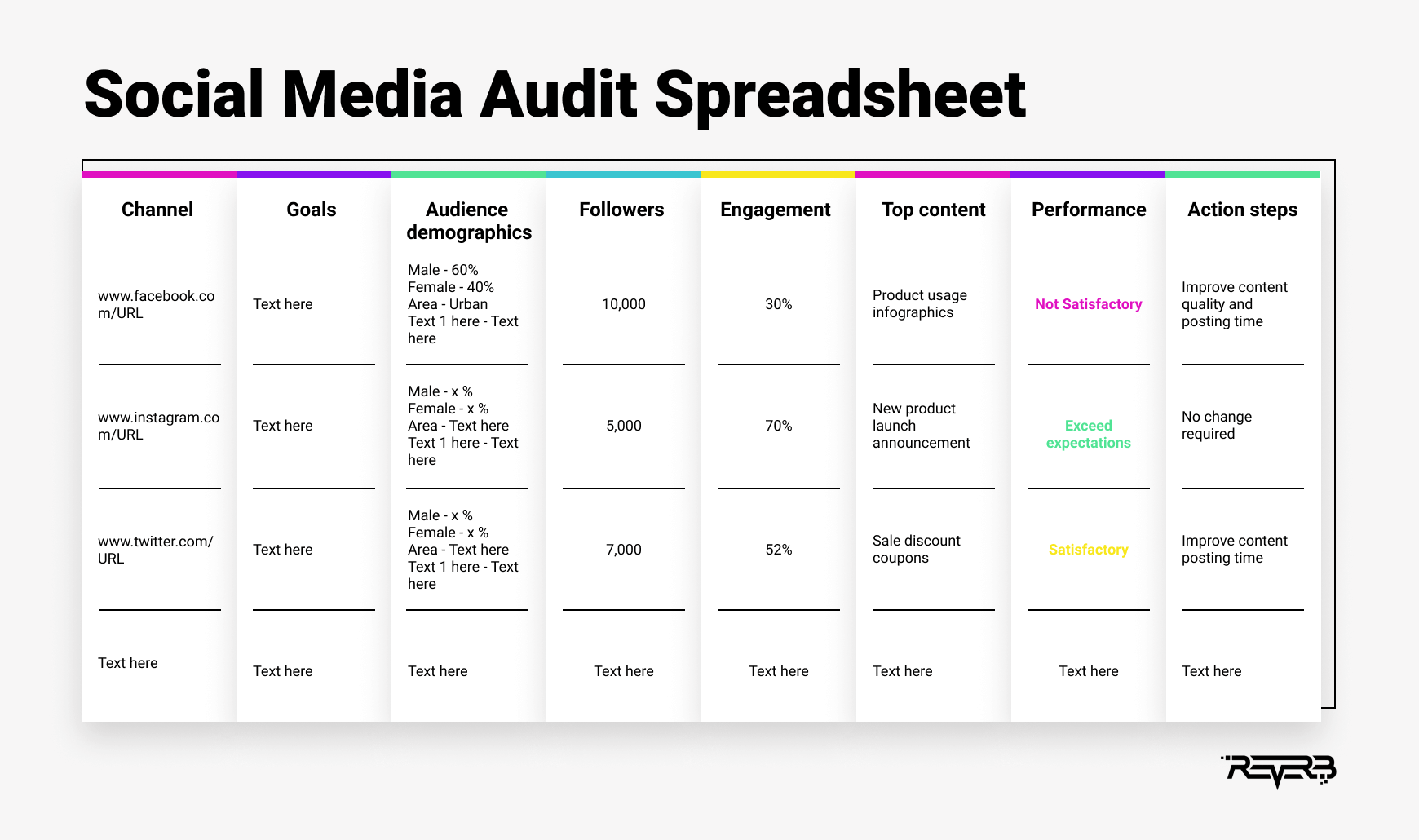 Conclusion
Now that you know everything about how to plan social media content, you can finally organize your workflow in the most efficient way possible!
And if you still feel that social media content planning will take too much time from you and shift your primary focus, the ReVerb team is ready to do the job for you. We will help you create a well-thought-out social media content plan and design exciting posts thereafter.
Contact us today, and get amazing results tomorrow (or possibly, right away)!