Are you looking for simple still efficient ways to amplify your content? Then you came to the right place. 
Making your content sell is quite an undertaking, and it takes more than just good copywriting skills or sheer luck. 
In fact, there's a whole world of content promotion strategies and tools worth exploring. And so that you don't get lost while conducting your research, I've compiled everything you need to know about content promotion in this article.
Things you'll learn:
Reasons why writing content isn't enough; you absolutely MUST

PROMOTE your content.

Promotional strategies you can and NEED TO USE.

Content promotion tools

that will INCREASE your traffic.
Sounds quite promising and a little ambitious, right? But I'm going to stand by my words! Let's discover this significant topic together.
What Is Content Promotion?
I'll start off by identifying the culprit of this discussion: what exactly is content promotion and how do we use it?
Content promotion is a process of sharing content across various channels with the purpose of attracting more traffic and leads while increasing your Domain Authority.
Indeed, there are multiple channels that can be used to promote your material: organic promotion via search engine optimization (SEO), influencer outreach, PPC advertising, PR, email marketing, etc.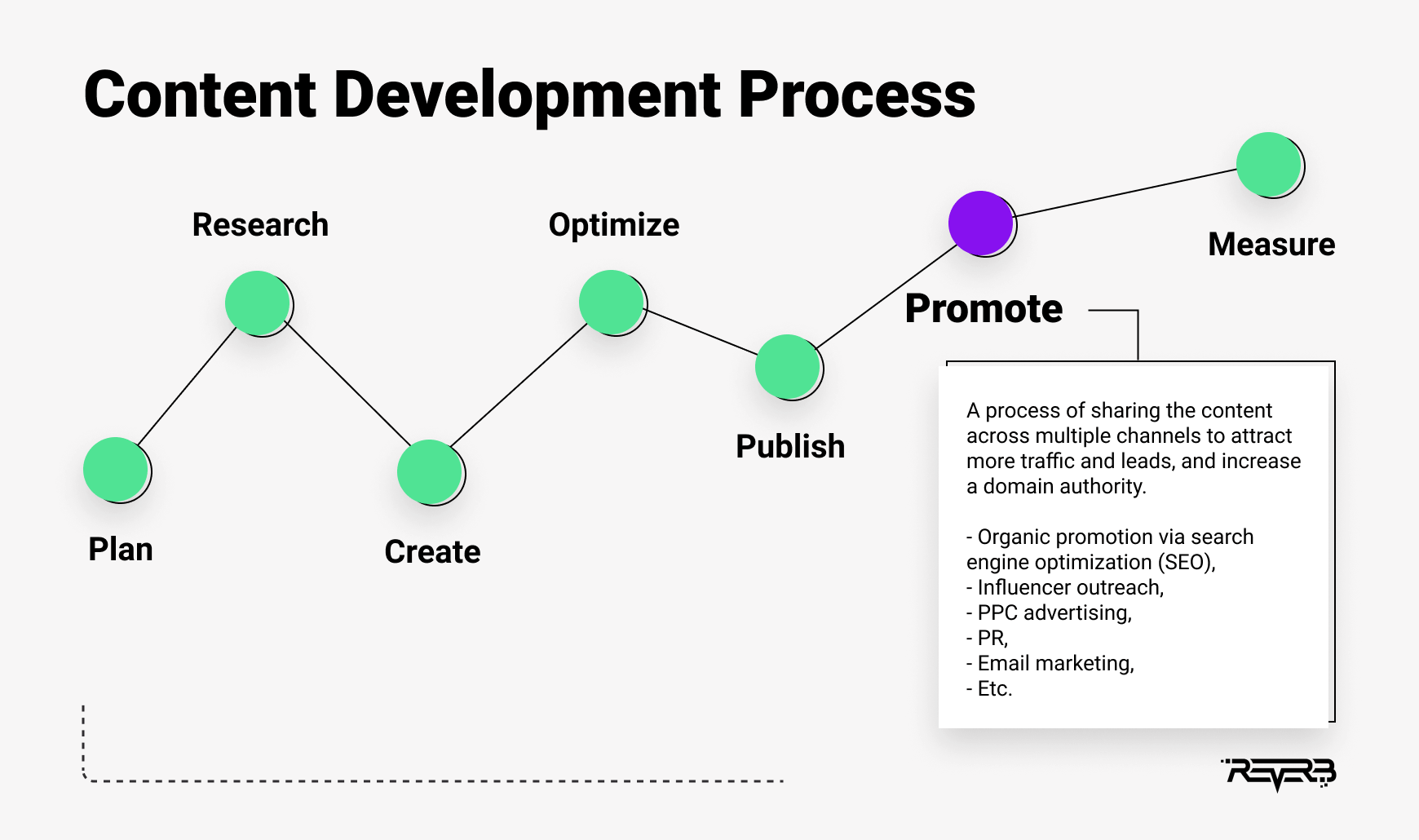 But do you actually need to put that much effort into your content marketing strategy?
Yes, you do, and here's why.
Why Is It Important to
Promote Your Content
?
Content amplification doesn't appear out of thin air. 
No matter how talented you are as a content creator, or how much passion you put into your content piece, the magic won't happen until you actually act on your promotion strategies. 
In some ways, you need to push your content on people. The more active your content promotion campaigns are, the more traffic you're able to generate, and consequently, you'll get more leads! 
To put it into perspective, let me back my words up with some stats. 
In 2019, Backlinko analyzed 912 million (!) blog posts and found out that 94% of all blog posts have no external links whatsoever.
What's more, when it comes to social shares, we can observe quite a significant disproportion. To be precise, only 1.3% of posts generate 75% of all social shares.
"So what?" you might ask.
Well, it means that most of the content published online goes unnoticed.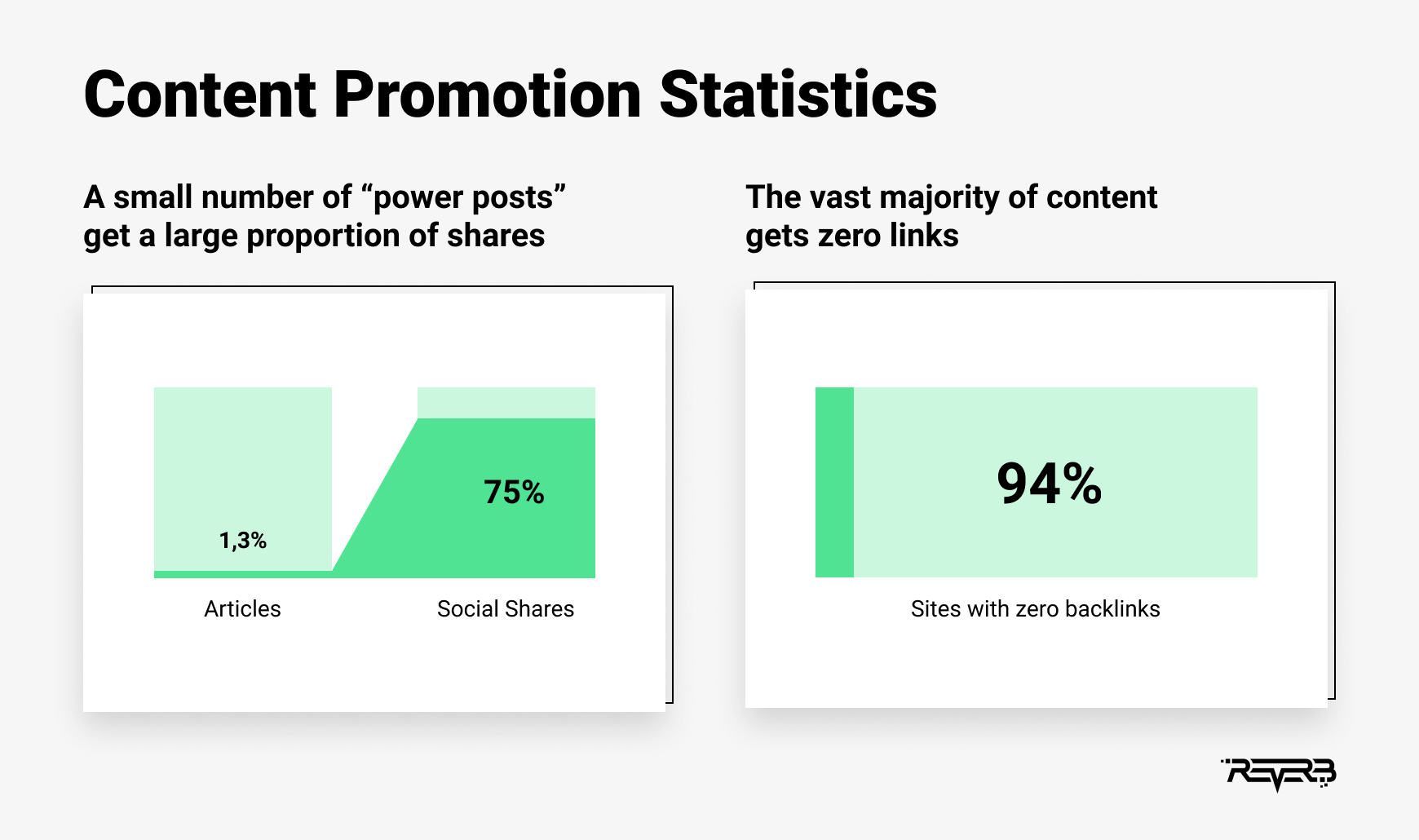 And even though the practice of fortifying your content with some proven content promotion strategies has been with us for quite a while now, not everyone grasps its utter importance. 
So when you bid your content "goodbye" by pushing the "publish" button, you're actually sending it into the void with approximately 80 million blog posts published monthly on WordPress alone. Not to mention other types of content and publishing platforms. 
And if you're interested in saving your content from living any college student's biggest fear – FOMO – throw it a lifebuoy. Start applying some of the best content promotion practices, and give your content an edge in an extremely competitive environment. 
A List of the Most Efficient
Content Promotion Strategies
Now that you know you definitely need to promote your content to attract more traffic and leads, you probably want to find out which content promotion strategies will score you the best results. 
Hence, I present you with the list of the most tried-and-true content promotion strategies ever.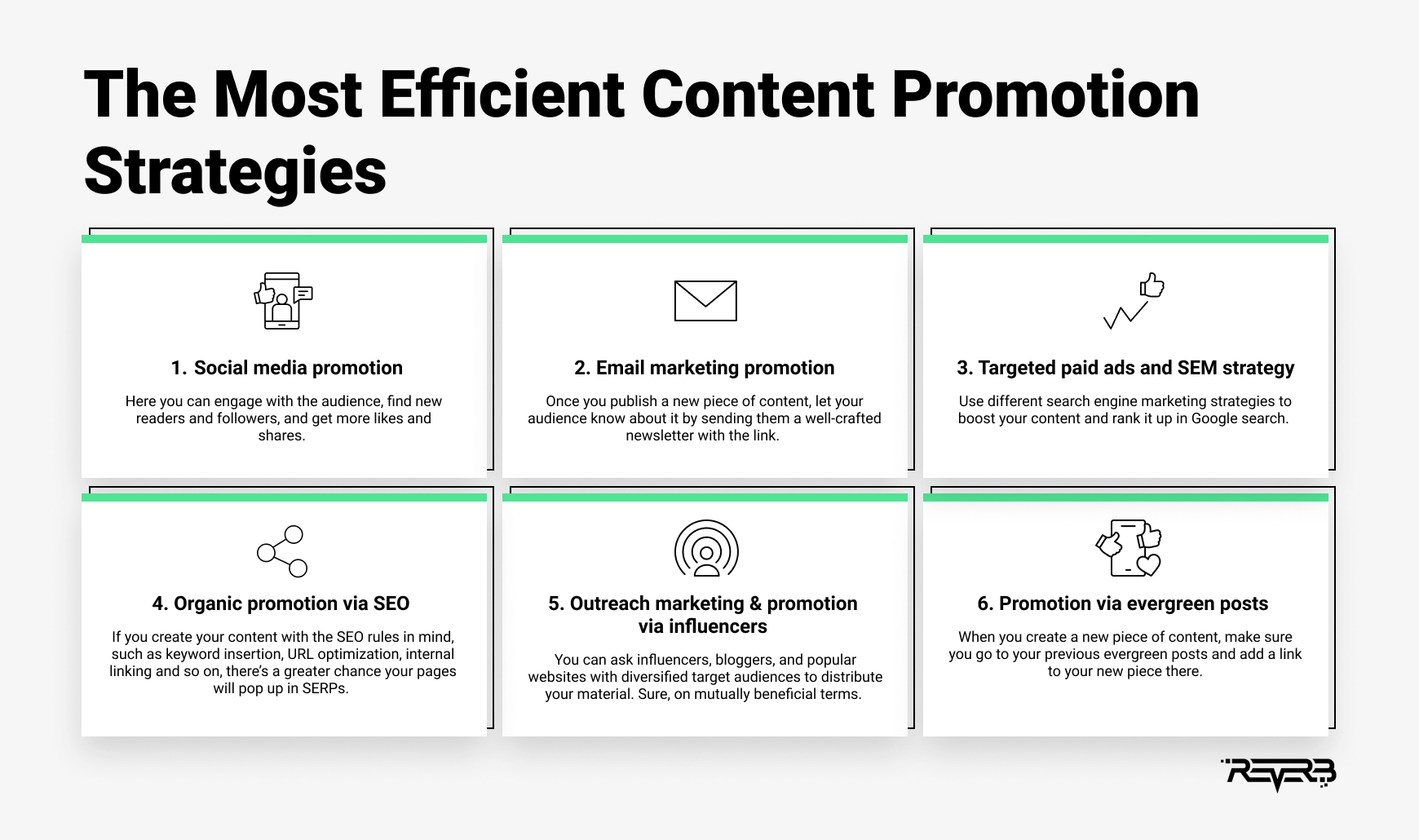 1. Social media promotion
It comes as no surprise that social media is a means of content promotion that the majority of creators turn to the first thing. 
Basically, it's an ultimate GOLDMINE where you can engage with the audience, find new readers and followers, and get more likes and shares. 
The crucial rule when you choose this method of promotion is you should think omnichannel. This means that you need to create accounts on multiple platforms like LinkedIn, Instagram, Facebook, TikTok, Twitter, YouTube, and Pinterest. Not necessarily on all of them, but at least a couple out of the list. 
Remember, when working with social platforms, consistency is the key to success. So be sure to post your content regularly and maintain a stable online presence at all times. 
You might consider that social media is quite overcrowded today, and you're right. A scenario where you post consistently but don't reach desired results and seem not to be able to generate enough traffic may happen. That's why starting your journey across social media with the creation of an SMM strategy is a must.
Also, I recommend that you use the power of targeted advertising on social networks and reach out to potentially interested social media users directly.
The easiest way to promote your content on social media is using paid ads on Facebook. Just choose your post that you want to spread across the network and click on 'Boost Post' below.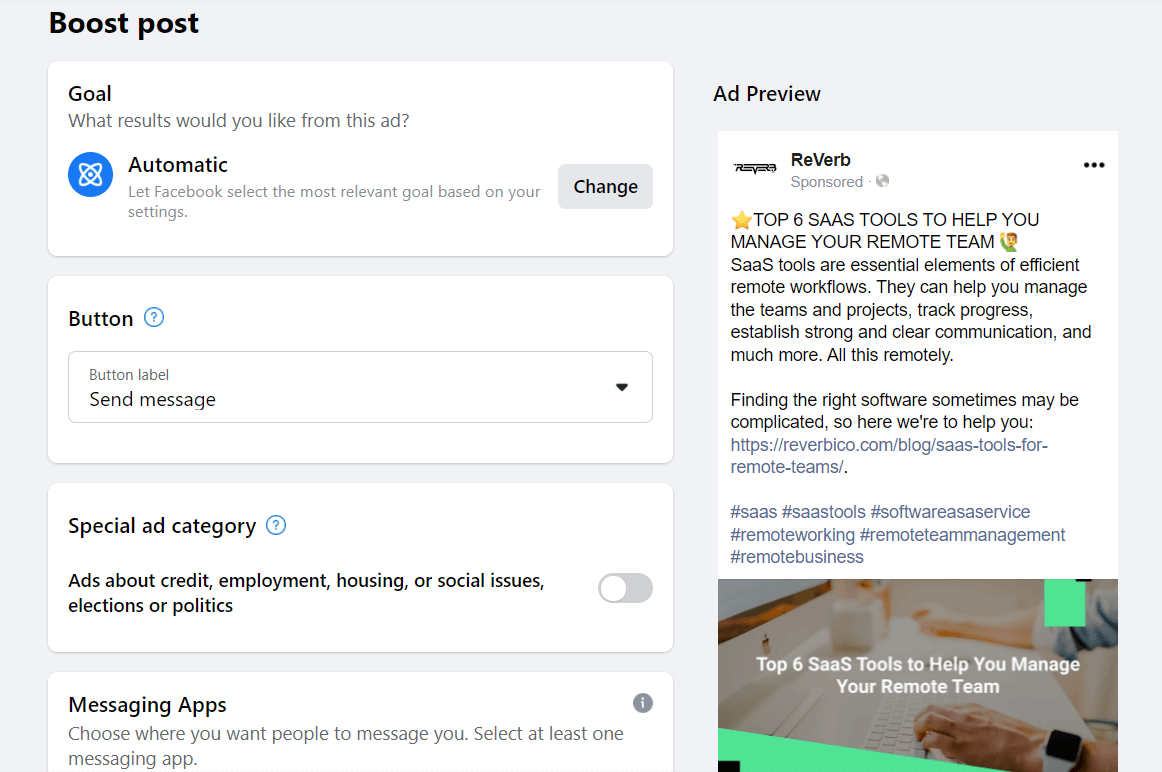 To enhance your results, use the BuzzSumo tool to find users who share content similar to yours and target the list of people who will definitely be interested in your work.
You will find more on this and other content promotion tools later in this article. 
2. Email marketing promotion
Many people strongly associate email marketing with one unpleasant word – SPAM. 
But professionals in the marketing field know that it's a powerful means of reaching out to your target audience. Let me explain why.
Numbers and statistics backing up my previous statement suggest that the average email subscriber's value is around $48.87. Plus, for every $1 you spend on email marketing, you can expect an average return of $36.
What's more, marketers from giant corporations around the globe use email marketing techniques regularly to generate leads, and you know it. Just check your email inbox. 
Thus, sending email broadcasts is exceptionally crucial for the sustainability of your business, be it a blog or an online retail shop.
A piece of good advice is to make your social media marketing and email campaign work in a profitable symbiosis. Promote your newsletter on your social media platforms and encourage people to hit the subscribe button.  
This way you will gather an audience that follows you out of their free will and doesn't send your newsletters into the spam folder. 
Once you publish a new piece of content, let your audience know about it by sending them a well-crafted newsletter containing a "tease" to encourage them to follow the link.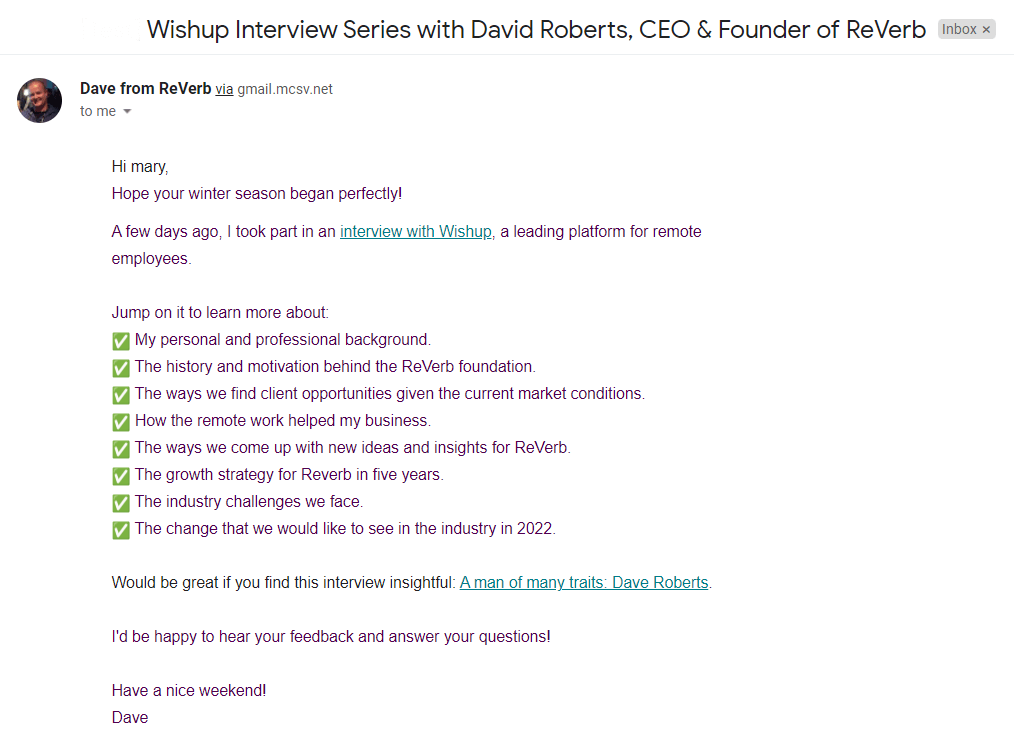 To follow up on your campaign's success rate, use analytics tools. This way you will be able to assess how many people don't click on your email.
To increase the number of engaged users, send your newsletter again, but this time, change the subject line. That's how you'll keep track of such important metrics as a number of views, likes, shares, and comments. 
3. Targeted paid ads and SEM strategy
You never know where you can stumble upon your target users. Maybe the people who are likely to appreciate your content are currently busy doing something else like researching the best pumpkin pie recipes. 
Despite the fact that social media and email marketing campaigns can take your content quite far, there's something that can take it even further, and in less time. I'm talking about targeted paid advertising. 
By investing some money in paid social media advertising or Google ads, you are saving yourself some time and effort searching for and gathering your target audience all across the World Wide Web. 
Use different search engine marketing strategies to boost your content and rank it up in Google search. 
This way, your content will become accessible to a wider range of people across multiple channels, and you will be able to generate more leads for your business. 
There are a variety of platforms that allow you to customize and publish your paid ads:
Choose one that you like and start achieving positive results from day 1. 
4. Organic promotion via SEO
Most likely you're already familiar with SEO, which is the organic way of content promotion. 
However, it's very important to establish a clear line between the two close abbreviations – SEO and SEM (which I've described above). 
As you already know, search engine marketing (SEM) is responsible for attracting users with the help of paid ads while search engine optimization (SEO) is used to bring traffic to your site organically. 
While SEM tactics and strategies are very useful when you have budgets allocated for paid advertising and strive to get quick results, SEO is a reliable source of stable and long-term organic traffic and leads, which requires much fewer expenditures.
With SEO campaigns, you can bring users to your web pages when they Google some queries that match the keywords you use in your content.
If you create your content with the SEO rules in mind, such as keyword insertion, URL optimization, internal linking, and so on, there's a greater chance your pages will pop up in SERPs.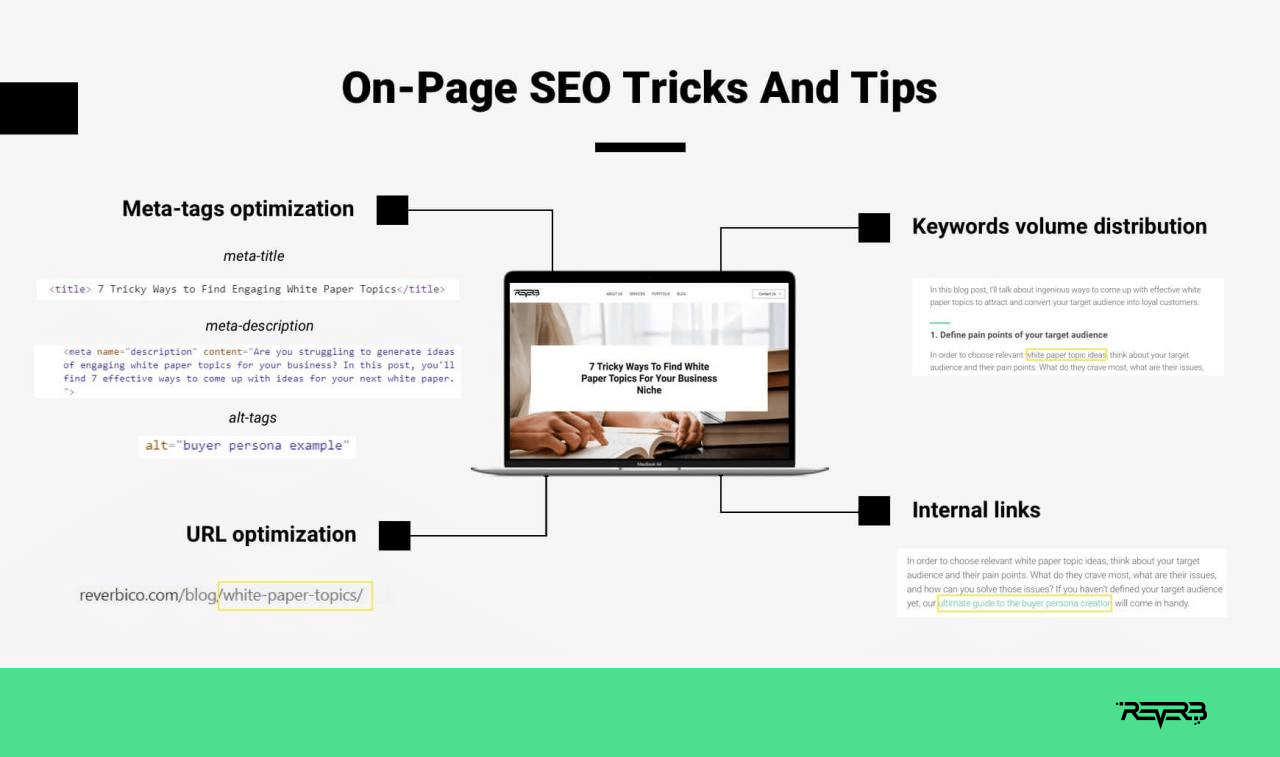 So, optimizing your website to meet search engine standards is a must, and it is the only way to promote your content organically and with minimum expenditures. 
5. Outreach marketing & promotion via influencers
Outreach marketing is a concept that means connecting with other businesses or individuals with the aim of promoting your content. 
That's how you can ask influencers, bloggers, and popular websites with diversified target audiences to distribute your material. Sure, on mutually beneficial terms, be it a fixed fee, link exchange, or any other agreement.
Working with market leaders as part of content promotion tactics can bring stunning results. 
This will help you create a positive business image, establish communication with your target group through trusted parties, obtain valuable backlinks to your site and product mentions, and most importantly, it will generate more leads for your business. 
When choosing an influencer who you want to work with, follow these basic rules:
Focus on your target demographics and start your search for an influencer who covers the relevant audience.

Don't obsess over numbers. Even if an influencer has a 15K audience instead of 15M, it's quite enough if the subscribers match your target audience criteria. Plus, you might even be lucky enough to score a deal with barter alone. 

Reach out to influencers in the early stages of content creation if possible, because they often like to be involved in the production process. 
Find out more useful tips and techniques to find and collaborate with big names on your content promotion in our piece on outreach marketing.

Don't know how to get started with successful outreach marketing and score yourself some deals while setting up smooth collaborations? These outreach marketing templates come to your aid. Just customize them to your case and reach out to influencers and other businesses in the most efficient way.
6. Promotion via evergreen posts
This is one of the simplest and most underrated content promotion strategies. But surprise-surprise, it can be quite effective!
Your best evergreen posts are a significant source of traffic. By continuously updating your blog posts with new information, you keep them fresh, relevant, and scalable, thus, extremely valuable to readers. 
Google adores evergreen content. Each time you update your posts with new information and add new links, that's an indication for the search engines that you have refreshed your content, so it will go up in rankings.
And here comes one of the most efficient content promotion tactics – when you create a new piece of content, make sure you go to your previous evergreen posts and add a link to your new piece there. In this way, you'll easily redirect visitors to new pages on your website. 
Top 3 Must-Have Content Promotion Tools in Your Digital Arsenal
Now that you know everything about the most successful content promotion strategies, you will need tools to implement them and track their success rate. 
I compiled a bunch of the best content promotion tools that will help you promote your content smoothly, and as a result, successfully.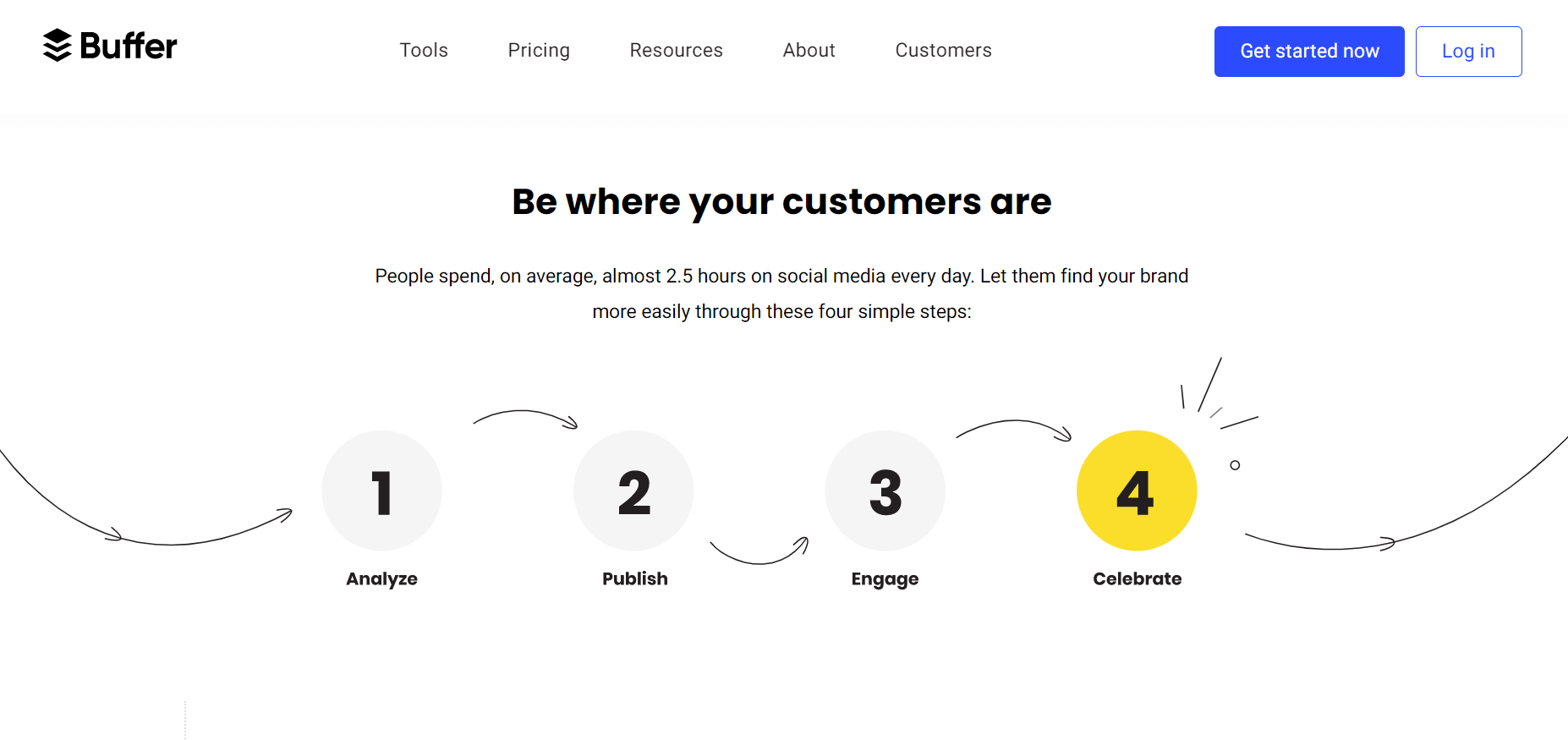 This content promotion tool offers you a wide range of tools that will help you better manage your social media channels. 
It allows you to post your content to social media automatically, customize it for every channel, and manage all your accounts in one place. And ultimately, you won't have to upload and share your content multiple times through various channels. You can do it all in one click. 
As a very powerful content promotion tool, it will help you assess the scope of work and give you insights into the success rate of your campaigns through detailed analytics.   
It also provides the possibility to program the time for sharing and gives you feedback on your posts.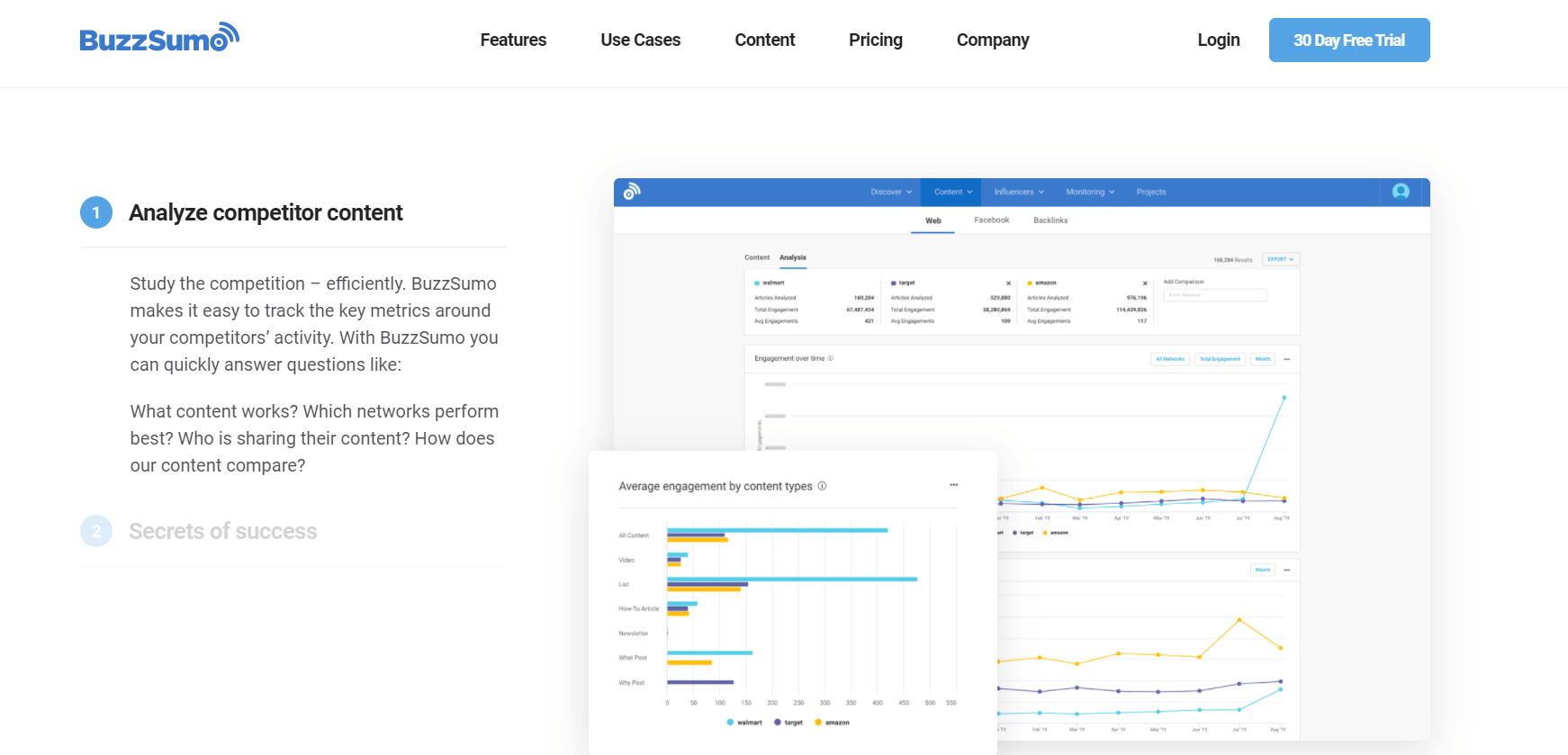 BuzzSumo is a perfect tool for you to analyze your competitors' posts and define your target audience.
It gives you insights on which content went viral and how good it stands the test of time. 
There are also several filter options that allow you to separate content by authority, engagement, and reach. Using these filters, you can see who shared similar content to yours and create an outreach list for your content promotion. 
Additionally, with the help of this content promotion tool, you can find out how to write your content better than your competitors. 
Just insert the URL from your competitor's blog and you're pretty much set!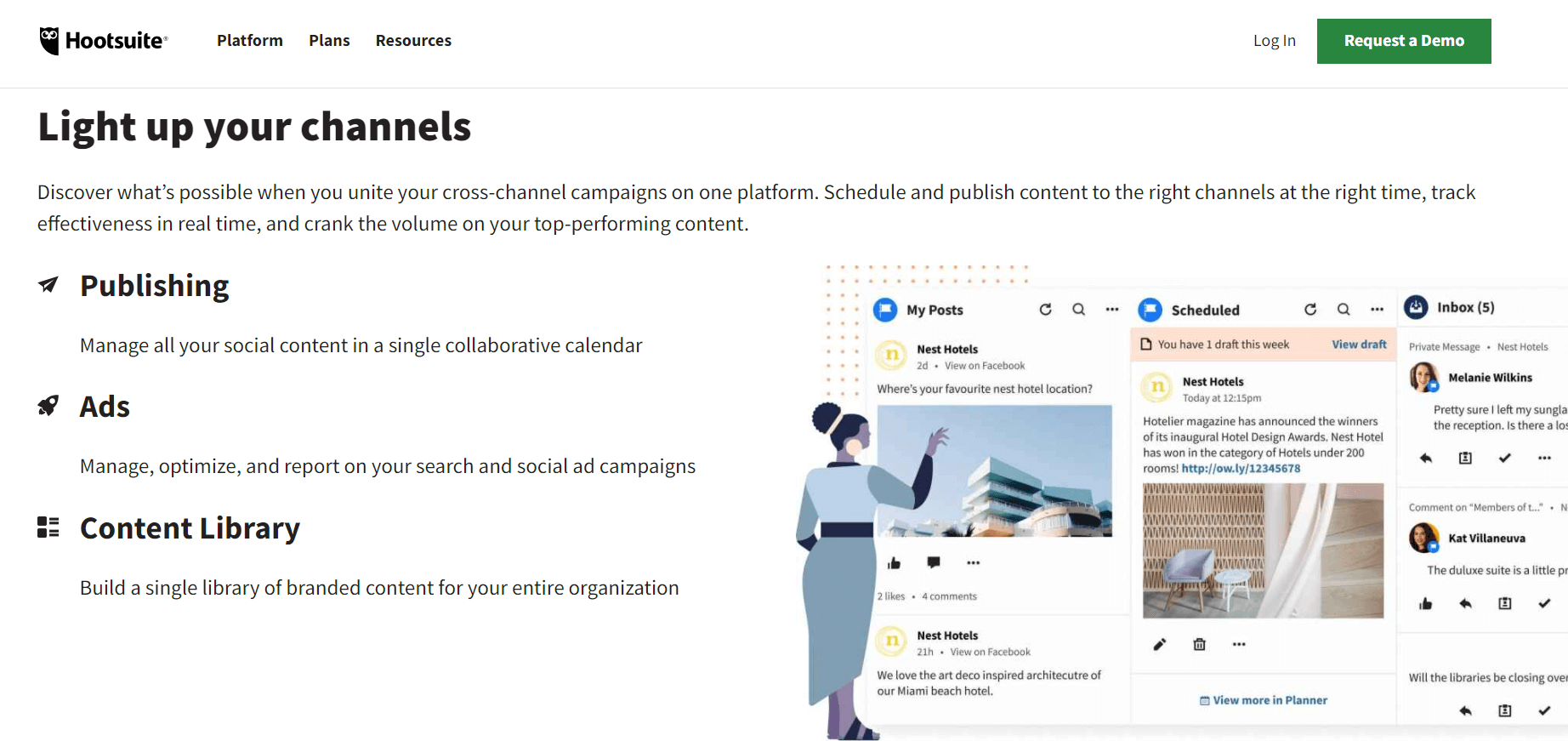 Hootsuite shares a lot of characteristics with Buffer including the scheduling, reporting, and management functionalities. In addition, it offers advanced functions to facilitate your work with social media.
That's how, using it, you can manage your content, respond to mentions across various social platforms, monitor and manage your accounts according to permission levels, and more.  
Conclusion
Content promotion is not something overcomplicated. However, any good promotion strategy requires time and knowledge to define the most efficient tactics and channels to distribute your content.
If you feel that you don't want to plunge into these waters alone, ReVerb can help you create a successful content promotion strategy that will revive your content and skyrocket your site's traffic, backlinks, and leads.
Contact us anytime, and we will provide you with first-class content promotion services that bring results. Let's make the world know about your company!