Today's businesses have switched from expensive TV commercials to highly efficient inbound marketing. They run blogs, monitor their brand mentions on Facebook and Twitter, and design email newsletters.

They also often need marketing specialists to focus their efforts on the money-making channels. Still, not all of them are ready to hire full-time marketers — highly skilled specialists want high salaries.

That's why many choose to work with marketing consultants to review their internal processes and improve them. Some work with freelancers; others prefer to hire a marketing consulting firm or agency. 
In this guide, we're talking about the importance of hiring a marketing consultant, their skills and responsibilities, and signs that you need to hire one. 
What Are the Goals of
Marketing Consulting
?
Marketing consultants' goals and duties may vary by company and project. Usually, it's all about advising businesses on the best way to reach their customers. 
What do consulting firms do? Plenty of things: they help businesses come up with a marketing plan, build a corporate brand, and define their unique message, as well as find the best ways for this message to reach its target audience. 
Most consultants advise on approaches and techniques and implement the new marketing strategy.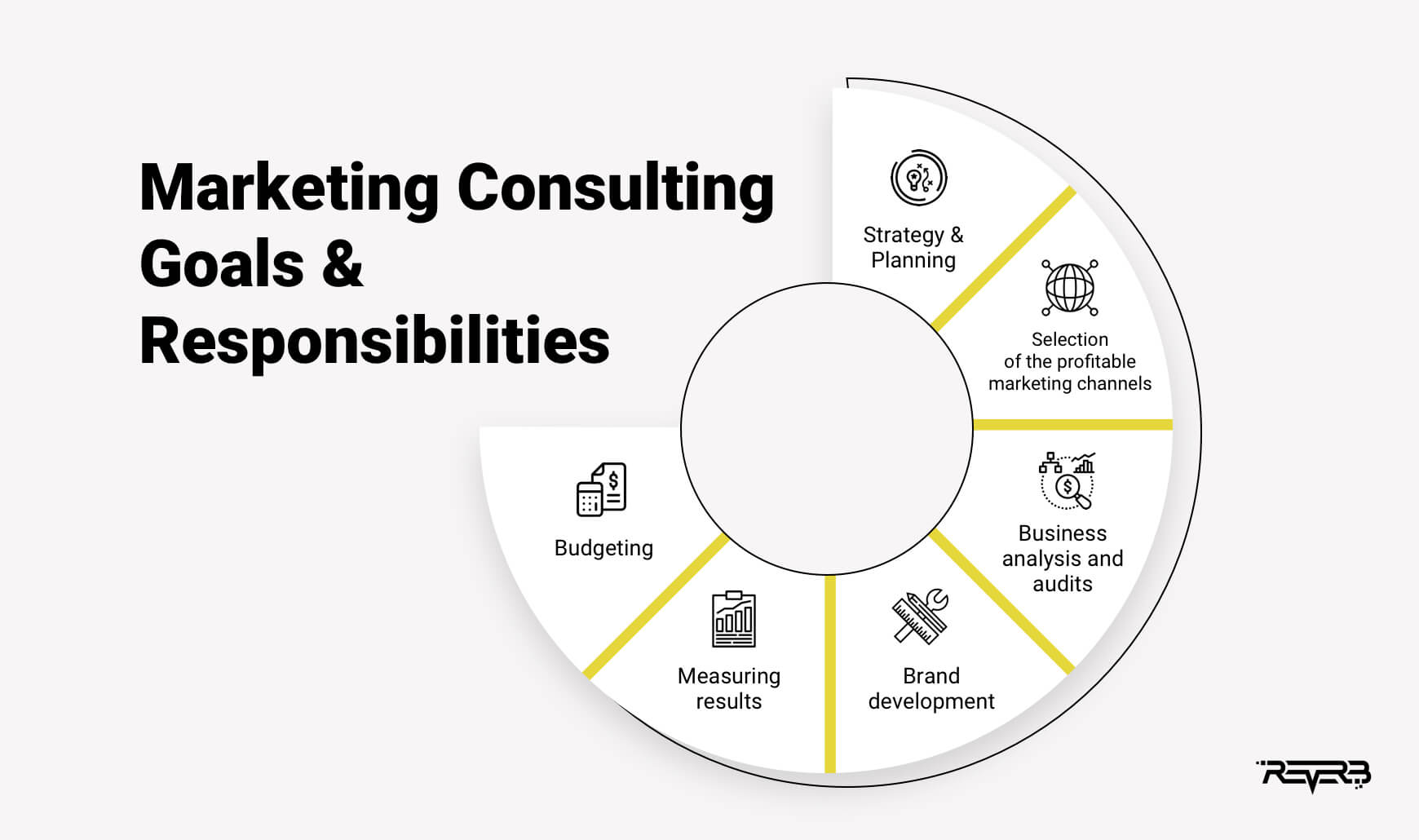 Everything depends on the situation, company, and buyer personas. For example, TikTok videos may not be the best platform to promote React.js development, but they are a good choice for a makeup or healthy food brand. A consultant's job here is to advise on such channels.

For example, let's say you're a software development company that wants to promote its services. There are many ways to do that — from PPC advertising to SEO optimization, working with influencers, and so on. 
The job of marketing consulting firms is to help you find the right marketing channels — e.g., focusing on social networks, launching a blog, or configuring Google Ads. 
Consultants often monitor the results of your marketing campaigns even after their launch, making sure your company gets the best results for the invested money.
Thus, the greatest advantage of hiring a marketing consultant is their understanding of the situation as a whole. Experienced consultants have worked with a dozen businesses and on a wide range of topics. They see how different companies work and can help you choose the best way to promote your products or services. 
What Skills Should a
Digital Marketing Consultant
Have?
It's always a mix of tech and soft skills. A good consultant is a skilled marketer with 4+ years of experience who has a basic understanding of psychology and great communication skills. 
Most importantly, this expert knows how different marketing channels work: 
SEO

Copywriting

Email marketing

Paid advertising

SMM

Public relations

Conversion optimization

Brand management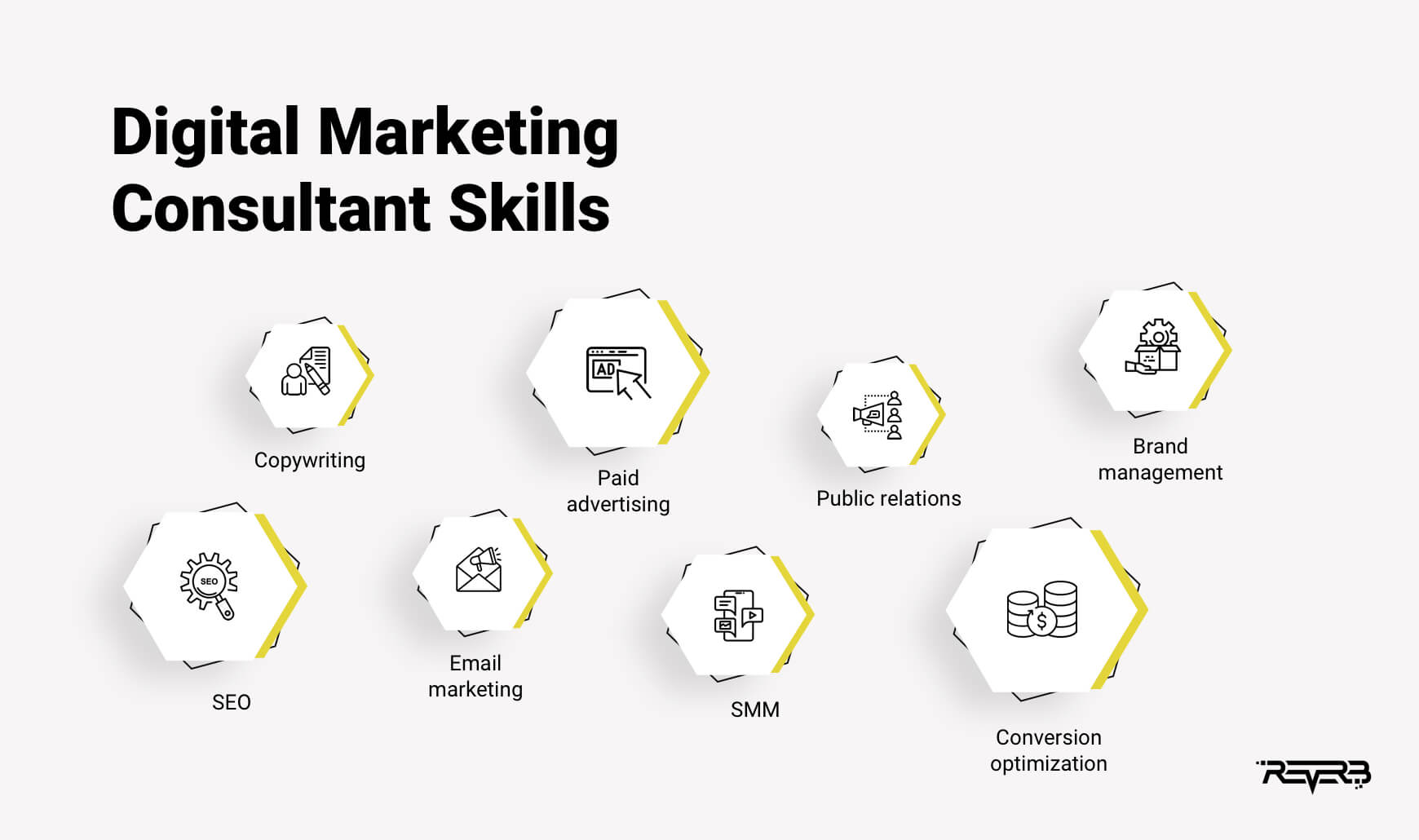 And a good digital marketing consultant clearly understands when to apply each of them. 
What Are Marketing Consultants Responsible For?
As I've mentioned, marketing consultants are responsible for many things, depending on the business and its needs. 
Their primary responsibility is often connected with building or improving the current strategic course. For example, when the company notices that its marketing effectiveness is decreasing fast. 
The second popular responsibility of a marketing consultant is monitoring contractors or conducting a third-party assessment. Sometimes it's a necessity: if you work in the same company for quite a time, your vision becomes flawed. 
The consultant will conduct a comprehensive marketing audit and define what works well and what can be improved. 
Another reason: a small company or a startup doesn't have enough resources to hire a full-time employee. They hire SEO and targeting specialists and outsource marketing strategies consultants when they need them.

Some other common responsibilities of marketing consultants: 
Building a sales funnel

Creating a marketing strategy

Finding new channels to attract customers (e.g., working with TikTok influencers)

Launching a digital advertising campaign

Creating and implementing a customer retention strategy

Advising on managing a company's blog or social media

SEO audit & optimization

Advising on the website design

Overseeing the company's brand, etc. 
When to
Hire a Marketing Consultant
? 6 Crucial Signs 
Startups and small-size companies aren't the only businesses that may need the help of a marketing consulting agency. Even enterprises with huge marketing departments need someone to take a fresh look at their efforts. 
Below, I'm listing six instances when hiring a consulting firm may be a good idea. 

#1. You need help with creating a marketing strategy
Top marketers document their strategy. According to the CoSchedule report, marketers with a documented strategy are 313% more likely to report success. 
A marketing strategy is your ultimate plan, cheat sheet, and roadmap. It highlights the path you need to take to achieve your company's goals and objectives. 
Let's take a look at Sephora, a popular beauty and skincare brand. They make tutorials, post content on social media, offer their customers a mobile app, and send emails, as well as generate organic clicks and traffic to Sephora's website. 
The brand's strategy is diversification. They use several channels their customers use the most, including YouTube and Instagram. 
In the same way, marketing strategies consultants learn all about your business: audience, goals, channels, and budgets. Then they help you build an individual plan for promoting your products. It includes everything from creating buyer personas to choosing the metrics to follow and analyze.

#2. You want to launch a blog but don't know how
According to the Marketpath, companies with a successful blog generate 67% more leads monthly than those that do not have one. 
Lots and lots of successful companies run blogs for this reason. But such an approach also raises questions. What content to make? How to promote it? Do you need to focus on longreads or maybe also record podcasts? 
A marketing consulting agency will help you choose the right blogging direction, as well as create a content strategy and explain what content types to produce. 
This is also the case for the sales funnel stages. For example, you may need to make three articles on the same topic but for different stages — awareness (what is it?), consideration (is it worth buying?), and decision (how to get it?). 
You'll also want to find the best platforms for distribution like social networks, guest posts, Quora, Medium, and more. 
#3. Your company needs help with social media marketing
It's a common misconception that anyone can manage a company's social media effortlessly. SMM is a very important marketing component, and it's better to entrust driving a content plan and choosing platforms to a marketing consulting firm, not your HR who's also posting stuff on Instagram. 
For example, many digital companies use Twitter, Facebook, and LinkedIn to work with clients or recruit specialists, while platforms like Instagram may work great if you want to share more about your company. 
Each platform, as well as the audience, may require its own approach and tone of voice. A creative digital marketing consultant will select the most appropriate social networks to present your business.
#4. You want to drive traffic and generate more leads
There may be issues with the SEO of your website, or blogging done incorrectly. Your CTAs may not work as expected, or maybe you're promoting your services on Youtube while your target audience lives on Medium or Reddit. 
A marketing consultant will find your content's weak points — like the topics you didn't cover or didn't cover enough and build a content plan. They will also create an effective SEO strategy and make well-optimized landing pages that generate leads. 
#5. You need help with choosing the right digital tools
Today, it may be tough to choose the right software — there are many options, and they all have their benefits. 
Which ones to use: SEMrush or Ahrefs? Is there a need for a CRM system? If so, which one to use — a custom-built or a ready-made piece? 
What do consulting firms do here? They review your current tools and recommend new software for better monitoring your marketing efforts and optimizing internal workflows. For example, they may include content generation tools or checkers like Grammarly or Google Docs, email tracking tools like MailChimp or Mailgun, or task managers like Jira or Trello.

#6. You want to stop wasting money on unprofitable advertising campaigns
Even the most skilled and gifted marketers get loaded with reports and routine tasks and don't always see the major flaws in their campaigns. That's when a marketing consultant comes to their aid. 
Let's say the company's in-house specialists no longer see how to reach other market segments, or the ads that usually had the 'wow effect' on customers don't work as well as they used to. 
In this case, it makes sense to hire a marketing consultant for the SEM campaigns audit. They'll find the weak points, analyze the current situation in the company, and look at the product or service from different angles.

Conclusion
It's always better to hire a marketing consultant at the very start. They'll help you build a strategy, choose the proper marketing channels, and advise on the best tools and practices. 
This way, you're driving your business growth and save money on marketing efforts in the long run. A good expert will always stick to your budget and promote your company's prosperity. 
If you need help from experienced marketing consultants, get in touch with us. Here at ReVerb, we assist businesses in developing the right marketing strategy, conducting a website audit, providing top-notch content writers, and much more.