The global economy is steadily becoming a predominantly digital ecosystem, with cryptocurrencies gaining more and more traction.
Let's take a look at the numbers: funding for crypto and NFT startups skyrocketed by more than 700% in 2021, with investors infusing around $28B. Cryptocurrencies look so promising that it's no wonder an ever-growing number of people want to tap into the crypto frenzy, either through investing in existing coins or starting a new cryptocurrency.
As a result, the crypto sector is marked by intense competition, so if you're about to roll out a crypto startup, make sure you have a solid strategy for success. It's important to remember that founding a crypto business requires in-depth blockchain expertise, relevant legal knowledge, and expert marketing skills. 
The good news is that you can always get assistance from a professional crypto consultant who will effectively guide you through a challenging crypto journey.
In this post, we'll outline the responsibilities of a crypto advisor and reveal the key arguments for using professional crypto consulting services. 
What Do
Crypto Consultants
Do?
The key responsibility of a cryptocurrency consulting firm or an individual crypto advisor is providing expert advice for people looking to launch a crypto startup or implement blockchain technology into their business operations. For this, they continually educate themselves in different areas of the cryptocurrency industry, monitor market trends, and develop effective risk management practices, which makes these specialists an extremely valuable asset to any crypto startup.
In general, crypto advisory services help clients understand technology fundamentals and regulatory compliance and apply profitable marketing solutions. Let's explore these responsibilities in more detail.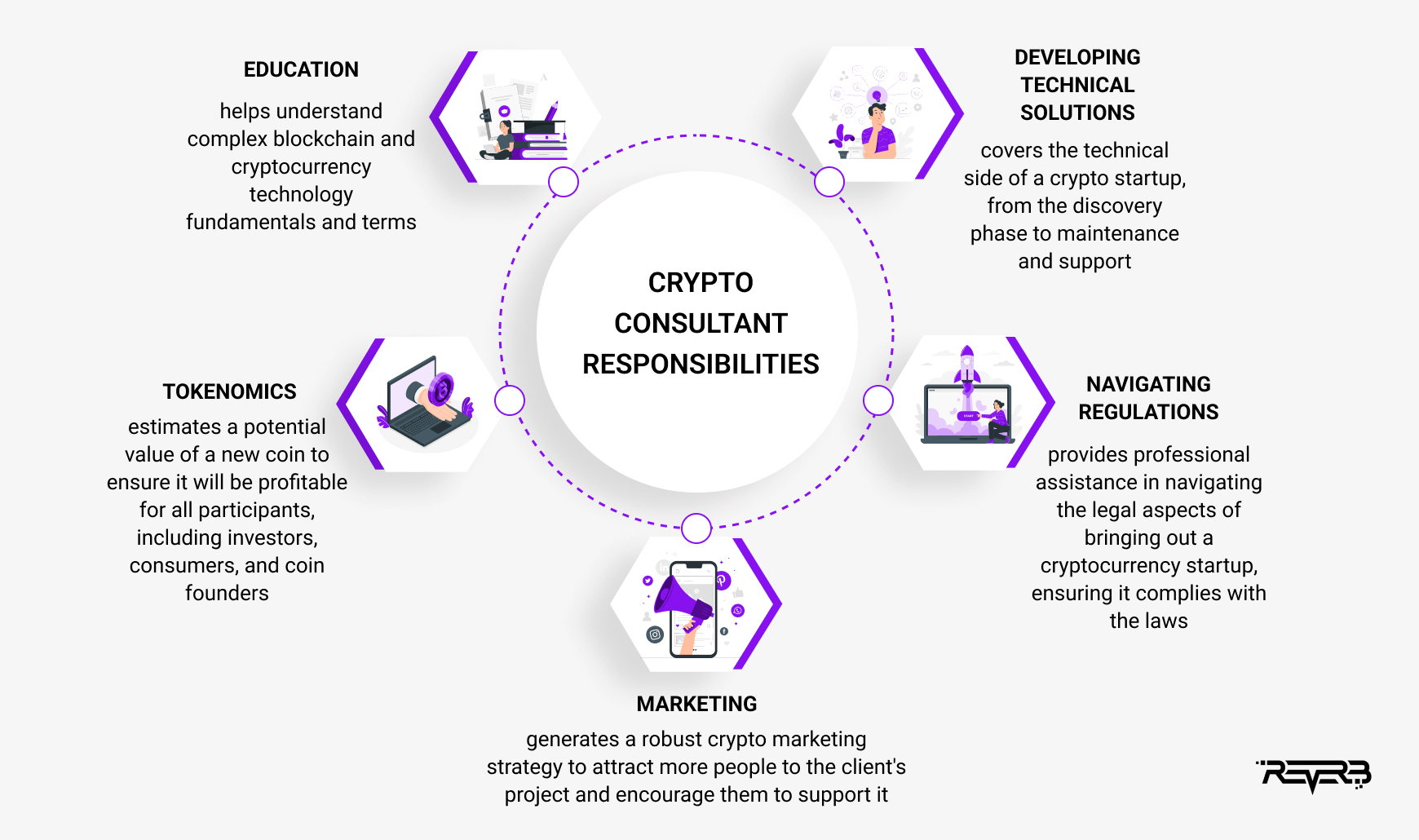 Education
Cryptocurrency and blockchain as underlying technology take specialized knowledge to understand. In addition, you need to know many technical terms as a startup founder. 
A qualified crypto consultant will educate you on all the essential ins and outs of the crypto world to ensure that you have a clear idea of how things work. Also, they'll explain the basics of crypto marketing to help you effectively promote a project.
Tokenomics
If you don't have a solid business plan at hand, the chances of surviving in today's competitive market are, without exaggeration, scarce. Crypto consultants deliver professional tokenomics services; based on their solid economics knowledge, they estimate a potential value of a new coin to ensure it will be profitable for all participants, including investors, consumers, and coin founders.
Marketing
While a robust marketing strategy is vital to secure the success of any startup, it's hard to overstate its role in a crypto startup, given the tough competition in the crypto market. 
That's why professional ICO consulting services give marketing a special focus to help a client attract more potential investors to his project and encourage them to support it. 
Cryptocurrency consulting agencies usually provide a full range of ICO marketing services, from mapping out a marketing and branding strategy to undertaking daily marketing activities, including:
building a strong and unique brand

designing and developing a crowd sale website

creating an investment proposal and pitch decks

preparing and distributing press releases

promoting the new cryptocurrency through various approaches, such as airdrops
If you want to make the most out of marketing your project, hiring a crypto marketing agency is a wise solution. Experienced marketing specialists with cryptocurrency expertise know how to multiply your project's chances of success.
Navigating regulations
The rise of cryptocurrency has been followed by the introduction of regulations stipulating their use. These regulations vary across different countries, making it challenging to ensure compliance if you don't have a professional background. 
Crypto consultancy specialists possess the necessary knowledge of cryptocurrency regulations and keep tabs on any changes to the legal aspects of crypto, helping clients with the following:
exploring the legal landscape of the jurisdictions where you intend to offer your crypto assets

setting up the know-your-customer (KYC) and anti-money laundering (AML) processes

drawing up the necessary legal agreements

ensuring that your project documentation includes the required disclaimers and caveats
Developing technical solutions
To breathe life into your new crypto concept, you'll need a person or a team specializing in blockchain development. Agencies offering blockchain consulting services usually have in-house technical specialists who can develop a bespoke solution for your startup. 
Otherwise, they can refer you to reliable external developers they have previously partnered with — thanks to their extensive networks, it's rarely an issue. 
This way, crypto consulting firms can take on the technical side of your startup, from the discovery phase to maintenance and support.
Why Do You Need To Hire A Crypto Consultant?
You might want to hire a crypto consultant to help you better understand how cryptocurrencies work, develop your solution, design a viable marketing strategy, or guide you through the legal processes associated with starting and running a new coin. 
With all of these taken into account, partnering with a professional crypto advisor can bring you some substantial benefits.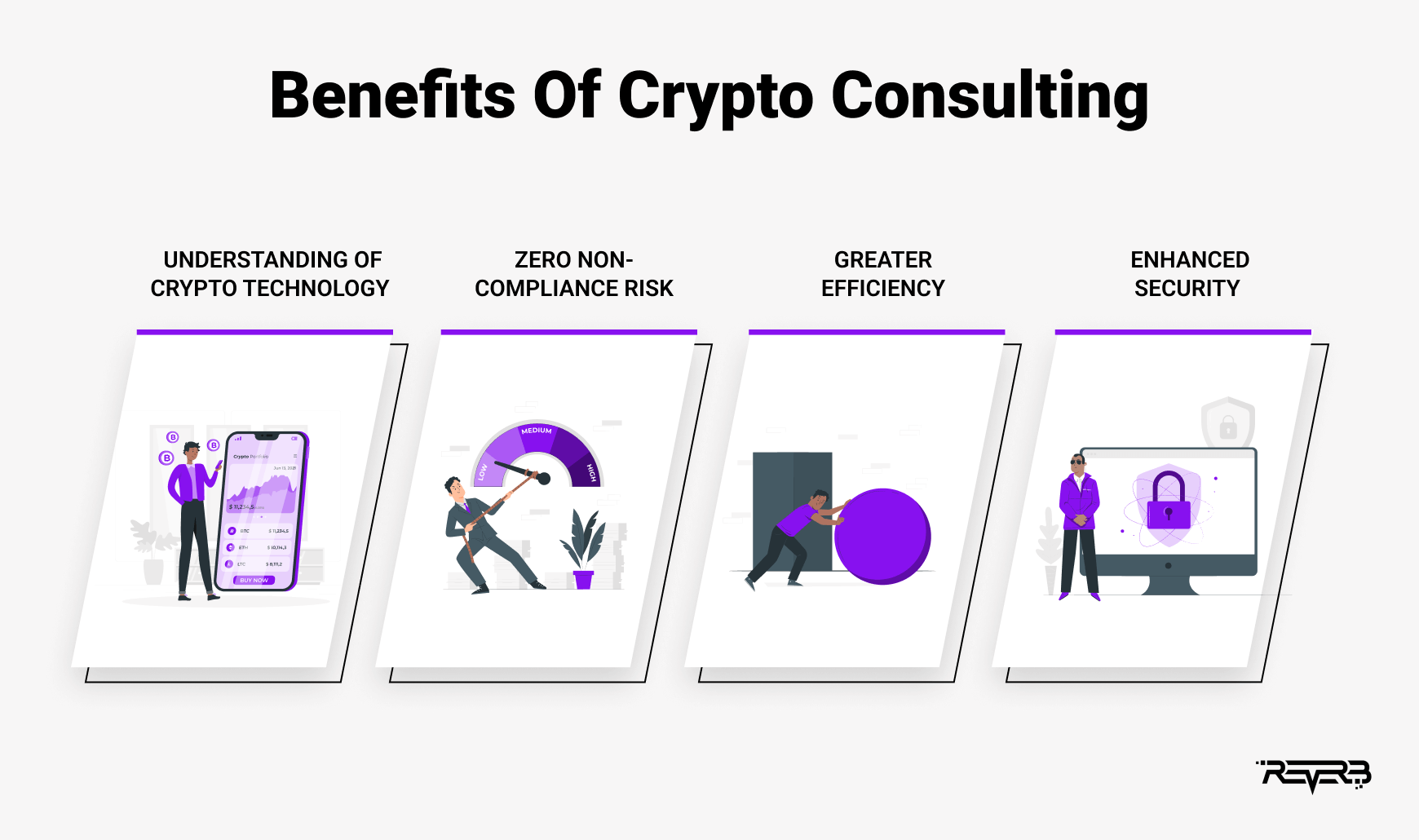 A better understanding of crypto technology
A knowledgeable crypto advisor can help you understand how cryptocurrency works by translating complex terms into simple language, making informed decisions easier for you.
Zero non-compliance risk
Qualified crypto consultants provide professional assistance with navigating the legal aspects of running a cryptocurrency startup and building a solid legal framework for your business, ensuring that it complies with the laws.
Greater efficiency
Crypto advisors have the relevant experience and skills necessary to optimize your processes and make your startup more efficient.
Enhanced security
Professional crypto consulting services can go a long way toward strengthening the security of your business. Crypto consultants have the expertise to help you implement the best security practices to shield your business against hacks and fraud and set up a system for storing your cryptocurrency.
When Do You Need To Hire A Crypto Consultant?
You might be a savvy marketer or have years of cryptocurrency trading experience and a perfect understanding of crypto technology. However, this won't suffice once you decide to roll out a new cryptocurrency. In fact, it takes a broader set of knowledge and expertise.
Consider hiring a professional crypto advisor if at least one of the cases below applies to you.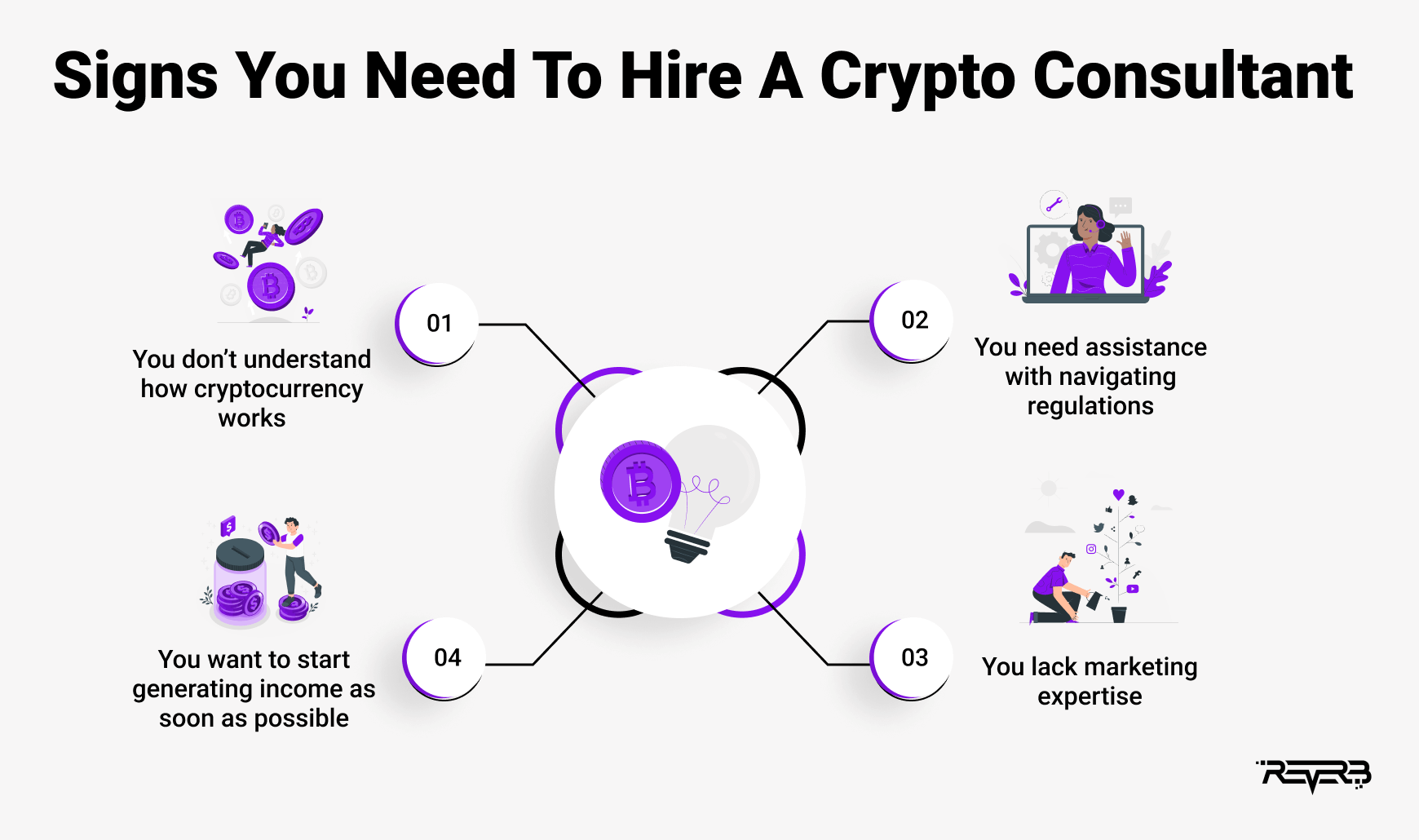 1. You don't understand how cryptocurrency works
If you want to understand what is going on with your startup, it's crucial to know how its fundamental technology works. Professional assistance is a must if you are a crypto newbie. Your consultant will explain everything you need to know about cryptocurrencies, blockchain, and smart contracts so you can manage your business efficiently.
2. You need assistance with navigating regulations
Cryptocurrency and blockchain are associated with a range of regulations, which vary depending on the country. Of course, noncompliance can lead to adverse consequences. To avoid this, it's worth hiring an expert who will make sure you observe all necessary regulations.
3. You lack marketing expertise
In this highly competitive, digitally powered sphere, a marketing strategy for your ICO is an absolute must-have to succeed. Partnering with a crypto marketing expert will guarantee better results due to their professional experience and expert niche knowledge.
4. You want to start generating income as soon as possible
Hiring a competent crypto consultant can save you time and accelerate your path to generating revenue. An experienced consultant will analyze your needs and goals to come up with the best strategy to start making money in the shortest amount of time.
How To Hire A Reliable Crypto Consulting Firm?
Although digital currencies and non-fungible tokens are relatively new developments, many firms offer crypto and NFT consulting. Such a wide range of choices might confuse you when selecting your crypto consultation partner. Still, hiring a credible advisor is the most important step if you plan for success. 
To help you make a more informed choice, we have prepared a list of features to look for when choosing a crypto consultant.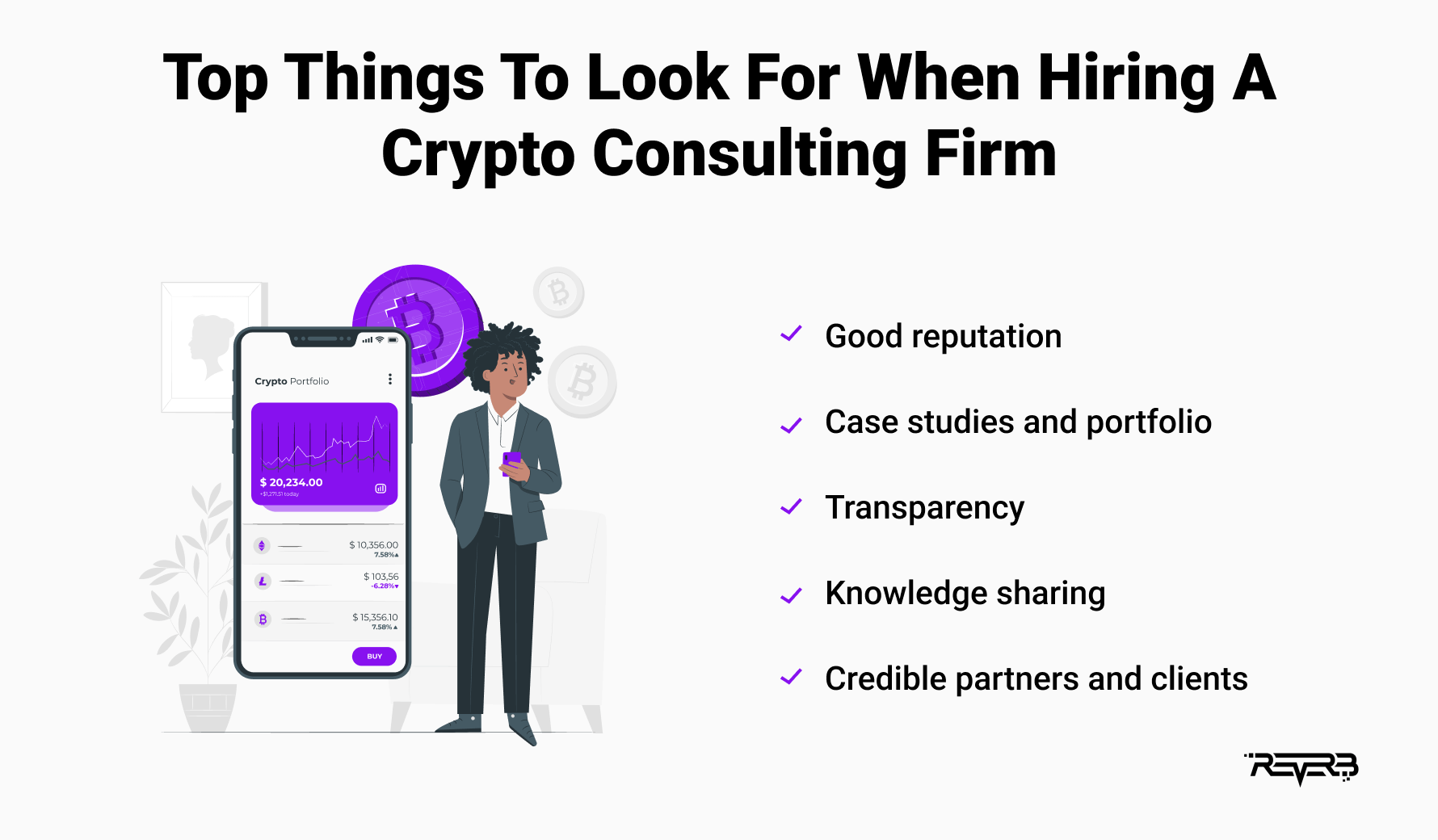 1. Good reputation
You can check a firm's reputation by reading client reviews on their website, social media pages, and independent review platforms.
2. Case studies and portfolio
Experienced crypto consulting firms can usually provide you with several case studies and client success stories that you can independently verify.
3. Transparency
Legit crypto consultancies don't hide any information, making details about their activity accessible to the public. For instance, finding the consultant's office on an online map or getting references for their work shouldn't be an issue.
4. Knowledge sharing
Regardless of the industry, qualified professionals tend to follow the practice of lifelong learning and knowledge sharing. Take a peek at the firm's website: do they publish helpful industry insights? Do they share any educational materials? Do they conduct webinars or other educational events? If yes, it's definitely a good sign!
5. Credible partners and clients
If the firm you're considering has already partnered with credible names in cryptocurrency consultation and reliable sources can prove it, this is another indicator that the consultancy is a worthwhile candidate.
Conclusion
All things considered, starting a new cryptocurrency without professional consulting services could be a waste of your money and perhaps your biggest disappointment. On the other hand, an experienced crypto consultant can refer you to a skilled development team and help you create a winning marketing strategy while ensuring legal compliance. 
Partnering with a qualified advisor translates to higher efficiency and lower risks; however, you should select your consulting firm carefully and double-check its credibility and expertise.
At ReVerb, we combine extensive cryptocurrency knowledge with years of experience in marketing, which allows us to deliver high-grade cryptocurrency consulting services. If you're looking for professionals to guide you through your crypto journey, get in touch with us today!