Before you write an email, you should consider the context: business, personal matter, inquiry, recommendation, gratitude, etc. to close the email like a professional.
Different contexts imply different vocabulary, tone of voice, and writing style. There are three common writing styles used in writing: formal, semi-formal, and informal.
Formal style
A formal style is characterized by:
Vocabulary with sophisticated constructions and professional jargon if it's reasonable.
To-the-point sayings without epithets, metaphors, idioms, and other stylistic devices that might confuse a reader or convey the wrong message.
Lack of contractions: "they are" instead of "they're" and alike.
Lack of emojis, abbreviations, and slang.
Passive voice and third-person perspective.
We write formal style letters to apply for a job or a scholarship, to express a complaint or our opinion, and so on. As a rule, we don't know an exact recipient when writing formal-style letters.
Now let's see practical examples of letter sign-offs for different situations.
Let's say we're writing a letter to our boss asking for feedback. In this letter, we need to express our respect yet ask for a favor. Typical sign-off phrases may include:
"I appreciate your assistance in this matter"
"Thank you in advance for your time"
"I am looking forward to your feedback"
It's preferable to finish a letter with your signature and phrases like:
Sincerely yours
Kindest regards
With sincere thanks
With gratitude
With appreciation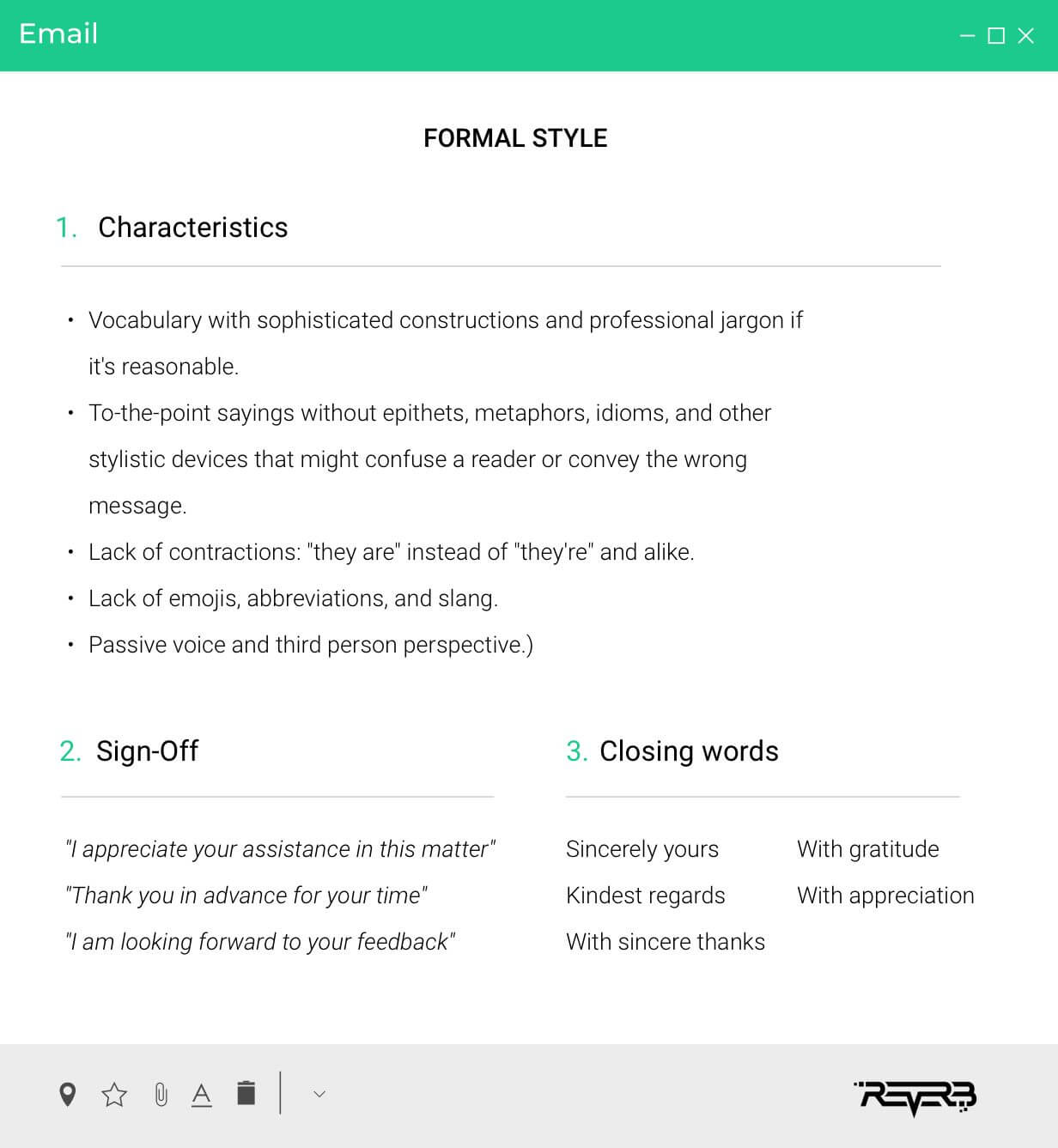 Semi-formal style
A semi-formal style is used in letters to people outside our business relations and people we barely know. A semi-formal style is used in "cold" sales letters, business letters to your clients or a boss, and so on. Letters written in semi-formal style include:
In-person salutations: "Hi John" instead of "Dear Mr./Madam."
Casual, informal vocabulary: "Call me" instead of "Could you please get in touch with me."
Contractions.
As an example of a semi-formal business letter, we'll take an email to schedule a meeting with colleagues we know casually. The best way to end an email like that is to summarize your speech and slightly push them to accept your invitation.
Use phrases below to close such type of a letter:
"I'm hoping for a free time slot in your calendar"
"I'll stick to your schedule to hold a meeting"
"Let's see if we can find a spot in your calendar"
Common semi-formal email closings are:
Fond regards
Best wishes
Warmly
Yours truly
I appreciate your (help, feedback, participation, input, contribution, etc.)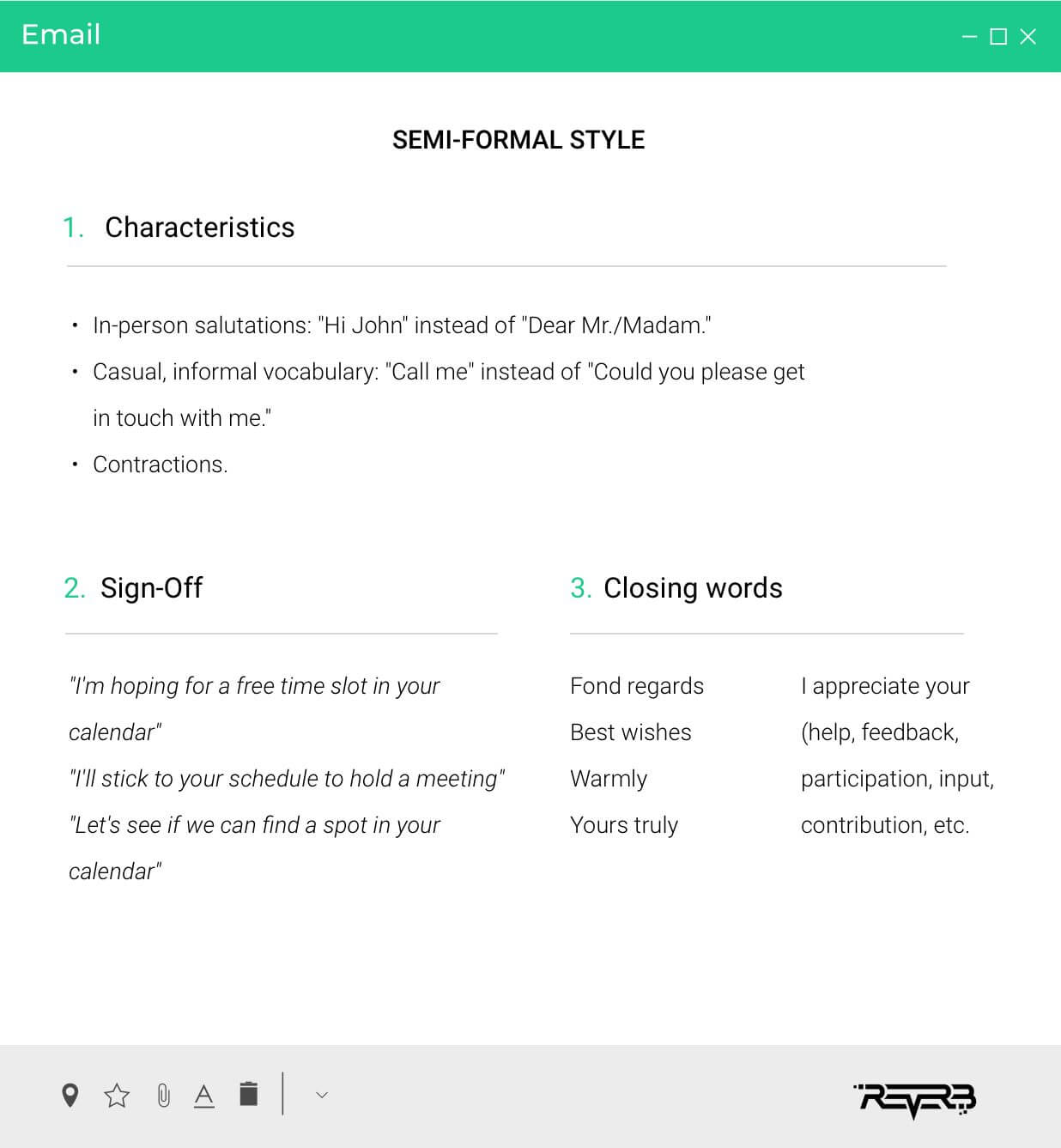 Informal style
Finally, an informal style letter will be infused with contractions, short sentences and sentence fragments, simple words, slang, and colloquialisms. When we write to our friends, relatives, or someone from our close circle, we tend to stick to an informal style, just like we're texting them.
Common email closing phrases for informal letters include:
Cheers
Love
Stay awesome
Emoticon
See ya
XOXO
Hugs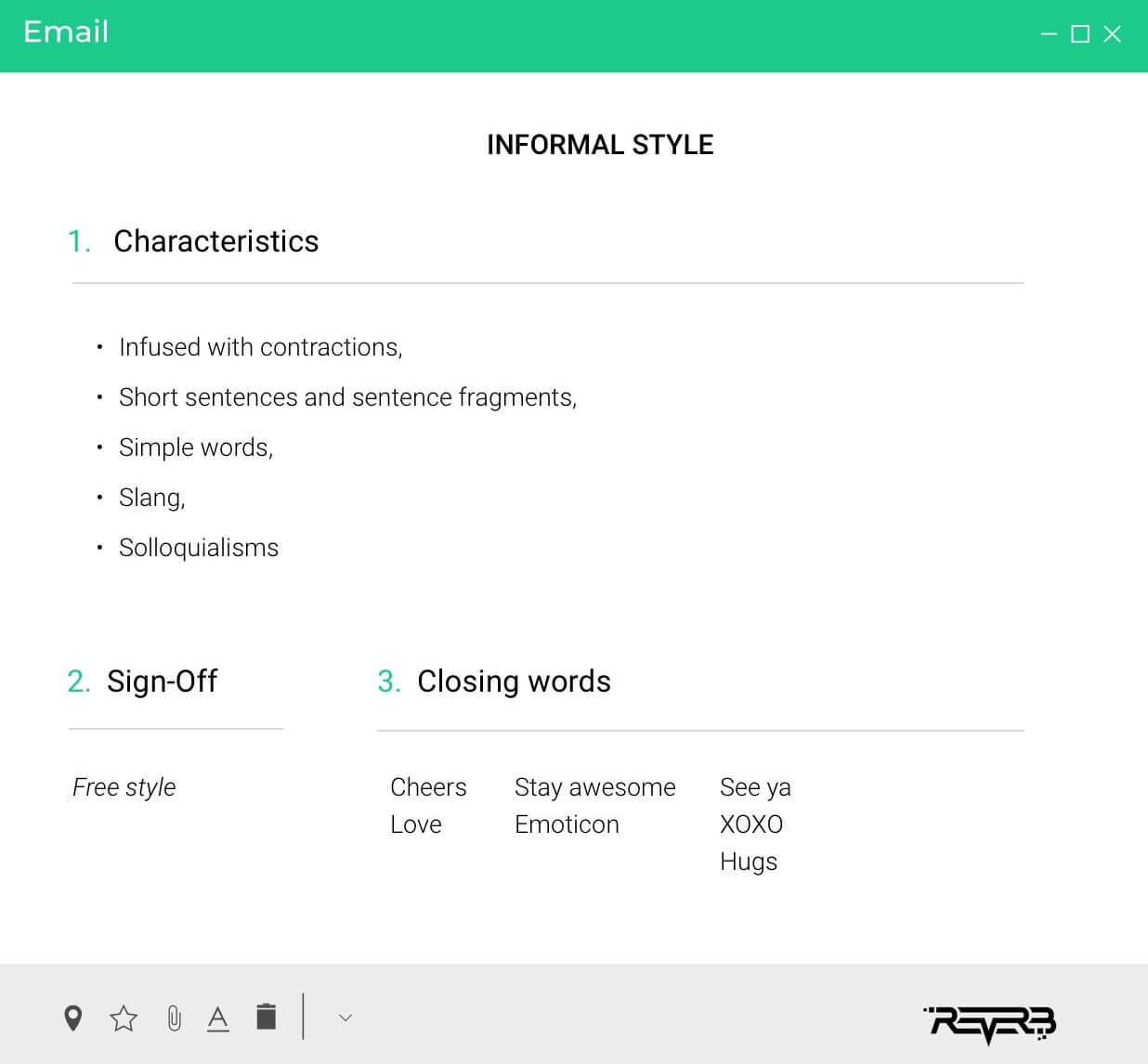 Create a signature that promotes your personal brand and company
You wrote an email, included a close-off phrase, and said cordial goodbyes. Is your email finished now? Not at all!
Now it's time to include your signature.
Elements of an email signature
A standard signature consists of the following elements:
Your name
Your position in a company or your working title
Your contact information. It's not necessary to list all of the messengers and social media accounts you have.
List the information that you can be easily and quickly reached at:
Telephone number
Link to social media that is appropriate in your business. LinkedIn and Facebook are the most popular options.
Your company's website or your personal website
In business circles, people opt for a common email signature that looks simple yet professional.

Want to spice up your signature a little bit?
Popular options to make your signature stand out include:
Your personal or your company's logo
Clickable icons to your social media accounts
Links to company's presentations, mission, and statements, landing pages for certain services, seasonal offerings, etc.
Seasonal greetings
There are services like Newoldstamp and MySignature that generate email signatures in bulk. It's convenient for large companies that want to maintain their brand image and consistency all over the communication channels. These signatures can also be tailored to different spheres and purposes, making your company's image stand out from the competition.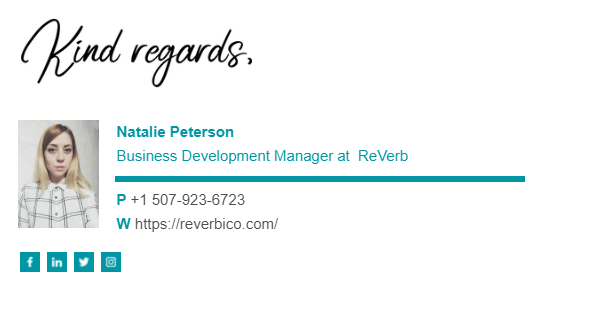 STOP: How Not to Close Your Emails by Any Means
In this post, I explained how to end an email professionally. But I also won't forget to include a few bad practices for ending an email.
It's time to check if you make these common mistakes and avoid them at any cost in the future.
1. End an email with the "Sent from my iPhone" phrase. Some people leave this automatically generated phrase to excuse their typos, while some type this phrase manually to create an image of up-to-date and fancy people. In both cases, this signature looks lame. Better remove this signature and add your own that helps you create a professional image.
2. Ignore formatting rules. Even if you write the most attractive and sincere close-off, bad formatting can make your efforts go down the drain. Common formatting mistakes include starting a closing with a lowercase letter and omitting a comma after closing.
3. Overhaul your corporate signature. Your signature isn't your way to express yourself or show your artistic side. Don't change logos, colors, fonts, or any other part of a corporate identity to look cool. The same goes for the contact information included in your signature. Your Instagram and TikTok accounts may be inappropriate if you're writing an email to apply for a scientific scholarship.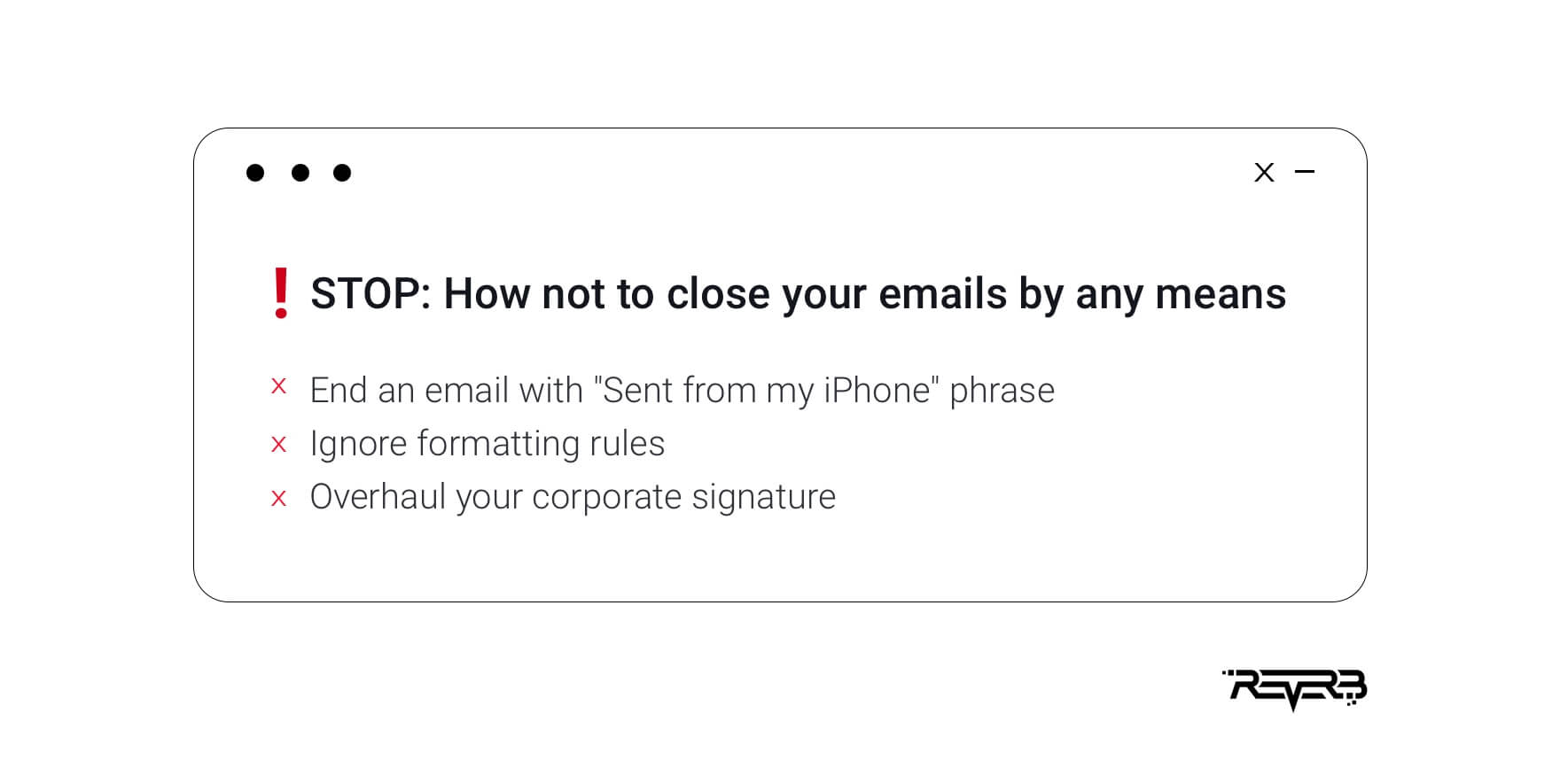 Conclusion
Writing professional email closings is as essential as writing an email itself.
The best practices to end an email are to:
Include a close-off phrase that aligns with the business context and your relations with the recipient.
Add a signature that specifies essentials about you and at the same time doesn't burden a recipient with excessive information.
Keep your emails neat, formatted, and grammatically correct.
The top-notch ReVerb's email marketing team will help you create professional emails for any business case!