We deal with this type of marketing every day.
It can be accomplished when a new video on TikTok goes viral, a new "wow" product hits the market and instantly sells, or a movie trailer that is discussed all over social media. The question is – whether it's due to the right product or proper advertising? Or maybe it's pure luck?
If you're still in doubt about how to answer that question – let me stop you right there. In most cases, the reason any content goes to the masses is that there is a perfectly designed strategy behind it.  
Now you're probably even more confused with this term of viral marketing- but don't worry, I'm here to explain the definition and give you some impressive tips that will easily make it so that your content is distributed worldwide.
Let's see what you'll learn from this article:
What is viral marketing?




The main advantages of building your brand




Inspiring viral marketing examples

Pro tips and viral marketing techniques




How ReVerb can help you conquer the world with your content using first-grade viral marketing strategies



So, here we are.
What Is Viral Marketing?
The essence of this style of marketing is that the content is spread across the Internet like a virus, "contaminating" more and more people who learn about it. However, unlike other marketing strategies, where the clients constantly promote their content through various means: social media, emails, affiliate marketing, or outreach, viral marketing services work a little bit differently.
Campaigning to augment your audience can be done in four simple steps: you create content that you think appeals to your audience -> post it online -> promote it -> wait for the results. After that, social sharing will work as a multiplier and allow your content to reach across the globe. Crazy, right? 
The thing is, viral marketing messages don't just spread from one person to another – they're like an avalanche. When a person shares your content – it reaches thousands of other people in a couple of minutes. 
The Ice Bucket Challenge and the Old Spice witty campaign are just two viral marketing examples of content gaining millions and millions of views in a short period. Do you remember 'em? You may ask how they achieved such great popularity. You already know the answer – they properly used the right tactics to augment their audience. 
Sure, sometimes your content goes viral by accident – a girl posts a video of her singing 4-year old daughter on Friday evening and wakes up Instagram famous on Saturday. However In most cases, to succeed in getting the content out there on a grand scale, companies need to apply concealed techniques and campaigns to obtain vigorous growth. 
The main thing about viral marketing is that there is no formula for using it correctly. However, there are some tips and tricks that I'm going to share later in the article.
Yes, it may sound complicated and even risky sometimes. But using the powers of the Internet, you'll definitely be able to conquer the world with your content. 
Now that we've figured out the viral marketing definition to expand your audience, it's time to find out why most companies choose this type of marketing. 
Advantages of Viral Marketing
If there's no exact formula to succeeding in this style of marketing, what are the advantages of viral marketing campaigns?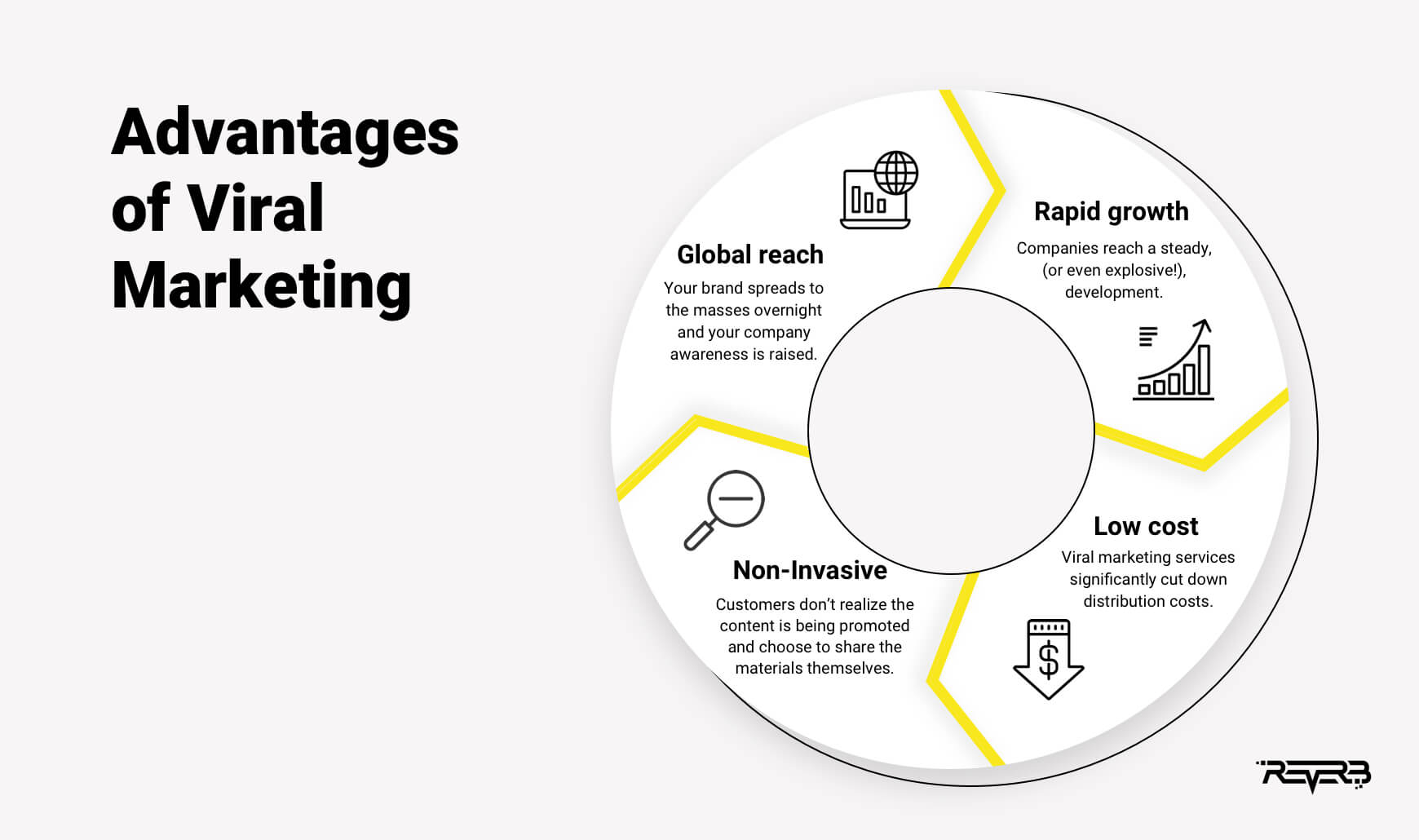 Global reach

: If your content goes viral, your brand can spread to the masses overnight and raise your company's awareness. So even if your company is small, it can easily help you build your brand. 

Rapid growth

: Substantial growth in a short period of time is what every business seeks, and thanks to viral marketing, companies can reach a steady, (or even explosive!), development.

Low cost

: One of the reasons businesses love such an energetic style of marketing services is that they can significantly cut down distribution costs.

Non-Invasive

: The best part is that customers don't realize the content is being promoted. This is due to the fact that companies aren't force-promoting their products; instead, the users choose to share the content themselves.
But you're probably waiting for some real-life viral marketing examples of marketing that allowed for such augmented growth. So let's take a look at the most successful campaigns, some of which I mentioned earlier.
Viral Marketing Examples For Your Inspiration
If you want to learn something, you have to learn from the best. The same goes for such a zealous marketing style – you need to research and investigate some viral marketing campaigns in order to understand how to do the same with your content. 
Here are my favorite and, so far, the biggest viral marketing examples:
Old Spice, "Smell Like a Man, Man"
Old Spice always generates the most creative and engaging ads, but the 2010 campaign definitely is a great viral marketing idea that created a revolution in the brand's history – it's memorable, funny, and…manly!
"The man your man could smell like" was in the shower, as he suddenly teleports to the ocean. He offers you two tickets "to that thing you love", just before the tickets turn into diamonds. The camera goes back, and we see the main hero of the fun and eye-grabbing advertisement sitting on a horse. Spice it up with some catchy short phrases – and an ideal viral marketing combination was born!
Shortly after the Super Bowl game, the ad gained over 220,000 YouTube viewers, and the number continued to grow, as they gained over 100,000 views every few hours.
The key to viral content: pump out your content, keep the audience engaged, focus on short yet engaging video content.
Dumb Ways to Die
"Dumb ways to die, so many dumb ways to die" – if you've just hummed those lyrics, then the viral strategy of Australia's Metro Trains has reached you too.
In 2012, the company decided to encourage passengers to be safer when using trains to travel. However, instead of making horrifying ads, they took the creative route. Together with McCann Agency, Metro Trains created a satirical and humorous campaign with animated characters who died in very shortsighted ways.
In just three months, the video and song exploded in popularity, hitting 700 media stores and generating over $50 million value. What's even more impressive – Australia's Metro Trains noticed 30% fewer accidents on the rails. Additionally, the campaign was praised at Cannes Lions in 2013.
The key to viral content: make the campaign valuable, think outside the box, become a storyteller.
Ice Bucket Challenge
And no viral marketing campaign list is completed without this marketing gold. Bill Gates, Justin Timberlake, Martha Steward, Kennedy, New York Jets, and even Superman – there's probably not a single soul on this planet that hasn't participated in this chilling, yet fantastic challenge.
In 2014, the ALS Association started the Ice Bucket Challenge to raise awareness of amyotrophic lateral sclerosis, (or Lou Gehrig's disease), and collect the funds for medical research. 
However, the idea of raising awareness for charity didn't come up right away. Pete Frates, a former Boston College baseball player with ALS, made it personal, posting the Ice Bucket Challenge on his social media.
As a result, the challenge gained over 115 million dollars in donations, with over 17 million people participating in the Ice Bucket Challenge.
The key to viral content: make the campaign personal, add some celebrities, mix it with the important goal – boom – your content explodes!
Pro Viral Marketing Tips That Will Make Your Content Popular
Now that we've analyzed some of the top viral content, let's learn a few pro tips that will allow you to do the same with your company.
Tip #1. Right audience, right time, right channels
Just as with any content creation, your first step is to figure out your target audience. As I've mentioned before, your campaign can't go viral with just a snap of your finger. One of the most effective viral marketing tips is to figure out how to reach the right audience through the right channels and do it at the right time. If one of these equations fails, the campaign fails. Interaction with the audience is the main key to any marketing success.
Tip #2. Do something that's never been done before
People get tired of seeing the same campaigns over and over again – they just lose interest. So to make sure that your viral marketing campaign is noticed, you have to do something out of the ordinary, something that has never been done before to allow your content to explode. 
People like learning and seeing new things, so be creative, and try looking at your campaign from different angles – your goal is to be in over your head.  
Tip #3. Appeal to emotions
One of the best retail tips you need to remember for your content to grow is that it needs to evoke emotions – compassion, joy, sadness, anger, or pride. Choose what response you want your viewers to have and create the campaign according to that emotion. However, no matter which viral marketing ideas you have for content growth, remember that inciting emotion makes it more likely for the audience to share your campaign.
Tip #4. Create videos
A recent Cisco study revealed that online videos would make up more than 82% of all internet consumers by 2022, a 15-fold increase from four years ago. Needless to say, all current social media distributors focus their development on producing video content instead of text or pictures.
Visuals help interact with the viewers, and creating videos is one of the best ways to do so. Once the video is made, you need to choose a platform to promote it – YouTube marketing is one of the most popular and obvious choices for quality advertising that will allow for exponential development.
Tip #5. Inforce your content with viral marketing services
Achieving success is a long road, and you shouldn't stop once your campaign goes viral. Your goal is to continuously reinforce your campaign and fight for the people's attention. You can offer something for free, promote your product on social media, hire a viral marketing agency that will help expand your brand, or continue with a series of campaigns – just remember to keep going.
Conclusion
Viral marketing is complex, and it has its pitfalls. However, you can see from the real examples that were shown, that it does work – even small companies can grow to an unimaginable extent, making their products memorable, valuable, and loved around the world. 
Implementing bold and zealous viral strategies into your business model is a serious endeavor – you need to be bold, creative, provocative, and think outside the box. 
So if you need additional support from a marketing agency that will help you with your outstanding ideas, ReVerb can make all of this happen for you by preparing an actionable strategy and spreading the word about your company worldwide. 
Contact us and let's start creating the most memorable viral marketing campaigns for your business right now!