Digital marketing has become increasingly data-driven and automated thanks to the rise of artificial intelligence technology. 
AI in marketing opens up new possibilities to drive better ROI by analyzing vast amounts of data, automating routine tasks, and personalizing customer experiences.
More and more businesses and individual specialists across different industries are using AI marketing apps to make the most of their site's SEO, enhance the writing process, improve sales approach, facilitate design tasks, and perform numerous other creative activities much more effectively and quickly. 
Let's take a look at the top AI marketing tools that can help business owners and marketers make smarter decisions, engage with customers in a more personalized way, and produce high-quality marketing materials at scale, ultimately driving revenue growth. 
The Best AI Marketing Tools
To Skyrocket Your Productivity And Sales
1. Best AI marketing tool for editing and proofreading: Grammarly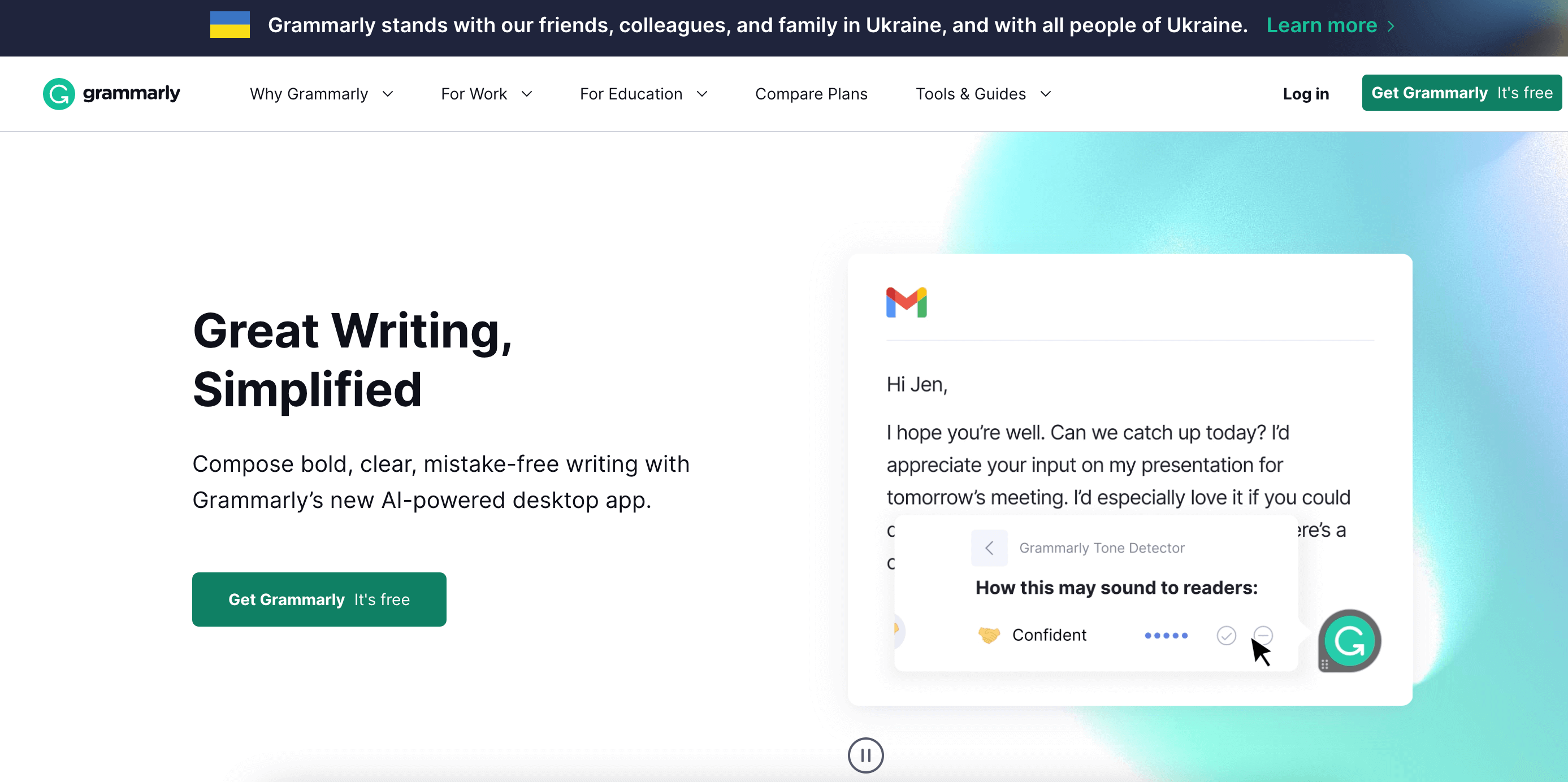 Grammarly is the most popular AI-powered writing assistance software that helps users worldwide deliver brilliant writing and improve their messaging. Capable of integrating with more than 500,000 apps and websites, you can conveniently use it on a laptop, desktop, phone, or tablet.  
Grammarly's AI marketing technology ensures that your content is easy-to-read, free of grammatical and spelling errors, and sounds relevant to any type of target audience, be it professional, casual, or informal. 
In addition, Grammarly offers content suggestions based on context to help you achieve the appropriate writing style and tone of voice. 
Grammarly is trusted by such market giants as Atlassian, Caterpillar, Zoom, KPMG, and more. Join over 30 million people who use this best-in-class AI writing software to save time and energy and create flawless writing that gets results.
Key features Grammarly offers:
Make your writing mistake-free: detect and fix typos, bad grammar, missing punctuation, or easily confused words before they become destructive to your readers.

Adjust the mood of your writing without changing the meaning.

Clean up tangled sentences to achieve maximum readability.

Get immediate guidance to create

a unified voice, tone, and language distinctive to your brand.
Pricing:
Grammarly suggests three plans:
Free

:

basic writing suggestions and tone detection.

Premium

: starts from $12 per month – everything included in Free, plus full-sentence rewrites, vocabulary ideas, tone suggestions, and more. 

Business

: starts from $15 per month – everything included in Premium, plus exclusive features for teams like centralized billing and style guides. 
2. Best AI marketing tool for sales management: Conversica
Conversica is a leading conversational AI designed to automate business sales and marketing communication processes. 
This AI marketing and sales platform can conduct personalized and human-like conversations via email, text, and chat to engage leads and customers, nurture relationships, and optimize conversions.
Conversica is used for building quality pipelines, converting leads into customers through personalized conversations, and freeing your team from routine tasks so you have more time for strategic tasks. 
Being one of the best AI marketing tools, Conversica can help your business drive better ROI, identify hot leads, and retain and grow your customer base faster. 
Key features Conversica offers:
Achieve complete chat customization in less time with variable-based conversation architecture. Scale personalization and maintain better performance for each conversation. 

Benefit from the natural business processing: leverage both NLU and NLG to conduct human-like, dynamic, and meaningful conversations.

Empower your revenue teams with essential performance metrics and insights to continuously monitor, compare and enhance your conversations, engagements, and conversions.

Switch between channels and languages: quickly adapt to a different channel or language to keep the conversation going.

Use over 50 native integrations and a robust API, enabling a two-way exchange of insights and smooth handoffs.
Pricing:
Contact their sales team to request a custom quote for your business. 
3. Best AI marketing tool for intelligent revenue management: Gong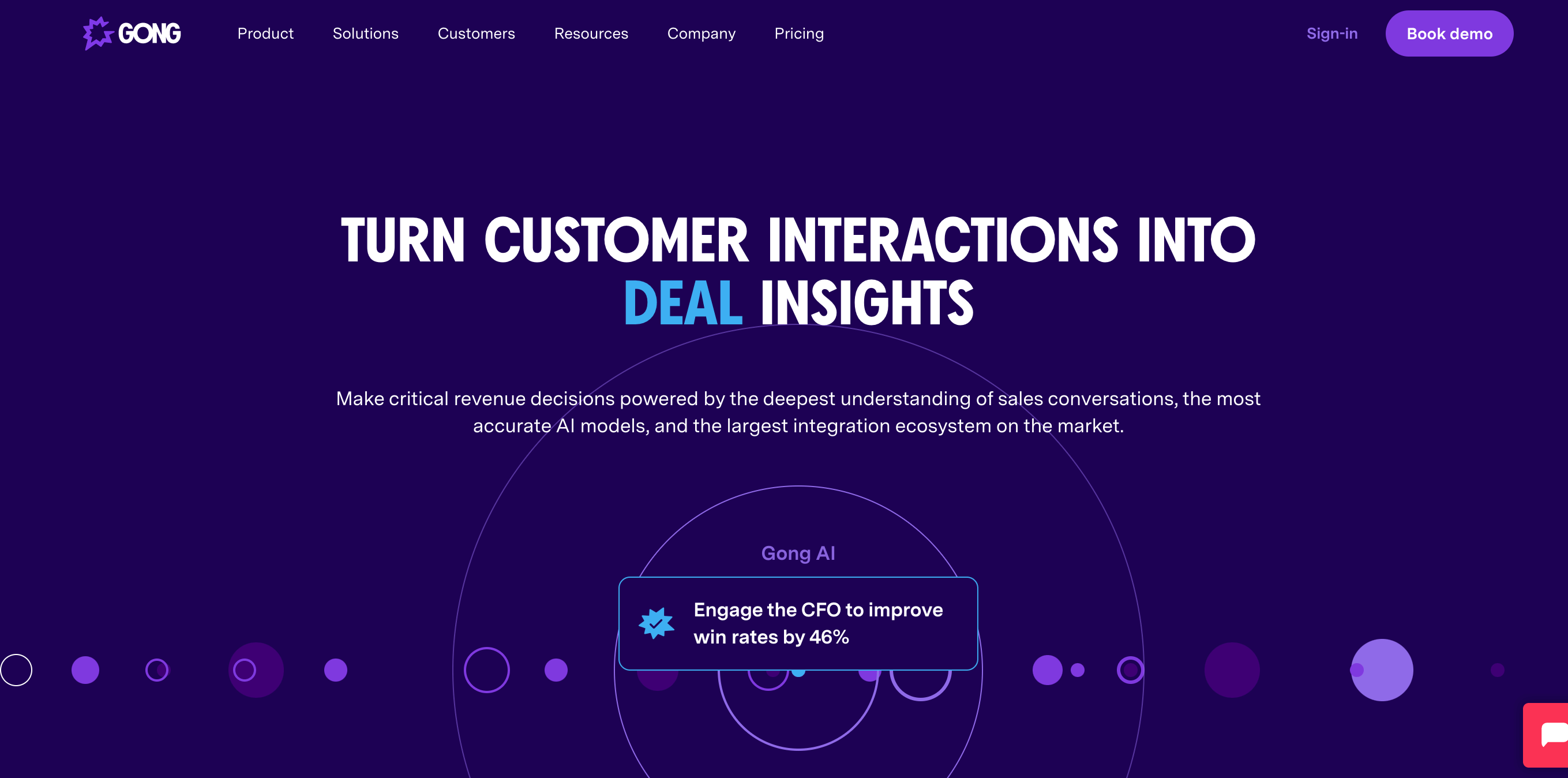 Gong is an AI-fueled revenue engine that provides an in-depth understanding of sales conversations, the most accurate AI models, and the largest integration ecosystem on the market. All this is designed to help you make winning, data-driven revenue decisions.
By analyzing customer interactions, the tool offers complete insights into deals, team performance, and market trends. Salespeople can leverage this information to recognize potential risks and opportunities, monitor strategic plans, ensure coaching consistency, and streamline routine tasks.
Key features Gong offers:
Gong integrates with a variety of sales and marketing tools,

including Salesforce, HubSpot, Marketo, and LinkedIn, making it easy to incorporate into existing workflows and processes.

See clearly, in real-time, what's going on in your open pipeline. Get AI-backed insights on mitigating churn, closing more deals, and forecasting more effectively.

Get personalized coaching and training for sales representatives based on their performance.

Enable collaboration between sales reps and managers, allowing them to share best practices to improve sales performance.

Benefit from accurate forecasting and pipeline management by analyzing historical data and current trends.
Pricing:
Gong's pricing model depends on a few factors specific to your team. Contact them to get an accurate estimation. 
4. Best AI marketing tool for website optimization: Optimizely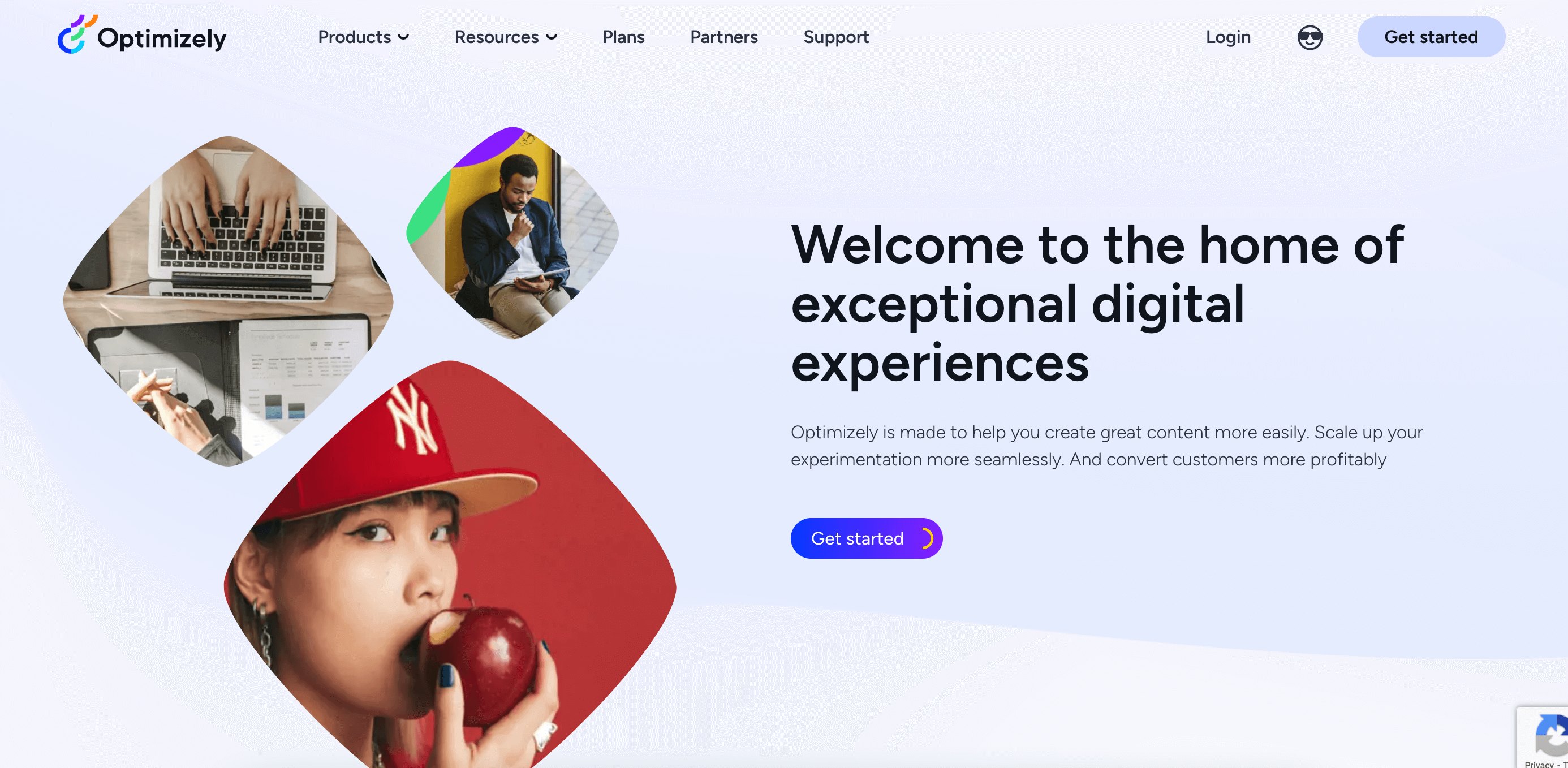 Optimizely is a leading AI marketing platform used to improve website performance and drive ROI through enhanced personalization, exceptional content creation, and impactful A/B testing. 
With 900+ partners and nearly 1500 employees in offices worldwide, Optimizely is proud to have helped over 9,000 global brands. 
Trusted by companies like Panasonic, American Express, SFI Health, and others, this top-notch AI marketing software has been recognized as a Leader in the 2023 Gartner Magic Quadrant for Content Marketing Platforms.
Key features Optimizely offers:
Schedule your campaigns with an integrated marketing calendar software that keeps your content on track. 

Create and run A/B tests to compare the performance of different variations of your digital experiences and identify the best-performing version of a web page, app, or feature. 

A centralized platform that allows managing and tracking experiments across different digital properties. Users can create, launch, and monitor experiments and access detailed reports and analytics to measure performance and impact.

Save time, eliminate waste, and govern your brand with Library – a digital asset management tool purpose-built for marketing content.

Create targeted experiences for specific audience segments based on factors such as demographics, behavior, and location through Optimizely's personalization features. 

Use analytics features to get detailed insights into user behavior and conversion rates, allowing businesses to track the impact of their experiments and identify areas for further optimization.
Pricing:
Optimizely provides customers with customized pricing options based on the next plans:
5. AI content and SEO marketing tools: MarketMuse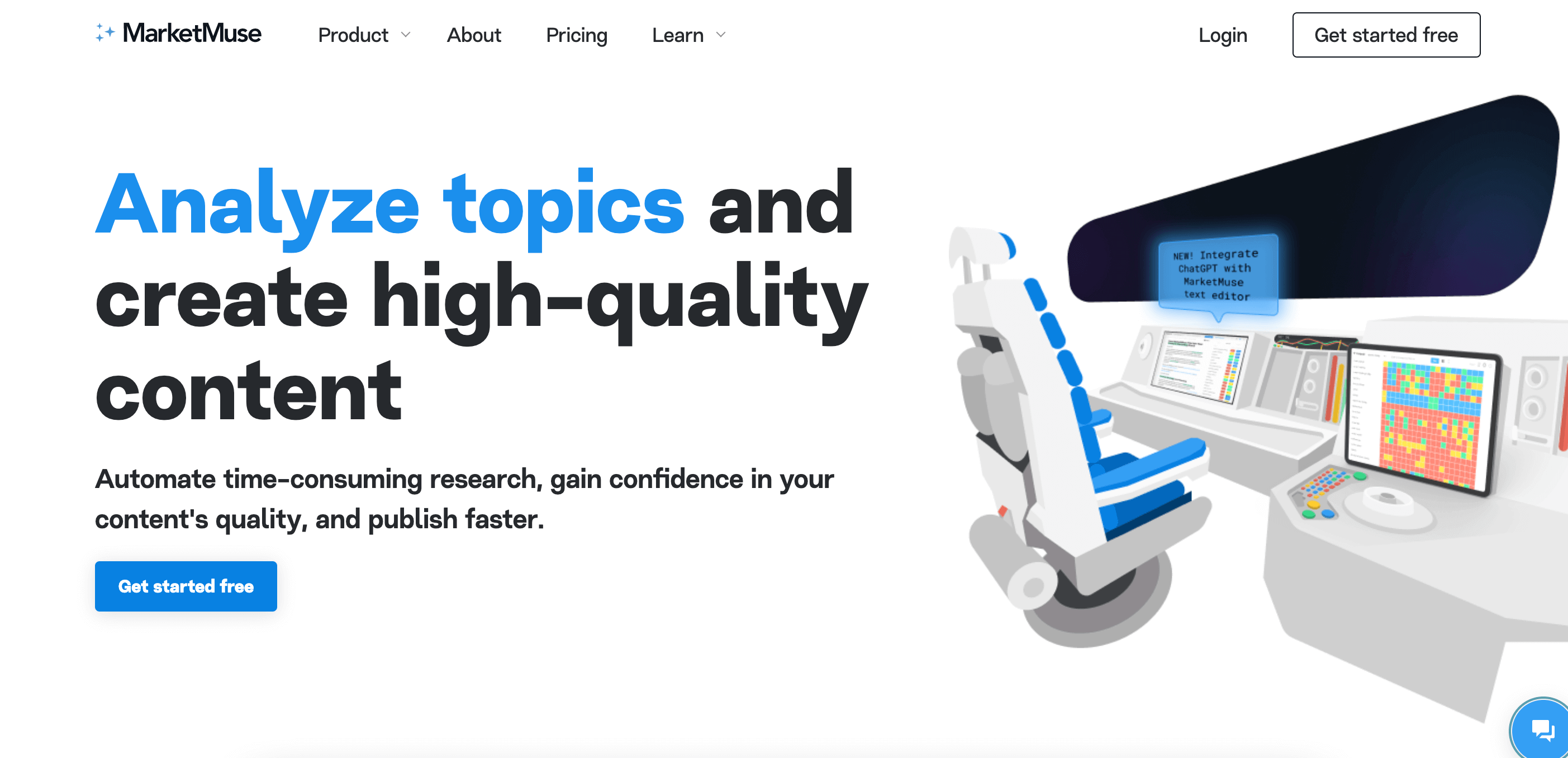 MarketMuse was founded by a team of expert SEOs, content strategists, marketers, engineers, and data scientists with a mission to help clients produce high-quality content and impactful content strategies. 
By bringing tech specialists together with creative minds, MarketMuse provides access to top-notch AI technology and tools for better content planning and publication. 
The key tasks you can cover with this superior AI content marketing platform are competitive analysis, content clusters, keyword research, brief generation, and page optimization. 
Key features MarketMuse offers:
Guarantee a successful outcome of your content promotion by optimizing on-page factors: internal and external links, schema, and advanced SERP features. 

Research result-driven topics using an automated SERP analysis process.

Prioritize cluster topics based on ROI and personalized success metrics by high-performing strategies. 

Run audits to analyze content quality and topic authority at scale. 
Pricing:
MarketMuse pricing options are the following:
Free plan:

b

est for individuals with a low content volume.

Standard

: $149/month – best for individuals publishing content regularly.

Team

: $399 – best for agencies and teams looking to add rocket fuel to their content output.

Premium: custom price – best for large teams who are tired of managing content in spreadsheets.
6. Top AI tools for social media: Ocoya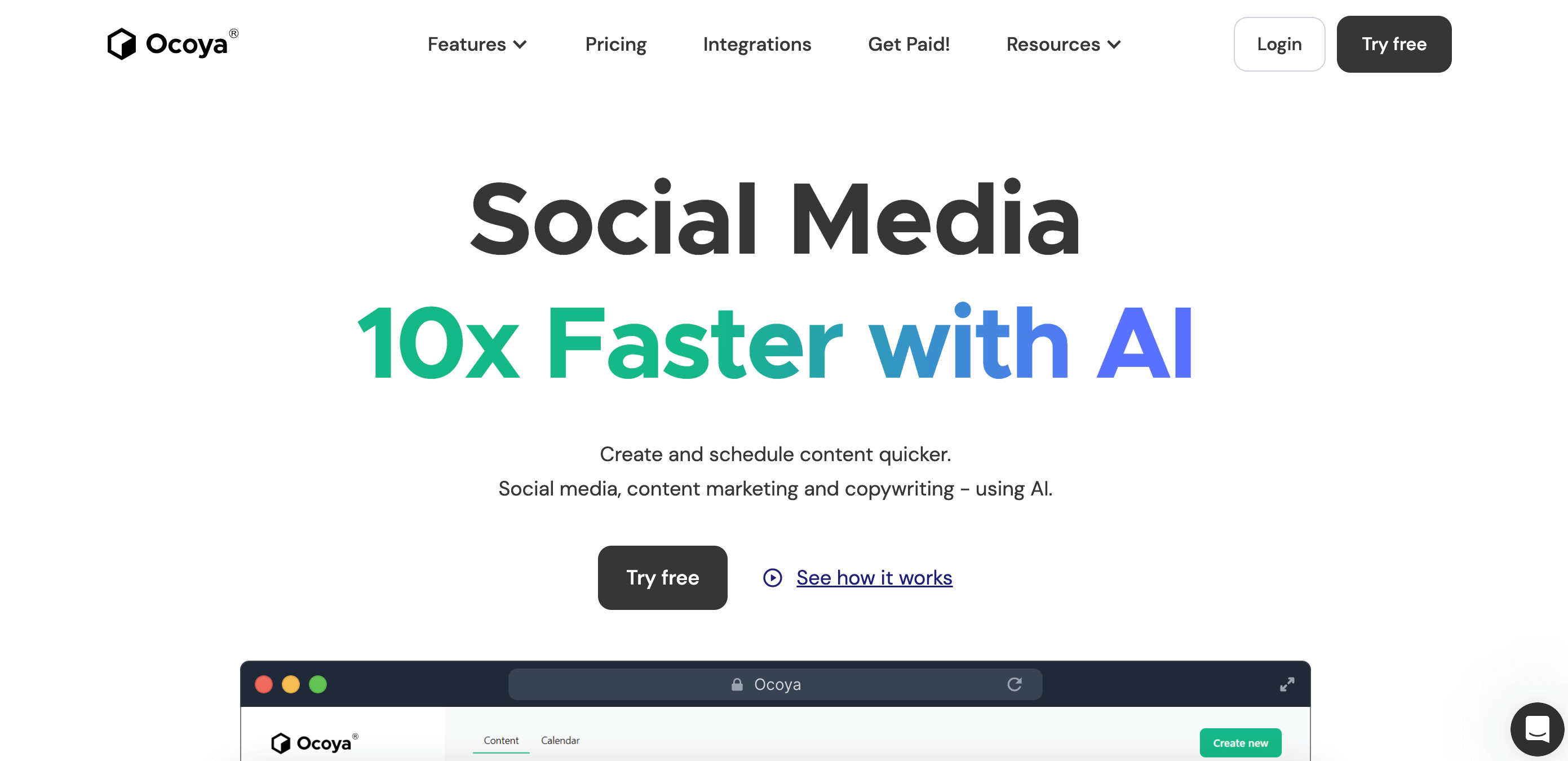 With Ocoya's AI marketing technology, you can create eye-popping campaigns for social media 10X faster, devoting your time to covering strategic business tasks. 
The tool allows marketers to select ready content from thousands of GIFs, photos, and templates, choose relevant and trending hashtags, post at optimal times for Facebook, Instagram, Twitter, and LinkedIn, and get advanced analytics and insights. 
Easily integrate social media accounts, eCommerce shops, and schedulers with Ocoya, benefiting from the ability to create ads and posts and schedule them simultaneously.
Key features Ocoya offers: 
Design eye-grabbing images for your product or service and personalize graphics lightning fast. 

Generate short-form videos that will drive user engagement. You can pick from thousands of our royalty-free videos.

Explore thousands of licensed tracks that you can add to your videos and accomplish them with Ocoya's music maker. 

Promote your products in as little as a few minutes and track all your posts and ads in one place. 

Generate the most relevant and trendy hashtags to gain optimum traction with Ocoya's AI tools. 

Integrate with Facebook, Instagram, Twitter, Linkedin, Buffer, and Hootsuite. 

Remove the image background with one click, which works best for eCommerce products.

Track the advanced KPIs important for marketers. 

Choose the most optimal posting time for maximizing your traction.
Pricing:
Ocoya offers plans for all types of businesses, from solopreneurs to marketing agencies:
Bronze

: $15 per month – for individuals.

Silver

: $39 per month – for growing teams. 

Gold

: $79 per month – for scaling businesses.

Diamond: $159 per month – for large organizations.
7. Best AI email marketing tool: Phrasee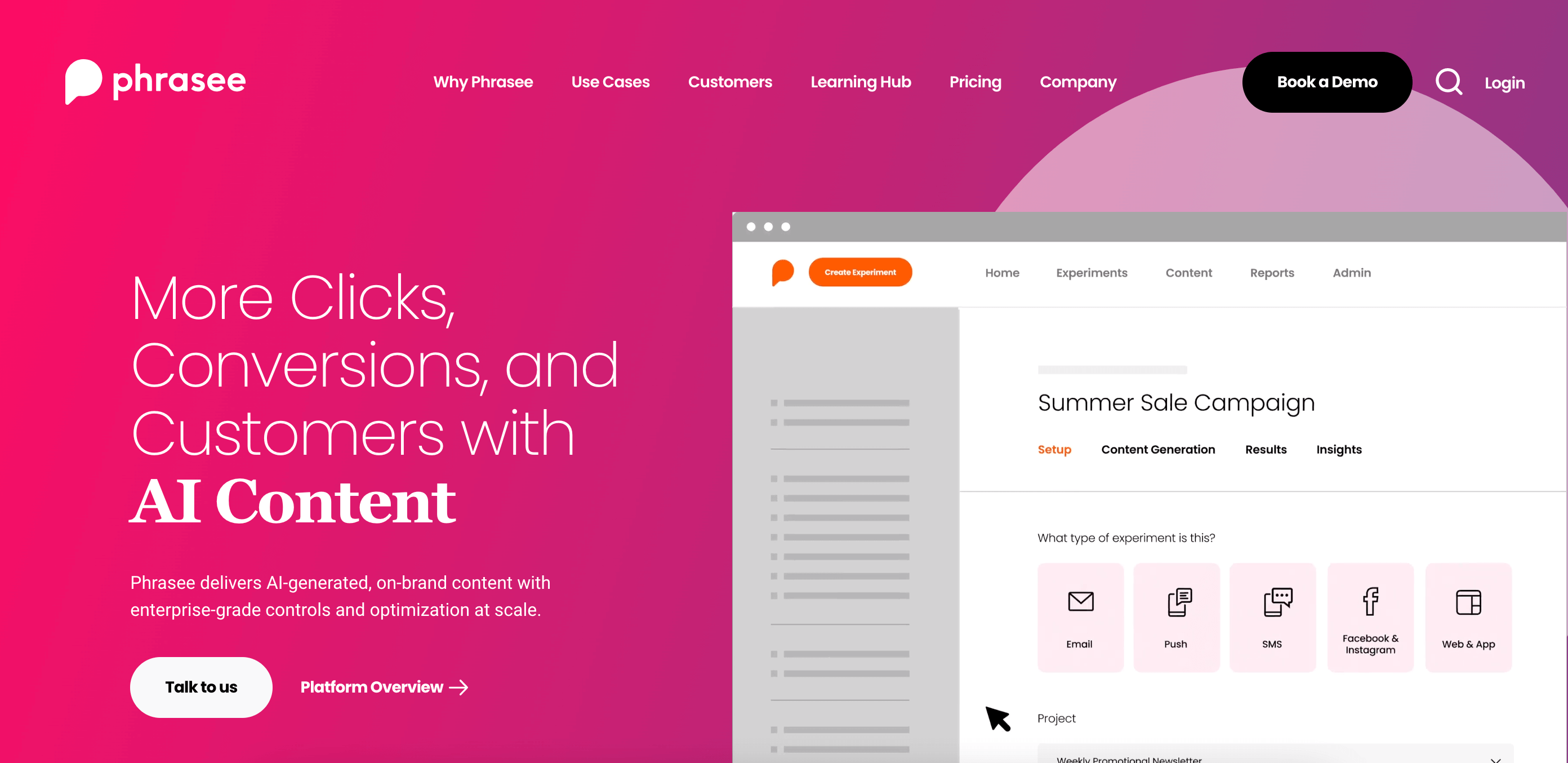 Trusted by the world's top marketers from Sephora, Farfetch, TUI, Sally Beauty, and more, Phrasee is one of the best AI email marketing tools mainly used for creating killer emails, SMS, push notifications, and social ads. 
The implementation of Phrasee's AI-powered email marketing tools empowers teams to optimize their email marketing strategies, improve customer loyalty, increase open, response, and retention rates, and drive purchase completion. 
Key features Phrasee offers:
Utilize NLP to generate brand-compliant communications that sound natural in real-time.

Generate creative, personalized, and high-converting messages with Phrasee's enterprise-grade platform. 

Benefit from 20+ Phrasee's integrations with leading technology and solution providers to generate better-performing content and automate mailing processes.

Use Phrasee's automated language insights and performance reporting to put science and data behind words, sentiments, and more.

Learn and optimize your messaging easily to maximize engagement and ensure every campaign gets the best results.
Pricing:
Contact Phrasee to get a custom pricing plan for your unique business needs.
8. AI content and SEO marketing tools: Surfer SEO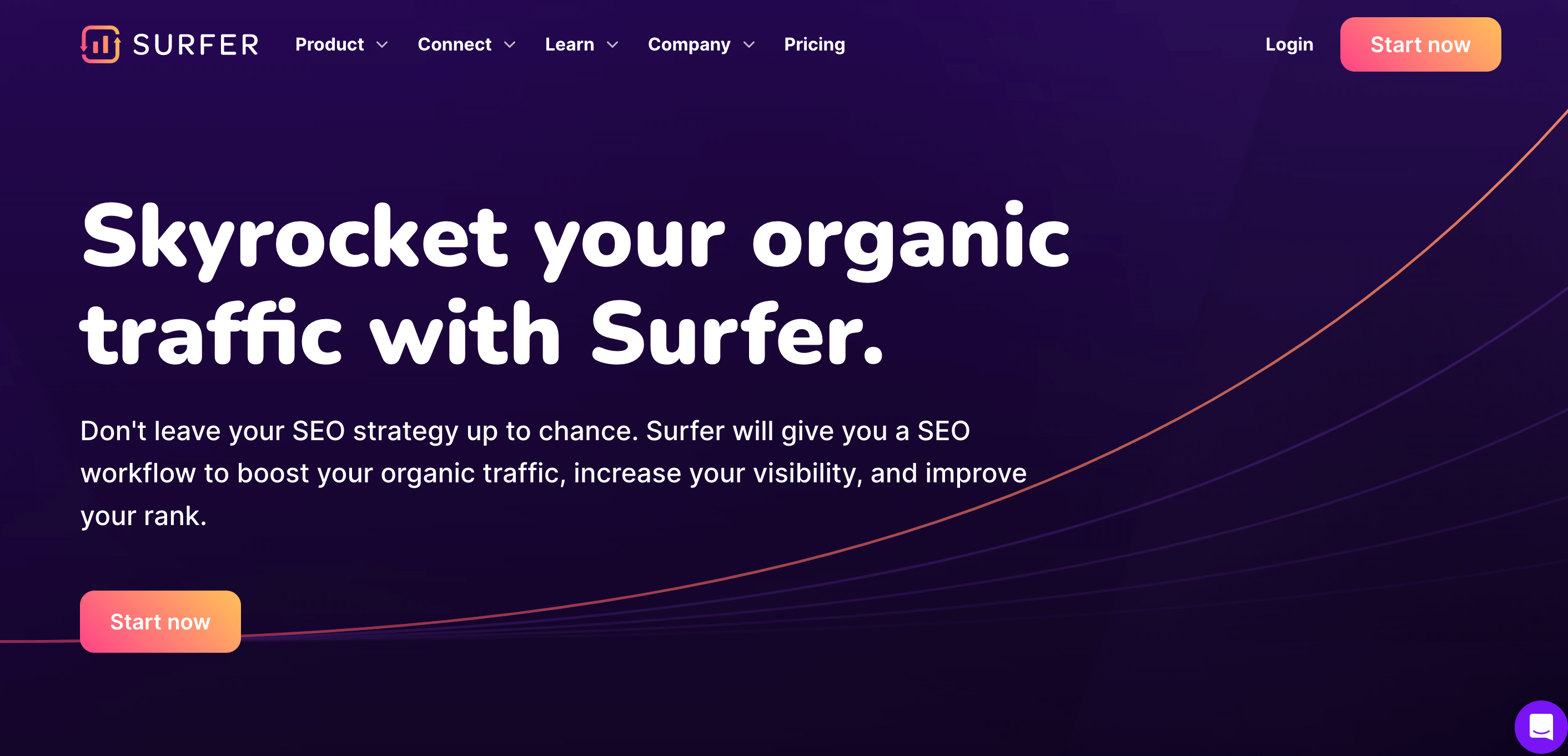 Surfer SEO is a next-gen tool for marketers providing valuable artificial intelligence marketing solutions such as keyword research and competitor analysis. The platform is user-friendly, cost-effective, and adaptable, making it a perfect choice for businesses of any size. 
In addition, Surfer SEO offers a free trial period, allowing users to evaluate the functionality before committing to a purchase and ensuring they make a worthy investment.
Key features Surfer SEO offers:
Structure articles, get detailed lists of relevant keywords, and receive real-time feedback on overall on-page optimization with the help of Surfer SEO's content editor. 

Use keyword research tools to find detailed information about the most profitable keywords to target, allowing businesses to create highly visible content.

Get step-by-step instructions on how to optimize your content and rank higher on search engines with the quickest and most efficient audit tool. 

Receive weekly data-driven insights, reports, and analytics to manage your business growth effectively. 

Work with a user-friendly interface that is easy to use, even for non-techies.
Pricing:
Surfer SEO provides four core plans:
Basic:

$49 – perfect for small business owners, bloggers, freelancers, or people with basic SEO needs.

PRO:

$99 – best suited to medium organizations managing multiple websites and freelancers with numerous clients.

Business:

$199 – best suited to large organizations managing ten or more websites or specialists with increased content needs.

Enterprise: custom price – personalized experience for extra large businesses.
9. Best AI advertising tools: Albert.ai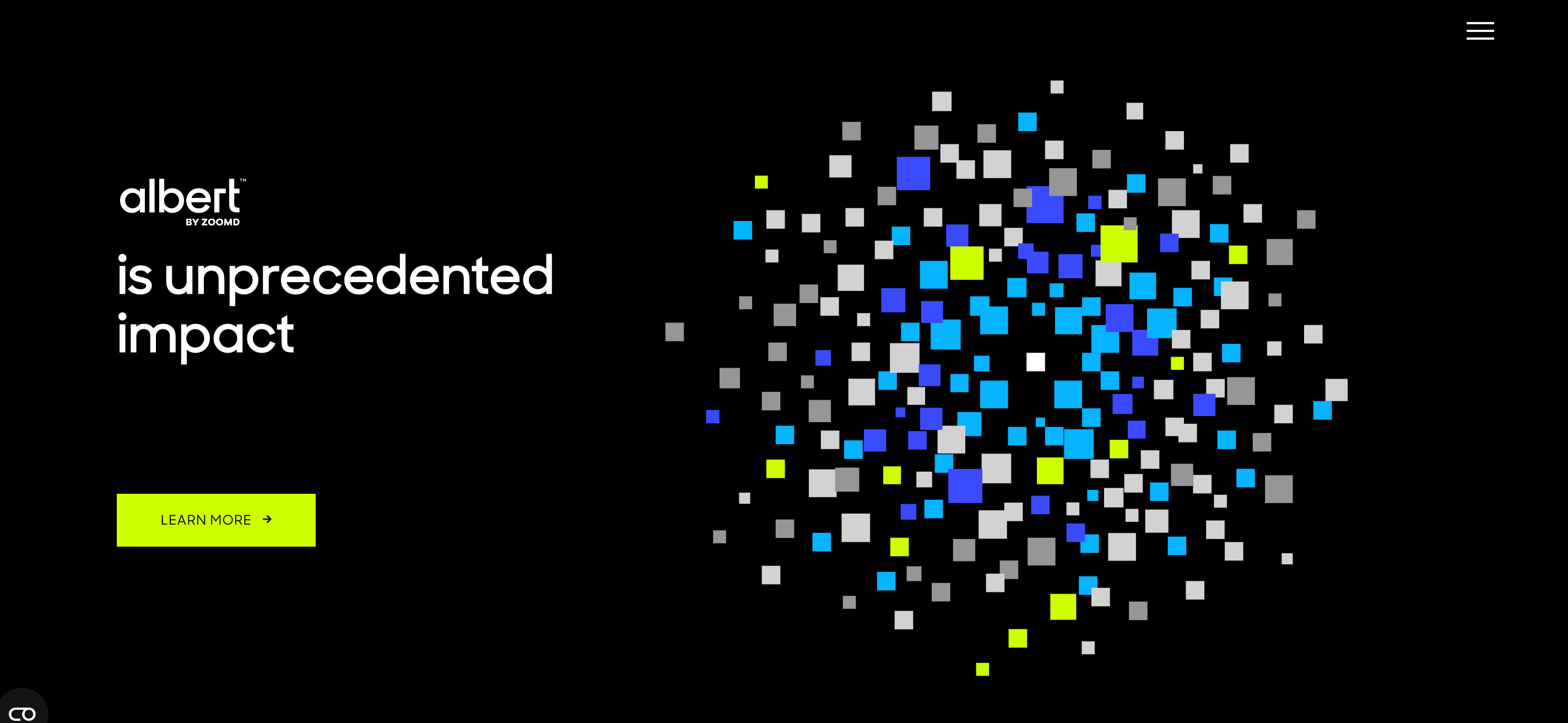 Albert.ai is an AI marketing platform designed to improve the digital marketing performance of modern businesses. It uses AI algorithms to analyze large data sets, including customer behavior, campaign performance, and industry trends, to identify areas for campaign optimization and improvement.
Albert.ai is among the best AI tools for digital marketing that empowers marketers to fine-tune their advertising campaigns. With it, you can personalize and optimize different types of ad content on various social media and search platforms, such as Google Ads, Bing, YouTube, and Facebook.
Key features Albert.ai offers:
Automate media buying across multiple channels and optimize campaigns in real time through the power of machine learning.

Let the platform analyze customer data at scale to help you create targeted advertising campaigns that resonate with specific audiences.

Leverage natural language processing to generate high-converting ad copy and creative materials and develop new ad variations quickly.

Get access to detailed performance analytics to track the success of your campaigns and identify areas for improvement.

Integrate the tool with multiple social media and search platforms, making it easy to manage all your ad campaigns in one place.

Continuously optimize your ad campaigns based on real-time data, ensuring that your advertising efforts are always aligned with the latest trends and customer behavior.
Pricing:
Contact the Albert.ai team for a customized pricing plan.
10. Advertising AI marketing platform: AdRoll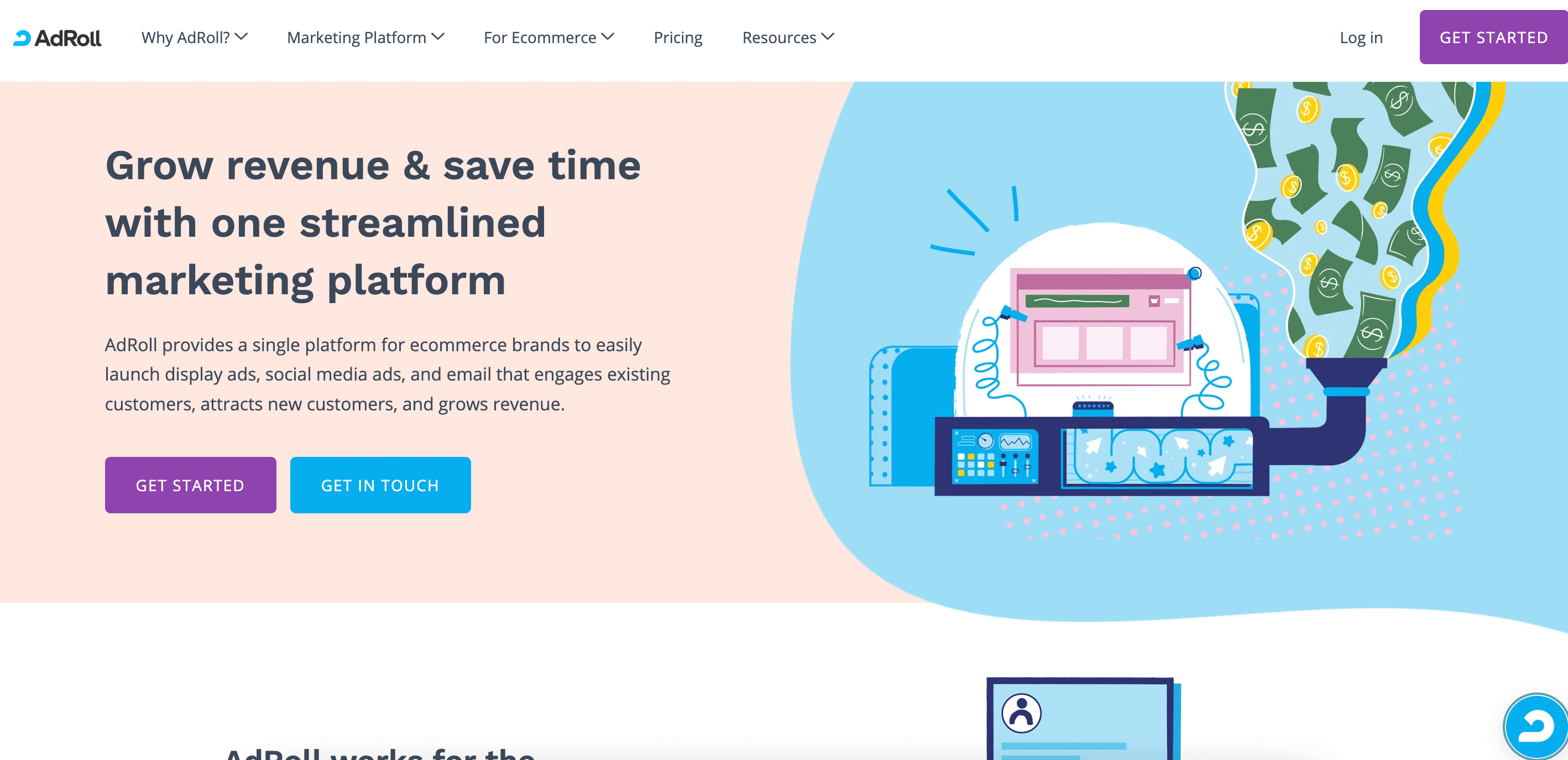 AdRoll offers an all-in-one platform that simplifies the process of launching display ads, social media ads, and email campaigns for various brands, with a focus on eCommerce businesses. With AdRoll, users can create engaging marketing campaigns that attract new customers, engage existing ones, and increase the ultimate revenues.
AdRoll's AI marketing technology offers a level playing field for businesses of all sizes, empowering them to increase their earnings through data-driven advertising.
The platform has been trusted by over 120,000 brands to deliver the best possible marketing results and revenue. Their customers commonly see $3 to $10 or more for every $1 spent with AdRoll.
Key features AdRoll offers: 
Run your marketing campaigns from one platform and get actionable insights. AdRoll is the #1 platform where eCommerce brands can manage display ads, social media ads, and email campaigns from one place.

Use machine learning algorithms to define the right audience. AdRoll's bidding AI makes more predictions per second than the NASDAQ.

Benefit from consistent measurement and quickly generate reports across all channels (no more manual spreadsheets!). Plus, receive proactive insights to optimize your campaigns and boost ROIs.

Get detailed performance analytics to track the success of your campaigns and identify areas for improvement.

Leverage artificial intelligence to continuously optimize your campaigns based on real-time data, ensuring your business achieves the most noticeble results.
Pricing:
Pay-as-you-go:

used for display and native ads, but social channels and monthly ad credits will not be available.

Marketing and Ads Plus:

starting from $36 – use one platform to manage your display, native, and social ad campaigns, plus get monthly ad credits and unlimited emails.
Conclusion
AI in marketing is becoming increasingly important as it helps businesses optimize their marketing efforts and drive higher ROI by improving customer targeting and bringing in the ultimate personalization, automation, and real-time analytics.
Using these best AI tools for marketers will help you make winning decisions, streamline operations and uncover innovative strategies that will drive your business growth. What's more, they'll save you time, energy, and financial resources along the way.
If you want to add your AI software for marketing to this list, email us with your request. After a quick review, we'll decide whether it's a valuable addition.