SaaS (Software-as-a-service) tools are essential elements of efficient remote workflows. 
They can help you manage teams and projects, track progress, establish strong and clear communication, and much more. All this remotely. 
Today's market has become highly diverse, and most SaaS tools are unique and packed with powerful features and functionalities. Finding the right software sometimes may be complicated, so here we're to help you. 
In this article, we will share the top SaaS tools that you should consider adding to your business toolkit, especially when working remotely. 
What Are SaaS Tools? 
Software-as-a-service (SaaS) tools are products that are provided on a subscription-based model and accessed through a cloud-based system. SaaS usually provides on-demand features to allow multiple or single business functions. 
The best part is that SaaS tools cover every aspect of a business. Particularly, you can use SaaS for: 
Software-as-a-service greatly optimizes your company workflows and ensures effective team collaboration, which is especially important for remote businesses. In addition, the amount of manual work may also be significantly reduced when using SaaS tools. 
There are thousands of SaaS programs for remote teams out there, and there is a high chance you have used one already. But if you don't know which one to choose for remote business management, read on. 
The Best SaaS Tools For Remote Teams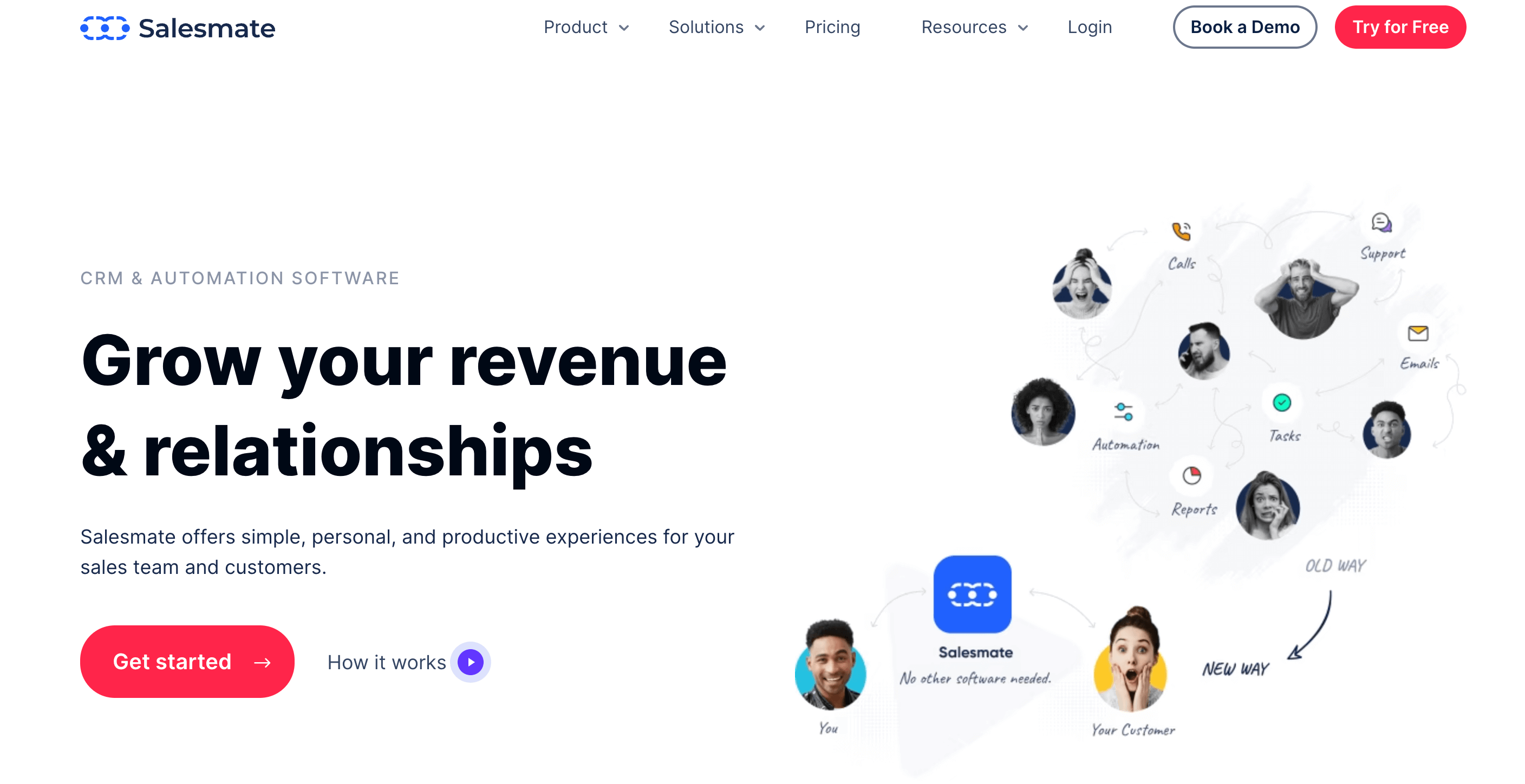 Salesmate is an ideal CRM and customer journey platform that enables your remote teams to automate sales, marketing, and customer support processes. It's an advanced Saas CRM powered with intuitive features that improve customer engagement, help create optimized marketing strategies, streamline your sales process, and manage all your customer data in one place.
One of its features, email automation, can create highly targeted emails that help you engage better with your prospects and customers. You can also automate your outreach and connect with customers based on their behavior and actions.
You can also use it as a Google CRM platform that seamlessly integrates with your favorite G Suite apps, like Gmail, in seconds and improve your remote team's productivity. 
Salesmate's marketing automation feature is highly advanced and allows you to automate various processes such as lead scoring, sending email blasts, conducting NPS surveys, A/B testing, and much more!
Overall, Salesmate provides end-to-end solutions for all your sales and marketing needs.

Salesmate's most common use cases include:

Sales automation
Lead generation
Marketing automation
Email marketing
Key benefits:
Contact management, built-in calling, live chat, meeting scheduler, and insightful sales reports. So, by utilizing these features, you can improve your team's overall productivity and measure your growth.
If you have assigned any goals to your team members, you can easily track them using sales goals tracking and stay updated on the progress.
Salesmate's drag-and-drop email builder lets you create captivating emails to engage better with your prospects.
Its user-friendly interface makes it easy to use for sales teams of all sizes. So, you need to have the technical expertise to use Salesmate.
It integrates with over 700 applications, making syncing and managing your data easy.
The Salesmate team is responsive and provides excellent customer support.
Overall, Salesmate helps you manage your business process from a single platform, so you don't have to switch back and forth between multiple platforms, saving you time.
Salesmate pricing plans:
Salesmate offers a free trial for 15 days and a flexible pricing structure that can be customized to fit your budget.
The Starter plan is priced at $12 per user/per month.
Salesmate's Growth plan is priced at $24 per user/per month, and its Boost plan is offered at $40 per user/per month, billed annually.
The Enterprise plan comes with custom pricing per the client's needs.
Salesmate is very flexible regarding pricing, as you can easily switch plans when you're scaling your business.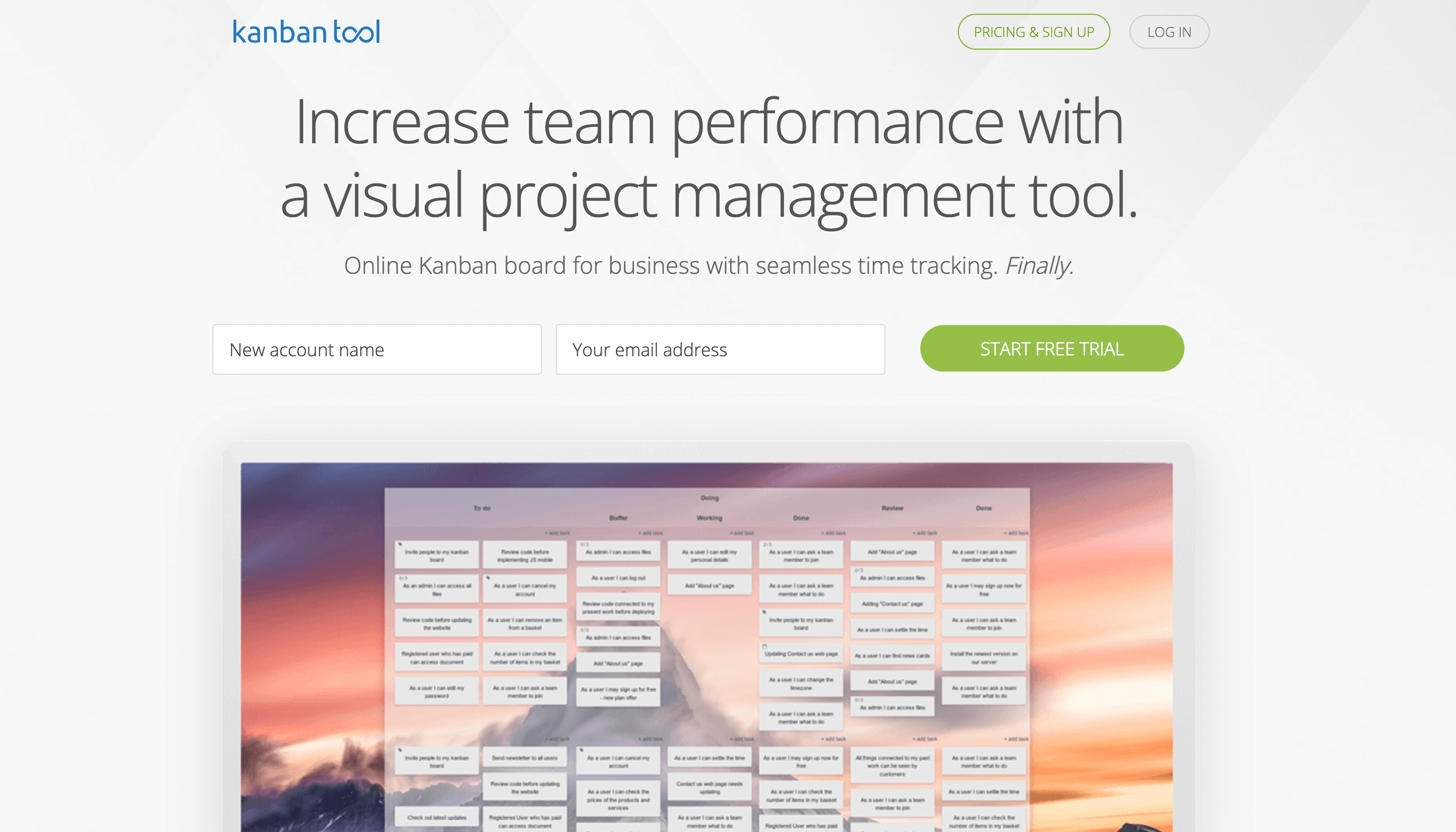 Kanban Tool is a project visualization software that helps teams visualize workflows, boosts productivity, and allows them to assess and enhance business processes. The platform allows team members and clients to collaborate in real-time by sharing information, tasks, and comments at any time from any location.
Kanban is used by businesses across various sectors, such as human resources, game development, healthcare, marketing, etc., to manage and improve workflows. 
Hurry up to add Kanban Tool to your digital arsenal to reduce wastage and costs, increase productivity and efficiency, and enhance remote collaboration.
Key features of Kanban Tool include:
Visual management with the Kanban method
Insightful Kanban analytics and metrics
Time tracking feature
Real-time team collaboration on a Kanban board
30+ power-ups
Kanban Tool on-site option
The Kanban Tool offers three pricing options:
Free: provides you with 2 boards and 2 users; no file attachments.
Team: costs $5 per month and includes unlimited boards and file attachments.
Enterprise: costs $9 per month and comes with such features as time tracking and reporting, process automation, and group management in addition to the perks offered in the team plan.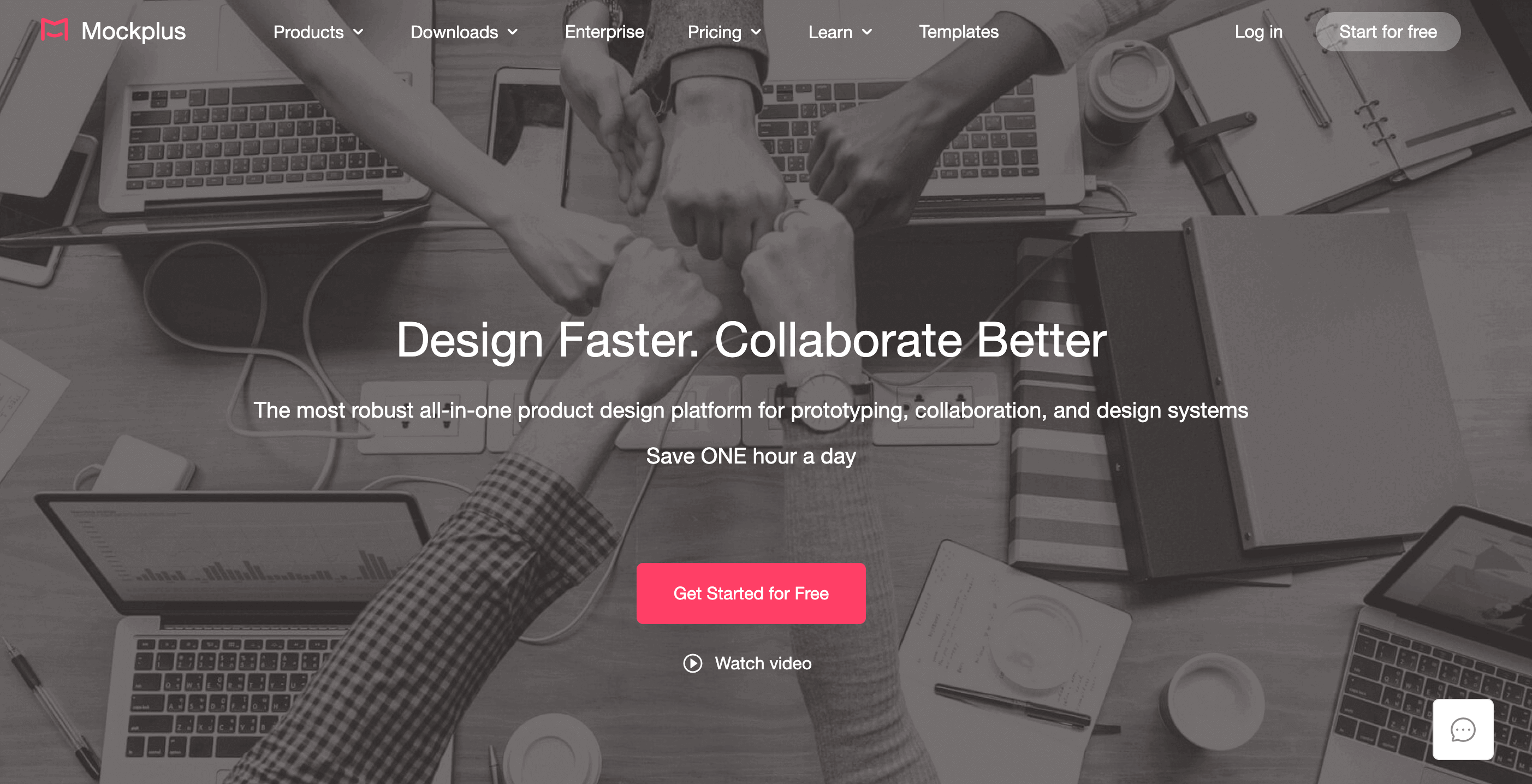 Mockplus is a collaborative platform for designers, developers, and product teams. With Mockplus, designers can upload designs from Figma/Adobe XD/Sketch/PhotoShop, etc., and collaborate with their teammates and customers online seamlessly. Moreover, the platform offers a broad range of customizable and reusable web & app prototype templates to facilitate the creative process.
Front-end developers can use Mockplus to inspect designs, download assets in all formats, and export codes without a hassle. The platform allows product managers to write, share, and manage design tasks. So all designers, devs, PMs, and teammates can speak the same design language throughout your product design lifecycle.
Key features include:
The platform has two pricing plans, Mockplus Cloud and Mockplus RP. The Mockplus Cloud is further subdivided into a Basic plan (free), Pro ($4.95 monthly), and Enterprise (custom). The Mockplus RP is also subdivided into Free, Ultimate ($10.95 monthly), and Enterprise plans (custom).
The service saves time and energy on product design, reduces costs, and enhances remote collaboration and efficiency.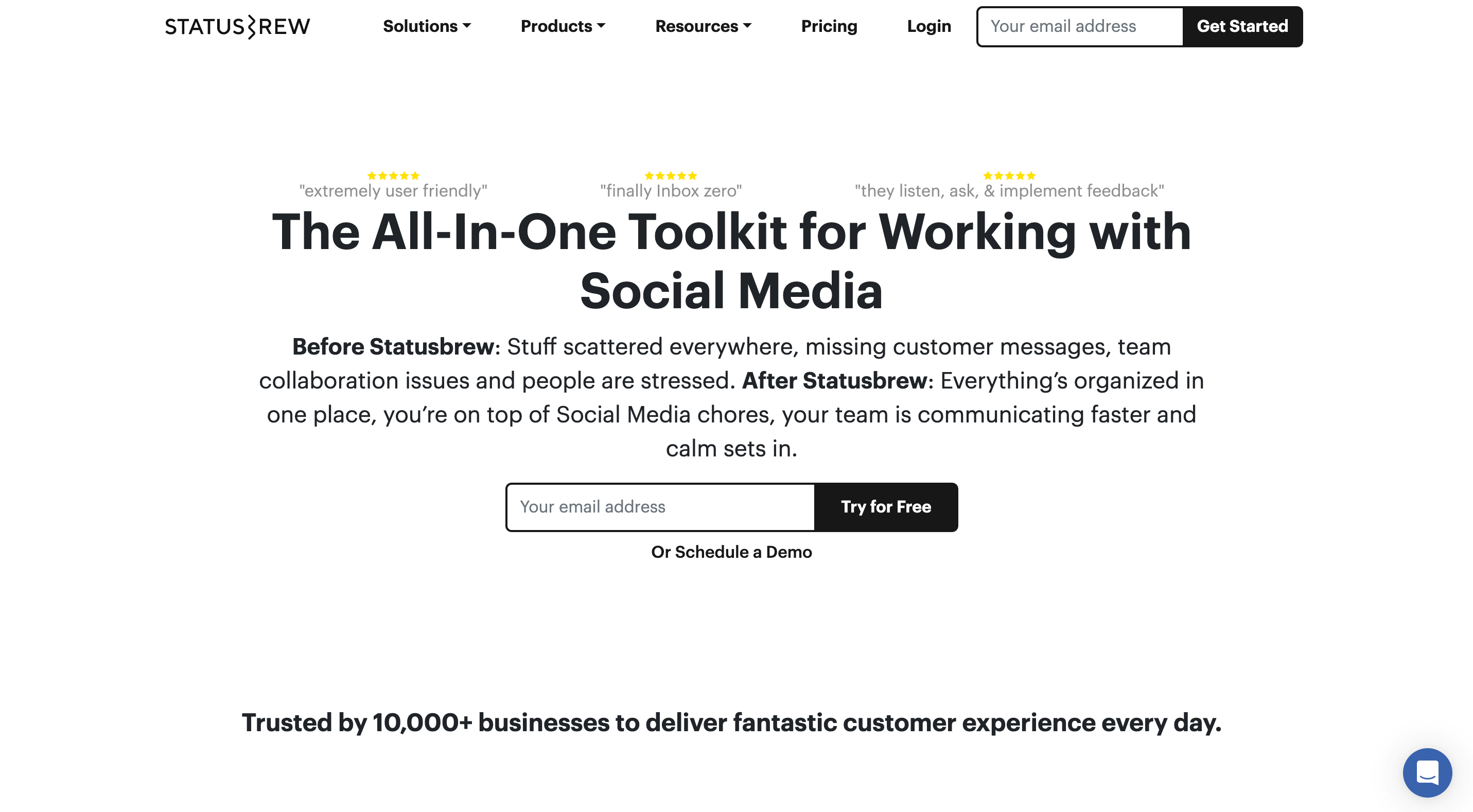 Statusbrew is a social media management platform that takes team collaboration to a whole new level. It offers several features catered to SaaS businesses, including custom approval workflows, and helps users to automate and efficiently manage social publishing and engagement. Performance analysis with the help of customized tailor-made reports allows for informed decision-making, making it the perfect fit for businesses of all sizes. 
The platform allows remote teams to communicate easily and assign conversations, with control over access and permission levels to maintain complete privacy. Customized notifications and reminders make it easy to keep track of important tasks.
Key platform's features include:
Approval workflows help maintain brand consistency and quality control.

Automatic conversation assignment ensures that customer inquiries are addressed promptly.

AI-backed sentiment analysis provides valuable insights into customer perception.

Internal notes make it easy for team members to communicate and collaborate effectively.

Support for multiple platforms and integrations streamlines workflows and saves time.

Publish rules ensure social media compliance by allowing you to define guidelines for all posts and ensure that they comply with industry regulations and legal requirements.
Pricing:
Statusbrew's pricing model offers flexibility and scalability to businesses of all sizes. Pricing plans start from $69 per month and include features such as team collaboration, automated publishing, and performance analysis. For larger businesses, a customized enterprise plan is available with custom pricing based on the specific configuration. Statusbrew also offers a 14-day free trial to test the tool's capabilities before making a decision.

LiveWebinar specializes in developing innovative, easy-to-integrate real-time communications software solutions for enterprises, service providers, vendors, system integrators, and developers. The company delivers high-end products for startups, SMBs, and well-established companies whose primary mode of communication is live audio and video.
LiveWebinar was founded in 2016 by two developers with over 14 years of experience in IT, R&D, software development, and audio-video engineering projects. They strived to solve the most common difficulties users face when dealing with video conference software by developing breakthrough technologies for a fast-changing future. And the team has successfully managed to achieve the objective with leading real-time communication technologies, including ArchieBot.
With the help of LiveWebinar, users can promote products or services, welcome new team members, improve sales, and collaborate between teams — all within one customizable and integrative platform.
Key platform's features include:
Streaming live events

Collaboration tools

Live chat

HD quality

Cloud solution

Multiple layers of protection

Customizable interface and integrations

100% browser-based
LiveWebinar forms custom quotes based on the services requested by a client, so feel free to message them to learn more about their pricing models.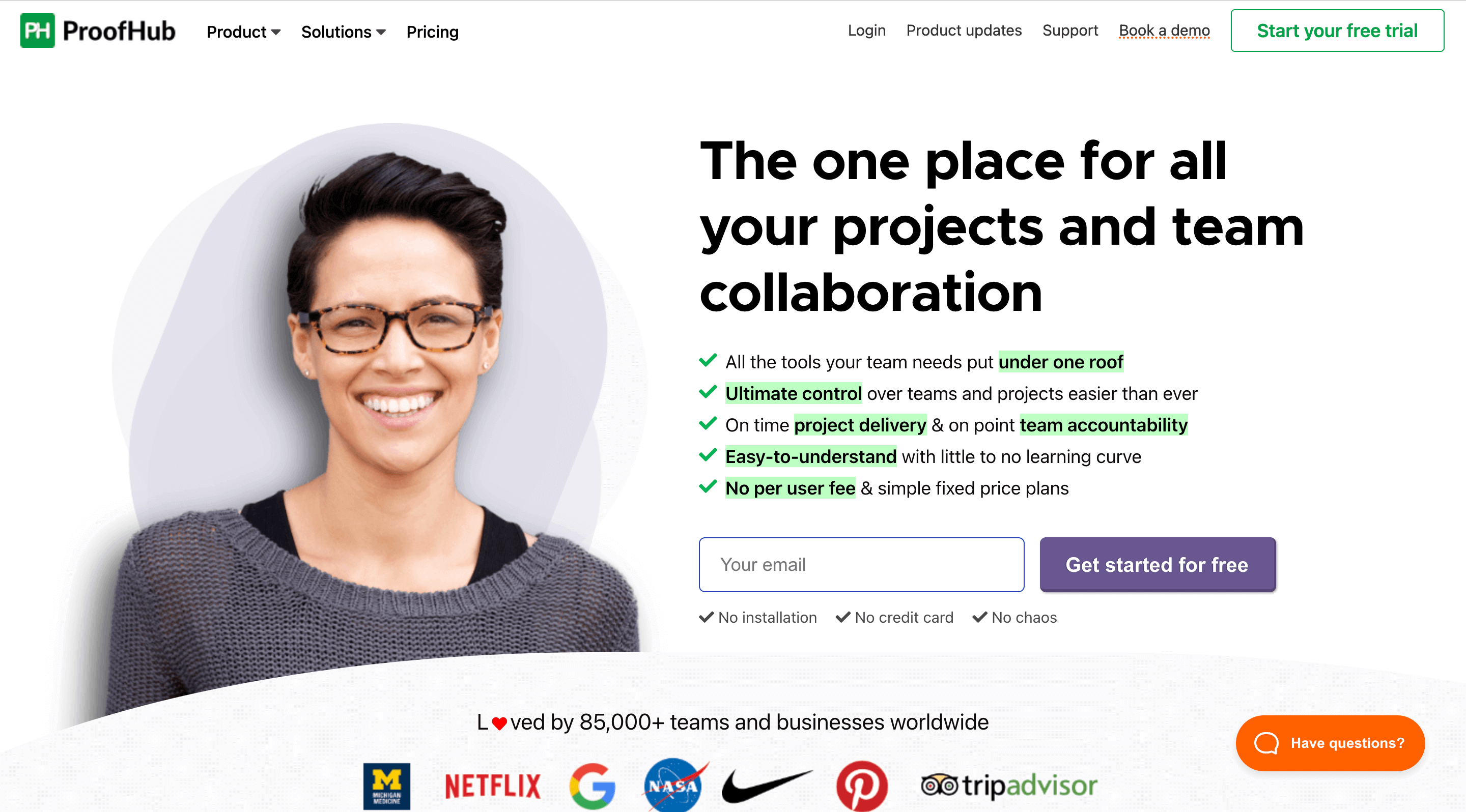 ProofHub is a top-rated project management and team collaboration software that provides a single, shared platform for widely distributed remote teams to keep their tasks and projects well-organized through a suite of useful features. The tool keeps all team members, clients, and stakeholders on the same page for easy sharing of ideas, suggestions, and feedback to ensure planned execution, timely completion, and delivery of projects. 
Designed for businesses of all sizes and types, ProofHub serves as an efficient solution for project managers handling remote teams as you get a comprehensive visualization of the progress of tasks and projects at every stage while having greater control over their remote teams. The tool's Smart Task Management helps you to create and assign tasks to individuals or groups to ensure clear distribution of job responsibilities.  
Using ProofHub's website app or mobile app at any time and place, remote teams can easily access the tool and have seamless communication and collaboration on work with features like Instant chat, File sharing, Multiple views, Discussions, Real-time updates, etc. 
Its intuitive interface and simple learning curve make for an effortless user experience, even for less tech-savvy users.   
ProofHub's most common use cases:
Project planning and scheduling

Effective team collaboration

Design multi-channel campaigns

Task assignment and tracking

File sharing, reviews, and feedback
Key features with ProofHub include:
Easy access and collaboration

on your

digital files and documents

from anywhere, on any device 

Custom workflows

let users structure their work processes and know where things stand

Multiple views

(

Table, Board, Gantt, Calendar

) to manage your tasks and projects while identifying potential bottlenecks 

Instant chat

to exchange quick messages, add files and images to turn conversations smarter 

Real-time notifications

on the web app, mobile app, and email keep everyone updated on all activities of tasks and projects they are assigned to 

Time tracking

helps users record the total time spent on different tasks   
Pricing:
Free

14-day trial.

Essential:

Costs $45 per month when billed annually, up to 40 projects, unlimited users are allowed.

Ultimate Control:

Costs $89 per month when billed annually, unlimited projects, and unlimited users are allowed.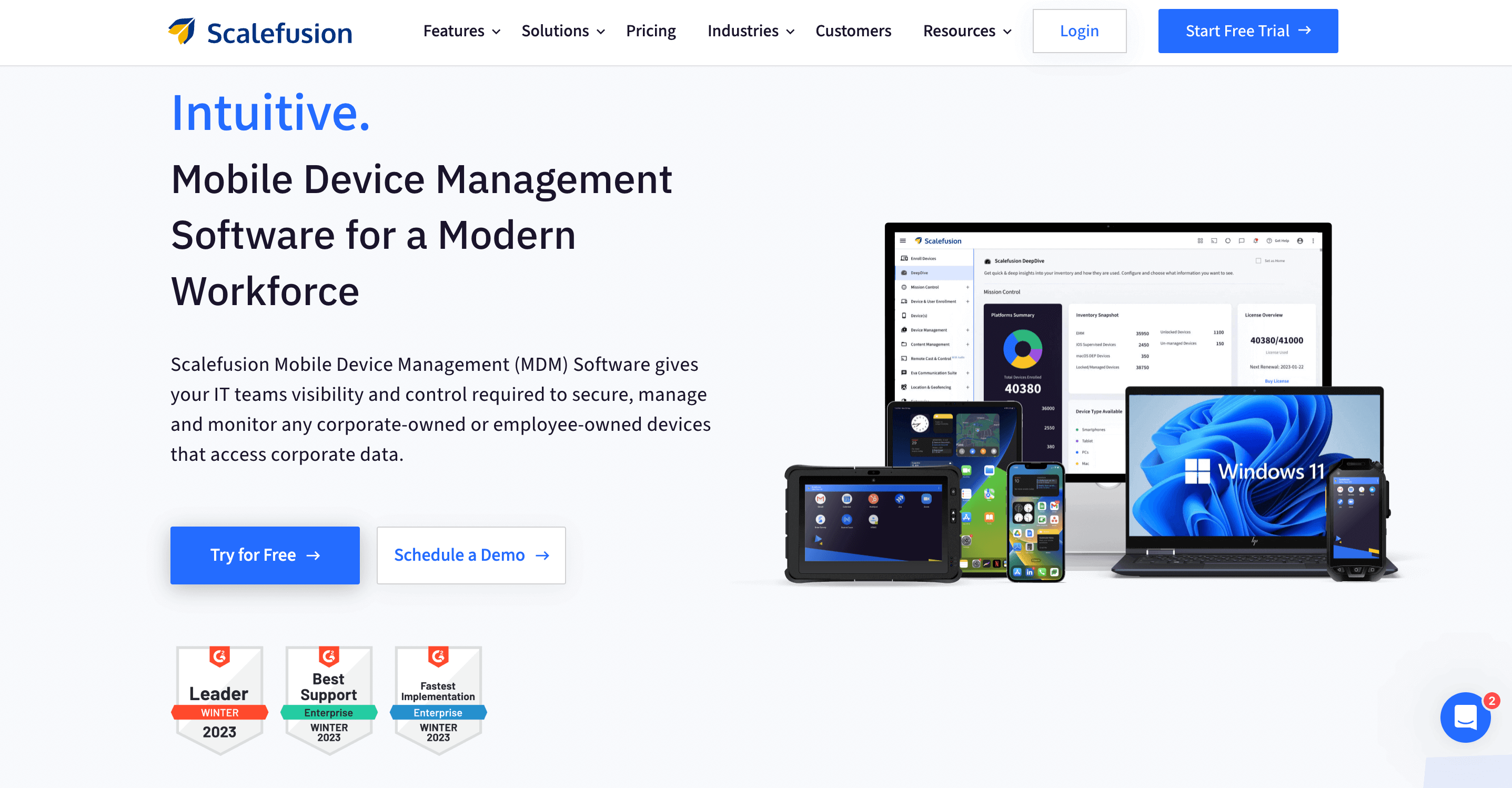 Scalefusion is an intuitive and powerful app that makes mobile device management (MDM) simple and effortless. Scalefusion MDM helps IT admins reduce the time spent managing various devices that run on different operating systems. All of it with top-drawer security of corporate data stored on devices.
Whether company-owned or employee-owned (BYOD), Scalefusion MDM is a one-stop solution for organizations with a globally distributed workforce. Its single, unified dashboard ensures seamless mobile device management with the flexibility of scaling up or down.
Key features include:
Remote cast and control

Location services

Kiosk-mode locking of devices

Reports and workflow management

Device encryption
Scalefusion offers a 14-day free trial which includes all the available features. There's also a year-end offer with a 25% discount on multi-year plans. Other pricing options (billed annually) include Starter ($2 per device/month), Business ($3 per device/month), and Enterprise ($4 per device/month).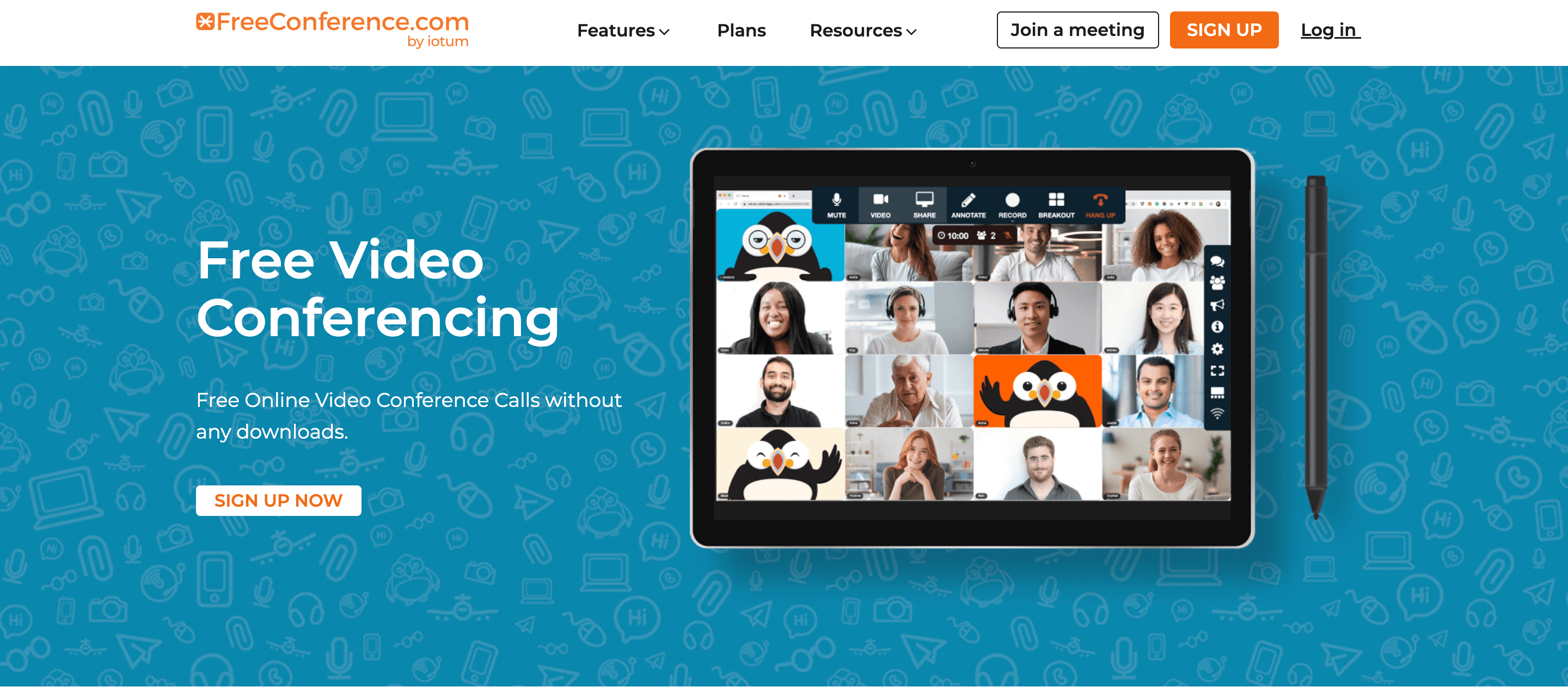 FreeConference.com is a web-based conferencing platform that provides users with free and easy-to-use video calling and conferencing features. With FreeConference.com, remote teams can host or join conference calls from anywhere worldwide using their computer or mobile phone.
The video conferencing platform offers a range of features, including call recording, screen sharing, video conferencing, and virtual meeting rooms, making it a popular choice for businesses, remote teams, and individuals who need to connect with others remotely.
FreeConference.com is committed to providing reliable, high-quality service at no cost, making it a convenient and cost-effective solution for anyone looking to stay connected with others.
Key features include:
Conference calling: Remote team members can host or join conference calls with up to 100 participants.
Screen sharing: Users can share their screen with others during the call, making it easy to collaborate and present.
Video conferencing: Users can start video calls, allowing them to see each other in real-time.
Recording: Users can record their calls for later playback or sharing.
Virtual meeting rooms: Users can create virtual meeting rooms, which are permanent conference lines that can be accessed at any time.
Mobile app: FreeConference.com has a mobile app that allows users to join and host calls from their smartphone or tablet.
International dial-in numbers: FreeConference.com supports international dial-in numbers, making it easy for users around the world to join the call.
No downloads: The app is web-based, so there's no need to download any software or plugins to use it.
Starting with a Free plan allowing up to 100 call participants and up to 5 web participants, FreeConference.com also offers a Starter plan for $9.99/month, increasing the capacity to 100 call participants and 15 web participants, and a Pro plan for $29.99/month offering up to 250 call participants and up to 250 web participants.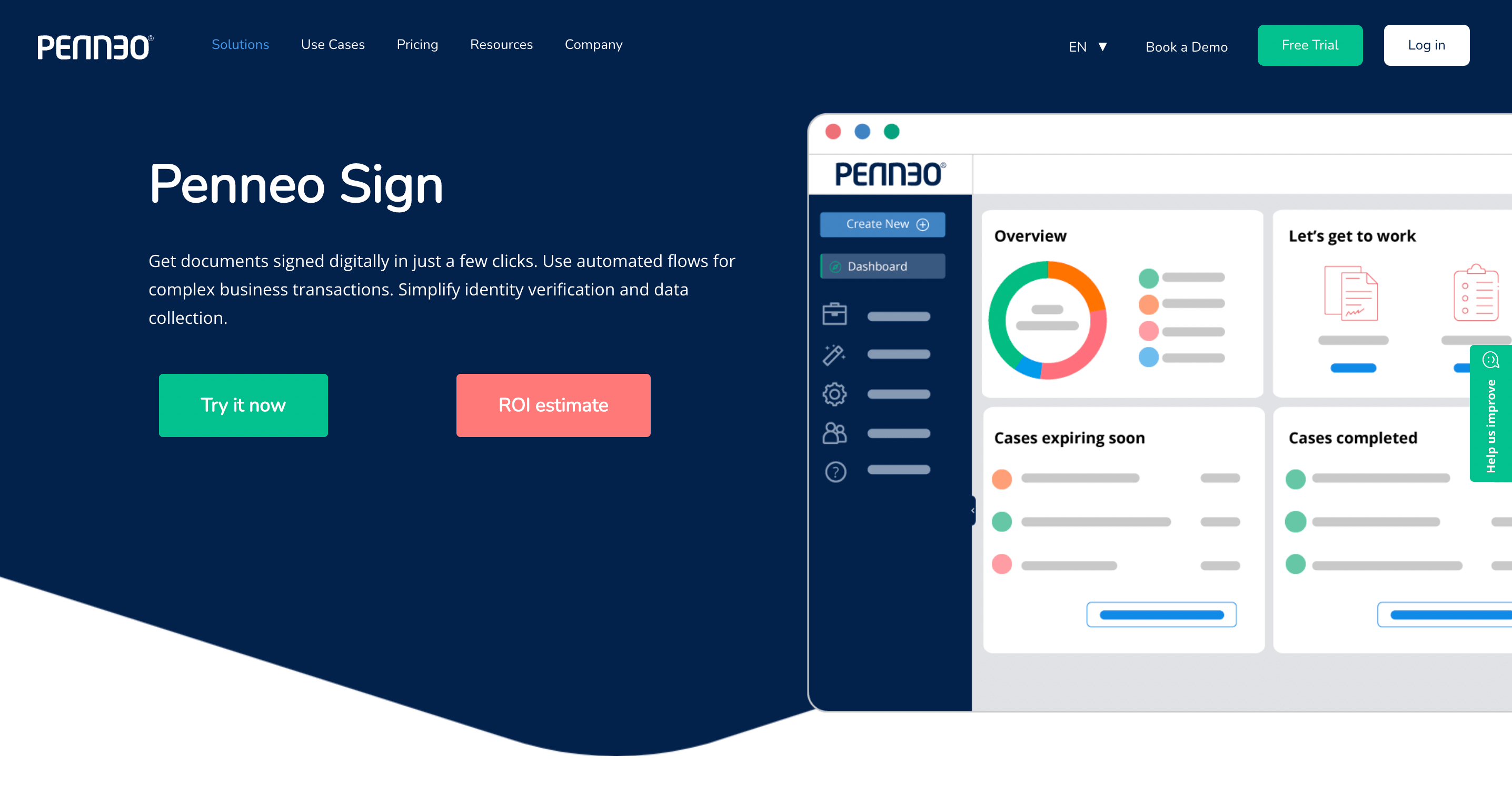 Penneo Sign is a digital signature platform that enables businesses to sign documents electronically in a matter of minutes. With Penneo Sign, your employees can automatically route documents to signers, thus improving efficiency and reducing contract turnaround times. Moreover, the platform allows you to schedule automated reminders to meet all deadlines, making it one of the best SaaS tools for remote teams.
Your clients, business partners, and employees can use the software to sign multiple documents simultaneously in a legal and secure manner. Signatures created with an electronic ID via Penneo Sign meet the requirements for advanced electronic signatures set by the eIDAS Regulation. This means they can identify the signers and protect the integrity of the signed documents.
Key features include:
Simple, advanced, and qualified electronic signatures
Automated document routing based on the signer's role
Possibility to add multiple signers
Automated reminders
Customizable email templates
Fillable PDF forms for secure data collection
Access control via eID validation
Encryption of stored data and documents
API and prebuilt integrations to reduce manual data entry and minimize errors
Penneo Sign's pricing plans:
The platform has three pricing plans, Penneo Basic (€129/ month), Penneo Startup (custom), and Penneo Enterprise (custom).
All in all, Penneo Sign helps businesses across industries save time, cut down costs, and enhance the customer experience without compromising on security and compliance.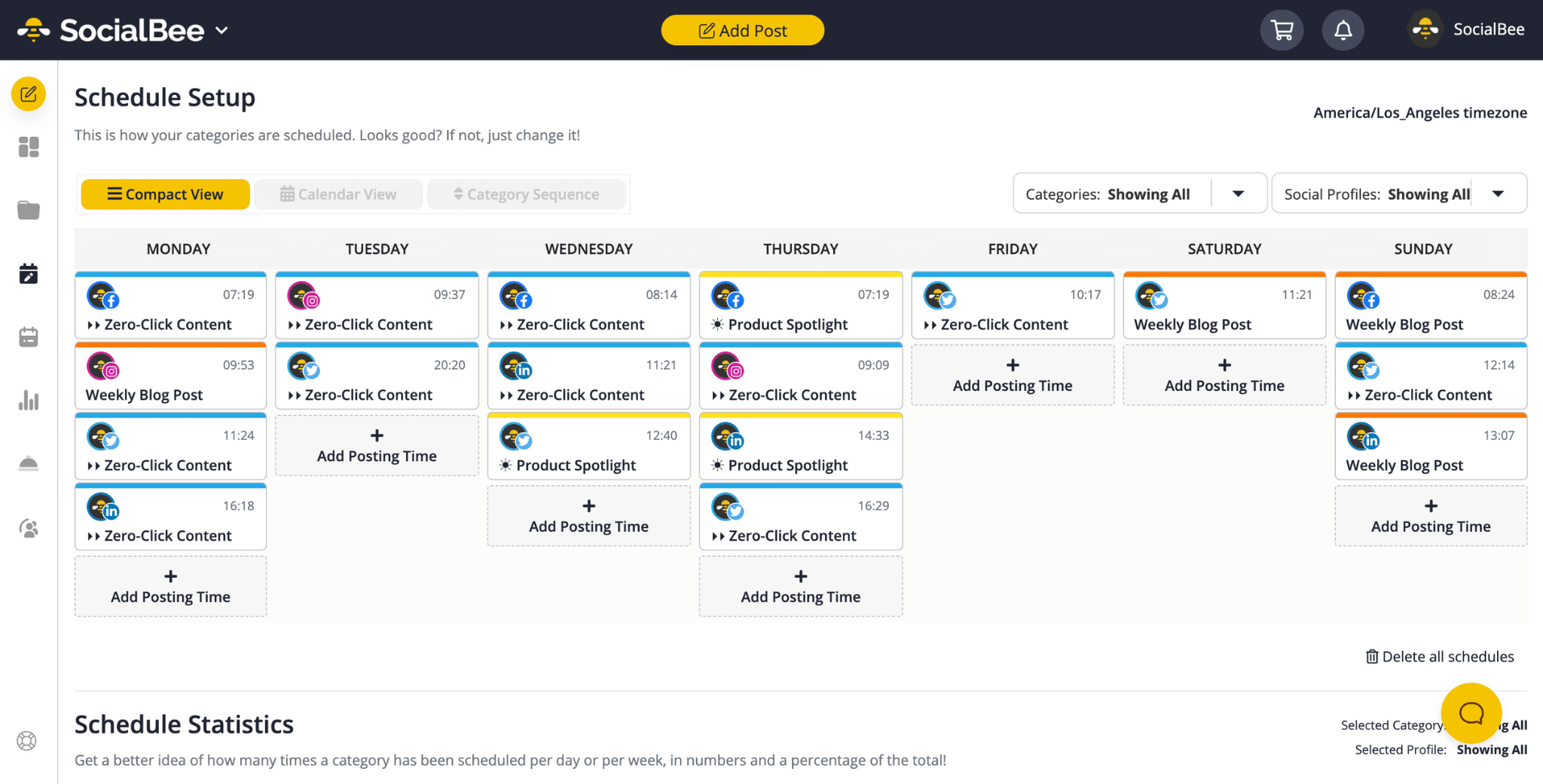 SocialBee is a robust social media management software that allows users to create, schedule, publish, and manage their content on all the major social media platforms. The tool is particularly useful for automating a big part of the posting process, thus streamlining social marketing efforts.
Due to features that allow customization and collaboration, SocialBee is perfect for all sizes of teams, ranging from one person to an entire marketing team. 
Without having to switch tabs, SocialBee users remain consistent with their posting schedule while tracking the performance of their social media campaigns and making data-driven decisions.
Overall, SocialBee is a comprehensive social media management tool that aims to make it easier for users to manage and grow their online presence across multiple platforms.
Key features include:
Using Canva, Unsplash, and GIPHY integrations to design posts inside SocialBee. 

Structuring content into categories to obtain a solid & balanced content mix. 

Connecting the RSS Feed of any blog to import content automatically. 

Customizing the posts for each social media network individually. 

Automatically generating hashtags based on images or captions. 

Recycling evergreen posts or expiring time-sensitive content easily. 

Setting up a posting schedule for all your profiles.

Having multiple workspaces and team collaboration features.

Tracking links' performance with over 5+ URL Shorteners integrations. 

Analyzing the performance of your accounts.
Signing up for any SocialBee plan starts with a 14-day free trial (no credit card required). The 3 standard plans for the tool are Bootstrap (at $19/month), Accelerate (at $39/month), and Pro (at $79/month).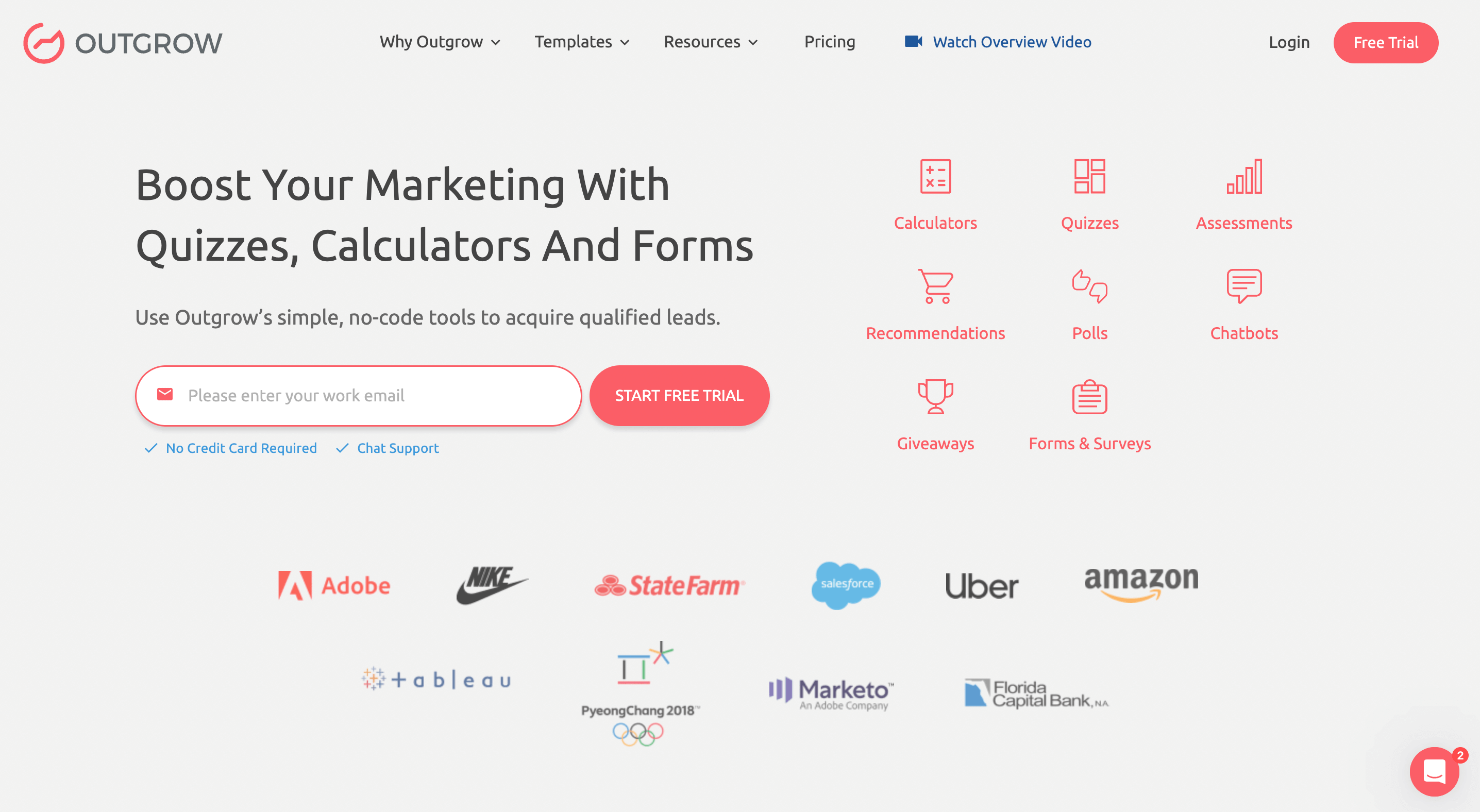 Outgrow is the best SaaS tool for businesses of all sizes looking to boost their marketing efforts. With its simple, no-code tools, Outgrow makes it easy for companies to acquire qualified leads and increase their conversion and engagement rates. Outgrow's tools can be embedded on any website or platform within minutes, allowing maximum flexibility and reach. Having worked with industry leaders such as Adobe, Nike, Salesforce, Uber, Amazon, and others, Outgrow has helped numerous businesses gain valuable customer insights and seamlessly integrate their data.
Key features include:
Outgrow's pricing starts with the Freelancer plan for $14/month if paid annually and provides 5 content types and pieces, 3,000 leads per year, 1 user, default layouts, and standard access and integrations. With increasing limits and advanced possibilities in the Freelancer Pro plan for $25/month and the Essentials plan for $95/month, Outgrow ends with the Business plan for $600/month, offering you unlimited content types and pieces, full access, 600,000 leads, and premium layouts.
12) Kahootz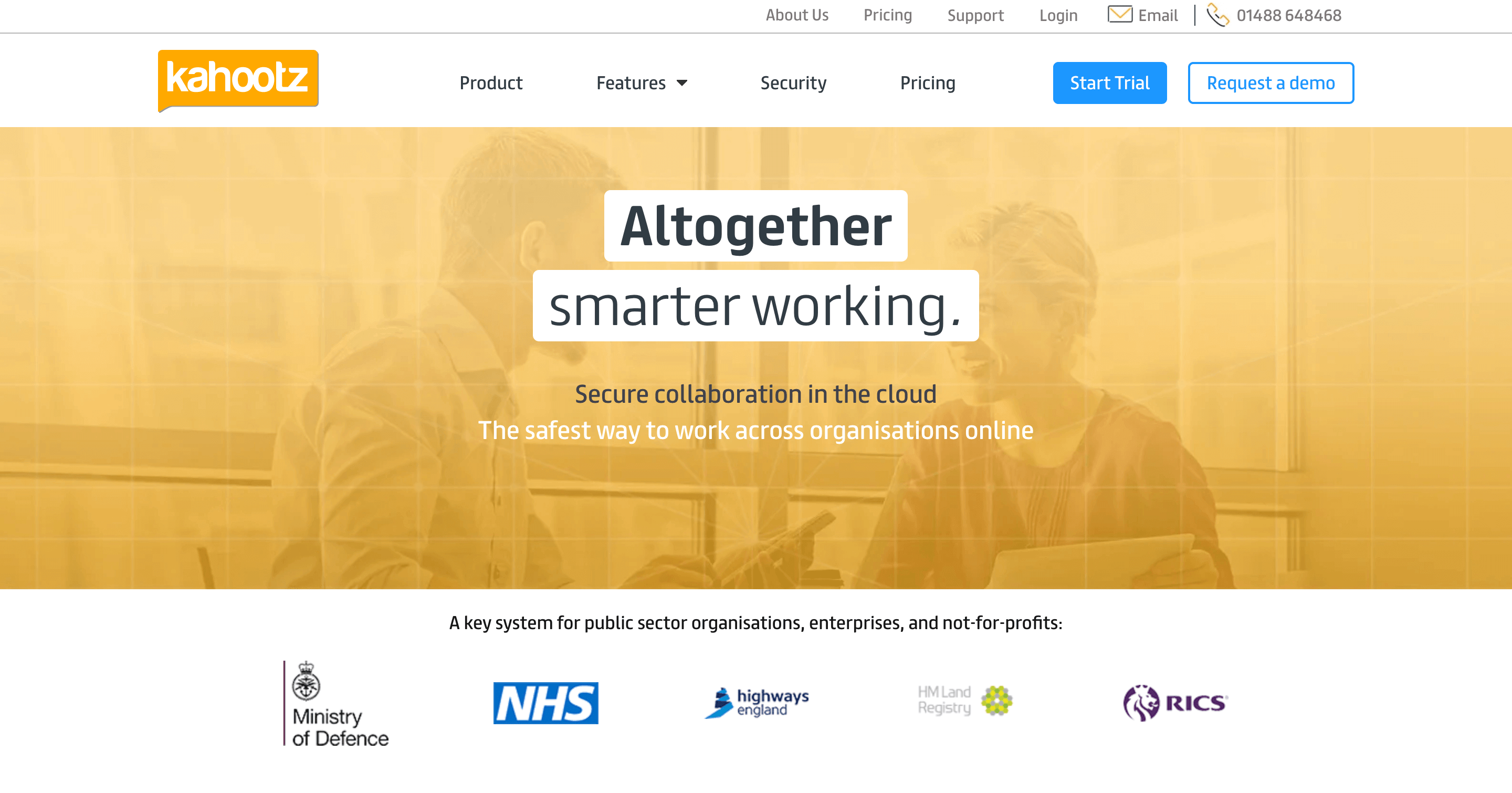 Kahootz is a secure cloud collaboration platform designed to transform the way teams and stakeholders work together. The platform offers a comprehensive suite of tools that enable smarter working, from document management to surveys, forums, and calendars. With Kahootz, teams can collaborate seamlessly across organizations, ensuring that everyone is on the same page, regardless of their location.
Kahootz is trusted by a range of organizations, from public sector entities like the UK Ministry of Defence to enterprises and not-for-profits. Its versatility makes it suitable for various sectors, including healthcare, defense, marketing, and more, to enhance their collaboration efforts.
Don't miss out on adding Kahootz to your toolkit. It's not just about collaboration; it's about working smarter, ensuring data security, and breaking down barriers to effective teamwork.
Key features include:
Comprehensive document management system

Secure collaboration in the cloud

Integrated tools like surveys, forums, and calendars

Trusted by major organizations for its stringent security standards

Flexibility to handle users of any size, both internal and external
Pricing:
Kahootz offers transparent pricing based on the number of users you need. As your team grows, it's easy to add more users, ensuring that you only pay for what you use. The platform believes in total price transparency, allowing you to confidently plan for any future expansion.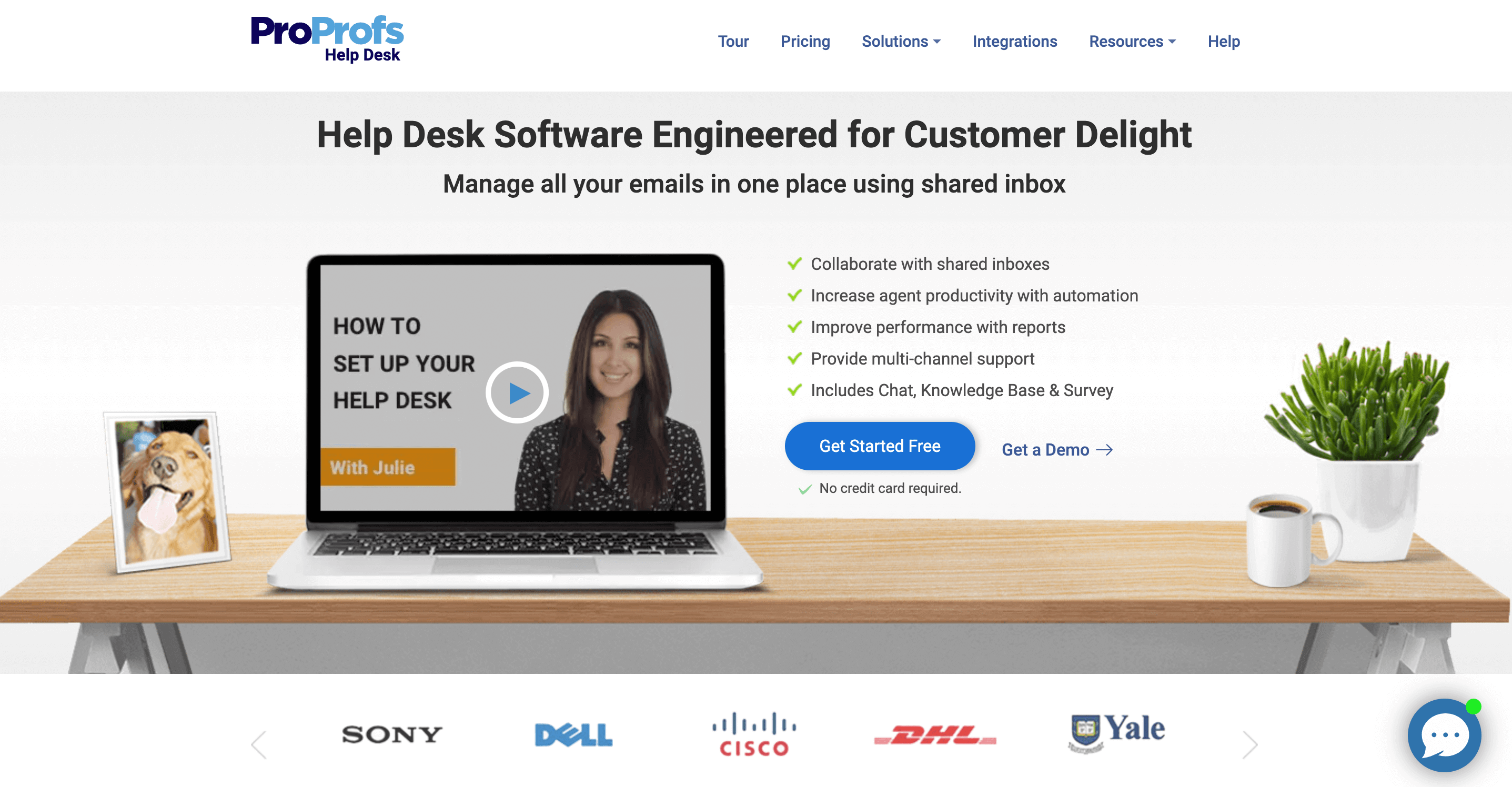 ProProfs Desk is a cloud-based help desk software that enables businesses to streamline their customer support operations. It provides a range of features, including ticket management, knowledge base creation, live chat, customer feedback management, and more.
With ProProfs Desk, businesses can manage customer queries and issues from a centralized platform, allowing them to provide timely and efficient support. The ticket management system helps support agents track and prioritize customer inquiries, while the knowledge base feature allows businesses to create and maintain a comprehensive database of commonly asked questions and solutions.
The live chat feature enables customers to get real-time assistance from support agents, and the customer feedback management system allows businesses to gather and analyze feedback from their customers, helping them to improve their products and services.
Key features include:
Ticket management

Knowledge base

Chat support

Email integration

Social media integration

Reports and analytics

Automation

Mobile app

Multilingual support

Integrations
Pricing: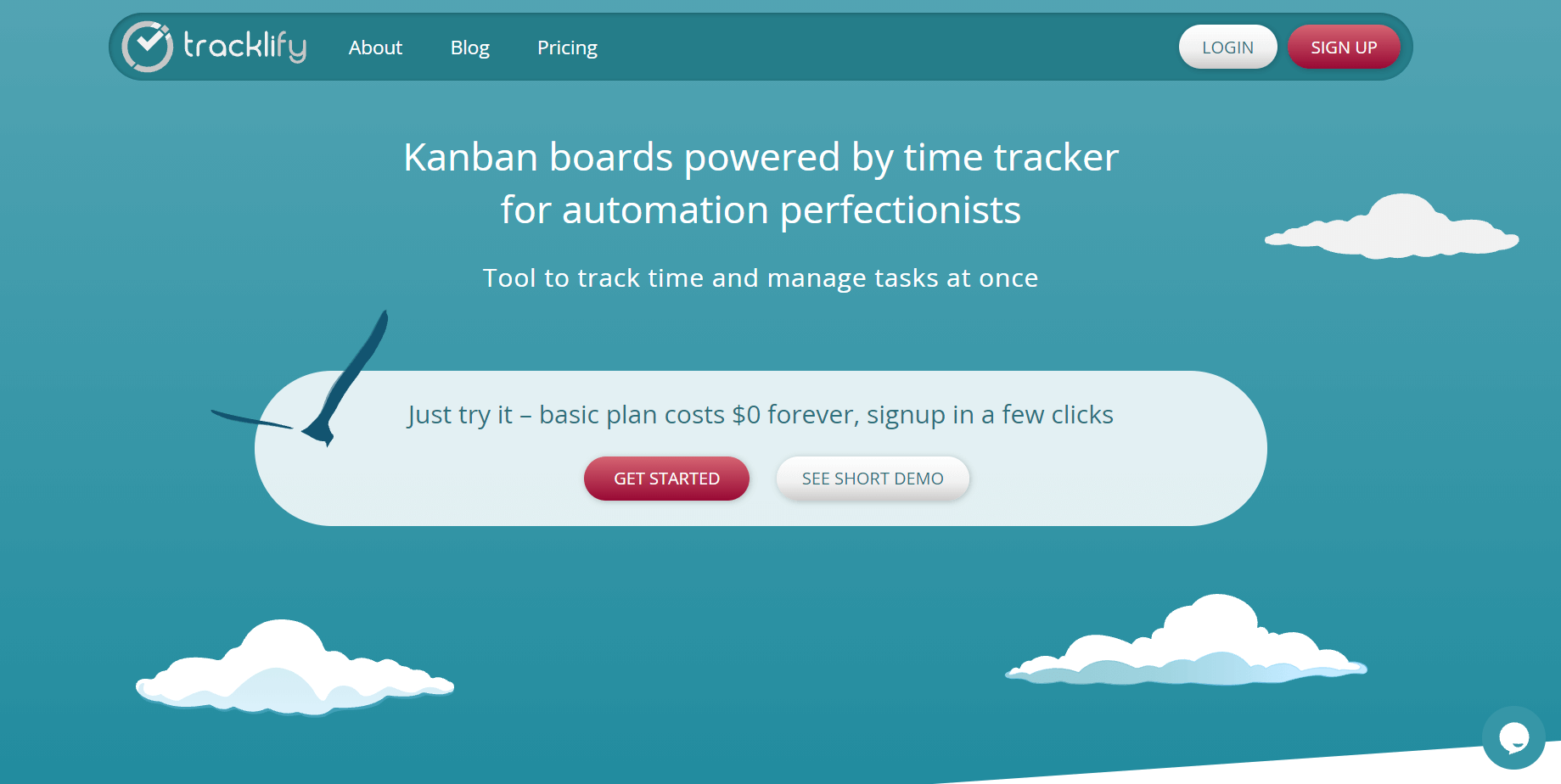 Tracklify is an advanced project management tool with an in-built Kanban board. Compared to other office management tools, Tracklify saves users' time by doing a lot of typical project progress tracking actions for them. Particularly, the program drags cards on board, measures spent time, highlights priority tasks, and so on.
Due to its minimalistic and simple UI, users can start using the tool without learning. You have to click on just a few buttons and everything else is done for you under the hood.
What's more, Tracklify provides the ability to communicate asynchronously about tasks while optimizing the efficiency of communication. So, if you have some secondary question/request which blocks you, you can assign a responsible person by tagging him in the comment, and the program will automatically transfer the task to him.
The best part of using Tracklify – it offers a rich unlimited free plan. You can also upgrade to its more advanced yearly plan just for $7/ month per user.
Key features include: 
Time tracker app

Progress tracker

Task prioritization

Powerful Kandan boards

Invoicing system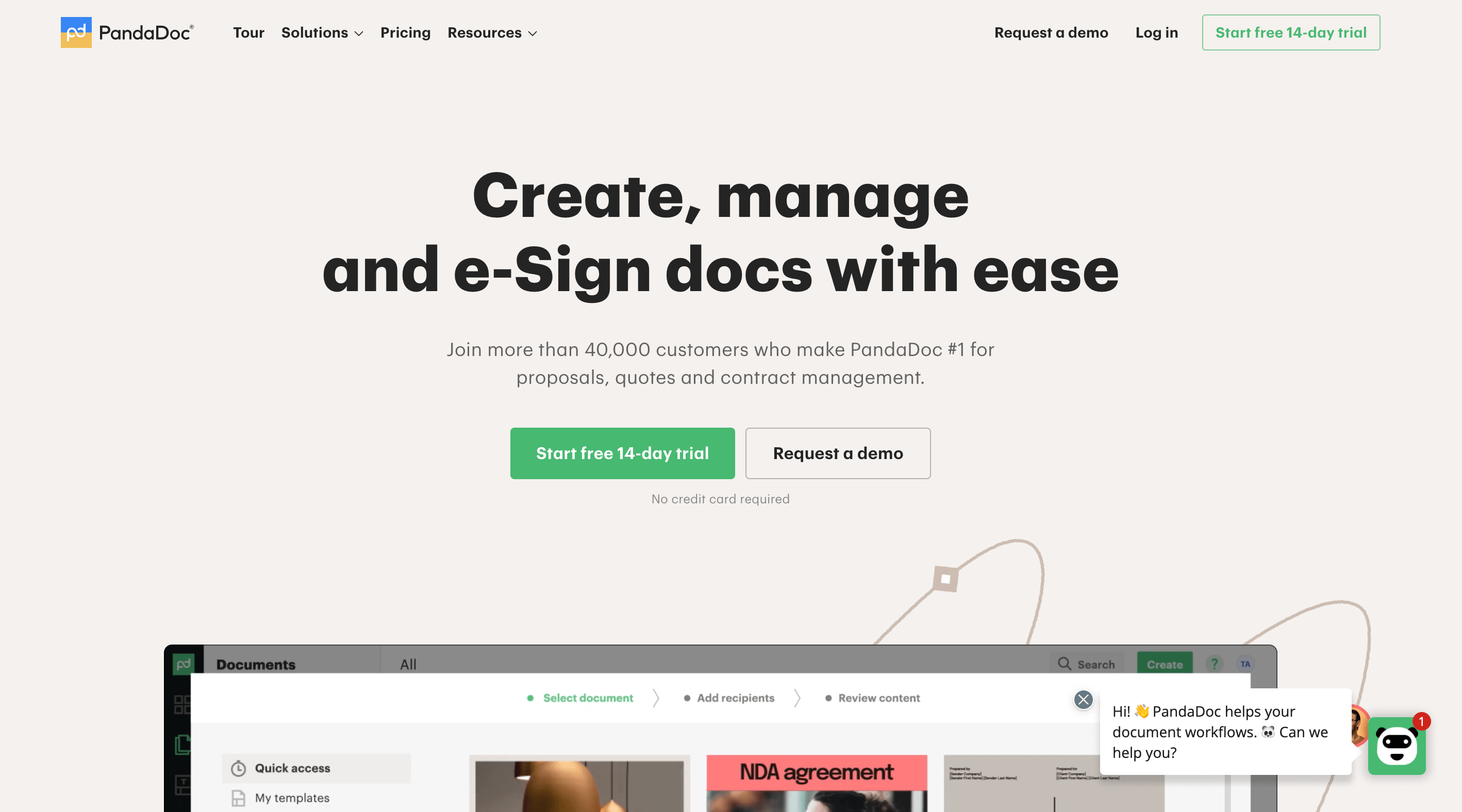 PandaDoc enables users to draft, organize, and sign legal documents with just a few clicks. They offer a digital, centralized platform for workflow management that reduces time wastage on paperwork and boosts efficiency. Clients can simplify document management using its robust native CRM interfaces and easy connectors, and generate, send, track, and electronically sign documents without switching programs.
PandaDoc's key features include:
Intuitive, user-friendly interface

Customizable document creation platform

Signature process

Premium security & scalability
Integrating PandaDoc with Zapier streamlines proposal-making, tracking, and storage and connects you with thousands of apps. PandaDoc's pricing includes a free package, Essentials ($19/user/month), Business ($49/user/month), and a customizable Enterprise plan.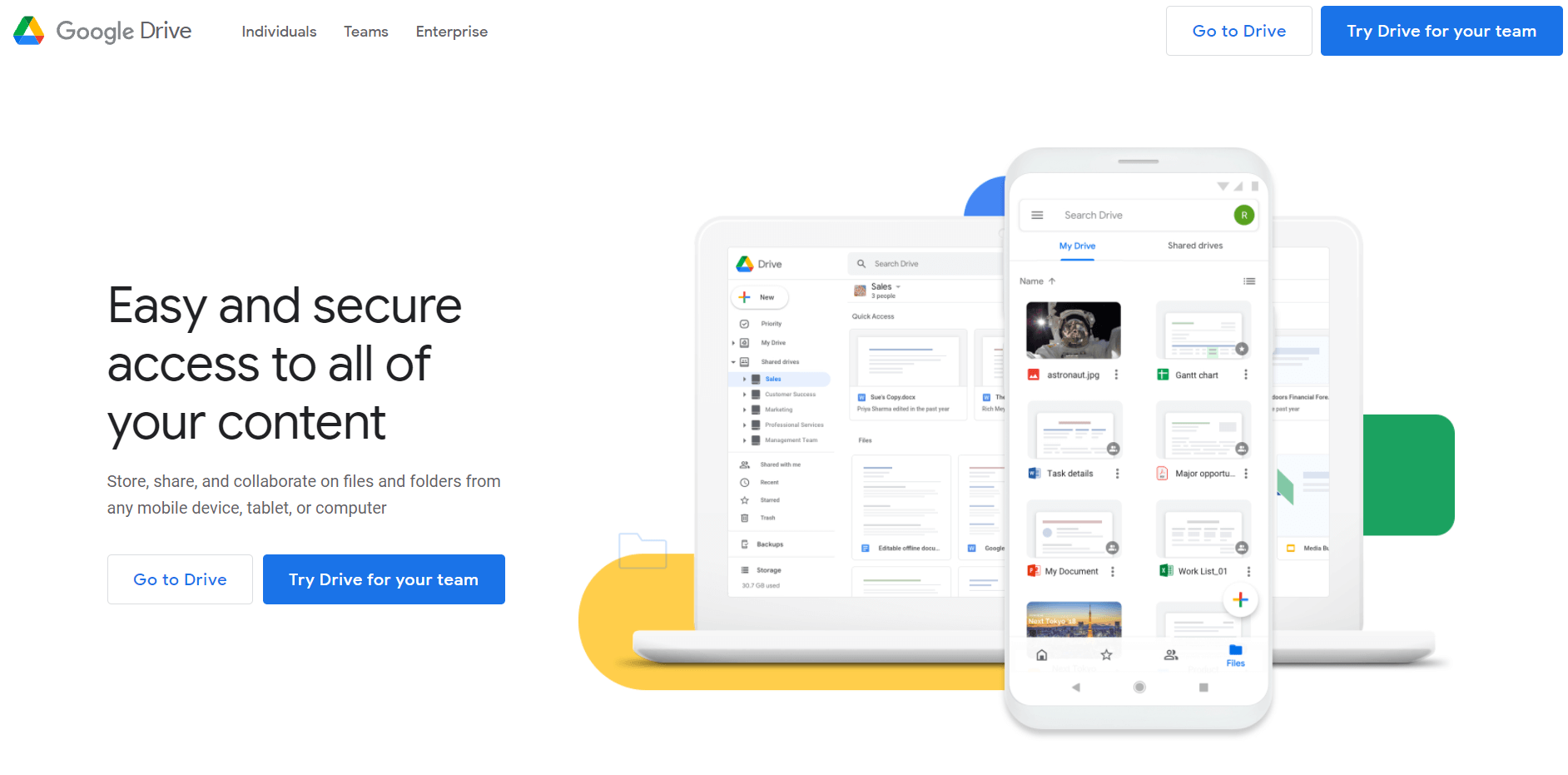 Google all together has some compelling SaaS tools, and of its finest ones is Google Drive. As you may know, this program offers file storage and allows teams to store and share their content. Any person seeking an easy and free way of storing and sharing files is fit for Google Drive. 
Google Drive is free, although it only offers a limit of 15 GB of storage. In case you wish to get more storage, then you should buy additional storage. Prices will vary depending on how much storage you choose to upgrade to. 
Google Drive is usually used by all teams, whether in the office or remotely, as it offers free file storage and sharing. 
Key features include: 
Documents, spreadsheets, and slides 

Mobile app 

15 GB of free storage 

Integrates with other Google Suite apps 
Most teams that are working online will have to use Google Drive to some point. Although, a downside is the organization of files within the app isn't as great. Furthermore, the requirement of permission may be confusing when you are using it for the first time and when sharing files with external parties.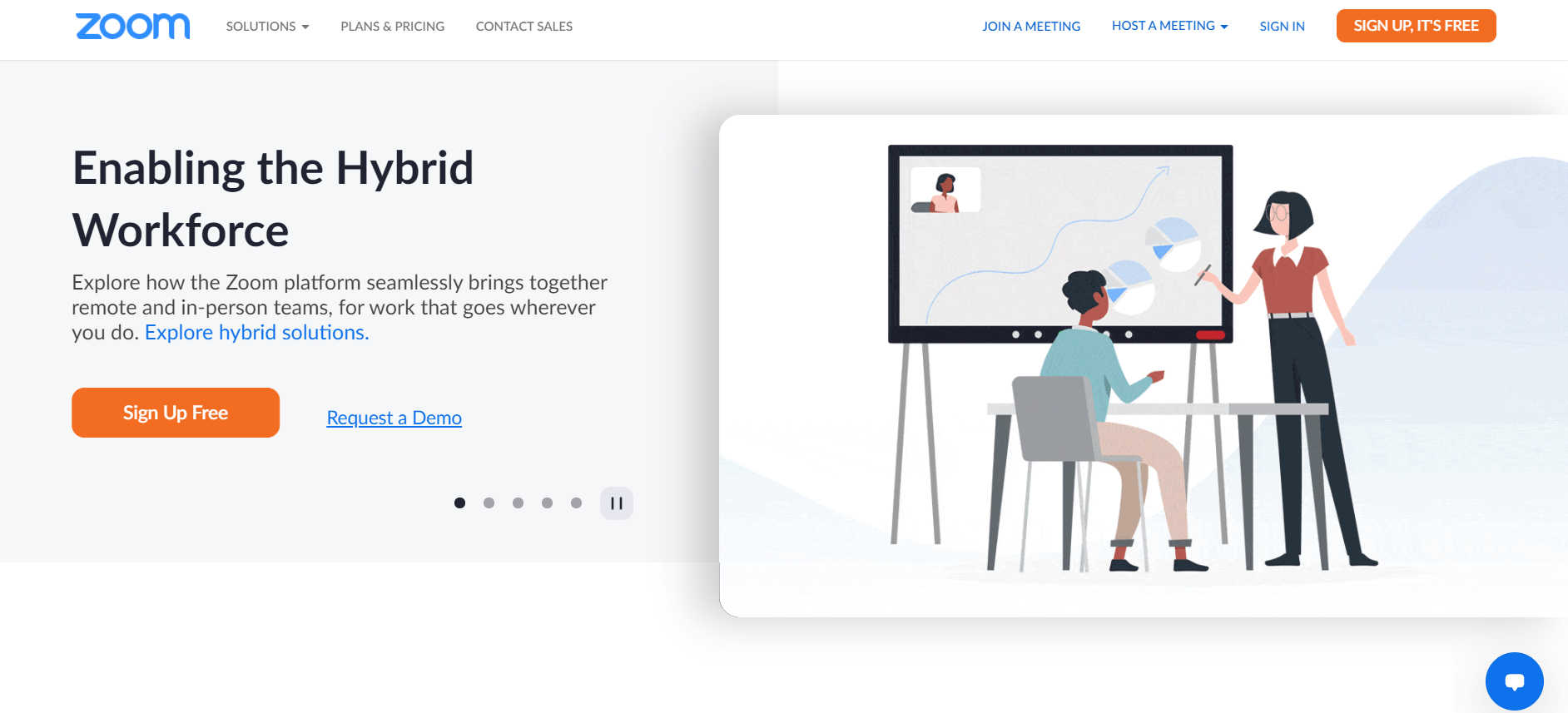 Zoom is a Software-as-a-service tool that provides an excellent platform for setting up online meetings, video conferences, and mobile collaboration. Zoom is used by almost all remote workers worldwide and has enhanced the way we work from home. 
Compared to last year, the number of meeting minutes on Zoom has increased by 3300%, resulting in 3.3 trillion annual meeting minutes compared to only 101 billion at the end of 2020! The platform has shown a tremendous increase during 2021. 
Zoom is free to use and has a mobile app you can download on both Android and IOS. The number of participants who may join in one call is 100 and can hold group calls for up to 40 minutes. 
Key features include: 
100 participants may join a single call

Screen sharing and recording 

Top video conferencing tool 

Able to join from mobile and desktop 

Great connectivity 
Although, a minor downside is that if you want to have longer meetings over 40 minutes, you must continue with a paid plan. Their paid plans range from $149.90 to $240 per year per license.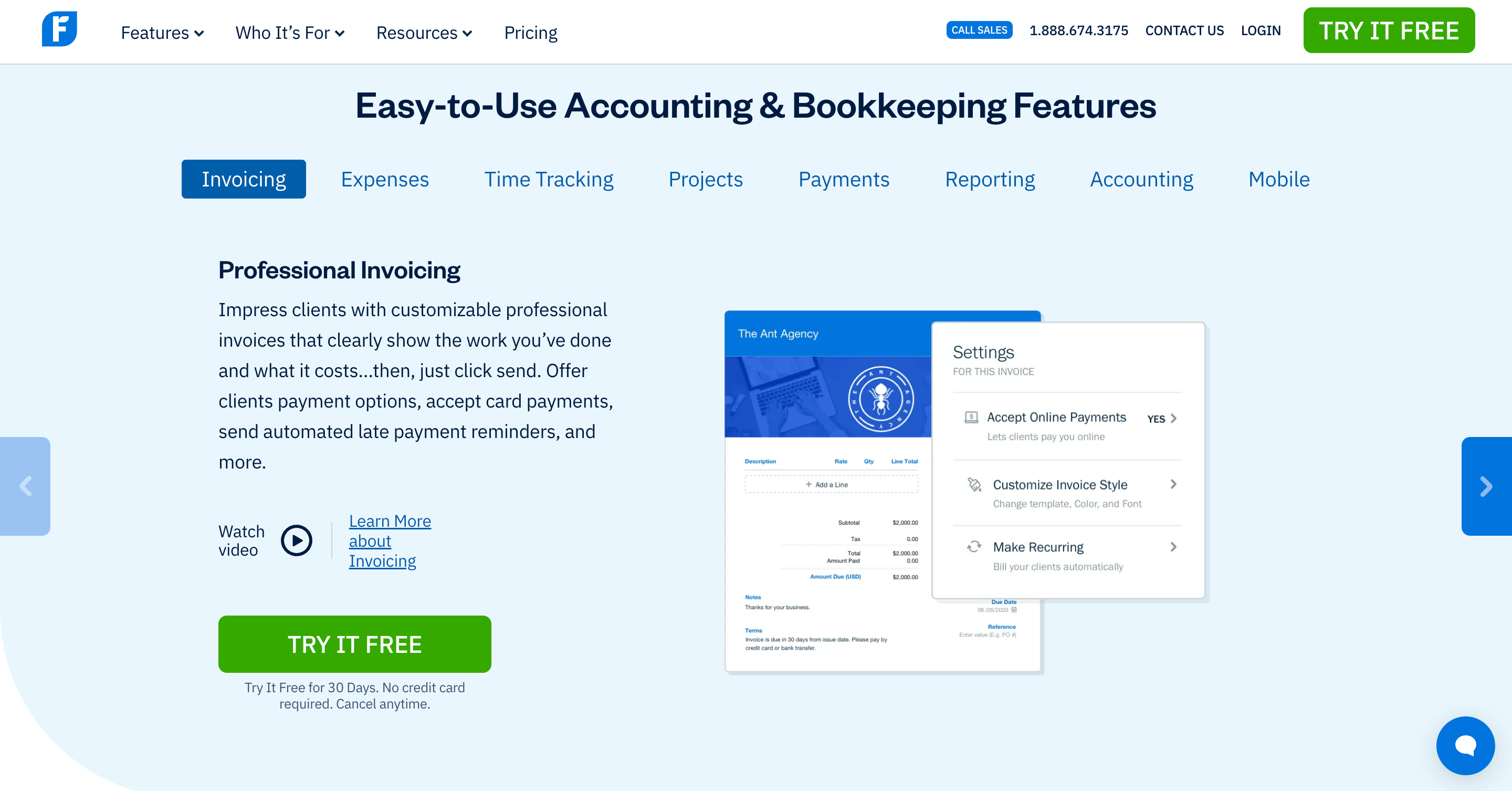 Freshbooks is a cloud-based accounting software that mainly serves as an invoicing and bookkeeping app that also allows you to handle payroll. It is a straightforward solution that prides itself on making small business accounting more efficient. The software makes it simple to keep track of payments owed and expenses incurred, send invoices, and accept payments.
Freshbooks serves invoicing for self employed, freelancers with invoice templates, free balance sheet templates, contractors with contractor invoice templates, etc. It can be integrated with many business applications and provides you with a single dashboard to manage your finances and accounting. 
Regular secure backups included in this small business accounting software, as well as a mobile app, allow you to keep track of your business at all times.
Freshbooks pricing starts at $15/month.
Key features include: 
Invoice clients

Record and track expenses

Track time

Manage a project

Make client estimates

Record payments

Utilize double-entry accounting

Produce reports (Freshbooks financial reporting)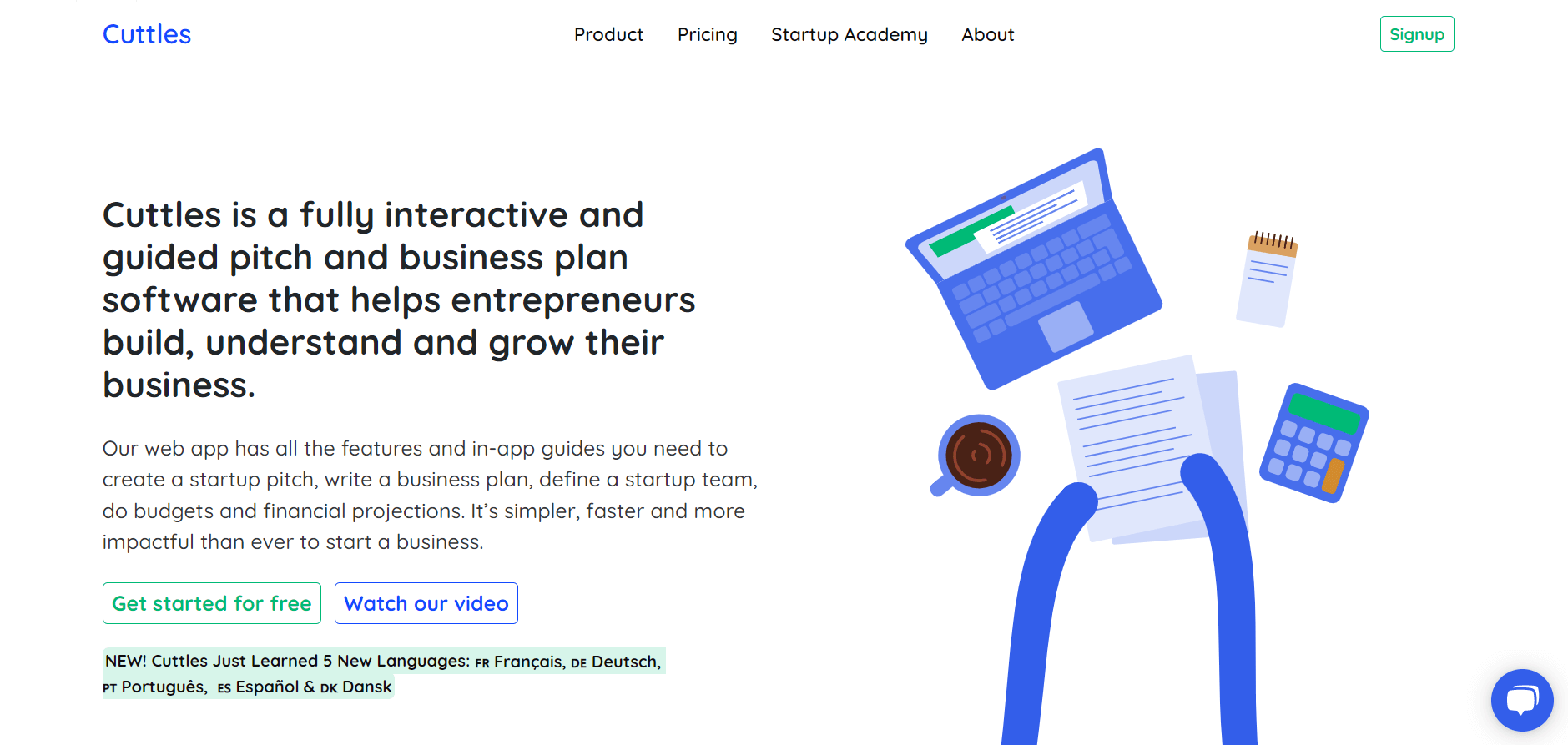 Cuttles is a business planning software designed to make planning a breeze. It's the place to go for startups and small businesses to build a successful business with ease – from the idea stage all the way through to the growth stage and beyond. Their collaboration feature makes it a perfect option for remote business builders, with the Grow Plan allowing unlimited members to collaborate on the business plan at once.
The fully guided and customizable canvas makes it effortless to build, expand, and showcase great business ideas, no matter the starting point. Create professional business plans, make budgets and financial forecasts, showcase your team, and create a pitch that's sure to get funding.
Cuttles has a freemium version with limited features (removed budget section and in-app guides), with the paid options including full features. Prices increase depending on the number of startups and team members you are working with.
Key features include:
Structure, validate and pitch your idea
Showcase your team
Fully-guided business plan
Easy to understand budgets & financials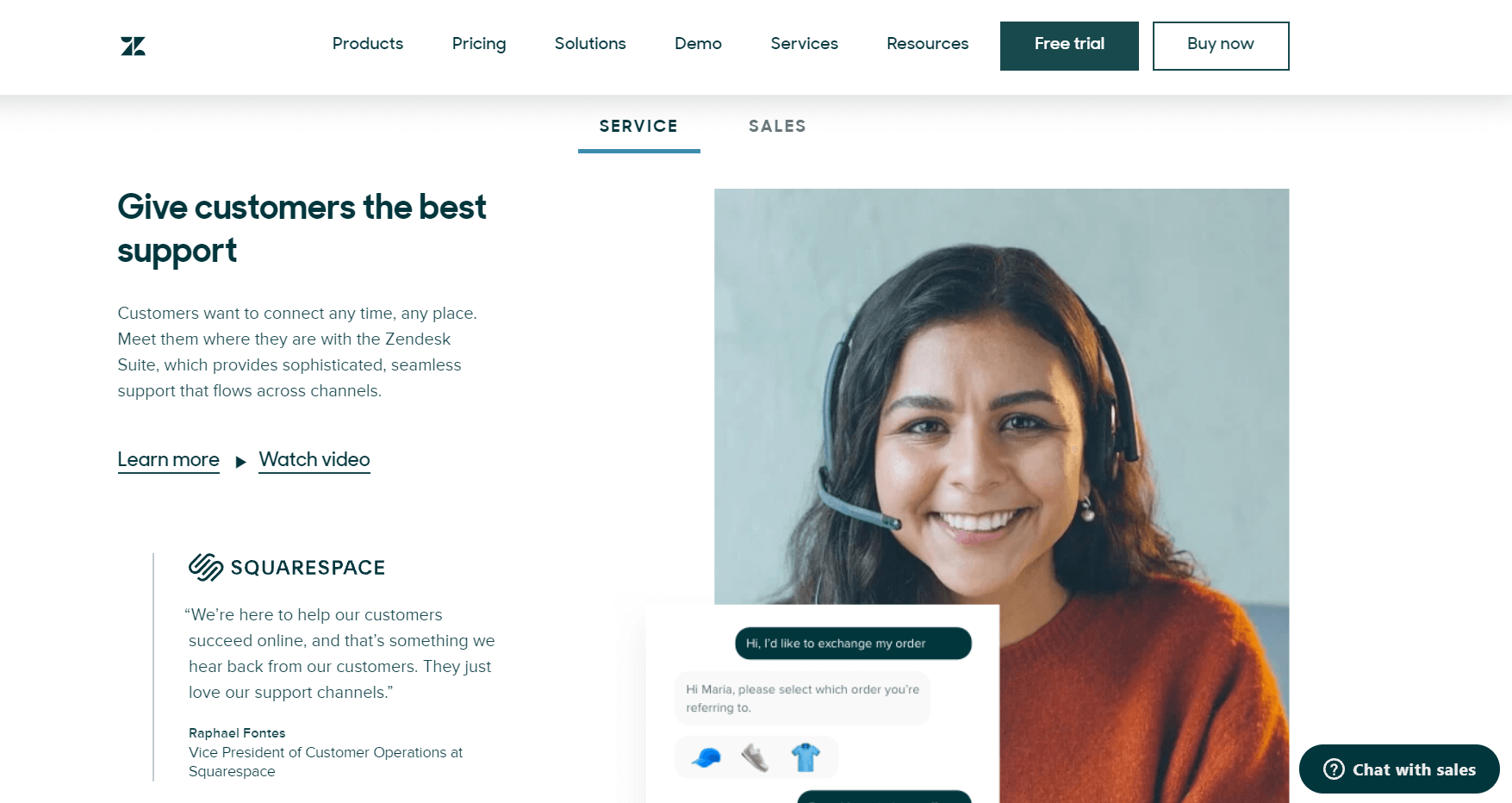 Zendesk is one of the leading SaaS customer support tools out there, rated #1 in digital customer service use case by Gartner. Being in the market for 14 years, their experience speaks for itself. The platform is loaded with many features that make customer service simple and easy to use. 
Zendesk's top feature is its functionality across messaging services and platforms. For example, if a customer has an issue and reaches out from Facebook through email, Zendesk can sync everything into one.  
Zendesk isn't free forever to use, although it does offer a 14-day free trial with all of its paid plans. It offers five paid plans: 
Suite Team- $49/month 

Suite Growth- $79/month

Suite Professional- $99/month

Suite Enterprise- $150/month

Enterprise-read plans- $215/month 
The Enterprise plan may seem like a downside for many. It holds additional features that are not needed and are not used by users. Paying $45 more per month for this plan is not worth it as it is not providing much additional value from the suite enterprise plan.
Key features include: 
Messaging across web, social, and mobile

Email, voice, SMS, and live chat support 

AI-powered automated answers 

Ability to integrate over 1,000 apps 

Customizable ticket layouts 

Self-service customer portal and much more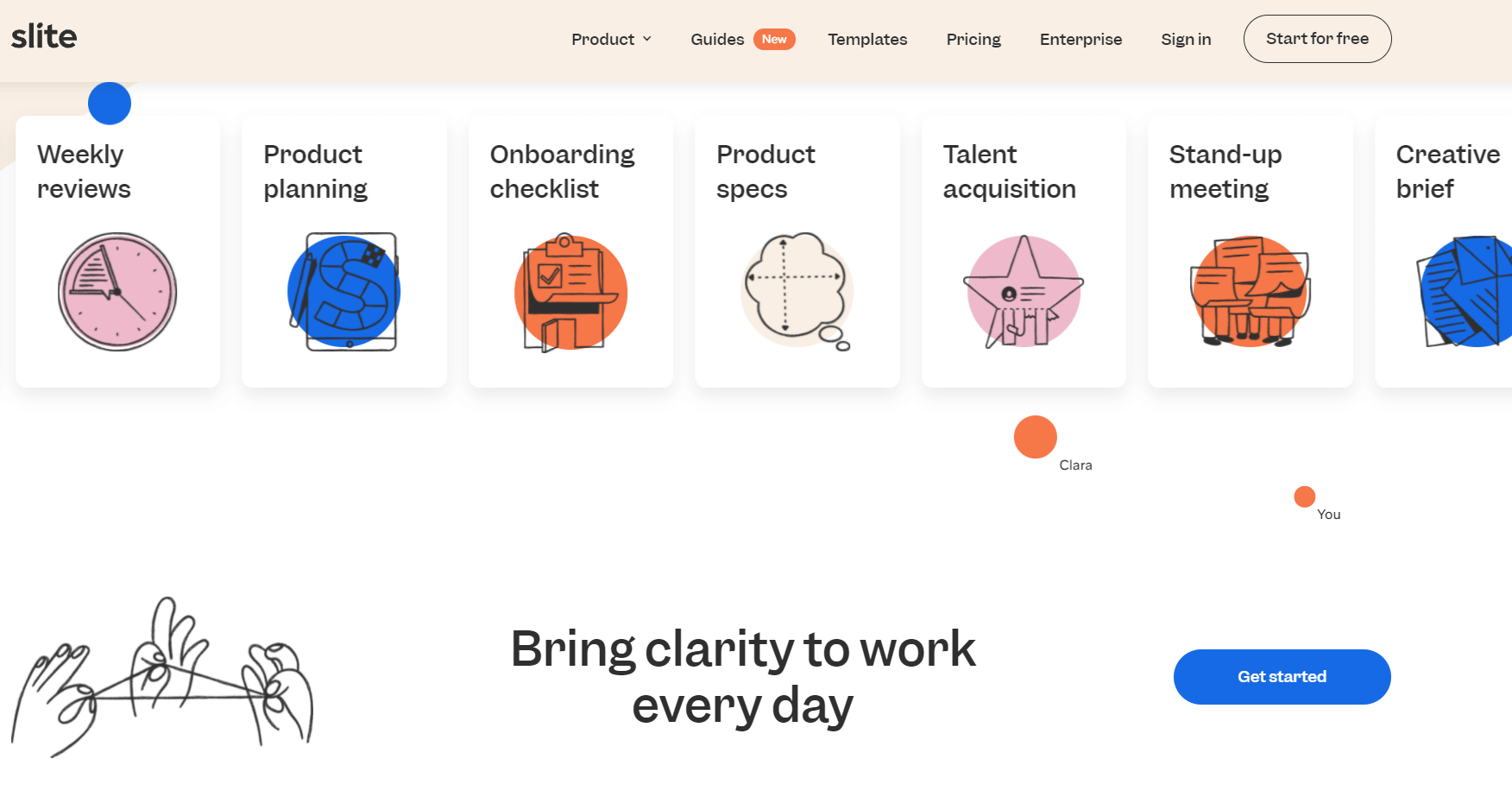 Slite is considered one of the best remote working tools to work with since it offers a complete knowledge management solution. It's best for use when you are a remote team that consistently collaborates with each other, no matter how many employees are part of the team. 
Collaborations between teams are easy as everyone may share their ideas, communicate efficiently, learn something new, and work together at any time and place. Whether you're collaborating, organizing, or accessing onboard information, Slite is the complete remote tool. 
Slite offers a free plan that you can use with many great features. Although, if you want more from the platform, you may go with their paid plan, which starts at only $6.67/month per member. 
Slite's most common use cases include: 
New projects:

brainstorming new ideas, making decisions, and communicating about issues and tasks that need to be completed. 

General project management:

task management, task assignment, issue management. 

Creating new documentation:

administrative, legal, HR, and many more you can imagine. 

Constructing a knowledge base: knowledge base creation allows you to

set up information as a source for your employees, teammates, and more. 
Key features of Slite include: 
A variety of elements, such as tables, files, and code snippets for adding your documents

Access to your documents anywhere (either from mobile or desktop) 

Robust search functionalities 

Ready-to-use integrations

Ready-made templates 

Organizing documents into easy-to-navigate channels 
Slite builds software with opinion, so some features, such as personalization, may be limited for an improved experience than an all-in-one platform that does it less well. 

Slack has taken your team's internal communication to a whole new level. Created especially for communication, your team can focus on their work while communicating with the team and receiving quick responses compared to communicating by email. According to their claims, the app reduces 32% of email communication. 
As a substitute for office work, chats, audio calls, and video calls make it easy for the team to communicate remotely. Furthermore, you may include external teams like freelancers and contractors for a small and fast professional talk while using the app. 
Slack is free to use and has an app for both desktop and mobile. Although, if you want to use its more advanced features, you may go with its Enterprise plan, which ranges from $6.67 to $12.50 per month. 
Key features include: 
File sharing 

Over 2200 apps and integrations 

Many communication methods like audio calls, video calls, and chats

Organizing communication

View chat history 
One downside of Slack is the quality of video calls. Screen sharing may not work well and may not be the best when remotely communicating and going into more in-depth conversations.
How SaaS Tools Are Changing The Way We Work 
95% of SaaS subscriptions per company are expected to increase in the upcoming two years. While many of us may still work at offices, SaaS makes remote work more accessible than ever. SaaS tools are on the uprise and are expected to be used by 99% of organizations worldwide until the end of 2021! 
With the rise of SaaS tools and cloud-based infrastructures, new challenges also arise for IT management. Although, it has made collaboration and working as a team much better than ever before, allowing you not to worry if your team will be at the office or not. Without SaaS tools, remote work may not have been widespread and would have made it more difficult for your business to collaborate. 
Today, we are entering a new era that SaaS is allowing us to adapt quickly. The market always likes innovations, and SaaS is the top leader in bringing that to the table and helping your business skyrocket.