The best software transforms mere business potential into a resounding success.
From analytics to AI and BI, business or commercial software helps to cut costs, improve decision-making, elevate quality, and boost sales.
But in a landscape where 70% of projects fail, you need the best support to overcome setbacks. You want a partner with extensive resources and expertise to speed up your time to market.
That's where top software development consulting companies come in. No matter the scale of your operations and the complexity of your app idea, software engineering consulting firms can provide end-to-end solutions that meet your goals perfectly.
We have sifted through the crowded market to create a list of the best software development consultants. These companies have cutting-edge expertise and capabilities to deliver outstanding results on your software projects. 
Work with the best ones!
The Best Software Consulting Companies To Kickstart Your Project Successfully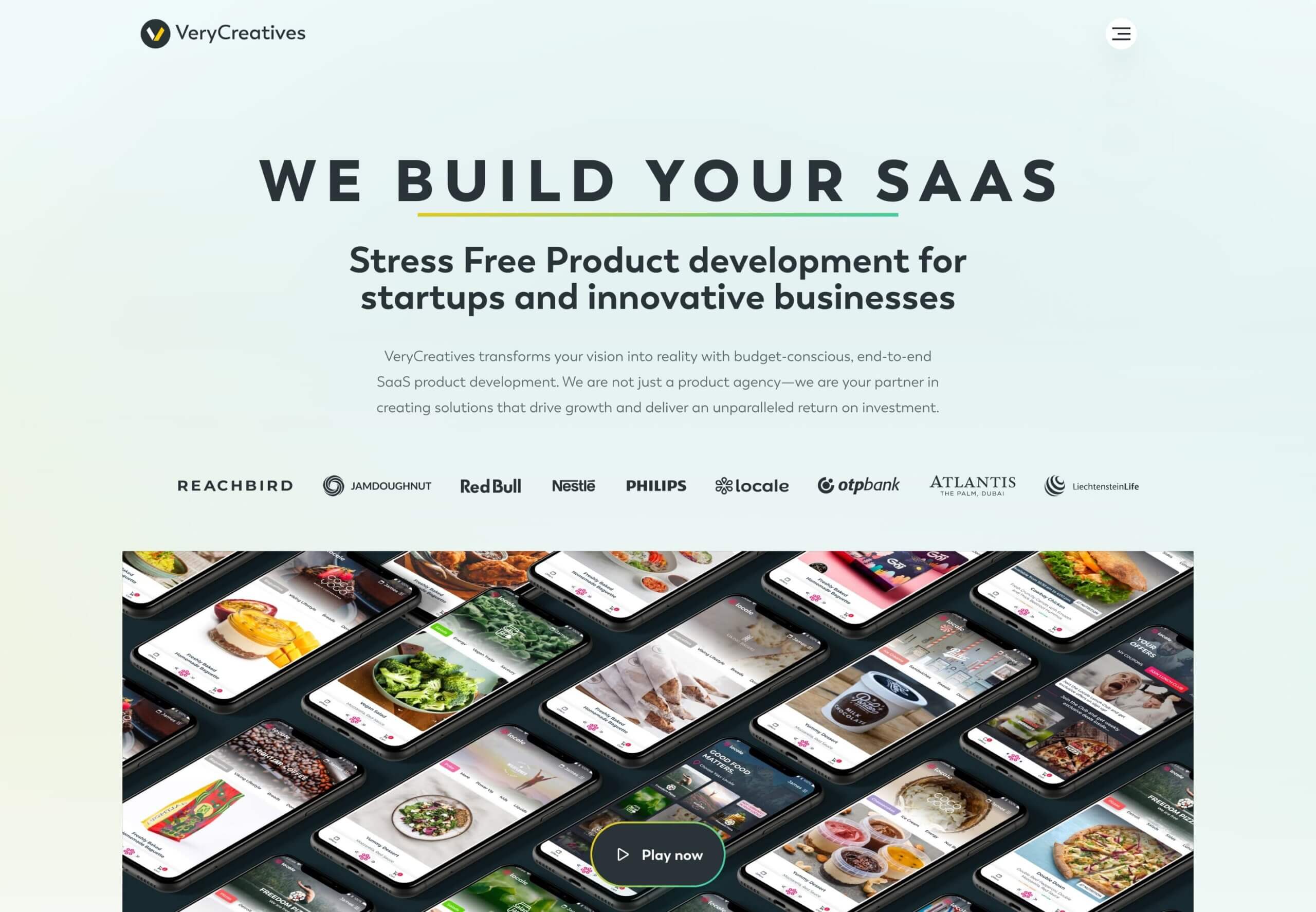 Since its establishment in 2010, VeryCreatives has emerged as a leading software development and consulting company, empowering startups and enterprise innovators with its business-focused technology solutions. Dedicated to bringing innovative ideas to life, the agency collaborates closely with founders, CEOs, CMOs, and entire product teams, guiding them from strategic planning and design to development and scaling up, aiming to deliver a remarkable return on investment.
Their expertise spans diverse industries, fueling the growth of companies in Digital Marketing, FoodTech, FinTech, Banking, Investments, Lifestyle, and other businesses. Operating across the EU, UK, UAE, and US markets, VeryCreatives leverages the latest tech stacks to transform clients' visions into reality without compromising budget consciousness or end product quality.
Giant corporations like Reachbird, RedBull, Nestle, Philips, LiechtensteinLife, Atlantis, OTP Bank, and other customers have entrusted their projects to VeryCreatives. The company's core philosophy centers on building high-quality solutions that exceed expectations. With VeryCreatives by your side, you are not simply hiring a digital agency; you gain an enthusiastic and proactive partner dedicated to realizing your prominent ideas at the highest level.
Services and expertise: product strategy & consulting, product design, MVP development, SaaS development
Tech stack: Ruby on Rails, Elixir, Phoenix, ReactJS, VueJS, Java, Swift, Objective-C, Kotlin, etc.
Industries: Digital Marketing, Technology SaaS, FoodTech, Delivery SaaS, Fintech, Banking, Investments, Mortgages SaaS, Lifestyle, Digital Health SaaS
Team size: up to 50 experts
Portfolio: Reachbird, RedBull, Nestle, Philips, LiechtensteinLife, Atlantis, OTP Bank, and others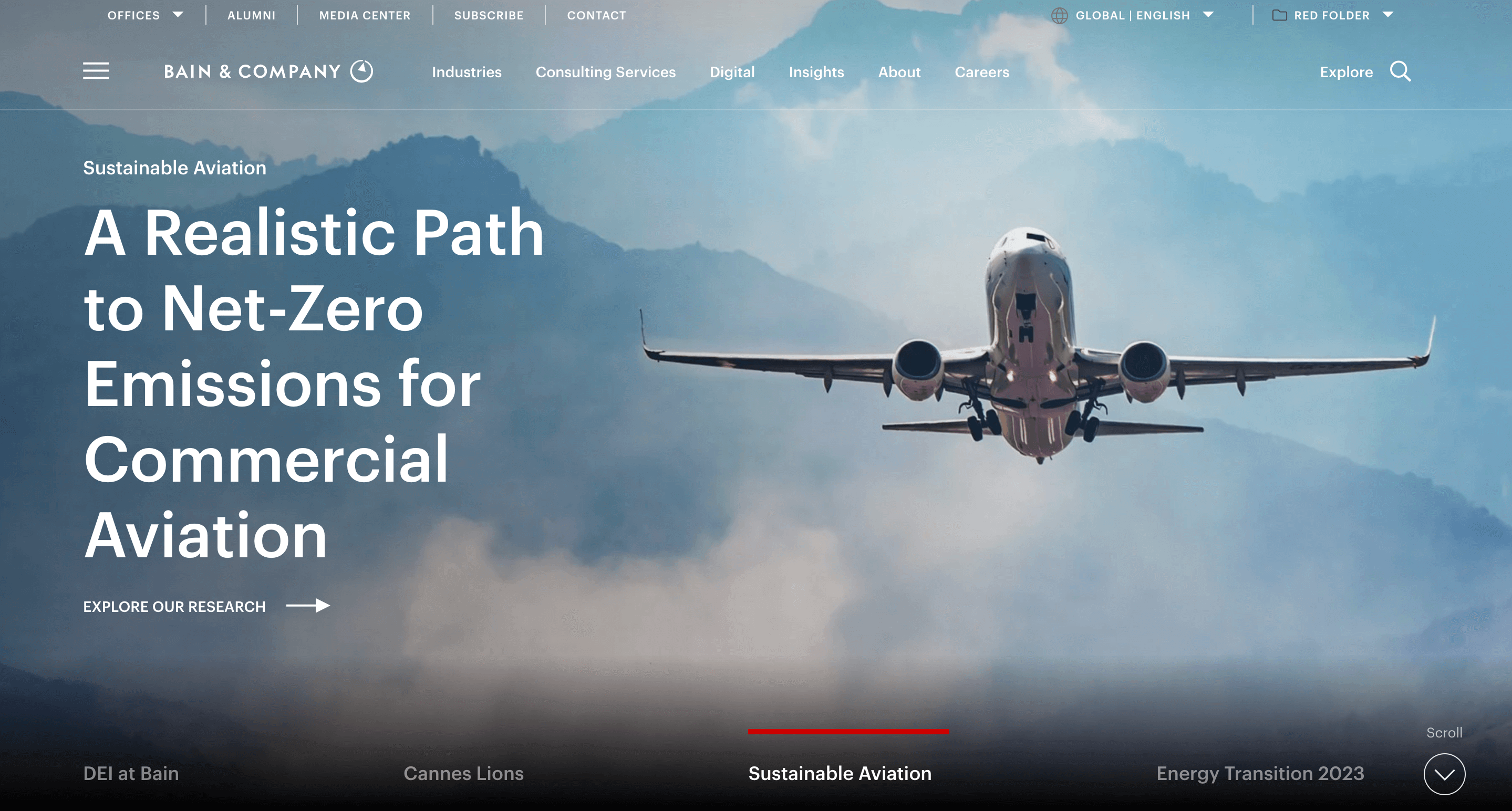 Bain & Company is one of the leading software consulting companies with offices in the USA, Europe, and Africa, consistently ranked as the best place to work in Glassdoor, Mogul, HRC, and Fortune reports. They're a large team of innovators who offer integrated solutions for fast, efficient, and sustainable results. 
Their core services include comprehensive business management and software consulting, sales and marketing, strategic planning, digital transformation, and SaaS development. 
Notably, this premier business consultant software firm has recently partnered with OPEXEngine to deliver breakthrough results powered by analytics to their technology clients. Thus, hiring Bain & Company can help you balance the SaaS growth and profitability of your business. They also have an accelerator program for steadying budding SaaS companies and a sales program for channel optimization.
Services:

business management and software consulting, IT outsourcing, digital transformation, customized software development, customer experience, digital marketing

Tech stack:

Java, C++, Python, JavaScript, HTML, Kotlin, SQL, MongoDB, etc.

Industry:

eCommerce, Finance, Healthcare, Aviation, Digital Assets and Blockchain

Team size:

13,000+ experts

Portfolio:

US Renal Care, IDAJ, OpenFIN, KP Aviation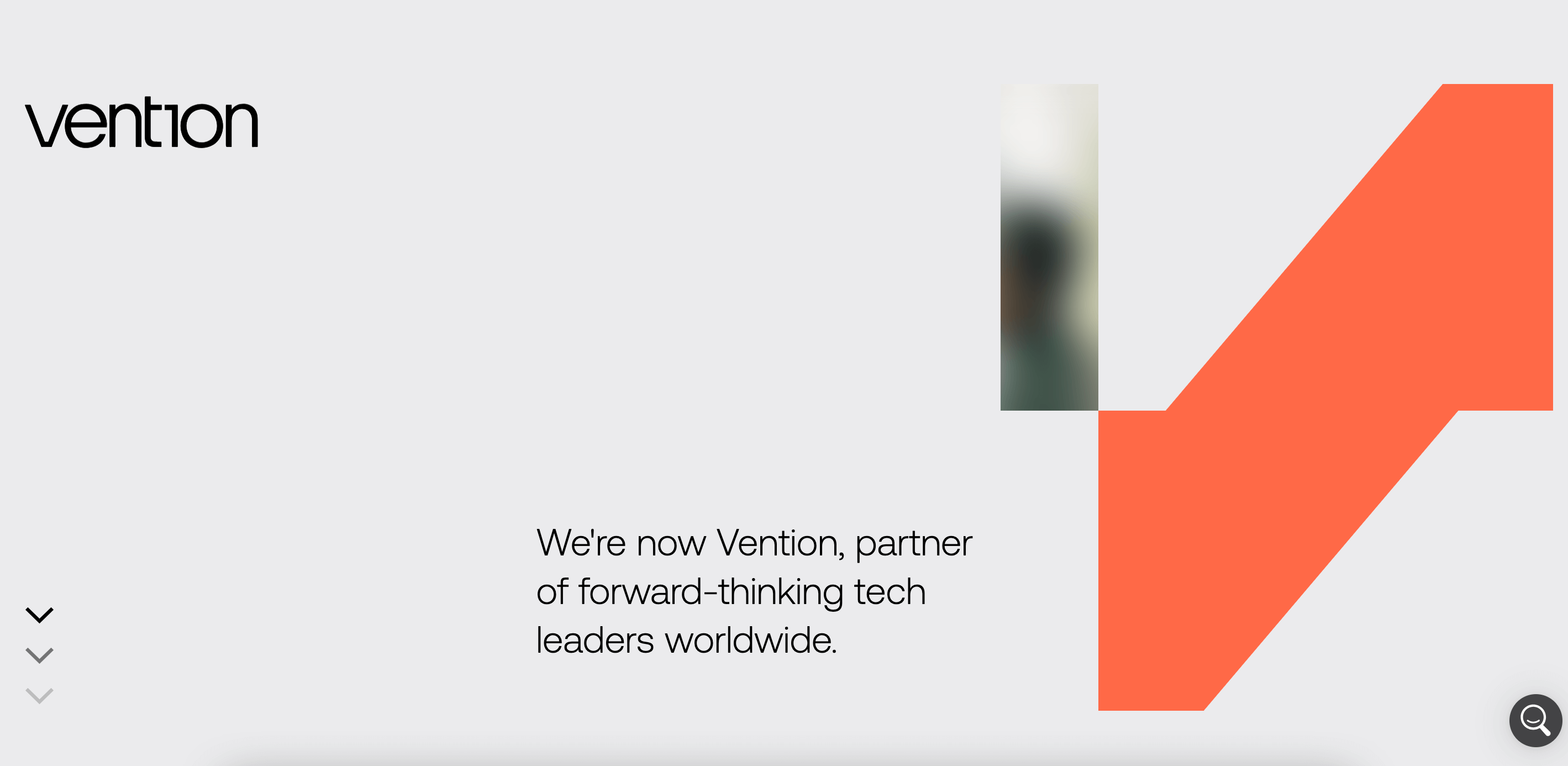 Vention was recently featured in the Financial Times' Fastest-Growing Companies 2023 list among firms with the most sustainable revenue growth. Cost cutting through custom software development is their forte, and they reportedly save clients $600,000 annually while delivering $15B+ in client acquisitions. 
This award-winning software development consulting firm has been in business for 20 years and currently has offices in 20 cities across the world. They offer services that span software development, mobile app development, and IT management. Sounds impressive, right? 
But that's not all. Vention has a strong foothold in the market with a client base of over 500 corporations. They team up with clients of all sizes and industries to transform their ideas into modern software that can scale operations to new heights. 
Their self-motivated teams—with a 96% job satisfaction score—will help you achieve profitable results in any area of software development.
Services and expertise:

software consulting, cloud software development, customized software development, data analytics, IT staff augmentation, AR/VR, IoT, startup services

Tech stack:

Java,

RPG, DB2, JavaScript, NET/C#, PHP, Python, etc.

Industries

: eCommerce, Healthcare, Finance, FinTech, EdTech, HealthTech, Real Estate

Team size:

3500+ experts

Portfolio:

 iGaming GiG, Food & beverage Freshly and Bevi, Healthtech Dialogue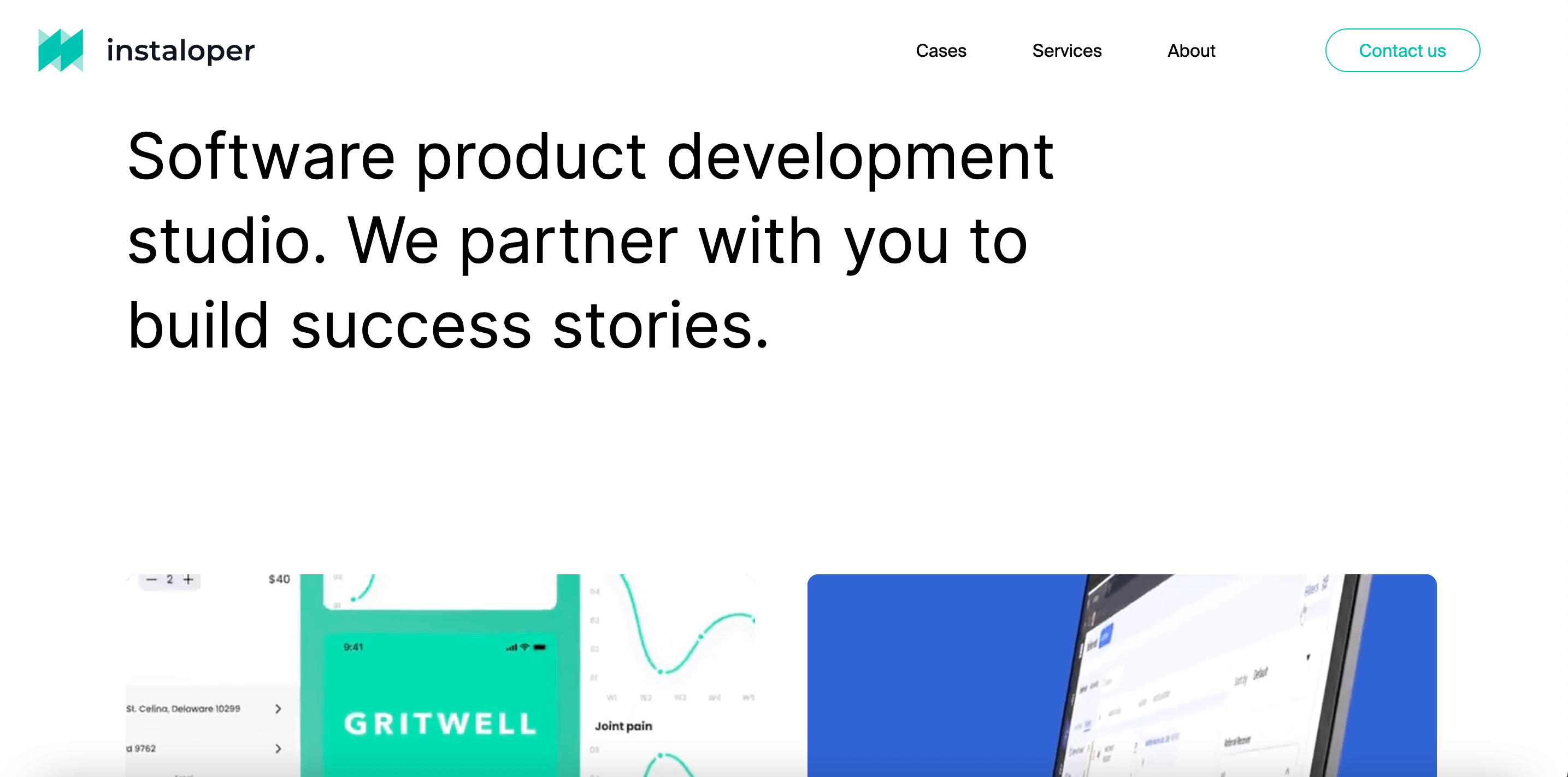 From concept planning to the realization of software dreams, Instaloper empowers businesses with exceptional software development consulting services focused on cutting-edge technologies and industry-leading strategies. With a remarkable track record spanning over 15 years, their team of adept consultants enables startups and established enterprises to embark on a transformative development journey, propelling them toward sustained technological progress.
Having successfully delivered more than 20 bespoke software solutions for 60 global enterprises and visionary entrepreneurs, each capable of handling millions of daily users, Instaloper's passion-driven team thrives on embracing novel challenges. Their ingenious software developers are experts in diverse tech stacks and eagerly implement straightforward and intricate app development projects of any type and complexity.
Time is of the essence, and at Instaloper, they pride themselves on initiating projects as swiftly as 2 weeks, ensuring impactful outcomes within the defined timelines. By synergizing the latest technologies, vast expertise, and the industry's top talents, they forge superior solutions that not only meet clients' expectations but also delight their end-users beyond measure. Their ultimate mission is to deliver best-in-class software consulting and development services that resonate with clients and elevate their businesses to new heights.
Services and expertise:

tech & product consulting, custom software development, UX/UI design, web development, mobile app development, product development

Tech stack:

Python, React, VueJS, NodeJS, Java, Objective-C, Swift, Kotlin, C++, C#, PHP, etc.

Industries

: Healthcare, Consumer Products & Services, Financial Services, Business Services, etc. 

Team size:

up to 50 experts

Portfolio:

Cobox, GritWell, Fetchadate, Biosay, Harward Innovation Lab, Toptal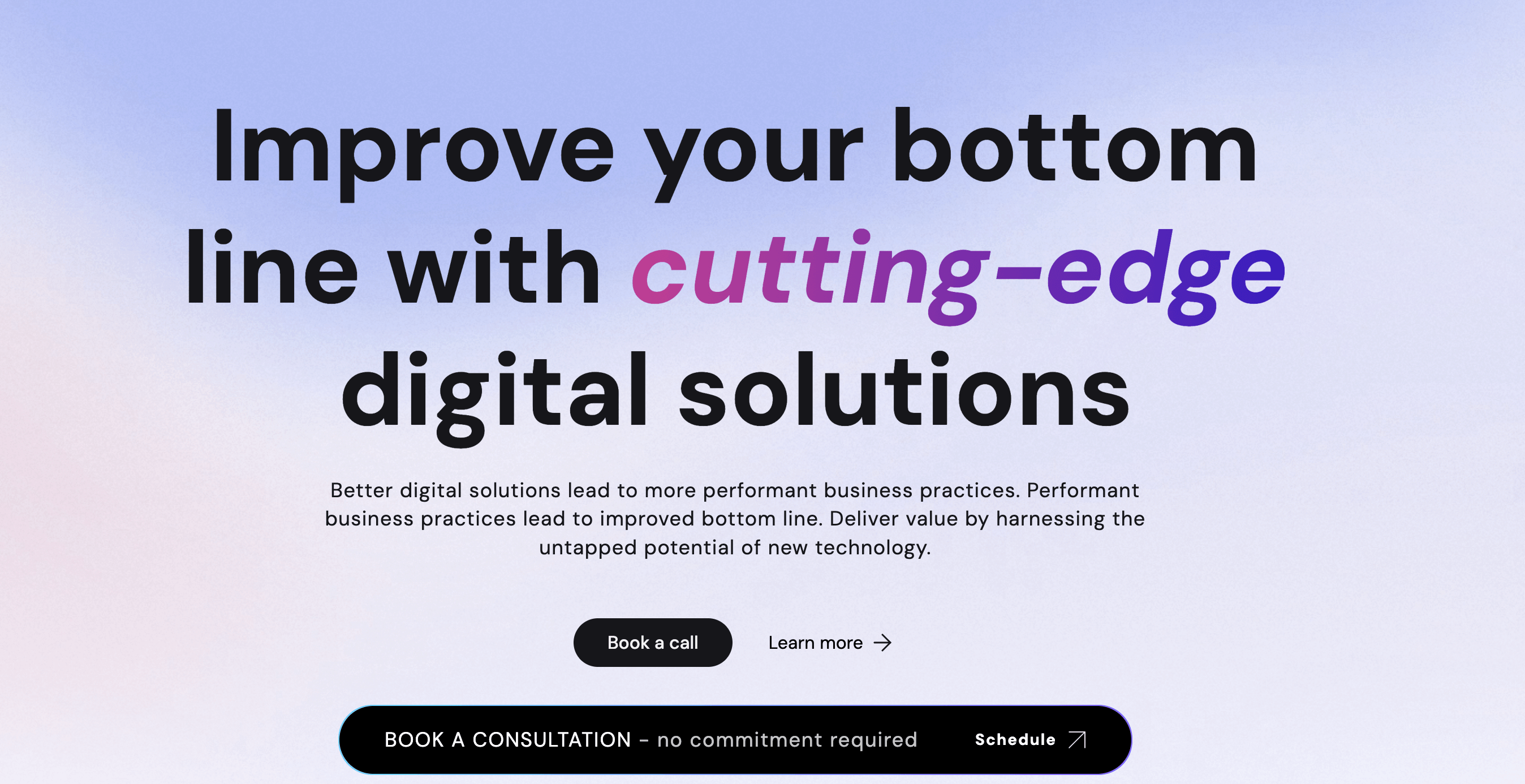 Conceptdigital, a distinguished London-based software development and consulting agency, offers a comprehensive range of IT services that have garnered high satisfaction rates of 98% among SMEs, startups, and scale-up clients. Benefit not just from their tech expertise but also the founder's McKinsey experience, who can ensure the solution you're looking to build optimizes business outcomes as well as being technically feasible.
With a focus on creating stunning digital experiences, optimizing and automating business operations, and fostering tech skills and culture, Conceptdigital is committed to delivering products that drive tangible results. From building custom software encompassing web and mobile app development, internal software tools, MVP development, and UI/UX design to staff augmentation services that bring on board skilled professionals like software engineers, designers, product managers, business analysts, data engineers, and data scientists, the agency supports you throughout the entire software development life cycle.
Moreover, Conceptdigital's expertise in data and AI solutions, including advanced analytics, data science, machine learning, and data mining, further bolsters your business capabilities and propels you toward success. Benefit from not just a technical
Services and expertise: bespoke software development,

digital

product design, staff augmentation, data engineering, AI solutions
Tech stack: ReactJS, NextJS, VueJS, NodeJS, React Native, Python, C#, Java, PHP, Laravel, MySQL, PostgreSQL, MongoDB, Azure, AWS, etc.
Industries: Fintech, Healthtech, Media, Retail, Agritech, Hospitality
Team size: up to 50 experts
Portfolio: Forbes, Atlas Metrics, Pensight, Payze, Rex, Pionaire, and others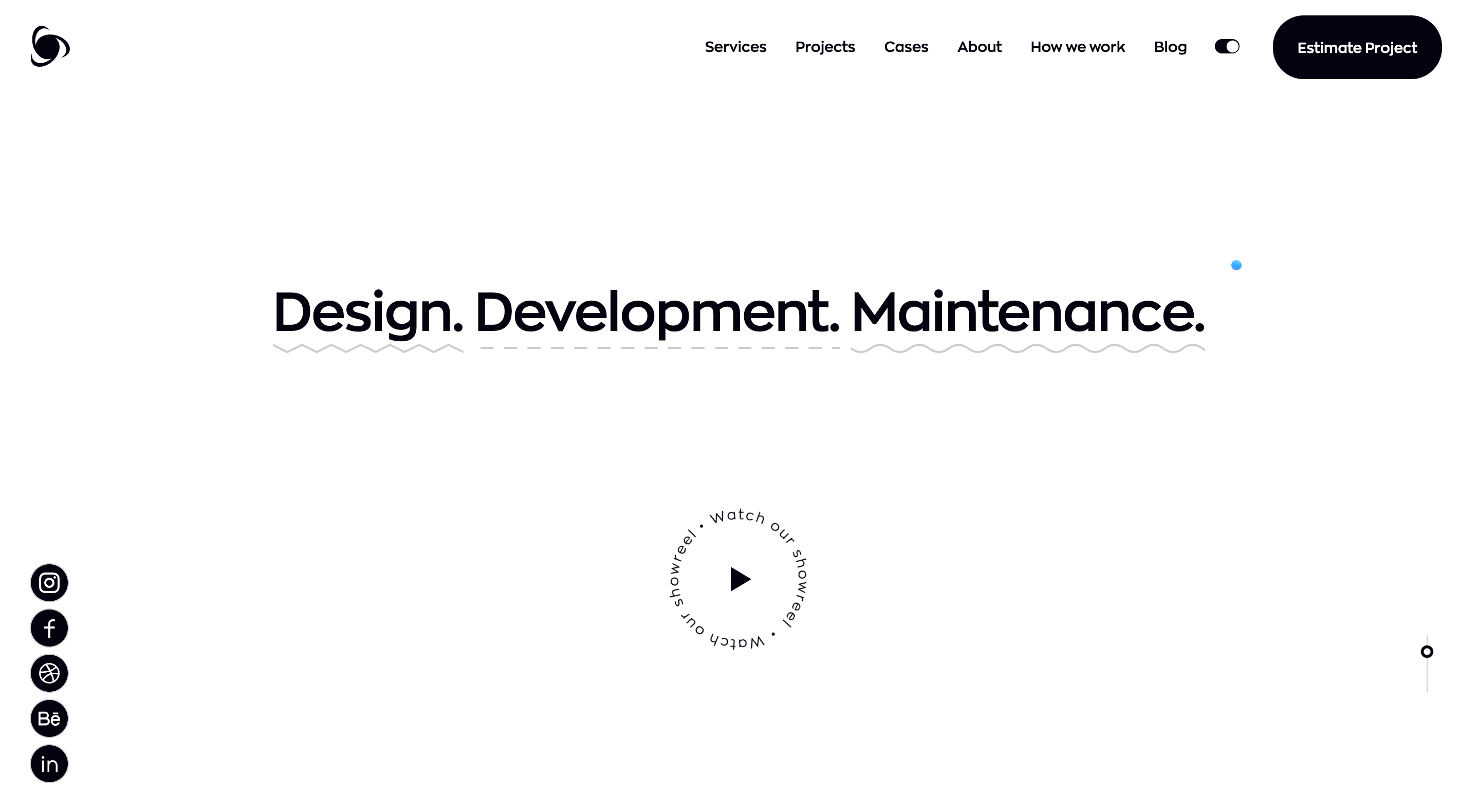 Ronas IT is a distinguished company specializing in software development and consulting services with a storied history in the IT industry. Established in 2007, the company covers a complete product development lifecycle, spanning from initial conceptualization to ongoing support, catering to the needs of startups, medium-sized enterprises, and large corporations.
With a remarkable track record, Ronas IT consistently serves a multitude of industries, ensuring the utmost security and user-friendliness while aligning software solutions with the precise business objectives of its clients. Boasting a dedicated team of over 60 seasoned professionals, Ronas IT has successfully executed more than 1,500 projects, emphasizing scalability and sustainable growth.
In situations demanding an urgent product launch, they excel in delivering swift turnarounds, often completing projects within just 1.5 months. This showcases their agility and proficiency in meeting tight deadlines without sacrificing quality. With Ronas IT as your trusted partner, your business will reap the benefits of top-notch software development and consulting expertise as they transform your concepts into cutting-edge software solutions.
Services and expertise: web & mobile development, MVP development, software development, design, DevOps, analytics, AI integration, AI marketing solutions, AI business solutions
Tech stack: NextJS, React, React Native, Swift, Java, Django, Laravel, Angular, etc.
Industries: Sport & Entertainment, Healthcare, Construction, Finance, Trading and Betting, Real Estate, Education, Blockchain, eCommerce
Team: 60+ experts
Portfolio: CoinSpace, Marshall Innovative Solutions, Facta Behavioural Harmonics, GotaBit Limited, Glenwater Limited, Lainappi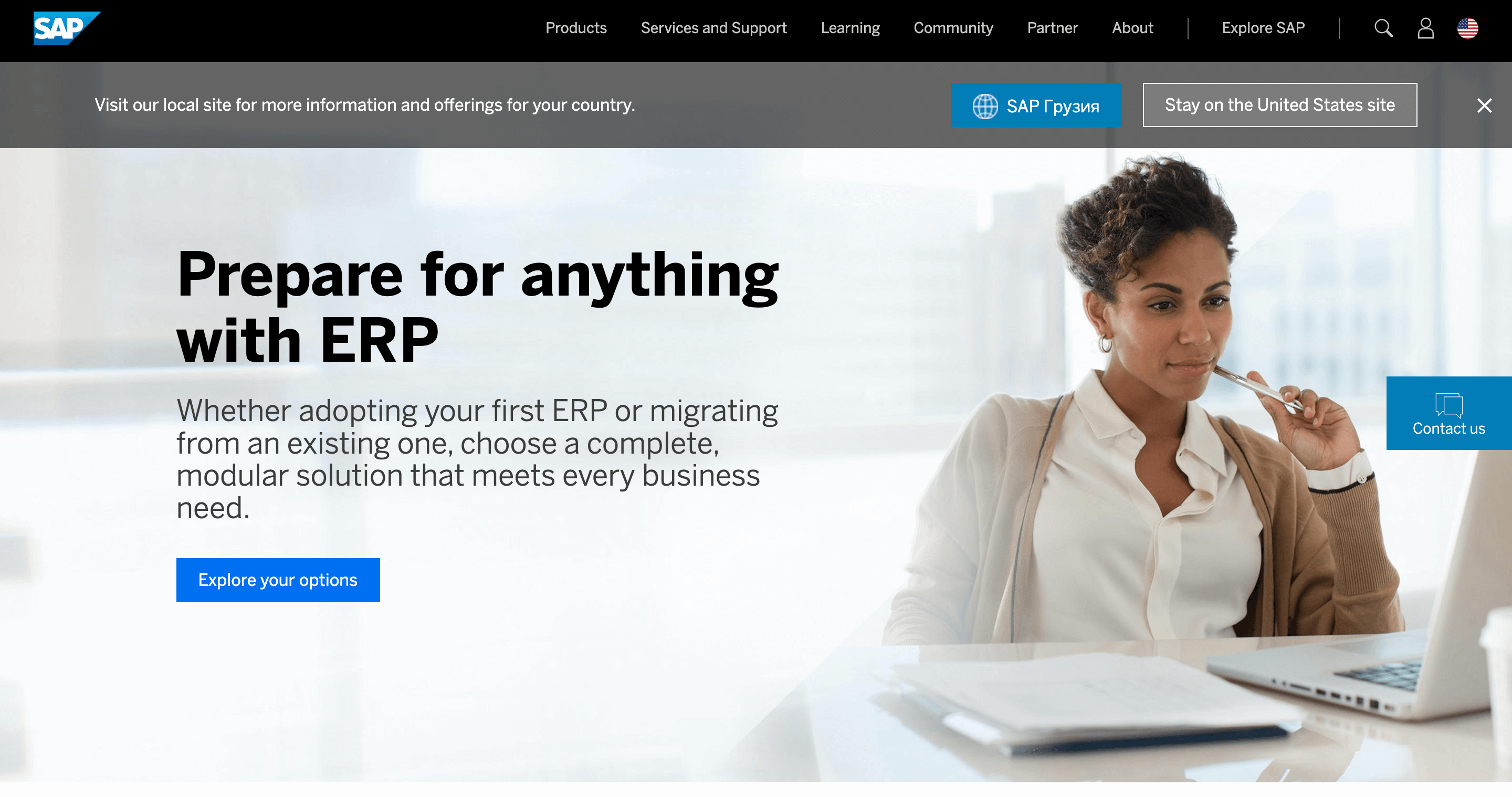 SAP operates in Germany, serving clients in over 100 countries. Their services include software implementation, cloud operations, and enterprise software deployments. 
The company has a deep history in tech, starting in 1972. Being among the top software consulting companies, SAP has been recognized in Fortune Best Companies to Work For and BrandZ Top 100 Most Valuable Global Brands rankings.
SAP's advisory services include design thinking, architecture and road map modeling, value design, and change management. Their full-stack service also includes maintenance and systems updates to promote SaaS success for clients in diverse sectors.
It gets better. Their popular ERP SAP software manages and unifies your diverse business operations into a single system. The system streamlines efficiency in every dimension, from CRM to Finance, HR, and more, to drive informed decision-making. 
Services:

cloud services, web development, software development, ERP development, spend management, supply chain management, CRM & customer experience

Tech stack:

ABAP, RESTful, SAPUI5, IBM DB2, etc.

Industries:

Manufacturing, Retail, Finance, Healthcare, Logistics, eCommerce

Team:

105,000+ experts

Portfolio:

 Coca-Cola, Siemens, BMW, Adidas, Procter & Gamble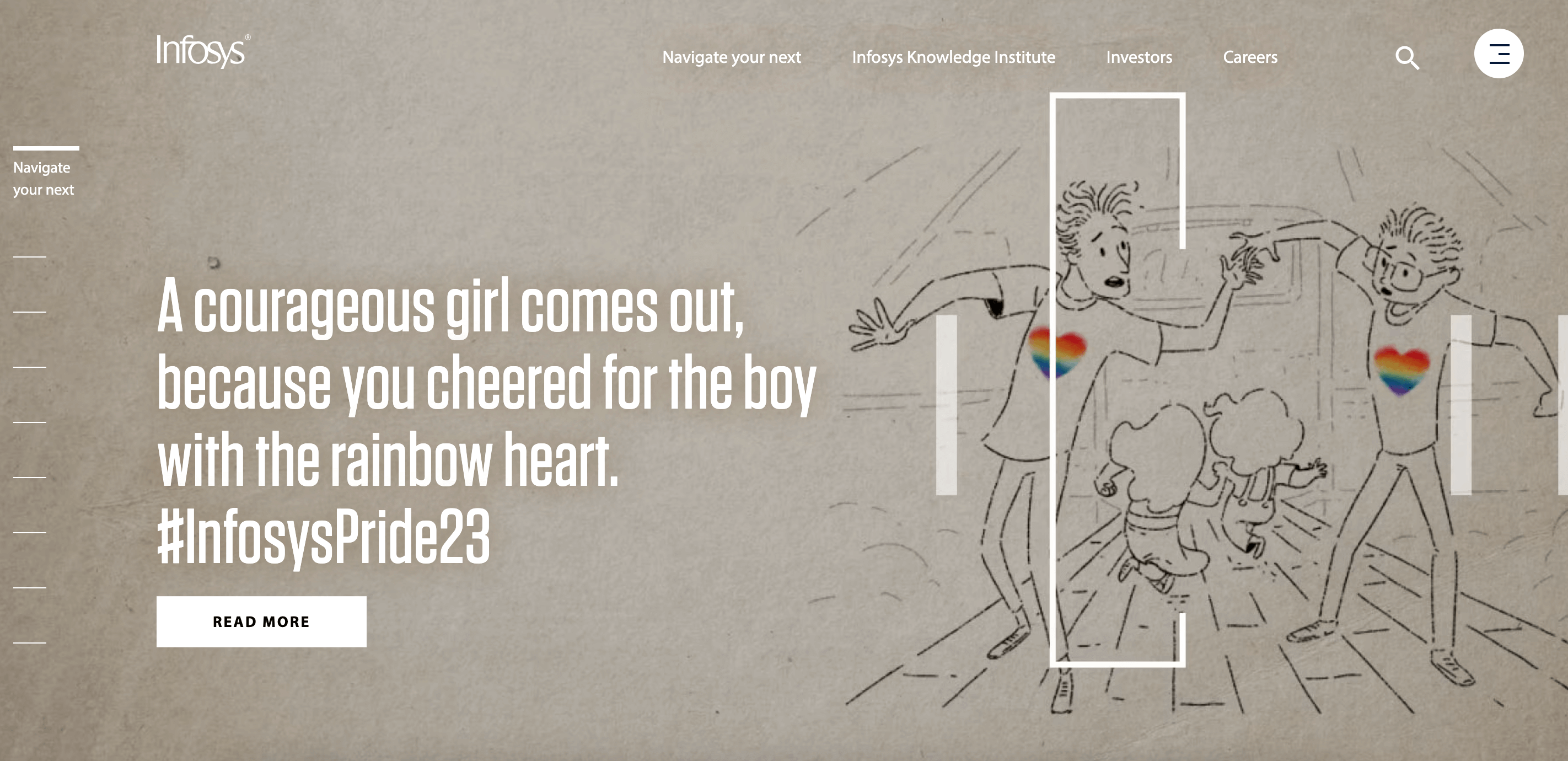 As one of the largest technology consulting firms, Infosys has a strong presence in over 50 countries. They have served multiple industry clients for more than 40 years. The Infosys team will help you supercharge your software development and IT infrastructure.
Their services range from CIO consultation to supply chain automation, artificial intelligence, and digital marketing. When you hire Infosys, you can expect a full team of cloud product engineers, AI experts, and digital experience masterminds who push the limits to elevate your business performance.
Infosys software developers are keen on making user-friendly interfaces for unlocking the full potential of data. Companies such as Pfizer and Spirit Aeroystems have benefited from Infosys's software development and robotic process automation capabilities. 
Services:

CIO advisory, custom software development, supply chain & operations, AI & automation, blockchain and metaverses

Tech stack:

Kotlin, HTML 5, Jquery, React, .NET, C++, Java, Python, etc.

Team size:

  29,200+ experts

Industry:

Healthcare, Finance, eCommerce, Logistics and Transportation, Financial Services, Cryptocurrency

Portfolio:

JP Morgan, Walmart, General Electric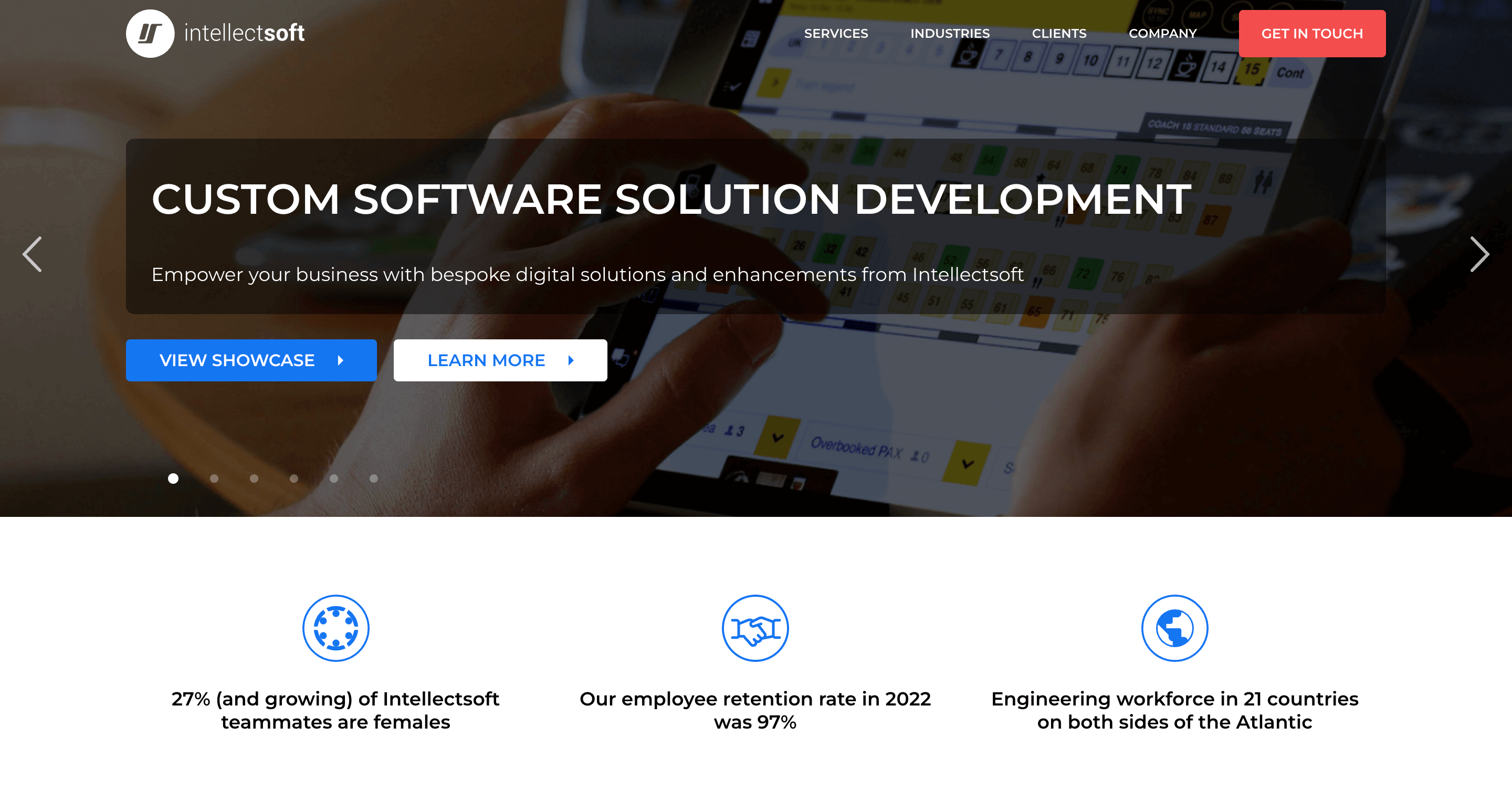 Since its inception in 2007, Intellectsoft has positioned itself as a leading software development company, offering comprehensive end-to-end software development services. With a commitment to helping businesses transition to digital-first strategies, Intellectsoft has been the go-to choice for startups, SMBs, and even Fortune 500 enterprises across continents like North America, Europe, Australia, and Asia. Their impressive track record boasts over 600 custom software solutions delivered, showcasing their dedication to excellence.
Intellectsoft is an industry leader with a diverse range of expertise, including Fintech, Healthcare, and Construction. Their services are comprehensive and extend from web and mobile app development to specialized areas like AI/ML solutions, blockchain development, and IoT. Their approach prioritizes innovation, ensuring that their solutions not only meet but exceed customer expectations, resulting in improved customer and employee experiences.
Many notable enterprises have shown their confidence in the competence of Intellectsoft, which is a clear indication of their unwavering dedication to providing exceptional software solutions that have a significant impact. Their all-encompassing methodology involves consultation, engineering, and assistance, ensuring that customers receive comprehensive services precisely tailored to their specific requirements.

Services and expertise: web development, mobile app development, enterprise software development, IT consulting, UI/UX design, QA & testing, blockchain development, AI/ML solutions
Tech stack: JavaScript, React, Python, NodeJS, PHP, Java, Objective-C, Swift, Flutter, etc.
Industries: Fintech, Insurance, Healthcare & Biotech, Travel & Hospitality, eCommerce & Retail, Logistics & Transportation, Construction, Real Estate
Team size: 210+ experts
Portfolio: Mitsubishi Power, Melco, Intel, Systeam, Harley Davidson, Eurostar, Investment Evolution, Tuqqi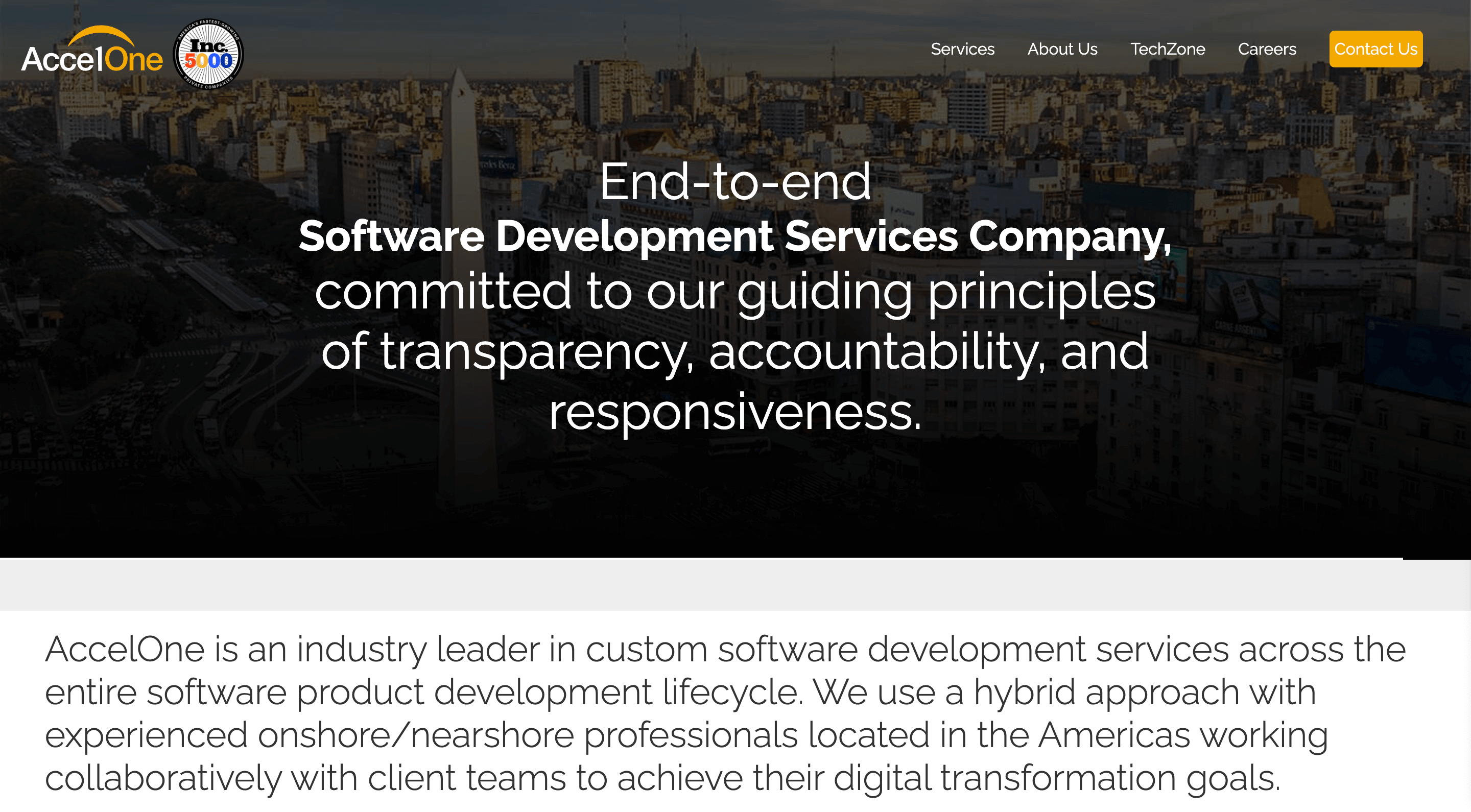 AccelOne started in 1983 and has grown into an industry giant in software consulting services and tech talent management. Their representative and technical staff are located in Seattle, Las Vegas, Orange County, and Buenos Aires. 
They deliver services focused on creating innovative solutions for the world's most advanced sectors. They have completed some of the most complex software projects in crypto, cloud computing, mobile development, and enterprise systems.
The company operates on the principles of transparency, customer service, and innovation. Their solutions push the limit in intuitiveness, interoperability, and user-friendliness.
Services

: IT consulting, custom software development, IT staffing & recruiting, mobile app development, AR/VR systems, UX and UI design, QA and testing

Tech stack:

React, Angular, NodeJS, .NET, C#, C++, Java, Python, etc.

Industry:

Healthcare, Retail and eCommerce, Finance and Banking

Team size:

650+ experts

Portfolio:

Xapo, Turner Broadcasting, HSBC, Ziing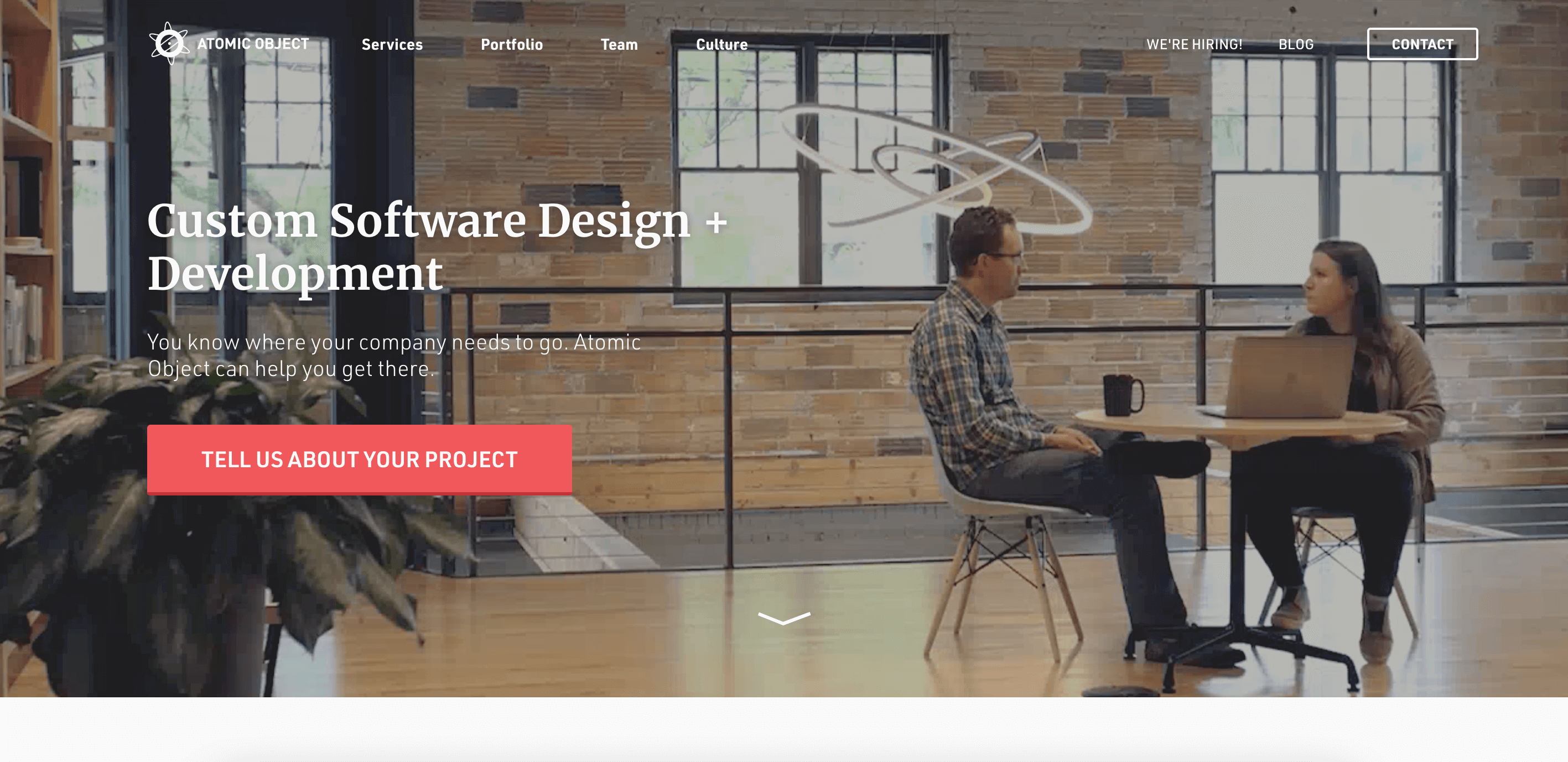 Atomic Object produces bespoke software for the web, phones, PCs, and the Internet of Things. Since 2001, they have helped thousands of companies innovate and stay ahead in the digital environment. They offer top-level teams for design, engineering, and project management.
The company can offer assistance in ERP and cloud solution development and implementation. Their broad spectrum of technical knowledge allows them to take on multiple projects and deliver superior results easily.
Consider Atomic Object if you are looking for a software development consulting services company that covers everything. Apart from taking the lead on development and customization, they can also help you find and deploy market-leading solutions to achieve your desired results.
Services:

software consulting, custom software development, product design, web and mobile app development, cloud computing, IoT development

Tech stack:

React, Angular, Python, Java, .NET, etc.

Industry:

eCommerce, SaaS, Healthcare, Manufacturing, Retail

Team:

200+ experts

Portfolio:

Art Prize, Meijer, DTE Energy, Fifth Third Bank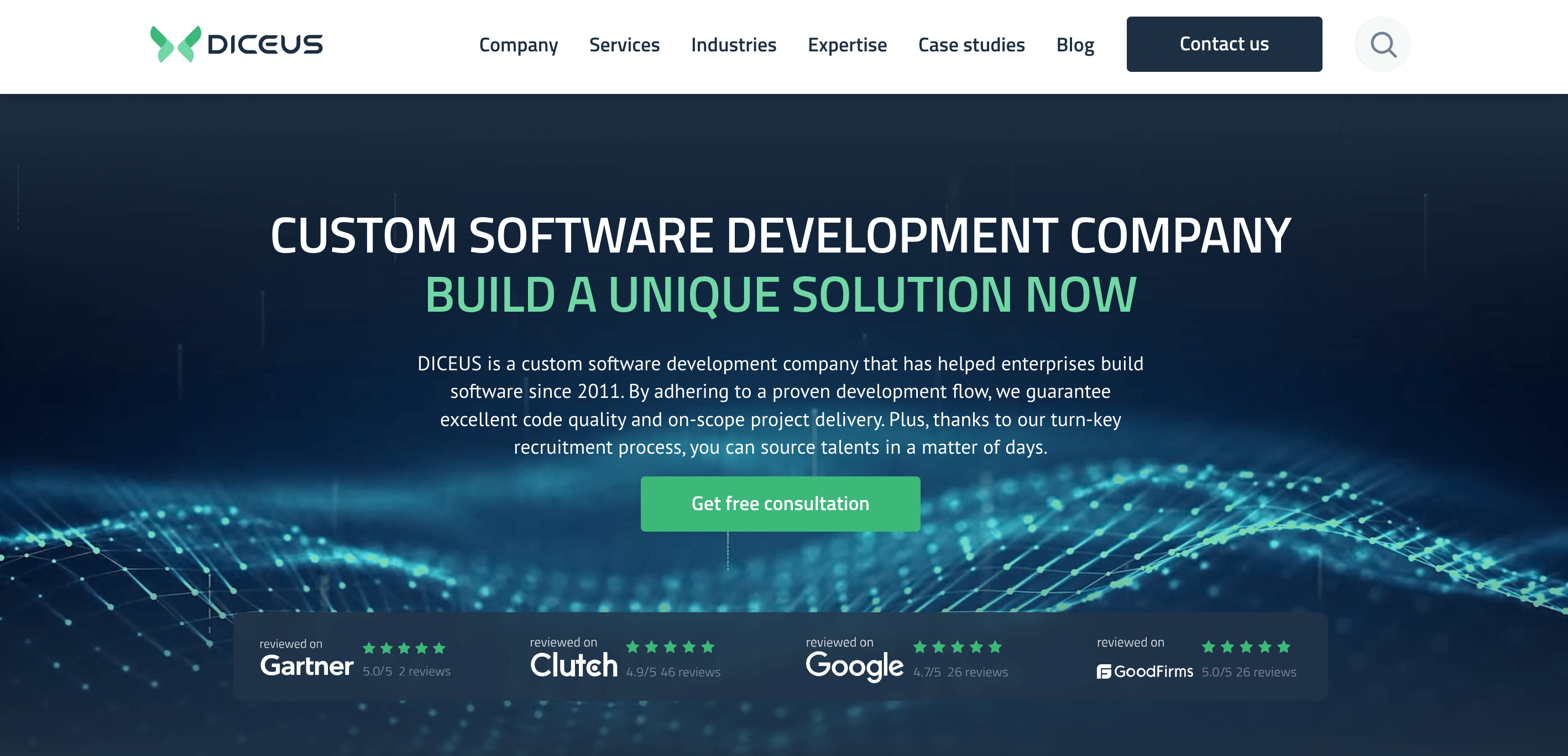 DICEUS is one of the best software consulting companies in the global market. For 12 years, their tech wizards have built transformative solutions for web, mobile, and enterprise software projects. The company operates throughout the US, Ukraine, and UAE. 
They focus on data warehousing, digital transformation, software architecture, and auditing. You can also hire DICEUS for web development, maintenance, eCommerce, and SaaS marketing solutions.
What's more, the company excels in system reconfiguring and migration. They can help you grow, modify and improve the functionalities of your current software.
DICEUS helps its customers store, evaluate, and analyze data. They continue to provide software architecture reviews, train employees on new software models, and audit designs.
Services:

IT consulting, custom software development, cloud and data solutions, software audit, system migration, digital transformation, employee training

Tech stack:

Java, RPG, DB2, JavaScript, NET/C#, PHP, Python, etc.

Industries: Finance and Banking, Healthcare and Life Sciences, eCommerce and Retail 
Team size:

150+ experts

Portfolio:

Steelcase, ArboMetrix, Open Systems Technologies, Michigan Non-Profit Association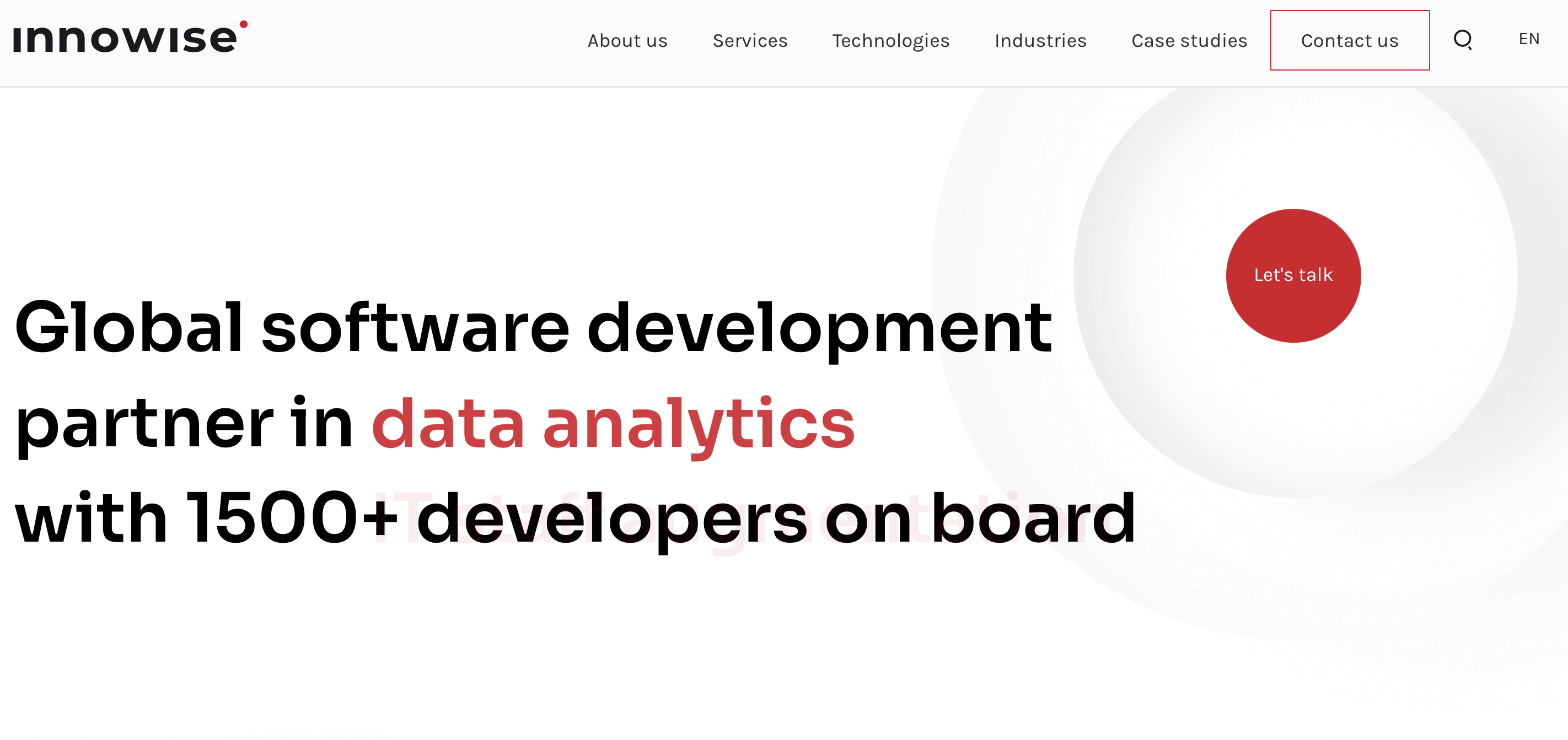 Innowise has achieved excellence in software management consulting in over 30 countries. This full-service software development and IT consulting company made its debut in 2007.  
They started with a focus on enterprise architecture and digital maturity. Today, they have evolved to offer strategic expertise on cloud solutions, machine learning, blockchain, and other emerging technologies. 
What makes them special? Innowise manages every phase of your software development. Their top-notch IT consultancy team can help in strategy and design, project management, development, testing, and deployment. Besides, the company also excels in software customization.
If your business is looking to make the best of its BI, AI, or RPA solutions, Innowise can become a perfect partner.
Services: s

oftware consulting and development, web development, product design, data analytics, cloud services, blockchain and NFT

Tech Stack:

Java, JavaScript, NET/C#, PHP, Python, etc.

Industries:

IT Services and Software, Oil and Gas, SaaS, Healthcare, FinTech, Banking, Insurance, Logistics

Team size:

1,000+ experts

Portfolio:

Naip, Trumpet, OneStop Pro, Topcon Agriculture, NFT Pro, Switchbackr Worldwide Inc.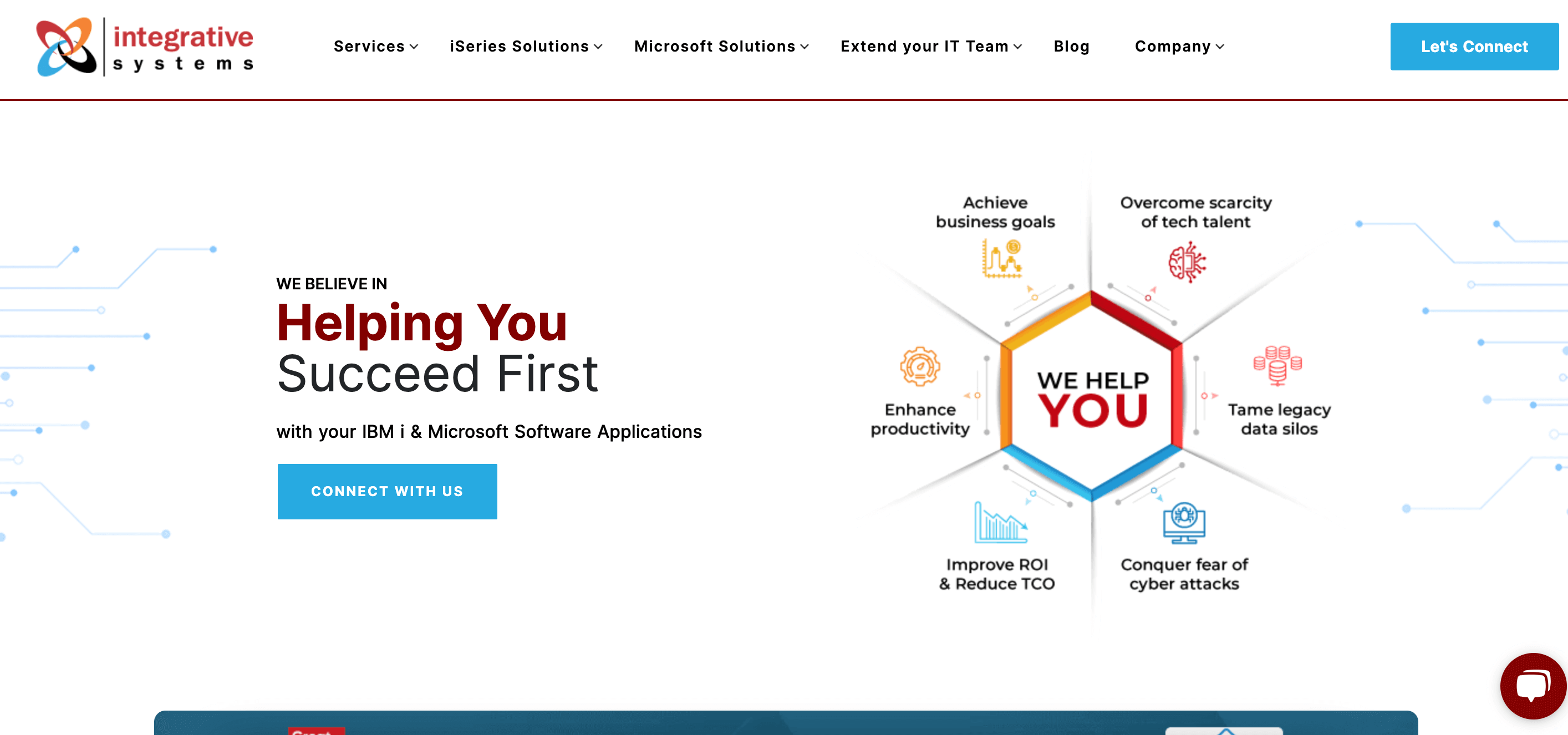 Integrative Systems business software consulting company is headquartered in Illinois, USA. They specialize in engineering and software consultancy, focusing on IBM and Microsoft solutions.
Their services rest on the four pillars of productivity, modernization, security, and ROI. For 21 years, they have consistently achieved success in custom software development for global clients like Crane Composites and J.C Licht.
Integrative Systems may be the best company to hire to modernize your business and optimize analytics. They'll provide you with ultimate IT consulting, software implementation, and data management assistance.
Services:

data management and analytics, software development, IT consulting, Retail MMS

Tech stack:

.NET Solution, IBMi Development (AS400, iSeries), RPG, DB2, ASP.NET, Power BI

Industries:

Retail, Manufacturing, Finance and Banking, Information Technology, eCommerce

Team:

201-500 experts

Portfolio:

Kemper Sports, Lakeshore Recycling Systems, Red Apple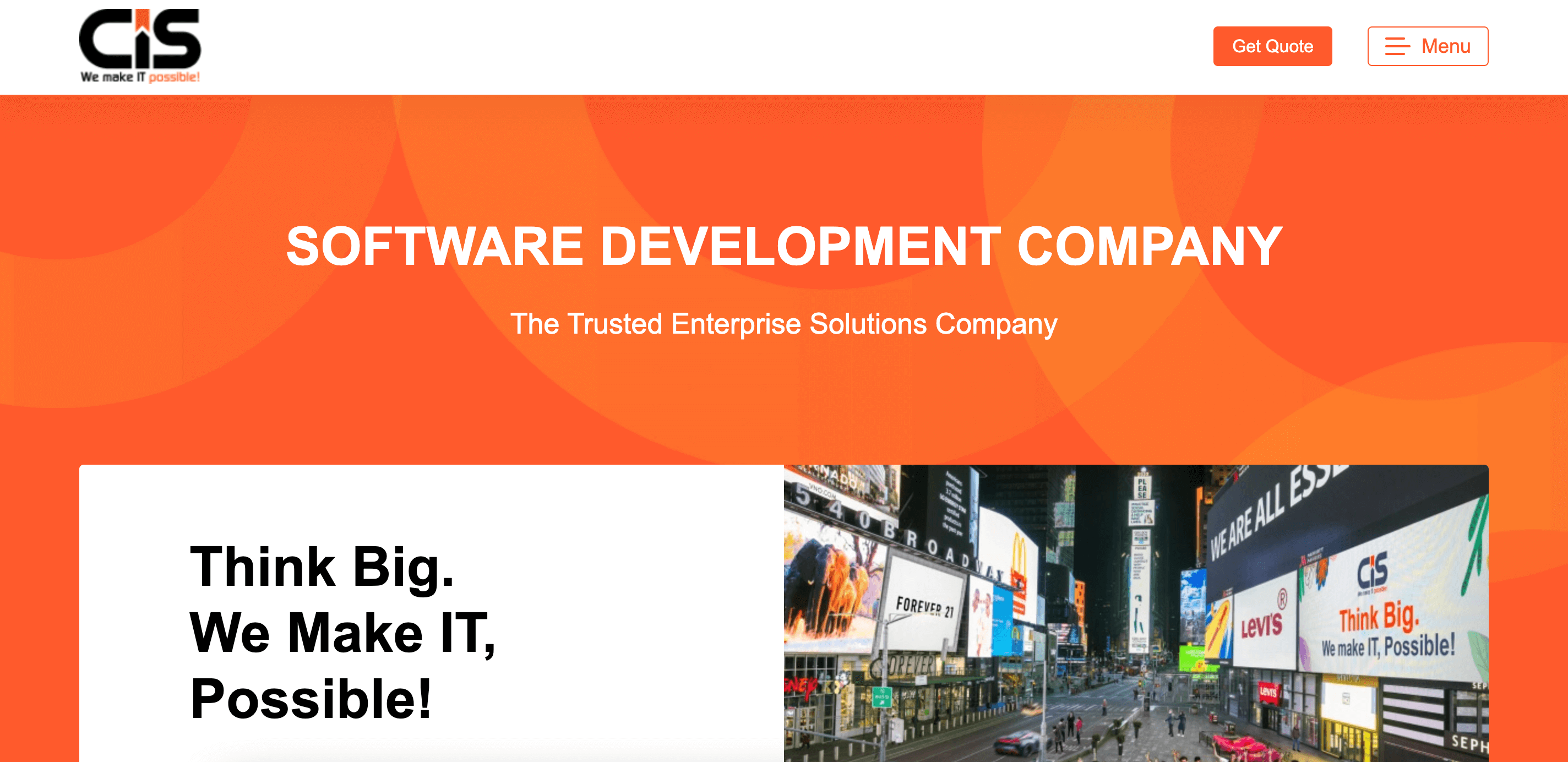 CIS has a significant presence in Australia, the USA, and England. They offer AI, blockchain, AR, and VR design and development services. They also provide insights, strategy, and white-glove assistance to businesses in web development, IoT, RPA, and marketing.
This top software consultant company was established in 2003 and has evolved into a team of 1000+ top-tier experts serving thousands of clients worldwide. CIS has offered positively disruptive solutions to industry leaders, including Careem, Amcor, and BCG.
When you hire IT consultants from CIS, you can expect broad expertise in different technologies, a fully responsive customer support service, and innovative solutions.
Services:

software development and consultation, web and mobile app development, Microsoft services, cloud systems, big data, AI/ML development

Tech stack:

Java, RPG, DB2, JavaScript, NET/C#, PHP, Python, etc.

Industries: Healthcare, Finance, Retail, eCommerce, Cybersecurity, Dating, Automobile, HiTech, and many more
Team size:

1000+ experts

Portfolio:

Careem, BCG, Provoke Aero
Conclusion
This list of top software consulting companies should give you a clue of what to expect when you hire a team of professional software consultants. When choosing the best-fit partner, compare and contrast their services and find a firm whose services perfectly align with your goals and budget.
If you want to feature your software consulting agency in this list, email us with your request. After a quick review, we'll decide whether it's a valuable addition.