C++ stands out as a widely favored programming language among software developers worldwide.
When it comes to developing high-performance programs, C++ is the best option, providing multiple disciplines, faster development, and versatility. This technology is mostly used for building video games, embedded systems, hardware devices, and AI and IoT applications. 
Notably, a variety of software applications that we encounter in our daily lives are built using C++. Some of them are Spotify, Adobe PS, YouTube, Amazon, and even Google.
Thus, if you want your project to be implemented with C++ programming language, it's crucial to hire a professional engineering team. To help you with this task, we've compiled a list of the top C++ development companies with prominent achievements and experience in the IT industry whose work has left a permanent mark on the entire software development community. 
The Best C++ Development Companies For High-Performing Applications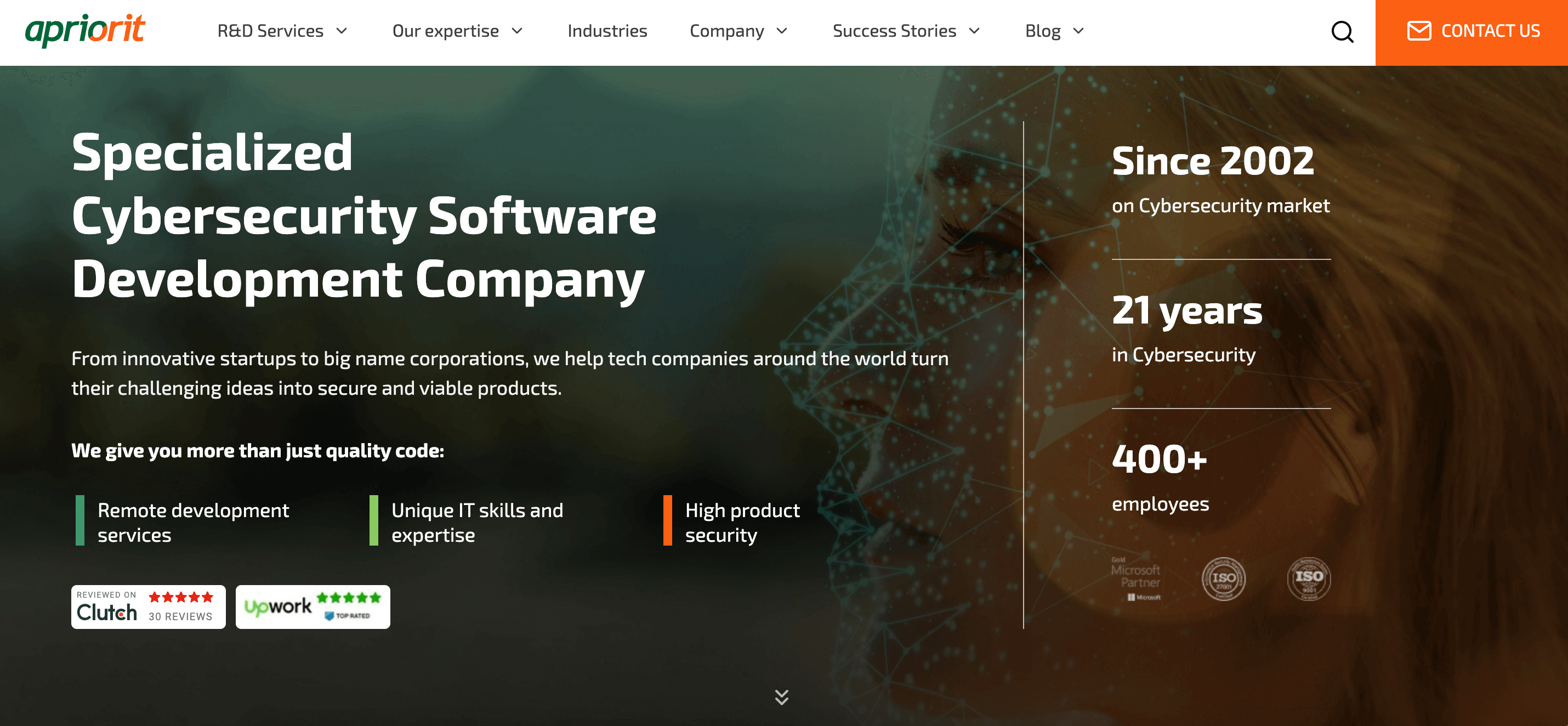 Apriorit is a leading software development company with a strong focus on cybersecurity and deep technical expertise in building web and mobile apps, blockchain and artificial intelligence systems, and DevOps. With over 400+ specialists on board, Apriorit has successfully delivered digital products for businesses of all types and sizes since 2002. 
Their team primarily leverages C/C++ to achieve robust security and exceptional performance of AI, ML, IoT, and embedded software solutions. 
Services & expertise:

cybersecurity, web and mobile app development, cloud computing, blockchain development, AI and ML systems, embedded software, IoT development, system programming services, video delivery solutions, quality assurance

Tech stack:

C++,

Python, .Net, C#, Objective-C, Swift, Kotlin, ASP.NET, AWS

Industries: Fintech, Healthcare, Insurance, Human Resources, Retail And eCommerce, Travel and Hospitality, Logistics and Transportation, Supply Chain, Automotive, eLearning, Media and Entertainment
Location:

Washington, USA; Poznan, Poland; Dnipro, Ukraine

Clients:

Beam Solutions, Cryptonomic, Cycle Clarity, Devolutions, Opswat, PayDay Resources, Borta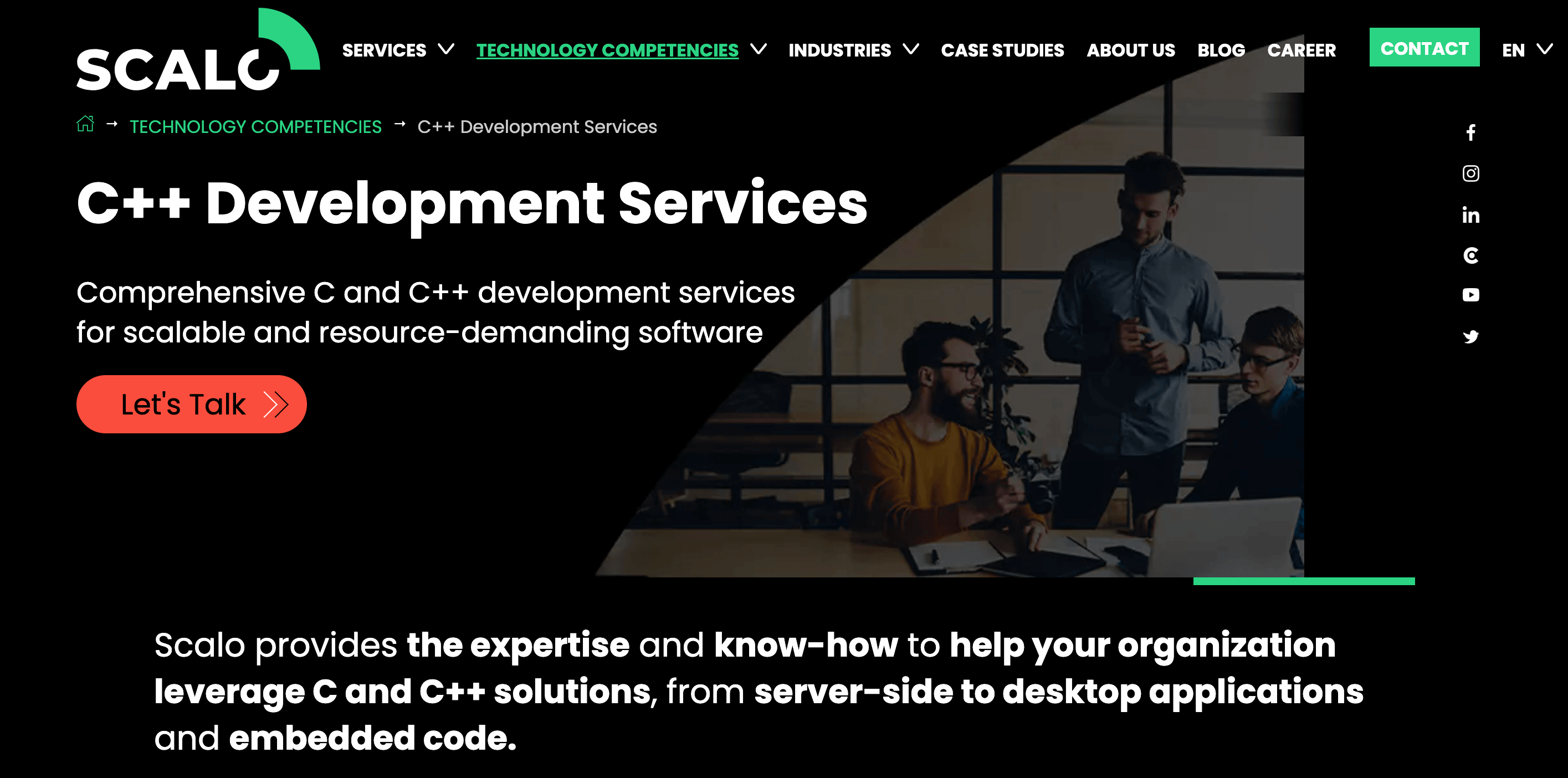 Being the top provider of C++ development services, Scalo offers extensive expertise and knowledge to help your organization implement powerful desktop applications and embedded code. 
Choosing Scalo as your reliable tech partner gives you the ultimate access to skilled C++ coders capable of developing and maintaining innovative software throughout the entire development cycle. Moreover, you will benefit from Scalo's vast industry experience, an agile mindset, and client-oriented approach with a proven record of over 750+ amazing software projects. 
Services & expertise:

web and mobile app development, software consulting, software design, IT staff augmentation, dedicated teams, IT outsourcing, offshoring, embedded software, simulation software, cloud advisory, DevOps

Tech stack:

C/C++,

.Net, Java, Python, PHP, C#, Node.JS, JavaScript, Angular, React

Industries: F

inance and Banking, Fintech, Manufacturing, Media and Entertainment, SaaS

Location:

Wroclaw, Krakow, Katowice, Warsaw, Poland

Clients:

Onet, BNP Paribas, ING, Vodeno, Bitpanda, Change Donations, Interia, Asseco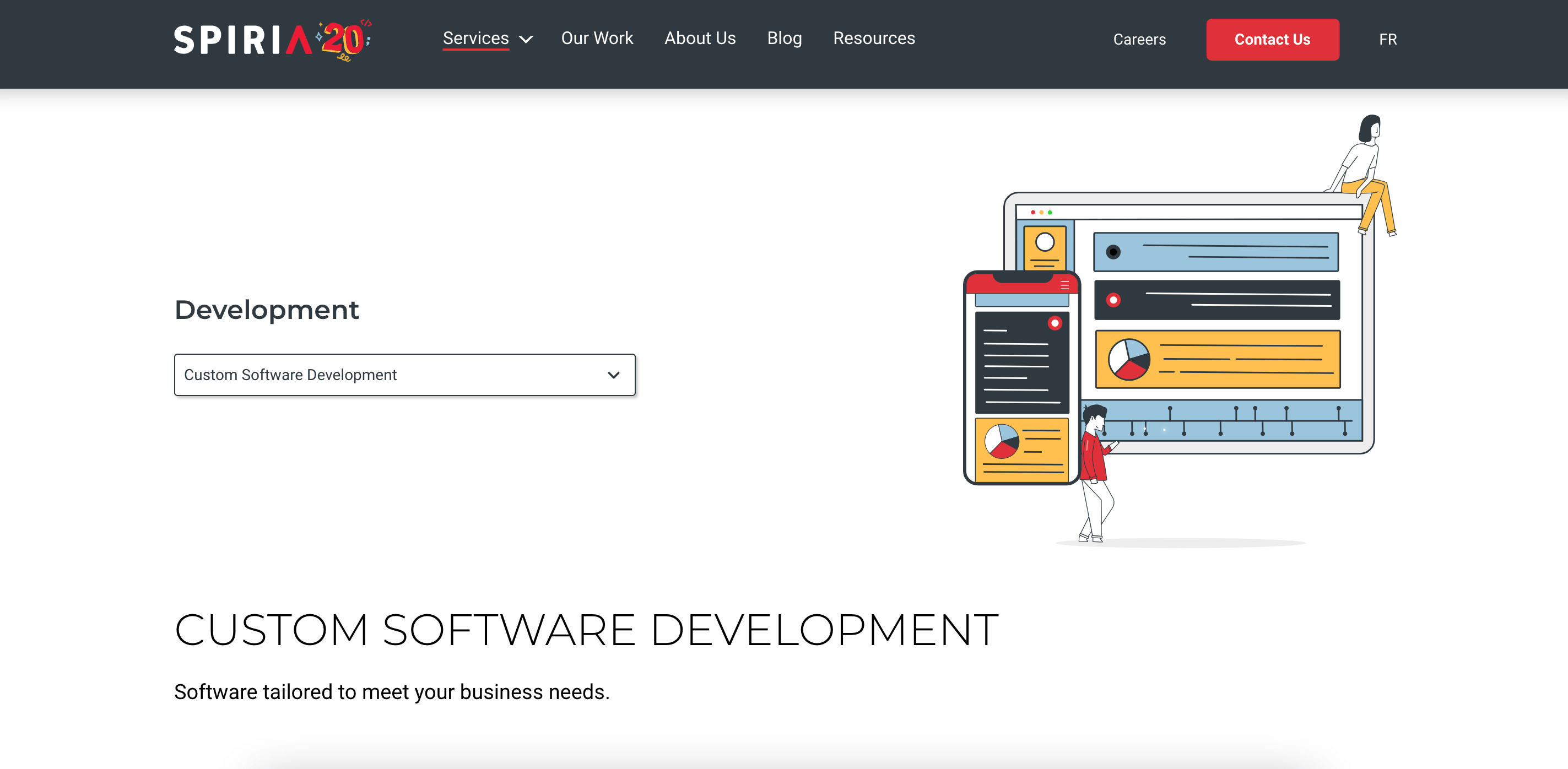 For over 20 years, Spiria has specialized in utilizing C++ alongside other cutting-edge technologies and frameworks to deliver fantastic projects in augmented reality, virtual reality, artificial intelligence, and machine learning. Additionally, their team possesses unique expertise in 3D software design and development.
Hire the best C++ developers from Spiria to benefit from their in-depth knowledge of the latest and old-fashioned technologies and build future-ready products.
Services & expertise:

custom software development, web and mobile app development, UI/UX design, quality assurance and automation, support and maintenance, product research, discovery process, digital transformation, customer research, customer acquisition strategy, customer engagement planning

Tech stack:

C++, C#, Java, Qt, .Net, Python, JS, Ruby on Rails, AWS

Industries: A

griculture, Manufacturing, Healthcare, Media and Entertainment, Energy and Natural Resources, Wellness and Fitness, Advertising and Marketing, Retail, IT

Location:

Montreal, Gatineau, Oakville, Canada

Clients:

Shutterstock, Alliant, Autodesk, Nortac Defence, Canon, Epic Games, Broadsign, Evenko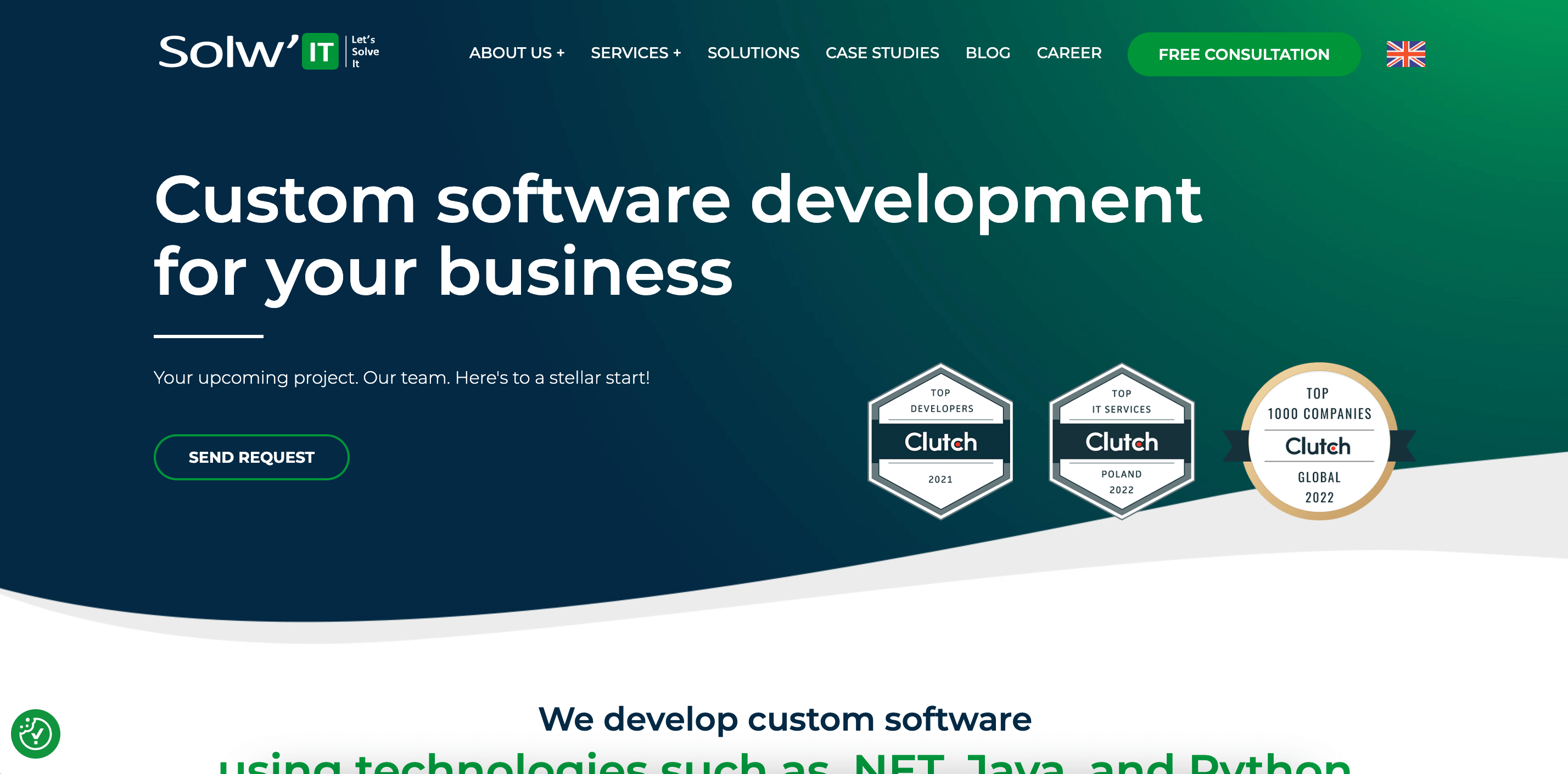 Using C++ programming language at the forefront, Solwit provides the following software development services: IoT and embedded solutions, web, mobile, desktop, and cloud applications. They were awarded as Clutch's top C++ software developers in Poland in 2023. 
Their individual specialists or entire teams are ready to join your project to design custom applications, assisting you from scratch to launch. Also, you are able to take a free consultation to share the details of your project and kick-off within 7 days. 
Services & expertise:

custom software development, safety-critical and embedded systems, IoT software development, refactoring of services and applications, software testing, DevOps, business process automation, IT outsourcing

Tech stack:

C#, C++, Java, Python, .Net, Node.JS, Angular, Swift, Kotlin, MongoDB, Firebase, ReactNative, Docker

Industries: E

ngineering, Information Technology, Beauty and Cosmetics, Gambling, Pharmaceutical, Education and eLearning, Finance and Banking

Location:

Gdansk, Poland. 

Clients:

Nevion, Bibus Menos, Sprint, Farma Prom, Learnatic, Finastra, Solwena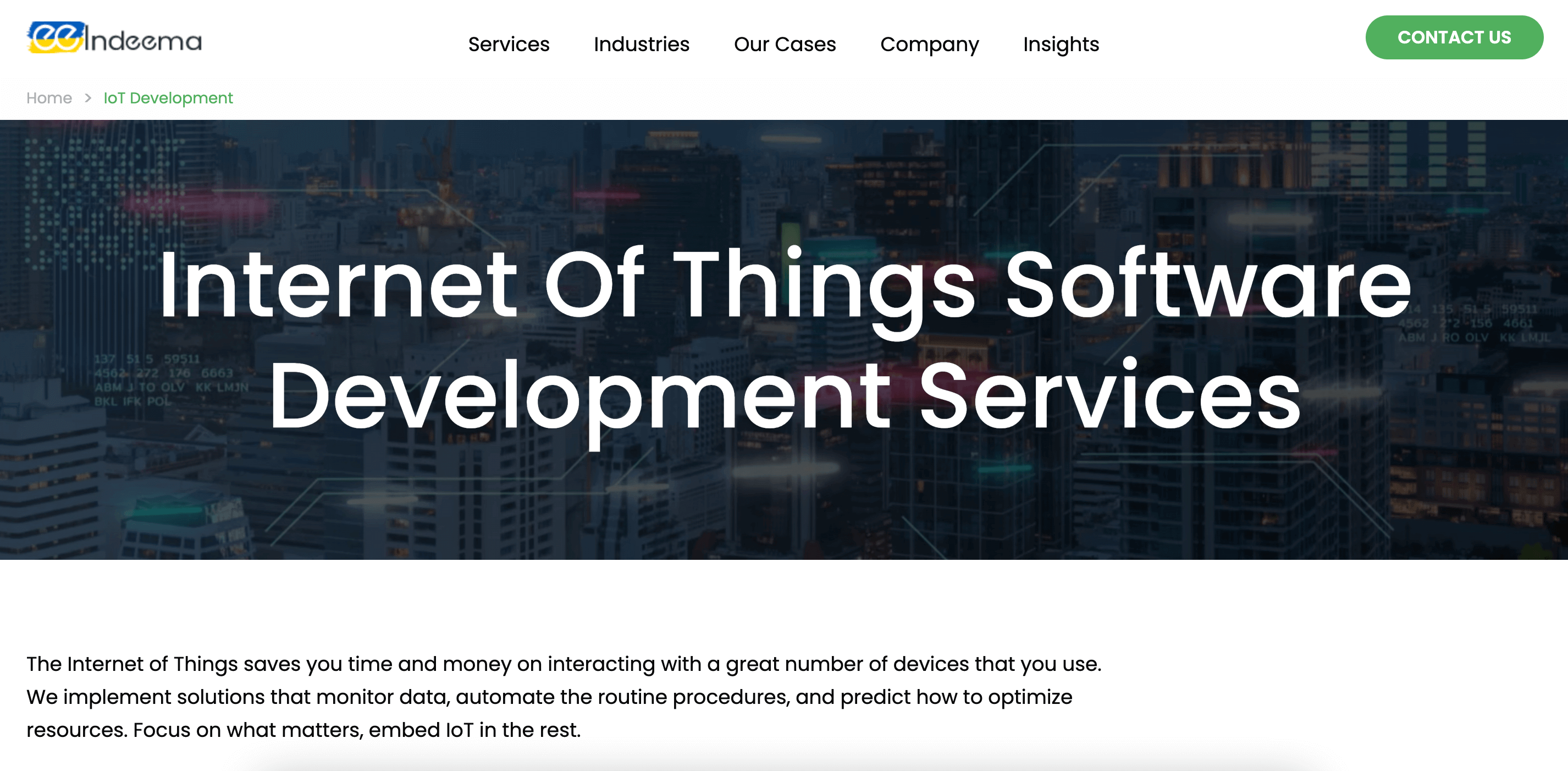 Indeema Software is a top Ukrainian tech company specializing in IoT development. With over 8 years of experience in providing exclusive IoT solutions for startups and Fortune 200 companies, Indeema Software also offers consulting services, outsourced project development, team augmentation, and dedicated teams.
When it comes to designing embedded systems with high-level features, Indema Software uses C and C++ programming languages, making them highly suitable for a wide range of embedded applications. So, if you are in search of a reliable agency with in-depth expertise in IoT solutions, Indema Software is your ideal choice, offering top-notch C++ developers for hire.
Services & expertise:

IoT development, R&D services, MVP development, UI/UX design, DevOps services, cloud software development, post-production support, dedicated teams, web and mobile app development, IoT consulting services

Tech stack:

C/C++,

Javascript, Angular, React, Node, Vue, Nest, Java, Kotlin, Swift, Objective-C, AWS, Azure, Google Cloud

Industries: H

igh-Tech, Smart Homes, Solar and Wind Energy, Automotive, Healthcare, Digital Manufacturing

Location:

Lviv, Ukraine; Seattle, USA 

Clients:

Spellex Corporation, Lemod, Ubreez, Centegix, Alice Metrix LLC, Viking SCADA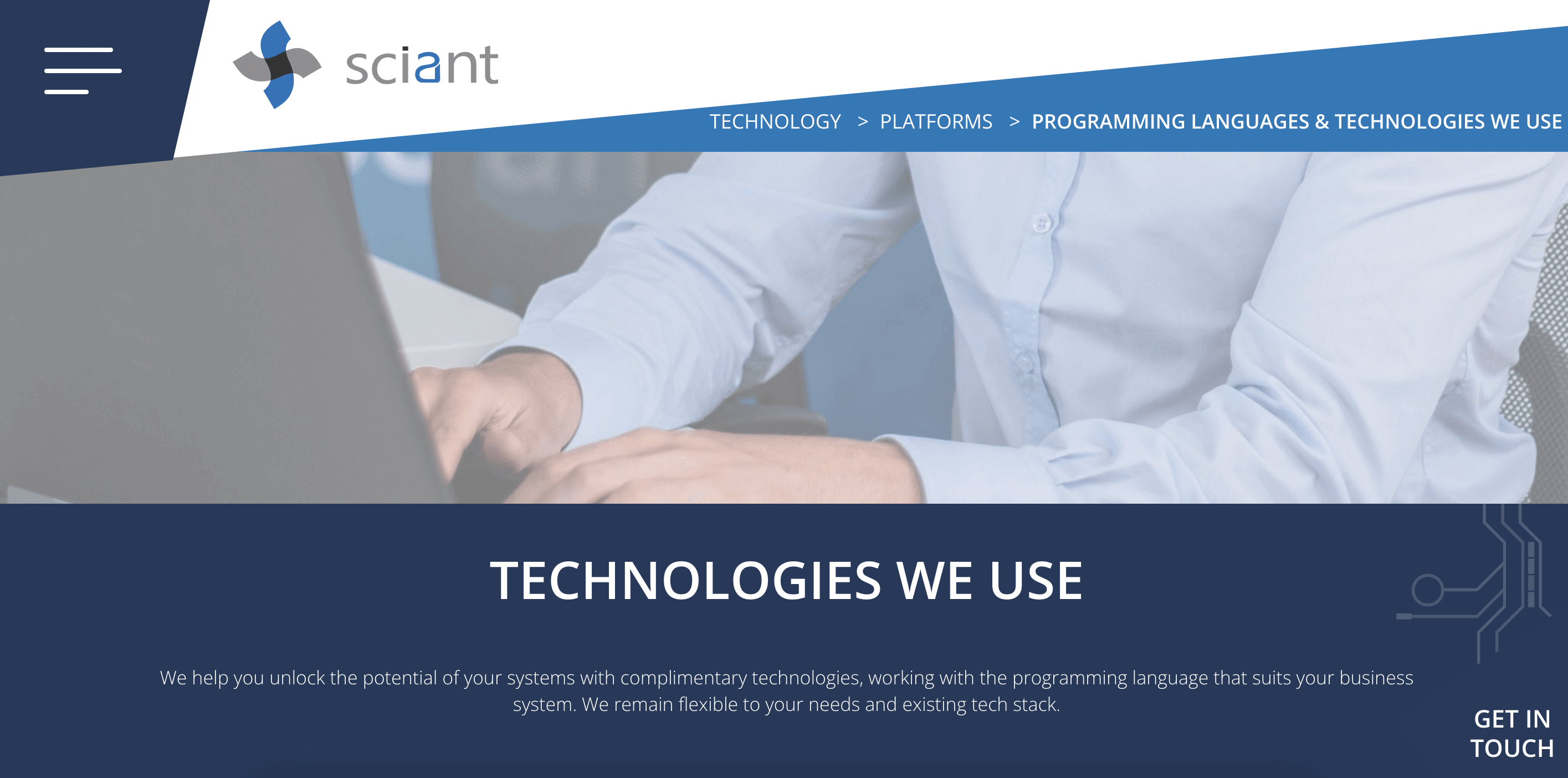 Headquartered in Sofia, Bulgaria, Sciant is a reputable software development company working with global clients in specific sectors like Fintech, Transportation, Logistics, Travel, and Hospitality. Their experts specialize in delivering enterprise-level solutions, particularly, business intelligence, blockchain and cloud computing. 
Sciant stands out as a premier C++ application development services provider, offering high-end support tailored to your business needs. Whether you are a dynamic startup or a well-established enterprise, Sciant's C++ developers are committed to unleashing the full potential of your project, ensuring its sustainable success and growth.
Services & expertise:

solution architecture, tech roadmap, technology advisory, managed interface services, DevOps, managed support, software implementation and rollout, staff augmentation, dedicated teams

Tech stack: C++,

Node.js, ELK stack, Spring Boot, .NET, .NET Core, WPF, AngularJS, React, Hadoop, Selenium, Sikuli, MS SQL, My SQL, Oracle, PostgreSQL, NoSQL, AWS, Microsoft Azure, Google Cloud Platform (GCP), Oracle Cloud

Industries: F

intech and Banking, Transportation and Logistics, Travel and Hospitality, Supply Chain, Information Technology, Arts, Entertainment and Music

Location:

Sofia, Bulgaria; Tirana, Albania 

Clients:

Nova Futur Ltd, Avalara, IntelliCo Solutions, iVvy, Sonder, Peoplevine, Ligentia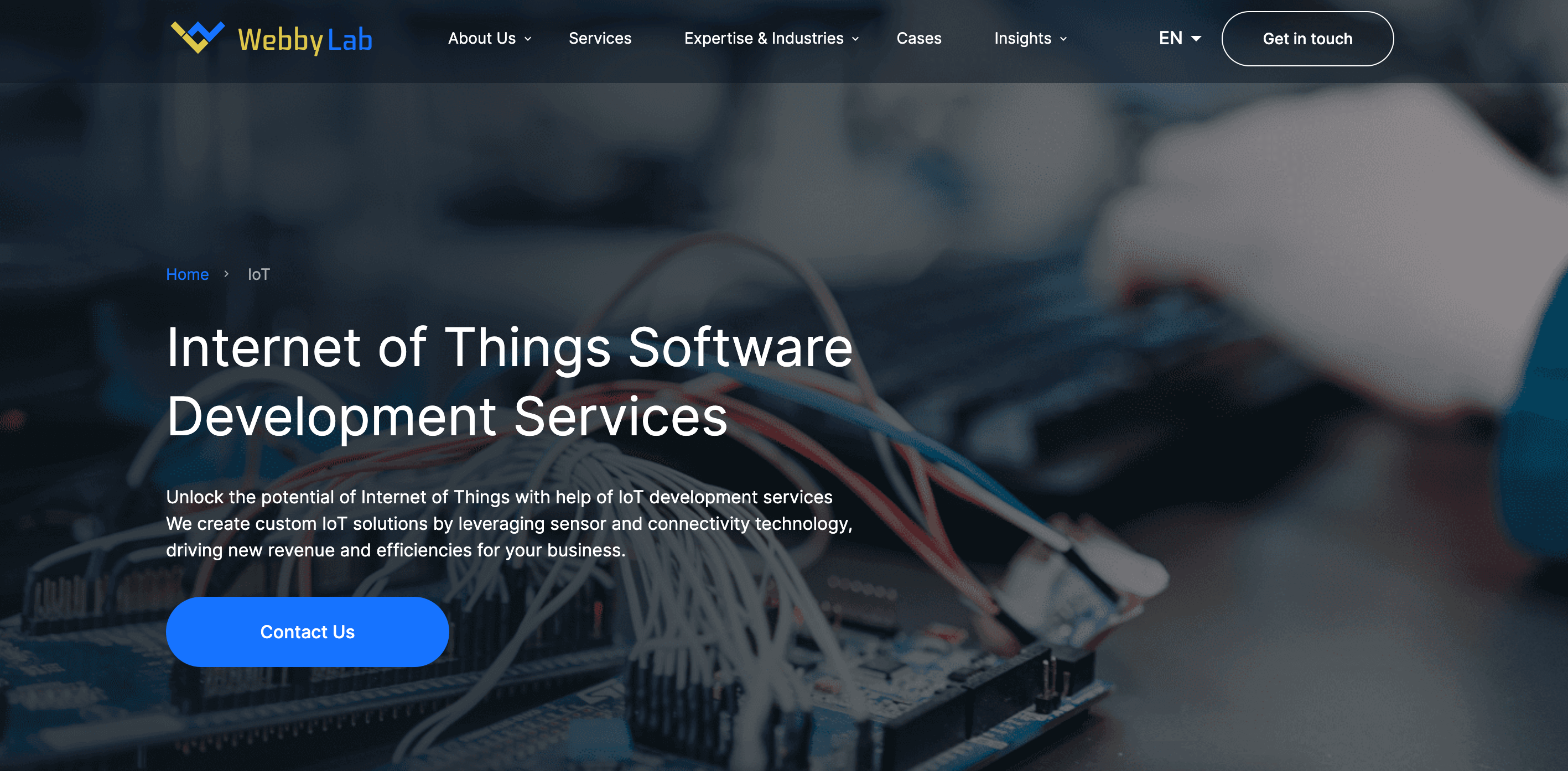 WebbyLab is a renowned Ukrainian software development company with a successful track record since 2011. Their key areas of expertise are blockchain, eCommerce, and IoT development; all this using the newest technologies with the most efficient processes. 
WebbyLab's top C++ developers will help you make your devices smarter by providing comprehensive IoT hardware development services, including device prototyping and custom firmware development. 
Services & expertise:

web and mobile app development, DevOps solutions, architecture design, POC, prototyping and MVP, QA and testing, UI/UX design, eCommerce development, IoT development

Tech stack:

C++,

HTML, CSS, Node.JS, React, React Native, PHP, Slim4, Perl, Express, Docker, Gitlab, Redux, Postgres, MySQL, Redis, Microsoft Azure, Google Cloud

Industries: A

griculture, Wellness and Fitness, Retail, Manufacturing, Pharmaceutical, Sports, Information Technology, Automotive

Location:

Kyiv, Ukraine

Clients:

Mercedes-Benz, Pfizer, Nova Poshta, Intersport, Uber, Medallia, Elafris, MHP, Deep Dive Technology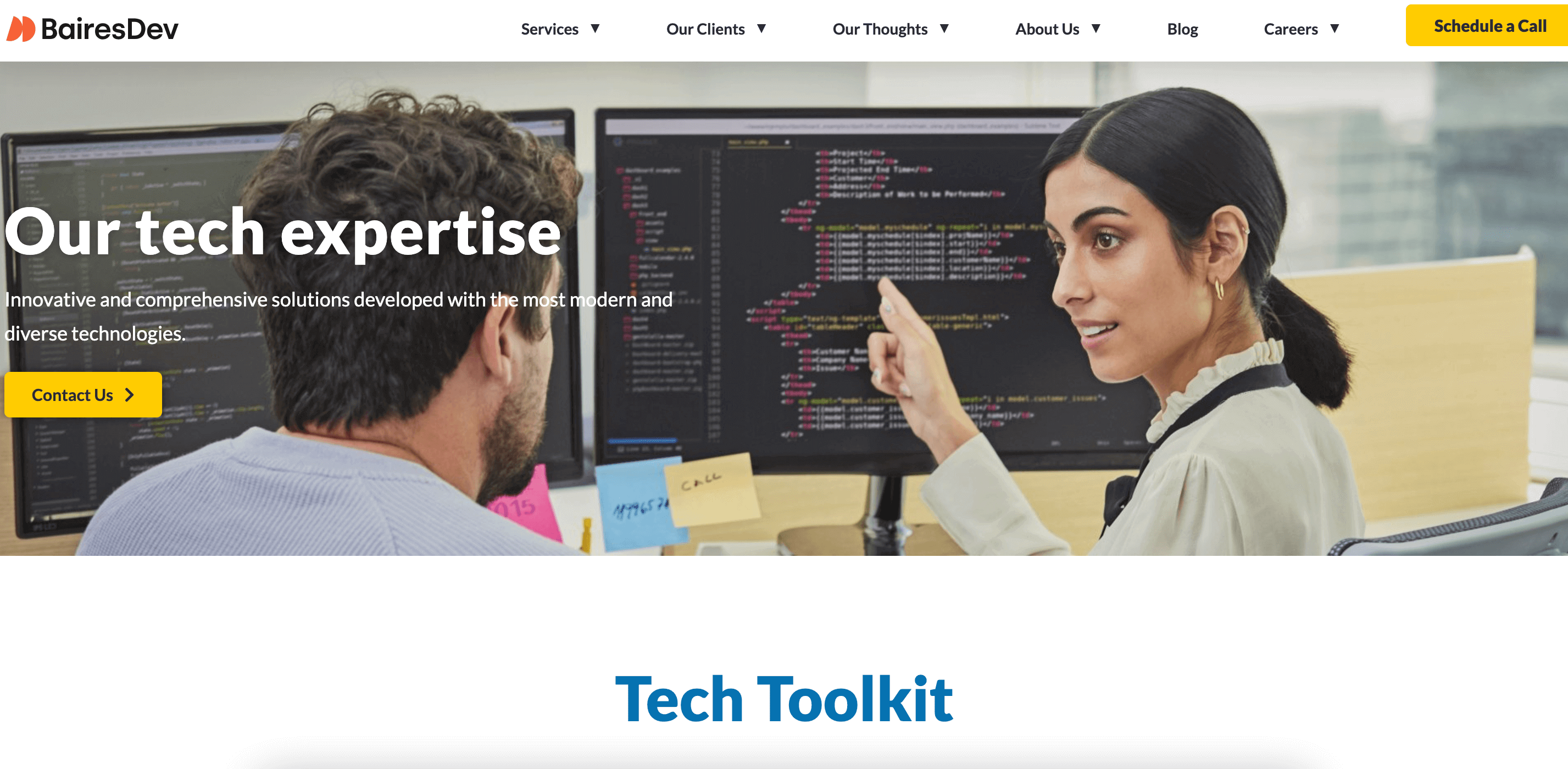 BairesDev is a well-known software development company headquartered in San Francisco, USA, with an impressive track record of collaborating with industry giants like Google, Rolls Royce, eBay, Next Roll, and others.
Their experts boast solid expertise in a wide range of programming languages, including C++. They have handpicked the top 1% of talent from 50 countries, forming an exceptional engineering team. Leveraging this remarkable talent pool, BairesDev excels in developing robust web applications harnessing the capabilities of C++ and other programming languages.
Services & expertise:

web and mobile app development, UI/UX design, machine learning, data engineering, data science, business intelligence, QA testing and automation, staff augmentation, software outsourcing, blockchain consulting

Tech stack:

C++,

.Net, React, PHP, Python, Angular, AWS, Java, Microsoft Azure, C#, Java, Ruby, Golang, Magento, Docker, Flask, Kafka, Drupal, Salesforce

Industries: N

onprofit, Sports, Education, Media, Automotive, Healthcare, Cryptocurrency, Advertising and Marketing, Art, Entertainment and Music, Finance, Agriculture

Location:

San Francisco, USA; Buenos Aires, Argentina; Sao Paulo, Brazil; Ciudad de Mexico, Mexico

Clients:

Google, J&J, Rolls Royce, Hans & Company, Tackzee, Celmatix, Azlo, Univision, NextRoll, R/GA, iSeatz, Abra, Patra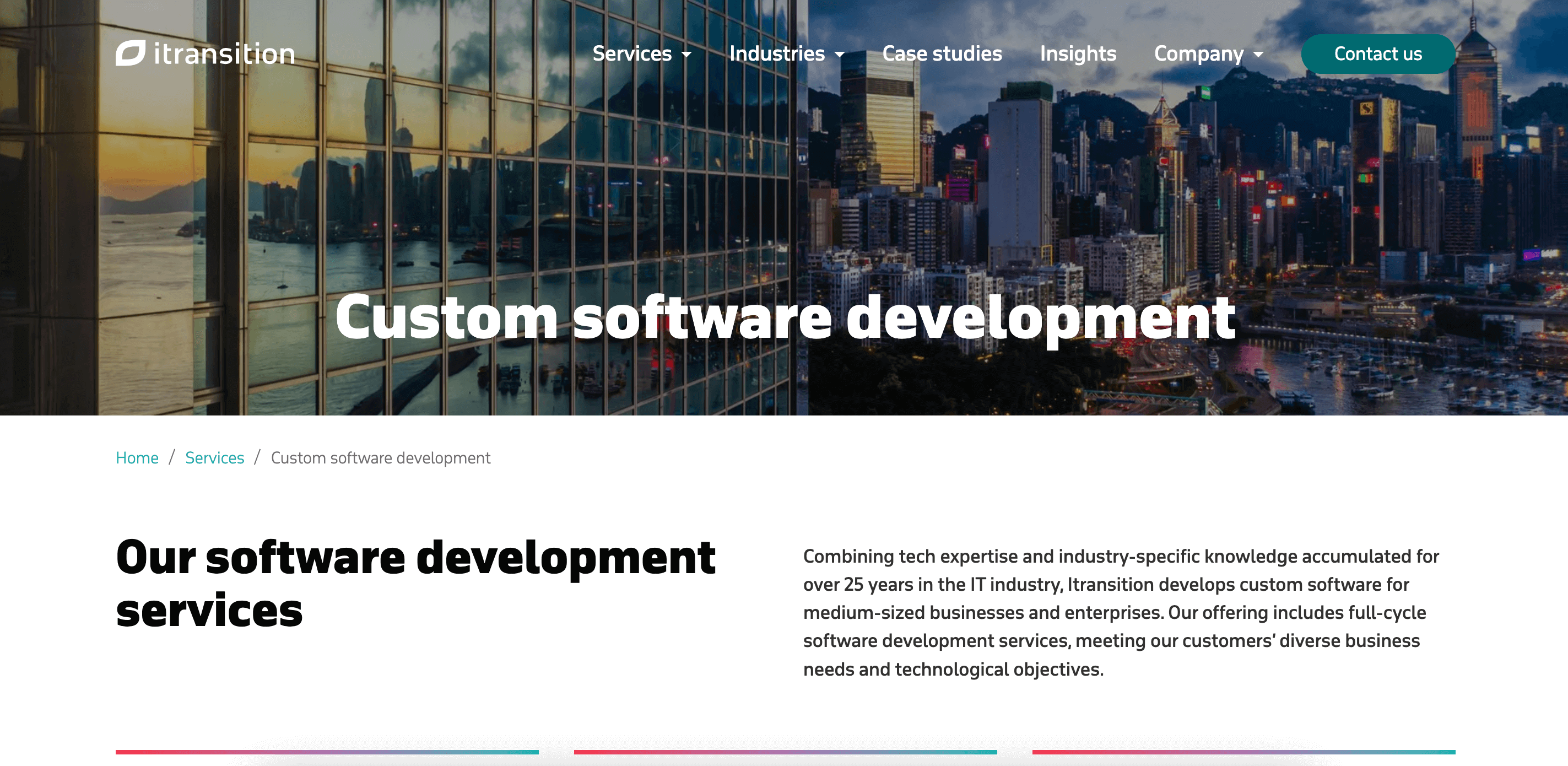 With a rich history of 25+ years in the IT industry, Itransition stands as a leading custom software development company. Their exceptional track record comes with numerous awards, keeping their position as a top global outsourcing services provider. They also have been recognized and featured in 'The Software 500' list due to their remarkable growth and outstanding performance.
The company provides a full range of software development services, from custom apps development and technology consulting to dedicated development teams. As a leading IT house, Itransition uses various modern technologies and programming languages, including C++. Their main C++ development services cover AR/VR, IoT development, and artificial intelligence. 
Services & expertise:

IT consulting, software engineering, web and mobile app development, managed IT services, DevOps, QA and testing, maintenance and support, smart teams, artificial intelligence, IoT development, cloud services, cybersecurity, AR/VR

Tech stack:

C/C++, C#, Java, PHP, Python, Java Script, Ruby, Swift, Objective-C, Kotlin, GO, SQL, Xamarin, Ionic, Flutter, React Native, AWS, Google Cloud Platform, Microsoft Azure, Apprenda

Industries: H

ealthcare, Finance, Retail, Automotive, Telecommunications, Software and Hi-Tech

Location:

Denver, Boston, USA; London, UK; Vilnius, Lithuania

Clients:

Pepsico, Philips, AstraZeneca, Xerox, Toyota, Shell, Paypal, Ebay, Mercedes-Benz, Adidas, GSMA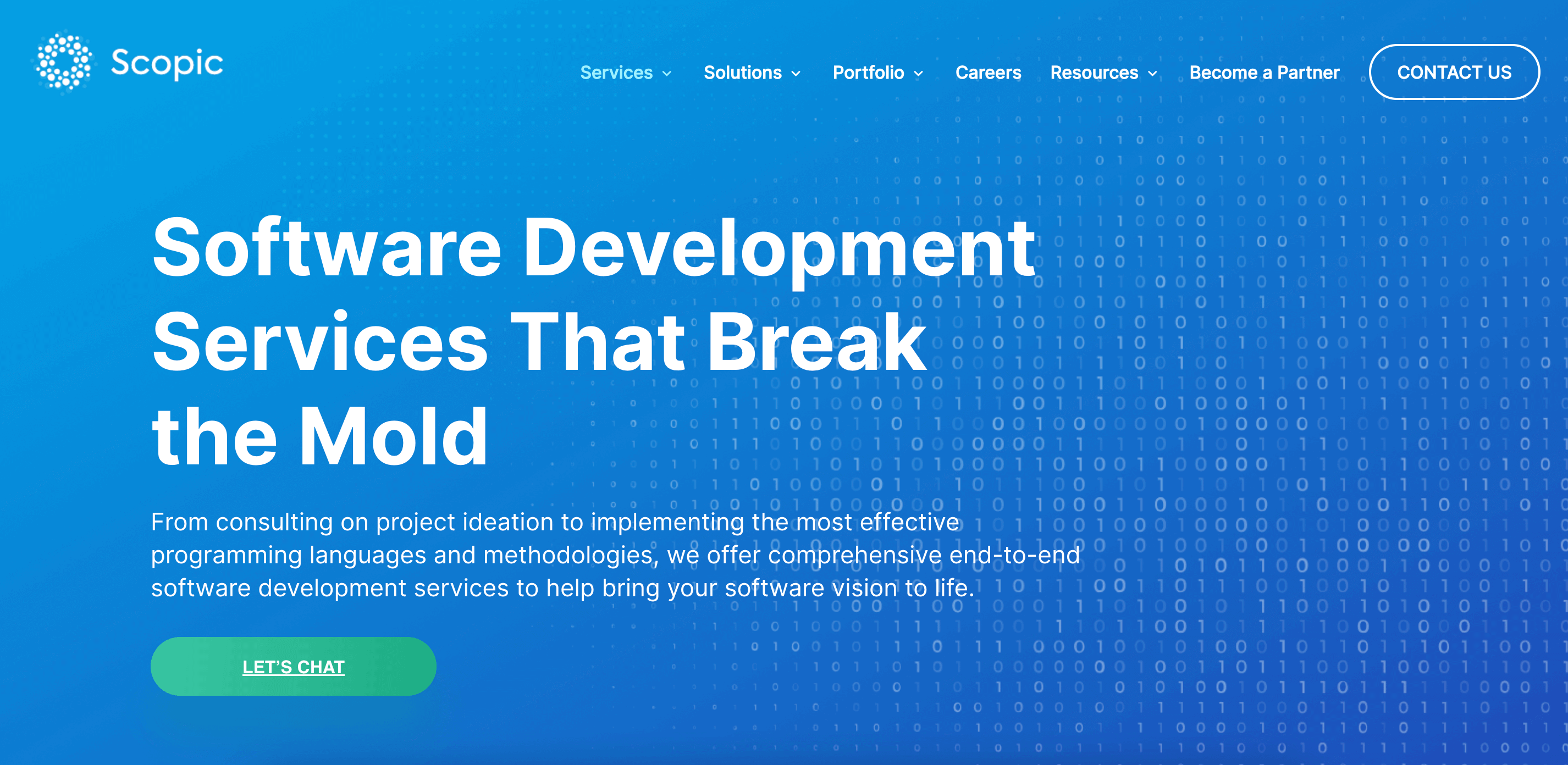 Founded in 2006, Scopic has gained impressive experience in software development with over 100 positive reviews on Clutch, GoodFirms, Google, and other platforms. Their expertise covers industries such as Trading, Finance, Education, and Manufacturing, with a strong focus on healthcare solutions. The company boasts a vivid portfolio of healthcare projects and HIPAA-compliant assigned teams.
Scopic's 200+ top-level experts are capable of working with any programming language of your choice, with C++ at the forefront. Hire their best C++ developers to overcome the biggest challenges while creating your high-performance application.
Services & expertise:

web and mobile app development, UI/UX design, SEO services, Google ads, paid search services, social media marketing, IT services, staff augmentation

Tech stack:

C++, C#,

Angular, React Native, JavaScript, .Net, Qt, OpenGL, PHP, Python, Django, Java, Ruby on Rails

Industries: Fi

nance, Manufacturing, Trading, Telehealth, Health and Fitness, Pharmacies, Dental and Orthodontics, Medical, Education, Cannabis

Location:

Rutland, USA

Clients:

Mediphany, Synchronus, GPS Pharmacy, Houston Pump and Gear, Epona Tech LLC, Orthoselect, Opro Group, Nutshell Media
Conclusion
For over two decades since its launch, C# has consistently kept its position as one of the highly popular programming languages in the world, making the demand for C++ developers grow. 
Hopefully, this list of the top C++ development companies will help you find the best team to bring your amazing project to life. 
If you want to add your C++ development firm to our list, email us with your request. After a quick review, we'll decide whether it's a valuable addition.