Searching for top Laravel developers can be daunting, but it ends here. 
ReVerb compiled a comprehensive list of the best Laravel development companies from around the world to help you choose the most reliable and skillful partner.
The listed companies have a proven track record of delivering outstanding web development results and boast a reputation for exceeding clients' expectations. Whether based in the United States or India, you're sure to find the best-fit team proficient in Laravel that will take your web project to the next level. 
Choose wisely!
The Best Laravel Development Companies To Hire For Your Web Project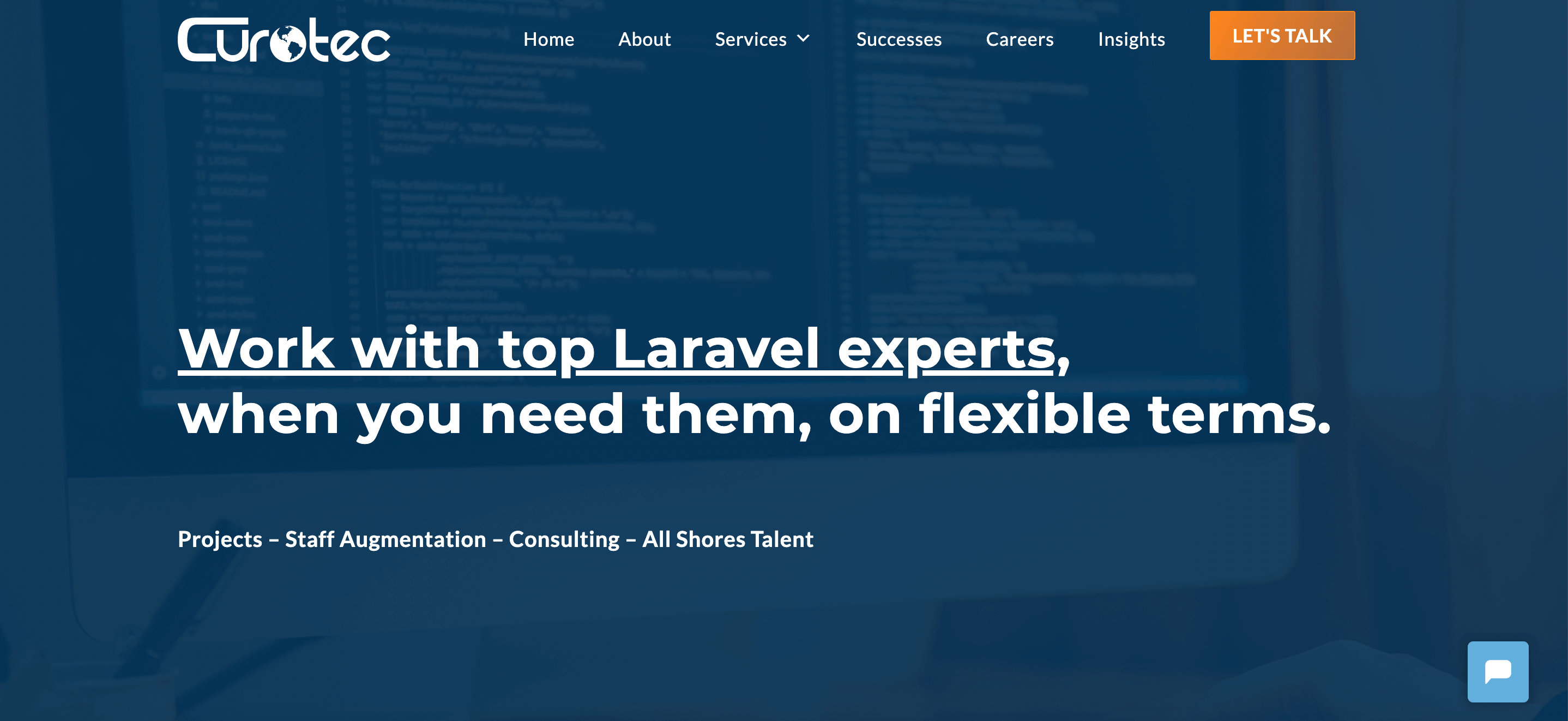 Curotec is a top Laravel development company, providing website development, eCommerce, and Laravel staff augmentation services to help businesses achieve their ultimate goals. Their approach emphasizes understanding clients' needs and tech innovation to deliver game-changing solutions.
Founded in 2010, this award-winning company mainly focuses on Laravel, enterprise WordPress, and VueJS development. Headquartered in Pennsylvania, US, they work with clients from all over the globe, from venture-backed startups to Fortune 500 enterprises. Industry-wise, Laravel developers at Curotec have extensive expertise in building powerful web solutions for the Information Technology, eCommerce, and Consumer Products & Services businesses. 
In addition, Curotec is a team of problem-solvers who recognize that people are at the core of everything they do. They've received numerous prominent awards and recognition for their high-quality work and are always looking for new talent to join their diverse team of thinkers and doers. They always start with strategy and design thinking to achieve the best possible outcomes.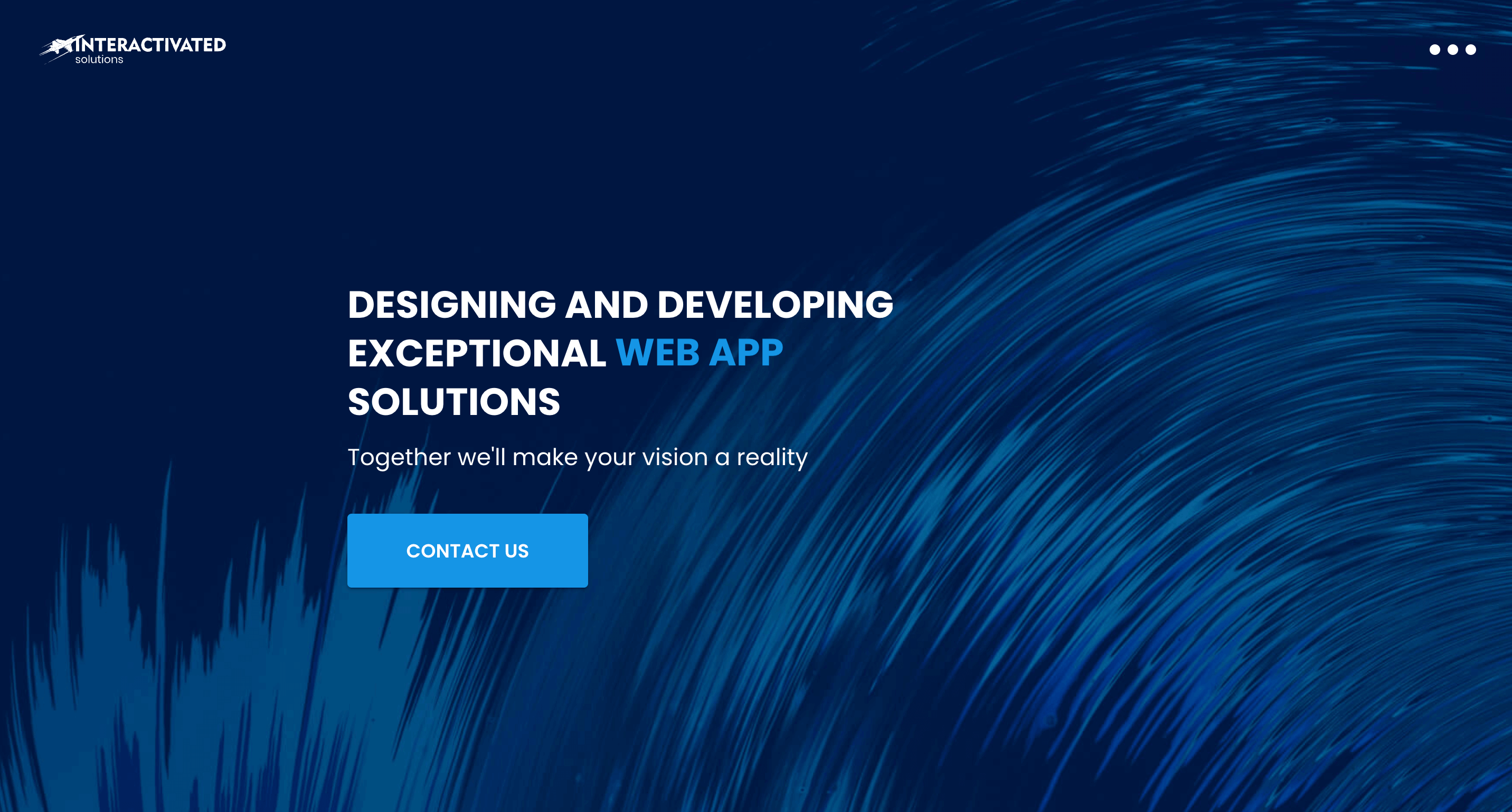 Founded in 2013, Interactivated is a prominent design and development agency focusing on Laravel development. Their top-notch European specialists in advanced web technologies will help you build, grow, and maintain cutting-edge digital solutions without the hassle.
Interactivated covers a full cycle of web development services, including business analysis, design, development, marketing, and maintenance, making it a go-to partner for businesses of any size.
Providing dedicated teams and outstaffing services, the company promises a business mindset, agile approach, and crystal-clear transparency throughout the entire collaboration. With 2000+ successfully completed projects, Interactivated helped over 150 global clients in various industries to analyze their businesses and develop and optimize their web applications.
No surprise that with such a rich experience, Interactivated has obtained the award as the fastest-growing development team worldwide by Clutch.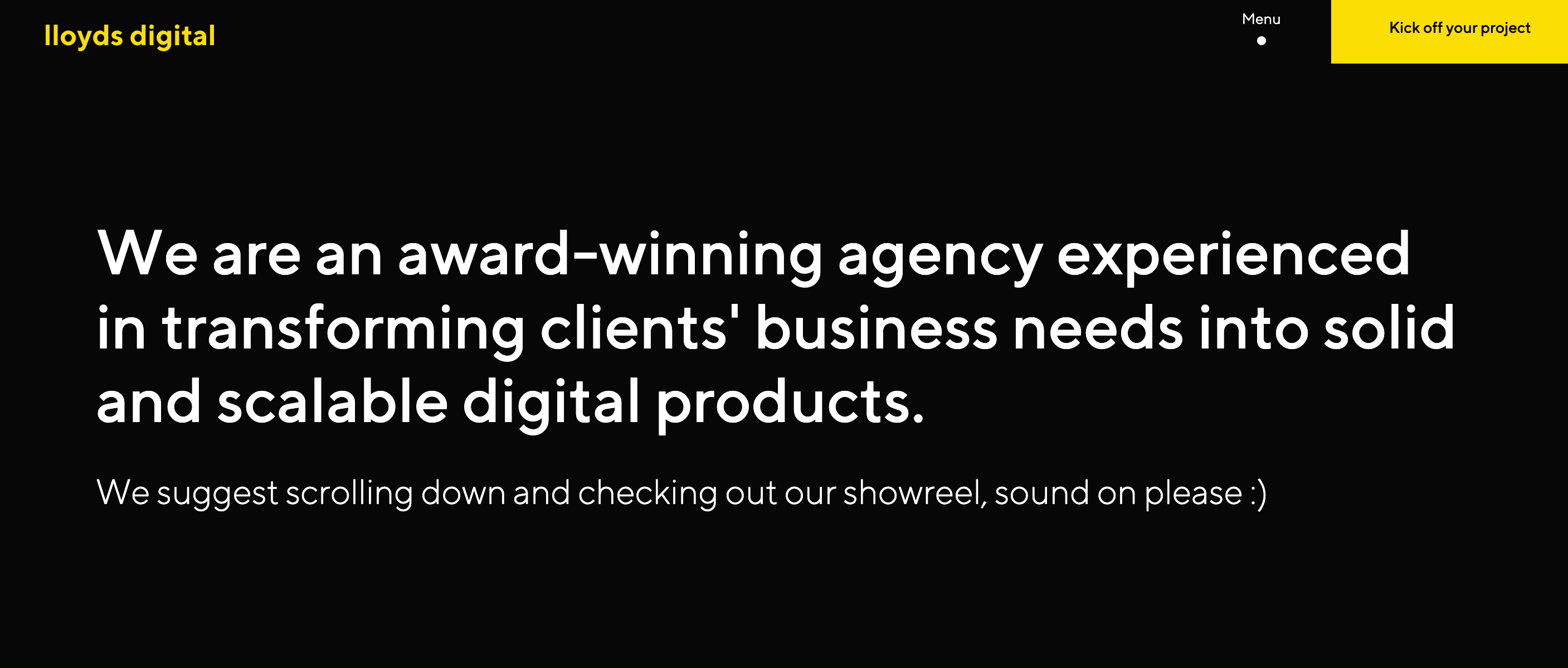 Lloyds Digital is a Croatian-based digital agency specializing in transforming clients' business needs into digital products. They offer various IT services, including web application development, eCommerce solutions, mobile app development, and business process automation. 
The company is recognized as one of the top B2B service providers in Croatia and strongly focuses on Laravel development. Their extensive Laravel technology expertise has helped them build dozens of scalable and solid digital products for their clients within the Retail, Commercial, Tourism, Medical, Food & Bev industries. 
Lloyds Digital is dedicated to delivering exceptional customer service and ensuring its clients' needs are met through innovative and supreme software solutions.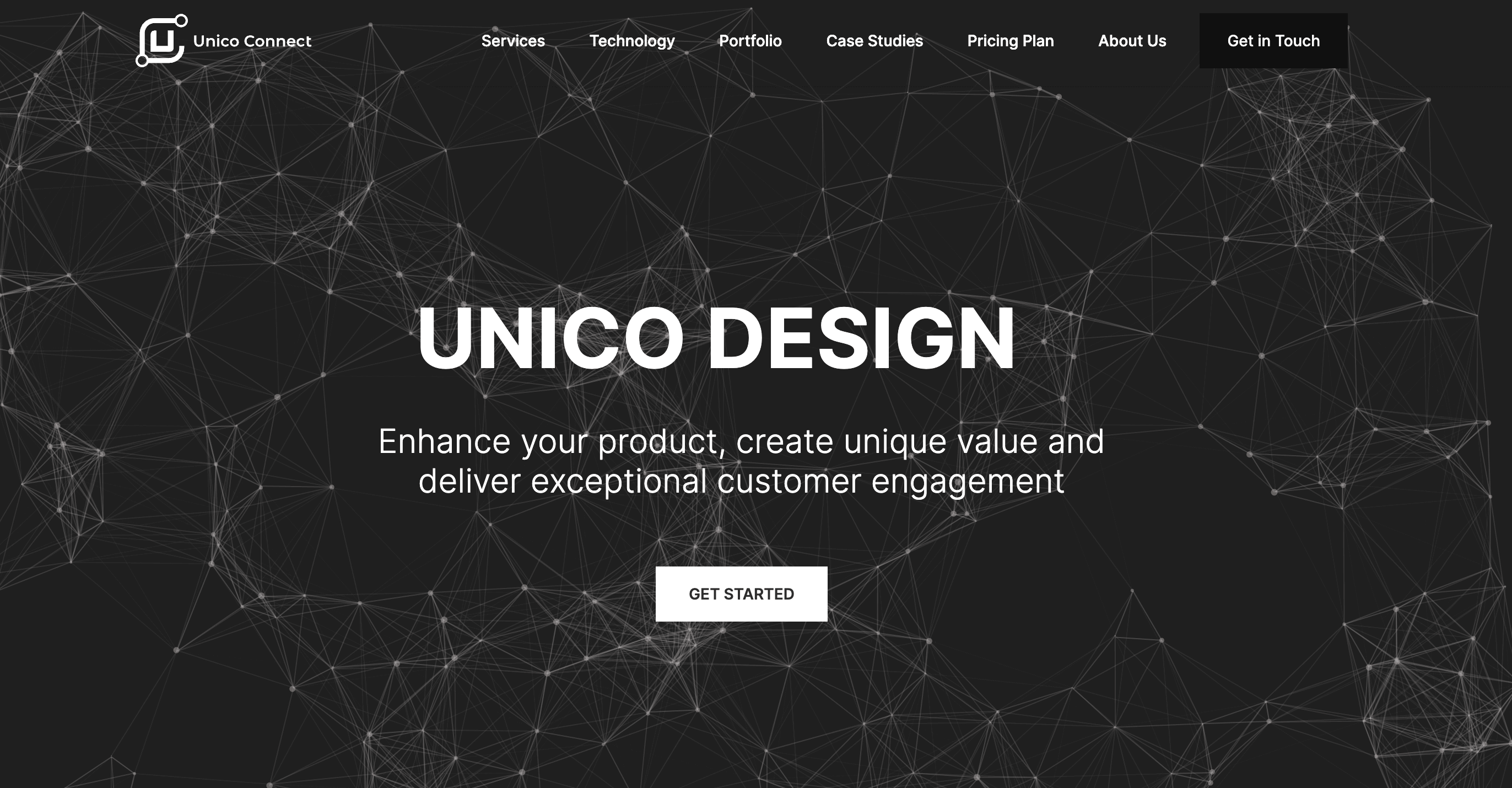 Unico Connect is one of the best Laravel development companies that provide businesses with cutting-edge software solutions lightning-fast.
Using endless development capabilities of Laravel, PHP, and other technologies, the company can build and deploy custom web and mobile applications for your business quickly and cost-efficiently. Utilizing an impressive tech stack, Unico Connect helps enterprises automate their processes and workflows, improving their overall efficiency and productivity.
Being on the market since 2014, the company has gained valuable knowledge in various industries and technologies, including no-code tools and code-based programming languages. Their proficient team works closely with international clients to understand their unique needs and provide tailored app solutions to help them achieve their key business objectives.
Unico Connect's team of tech experts selects the best technology stack to build and deploy tailor-made scalable apps faster while also providing ongoing support to ensure your business achieves the desired results.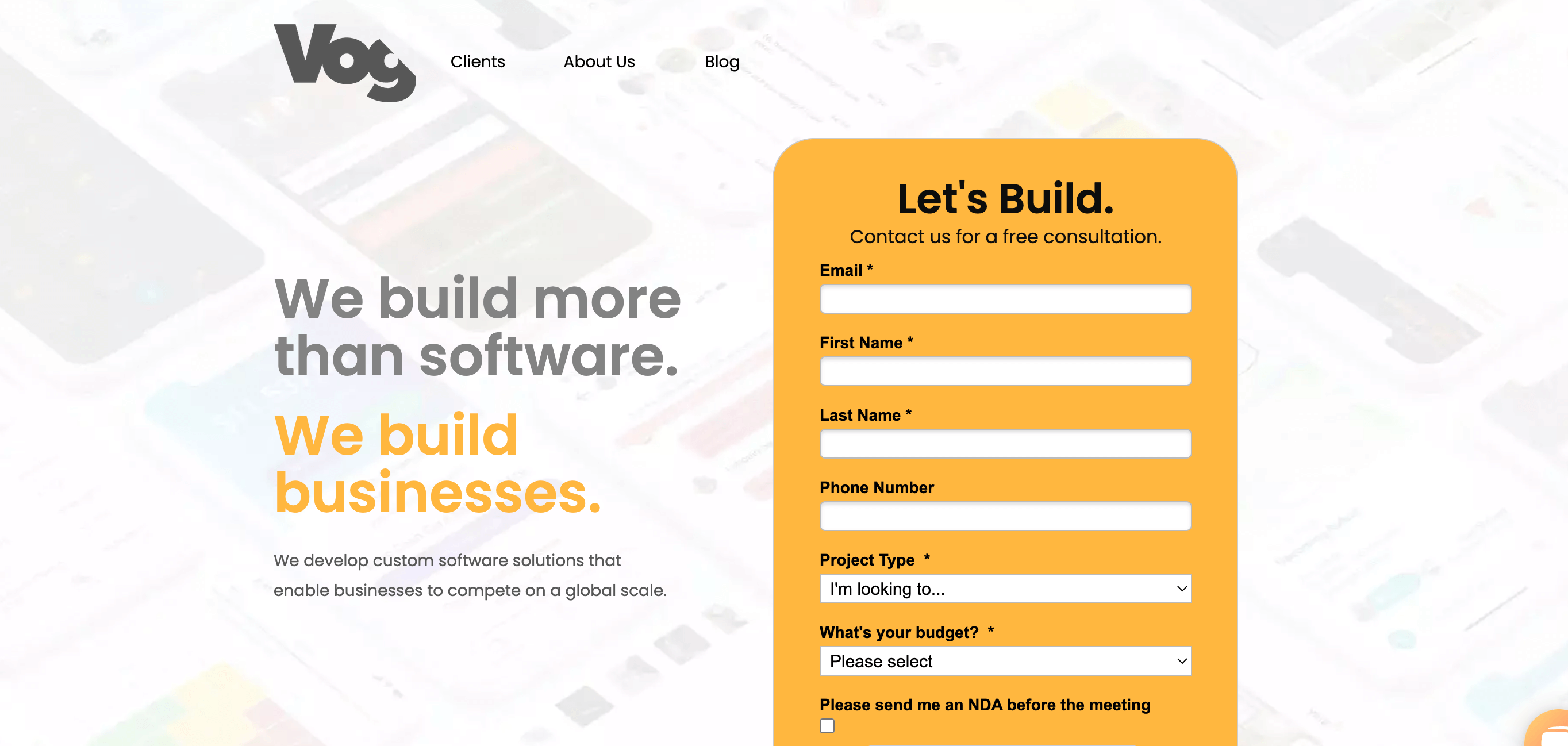 Vog App Developers is a top-rated software development company based in Canada that builds powerful websites and web apps using Laravel. Their team of experienced developers uses the latest technology to deliver innovative and custom web applications that improve operational efficiency and enhance customer interaction. 
Vog's Laravel web development services can help grow your business with custom web development, eCommerce solutions, web application migration, and Laravel support and maintenance. They are a proven choice for startups or billion-dollar industry leaders who strive to implement next-generation solutions for businesses of all sizes.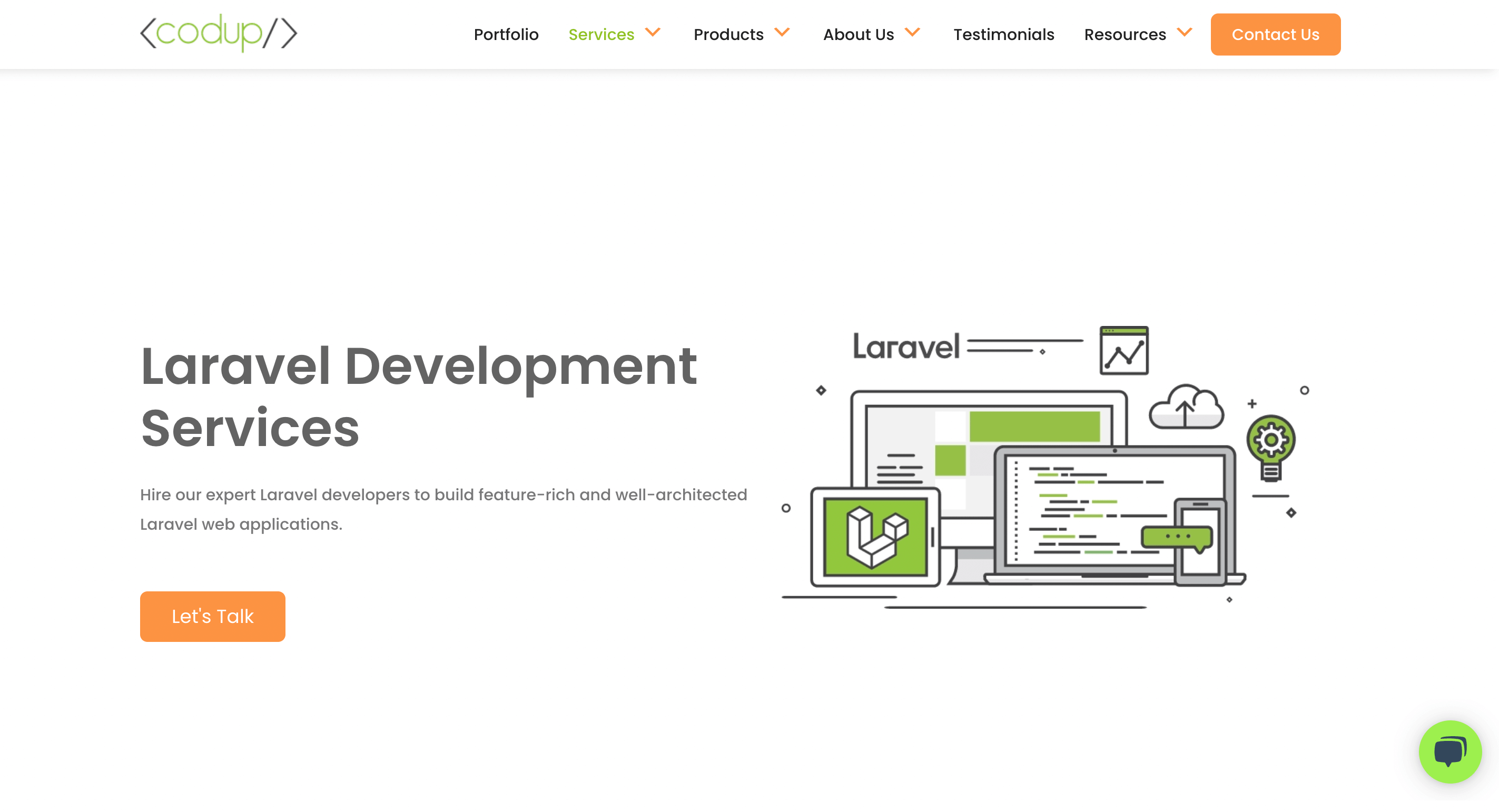 Being on the market since 2012, Codup is an award-winning Laravel development agency that was created to help clients take their businesses to the next level.
With a vast talent pool of developers, QA engineers, project managers, and business experts with rich experience, their team delivers well-architecture and feature-rich web apps to startups and enterprises within various industries.
Possessing extensive expertise and knowledge of PHP and Laravel, Codup has successfully completed numerous projects, delivering secure, fast-performing, cost-efficient, and highly flexible websites and web apps. From custom Laravel web app development and enterprise solutions to data migration, API integration, extension development, and maintenance — their team utilizes best practices and agile methodology to ensure the final solution perfectly meets your requirements. 
Codup offers flexible pricing models and delivers high-quality results, making them a preferred partner for over 1000 clients worldwide. Among their clientele are Dyson, Harrods, Unilever, Stitch Fix, and others.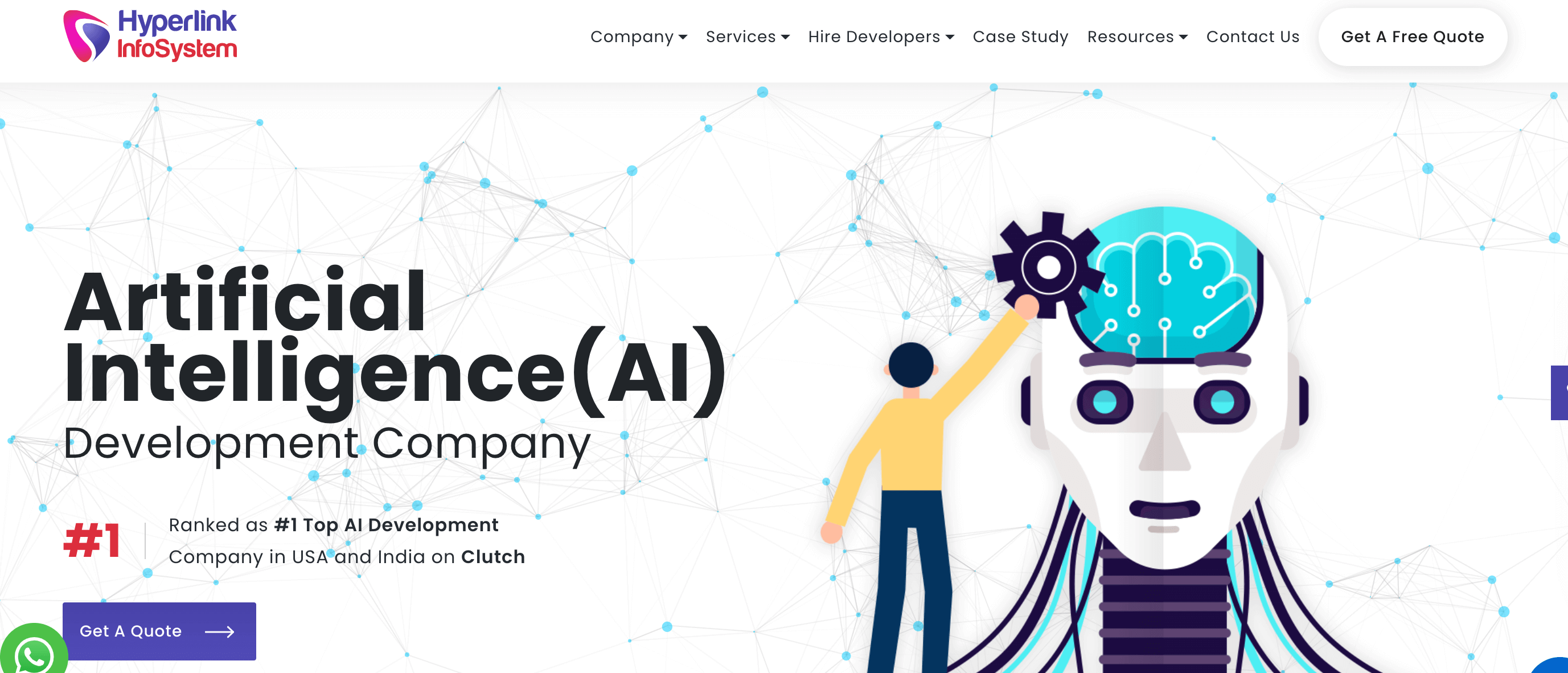 Hyperlink Infosystem is a top app development company based in the USA and India, established in 2011. They offer comprehensive services for developing Laravel solutions, mobile apps, websites, AR-VR systems, games, blockchain-based products, and more. 
HyperLink InfoSystem has a skilled team of over 1000 developers and designers with 11+ years of experience in custom app design and development. They are rated 4.9 on Clutch.co and have developed over 4500 mobile apps and 2200 websites, helping clients generate over 110 million app downloads on iOS and Android. All these achievements make them a trusted partner. 

Jelvix is a global leader in software development, offering services in various industries such as Fintech, Retail, Healthcare, Insurance, and other sectors. Their services include custom software development, mobile app development, QA and testing, IT consulting, CTO as a service, and, surely, Laravel development. Their experienced Laravel developers are equipped to handle complex projects and deliver innovative solutions. 
Jelvix's expertise covers digital transformation, data science, machine learning and AI, and UI/UX design. Besides Laravel, they use technologies like Java, .NET, Python, and others. Jelvix has received certifications demonstrating its commitment to quality.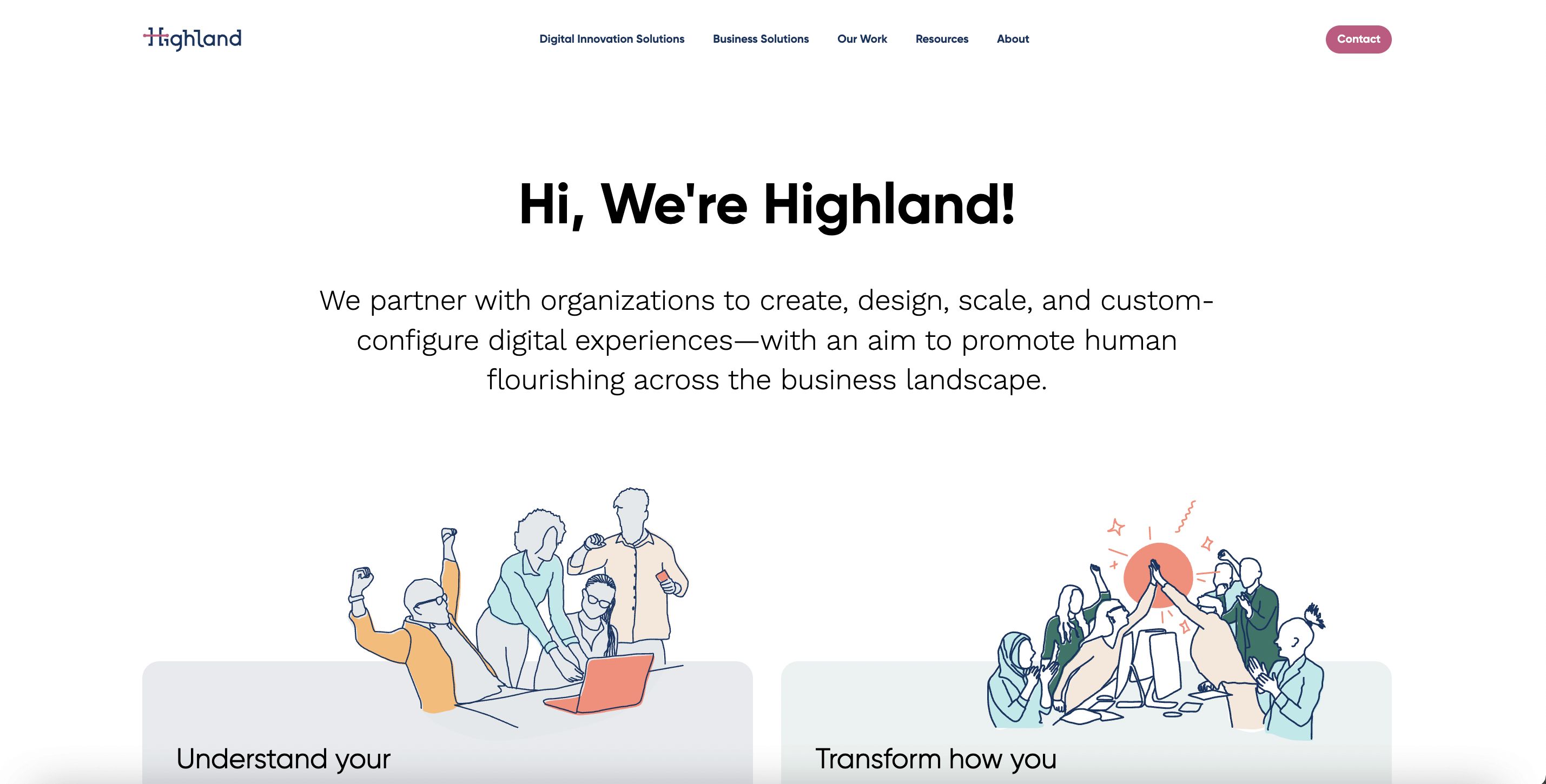 Highland is a software development company that collaborates with businesses to build, design, scale, and customize digital experiences to foster human flourishing in the workplace. They implement monday.com, SugarCRM, and Creatio solutions for their clients. In addition, they enable streamlined operations by integrating processes and tools and allowing data-driven reporting to facilitate strategic, well-informed actions.
Highland's services include Laravel development, workflow automation, project management, and platform integration. Their multidisciplinary team of experts in research, strategy, design, development, business consulting, and implementation has assisted several companies in the introduction and rollout of numerous digital products since 1999.
Andersen's professionals aid businesses worldwide by concentrating on tech-heavy sectors, paying close attention to minor details, and staying on top of the latest and greatest information technology advances. They have created thousands of exceptional projects that have assisted their clients in reaching their organizational objectives for over a decade. 
Andersen has numerous expert web, mobile, and desktop developers. As a frontrunner, they use cutting-edge tools and frameworks to build products with robust technological foundations and intuitive, user-friendly interfaces. Their Laravel development services are among the best in the sector.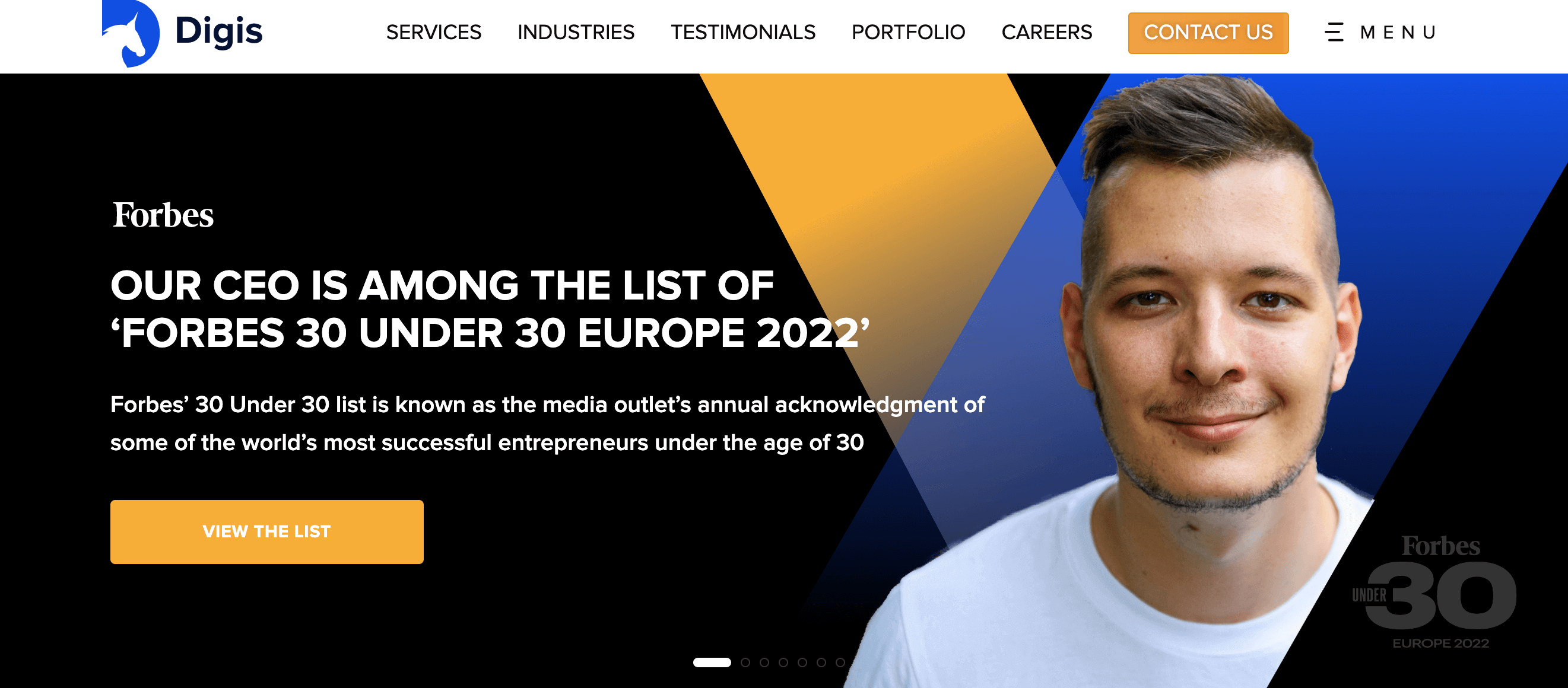 Digis is one of the top Laravel developers that offers outsourcing services for IT teams, tech startups, medium enterprises, and other businesses. They provide a two-week trial period for clients to hire tech specialists backed with company expertise in software development, domain-specific knowledge, and a worldwide network of investors. 
Digis offers Laravel development services for companies in the Healthcare, Fintech, Transport, and Mobility industries. Their top-notch developers have domain experience, knowledge of market trends and technologies, and advisors from clients' respective domains. 
In addition, they offer project management services and have a track record of successful partnerships with clients leading to reduced position-filling time, custom virtual solutions, and successful fundraising rounds.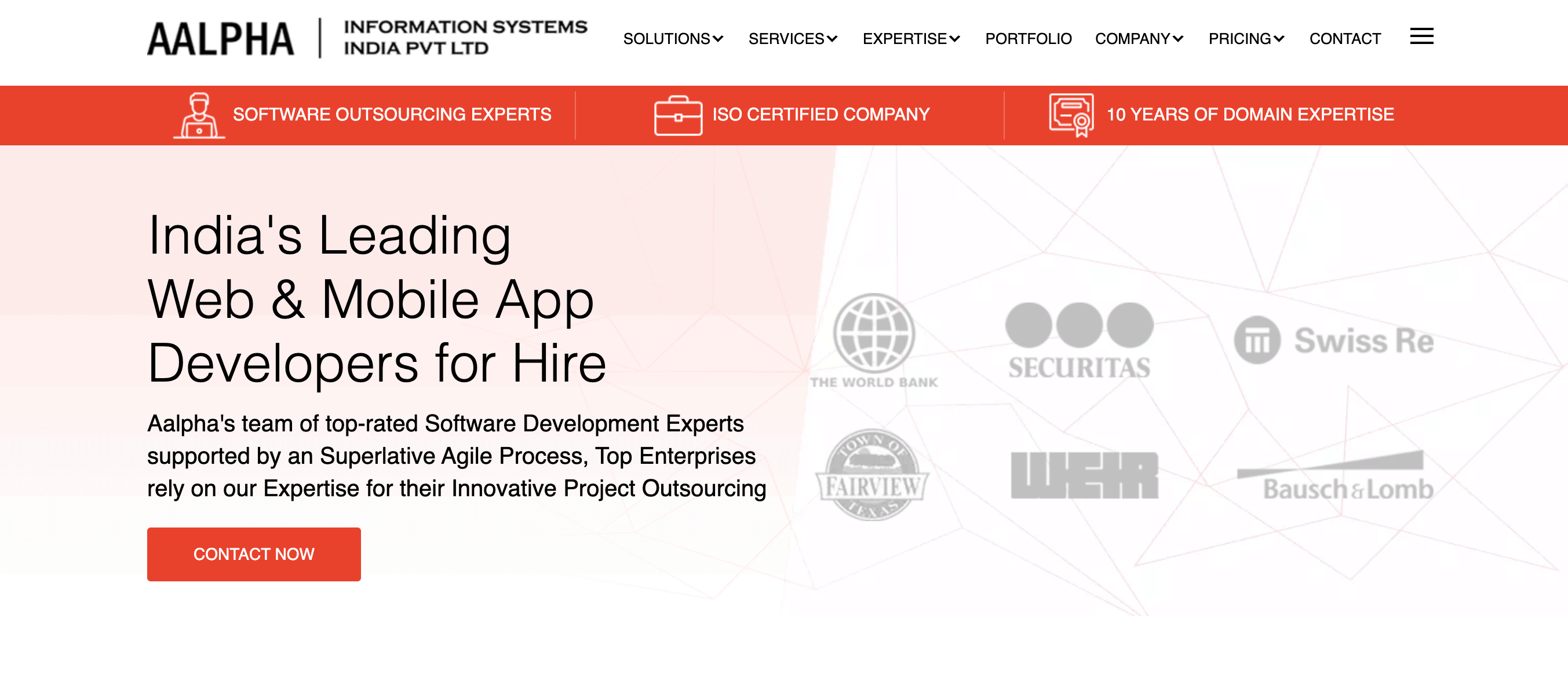 Aalpha Information Systems India Pvt. Ltd is one of the best Laravel development companies providing full-cycle web development services. Founded in 2008, the firm has delivered over 5500 projects for clients from 45 countries. 
Their top-tier Laravel developers help businesses meet their digital needs by implementing high-performance websites of various types, including web applications, eCommerce, custom modules, and CMSs. They utilize the framework's features to build custom web applications that cater to their client's unique requirements.
Being committed to delivering high-quality, scalable, and secure Laravel solutions, they help businesses grow and succeed in today's digital world.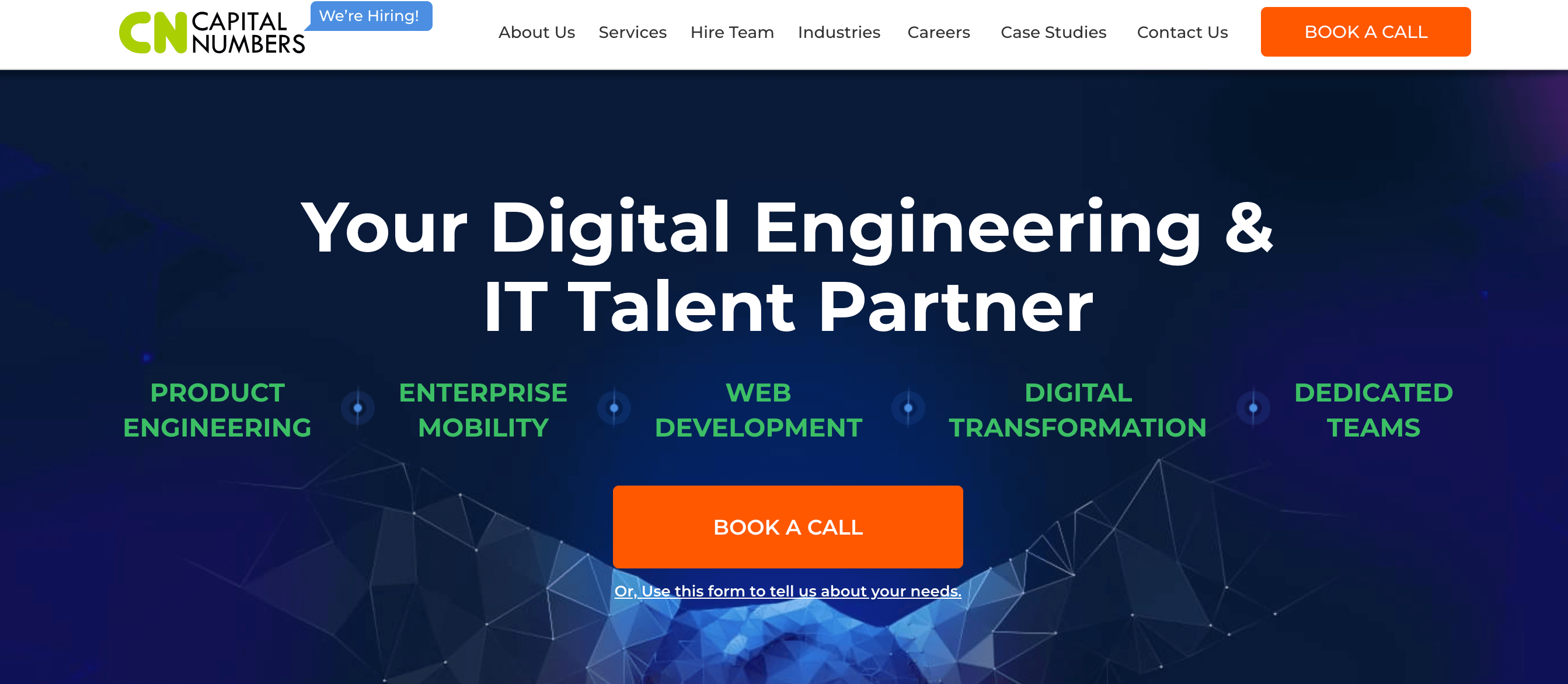 Capital Numbers is a leading IT services provider and one of the top Laravel developers based in India and the US. The company offers various digital transformation services, including web and mobile app development, digital marketing, and graphic design. 
Capital Numbers specializes in building scalable Laravel development solutions and has a team of experienced developers who use this cutting-edge PHP framework to build custom websites and applications. 
The company is dedicated to providing top-notch service, building lasting partnerships with clients, and delivering cost-effective and reliable products that drive growth and success for their customers, exceeding their expectations.
Conclusion
The top companies mentioned in this post offer exceptional Laravel website development services to help clients reach outstanding business results. However, choosing the most suitable partner that will meet your unique needs and requirements is essential. 
We hope this list helps you find the best-fit Laravel development company with proven track records and excellent communication skills. 
Feel free to contact us by email if your company deserves a spot on this list. Our team will conduct a thorough review, and if deemed valuable, we will feature it.