More than 3.5 million apps are currently live on Google Play, while there are over 2.2 million apps on the Apple App Store.
You might be surprised, but a significant number of the most popular apps, such as WhatsApp, Grammarly, and PayPal, were built by Ukrainian mobile app developers. 
If you want to move your business to the next level with a cutting-edge mobile application, hire a professional mobile app development company in Ukraine having extensive expertise and experience in this field.
Get an efficient team of top-notch designers, developers, quality assurance specialists, as well as marketing and sales experts specifically for your project.
Hiring a top agency providing mobile app development services in Ukraine comes with a fantastic set of advantages:
Have more focused efforts on solving strategic issues.

Save time, money, and effort on implementing complex technical tasks.

Get assistance in building and maintaining high-performance applications.

Make app personalization possible through expert use of contemporary technology ad best practices.

Offer more value to your customers, making it easier for them to access your services and products.
Choosing the best mobile app development company in Ukraine with over 1000 available firms might be really challenging. To facilitate your decision, we've compiled a list of the top Ukrainian app developers who possess impressive expertise and tech stack and have a proven track record of delivering impactful applications for customers worldwide.
The Best Mobile App Developers In Ukraine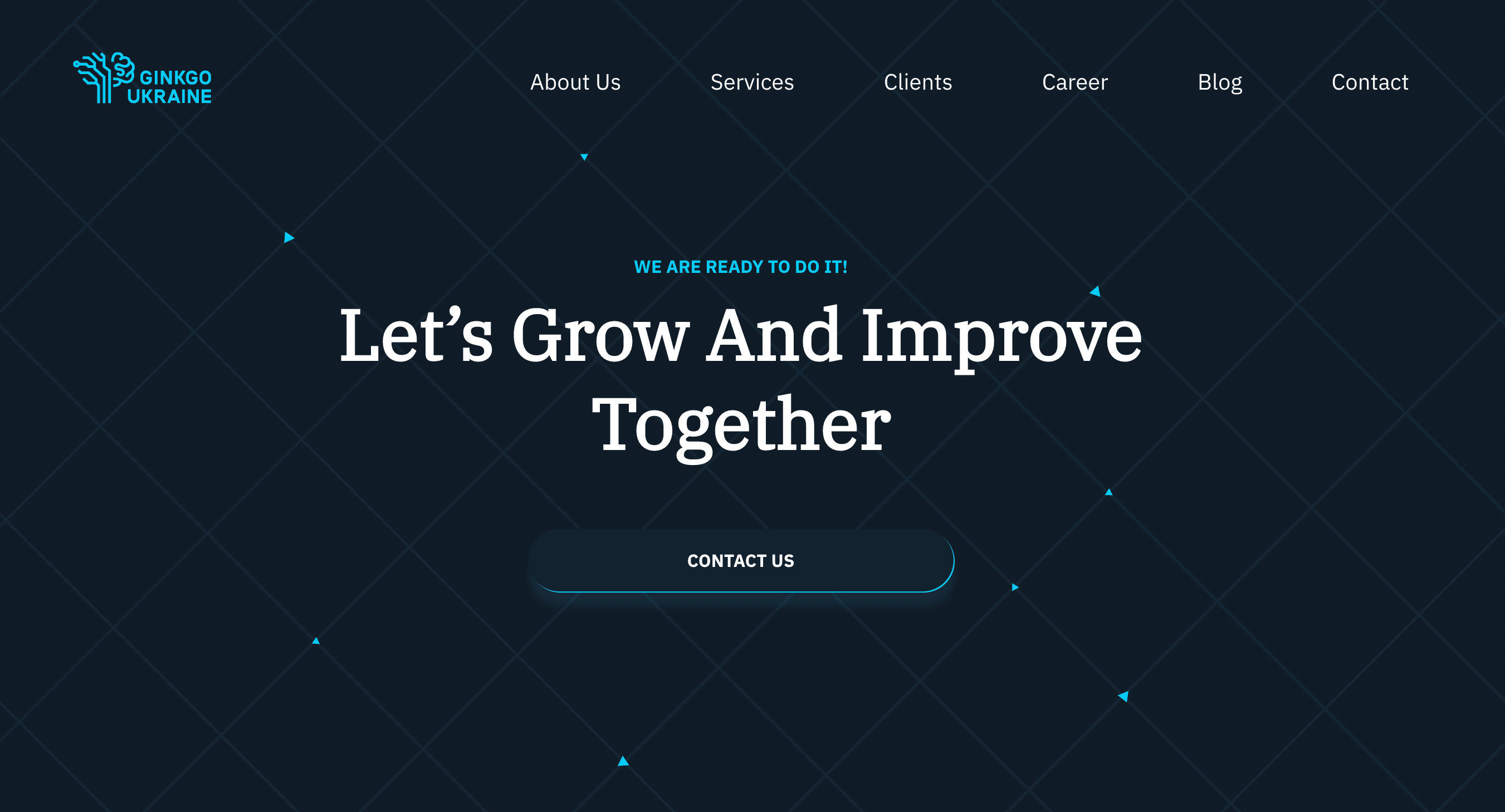 Ginkgo Ukraine is a leading mobile app development company in Ukraine devoted to making businesses operate more smoothly and efficiently by delivering tailor-made applications.
Their scope of services includes consulting, forming augmented and dedicated teams, developing the backend for mobile app startups, and automating robotic procedures. They help organizations improve the process flow and cost efficiency while bringing their products to market much faster through custom software development from scratch and IT staff augmentation.
Since 2018, Ginkgo Ukraine has delivered numerous successful projects independently and as a part of the augmented teams, gaining a reputation as one of the most trustworthy software development service providers. The company will equip you with top-level specialists, cutting-edge integration technology expertise, and the best industry practices to deliver outstanding apps.
Implement your project or reinforce your team with the best-in-class mobile app developers from GinkGo Ukraine at your request!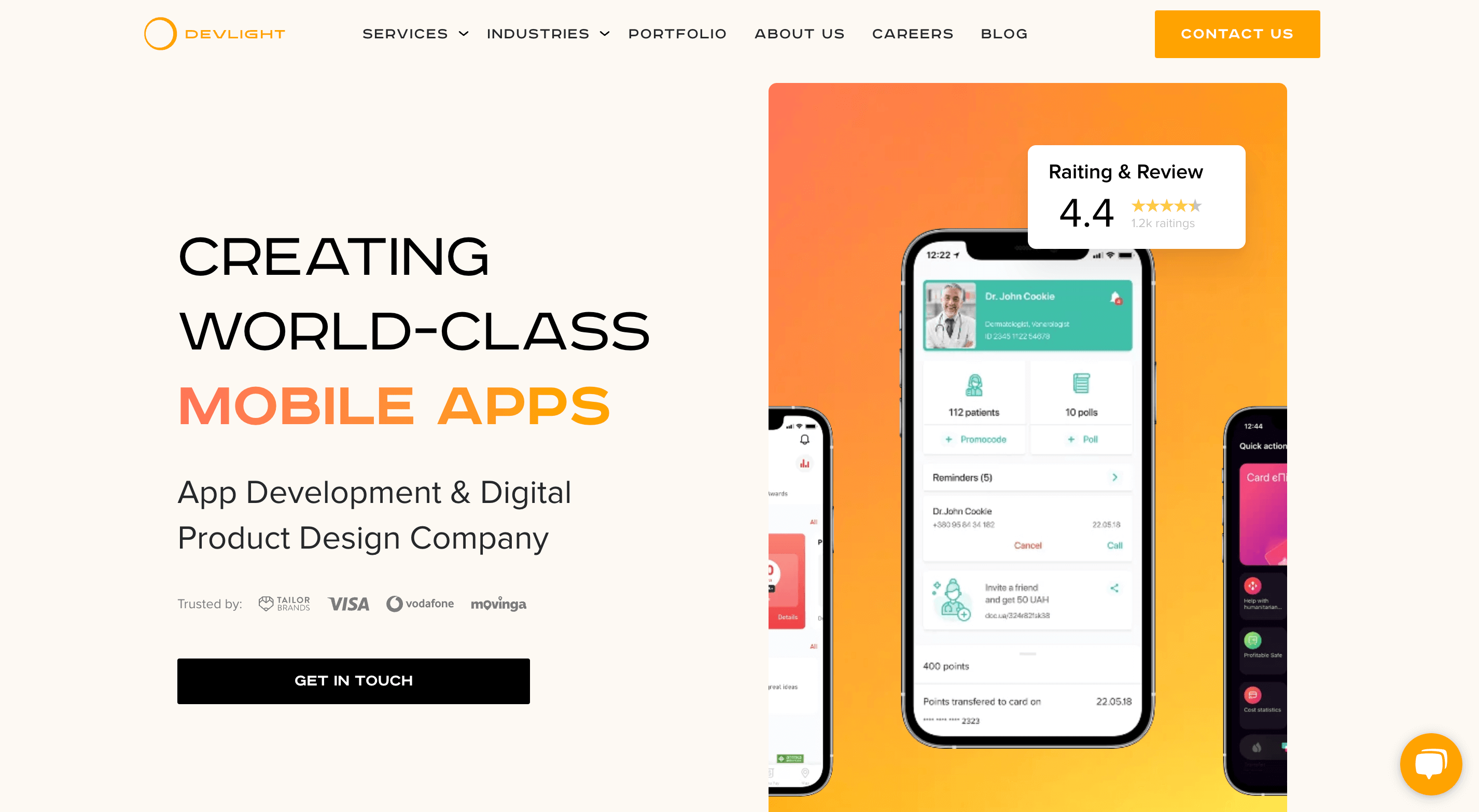 Devlight is a leading mobile app development company that has built exceptional mobile applications for Android and iOS platforms since 2016. Working with Forbes's top 100 companies, they provide end-to-end mobile application development services from ideation to post-launch maintenance. With a team of top-tier professionals, Devlight has helped companies like Visa, Vodafone, Tailor Brands, Movinga, and Nova Poshta create captivating app designs, develop advanced mobile apps, and perform comprehensive testing to ensure the final products perfectly meet their requirements.
Boasting an extensive experience in the industry, the agency has successfully completed over 100 projects with 35M+ app installs. Their services cover various industries, including Retail, eCommerce, Fintech, Healthcare, Logistics, and Loyalty Programs. Working with Devlight, clients can benefit from exceptional mobile UX/UI design, mobile app analytics design and setup, and SDK development services. The company's software solutions come with the ultimate stability, performance, and security, providing clients with all the necessary tools to set their businesses up for success.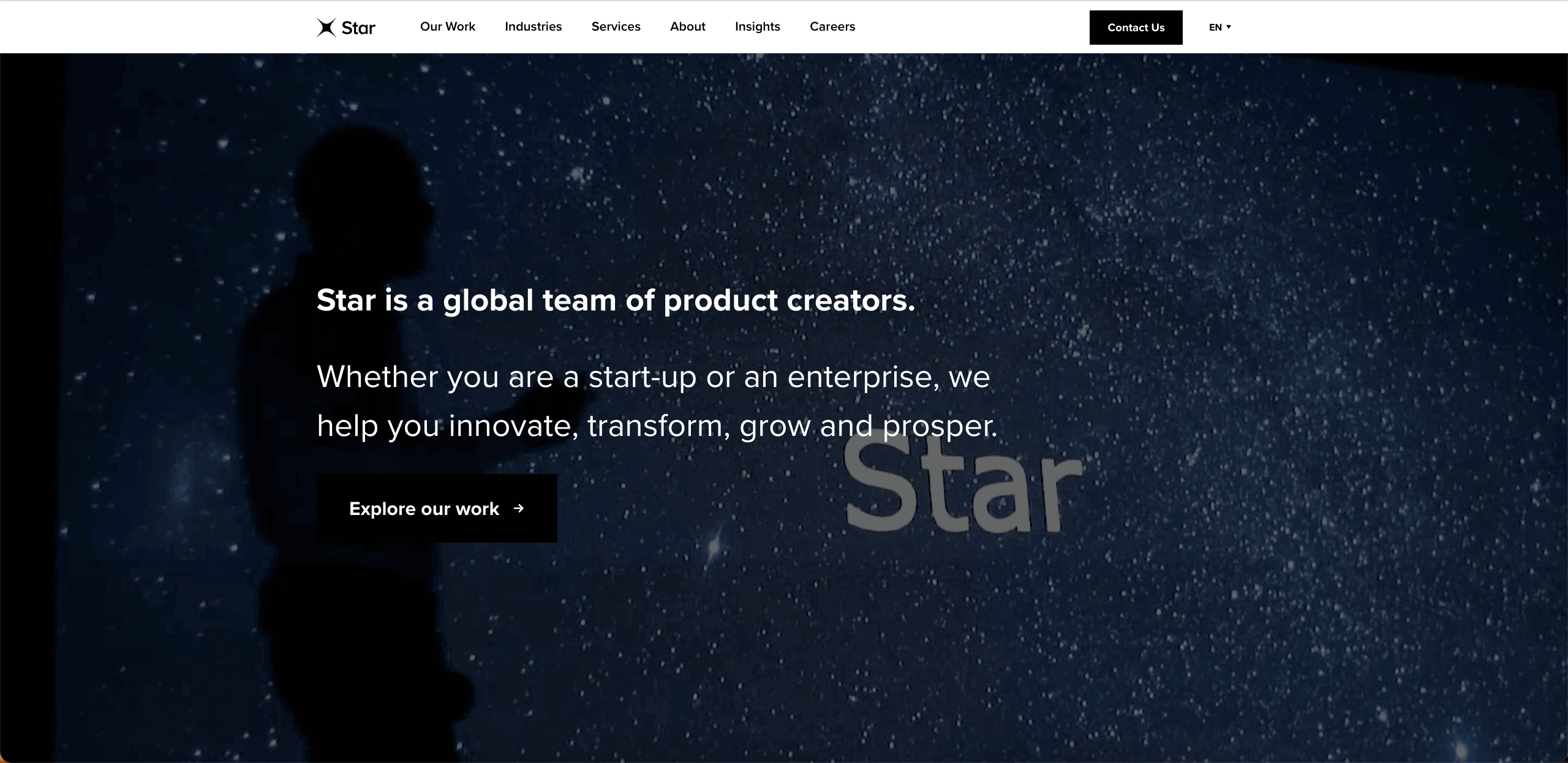 Star is a global technology consultancy that connects strategy, design, and engineering services to help companies accelerate product innovation.
Their superb app developers blend creativity and empathy with the latest technologies, cross-industry expertise, and endgame thinking to ideate, build, launch and scale outstanding user-centric business apps in the world's most impactful industries.
Star's team supports clients at every step of their digital journey. Through co-creation, they'll guide you from ideation and concept crafting to full-stack app development. The company always remains focused on helping customers win the hearts and minds of their end users.
Star works for businesses in various industries, including Automotive & Mobility, HealthTech, FinTech, and AdTech & MarTech. Their notable clients include Lufthansa, NTT Data, Paidy, Zeiss, Xerox, Panasonic, Walmart, Analog Devices, BMW Group, SAIC, NIO, Skin Analytics, Lotus, and Dolby.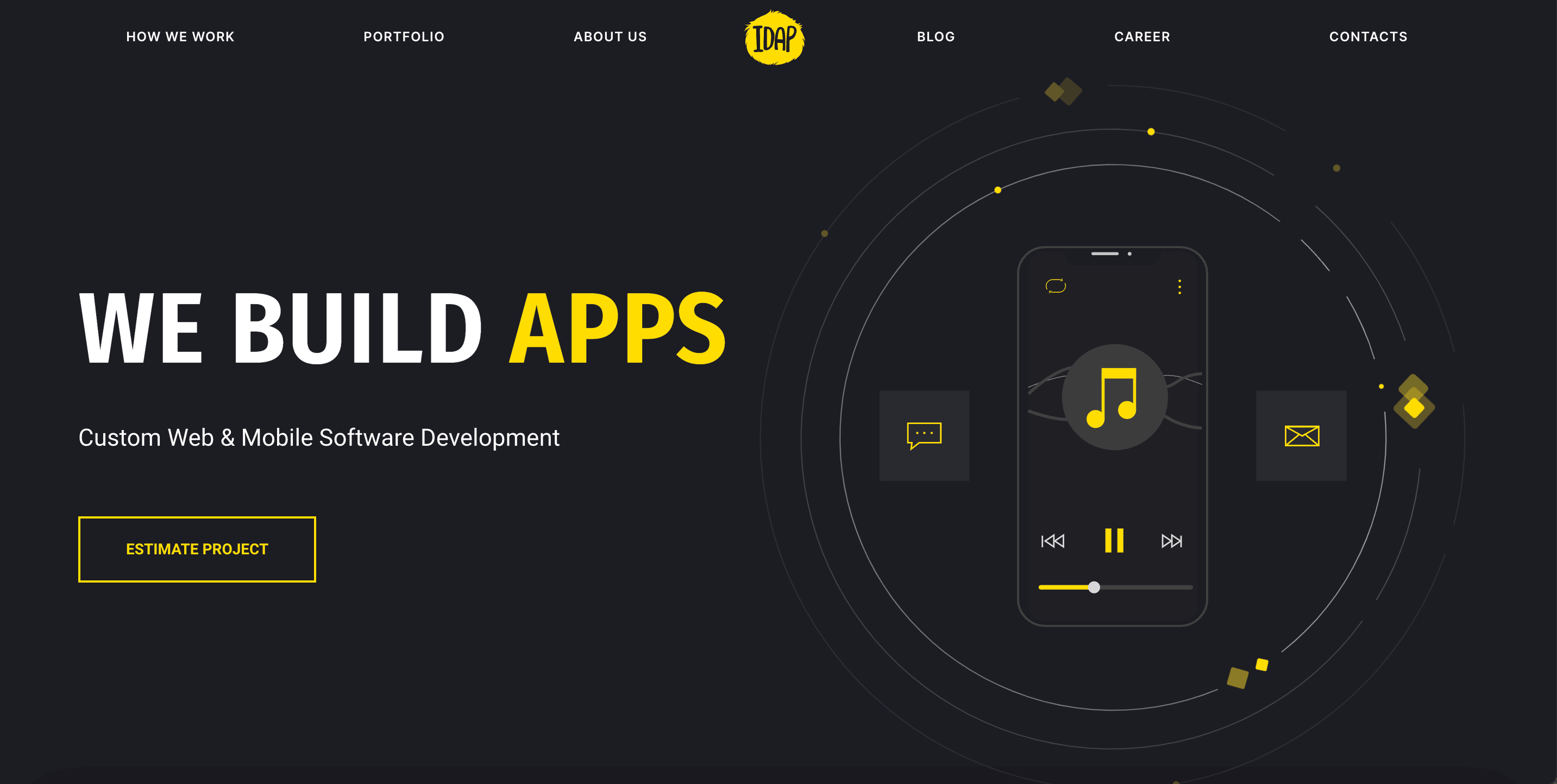 IDAP is a top-tier custom software development company offering cutting-edge services to companies of all sizes. With over 10 years of experience in the field, IDAP's team of developers boasts extensive expertise in developing modern web and mobile applications. Their agile software development methodology ensures that all customer requests are met with precision and quality. 
The experienced engineers at IDAP are highly skilled in various programming languages and frameworks, including Java, JavaScript, React Native, Python, Node.js, .NET core, and more. They approach all projects with the highest level of professionalism and attention to detail. By leveraging their deep understanding of the customer's needs and requirements, IDAP crafts custom solutions tailored to fit each product for optimal results. 
In addition to app development, IDAP provides UI/UX design, digital & business consulting, and DevOps services. Whatever request you have, you can trust that your products will be developed with security best practices and compliance standards in mind. All developments undergo a thorough testing phase during which bugs and errors are identified and removed before product release. 
IDAP provides comprehensive end-to-end solutions that help businesses achieve their digitalization objectives effectively and quickly. By leveraging their expertise, experience, and cutting-edge development strategies, IDAP app developers ensure you'll receive truly unique products with maximum ROI potential.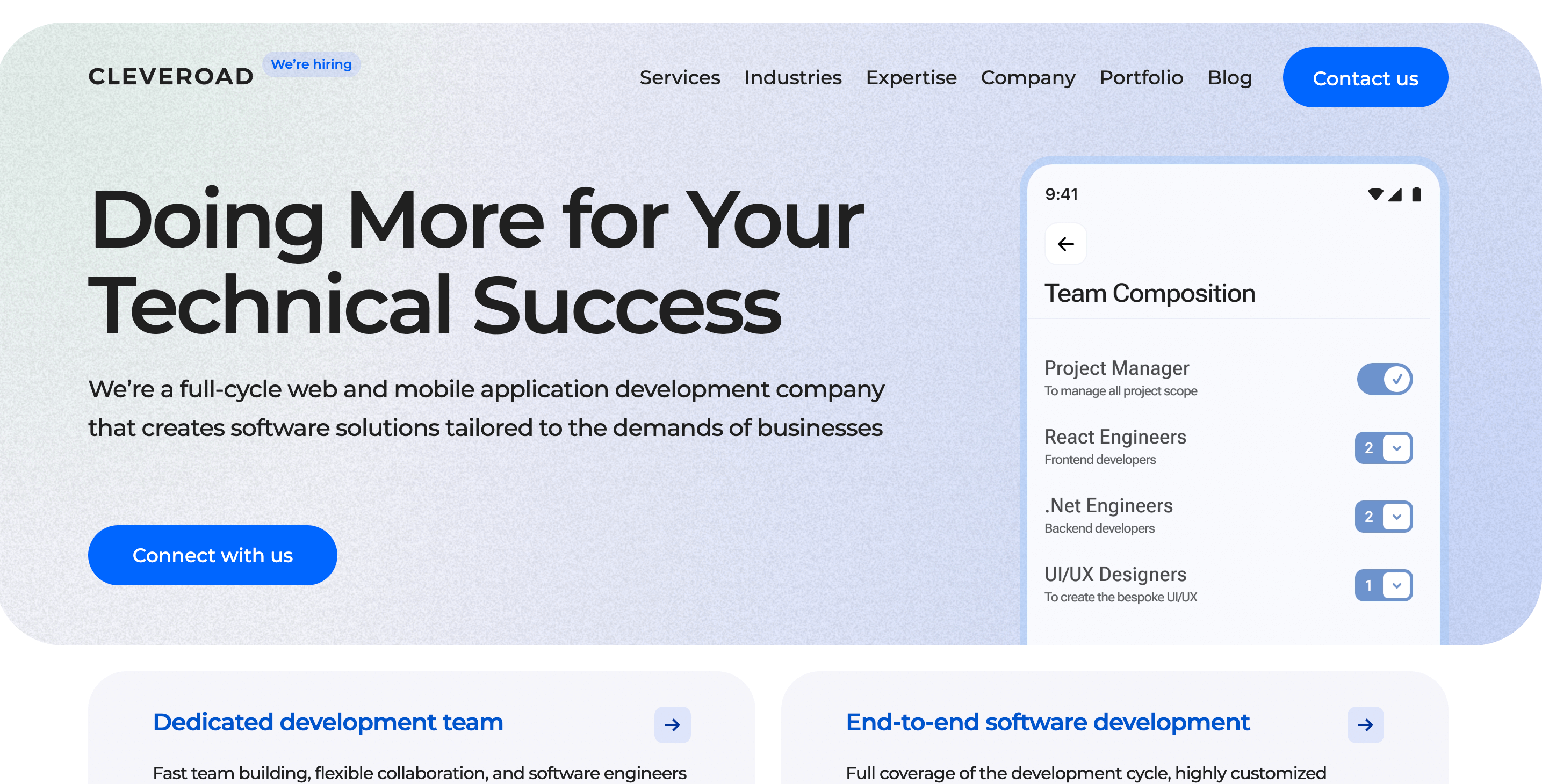 Do you want to enhance the technical expertise of your company? Would you like to have a taste of technical success? Then, choose Cleveroad as your go-to app development partner.
Composed of the best Ukrainian app developers, the team at Cleveroad provides web and mobile application development services at budget-friendly prices. Apart from providing complete tech assistance, what makes Cleveroad a reliable firm to work with is its 100% commitment to its clients.
Offering extensive technical skills and competence, their team is responsible, proactive, and determined to create user-friendly applications.
The core mobile technologies that they use are Kotlin and Swift. In the case of cross-platform development, they work with Flutter and React Native.
Cleveroad serves clients in industries like Healthcare, Supply Chain, and Finance, being open to projects from other sectors.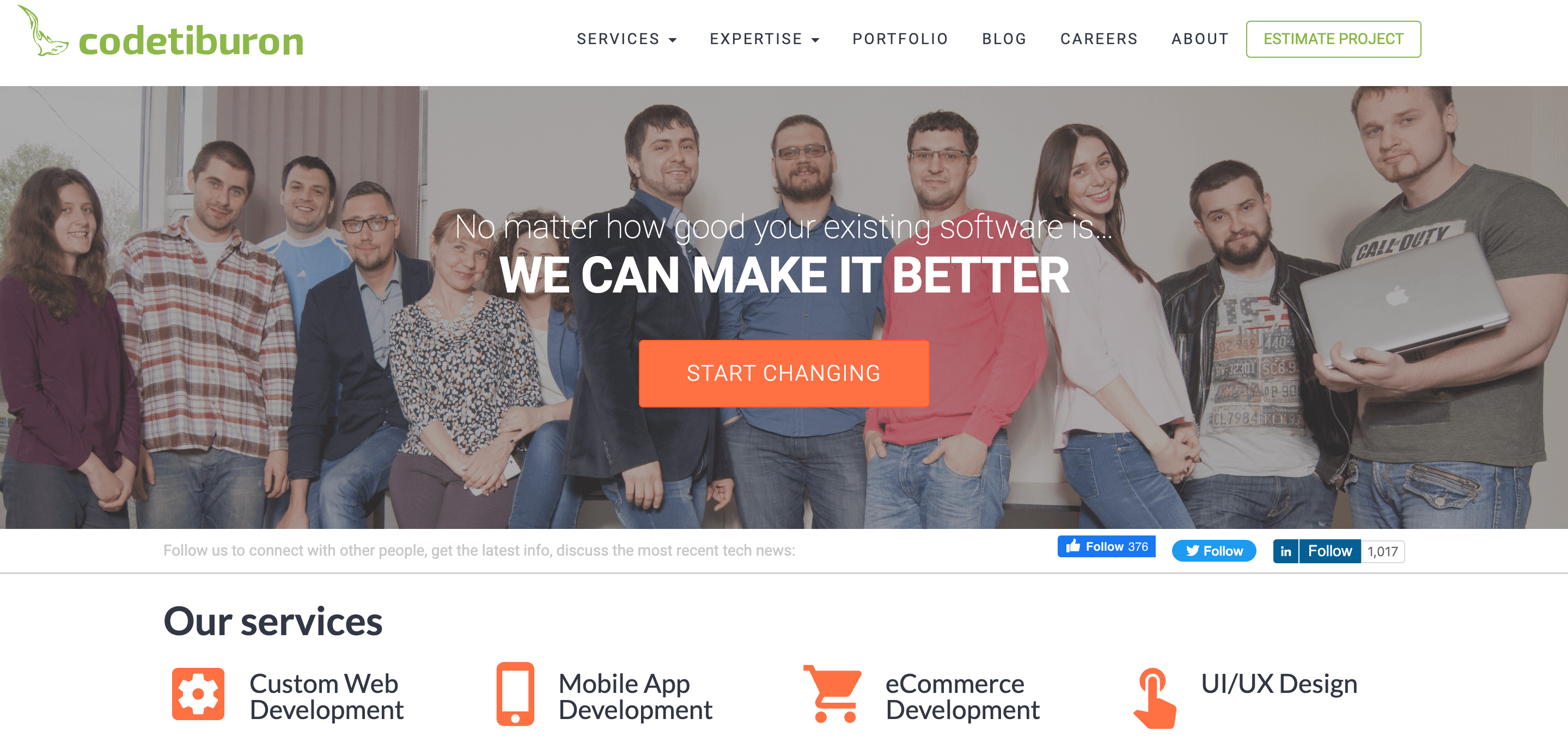 Are you having difficulty uplifting your existing software? Do you need expert suggestions to build good quality, functional apps with a higher retention rate?
Codetiburon from Ukraine is the right team to help you create interactive mobile-based apps. Since its inception in 2009, Codetiburon has specialized in building apps for the web and mobile.
The company currently enjoys expertise in various sectors such as Real Estate, Retail and eCommerce, Travel and Hospitality, Education, Business Management, Media and Entertainment, etc. They follow a well-established app development process that includes understanding the business requirements, creating the perfect UI/UX design, implementing the product, and finally, providing complete support and assistance to run and maintain your app.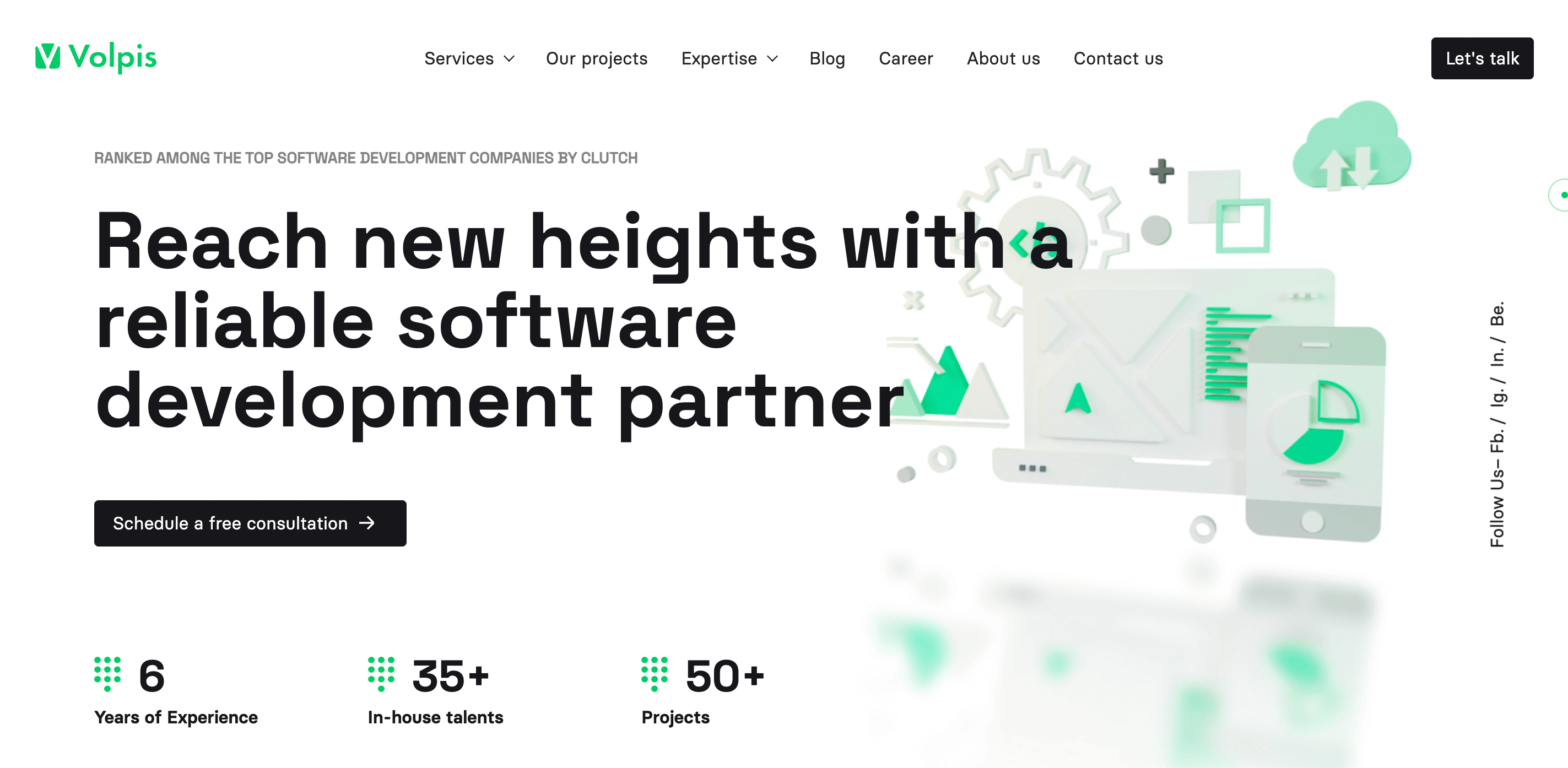 Ranked by Clutch as one of the top-rated mobile app development companies in Ukraine, Volpis boasts a strong software development team with six years of experience.
So if your business is suffering from a lack of innovative and creative end-to-end software solutions, get in touch with Volpis. While collaborating with different companies, Volpis understands diverse sets of customers and creates solutions with flawless code and visually stunning designs.
Having worked on over 50 projects, the company possesses in-depth expertise in web and mobile development. So whether you are building an app for Android or require a customized solution for iOS, Volpis is the go-to agency that will help you create secure, compliant, and seamlessly functional apps.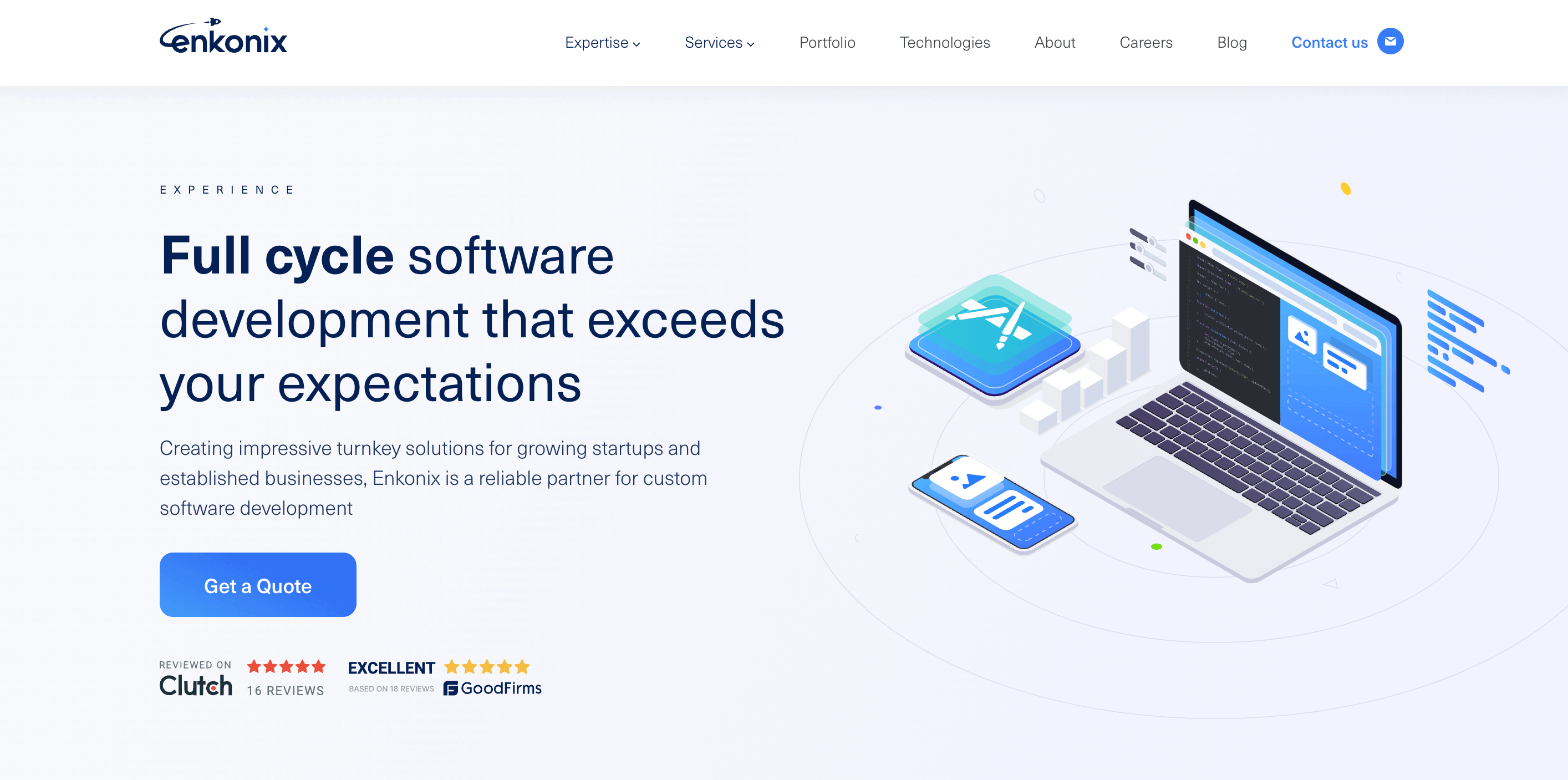 Enkonix' best mobile app developers strive to perform brilliantly and exceed the expectations of their clients.
Partnering with start-ups and medium to big businesses, Enkonix works on creating custom software development. They use a broad range of technologies such as Python, Django, Swift, Flutter, Vue.js, Java, etc.
 In the initial interaction, their analysts define your business goals and customize mobile app development services to cater to your specific needs and requirements. Responsive and communicative, their team supports customers' business growth and contributes to their business's future.
From building a functional mobile app to optimizing an existing one, Enkonix is capable of implementing different kinds of app projects, including development from scratch, scaling and migration.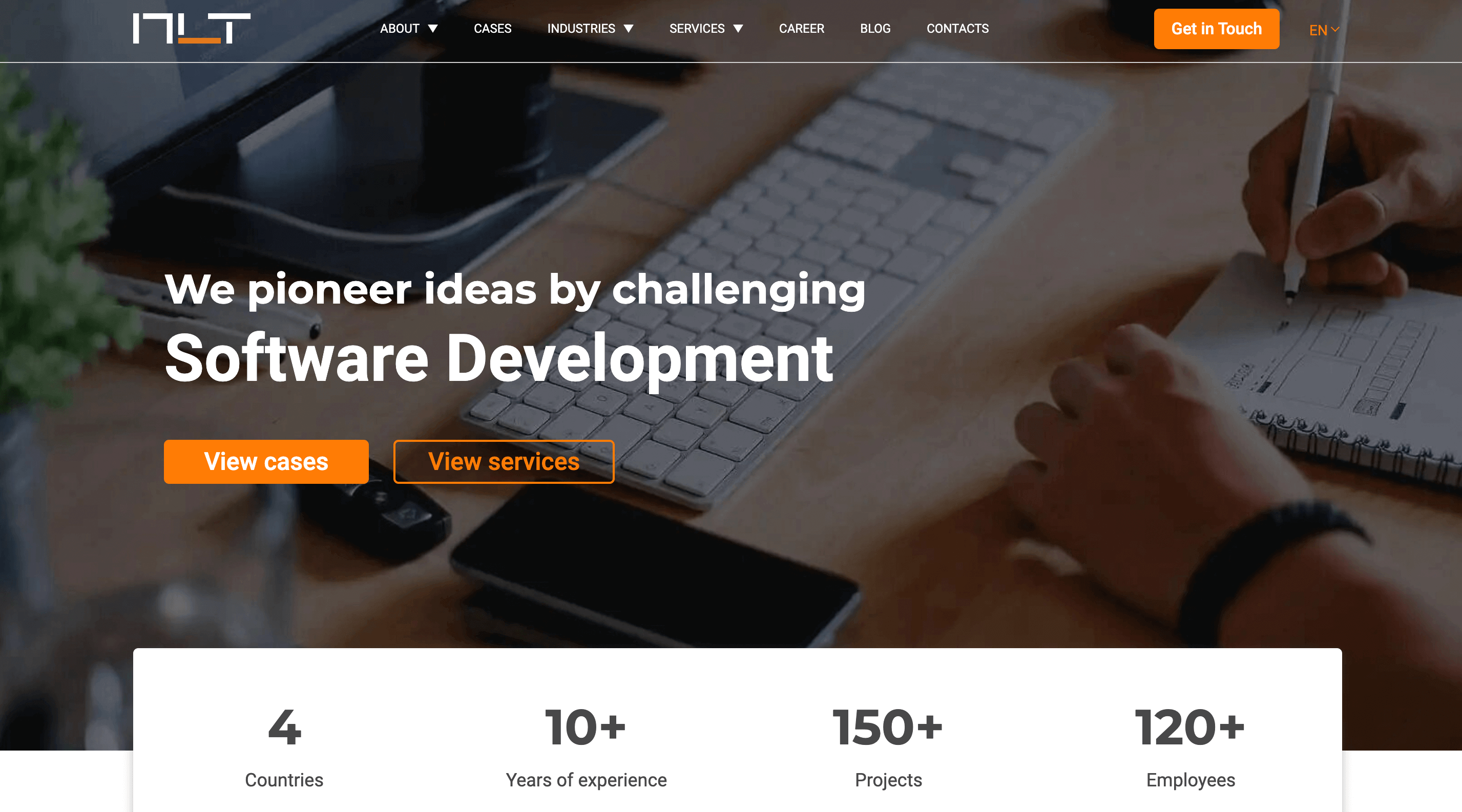 Headquartered in Kharkiv, New Line Technologies comes with ten years of experience, having worked on over 150 projects. Indeed one of the best app development companies in Ukraine, New Line Technologies is noted for offering quality assured full stack mobile and web-based software development services.
Passionate about technology and as professional experts in the field, they create user-friendly mobile solutions using technologies like Kotlin, React, Java, Angular, Swift, Flutter, Node.js, Objective C, and .NET.
The company brings the expertise of working in several sectors, including Fintech, SaaS, Real-time Multimedia, Online Education, Blockchain and Big Data, Insurance, and Healthcare.
Whether you need a small website or a set of highly-functional apps, New Line Technologies is just the right choice for you! 
Are you looking for a long-term partnership with one of the top mobile app development companies in Ukraine? Then Attract Group is the ideal agency for you.
A one-stop shop for all your mobile-based app-related needs, Attract Group assists start-ups and big companies who strive to launch their app idea and grow their businesses.
The company has worked with multiple industries, including Cryptocurrency, Agriculture, Logistics, Telecommunications, Finances, etc., where they have solved issues related to customer retention, improvement and automation, cost saving, and customer base increase.
Whether it's an Android or an iOS app, Attract Group showcases equal expertise in working with state-of-the-art technologies to deliver competitive, secure and safe mobile apps.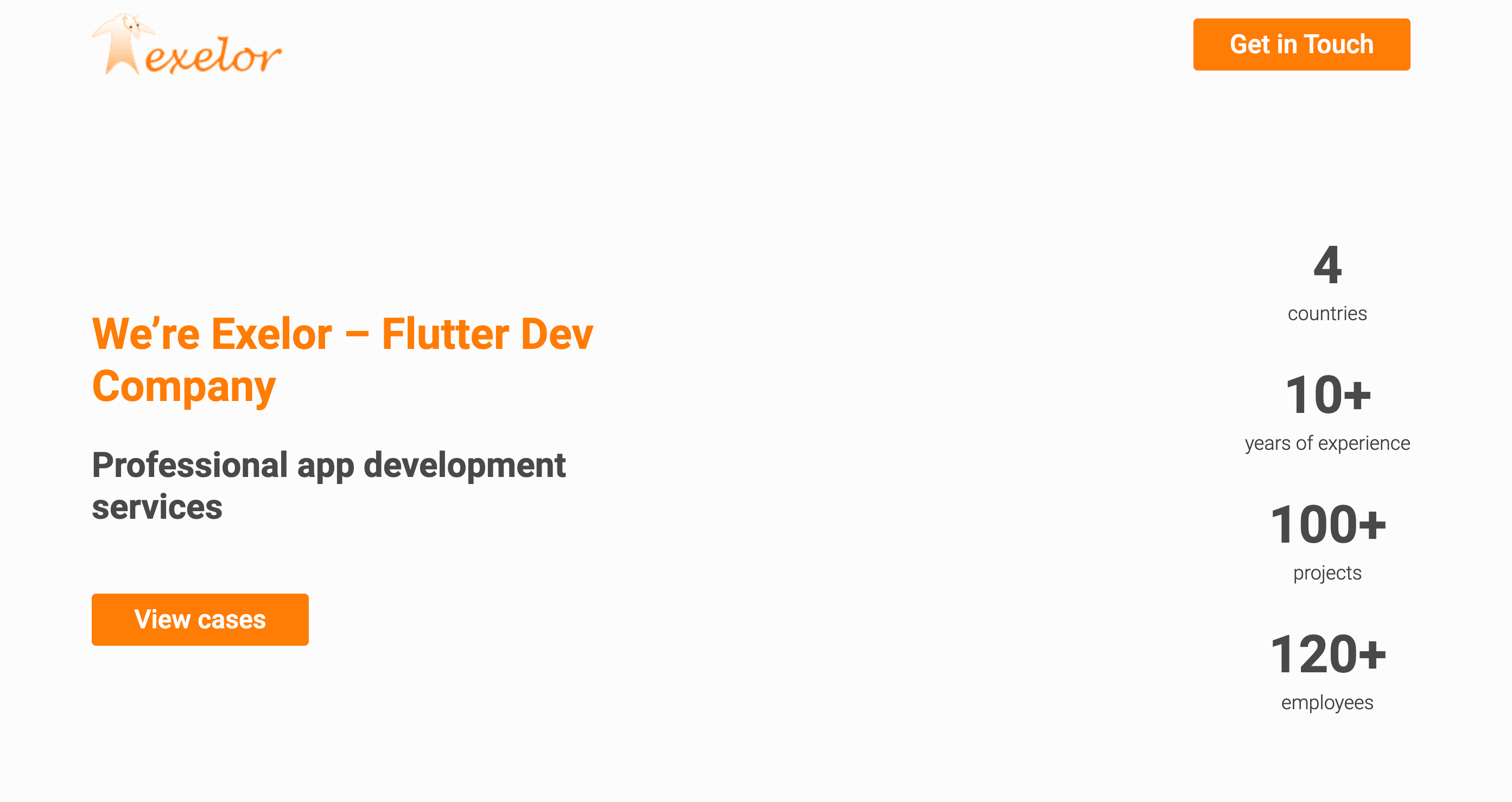 Exelor envisions the future of businesses through swift and sustainable digital transformation. Equipped with a powerful team of top mobile app developers, designers and analysts, Exelor provides professional app development services and has already showcased its expertise in various sectors.
The company's unique selling point is that it offers full-proof solutions to highly complex issues within the stipulated delivery date. The responsiveness and communication of the team are on point, and the technical brilliance of the team is above average.
Exelor has chosen Flutter as its key area of focus to build both Android and iOS apps.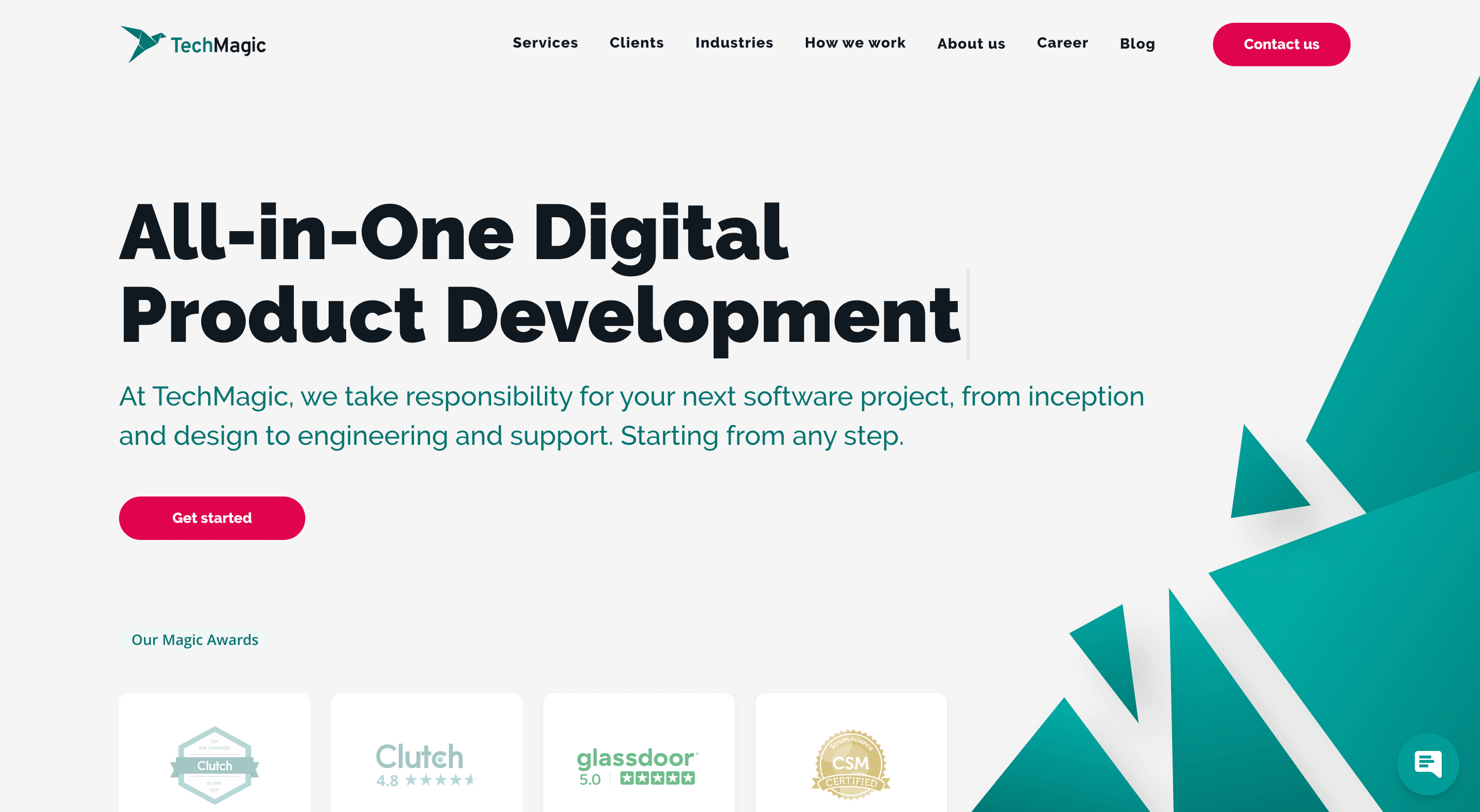 One of the best app developers in Ukraine, TechMagic can become your ultimate partner if you strive to work with a passionate, skillful team full of creativity and zeal.
TechMagic takes complete responsibility for every step of your mobile app development project, whether it's product design or core technological support. The company builds secure, legally compliant end-to-end solutions with unique and attractive UX/UI designs. The tech stack they use to develop Android and iOS apps includes Java, Kotlin, Objective-C, React Native, and Swift. 
TechMagic's top-tier engineers work in various industries: HR Tech, MarTech, FinTech, HealthTech, not to mention a batch of other business domains.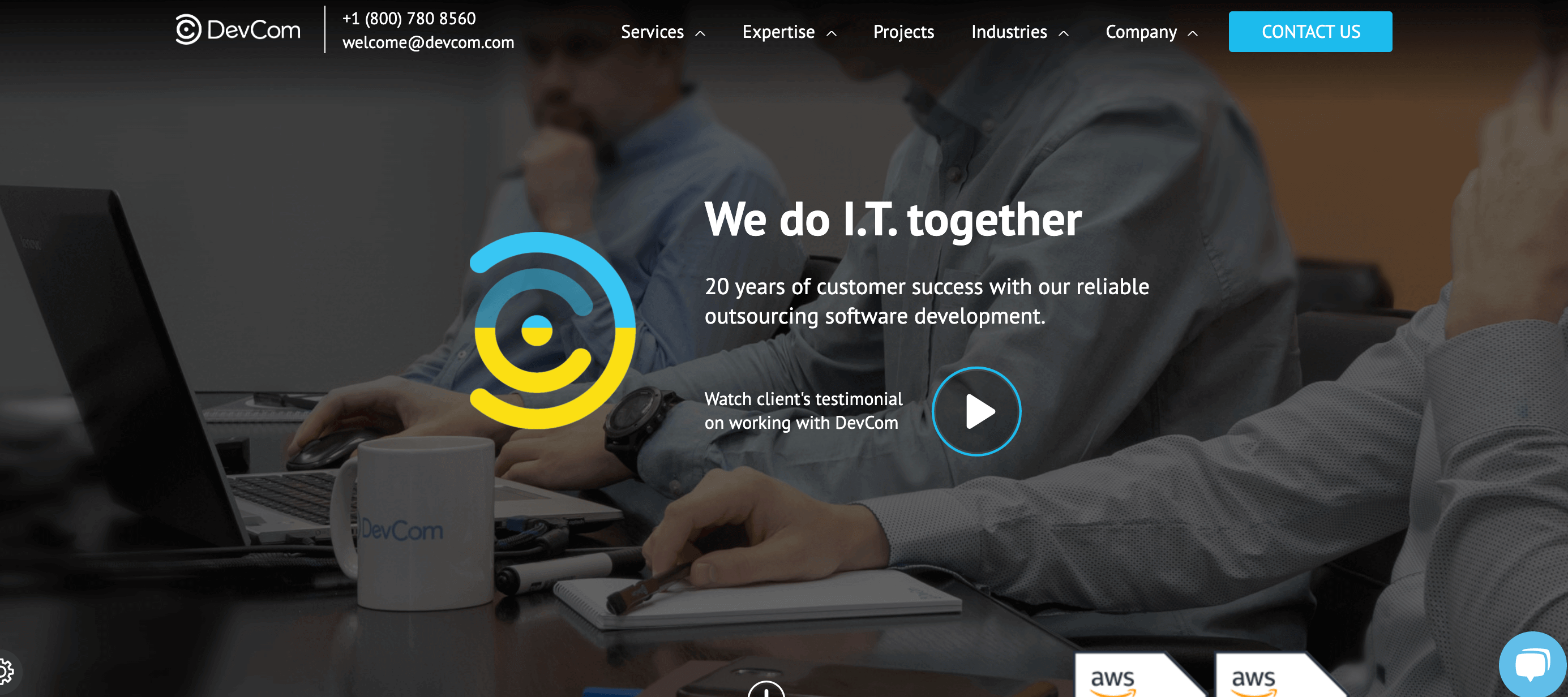 Coming with customer success stories spanning over two decades, DevCom builds exceptional mobile apps, applying its cutting-edge technical expertise and following a customer-centric approach.
The best part about working with DevCom is their flexibility. Businesses can hire a team of developers or a single developer or request complete assistance for a full product launch.
The company focuses not only on the effectiveness and functionality of the app created. It also puts additional effort into making your app look visually stunning for more downloads and a higher engagement rate.
With the expert team at DevCom, you can build native and cross-platform apps, business apps, social media apps, maps, and navigation apps, as well as personal care and productivity apps. Any type of application you have in mind – they'll implement it for you quickly and at the highest level.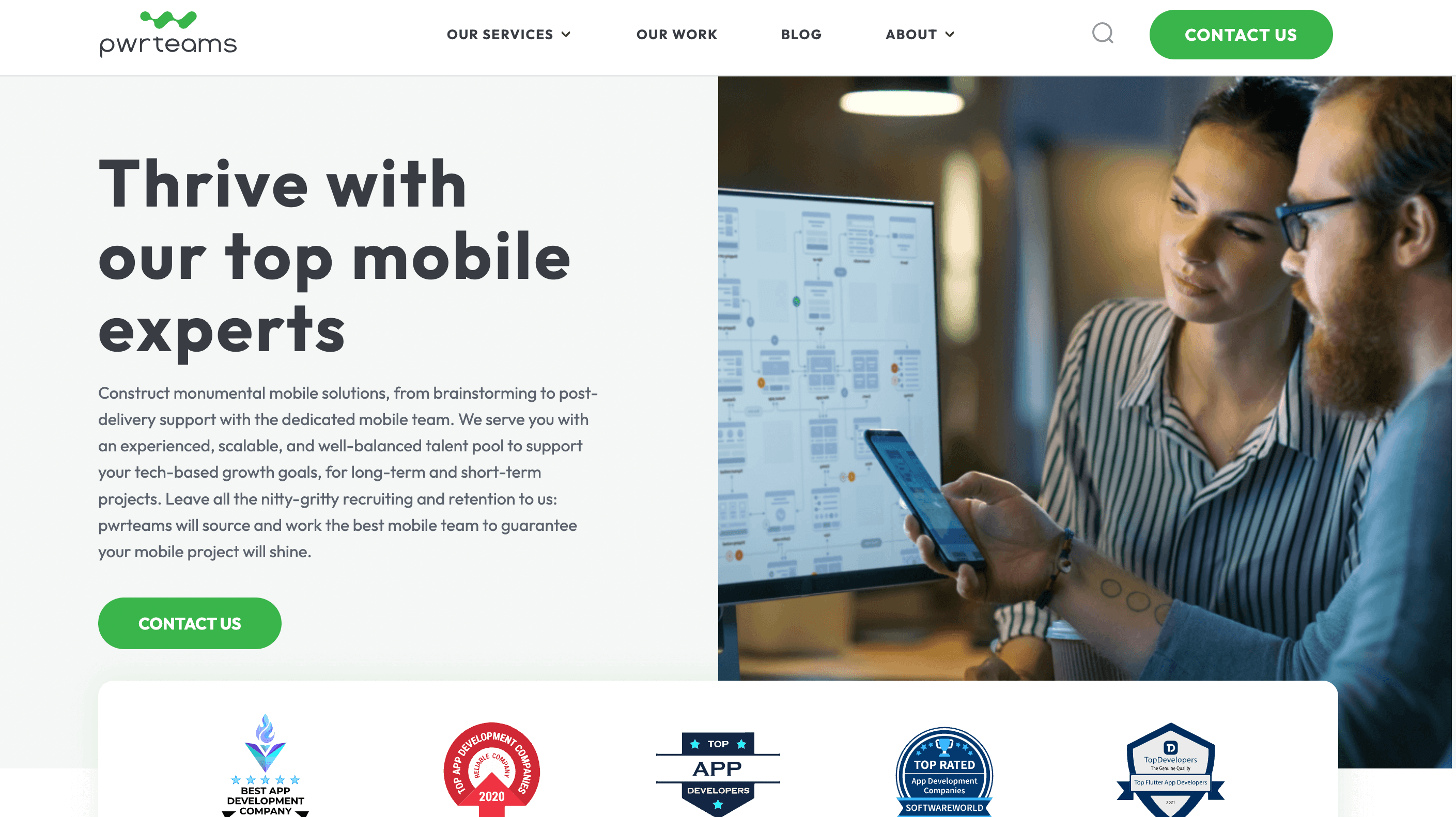 Helping thousands of businesses to scale up, PWRTeams is focused on building the most appropriate mobile app development team for you, selecting the best talents with the right skills.
Highly professional and keenly involved in understanding and solving clients' problems, this Ukraine-leading mobile app development company focuses on building teams for businesses that can handle tasks involving product development, QA testing, UX/UI design, automation, etc.
From a simple, aesthetic application to a full-fledged IoT system, PWRTeams will bring you the perfect blend of innovation, legacy, expertise, and practical knowledge of current technologies. PWRTeams not only create fascinating apps but also help you build your ideal team so that you can transform your business vision into reality. 
Conclusion
A best-in-class team of mobile developers comes with a robust experience and the required skillset to build a high-performance mobile app. Ukraine offers you hundreds of exceptional mobile app development companies to hire. Now that you have this list with you, go ahead and choose a best-fit team according to your requirements and budget.
If you own a mobile app development company in Ukraine and would like to see it listed here, get in touch with us today! Drop us an email sharing your company details. After thorough consideration, we'll define whether it's a valuable addition.