To succeed in an Amazon business, you, as a seller, have to manage all aspects of this work simultaneously.
Namely:
Determine the most popular goods;
Carry out promotion and sales;
Study competitors and compose a better offer for customers;
Pack, ship, and track delivered products;
Solve customer problems related to goods returning or refunding the money.
One person can't perform so many operations at once. That's where the Amazon FBA tools ("Fulfillment by Amazon") come to your aid. These are stand-alone automated applications, extensions, and other types of software designed to do all the time-laborious work instead of you.
In this article, I've gathered the most useful Amazon seller tools that will simplify your workflow and help you make the most out of your Amazon marketing strategy. Some you have to pay for, and others are free of charge. However, don't hurry to buy expensive software. You'll definitely find your cup of tea even among the cheap options, and this guide will assist you in this important task.
Let's dive into it right now.
Helium10 is a scalable universal tool consisting of ten built-in Amazon seller tools. It brilliantly copes with such tasks as:
research of a product and keywords for its promotion;
list optimization;
email automation;
product/brand launch;
analysis of competitors.
Pricing
This tool has an optimal quality/price ratio. You can exploit its basic capabilities for free while the minimum fee starts from $97/month.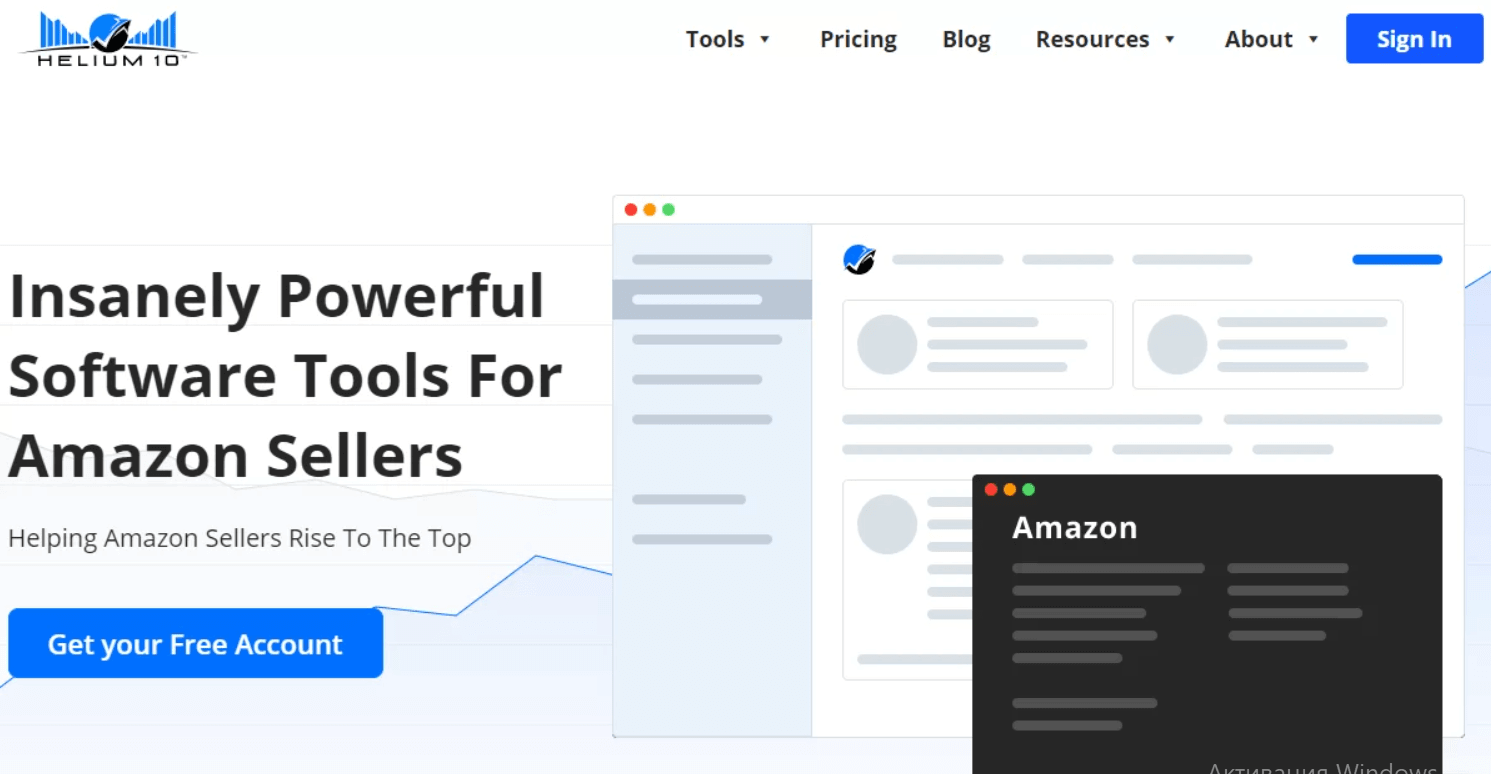 This tool also has a quite sophisticated functionality presented by the combination of several smaller tools. Feedbackwhiz is designed but isn't limited to tracking, analyzing, and managing user feedback. In addition, it allows you to configure personalized mailing lists (GIFs, attachments, custom HTML, emoticons, etc.).
Feedbackwhiz is a perfect choice when your goals are:
Setup of automated mailing;
Instant processing of negative feedback;
Optimization of product reviews.
Pricing
You can use it for free but the functionality will be limited just to one mailing campaign per month. The wider range of possibilities is available in the plans starting from $19/month.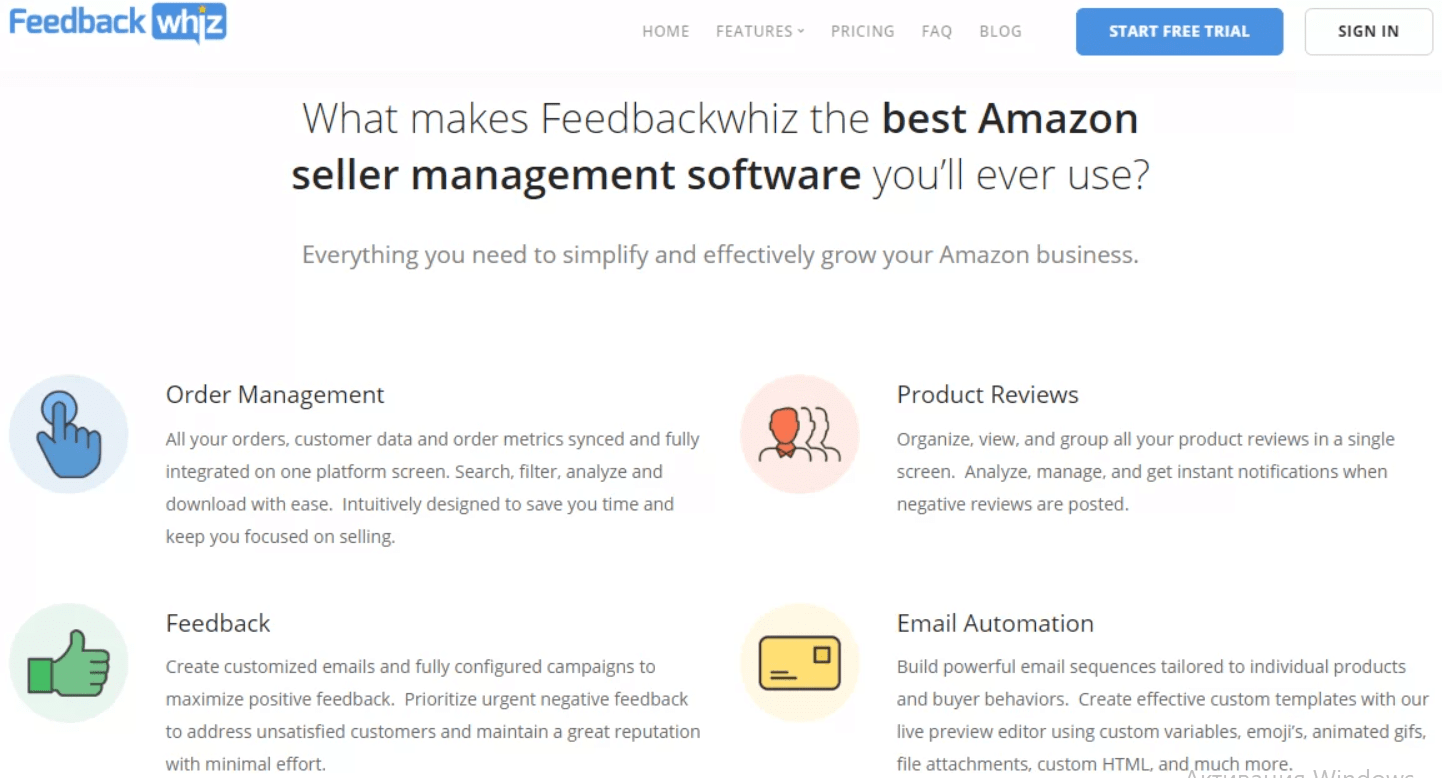 Cash Cow Pro is the next worthy candidate on the list of most helpful Amazon FBA tools. It's an all-in-one instrument providing diversified features that you need to run and grow your e-commerce business, from keyword selection to automated messaging and customer reviews.
It's the must-have tool for those who need to collect as much analytics data as possible to run efficient advertising. Cash Cow Pro is suitable for beginners who strive to launch their Amazon business "right here, right now."
Pricing
Great news is that Cash Cow Pro offers a full range of product functionality just for $99.70/month ($997/year). You can also test the software during a 10 day free trial.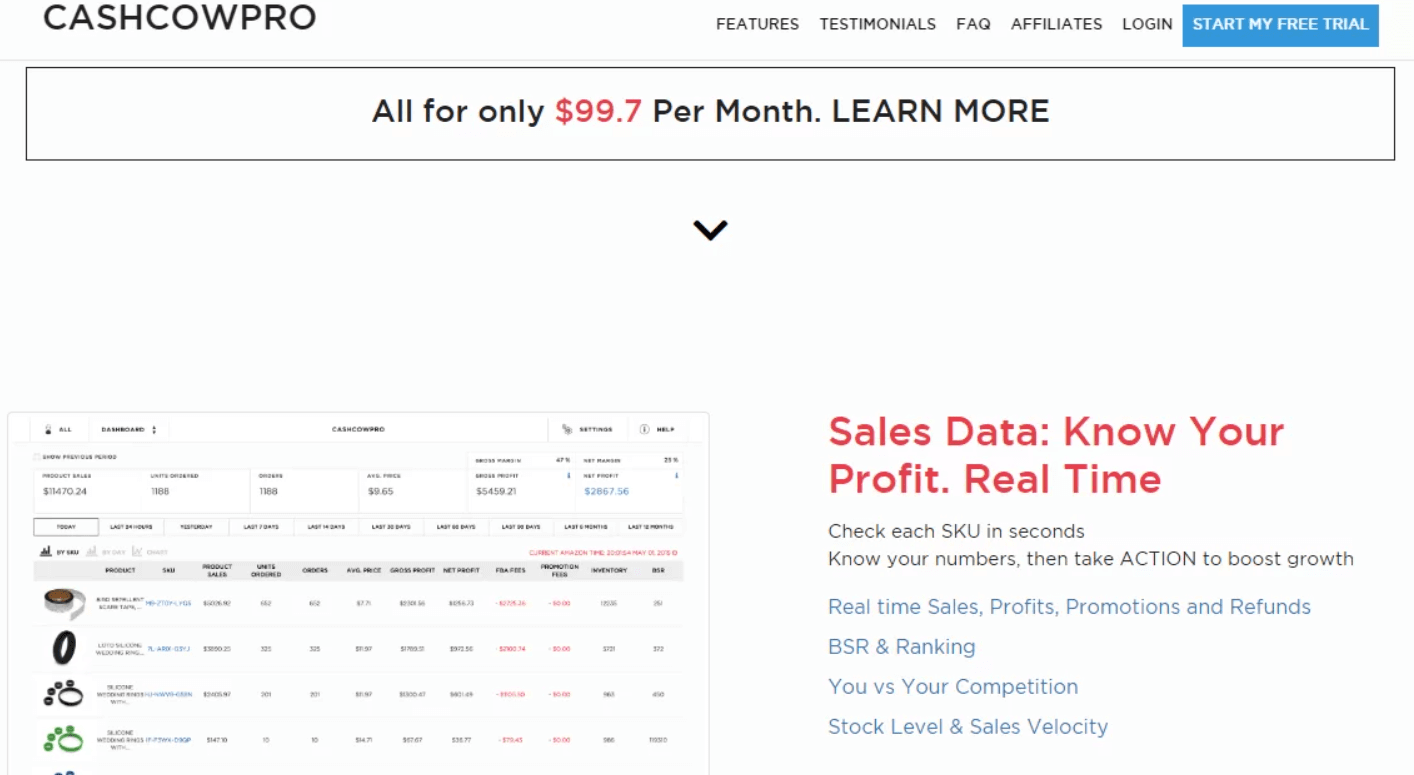 Sellics call themselves the #1 software among existing Amazon FBA tools rightfully. The product covers seven key areas for promoting your business:
PPC;
SEO;
Reviews;
Research;
Competitors monitoring;
Inventory management.
There are two versions of Sellics: "Seller Version" and "Vendor Edition." A large number of companies, including giant enterprises, choose it. Why? With its help, you can boost sales and manage them effortlessly.
These Sellics' features will do all sales & marketing tasks for you:
Sales data: earnings, promotion, refunds, CPCs, BSRs, competitors comparison, and sales rates.
Keywords and analytics, keyword ranking of your own and competitors' lists, list analyzer and optimizer.
A/B split testing.
PPC Management Suite, including – monitoring your PPC outside the Central Seller, keyword analytics, campaigns, ad groups.
One of the best things about Sellics is that it has an extremely simple interface, providing a convenient way to manage work processes.
Pricing
The cost of using Sellics depends on your annual business turnover. Prices start from $47 per month (if turnover is $1-60,000). It's possible to try the app absolutely for free for 14 days.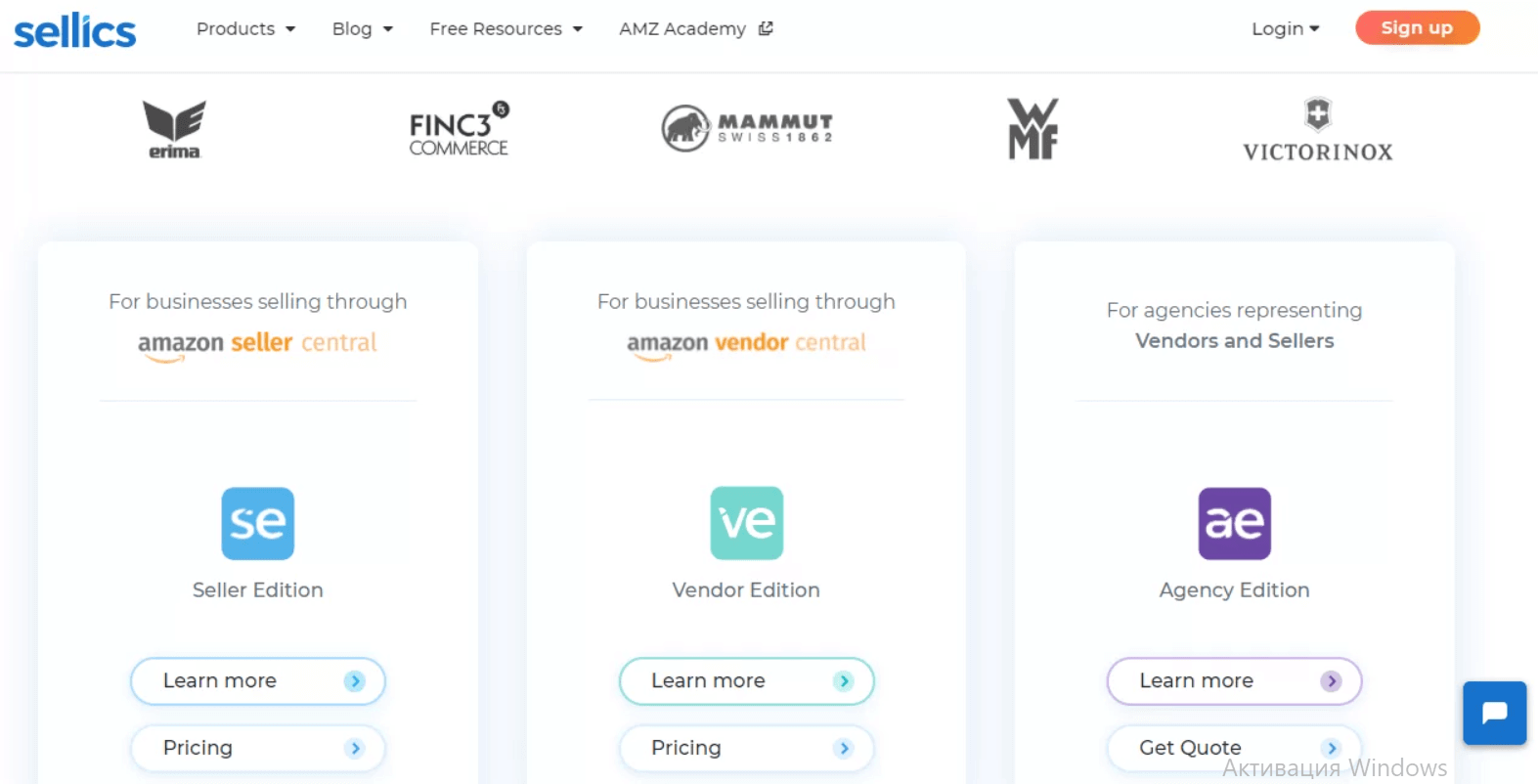 HelloProfit is a direct competitor to Sellics as it offers the same capabilities:
Intuitive all-in-one dashboard.
Boost sales, profit and profitability for each product.
A keyword ranking created using the Amazon BSR built-in tool.
Tracking and analysis of progress.
Detailed reports on sales, profits, discounts, return on investment, and payouts.
Customer analysis.
The only differences are that HelloProfit:
Allows you to use several unique settings to group ASIN and compare data to select products;
It's possible to assign several access levels to your team members.
Pricing
Although the majority of HelloProfit's features are paid, you can benefit from some free options, such as tracking and grouping keywords. Access to the full functionality suite costs $100. There is also a trial version available for $1 per month.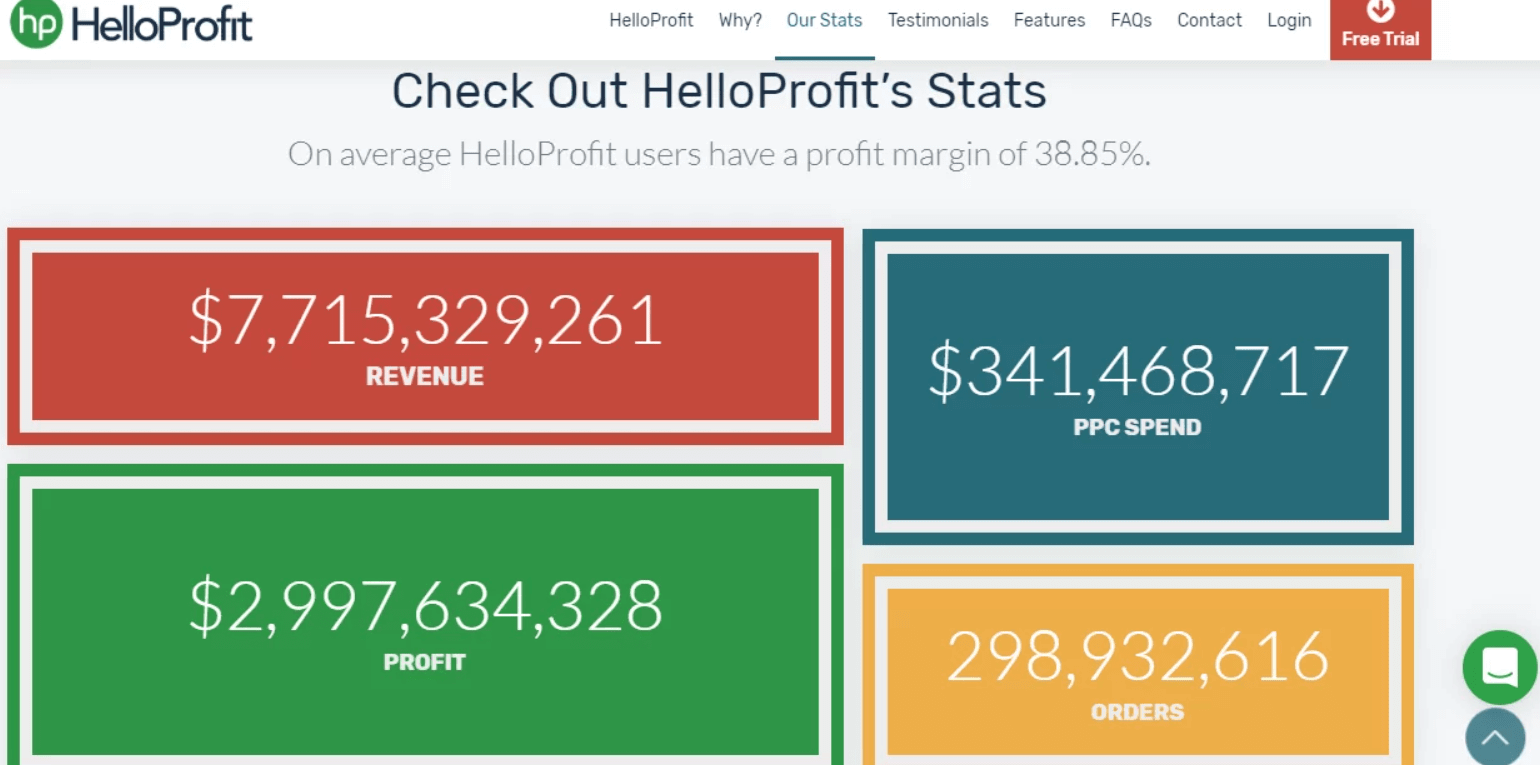 AMZScout is a comprehensive suite of tools designed to assist Amazon sellers in conducting product research, analyzing data, and making informed decisions to identify profitable product niches to sell.
Here are some of the key advantages of AMZScout:
Trusted expertise
Over 600 million products in the database
Tailored for all business types (private label, online arbitrage, wholesale, etc)
User-friendly interface
Free trial version
AMZScout empowers Amazon sellers with data-driven insights and tools to find profitable products, increase sales, and stay ahead of the competition in the dynamic Amazon marketplace.
Pricing
AMZScout offers two plans: Chrome Extension Only and the Seller's Bundle, which includes all tools and additional features. If you opt for an annual subscription to the Seller's Bundle ($379.99/year) , it will cost you $31.7 per month.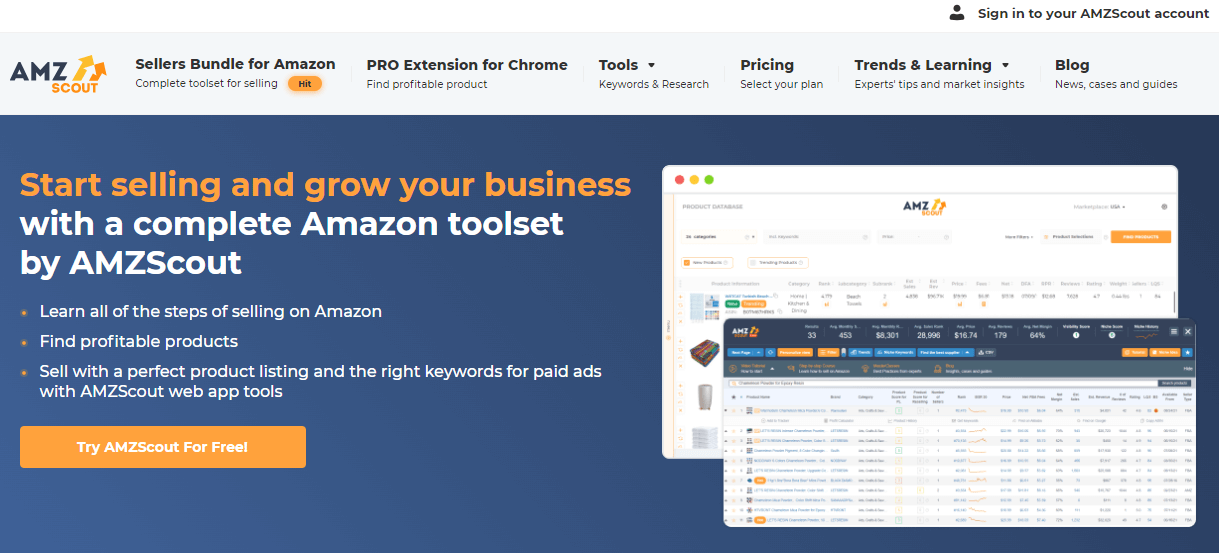 Crush your competition using one of the most sophisticated and helpful Amazon FBA tools in terms of personalized marketing. Splitly gives you the possibility to conduct automated split tests powered by AI (Artificial Intelligence), and as a result, generate more sales.
Check a few versions of your product pages at the same time to figure out what design performs better.
Using Splitly, you can do the following things:
Change images, titles, and descriptions;
Continuously record how users interact with page elements;
Use the analytics data to create the most profitable ad configurations for your products.
Pricing
The cheapest package costs $47 per month. The Enterprise package is $497 monthly.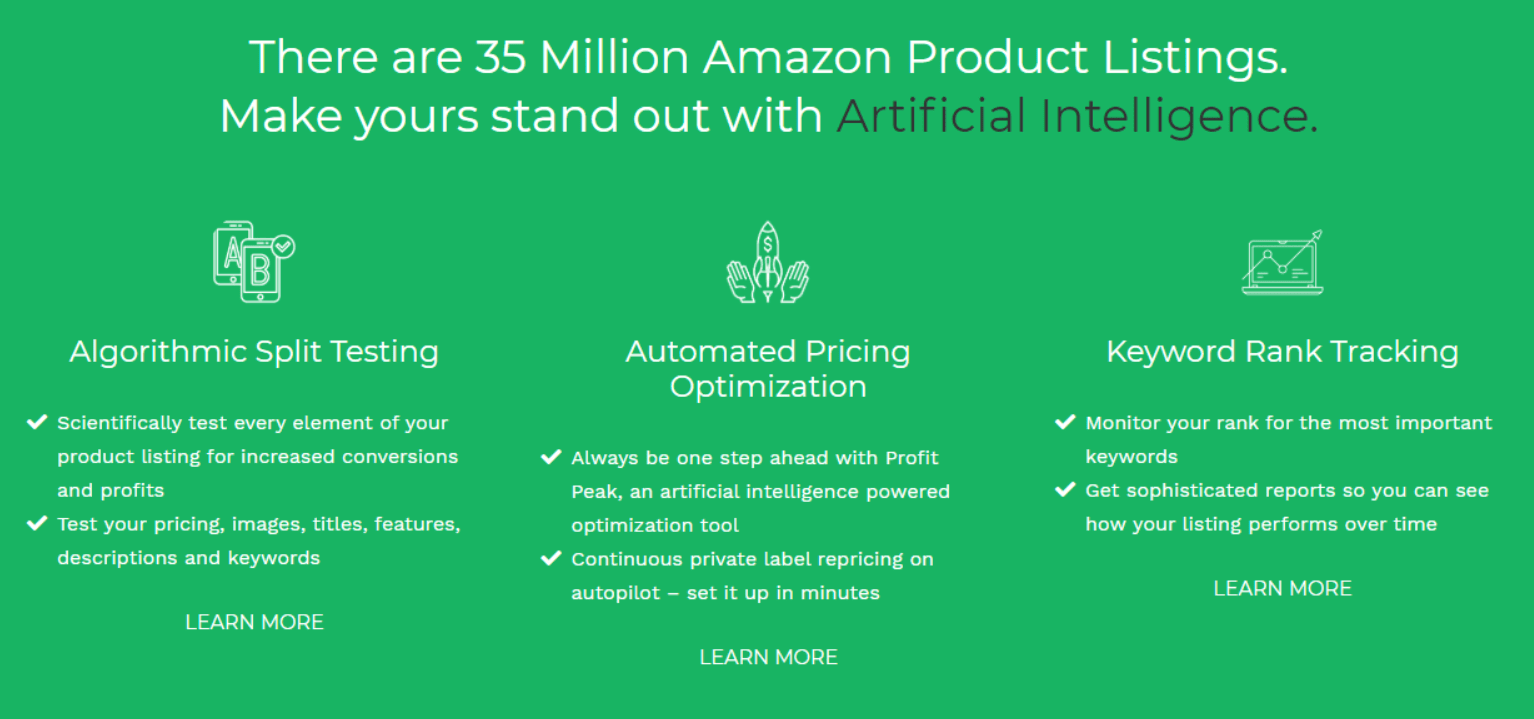 Again, Excel sheets are obsolete. However, it doesn't mean that sheets on the whole are obsolete. In case you use Bindwise's advanced spreadsheets, your e-commerce business can boast of an innovative approach and maximum productivity.
The thing is Bindwise's sheets are a multifunctional tool covering numerous tasks, including:
Processing customers' requests;
Analyzing and decreasing customer dissatisfaction rate;
Resolving ToS Violations;
Dealing with negative reviews;
Managing product inventories and orders, etc.
Finally, Amazon sellers get a reliable virtual assistant which optimizes time-consuming daily routines, prevents inventory woes and stock management headaches.
Bindwise is compatible with Amazon, eBay, and Etsy.
Pricing
You can start with a free trial and then switch to the paid option which costs a minimum of $19 per month. The price depends on the volume of your sales.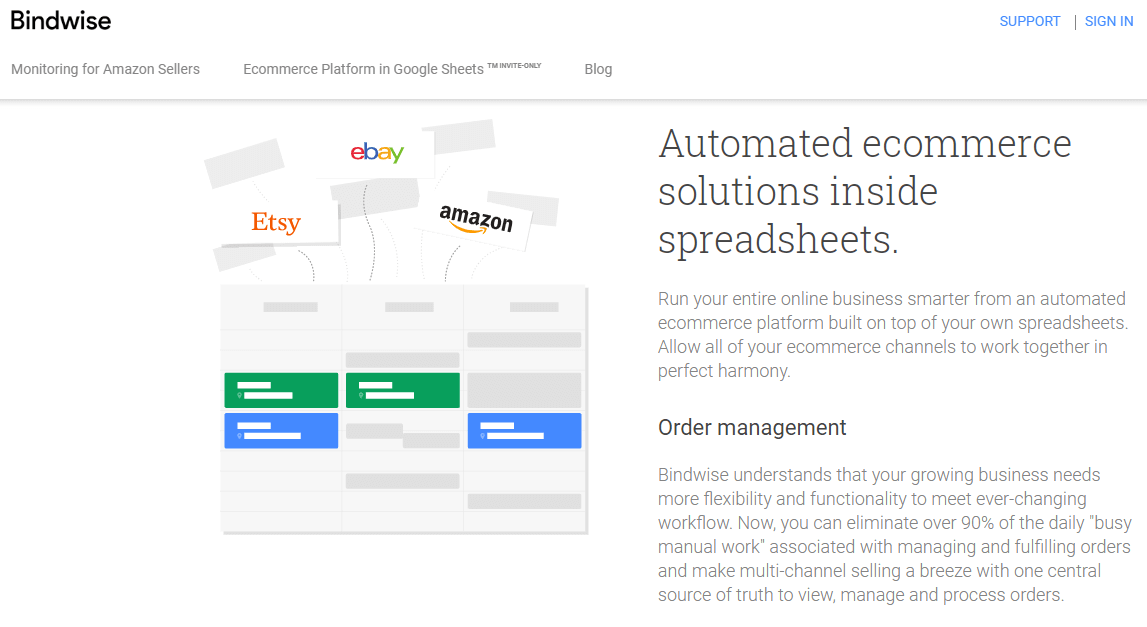 Kenji ROI is a one-stop-shop where you can order any type of marketing services for your brand/store promotion: copywriting, photography, video, and production of an advanced brand content.
Particularly, the provided services include:
Copywriting: keywords selection, listing optimization, highly-converting texts;
Photography: product images and user-generated photos from customers;
Other: video filming, advertising, etc.
Pricing
Kenji ROI is an expensive tool designed for experienced Amazon sellers. The complete package containing copywriting, design, photography and video production services costs $2497.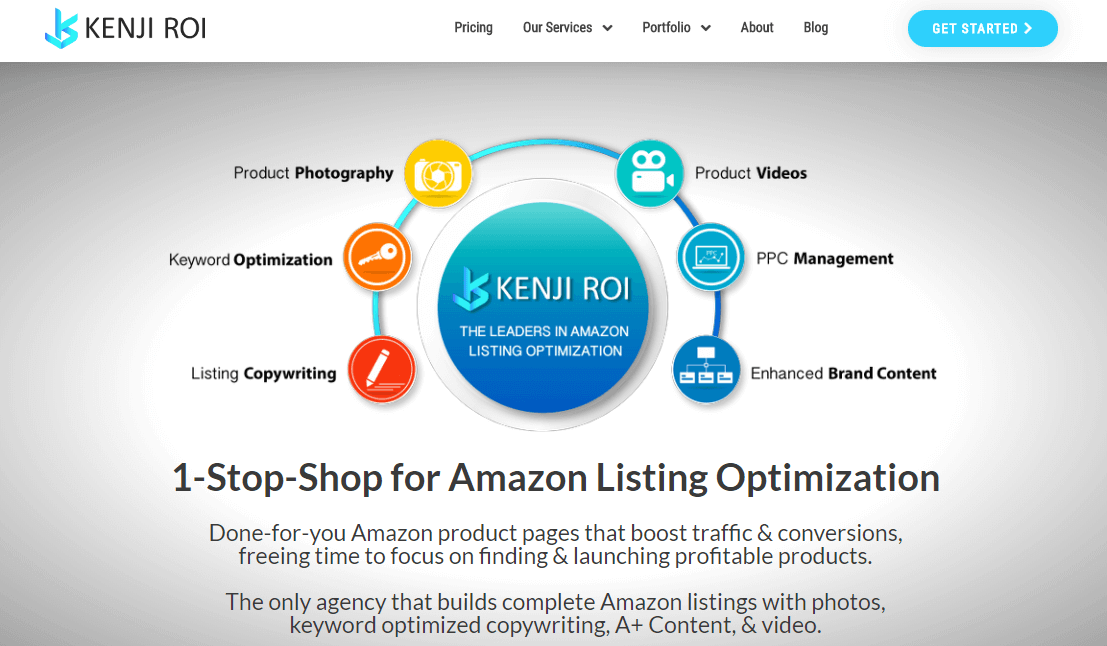 As you know, keyword selection for your listing plays an important role. Analysis of competitor lists is one of the easiest and most efficient methods to find keyword opportunities. Foster FBA is a real master of this craft.
By conducting thorough competitive research, Foster BBA allows you to:
Optimize your listings,
Stand out among competitors;
Track the actions and daily advertising decisions of competitors.
The tool provides the following functionality:
Collection and analysis of search queries of your most successful competitors;
Forming a list of the most profitable keywords of competitors;
Composing a detailed report with competitor comparison data;
Listing optimization assistance.
Pricing
A basic package with a minimal set of features costs $15. The more sophisticated functionality you need, the more expensive the package will be.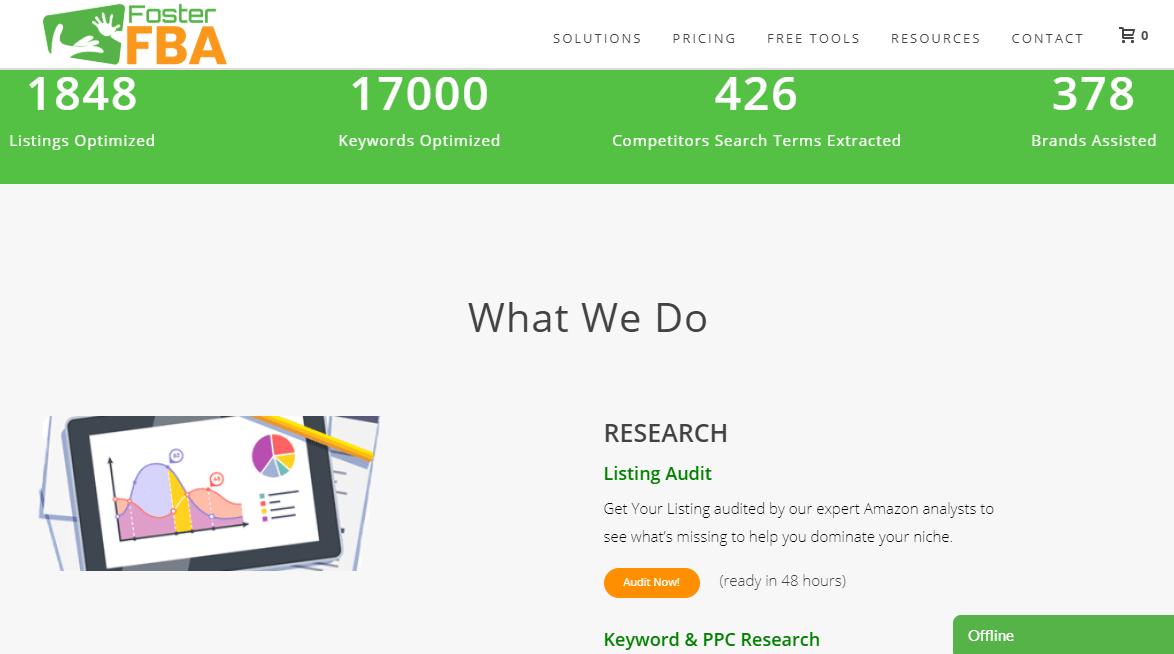 In any sphere, we can get into some legal problems. Amazon isn't an exception. In case you need competent legal aid, Amazon Seller's Lawyer is at your disposal. It is not a tool, but a service that helps sellers retrieve listings and their brands through a careful legal study of every particular case.
What does Amazon Seller's Lawyer offer?
Recovery of products and accounts;
Settlement of disputes in the field of intellectual property;
Challenging suspensions;
Legal protection against unreasonable customer complaints.
Pricing
The cost of Amazon Seller's Lawyer services is determined individually and depends on the complexity of the request.
Restock Pro is a real discovery for novice sellers who want to learn how to deal with an automated inventory management system. Unlike some other more advanced inventory optimization tools, Restock Pro uses a unique FBA forecasting algorithm, which is adored by Amazon sellers.
Restock Pro provides users with the following possibilities:
Real-time alerts;
General inventory management and optimization;
Supplier Management (supplier portal);
Equipment;
Sticker delivery design and print.
It's an optimal solution for those who need a basic automated inventory management system without super advanced analytics and dynamic AI pricing.
Pricing
Prices vary depending on the number of your orders. The cheapest package costs $100, and you can also use a free trial version.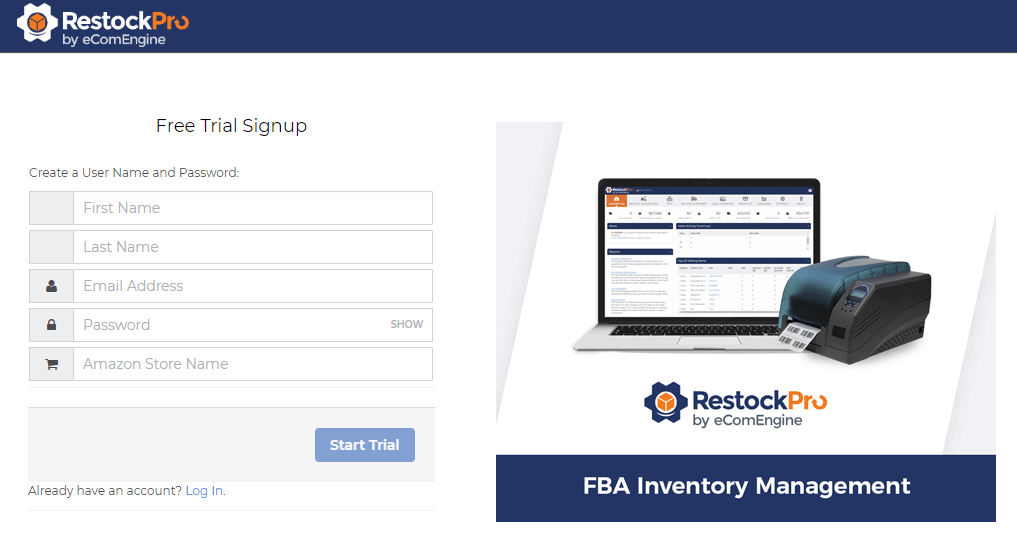 This tool copes with diversified queries regarding claiming refunds.
Some exciting facts:
It covers 19 possible scenarios that may lead to the need for reimbursement (the only tool on the market with so many scenarios);
Refund takes just two days;
More than 5,000 Amazon sellers use it.
Refunds Manager searches for incorrect payments and unclaimed refunds and manages returns.
Pricing
Refunds Manager's commission is 25% of the amount that was returned. If nothing was returned, the commission would be 0%.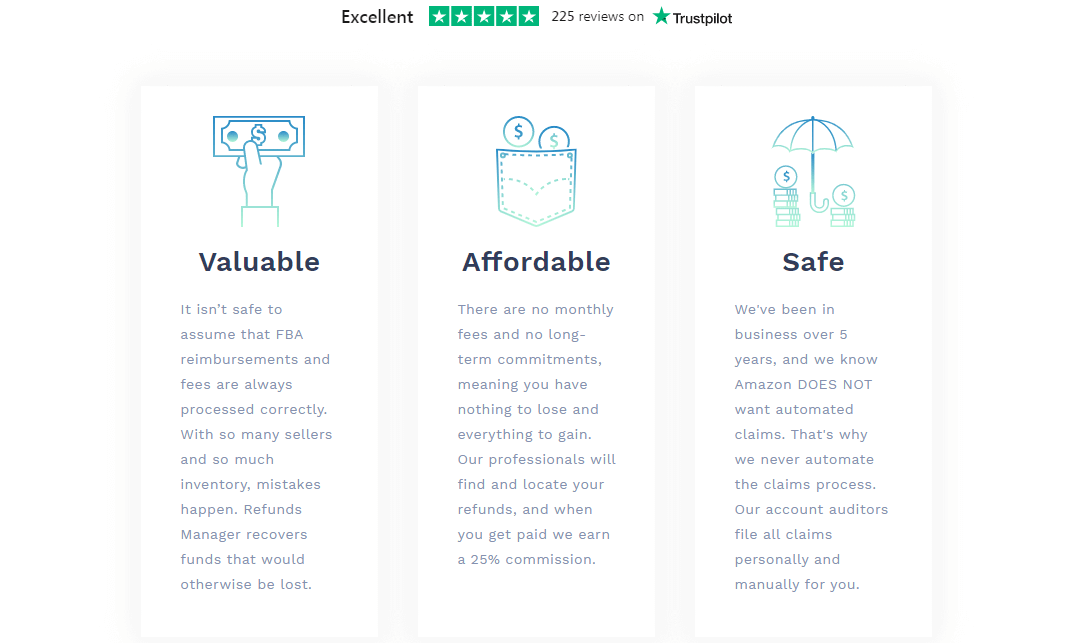 Refund Retriever is an easy-to-use error management solution for Amazon sellers.
It monitors the condition of the goods – their dispatch and delivery – and reacts when one of the following situations is detected:
Cargo delay;
Invalid call forwarding;
Missed connections;
Duplicate accounts and other errors in the work.
The next step is that Refund Retriever works with the carrier company and requests a refund of the service/product. Money is automatically transferred to your bank account.
Refund Retriever's users get these benefits:
Support 24/7;
It works by default. You only need to connect the service once;
It resolves every possible bad delivery control scenario.
Pricing
Refund Retriever withdraws a commission from the returned money, which depends on your annual income.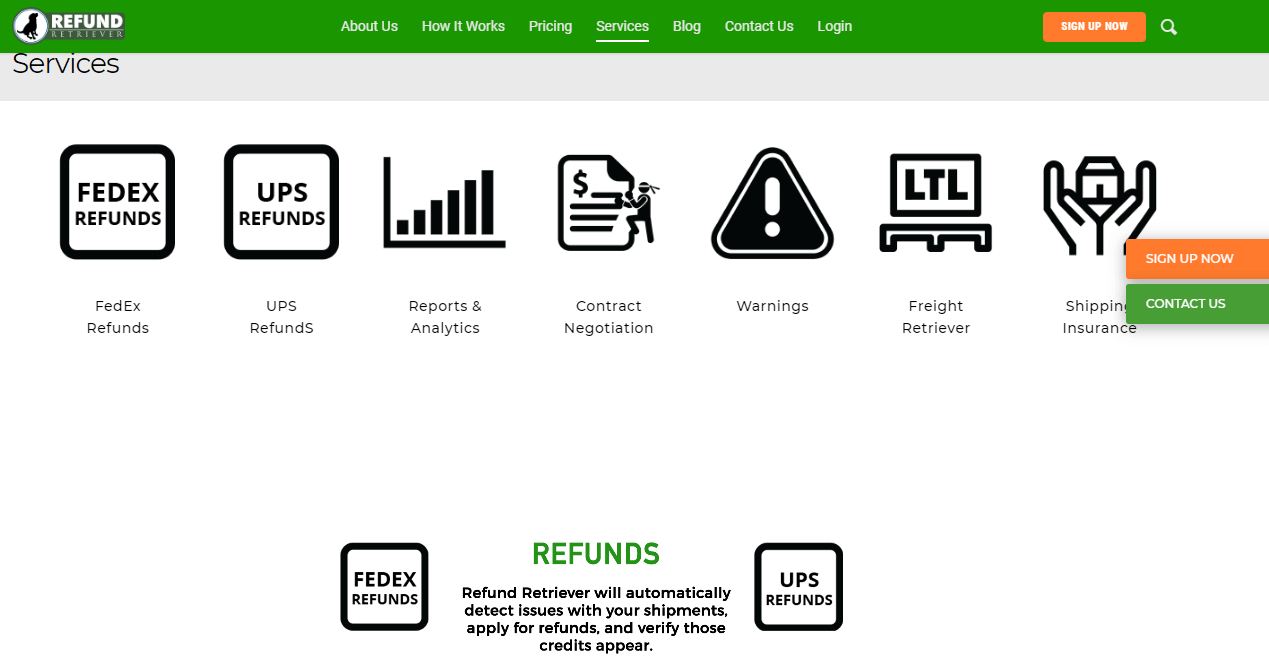 OneHour Translation is one of the most famous Amazon FBA tools for translating listings. It is also super easy to use.
All you need is to upload your text, choose the required languages, and order the translation service.
What does OneHourTranslation offer?
Real people translate your docs;
Fast order completion;
Almost all major languages are represented.
Pricing
The price is charged per word. Also, it depends on the level of topic complexity and the popularity of the chosen language. The minimum price is $0.08 per word.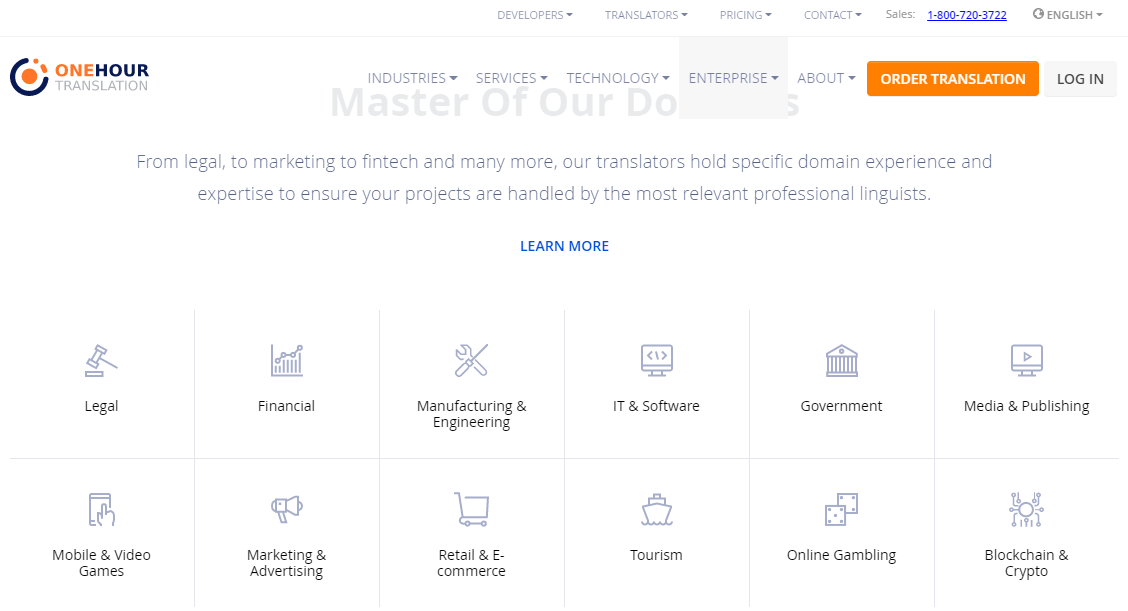 16. Refersion
Refersion is the ultimate tool that is befitting for affiliate marketing.
Amazon Affiliate Marketing by Refersion helps eCommerce brands on Amazon that want to connect with audiences outside of Amazon.
With this tool, you get the possibility to build a profitable partner network with top affiliates and publishers, and as a result, grow your Amazon Store by attracting tremendous qualified traffic.
Refersion also provides a transparent analytics system that allows you to track the performance of all affiliate marketing campaigns and define the top-performing affiliates, their most popular products, and how much they sell. These insights will help you establish lucrative affiliate relations that bring high conversion rates to your business.
Pricing
Refersion offers clients to go with a custom plan starting from $99/month, depending on the number of order limits.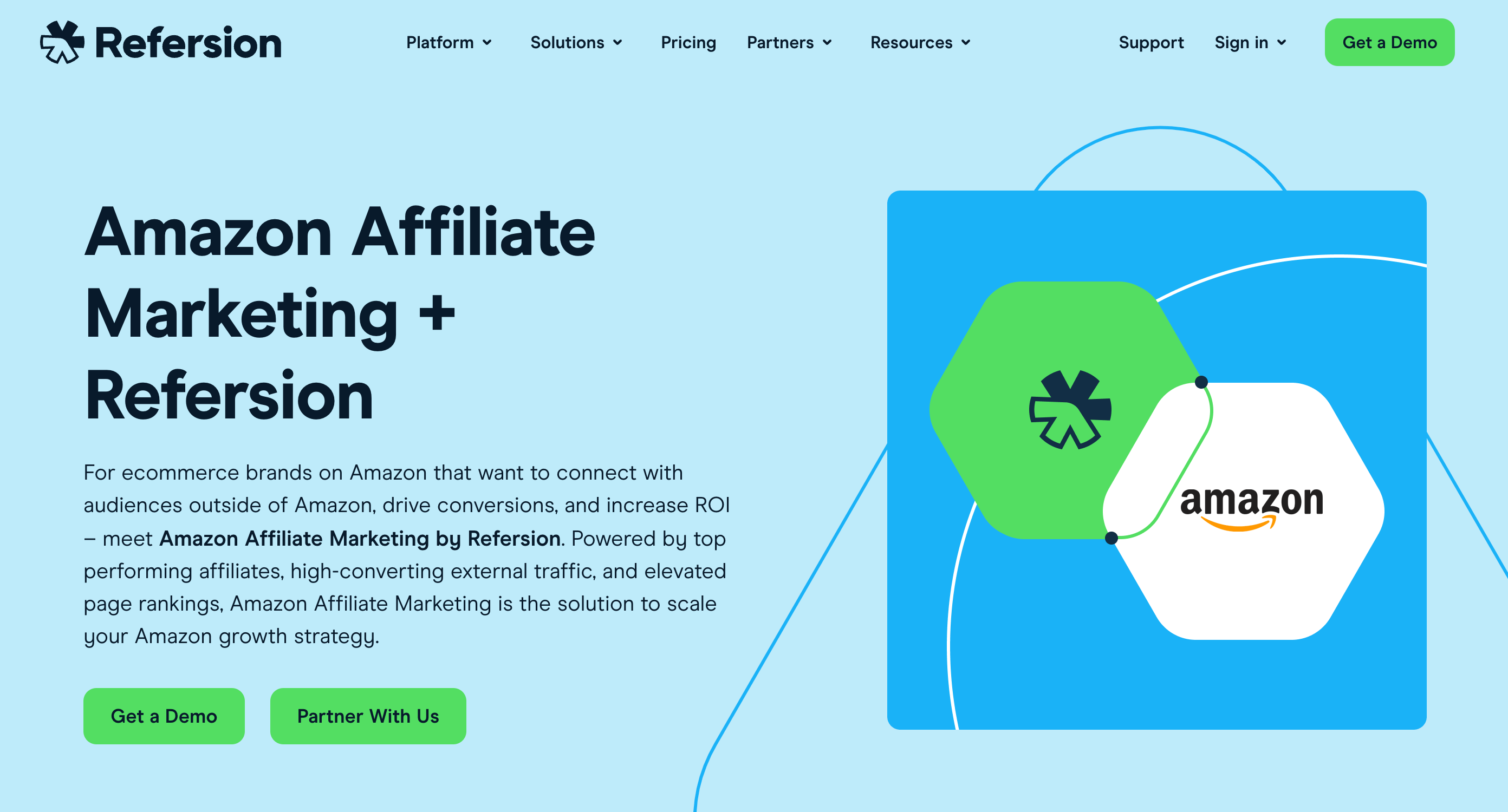 Jungle Scout is recognized as one of the best Amazon seller tools due to its capabilities helping users make smart decisions about selling specific products on Amazon.
Namely, it allows you to:
Estimate the sales potential of a particular niche (displays bestsellers' ratings, number of sales and reviews, units sold);
Search for the quick-win keywords;
Track products and more.
By using Jungle Scout, you get such significant selling opportunities as:
Exploring of the most fruitful niches;
Centralized research of your product;
Generation of product ideas based on the global market supply and demand;
Launch and expansion of a business using data-driven solutions.
Pricing
The cheapest Jungle Scout's package costs $39 per month. You can also install a special Google Chrome extension allowing accurate Amazon research for $19/month.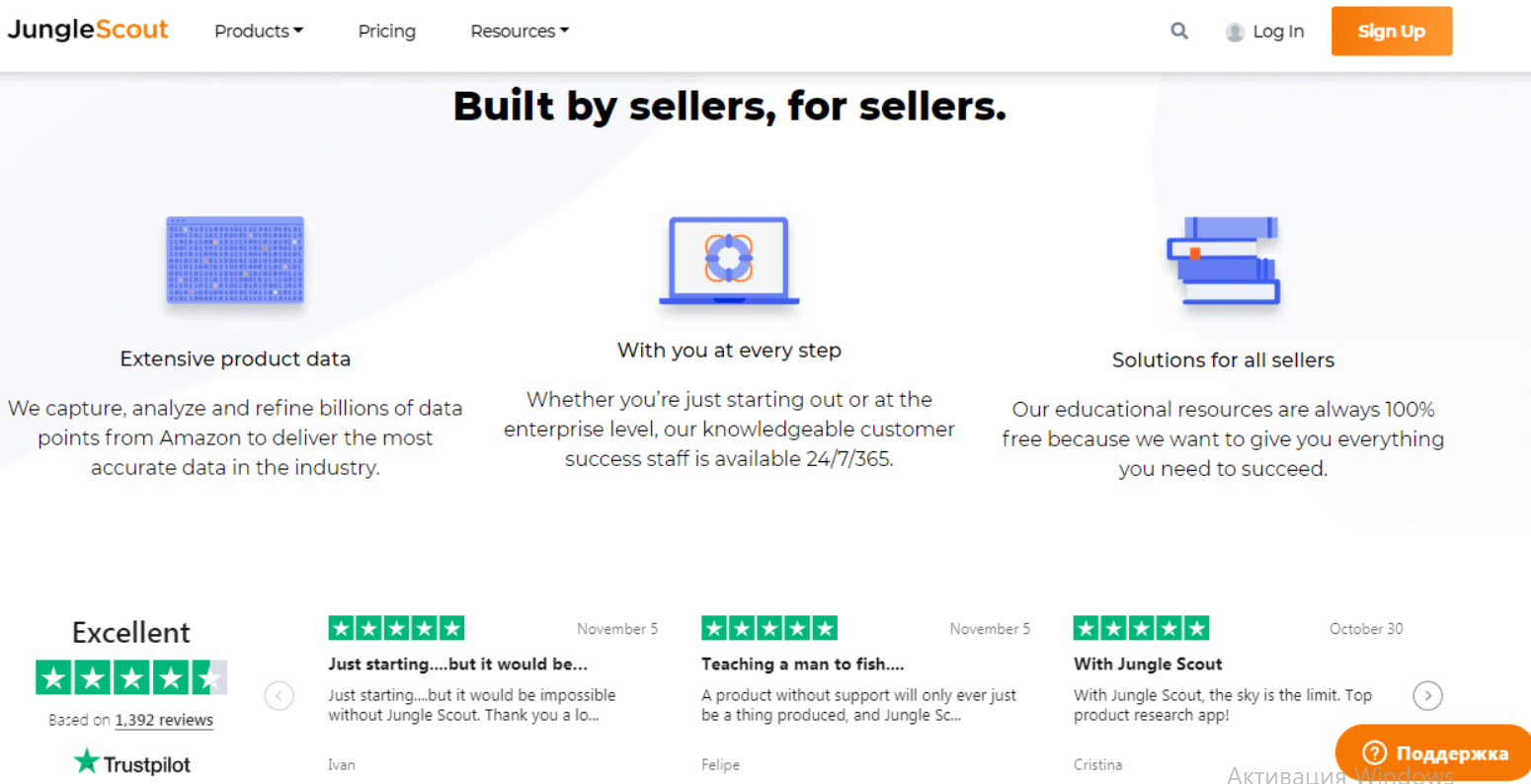 Conclusion
I hope this list serves as a solid background for you to be aware of the broad range of useful Amazon seller tools existing on the market. Choose the appropriate software based on your current goals and challenges, and bookmark this article for the future. You never know what kind of innovation your business will need next year, next month, or tomorrow.
By the way, do you already have experience with one of these tools or maybe you're using some other services? Share your experience – comment about them. Let's be helpful and open to each other!