Not all CMS platforms are created equal. Traditional CMS platforms have limitations that complicate managing and customizing content. That's where Storyblok CMS comes in.  
Companies of all sizes currently use Storyblok's CMS in over 200,000 projects. Storyblok's headless architecture enables developers to separate content management and presentation. Storyblok experts and web admins can flexibly work in the back end and front end to deliver content across many devices and platforms.
What's more, the CMS features a customizable visual editor which allows you to make content edits and preview them in real time. Even better, the system powers collaboration through shared content creation, modification, and publishing workflows.
Beyond that, the extensive range of integrations Storyblok offers means that developers can extend its functionality in diverse ways. The system can be integrated with eCommerce platforms like Magento or digital experience platforms like Contentful.
Below are the top Storyblok CMS developers and development companies to help you build and deploy a CMS that elevates the value of your content and your brand on the whole.
The Best Storyblok CMS Development Teams
9thCO is one of the top Storyblok CMS developers in Toronto, Canada, and the continental USA. They specialize in creating composable architecture web applications and sites using the Storyblok CMS. 
What's more, 9thCO does not restrict itself to one CMS platform. They leave nothing to chance, helping clients achieve the best outcomes with content through systems like Strapi and Prepr. They're expected to add Sanity to the tech stack, customizing their offerings based on the client's requirements.
9thCO delivers tangible results to its clients. They have a knack for creating solutions with unique user experiences to help companies strengthen their digital presence.
Apart from headless CMS development, the 9thCO team handles DevOps and creates killer digital marketing campaigns, including PPC and SEO. So if you want to hire Storyblok developers who can also help you rank higher, this company is our best recommendation. 
Services and expertise: web development, digital marketing, UX/UI design, content management, eCommerce solutions
Tech stack: Storyblok, Jamstack, React, NodeJS, Strapi, Prepr, Python, NextJS, VueJs, Shopify, Express, AWS, etc.
Industries: eCommerce, Marketing, Consulting, Real Estate, and many more
Team size: 20-50 experts
Portfolio: Noisy Cart, Dicentra, TMX, Global, Bluivy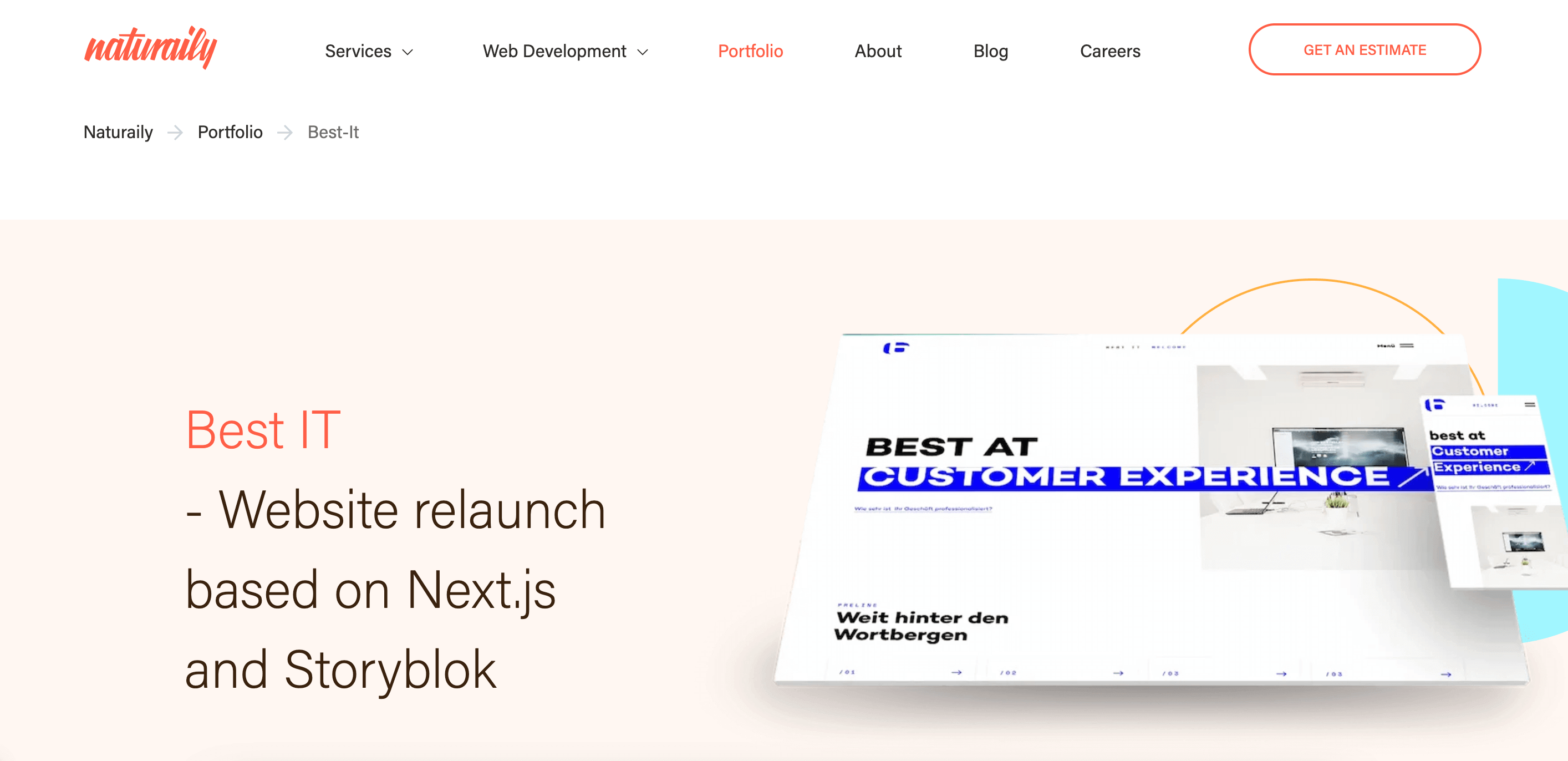 Naturaily is a prominent tech company with headquarters in Poland. It has over ten years of experience delivering web design & Storyblok development services. 
Notable for excellent problem-solving skills and high work ethics, their teams use component-based development practices to build scalable, flexible, fast, and flawless CMS solutions. 
The company creates intuitive technological environments that meet the business goals of clients. They have also invested a lot of resources in streamlining Storyblok development processes for better and faster outcomes.
Services and expertise: web design and development, custom eCommerce development, product design, IoT software, cloud adoption
Tech stack: Storyblok, NextJS, ReactJS, VueJS, Jamstack, Netlify, React, Shopify
Industries: Technology & Marketing, NGO, Energy, Art, eCommerce
Team size: 40-50 experts
Portfolio: Best IT, Urban, Etno Cafe, Dajemy Slowo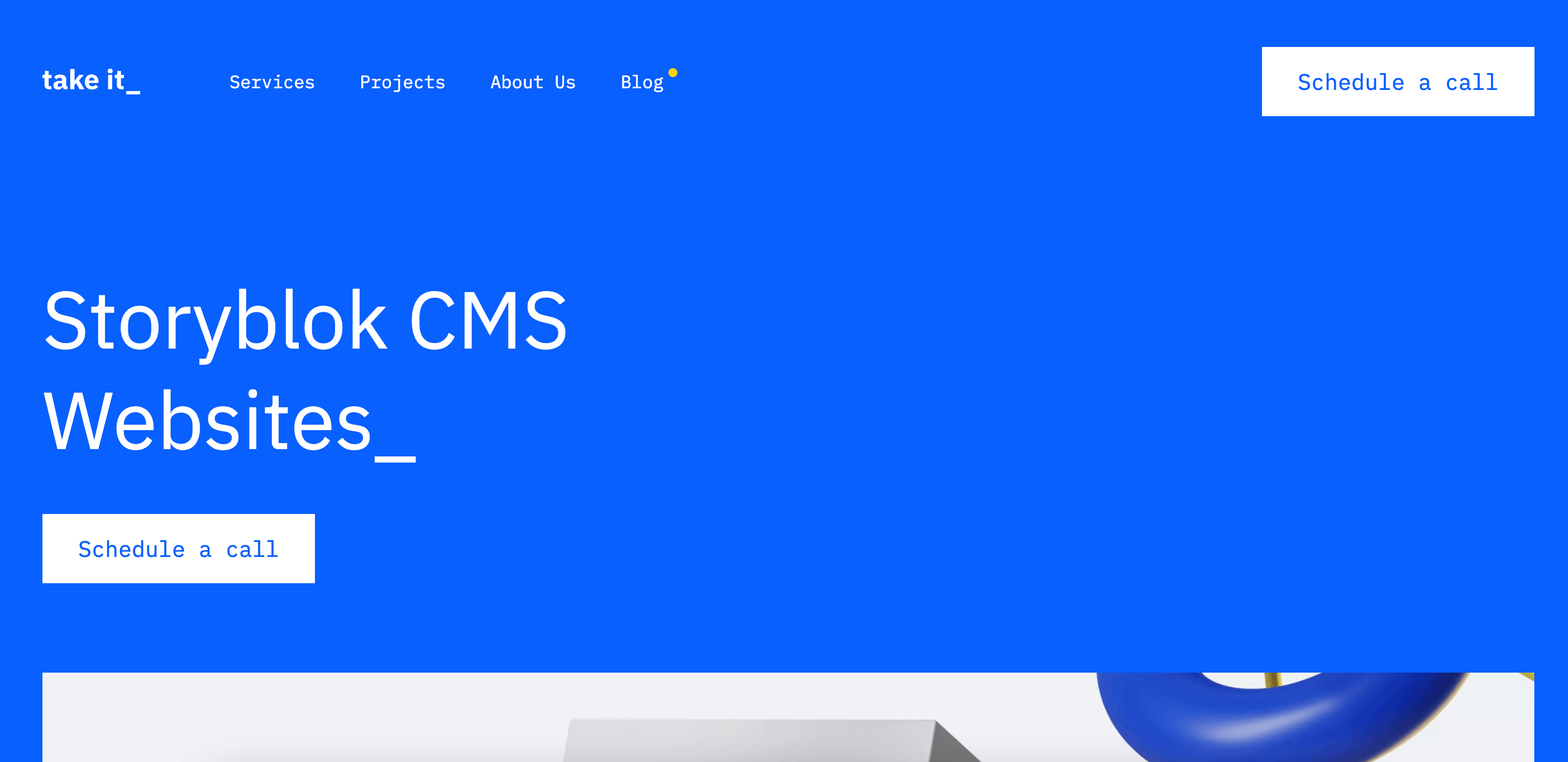 TakeIt's best Storyblok CMS developers can breathe a new level of efficiency into your digital operations. They help clients migrate from old CMS to Storyblok to grow their content efforts and integrate new solutions at the pace of business.
The company recently launched a mobile app for a global healthcare company, demonstrating its unique ability to create user-friendly and scalable projects with Storyblok.
TakeIt's goal is to create tailor-made solutions that meet clients' needs in multiplatform content marketing. Their technical prowess, timely delivery, and excellent customer service have earned them numerous positive reviews. 
Services and expertise: web development,  UX/UI design, product design, eCommerce solutions
Industries: Digital Marketing, Media and Entertainment, Gaming, eCommerce
Tech stack: Storyblok, Jamstack, React, NodeJS, VueJS, etc.
Team size: 1-10 experts
Portfolio: MILES, Apeel, NGrave, Sennder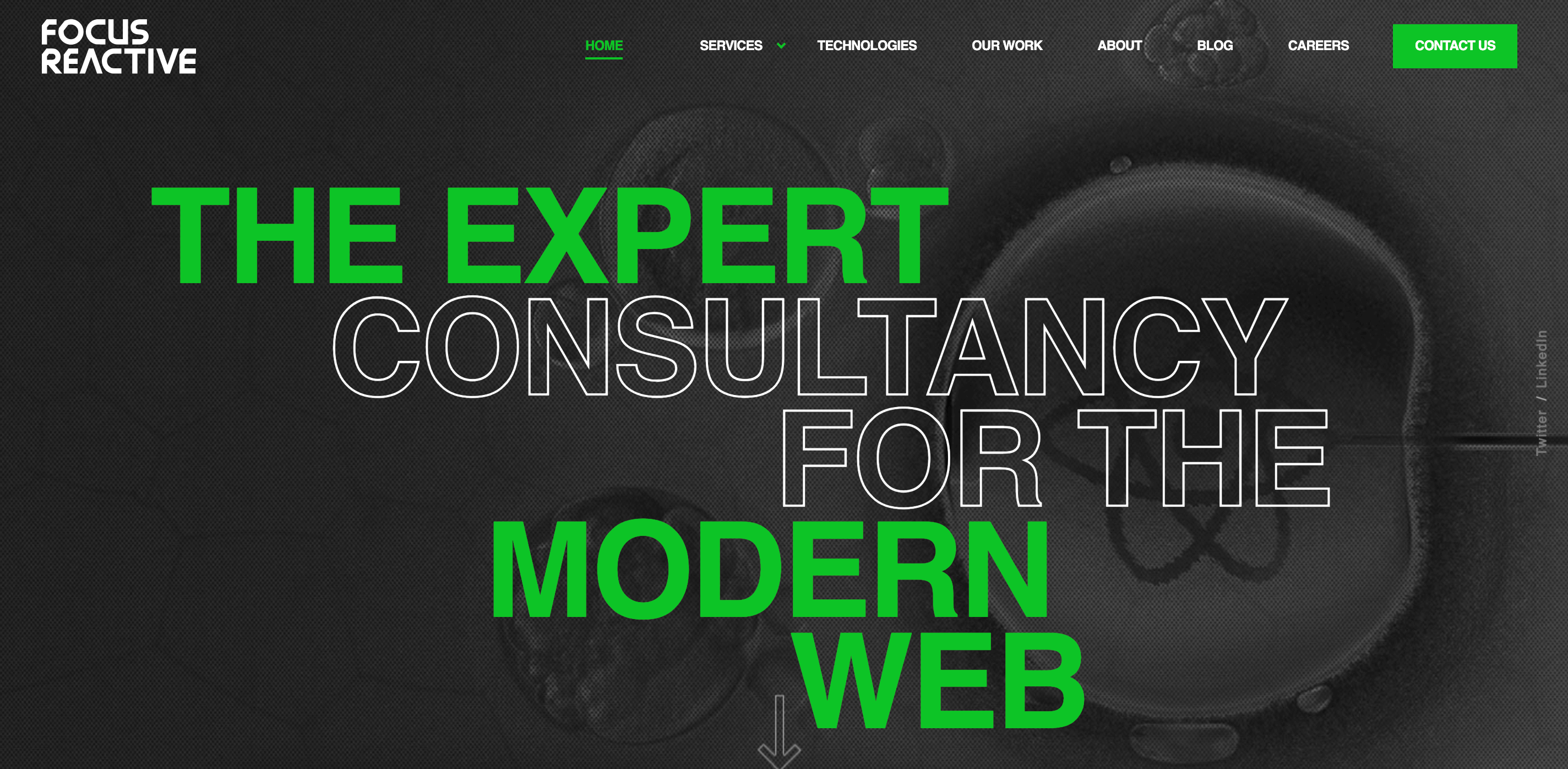 FocusReactive, a private tech company based in London, offers full-cycle web and mobile development services. They have extensive expertise in Storyblok development and also provide solutions for Sanity, Contentful, and Prismic.
Since its establishment in 2019, FocusReactive's primary focus has been delivering scalable, efficient, and user-friendly software. Their consultants leverage industry-leading best practices to create and customize solutions that give clients a competitive advantage.
It's worth noting that FocusReactive has significantly contributed to the JavaScript community. They have partnered with other developers in continuous learning programs and global conferences to spearhead JS advancements.
Services and expertise: eCommerce development, web development, mobile app development
Tech stack: NodeJS, React, NextJS, Vercel, GraphQL
Industries: Information Technology, Education,  Travel
Team size: 11-50 experts
Portfolio: TrafficGuard, BigRiver Tipico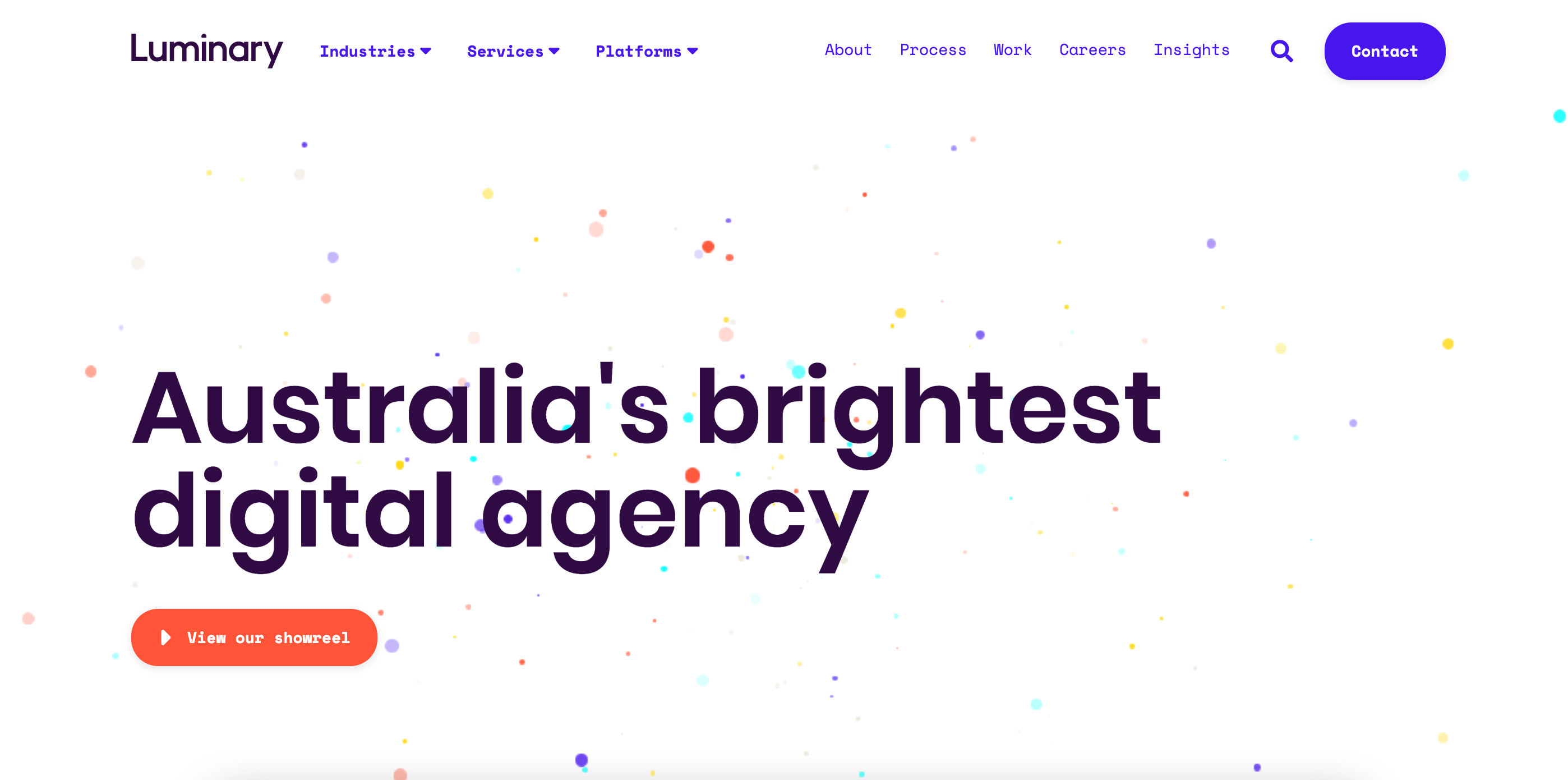 Luminary is Australia's largest digital agency, with broad expertise in web development, digital strategy, CMSs, and user experience design.
Founded in 1999, Luminary has worked with different CMS platforms, including Storyblok. Their experts deeply understand the ins and outs of Storyblok CMS development services. They leverage its capabilities to build and deploy fast and efficient websites.
The company's strength lies in delivering top-of-the-line user experiences to help businesses achieve their digital goals. Luminary has received several awards for their work, including a few by Awwwards, Webby Awards, and Sitecore Experience Awards.
Services and expertise: web design and development, digital strategy, UI/UX design, hosting, SEO
Tech stack: Storyblok, Jamstack, React, VueJS, NuxtJS, Drupal, WordPress
Industries: Digital Marketing, Hospitality, Sports, Education, Tourism, etc.
Team size: 50-249 experts
Portfolio: CLIPSAL, Nintendo, Mercedes-Benz, FUSO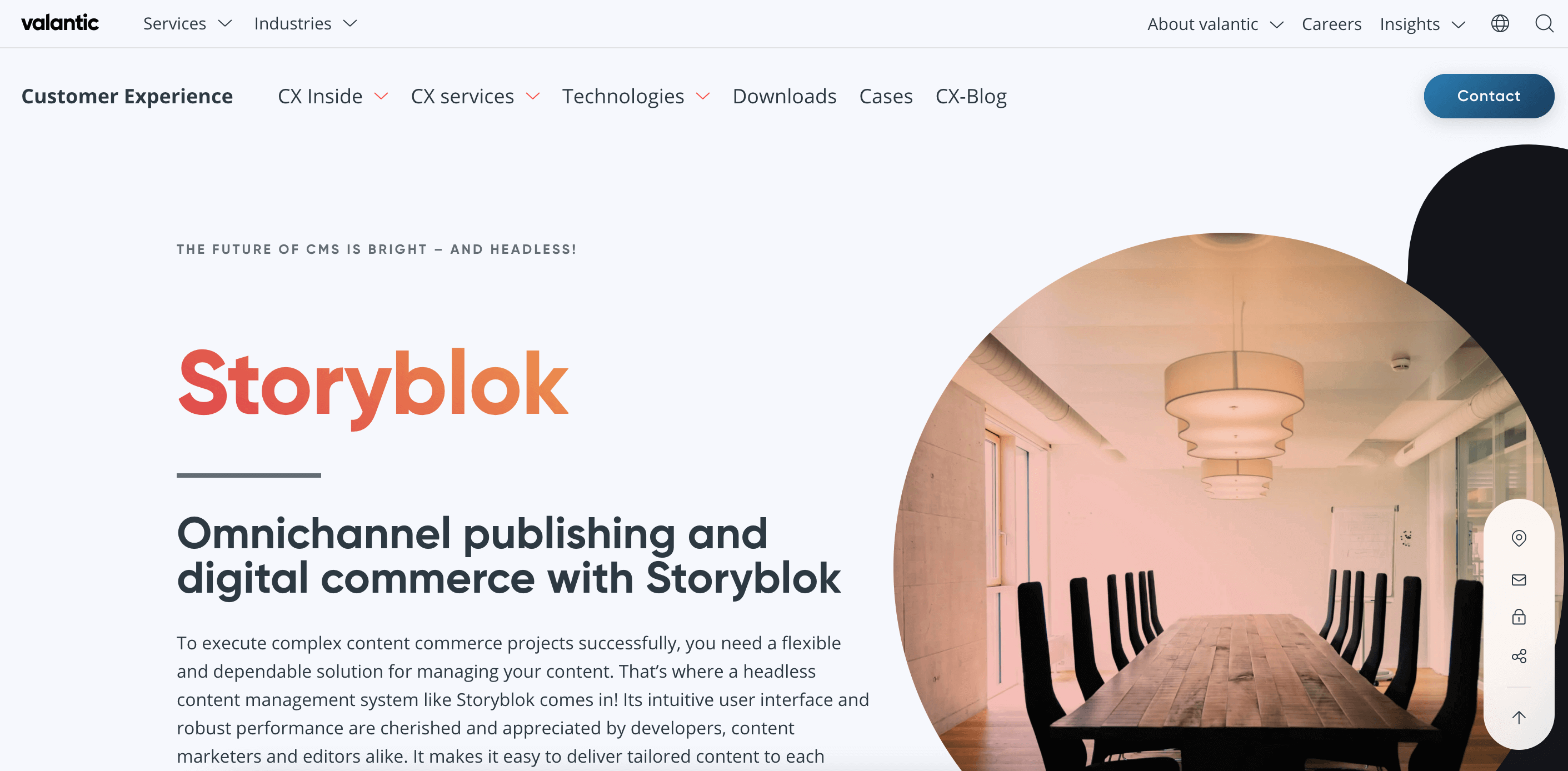 Valantic is a house of the best Storyblok CMS developers in the world. The company has earned a positive reputation for creating the most visually appealing and user-friendly websites. 
Their holistic approach to CMS development involves standard services and customized solutions that match client needs. The team pays special attention to detail, enabling them to understand user needs and translate that into effective digital solutions.
Whether you need help in content modeling or data synchronization, Valantic's Storyblok experts are ready to help you build robust and scalable websites and web apps.
Services and expertise: web design and development, digital marketing, omnichannel marketing, eCommerce solutions
Tech stack: Storyblok, HTML, CSS, JavaScript, React, VueJS, NodeJS, PHP
Industries: eCommerce, Hospitality, Real Estate, Manufacturing, Travel, etc.
Team size: 500+ experts
Portfolio: Microsoft, IBM, Fujitsu, CTO, Quest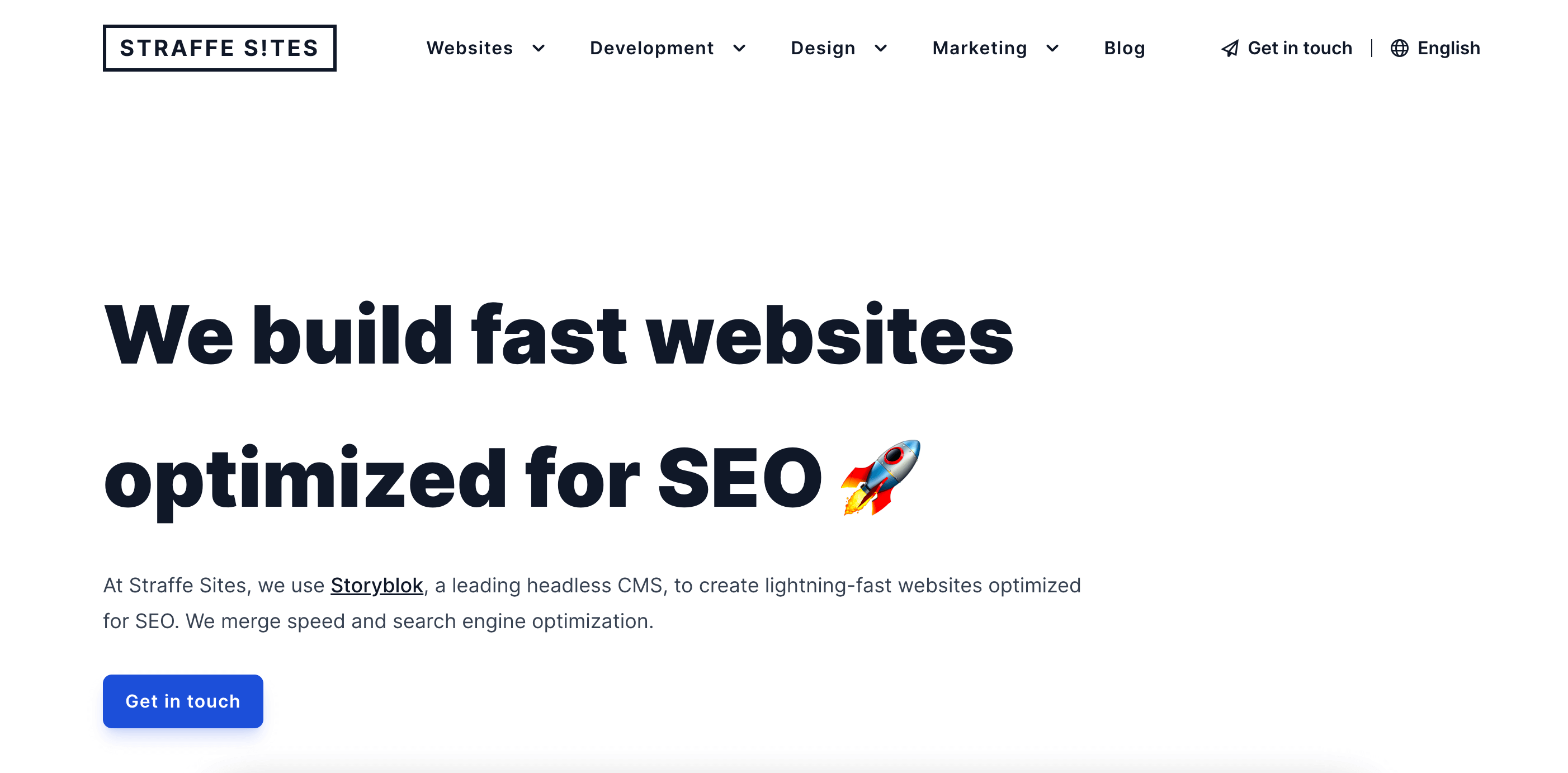 Straffe Sites, headquartered in Belgium, was established in 2011 to build super-fast, custom websites optimized for SEO. They use the latest technologies in the market, including Storyblok CMS, and Astro, to ensure that their websites provide a modern interface and intuitive user experience.
So, what can you expect when you hire Storyblok developers from Straffe Sites? You'll achieve streamlined processes through the power of CMS development and integrations. 
Being the best Storyblok development agency, Straffe Sites crafts top-notch websites from the ground up to guarantee exceptional quality and personalization. Their team focuses on attention to detail, and their high-level project management skills can undoubtedly accelerate your path to success. 
Services and expertise:

headless website development, SEO, AI systems,

web development

and design solutions

Tech stack:

Storyblok, HTML, CSS, JavaScript, Astro, Svelte, Vercel

Industries:

B2B, Finance, Healthcare, Entertainment, Online Marketing

Team size:

1-10 experts

Portfolio:

New Impact, Kinecenter, ZET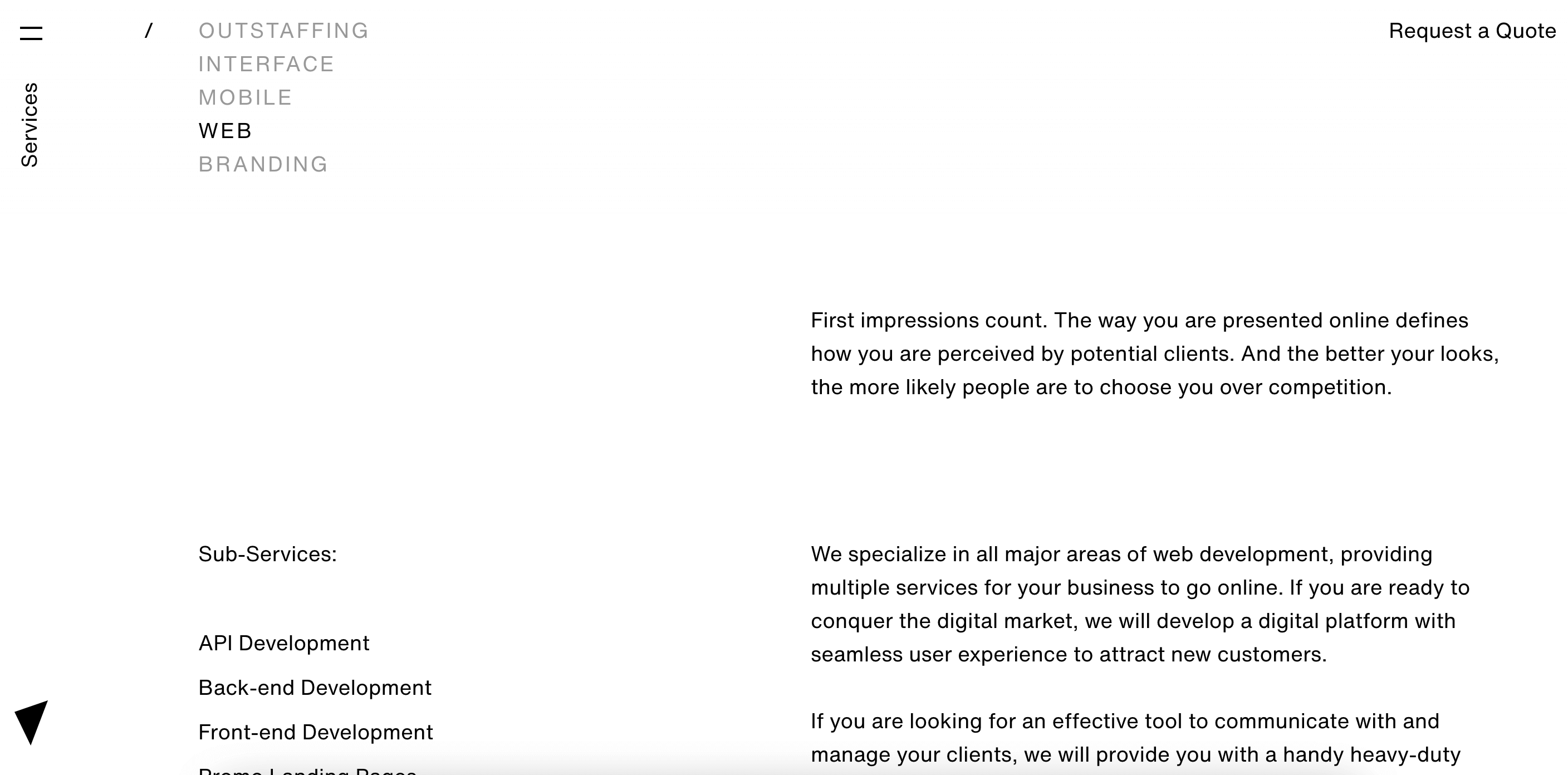 Bitsens is a notable digital agency headquartered in Vilnius, Lithuania. It was founded in 2012 to meet the needs and develop its clients' ideas. They have become a leader in UX design and earned a glowing reputation in Storyblok development.
Their success is evident in the 10-plus years they have been in business and the 253 projects they have completed in web and cloud-native development.
Bitsens has received dozens of awards, including the 2015 Awwwards for corporate and portfolio websites. They also won awards for CSS REEL (2016) and Windows Top App Developer (2017).
Services and expertise: Internet of Things, Augmented Reality and Virtual Reality development, web and mobile app development, startup development
Tech stack: Storyblok, HTML, CSS, JavaScript, React, VueJS, NodeJS, PHP
Industries: Information Technology, Health, Automotive, etc.
Team size: 11-50 experts
Portfolio: Port Up, Ramu App, Green Company Effect, Planet of Heroes
Vaihe is a modern CMS development agency founded by Jere Huttunen in 2019. The company operates out of Pirkanmaa, Finland, and serves clients worldwide. 
Their top Storyblok CMS developers for hire focus on leveraging the capabilities of Storyblok CMS to create attractive and highly functional websites for clients within various niches. Their extensive CMS tech stack provides long-term solutions for your business to improve content efficiency and scalability. 
The company is recognized for its exceptional scaling capabilities, demonstrated by its ability to seamlessly connect and manage over 1000+ pages through integration with Storyblok.
Services and expertise:

headless CMS development and

integrations, digital marketing, technical SEO, 

Tech stack: Storyblok, AstroJS, React, GatsbyJS, NextJS
Industries: Design Studios, Marketing & Technology, Education, Healthcare, etc.
Team size: 1-10 experts
Portfolio: Buddy Healthcare, Worked, Lean Digital Agency, Conduktor
Since 2012, Vizteck has evolved into a full-stack Storyblok development company. The agency also provides services and solutions in the areas of mobile development, web app development, and AI/BI systems.
If you need white-glove assistance in CMS development, Viztech can work with you from the research and creativity stage to deployment and testing. They handle both backend and frontend development processes, guaranteeing high agility to save time and money.
The company has an extensive portfolio of successful projects and happy clients in various industries. You can expect to hire the best CMS experts who strive to deliver customized solutions for remarkable success.
Services and expertise: headless CMS development, web and mobile app development, AI/BI systems, product design
Tech stack: Storyblok, HTML, CSS, JavaScript, React, Angular, NodeJS
Industries: Advertising and Media, Healthcare, Automotive, Financial Services
Team size: 11-50 experts
Portfolio: CocaCola, Betfred, Filmhero
Conclusion
The Storyblok development companies listed above offer an impressive range of services and experience. Dig deeper into analyzing their portfolios, skills, and expertise to select the best-fit partner for your project.
If you feel your company deserves to be on this list, email us with your request. After a quick review, we'll decide whether it's a valuable addition.