Let's face it: if your business doesn't have a modern, high-performant website, you're missing out on a huge opportunity.
An engaging website can help you let people know about your brand, build loyalty and trust with your customers, and grow sales.
A strong online presence is vital in our digital era, no matter the size of your business. A well-designed, user-friendly website can not only drive new customers but also improve the experience for existing ones.
It's always a wise solution to entrust building your corporate website to a dedicated web development company. Professional web developers have the necessary experience and expertise to help you create a customized website to meet your unique business needs and goals.
Still, with so many agencies available on the market, hiring the best web developers who will help you achieve the expected results can be challenging. The great news is that we're here to facilitate your choice.
In this post, we'll explore the top web development firms leading the way in delivering exceptional web solutions for businesses across various industries. The listed companies boast a robust tech stack, extensive expertise, and prominent portfolios.
Work with the best ones!
The Best Web Development Companies And Developers For Your Project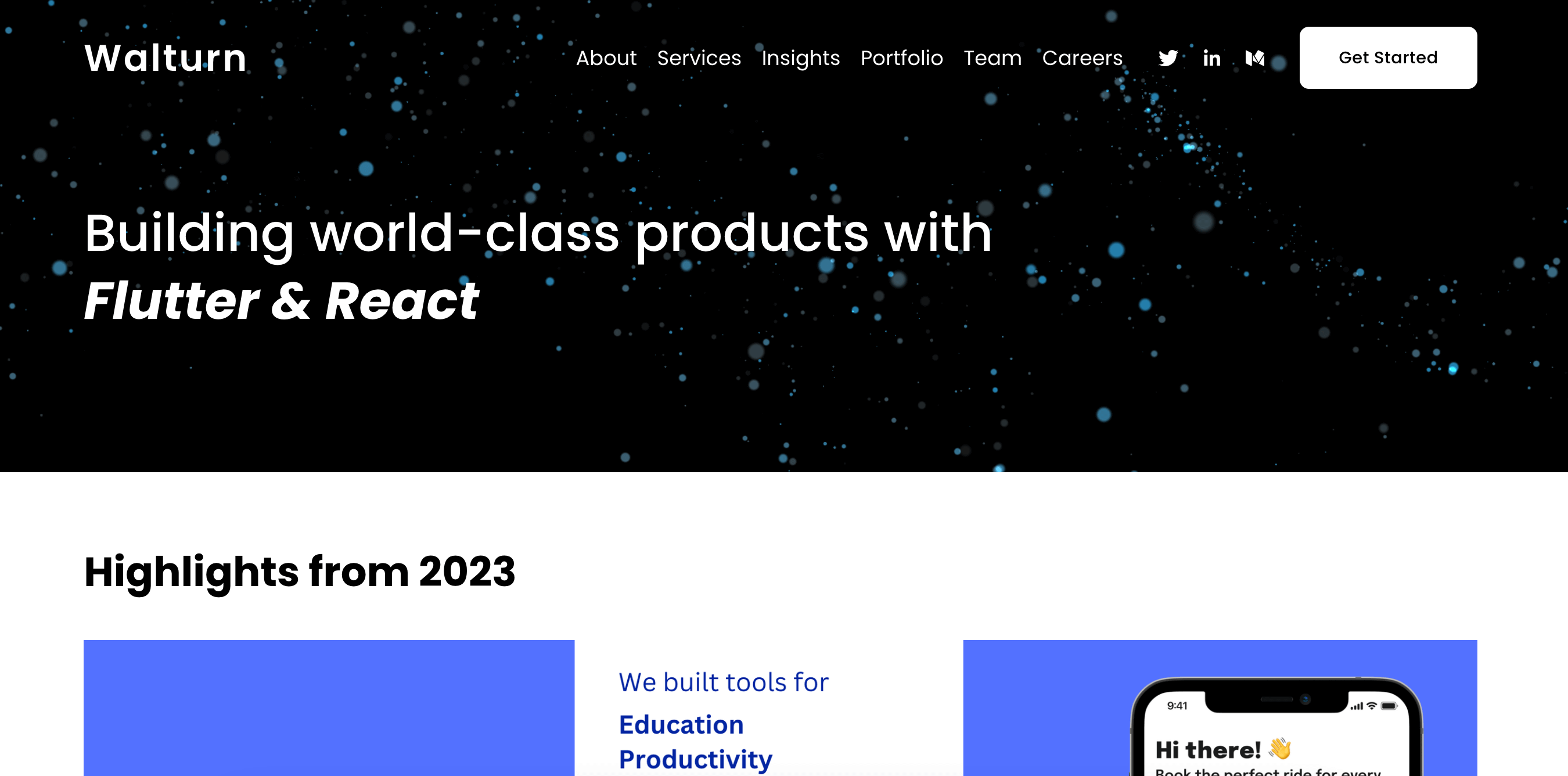 Walturn is a boutique website development firm founded in 2016 in New York, US. Although they've built world-class products for some big names, the team at Walturn primarily targets young startups with strong business potential. According to Walturn, they enjoy taking up challenges and building next-generation technologies. 
The agency promises its clients to create innovative, engaging websites that deliver impressive results, focusing on React development. During 7 years on the market, they have established solid, human-centric strategies for implementing user-friendly web platforms to run your business more efficiently.
Most of their past projects were done for the clients from Dental, Medical, Information Technology, eCommerce, Art, Entertainment & Music, and Education sectors.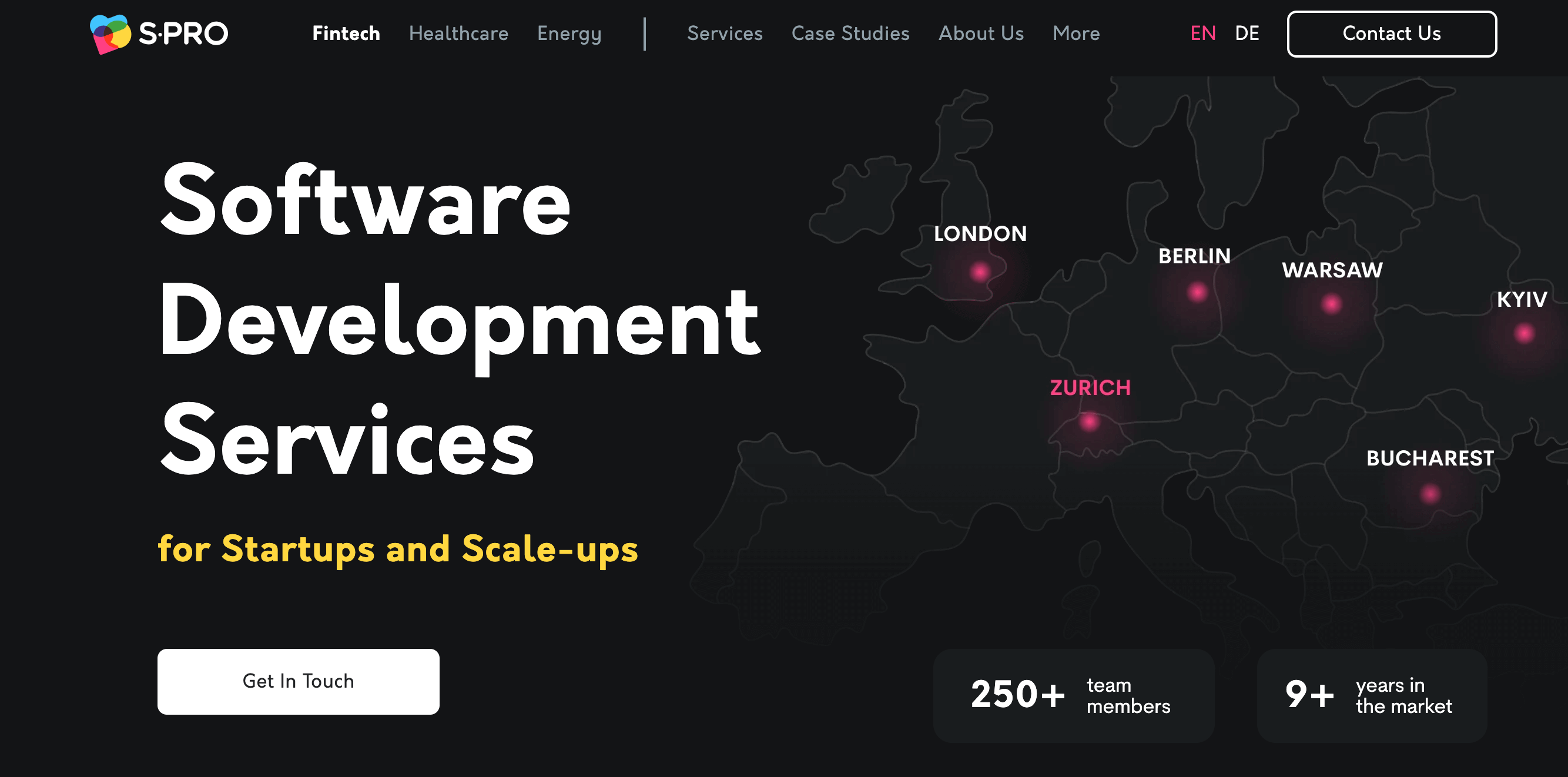 If you seek to hire the best web developers in Europe, look no further than the Zurich-based S-PRO. Established in 2014, S-PRO is a superior software development company and IT consultant partner with over 250 developers on board.
The company has delivery offices located in Poland, Ukraine, and Armenia. Their services involve UI/UX design, website development, mobile development, AI/ML solutions, DevOps, and others. 
Industry-wise, these guys are well-versed in FinTech, HealthCare, Renewable Energy, Logistics & Transportation, Retail, and Real Estate. They have already completed more than 150 projects for clients from 21 countries. 
According to S-PRO, their dedicated R&D experts employ the best practices to research the market and business objectives to come up with a comprehensive vision and the perfect solution for each project.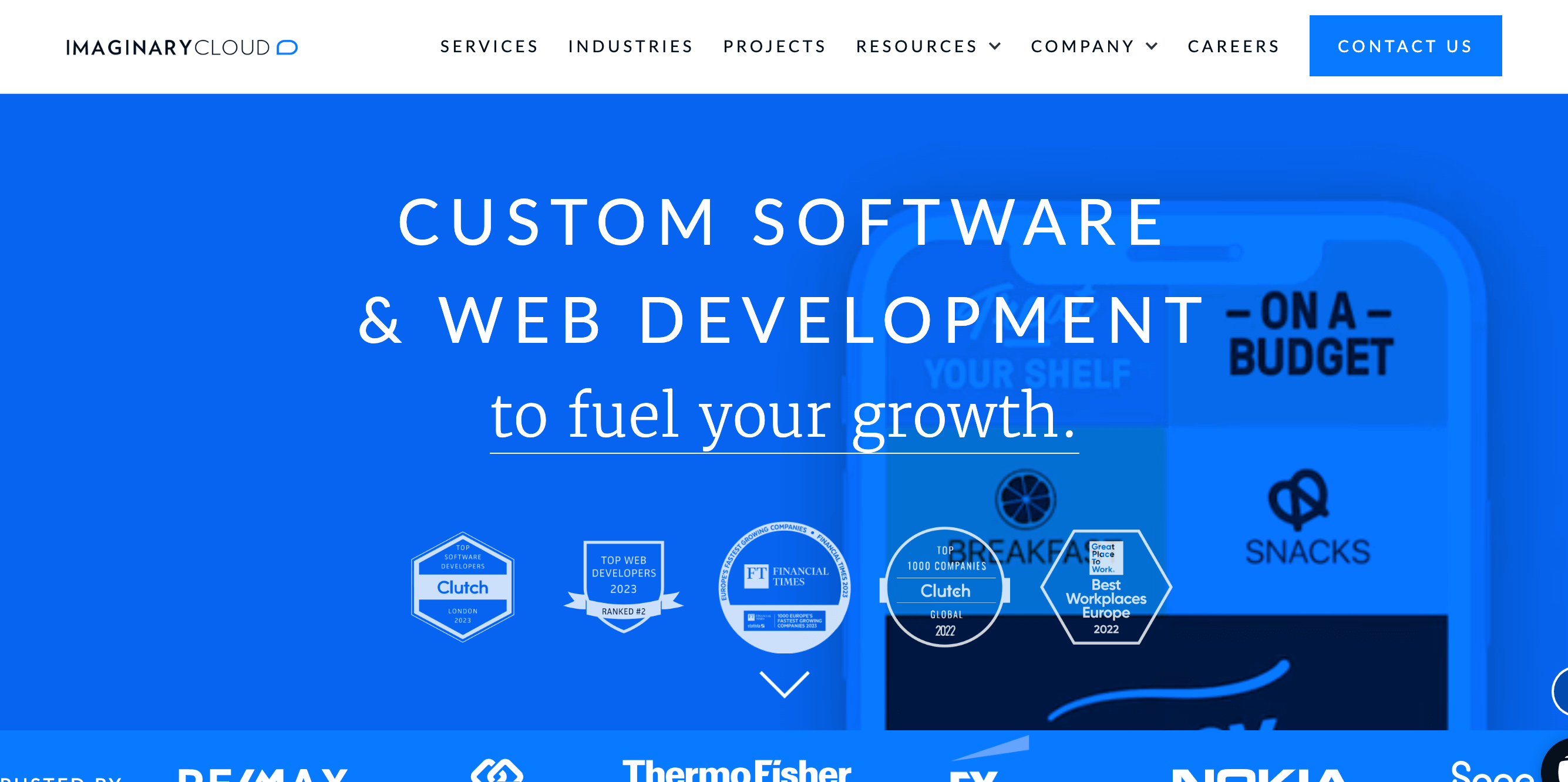 13-year-long experience and focus on website development make Imaginary Cloud one of the top web development firms you should consider.
The company was founded in 2010 in London and also has offices in Portugal and the United States. Their team has delivered over 300 projects in international markets — Europe, the United States, and the Middle East.
Thanks to their hundred in-house enthusiasts, Imaginary Cloud has won a whopping 36 industry awards. Web development dominates their portfolio, with most of their past projects completed for the Education, Energy & Natural Resources, Financial Services, Medical, Retail, Real Estate, Supply Chain, Logistics & Transport, eCommerce, and Telecommunications industries.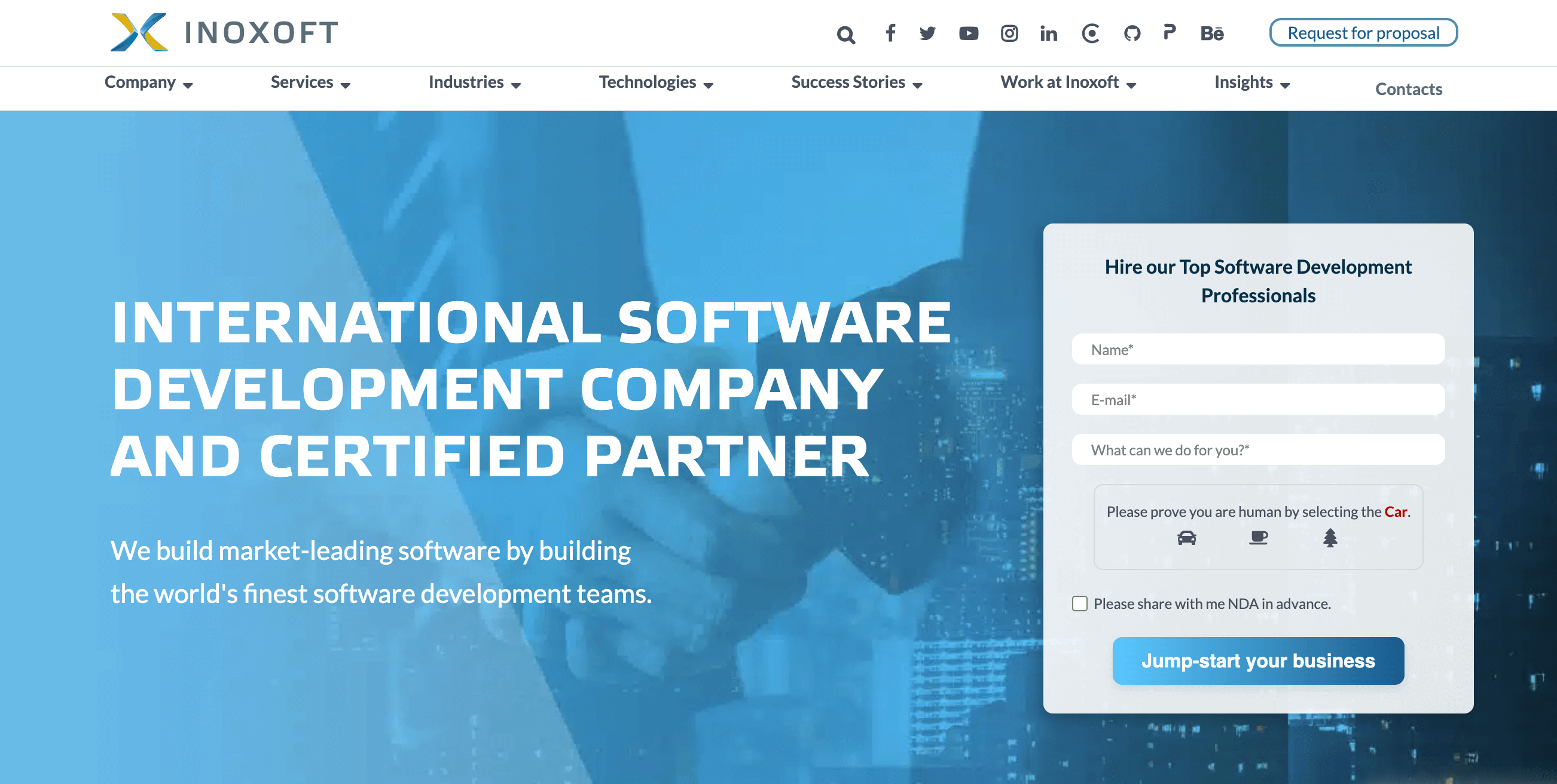 If you're looking for the best web development company to help you with your FinTech, Logistics, Healthcare, Education, or Real Estate project, Inoxoft might be your way to go. This is an international software and website development company with offices in Philadelphia, US, Tel Aviv, Israel, and Lviv, Ukraine.
From its launch back in 2014, the company has been building the world's finest engineering teams to deliver first-class services to enable organizations to grow faster with the right talents by their side. Importantly, development services at Inoxoft always come with an in-depth discovery phase and quality assurance. 
The team at Inoxoft has successfully delivered over 200 projects, 60% of which have been done for startups, making this team a perfect choice if you need an experienced partner to grow your innovative business.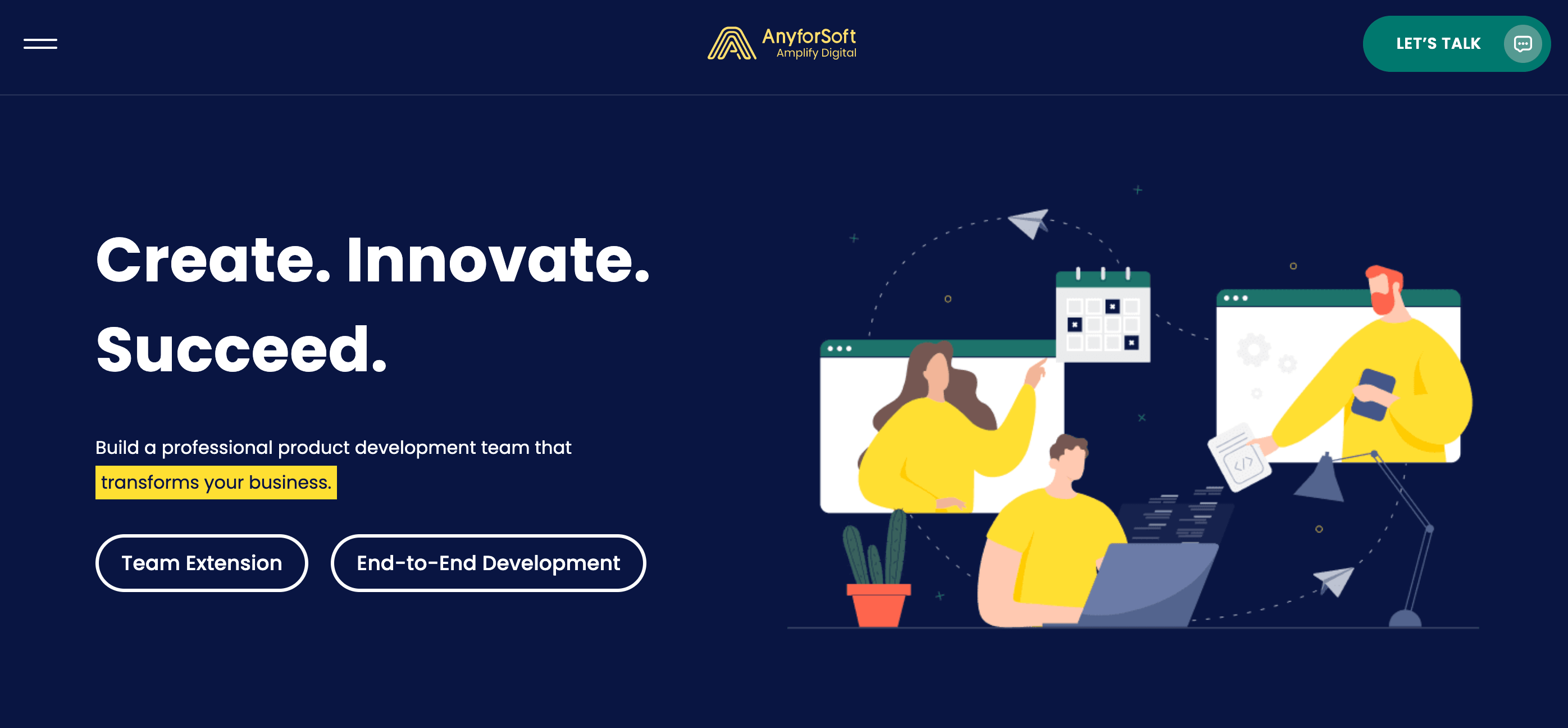 AnyforSoft is a website development company headquartered in Sarasota, US, with offices in Mārupe, Latvia, and Lutsk, Ukraine. The company was born in 2011. Since then, its team of 100+ highly motivated and skilled specialists has completed a great number of projects for more than 140 clients around the globe. 
Web development accounts for half of their past projects, with Django, Drupal, Python, JavaScript, and PHP being their key technologies. The AnyforSoft experts focus on working with Media & Entertainment, Education, eLearning, and Fintech SMEs, helping them seamlessly undergo digital transformation in the new economy using their robust web solutions.
One of the best web developers in Houston, US, BrandExtract has a fairly long history — it was founded back in 2005. BrandExtract is a team of over 50 experts that deliver world-class branding and web development services to drive your unstoppable business growth.
According to BrandExtract, they're a team of strategic thinkers and doers focused on aligning your brand with your goal and beautifully presenting it to your audiences. Their core services include digital strategy, branding, marketing, ESG reporting, and surely, complex web development and design.
They mostly work with enterprises and medium-sized businesses from various niches, including Business Services, Energy & Natural Resources, Healthcare, and Manufacturing.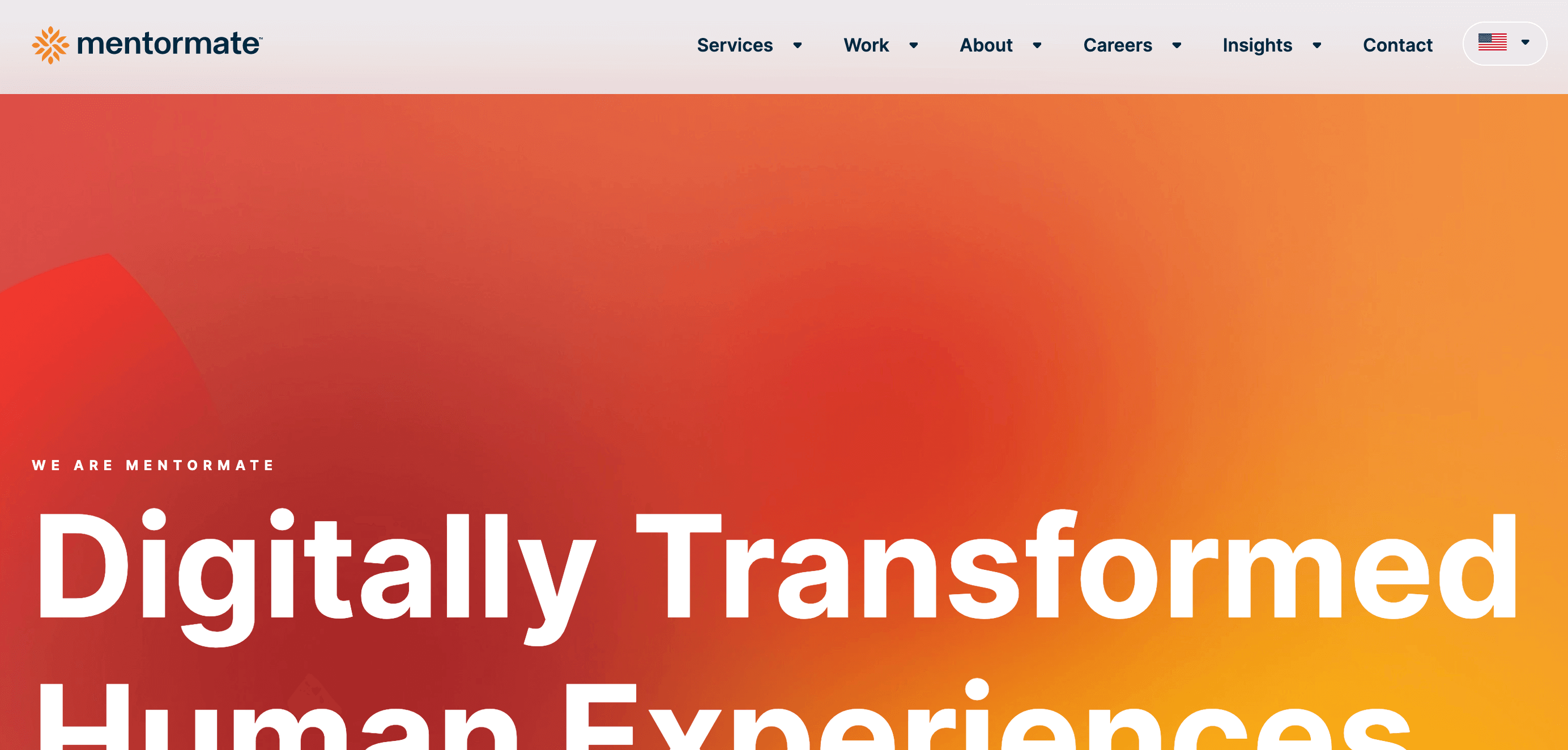 What about partnering with a website and web app development company that created its first mobile app in 2001? I'm not kidding — the MentorMate team built their first app 22 years ago. Since its spectacular launch, they have completed over 1,500 projects for clients from more than 30 countries.
Headquartered in Minneapolis, US, MentorMate also has offices in Bulgaria, Paraguay, and Sweden. Web development accounts for half of all the services they've delivered. From the industry perspective, they have extensive experience creating solutions for Healthcare, Education, Manufacturing, Financial Services, Non-Profit, and Information Technology verticals.
In their work, they stick to the principle that a successful web development strategy should be based on not only what your organization's technology footprint looks like today but what you'd like it to look like in the future.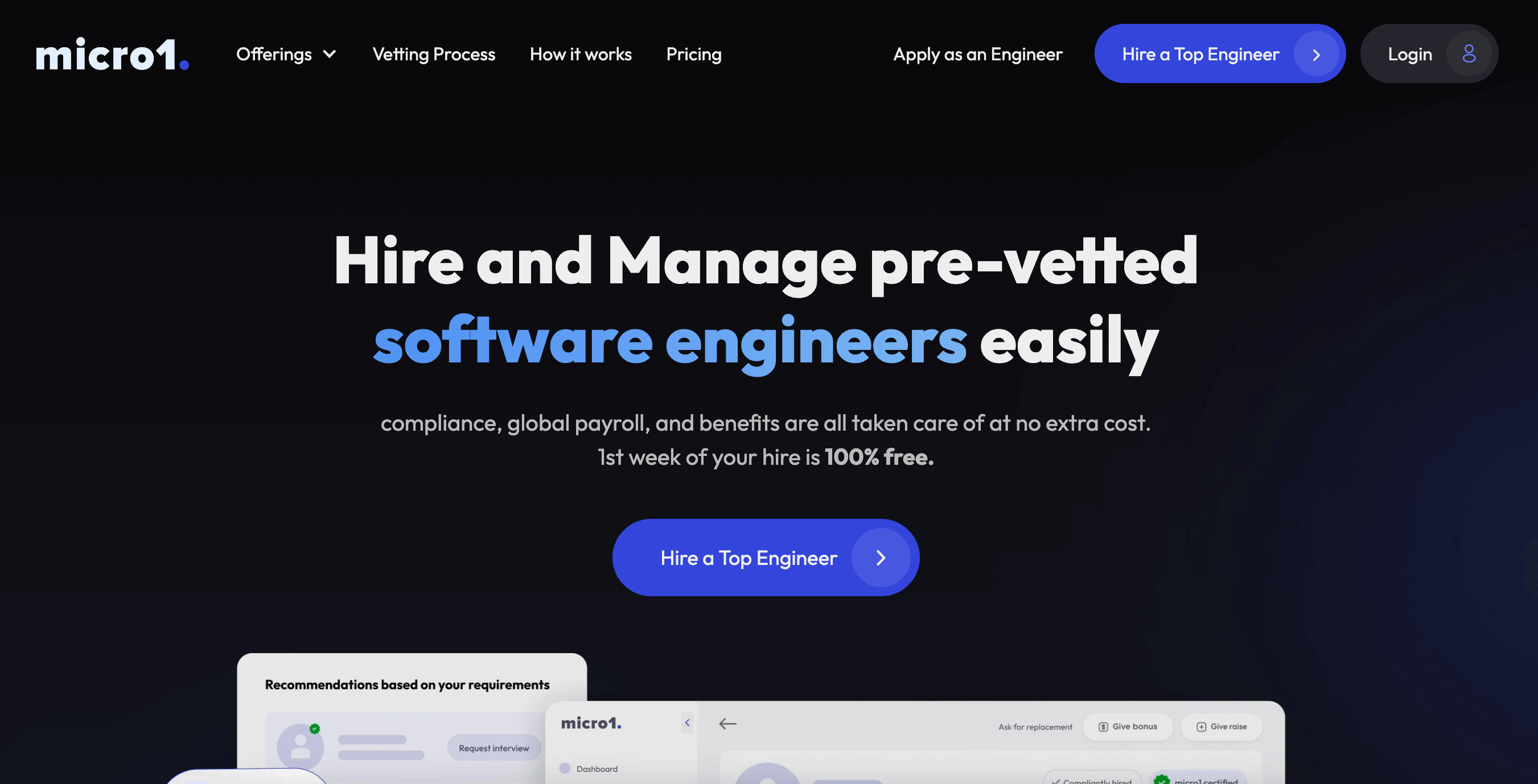 For those looking for a web development partner with a strong focus on design, micro1 has you covered. Founded in 2019, micro1 is an ambitious website and web application development company based in Los Angeles, US. Their team comprises 35 highly focused, dedicated designers, engineers, project managers, and other experts who create efficient and elegant web solutions.
micro1 works with businesses of all sizes. They have outstanding experience creating digital products and web presence for Financial Services, eCommerce, Arts, Entertainment & Music, Education, Information Technology, and Legal businesses.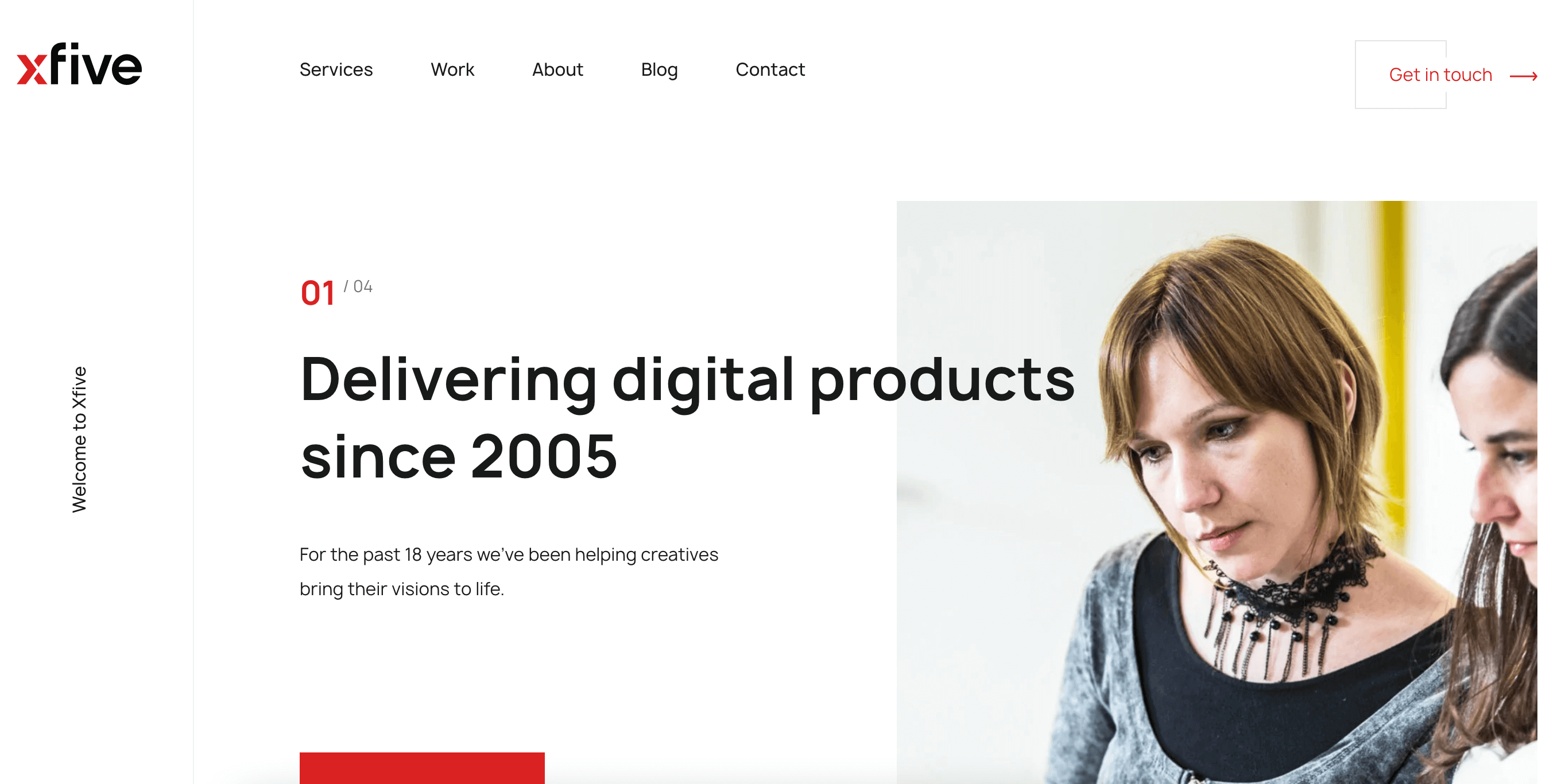 Headquartered in Krakow, Poland, and with offices in San Francisco and Melbourne, Xfive was created in 2005 as a business converting PSD into HTML. The company was initially called XHTMLized and grew very fast. During its early years, the firm was already working with tech giants such as Twitter and eBay. By the way, these guys were the ones who created Twitter's first UI!
Xfive is an innovative company delivering top-notch eCommerce and web development services for businesses of all sizes, including startups. Industry-wise, they have prominent experience working with Financial Services, Healthcare, Education, Advertising & Marketing, Non-Profit, eCommerce, and Energy & Natural Resources sectors.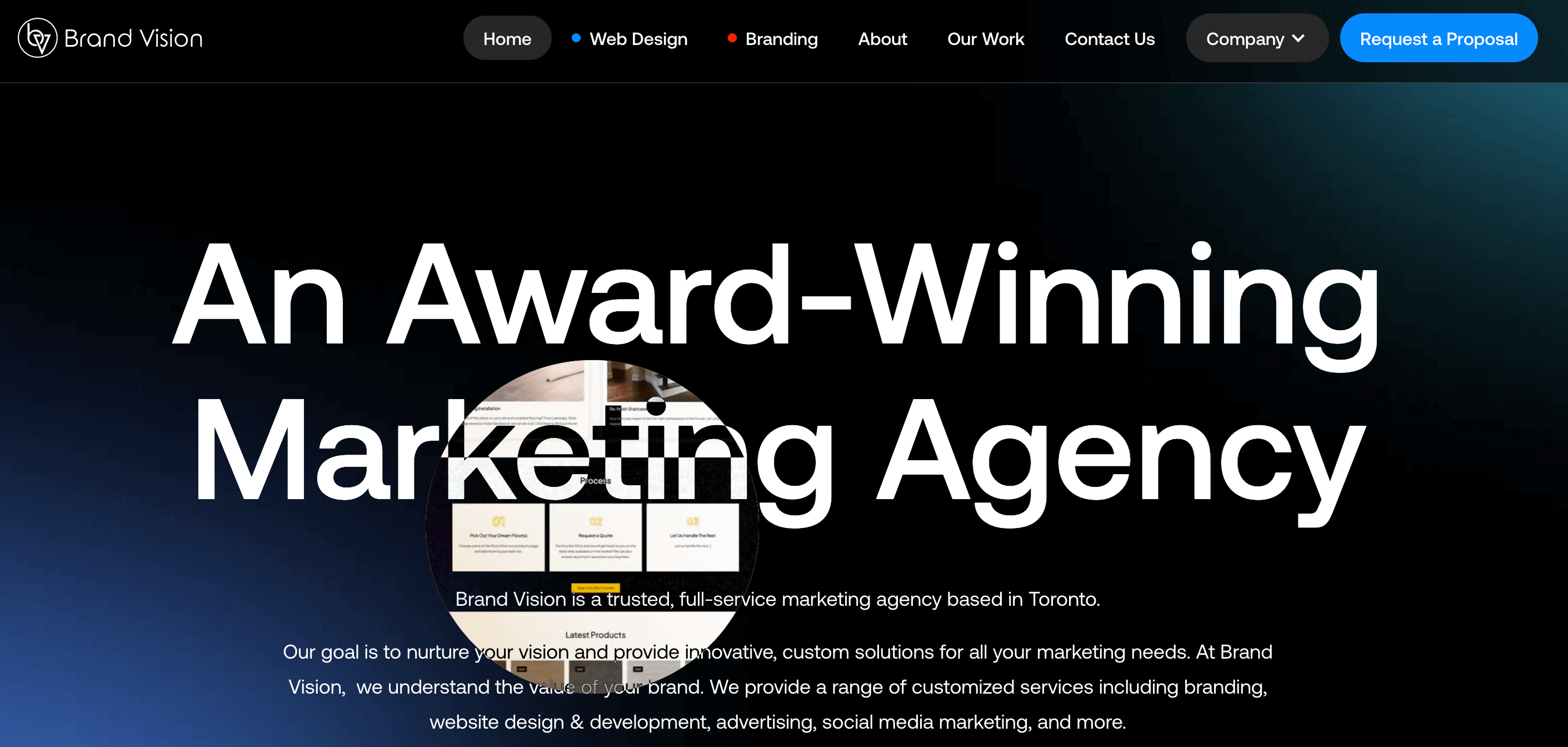 Brand Vision is an award-winning web development and web design company headquartered in Toronto, Canada. In addition, the firm has multiple offices in the biggest cities across the US and Canada, and the UK. 
Brand Vision's diverse team structure helps them precisely meet their clients' needs through best-in-class web development & design, marketing, branding, and social media marketing services.
They boast extensive experience with a wide range of industries, including Real Estate & Construction, Non-Profit, Health & Wellness, eCommerce, Entertainment, Food & Beverages, Education, Travel & Hospitality, Sports & Fitness, and Law.
Their team has successfully completed over 500 projects for organizations of different sizes, with small businesses dominating their clientele.
Conclusion
Selecting the best web developers for hire is crucial for the long-term success of your business. With the companies listed in this post, you can rest assured that you'll be working with some of the most skillful engineers and designers in the industry.
Whether you need a business website, a high-performance eCommerce platform, or a secure site for a non-profit project, there's certainly a go-to partner on our list that's perfect for you.
If you're managing a web development firm and want to feature it on this list, email us with your request. After a thorough review, we'll decide whether it's a valuable addition.