Solidity is a high-level programming language that is primarily designed for developing smart contracts on the Ethereum blockchain.
Solidity smart contracts are used in a wide range of blockchain projects, from decentralized applications (dApps) to cutting-edge non-fungible tokens (NFTs).
Are you looking for top-notch Solidity developers to create and deploy your exclusive smart contract? Stay here.
In this article, we present the top Solidity development companies taking the leading positions in the blockchain industry. These trustworthy experts will reliably assist you throughout your innovative technological journey. 
The Best Solidity Development Companies For Deploying Smart Contracts On Ethereum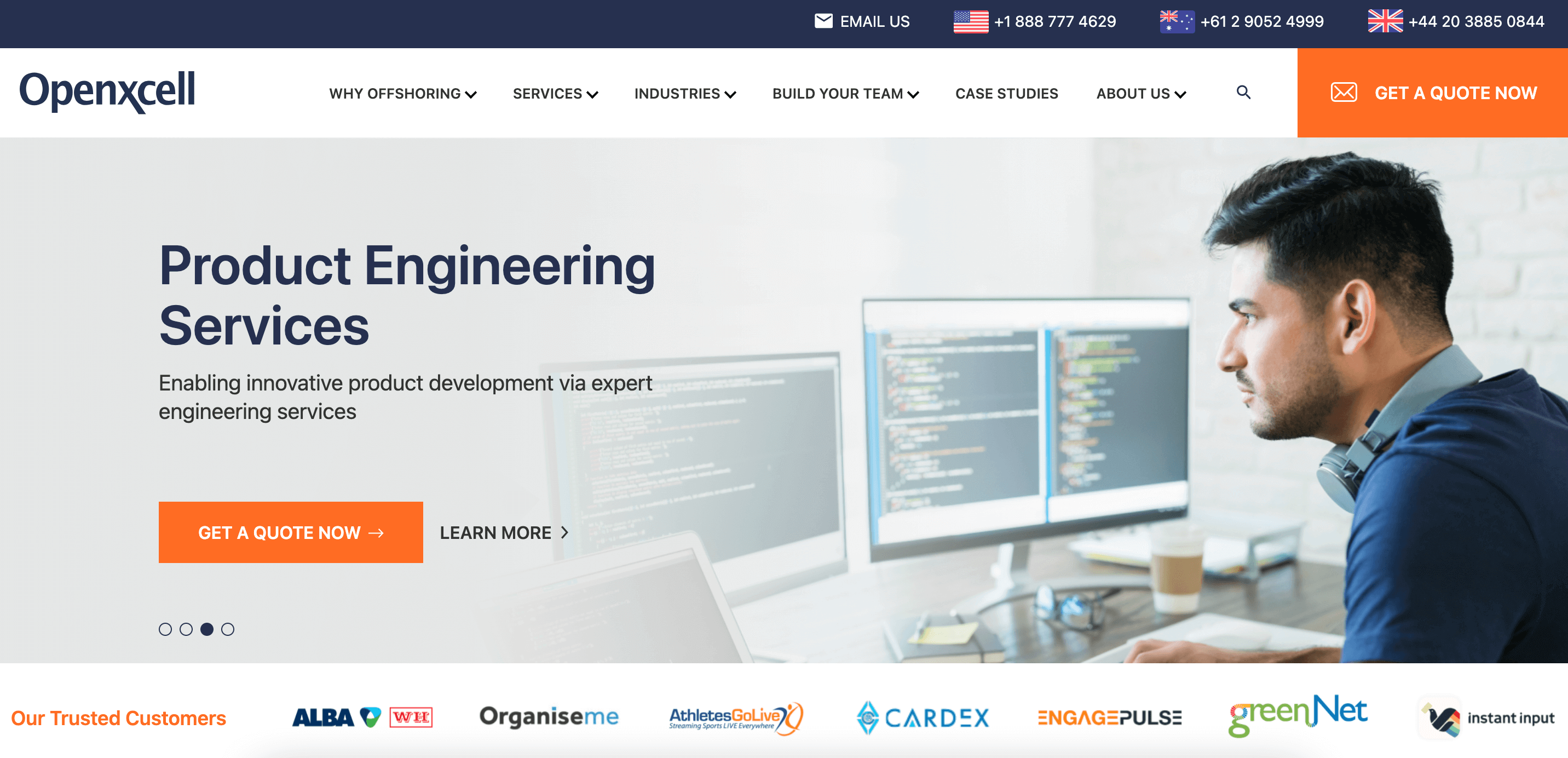 Headquartered in the USA, Openxcell is the leading blockchain development company with highly experienced Solidity developers for hire. The company offers end-to-end smart contract development services covering numerous blockchain platforms, including Ethereum, Hyperledger, Stellar, etc. 
Cooperating with Openxcell guarantees the most secure level of the delivered contracts with in-depth support and maintenance. For forward-thinking business owners striving to implement cutting-edge blockchain solutions, OpenXcell is a perfect partner that always aims to exceed clients' expectations.
Services & expertise:

blockchain development, smart contract development,

software and mobile app development, product engineering, UI/UX design, QA and testing, AI and ML, DevOps, eCommerce solutions

Tech stack:

Solidity,

Ethereum, Hyperledger, Stellar, Multichain, Node.JS, Java, Python, Ruby

Industries: Healthcare, BFSI Solutions, Logistics, Education, Sports, Gaming, Energy, Utility, Real Estate, Media, Entertainment
Location:

Ahmedabad, India; Las Vegas, USA; Vancouver, Canada; London, UK; Perth, Australia

Clients:

Renault, Nissan and Mitsubishi Alliance, Kotak Mahindra Bank, Orderhive, CIN7, Alorica, Ajman Bank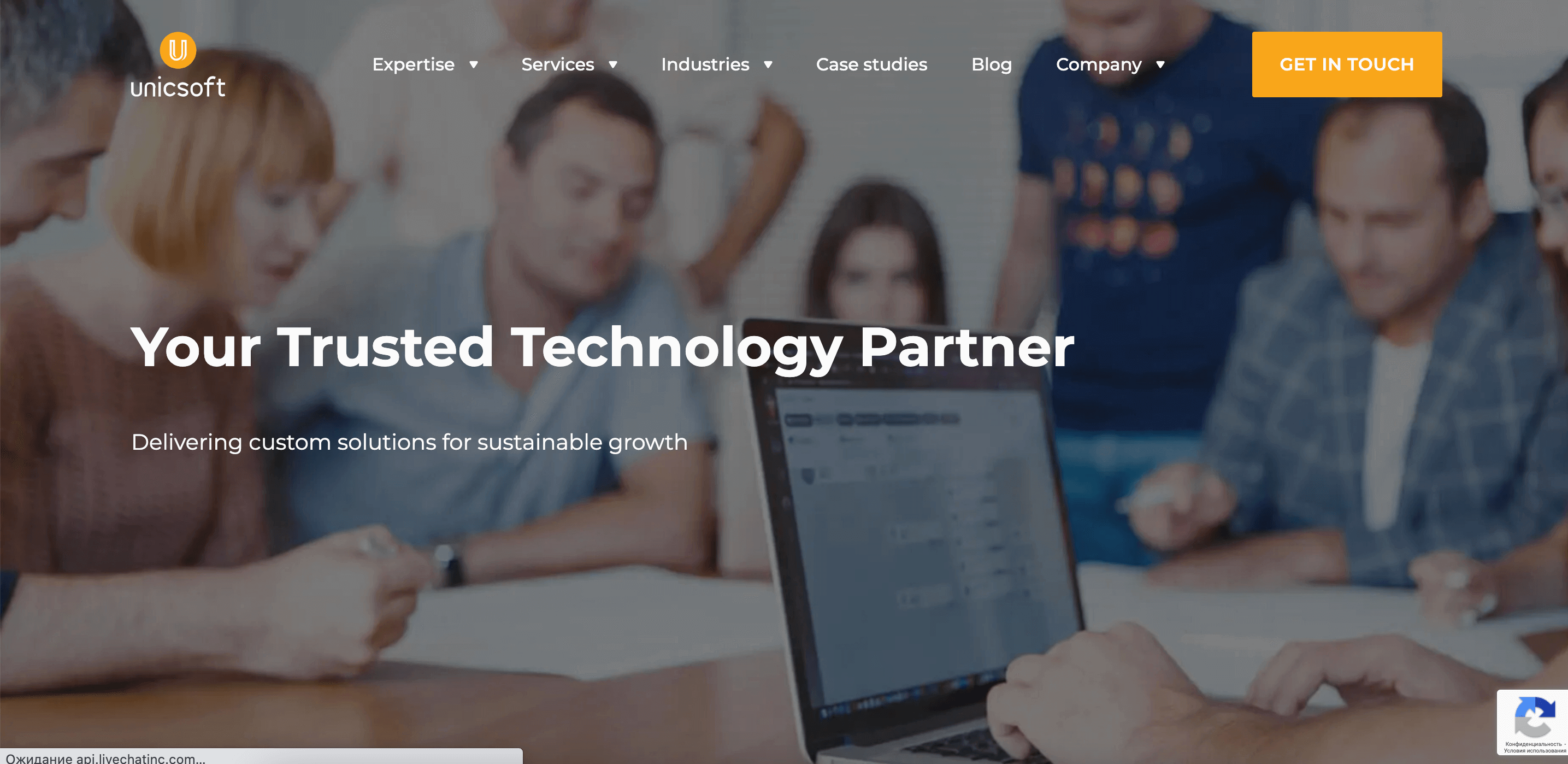 Unicsoft is the top Solidity software development company with over 15 years of experience. It boasts numerous awards and recognitions as the Top Blockchain Development Company by DesignRush, Techreviewer, Clutch, and other reputable reviewers. The team's expertise is also proved by their prominent client portfolio featuring MakerDAO and Alphawallet. 
Unicsoft offers the following Solidity smart contract development services: architecture design and development, auditing, management, optimization, and integration. Their proficient engineers and project managers will ensure you're fully covered throughout the entire blockchain app development lifecycle.
Services & expertise:

blockchain development,

mobile and web app development, UI/UX design, technology consulting, team as a service

Tech stack:

Solidity,

Ethereum, Hyperledger Ihora, Stellar, Solana, Tezos, Hedera, Credits, MultiChain, Corda, NEM, EOS, Hedera, Node.JS, Python, Java, Goland, Angular.JS, PHP, React.JS. 

Industries:Supply Chain, Fintech, Healthcare, Manufacturing, Automotive, Real Estate, eCommerce, Marketing, Media
Location:

London, UK; Singapore; Munich, Germany; Jyvaskyla, Finland; Limassol, Cyprus; Copenhagen, Denmark; Kyiv, Ukraine

Clients:

Alpha Wallet, Maker, Hoodifood, Kokoro, SecurityDam, NDCRX Software, Virgil Security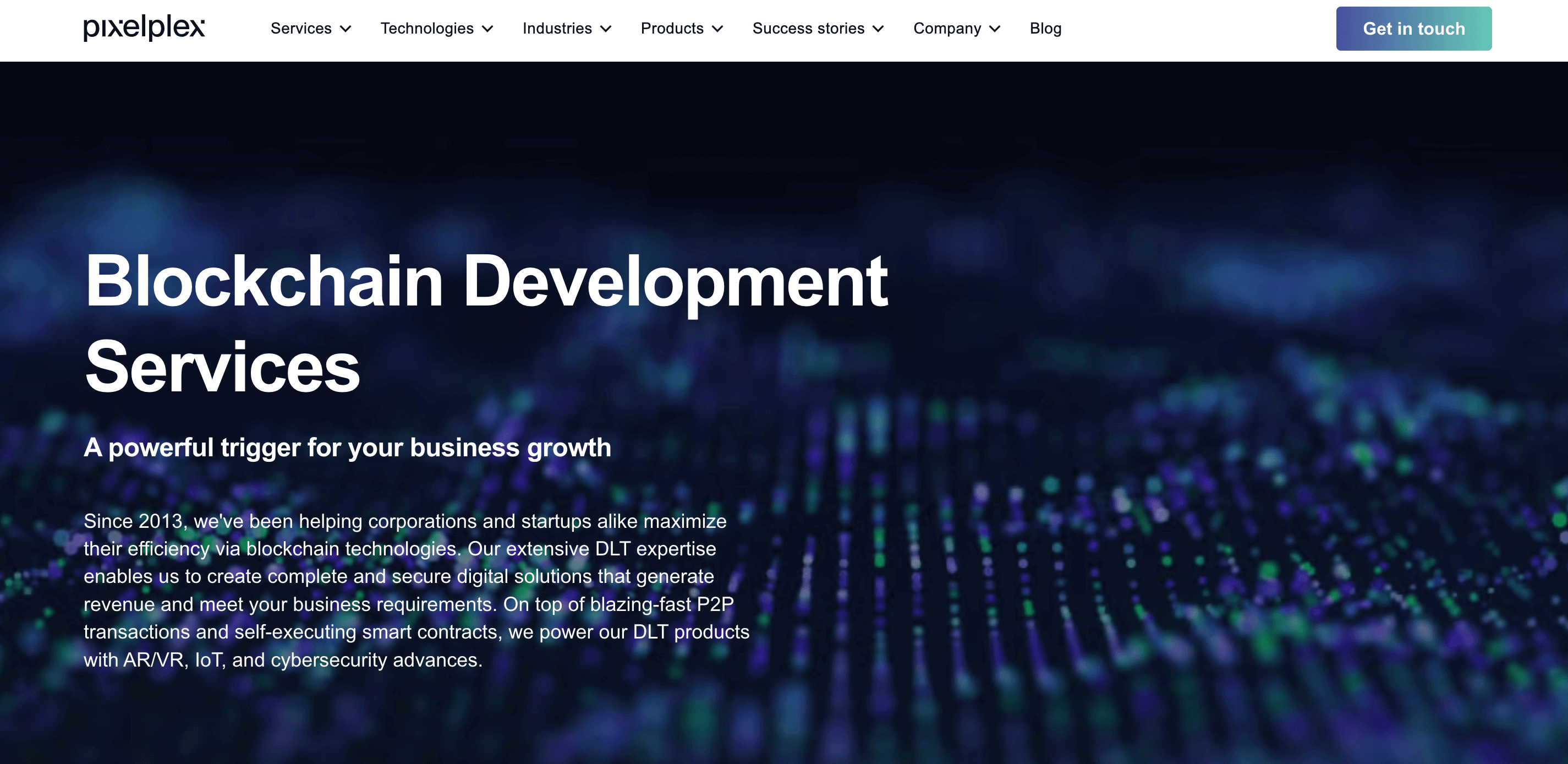 PixelPlex is one of the best Solidity smart contract development companies, helping small businesses and enterprises enhance operational efficiency, establish seamless communication and rapid transaction processing, and optimize digital service costs. Their flexible approach allows clients to select the service package that perfectly fits with their requirements.
PixelPlex's Solidity blockchain development services cover strategic planning, architectural design, auditing, development, optimization, and integration. Furthermore, they specialize in various business domains and know how to build secure digital solutions that generate maximum profit.
Services & expertise:

blockchain development,

IT consulting, custom software development, web and mobile app development, UI/UX design, QA and software testing, AR/VR, artificial intelligence, IoT development

Tech stack:

Solidity, C++, C#, Angular, Python, React, Nest, Next.JS, JavaScript, Express, Swift, Kotlin, Golang, Cadence, Node.JS, Ethereum, Solana, Cardano, Polygon, Polkadot, Bitcoin, Hedera, Hyperledger, Graphene

Industries: Fi

ntech, Banking, Retail, eCommerce, Supply Chain, Logistics, Healthcare, Real Estate, Oil and Gas

Location:

New York, USA; London, UK; Warsaw, Poland; Freienbach, Switzerland

Clients:

FootballNet Global, Uforica, Circularr, Ernst & Young AG, Berkeley, Swisscom, BMW, Oracle, QTUM, NuPay, University of Michigan, Cal Poly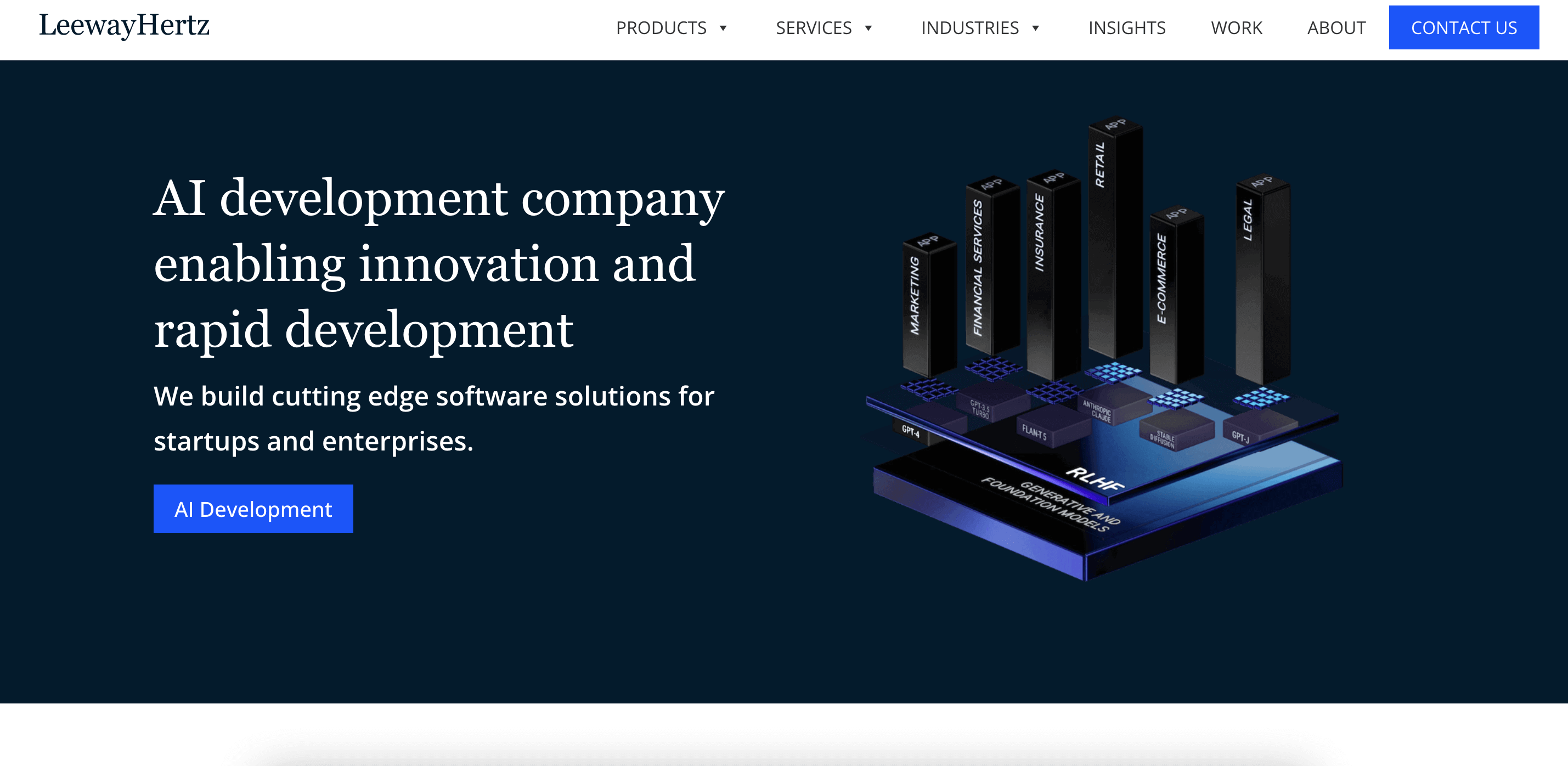 LeewayHertz designs and builds tailor-made blockchain solutions primarily using Solidity, Hyperledger, Ethereum, and Cosmos technologies. With 250+ full-stack developers on board, LeewayHertz has successfully delivered over 60 blockchain projects, including smart contracts for DEXs, NFTs, wallets, yield farming, dApps, and tokens. 
At LeewayHertz, you can hire the best Solidity developers based on the IT staff augmentation model. Leveraging their rich experience and extensive technology stack, they'll show remarkable productivity, providing an agile and extremely fast development process.
Services & expertise:

Web3 development, blockchain development,

generative AI, AI and ML, data engineering, software development, IT augmentation services, IoT development

Tech stack:

Ethereum, Hyperledger, Corda, Substrate, Avalanche, Polkadot, NEAR Protocol, Hedera, Tezos, Solidity, Cosmos

Industries:

Consumer Electronics, Fintech, Healthcare, Insurance, Logistics, On-demand, Manufacturing, Edtech, Travel

Location:

San Francisco, USA

Clients:

Klaytn, 3M, ESPN, Siemens, Hershey's, Filecoin, Eton, MSB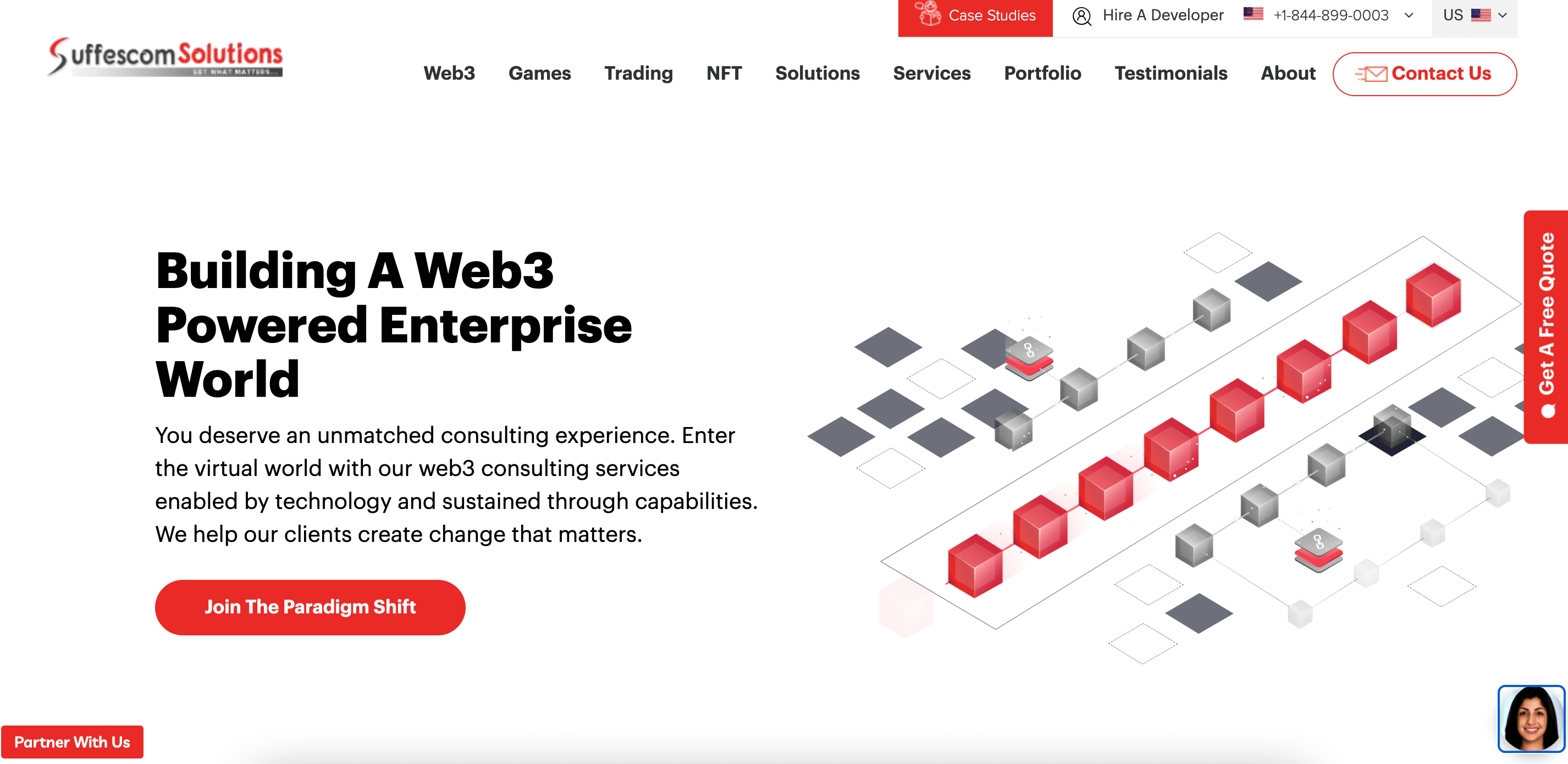 Located in California, Suffescom Solutions is a leading Solidity development company offering full-cycle smart contract development, dApp development, digital token creation, crowdsale website and exchange platform development, as well as dedicated development teams. 
Their top Solidity developers are also proficient in blockchain architecture, cryptography, decentralized apps, and web development. Suffescom Solutions will provide you with the best customized and cost-effective Solidity blockchain development services, starting with an unmatched consulting experience.
Services & expertise:

blockchain development, Web3 development,

mobile app development, AR/VR, game development

Tech stack:

Solidity,

Solana, Hyperledger, Stellar, Ethereum, Ripple, Polygon, Golang, C, .NET, Java, Python, PHP, Swift, Kafka, Vanilla JS, Express.JS, MIST, React, Simplicity

Industries: Healthcare, Transportation, Restaurants, Education, Environmental Services, Telecommunications, Real Estate, Entertainment, Music, Food and Beverages
Location:

Wilmington, USA; Mohali, India; Dubai, UAE

Clients:

Universal, The Mario Blockchain, My Rare Collections, Solana Gulf Stream, Kind Cubs, NBC, Mealed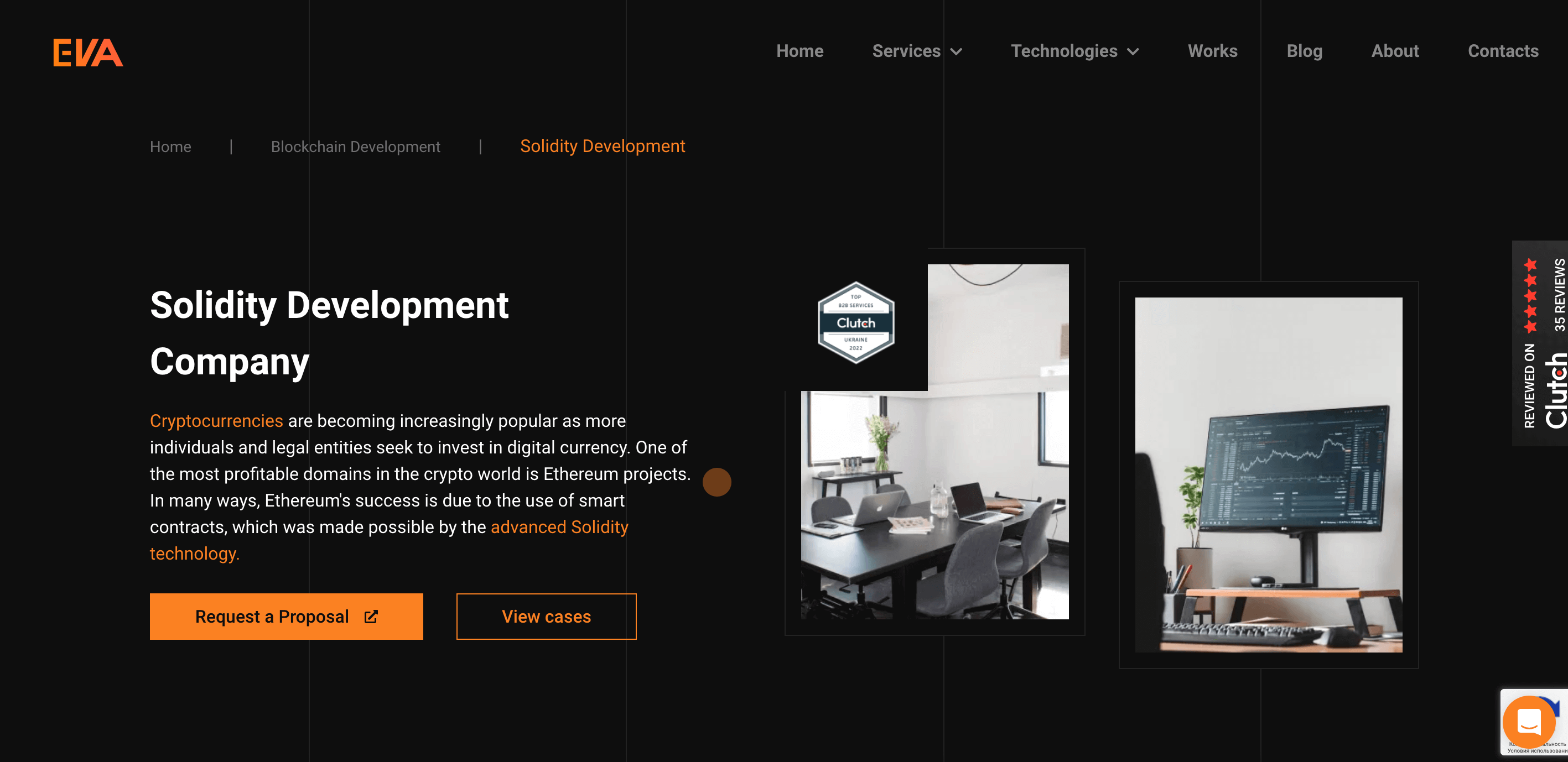 Eva Coders is deservedly recognized as the best Solidity development company in Kyiv, Ukraine. They specialize in building decentralized applications and smart contracts for various purposes, including DeFi, DAOs, digital identity, gaming, and tokenization, by leveraging Solidity tools like Solidity REPL, Evmdis, Solgraph, and Doxity. 
Choosing Eva Coders to lead your blockchain project guarantees best-in-class service quality, high professionalism, and cost-effectiveness. Additionally, you have the option to enhance your in-house team with their proficient Solidity coders on demand.
Services & expertise:

DeFi development, NFT development, blockchain development, smart contract development, cryptocurrency and crypto wallet development, Metaverse development, exchange, tokenomics, DAO development, ICO development

Tech stack:

Solidity,

Ethereum, Tron, BSC, Polkadot, Solana, Hedera, Stellar, Cosmos, Hyperledger, Avalanche, Tezos, Polygon Matic, Near Protocol, XDC Network, Node.JS, React.JS

Industries:Fintech, IT and Software Services, Retail, Arts and Entertainment, Legal, Insurance
Location:

Kyiv, Ukraine; Middletown, USA; Yerevan, Armenia

Clients:

Crypto Nomadic, X528, Mortal City, Konsta, Nifty Bridge, YOP, Wealth Protocol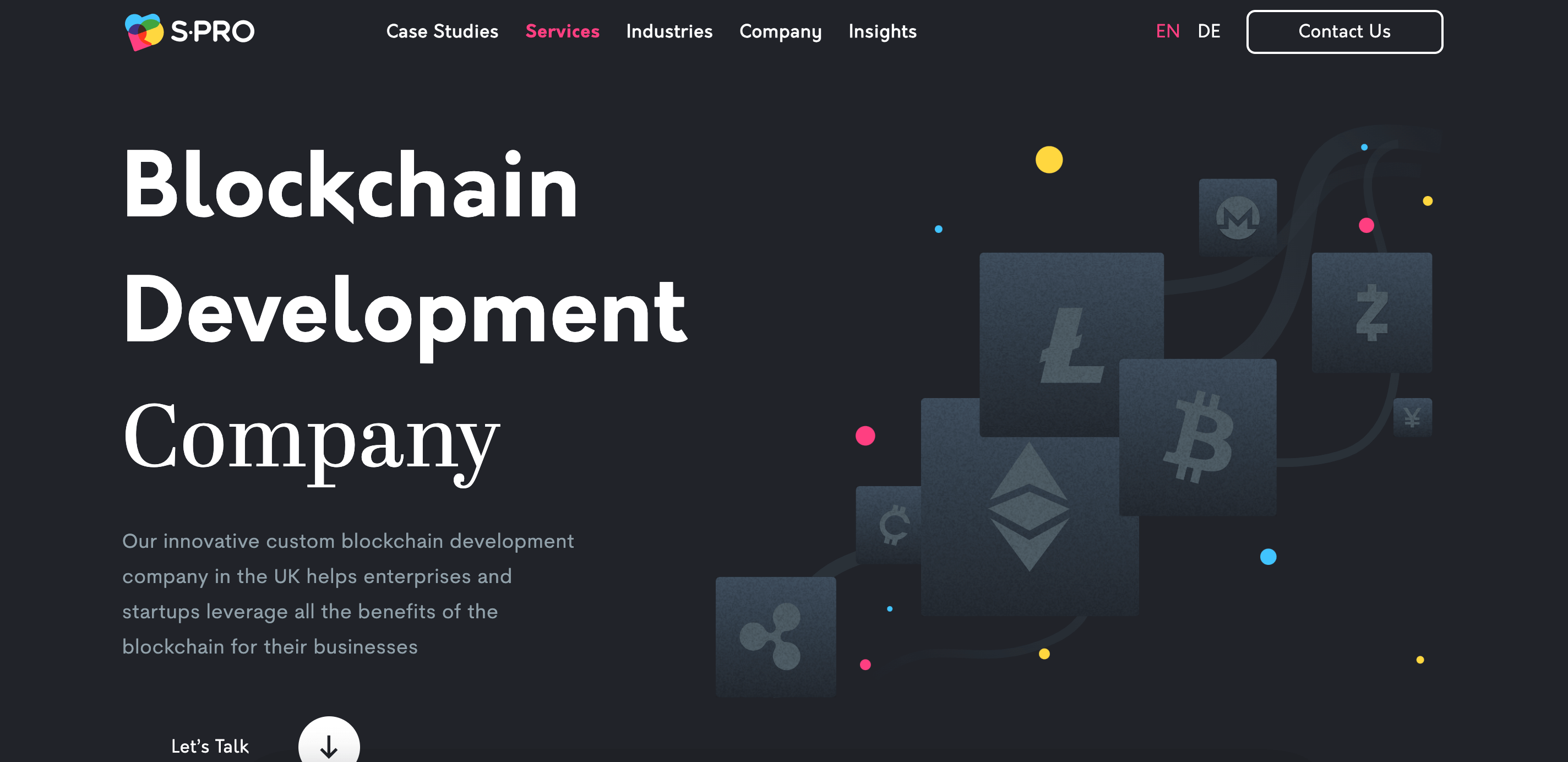 Partnering with S-PRO blockchain development company will help your businesses enhance security, lower transaction costs, optimize operational efficiency, and refine digital identities. Their engineers primarily work with the following blockchain technologies and platforms: Solidity, NEM Symbol, Bitcoin, Ethereum, Corda, Hyperledger, Polygon, and Binance. 
S-PRO is fully armed to support you throughout every phase of the blockchain app development cycle, from concept to launch and deployment, and is able to complete any task whatever size and complexity it is.
Services & expertise:

blockchain development, big data systems, DevOps, UI/UX design, web and mobile app development, AI and ML

Tech stack:

Solidity,

NEM Symbol, Bitcoin platform, Ethereum platform, Corda, Hyperledger, Polygon, Binance

Industries: Fintech, Healthcare, Energy, Real Estate, Food and Beverages, Retail, Nonprofit, Telecommunications
Location:

Warsaw, Poland; Zurich, Switzerland

Clients:

Mevo, Modo, Exaloan, Starface, Treezor, Polar Pro, Millennium, Coinmena, Pickwings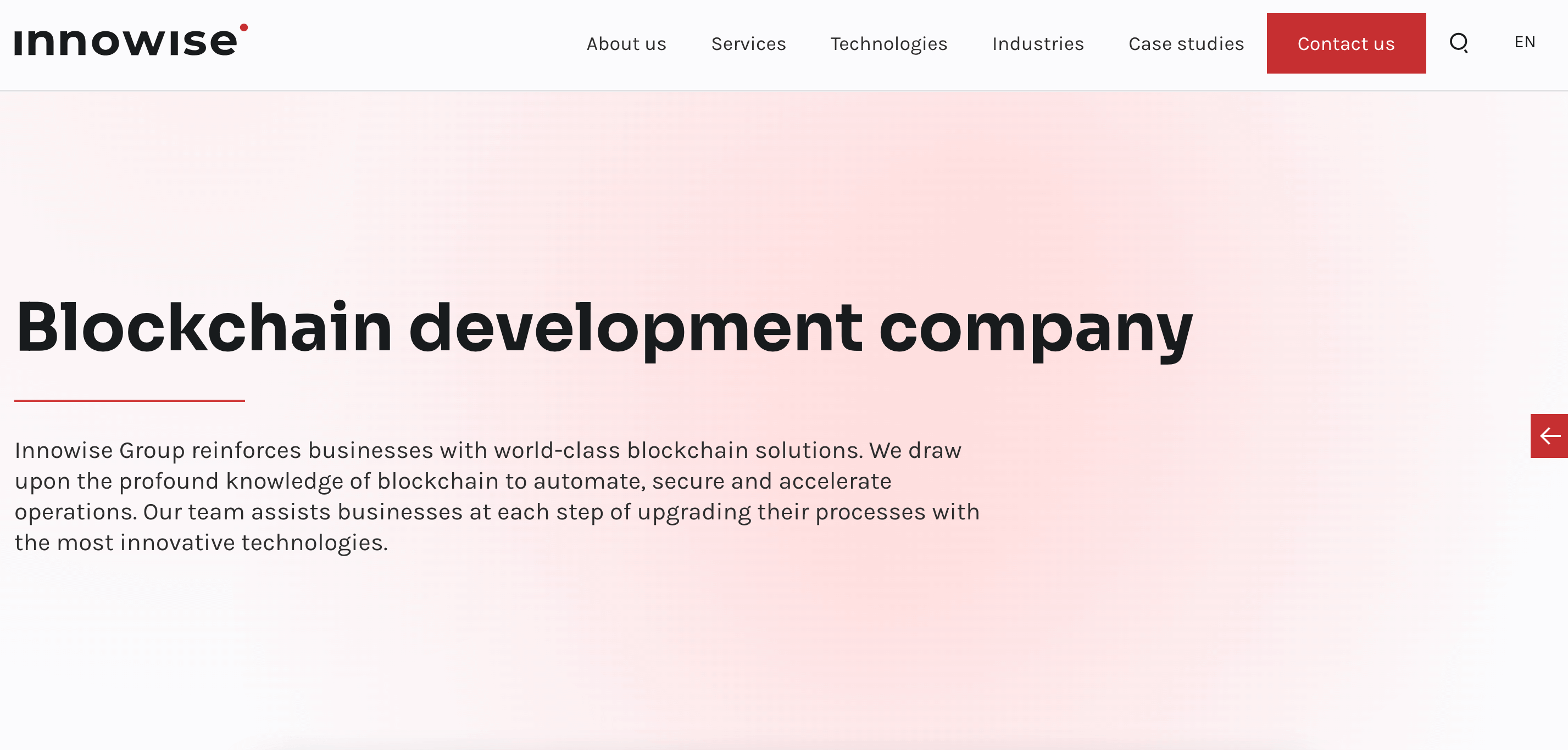 With over 16 years of experience in the IT field, Innowise Group is recognized as a top software development company deeply specializing in blockchain solutions. They leverage the power of blockchain to help clients automate, accelerate, and secure business operations, significantly saving their time and efforts.
Innowise Group offers all-in-one Solidity smart contract development services, from building architecture and coding to deployment and testing. They work on such platforms as Ethereum, Hyperledger, EOS, Tron, Stellar, Polkadot, and others, using Solidity as a primary technology. 
Services & expertise:

blockchain development, NFT development, metaverse development,

IT staff augmentation, web and mobile app development, IoT development, cloud development, database administration, legacy system modernization, UI/UX design, QA and testing, DevOps, AR/VR, AI and ML, cybersecurity

Tech stack:

Solidity,

Solana, Hyperledger, Ethereum, Dash, Corda, Tron, Stellar, Litecoin, Chain, C++, Python, Vyper, JavaScript, Golang, Rust, Simplicity, C#

Industries: Healthcare, Life Science, Finance, Banking, Insurance, Retail, Hi-Tech and Innovations, Automotive, eLearning, Education, Logistics, Transportation, Media, Entertainment, Manufacturing, Agriculture
Location:

Warsaw, Poland; Norwich, UK; Munich, Germany; Francavilla Al Mare, Italy; Orebro, Sweden; Tbilisi, Georgia 

Clients:

Trumpet, OneStop Pro, Naip, Topcon Agriculture, Switchbackr, NFT Pro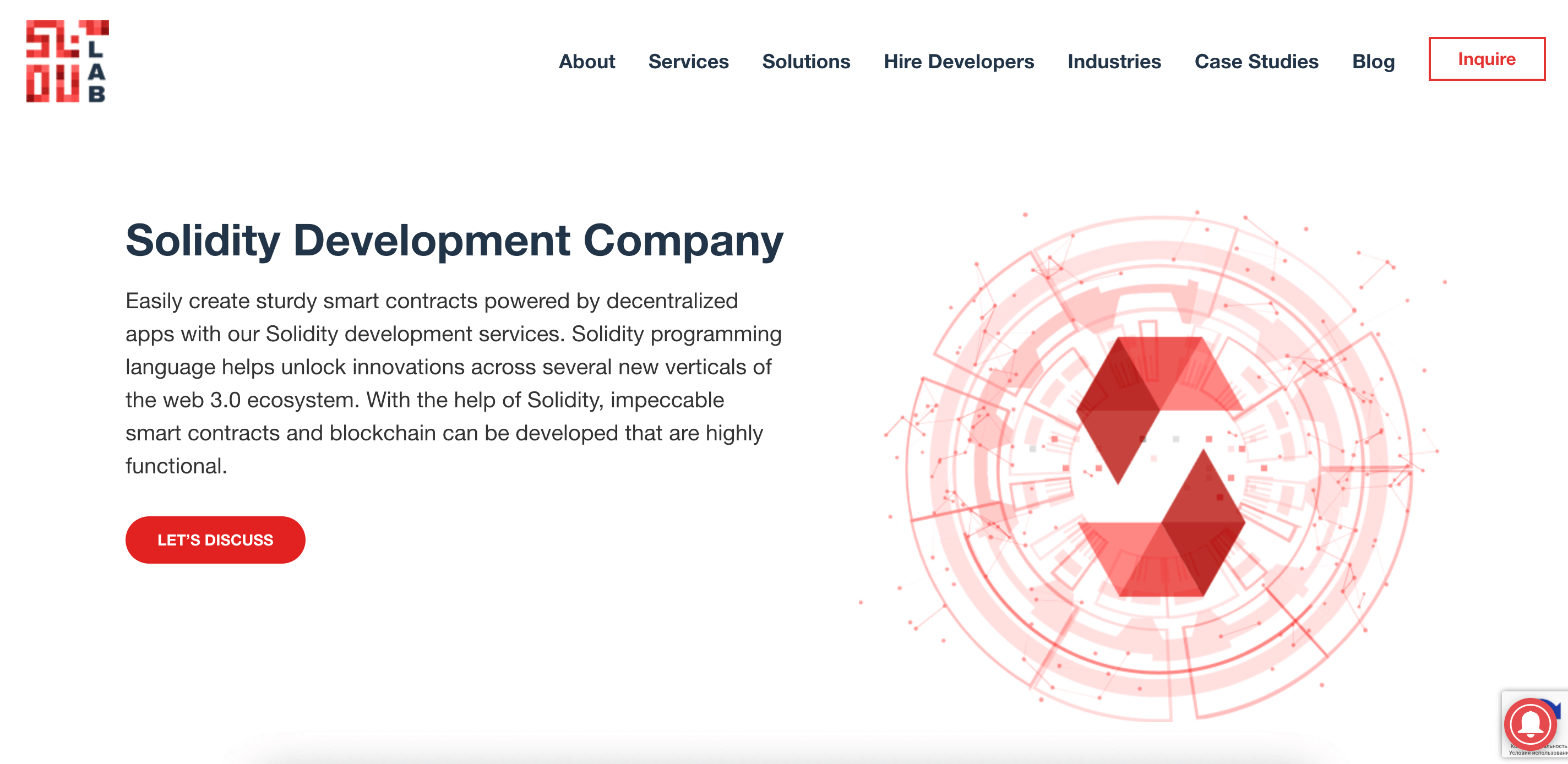 Featured as one of the Top Blockchain Development Companies by Clutch, GoodFirms, and DesignDrizzle, Solulab's core expertise is creating smart contracts with Solidity. By choosing Solulab as your tech partner, you can completely rely on professional assistance with your blockchain project development, be it a smart contract, digital token, exchange platform, or dApp development. 
Why opt for Solulab as your go-to Solidity development company? They offer a competitive pricing structure, a 100% customer satisfaction level, and a proficient engineering team with in-depth knowledge of the Solidity tech stack.
Services & expertise:

blockchain development,

web and mobile development, AI and ML, IoT development, DevOps, data science

Tech stack:

Solidity,

Ethereum, Binance, Polygon, Solana, Python, Angular.JS, Node.JS, React.JS

Industries: Healthcare, Logistics, Oil And Gas, Education, Retail, Transportation, Fitness, Cannabis
Location:

Los Angeles, New York, Austin, USA; Ahmedabad, India; Ajman, UAE

Clients:

ZebPay, SPHerium Finance, Doc Trace, AnRKeY X, Alacrity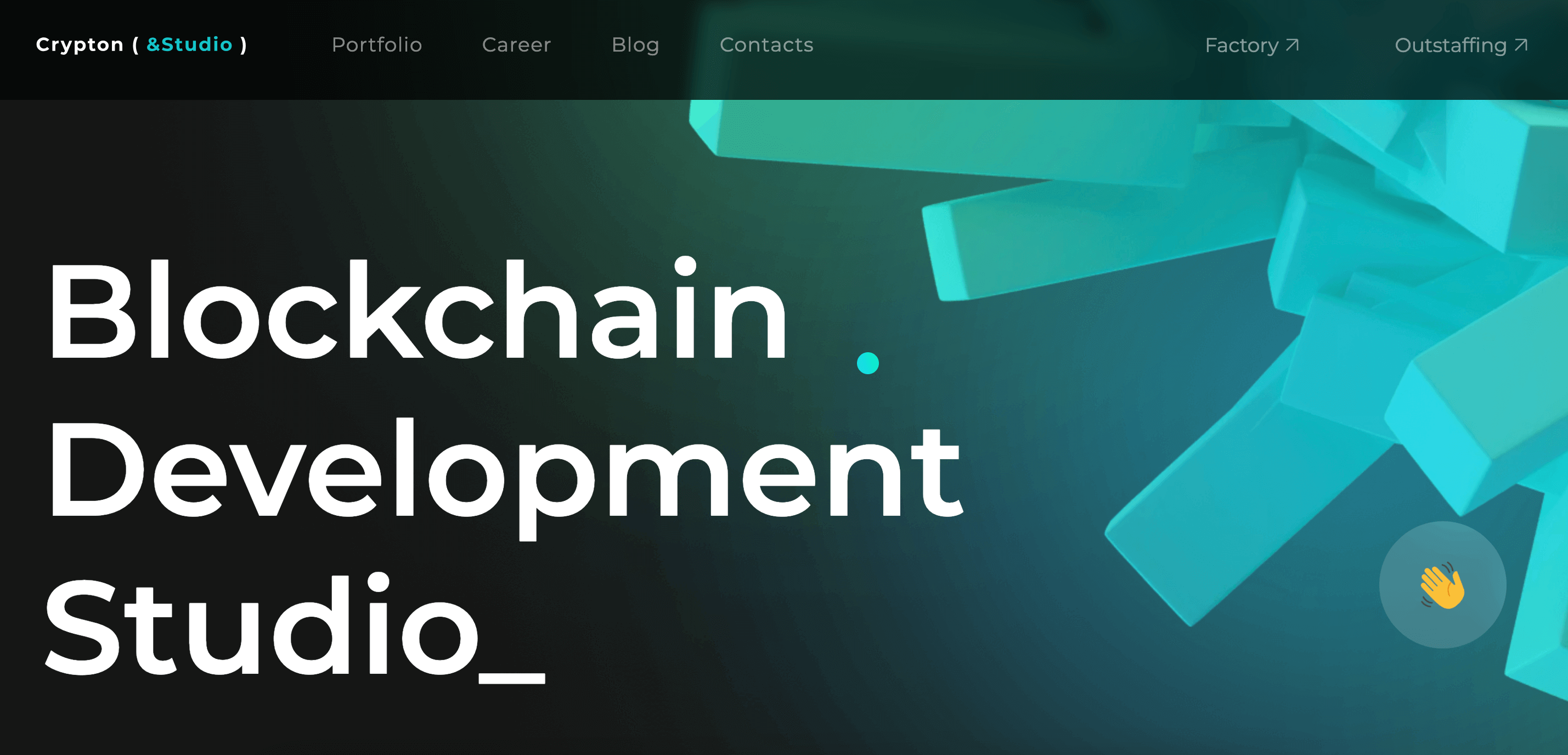 Crypton Studio is known as one of the largest blockchain development company in Europe with a workforce of over 150 crypto professionals. They specialize in key blockchain solutions, such as smart contracts, NFTs, custom blockchain apps, investments platforms, tokenization platforms, and many more. 
Founded in 2015 in Riga, Latvia, the company has successfully launched 100+ projects for clients from 20 different countries. The team of Crypton Studio possesses the extensive technology stack with great competency in using Solidity and Rust. Hire Solidity developers from Crypton to implement your ambitious blockchain project at the highest level!
Services & expertise:

custom blockchain development, AR/VR, tokenization platforms, NFT marketplaces, CEX/DEX, crypto payment gateways, metaverse development, play-to-earn games, mobile wallets, staking platforms

Tech stack:

Solidity, Golang, TypeScript, Angular, Koltin, Flutter, CSS, Vue.JS, Binance, Polkadot, Ethereum, Polygon, Swift

Industries: Fintech, Advertising, Marketing, Insurance, IT and Software Services
Location:

Riga, Latvia; New York, USA

Clients:

Decimal, CyberFi, Bitteam, Cryptoken, DaoLang, FerFit, Polylastic, Infam
Conclusion 
Solidity firmly positions itself as a leading blockchain programming language, seamlessly deploying smart contracts across a great range of blockchain platforms, specifically Ethereum.
The showcased top Solidity development companies have proved their expertise in crafting highly secure smart contracts across various industries, constantly driving digital innovation. Select the best Solidity developers based on your unique requirements and preferences.
If you provide Solidity development services and want to add your company to this list, contact us with your request. After a thorough review, we'll decide whether it's a valuable addition.