The second-largest IT hub in Europe, Ukraine boasts an impressive network of tech talent — especially seeing as the country has recently crossed the mark of 240,000 IT specialists.
With the tremendous career opportunities it provides, IT education is massively popular in Ukraine — the country is home to 181 universities and 133 colleges with tech faculties, 38 courses, and 34 tech schools.
Big-name companies such as Microsoft, Wargaming, Siemens, Huawei, Samsung Electronics,   and others hire talented Ukrainian software developers for their projects, which is a sure indicator of their top-quality services. What is more, Ukraine boasts some of the world's most renowned startups — you have probably heard of GitLab, Reface, Ajax Systems, Ahrefs, People.ai, Grammarly, and Restream.
Remarkable IT talent, client-focused approach, and superb communication are among the key reasons why many companies around the globe choose to outsource to Ukraine. ReVerb has compiled a list of the top software development companies in Ukraine to consider collaborating with for your next project. Choose your reliable partner wisely!
Best
Software Development Companies In Ukraine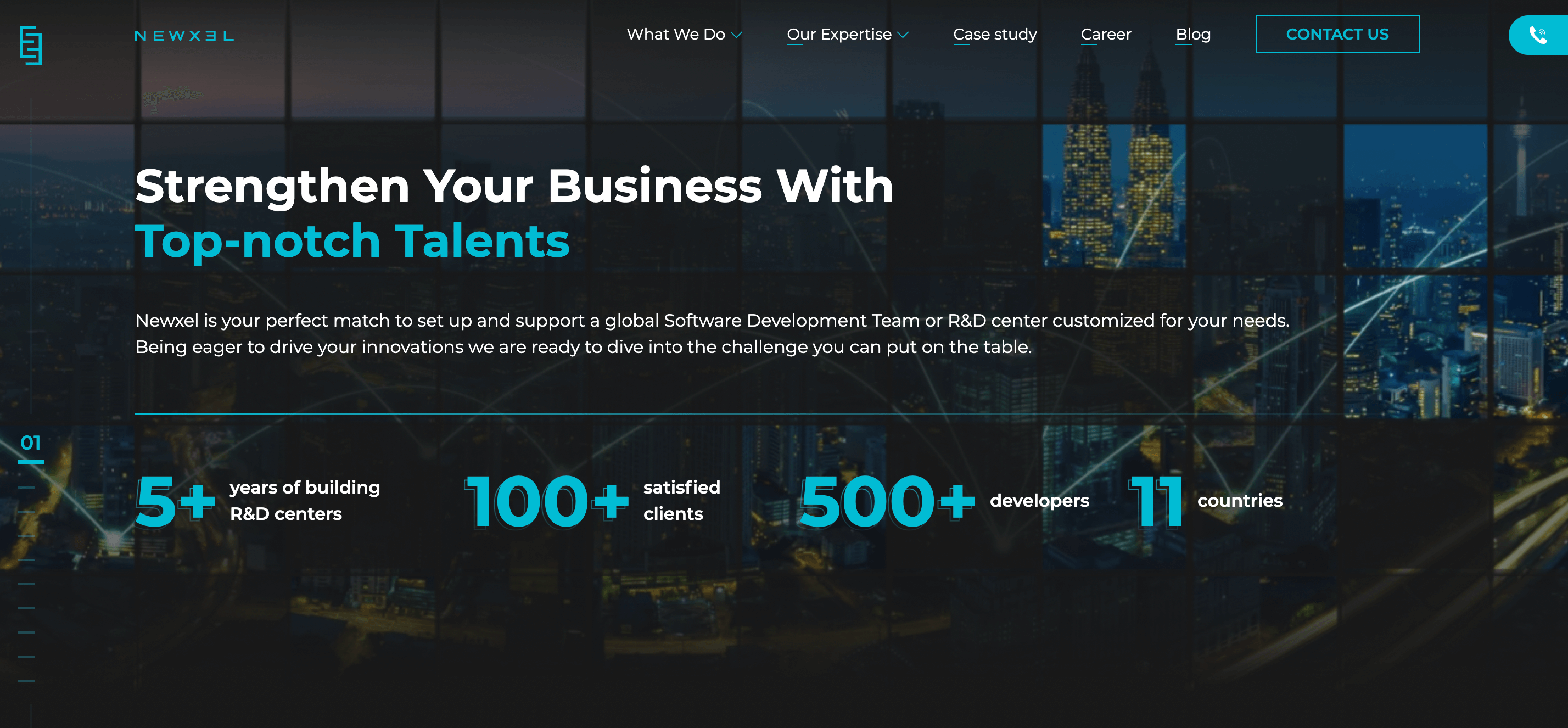 If you seek to hire the top software development company in Ukraine for your next project, consider partnering with Newxel. Get access to their top-tier developers whose tech stack and expertise align perfectly with any of your product's needs.
The range of services they offer impresses: web & mobile, embedded software, NFT, Big Data, and game development, as well as product design, QA, and IT support.
Founded in 2016, the company has acquired vast expertise and over 500 experienced developers on board. IT staff augmentation is Newxel's major focus — they offer to hire skilled professionals to help you bring your ideas to life, from business apps to cloud engineering and blockchain solutions. Hire Newxel to deliver tailor-made solutions for your company's specific purposes or to extend your in-house development teams with the best-in-class engineers. 
Today, Newxel has offices in Kyiv, Ukraine, Florida, the USA, and Paphos, Cyprus. Most of their clients come from the Arts & Entertainment, Automotive, Gaming, Retail, and eCommerce industries.
Drive innovation in your business with Newxel to be ahead of the competition!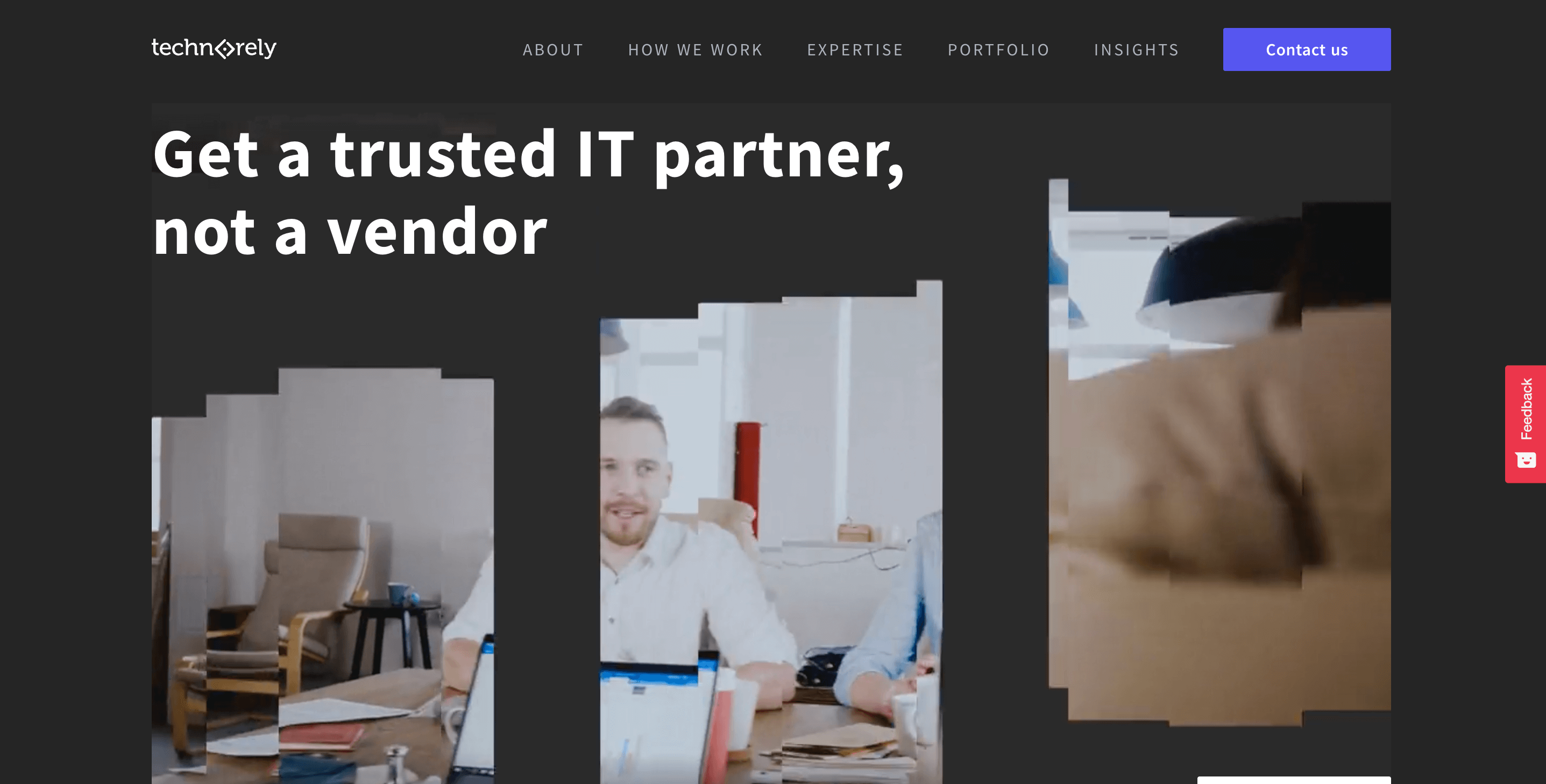 Technorely is one of the best IT outsourcing companies in Ukraine, offering a wide range of engineering services, including staff augmentation and custom software development. Get assistance from their talented developers, designers, QA specialists, and other experts to deliver high-quality digital solutions tailored to any industry. Their team is highly motivated and proactively approaches each project, which is why European and American companies chose them as trusted IT partners.
Technorely will implement all sorts of projects for you, meeting deadlines and ensuring brilliant quality. Be it the development of business analytics, online app, mobile app for iOS and Android, desktop app for macOS, Windows, or Linux, or a blockchain system, as well as IT support and quality assurance — they've got you covered. In addition, Technorely's experts can help you create brilliant UX/UI designs for a website or a mobile app.
So if you're searching for a reliable partner for goal-oriented, effective software development, Technorely is your one-stop company to work with!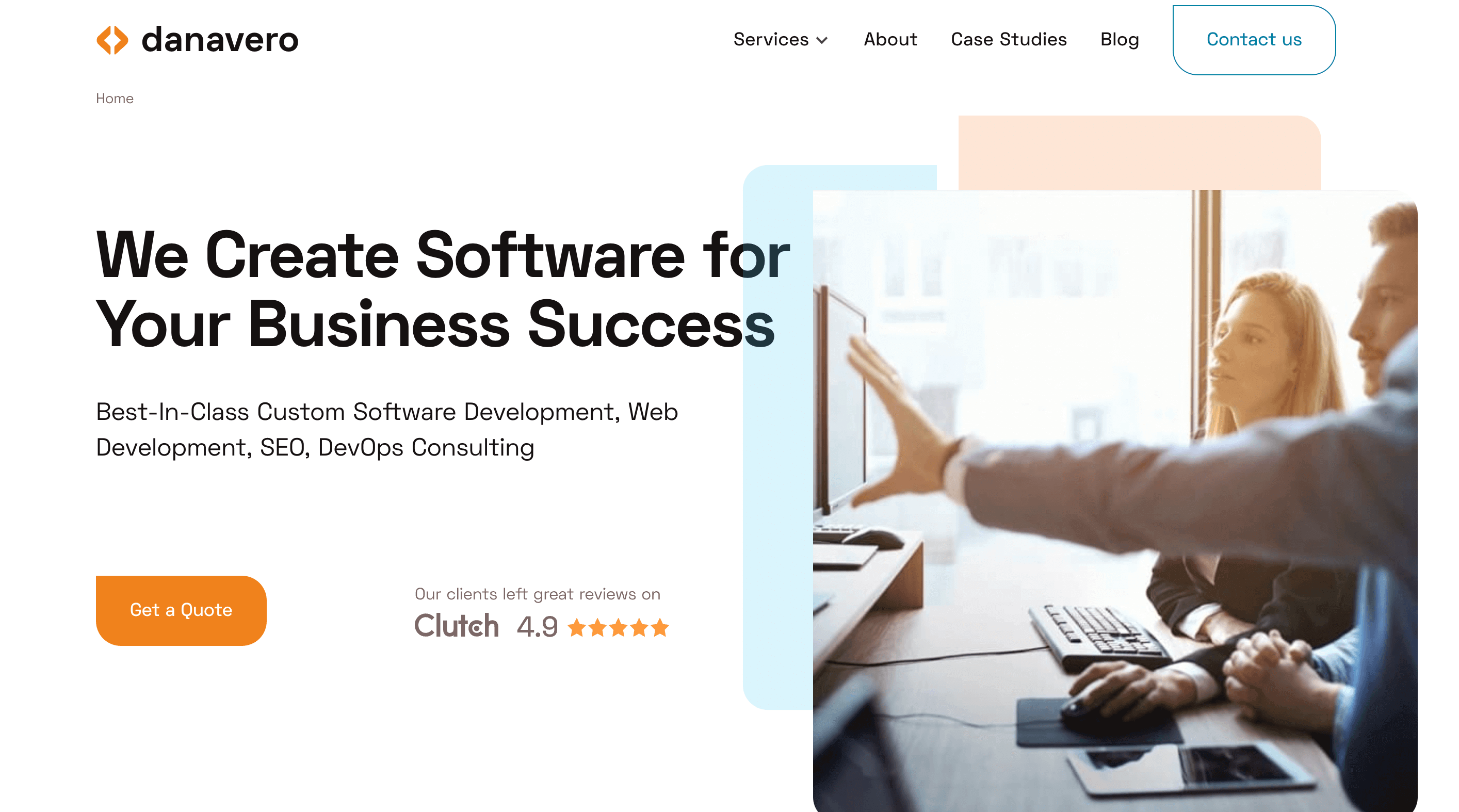 Danavero is a leading software development company in Ukraine and an experienced DevOps consulting partner. They have 8 years of experience in delivering full-fledged mobile and web apps, high-performance websites, custom software solutions, SEO, and Drupal development and support services.
Having 60+ experts on the team, the company has already completed 300+ projects for Healthcare, IT, Insurance, Fintech, Transport & Logistics, Media, Farming, and other industries. Danavero Inc. collaborates with startups, non-profit organizations, as well as enterprises to help them overcome their digital challenges by delivering out-of-the-box or custom solutions that perfectly address their needs.
They can also provide you with staff augmentation services to extend your in-house team by request or work with their dedicated development team to implement the project from A to Z. They got your covered at every stage of the production process, from consulting to design and development, QA, with 365 days of support.
Following a mission and philosophy to build reliable teams that businesses can trust, Danavero was highly recognized by Clutch, GoodFirms, appfutura, Top App Development Companies, IT Firms, and other leading review platforms.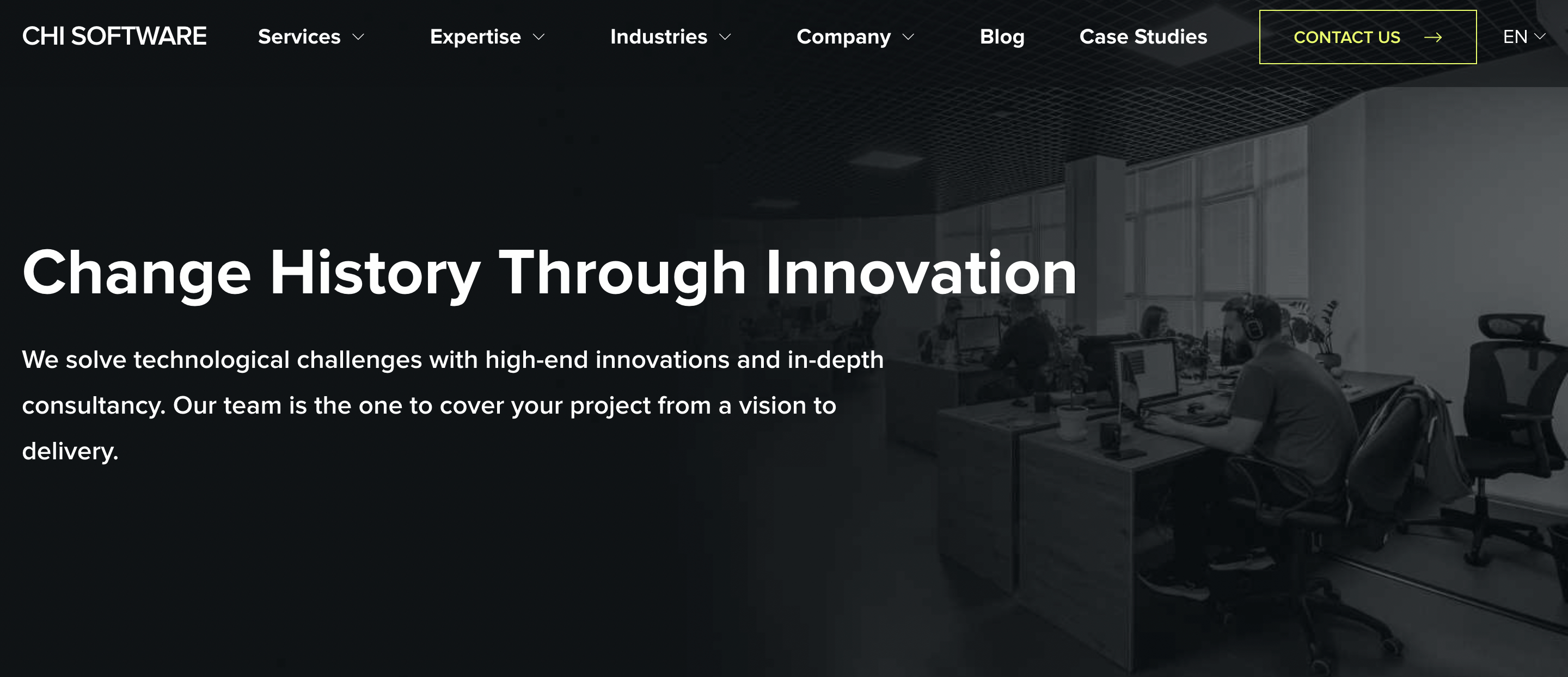 Quality comes first for the team at CHI Software. Founded as a boutique web studio named City Hall Illustrations (CHI), this team of ten enthusiasts started small but with grander visions to be something so much bigger. Starting off in 2006 as a digital agency providing UI/UX design and frontend development services for the local Ukrainian market, their tech stack expanded into other areas of expertise and they evolved into the Software Development Center we see today.
An AWS partner, and ISO-certified company, their core offerings are now building complicated software solutions across a variety of industries. International clients rely on them to handle their retail, fintech, insurtech, travel, and logistics software needs, making them one of the best Ukrainian software development firms.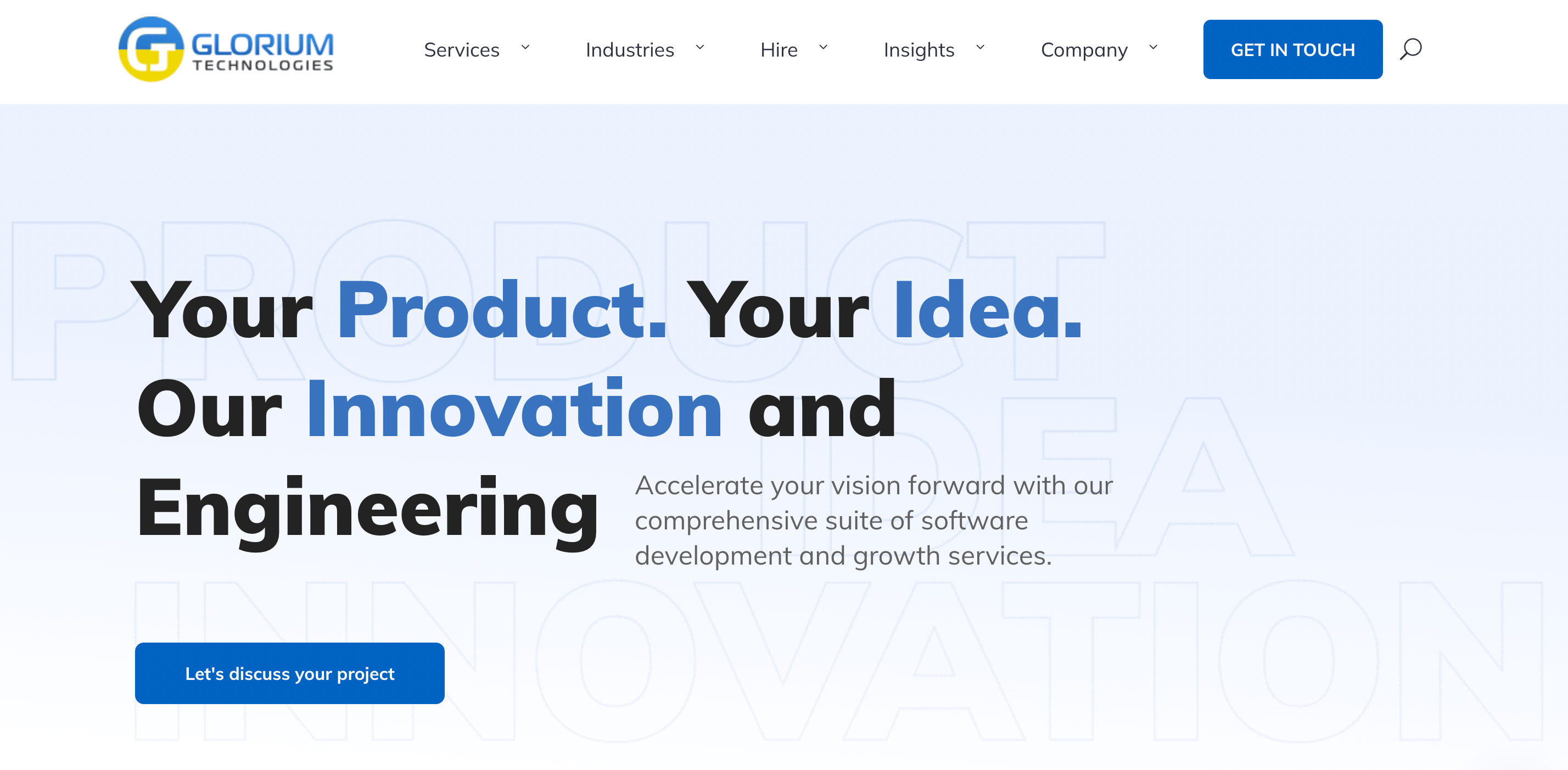 With over 13 years of experience in healthcare and real estate, Glorium Technologies assembles over 200 specialists in four geographical areas to provide full-cycle app and software development. Focusing on serving unique client business demands and delivering results with the finest technological solutions, the company offers its services to both mid-sized companies and startups. 
Having a top-notch team of software developers in Ukraine, Glorium Technologies delivers advanced software solutions to clients, reducing their time to market. They enhance businesses with the strategic and technical knowledge to build powerful cost-efficient products.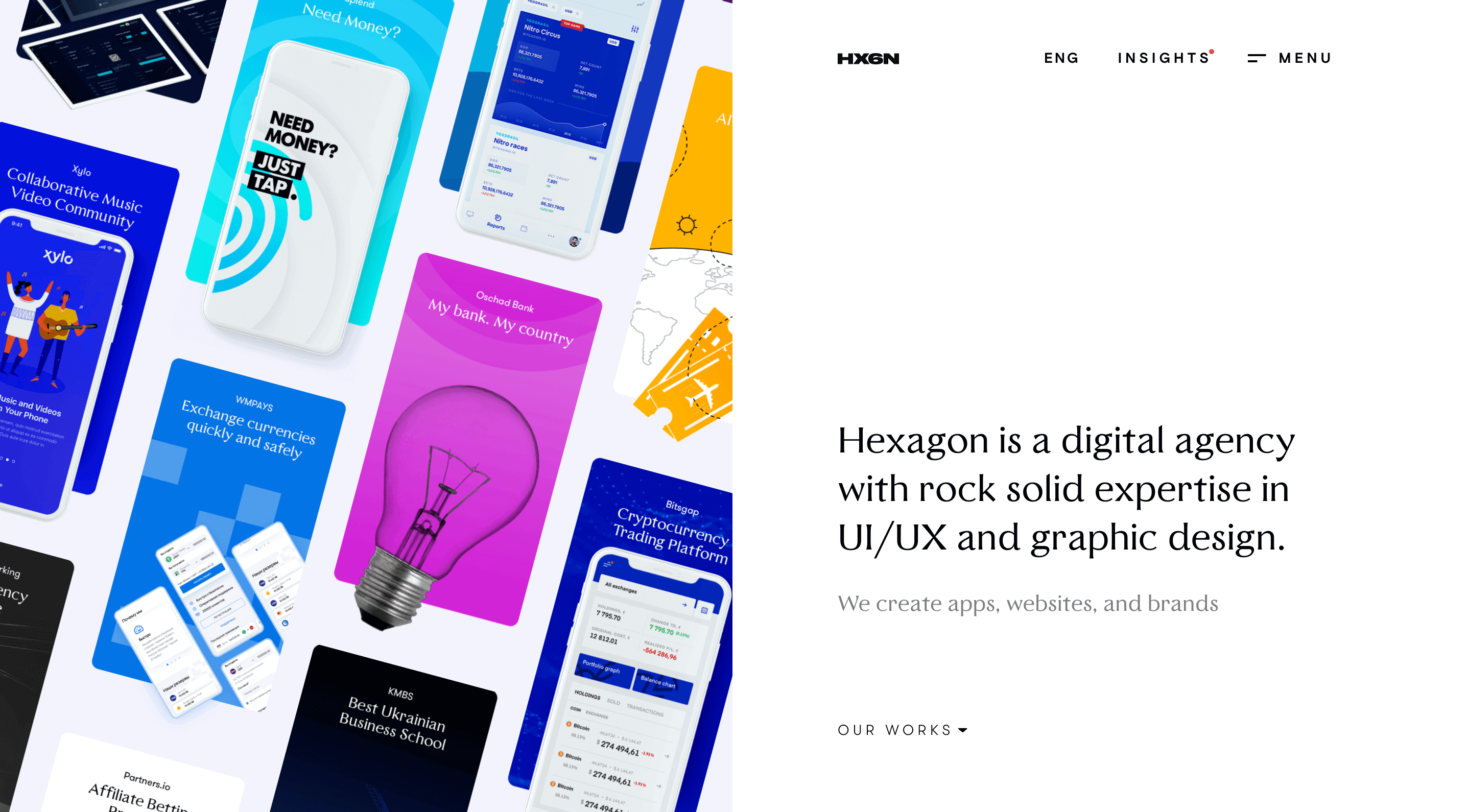 Hexagon Agency is a famous Ukrainian design and development firm with 15+ years of experience in building full-fledged apps and websites, and delivering high-quality online solutions. From brand identity to website design, growth design, and mobile app development – they take on any challenge to promote your company in local or global markets.
Building a strong presence globally and gaining numerous long-term partners, the company has established itself as a top software development service provider in Ukraine. With a team of 40+ highly skilled and experienced professionals, Hexagon Agency aims to deliver innovative and high-performance solutions that meet the needs of its clients and transform businesses worldwide.
Hexagon Agency is also known as a top metaverse development company driving the tech progress of businesses within various industries, helping them integrate the metaverses into their business operations. With the company's extensive expertise in cutting-edge technology, Hexagon Agency provides a wide range of state-of-the-art Web3 solutions to clients in different ecosystems. 
From startups in Retail, IT, and Travel to Casino, Education, eCommerce, and Transport enterprises – Hexagon Agency always keeps pace with time to deliver advanced products. This makes Hexagon an ideal partner for companies looking to leverage the power of innovative technologies.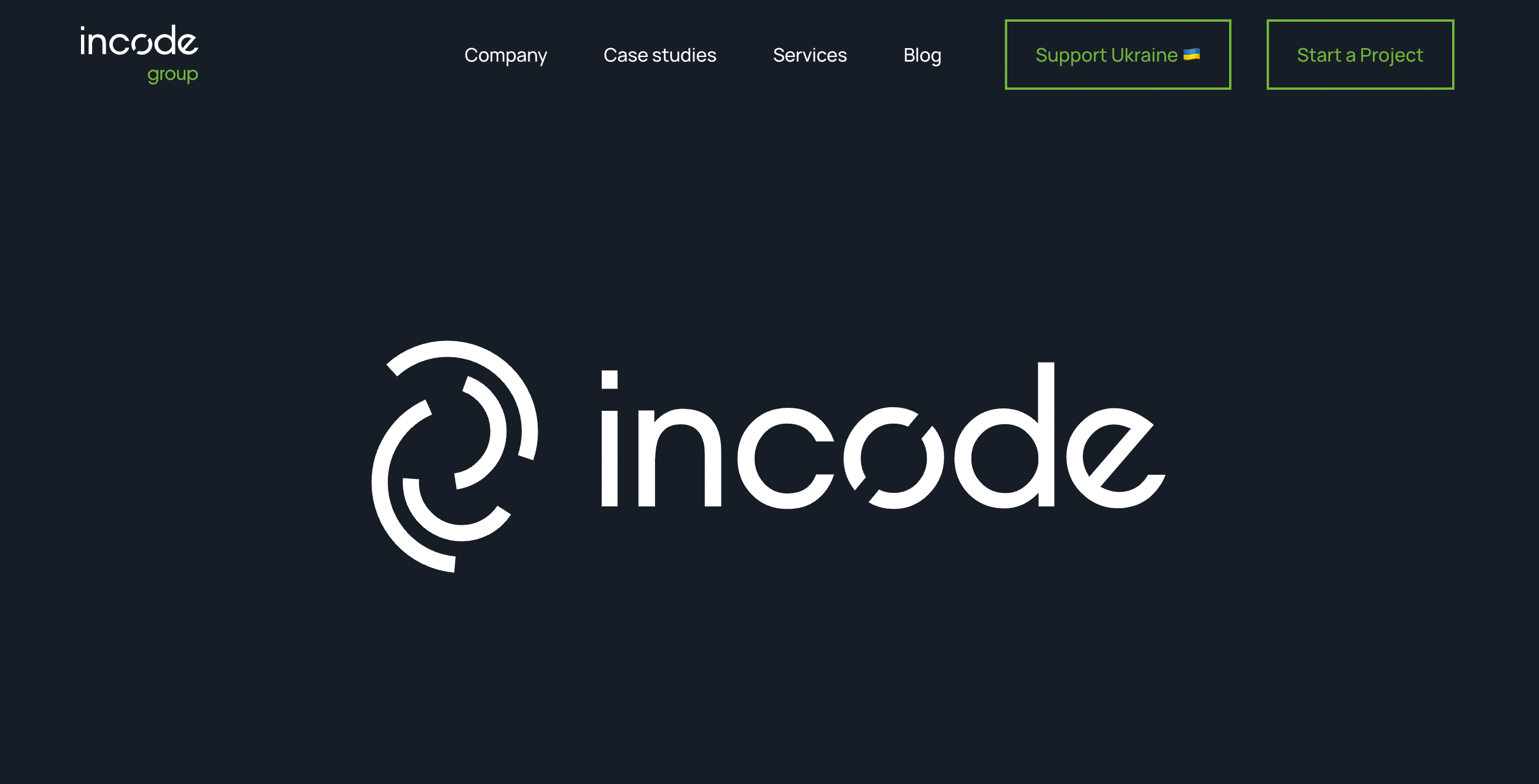 Incode Group provides services using the Time and Material pricing model by engaging dedicated teams or augmenting existing ones with their talented and highly proficient specialists. They offer full-stack web development, mobile development, SaaS solutions, CRM, ERP, RPA implementations, and UX/UI design services while working in a variety of industries.
Founded in 2015 in Zaporizhzhia, Ukraine they have already delivered over 700 successful projects. The company now has a team of over 180 in-house specialists, including software engineers, UX/UI designers, and Project Managers located in four offices in Ukraine and representatives in Ireland and the UK.
Incode Group values perfectionism. Their customer-oriented approach ensures that their project goes through a detailed, step-by-step process where they are fully supported.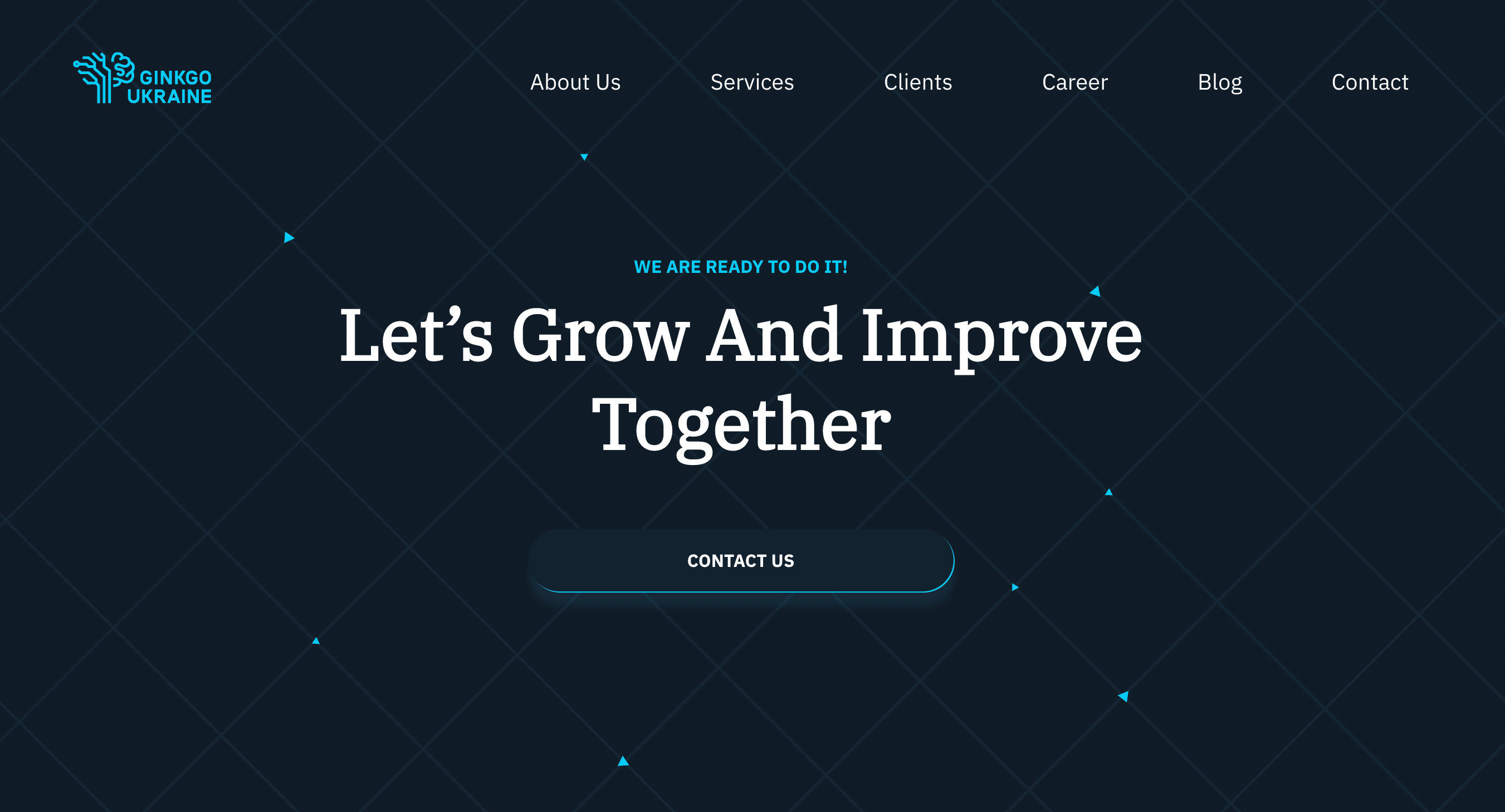 Hailing from Cherkasy, Ginkgo Ukraine focuses on eCommerce solutions by providing dedicated teams for software development, implementation, support, and process automation. With a mission to help e-commerce companies grow via the assistance of their experience, talent and application of the latest integration technologies and best industry practices, some of their happy clients had this to say "They did their job on the highest level."
They help clients with dedicated engineering teams, automation, improving existing processes, and bringing novel ideas into reality. When looking for a company determined to make a business run more smoothly by creating dedicated teams, connecting backend systems, and robotic process automation clients look to Ginko Ukraine for the results they need.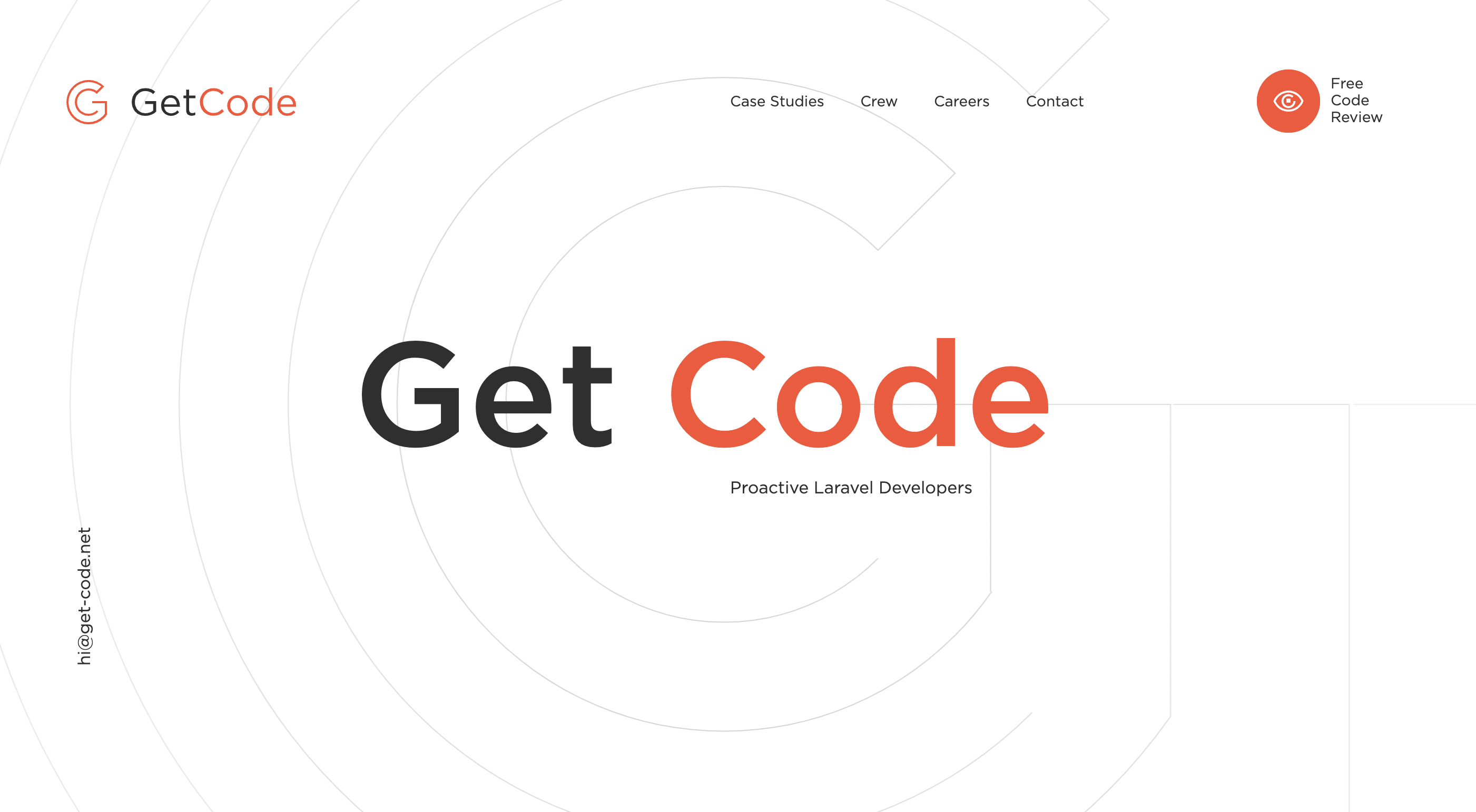 Founded in 2015, GetGode provides Laravel and front-end integrated solutions, taking SaaS products to the next level. The company assists both startups and enterprising in completing successful projects according to their business mission, vision, and future goals. 
Perfectionists in customer service and web development, GetCode conducts in-depth research and applies years of expertise to deliver pixel-perfect responsive solutions with WordPress flexibility or Laravel architecture.
The company acknowledges communication as the key element to business success, which is why they provide regular feedback to meet expectations and deliver solutions on time.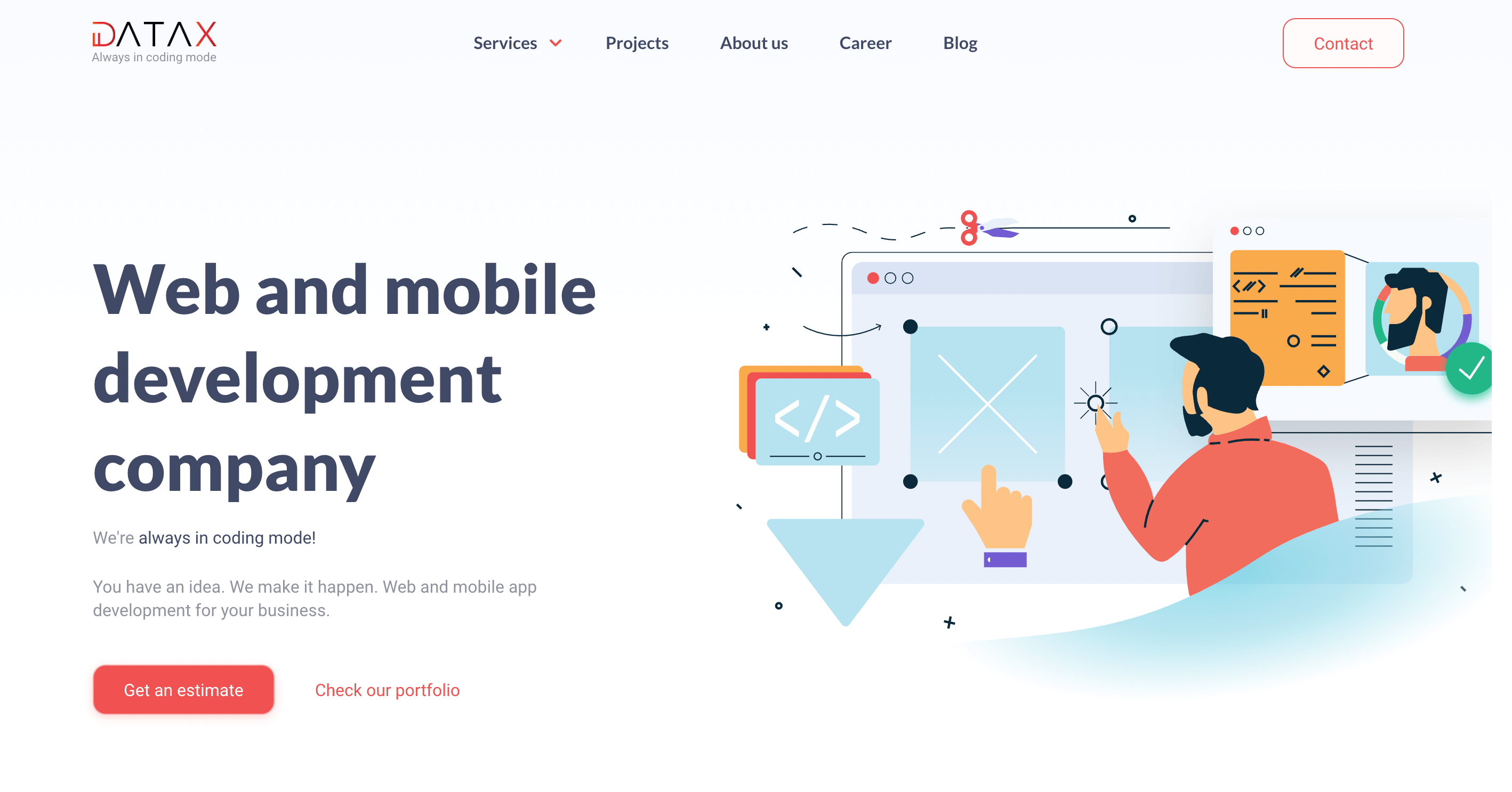 Based in Ukraine and Poland, DataXDev has been supporting global clients in shaping their futures for over 16 years. With deep software development expertise and a robust backend focus, the company also has a solid scientific background. Many of the DataXDev employees are mathematicians and physicians with a great passion for coding. 
After the war in Ukraine started, all DataXDev clients remained loyal despite all the risks and unpredictability. This is one of the most significant proofs of the profound trust that the customers place in the company.  
With years of experience, the company has demonstrated remarkable results in medical software development (diagnostic equipment image conversion), travel and hospitality applications development, and rentals/booking engine development.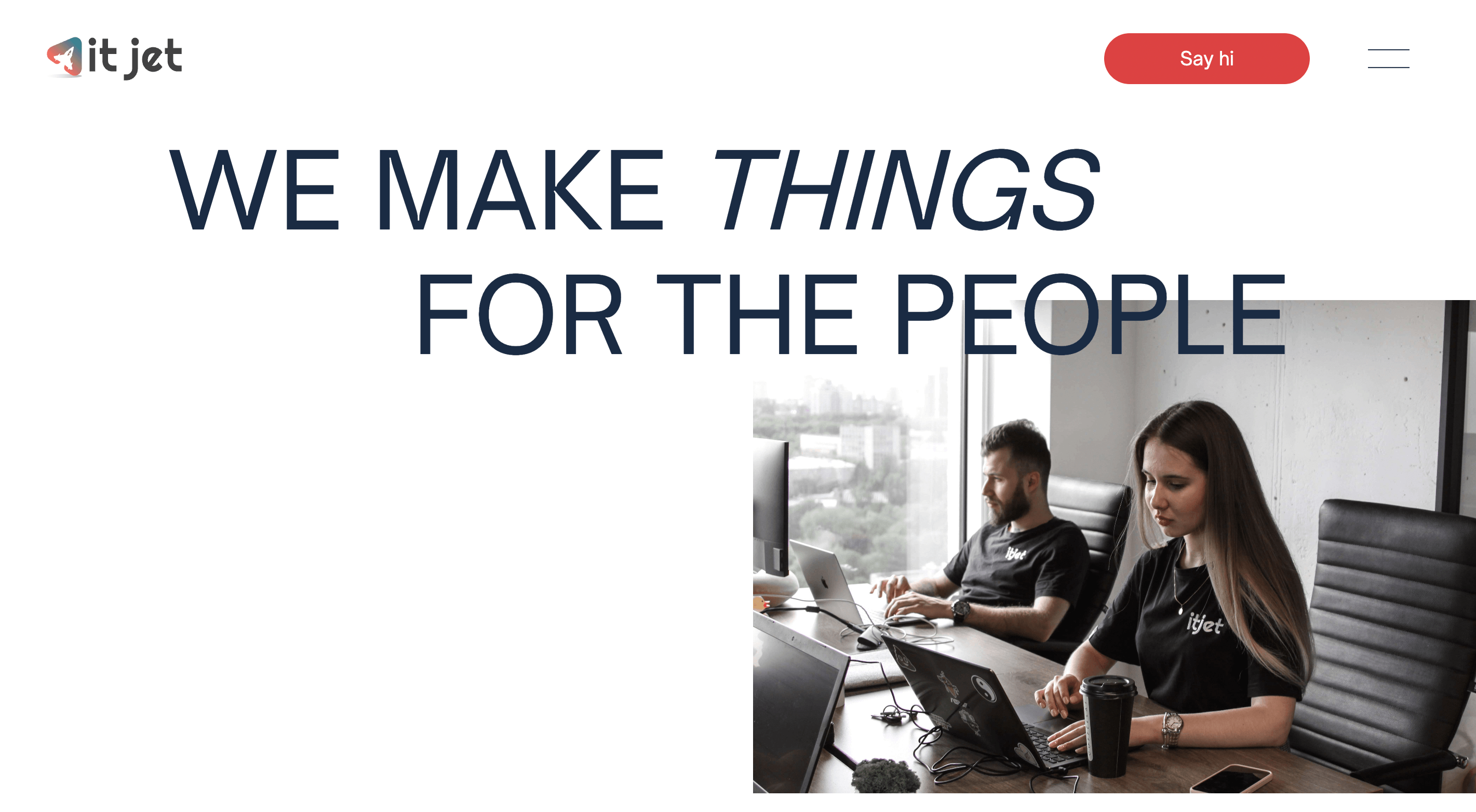 itjet is a software development company that helps businesses implement their most ambitious ideas. They develop web and hybrid mobile apps, covering full-cycle software development, from user research to release, including UI/UX design, frontend and backend development, and QA inputs.
Their team with deep tech expertise and solid experience uses modern tech stack and frameworks to ensure a smooth development process, meeting clients' deadlines and delivering the expected results.
itjet works with clients worldwide and in different industries: Fintech, Sports & Healthcare, Social, Entertainment, and eCommerce.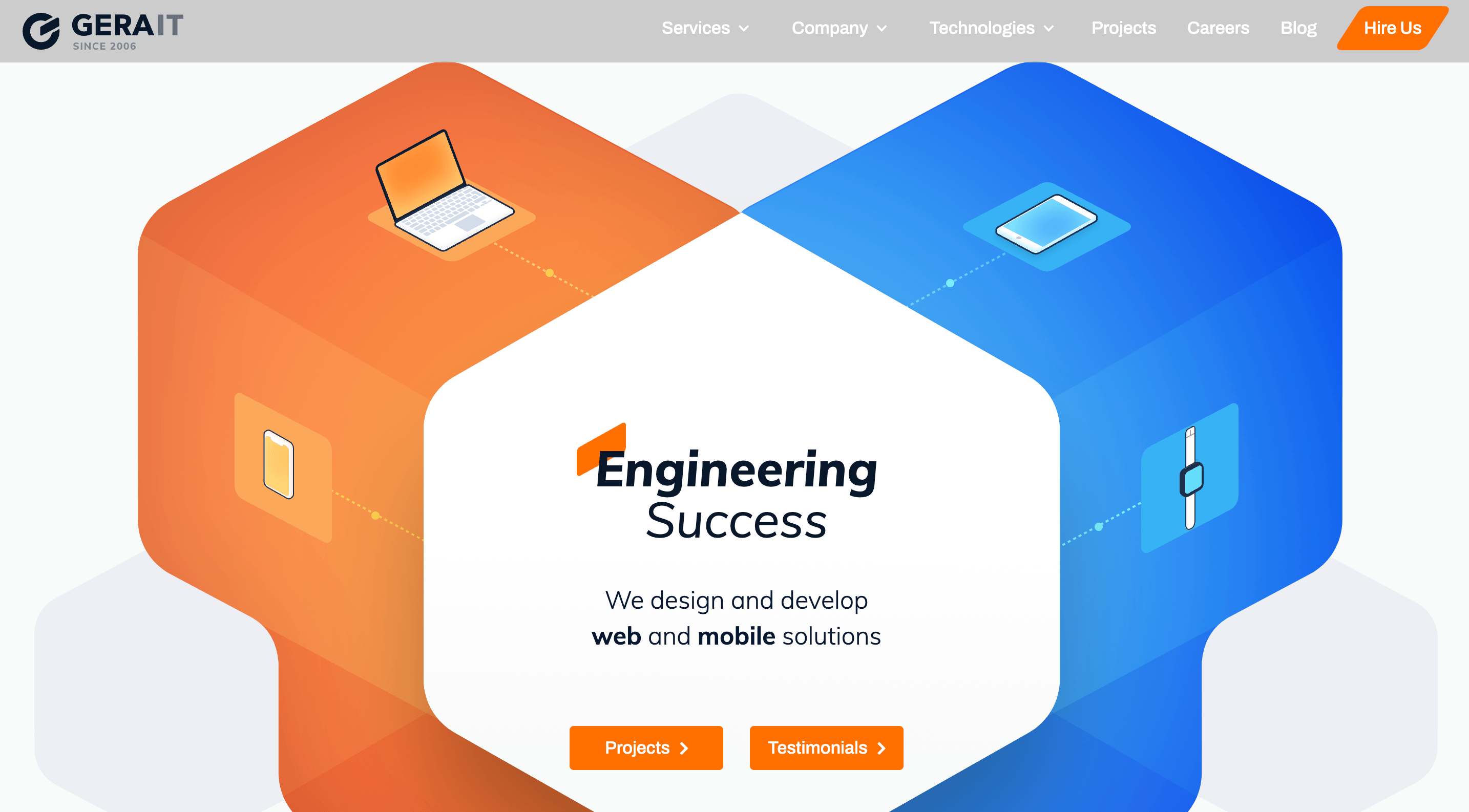 Gera-IT is one of the most renowned IT outsourcing companies established way back in 2006. Since the first day, the company has set a prominent mission — to bring innovations that add value to clients' businesses. With that motto in mind, Gera-IT has delivered over 135 successful projects, and they don't plan to stop there.
Ensuring maximum job performance and dedication, Gera-IT helps your organization grow and improve by integrating with its top-level teams and offering a robust software development approach. Whether you want to build a web or mobile app, create a fascinating UX/UX design, or perform in-depth business analysis, their professional team has years of expertise and knowledge to deliver significant results.
Experienced in handling advanced tech, Gera-IT provides services to both startups and businesses in the following industries: Healthtech, Education, IoT, Finance, and Business Automation. They're the key to your engineering success!

With a focus and track record for helping SaaS startups transform their ideas from concept to profitable ventures, Varyence makes the list due to the consistent results they deliver for their clients. Some of their happy clients will tell you, "Their professionalism, communication, and reliability are the most impressive."
Since 2012, companies have come to rely upon Varyence to turn their ideas into reality, scale their business, and secure their digital environments. With over 100 employees and offices in Ukraine, Croatia, and the United States, Varyence utilizes a proven approach combined with global delivery.
Varyence can help you define product roadmaps and go-to-market strategies, and complement this with technology leadership to build, lead and manage engineering teams that can get your product to market quickly.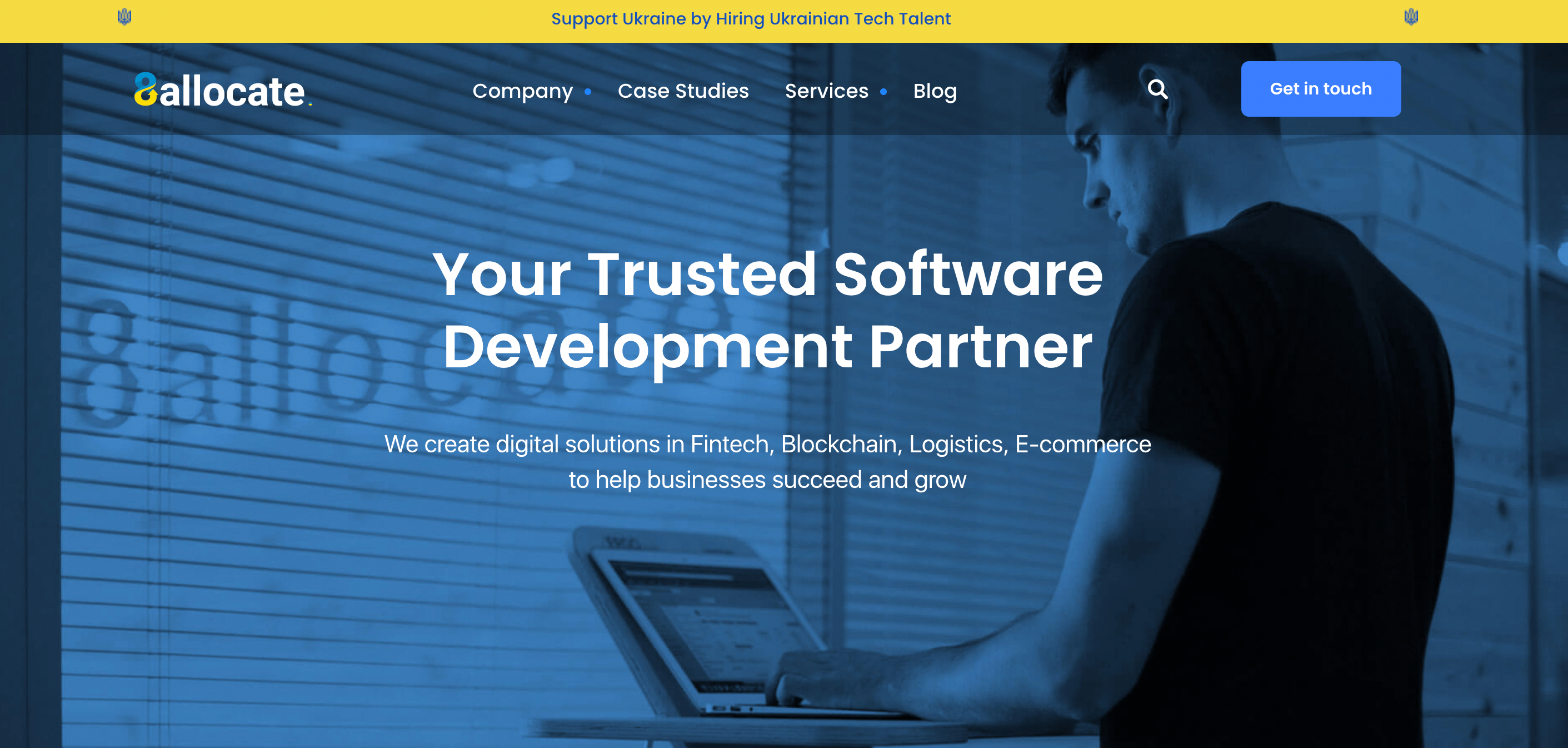 8allocate is one of the best software development companies in Ukraine that aims to help firms take up a value-based view on outsourcing. This is crucial as conventional cost-based outsourcing strategies are losing their usefulness. 8allocate helps clients create highly effective dedicated or distributed software development teams, locally or remotely, at its R&D facility in Ukraine.
Their team delivers custom software solutions using advanced technologies such as blockchain, VR/AR, ML, 3D, and AI. They're proficient in various programming languages like PHP, Java, React.js, Node.js, etc. The company's project catalog comprises cutting-edge products for start-ups and established organizations, ranging from AI-based traffic arbitrage systems to XDR wallets for cryptocurrency companies. Other domains they work with include Fintech, Logistics, Blockchain, and E-commerce. 
Moving away from cost-based outsourcing and toward value-based outsourcing, 8allocate is maintaining its expertise in staffing solutions and IT consulting. They foster long-lasting relationships with their clients and assist them in achieving their objectives and KPIs.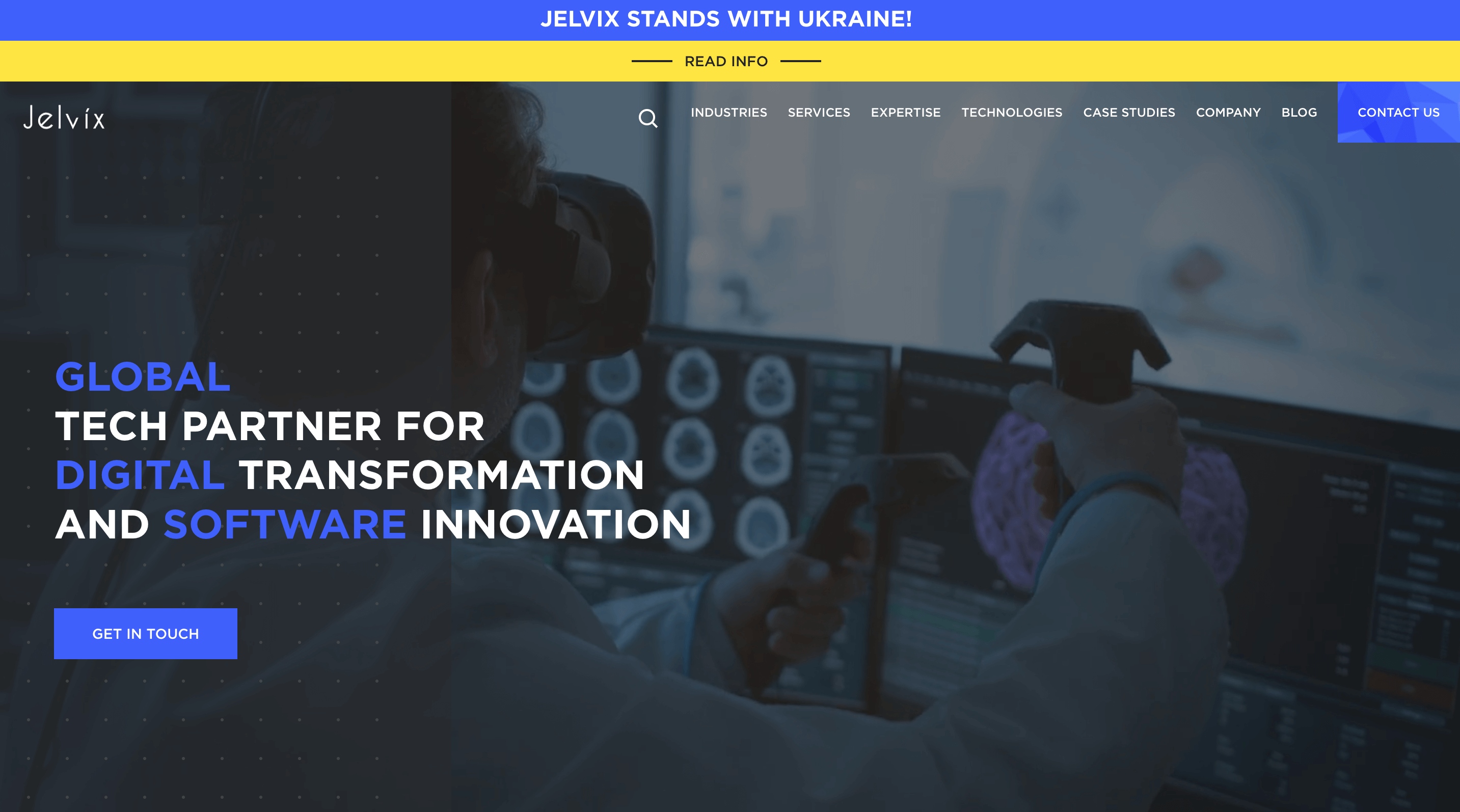 Jelvix is a Ukrainian leader in software development that will help your business beat the competition. They specialize in sophisticated product development to improve clients' customer service and operations and automate corporate processes. For over ten years on the market, their tried-and-true development teams have assisted companies of different sizes in their business expansion, introducing the newest technologies into their workflows.
Jelvix serves clients from Fintech, Healthcare, Retail, Insurance, Media & Entertainment, Automotive, and numerous other industries. Their services include full-cycle software development, mobile app development, QA & testing, technical support, IT strategy & consulting, CTO as a service, and DevOps. Jelvix's expert developers are proficient in Java, .NET, Python, Android development, iOS development, PHP, Ruby, Javascript, and C++ technologies. 
Work with Jelvix to solve your business challenges by leveraging the benefits of innovative technology solutions!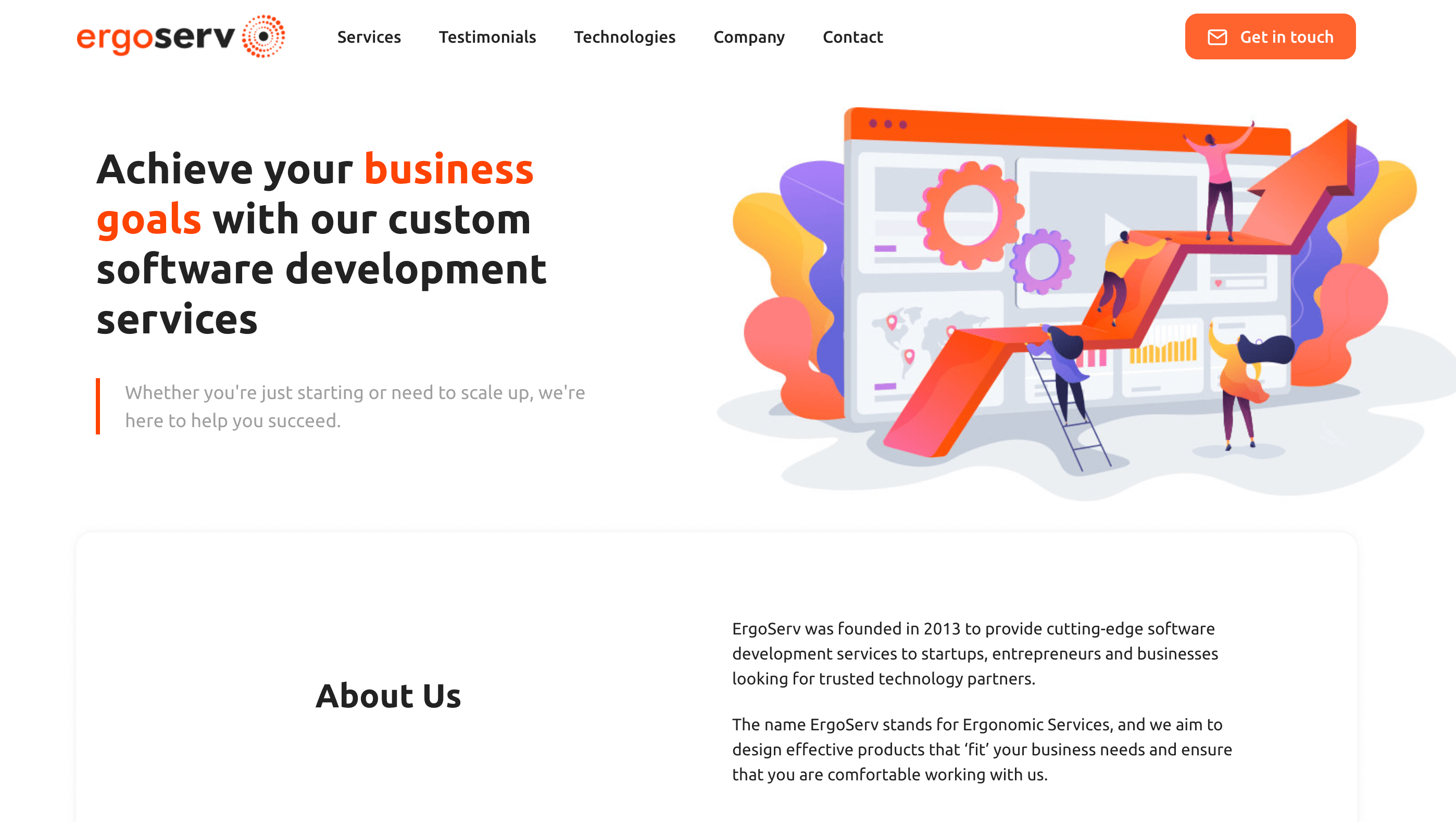 Founded in 2013, ErgoServ is a full-cycle software development company in Ukraine that helps numerous businesses worldwide achieve their goals with the help of custom digital solutions. Using the latest technologies, the company's high-skilled professionals are doing their best to enhance end-user experiences, meeting clients' specific IT needs.
ErgoServ covers every stage of the development process, implementing new project ideas and upgrading existing products. Following the customer-first approach, their team delivers custom software, MVP, SaaS, server backend, QA, and API development services as well as provides IT staff augmentation services.
From ideation to execution — ErgoServ will help build your dream product on time and within your budget!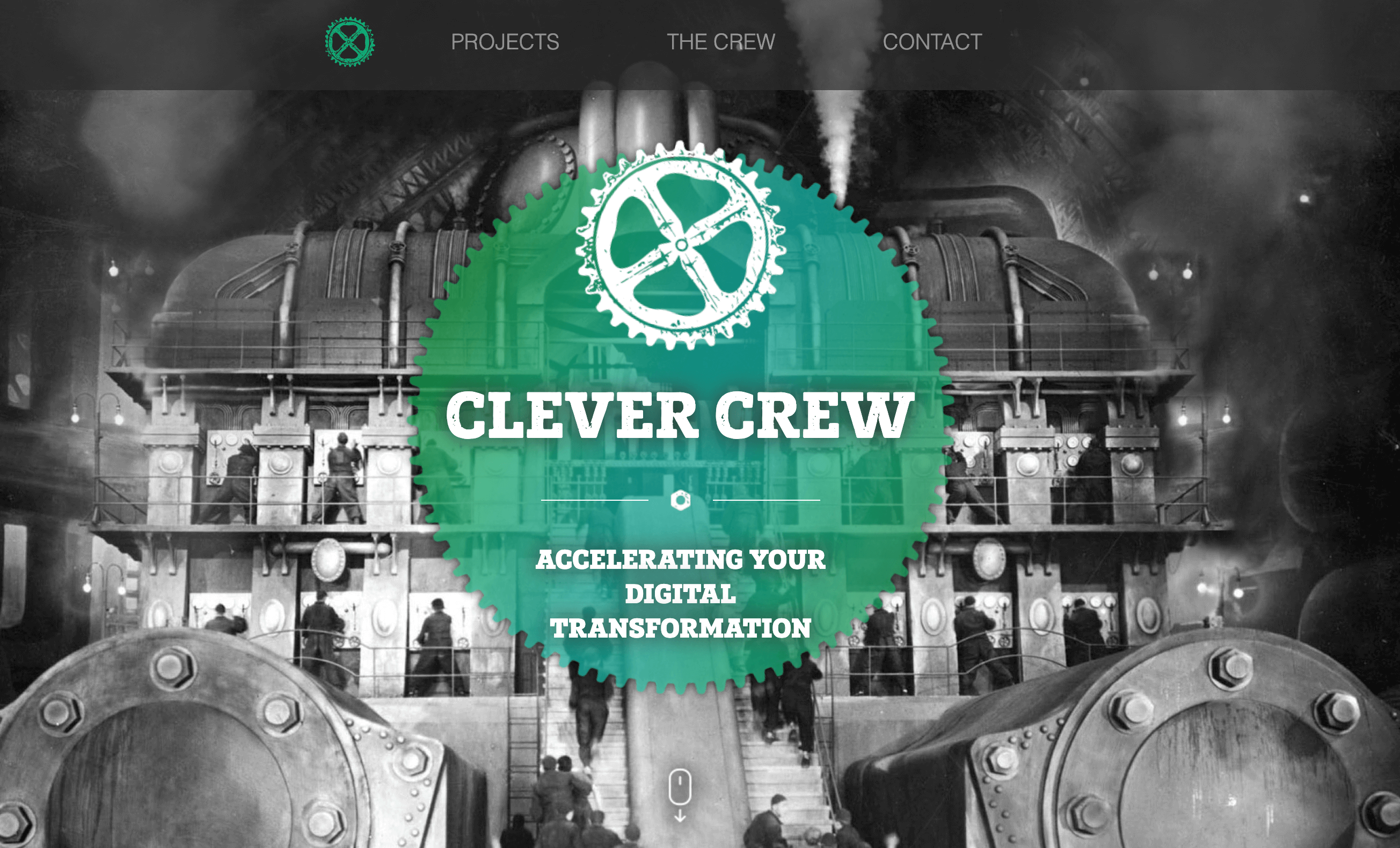 Mini but mighty, would be a great way to describe CleverCrew. They make the list, due to despite having under 30 people working for them (all Ukrainians), they deliver high-impact value for their clients. A personal touch is applied to each client as the founders make sure to be deeply involved with each project.
After seven years of working in this manner, this entails taking a smaller number of clients. With that said, it means each project receives a uniquely high degree of attention from senior developers, leading most customers to exclaim "Amazing team and customer care!"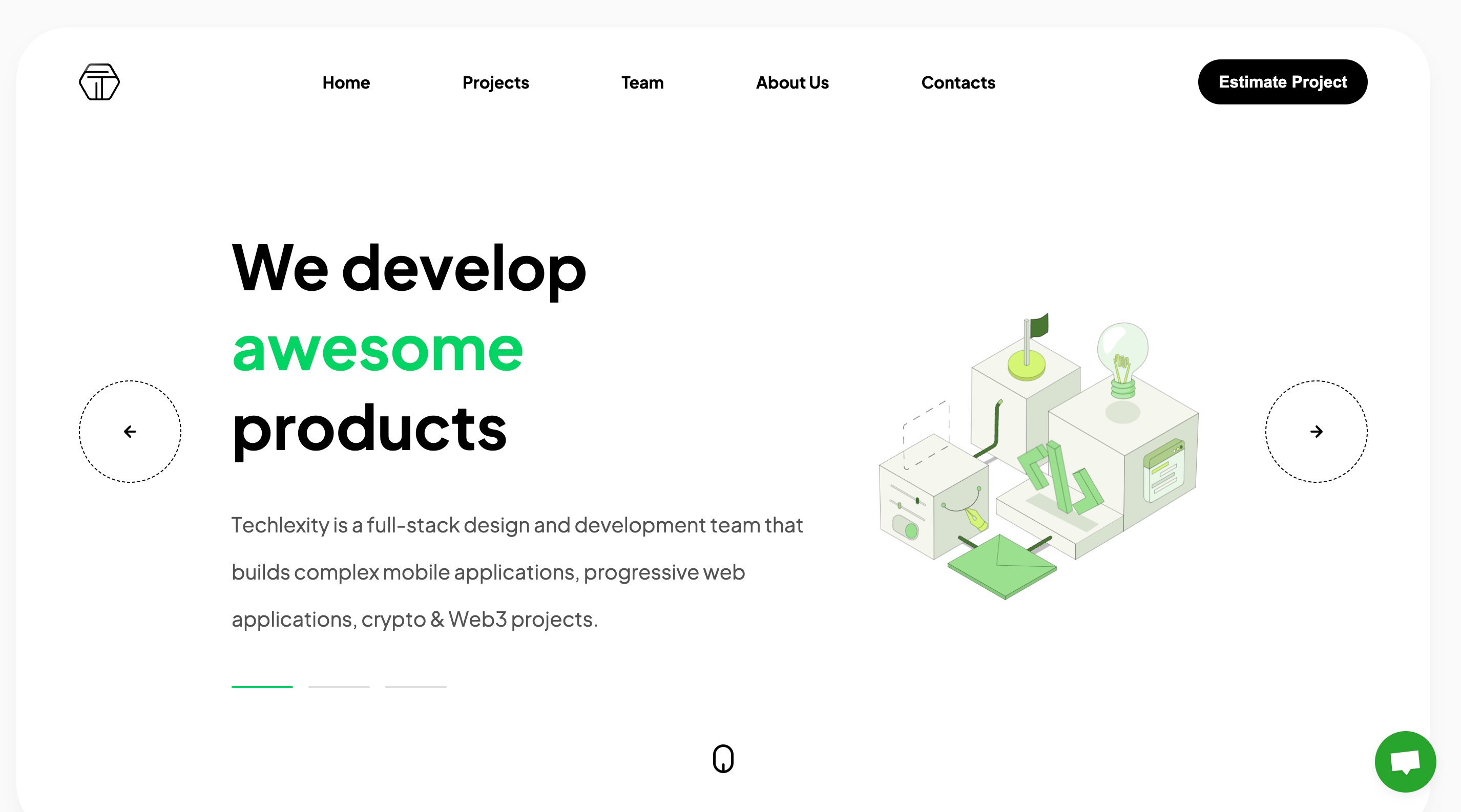 Techlexity is a Ukrainian full-stack product design & development company with over 5 years of experience, offering comprehensive services for mobile & web development, UX/UI design, blockchain development, and QA testing. 
Techlexity's development process is based on 1-2 week development sprints and 1-2 days of QA and involves continuous deployment and customization where needed. They combine your fantastic ideas with their cutting-edge tech skills to create a custom solution that will enhance your business. 
The company has implemented various prominent projects in dating, healthcare, fintech, taxi, delivery, messengers, video/audio chats, AR/VR, sports, and social. Working with both startups and enterprises, their top-rated team delivers innovative software solutions that keep pace with time and add unique value to businesses.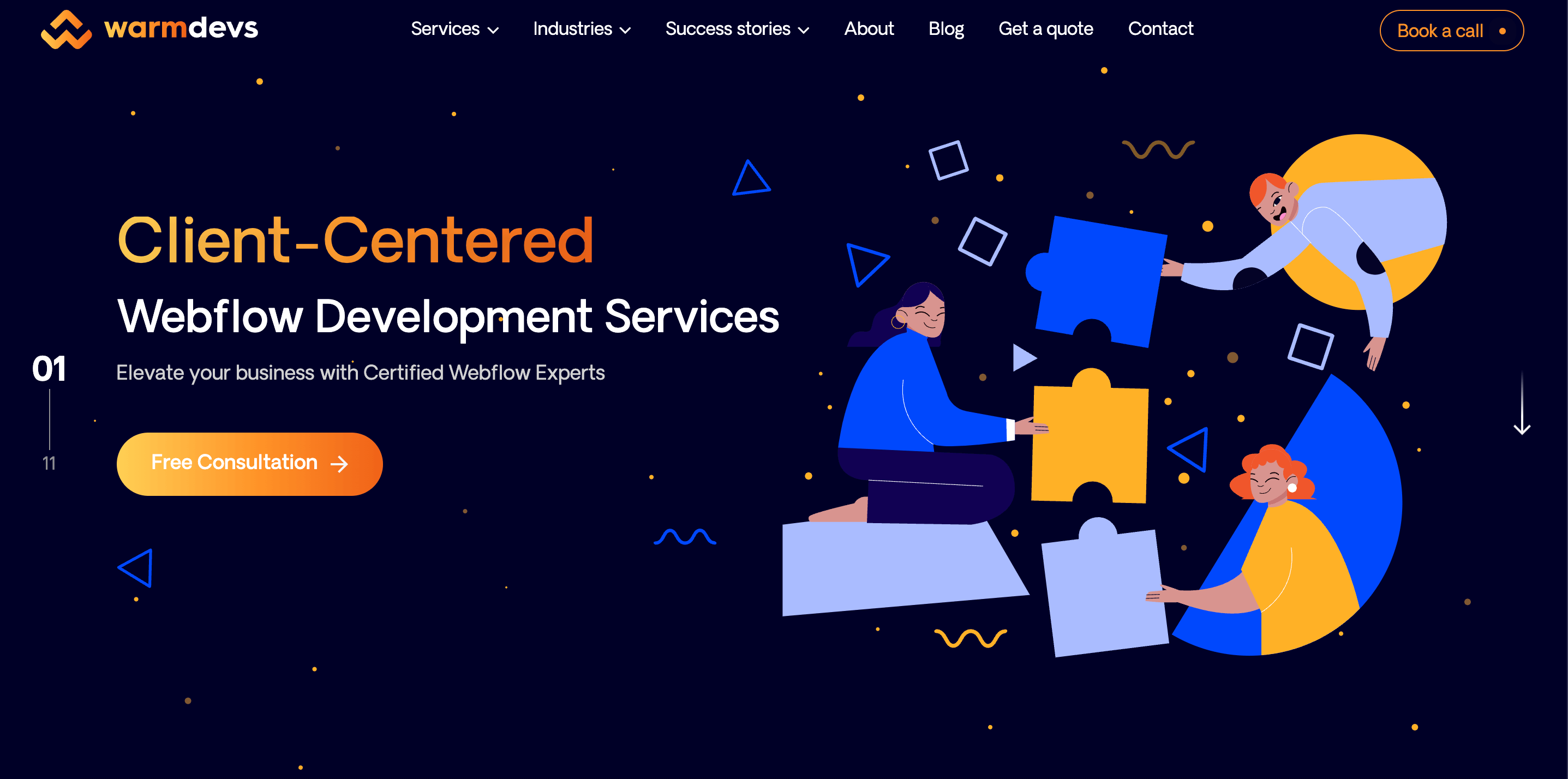 As a Webflow professional partner, Warmdevs brings its renowned expertise in developing no-code and low-code solutions for clients all over the globe: from the US to Israel, to Australia, and further. Warmdevs was established by 4 enthusiasts in 2016 in the Ukrainian city of Chernivtsi, and since then has grown to employing 35 specialists and reaching the mark of 200 successfully delivered projects. Its modest size doesn't hold Warmdevs back in the slightest, as the team shows dedication to getting fully involved in each project and providing each customer with a truly personalized approach.
Warmdevs offers services in Webflow development, building MVPs for startups, and providing SaaS companies with low-code solutions. The agency works with enterprises of all sizes in a wide range of industries, such as retail, finance, artificial intelligence, healthcare, and real estate.
Warmdevs's main goal is to help its clients build successful digital products and scale their businesses. And keeping it warm and humane is Warmdevs's main motto.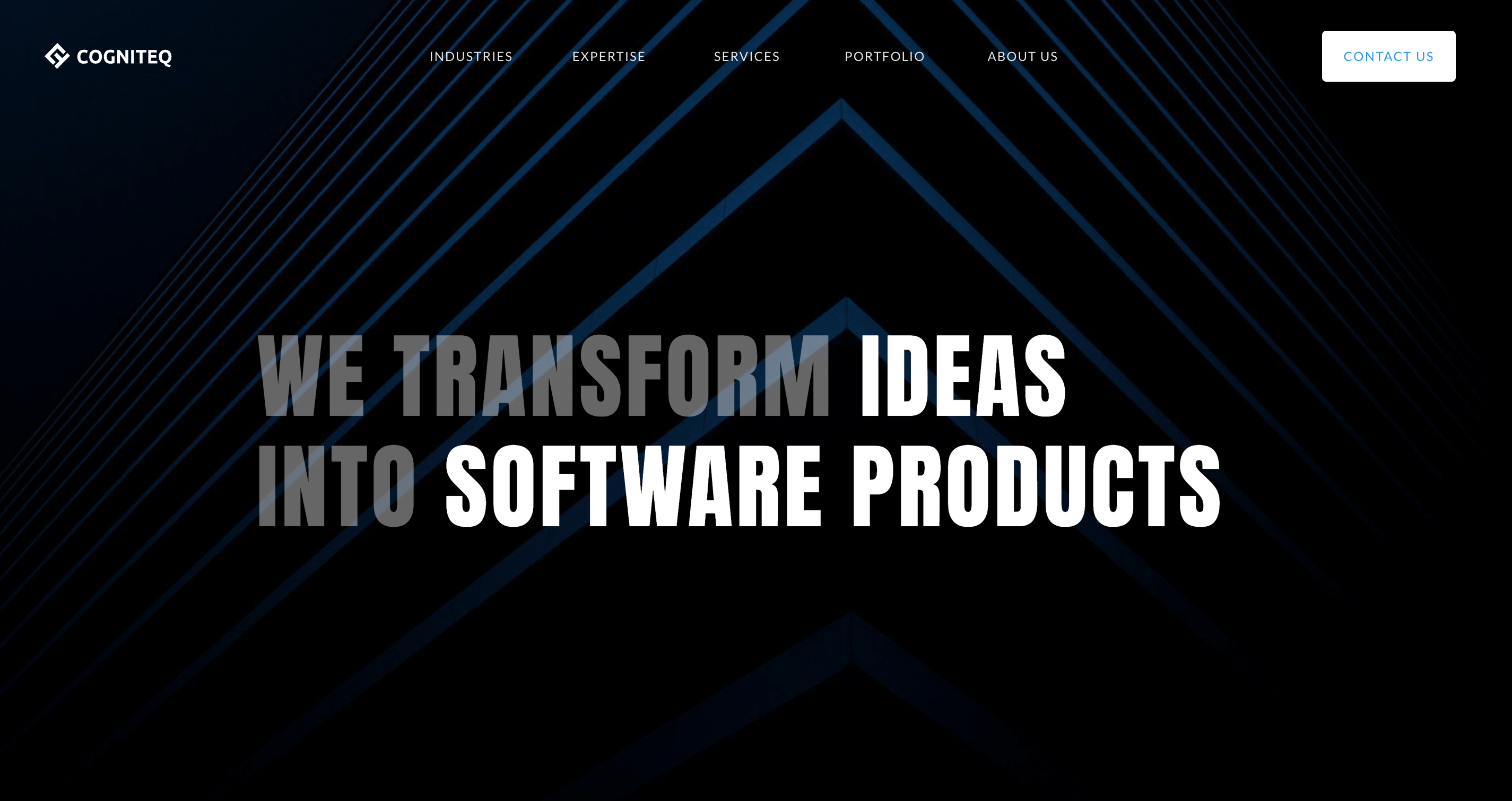 Cogniteq is a custom software development company with a team of more than a hundred IT specialists. Founded in 2005, the company has successfully completed over three hundred projects for clients from all over Europe, Asia, and the US. 
The dominating industries the team at Cogniteq is focused on include but aren't limited to Sports, Healthcare, Banking & Finance, eLearning, and Social Networking. The company takes pride in building solutions for global leaders, such as L'Oreal, Mcdonald's, Volkswagen, Audi, American Express, DHL, and Bosch.
The team at Cogniteq has accumulated unparalleled expertise in Machine Learning, IoT, AR/VR, Live Streaming, and Cybersecurity, so if you are in search of skillful developers in Ukraine for hire, get in touch with Cogniteq.
The top priority of KnubiSoft is to assure their clients' successful development of their products while creating a harmonious working atmosphere for their staff. Not always an easy task in the highly competitive fast-paced work of software development, which is why KnubiSoft makes the list. The demanding clients seek their technical expertise in areas such as web and mobile development, cloud migration, bugs, performance issues, troubleshooting, and more.
Providing full-cycle IT solutions leading to the development of top-class software, KnubiSoft also builds its own unique products for the market. A good example is the cost optimization testing tool, which is an affordable and functionally unlimited framework for developing automated tests that can cover UI and multiple REST-APIs all within a single test scenario.
With that said, they handle all the expertise needed to take a project from conception to launch. Be it software development, team augmentation, UI/UX design, or QA development, KnubiSoft has what it takes to get your business from point A to point B.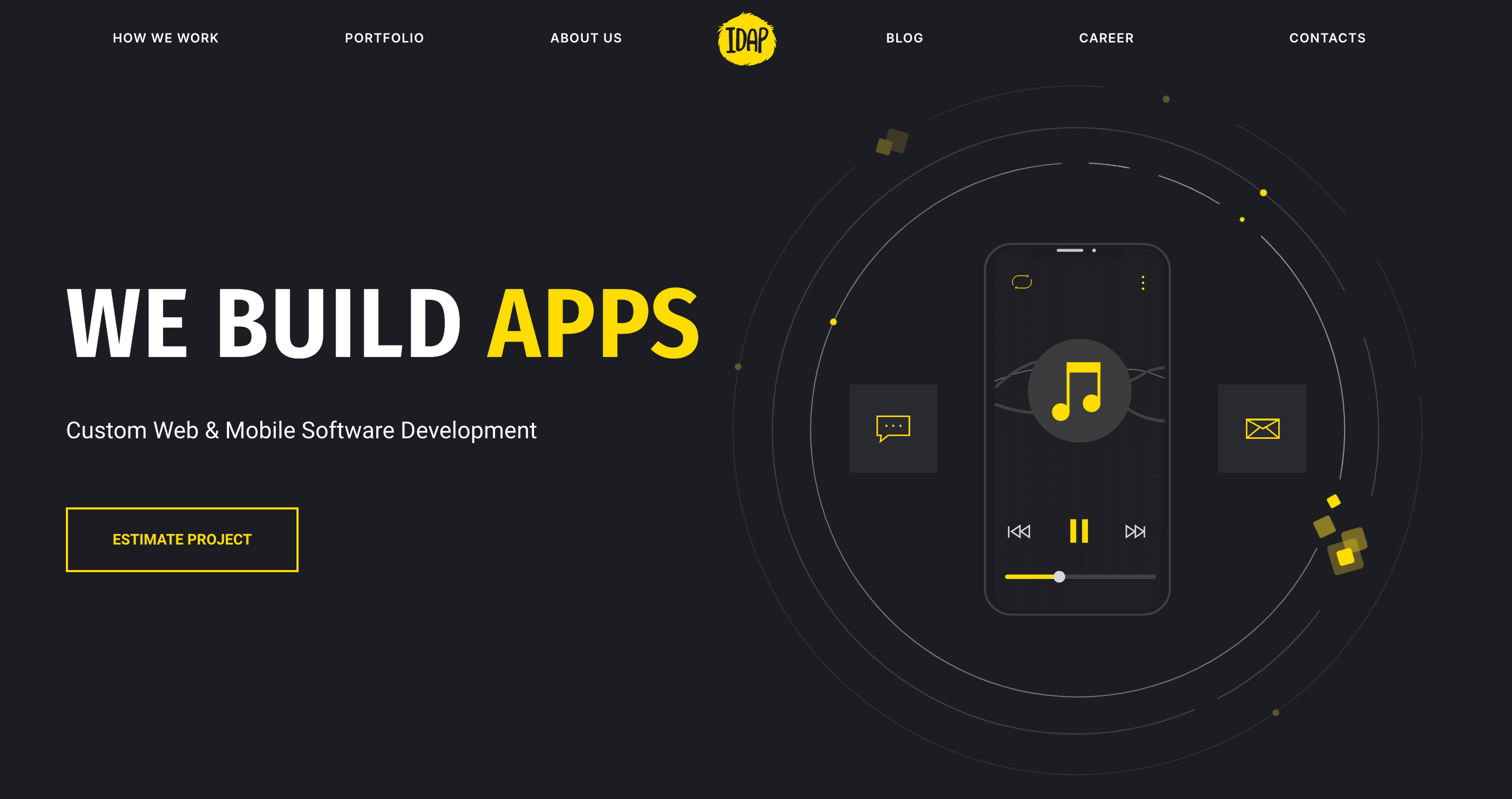 IDAP is a Ukrainian IT software development company with engineering centers all over the world, including the USA.  
With a decade of experience since its establishment in 2012, the firm has successfully delivered 200+ projects for startups, established businesses, and renowned brands in various sectors such as Retail, Finance, Healthcare, Entertainment, Travel, and Transportation. The company provides a range of services, including software consulting, UI/UX design, QA, custom software development, and DevOps, to optimize businesses and support their growth.
At IDAP, they treat your product as if it were their own – which means that the reliability, scalability, security, and performance optimization associated with each project are always their top priority. They provide full maintenance support for all delivered projects, covering bug fixing, upgrades, and feature improvements. With IDAP, you can be sure that your project will be delivered on time with the highest quality and within budget.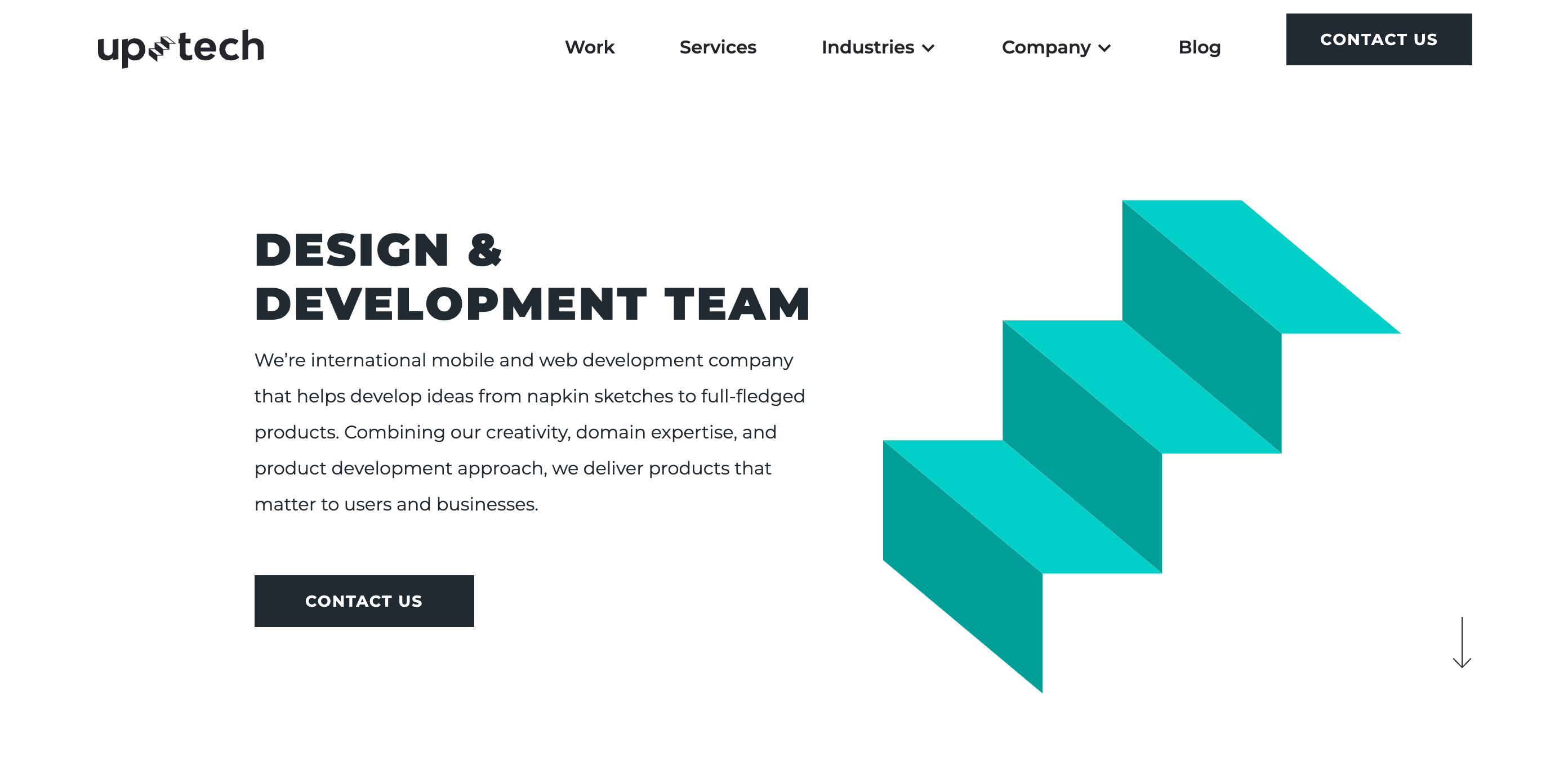 Uptech is a leading international mobile and web app design & development company. Founded in 2016, the firm offers cutting-edge solutions to startups and Fortune 500, Inc. 5000 companies, helping them bring their ambitious ideas to life. Having worked with some of the most innovative companies in 12 countries, Uptech has launched over 150 successful products and helped clients raise over $2.2M in investments. Uptech's clientele includes Unilever, Aspiration, Dollar Shave Club, Yaza, Drone Base, and others.
They offer a broad spectrum of services, such as business analysis, UI/UX design, mobile and web app development, custom software development, and staff augmentation. The company is driven by a noble mission of developing top-quality digital solutions that positively change people's lives.
Uptech has earned recognition from Clutch, being listed among the Top 1000 B2B Companies and Top 100 App Development Companies worldwide.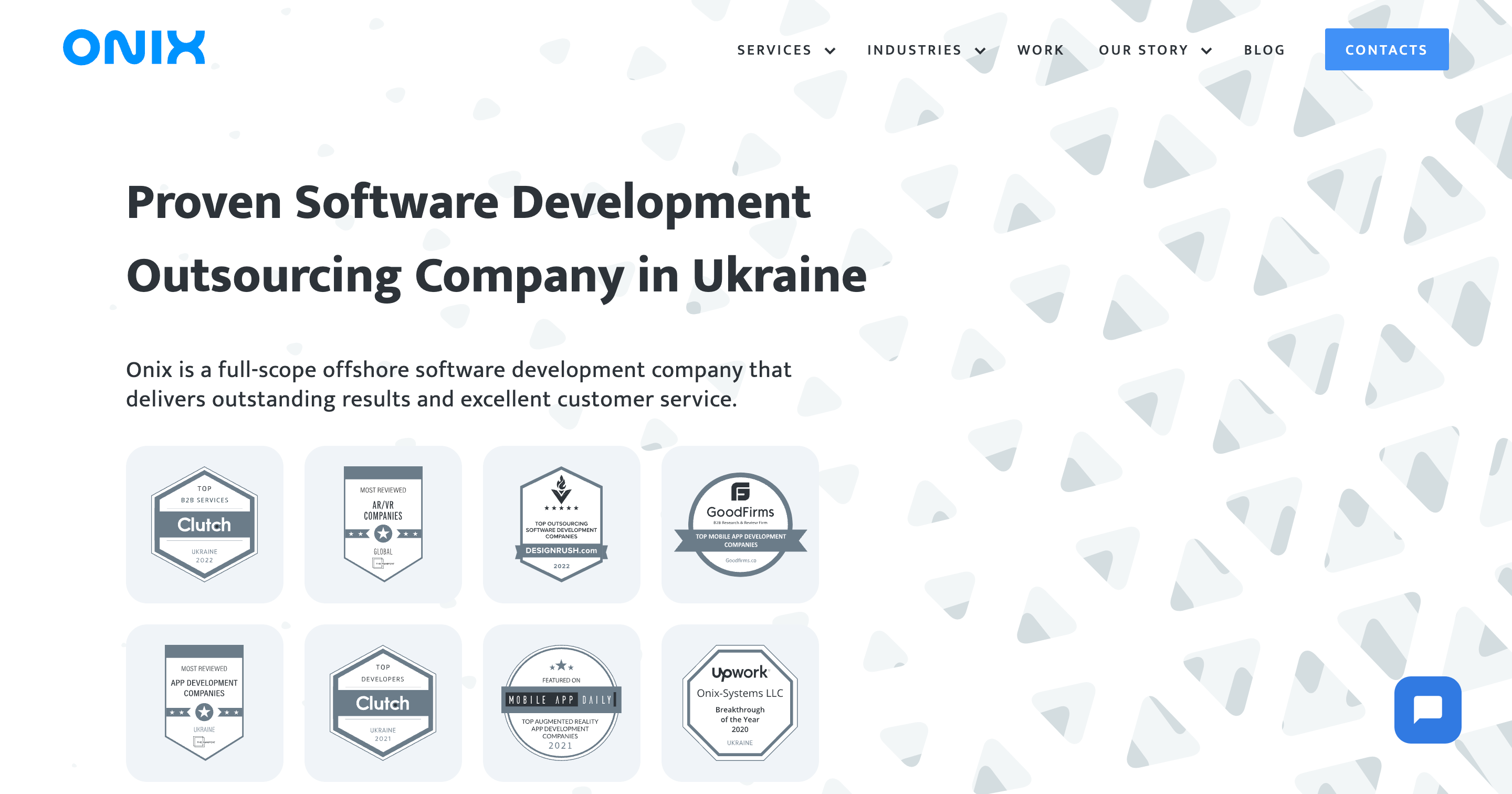 Onix Systems is a leading name in the world of custom travel software development. Based on their extensive expertise and dedication to excellence, Onix Systems has earned a stellar reputation as a trusted partner for businesses in the travel industry in Ukraine and beyond.
With a team of highly skilled developers, designers, and QA specialists, Onix Systems is well-equipped to provide tailored digital solutions that cater specifically to the travel sector. Their proactive approach and commitment to meeting deadlines ensure that clients receive high-quality software solutions on time.
Whether you require the development of a booking platform, travel management software, or any other travel-related application, Onix Systems has the knowledge and experience to bring your vision to life. Their proficiency extends to various platforms, including web, mobile (iOS and Android), and desktop (macOS, Windows, and Linux). Additionally, Onix Systems offers expertise in blockchain systems, IT support, and quality assurance.
For businesses seeking exceptional UX/UI designs for their travel websites or mobile apps, Onix Systems can also deliver brilliant design solutions that enhance the user experience.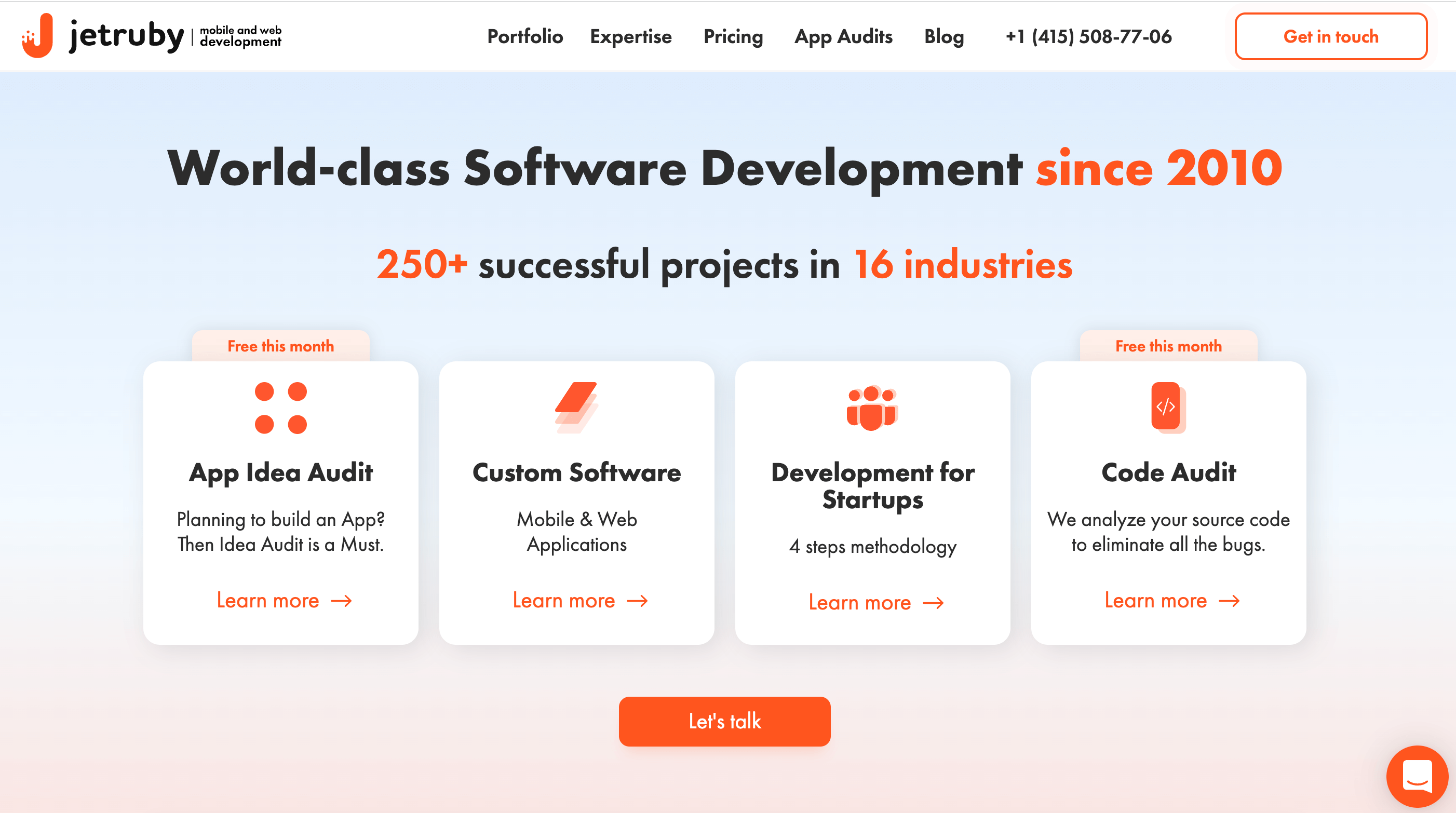 JetRuby's story started in 2010, and the company has delivered over 250 successful projects. The company now boasts a hundred in-house engineers, 29% of which are Senior level. 
JetRuby is focused on building web and mobile applications for various industries, including Real Estate, Healthcare, Education, Social Media, eCommerce, Travel, Logistics, Health & Fitness, Productivity, and AgriTech, among others.
The JetRuby team is ultimately client-oriented — they make the most of their technical and management expertise to ensure that the clients get everything needed for early market launch. 
If you're looking for reliable developers in Ukraine who can navigate your startup toward great success, JetRuby is a great choice. In 2010, they were a YC startup, and as a result, they have direct experience handling challenges that every startup goes through.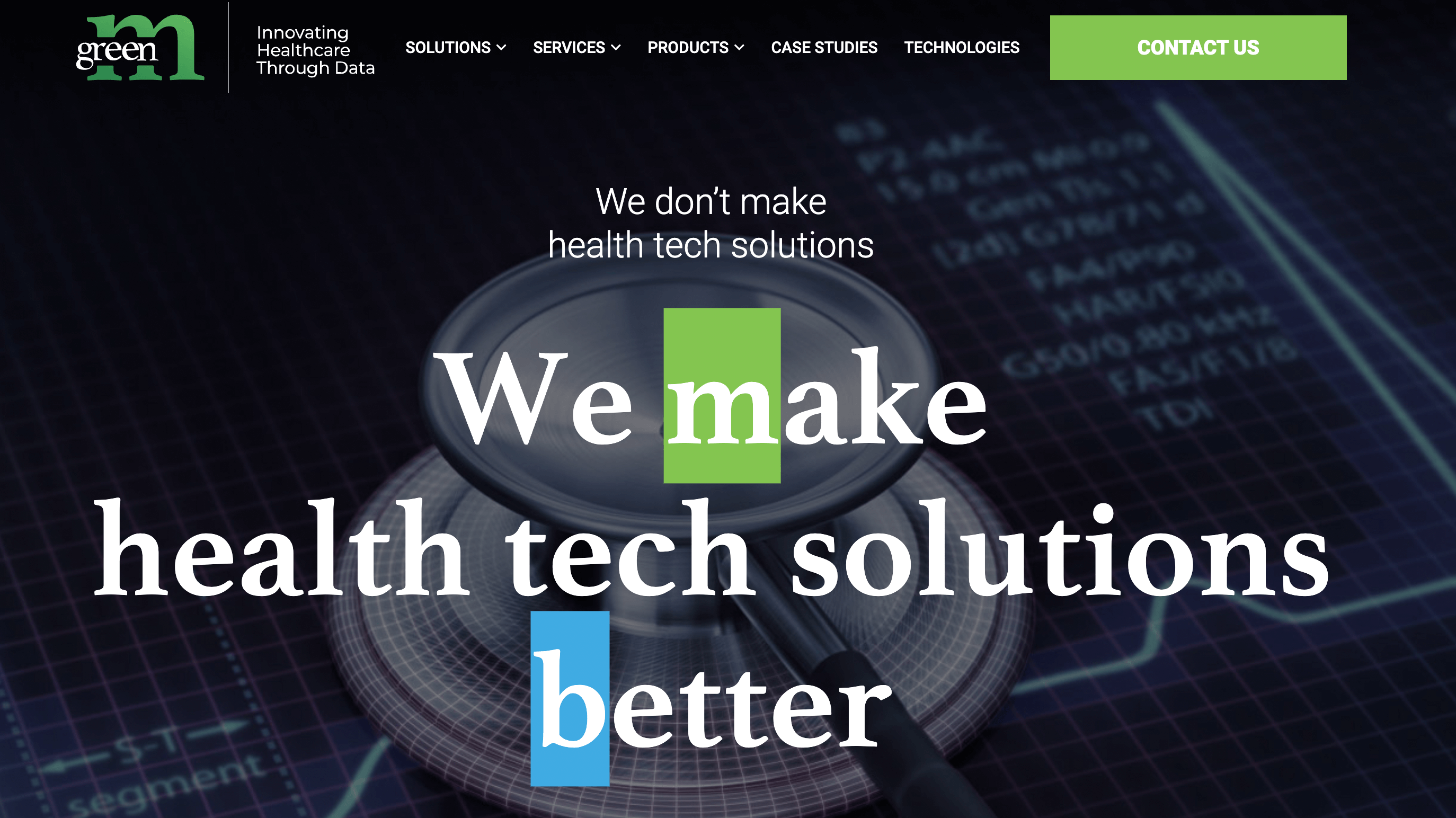 GreenM is a software development company headquartered in Kharkiv, Ukraine, and has two offices — in Kyiv, Ukraine, and in Redwood City, USA. 
GreenM is renowned for developing innovations exclusively for the Healthcare industry. Their team of thirty niche experts has extensive expertise in Healthcare development and deep knowledge of the market. 
By entrusting your development to GreenM, you'll not only get a high-grade solution but also be granted peace of mind that sensitive data within your application will ultimately be safe and secure, and the product will comply with all the applicable regulations.
That's not all — the team at GreenM utilizes their frameworks, cutting-edge data management tools, and a library of building block components, which allows their clients to access the features early.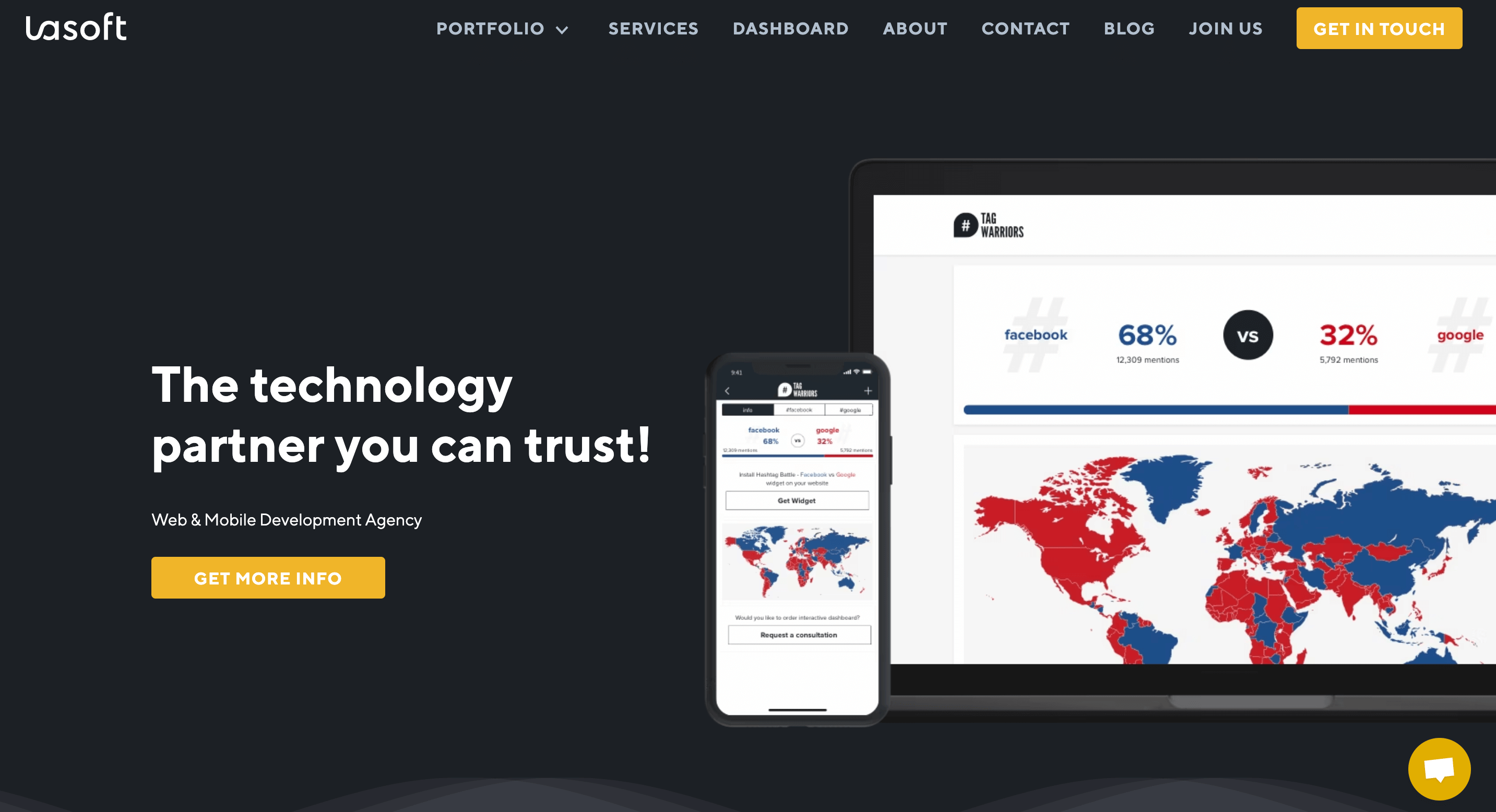 Founded in 2014 in Lviv, LaSoft has a team of over a hundred specialists, including software engineers, UI/UX designers, product designers, QA experts, PMs, and DevOps. The LaSoft team has successfully completed over 85 SaaS projects as well as built more than 300 products for clients from Canada, Israel, the Netherlands, the UK, the USA, and other countries.
Today, the company has offices in Lviv, Ukraine, and Lodz, Poland. LaSoft offers web development, mobile development, product design, and QA services. 
The company works with a range of industries, with Real Estate, GPS, Navigation & GIS, while Advertising & Marketing dominates their portfolio.
S-PRO is a software development and consulting partner with offices in Kyiv, Zürich, Warsaw, Lisbon, and Berlin. They have eight years of experience providing end-to-end development services. 
The S-PRO team has remarkable expertise in UI/UX Design, mobile and web development, blockchain, Big Data, Cloud Engineering, Artificial Intelligence, and Machine Learning solutions. The company is primarily focused on three industries — Healthcare, FinTech, and Energy.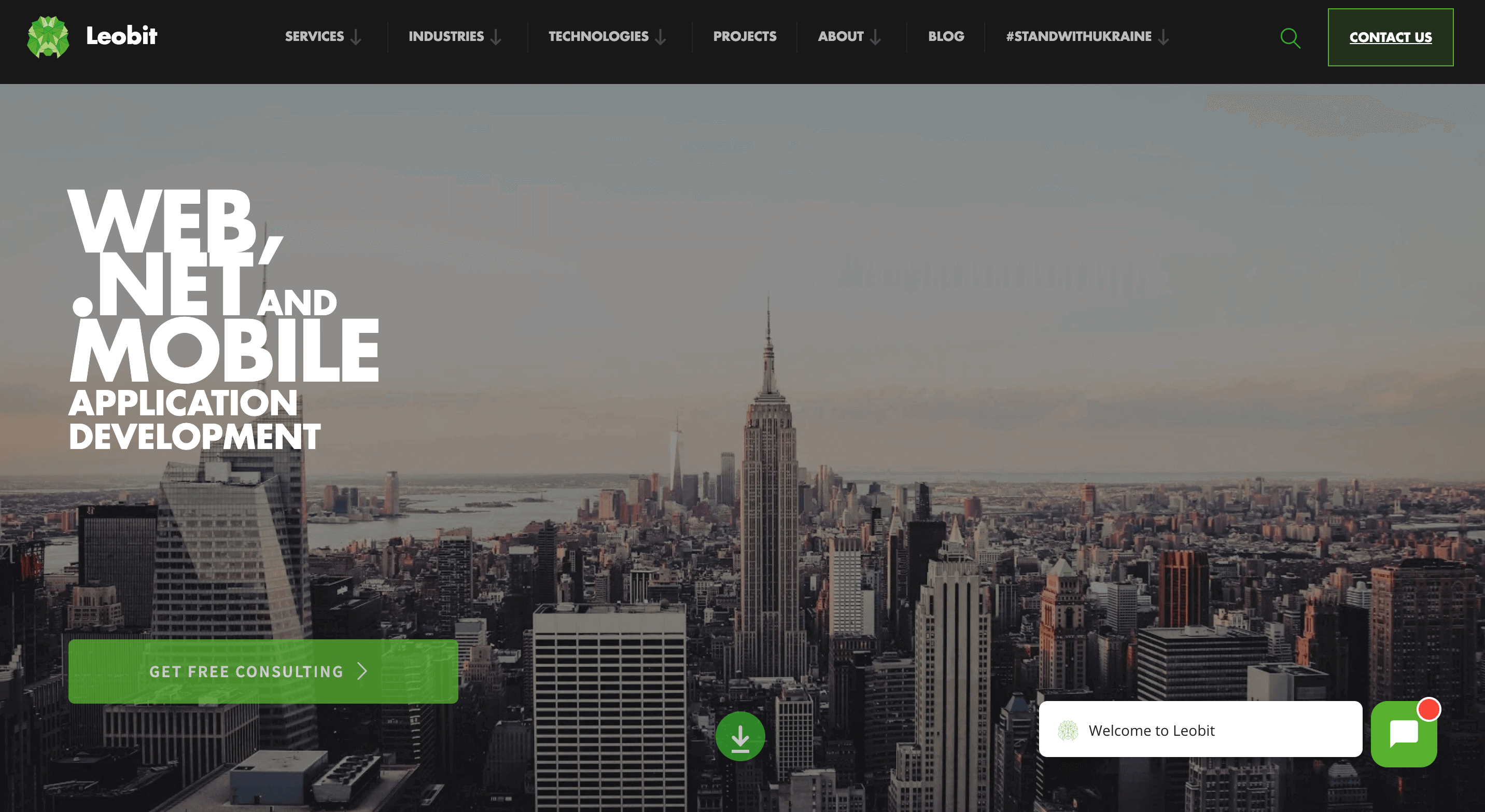 Leobit is a top-rated full-cycle software development company in Ukraine, primarily serving clients from the United States, Canada, Australia, European Union, and the United Kingdom. Founded in 2014, the company has already expanded to 160+ talented software engineers, architects, testers, and UI/UX designers in the team. With extensive experience and knowledge, their team delivers high-end solutions for Healthcare, Real Estate, Banking & Finance, Streaming, Media & Telecom, Logistics, E-learning, and other industries.
Through its 9 years on the market, Leobit has implemented over 150 cutting-edge web & mobile apps for clients ranging from Fortune 500 firms to Silicon Valley startups. You can confidently trust them with your project when looking for the following services: dedicated team, .Net development, web app and mobile add development, architecture design, UI / UX design, quality control and testing, application support, and maintenance.
With their customer-centric approach and impeccable trust score, Leobit was named one of the top.NET companies in Ukraine by Clutch.co and the #1 IT Employer in Lviv, Ukraine, by DOU.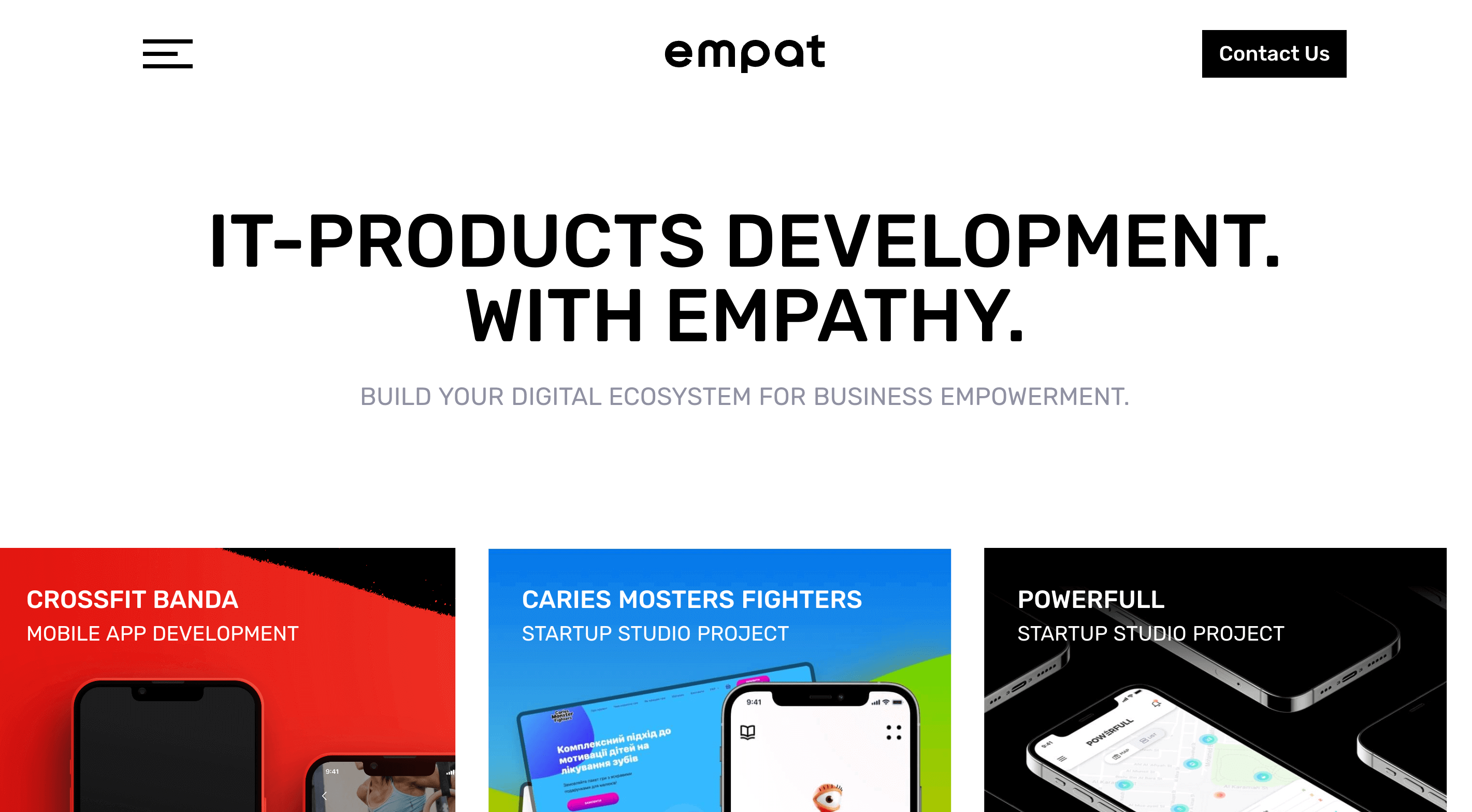 Empat is a full-service app, web, and software development agency that begins its story in 2013.
They've partnered with well-known brands such as Porsche, Dominos Pizza, Panasonic, and Heinemann Dutyfree, and their developed apps and the company by itself have received numerous press mentions in media outlets. For example, one of their brilliant products, Obimy, gained 10 million users in a few months.
The company covers every software development stage, from business analysis and discovery to production, and testing to post-release support.
Empat don't outsource their work; instead, they have a proficient in-house development team with a headquarter located in the very heart of Kyiv, Ukraine.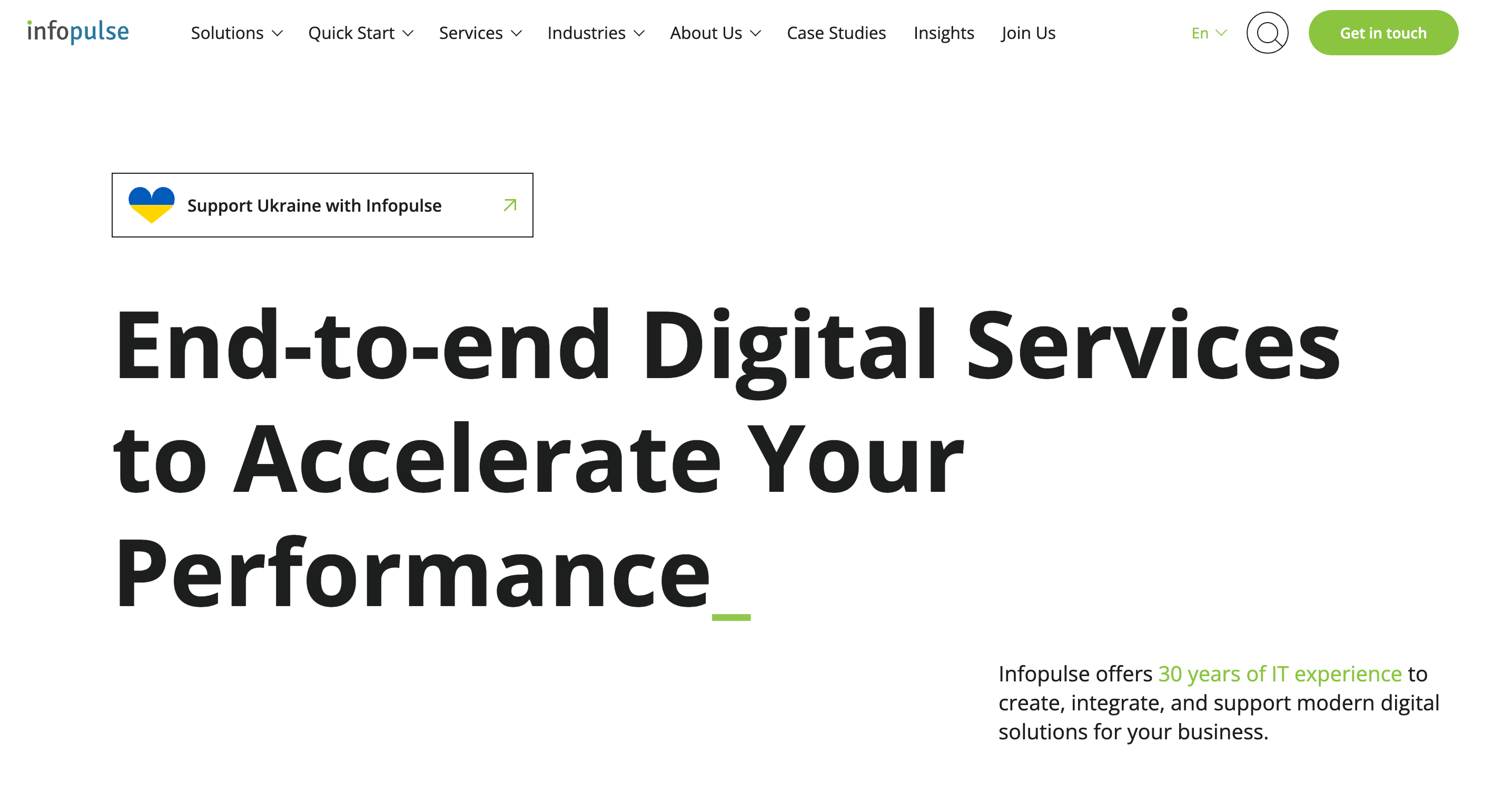 If you're looking for a company with the longest possible IT experience and versatile talent, Infopulse has you covered. This firm has been in the industry for over 30 years, and its team has grown to more than 2,300 experts since the company was founded. Headquartered in Kyiv, Infopulse also has offices in seven other countries across Europe and the Americas.
As one of the best software development companies in Ukraine, Infopulse offers a broad range of high-grade IT services, including blockchain development, IoT development, and XR solutions. 
The company has extensive expertise in software solutions for Hi-Tech, Banking & Finance, Telecom, Energy, Oil & Gas.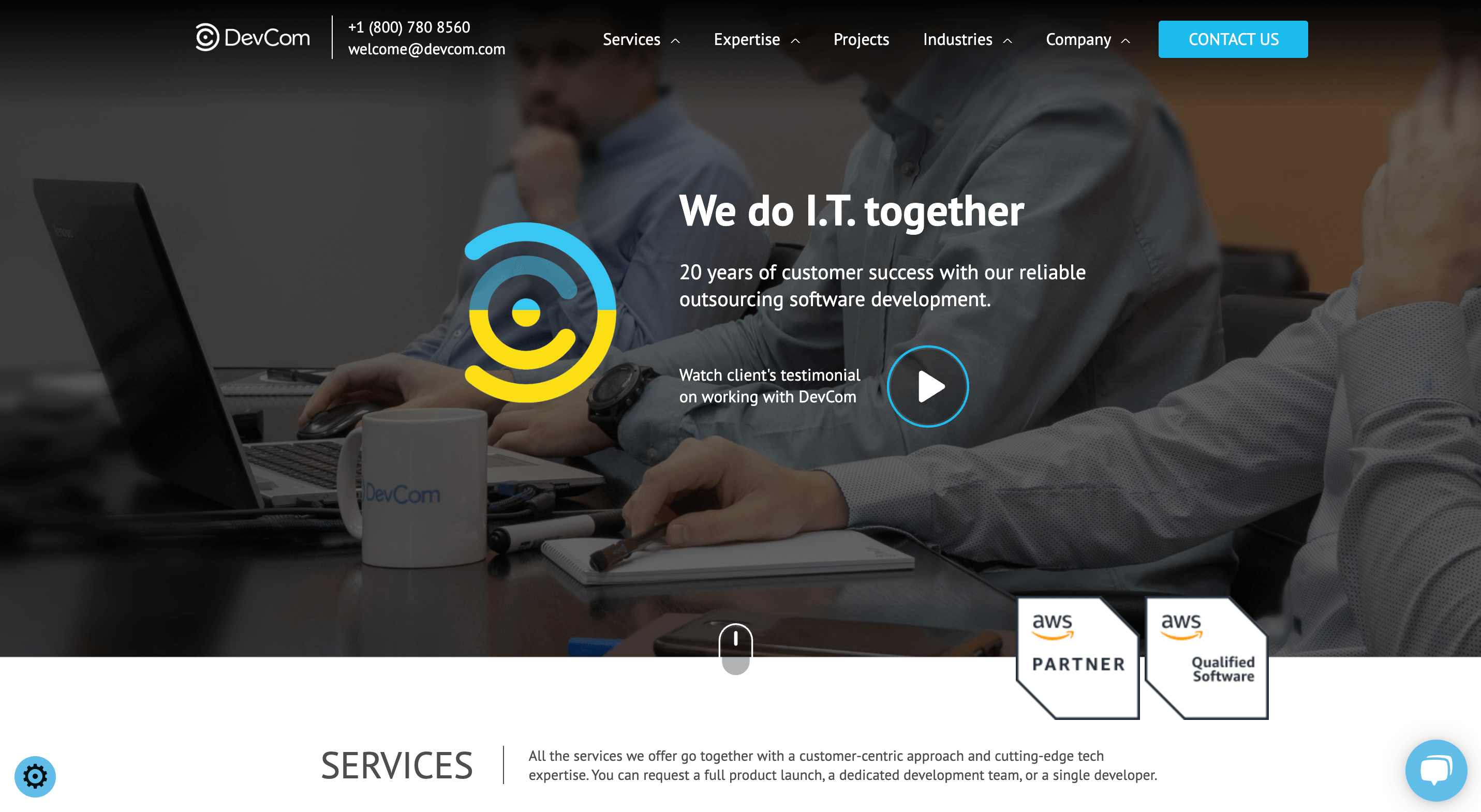 Meet DevCom — a Ukrainian software development company that has been in the market for over 20 years. DevCom was founded in Lviv in 2000 and today has a team of over a hundred IT specialists. Their particular specialty is end-to-end development, from strategic planning and design to delivery and continuous support.
In terms of industries, the DevCom team focuses on Logistics & Transportation, Gas & Oil, Healthcare, Non-Profit, FinTech, Construction & Engineering, Sport & Entertainment, and Retail & eCommerce. 
The company specializes in custom software development for enterprises, web, mobile, and desktop development, DevOps, cloud computing (AWS, MS Azure), SaaS and API development, blockchain, BI, Big Data, and technology consulting.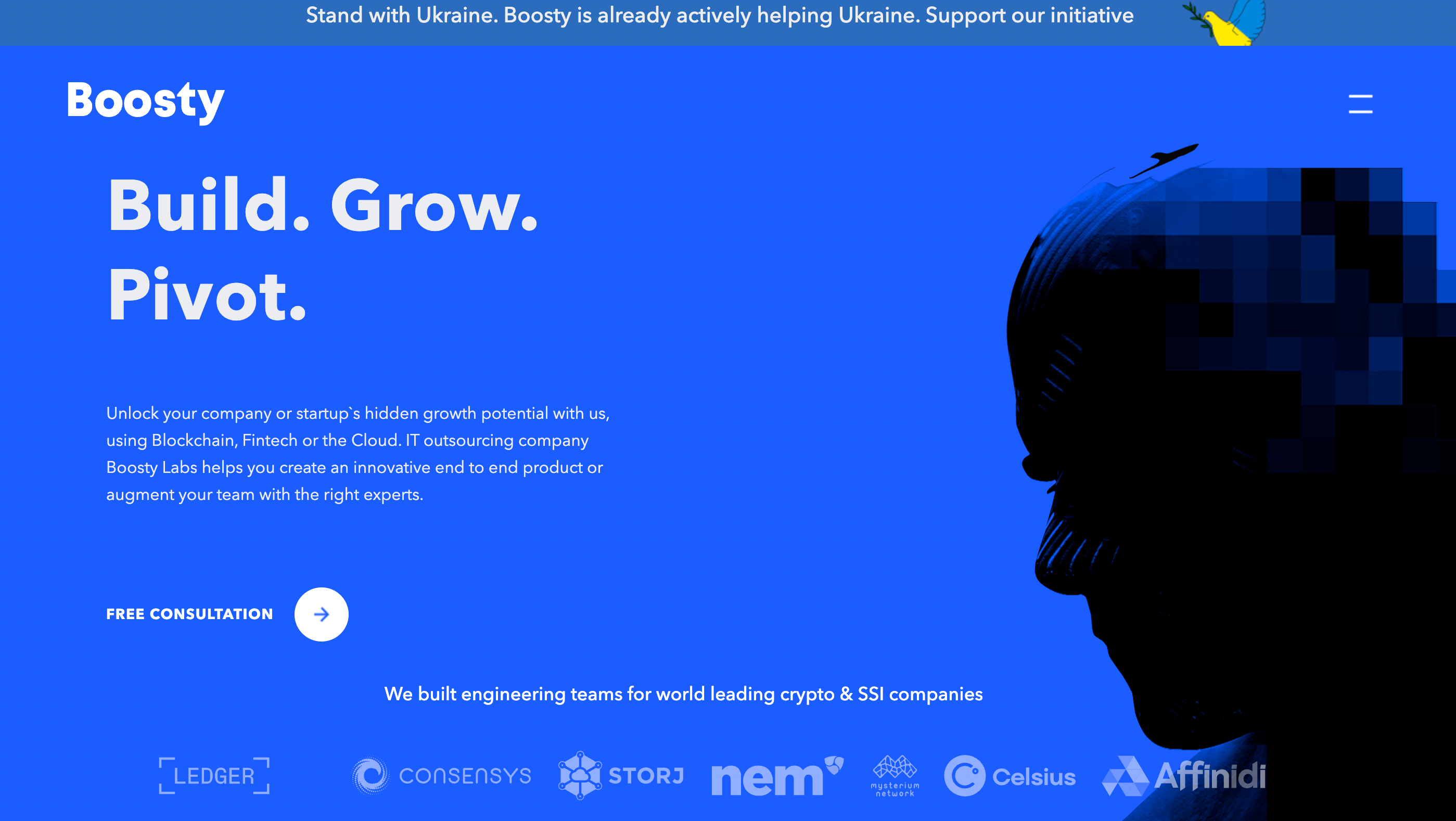 The company's story goes back to 2017 when a FinTech-savvy 21-year-old Ukrainian started a peer-to-peer lending company, followed by the launching of Boosty Labs — an outsourcing product development team specializing in FinTech, blockchain, and cloud solutions.
Given that, Boosty Labs can be your ideal partner if you're a startup looking for developers in Ukraine for hire to help you bring your great idea to life. Having built startups from scratch, they know very well about all of the challenges and bottlenecks that a startup might face on its way to success. Besides outstanding software development services, the Boosty Labs team offers unrivaled market expertise to help your product reach its target audience as quickly as possible.
Currently, Boosty Labs has offices in Kyiv, New York, London, and Berlin. Beyond Fintech, they provide innovative solutions for Dating, Gambling, Betting, Trading, Retail, Telecom, Manufacturing, Education, Automotive, and other industries.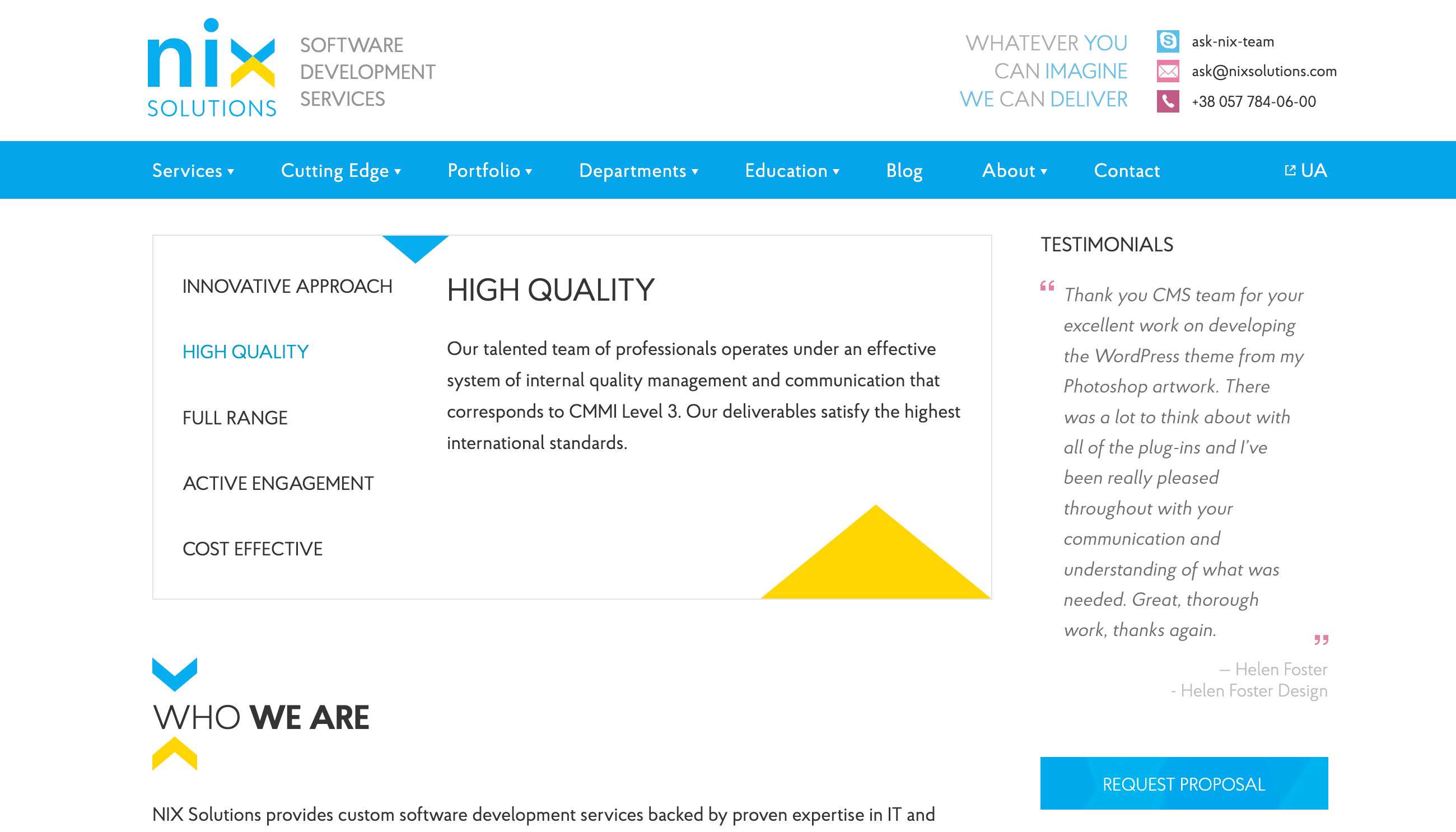 NIX Solutions was founded in Kharkiv, Ukraine, in 1994. Their office space exceeds 100,000 sq ft and contains over two thousand development workstations. The solid infrastructure allows the NIX Solutions team to work on projects of any size or complexity. 
Besides building applications for web, mobile, and desktop, they also deliver blockchain, IoT, Data Science, DevOps, VR/AR, and 3D Modeling solutions. NIX Solutions is the best software development company in Ukraine if you are looking for a partner that is particularly attentive to your needs. Their team can work with you through the entire software development lifecycle or help you with a specific part of the project. 
They offer to assemble a dedicated, ready-to-work team of experts with the necessary equipment, resources, software, and skills to support your business's IT infrastructure fully.
Conclusion
There's no surprise that outsourcing to Ukraine is such a popular choice — remarkable IT talent and companies that deliver outstanding customer experiences make Ukrainian IT companies very attractive partners. 
With such a fantastic array of choices, selecting a company to align with your project's needs might be challenging, so we hope our list will help you find a suitable company. 
If you want to add your company to this list, contact us by email, and after a thorough review, we will consider featuring you.