Globally, business owners and professionals always look for novel ways to expand their businesses and reach their full potential.
A study found that 70% of small business owners work 40 hours weekly. All the administrative tasks take up most of the hours, leaving little to no time for core business operations.
Nonetheless, one solution that has gained considerable traction in recent years is virtual assistant services – a game-changing resource empowering businesses to delegate tasks, streamline processes, and focus on strategic initiatives. 
These companies can free up their staff to concentrate on more important tasks by outsourcing administrative duties and other time-consuming tasks to virtual assistants, which will increase productivity and, ultimately, lead to higher recurring revenue. 
However, choosing the best virtual assistant service provider for your business needs can take time and effort, given the abundance of providers flooding the market. 
We have meticulously curated a list of the top virtual assistant service providers who have consistently demonstrated excellence in delivering reliable and efficient solutions to help you navigate the options and make an informed decision.
But first, let's define virtual assistants in detail.
Who Are Virtual Assistants?
Virtual assistants provide dedicated remote support and assistance to individuals, entrepreneurs, and businesses. They cover various services and effectively work with clients from a distance using technology and communication tools. 
With the aid of virtual assistance, businesses can assign time-consuming or repetitive tasks, freeing up professionals and business owners to concentrate on strategic initiatives that boost productivity and growth. They can work from anywhere worldwide, giving you flexibility, efficiency, and access to a wide range of talent.
They communicate with their clients via email, instant messaging, video calls, and project management tools. They respond to their client's needs by providing tailored assistance and producing high-quality results.
Virtual assistants are also proficient in a wide range of general and administrative tasks. Some of them even specialize in skill sets that are more complex than usual.
The following are just a few of the many virtual assistant's tasks:
Inbox administration

Calendar administration

Setting up appointments

Website upkeep

Travel arrangements

Event organization

Email marketing

Customer relation management

Research

Data entry

Bookkeeping and accounting

Content writing

Payroll processing

Marketing assistance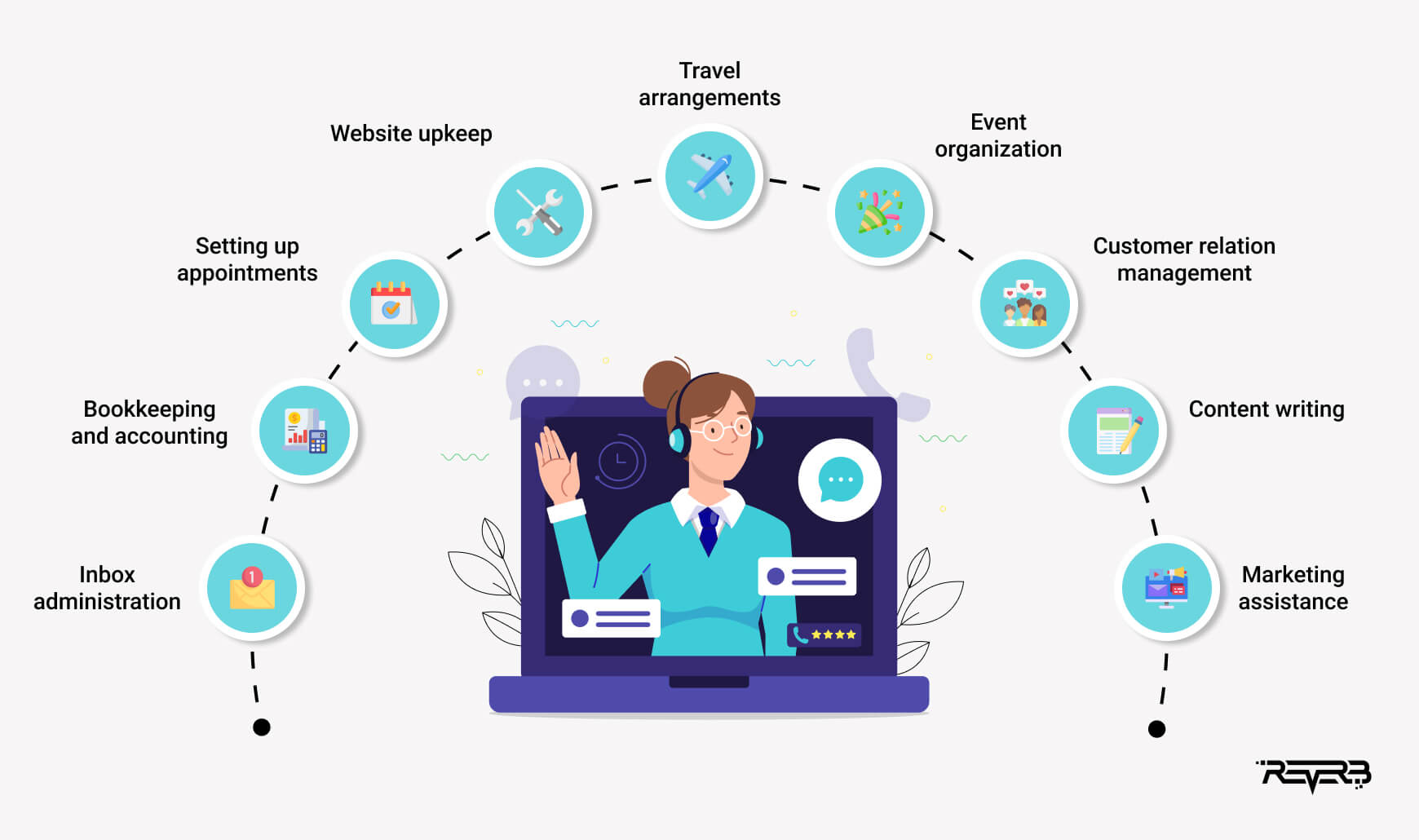 Who Are Virtual Assistant Service Providers?
Over 80% of companies wish to have a more flexible workforce in the future. And virtual assistant service providers are the key to it. These service providers act as middlemen, connecting clients with virtual assistants with the necessary skills and expertise to meet the client's needs. 
They usually have a pool of pre-screened virtual assistants from which clients can choose the best fit for their needs.
These service providers provide a platform or portal where customers can browse virtual assistant profiles, check their credentials and experience, and choose the best candidates. 
They frequently facilitate client-virtual assistant communication and collaboration by providing tools and technologies for efficient remote work.
Service providers may focus on a few industries or provide a wide range of services to meet the needs of various clients. Additionally, they might offer project management, quality control, and ongoing training for virtual assistants.
The Best Virtual Assistant Service Providers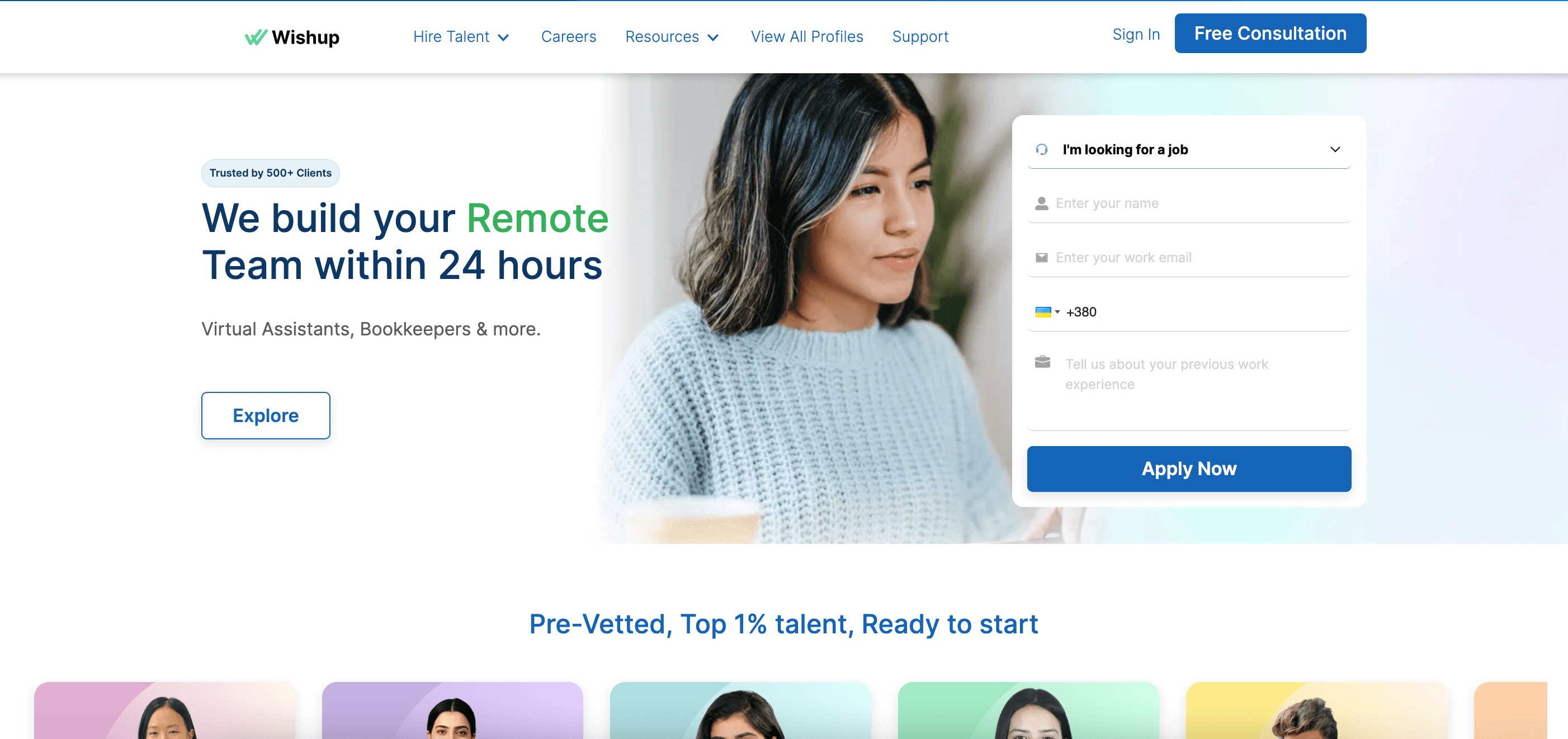 Wishup, a rapidly growing and incredibly user-friendly virtual assistant platform, takes the top spot.
Wishup is the ideal solution for businesses and entrepreneurs needing administrative and support services. The company also offers specialized services like bookkeeping. All types of businesses can use Wishup, but it mainly helps startups and small businesses. 
Wishup is known for the high quality of talent it provides, having served over 500 businesses with 200+ specialized offerings. Their VAs offer multiple services to satisfy all of your needs. 
Wishup's virtual assistants have received training in various no-code applications and skill sets.
You just need to go to their platform, arrange a meeting with their staff, and select the VA you want. 
And it gets better!
Wishup enables you to hire, onboard, and build your remote team in 24 hours! 
Pros:
Strict hiring criteria are used to select only the top 1% of applicants.

Graduates with over 200 unique skill sets and 70+ no-code tools.

Outstanding, thoroughly screened, and in-house trained virtual assistants

No-questions-asked replacement policy if the primary VA is unavailable or the client is dissatisfied with their services.

Onboarding begins within 24 hours of selection.

Virtual assistants are available both internationally and in the United States.

You will not have to worry about contracts, insurance, liabilities, or employee benefits.

NDAs ensure both privacy and data security.
Cons:
Pricing
Wishup offers two types of pricing plans:
$999/month

for the 4-hour package (4 hours a day, five days a week)

$1799/month

for the 8-hour package (8 hours a day, five days a week)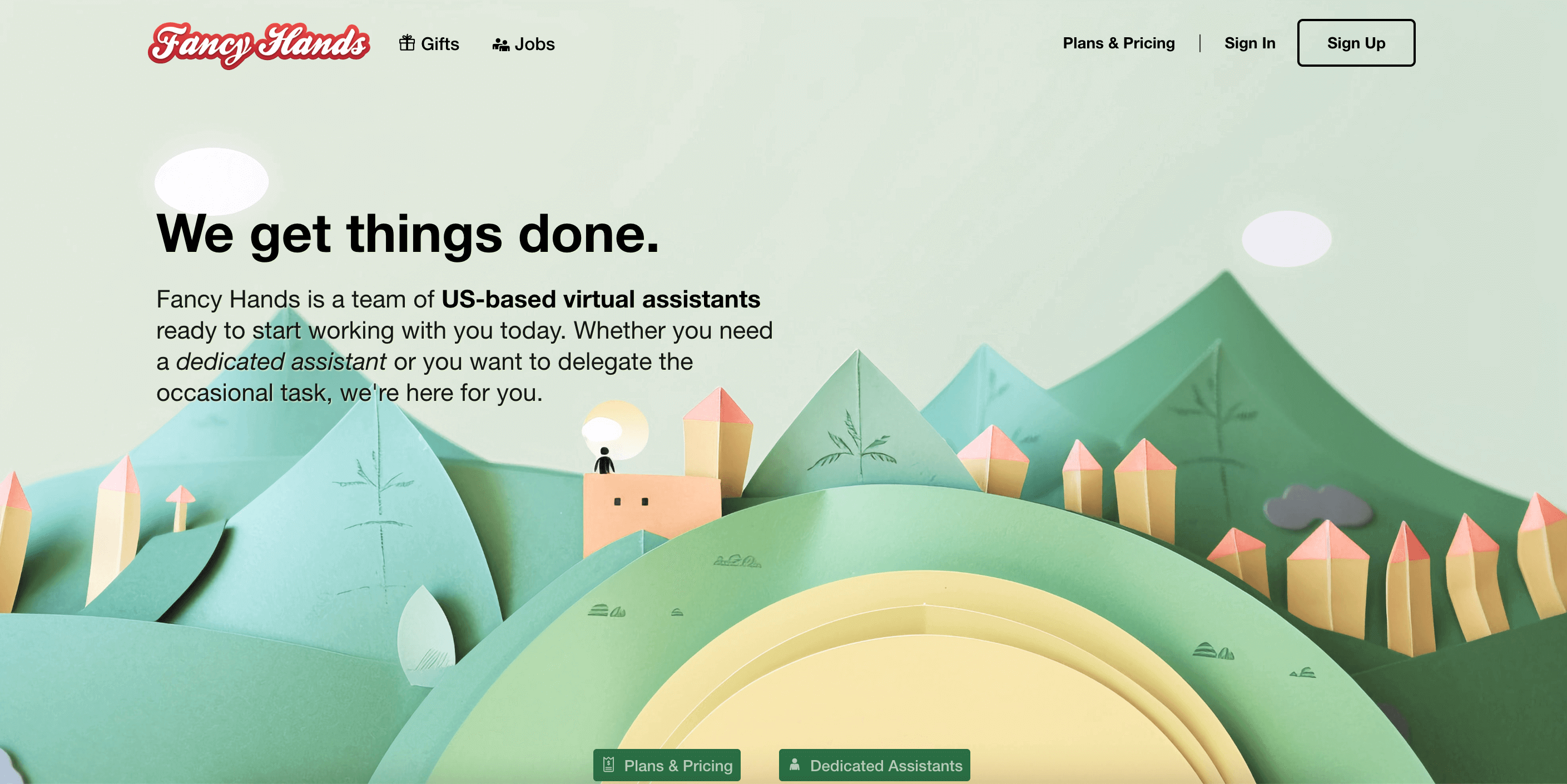 Fancy Hands provides short-term virtual assistant services. Instead of working on longer projects, Fancy Hands VAs assist you in completing short-term tasks and projects. The company is based in the United States and has recently grown in popularity.
There are two kinds of task requests on Fancy Hands. The first is a Standard Request, and the second is a Live Request. Standard Requests are submitted for a 20-minute task and are accepted within 24 hours. These are appropriate for research-based projects.
Contrarily, Live Requests let you communicate with a VA over text or a webcam. These requests are for quick, manageable tasks that can be finished in under 10 minutes. If you want to submit repeated requests, the platform allows you to do that. You can create daily, weekly, or monthly task requesters.
Pros:
Rapid response and on-demand outcomes

Simple approach

A straightforward and understandable pricing structure
Cons:
Only appropriate for short-duration tasks 

With Live Requests, you must pay for each minute.
Pricing 
The cost of using Fancy Hands is determined by how many requests you submit each month. Their introductory packages cost $17.99 for three requests each month.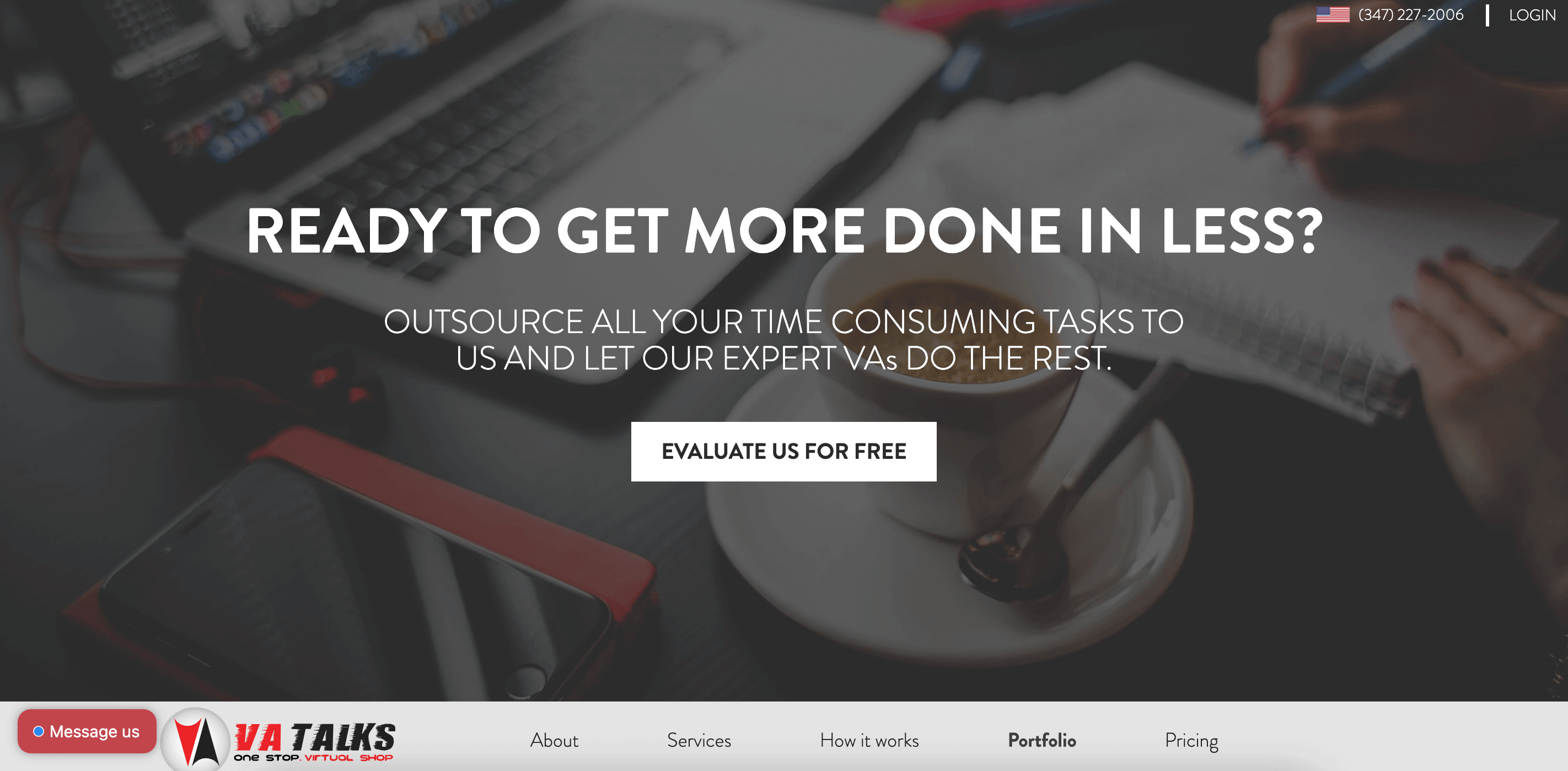 Founded in 2015, VA Talks has emerged as a leading virtual assistance company headquartered in the heart of India. Since its inception, this young startup has been dedicated to providing exceptional virtual assistance services to clients worldwide. With a team of skilled professionals delivering a wide range of business assistance through various online platforms, including email, Skype, and instant messaging, the agency provides 24/7 services for prompt and effective cooperation.
Having expert executives on board, each specializing in different business areas, VA Talks can deliver the best possible results tailored to meet the specific demands of the evolving market. Whether you require assistance with everyday tasks or more complex business needs like R&D for presentations, or marketing management, the dedicated VAs can assist you. What's more, with customized solutions, VA Talks can adjust its services to provide uninterrupted assistance for your business.
Choose VA Talks as your trusted partner in VA and experience the power of personalized support.
Pros:
Cons:
Potenial time zone differences

Free trial for 2 days only
Pricing
VA Talks offers the following Virtual Assistance pricing options:
Free trial (for 2 days)

10-hour plan: $130/month
20-hour plan: $240/month
30-hour plan: $330/month
50-hour plan: $490/month
80-hour plan: $690/month
Full-time assistance: $1,100/month
In addition, VA Talks offer web development plans:
Starter: $499
Premium: $999
E-Commerce: $1,499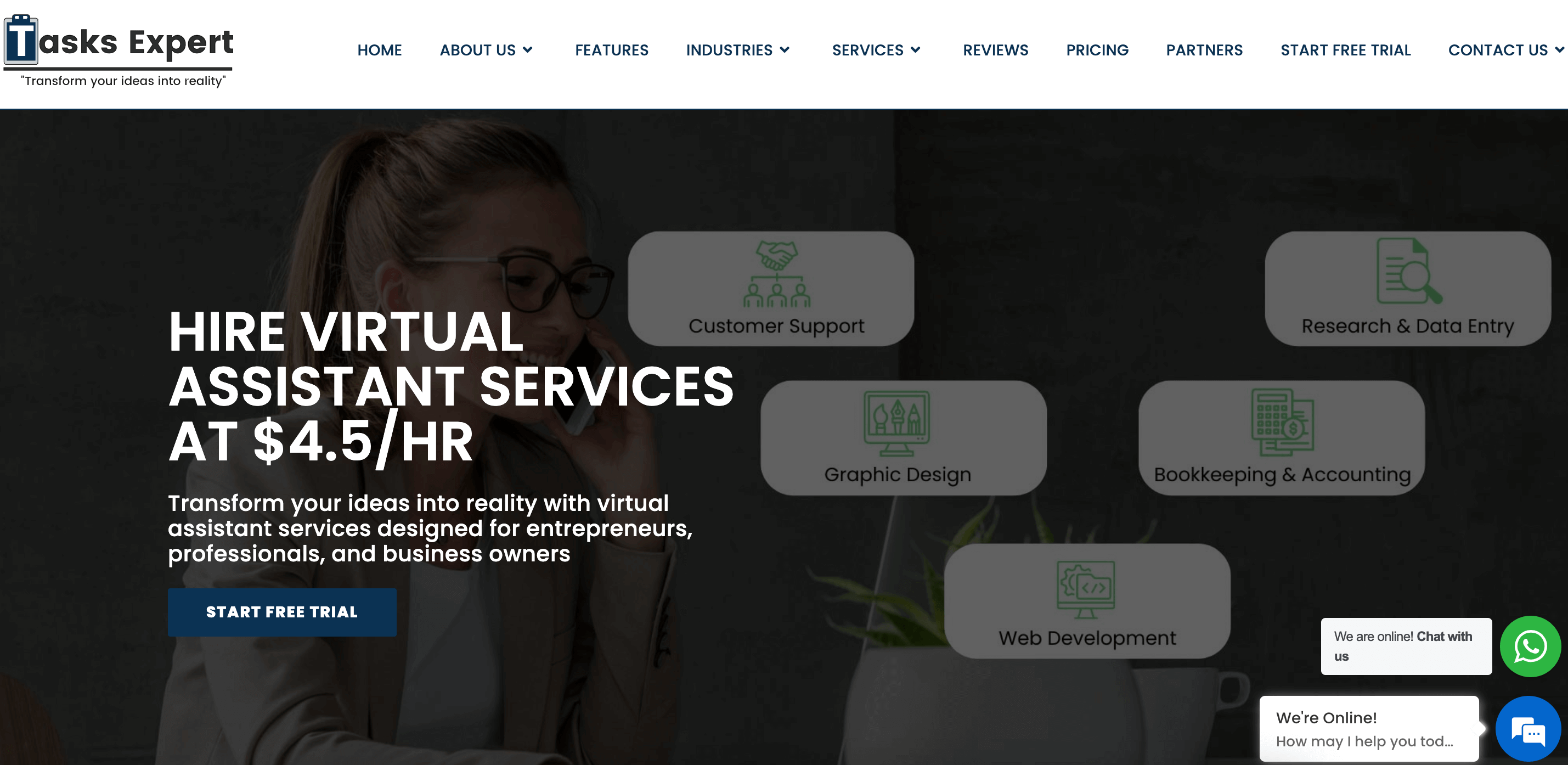 Tasks Expert is a leading virtual assistant agency founded in 2017 in the USA but operates worldwide. With a focus on providing full-time offshore virtual assistant services, Tasks Expert has established itself as a trusted partner for businesses seeking administrative assistance, real estate tasks, SEO & marketing, book-keeping & accounting, email & chat support, or web development & design services. With 24/7 support for small, mid-sized, and large companies, as well as busy professionals and entrepreneurs, Tasks Expert allows clients to concentrate on the crucial aspects of their business.
Offering high-quality services that are easily accessible and user-friendly, the agency can help businesses save up to 80% of their time spent on repetitive tasks. As an online marketing and professional staffing partner, Tasks Expert covers e-commerce, real estate, healthcare, finance, technology, marketing, hospitality, education, and other sectors.
Prioritizing providing quality services, the agency also emphasizes cost-effectiveness. Offering immediate virtual assistant services for just $4.5 per hour, Tasks Expert encourages accessibility of its services to every business. Moreover, you can try the company's services for free to ensure the plan you choose suits your business the most.
Pros:
A free trial is available

24/7 support

Operates with small, medium, and large businesses worldwide

Suitable for all business industries

Prices start as low as $4.5
Cons:
Pricing
Tasks Expert offers the following pricing plans:
Virtual Assistant: $4.5/hour, or $169/month for 20 hours, $239/month for 40 hours, $439/month for 80 hours, $860/month for 160 hours, $1,960/3 months;
Virtual Assistant Pro: $5.5/hour, or $199/month for 20 hours, $319/month for 40 hours, $599/month for 80 hours, $1180/month for 160 hours, $2,240/3 months.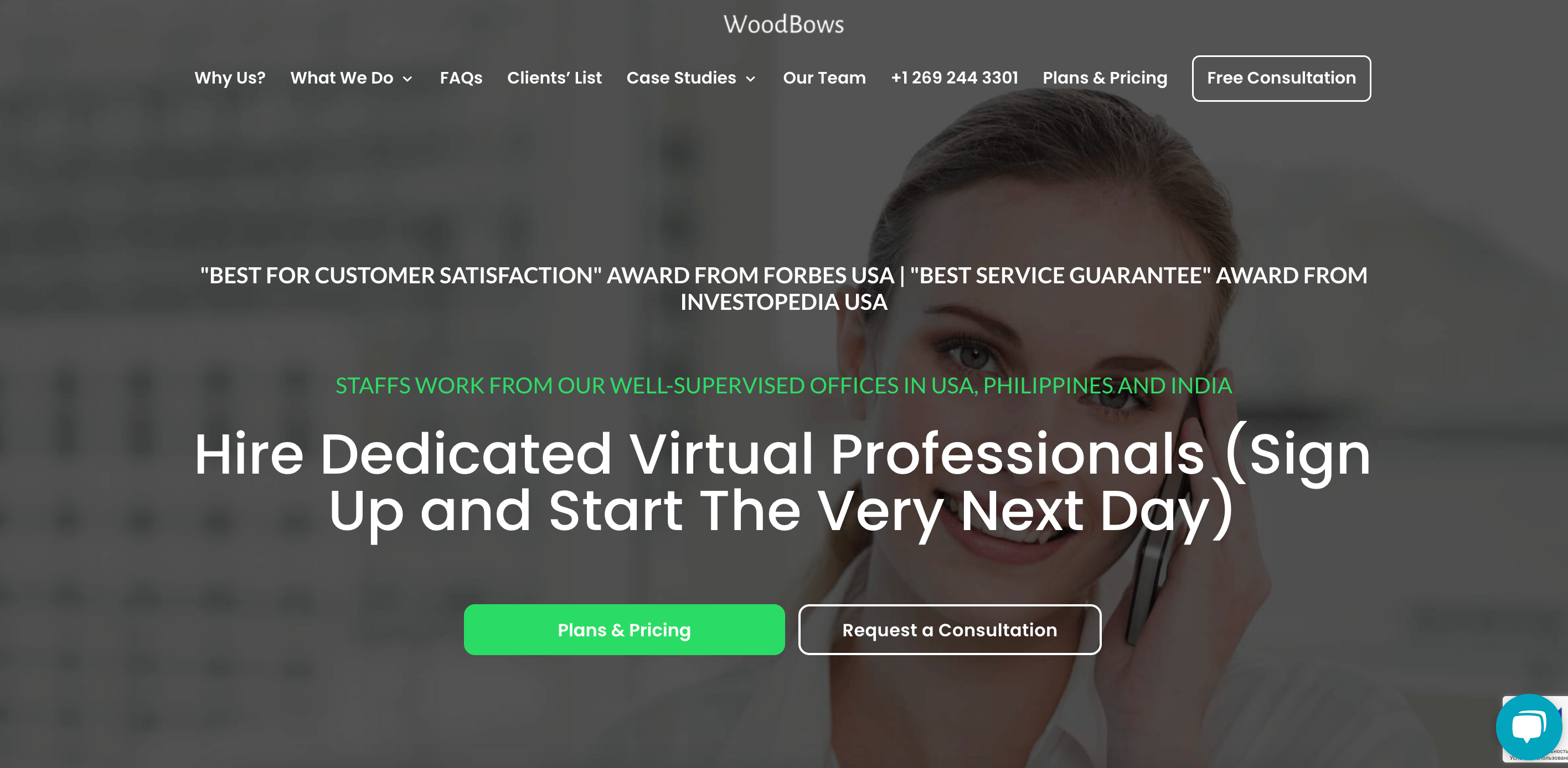 With offices in the US, the Philippines, and India, WoodBows is another top-notch provider of virtual assistance services. Numerous virtual assistants specializing in various niches are available on the platform.
You can find skilled professionals with a great character for highly specialized tasks and hire assistants for routine jobs like customer service, scheduling, and office administration. 
Its services include social media management, data entry, content creation, app development, and graphic design.
For business owners and organizations looking to hire highly specialized VAs for particular tasks, WoodBows is an excellent option.
Pros:
With a retention rate of 98.4%, the business can attest to the exceptional talent of almost all of its VAs.

WoodBows is very reasonably priced.

VAs with specialized knowledge in various fields.
Cons:
US-based VAs might not always be available.

Lack of contract can result in uncertainty.
Pricing 
Its prices begin at $599 per month for 40 hours of work.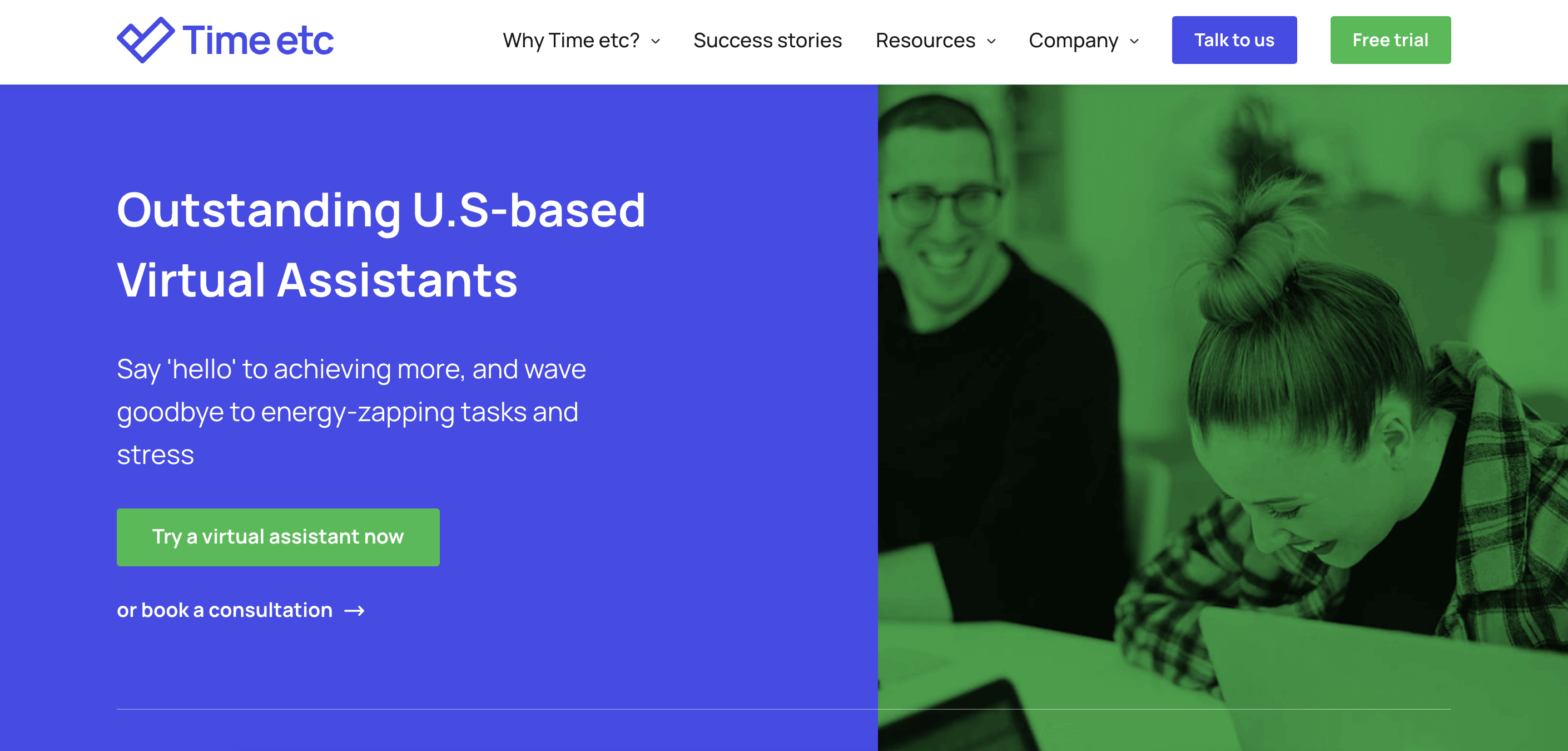 Time Etc, founded in 2007, is one of the most well-known VA service providers. The company has over 500 freelancers who can provide various virtual assistance services. You can find a virtual assistant for almost any business operation, from customer service to email, and even virtual assistants who can help you get more social media followers for your brand. 
Compared to hiring a full-time employee, skilled virtual assistants from Time Etc can help you save up to 90% of your budget. Their virtual assistants (VAs) are based in the US and the UK and are paid hourly. 
The platform's assistants have an average tenure of 12 years and are well-versed in the most recent resources and tools for client retention. As a result, you will not need to worry about the caliber of the work given to you.
The business is the best choice for business owners and entrepreneurs looking to hire skilled VAs at a reasonable price.
Pros:
A single platform with knowledgeable and skilled virtual assistants

The platform will expertly pair you with the appropriate VAs based on your needed skills.

Free trial period
Cons:
Finding a suitable VA on the platform can take time.

A 10-hour minimum time frame is required to opt for the services.
Pricing 
Prices for 10 hours of work per month start at $360.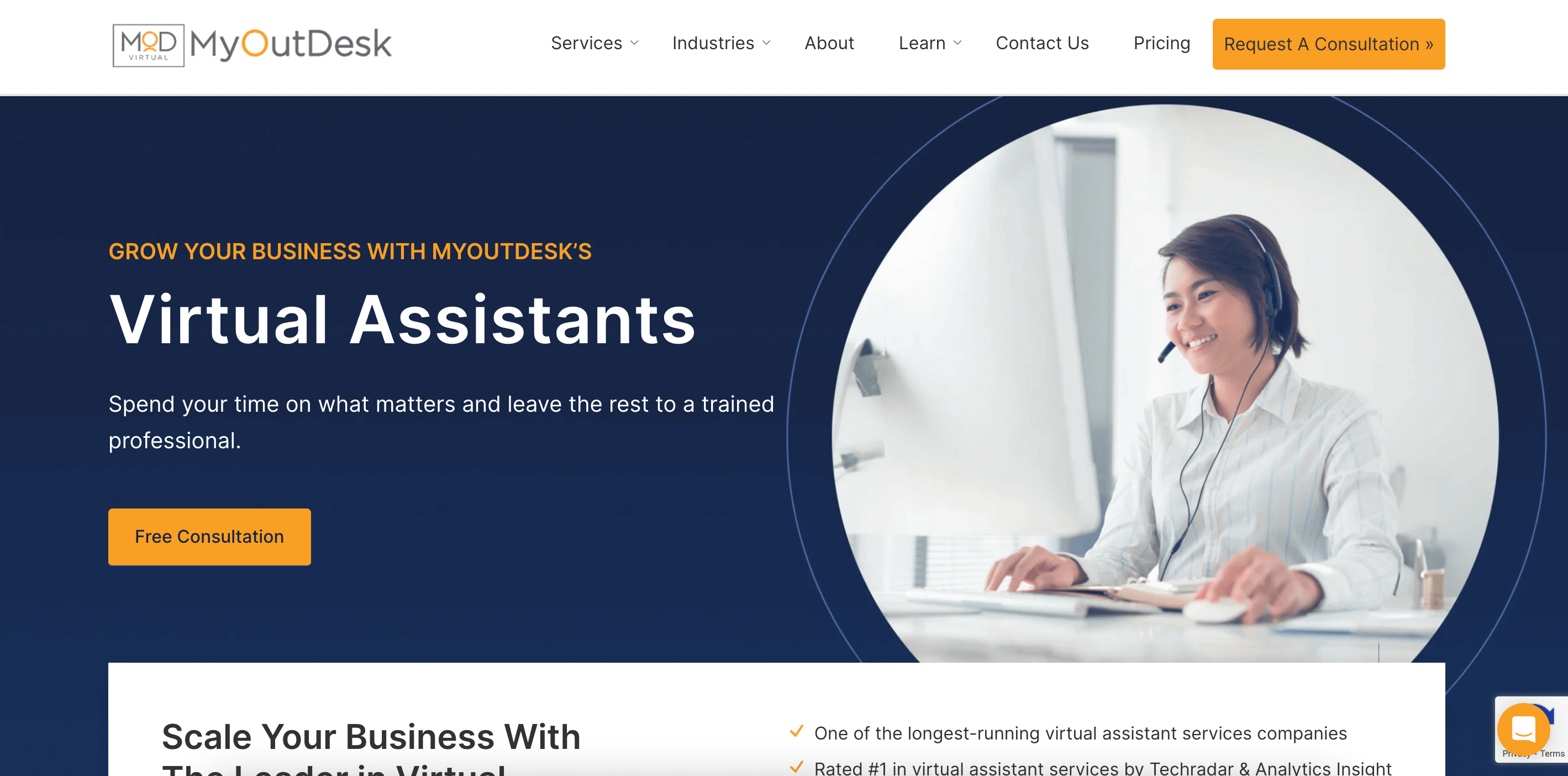 Having worked with over 6,000 clients since its founding in 2008, MyOutDesk is one of the biggest, most dependable, and most well-known virtual staffing providers.
They offer virtual assistant services for real estate, healthcare (including biotech), mortgage & lending, e-commerce, marketing, and human resources. 
Want to know the best part?
Thanks to strong and lasting relationships with the most significant names in the industry, the company generates more than $100 million in cost savings and revenue growth for its clients each year.
Of all VA applicants, the company only hires and recommends 2.2%. It offers high legal and data security levels and has received hundreds of 5-star customer reviews for its premium services.
Because of its extensive experience in the real estate sector has developed a reputation for excellence and a rigorous talent-matching process that includes an FBI-grade background check and a careful candidate screening process.
Pros:
VA benefits and health insurance 

Dual-candidate screening

FBI-level background checks
Cons:
Plans are pretty expensive.

There are no options for hourly or daily rates.

Substantial real estate experience
Pricing:
Three different plans are available from MyOutDesk: 
A three-month plan that costs

$1,988

per month, 

A six-month plan that costs

$1,848

per month

An annual plan that costs

$1,788

per month.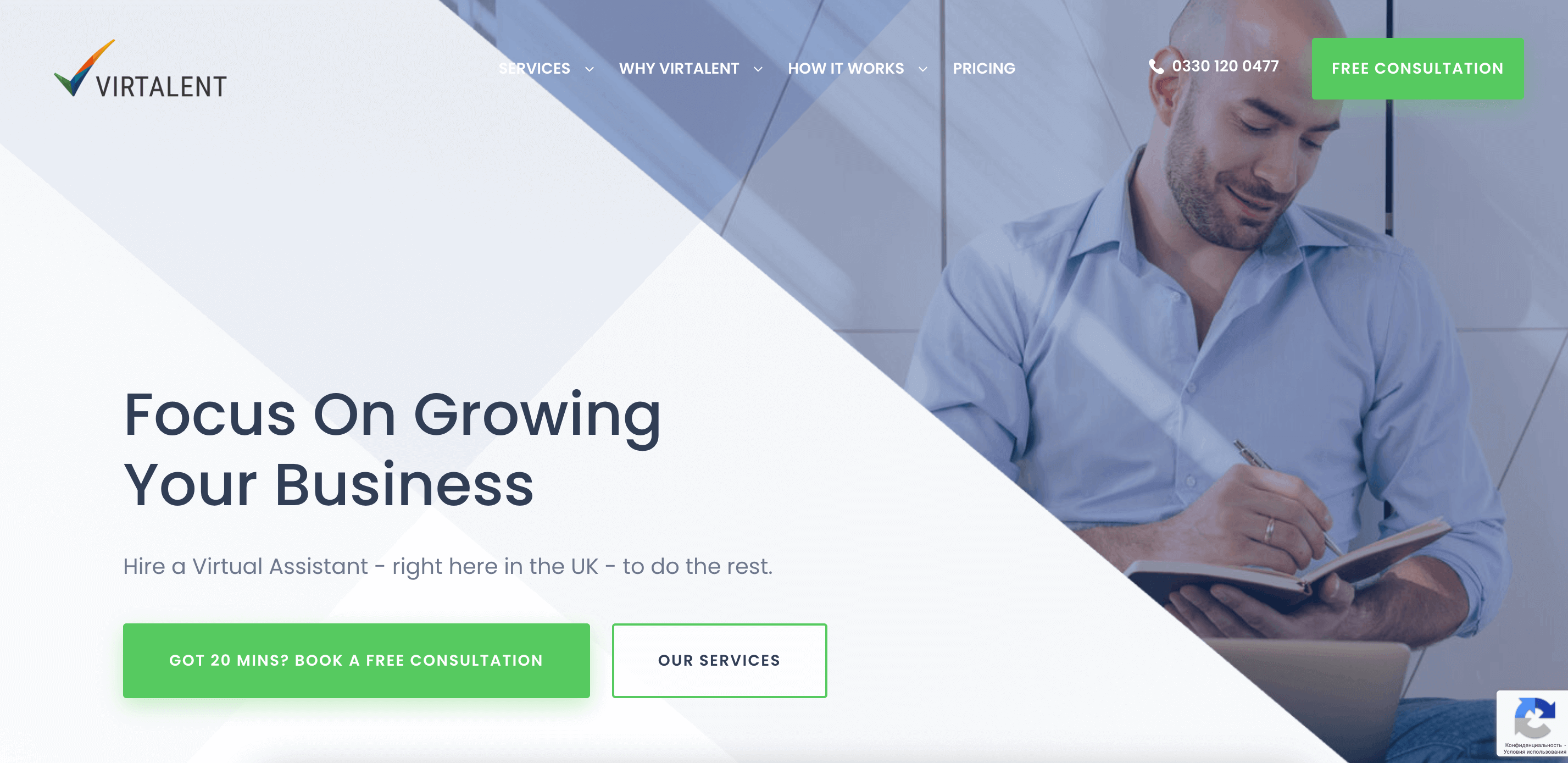 Virtalent is a platform for hiring virtual assistants who can help you to manage your tasks and ease your work process. When you hire a Virtual Assistant from Virtalent, you'll see it's a different experience from working with an independent VA or Executive Assistant. The service works in step with you – whether you're working from home, away on business, or with your family. A virtual assistant is available when you need them to be.
There is also a client success manager who is there to answer your questions, resolve any queries you might have while working with Virtalent, and help you get the most out of our service proactively.
Pros:
Rapid response and availability at specific times during the month
Easy and flexible communication
Experienced virtual assistants
Handle day-to-day admin so you can maintain focus
Achieve inbox 'zero' by staying on top of your emails
Cons:
Have specific hours per month package
Not available for offline tasks
Pricing:
The cost of a Virtual assistant for:
entrepreneurs (10 hours) is £280 per month;
small businesses (20 hours) is £540 per month;
executives (40 hours) is £1040 per month;
ultimately (60hours) is £1500 per month.
Conclusion
What's the bottom line?
While all the companies on this list of the best virtual assistant service providers are exceptional at what they do, their features and offerings are vastly different. So, when deciding on the best Virtual Assistant Services, you must consider and identify your organization's specific requirements.
You can test their services using their free trials (offered by Wishup) or consult their experts to understand these companies better.