As a business owner, you are constantly bound to search for new and more effective lead generation tools and techniques to attract prospective customers and get more sales. 
Today, 53% of businesses claim to spend at least half their budget on lead generation. And it doesn't come as a surprise – lead generation is one of the most effective tactics for building a successful pipeline of customers. 
However, generating high-quality leads and converting them into successful sales might be difficult to do on your own; 61% of marketers admit lead generation is their top challenge.
This is where a professional lead generation company comes into play. Specializing in generating qualified leads with the help of various tactics and strategies, such firms help B2B and B2C businesses attract new client opportunities, build strong relationships with users, and ultimately create a solid and stable revenue pipeline. 
Top lead generation agencies offer a wide range of services, covering the following areas:
Overall marketing & lead generation strategy development

Lead qualification and scoring

Cold outreach & calls
Paid advertising

Content marketing

SMM (social media marketing)

Email marketing

Landing page optimization

Lead nurturing
Being a reputable digital marketing agency providing lead generation services at scale, ReVerb feels confident in reviewing and estimating the most prominent partner firms. In this post, we've listed top lead generation companies getting high ratings and delivering impactful results to clients of all sizes and industries.
The Best Lead Generation Companies And Services For A Solid Revenue Pipeline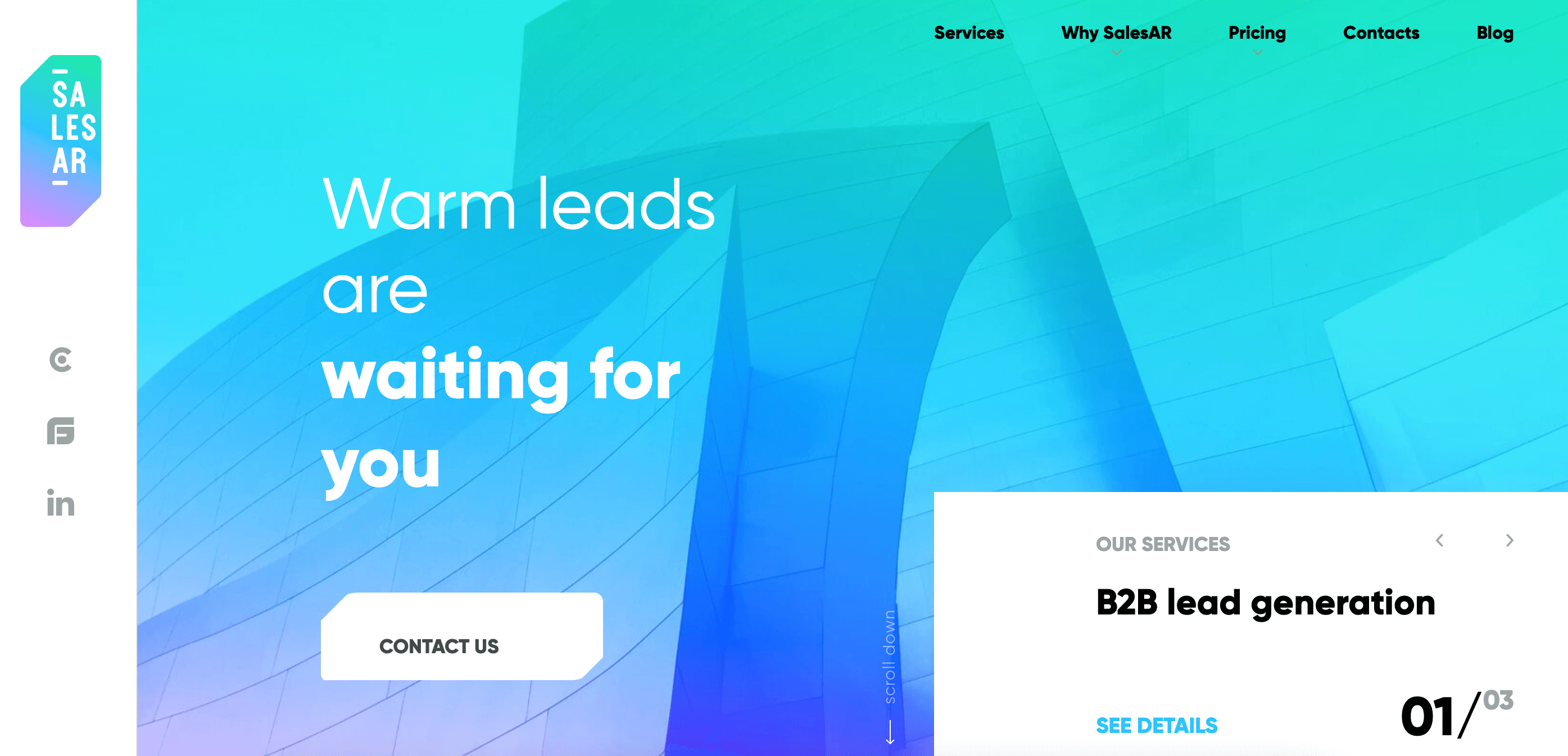 SalesAR is one of the best lead generation companies offering B2B and appointment-setting services to help businesses grow and expand their reach. Since its establishment in 2019, SalesAR has been at the forefront of the industry, providing innovative and adaptable solutions taking clients ahead of the game.
Their services include B2B lead generation, appointment setting, anti-spam optimization, and prospect research. SalesAR's team consists of international professionals based in Ukraine, the United Kingdom, and the United States, with remote workers in Slovakia, Spain, France, and Germany.
With over 250 satisfied customers, 80% of whom have renewed their contracts, SalesAR's success speaks for itself. They're able to generate an impressive 200,000 quality leads per month and schedule over 20,000 appointments. Their experience spans 30+ industries in over 40 countries, making them well-equipped to cater to businesses of all sizes with different sorts of needs.
Whether you're a startup looking to establish your presence or an enterprise seeking to expand your customer base, SalesAR will skyrocket your business revenues.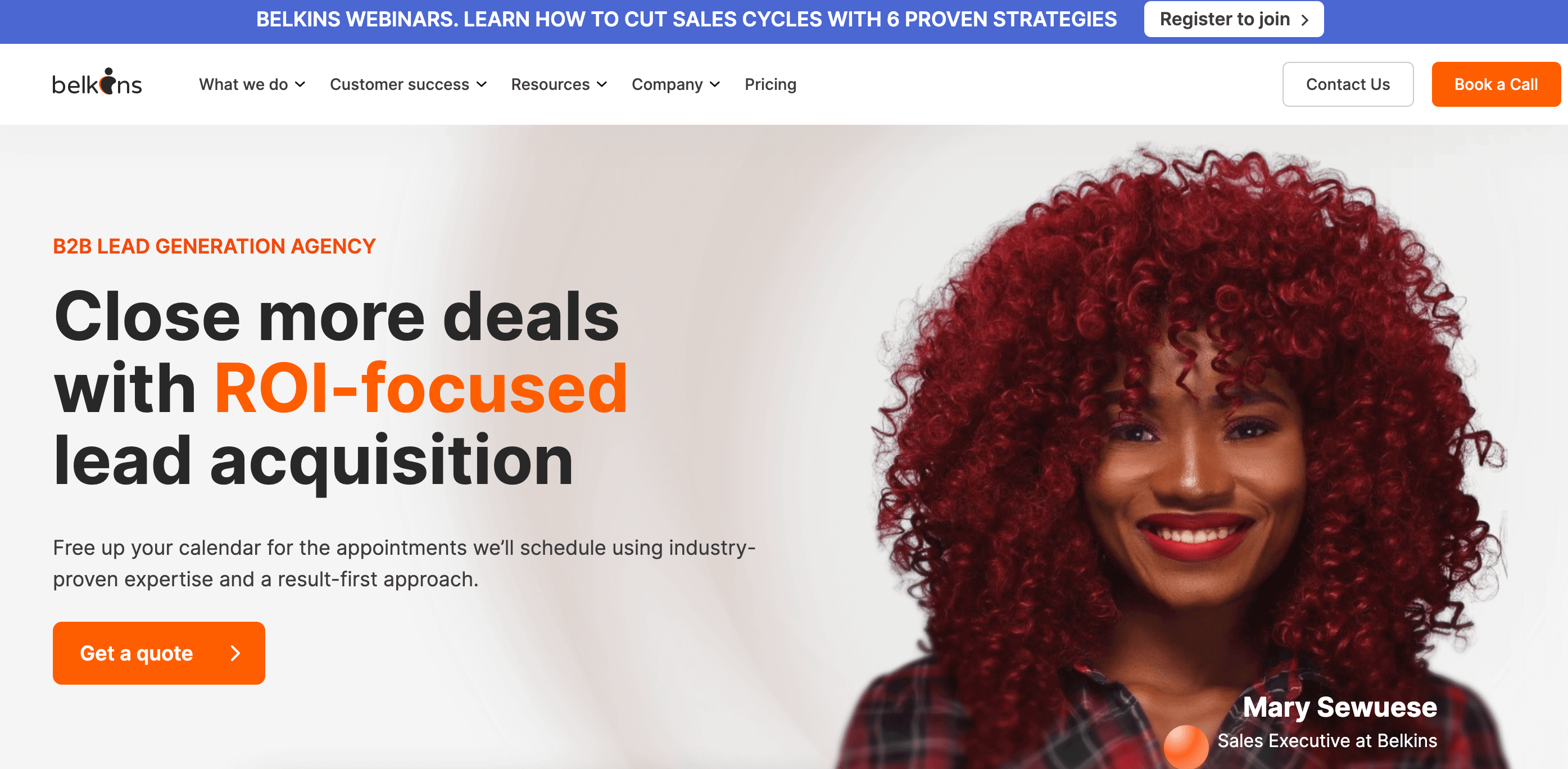 Belkins is an award-winning B2B sales lead generation company with a top-rated appointment-setting team, helping businesses of all categories grow through innovative marketing and sales solutions. With a 95% retention rate, Belkins has worked with 1,000+ loyal customers, scheduling over 300,000 appointments and achieving an impressive 10:1 return on investment.
Their appointment-setting service is designed to launch campaigns in under a week and help businesses close sales by ensuring their sales funnel is ready to convert. Belkins also offers such lead generation services as demand generation, cold email outreach, sales development, LinkedIn marketing, CRM consulting, and sales enablement.
The team's vision is to help companies discover new opportunities and reach their potential customers with the right message, targeting the right audience, and promoting their constant growth and success. So, if you're ready to take your business to the next level, you can trust Belkins to provide you with the best lead generation experts for hire.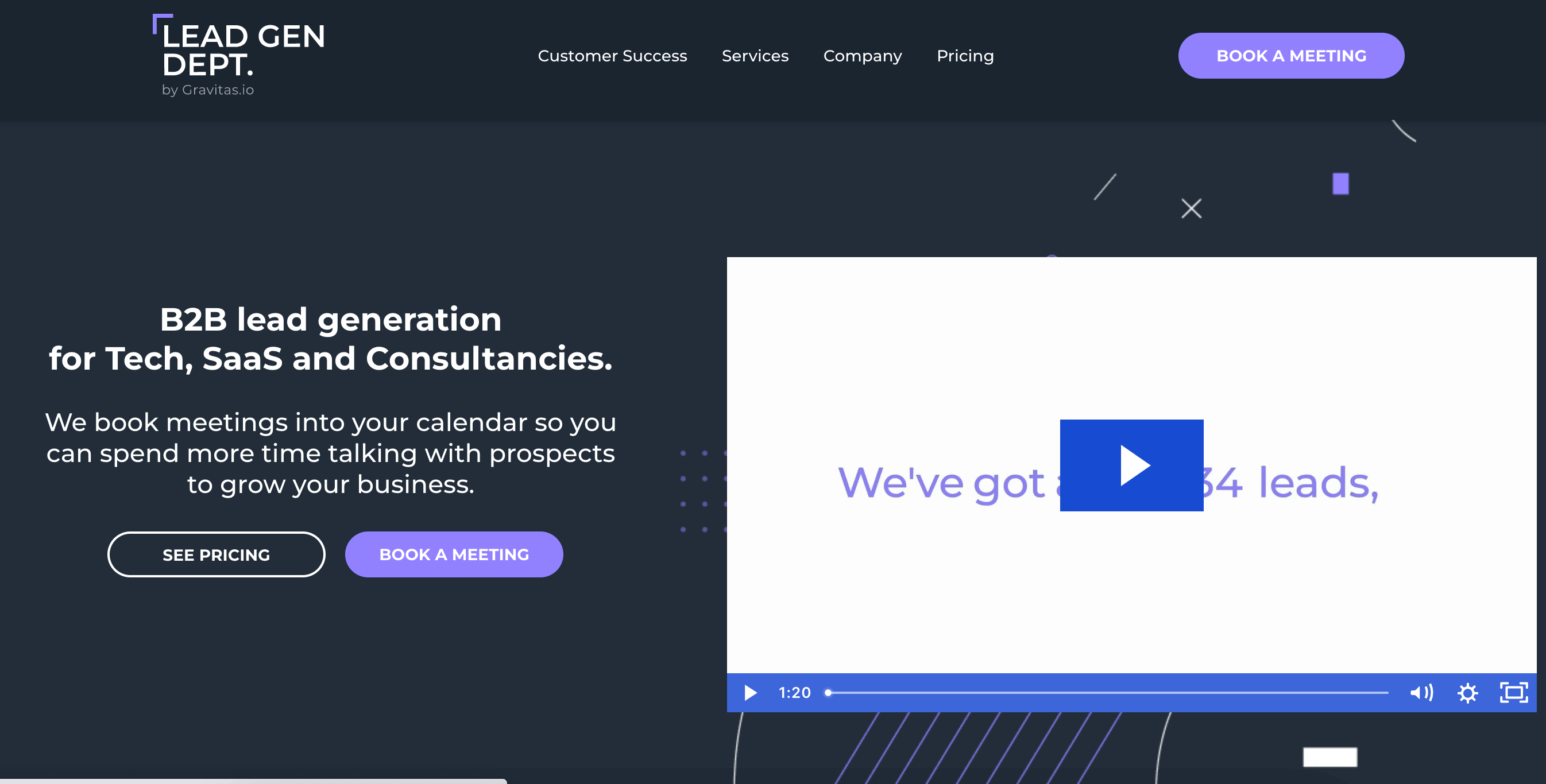 Lead Gen Dept. is the ultimate solution for B2B Tech, SaaS, and Consultancies looking to book more meetings with mid-market to enterprise-level accounts. With a 5/5 rating on Clutch and a proven track record of generating industry-leading results, Lead Gen Dept is the market's top B2B lead generation company.
Their unique approach to lead generation sets them apart from the competition. They research leads manually for maximum accuracy, manage your inbox, and book meetings into your calendar, allowing you to focus on what you do best – expanding your business.
Lead Gen Dept's proven framework of leading with value ensures that their email campaigns generate maximum results. With recent achievements that speak for themselves, including 120+ enterprise leads in 24 weeks for a Retail Technology client and 93 enterprise leads in 10 months for a Live Chat SaaS, Lead Gen Dept is the go-to company for exceptional B2B lead generation services.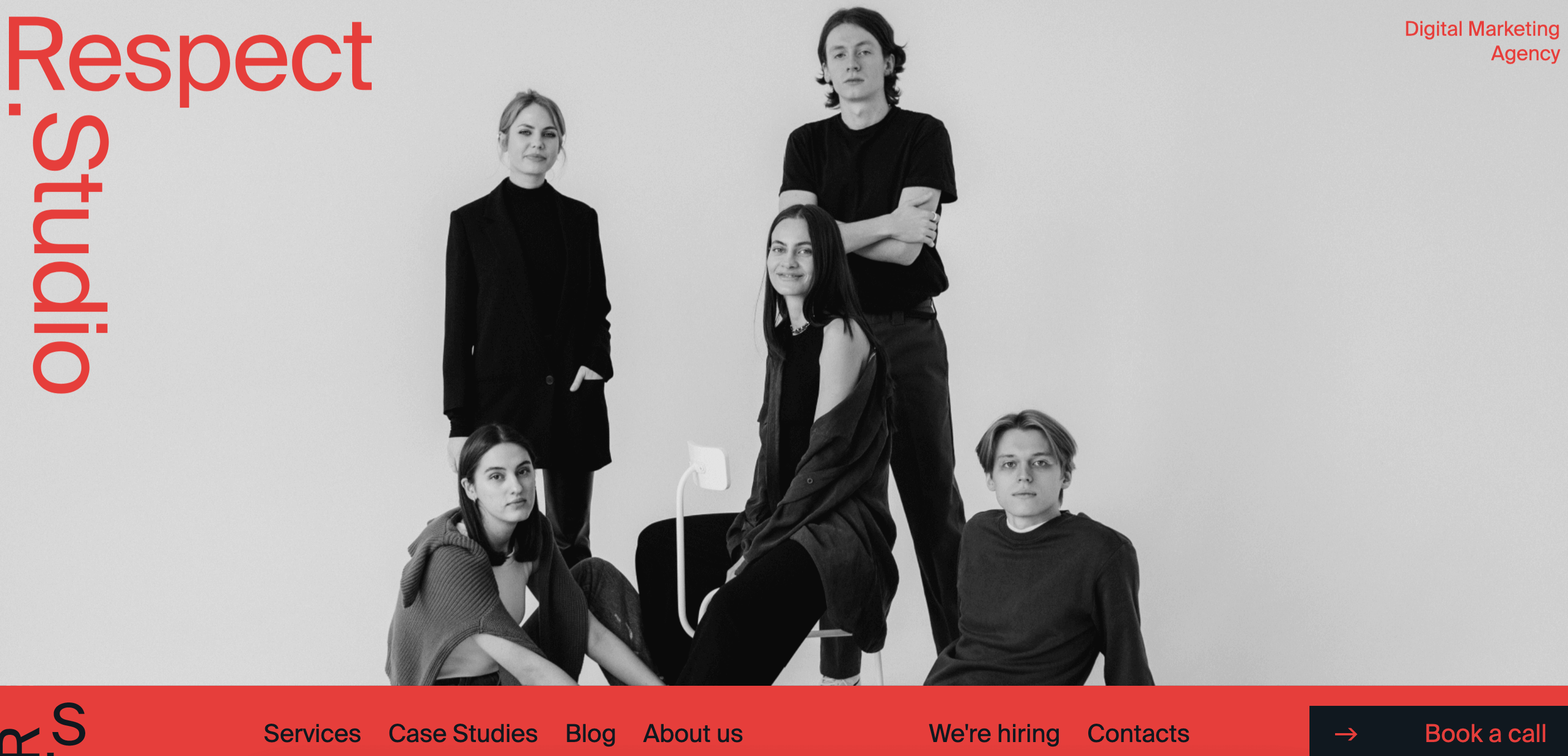 Founded in 2016, Respect.Studio is the leading B2B digital marketing and lead generation company, offering personalized growth strategies and data-driven marketing services to help businesses attract high-value clients. With years of experience and extensive knowledge of the market, the agency provides a thorough competition assessment, consistent growth, and a lead generation framework that combines personalized approaches and automation.
The core Respect.Studio's service, LinkedIn lead generation, is truly comprehensive, employing experienced detectives to search for prospects that can drive the most value for a business. They launch custom campaigns focused on building long-term relationships. In addition, the team delivers digital marketing strategies for nurturing clients' growth and ensuring their success in highly competitive markets.
Respect.Studio combines disruptive marketing techniques with proven tech solutions to provide maximum business value. The company's dedication to providing personalized and effective services has earned it the reputation of one of the best lead generation companies worldwide.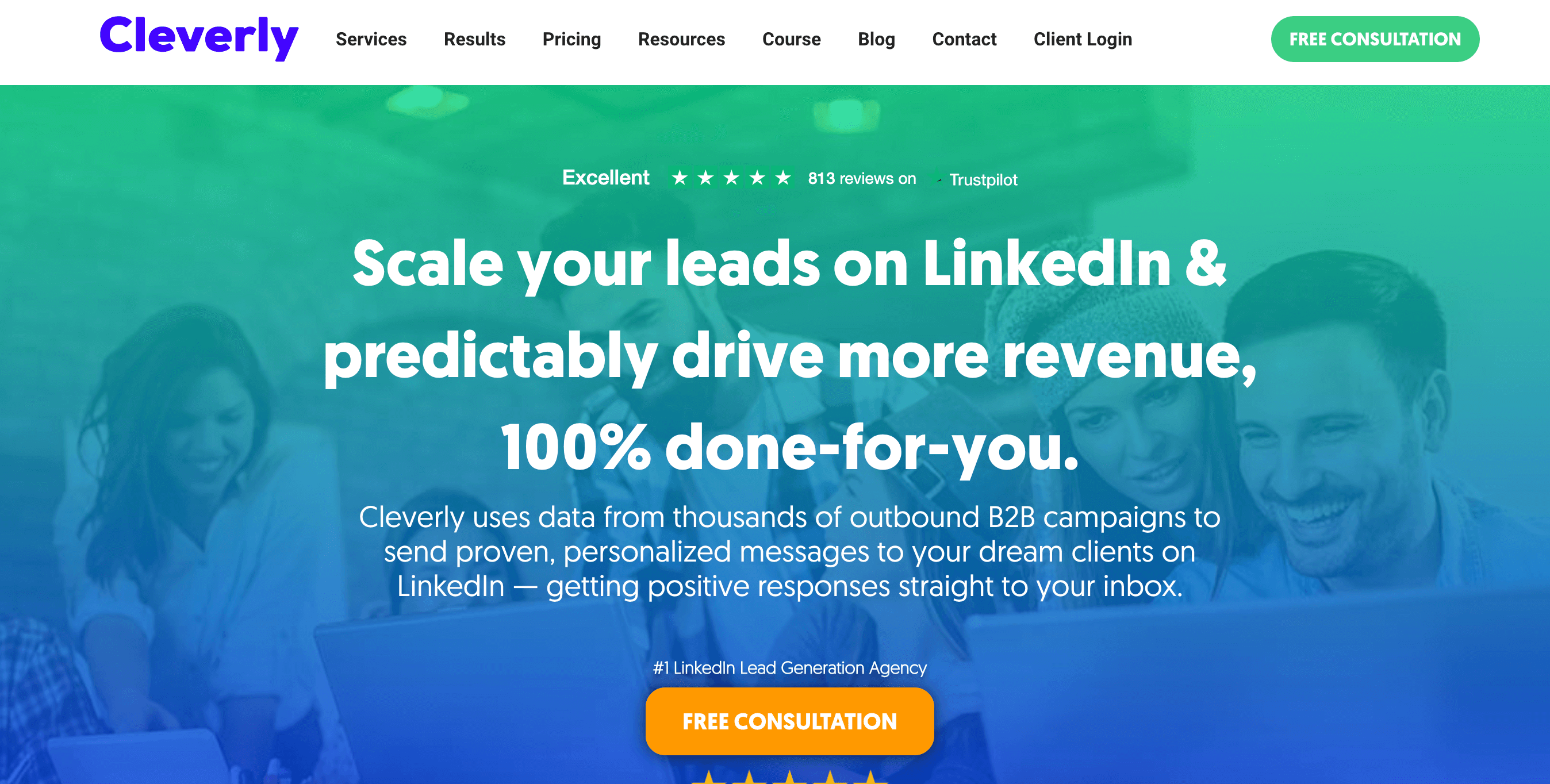 Cleverly is another prominent company that provides brilliant lead generation for IT companies, focusing on LinkedIn marketing and advertising. Founded in 2018, this Los Angeles-based company has established itself as an industry leader in LinkedIn advertising, LinkedIn lead generation, cold email outreach, white-label lead generation, LinkedIn recruiting, and Google Ads management. In addition, their team specializes in list building and A/B-tested copywriting.
With over 750+ five-star client reviews on Trustpilot & Clutch, Cleverly has a proven track record of delivering results for its clients. The company has won leads for well-known brands like Uber, PayPal, Sony, Hulu, Lego, Unilever, Amazon, Google, and many others.
Cleverly can help you turn your LinkedIn profile into a revenue-driving machine by applying four exclusive services: LinkedIn Profile Optimization, LinkedIn Lead Generation, LinkedIn Content & Ghostwriting, and LinkedIn Sales Strategy. Their packages start from as little as $397/month, making it an affordable option for businesses of all sizes.
Being one of the most trusted IT lead generation companies, Cleverly delivers 100% done-for-you services, personalized outreach, and proven results for B2B businesses looking to 10X their LinkedIn sales outreach, productivity, and revenues.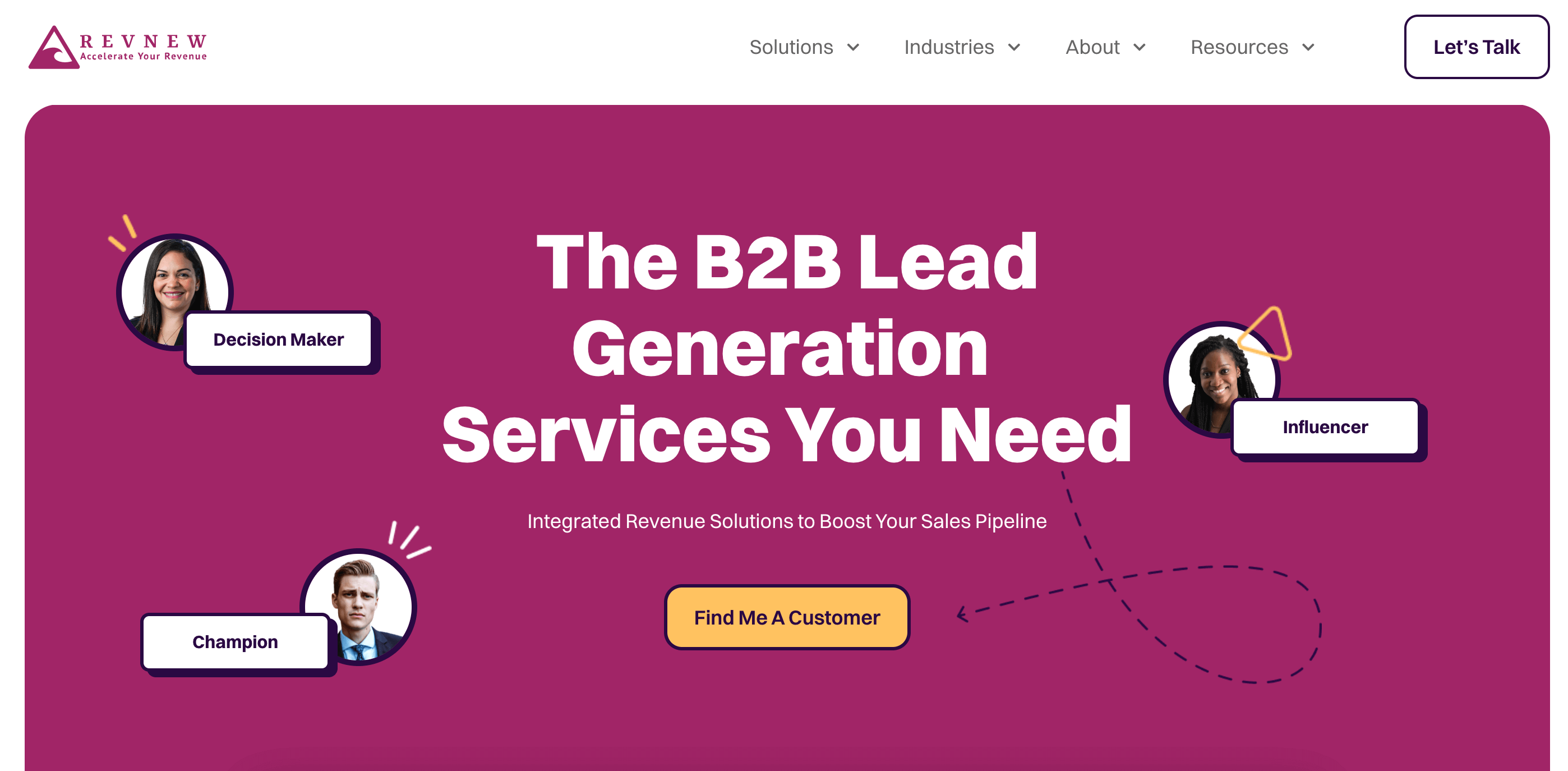 ​​Revnew is a premier B2B lead generation company that offers intelligent revenue generation services to shorten sales cycles and increase sales pipeline velocity. Founded in 2020, the firm combines technology with outbound sales and marketing to empower sales growth using winning frameworks, top talent, and cutting-edge technology.
Revnew's risk-free billing model offers no setup fees, month-to-month flexibility, and guaranteed results. From identifying prospects to activating opportunities, the company has got all sales processes covered. Their services can be tailored to any stage of the buyer's journey and to any industry, including Manufacturing, IT, Finance, Education, Energy, SaaS, and more.
By leveraging the power of technology, outbound sales, and marketing, the company has succeeded in producing sustainable conversions and shortening sales cycles by 50%. Their approach effectively enables enterprises to increase their sales pipeline velocity and generate more revenue.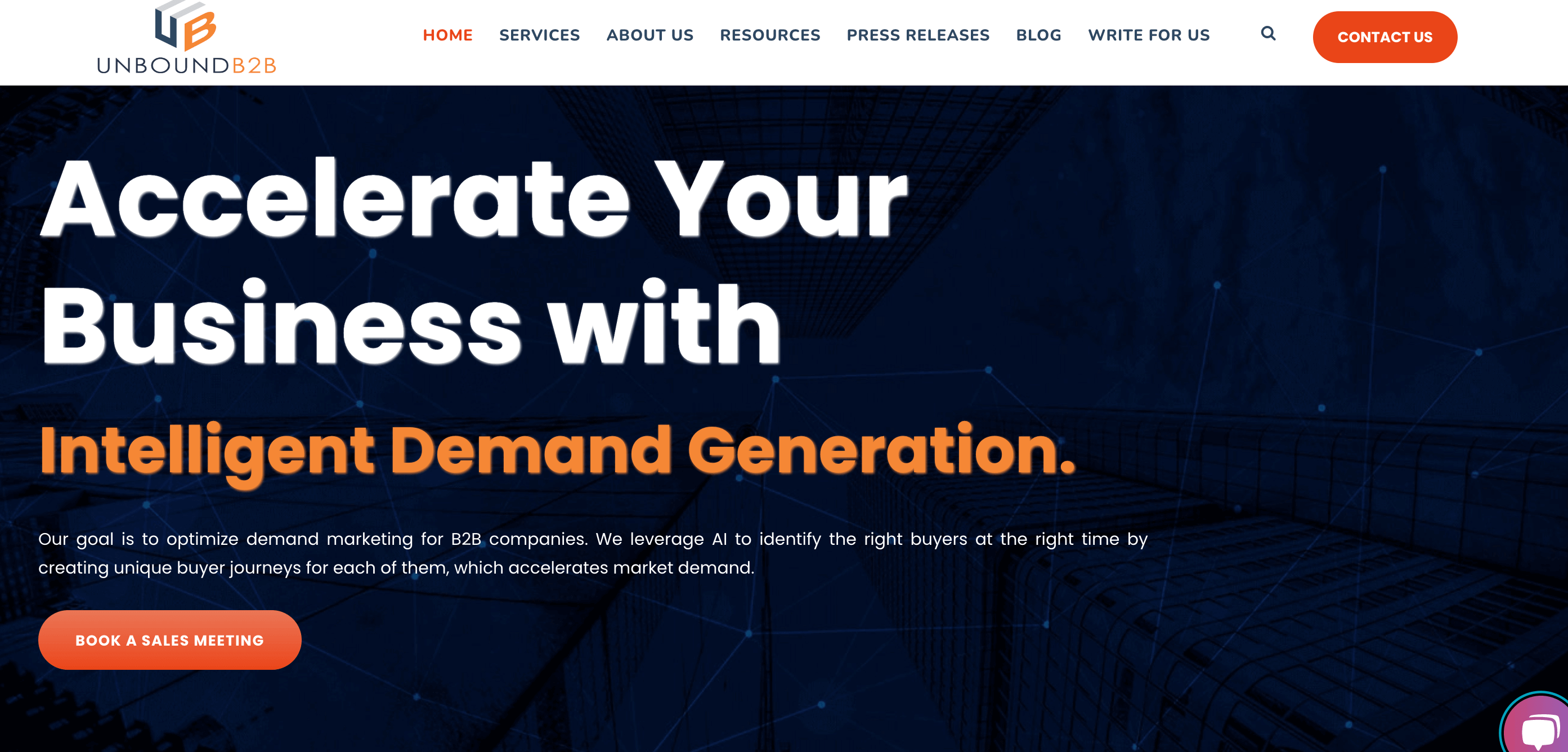 We cannot omit UnboundB2B when talking about the best B2B lead generation services. With a focus on quality and volume, UnboundB2B ensures that its clients spend less time on unproductive leads and achieve a higher conversion rate.
The company's demand creation strategies and top-of-the-funnel lead-capturing capability help reduce sales cycles by 30%. Their tech audience is diverse, with subscribers from various titles, designations, and seniority levels, all of whom have joined the community from different channels. 
Founded in 2016 and headquartered in San Francisco, UnboundB2B shares impressive customer success stories, including collaborations with Verizon, Adobe, IBM, AWS, Cohesity, Microsoft, Salesforce, Oracle, and others. With a 98% client satisfaction rate, 60 million-people audience reach, 120k leads generated, and 40k appointments set, UnboundB2B boasts the best-in-class B2B lead generation experts who deliver 100% qualified and 100% opted-in leads.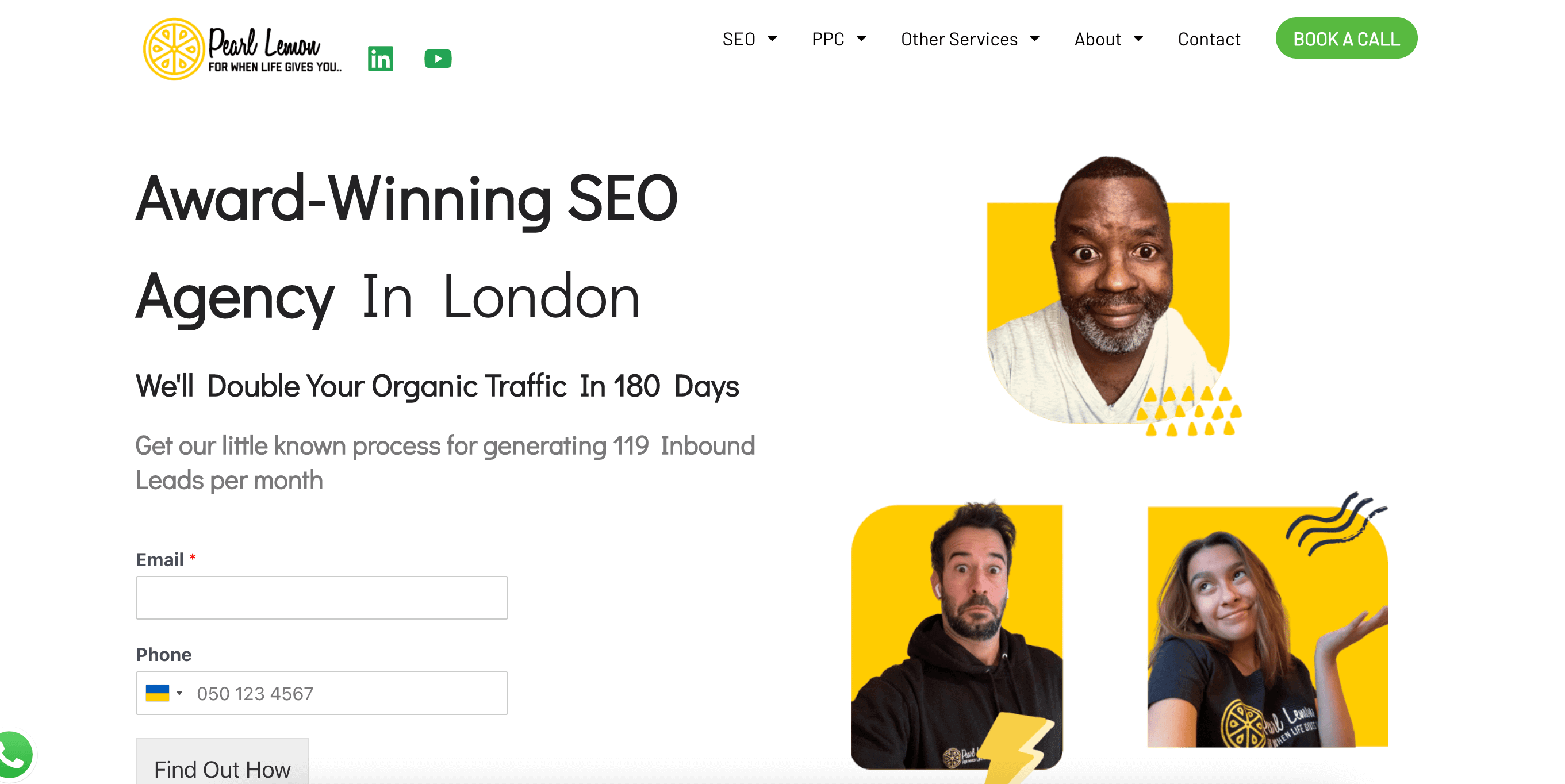 Pearl Lemon is a multi-award-winning SEO, lead generation, content, and sales agency based in London that serves clients worldwide. They offer bespoke SEO lead generation services that can help businesses rank better for long-term results. Their comprehensive business lead generation services help clients generate consistent, high-quality leads and efficiently close B2B and B2C deals.
Pearl Lemon's lead generation experts develop and execute a tailored strategy for their clients' businesses, boosting their conversion rates and exceeding their expectations. Their workflow involves identifying decision-makers in the potential customers' firms, creating an actionable strategy based on preliminary research, and making smart changes to boost the ROI.
As a full-service B2B lead generation London agency, Pearl Lemon has access to some of the best specialists globally who can apply their expertise and implement strategies and techniques that are proven to work. They offer various lead gen services, including LinkedIn lead generation, cold email campaigns, cold calling services, and podcast outreach.
Choosing Pearl Lemon, clients can count on receiving award-winning lead generation solutions. With their exclusive process for generating 119 inbound leads per month, Pearl Lemon can help businesses achieve massive success in their online growth journey.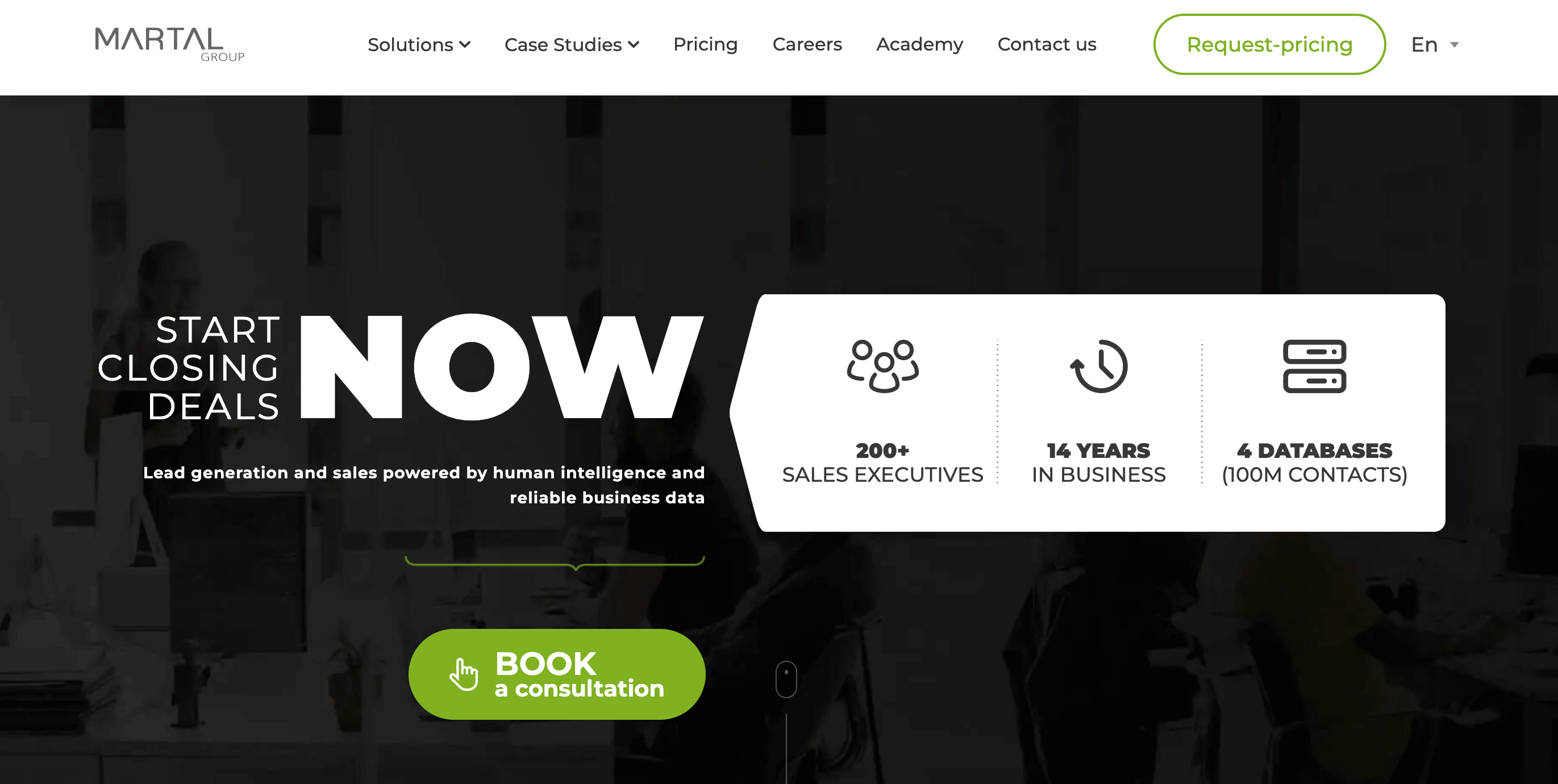 Martal Group is the go-to lead generation company for B2B businesses looking to scale faster and streamline their sales process. With a team of highly experienced sales management professionals, Martal Group offers outbound and inbound lead generation services, as well as account-based marketing, personalized sales touches, and accurate B2B contact information collection. Their Sales as a Service model provides top sales reps on demand, allowing clients to skip the prospecting process and focus on closing deals. 
Over the past decade, Martal Group has generated thousands of qualified leads for their happy customers, including startups and Fortune 500 companies across a wide range of industries such as Automotive, Retail, E-commerce, IT, Ad Tech, and Telecom. Their international sales team, consisting of mid and senior-level B2B sales talents, is technologically and culturally adept, business-savvy, and intellectually curious. Martal Group provides targeted lists based on ideal buyer profiles and potential addressable markets by integrating with leading data providers and intelligence prospecting tools.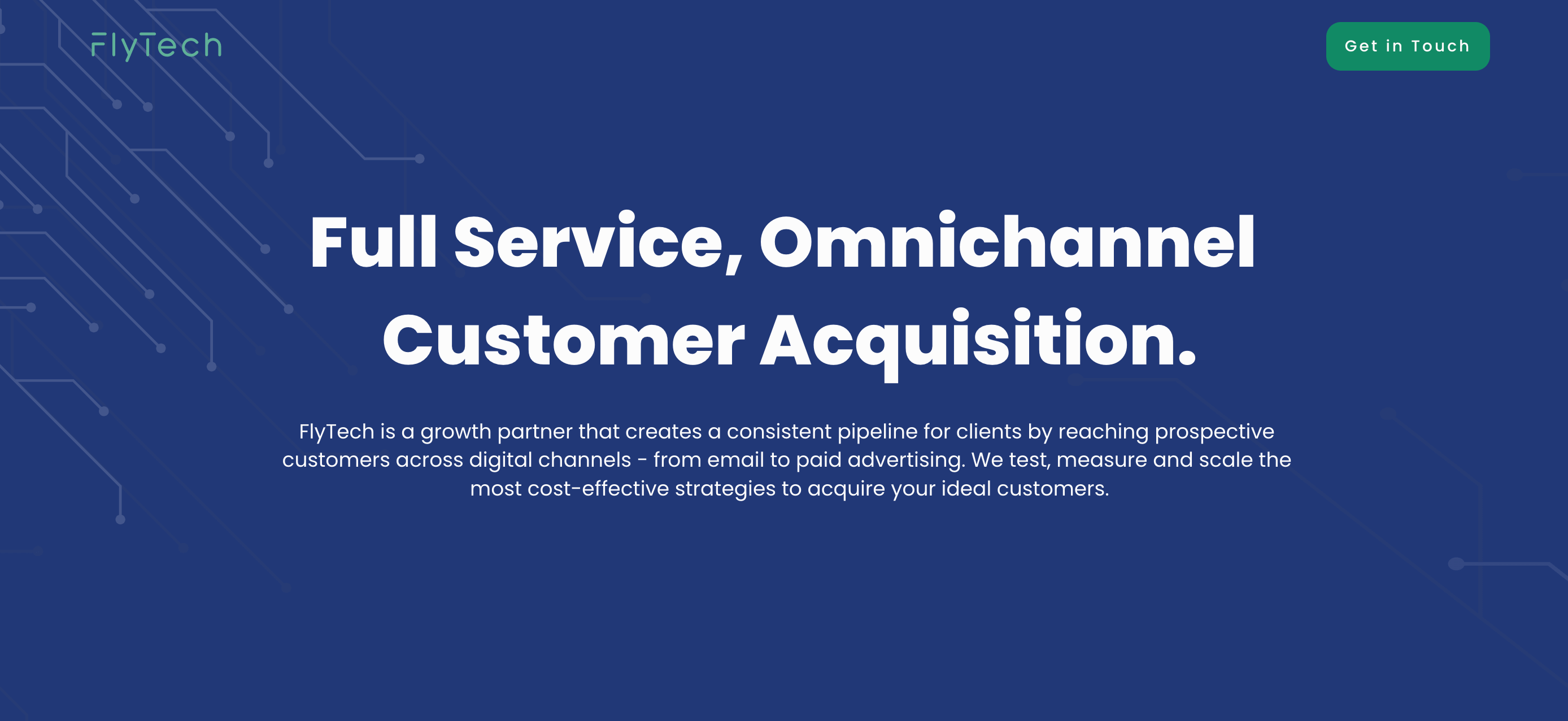 FlyTech is a top B2B lead generation company offering a full range of services to support scalable and repeatable prospect growth. The firm follows a unique approach, leveraging both professional account management and AI capabilities to provide the most effective lead generation solutions.
By providing full-service, omnichannel customer acquisition and creating a consistent pipeline for clients, FlyTech reaches prospective customers across digital channels, from email to paid advertising. The team tests, measures, and scales the most cost-effective lead generation strategies to acquire ideal customers through paid search, social targeting, direct outreach, and channel exploration.
FlyTech's services are trusted by startups of all sizes, including Bubble, Calibrate, Quip, Via, and others. With over 830 million data profiles collected, cleaned, and messaged through the most popular and niche digital channels, FlyTech has an impressive target meeting rate of 3% from cold outreach campaigns and an average conversion rate of 5% through marketing channels.
Conclusion
Here you go, the best lead generation companies present on the market, with ReVerb at the top of the list. With our rich expertise and specialized tools, we'll deliver the most comprehensive, result-driven lead generation services tailored to your business needs to boost your business's growth and revenues. 
If you want to add your lead generation agency to this list, email us with the details. After a quick review, we'll decide whether it's a valuable addition.