React Native has become one of the most popular technologies for cross-platform app development in 2023. According to recent surveys, 42% of developers prefer using React Native over other mobile app development frameworks. 
And it doesn't come as a surprise – React Native helps businesses save time and resources while developing high-performing and native-like mobile apps for both iOS and Android platforms. Most products we use daily – Facebook, Uber, Instagram, Skype, Airbnb, Bloomberg, Microsoft, and Tesla – are all companies using React Native. 
For most startups and enterprises looking to save both time and money on app development, this technology has become a chance that's too good to pass up.
And while there are numerous companies with top React Native developers emerging daily, finding the right partner for your next mobile project can be challenging. 
To make your search easier, we've compiled a list of top React Native development companies, overviewing their strengths, portfolios, and other crucial facts you should keep in mind when hiring React Native developers for your next project.
The Best React Native Development Companies
And Developers

Tarkashipla Technologies is an international software development company focusing on robust and cross-platform React Native app development. Founded in 2016, the firm helps businesses of all sizes achieve a balance between performance and cost. Offering near-native performance while saving development and maintenance costs, Tarkashipla can take on any of your project ideas and deliver a high-quality product based on your needs.
In addition to providing mobile app development, Tarkashipla also specializes in the web app, backend, and admin module development, as well as UI/UX design. Possessing exceptional technical understanding and experience, their team will deliver top-notch apps that align with your business needs and goals.
Rated as a Top B2B company by Clutch, the company boasts the reliability, quality, and speed of its digital solutions. They've delivered numerous successful React Native apps to startups and market leaders in various industries – Travel, Retail, Automotive, B2B commerce, and Pharmaceutical, to mention a few.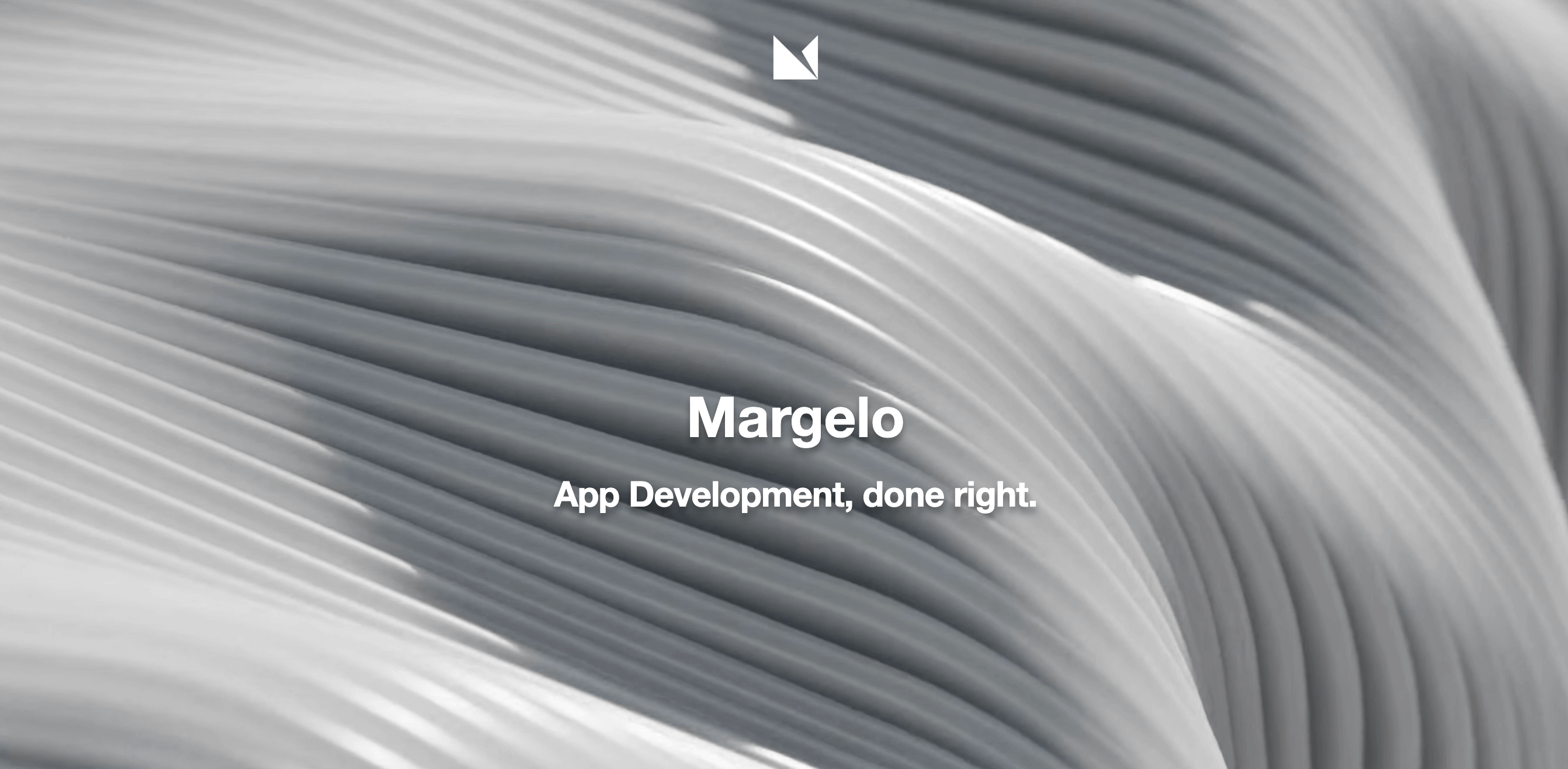 Margelo is an Austrian high-end app development company focusing on React Native development. Founded in 2021, the firm has worked with giant corporations like Coinbase and Shopify, establishing itself as a trusted partner.
Their team of supreme React Native engineers made a significant contribution to the success of countless famous applications, covering the entire mobile app development process from an idea to the AppStore launch. Offering app performance optimization, consulting, and custom module development, Margelo is here to take on any business challenge and provide the perfect result for you, adhering to the highest tech standards.
With the company's CEO being one of the top React Native experts worldwide, the company strives to break new ground, developing top-notch apps faster and more efficiently. Regardless of your project complexity, business requirements, and market needs, Margelo's passionate team will help you create a high performant app with a smooth UX and memorable UI.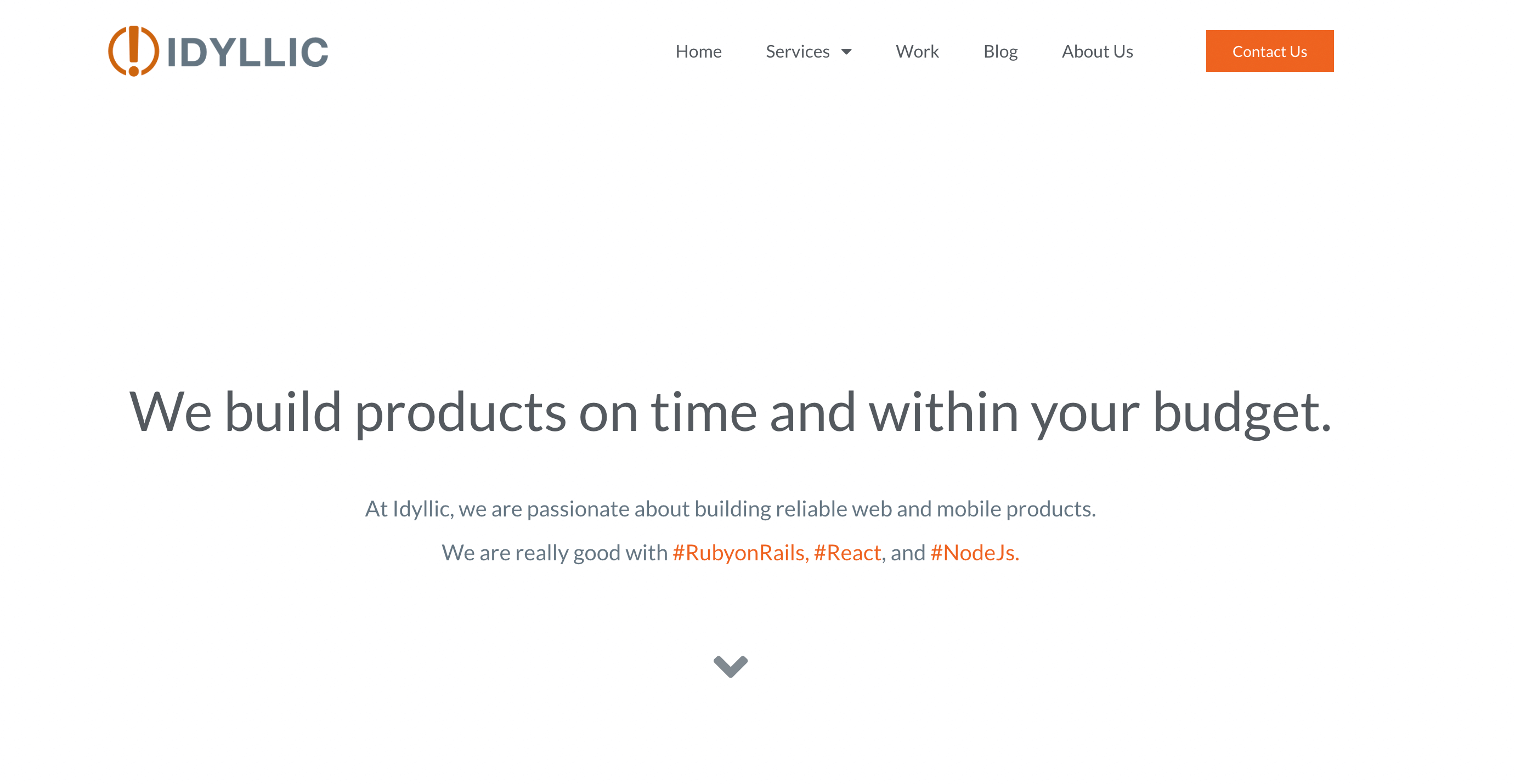 Idyllic is a leading IT service provider headquartered in Denver with offices in Chicago and Mumbai that focuses on React technologies to lead startups and mid-size businesses to success. Since 2010, their team of talented, free-spirited experts has worked hard to build countless top-tier React Native apps according to clients' requirements and market needs. They approach every project with design thinking to ensure the end product is unique, efficient, unique, and competitive.
Providing long-lasting partnerships that go beyond the tech process, Idyllic strives to help clients succeed with a top-notch digital transformation strategy. Regardless of the business industry, size, budget, or project complexity, their top-level React developers possess profound expertise in custom and out-of-the-box software development to deliver head-turning IT products.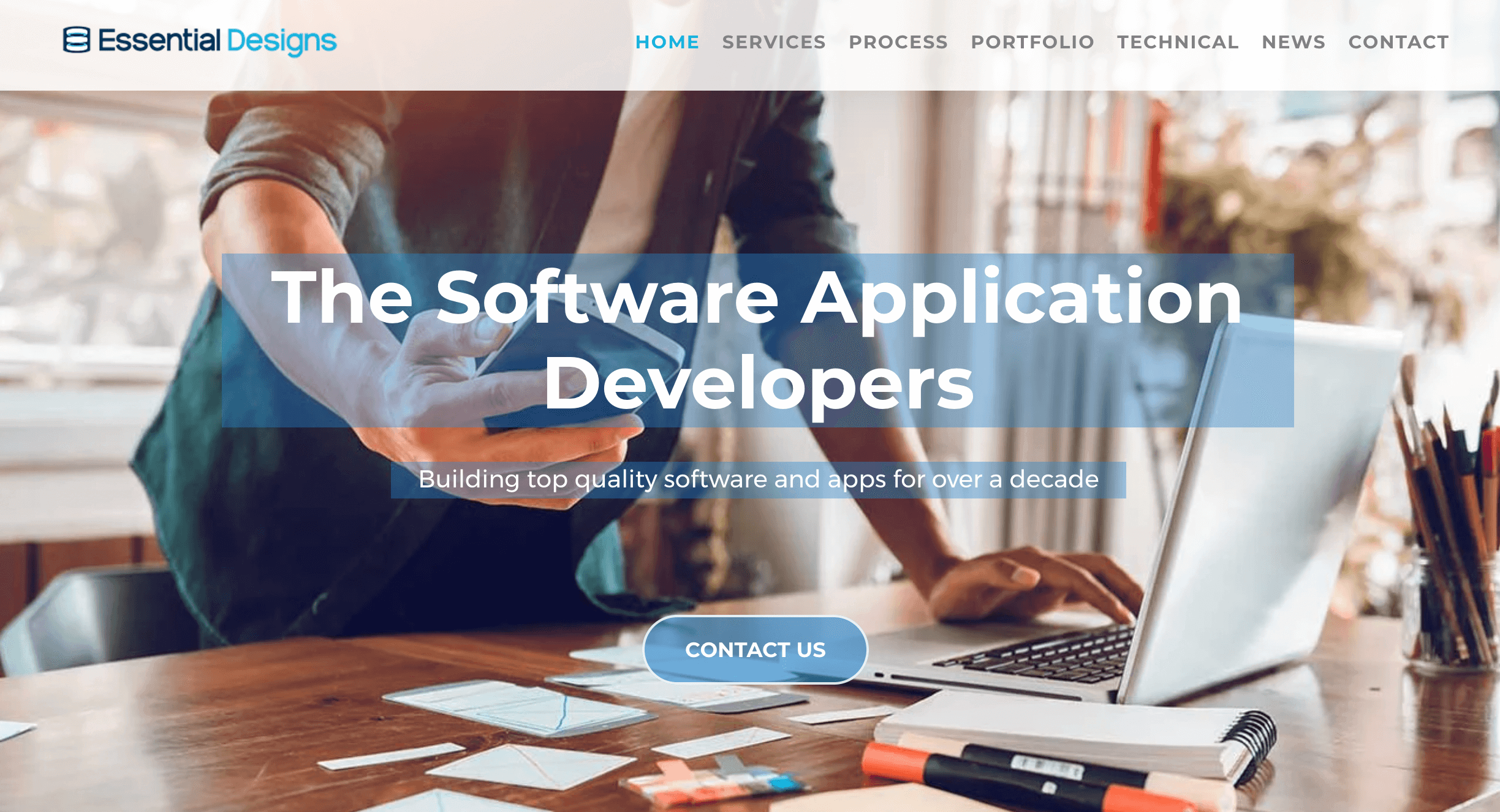 Essential Designs is a superior Vancouver-based IT company that has been delivering custom mobile and web apps since 2008. Focusing on React Native, the company guides clients through the entire app production process, starting from business analysis, wireframes, and design and ending with high-quality app development.
Their team of senior coders, designers, and other IT specialists works diligently to boost productivity, solve clients' problems, and make workflows as effective as possible. Over the years, Essential Designs has served numerous clients in Health, Education, Mining, and Finance sectors, becoming a trustworthy partner for both small and large businesses, as well as solo entrepreneurs.
From planning and design to software architecture, deployment, and post-launch maintenance, this best-in-class agency has delivered cutting-edge solutions for clients like TedX, Teck, Vancouver Coastal Health, Honeywell, and others.

Lloyds Digital is an award-winning React Native development company that provides various software solutions to businesses worldwide. With a team of top React Native developers and designers working for over 9 years, the company has already delivered 200+ outstanding projects for clients in 15 countries, including custom mobile and web apps, UX/UI designs, eCommerce platforms, as well as other high-performance digital products. 
Combining a creative approach and rich expertise in technology, their talented team can help you cover end-to-end mobile app development, including design, programming, maintenance, and other technical tasks. Their portfolio includes many prominent names, such as A1, MasterCard, Plus Hosting, Uniline, and many more.
Lloyds Digital uses a customer-centric approach to collaborate closely with clients, collect feedback, and adapt development processes to meet their needs and business goals.
Being a dedicated company focusing on high-quality results, Lloyds Digital has acquired numerous awards, including Top 10 B2B Service Providers in 2022 by Clutch in Croatia, The Most Reviewed eCommerce developers in Croatia for 2022, and The Excellence Award Winner in 2022.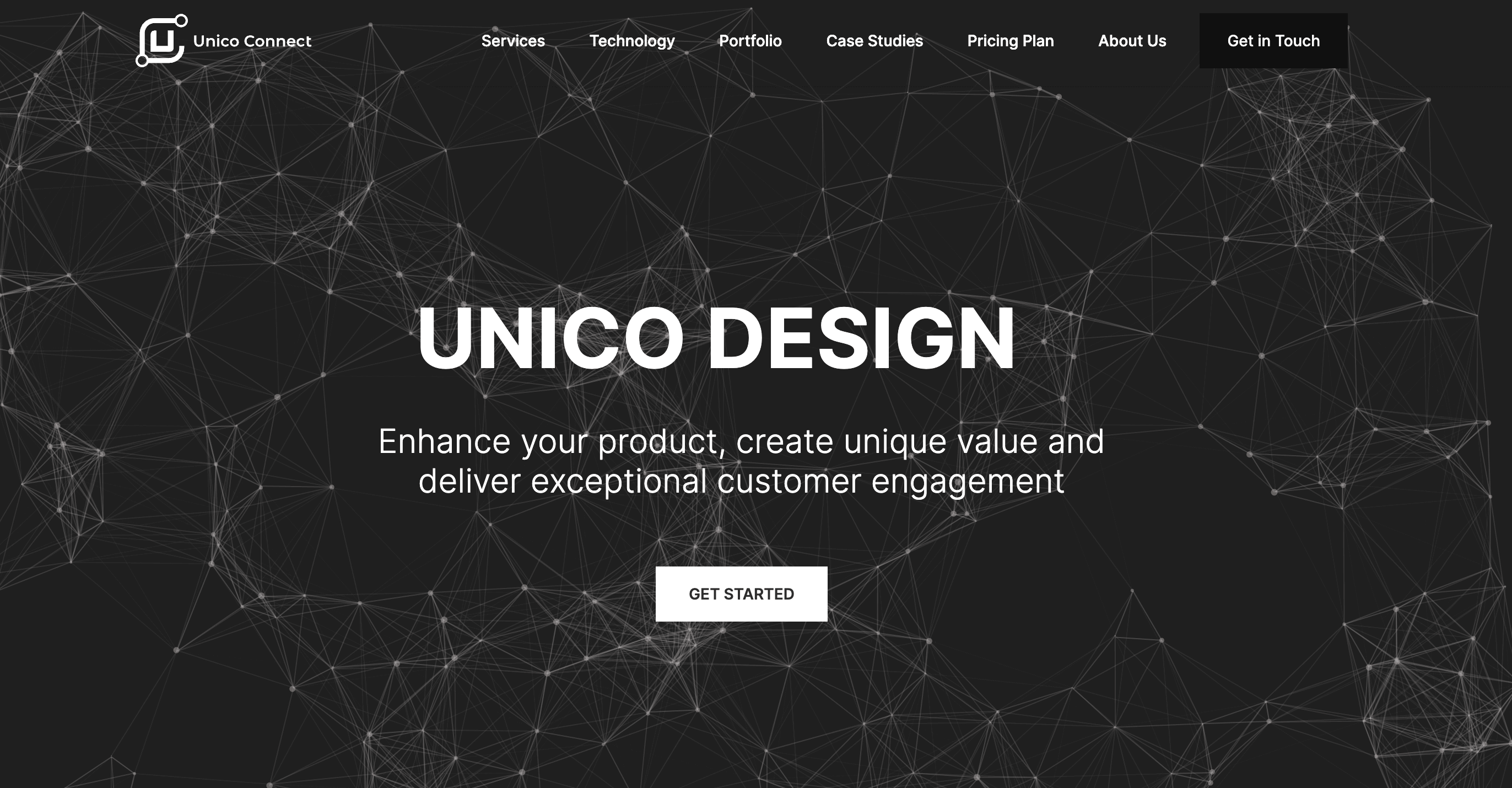 Unico Connect is one of the best React development companies that provide businesses with cutting-edge software solutions lightning-fast.
Using endless development capabilities of React Native and other technologies, the company can quickly build and deploy custom web and mobile applications for your business. Utilizing an impressive tech stack, Unico Connect helps enterprises automate their processes and workflows, improving their overall efficiency and productivity.
Being on the market since 2014, the company has gained valuable knowledge in various industries and technologies, including no-code tools and code-based programming languages. Their proficient team works closely with international clients to understand their unique needs and provide tailored app solutions to help them achieve their key business objectives.
Unico Connect's team of tech experts selects the best technology stack to build and deploy tailor-made scalable apps faster while also providing ongoing support to ensure your business achieves the desired results.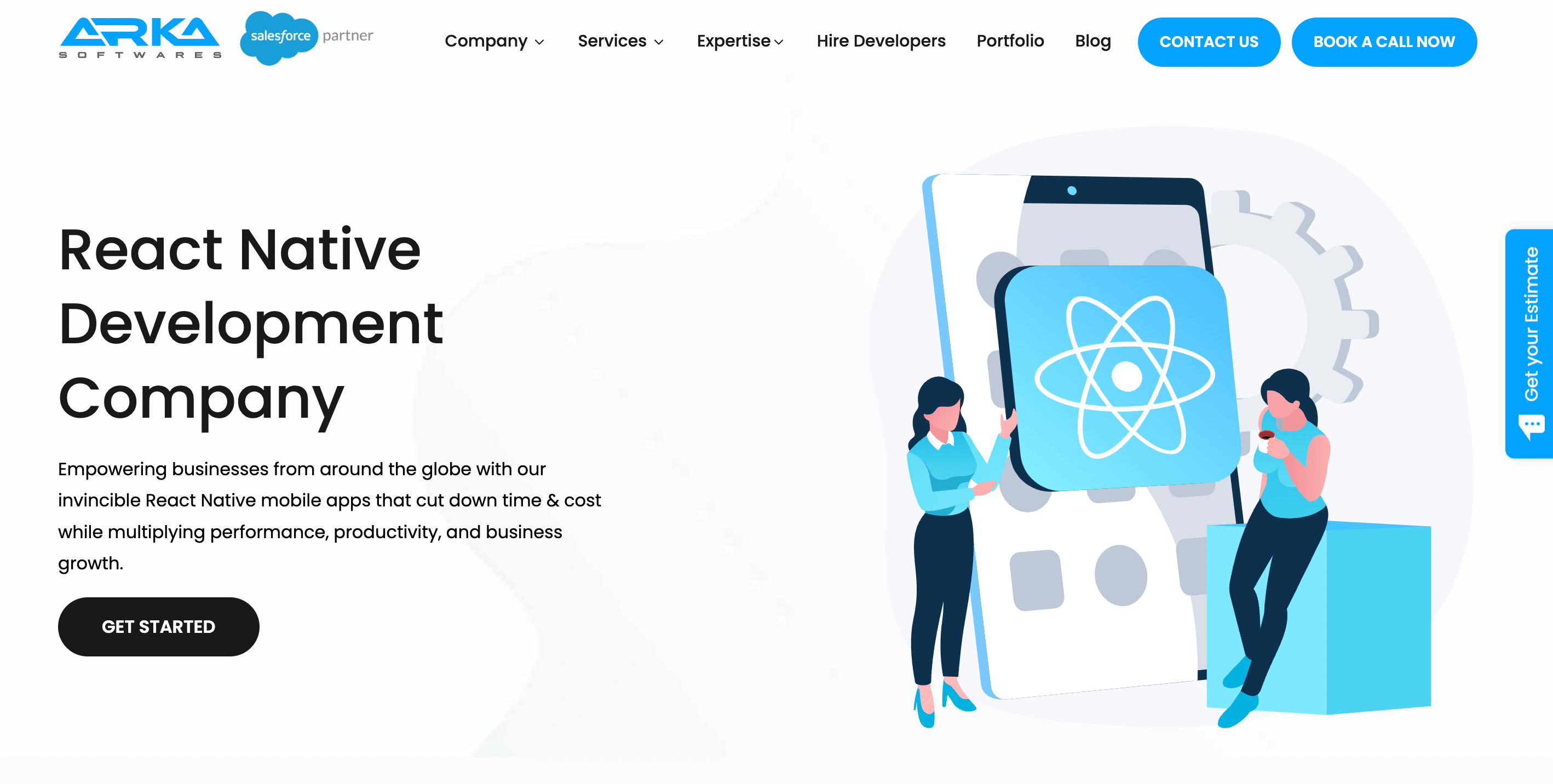 Arka Softwares is an ISO 9001:2015 certified industry-leading React native app development solution provider with 150+ passionate developers and designers based in Jaipur, India, with offices in the USA, UK, and Australia. They have been helping their B2C clients drive business growth with innovation-driven and contemporary web and mobile app solutions since the company's establishment in 2010.
So far, the Arka Softwares team has successfully delivered 650+ projects to 450+ happy clients, from ambitious startups to Fortune 500 companies. Their world-class quality digital products and services include software consultancy, prototype & concept development, Android & iOS and hybrid app development, React Native app development, website and web app development, IoT interface development, Salesforce development, CRM/CMS development, and Quality Assurance & Testing. Such full-cycle IT assistance minimizes modern business challenges and clears the path for future opportunities and possibilities.
The company incorporates not only conventional but also proprietary research to invent exceptional mobile applications that work for you and automate your entire business while making it accessible anytime and from anywhere. Their fanatically-driven mobile app developers and designers leave no stone unturned to offer you mobile apps and support services that go beyond your expectations.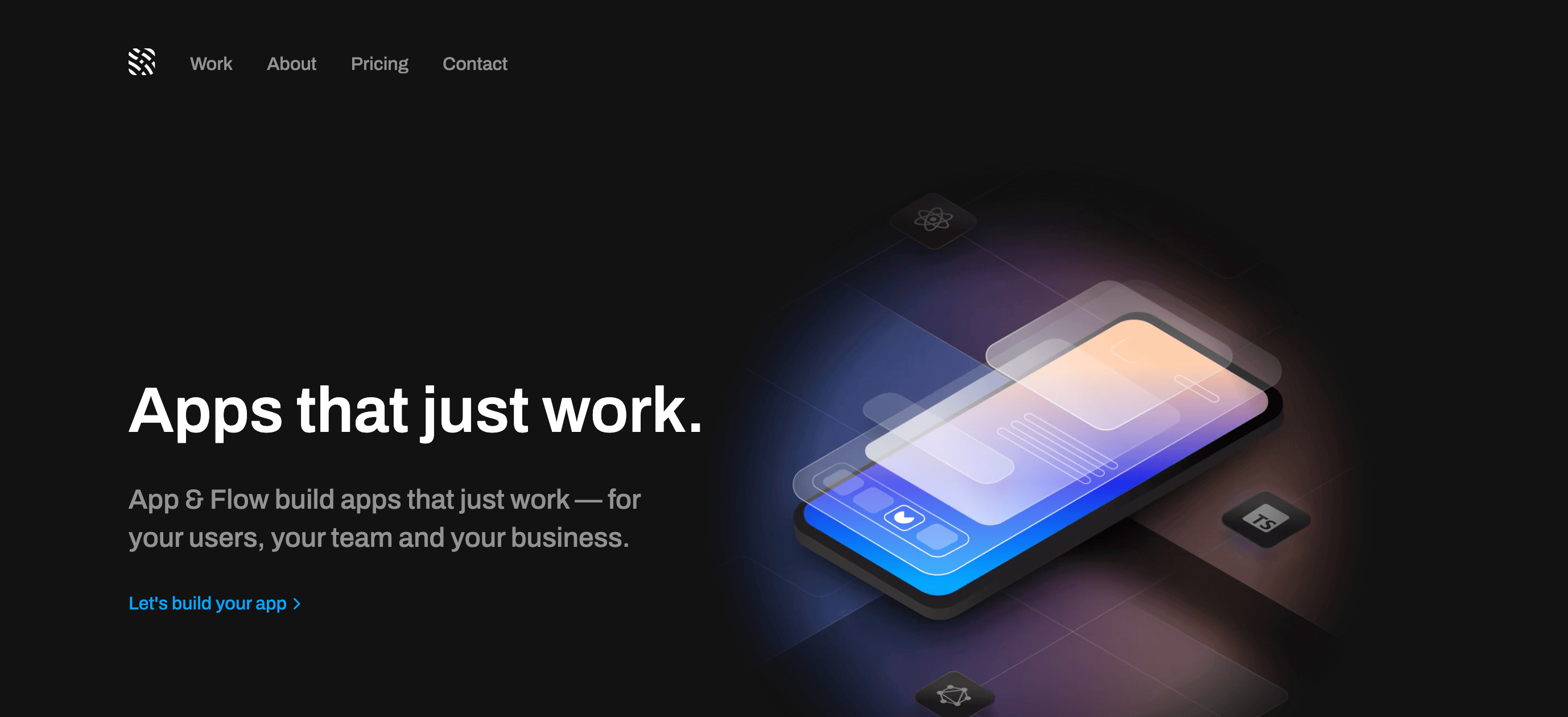 App & Flow is a Montreal-based team of app development experts who focus on delivering high-quality and scalable apps using React Native. Launched in 2015, the company has quickly gained success in the industry, helping startups, medium-sized companies, and established businesses achieve greater results.
The team at App & Flow is composed of old friends, passionate React Native developers, and non-conformists, sharing a common goal – to deliver apps that drive businesses to success.
Being one of the first to adapt React Native technology, the company deeply understands technology and the development process, allowing the team to build innovative apps efficiently. They're constantly exploring new ways to enhance businesses and build better apps with React Native.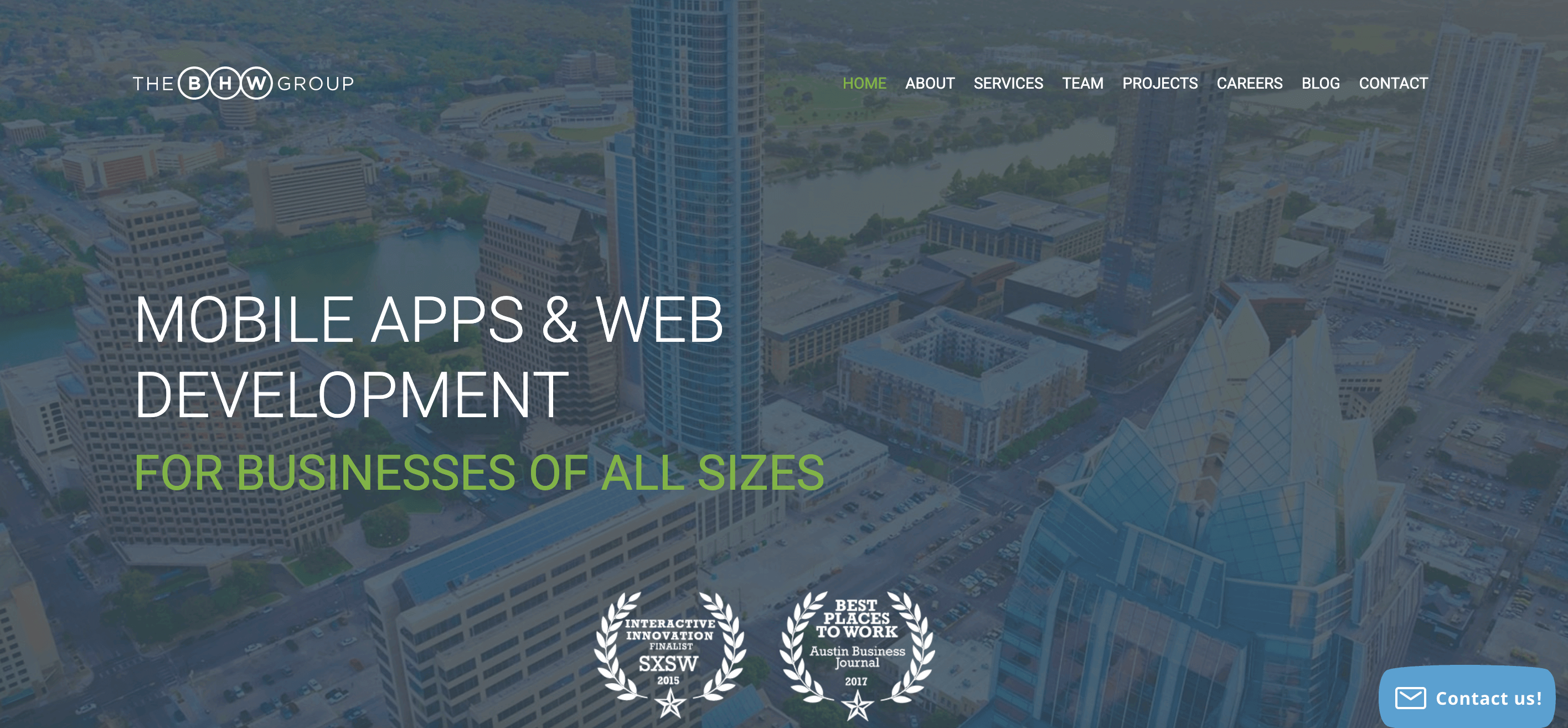 The BHW Group is a turn-key mobile and web app development company based in Austin, specializing in React Native development. Founded in 2005, the firm has acquired over 18 years experience and knowledge in the industry to deliver custom solutions to businesses of all sizes. From design and development to post-launch support, The BHW Group offers an extensive range of solutions to ensure the app developed is meeting all the clients' and market's needs. 
Utilizing the latest technologies and agile methodologies, The BHW overcomes any challenges to deliver high-quality results based on the client's requests. Being an expert in over 23 industries, they've helped to create over 400 impactful solutions for 80 customers worldwide.
With such a prominent track record of success and recognition, the company was named one of Austin's best places to work.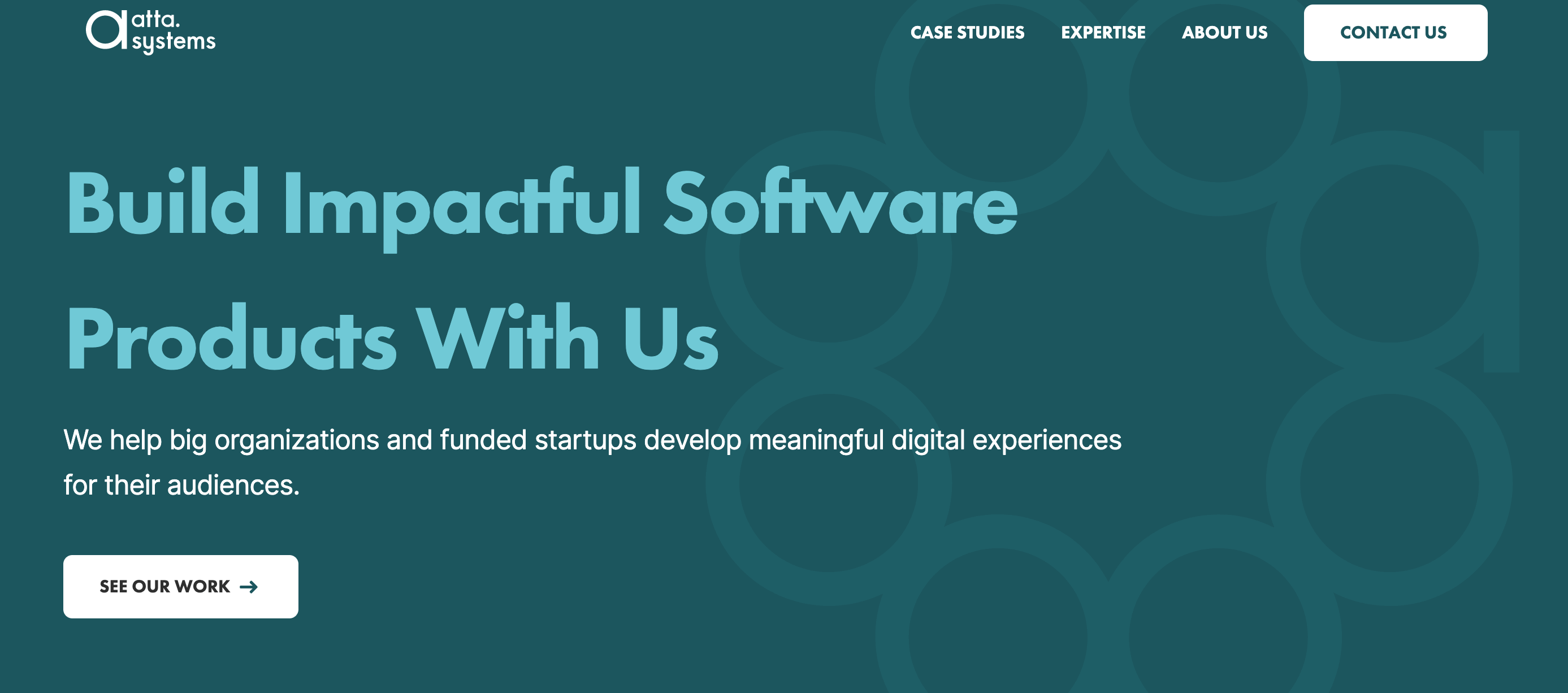 Atta Systems is a Romanian mobile app development company that specializes in delivering meaningful software products for startups, high-growth companies, and large enterprises.
Atta Systems adopts a product-centric approach to development, offering services for product strategy, design, data, software engineering, and product marketing.
Their expertise and experience in the Medtech, Edtech, Fintech and Government and Administration sectors have helped them deliver over 30 products to market and help clients raise over $15M. 
Having a team of experienced React Native developers, the company focuses on React Native mobile app development to build scalable products used by millions of users around the world. The company is recognized and awarded by Clutch, GoodFirms, ANIS, and Sortlist. Among the Atta Systems clientele are EY, Medicai, e-Cuib, UiPath, EdXP, and others.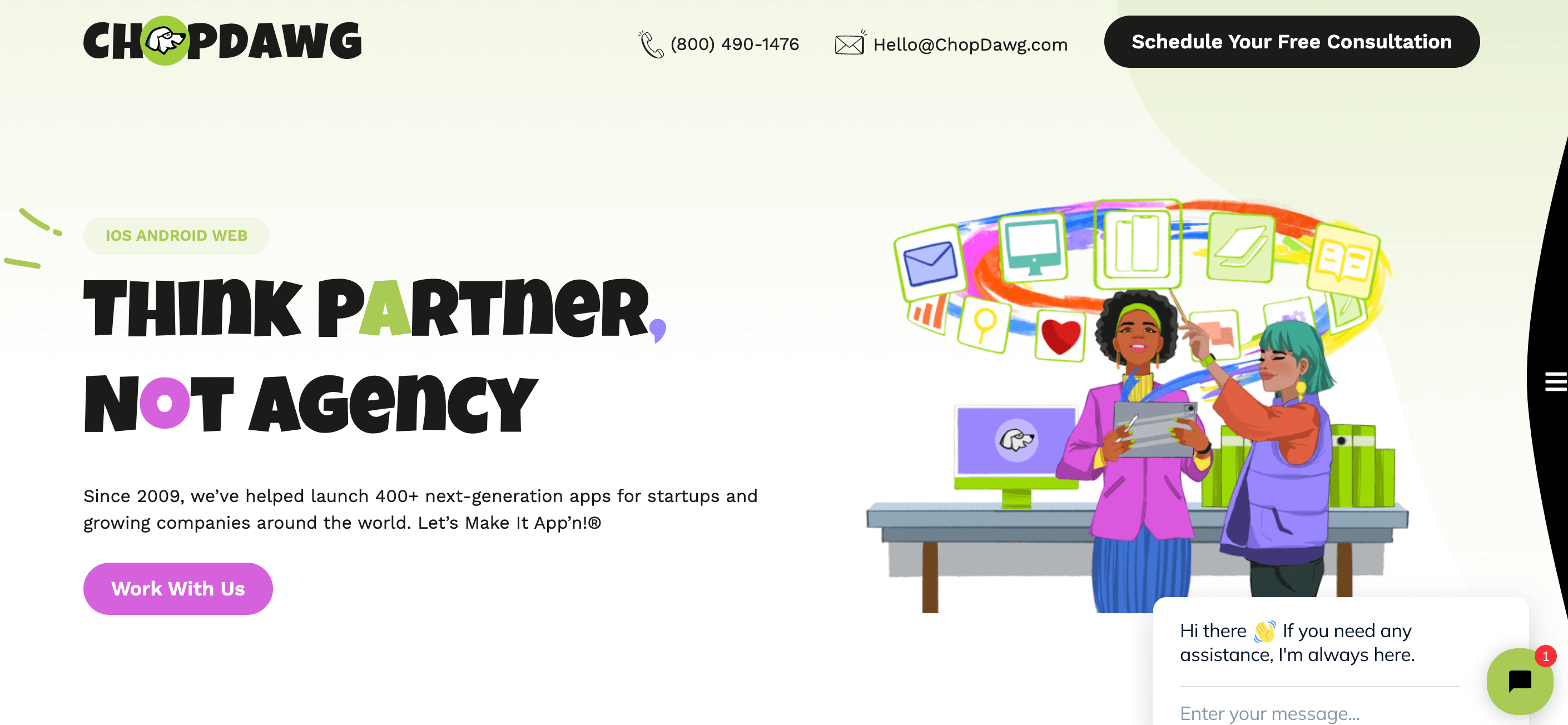 Launched in 2009, ChopDawg is an international design and development company based in Philadelphia. With over 14 years of practical experience and know-how, the firm has already delivered 400+ next-generation apps for startups and growing companies worldwide. 
Having 52 passionate and professional team members, ChopDawg mainly focuses on React Native cross-platform development. In addition, the company provides emergent technology development, product strategy, UI/UX, app branding, WordPress development, app analytics integration, and QA services.
ChopDawg earned numerous awards and was reviewed as Top Mobile App Developer, Top B2B US Company, Inc. 5000 Fastest Growing Companies, MobileAppDaily Industry Leader, and AI Global Excellence Award.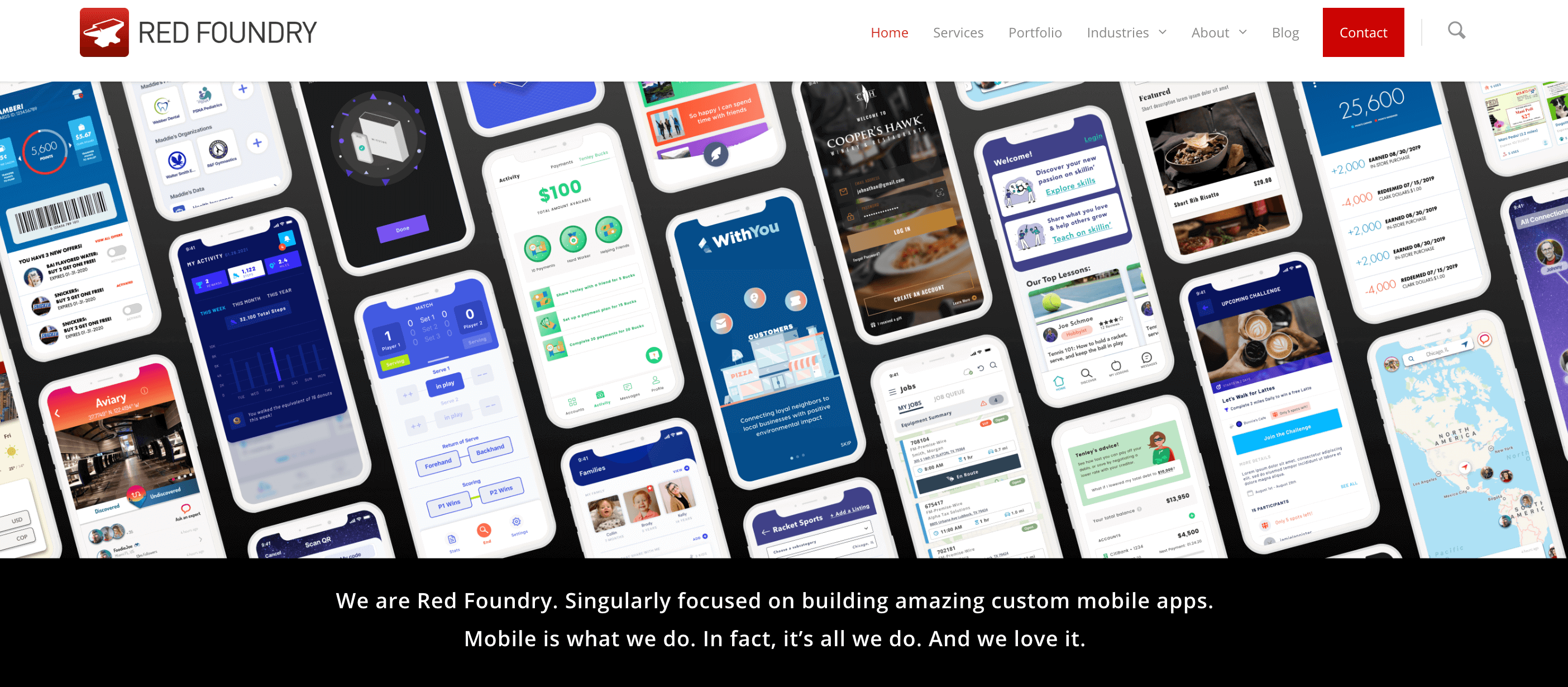 Red Foundry is a Chicago-based mobile app design and development consulting firm. Since the first day it was founded 14 years ago, the company has been creating impactful mobile apps using React Native technology. Tackling through challenges most businesses face, the company aims to deliver higher quality for a lower cost. 
From idea to reality, Red Foundry can guide you through the whole app development process – discovery, design, production, testing, launch, and maintenance. By partnering with numerous innovative tech companies and being an active IT community member, Red Foundry has gained the necessary knowledge and experience to provide the best solutions.
Regardless of your business industry, feel free to hire best-in-class React Native developers from Red Foundry – the company has expertise in most of them – Travel, Publishing, Sports, Healthcare, Retail, and others.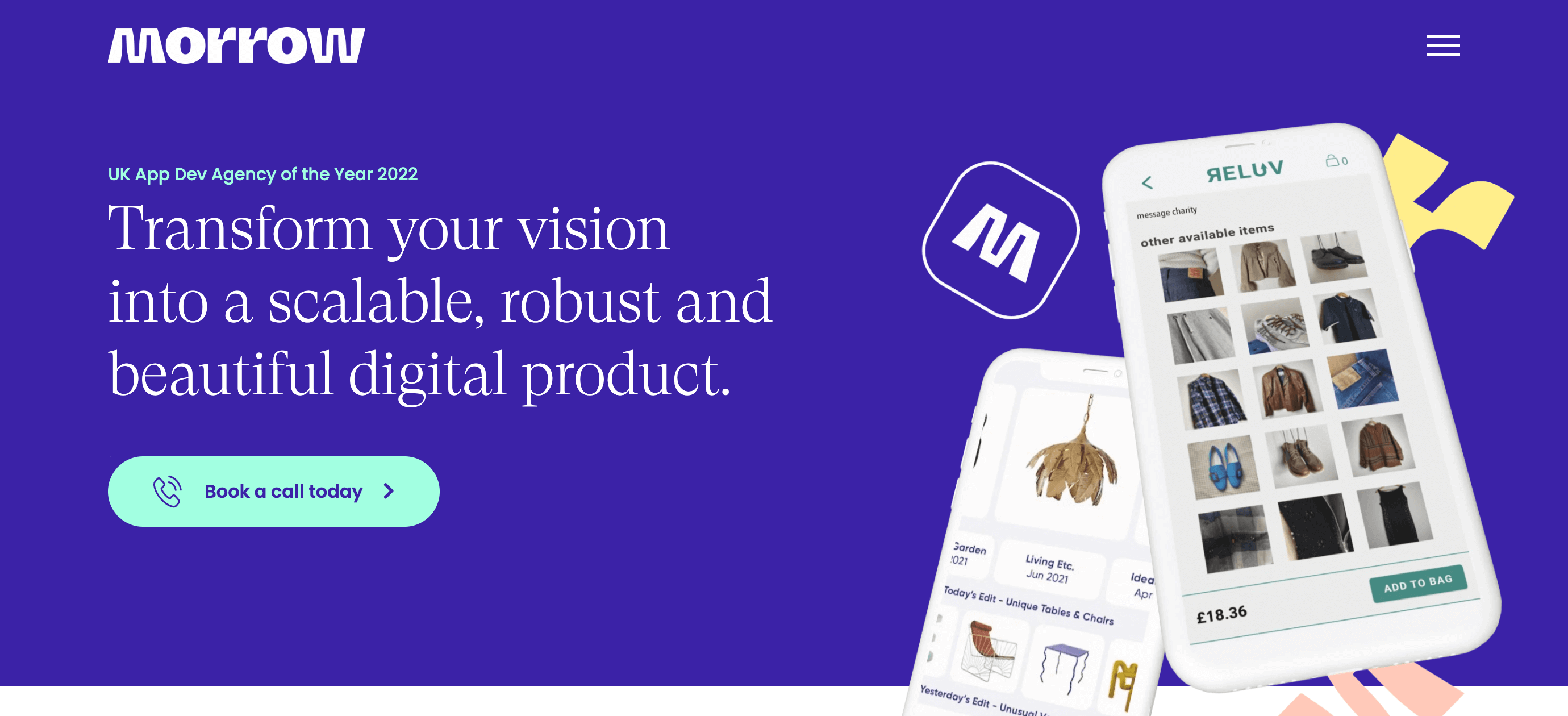 Morrow is a top-notch app development firm that was named UK App Dev Agency of the Year in 2022. Headquartered in Bristol, their international team of professionals specializes in React Native development services. 
Morrow combines strategic consulting, powerful app development skills, and unwavering teamwork to help clients achieve their goals and acquire a competitive edge. Their supreme engineers and project managers support high-growth scale-ups while helping businesses reduce the risks and speed up the development process by providing dedicated development services. 
Utilizing full stack technical strategy, the company can easily improve outdated projects as well as create new modern ones. Morrow's unique approach and expertise offer functional and beautiful app development across all platforms, making their clients' products "app store ready."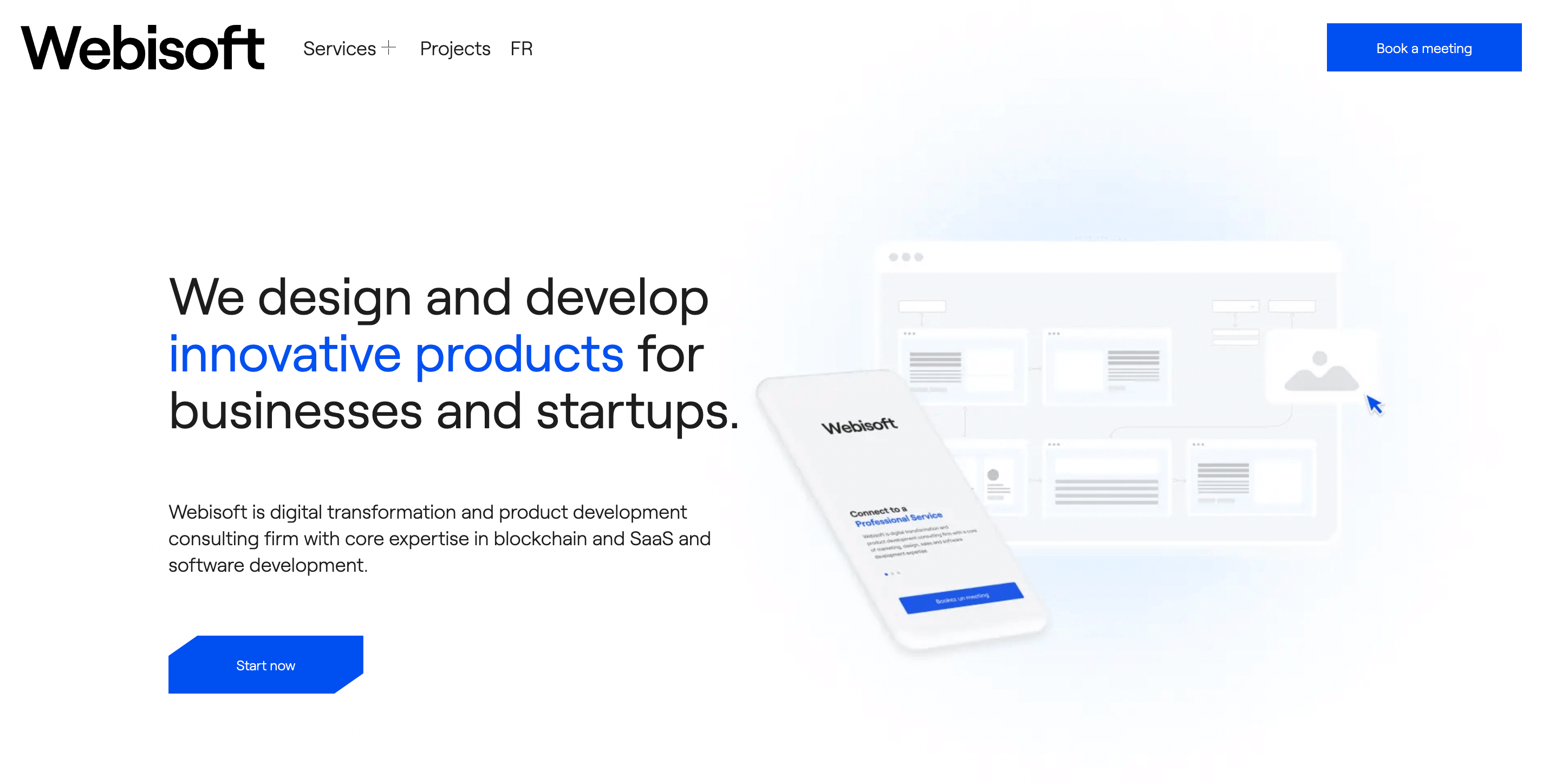 Founded in 2016, Webisoft is a Montreal-based cutting-edge software development company that provides top-notch solutions using React technologies and a great set of other programming languages and tools. Their team of passionate experts helps small businesses and enterprises develop innovative digital solutions to outperform competitors. Despite the project's complexity, Webisoft is ready to take on any challenge and build a React Native app of the best quality possible.
Having clients not only in North America but worldwide, Webisoft is a prominent IT services provider that numerous businesses trust. From digital strategy development to delivering custom or out-of-the-box React Native solutions, the agency covers the full software development cycle, ensuring transparent communication and putting customers first. They will automate your business processes, implement complex integrations with your existing systems, and go above and beyond to drive your company's growth.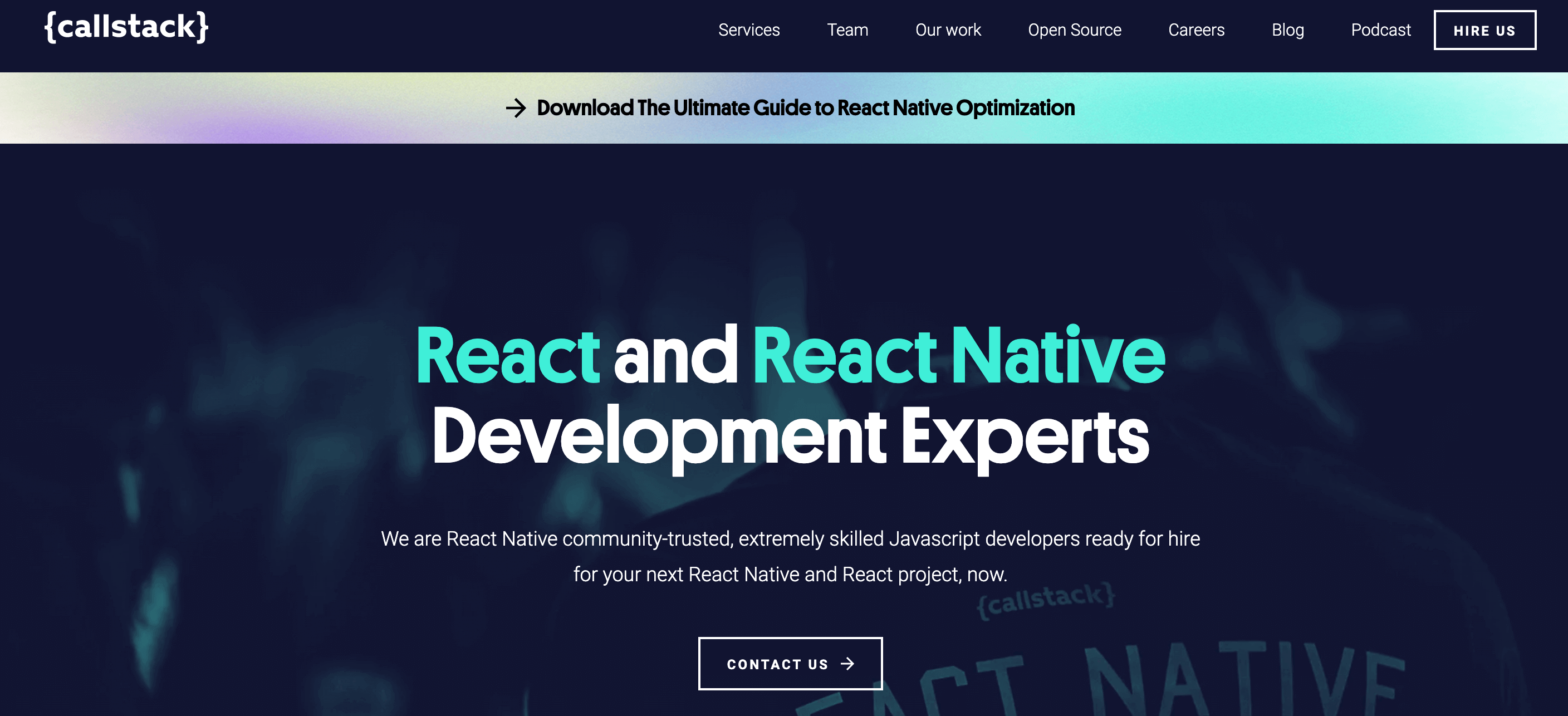 Being a leader in React Native services, Callstack focuses on delivering top-notch mobile app solutions. Founded back in 2016, this Poland-based IT company provides a great number of services to small and medium companies, as well as enterprises. They can assist you with mobile development, React Native integration, code reviews, performance audits, and custom training.
The company delivers out-of-the-box and custom solutions to various types of projects, regardless of the complexity, budget, and requirements. 
Callstack is the co-founder of the React Native community – the platform to discuss, suggest, and propose framework improvements. In addition, the company constantly holds conferences, hackathons, and meetups to overview React Native projects, share expertise, and learn from the top leaders.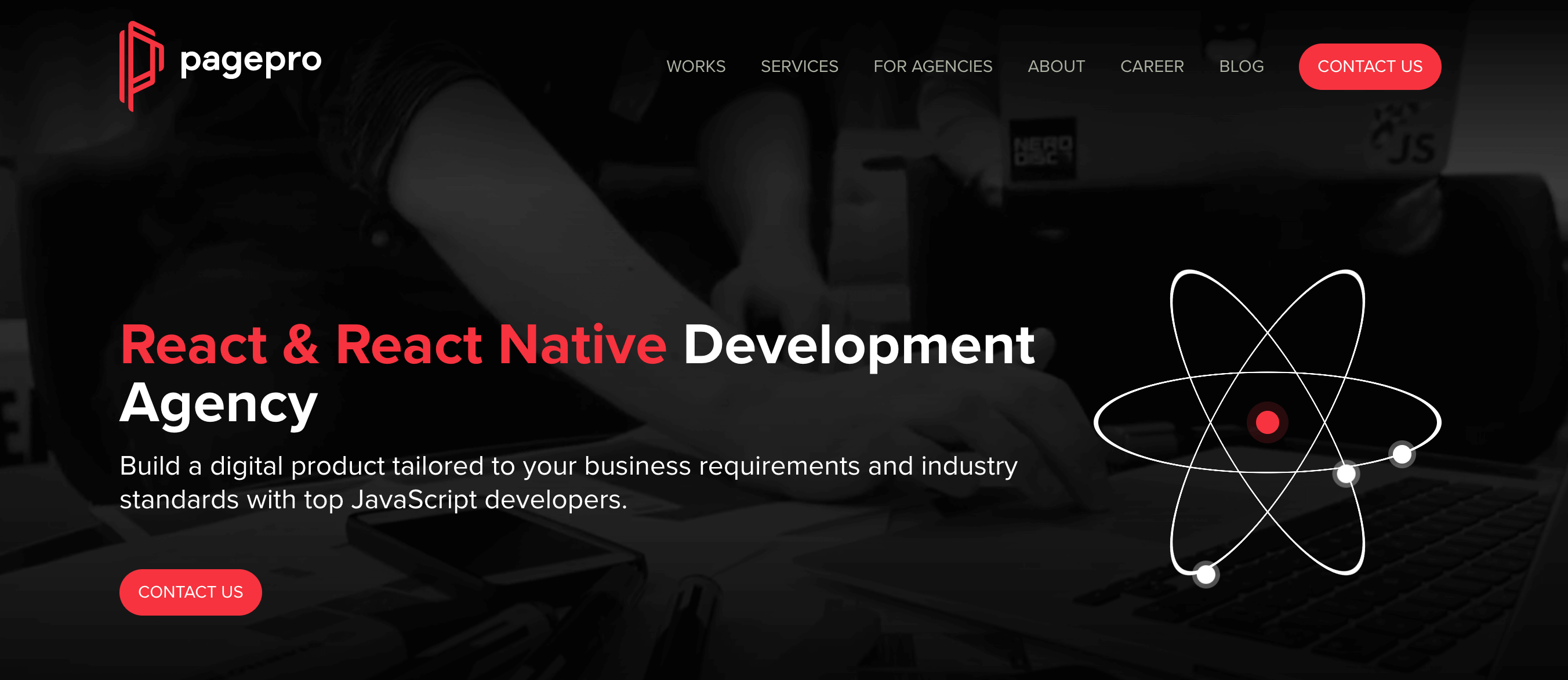 One of the best React Native app development companies, Pagepro offers a wide range of solutions for businesses searching to optimize their existing app or develop one from scratch. Providing team & staff augmentation services, Pagepro covers pre-development analysis,  MVP development, as well as end-to-end app development services.
Being on the market since 2010, the company has helped startups, creative agencies, established teams, and enterprises build superior apps they've dreamed about.
With over 80% of the team being senior React Native developers, the company guarantees efficiency and effective development for your business. Whether it is HR, finance, real estate, or SaaS – Pagepro can take on any challenging task to deliver results within the set timeline.
Conclusion
Finding a reliable outsourcing company is crucial when it comes to developing a high-quality, scalable, and successful React Native app.
With countless vendors available on the market, choosing the right company for your project can take a lot of time, effort, and doubts. We hope that this list of the best React Native development companies will assist you in making an informed decision and help you find a suitable partner for your project needs.
If you want to add a company to our list of top React Native development companies, please contact us via email. Our team will thoroughly review and determine whether your company meets our criteria for inclusion.