There's no doubt that blockchain and cryptocurrency are currently the talks of the hour, and every second business is trying to become a part of it. 
Blockchain has various applications such as banking transactions, supply-chain management, tracking and recording data, securing confidential information, and much more. 
The modern types of blockchain-based systems include cryptocurrencies, NFTs (Non-fungible Tokens), dApps (decentralized applications), smart contacts, P2Es (play-to-earn games), and DeFi (decentralized finance), among various others.
As a result of the growing blockchain's popularity, many blockchain consulting companies have emerged to help with project guidance and development. Blockchain consultants are tech-savvy experts who understand cryptography and software development and are helping businesses and enterprises to switch from Web 2.0 to Web 3.0. 
They help clients understand blockchain technology fundamentals and implement key crypto strategies to move their business to the next level. Today, the market is full of crypto consulting firms which might confuse you when selecting a partner that perfectly suits your needs.
Therefore, we have created a list of the top blockchain consulting companies to hire to assist you with your next crypto project. We've analyzed such firms' parameters as the expertise, scope of services, awards, and noble clients. So here we go.
The Best Blockchain Consulting Companies And Crypto Advisors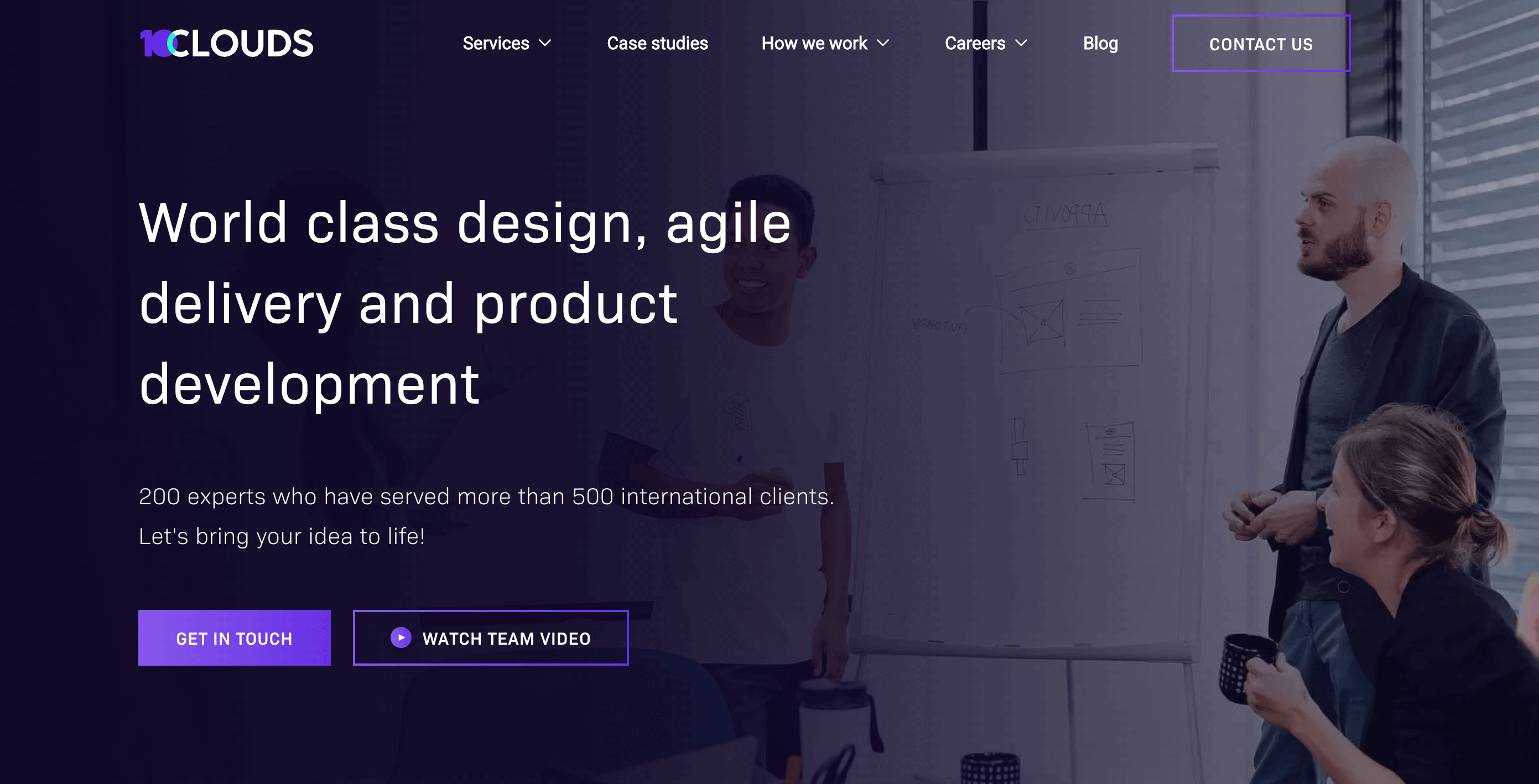 If you want to reduce costs and scale your business using blockchain technologies, 10Clouds is your choice. The company is based in Warszawa, Poland, and caters to clients across the globe. It has a team of 200+ crypto experts who've served more than 500 clients. 
Their blockchain consulting services are aimed at the successful development of DeFi tokens, dApps, crypto wallets, crypto banking systems, play-to-earn games, DAOs/governance platforms, NFT marketplaces and exchanges, tokenomics for tokens and dApps, UI/UX audit, and much more. Their experts mainly use the Ethereum blockchain and Polygon for project implementation.
10Clouds has many crypto banking and investing apps under its portfolios, like Crescent, Omise, Earnity, and much more. The company has also been awarded as Top Blockchain Consulting Firm by Clutch and The World's Best Blockchain Consulting company according to The Manifest.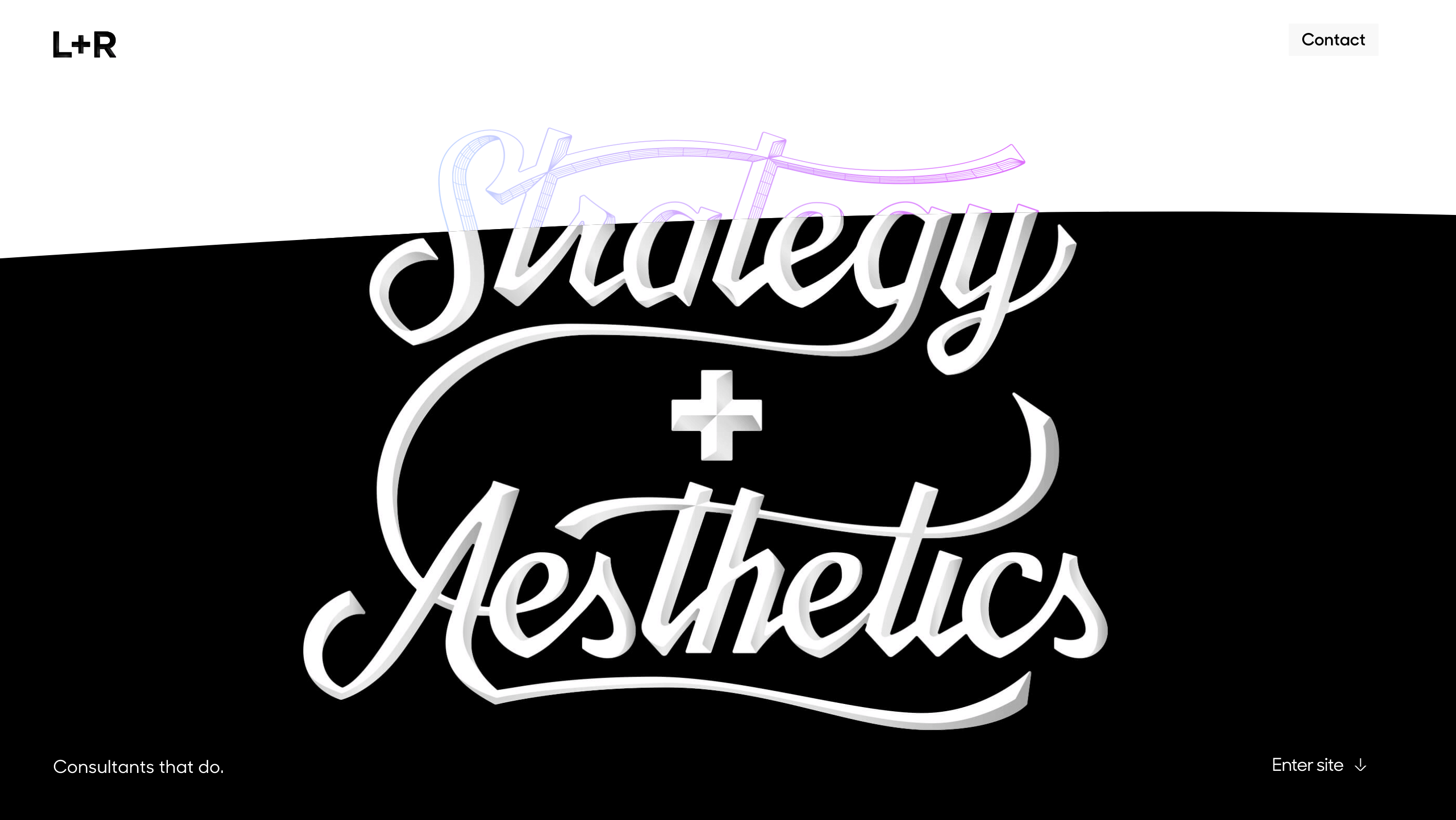 L+R is an international design & mobile technology studio which is also a leader in blockchain consultancy. They help corporations, small businesses, and startups create an impact with a balance of strategy and aesthetics. 
Their blockchain consultancy services cover Metaverse & Web3 strategy consulting, NFT development, wallet development, smart contract development, DAO development, Web3 UX/UI design, Metaverse 3D modeling & architecture, and other areas. They also provide ICO (Initial Coin Offering) consultancy for projects launching their own coin.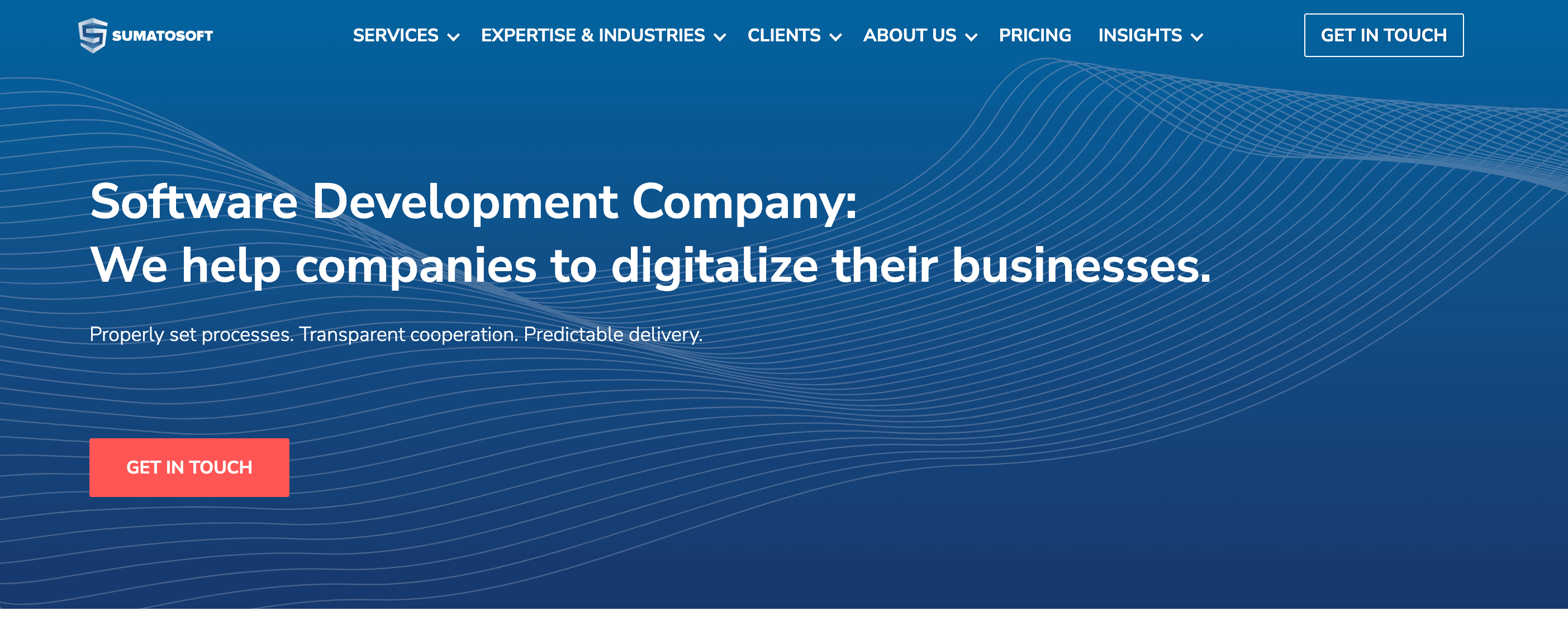 SumatoSoft is an experienced custom app development company that designs striking business-oriented IoT, SAAS, CRM, and HRM solutions for startups and enterprises. Since 2012, they've delivered compelling products for notable companies like Toyota & Lexus, TL Nika, Dragon Sourcing, MyMediAds, Boxforward, and many others.
SumatoSoft has a proven track record in building complex web, mobile, and IoT applications for businesses across various domains. Blockchain consulting and development takes a significant place in their expertise. Other services they offer include Quality Assurance, Ruby on Rails development, SaaS development, and SEO for SaaS services.
SumatoSoft's superior UX designers, business analysts, and software engineers are joining efforts to build top-notch custom solutions for customers to help them make data-driven decisions and drive business growth. Clients benefit from their solution-focused approach, as they've set the bar high.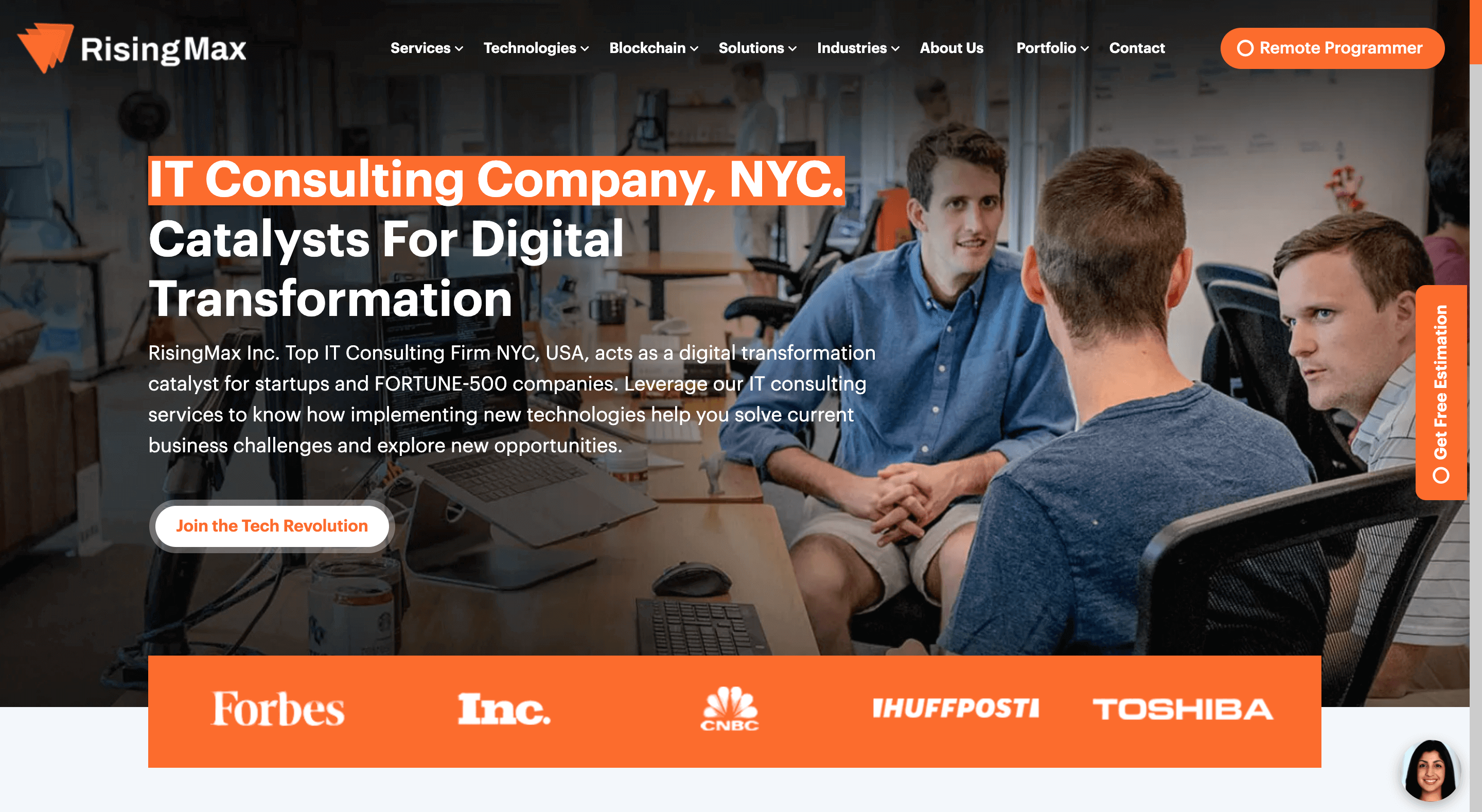 RisingMax is one of the most renowned blockchain consulting companies based in NYC, USA. Launched in 2008, the company has already assisted 1000+ Fortune 500 companies, startups, and government agencies to uplift $200M+ via blockchain solutions.
Utilizing Ethereum, Hyperledger, Stellar, Ripple, R3, EOS, Hedra Hashgraph, Dragonchain, and Tezos blockchain platforms, their superior team will help you speed up the development process, reduce costs, and deliver an easy-to-manage blockchain-powered product.
RisingMax assists organizations of all sizes with effective blockchain technology consulting and software development, building custom apps of any complexity. Thanks to over 15 years of experience, a strong skill base, and decentralized methodologies, their blockchain experts will help you analyze your business requirements and define the most profitable solution.
Serving the Finance & Banking, Healthcare, Education, Real Estate, Logistics, and Food industries, RisingMax can realize any of your ideas through top-notch on-demand blockchain technology development services.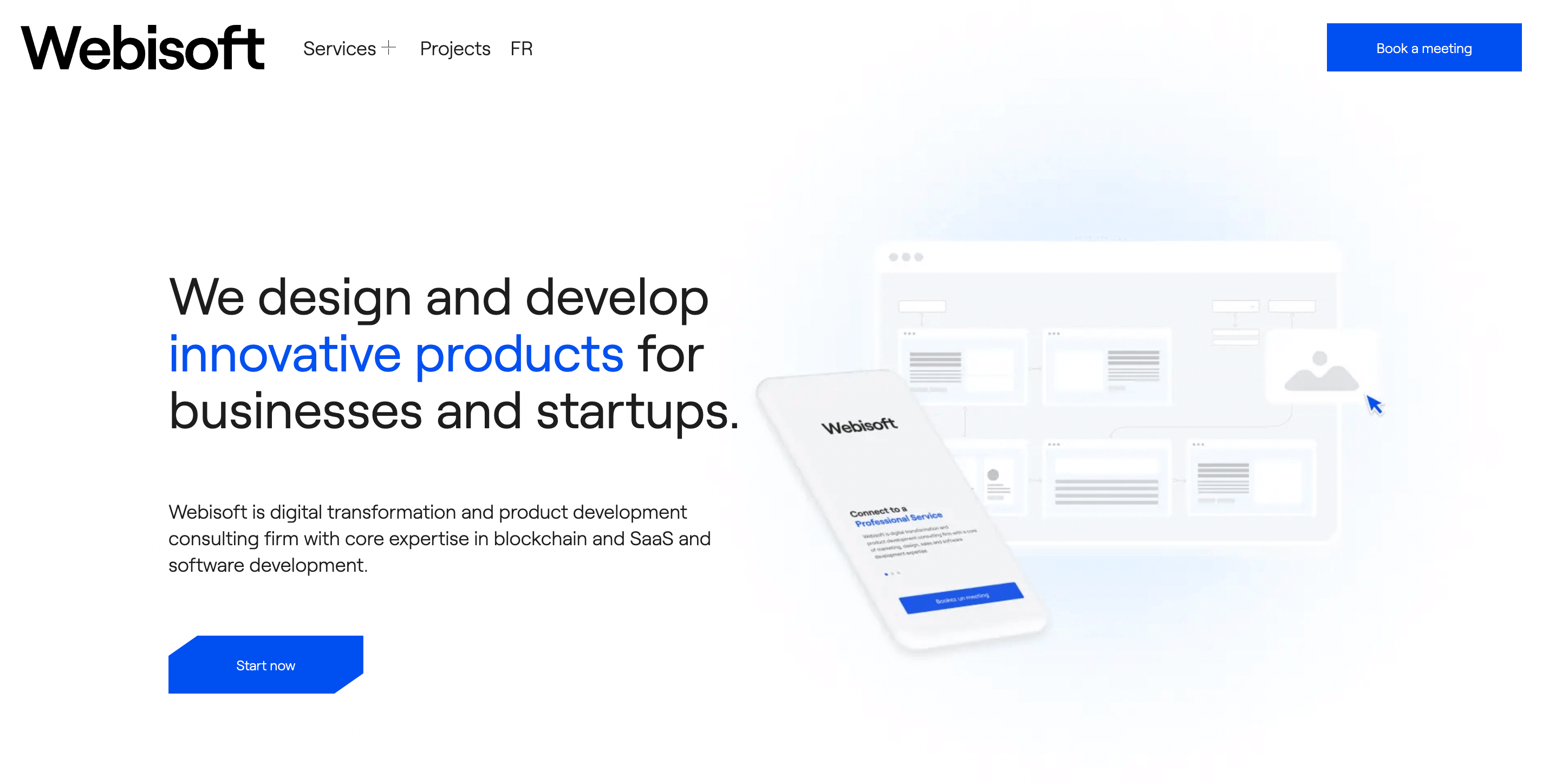 Webisoft is Canada's #1 crypto consulting firm specializing in full-service blockchain, web, and software development solutions for startups and established enterprises. 
They provide services such as blockchain development and consulting, Dapp development, NFT development, and development of Liquidity pools, staking platforms, and exchanges.
Webisoft team mainly works with Solana, Ethereum, and Cosmos-based blockchains. Their tech stack also includes Rust, Solidity, Python, JavaScript, Django, React, Node.js, and React Native.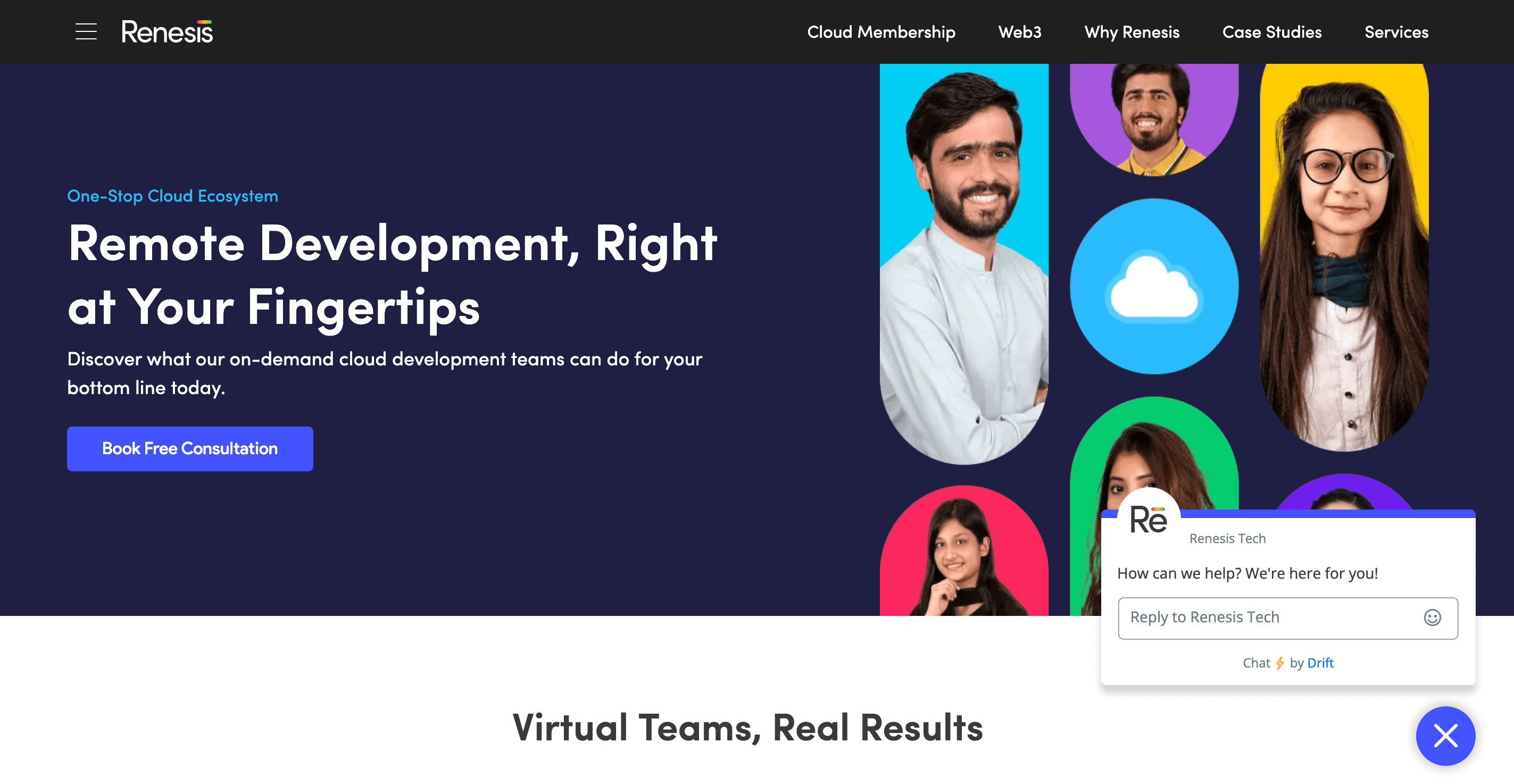 Renesis is one of the best crypto consulting firms, specializing in building Web3 solutions using blockchain technologies. 
Renesis makes it easier, faster, and more affordable for your business to hire blockchain consultants who understand your business requirements and keep you ahead in the market.
Their experts can tackle all sorts of blockchain development or consulting tasks, including smart contract audit & development, dApp development, ERC20 coin development, NFT marketplaces, crypto wallet & exchange development, and blockchain-based game development. 
Renesis prefers platforms like Ethereum, Polygon, Cordo, Solana, and Hyperledger. Their focus industries include Art, Music, Sports, Retail, Healthcare, Banking, Games, and Real Estate.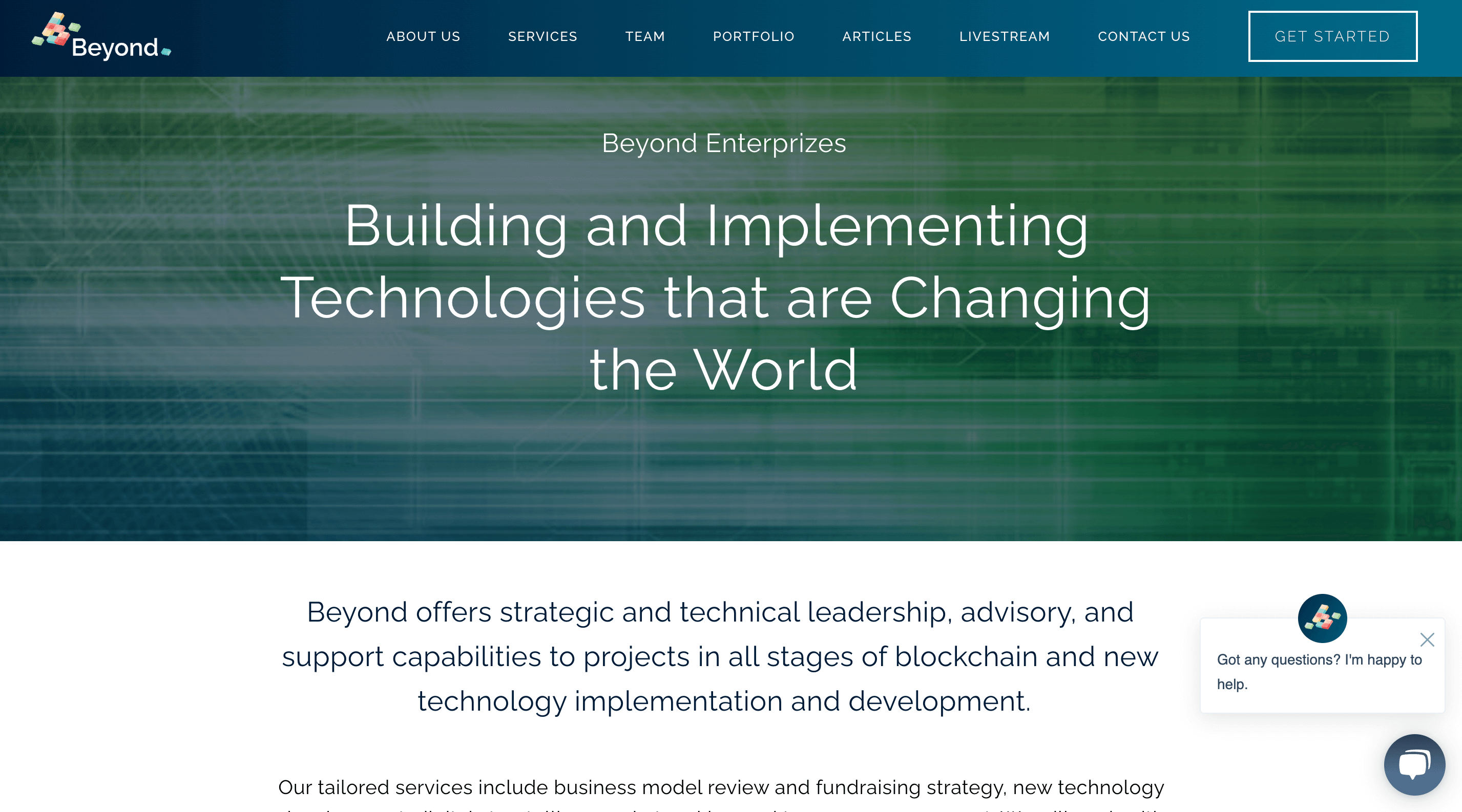 Beyond Enterprizes started as a pioneering blockchain advisory in 2012 and has revolutionized the crypto space since then. They have built exchanges on four continents and have partnered with over 50 prominent blockchain projects, including EOS, Bancor, Stellar, and the HDAC. Their focus industries are Insurtech, Fintech, and DeFi.
Beyond Enterprizes' blockchain strategy and advisory services include analysis of team and budget, fundraising strategy, technical strategy, tokenomics, and much more. They can also help you with smart contract audit and development, UI/UX design, token development, and testing.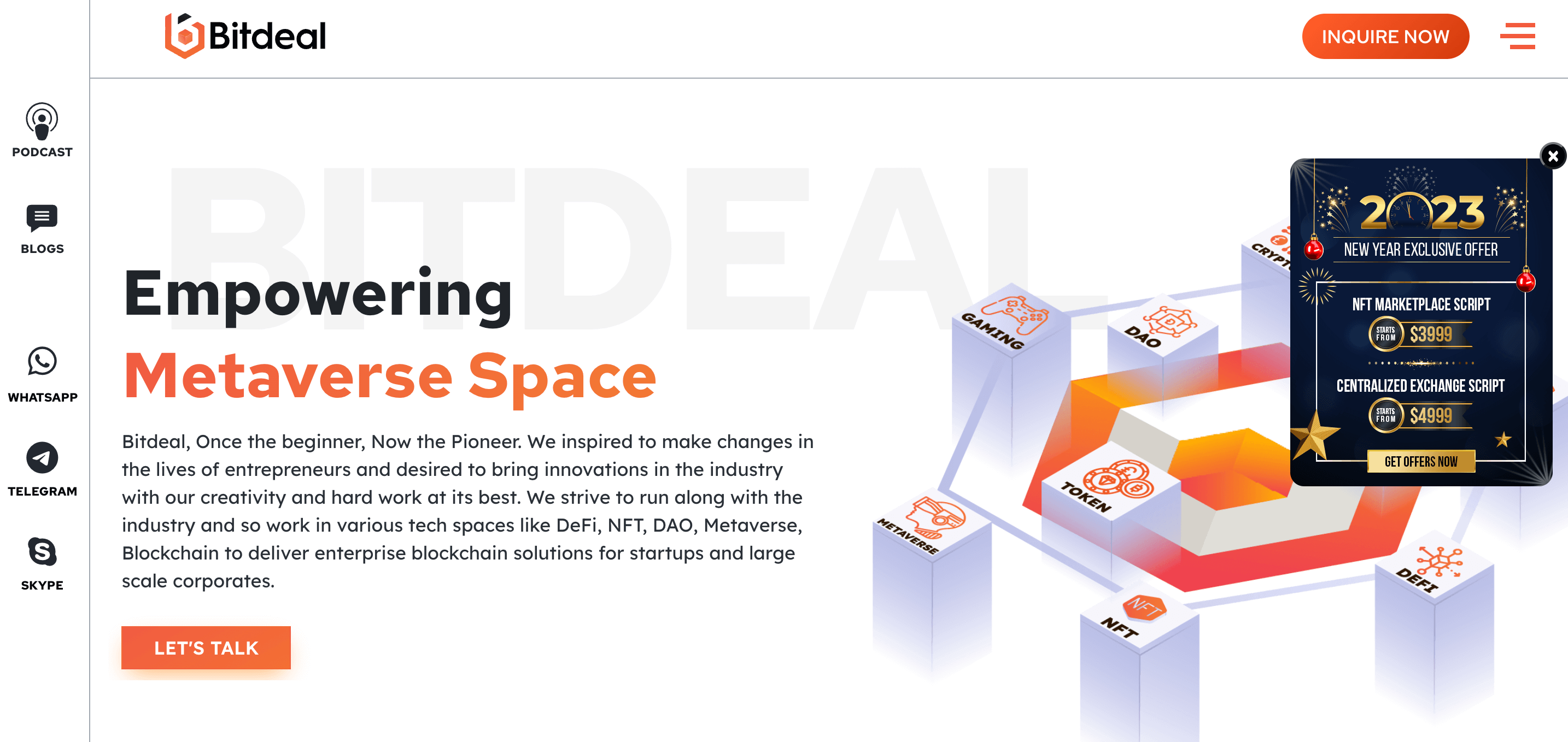 Bitdeal is an enterprise blockchain solutions provider which aims to transform the digital economy into a blockchain-powered ecosystem. They have over 200+ skilled experts who can build decentralized exchange scripts, smart contracts, NFTs, etc., and provide solutions for various industries such as DeFi, DAO, and Metaverse. 
Bitdeal offers a wide range of blockchain solutions – from cryptocurrency exchange to crypto wallet development, from the crypto trading engine to crypto trading bot development, and from dApp to innovative smart contract development. They can also help you implement Web3 and Metaverse games and NFT marketplaces. 
Finally, and most importantly, all their development services are ROI driven and help you generate revenue for your business.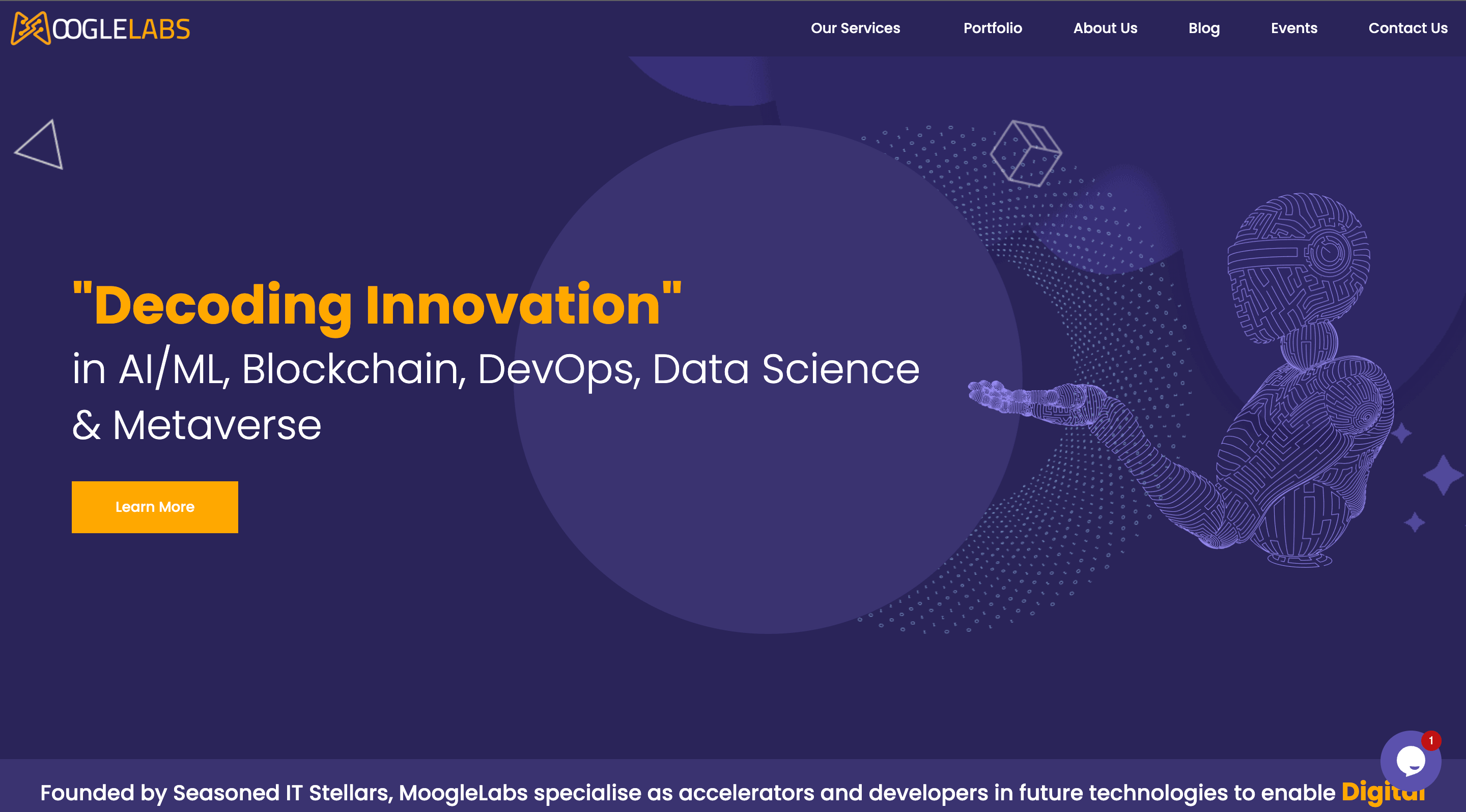 MoogleLabs has the necessary knowledge and experience in implementing advanced technologies such as AI/ML, Blockchain, and Metaverse. The company has helped businesses across various industries, including Healthcare, Financial, and Manufacturing, to build cutting-edge blockchain solutions.
The list of their blockchain services includes the development of custom dApps, NFT marketplaces, smart contracts, crypto exchanges, and tokens. They also help crypto startups launch their ICP, STO, and IEO.
MoogleLabs' selection of blockchain platforms includes Ethereum, Ripple, Stellar, Corda, Hashgraph, EOS, Hyperledger Sawtooth, Hyperledger Indy, Tron, Quorum, and others.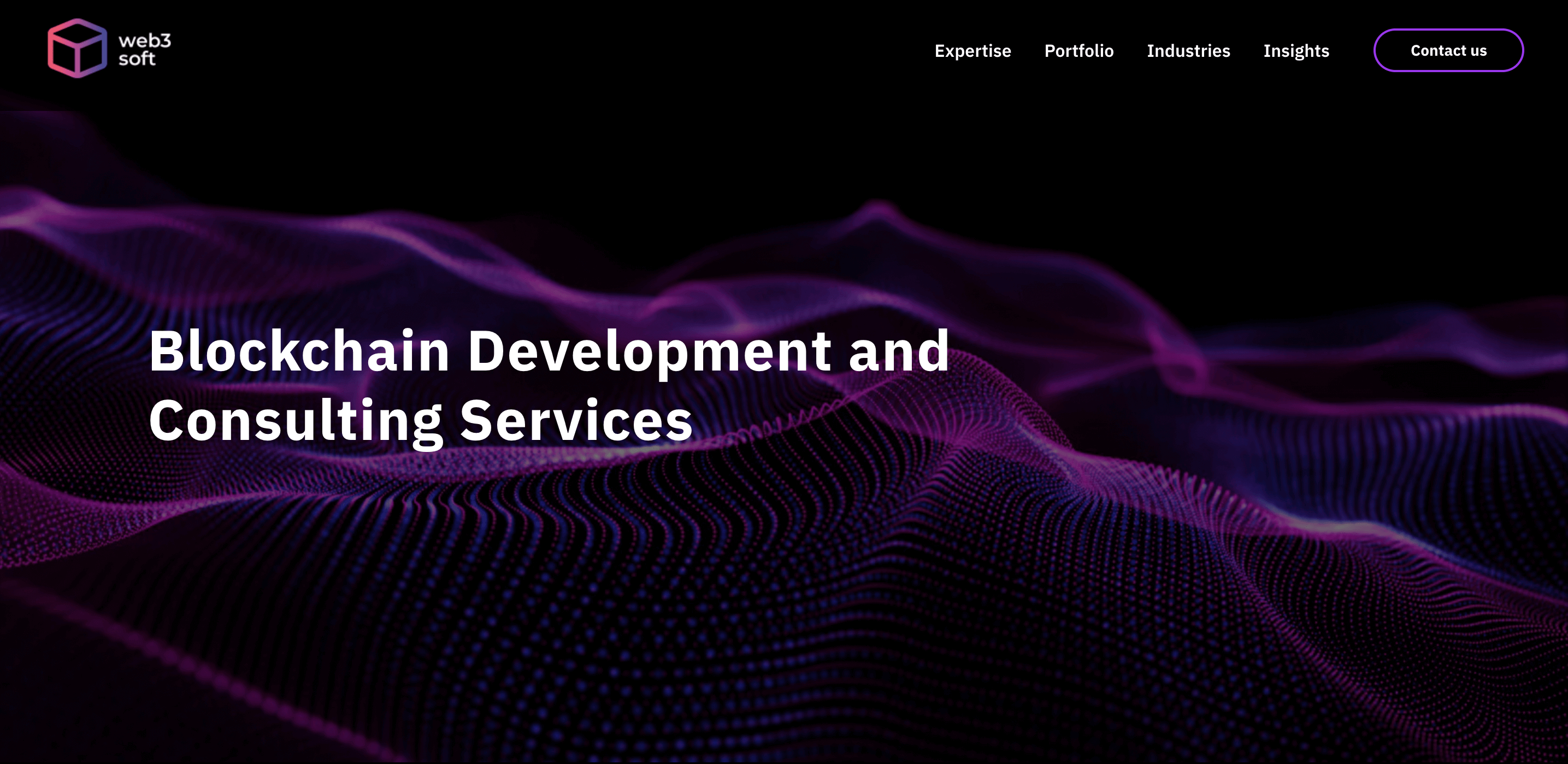 Web3Soft has been helping businesses, startups, and enterprises shape their future using blockchain solutions for 11+ years. They cover all sorts of services ranging from development and marketing to investing and fundraising. 
Web3Soft starts with analyzing your business needs and market requirements and helps you move to the next level with its best-in-class blockchain consulting services. 
Contact them to get assistance with dApp development, smart contract development, play-to-earn game development, DeFi solutions, Web3 marketing, NFT, and Cryptocurrency wallet & exchange development.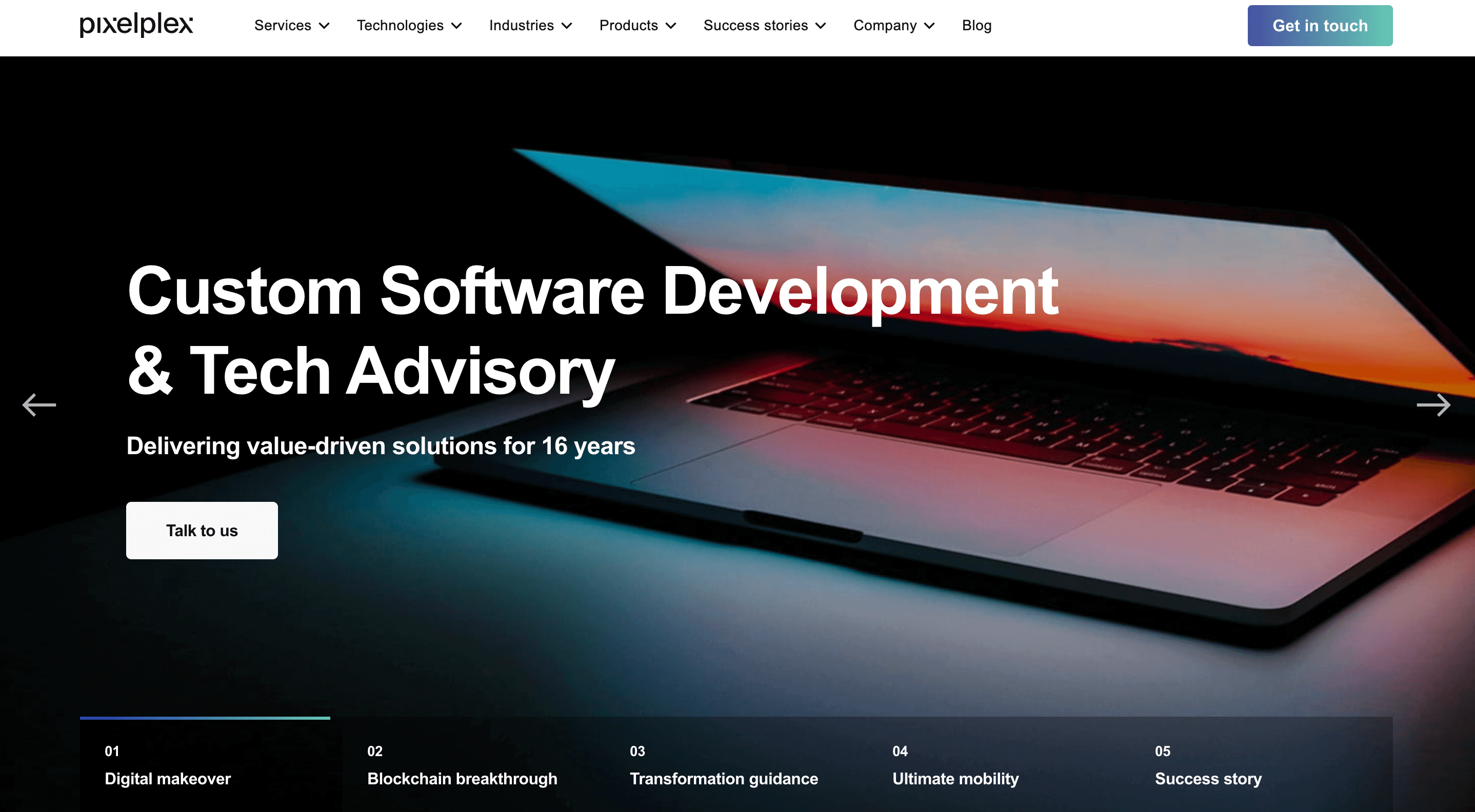 With over 15 years of experience, PixelPlex is your trusted technology partner for building custom software applications using blockchain technology. They have been helping corporations and startups maximize their efficiency with their extensive DLT (Distributed Ledger Technology) expertise since 2013. 
Along with extremely fast P2P transactions and self-executing smart contracts, they facilitate their DLT products with AR/VR, IoT, and Cybersecurity advancements.
PixelPlex specialists offer a wide range of blockchain consulting services, assisting with blockchain security solutions, competition analysis, tech stack selection, DeFi development, NFT development, crypto exchange development, smart contract development & audit, performance testing, scalability planning, and much more. 
They use the best combination of platforms like Solana, Polkadot, Cardano, Ethereum, Tron, Hyperledger, and Polygon, as per the requirement and the project budget.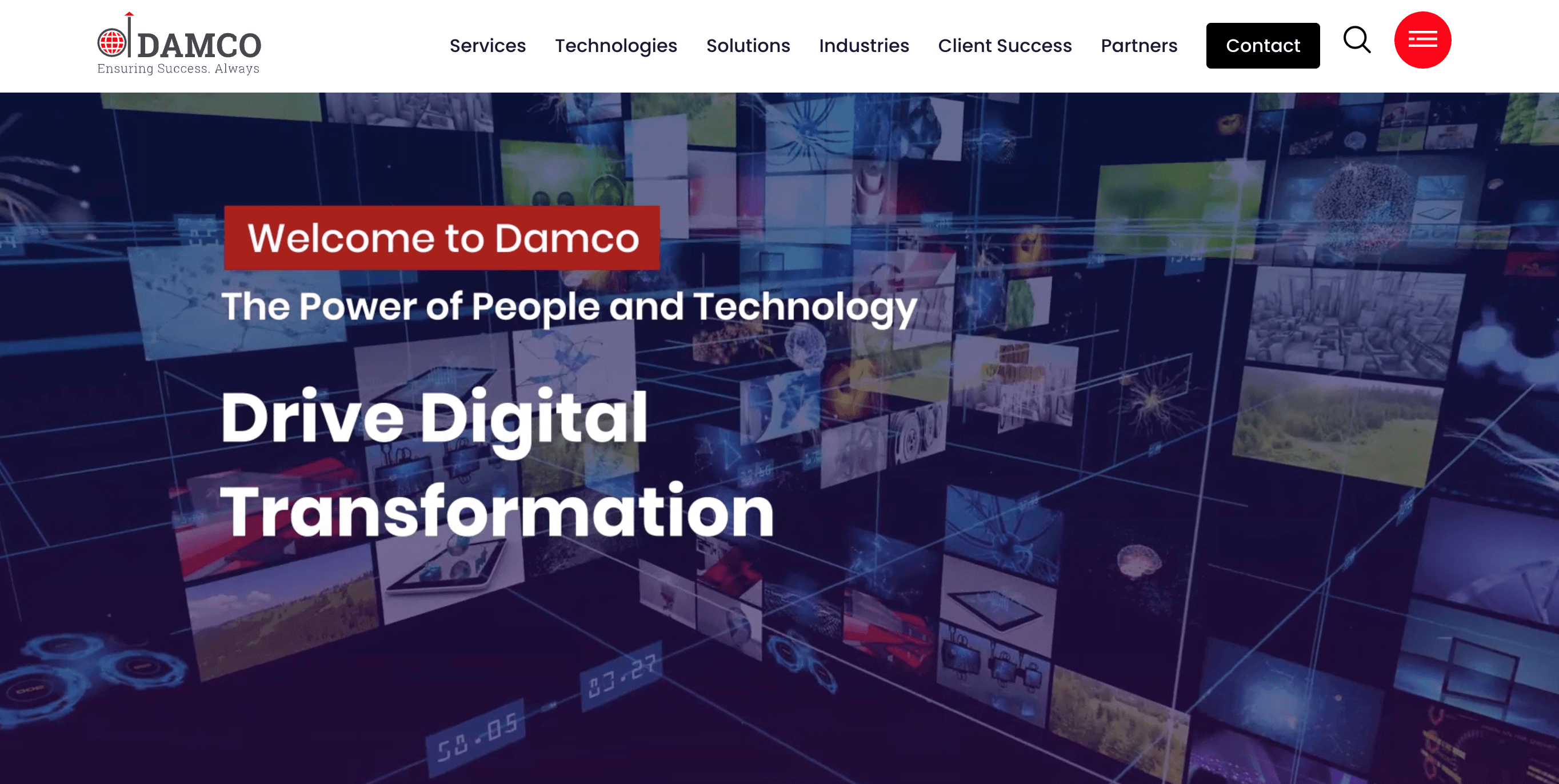 Damco Solutions is a top blockchain consulting company based in Princeton, NJ. They have been delivering top-notch IT services since 1996 and are helping corporations leverage technologies, transform their business and acquire sustainable growth.
They provide all sorts of blockchain development and consulting services, such as identifying business objectives, competition analysis, POC (Proof of Concept) development, smart contract development and assessment, cloud blockchain development, and dApp development. 
In addition, they offer cryptocurrency development services such as ICO, STO (Security Token Offering) & IEO (Initial Exchange Offering) development, and exchange & wallet development.
Damco Solutions use major blockchain platforms such as Ethereum, Corda, Hyperledger, Quorum, and Stellar. Some significant industries they cater to are Banking & Finance, Proxy Voting, Digital Verification, Healthcare, Supply chain, Retail & Ecommerce, Gaming, and Crypto Trading.
Conclusion
Referring to a professional blockchain development consulting firm is the best option for individuals or businesses who want to enter the space of Web3.
It's essential to hire experienced crypto consultants with proven expertise and excellent know-how of the crypto market to build a high-performance application quickly and stay ahead of the competition. 
We hope this list comprising some of the best blockchain consulting companies helps you find the best-in-class crypto advisors who'll bring long-term success and sustainable growth to your business in the Web3 space.
Send us an email if you want to add your blockchain consulting firm to this list. After a thorough assessment, we'll decide whether it's a valuable addition.