The NFT applications and marketplaces have been gaining popularity among artists, creators, and investors.
NFT presents a lucrative avenue for businesses in terms of revenue generation through transaction fees, listing charges, and transfer fees, making it a substantial income stream. 
The popularity of the NFT development is indisputable:
The global NFT marketplace market is expected to reach

USD 342.54 billion

by the end of 2032.

The OpenSea NFT marketplace has over 1 million registered users and is the largest NFT marketplace with 27k daily traders. 

The revenue in the NFT market is expected to reach US$1,601.00m by the end of 2023.
By establishing an NFT marketplace, platform owners can retain their existing user base and attract new users eager to participate in the growing ecosystem.
When considering the development of an NFT marketplace or application, businesses often face a critical decision: building from scratch or utilizing NFT clone solutions. 
NFT app development companies are able to create custom solutions or offer a compelling cloning alternative, capitalizing on the success of existing platforms like OpenSea, Rarible, or NBA Top Shot to replicate their functionality and design. 
To give you a headstart, we have curated a list of the top NFT app development companies offering next-gen and futuristic NFT app development solutions. 
The Best NFT App & Marketplace Development Companies For Mind-Blowing Solutions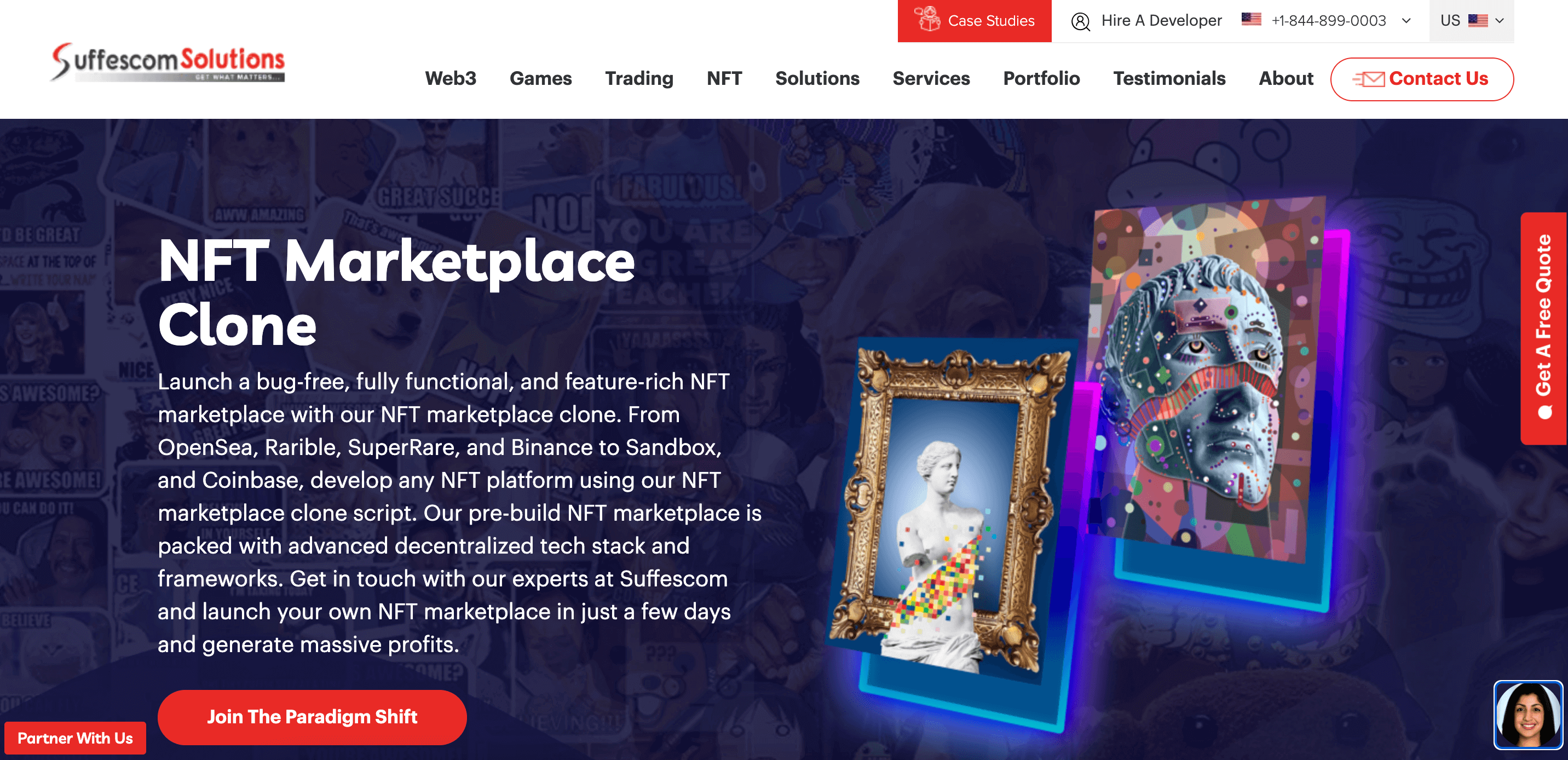 Suffescom Solutions Inc. is a top NFT app development company with over 13 years of expertise and about 5.5 years of experience in blockchain and metaverse-related technology. The firm has more than 150 seasoned developers who can assist you in building a unique NFT marketplace that suits your requirements.
In addition to custom NFT development services, Suffescom enables customization to tokenize your priceless digital treasures and convert them into universal currencies. That's how they can help you with customizing NFT exchanges, NFT markets, and NFT tokens and cloning NFT marketplaces like NBA Top Shot, CryptoKitties, OpenSea, and CryptoPunks. Their experts can also incorporate blockchain, gaming, smart contracts, NFTs, and other technology into enterprises as necessary.
All in all, Suffescom is regarded as a well-known provider of end-to-end software development services for AI, AI Chatbot, AR/VR development, IoT blockchain apps, cross-platform apps, and more, aside from the NFT app development services.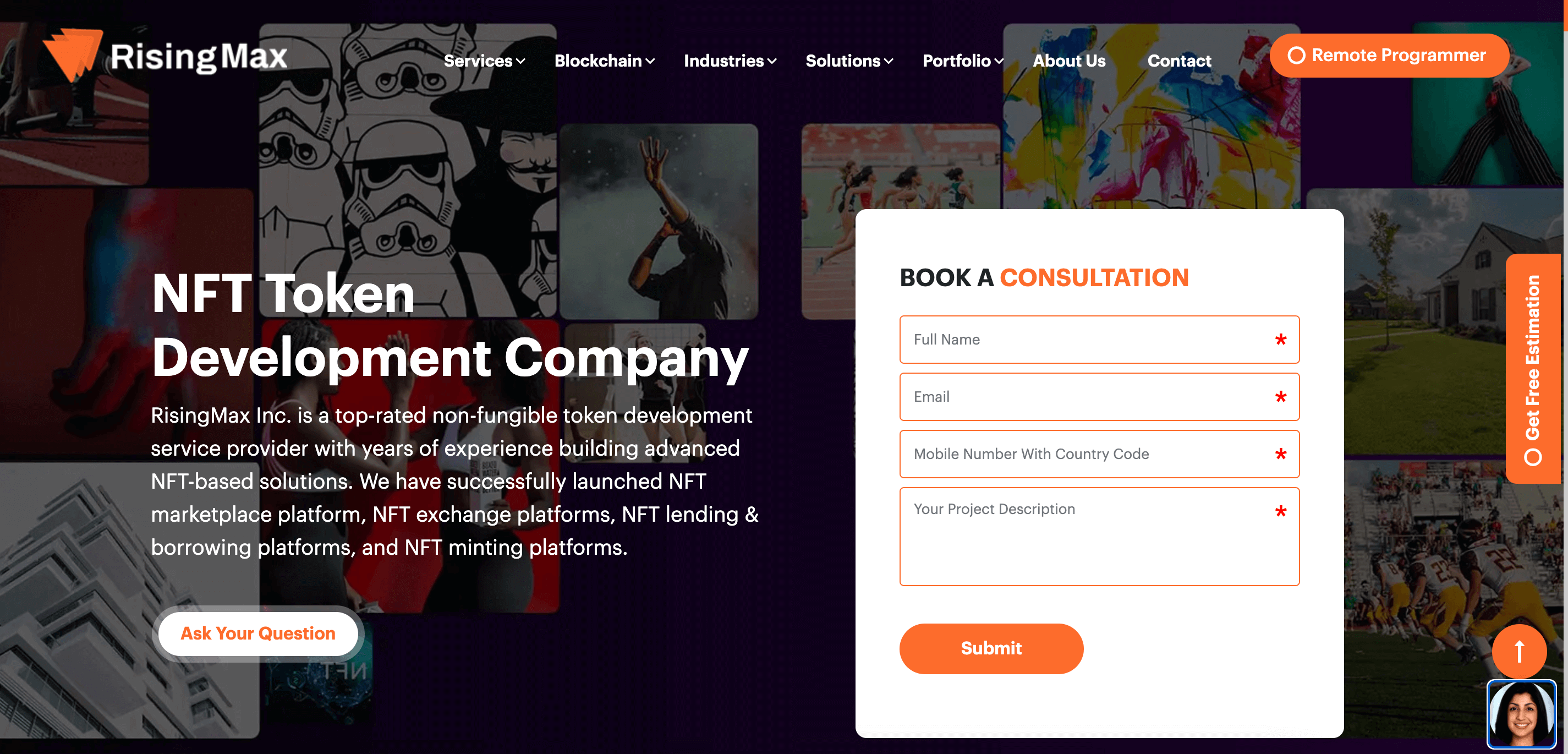 RisingMax Inc. is a reputable NFT app development company assisting entrepreneurs worldwide onboard the technology revolutions. With over 250 professionals, this superior US-based company has some of the best fintech experts, NFT developers, QA experts, project managers, software engineers, and a technical support team.
Besides implementing NFT apps, they offer NFT marketplace, NFT game, NFT minting, NFT marketplace aggregator, and NFT launchpad development services. The team leverages its hands-on NFT experience and clone app development expertise to deliver outstanding custom NFT clone applications.
Their development team has successfully deployed and delivered over 100 NFT and blockchain-based projects. A five-star rating on Clutch and a 4.7-star rating on Google earned them a deserved spot on our list of the top NFT app development companies.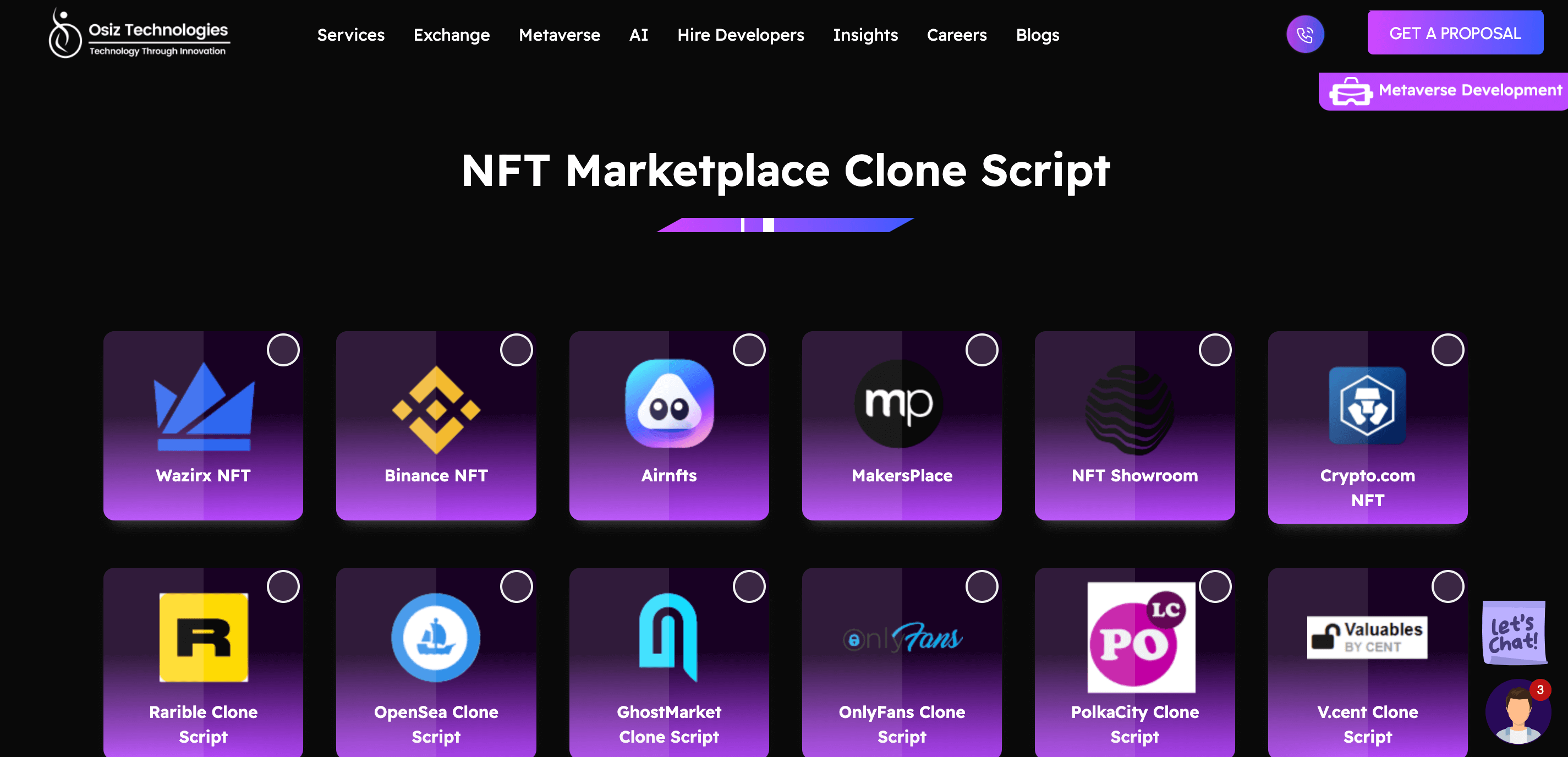 Osiz Technologies is located in Tamilnadu, India, and is among the leading NFT app development companies across the globe. They provide high-end software solutions for startups, entrepreneurs, businesses, and industries.
Apart from the NFT marketplace and app development services, they also provide top-notch solutions for metaverses, games, AI-based applications, AR/VR, cloud computing, Binance Smart Chain BEP20 tokens, Ethereum tokens, asset tokenization, etc. Osiz Technologies' hourly rates between $50 – $99/hr make them a cost-efficient NFT development services provider. 
They began their journey in 2009, and in 2 decades, they boast a team of 500+ experienced employees who deliver the best possible solutions for renowned companies like Bitcoiva, KoinBazar, EasyExchangePro, and INOCYX.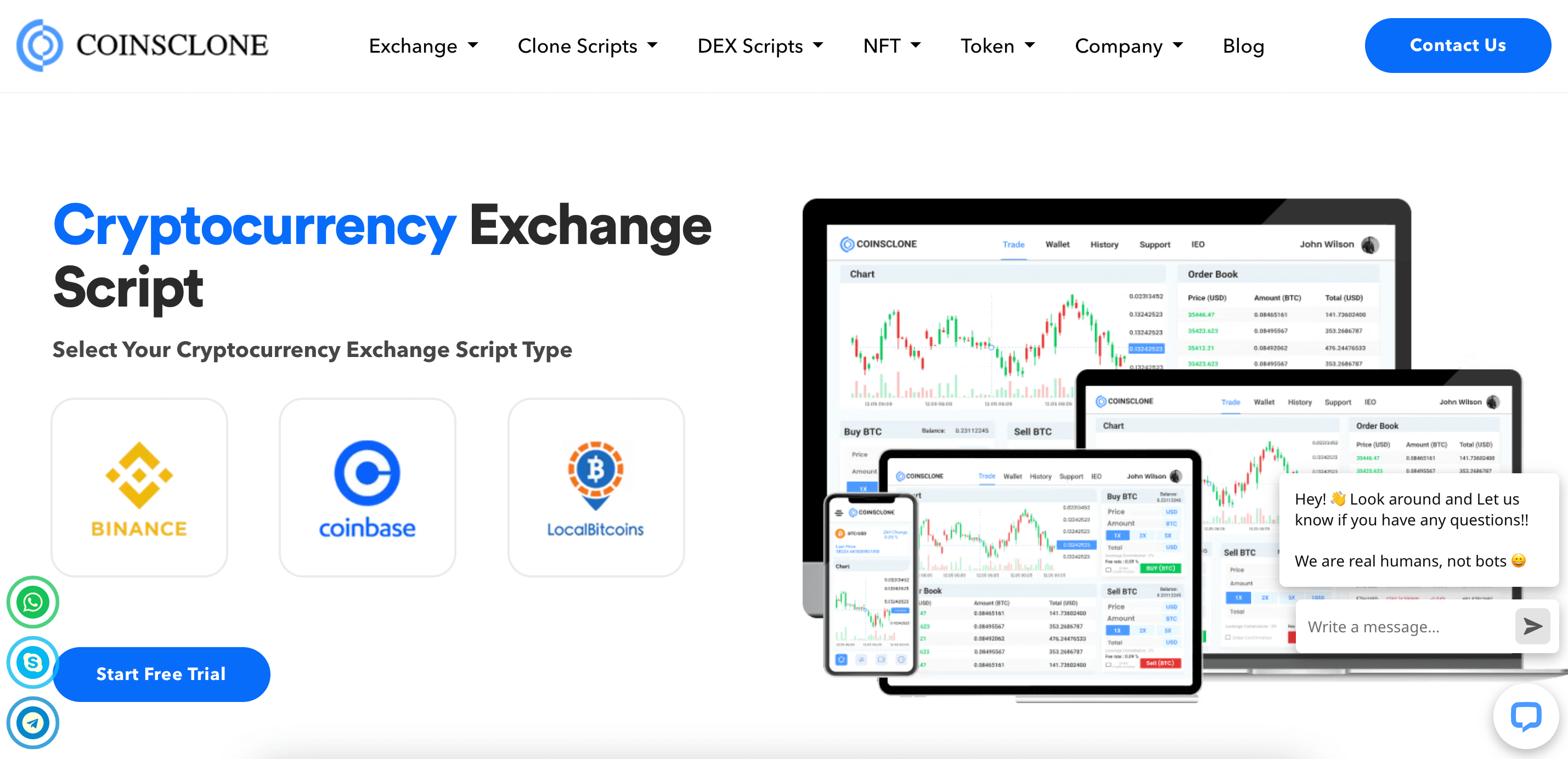 CoinsClone is a top-rated IT company offering NFT app development services to global clients. The firm has over a decade of experience building blockchain, web, and mobile software solutions.
Since its inception, the team has successfully delivered more than 75 NFTs and blockchain projects. Proven domain experience and affordable NFT clone app development services give CoinsClone a competitive edge.
CoinsClone's engineers leverage their expertise in leading blockchain technologies like Ethereum, R3 Corda, Polygon, and Hyperledger to meet specific client's needs and requirements. Combining all the above-mentioned factors makes CoinsClone a worthy mention in our list of the best NFT app development companies.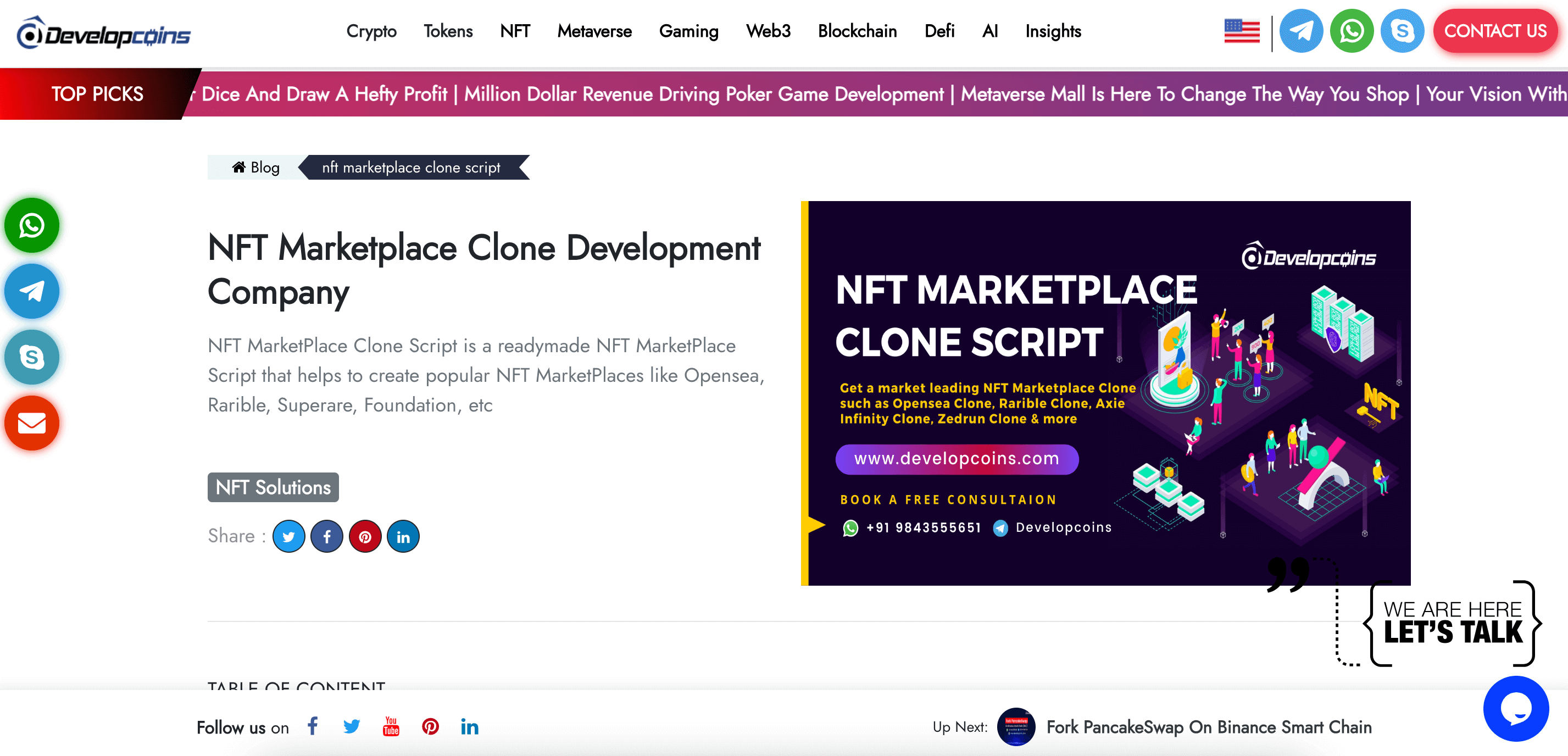 Developcoins is one of the leading NFT app development companies founded in 2014, with headquarters in Madurai, India. The firm provides various NFT clone app solutions, including OpenSea clone script, Rarible clone script, Sorare clone script, Polkacity clone script, Axie Infinity clone script, and more.
Being a leading blockchain services provider, Developcoins has delivered more than fifty NFT clone apps through its 500+ team members.
The industries they focus on range from Gambling, Education, Healthcare, and Government to Gaming and Energy & Utilities. The business solutions they offer are varied to services related to NFTs, DeFi, Metaverses, crypto, token development, ICO/IDO/STO, MLM, blockchain, DAO, and more. Developcoins has delivered over 450 successful projects and gathered a pool of 500 satisfied clients.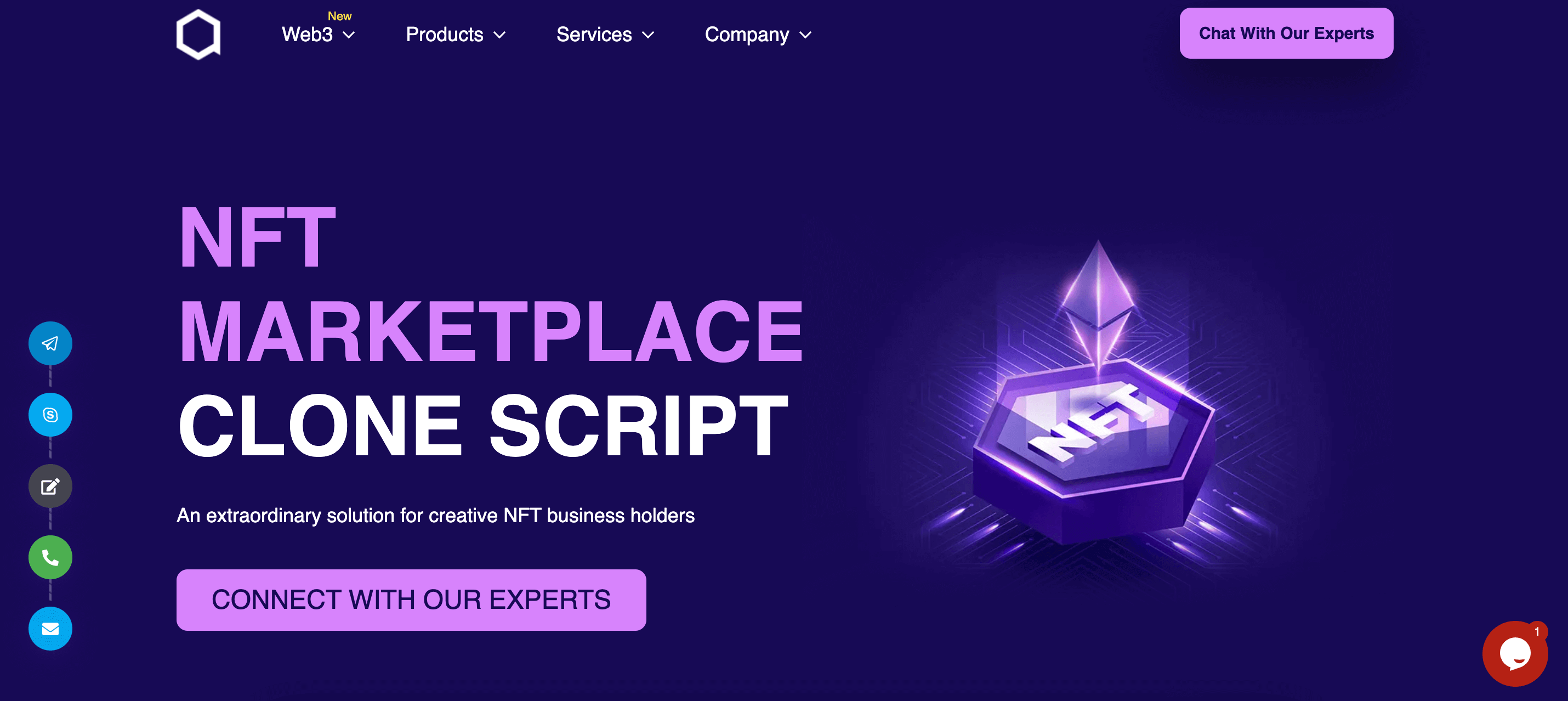 WeAlwin Technologies provides a top-tier team of dedicated NFT app developers gathered from all around the globe who have all the right and reliable blockchain solutions for all business sizes. The company offers NFT app development solutions for various markets, such as art, games, music, photography, and Web3.
The technology stack used by their blockchain experts includes Embark, Hyperledger, Embark, and more. Their NFT experts are capable of covering all industry verticals and have in-depth expertise in blockchain, ICO, IEO, STO, crypto network-based applications, and more.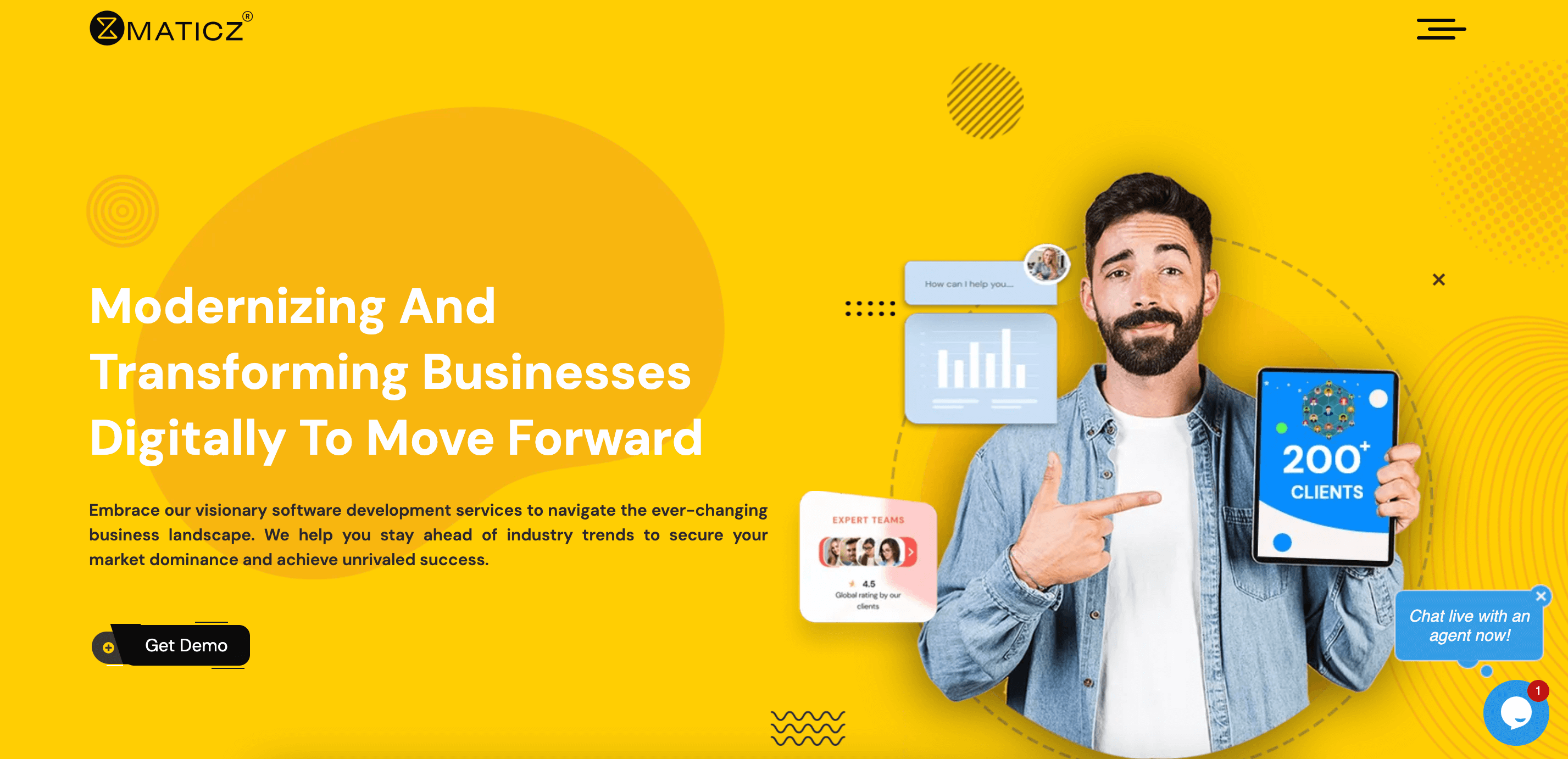 Matricz offers comprehensive development and marketing services for NFT applications. They serve clients in various fields, including real estate, memes, art, sports, music, and gaming.
The company provides businesses with thorough but personalized NFT platforms through its white label NFT app development service. Using their decentralized and automated approach, their clients have saved millions of dollars in operational expenses and human labor. 
They assist businesses in reaching their full potential with carefully thought-out options, including ICO, smart contracts, smart wallets, Hyperledger, and other blockchain-based solutions. NFT asset design, IP tokenization, NFT minting, smart contract development, cross-chain NFT platform development, and NFT migration are the major services offered by Maticz.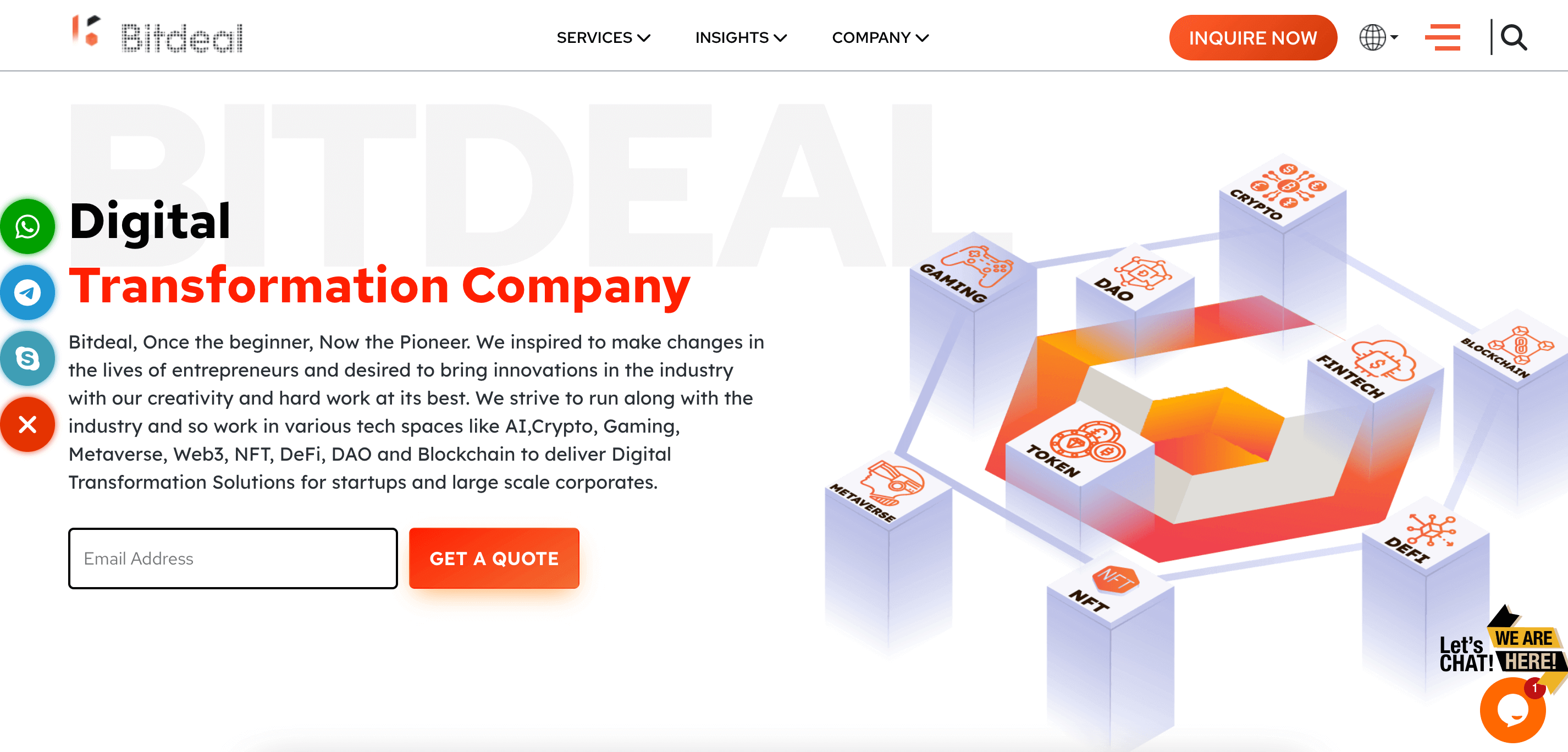 Bitdeal is a top NFT app development company with in-depth expertise in developing bug-free and feature-rich NFT marketplaces. The team can build an NFT marketplace packed with filter options, buy/bid, auction & sell, and NFT wallet integrations. They also excel at creating replicas of popular NFT marketplaces like OpenSea, Rarible, Binance NFT, Wazirx NFT, etc.
Bitdeal has 10+ years of experience and delivered over 500 projects to 500+ global clients. They have more than 120 dedicated developers on board who specialize in developing NFT platforms as per clients' needs and requirements.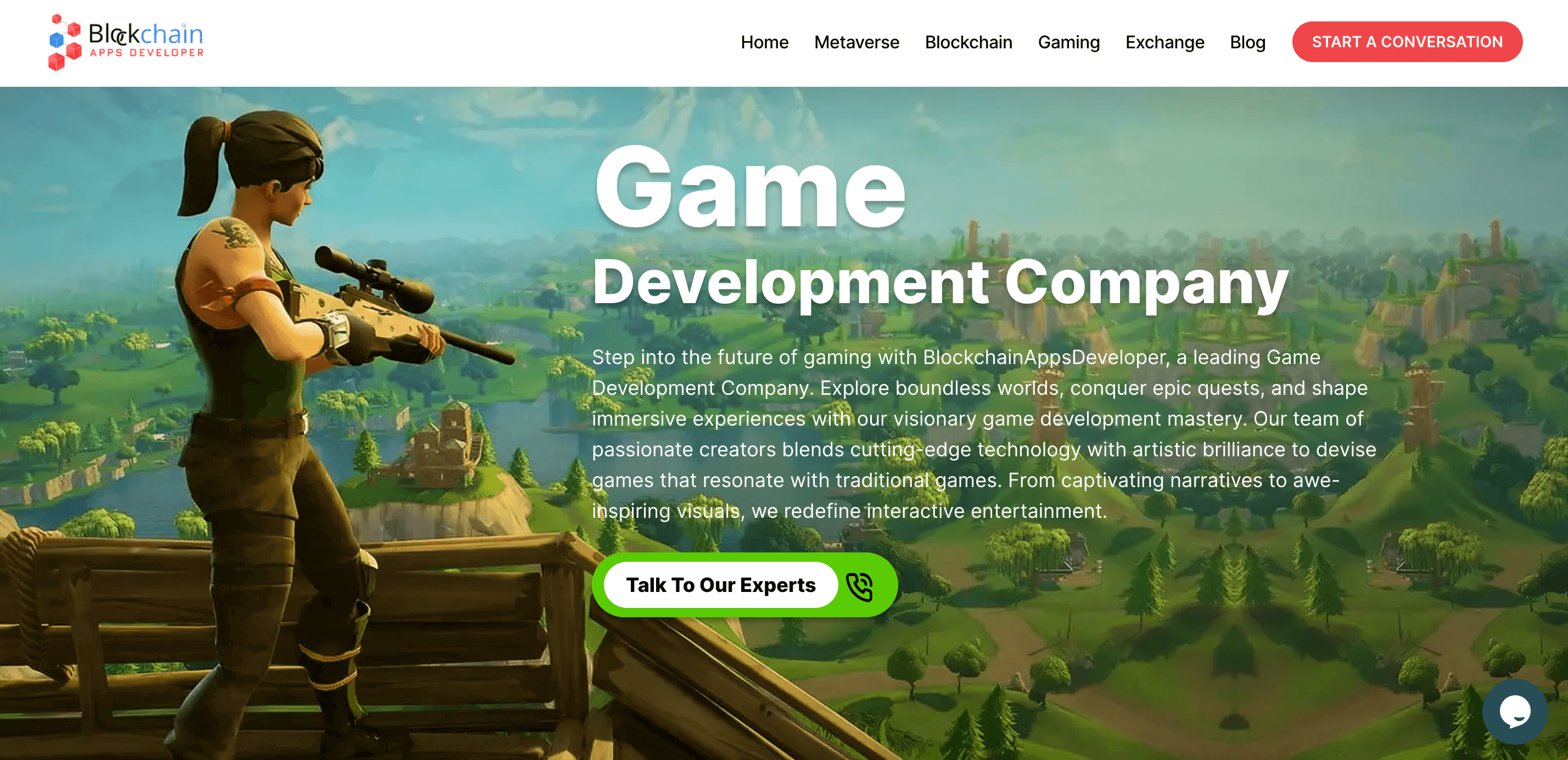 Sellbitbuy is a cutting-edge NFT app development company that offers their clients blockchain-powered, ready-made NFT clone app solutions. They develop first-grade features like invisibility, authenticity, storefronts, and traceability in their projects.
Sellbitbuy's NFT clone app development solutions involve clone scripts of Binance, WazirX, Rarible, Foundation, Polkacity, and many more. They have over a decade of experience and have developed 100+ projects for worldwide clients. The team of Sellbitbuy is a professional technology expert who provides great advantages through innovations.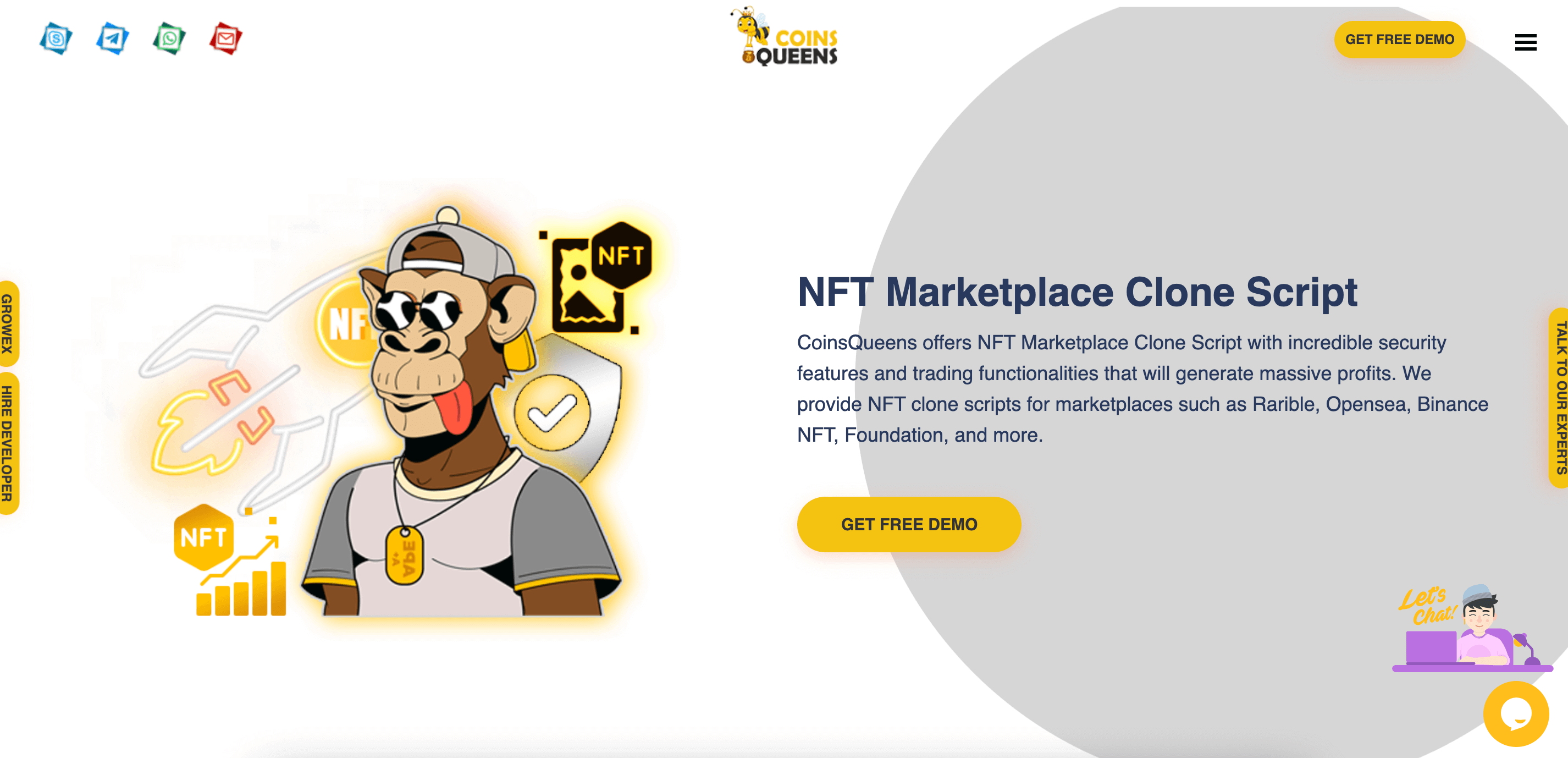 Coinquees is among the best NFT development companies with a track record of delivering 75+ NFT marketplace projects. The agency offers a broad range of NFT marketplace clone scripts, including Opensea clone script, Binance NFT marketplace clone script, Solanart clone script, Rarible clone script, Foundation clone script, and SuperRare clone script.
With a team of over 100 top-notch experts, the company builds custom NFT platforms with exceptional features such as an attractive storefront, user ratings, multi-wallet support, live auction, smart filters, and an NFT cart. Coinquees leverages the latest tech stacks to build NFT marketplaces, such as Truffle, Geth, Quick Node, Hard Hat, Pinata, and more.
Conclusion
The NFT app development landscape is vibrant and dynamic, and our selection of the top companies highlights the best experts in the business. These firms have consistently demonstrated their ability to craft mind-blowing NFT solutions that empower organizations to launch their NFT marketplace in just a few days. Have a consultation with any of them today and pick the right partner for your project.
If you want to add your NFT development agency to this list, contact us with your request. After a thorough review, we'll decide whether it's a valuable addition.