A balanced middle ground between no-code and manual coding, low-code development is all the rage today — and for a good reason.
Low-code development platforms provide a development environment for building applications through a graphical user interface, allowing users with limited technical experience to create high-performing software. Using low-code tools, you can produce fully functional applications requiring manual coding for specific cases.
By empowering users to build apps directly, low-code development is a sure way to boost business efficiency and accelerate the production process. Low-code app development will save the day when you need to quickly prototype, test, evaluate, and improve a software solution with zero involvement from professional software developers. 
What's more, low-code tools provide a lesser maintenance burden — the components are standardized, pretested, and ready-made, resulting in fewer bugs and integration issues. 
If you're considering going low-code, this list is for you: we've gathered the top low-code development tools to help you choose the most suitable platform according to your business goals and scope of requirements.
The Best Low-Code Development Tools For Entrepreneurs And Developers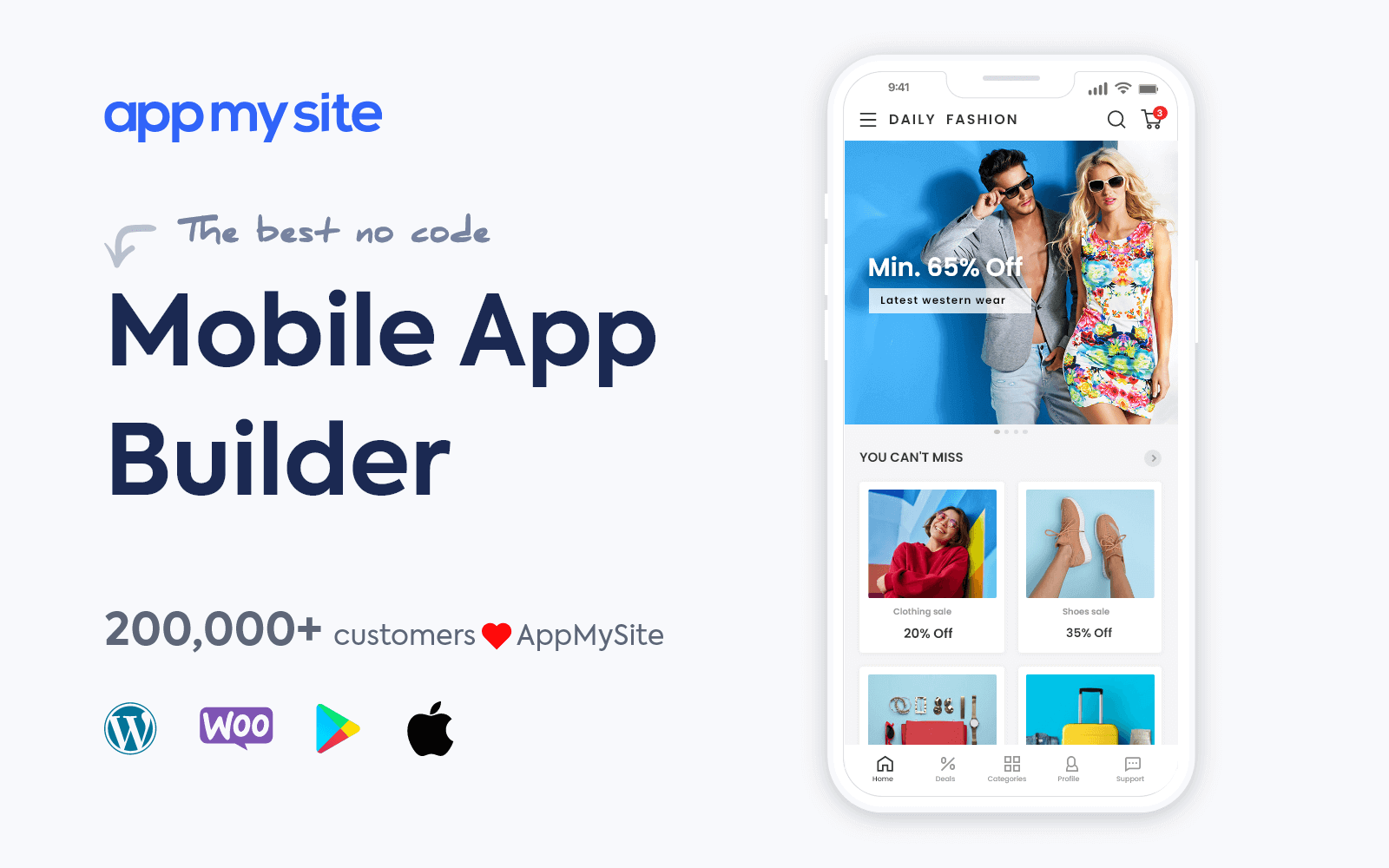 AppMySite is meant to simplify app development, allowing users to create premium native mobile apps for Android and iOS with endless features super easily and lightning-fast without writing a single line of code. It only takes a few minutes to create enterprise-level apps for any kind of website, industry, business, or organization.
AppMySite's intuitive DIY app builder lets users design their apps professionally and add unlimited features with point-and-click options. Complex and advanced features like multiple payment gateways, push notifications, monetization, in-app chat, etc., can be effortlessly configured in the app, and everything from development to deployment can be managed with ease.
While anyone can turn any kind of website into an app, AppMySite also enables deep integration with WordPress and WooCommerce. Users can build and preview high-performing native apps for free and pay later to upgrade and launch the apps on the Google Play and Apple App Stores. 
This top-notch app builder is designed for almost all business domains, including convenience stores, e-commerce, clinics, restaurants, furniture stores, etc. Get a matchless experience with their ready-to-use functionalities – all without a developer!
Pricing:
Preview:

Create and preview your Android and iOS apps for free. Build and test prototypes and personalized demo apps for WordPress, WooCommerce, or any other website. 

Starter:

Starts at $9/month. Build an Android app for WordPress, WooCommerce, or any other website. Select monthly, yearly, or lifetime plans.

Pro:

Starts at $19/month. Build Android and iOS apps for WordPress, WooCommerce, or any other website. Select monthly, yearly, or lifetime plans.

Premium: Starts at $39/month. Build Android and iOS apps for WordPress, WooCommerce, or any other website, with premium features and priority support. Select monthly, yearly, or lifetime plans.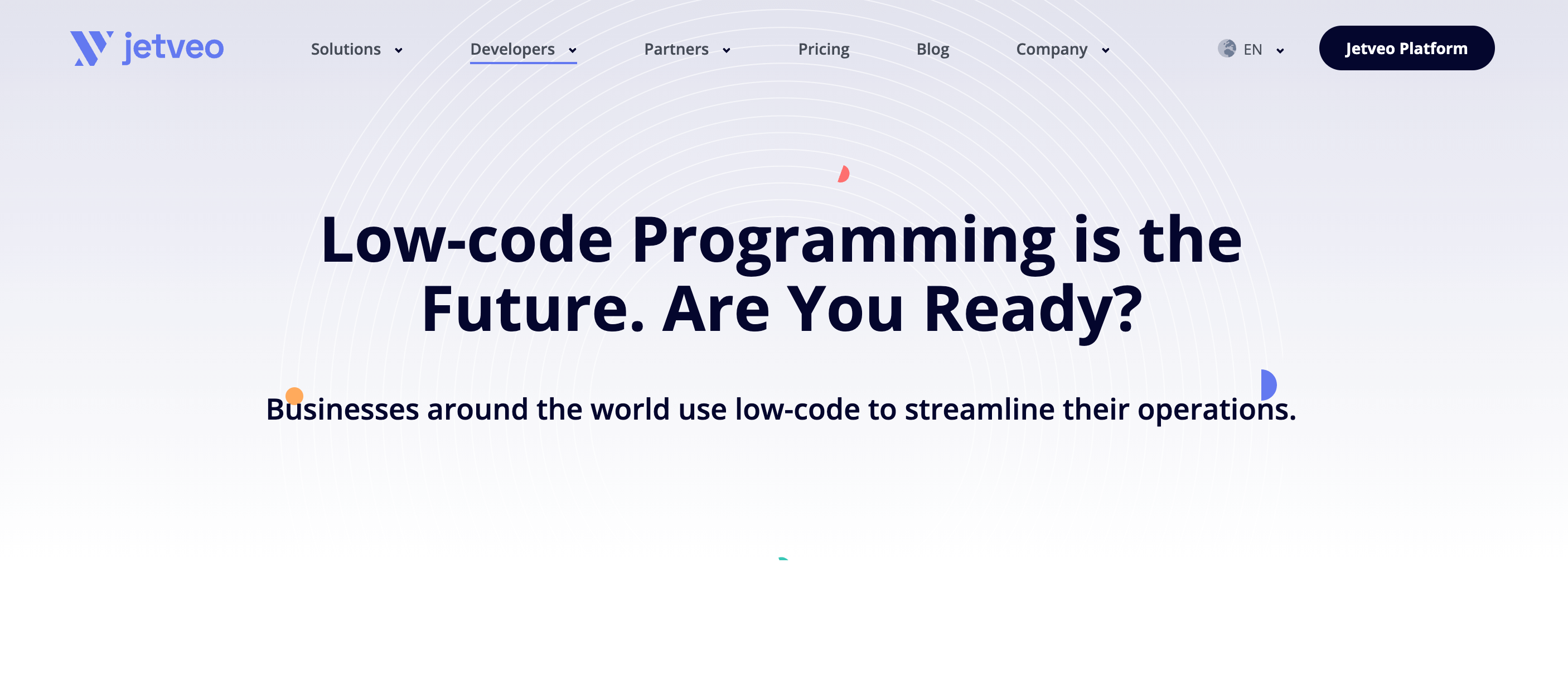 Jetveo is a top-rated low-code development platform that helps firms across all industries grow faster with bespoke web app solutions. The program allows businesses to develop apps in a low-code programming environment, thus enhancing efficiency. With Jetveo, products can be built 10X faster compared to the traditional development approach.
Companies use the Jetveo tool to digitize, create smart forms, streamline operations, manage documents, build a foundation for applications of different types, integrate APIs to collect data, and modernize out-of-date software. 
The Jetveo low-code platform helps companies of all sizes to build applications fast, reduce costs, and increase productivity.  
Pricing:
The platform offers three pricing plans for different business needs and app complexity: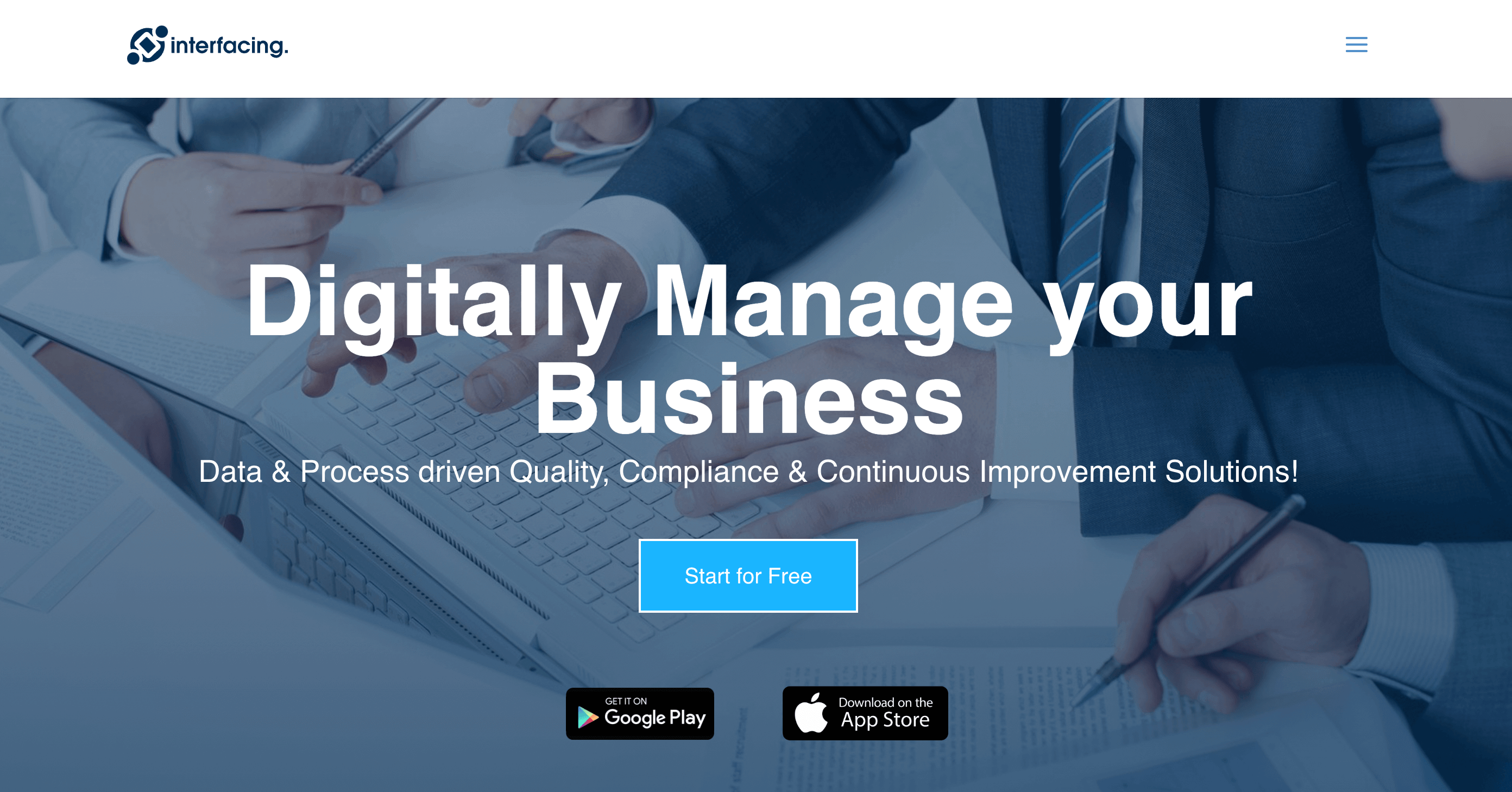 With over 25 years of operation and 1M clients worldwide, Interfacing provides cutting-edge digital transformation solutions for streamlined management and automation and helps improve quality, compliance, and enhancement initiatives. Customers use Interfacing's low-code services, such as digital content management, electronic quality management, and process mining parser, to handle their growing business complexity.
Interfacing's key features include:
Custom dashboard

State and process-based automation

3rd-party system database and API connectors

Business Activity Monitoring

Out-of-office auto-task reassignment
With Interfacing's low-code solutions, businesses can rapidly build and release unique, secure, mobile-ready, and scalable apps. End users will find the delivered products easy to navigate and appreciate how they can support all programs across their organizations. 
Contact Interfacing for a custom quote based on your project's scale and requirements.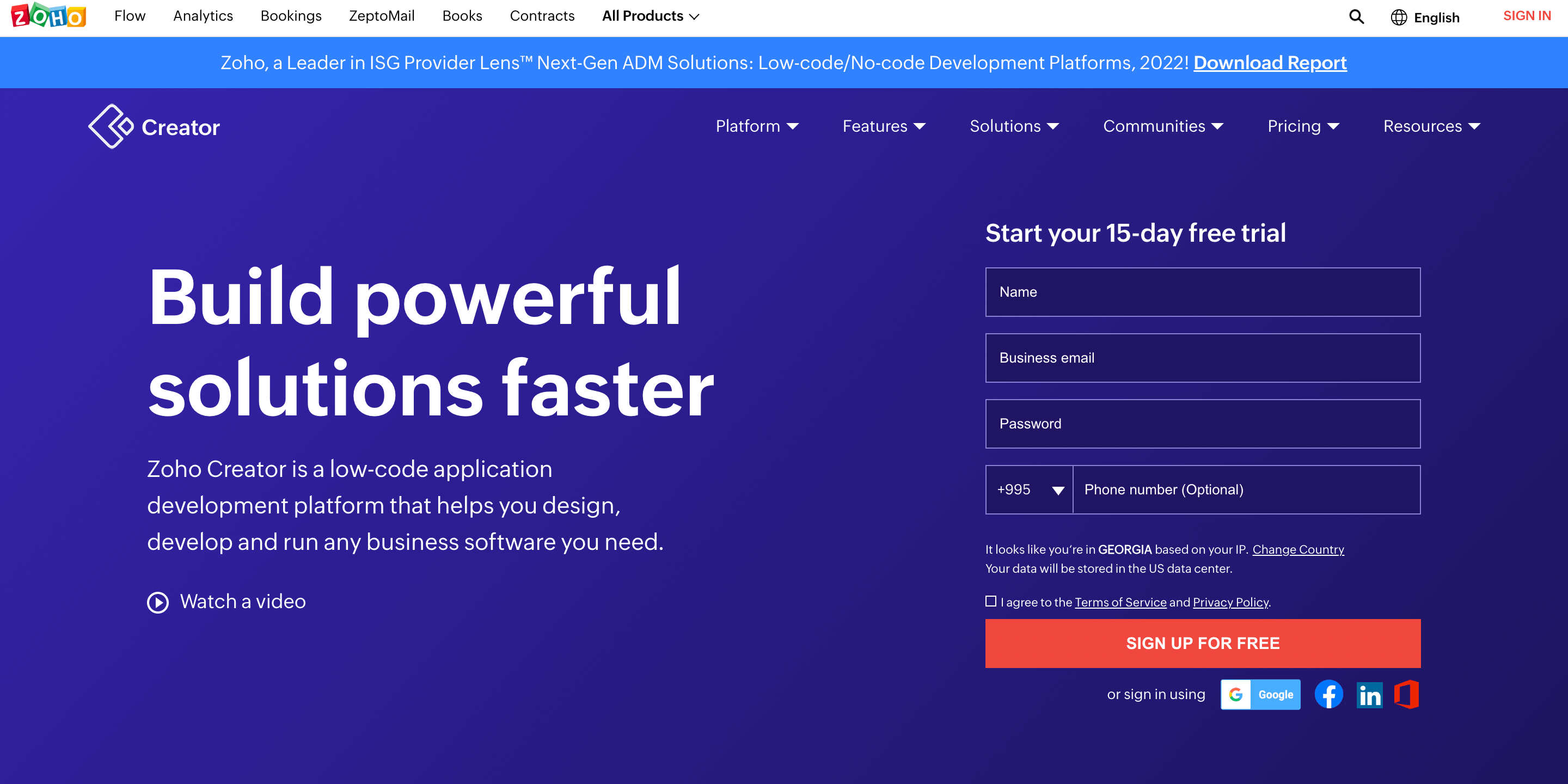 One of the most widely used low-code app builders, Zoho Creator, boasts a whopping 7 million launched apps. Trusted by global leaders such as AWS and Volkswagen, this platform enables organizations to develop custom applications even without broad expertise in coding quickly and effortlessly.
Zoho Creator has a user-friendly drag-and-drop interface and a vast range of built-in features. With just a couple of clicks, you can select components from a library of pre-built blocks, drop them onto the canvas, and proceed with creating your own application.
Pricing:
Professional:

€25/user/month, billed annually. Includes 5 apps, 20 integration flows, access to over 50 pre-built apps, enterprise-grade workflows, data integration, advanced BI and analytics, built-in AI capabilities, and other features.

Ultimate:

€400/month billed annually, with 10 users included plus an additional €25/user/month; provides all Professional features plus unlimited apps, 100 integration flows, private app store, premium support, custom domain, dedicated infrastructure, and more.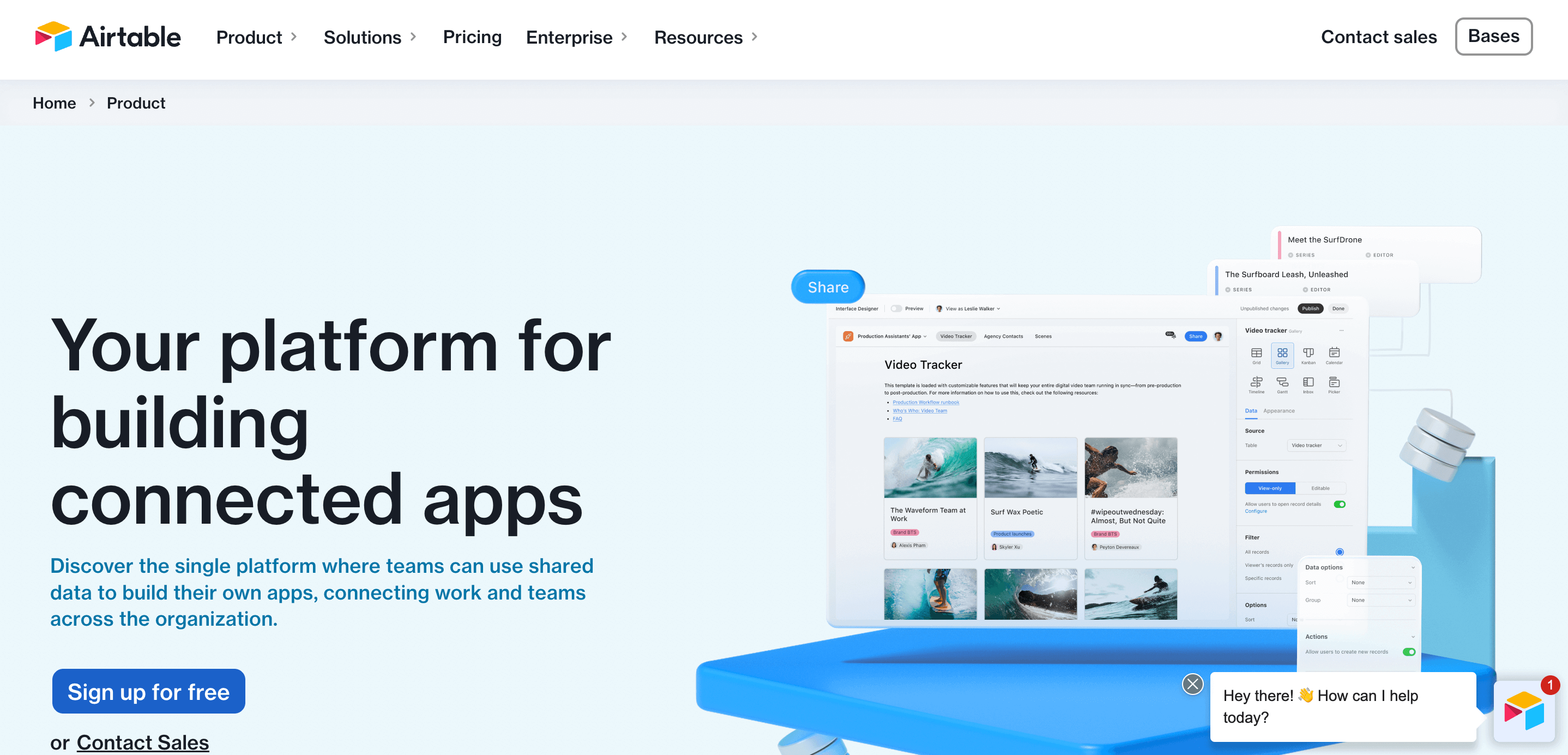 Airtable is a low-code development platform that enables teams to use shared data for creating their own low-code applications, effectively connecting different people within organizations. Teams at over 300,000 companies, including 80% of the Fortune 100, entrust the Airtable Connected Apps Platform with securing their staff members and data to reach their strategic goals more quickly.
Despite resembling a spreadsheet at first sight, Airtable is far more powerful. Its building blocks allow users to model the things they work on in groups, determine relationships between them, and create views customized for their specific type of work. 
Pricing:
Free:

includes unlimited bases, up to 5 creators or editors, unlimited commenter and read-only users, interface designer, 1 extension per base, 1 sync integration, 1,200 records per base, and 2GB of attachments per base.

Plus:

$10/user/month, billed annually. Includes all Free features plus 3 extensions per base, 3 sync integrations, 5,000 records per base, 5GB of attachments per base, custom branded forms, 6-month revision, and snapshot history, and automatic table syncing.

Pro:

$20/user/month, billed annually. Includes all Plus features, plus 10 extensions per base, 7 sync integrations including Jira Cloud, 50,000 records per base, 20GB of attachments per base, granular interface permissions, 1-year revision and snapshot history, and more.

Enterprise:

custom price. Includes all Pro features, unlimited workspaces per organization, unlimited extensions, Salesforce and Jira on-prem sync integrations, 250,000 records per base, 1,000GB of attachments per base, advanced interface controls, 3-year revision, and snapshot history, SAML-based single sign-on, enterprise-wide admin panel, and more.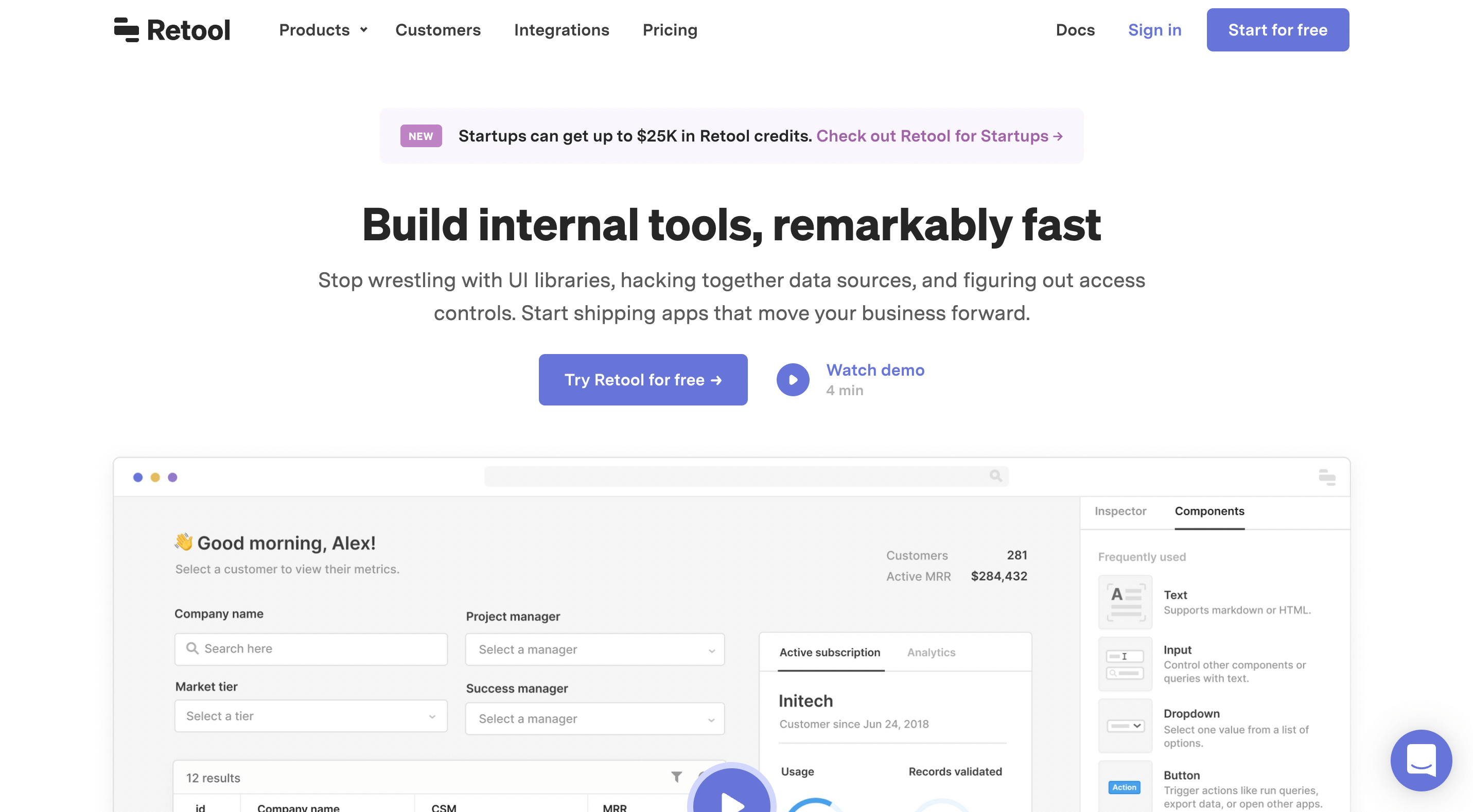 Retool is a low-code tool that enables the fast and easy building of internal tools. You'll be amazed at the host of Retool's celebrity customers, which include Pinterest, Mercedes-Benz, Unity, Volvo, Coinbase, Rakuten, AWS, and others.
Business teams can use Retool to create custom low-code apps, admin panels, dashboards, and other tools to streamline an organization's key operations. Besides creating applications with Retool's drag-and-drop building blocks, you can write custom code, connect your app with any data source, and build custom logic to develop the product that best meets your current business needs.
Pricing:
Free:

includes up to 5 users, over 100 production-ready UI components,, custom React components, and the ability to build unlimited web and mobile apps, write and execute unlimited workflows, connect apps to any database or API, and save, share, and reuse unlimited queries with the Retool Query Library.

Team:

$10/user/month, includes all Free features plus unlimited users. Configure staging and production environments for your resources, create and manage releases for your apps, and revert to any previous version of an app with version history.

Business:

$50/user/month, includes all Team features plus unlimited development environments, custom permission groups for granular control over app access, built-in audit logs to track queries and user events, unlimited modules, and mobile-only access for $10/user/month.

Enterprise:

custom price. Includes all Business features plus integration with Okta, Active Directory, or any other SAML or OpenID SSO provider. Sync user groups between your IdP and Retool, use Git-based source control, add custom branding to app navigation and headers, and more.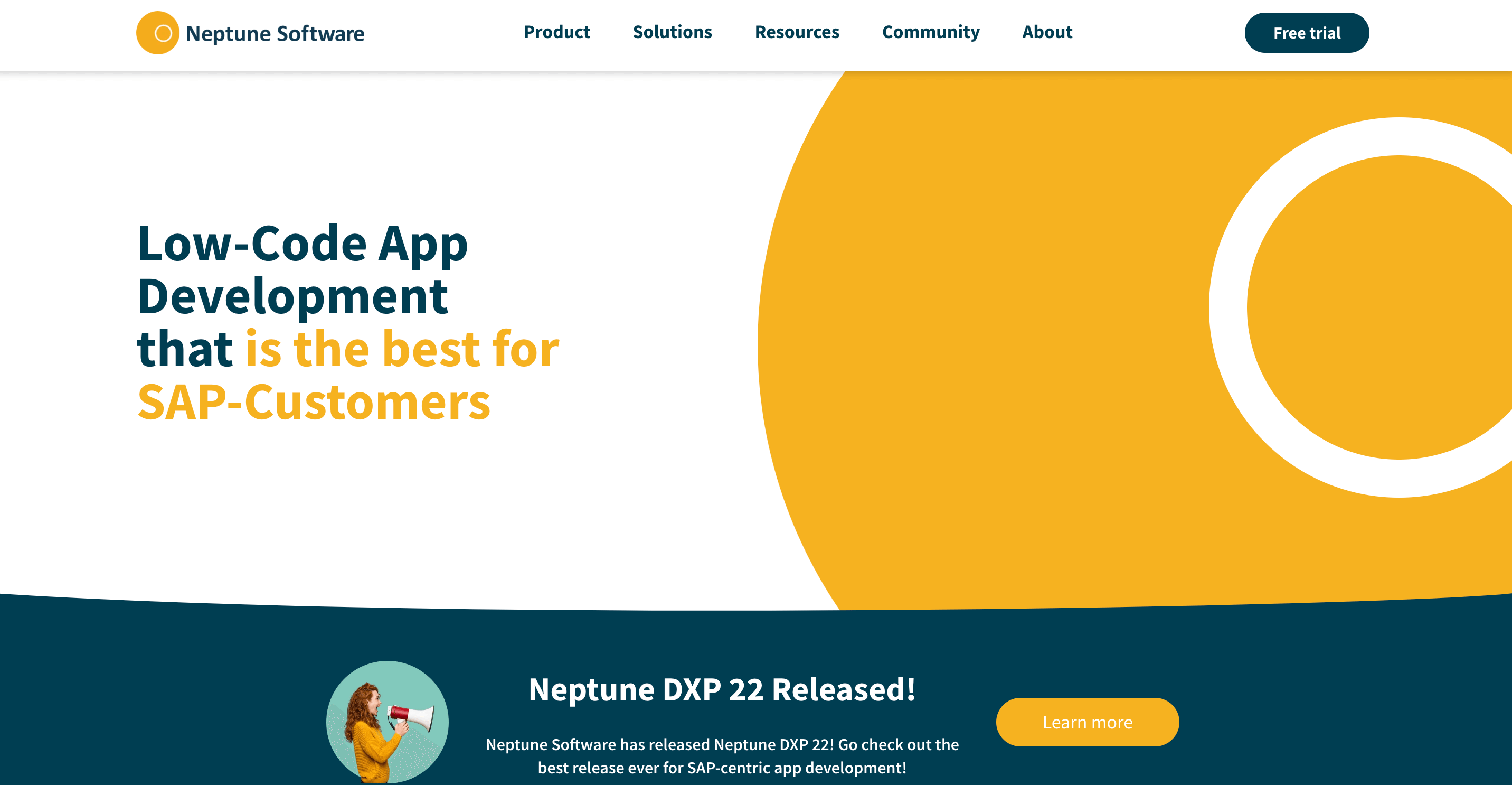 Neptune DXP is a low-code development platform that can help organizations efficiently digitize and optimize their business processes and user interfaces. It offers ultimate enterprise mobility, providing IT departments with the right tools to easily create the needed apps.
Neptune DXP is a fast, affordable, and future-proof way to industrialize custom app development, which can save you time and money by streamlining enterprise app development and integration. 
One of its best features is the ability to configure offline-ready hybrid apps and Progressive Web Apps (PWA), which is crucial if you strive to embrace a future-proof mobile strategy.
Pricing:
Developer Edition:

for non-productive usage; includes access to Neptune DXP features and application building blocks, community support, compatibility with any device, and 2 developer licenses.

Professional Edition:

recommended for SBM. Includes all platform features plus access to all application building blocks and templates, access to one runtime environment with an opportunity to purchase more, etc.

Enterprise Edition:

unlimited usage; includes all platform features, access to all application building blocks and templates, unlimited runtime environments, unlimited users, and more. Contact their sales team for a quote.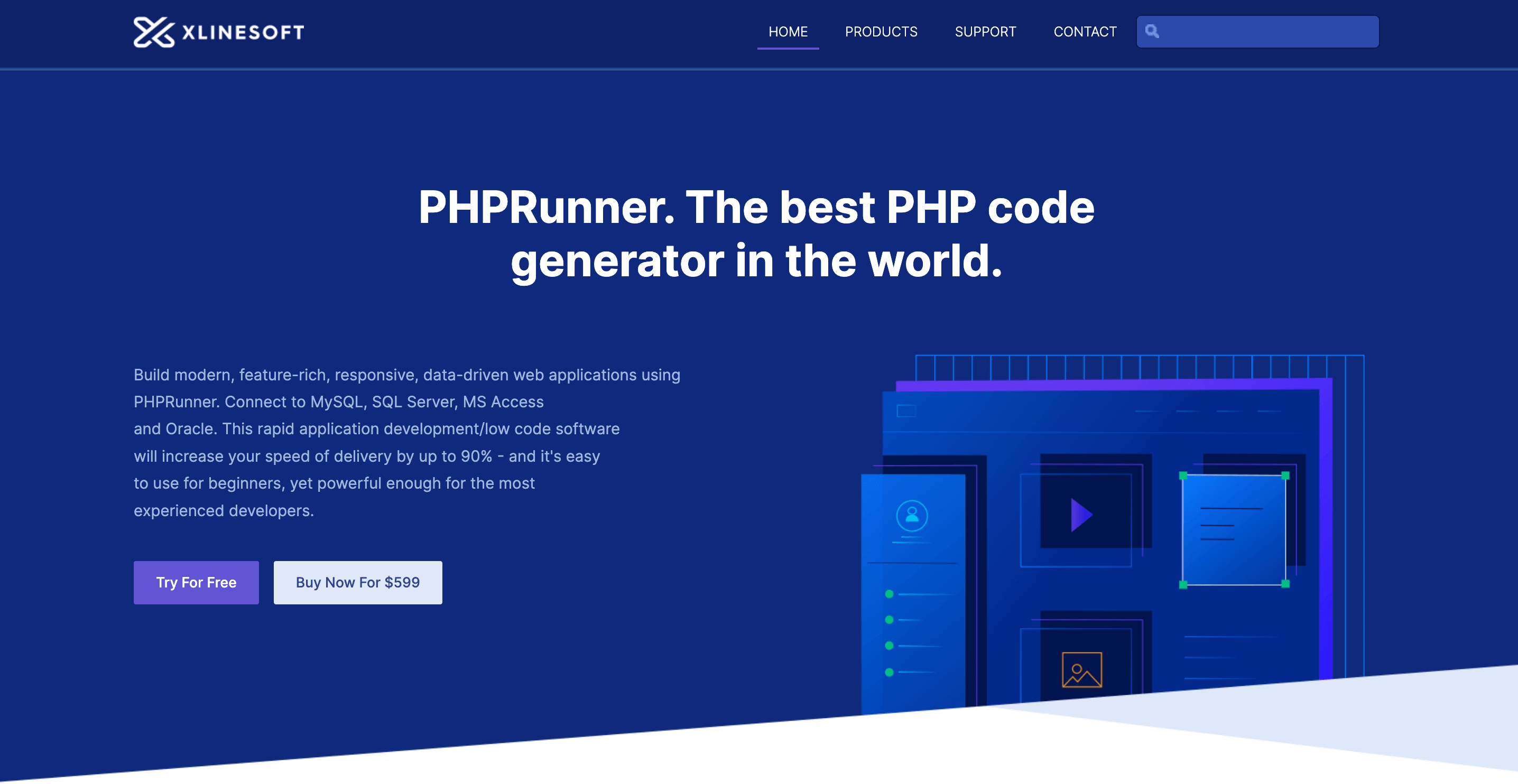 PHPRunner is a high-performing low-code web application builder that allows you to create feature-rich, responsive, data-driven web apps that can be connected to MySQL, SQL Server, MS Access, and Oracle. Although PHPRunner is pretty easy to use, even for beginners, it's robust enough for the most experienced developers.
With PHPRunner, you can get a complete web application from scratch. All pages created using it are professionally designed but still highly customizable and functional. This tool is renowned for its multiple color themes and layouts, built-in FTP Client to upload PHP pages to the web server, and enhanced security. 
One of PHPRunner's distinctive features is that it supports over 30 languages, providing users with the ability to select a language when logging in.
Pricing:
Professional:

$599 one-time, flat rate. Includes a wide range of database support, page designer, reports and charts, application preview, SQL editor, dynamic permission, and more.

Enterprise Edition:

$999 one-time, flat rate. Includes all Professional Edition features plus multiple database connections, multiple REST API connections, data encryption, Okta, AzureAD, OpenID, SAML support, and more.
Microsoft Power Apps is an easy-to-use platform for custom business apps with truly impressive functionality, including pre-built AI components. Using Power Apps, you can rapidly build apps connecting to your data stored either in the underlying data platform, Microsoft Dataverse, or in any other online and on-premise data source, such as SQL Server, SharePoint, Microsoft 365, or Dynamics 365.
Apps built with the help of Microsoft Power Apps feature a responsive design and can seamlessly run in a browser or on a mobile device. What's more, the platform boasts an excellent price–functionality ratio: it allows you to develop robust business applications without involving professional developers.
Pricing:
Per app plan:

$5 user/app/month, one app or portal per user. Includes 250 AI Builder service credits per month.

Per user plan:

$20 user/month, with unlimited apps and portals. Includes 500 AI Builder service credits per month.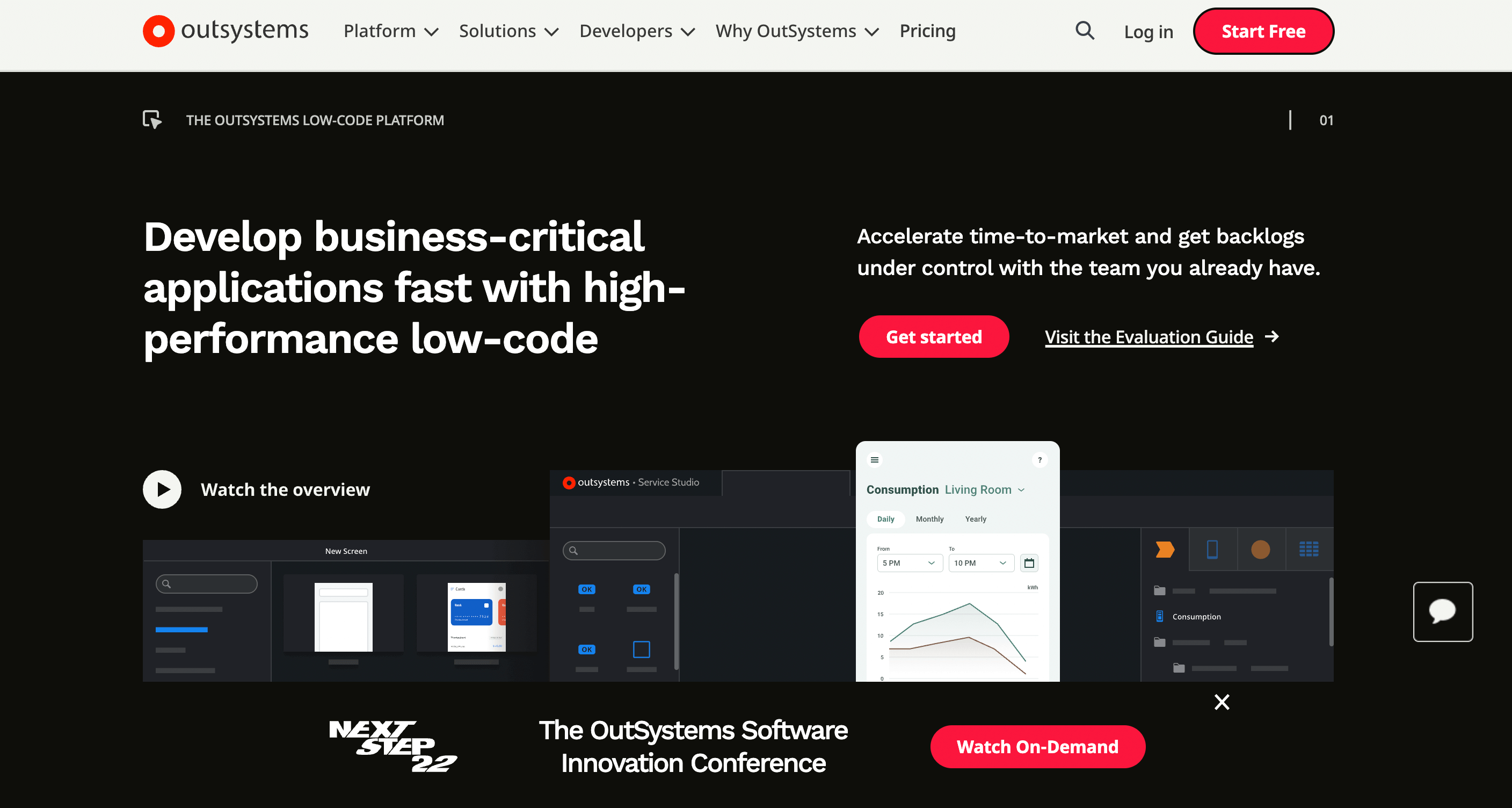 OutSystems is a high-performance low-code tool that allows you to build apps at a remarkable speed. The platform can be used for creating mobile and web apps as well as complex enterprise-level systems.
OutSystem is the way to go if you seek a tool that will help your team to quickly and easily create multiple apps for multiple use cases — for this, it offers one-click publish, AI-based dependency analysis, and automated application lifecycle management. 
The platform adds automation to each layer of development: front-end, back-end, and integrations. You can connect your application to over 400 systems, delivering high-performance, low-latency data access.
Pricing:
Free:

includes integrated development environment, free online training, community support, apps hosted on OutSystems Cloud, and a single runtime environment for development, testing, and production.

Standard:

$1,512.50/user/month, billed annually. Includes all Free features plus full DevOps automation and a 99.5% uptime guarantee on the OutSystems Cloud.

Enterprise:

custom pricing. Includes all Standard features plus 24/7 professional support, development runtime environment with two separate sets of testing and production runtime environments for application isolation and compliance, and apps hosted on your servers with disaster recovery protection or on OutSystems Cloud with High Availability.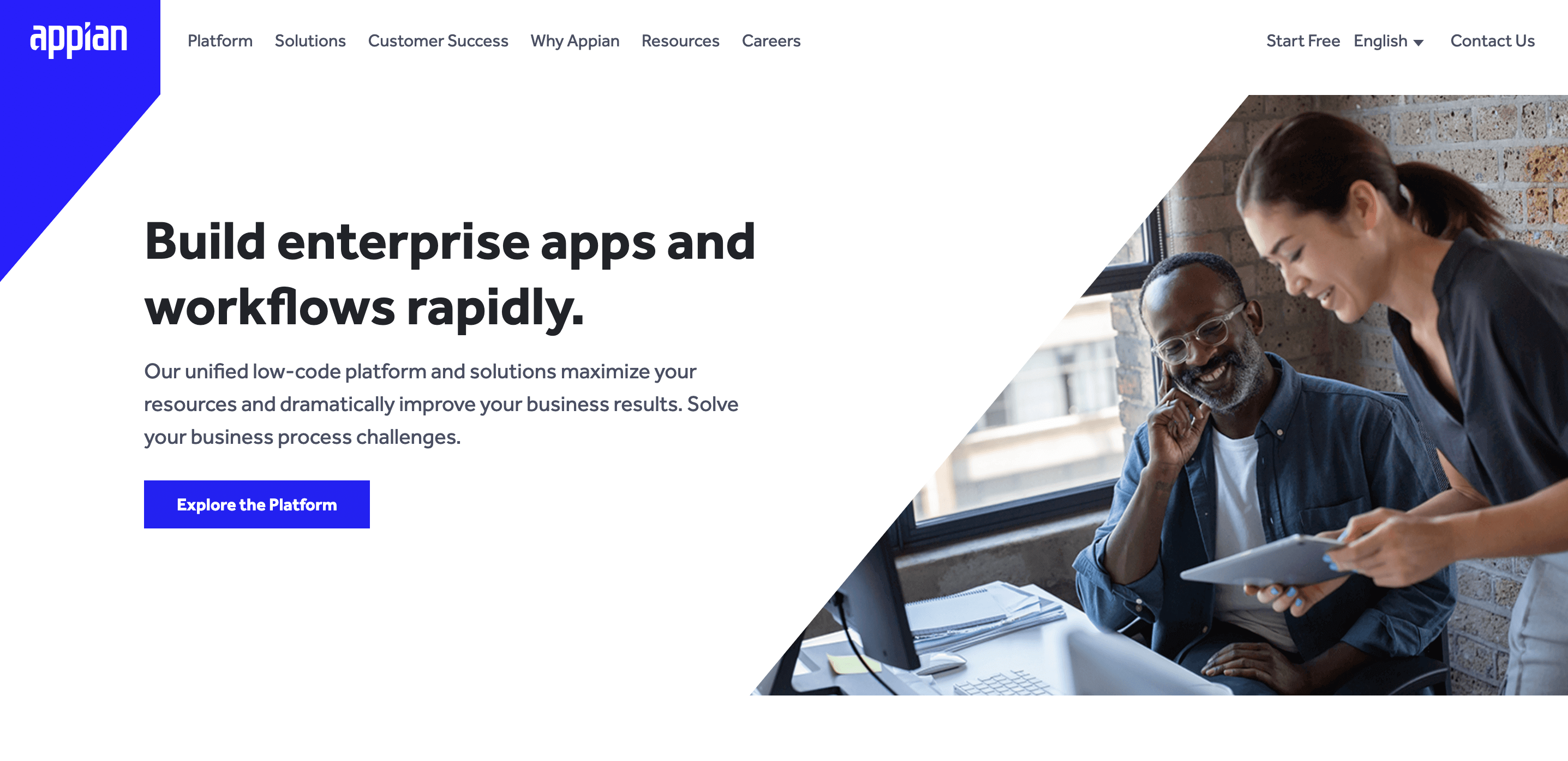 Appian is one of the best low-code platforms, helping organizations build applications rapidly to help maximize their resources, enhance business results, and simplify risk management and compliance.
The power of this tool is in its ultimate flexibility and ease of use, which lets non-technical users build high-performing applications without writing code. Powered by various native deployment tools and DevOps integration options, Appian is an excellent choice whether you want to develop a mobile app or an enterprise-grade system.
What's more, this low-code platform offers "freemium," so you can tap into its potential and start innovating without spending a single cent.
Pricing:
Free:

full access to the Appian platform with a guided learning experience.

Application:

custom price, recommended for a department or specific use case; multiple user types available.

Platform:

custom price, meant for enterprise-level deployments; best for organizations automating end-to-end processes or deploying multiple apps to many users.

Unlimited:

custom price, unlimited development; best for building unlimited apps or re-platforming onto Appian.
Mendix is a low-code app development tool that combines speed and control and focuses on a collaborative approach throughout the development process. The platform provides an all-inclusive set of tools and services you need for the entire application lifecycle, from ideation to deployment.
One of the decisive advantages of Mendix is that it enables multiple applications to be used in a component-based platform through microflows, which significantly facilitates co-creation.
Trusted by IBM and SAP for high-productivity development for their respective clouds, Mendix has already helped more than 3,400 organizations globally to attain their transformation goals. Not to mention, Mendix offers a free tier.
Pricing:
Free:

includes Agile project management, no-code, and low-code, ability to deploy to Mendix Cloud, shared database tenancy, 2 environments per app, free online academy, and community support.

Basic:

starting at €50/month, 5 users included, plus €10/user/app/month; provides all Free features plus access to your log files, 9–5 support, and 99.5% uptime guarantee.

Standard:

starting at €800/month, 5 users included, plus €10/user/app/month; best for department-wide business applications. Includes all Basic features along with access to a customer success manager, project dashboard, enhanced deployment options, dedicated database tenancy, 4 environments per app, IDP Integration, and more.

Premium:

custom price. Includes all Standard features plus a private app store, flexible number of environments per app, enhanced vertical scalability, horizontal scalability, 24/7 support, and more.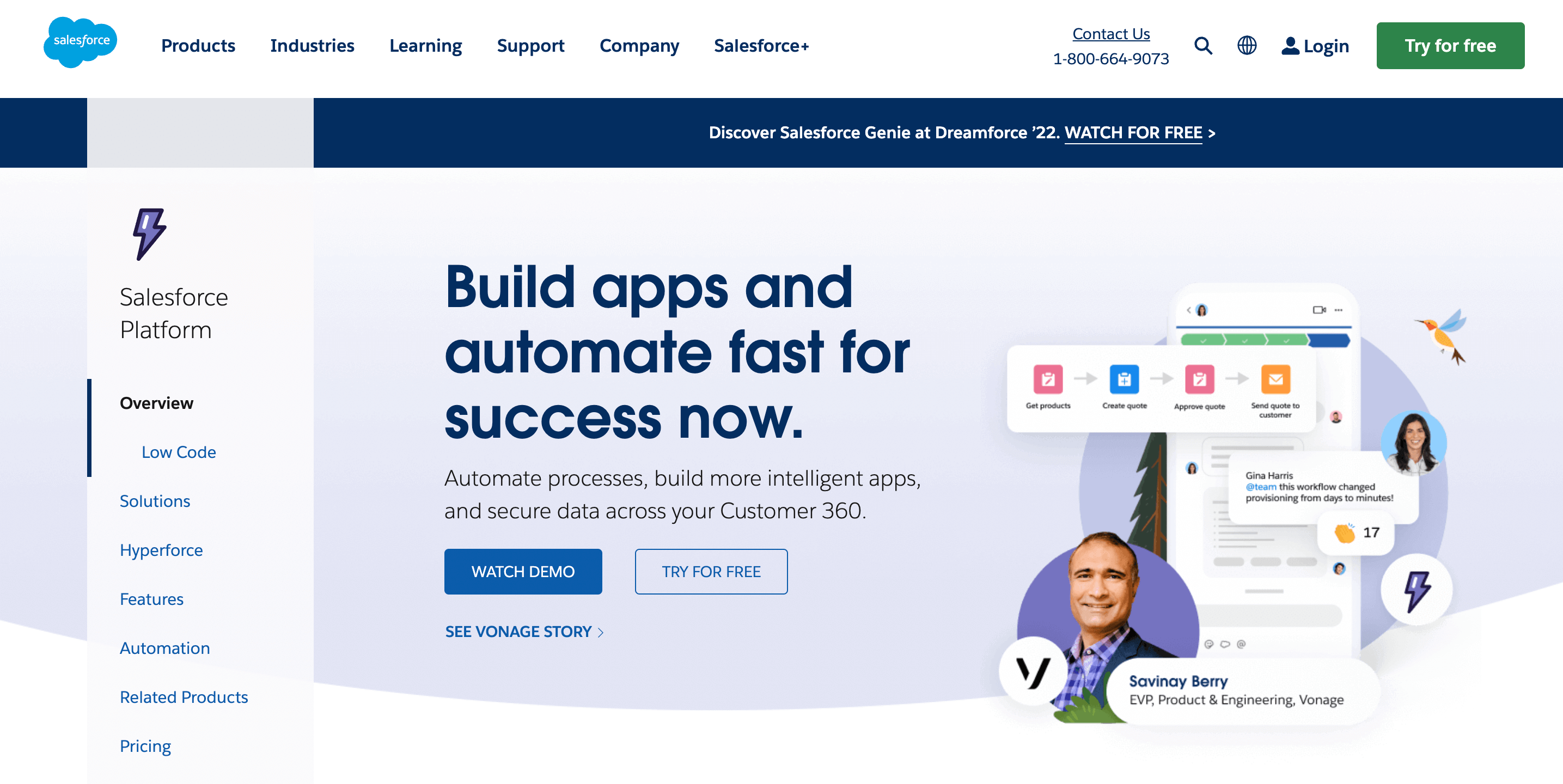 Salesforce Platform combines the power of an enterprise-level solution with the simplicity of a SaaS app. The tool allows users to quickly build low-code apps of any complexity, from data collecting to marketing automation.
Its intelligent mobile and desktop app builders can help you create and deploy highly personalized user experiences and deliver greater value to the end users. The platform's drag-and-drop functionality allows virtually anyone to build apps that automate business processes and help users find necessary information. If you are a developer, you can leverage entirely customized development in your preferred language when using Salesforce Platform. 
The low-code software created with Salesforce Platform can be deployed on mobile, tablet, and web and integrated with almost any data source.
Pricing:
Platform Starter:

$25/user/month, billed annually, with access to 10 custom objects, process automation, Lightning App Builder, AppExchange, identity for employees, and customizable reports and dashboard.

Platform Plus:

$100/user/month, billed annually. Includes all Platform Starter features plus access to 110 custom objects.

Platform Unlimited:

contact their sales team for a custom quote.
Conclusion
With the substantial benefits offered by low-code platforms, the low-code development trend is here to stay. By allowing people with little development expertise to build high-performing applications, low-code tools can add tremendous value to your business operations.
To leverage low-code development, choosing a proven and user-friendly tool with all the necessary functionality is vital. However, with so many options, deciding on the right platform can be challenging. We hope this list helps you choose the best low-code app builder offering the features and functionality that will perfectly address your business needs.
In case you offer a low-code development platform and want to add it to our list, contact us by email, and after a thorough review, we'll decide whether it's a valuable addition.