Shopify is one of the most favored eCommerce platforms that has helped millions of businesses establish their online presence globally.
Fair enough, since it offers an exceptionally user-friendly interface, robust features, and tons of customization options that allow for creating a unique brand identity that attracts customers.
Still, to make the most of Shopify's possibilities, you might need assistance from a professional Shopify development agency.
The expert team will help you build, customize, and maintain your online store to achieve maximum performance and sales. Besides Shopify store development, the agencies commonly offer a range of other services such as store design, migration, integration, optimization, and support.
So, if you want to benefit from the best-in-class Shopify development services, stay with us. We've compiled a list of the top Shopify developers to help you choose the most suitable team with the relevant domain expertise and knowledge.
The Best Shopify Developers For Excellent Online Store Development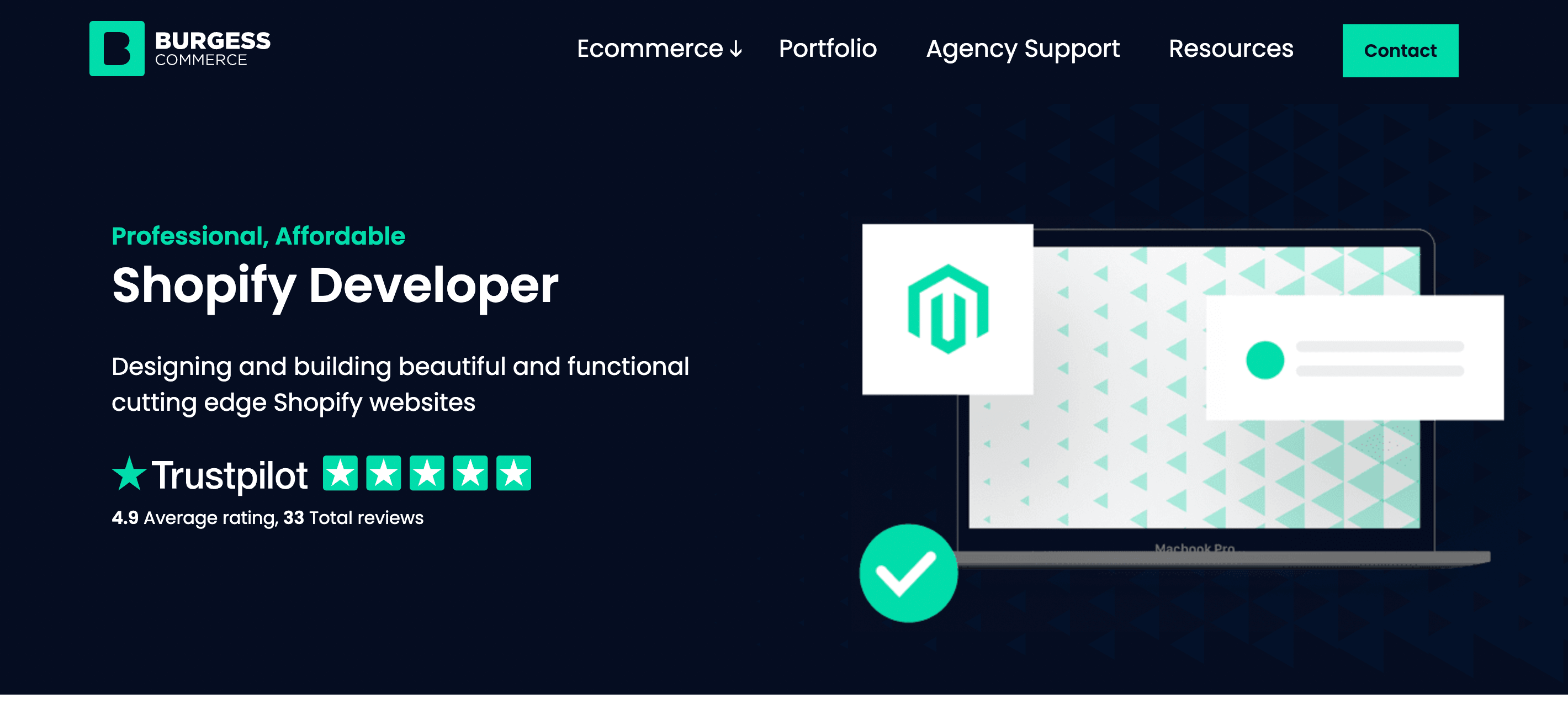 Burgess Commerce is a leading Shopify development agency with extensive experience in this cutting-edge technology. According to the founder, Rowan Burgess, his mission is to provide clients with all-in-one Shopify services at prices and speeds that typical digital agencies simply can't match. The company is committed to delivering high-quality, responsive, and transparent custom eCommerce solutions within budget and on time.
As a certified Shopify developer and Google Partner, Burgess Commerce offers a wide range of services, including bespoke Shopify development, Shopify theme customization, Shopify app development, migration from other platforms to Shopify, hosting, and performance optimization. Additionally, they provide impactful Shopify SEO and UX design services to deliver the most optimized version of your online store.
Having implmeneted more than 60 successful projects, Burgess Commerce has gained extensive experience in various industries, including Fashion, Education, IT, and more.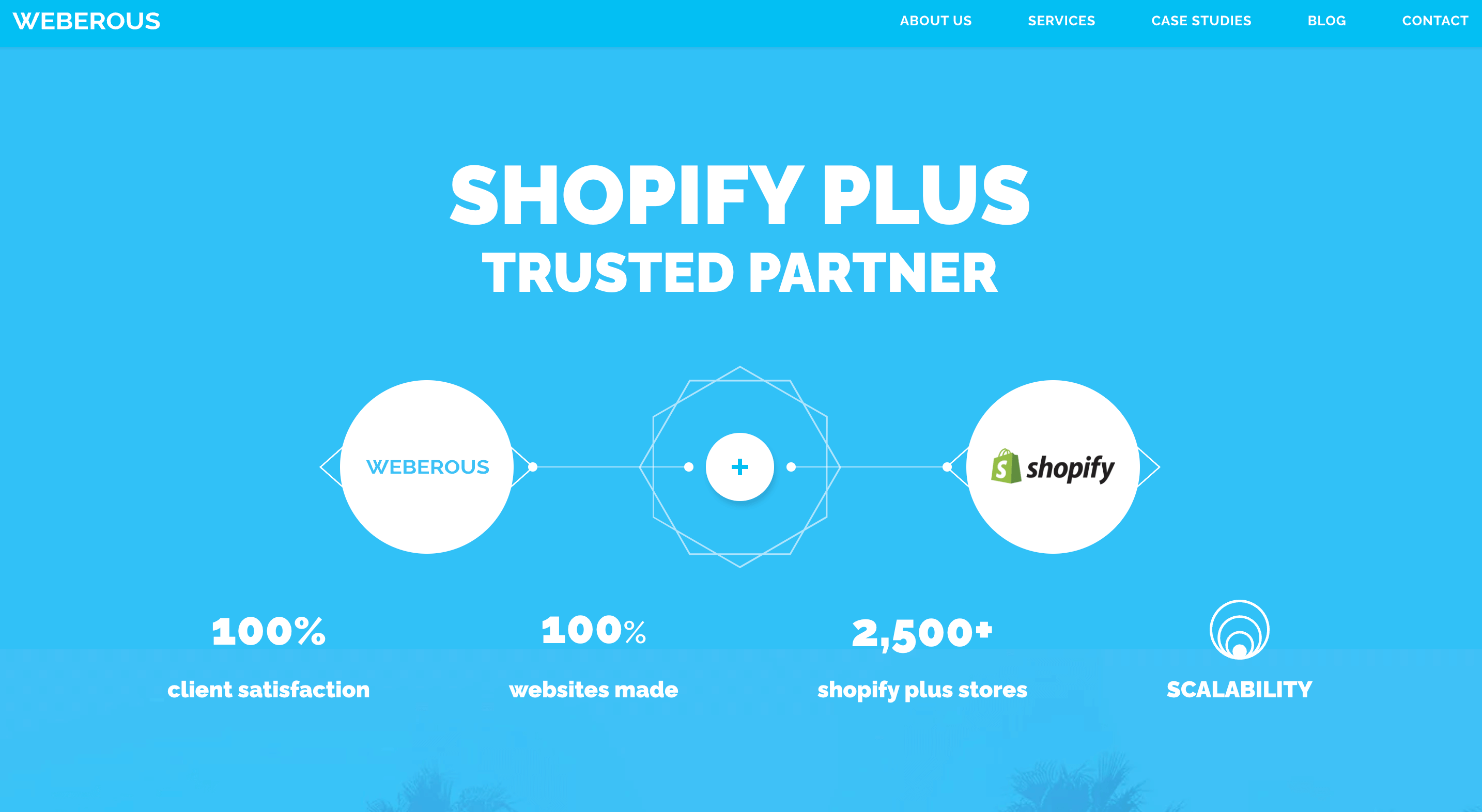 Weberous is a superior web design and development agency based in Los Angeles, California. With over 10 years in the market, the award-winning Weberous team of 15 ingenious experts makes up the core of it.
The company offers a wide range of digital services, including eCommerce development. Shopify development services take a significant part of their eCommerce tech stack, including theme customization, app integration, and payment gateway setup. Shopify solutions dominate their portfolio — they've already built over 2,500 Shopify stores. 
By focusing on conversions and sales and making the most out of branding and visuals, the Weberous experts create appealing and highly-converting websites. According to Rafael Romis, the Weberous founder, the secret to their success in the competitive Los Angeles web design market is listening to their clients and giving exactly what they want.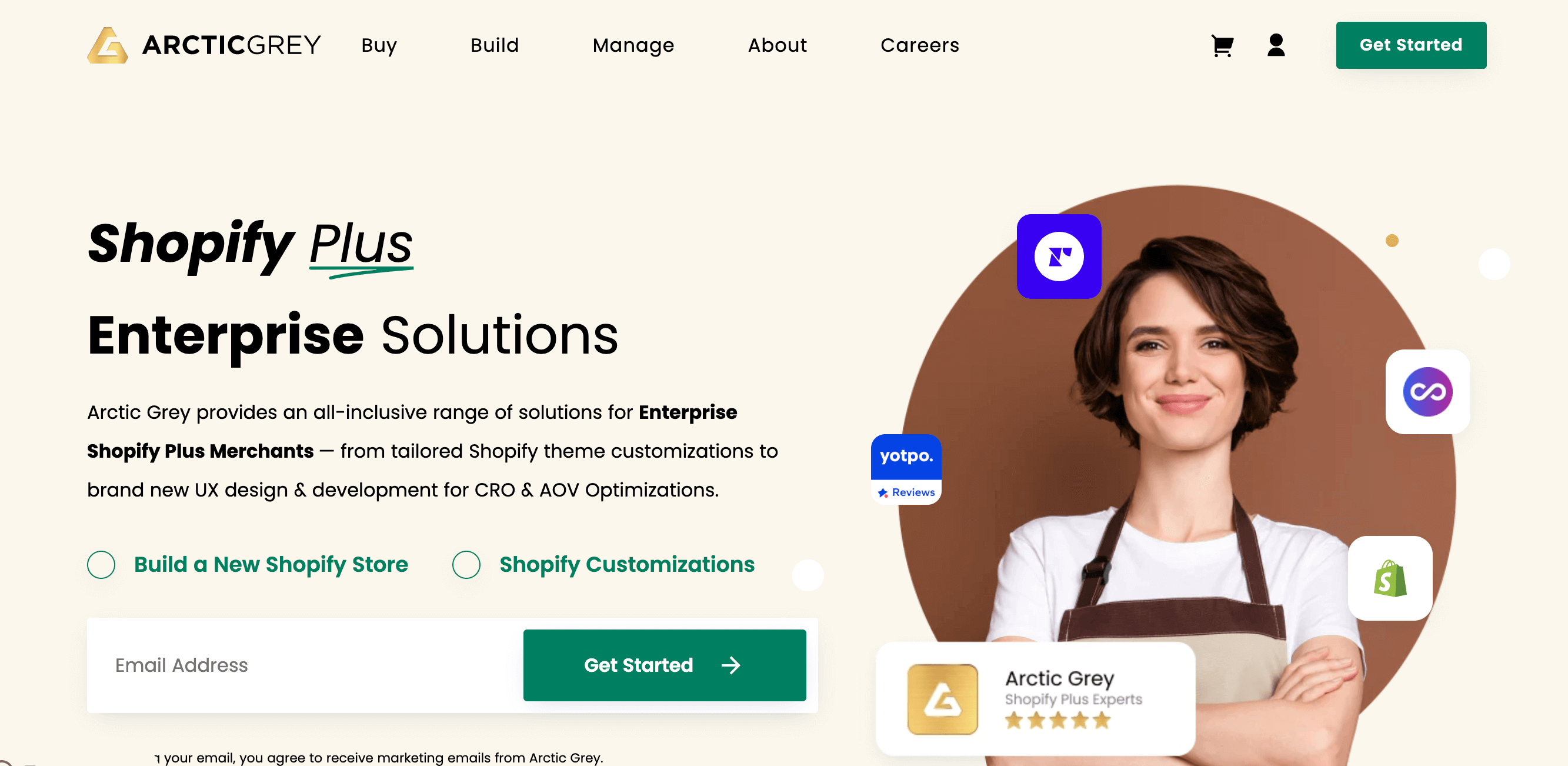 If you're in search of an agency that is 100% focused on Shopify development, consider partnering with Arctic Grey. Founded in 2015 and headquartered in New York, the company provides a full range of Shopify-related services to help businesses grow their brands online, including custom theme development, app integration, and store optimization.
The team at Arctic Grey is committed to delivering high-quality work and achieving measurable results for their clients. These guys work with a variety of businesses, from startups to established brands, and have a reputation for delivering customized solutions that meet the unique needs of each customer.
As of today, they've supported over 1,000 Shopify stores and helped their clients earn $1.5B+ in revenue. If you need the best Shopify developers to help you build, optimize, or migrate a Fashion, Accessories, Beauty, Jewelry, Food, Home, Sports, Wellness, or B2B store, Arctic Grey has you covered.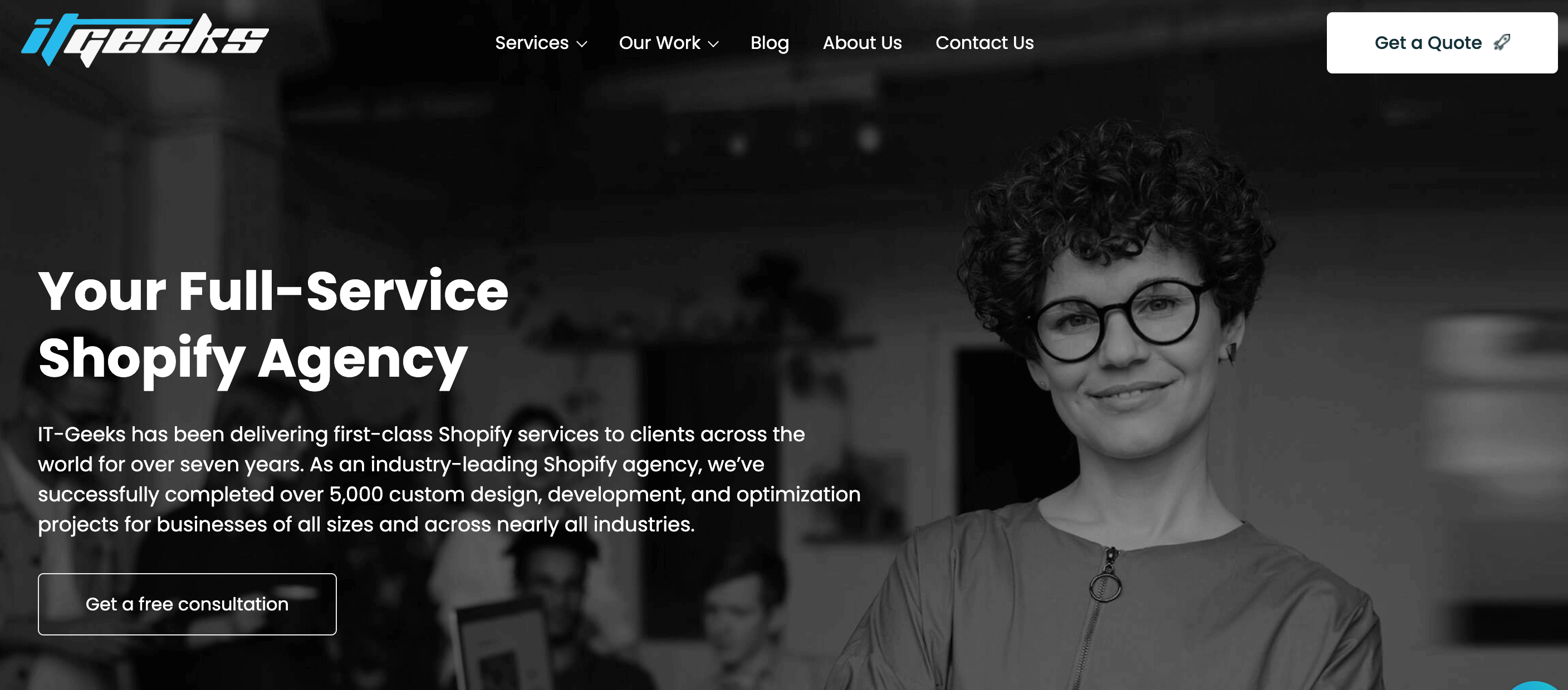 IT Geeks is one of the top Shopify development companies with over 10 years on the market. The company is based in Murray, UT, and has over 200 specialists on board. They provide a wide range of services, with eCommerce solutions accounting for 70% of their past projects and Shopify solutions dominating the latter.
The team at IT-Geeks prides itself on providing customized solutions that fully meet each client's unique needs. Besides Shopify development, they also help businesses with migration, redesign, and maintenance of their Shopify stores to achieve maximum sales and revenue.
As the guys at IT-Geeks say, they're not just a team of passionate and skilled experts. Their agency is rather a hub of new possibilities and innovations to guide you to your significant success, which couldn't sound more promising.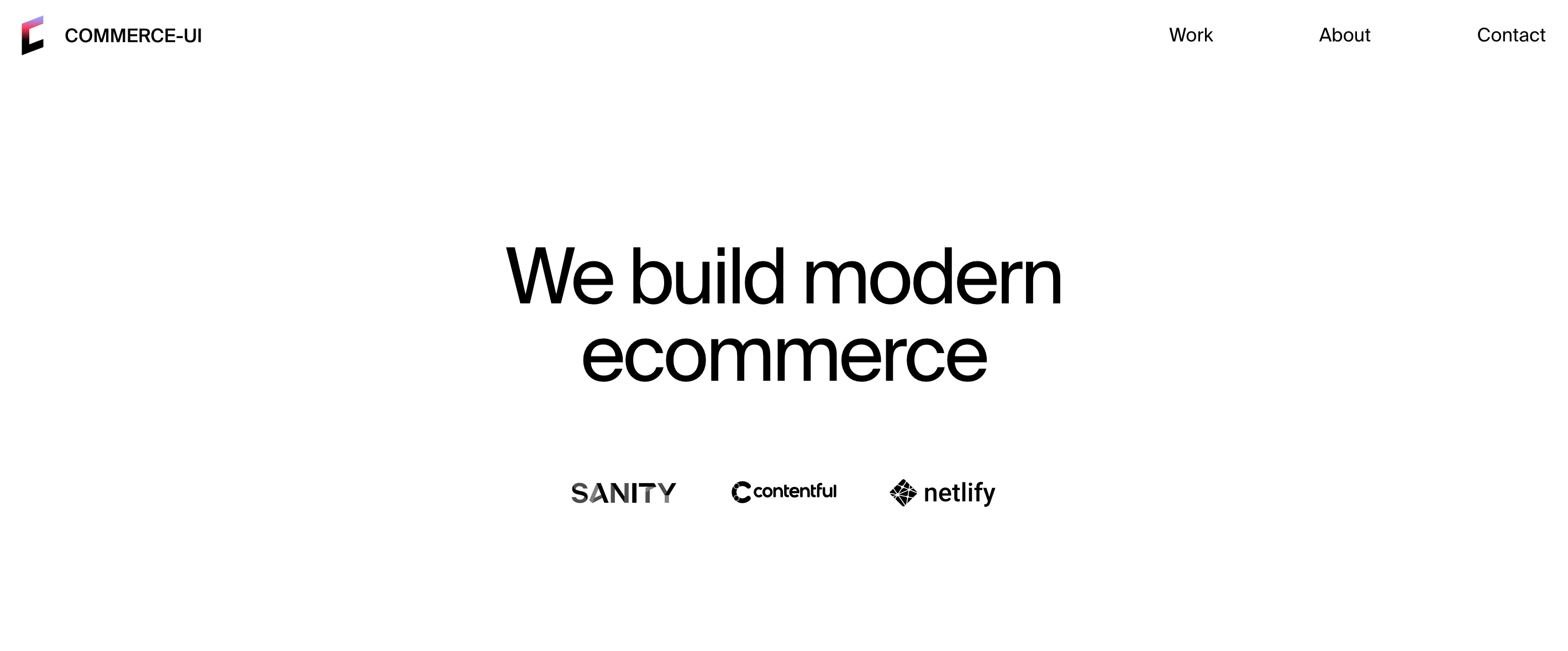 If you plan to hire Shopify developers from Eastern Europe, consider Commerce-UI. This prosperous web design and development agency based in Gdańsk, Poland, specializes in creating eCommerce solutions for businesses, with Shopify solutions accounting for most of their past projects. 
For over 8 years, the team at Commerce-UI has been working with small and midmarket businesses looking to improve their online presence and increase their revenue through e-commerce. They stick to the principle that building the best online shopping experience requires meticulous attention to design detail and cutting-edge technology, so they could be your best bet if design matters to you.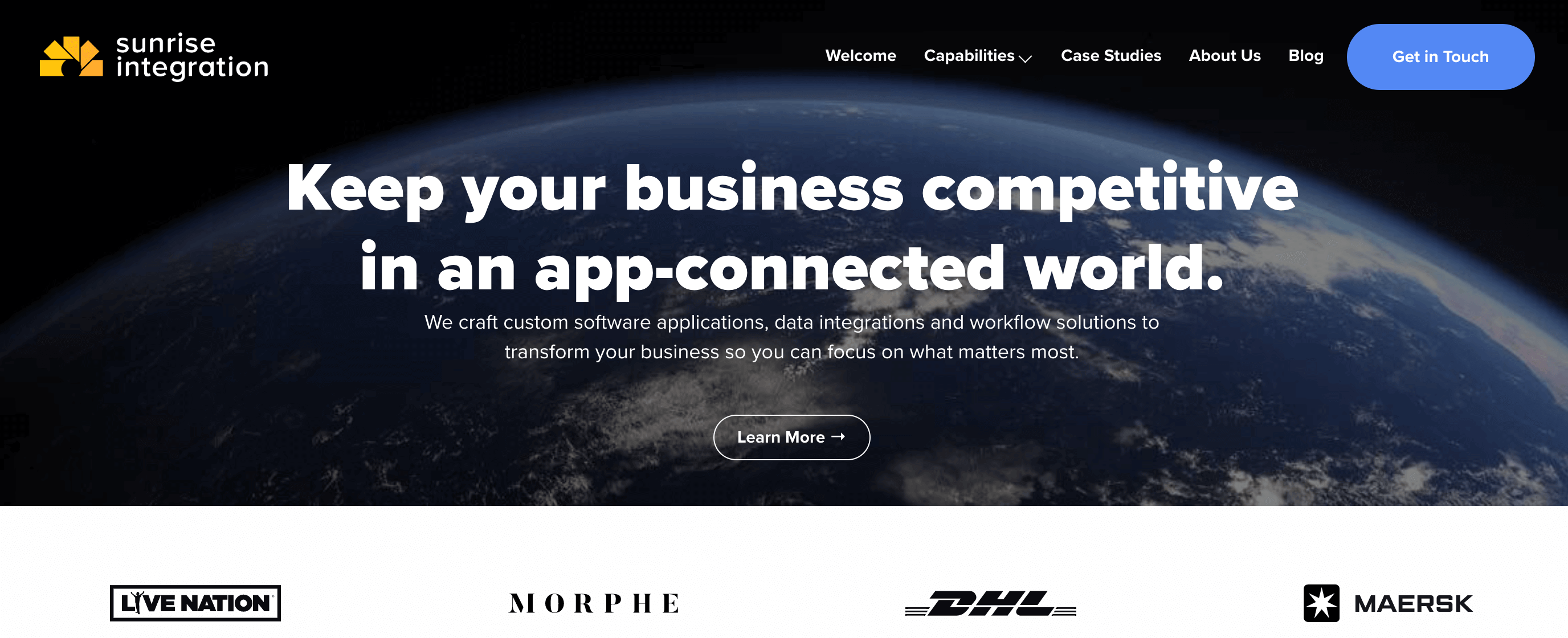 With over 22 years of experience in IT services, Sunrise Integration is one of the top Shopify development companies in the US. Headquartered in Los Angeles, CA, the team at Sunrise Integration builds high-quality, custom software applications and workflow solutions for businesses of different sizes, from startups to Fortune 500 companies.
Their eCommerce expertise covers a variety of platforms, with Shopify accounting for the majority of their eCommerce projects. The team at Sunrise Integrations strongly believes in the power of collaboration and communication to reach outstanding results for their clients, and they're committed to providing support to businesses they work with.
Sunrise Integration has launched a number of successful apps with over 165,000 installations for a variety of industries, including Fashion, Shipping, Wholesale B2B, Security and Fraud Protection, Dropshipping, Healthcare, Food Delivery, and many others.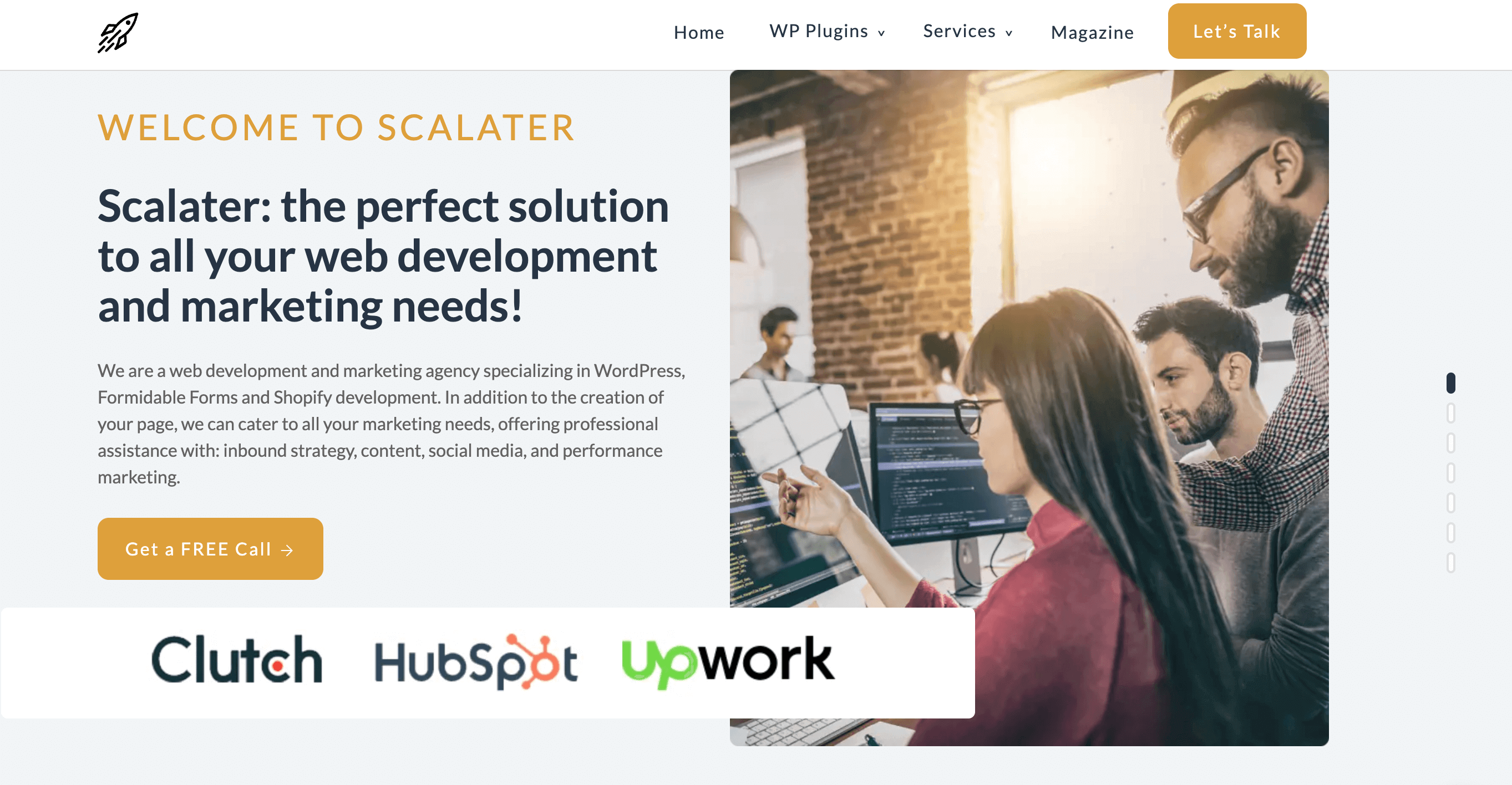 Scalater is an award-winning software development company based in Estonia. The company provides full-cycle eCommerce development and optimization, focusing on Shopify and WooCommerce platforms. In addition, they offer website development, SEO services, plugin and theme development, and custom API creation. Scalater's team of Shopify experts deeply understands the latest trends and technologies, making them a top-notch IT services provider for businesses of any industry.
Being on the market since 2020, Scalater has proven itself a reliable dev company, obtaining numerous rewards and recognitions. Thanks to their extensive expertise, they can define how to best engage your target customers through tailored solutions and stunning web design and deliver the perfect virtual storefront for your business needs.
Scalater's commitment to an intuitive user experience, appealing web design, and optimized website performance make them the perfect partner for companies looking to grow profits and attract more customers.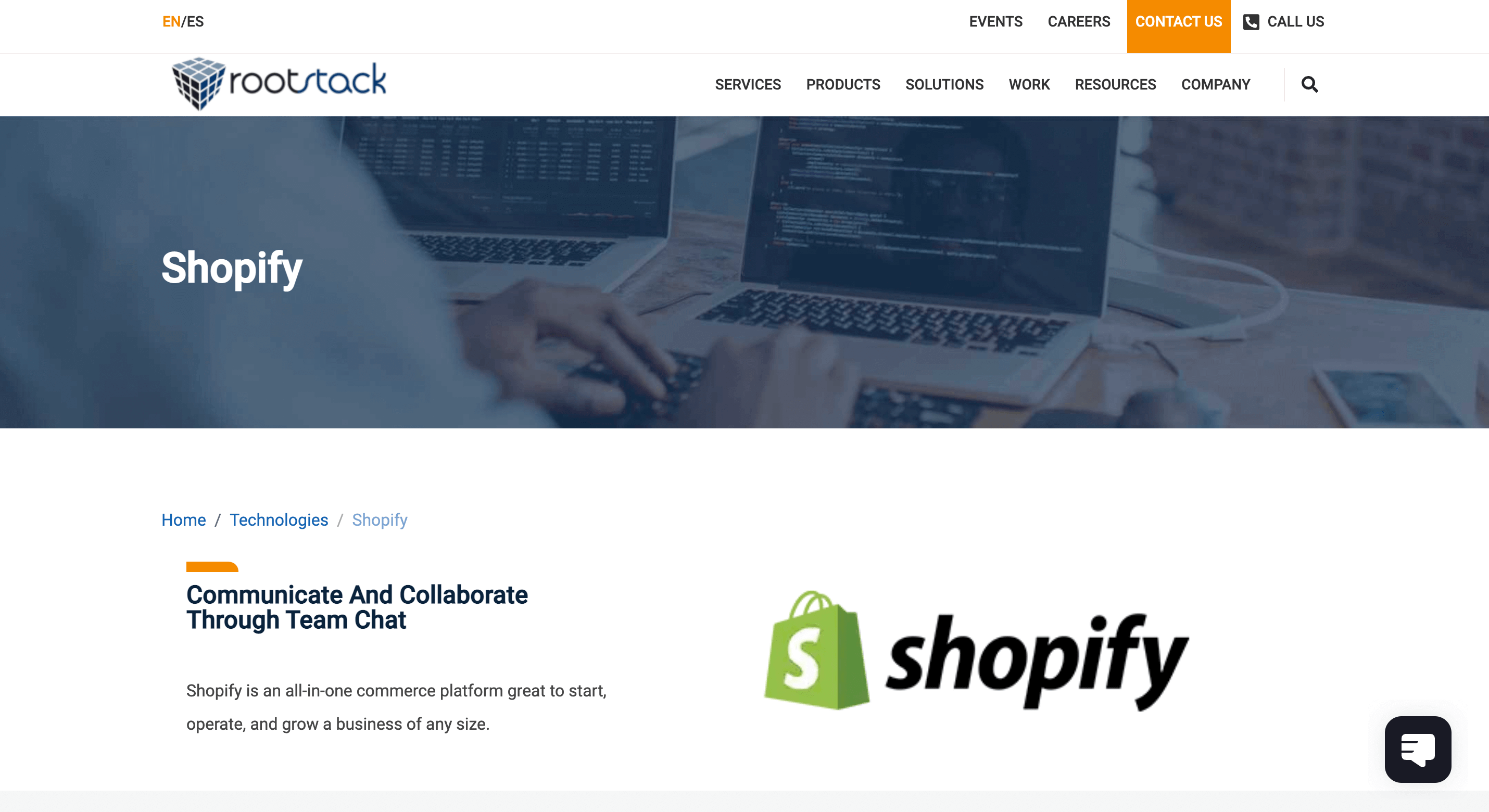 Rootstack is one of the top Shopify development companies that has provided high-quality product development and software outsourcing services for over +12 years. Their top-notch Shopify developers work with companies from Latin America, the United States, and Canada, including big organizations like Hyundai, Caterpillar, Heineken, LG, Global Bank, and United Nations.
They focus on the latest technologies and methodologies and offer custom-made solutions to help clients achieve maximum performance and become industry leaders. Passionate about complex digital transformations, the company will help you boost process efficiency with a killer strategy, providing ongoing consulting and full-cycle Shopify development services.
Rootstack offers a broad range of technology solutions to businesses operating within the Transport and Logistics, Construction, Retail, Real Estate, Non-profits, Insurance, and Brokerage industries. They work with self-managing platforms, ERP, WHM, CRM integrations, payment methods, and omnichannel practices to help you enhance customer experience, introduce new revenue streams, and reduce costs with intuitive and highly manageable platforms like Shopify.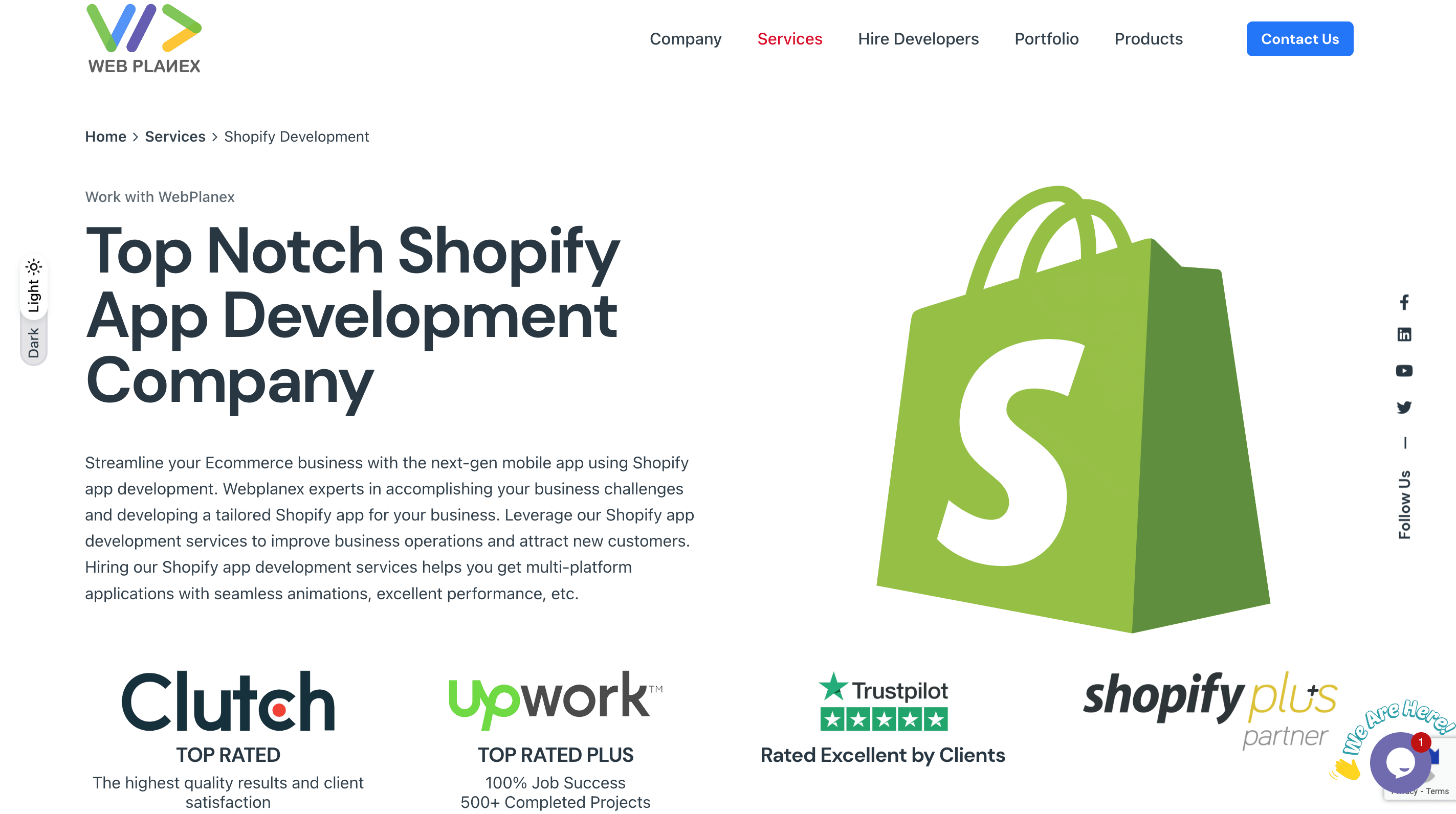 Founded in 2010, Webplanex is amongst the top Shopify development companies. Webplanex provides a full range of Shopify-related services to help businesses grow their brands online. Their Shopify store design and development services include customized theme design, SEO, Shopify Plus optimization, Shopify app development, and more.
They're the leading Shopify experts in the industry and have developed over 2500+ Shopify stores for clients worldwide. As one of the best Shopify development companies, Webplanex has the experience and expertise to build phenomenal mobile and web applications for a wide range of industries, including but not limited to Healthcare, Banking, Hospitality, Startups, etc.
The expert team at Webplanex highly believes in the power of collaboration and communication to reach extraordinary outcomes for their clients. They're highly focused on the latest advanced technologies and methodologies to assist clients in achieving maximum performance and becoming industry leaders. Finally, Webplanex is a great choice of a reliable Shopify development company for your next Shopify project.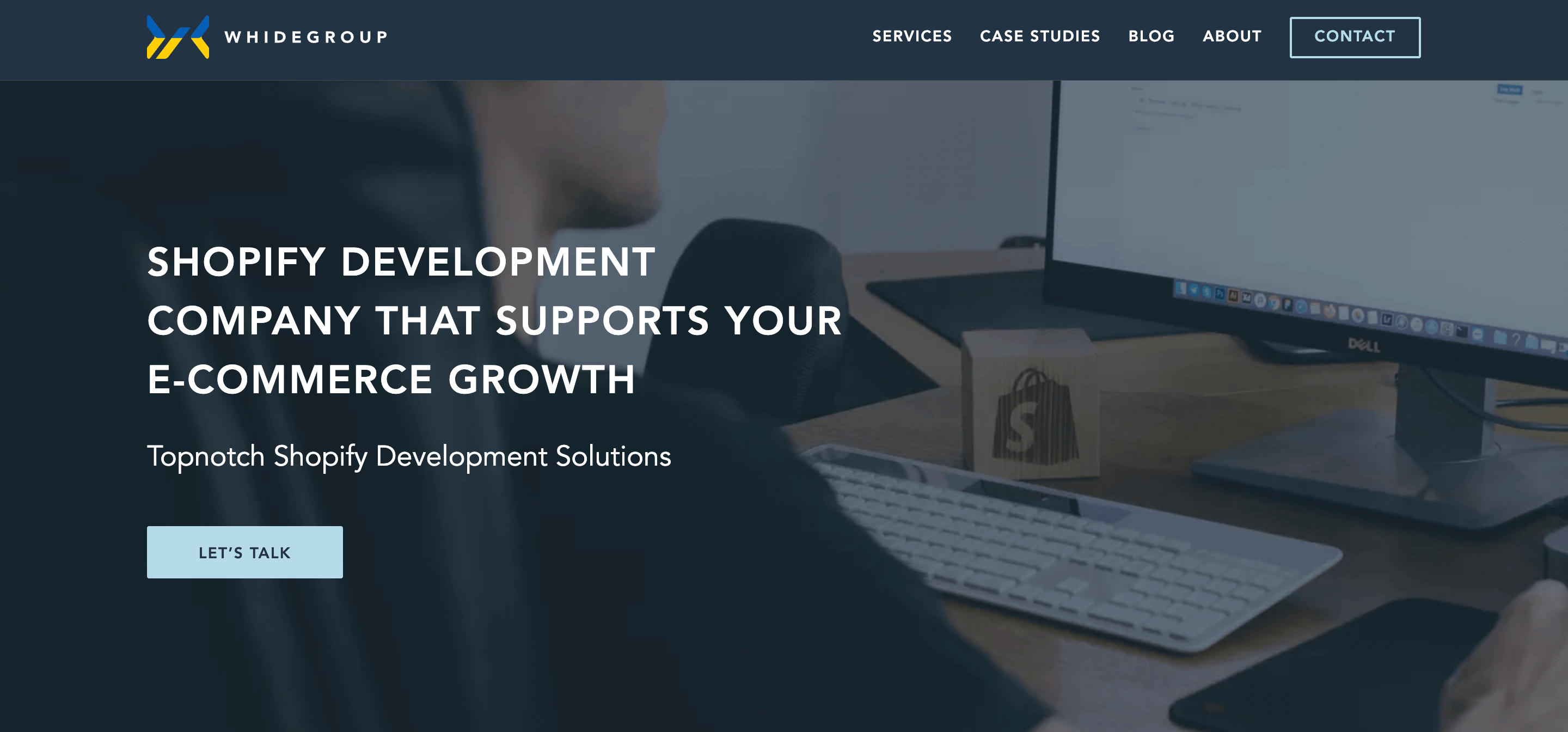 Whidegroup stands out as a prominent player, renowned for its expertise in delivering cutting-edge Shopify solutions that elevate businesses to new heights. Whidegroup's position as a top Shopify development company is solidified by its team of seasoned developers and designers who possess a deep understanding of the Shopify ecosystem.
The agency's commitment to staying ahead of industry trends ensures that they craft bespoke solutions that cater to a wide array of business needs. From visually captivating designs to seamless integrations and personalized functionalities, Whidegroup's expertise shines through in every project they undertake.
All in all, in the realm of top Shopify development company and developers, Whidegroup stands as a beacon of expertise and innovation. Their ability to transform eCommerce visions into reality, coupled with their dedication to delivering tailored solutions, has earned them a reputation as a trusted partner for businesses seeking to excel in the competitive eCommerce landscape. With Whidegroup's guidance, businesses can confidently navigate the complexities of eCommerce and establish an online presence that captivates customers and drives growth.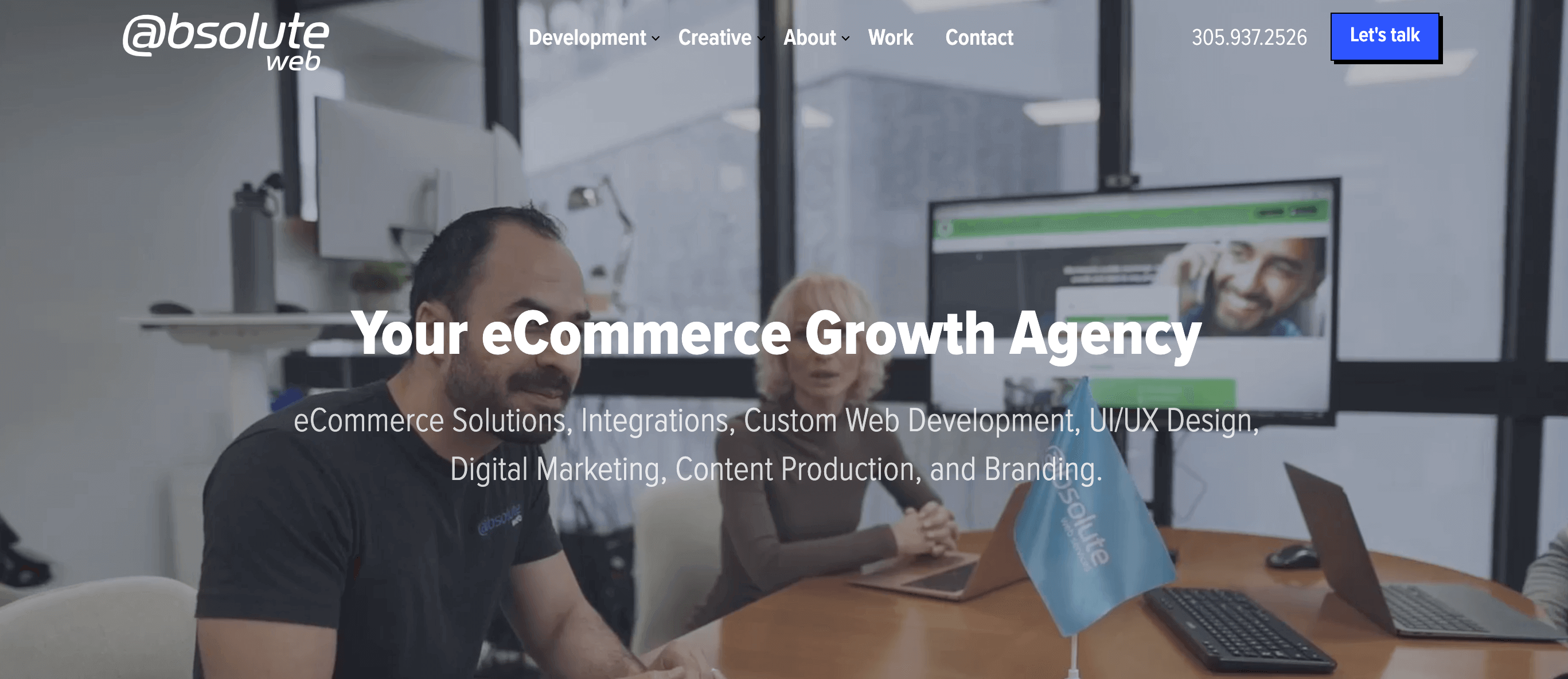 The Miami-based Absolute Web is a full-service eCommerce agency that specializes in digital commerce, with Shopify solutions accounting for a third of their past projects. According to Absolute Web, they understand the importance of digital impressions in today's world and strive to create engaging web experiences with best-in-class user interactions.
A team of passionate digital strategists, project managers, certified developers, and UI/UX producers at Absolute Web has been helping businesses achieve their goals since 1999. They're especially attentive to the UI/UX design and take a data-driven approach to it to ensure that their eCommerce designs align with their clients' target audiences.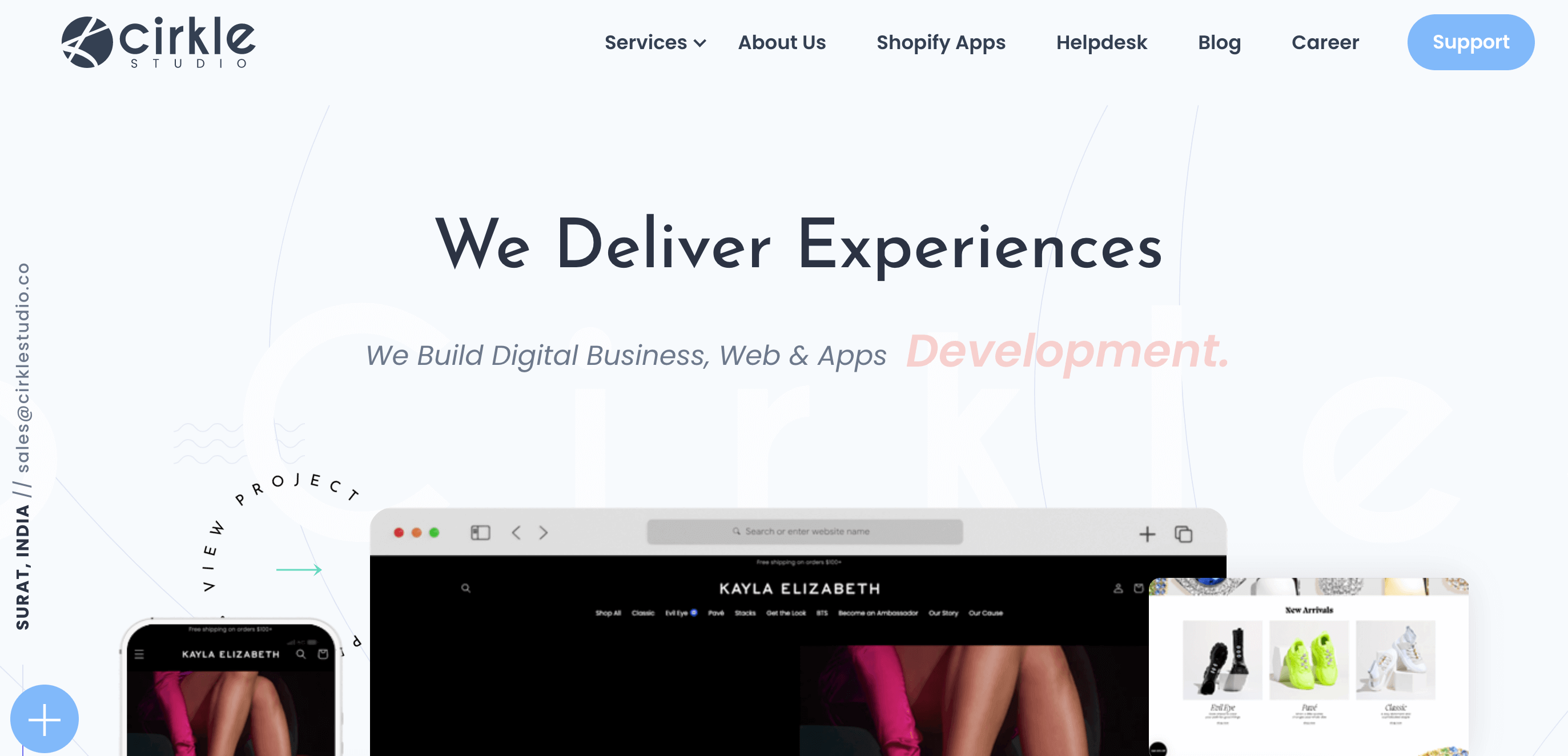 Based in Surat, India, Cirkle Studio has been providing a range of services to help businesses establish and enhance their online presence since 2012. Among other domains, the company specializes in building custom Shopify websites for businesses looking to create an engaging and responsive online store.
Cirkle Studio has extensive experience working with Shopify, and their team of designers and developers can create a Shopify store tailored to meet your unique needs and requirements. Their Shopify services include store design, theme customization, app integration, and ongoing support.
According to Cirkle Studio, each project they engage with is anchored in transparency, collaboration, and trustworthiness. Moreover, they're customer-centric and result-oriented, making them a solid choice for businesses looking for professional and reliable Shopify experts.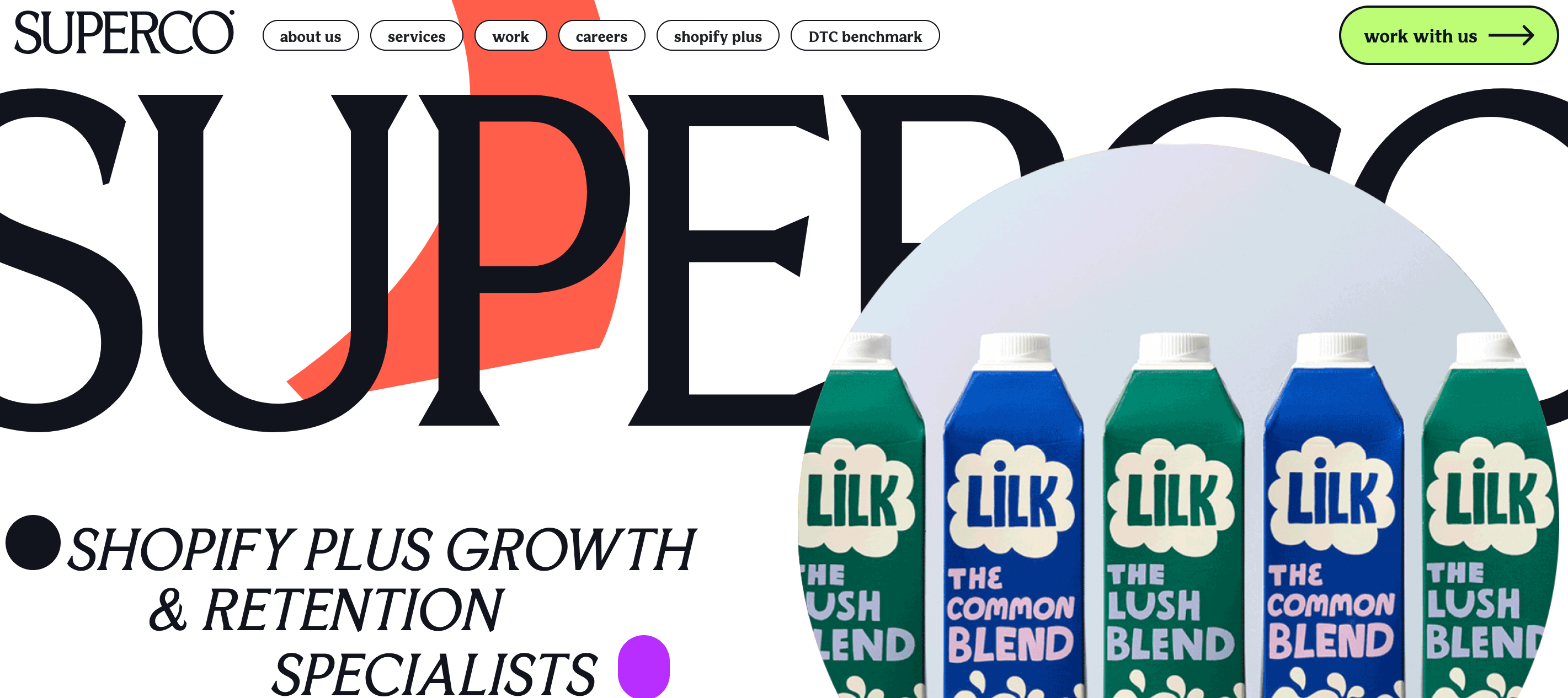 Superco is a global team of designers, technologists, and eCommerce strategists focused on helping businesses of all sizes strengthen their online presence and maximize revenue. Headquartered in London, the UK, and founded in 2019, Superco is a 100% remote business, which allows them to tap into the global talent pool.
They work with clients across the UK, the EU and the US delivering an extensive range of Shopify services — from UX design to complex custom applications and APIs.
Apart from professional Shopify development and integration services, the team at Superco offers businesses their custom Growth & Support service, highlighting that their broad experience working with the eCommerce sector makes them a perfect partner for long-term growth.

GetDevDone (previously P2H Inc) is a San-Francisco-based company that provides a full range of services across the website development cycle, from HTML/CSS markup to complete solutions for various CMS and eCommerce platforms.
Since its launch in 2005, the GetDevDone team has grown to over 470 in-house employees who have completed more than 100,700 projects for clients from 164 countries. Shopify accounts for 40% of all eCommerce systems they've worked with. Their Shopify-related services aren't limited to Shopify development — they can help you with building a custom theme for your store as well as with Shopify migration or integration.
If you choose GetDevDone as your Shopify development partner, they promise to not only meet your exact requirements but also suggest ways to make your solution more impactful and cost-effective.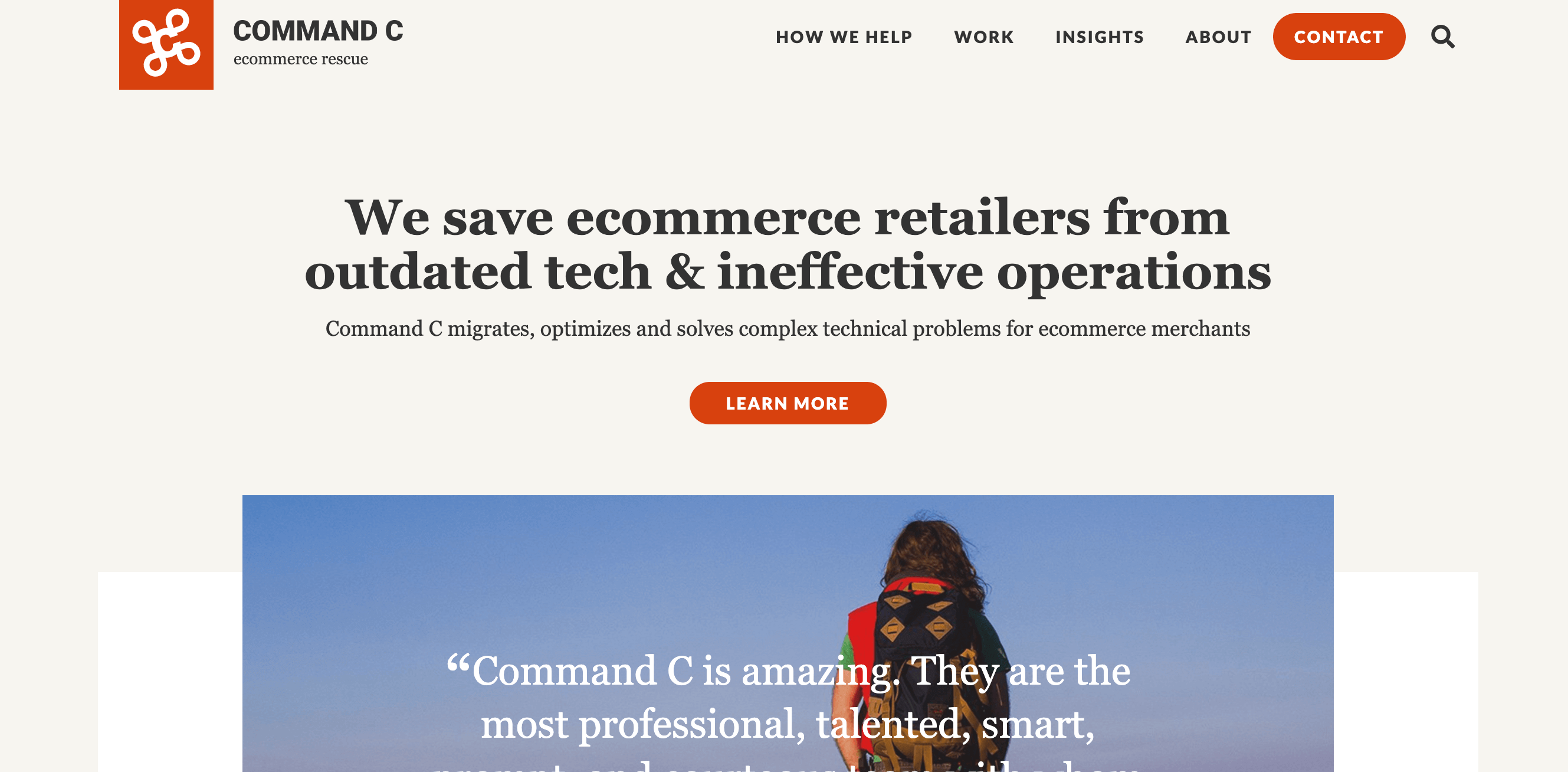 Command C is the best Shopify agency among boutique teams in the US. Since 2004, the team at Command C has been helping online retailers strategize, migrate, build, and optimize their online stores.
Headquartered in Carrboro, NC, Command C is a distributed team with a structure allowing them to work with the best talent regardless of location. As mentioned, they're a boutique team of around 12 staff members. They can help you build, migrate, and audit a Shopify platform and also provide optimization and support services.
Command C's clients say they greatly value their project management skills — they're transparent, communicative, and proactive. In addition, social equity and environmental care are top priorities to this company — they contribute to a level playing field for minorities and go all out to optimize environmental sustainability efforts internally and for their clients.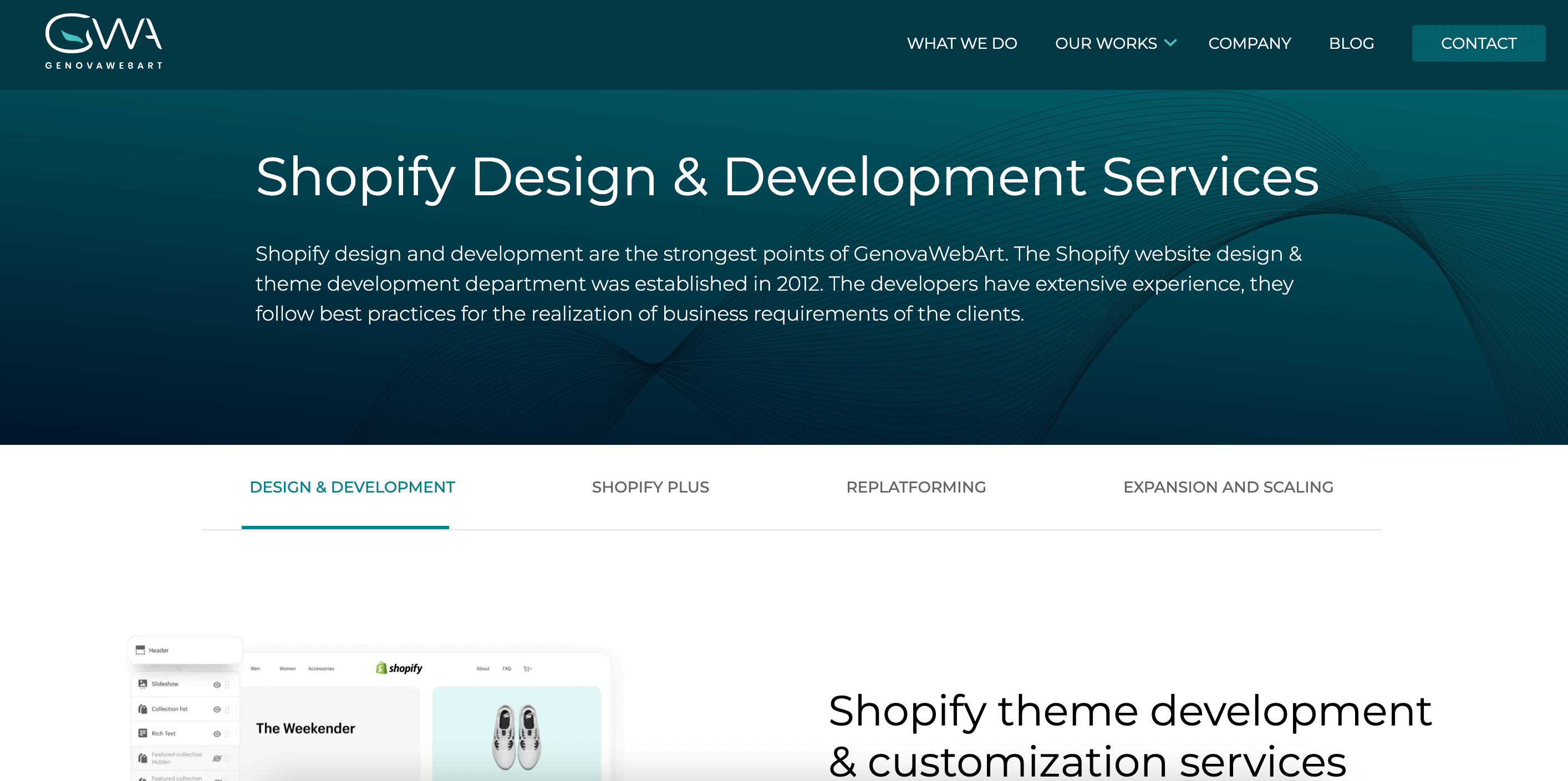 Genovawebart is a leading service provider offering comprehensive Shopify ecommerce migration services. With a deep understanding of the complexities involved in transitioning online businesses, they excel in seamlessly transferring a wide range of crucial elements, including products, product categories, customer data, orders, customer reviews, and other valuable information, to the robust Shopify platform.
By entrusting your ecommerce migration to Genovawebart, you can confidently embark on a new chapter in your online venture. Their dedicated team of experts ensures a smooth and hassle-free transition, allowing you to establish a fresh and dynamic online presence. 
Whether you're migrating from another ecommerce platform or starting from scratch, Genovawebart understands the significance of a seamless transition. They go above and beyond to ensure that all your data is accurately transferred, preserving the integrity and continuity of your online store. With their proven track record and exceptional customer service, Genovawebart is the trusted partner you need to navigate the complexities of ecommerce migration successfully.
Don't let the fear of data loss or operational disruptions hinder your business growth.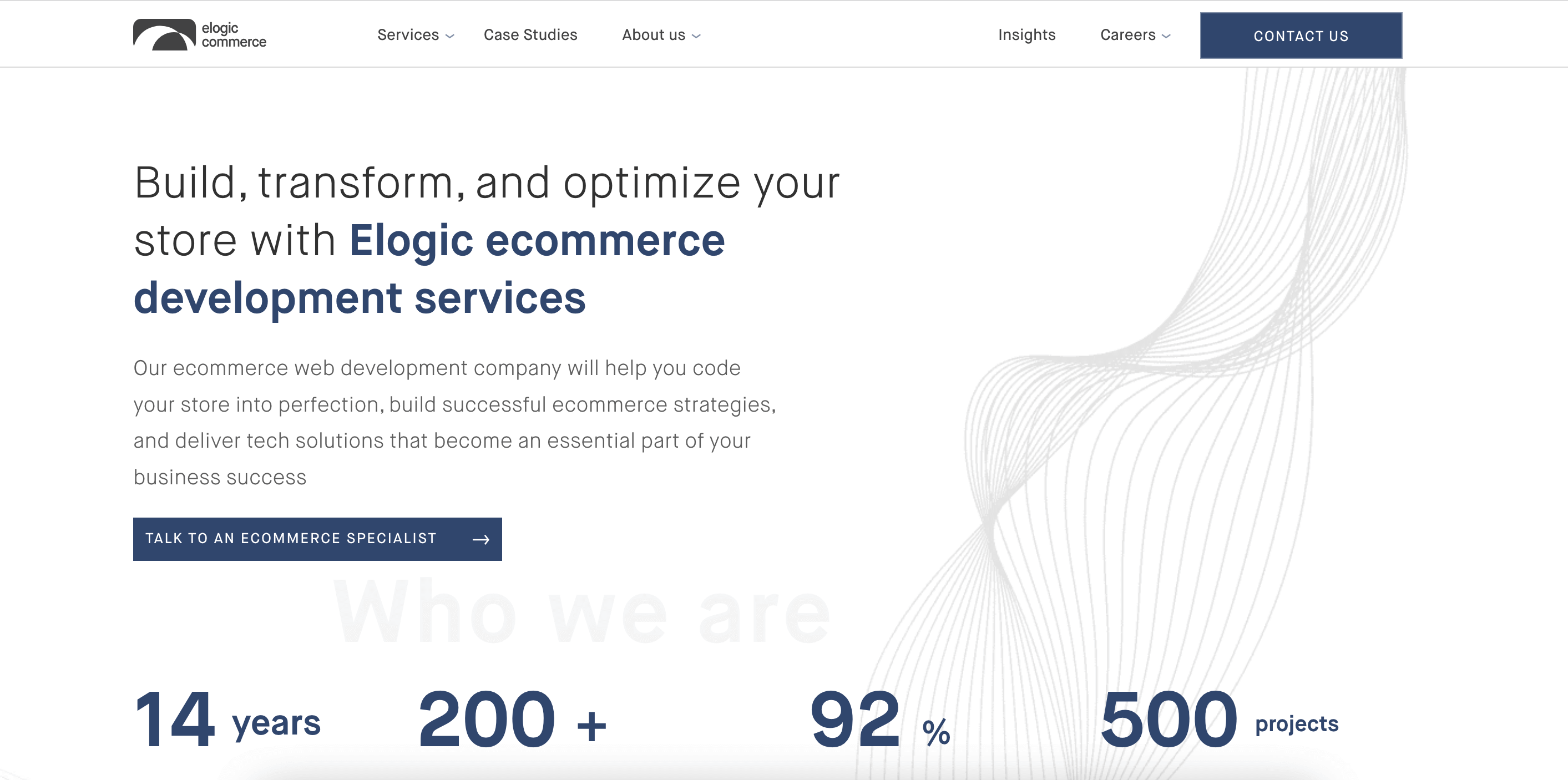 With a legacy of 14 years in the market, Elogic is a leading Shopify development agency dedicated to helping businesses build, transform, and optimize their online stores. With a team of 200+ specialists, the agency delivers exceptional tech solutions that seamlessly integrate into your business, driving your success.
From pre-development analysis and planning to prototyping, design development, store development, extensions and integrations, quality control, and project release, Elogic provides a comprehensive development process that ensures your store is perfectly coded.
Recognized for their excellence in the industry, Elogic has received numerous prestigious awards from Clutch, Goodfirms, ITFirms, and TopDevelopers. Elogic takes pride in its extensive portfolio, having successfully served over 200 global eCommerce businesses of various sizes and niches. Their client roster includes renowned brands such as Bvlgari, Hanes, Accenture, Tele2, Vodafone, Philips Healthcare, HP, Siemens, and many others.
Whether you require Shopify integration, migration, design, headless development, support, or custom solution, Elogic's 100% eCommerce focus ensures they have the expertise to meet your specific requirements.
Conclusion
The success of any eCommerce business largely depends on the quality of its website, which makes choosing the right Shopify development agency critical. By partnering with the best Shopify developers, you can boost your online presence, increase sales, and build a strong brand identity that reverberates with your target audience.
Hopefully, our list of companies with a proven track record of delivering excellent results will help you choose the best Shopify development company to fully meet your unique business needs.
If you offer Shopify development services and want to see your agency on this list, email us, and after a thorough review, we'll decide if it's a valuable addition.