Over the past few years, the NFT sector has skyrocketed, with countless ambitious new projects emerging. 
Financially speaking, the NFT market is expected to swell to $231 billion by 2030. 
Today, NFTs have opened up many exciting possibilities and are a compelling investment opportunity for astute investors. 
For that exact reason, ReVerb's analysts have compiled a list of the top NFT projects with great potential you should consider buying to gain long-term value.
Top NFT Projects
: Big Names And Rising Stars
1. Art Gobblers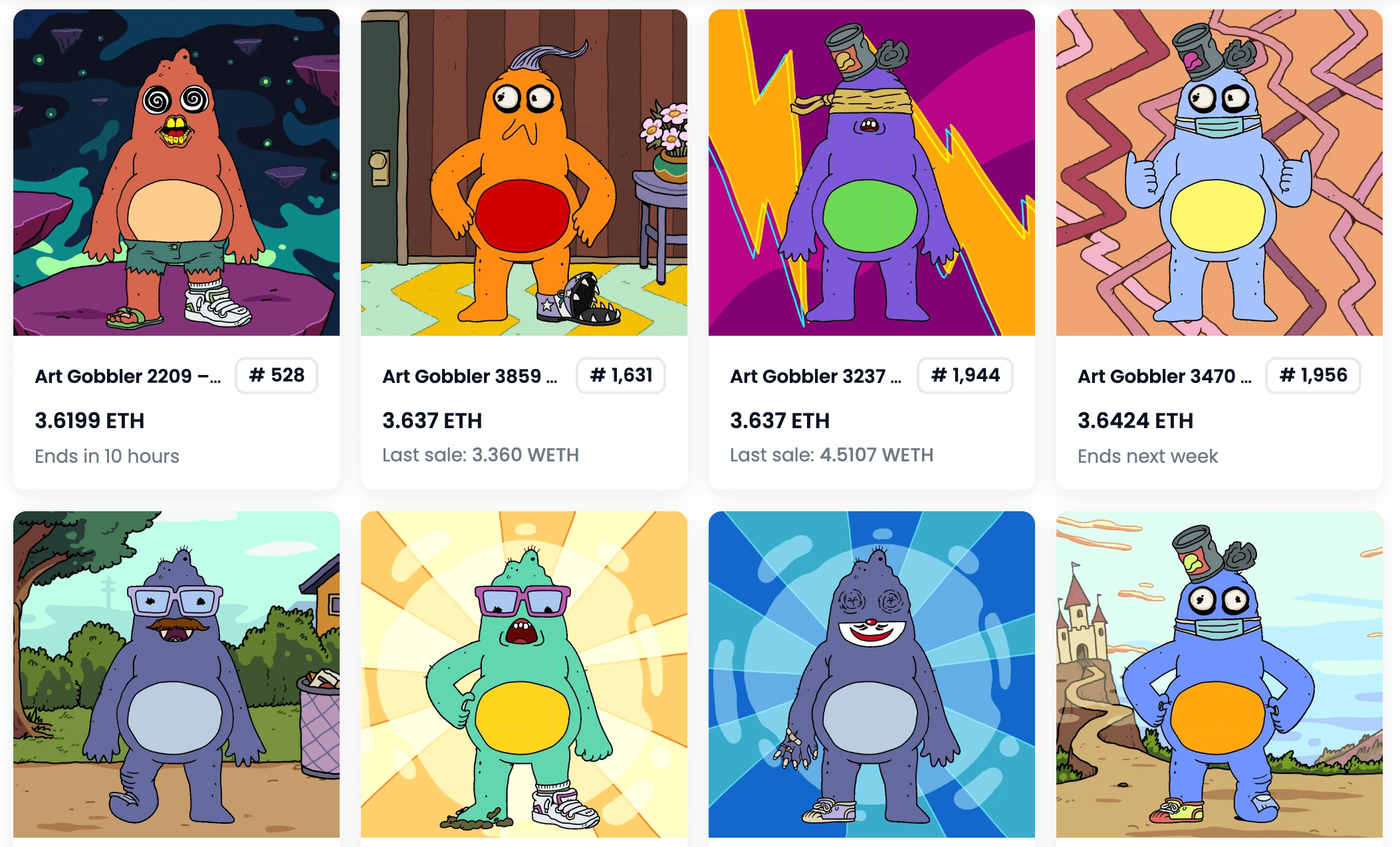 At the top of our NFT project list, Art Gobblers was released on October 31 and generated $24 million in Ether (ETH) in the first 24 hours. The NFT project was created by venture capital firm Paradigm and the co-creator of Rick and Morty, Justin Roiland. 
Because Art Gobblers is designed to be an art factory NFT collection, Gobbler NFTs will generate a token called GOO. The GOO token may be used to create new Gobbler NFTs, commonly known as Blank Page NFTs. 
Artists can use the Blank Page NFTs as a digital canvas for Gobblers, potentially creating decentralized, tradeable art galleries. What's more, as artists make cool art, Gobblers become culturally relevant, increasing demand for Gobbler art among collectors. 
Art Gobblers made over 1,700 Gobbler artwork NFTs accessible for anyone on the whitelist to mint for free. A further 300 NFTs have been set aside for project developers and contributors, and an additional 8,000 Gobbler NFTs will be issued over the next 10 years. 
The project was launched on Blur, the NFT marketplace, and has already reported over $41.8 million in trade volume, with an average price of 18 ETH. Thanks to that project, Blur has managed to surpass OpenSea and other marketplaces for the first time.
2.
NFT Sushi Crew by Big Eyes Coin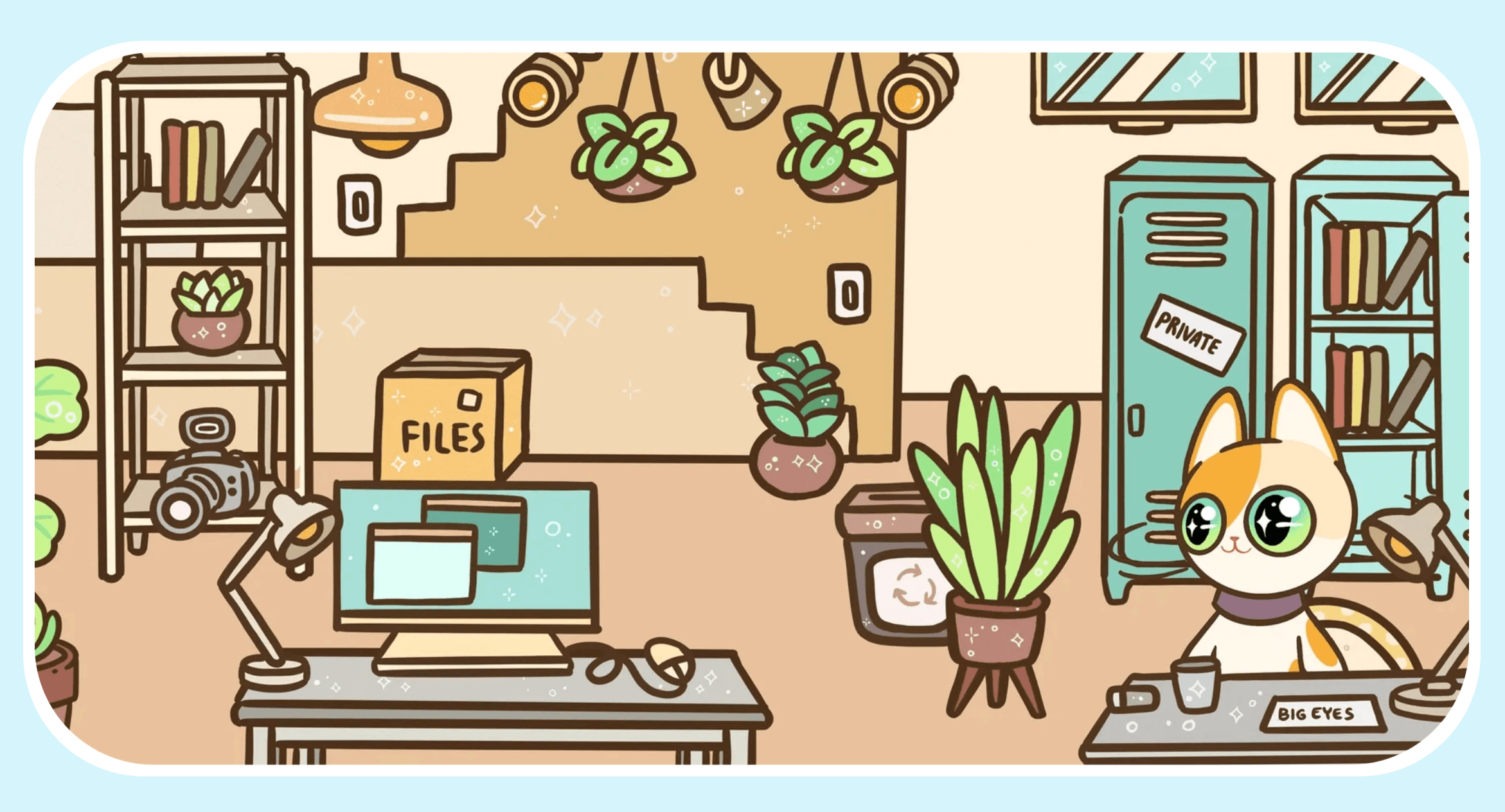 Big Eyes Coin is an ERC-20 meme token in its sixth stage of the presale. The project involves numerous components, like a charity campaign and a strong community, delivering something new and different to the NFT market. 
The NFT Sushi Crew is one of the NFT projects offered by Big Eyes Coin. This collection doesn't only come as part of the initiative's roadmap, but it also serves another purpose — utility through the community.
In addition to ownership of a one-of-a-kind digital asset, buying a Sushi Crew NFT grants owners access to special community events and activities, including NFT Exclusive IRL Events. This provides investors another incentive to choose certain NFTs over others with lower utility, as they are more likely to keep value.
3. World of PumpKins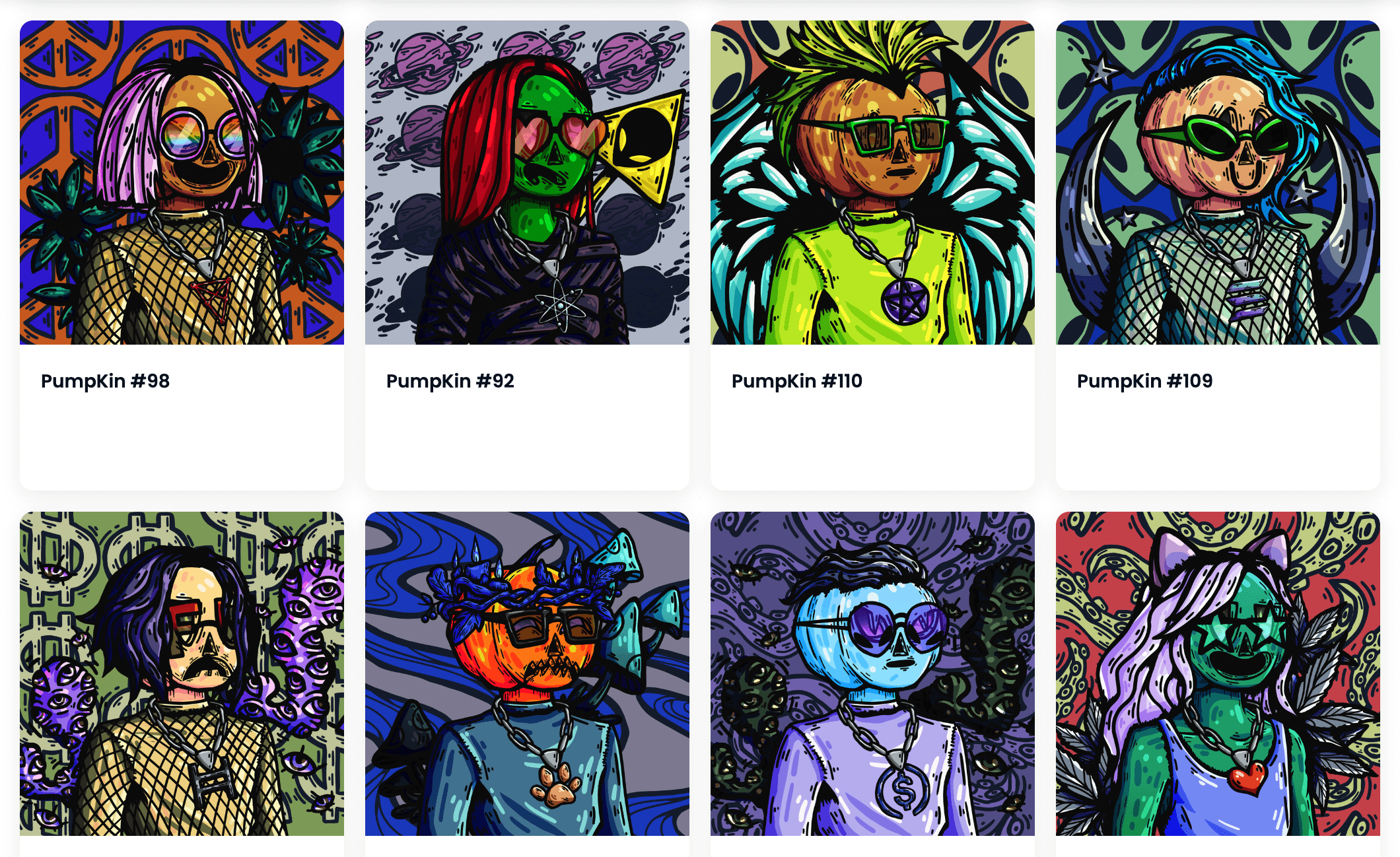 Initially created as a special NFT collection for Halloween, World of PumpKins (WoP) turned into a scalable universe whose art will become a valuable purchase for crypto lovers and fans of spooky things. You can mint your PumpKins NFTs on the website at the public sale price of 0.02 ETH per mint. 
The WoP collection consists of 8,888 unique NFTs based on the author's inspiration from their creative artist, TuulHuur. The majority of items are randomly generated from hundreds of hand-drawn elements. There are also 34 ultra-rare NFTs, each created as a single piece of art from scratch, representing some famous people from the worlds of art, music, and crypto. 
The WoP team has launched a special event — Search for Ultra-Rare PumpKins and PumpKins in Jason's Mask. Users who discover these exclusive NFTs will be rewarded with up to 2 ETH. 
Purchasing the WoP NFTs will offer buyers great benefits and opportunities:
Participation in unique events with custom prizes and merchandise 

Access to privileged drops via future WoP universe initiatives and different collaborations 

Invitation to the WoP NFT holders' private club 
So, not only is each NFT a one-of-a-kind work of art that is a pleasure to possess, but the project also offers numerous attractive advantages and perks for token holders. 
4. Bored Ape Yacht Club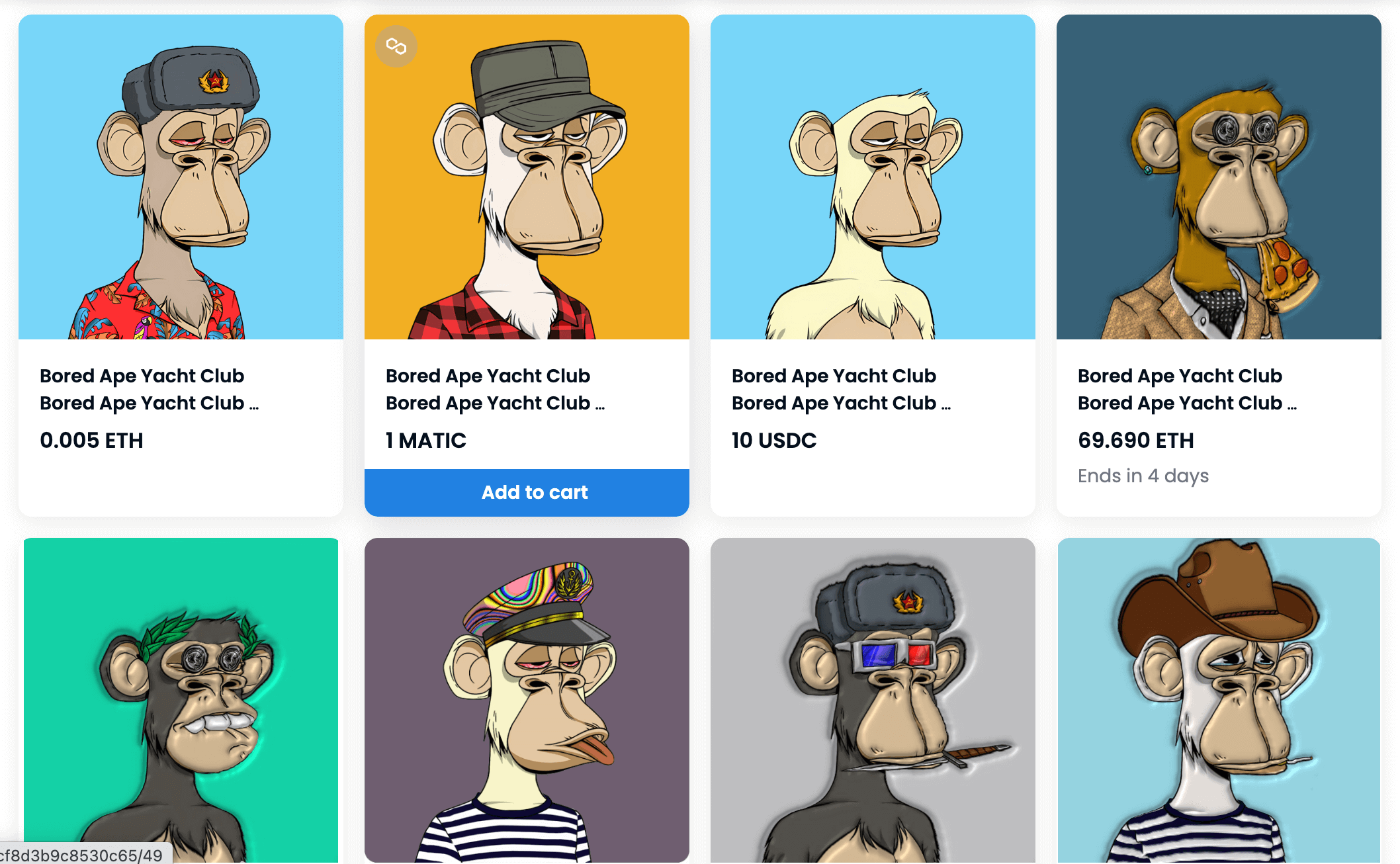 One of the most remarkable and well-known NFT projects is Bored Ape Yacht Club (BAYC) from Yuga Lab. Consisting of 10,000 NFTs, the collection presents a limited edition of tokens, which itself doubles as membership to  a "swamp club for apes."
With a base price of 75 ETH ($85,000), the collection is pricier than others, but it does offer a huge amount of value to the holders. Any BAYC NFT owner receives an airdropped Serum that can be used to mint a Mutant Ape NFT. Holders were also granted 10,094 ApeCoin, valued at $100,000 when it was released. 
What's more, BAYC NFT holders are offered discounts in an exclusive merch store, as well as access to an interactive NFT artboard and an exclusive network of like-minded people.
5. CryptoPunks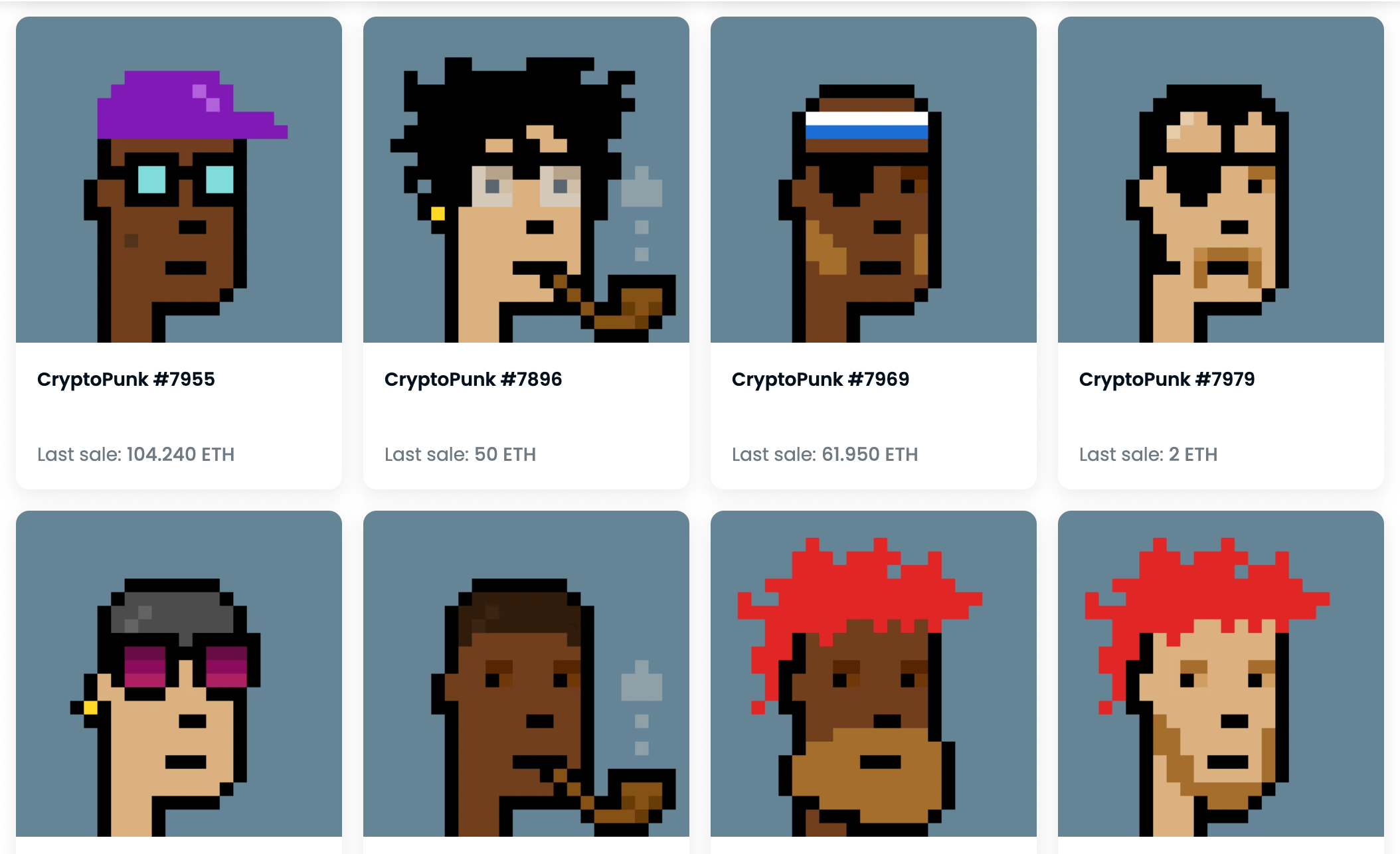 Along with Bored Ape Yacht Club, CryptoPunks was one of the first NFT collections to make a significant impact on the crypto industry via social media platforms in early 2021.
CryptoPunks has sold its NFTs for 1,090 ETH in a 24-hour period. The market capitalization of the CryptoPunks NFT collection is currently $1 billion, with a floor price of $104,441.
CryptoPunks NFTs make up 5 of the top 10 largest NFT sales, offering 10,000 uniquely generated NFTs featuring pixel art heads of people with a variety of genders, skin tones, fashions, etc. 
Originally, anyone with an Ethereum wallet could mint them for free, but all 10,000 were immediately claimed. Now, you can buy them from someone using the blockchain-enabled marketplace.
6. 10KWorldCup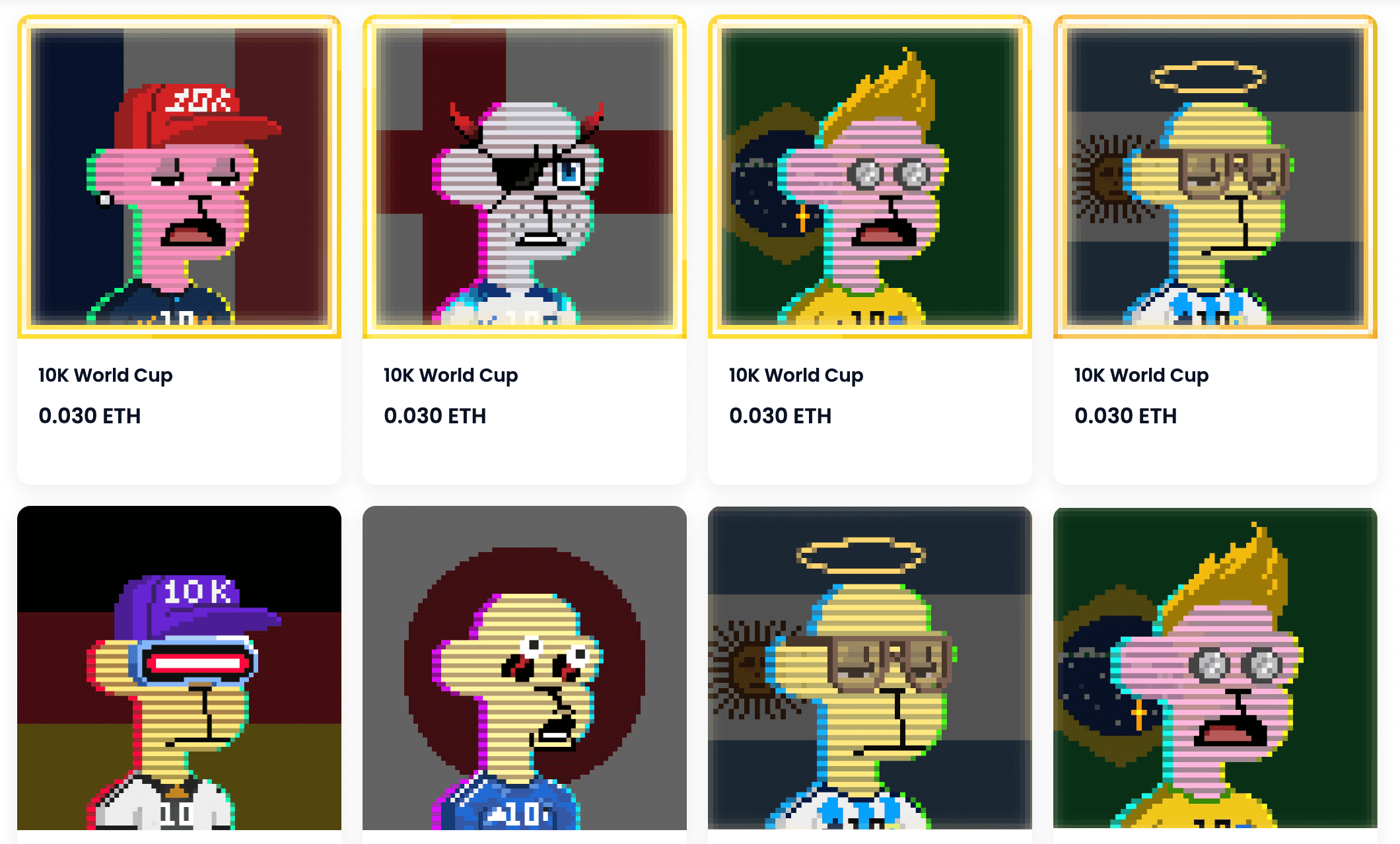 10KWorldCup is the first World Cup-themed social game PFP NFT for sports fans all over the world. With each digital piece having its own nationality, you can pick and support your own national team and connect with other fans. Offering points, social quiz games, and other functions, the NFT project will be retained as a football brand and, later, as a global sports brand.
All 10,000 NFT pieces were released on November 6, 2022, allowing minting on their official website. Sports enthusiasts also were able to participate in the 10KWorldCup gameplay by betting on the winning team of the game and receiving NFT attribute-upgrade rewards. Additionally, NFT holders could enter the quarter-final quiz, predicting the final 8 teams to win. All the holders who joined the winning proposal shared a prize of 117 ETH.
The 10KWorldCup continues to collaborate with numerous partners in order to provide high-quality NFT services in the first half of 2023. By the end of 2023, the game has a target expectation of 100,000 active users in the world's #1 sports community.
7. Art Blocks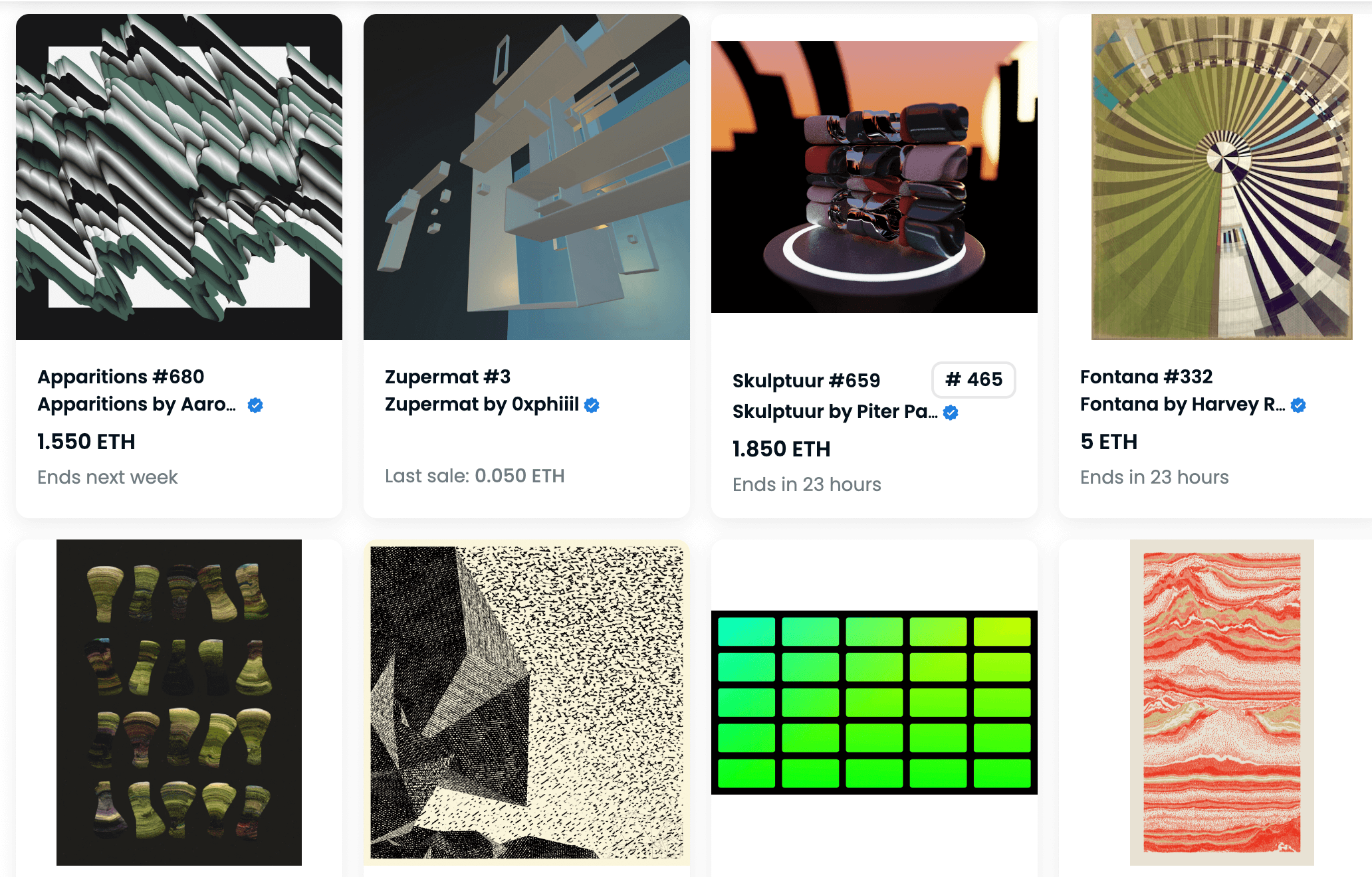 Launched in 2020, Art Blocks is an Ethereum-based platform that provides carefully curated, programmable, and one-of-a-kind generated NFTs for digital art fans worth investing in. Since each piece of art is created through generative minting technology, all NFTs are unpredictable — you never know what you're going to get, which is why so many collectors enjoy it.
Original artworks generated by Art Blocks on Ethereum have already sold for millions of dollars, with the most expensive deal being $5.8 million. 
Art Blocks is committed to sustainability, having already offset over 20,230 tonnes of CO2. What's more, the community constantly contributes to charitable organizations, including $54 million to artists. 
8. Nouns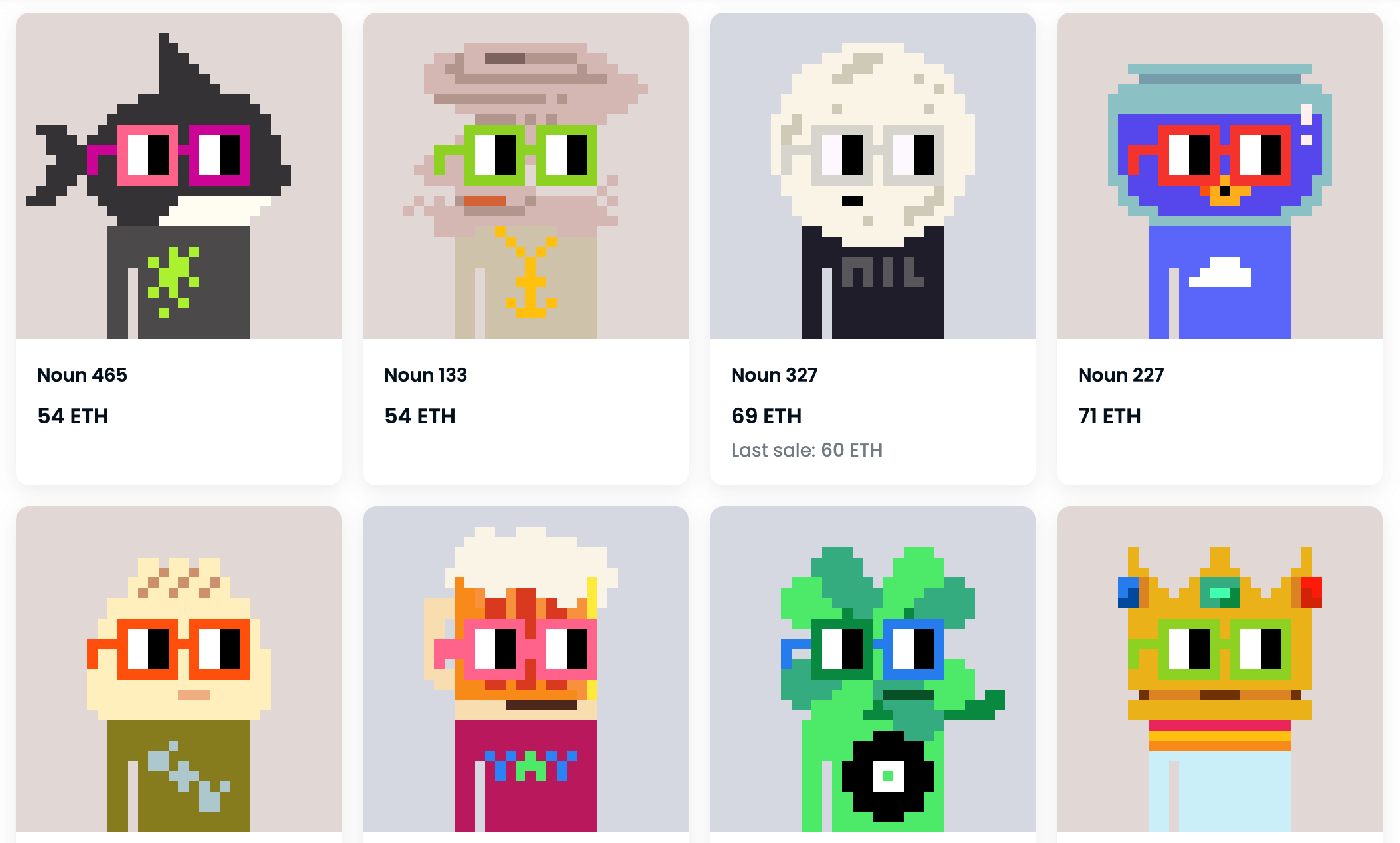 While projects like CryptoPunks have sought to bootstrap digital community and identity, Nouns aims to improve how on-chain communities interact by bootstrapping identity, community, governance, and treasury. With a new distribution method and open-source IP, the collection has become extremely popular.
One Noun is auctioned every 24 hours, forever, and these pixel artworks have already built a brand worth millions of dollars. Once an auction closes, another Noun is minted, and the process repeats.
Nouns are part of a profile picture (PFP) collection, used as user's profile images on social media. Each Noun NFT is a picture of a humanoid generated and stored directly on Ethereum, making it notably different from other NFT projects. 
Joining the Nouns DAO gives every Noun owner an opportunity to govern the project by sponsoring and voting on proposals.
9. KPR

KPR has the NFT market buzzing in Q4 2022, keeping early community members on the edge of their seats and developing additional enthusiasm.
And it doesn't come as a surprise — a brand for the metaverse, KPR is focusing on a collective narrative, inviting everyone to join a world of stories, art, and people. Released only recently, the KPR NFTs were already ranking #1 on OpenSea with a volume of 155 ETH.
Established by two of the former founders of TreasureDAO, KPR is a world-building and storytelling initiative with an aim to create a metaverse brand based on a collective narrative that its NFT holders can contribute to. 
The project offers 10,000 NFTs reserved for Citizens and people on the Keepers List. The Keepers List mint is assured (not oversubscribed), allowing Keepers to mint two NFTs each 24-hour period. The General List follows, which is first-come, first-served (FCFS), enabling Citizens to mint up to 3 times and Keepers to mint once more. 
Every piece is a meticulously hand-painted digital collectible, and each one you buy will become your entrance ticket to the grand world of KPR stories and collaborative communities.
10. World of Women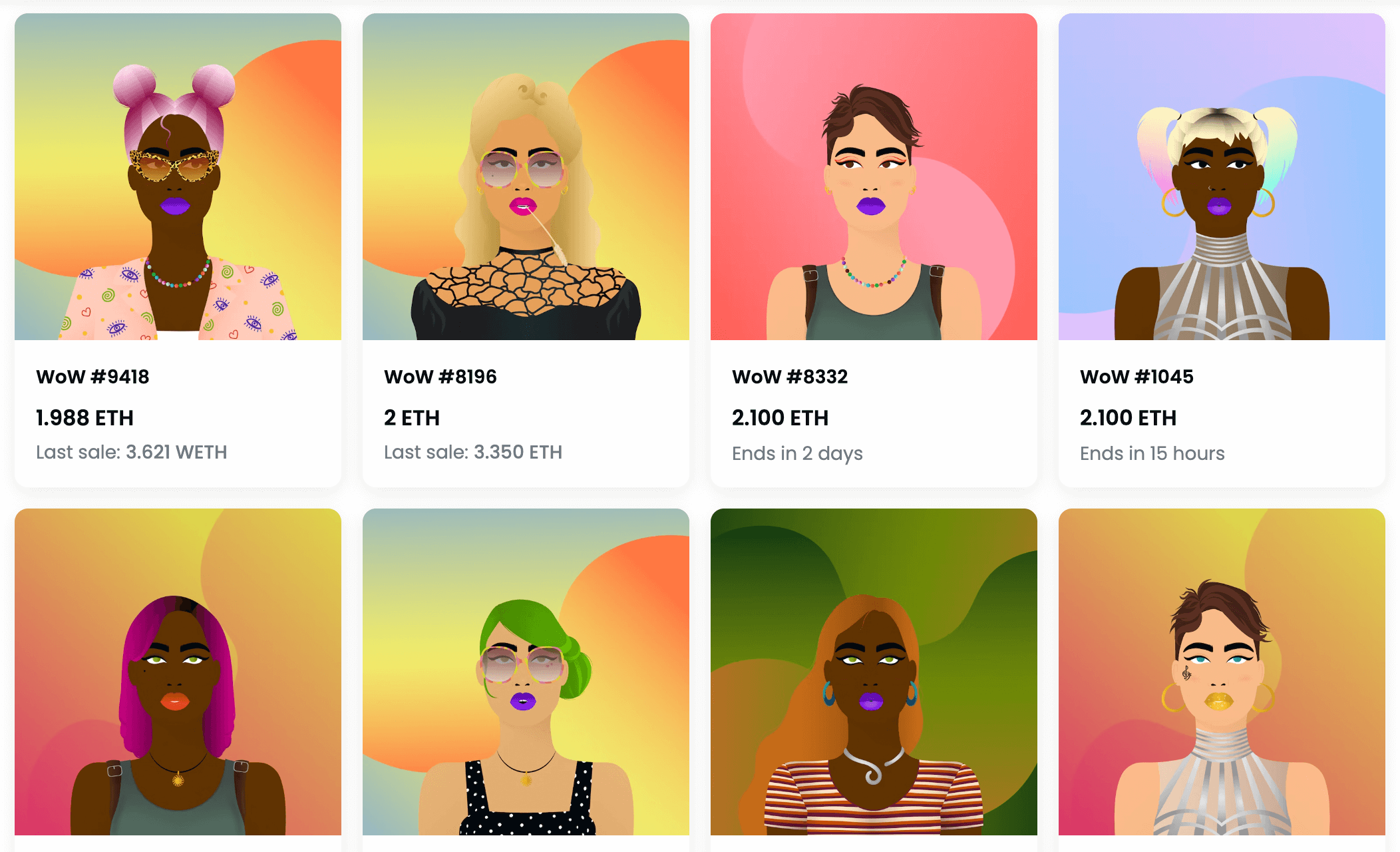 World of Women is a unique project honoring women's visibility, inclusion, and equal opportunity. Their NFT collection contains 10,000 digital artworks depicting women from diverse backgrounds. Yam Karkai's colorful female sculptures have received over 70K+ ETH trade volume on OpenSea. 
The project has made several humanitarian efforts to support women's rights worldwide. This initiative has also increased diversity and female representation in the NFT area. 
Owners keep commercial rights to their NFT while also gaining:
Access to the World of Women community

Monthly ArtDrops from select NFT artists

Access to a World of Women 4k × 4k file

Presales and mint pass

Invite to the annual gala for holders  ‍
Honorable Mention: Singulart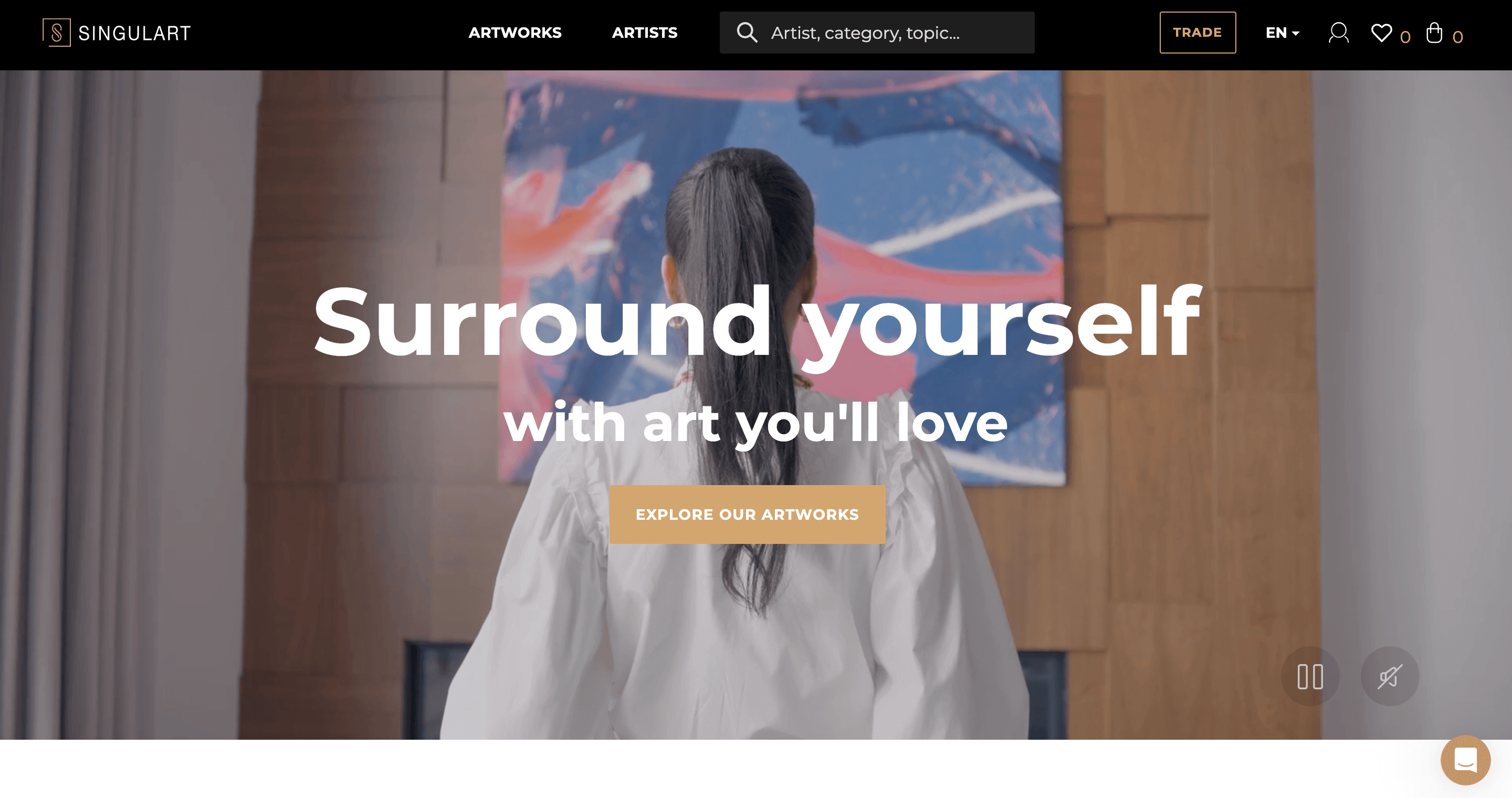 Singulart isn't an NFT marketplace. In fact, it doesn't even sport an NFT section on its website, but we're including Singulart because it features artists inspired by the NFT craze. One of these artists includes Dimitri Likissas, who paints crytopunks and Bored Ape Yacht Club NFTs. 
As NFTs can be a volatile market, it can be risky to invest in them. However, if you still like the look of NFTs and want to invest in art that has a higher chance of retaining its value, then consider also putting your money into physical art. Not only are you supporting local artists, but you'll have something you can place on your wall.
With that said, the nuances of physical art investing is different than digital art, so you'll need to get to know the complexities of the art world. Still, physical art can be another great investment vehicle if you know what you're doing.
How To Find The Best NFT Projects and Avoid Scams
The NFT projects list is huge, with new initiatives launching daily. So, of course, choosing one to invest in may be challenging. 
These simple steps will help you discover the best NFT crypto projects and avoid scams: 
Make sure to check their background

– check the quality of the website design, verify the founders and development team, take a look at the online community, analyze the NFT's rarity and uniqueness, etc.

Review their social presence

– make sure real people run social accounts for the community to ensure the project is legitimate and credible.

Follow NFT Calendar

– monitor

NFT Calendar

to find significant occasions, the most notable releases, and eye-catching drops.

Check OpenSea

– OpenSea is an NFT marketplace established in 2017, currently valued at

$13.3 billion

, and has more than 1.5 million active users. There, you will be able not only to buy NFTs but also to learn more about the projects themselves, find the trendiest ones, and identify the

best NFT to buy

. 

Take a look into the project roadmap

– make sure that everything a project promises — live events, free NFTs, a collection-themed game — is feasible.
Conclusion
There you have it: the best NFT projects list, featuring famous collections already at the peak of their popularity and promising newly emerging projects with great potential, all worthy of investing in. 
Remember, if you intend to invest in NFTs, it is essential to conduct your own homework and research new NFT projects before investing. This will ensure that you get high-return profits in the long run. 
In case we missed some prospective NFT projects that should have made this list, contact us via email, and we will review your suggestions.