The popularity of no-code tools has increased a lot in recent times as they've made the process of development easy and feasible for everyone. 
No-code tools have not only helped people with little or no coding knowledge to build the apps of their choice, but they have also provided developers with inspiration and the possibility to create MVPs (Minimum Viable Products) quickly. 
The no-code platforms work on a drag-and-drop feature, where the user can simply select the text, image, or other items and drop them at the desired screen place. The scripting for the following process continues automatically in the background. Once satisfied with the outlook, the user can publish the ready website or application. 
However, no-code development is more complex than it looks. The above process can be easily applied to simple software with basic functionality and no integrations. But, if you are planning to develop a complex or multifaceted application with lots of integrations and embedded features, like databases, payment windows, and much more, you might need professional help. 
No-code experts possess excellent insight into the field of no-code development. They try to understand your business needs and deliver the most suitable product as quickly as one week (depending on the project's complexity). Therefore, many no-code companies have recently come up to help businesses and individuals set up their websites, applications, workflows, and process automation.
We've created a list of the top no-code agencies around the globe providing top-edge no-code app development services within clients' budgets and timeframes. 
The Best No-Code Agencies To Trust With Your Next Project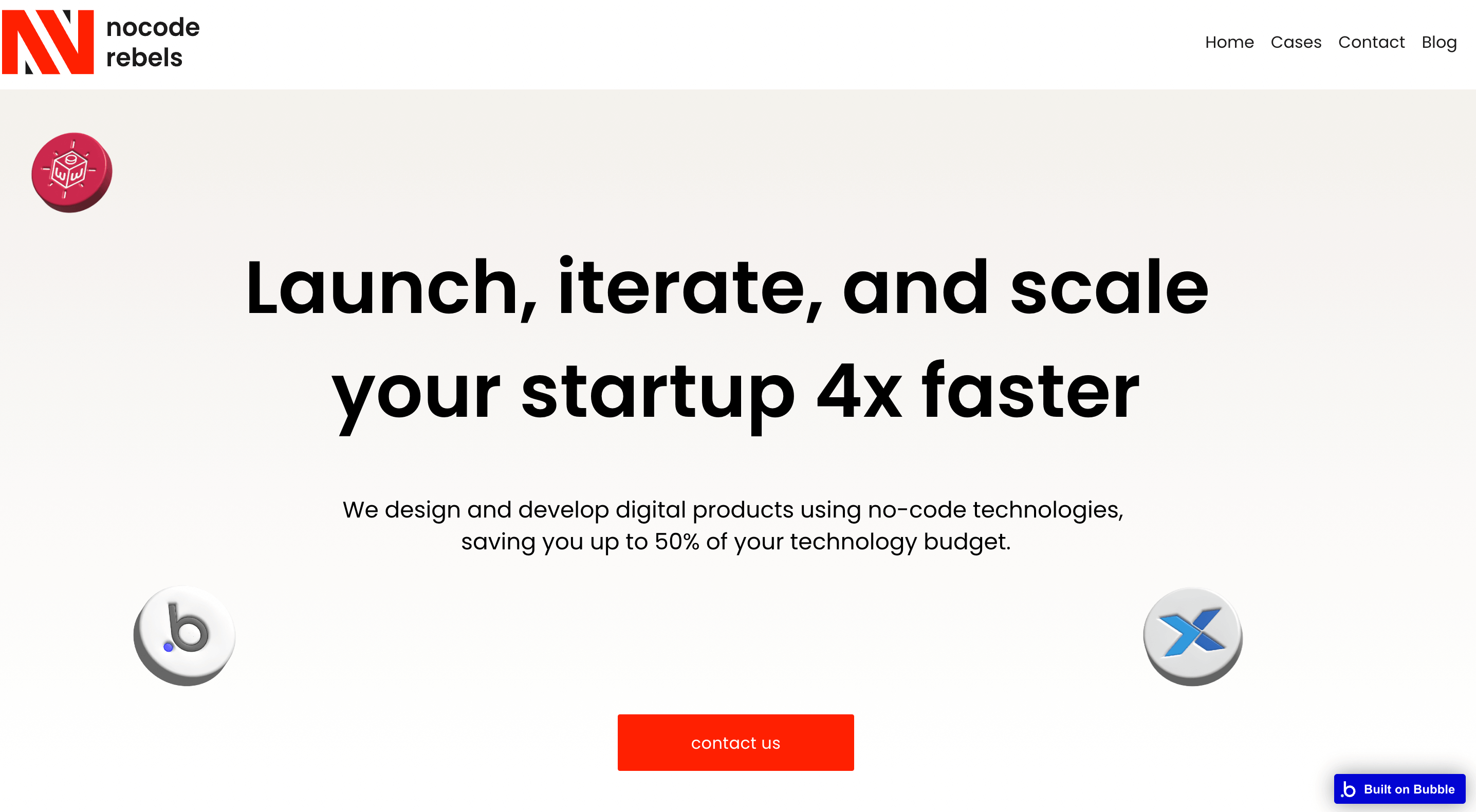 nocode rebels is one of the best no-code agencies building digital products with the help of no-code and low-code tools to help you launch your IT startup quicker and beat the competition. They provide scalable services in the areas of web and mobile app development, MVP development, product design, and SaaS development. 
By leveraging the power of the top no-code technologies like Bubble, WebWeb, XANO, Make, and Figma, nocode rebels provide its clients with the best-on-the-market MVP development, saving 50% of their technology budget. In addition, their low-code tech stack comprises JavaScript, HTML, CSS, SQL, Rust, and Solidity. They also offer ready-made templates and plugins to give a quick start to your project, hence, saving on both cost and time.
nocode rebels cater majorly to Legaltech, Fintech, and Proptech industries. So, what are you waiting for? Launch, iterate and scale your startup 4x faster with these tech wizards!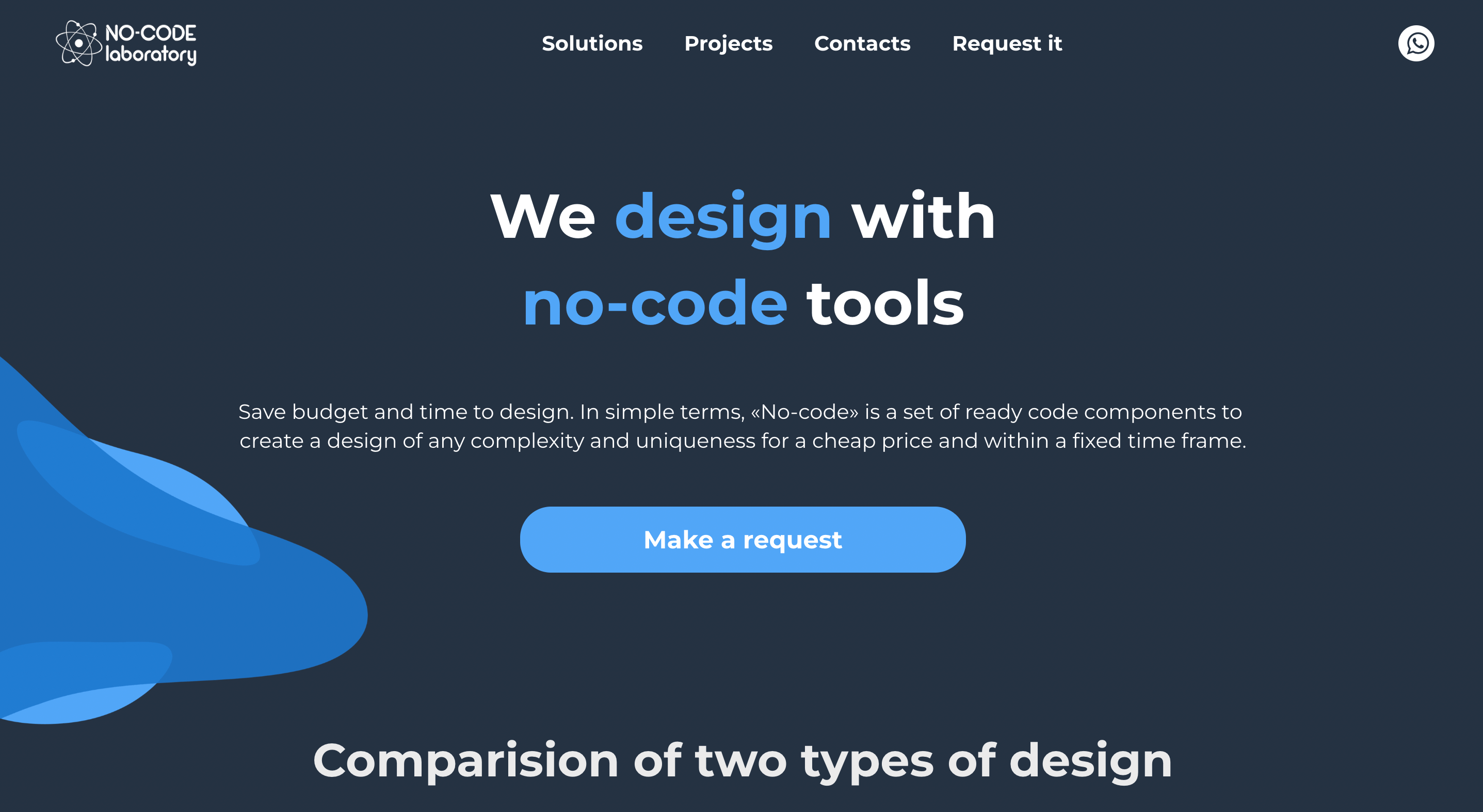 If you strive to experience best-in-class web development services that are time- and cost-effective, then No-Code Laboratory is the perfect place to go.
Headquartered in Istanbul, No-Code Laboratory is one of the most potent no-code agencies that has become a reliable partner for numerous startups and enterprises worldwide, helping them save over 700 days of development.
Utilizing the most popular no-code tools — Bubble, Zapier, Tilda, Airtable, Webflow, Intergromat, Figma, Glide, and Adalo — the No-Code Laboratory team applies the best practices to deliver full-fledged software solutions 5 times faster and 3 times cheaper compared to traditional development.
Websites, mobile apps, e-shops, marketplaces, educational platforms, or personal accounts — their no-code experts will easily make any of your idea a reality in as fast as 1+ week.
Now sure how to enhance your business with digital solutions? Having extensive expertise in various industries, No-Code Laboratory will help you define and build the best-fit custom software meeting all your needs and goals.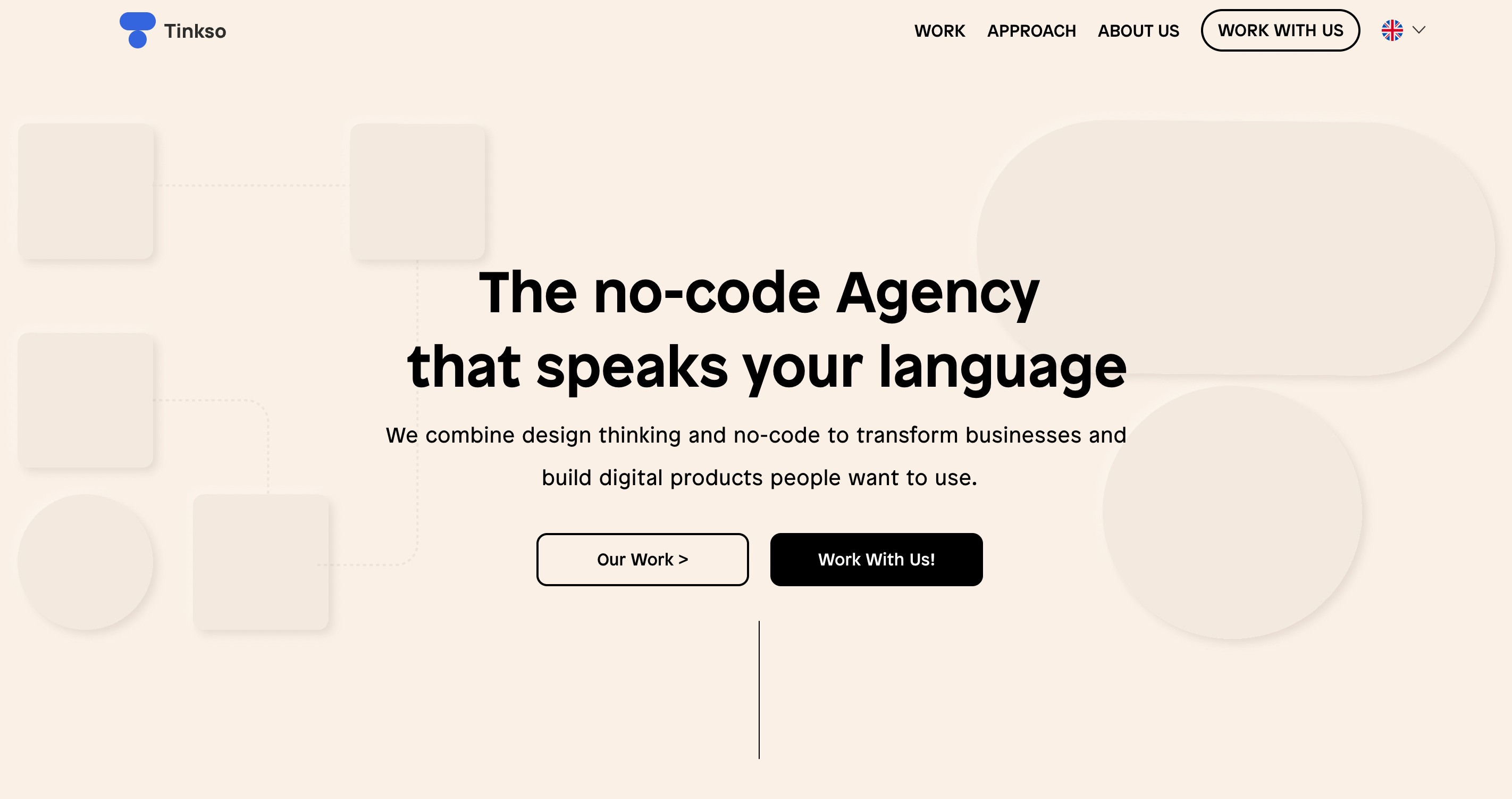 Tinkso builds digital products combining design thinking and low and no-code to ignite businesses. Whether it's a startup raising millions or businesses streamlining internal processes, Tinkso delivers the right product on time, within budget, and on spec.
With a proven track record of hundreds of successful projects, Tinkso is one of the leaders in no-code and a pioneer in Bubble design and development. As a one-stop shop, Tinkso offers strategy consulting, UX and visual design, as well as complex technical integrations.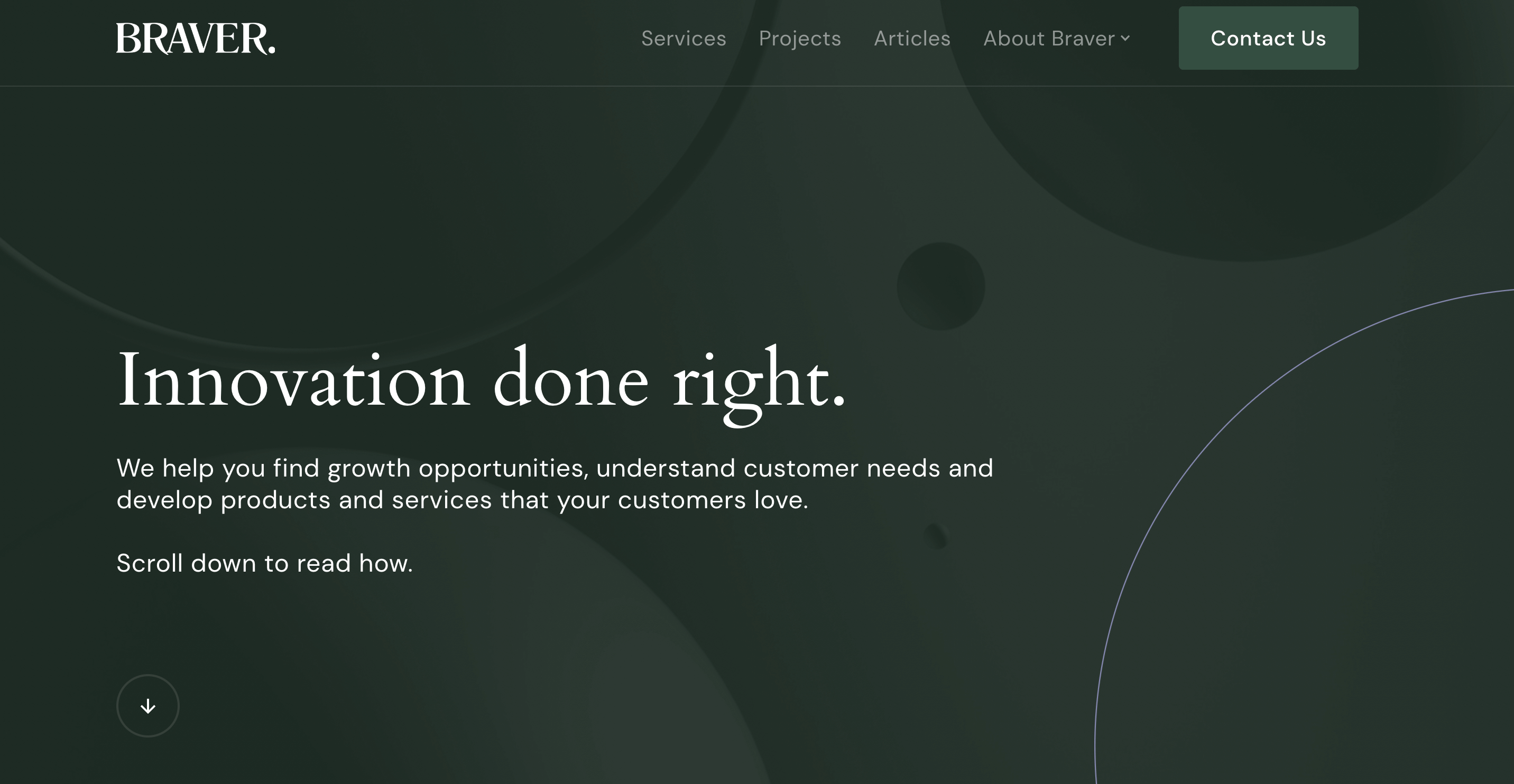 Founded in 2018, Braver is a group of passionate entrepreneurs, designers, technologists, and business developers ready to provide innovative solutions to growing companies and well-established enterprises. Headquartered in Oslo, Norway, Braver has acquired a broad client base worldwide.
They got you covered with design, prototyping, development, and testing services to bring your ideas to the market in the shortest possible time. Broadening the horizons through the use of no-code technologies, Braver assists clients within various industries in building digital products that their users fall in love with.
With over 4 years of experience, they will help you overcome any challenges you might face and deliver top-notch software solutions tailored to your business.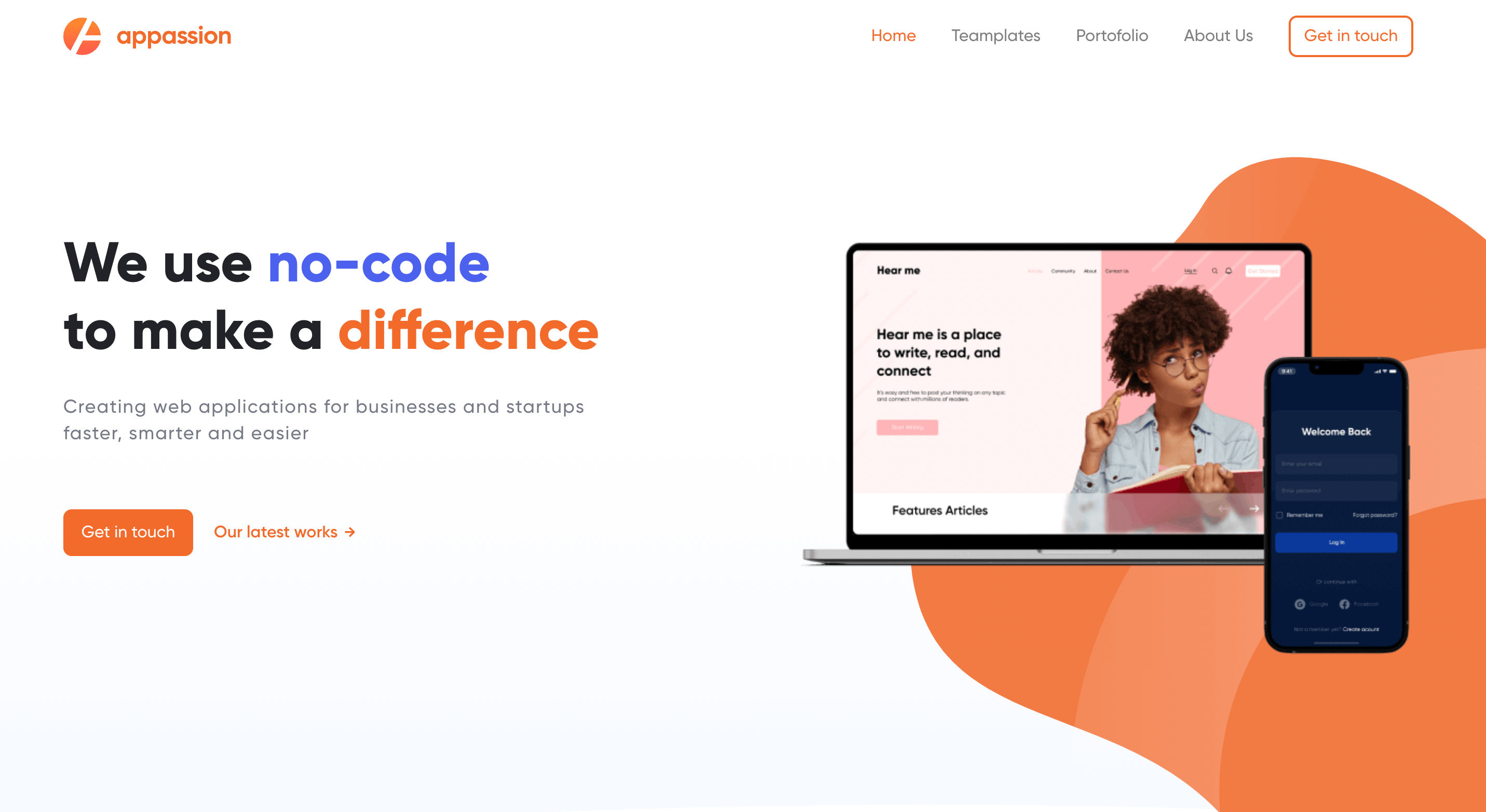 Appassion is a renowned full-stack no-code development agency serving both startups and businesses. Offering quick and high-performance web application development, they'll help you reduce costs and build apps faster using the best no-code technologies.
Appassion has already launched 100+ projects from A to Z and solved over 300 unique business cases. Their tailor-made solutions allow you to start with a template, and then their team takes care of the rest production process, delivering you either an MVP or a full-fledged application that meets all your business needs. 
Depending on your requirements and timeframes, Appassion offers two cooperation plans:
$5k MVP

: 2-4 week delivery, shortest time to market, get a dedicated PM and developer, and 2-week support.

Agile

:

2-4 months, mid-long term development, agile approach, get a dedicated PM and developer, and ongoing support.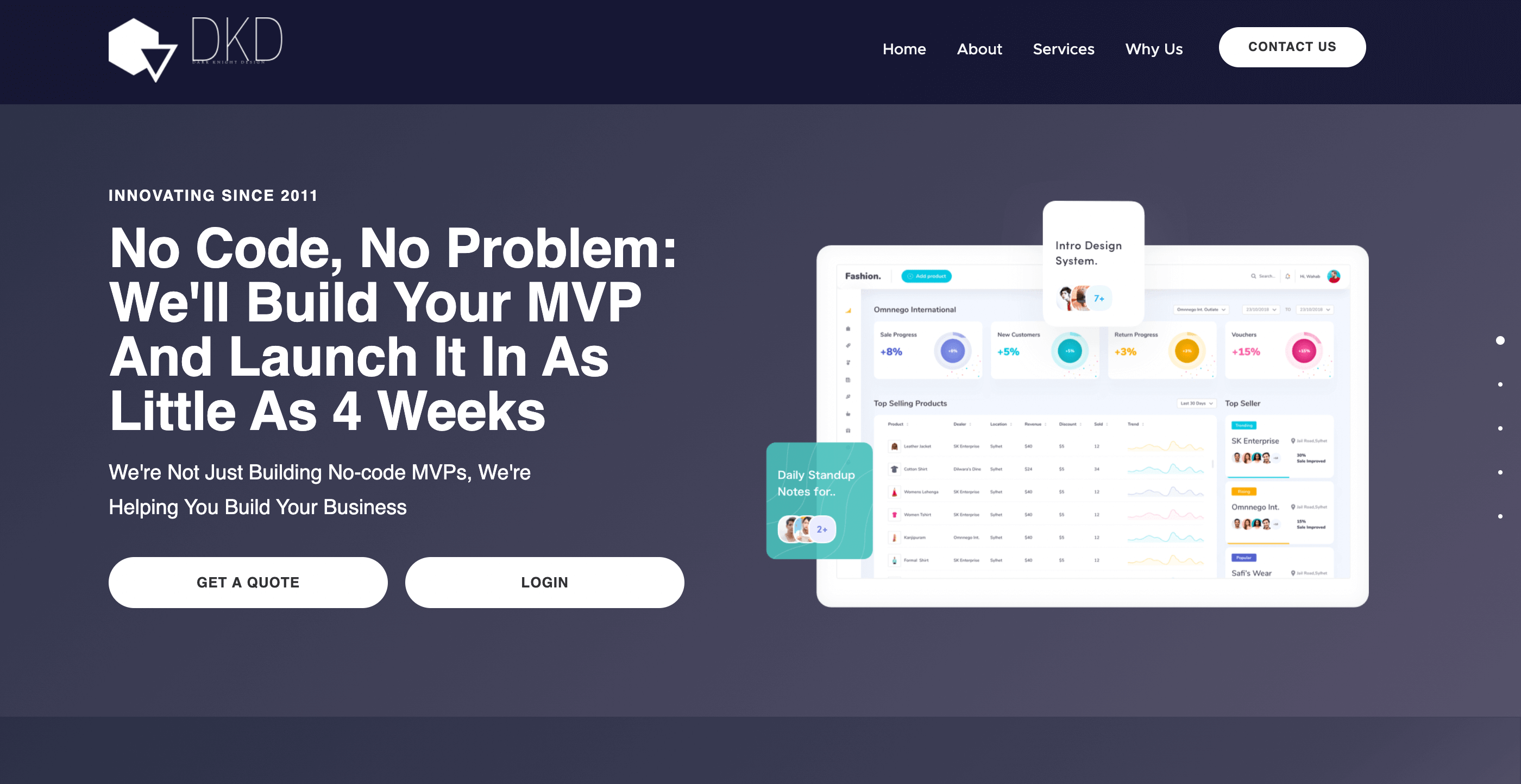 Dark Knight Design is a no-code development based on Bubble that allows users to utilize this leading no-code technology to build and launch apps within weeks instead of months. 
Designed both for startups and entrepreneurs, Dark Knight Design offers to work with their professional team to create a custom solution or use ready-made templates. Their team is represented by the industry's best developers and designers, capable of taking any client's idea and turning it into scalable software requiring minimal maintenance or additional resources.
Based in Brisbane, Queensland, Australia, Dark Knight Design helps companies worldwide eliminate their tech burdens and deliver out-of-the-box high-performance products with broad customization features at clients' disposal.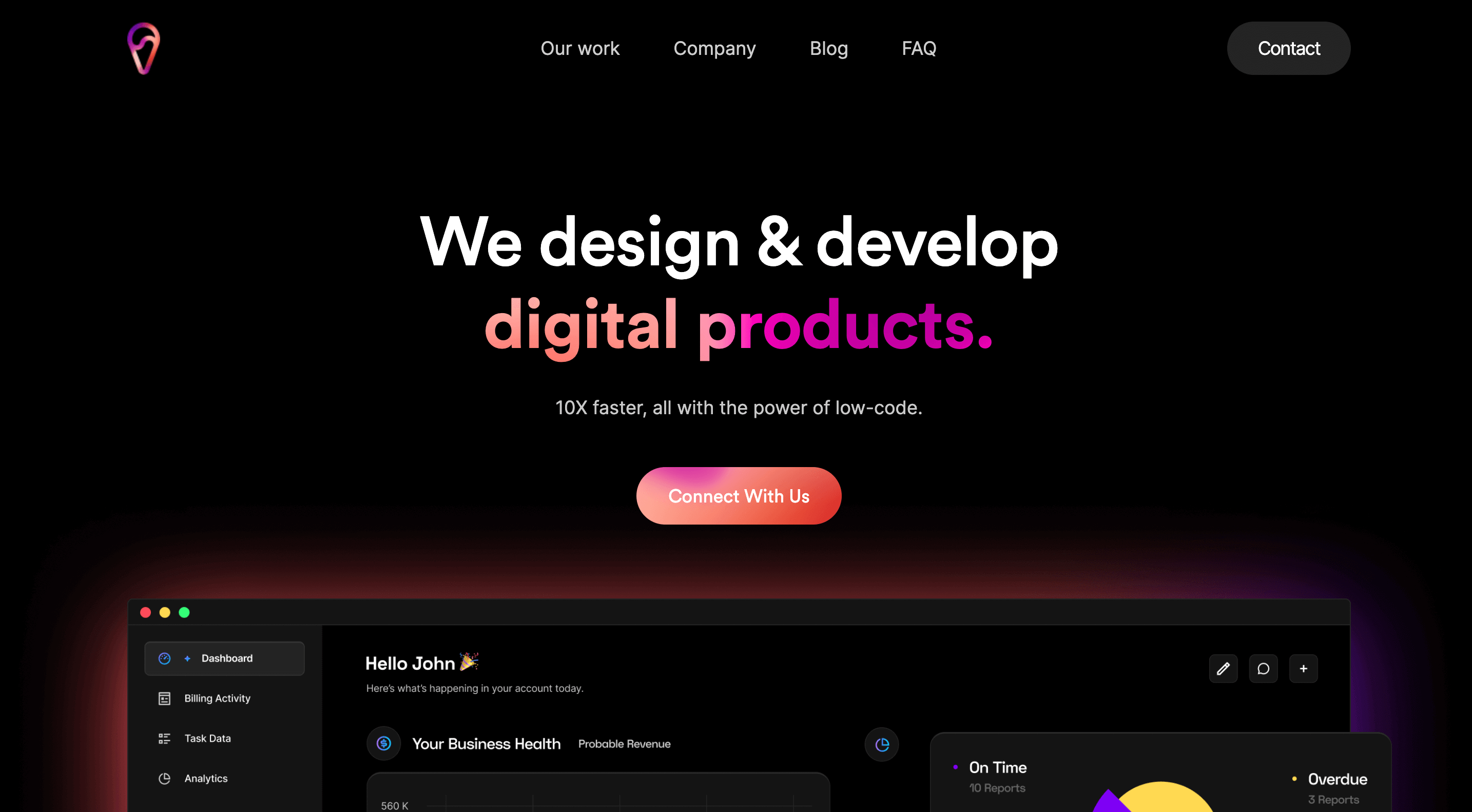 Creme Digital is a leading low-code agency that strives to achieve a mission of making digital products accessible and beautiful by focusing on the quality and customer experience of the end product. The company helps clients implement their software solutions, be it a website or a mobile app, 10x faster with the power of agile low-code and complete no-code development.
From defining the project scope and requirements to the launch and maintenance, Creme Digital guides you through the entire production process (and even further!) to ensure the delivered product looks and feels amazing. 
Headquartered in Toronto, the company has already delivered successful results to clients operating in the US, Canada, and Australia. Being on the market just for 4 years, Creme Digital has already joined the list of the best low-code development companies, trusted by top-tier enterprises, startups, and innovators.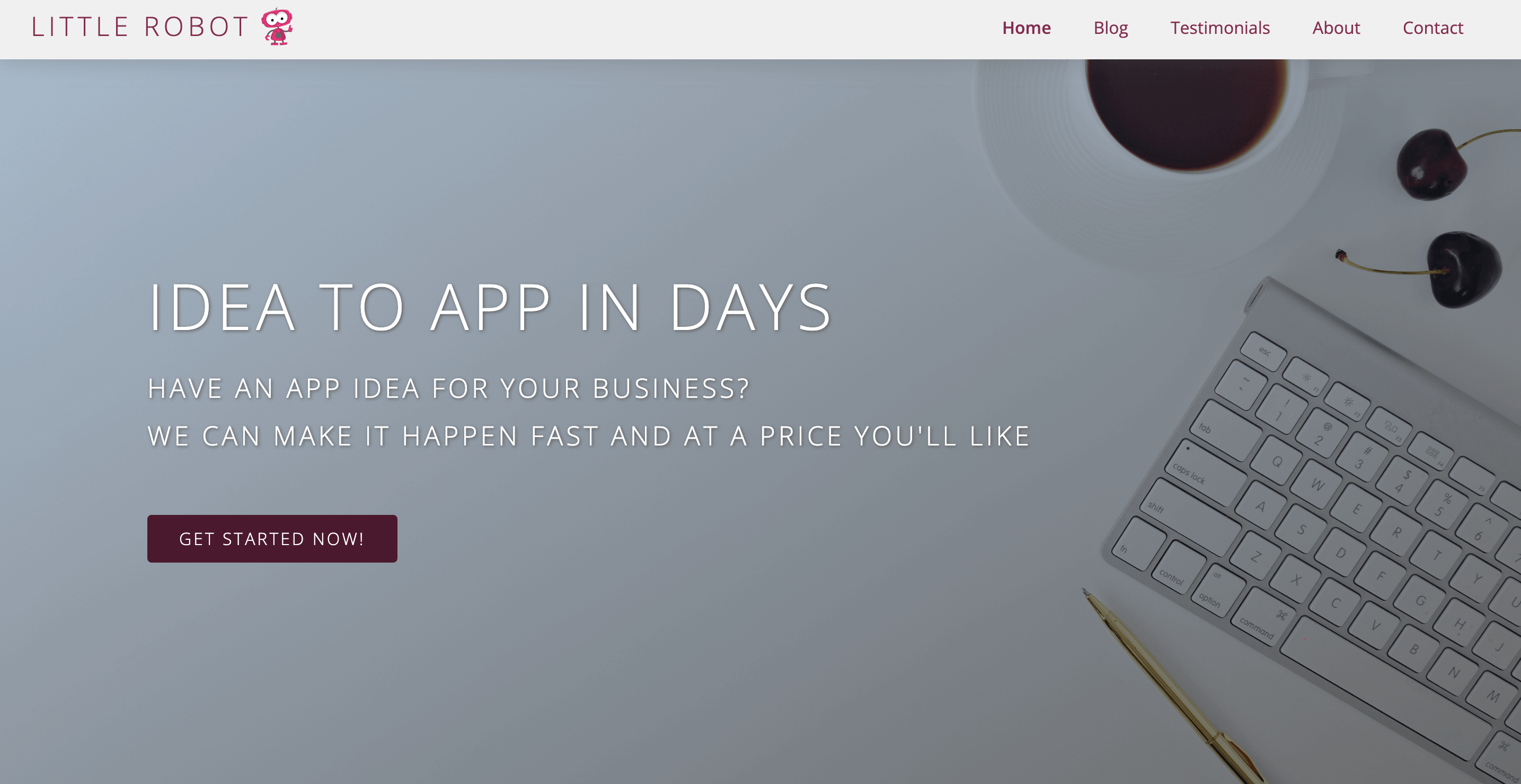 From planning to design, architecture, backend, frontend, and deployment, Little Robot can help you build custom software quickly and at a high level using no-code technologies. Their skillful, women-led team is ready to take on any tech challenge and deliver impactful results for your company, unleashing the power of creative problem-solving and agility.
A division of Two Story Robot – a full-stack software development agency, Little Robot possesses the expertise, knowledge, and skills needed to transform any project idea into a beautiful, easy-to-use, high-performance app that will take your business to the next level. The company is headquartered in Kamloops, British Columbia, Canada but serves customers worldwide.

Established in 2016 and becoming one of the best no-code agencies, Solvaa Automation Academy & Consulting comprises certified process improvement and automation experts that help companies optimize, simplify, and connect their business workflows. This way, firms can reduce human error and costs and save time. 
To achieve this, Solvaa uses a holistic no-code development approach and improvement strategies that factor into a company's processes and systems. They offer various optimization services, including consultancy, Zapier automation, Pipedrive CRM integration, and process improvement. 
In addition, Solvaa leverages the power of top-notch automation tools such as Zapier, as well as no-code accounting and CRM platforms with customizable built-in automation, Xero and Pipedrive, to help businesses innovate their internal processes. The company's head and founder, Kelly Goss, is a certified Zapier expert and noble author who shared her professional insights in the most comprehensive guide on the market, Automate It with Zapier.
Another of Kelly's prominent work is an 8-week learning course, "Simple Automation Blueprint: Zero to Hero," consisting of pre-recorded content, weekly Q&As, and live workshops. Take it to get equipped with the essential fundamentals on how to implement business process automation with Zapier using their signature 4-Step Solvaa Automation Methodology®.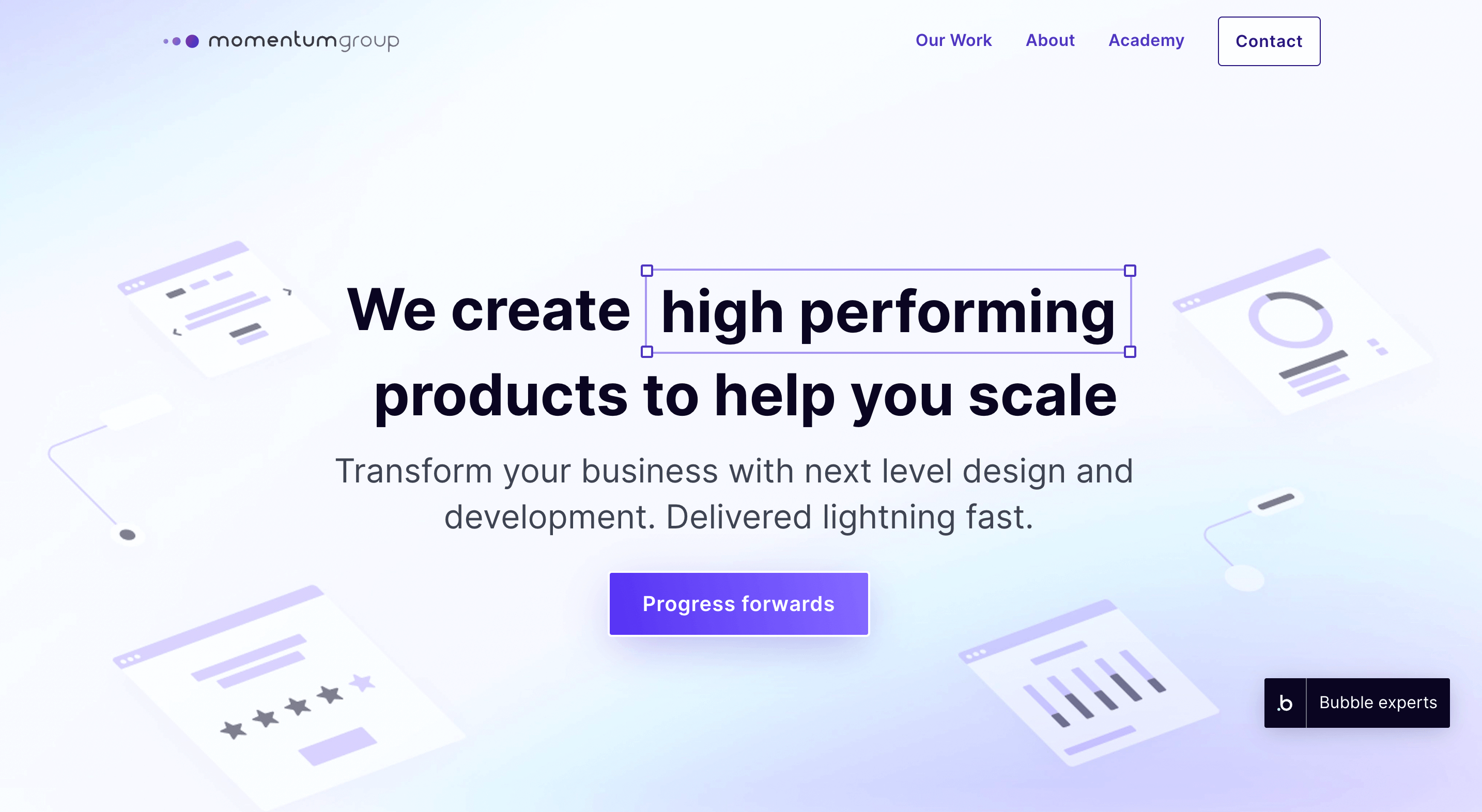 Momentum Group is a top-rated no-code development company that creates next-generation digital products, such as marketplaces, SaaS applications, learning management systems, and CRMs. They specialize in Bubble development, product strategy, UX/UI design, and API development. Using a design-led approach and no-code technologies to produce scalable software solutions, their team can deliver web apps at scale for startups and enterprises lightning fast.
Beginning as a small group in 2020, the company has swiftly evolved into an international team, where every employee is dedicated to the client and their vision to achieve a fantastic result. Momentum has implemented impactful products for 30+ clients, helping them raise over $5m in total.
Momentum offers two different packages, depending on your needs.
Full service: includes design & development of web apps and integration with APIs. The average project values are:

MVP: $15k

Mid complexity: $20-$40k

Large/complex: $50-$100k

Defined services: includes Bubble app review & audit and Bubble team training. The average project values are:

Small: $500+

Mid complexity: $1,495+

Large/complex: $2,995+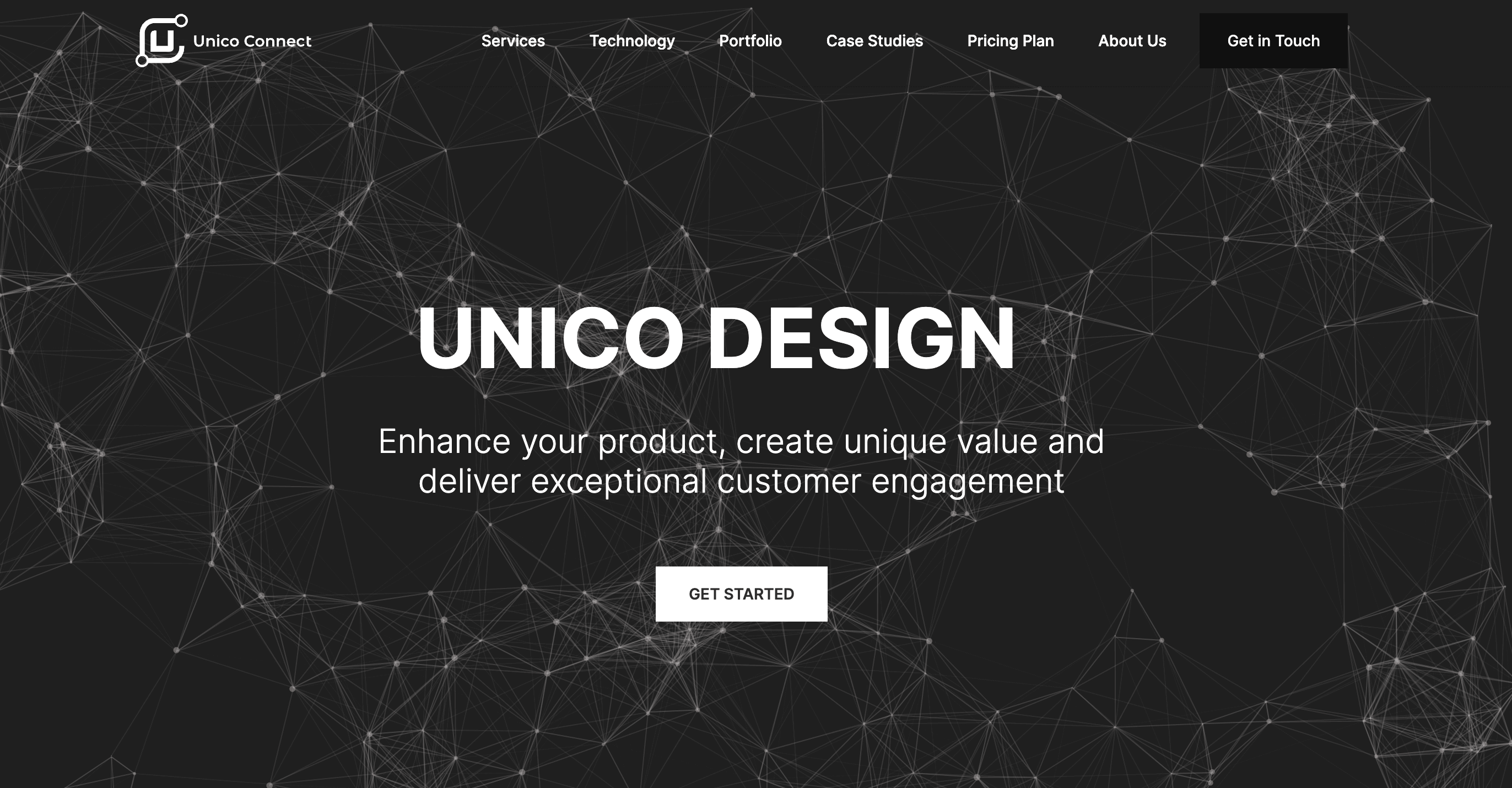 Unico Connect is one of the best no-code development agencies that provides businesses with cutting-edge software solutions lightning-fast. 
Using endless no-code development capabilities of Xano and other technologies, the company can quickly build and deploy custom web and mobile applications for your business much faster and cost-efficiently than when using traditional development. Utilizing an impressive tech stack, Unico Connect helps enterprises automate their processes and workflows, improving their overall efficiency and productivity.
Being on the market since 2014, the company has gained valuable knowledge in various industries and technologies, including no-code tools and code-based programming languages. Their proficient team works closely with international clients to understand their unique needs and provide tailored app solutions to help them achieve their key business objectives.
Unico Connect's team of tech experts selects the best technology stack to build and deploy custom scalable apps faster while also providing ongoing support to ensure your business achieves the desired results.

Blynx is a Switzerland-based no-code agency delivering excellent, agile digital solutions, including websites, apps, and scalable platforms. Launched in 2022, the company has already implemented a dozen of successful projects for prosperous clients worldwide. 
Working with a single goal in mind — enabling businesses to develop game-changing products further, Blynx can save you over 40% of time and money using no-code tools, compared to traditional development. 
The company goes beyond basic no-code development working with templates. On the contrary, Blynx produces custom software tailored to customers' needs from scratch. 
Leveraging the power of no-code technologies such as Webflow, FlutterFlow, Editor X, WeWeb, Shopify, and Airtable, Blynx provides a quick, agile, and dynamic process of turning clients' ideas into reality. What's more, they reinforce your team with constant support from the beginning to the end of your cooperation.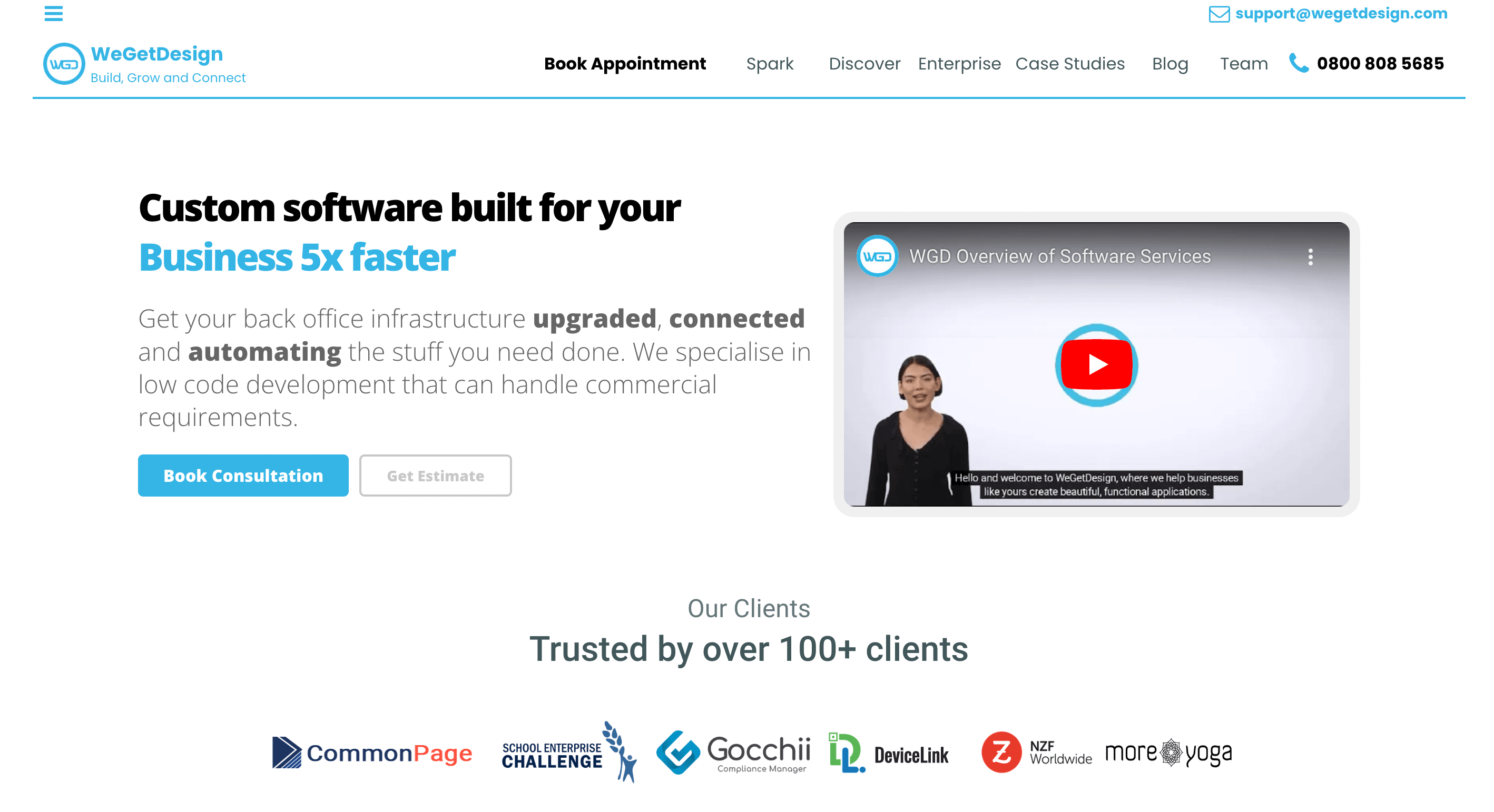 WeGetDesign is a company that specializes in developing low-code tools for startups and enterprises. With their own custom tooling, such as ZippyProject.com, and by using various low-code platforms like Bubble, Maker, and Zaper, WeGetDesign is able to provide their clients with innovative solutions that streamline the development process.
In addition to low-code platforms, WeGetDesign also integrates advanced technologies such as artificial intelligence with GPT and blockchain technology to enhance the capabilities of their tools.
Some notable clients of WeGetDesign include NZF Global, TackTMI, and Blantyre Capital. WeGetDesign follows a waterfall development process up to the MVP stage and then switches to an agile development approach for the long-term management of their clients' apps.
WeGetDesign has received support from the Natwest Accelerator, the Welsh Government's Accelerated Growth Programme, and UK Innovate Edge, which have helped the company to grow and succeed.
They offer packages starting from £2950 and can customize a building plan to suit most budgets.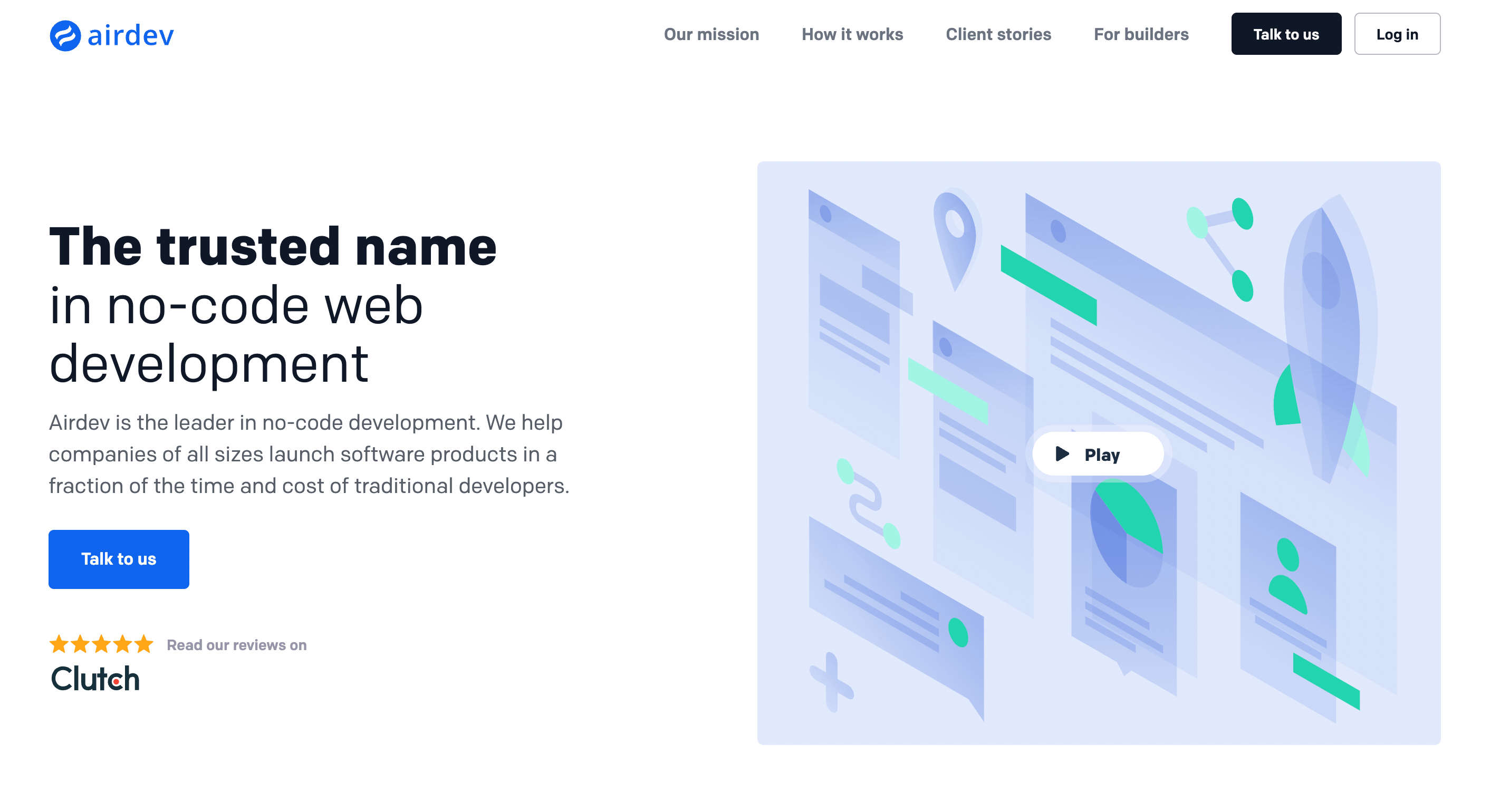 AirDev is one of the leading no-code companies providing end-to-end no-code solutions to businesses of all sizes in a fraction of the time and the cost of traditional programmers. 
The agency mainly uses the Bubble framework for all sorts of services as it provides complete control over every detail of the apps they build. In addition, they employ a business analytics team to understand your project goals and support you at each step – from discovery to launch of the finished product. 
AirDev offers a wide range of no-code app development services, primary web and mobile apps, and custom eCommerce stores.
Since its foundation in 2015, they have worked with more than 500 clients ranging from small businesses to Fortune 500 companies. Many of their clients, such as Dividend and Nextbite, gained massive funding from leading investment firms like Softbank.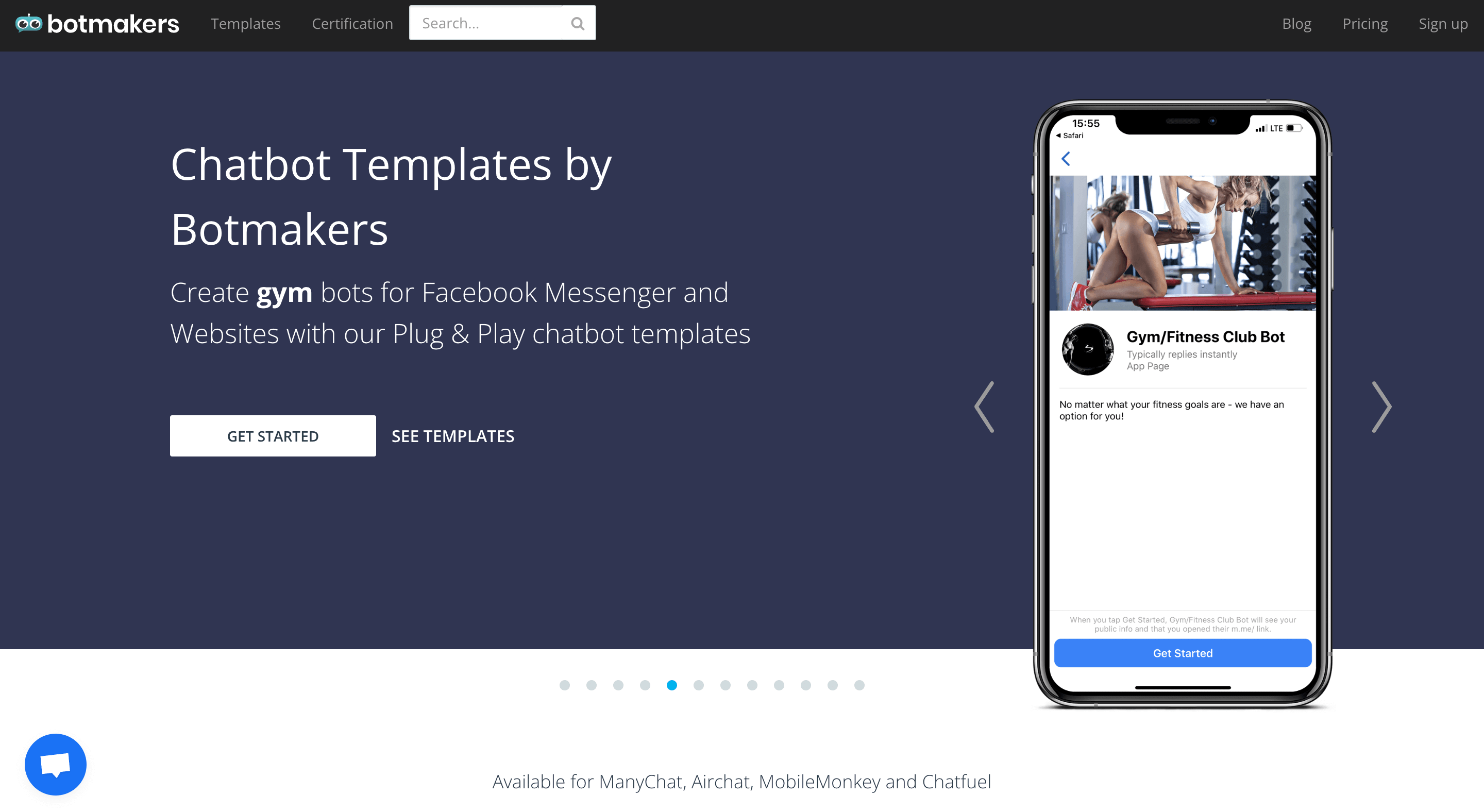 Botmakers is one of the best no-code chatbot-making agencies available out there. They build custom chatbots for various platforms such as ManyChat, Chatfuel, Airchat, Facebook Messenger, and Instagram. Moreover, they offer thousands of ready-made templates based on the client's demand for various industries – Real Estate, Restaurant and Hospitality, Healthcare, Insurance, Contests & Promotions, Ecommerce, Car Dealer, Sales, and many more. 
They offer two pricing models with different benefits:
PRO: The Pro plan costs $149.97 for 3 months, where you get 3 templates each month and an unlimited reseller license, which means you can sell the chatbots you make using their templates.
AGENCY: The Agency plan costs $299.97 for 3 months, providing over 10 templates each month, an unlimited reseller license, bots suggestions, live chat and email support, and many more valuable features.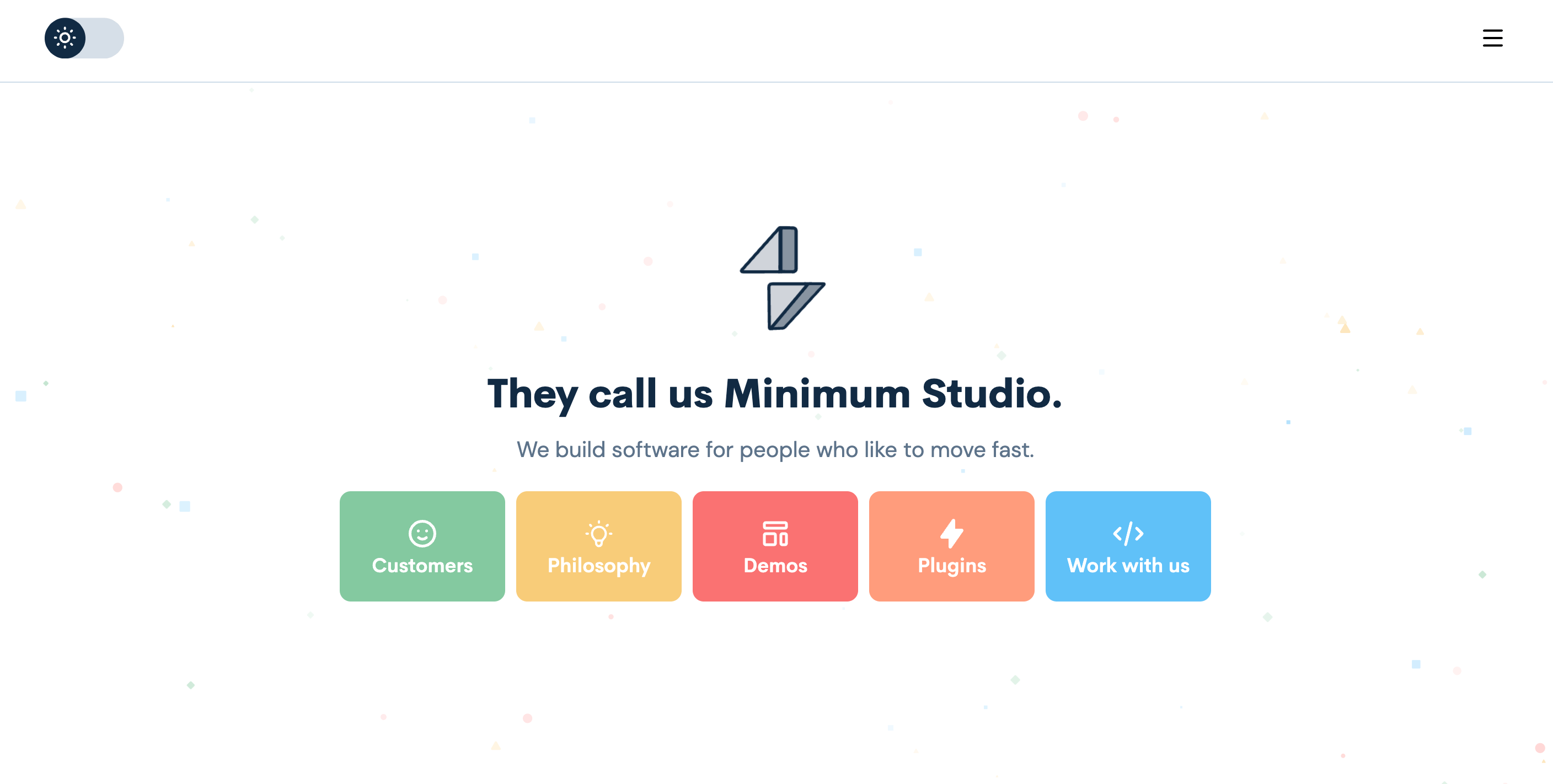 Minimum Studio is a no-code/ low-code agency helping small business owners around the globe achieve new heights. Unlike traditional programmers who make things look complex, they aim to provide simple but scalable solutions in as little time as possible. 
More than that, they also keep your business needs in mind along with its technical aspect. They offer handy plugins like Scheduler, Calendar booking, Emoji reactions, and many more to make your Bubble website more interactive.
In addition to Bubble, they use no-code platforms such as Dropsource and Firebase.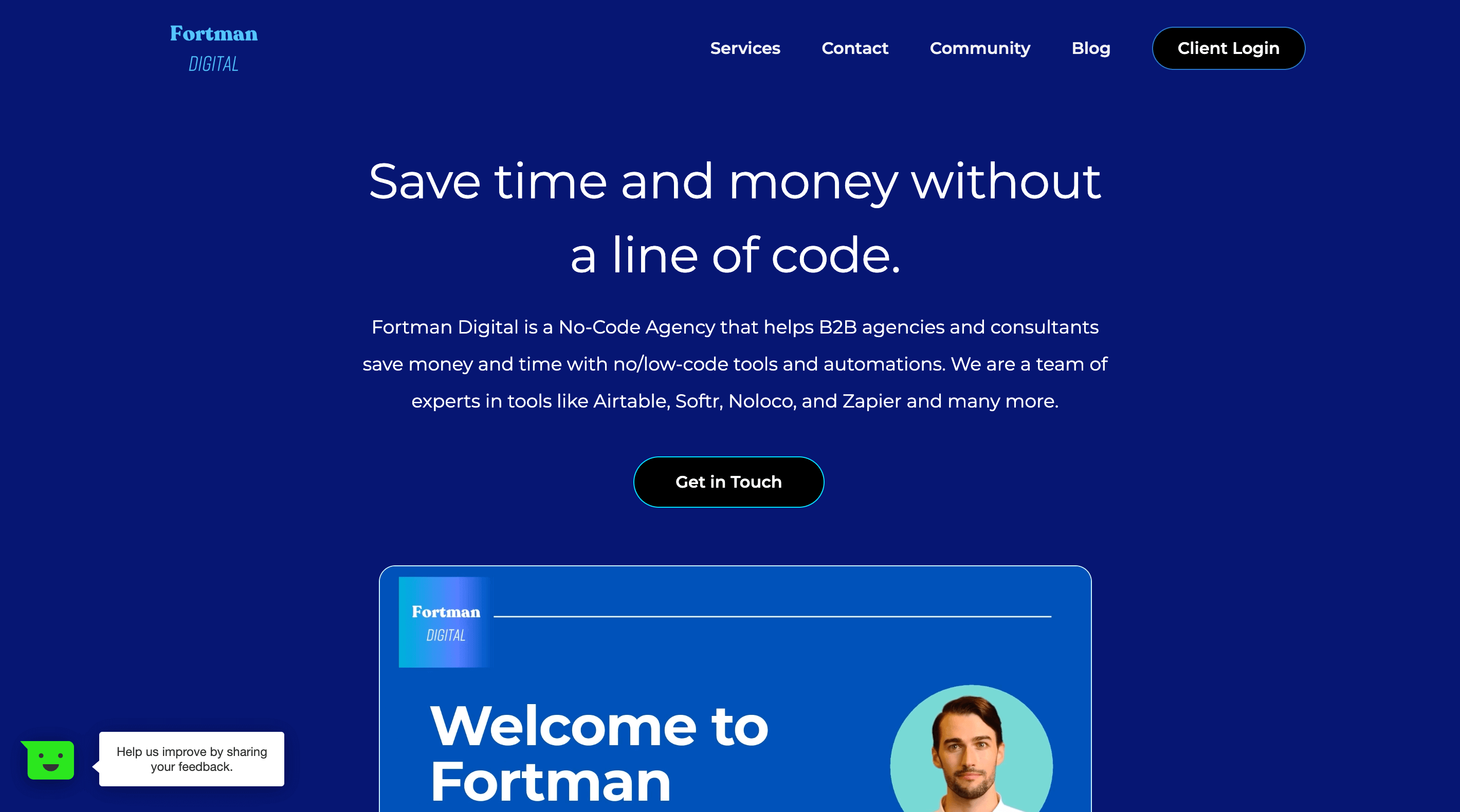 Fortman Digital is one of the leading no-code agencies serving B2B agencies and startups. They provide scalable no-code services such as building websites and applications and automating manual processes. Their clients range from solopreneurs to 7 figure corporations who desire top-class no-code services under a minimum budget and time.
They specialize in building client portals, ticketing portals, reporting portals, property management portals, and many more. 
Fortman Digital's no-code experts have excellent know-how of platforms such as Airtable, Noloco, Make, Softr, Zapier and Webflow.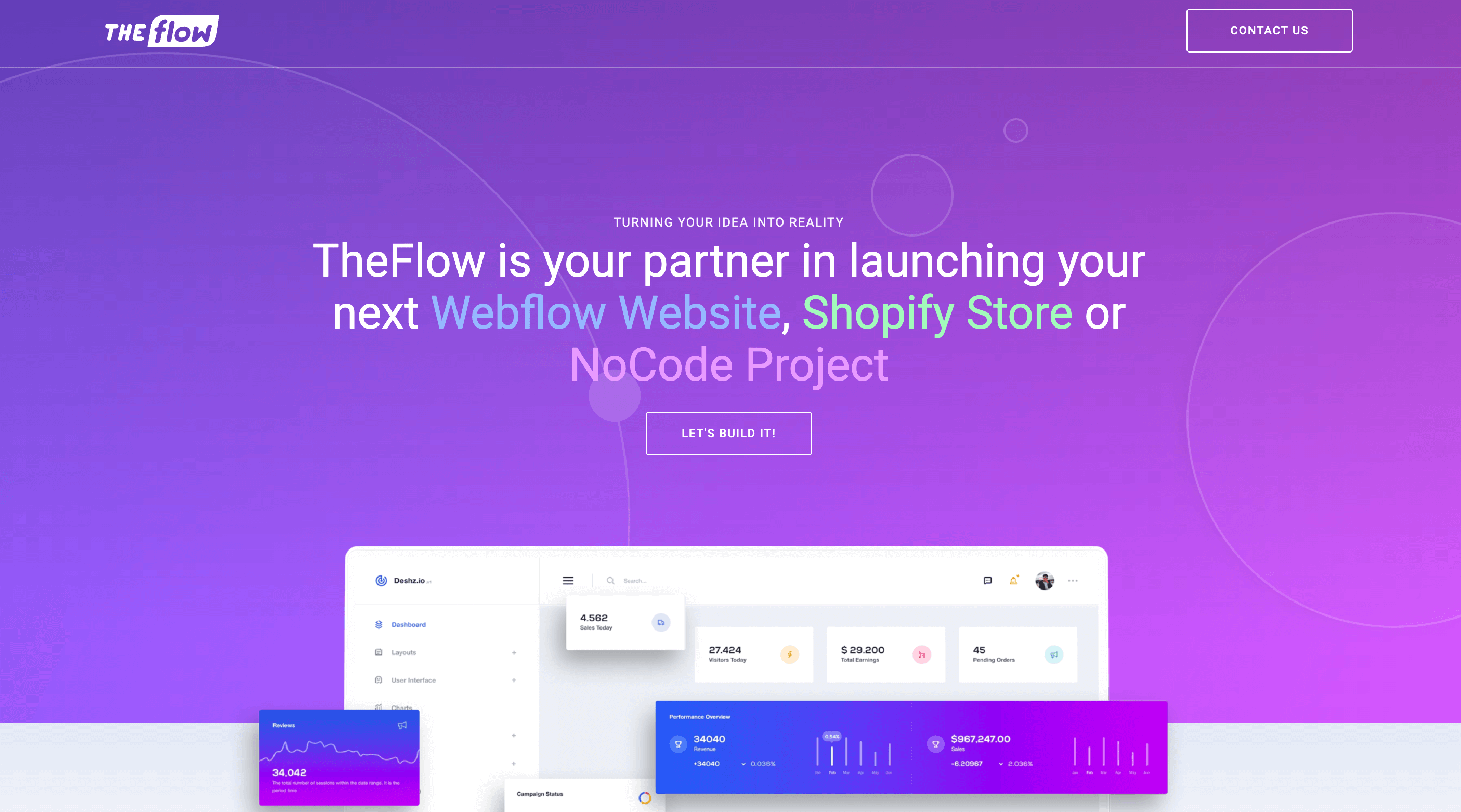 If you are looking for a professional no-code agency to help you launch a Webflow website or set up a Shopify store, TheFlow is the winning choice. They use a large array of no-code tools to provide top-notch no-code app development services to their clients. Some of them are Webflow, Shopify, Jetboost, Airtable, Google Analytics, and Make. 
The list of their services includes website building, be it CMS or e-commerce stores, project design, automation to control your business processes, and integration, i.e., the addition of tools and plugins to your website to increase its functionality.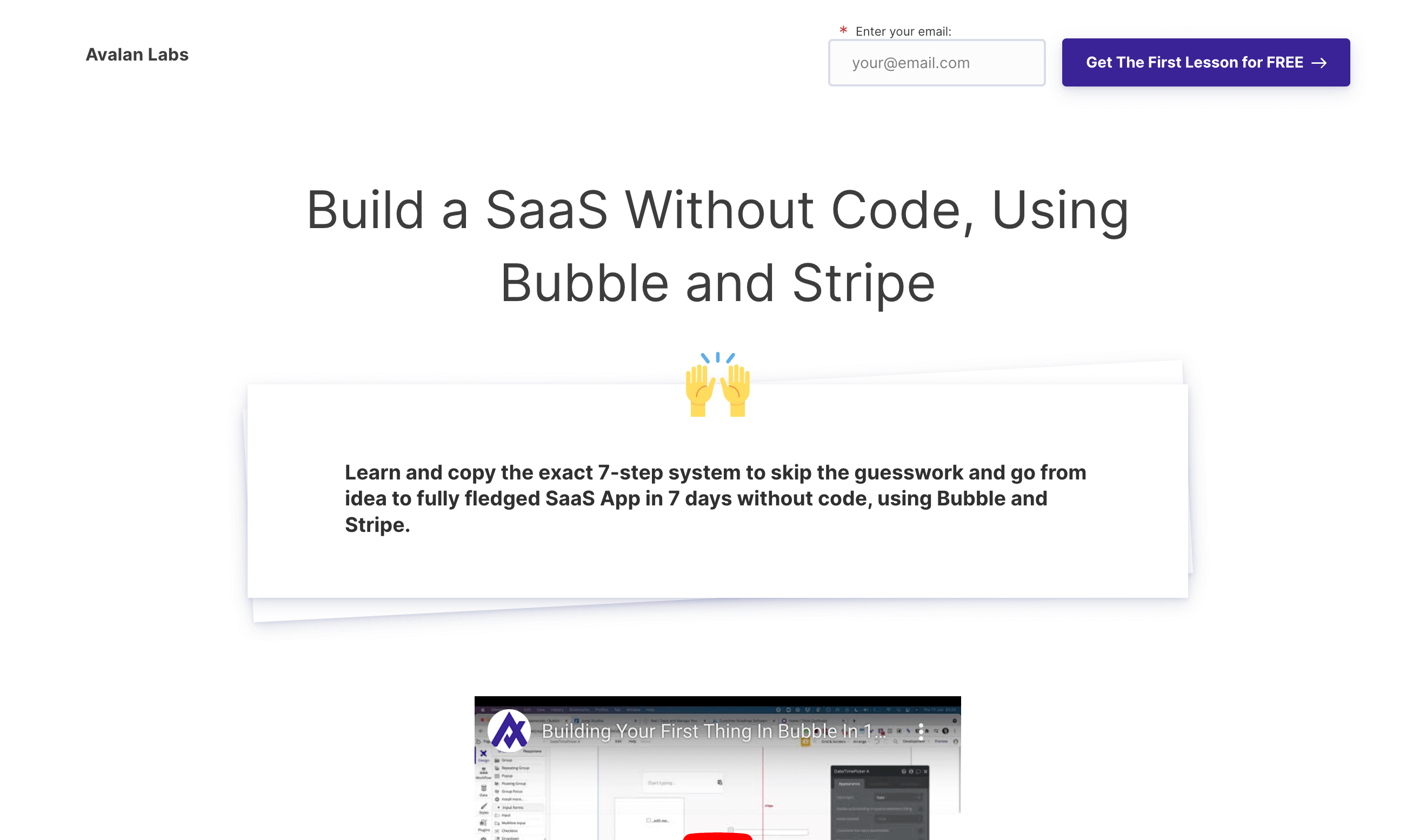 Avalan Labs is an online private community of no-code professionals who teach to build SaaS startups with the help of Bubble and Stripe. Along with these technologies, they also educate on using Airtable, Zapier, Make, and Notion.  
Their tutorials and lessons are designed intuitively and cover all the crucial aspects of building an app or other types of software. Whether you're an entrepreneur planning to turn your idea into reality or you are a designer, their NoCode Fundamentals Program will surely help you out in every way. 
Avalan Labs' program starts with an introduction and leads to data, workflow, and design. Then it talks about advanced workflow and API integrations. It also teaches you to set up a payment window using Stripe. The program's current cost is $749, which comes with lifetime access.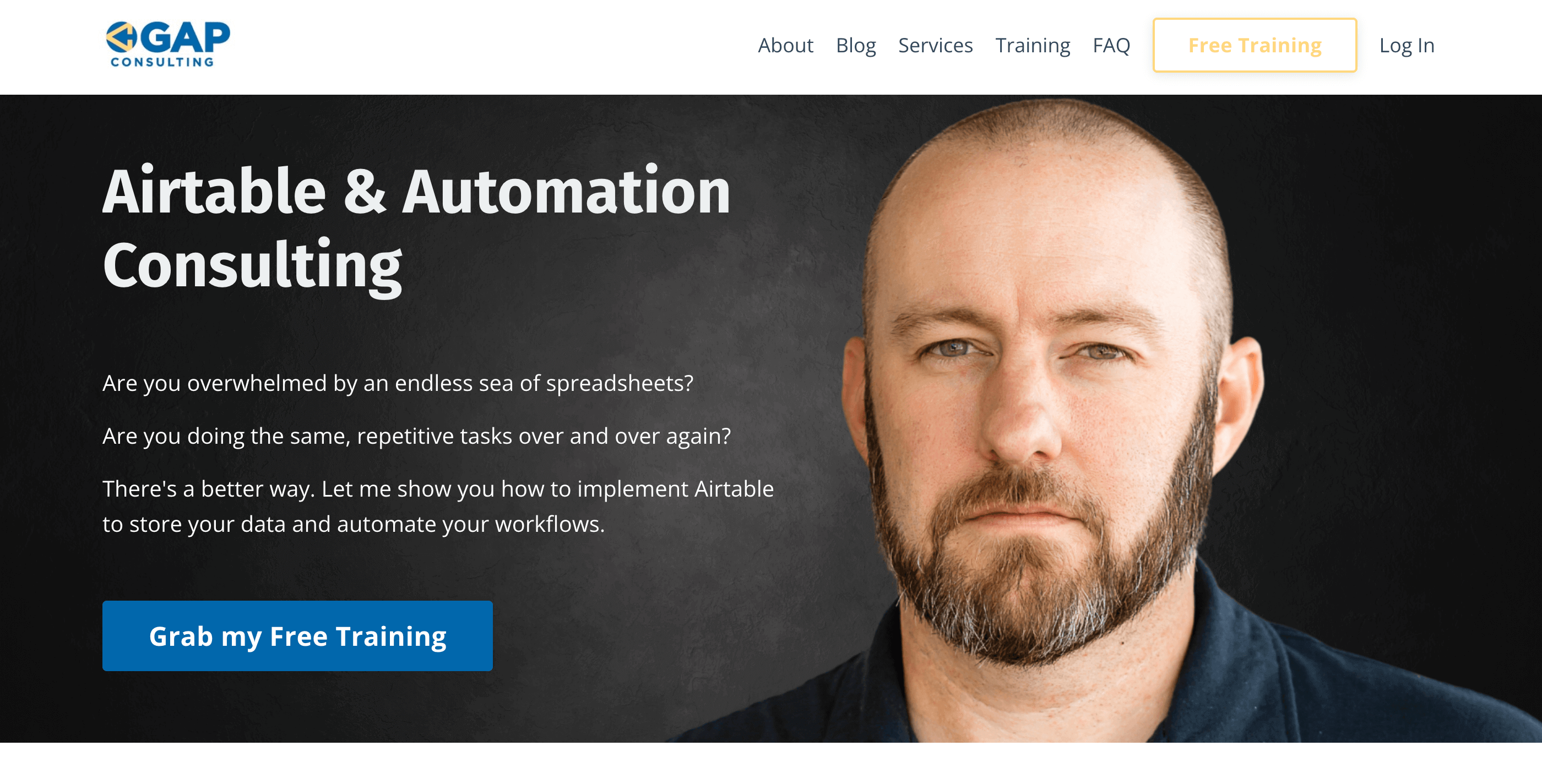 Airtable has completely revolutionized the way people use to deal with complex data and spreadsheets. It helps businesses save time by organizing data and automating repetitive tasks. However, mastering Airtable itself needs a lot of time and guidance. Thus, to help you with it, GAP Consulting is here! Some of their notable clients are Disney, the University of Michigan, Viacom, and ServiceNow.
GAP Consulting is one of the leading no-code firms primarily focused on providing Airtable solutions. The list of their services includes training, hourly consultation, and custom project development using Airtable. 
In addition, the agency offers three courses for Airtable Training:
Airtable Fundamentals:

In this course, you learn about the Airtable basics with the help of short training delivered daily for over a month. You can get this course for a one-time payment of $99.

Airtable Mastermind:

This course provides additional community support along with the basics of Airtable to keep leveling up. It costs $97 per month.

Airtable Accelerator:

The accelerator program covers all the aspects of Airtable, from basics to advance, and get access to exclusive bonuses. The cost of this course is $747 for a lifetime.
Conclusion
In the initial stage of company development, time and money are what businesses lack. Thus, many choose to delegate their app development tasks to external professional agencies that can deliver the products quickly and under the budget. 
Hiring a no-code agency will get you covered as soon as possible as they understand the market needs and know perfectly how to use no-code technologies.
Therefore, hiring a reliable no-code agency is key to launching your application in the shortest time possible. We hope this list presenting the top no-code agencies helps you find the best-fit partner!
If you want to get your no-code agency mentioned in this list, drop us an email, and after a thorough review, we'll decide whether it's an appropriate addition.