Do you wish to partner with some of the world's top IT outsourcing companies to handle complex technical issues and carry out a successful digital transformation?
Then, you've landed in the right place.
According to Deloitte, the global expenditure on outsourcing is predicted to hit the milestone of $731 billion in 2023. Due to such great demand, thousands of tech firms offer comprehensive IT outsourcing services to clients worldwide.
Particularly, hiring the best IT outsourcing company will bring the following benefits to your business:
Help your in-house staff save up on time and effort 

Slash down regular business expenses through cost-efficient digital solutions

Let you expand your services and digital coverage

Run your business more smoothly by optimizing and automating the majority of operations
To help you find the best-fit partner among a tremendous talent pool, we've compiled a list of the top IT outsourcing companies providing exceptional software development assistance. Work with the best ones!
Best IT Outsourcing Partners For Your Digital Transformation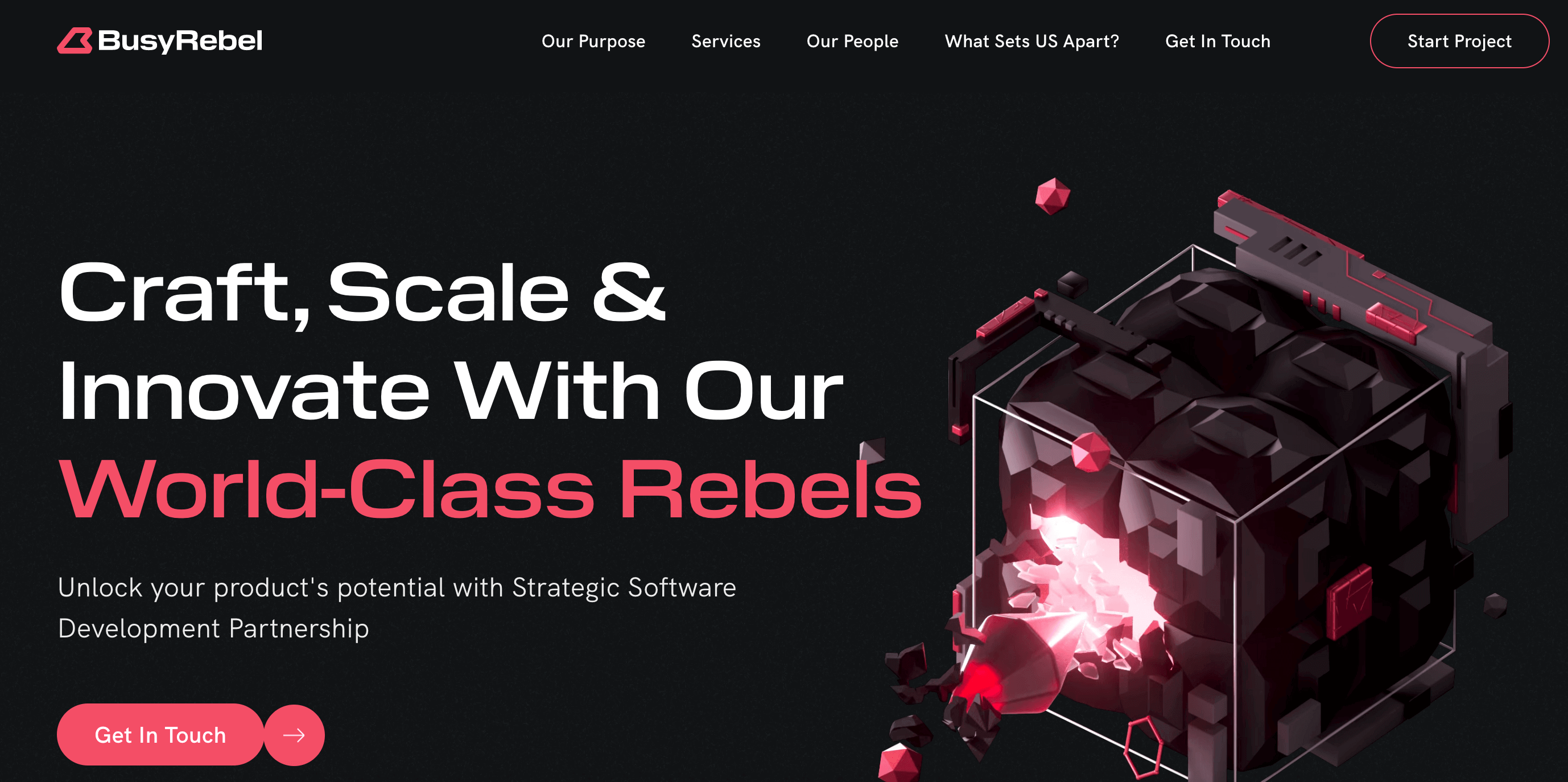 One of the world's leading IT outsourcing consulting and development companies, Busy Rebel thrives on enhancing clients' product potential through strategic partnerships and the smart use of technologies. With an impressive customer retention rate of 92% and over 12 years of experience, the firm is well-known as a premier engineering team capable of finding the best-match solutions to the most complex technical challenges. 
Built on the core principles of integrity, partnership, innovation, excellence, and continuous improvement, Busy Rebel has successfully served businesses of all sizes, including startups and Fortune 500 enterprises, helping them raise more than $400 million.
As experts in tech consulting and software strategy, they excel at creating efficient and reliable product roadmaps and advanced architectural solutions. Their comprehensive software development services make use of big data, artificial intelligence, and machine learning technologies to deliver high-performance projects on time and within budget. They help clients discover new revenue opportunities, prioritize strategic goals, and outshine the competition.
Services and expertise: tech co

nsulting and product strategy, custom web and mobile development, staff augmentation, MVP and startup evolution, DevOps, software architecture, big data engineering

Tech stack:

HTML, SQL, JavaScript, React, Swift, AWS, etc.

Industries: 

Insurance, Healthcare, IT, Consumer Products, Hospitality, Leisure, etc.

Team size:

45+ experts

Portfolio: 

BillWinner, RenewalDiary, Element451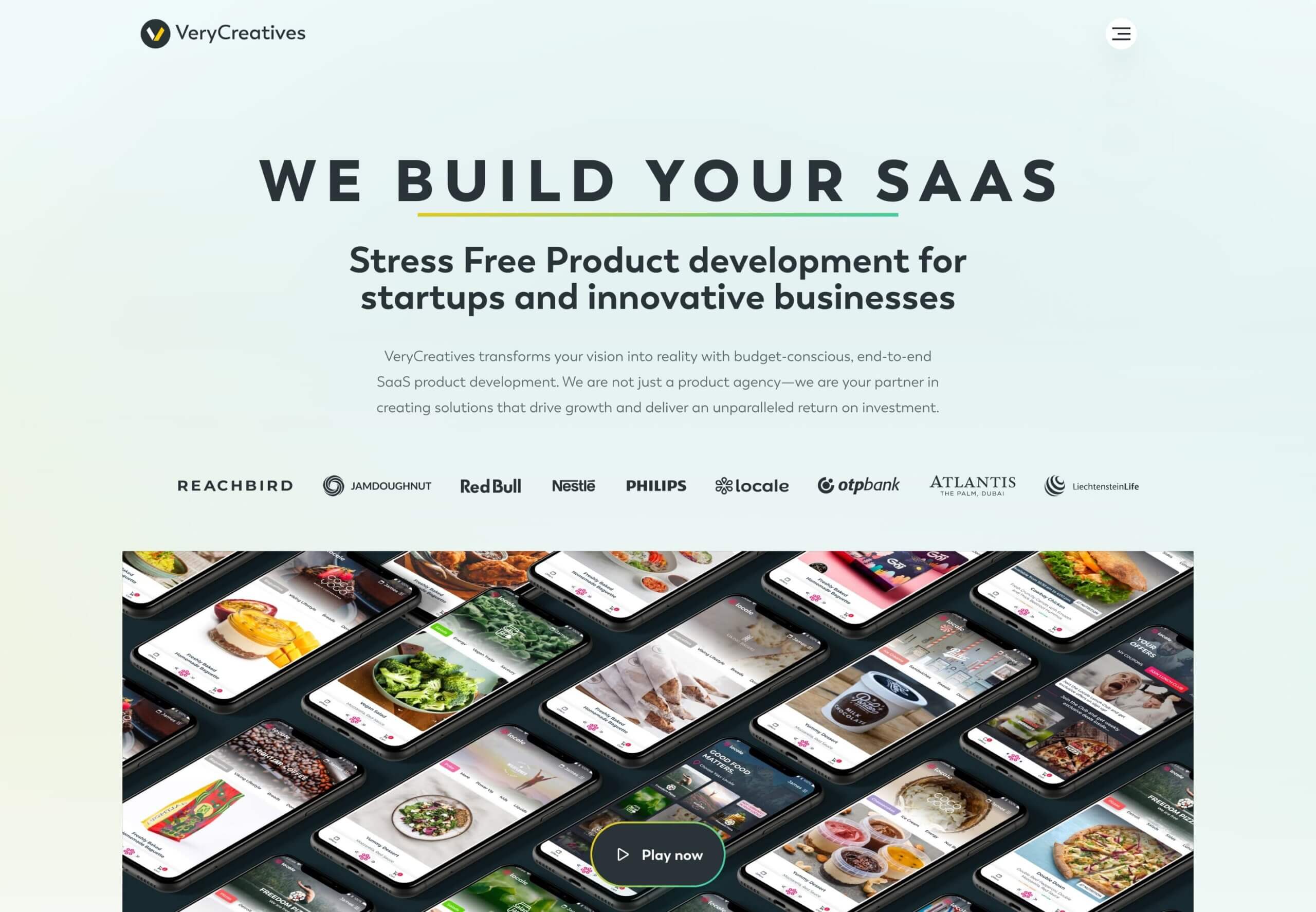 Established in 2010, VeryCreatives is a leader in IT outsourcing services, revolutionizing startups and enterprises with custom, business-focused technology solutions. From strategic planning and MVP development to the seamless implementation of scalable solutions, the company focuses on delivering remarkable results and high returns on investment.
Spanning across diverse industries, VeryCreatives is dedicated to crafting high-quality solutions for clients in the EU, UK, UAE, and the US. Working with cutting-edge technology stack, their dedicated teams help businesses achieve tangible results without compromising on budget consciousness or product excellence.
VeryCreatives' exceptional work has garnered widespread recognition and accolades, with multiple features in prestigious media outlets. All these rewards confirm the company's status as a true industry leader and a creative powerhouse dedicated to realizing clients' visions with unbridled passion and expertise. As part of their commitment to delivering unparalleled value, they offer a free 30-minute consultation, allowing prospective clients to explore the potential of their ideas.
Services and expertise:

software outsourcing, product strategy & scoping, product design, MVP development, SaaS development

Tech stack:

Ruby on Rails, Elixir, Phoenix, ReactJS, VueJS, Java, Swift, Objective-C, Kotlin, etc.

Industries:

Digital Marketing, Technology SaaS, FoodTech, Delivery SaaS, Fintech, Banking, Investments, Mortgages SaaS, Lifestyle, Digital Health SaaS

Team size:

up to 50 experts

Portfolio:

Reachbird, RedBull, Nestle, Philips, LiechtensteinLife, Atlantis, OTP Bank, and others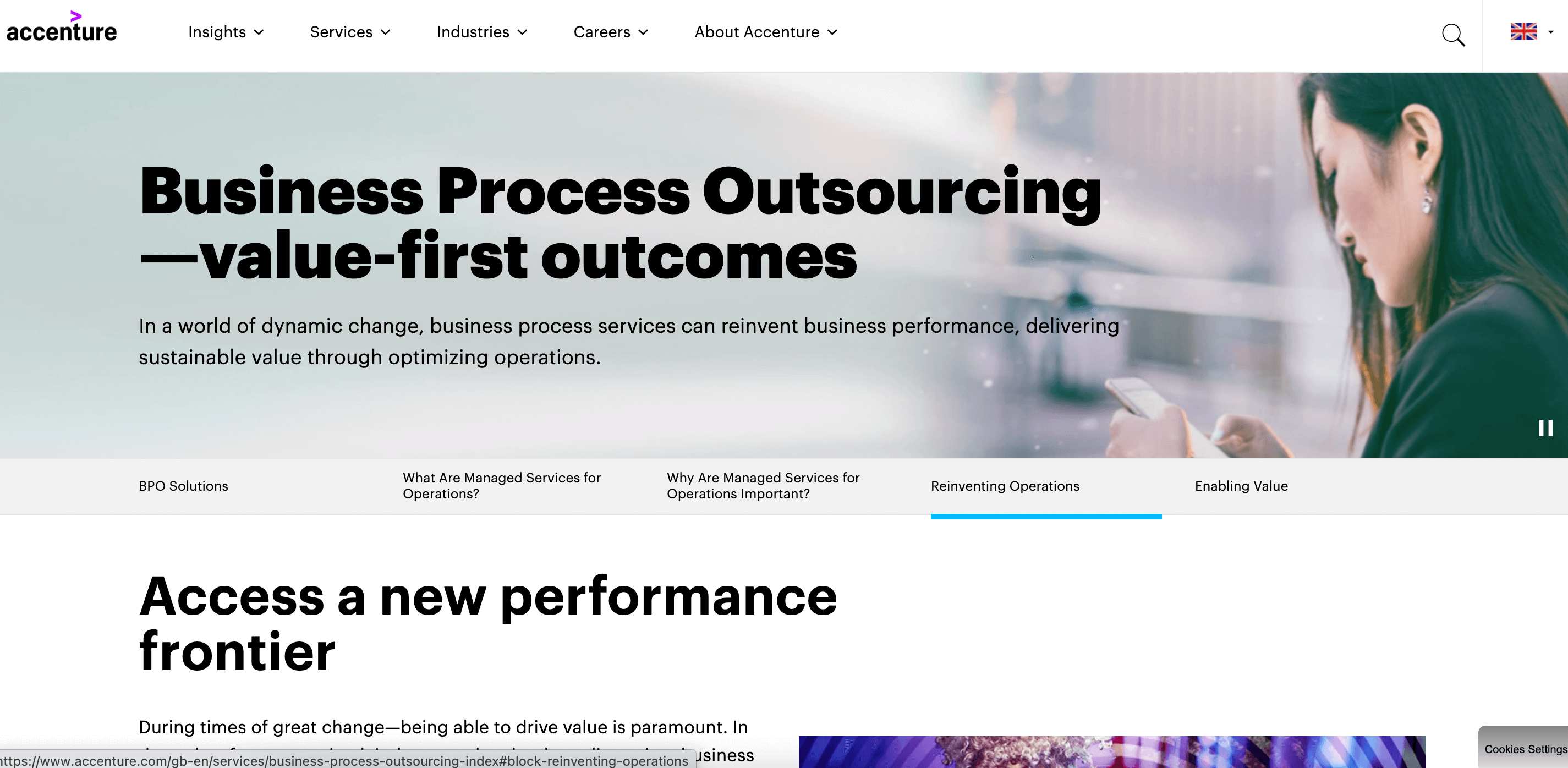 Undoubtedly one of the best IT outsourcing companies in the world, Accenture has redefined the domain of IT services, offering sustainable value through optimizing operations. The company drives clients' success and provides strategic managed services to help businesses stay ahead of their competitors by accelerating time-to-market and delivering value-first outcomes. 
A supporter of sustainability, Accenture believes in doing transformative work that reduces costs and diminishes business risks. 
Services and expertise: m

anagement consulting, business process outsourcing, systems integration and technology, application and infrastructure outsourcing

Tech stack:

Java, React Framework, JWT, Kafka, NodeJS, Redux, etc.

Industries: 

Supply Chain, Sales and Operations, Marketing, Healthcare, Banking, Talent and HR, etc.

Team size:

10000+ experts

Portfolio: 

BT Group, Shiseido, Duke Energy, Australian Institute of Marine Sciences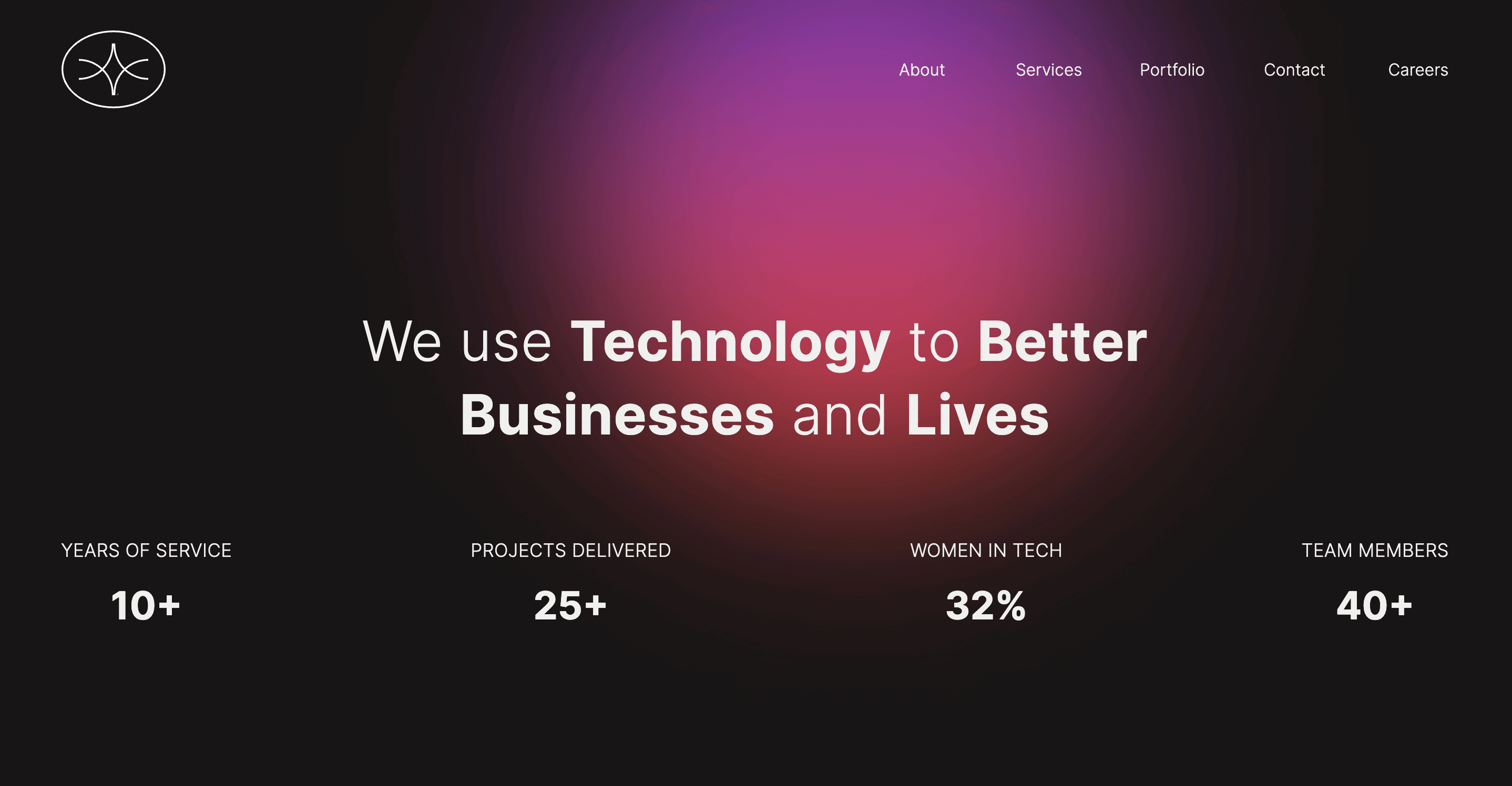 Fifth is an exceptional software consulting company established in the heart of Armenia. This innovative product development and design studio has been taking the tech industry to the next level for over a decade, crafting custom software solutions for clients from Silicon Valley, Europe, and Hong Kong.
What sets Fifth apart is its co-founders, comprising scientists and tech enthusiasts bonded by their love for technology and business software who joined forces in 2013. With a team of over 40 top-tier experts, including 32% of women in tech, and being a trusted partner for Google, Fifth's expertise spans various areas, including full-cycle software development, mobile app development, AI & ML, Web3/blockchain, Chronicle SOAR & SIEM, and more.
Offering access to a talent pool of first-class engineers capable of conquering even the most complex software challenges, the company's agile mindset ensures a flexible approach tailored to each project's unique needs, with continuous support throughout the whole partnership.
Fifth is an industry leader who thrives on innovation, teamwork, and an unwavering commitment to client success, ready to push boundaries and help businesses of any size make a lasting digital impact. So whether you require project development from A to Z, UI/UX design, or help with implementing a sensational dApp, Fifth has got you covered!
Services and expertise: full-cycle software development, business software consulting, mobile app development, MVP development, AI & ML, Web3/blockchain, Chronicle SOAR & SIEM
Tech stack: PHP, Laravel, Java, Kotlin, Spring, C#, ASP.NET, Python, Django, Flask, FastAPI, NodeJS, Angular, React, ExpressJS, React Native, Ionic, etc.
Industries: Fintech, Education, Healthcare, Retail, IoT, Real Estate, eCommerce, and others
Team size: 40+ experts
Portfolio: Act-On, Helio, Lensbox+, Swatchbook, Beyondo, Five Sigma, Google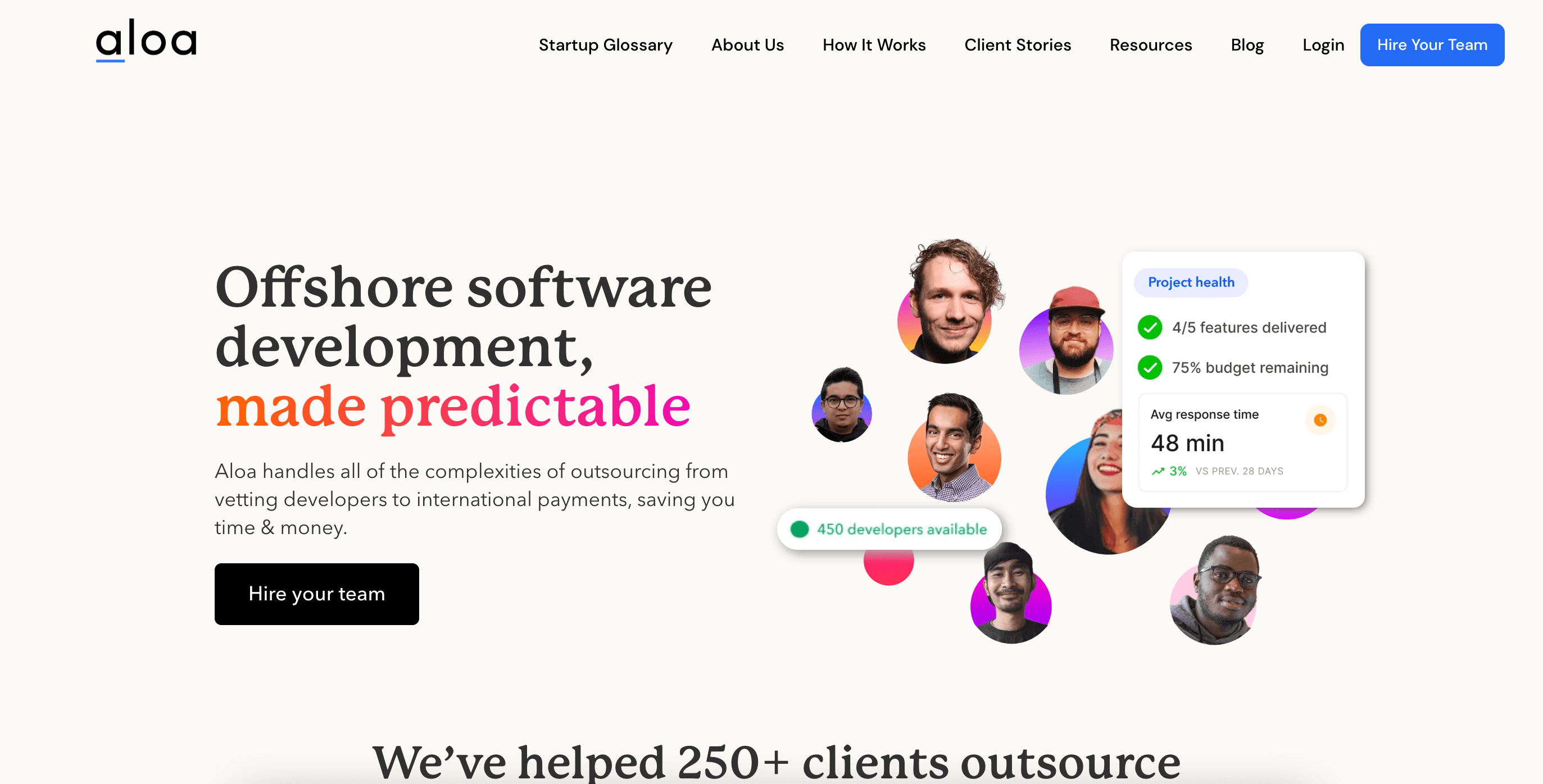 Being the top IT outsourcing service provider, Aloa caters to its worldwide clients, simplifying offshore outsourcing and handling all business complexities with expertise and professionalism. The company promotes flexibility, transparency, and true accountability in all its projects, taking a smart approach to outsourcing.
From assigning your dream developers to applying the most relevant tools and processes for your project – Aloa is here to guide you throughout your entire digital journey. 
Services and expertise: s

oftware outsourcing, nearshore outsourcing, backend development, mobile development, design outsourcing

Tech stack:

React, JavaScript, Viewport Meta, etc.

Industries: 

Travel and Tourism, Health and Wellness, Media and Games, eLearning, etc. 

Team size:

50+ experts

Portfolio: 

Yovi, PepCare, Bracketology, Hedge, VideoBomb, Aurum, Farechild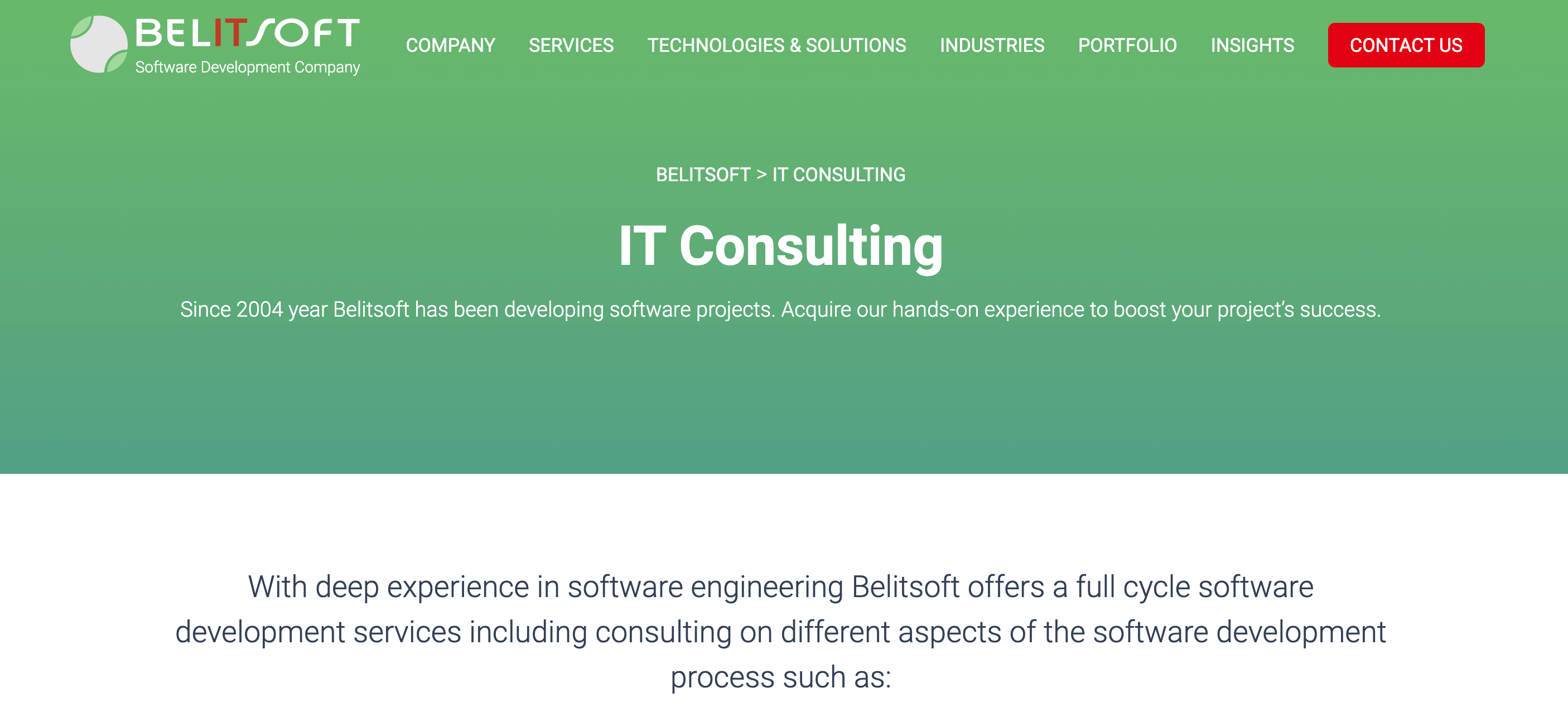 Providing impeccable customer service to budding startups and large enterprises, Belitsoft brings to you its team of dedicated and professional software developers who can create world-class software, rebuild your existing software or customize it as per your business requirements. 
Having delivered more than 70 large-scale projects and being in the business for over 17 years, Belitsoft is now one of the most prominent IT outsourcing firms with proven experience in diverse industries. 
Services and expertise: outsourcing

software development, website development, offshore development, custom software development, software maintenance

Tech stack:

.NET, PHP, Java, Mobile, JS, Python, etc.

Industries: eL

earning, eCommerce, Automation, Sports, Hospitality, Agriculture, etc. 

Team size:

400+ experts

Portfolio: 

Honeywell, Parrot, Berkeley University, IDT Corporation, Insly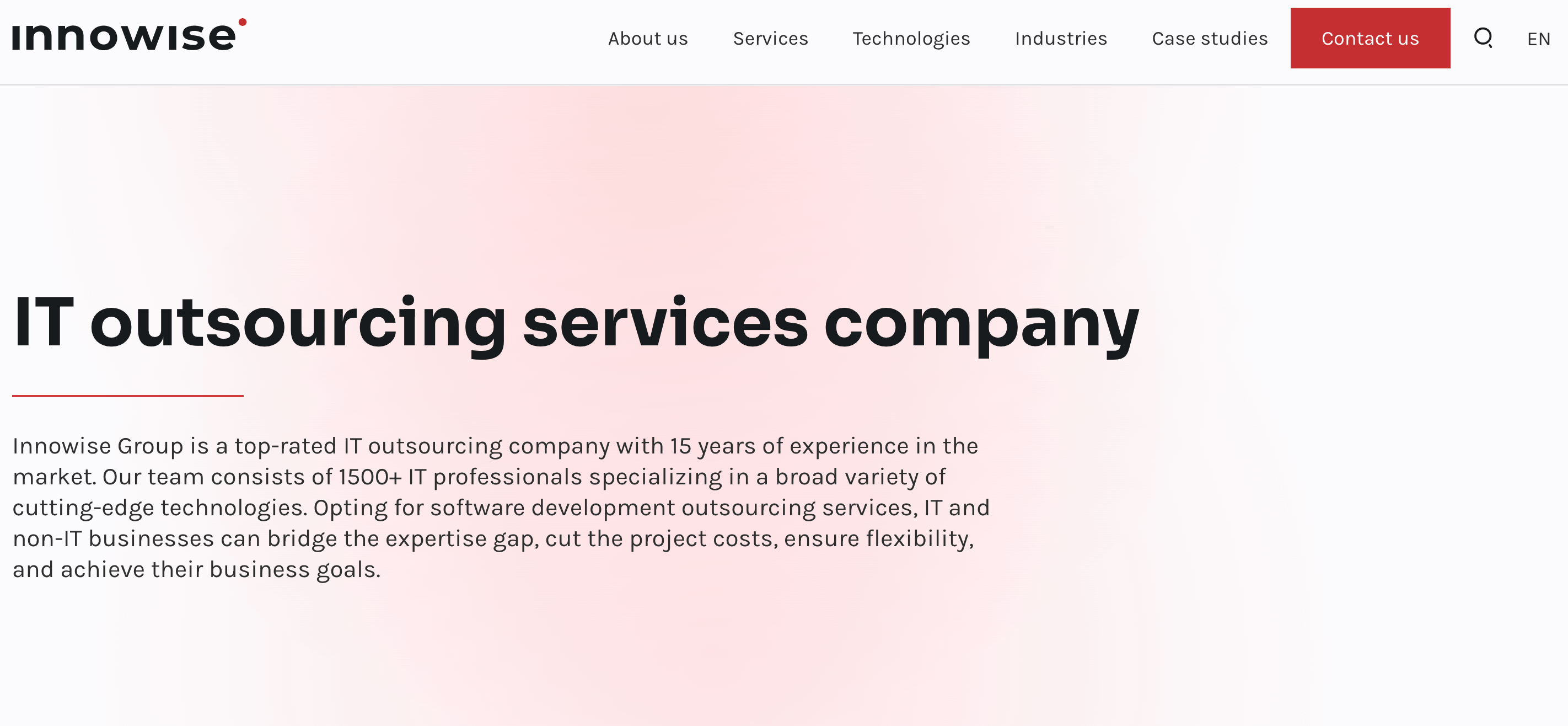 Combining the latest tech trends with profitable digital solutions, Innowise has provided top-notch outsourcing services to over 200 customers from 30+ countries. With its team of seasoned IT experts, the company aims to help you bridge the expertise gaps, reduce development costs, and achieve your business goals faster.
Recognized as one of the best outsourcing software companies, Innowise will do its best to clearly understand your project needs, devise a workable plan, and start building your dream software with the greatest precision.
Services and expertise: s

oftware consulting, cloud consulting, IT security consulting, DevOps consulting, IT infrastructure management, design consulting

Tech stack:

React, Angular, JavaScript, Python, React Native, AWS, Azure, etc.

Industries: 

Finance and Banking, Transportation and Logistics, Media and Entertainment, Manufacturing, Automotive, etc. 

Team size:

1500+ experts

Portfolio: 

Naip, Trumpet, OneStop Pro, Topcon Agriculture, NFT Pro, Switchbackr Worldwide Inc.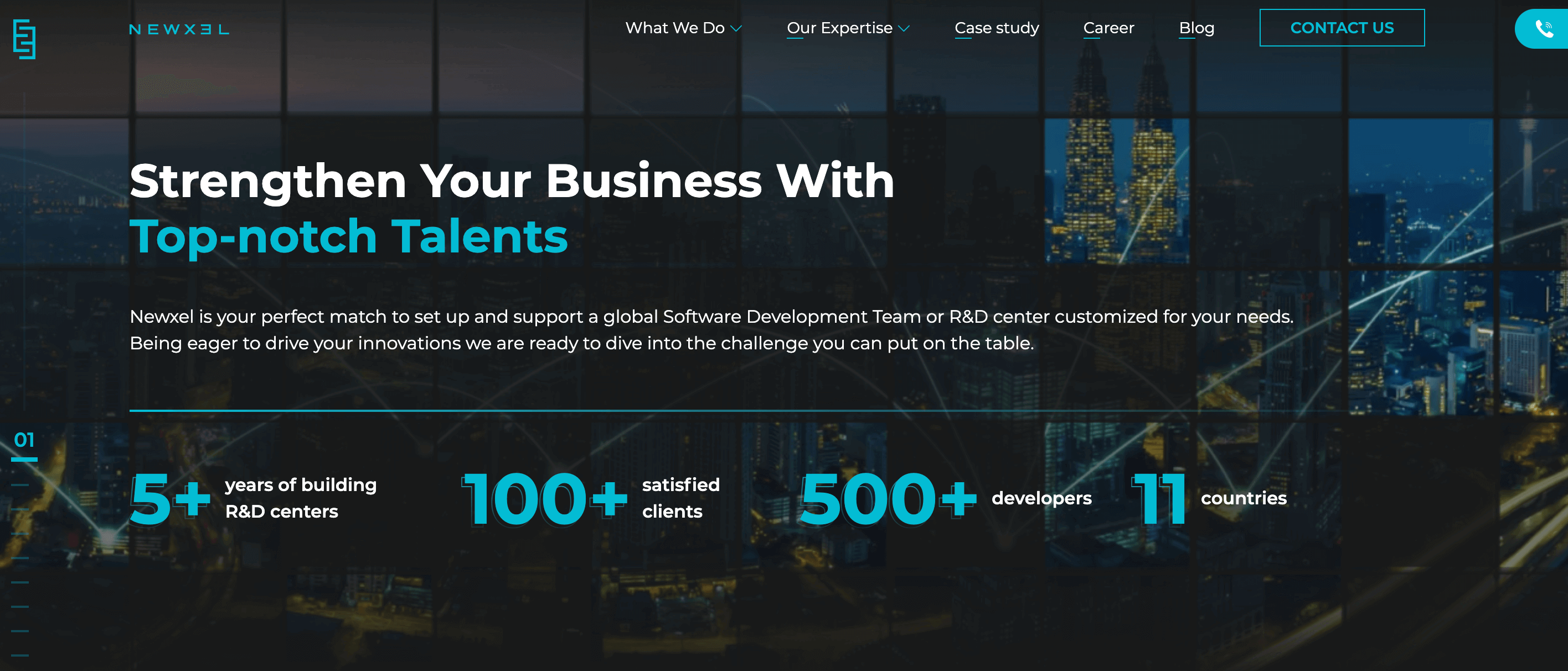 Meet Nexwel: an acclaimed software development firm with 7+ years of experience and global R&D centers. As Romania's leading IT outsourcing company, their team comprises 500+ skilled experts ready to bring any project idea to life.
Nexwel handles the complete software development cycle, from discovery and UI/UX design to building and maintaining fully functional digital products. All this is accompanied by a customer-centric approach, fostering long-term collaboration.
Their impressive expertise ranges from web & mobile, embedded software, NFT, big data, and game development to product design, QA, and IT support. Harnessing advanced technology, extensive experience, and diverse skill sets, the Newxel team thrives on projects of any size, industry, and complexity.
Newxel has empowered 100+ clients, propelling their IT growth with bespoke digital products aligned with their unique business objectives. Get started with this best-in-class agency in just 1 to 5 weeks from initial contact, and gain a trusted partner in Romania that shares your business culture and values.
Services and expertise: s

oftware development and consulting, UI/UX design, QA and testing, NFT and blockchain development, big data engineering, game development, cybersecurity, AI and ML systems, computer vision

Tech stack:

Java, .NET, C++, React, React Native, Flutter, PHP, Python, AWS, Solidity, Unity, etc.

Industries:

Media and Entertainment, Gaming, BioTech, MedTech, Ecology, FinTech, MarTech, Healthcare, eCommerce, etc.

Team size: 5

00+ experts

Portfolio: 

Openpay, Anadot, Zasio, Cyrex, Grover, Firebolt, Intel, Walnut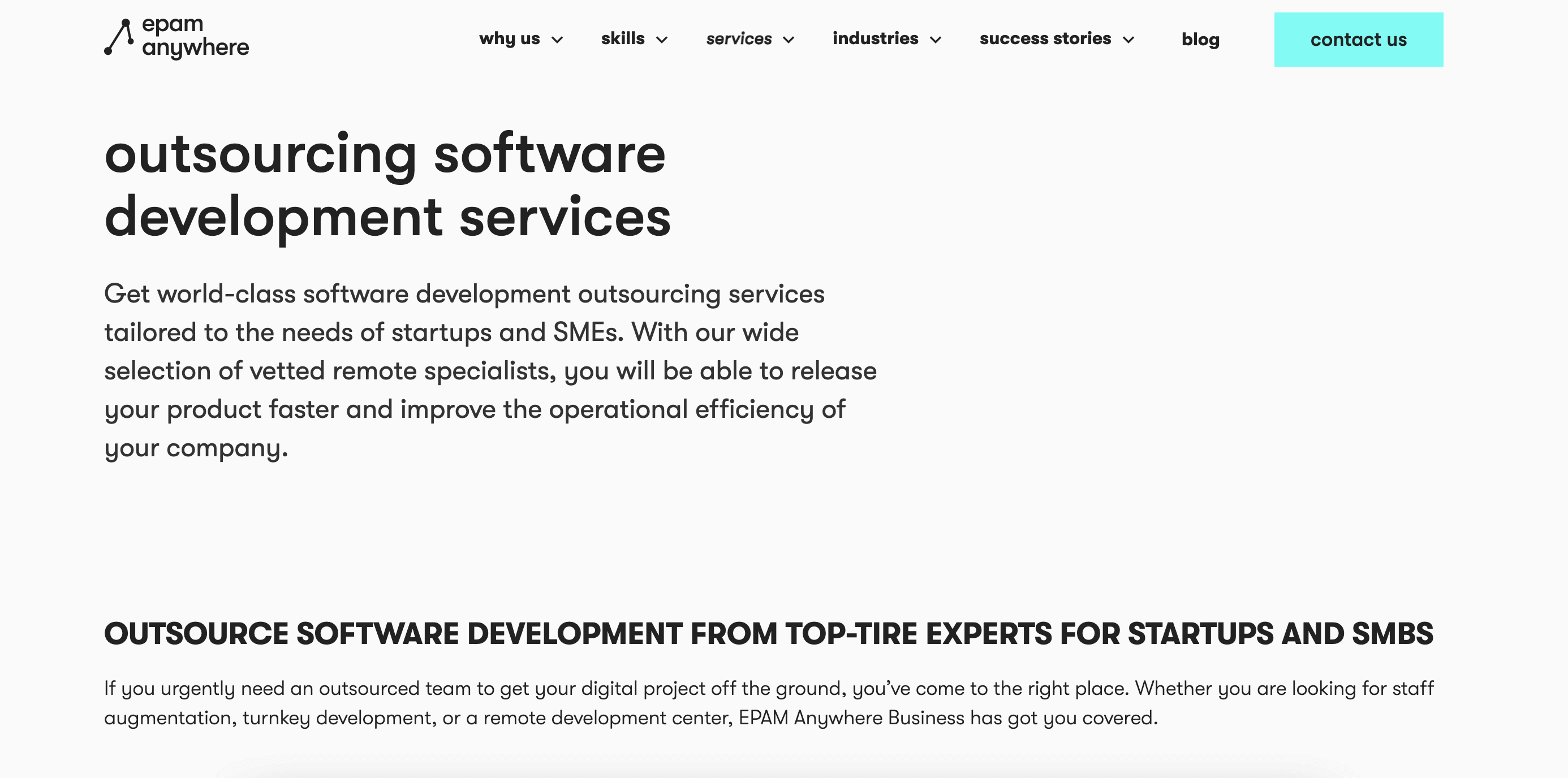 Do you want to improve the operational efficiency of your organization? Pair up with Epam Anywhere and hire the best IT outsourcing consulting firm to level up your digital products. This premiere company has created impactful solutions for some of the top Fortune 500 companies, delivering world-class services at lightning speed. 
Equipped with a team of top-level professionals, Epam Anywhere is the perfect destination for companies looking to release their projects faster and with more impact.  
Services and expertise:

outsourcing software development,

p

roduct prototyping, software testing, custom software development, cybersecurity, DevOps services, UX/UI design

Tech stack:

C#, Ruby, Angular, React, MongoDB, MySQL, Java, Kotlin, Flutter, React Native, Firebase, Coredata, etc.

Industries: 

Fintech, Healthcare, eCommerce, Travel and Hospitality, Retail, Media and Entertainment, Telecom, Automotive and Manufacturing, etc.  

Team size:

5000+ experts

Portfolio: 

Fort Point Beer Company, Inigo, Riskified, ImageNPay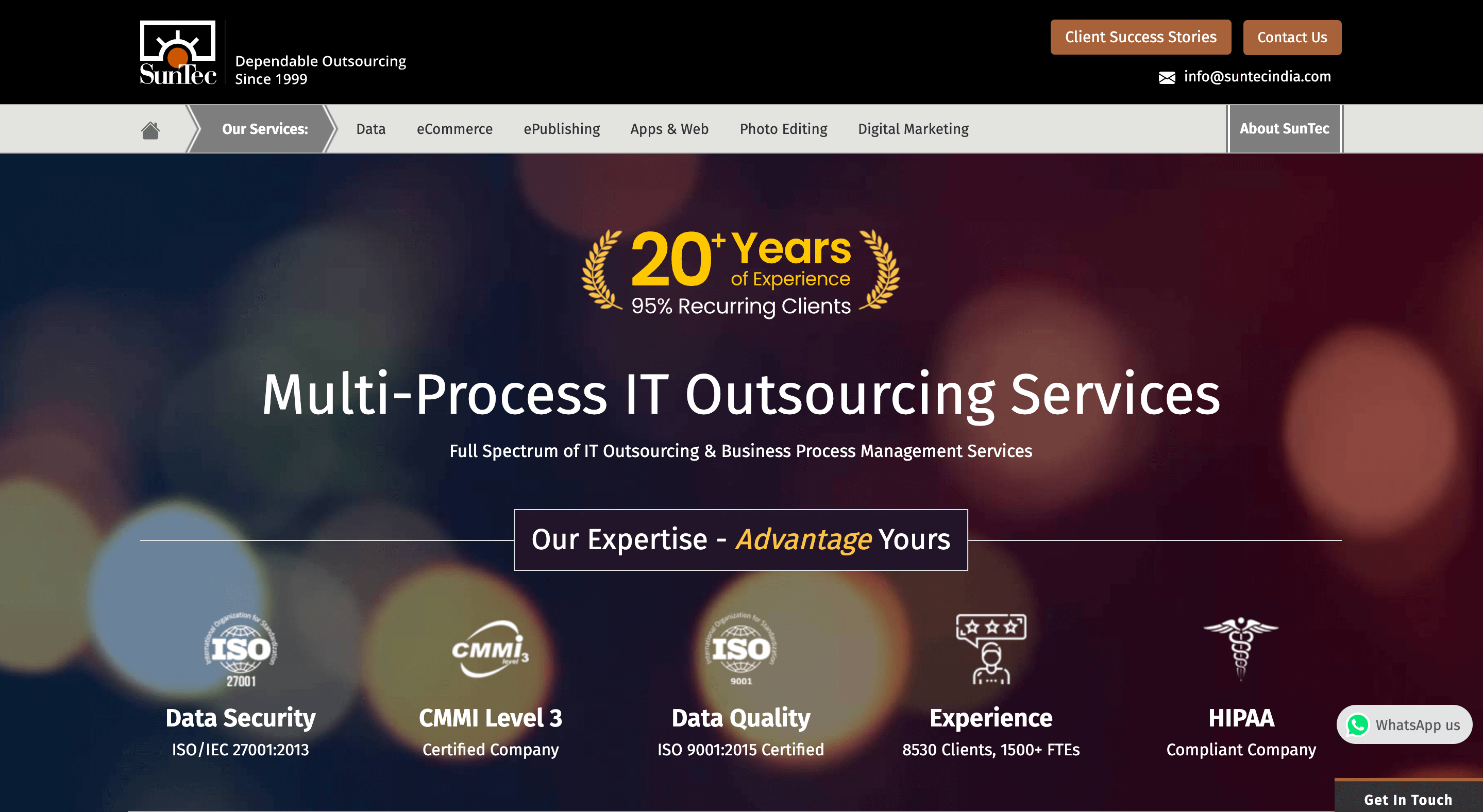 Established in 1999, SunTec India has emerged as a trusted and dependable service provider in the IT and BPO industry, catering to businesses worldwide. Comprising a proficient team of professionals, subject matter experts, and quality analysts, the company consistently strives for excellence in all its endeavors. Its quality and compliance accreditations include CMMI Level 3, HIPAA, ISO/IEC 27001:2013, and ISO 9001:2015 certifications. So far, SunTec India has catered to 8530+ clients worldwide.
Leveraging cutting-edge technology, extensive industry experience, and expertise, their team thrives on projects of any magnitude, spanning various industries and complexities.
Services and expertise: data support, eCommerce support, web and app development, photo editing, digital marketing, business process outsourcing (BPO)
Tech stack: React, Angular, JavaScript, Flutter, PHP, Python, React Native, etc.
Industries: Healthcare, eCommerce, Real Estate, Travel, Retail, Media and Entertainment, Education, Administration, and Publishing, among others
Team size: 1500+ experts
Portfolio: Bose, Byju's, Pepsico, UNICEF, Pearson, DXL, Panasonic, Nielsen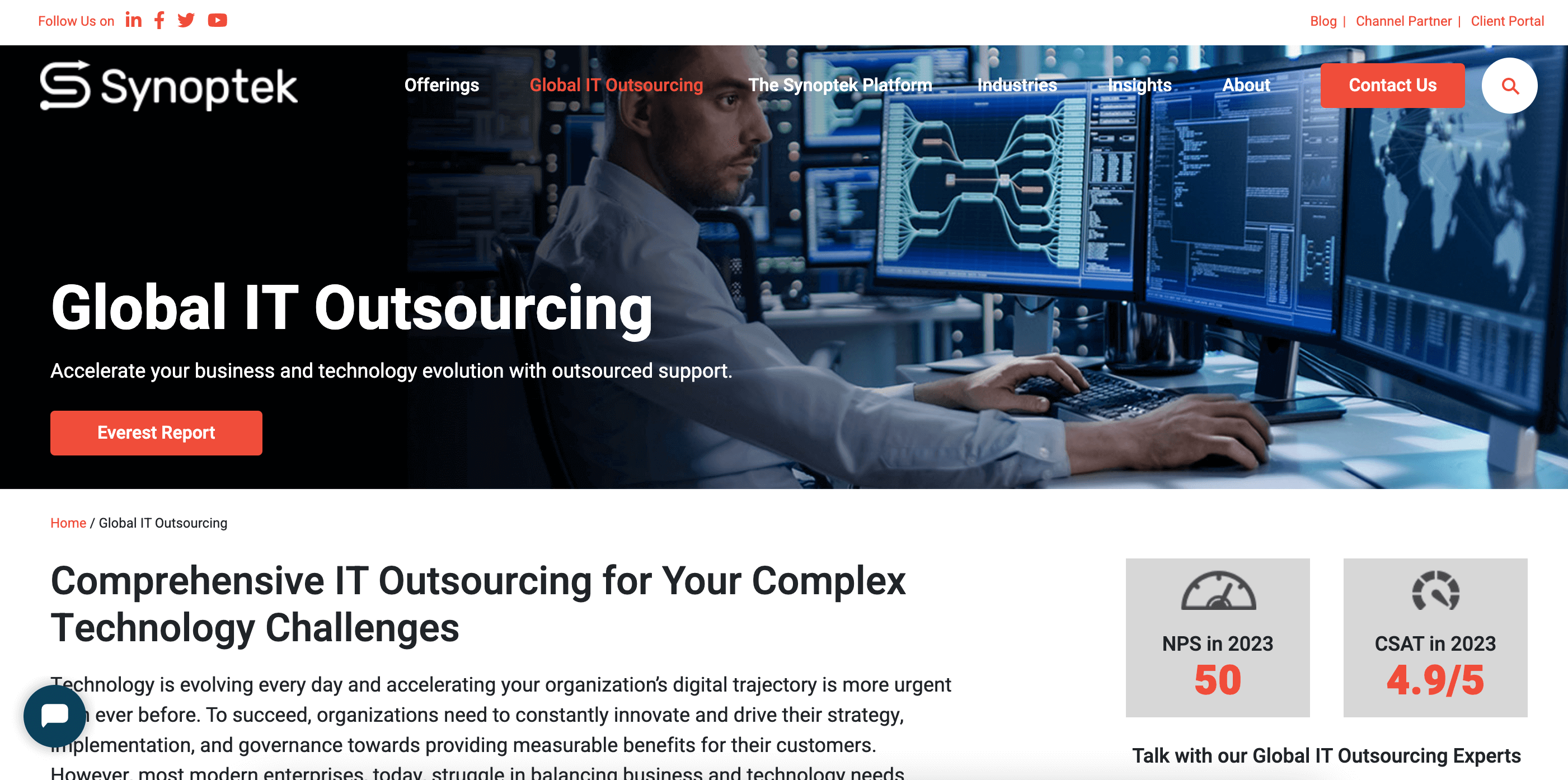 Synoptek is a comprehensive IT outsourcing services company providing full-fledged software development services to help businesses run smoothly, achieve their goals, and handle the most challenging tasks.
The firm collaborates with you following three phases – Envision, Transform, and Evolve – customizing its scope of services according to the short-term and long-term objectives.
Being an award-winning IT agency and a trusted advisor, Synoptek is the right choice if you wish to shape your business offerings and retain customers. 
Services and expertise: c

ustomer experience services, business-driven technology strategy and planning, technology consulting services, program and project management, retained CIO and CTO services, M&A consulting, planning and post-merger integration

Tech stack:

Microsoft Azure, JavaScript, Java, Polyfill, HTML, VB.NET, etc.

Industries: 

Financial Services, Healthcare, Manufacturing and Distribution, Media and Entertainment, Non-profit, Retail, Education, etc. 

Team size:

5000+ experts

Portfolio: 

Audited Media, Champion Home Exteriors, ACF Technologies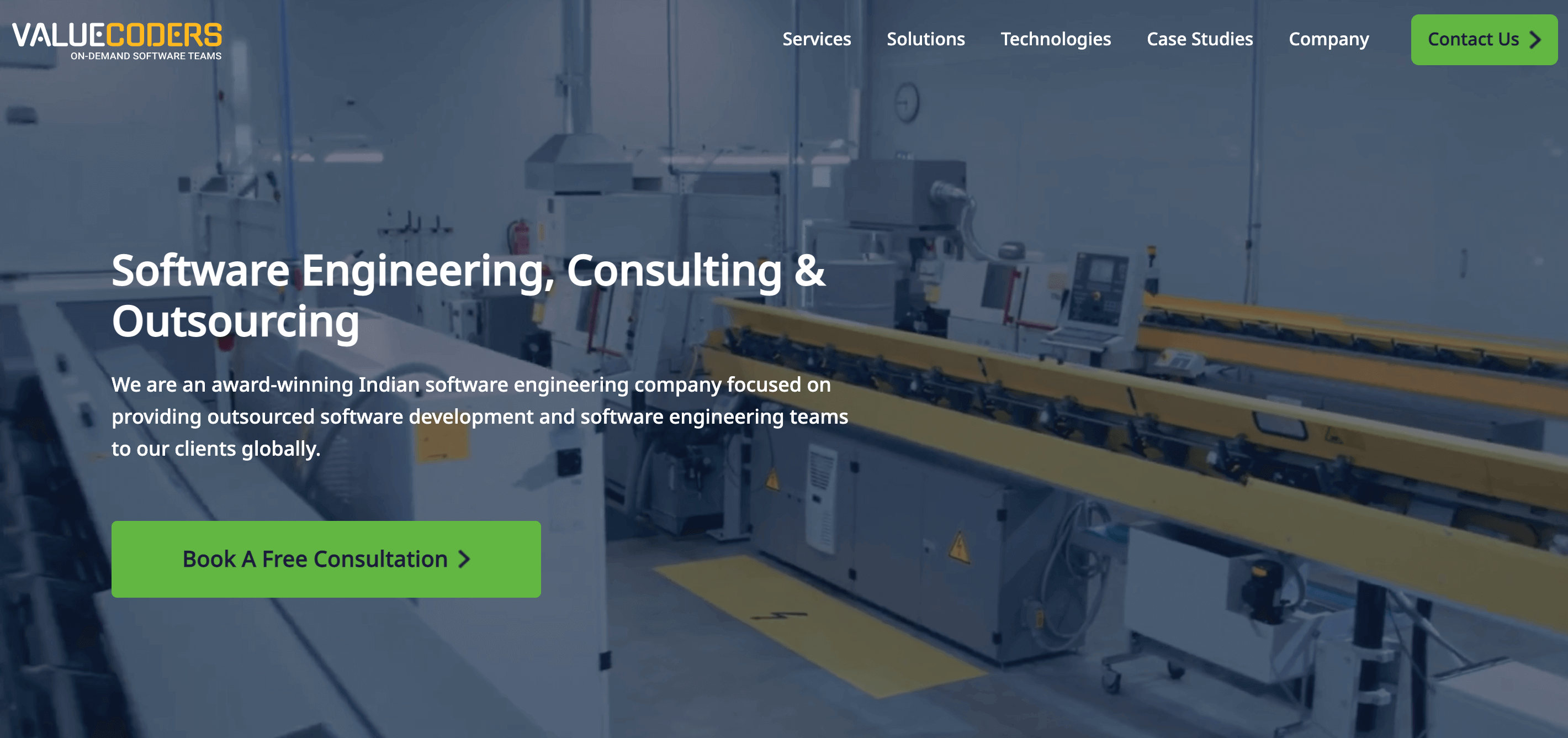 Attention all startup owners and medium-sized business professionals! ValueCoders is with its exceptionally talented and knowledgeable professionals to deliver high-quality software solutions to channel your business on the right path. 
Based in India, this ambitious team believes in the values of respect, authenticity, leadership, and providing exceptional service to its customers. Operating in the industry for the last 18 years, ValueCoders is different from all other IT project outsourcing companies because of its undying spirit and wholehearted dedication to its work. 
Services and expertise: s

oftware product engineering, application development, analytics and DevOps, QA & testing

Tech stack:

Android, Java, React, WordPress, Node, Python, React Native, Drupal, Flutter, etc.

Industries: 

Healthcare, Travel and Tourism, Banking and Financial Services, Fintech, Media and Entertainment, Automotive, eCommerce, etc. 

Team size:

450+ experts

Portfolio: 

Yale University, Dubai Police, Panasonic, Infosys, MasterChef, World Health Organization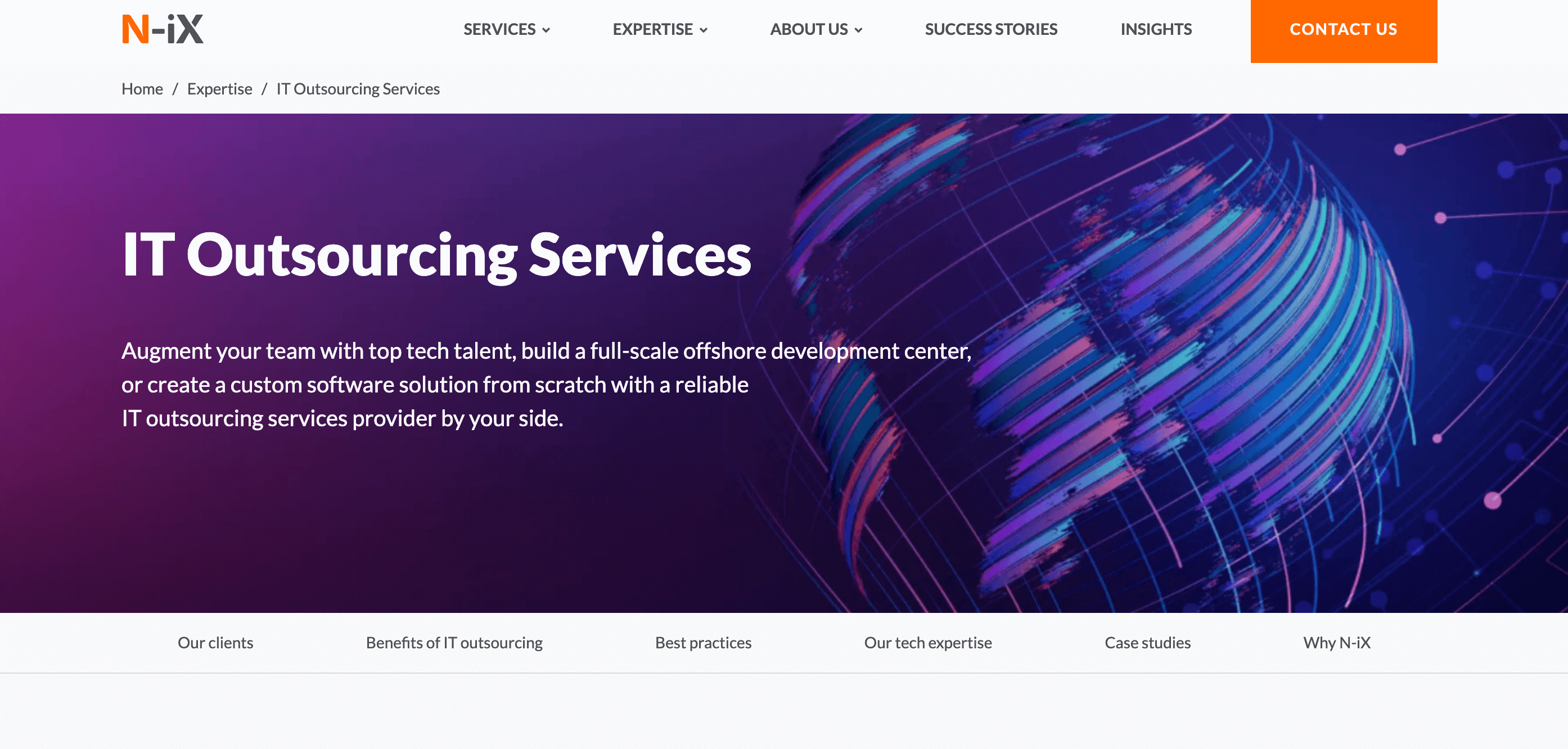 A trusted IT outsourcing agency defining the future of business and digitization, N-iX has been operating for more than 20 years in the industry. It's the top-notch provider of global software solutions services, helping its clients tackle any challenge related to applying IoT, machine learning, data analytics, etc. 
Since its inception in 2002, the company has offered excellent services to leading organizations while deepening its technical expertise and continuing a global expansion across 25 locations. 
Services and expertise: te

am extension, custom software development, technology consulting, offshore/nearshore software development, project outsourcing

Tech stack:

HTML, PHP, Python, JavaScript, .Net, ava, Google Analytics, jQuery, etc.

Industries: 

Manufacturing, Fintech, Retail, Supply Chain, Telecom, Automotive, etc. 

Team size:

2000+ experts

Portfolio: 

Lebara, OVO Energy, Seeking Alpha, Tune In, AVL, Fluke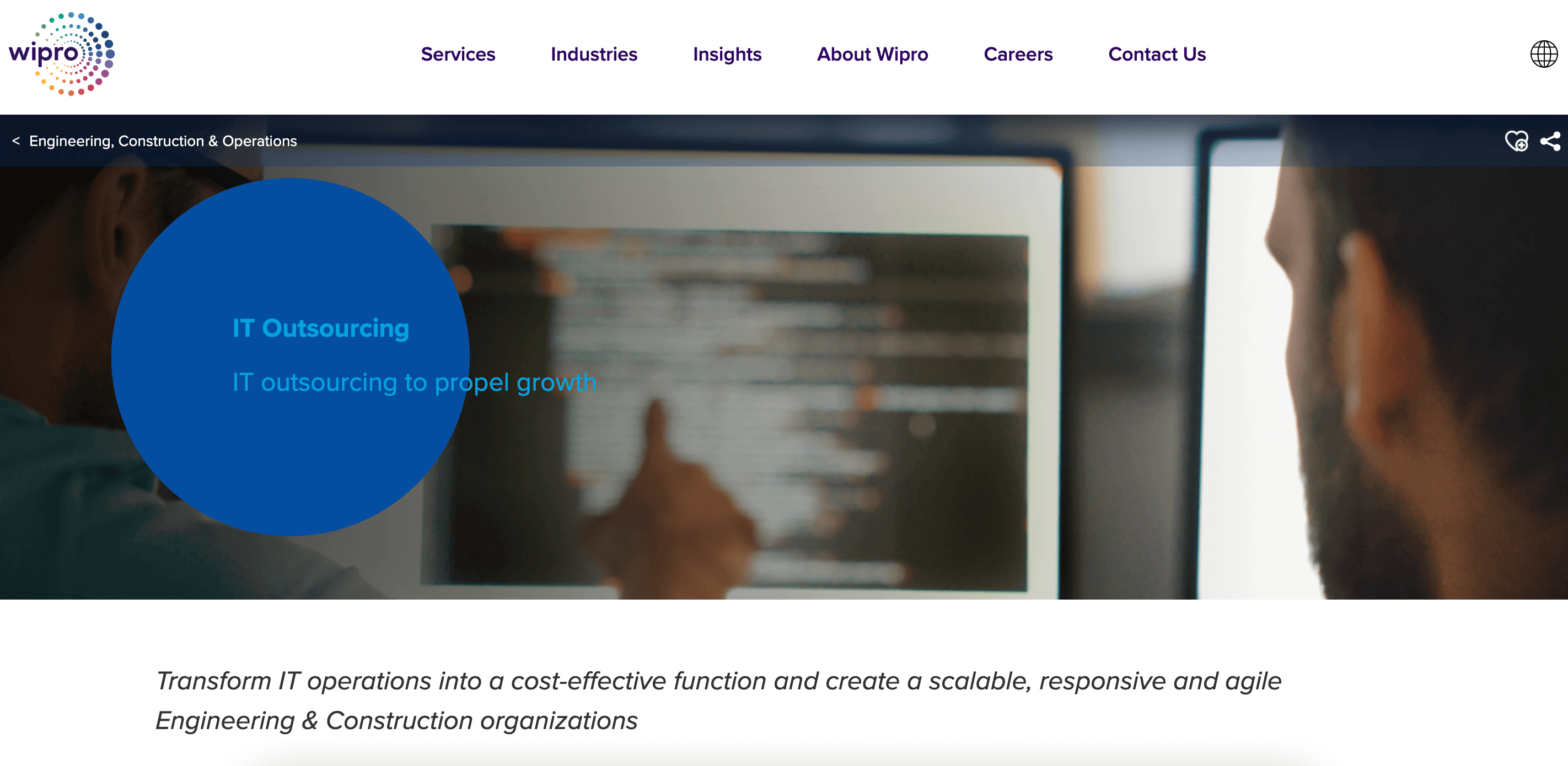 Offering best-in-class IT experts, Wipro fuses new technologies with profitable business models to create a complete transformation for its clients. They deliver integrated strategies and apply appropriate digital technologies, including cloud, automation, and artificial intelligence, to help businesses unlock their hidden potential. 
With Wipro's superior team of consulting and business growth professionals, you can ultimately build a customer-first business.
Services and expertise: IT c

onsulting, business application services, software application management, business process outsourcing

Tech stack:

SAP, Oracle, Apple iOS, Altair HyperGraph, Hotjar

Industries: 

Banking, Manufacturing, Communications, Engineering and Construction, Retail, Utilities, etc. 

Team size:

10000+ experts

Portfolio: 

Intel Corporation, Telenor ASA, Lenovo Group Ltd., Vodafone Group Plc, Mitie Group Plc
Conclusion
Hiring an IT outsourcing company can yield multiple positive results for your business. With the continuous expansion of the online world, taking care of your digital transformation is vital. Hope this article helps you out in finding the best IT consulting and development partner. 
If you want to add your IT outsourcing company to this list, share your details through email. After a quick review, we'll decide whether it's a valuable addition.