Poland is home to over 50,000 software development companies providing a wide spectrum of IT services, including staff augmentation, which makes it one of the top outsourcing destinations in Central Europe.
Software development and staff augmentation in Poland have snowballed over the past decades. The Polish engineers are among the most highly skilled IT staff around the globe, which is one reason big names like Microsoft and Google prefer outsourcing here. What's more, hiring Polish engineers is also a cost-efficient option compared to working with developers from the UK or US. 
The above reasons depict why you should consider IT staff augmentation services in Poland for your next project.
The best Polish software development companies are ready to provide you with their first-grade IT specialists (developers, designers, product managers, backend office) to close your skills gaps or meet tight deadlines, ultimately driving your business growth. 
To help you find the best dev partner, we have compiled a list of the top IT staff augmentation companies in Poland. Get exceptional service tailored to your demands and key objectives!
The Best IT Staff Augmentation Companies In Poland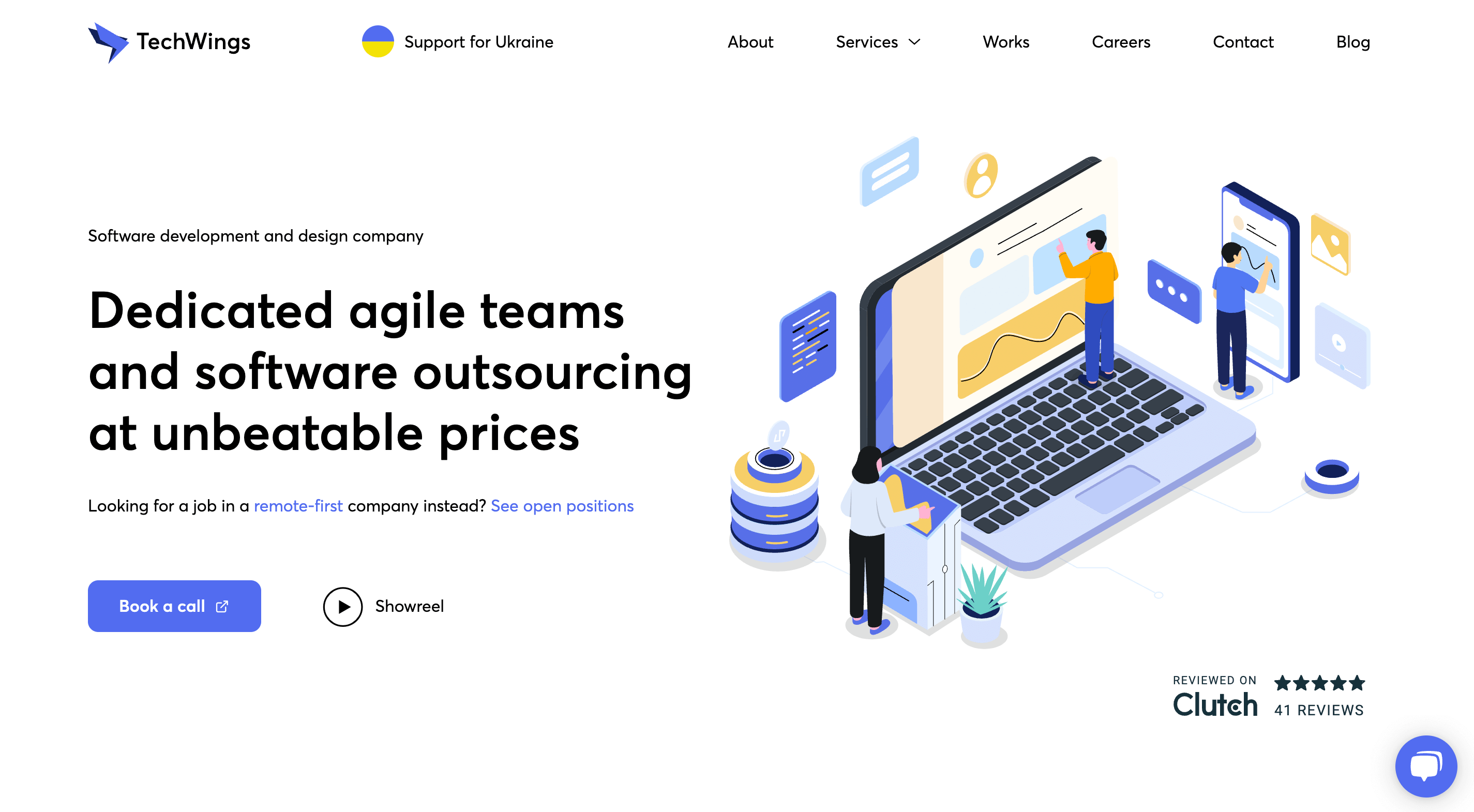 TechWings is a leading IT staff augmentation company in Poland offering a prominent pool of top-notch IT experts and extensive expertise to help customers build modern high-performance products from scratch or upgrade current software. 
Launched in 2016, the company has already delivered over 150 projects to international clients. With 33 industry awards and expertise in AdTech, EdTech, InsurTech, Retail, and other industries, their multidisciplinary team can implement even the most complex project idea and deliver outstanding results, hired independently or working in sync with your in-house developers.
Whether you're a startup or an enterprise, feel free to get assistance from TechWIngs' experts to close skill gaps and meet tight deadlines. Having over 80% of senior engineers in its team, TechWings can become your trusted partner to extend your development team and help you achieve your crucial goals under your supervision. 
Choosing TechWings will help you stay on your road map, obtaining efficient results while eliminating unnecessary costs. Experience the potential power of your cooperation and test their staff augmentation services during a 2-week trial period.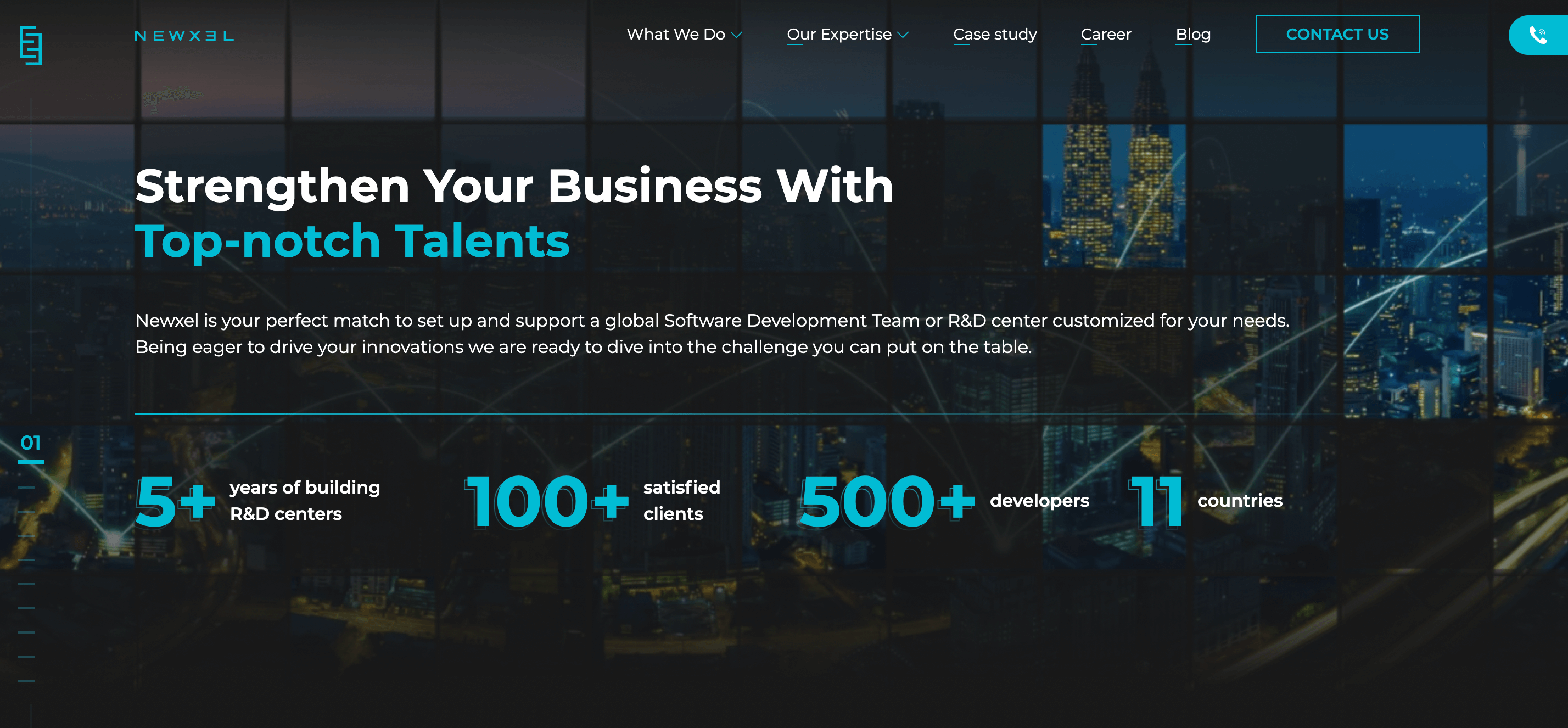 Newxel is a reliable and committed staff augmentation partner, ready to cover you with the best IT talents from Poland, other European countries, and the USA. Offering the best-in-class software engineering team, the company assists both startups and enterprises in scaling up and accelerating their business. 
Founded in 2016, Newxel has acquired vast expertise and over 500 experienced developers on board to deliver tailor-made solutions for the company's specific needs and work as an extension to their in-house development teams. 
The range of services they offer impresses: web and mobile development, embedded software, NFT, Big Data, and game development, as well as product design, QA, and IT support.
Having dedicated tech experts with comprehensive skill sets, Newxel will provide you with a top-level IT staff augmentation team that will deliver impactful digital products according to your requirements, business goals, and vision.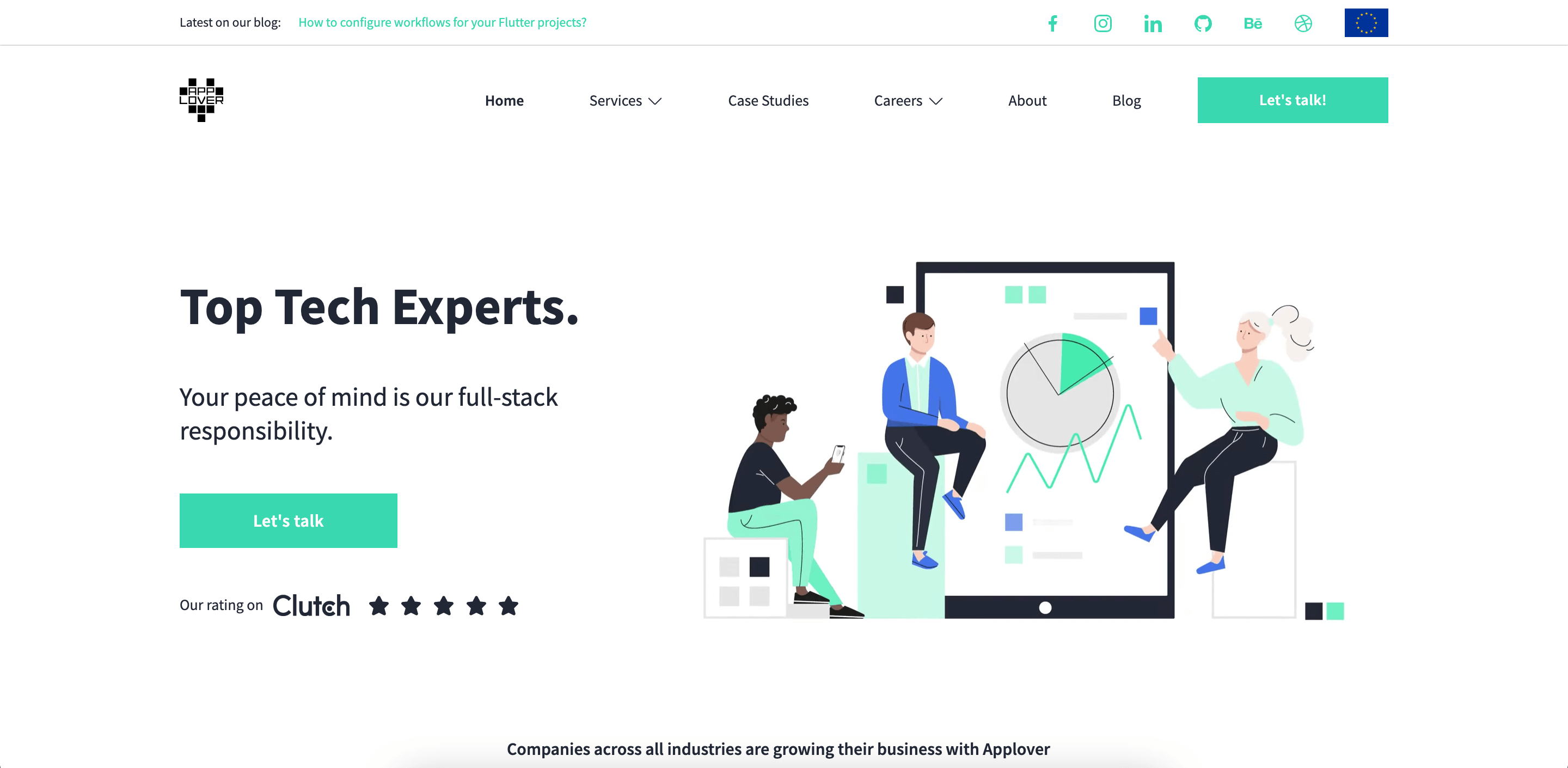 Applover is a full-stack software development agency based in Wroclaw, Poland. It was founded in 2016 and now has over 120 specialists who have so far developed more than 180 projects. Applover was also recognized as a Rising Star (Fast 50 Tech) in the CEE region by Deloitte in 2019.
The company serves clients within various industries – Fintech, Medtech, Ecommerce, Marketing, Entertainment, Education, and B2B services. They've cooperated with such noble clients as Nokia, Callpage, Letty, Slock.it, Ticketing.co, and many more.
Applover's team specializes in developing high-performance software solutions, including comprehensive mobile and web apps and websites. Their tech stack comprises Flutter, Swift(iOS), Kotlin/Java (Android), React Native for mobile development, and React.js, Angular, Vue.js, JavaScript, and Typescript for web development. They also use Ruby on Rails, Python, .NET, C#, and WordPress for website development.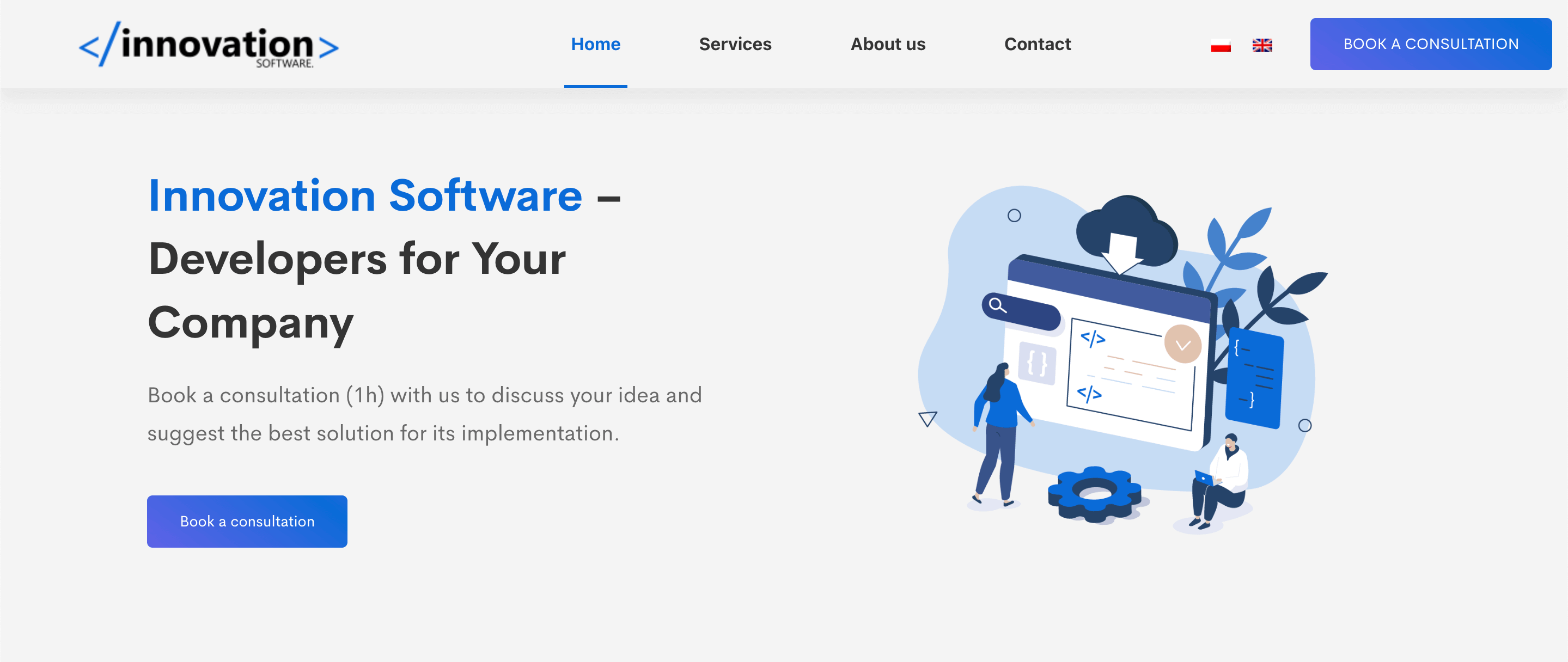 Innovation Software is among the top companies providing software development and staff augmentation services in Poland. They've been in the market for over six years now and have delivered hundreds of prominent projects. 
They specialize in developing web and sales platforms, web applications, mobile applications, and other types of custom software. In addition, they build and maintain e-commerce stores as well as deliver specialized solutions for Woocommerce, Prestashop, and Sylius. 
Innovation Software will reinforce your business by providing team extension services, be it the allocation of individual programmers or dedicated teams.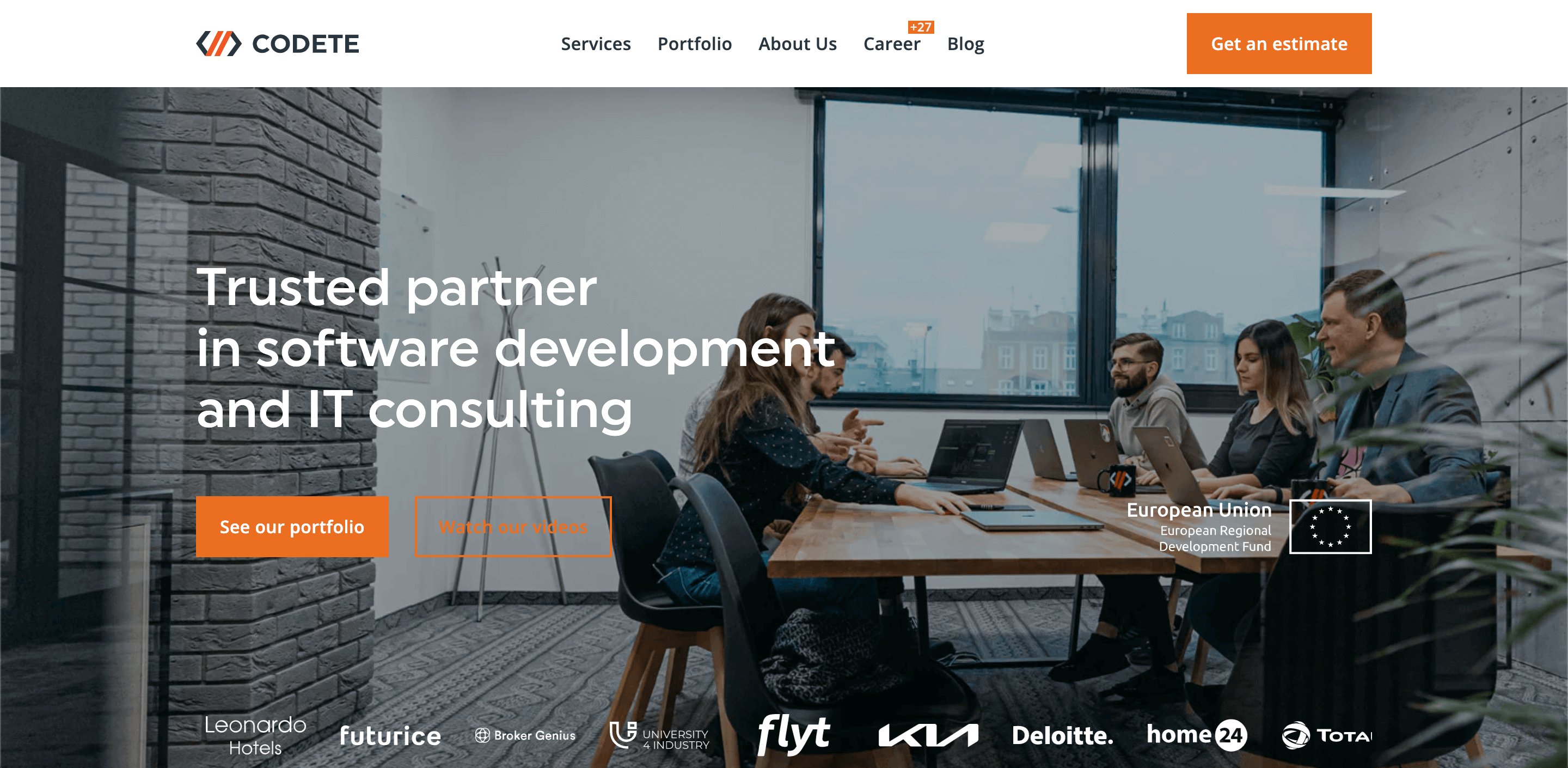 Codete is a top-rated IT consulting and software development agency based in Krakow, Poland. It was founded in 2010 and opened an office in Germany. Since the foundation, they have acquired over 350 talented employees and have more than 120 projects in their portfolio.
Augmenting an in-house development team with dedicated engineers is the perfect solution for companies that don't have time to hire and train employees independently. And that's where Codete comes in! Their specialists provide end-to-end product development services, starting from research and consultation to production and launch, followed by support and maintenance. They possess expertise in the latest technologies, such as Python, Java, .NET, JavaScript, Ruby on Rails, Swift, Kotlin, and PHP, as well as machine learning, blockchain, data science, and cloud computing.
The industries Codete works with include Automotive, Financial Services, Hospitality & Leisure, E-commerce, and Education.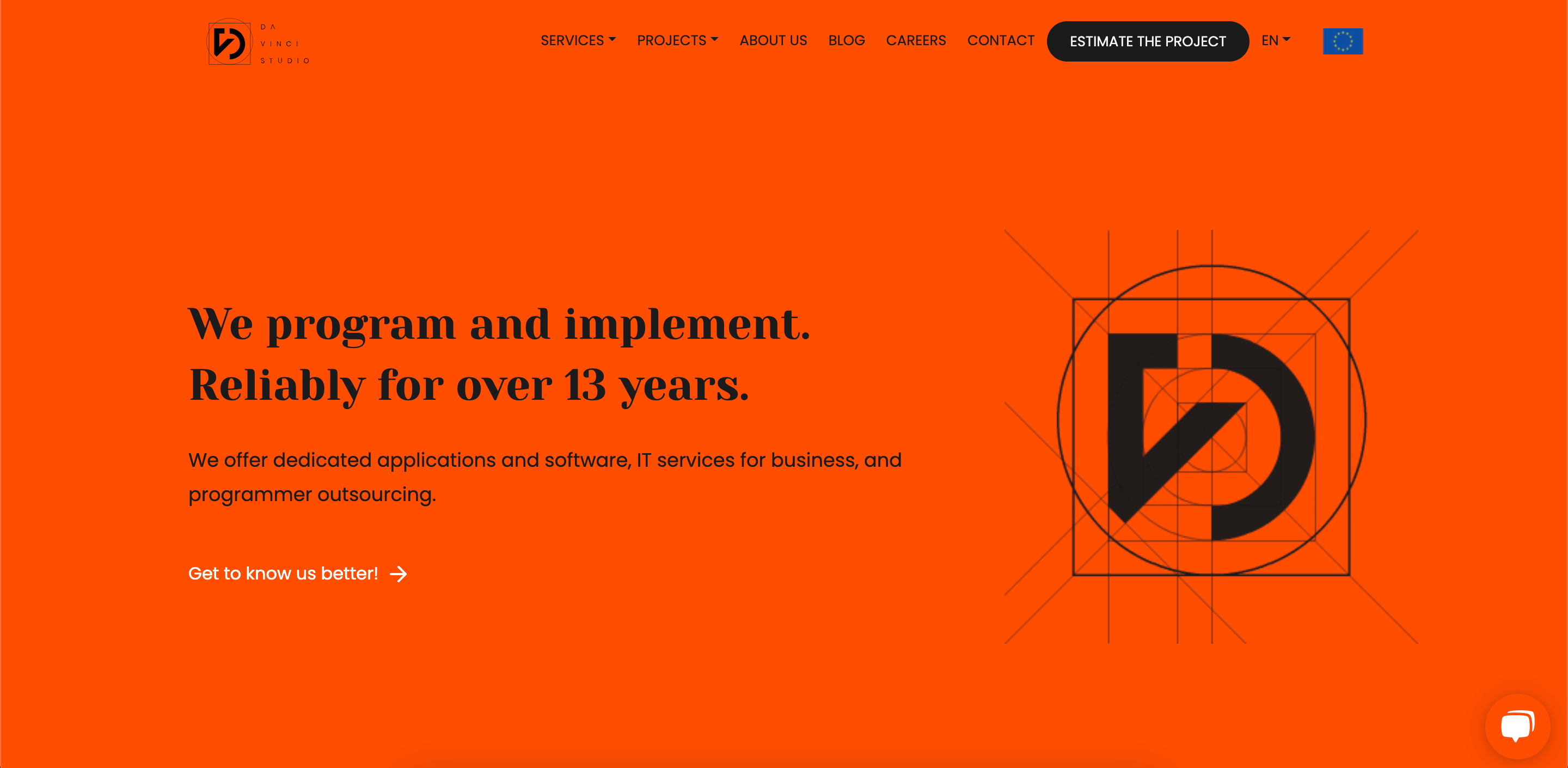 Da Vinci Studio is a famous software development house specializing in the agile development of web and mobile applications. Founded in 2009, the company has served over 230 clients and has delivered more than 850 projects. Some of the big names that Da Vinci Studio has worked with include Citroen, Decathlon, Gillette, Intel, Ford, and Microsoft.
They offer top-notch staff augmentation services, extending the teams of startups and enterprises.
Da Vinci Studio implements web and mobile apps powered by machine learning and covers eCommerce projects. To create high-performance web applications, they use AWS, Kubernetes, Docker, GraphQL, Rest API, PWA, Python, PHP, TS, Symfony, React.js, and Angular.
See how their programmers deeply understand your company's values and demands and provide you with the best possible results.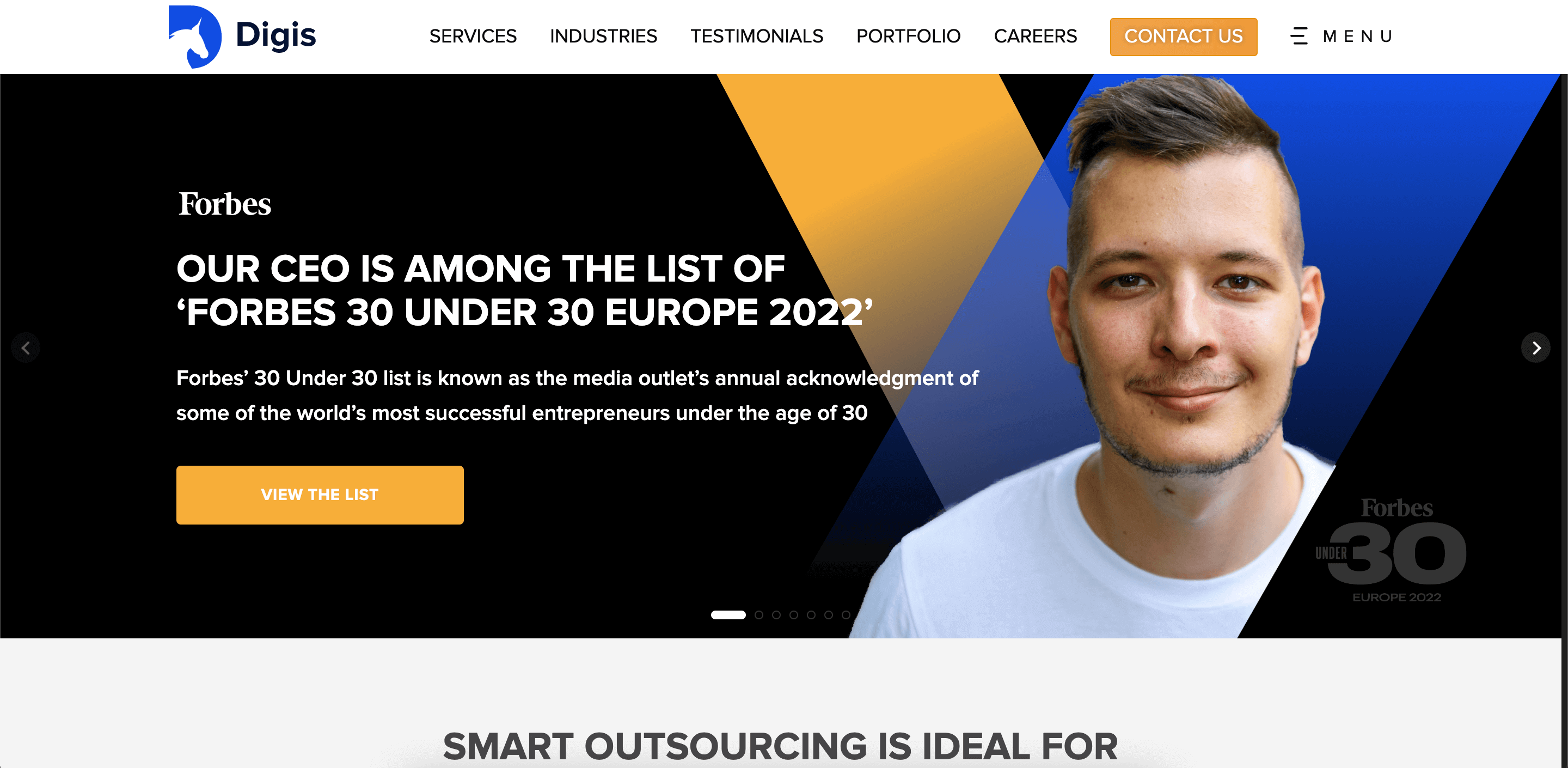 Digis has been offering smart outsourcing, team extension, and staff augmentation in Poland since 2015. With over 150+ specialists, they serve clients in the fields of software development, web and mobile development, and design.
Digis possesses rich expertise in Healthcare, Fintech, Mobility & Transportation, and Education. Their experts majorly use PHP, Javascript, Ruby, AngularJS, NodeJS, ReactJS, and Laravel. 
The founder of Digis, Nick Nagatkin, has also been featured in Forbes 30 under 30 Europe 2022.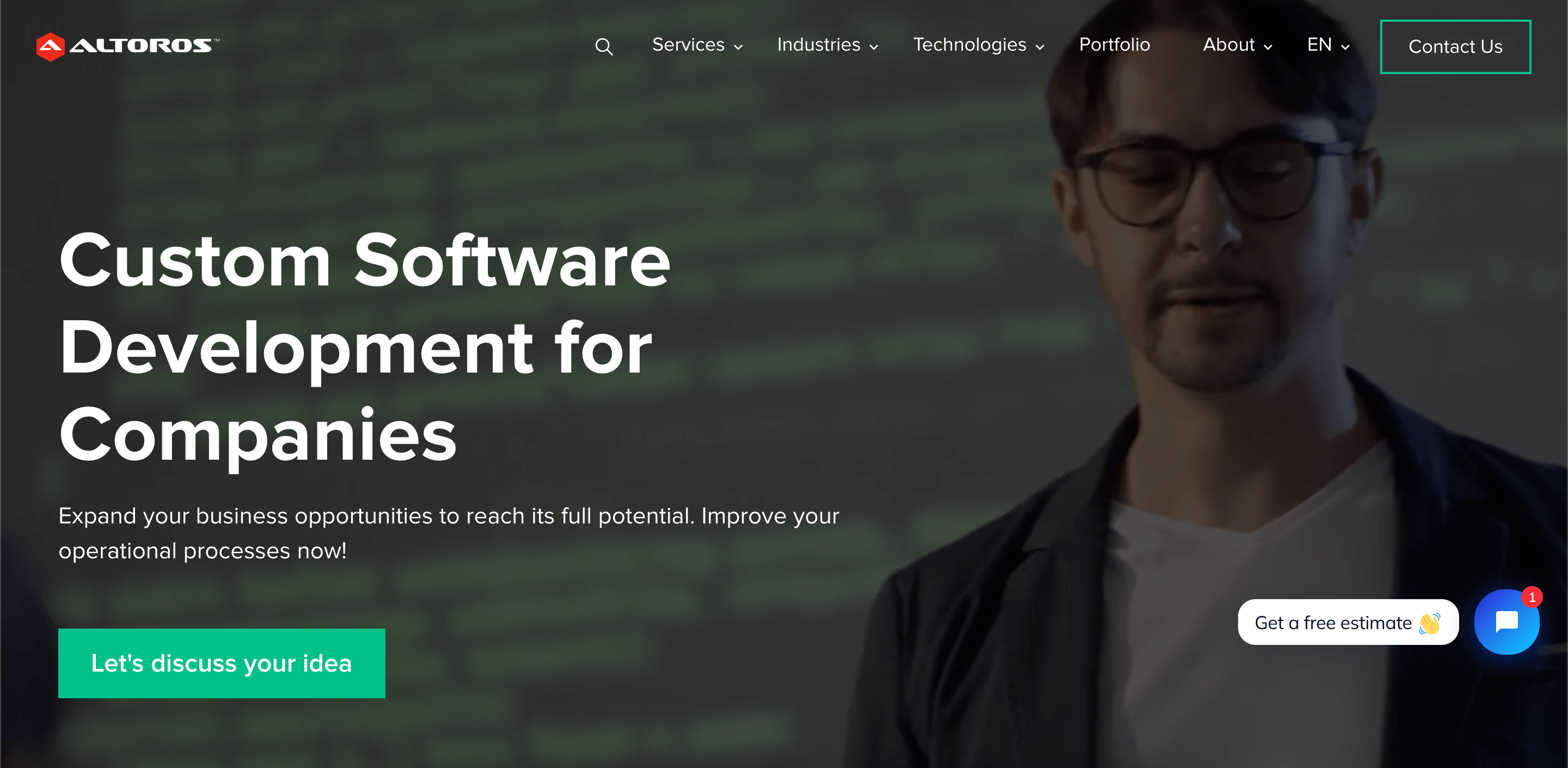 Altoros is a team of 400+ professionals helping global organizations with software development and digital transformation. They also assist organizations struggling with hiring engineers by providing staff augmentation services tailored to their business needs.
The pool of tech experts at Altoros includes software engineers, QA specialists, data scientists, designers, and project managers entirely focused on your business goals. They offer cloud-native development, technology consulting, custom blockchain solutions, and AI and ML solutions. 
Altoros' programmers use C#, .NET, and Java. Other elements of their tech stack include Ruby on Rails, AngularJS, ReactJS, JavaScript, etc.
The company mainly caters to Medical and Financial services.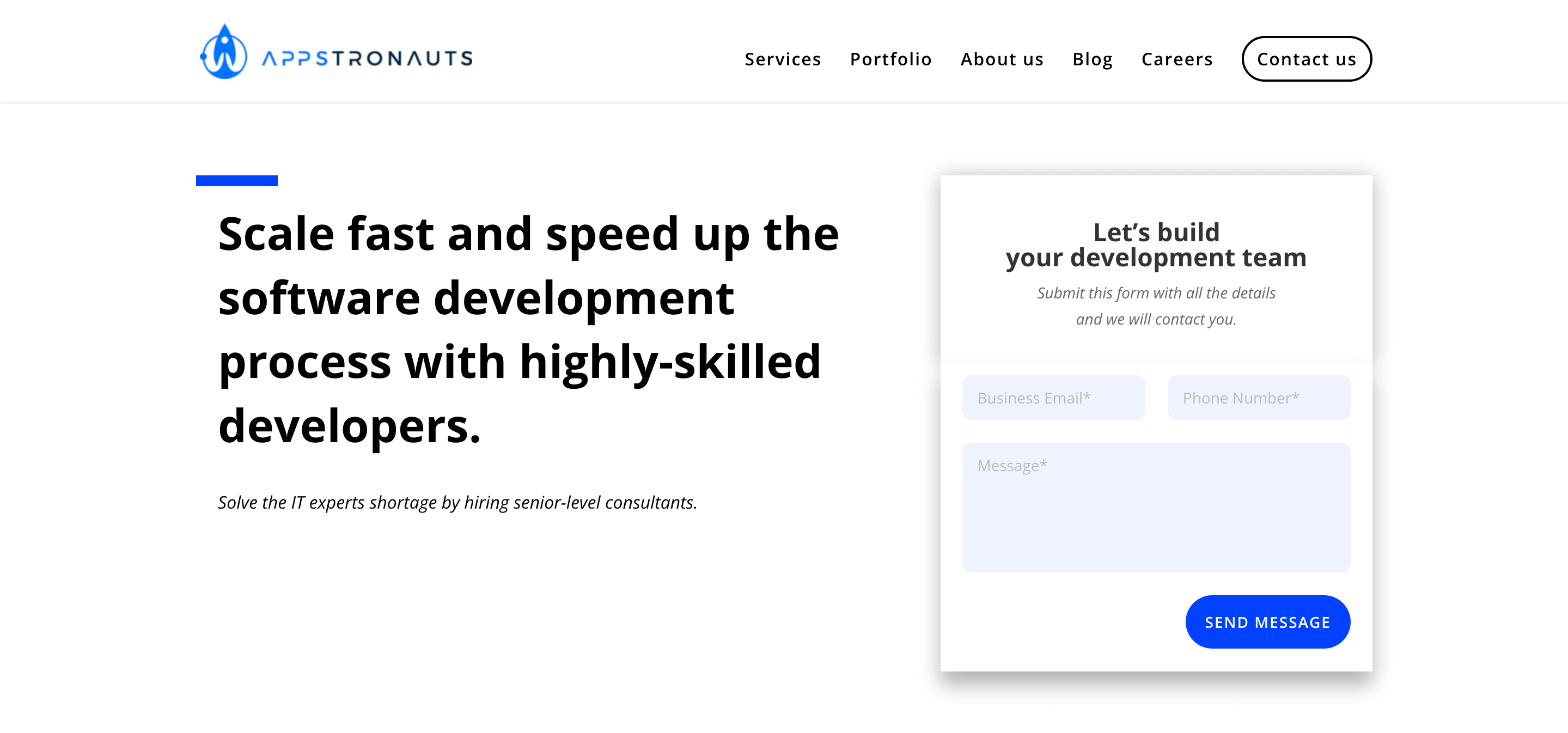 Appstronauts is one of the best IT outstaffing companies in Poland, providing top-grade IT experts and consultants to accelerate clients' development processes. With Appstronauts, you can expect to take your product to market within 3 weeks instead of 3 months.
Their experts work with various industries; IT, Business services, Medical, Retail, Logistics & Supply chain, Telecommunication, and E-commerce are some to mention. 
Their tech stack majorly consists of .NET, AngularJS, ReactJS,ASP.NET, C#, JavaScript, Objective C, Swift, Python, SQL, and other programming languages and technologies.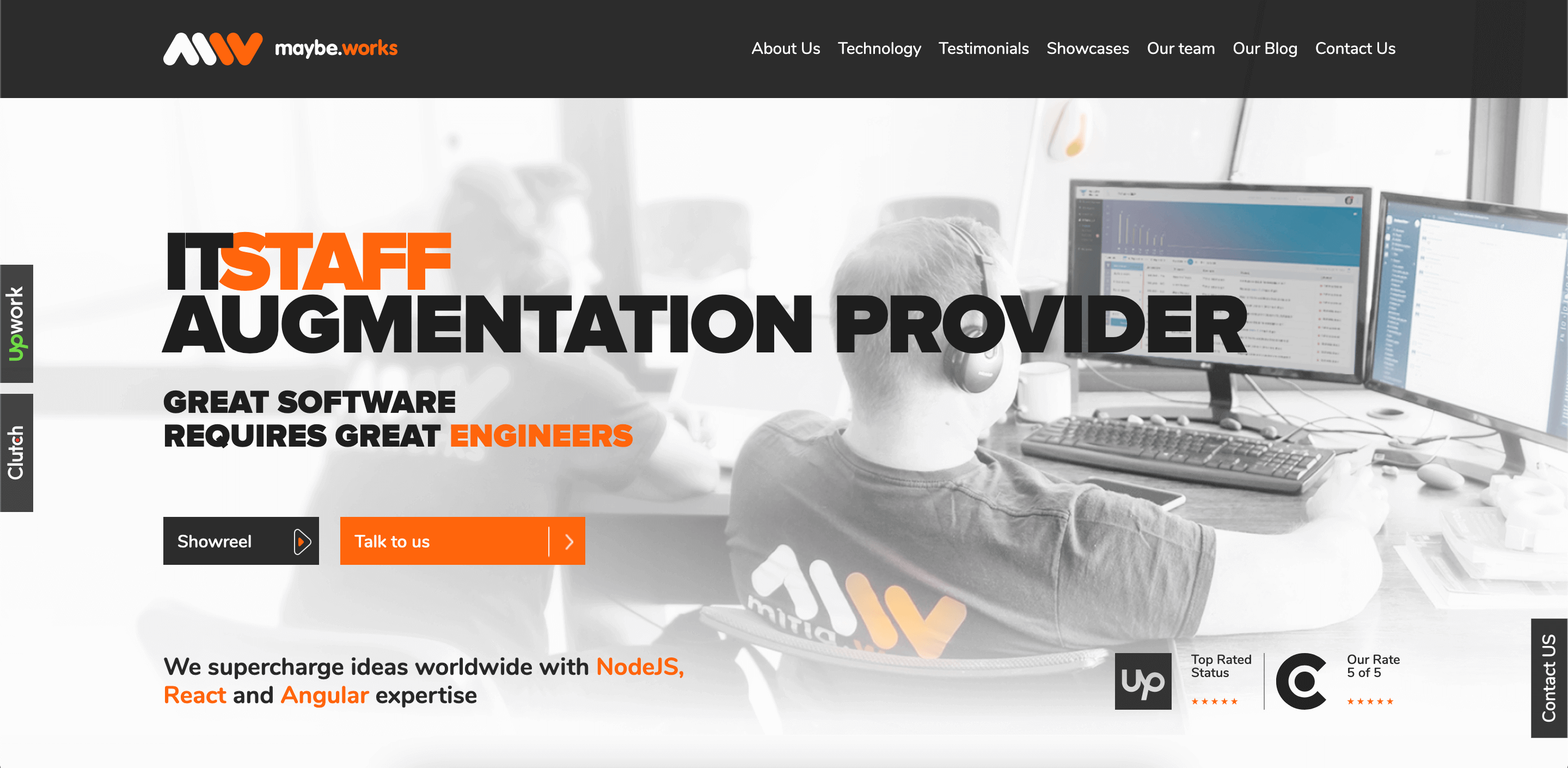 MaybeWorks is one of the most reliable IT outstaffing companies in Poland, having over 50 full-stack developers on board. They've been helping tech startups, and well-established businesses build great and efficient IT teams for the last ten years.
Their key area of expertise is web development, specializing in such technologies as NodeJS, Angular, and React. Some other services and solutions they offer are database management, Google Services, DevOps, SQL, and NoSQL. MaybeWorks primarily targets the Arts, Entertainment, Business services, and Consumer Services industries.
Thus, if you are a startup founder, a CTO, or a product manager struggling with talent shortages and looking to augment your in-house development team with top-notch engineers, MaybeWorks is the outstaffing company you can rely on.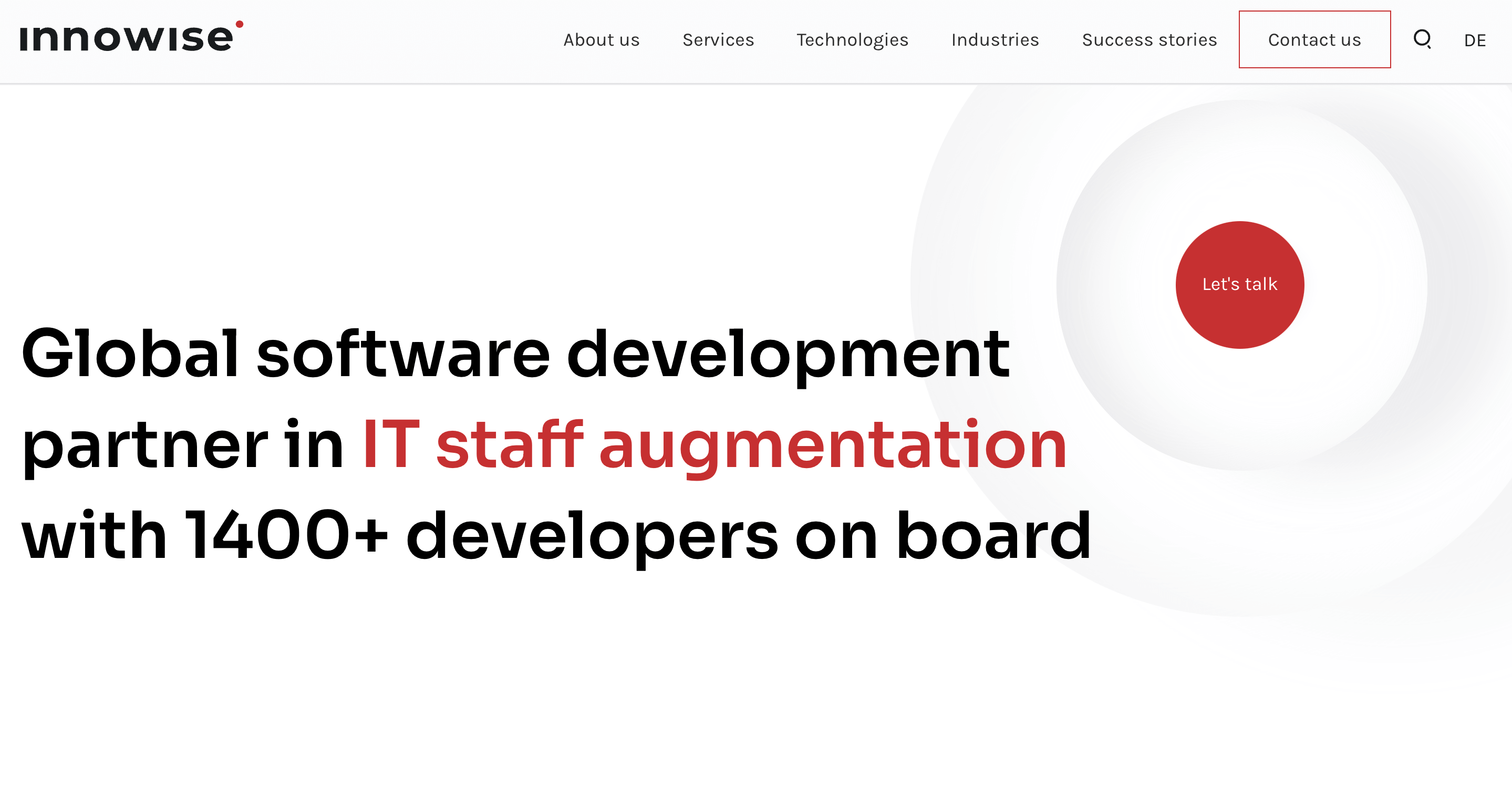 Innowise Group is a leading international full-cycle software development company providing exclusive services across the globe and particularly in Europe. They have been offering IT outsourcing and staff augmentation services since 2007 and have grown to more than 1400 members to date.
Innowise Group offers IT staff augmentation, dedicated teams, custom software development, IT audit and consulting, web & mobile development, UI/UX designing, and quality assurance. 
The company provides various experts ranging from back-end and front-end developers, mobile developers, and QA engineers to business analysts, DevOps specialists, UI/UX designers, project managers, and more. Their top-grade developers work with technologies such as Java, .NET, C#, PHP, Node.js, Python, Ruby, ReactJS, Angular, Swift, Kotlin, React Native, Xamarin, and so on.
Conclusion
IT staff augmentation offers many benefits. It reduces the involvement and responsibilities of the owner in the recruiting process, is more cost-effective than managed delivery, helps cover talent shortages, and accelerates project delivery time. Thus, you get a chance to concentrate on your core business tasks rather than controlling software development services.
Finding a reliable and trusted IT partner to close the skills gaps and meet your business goals quickly is crucial. We hope this list comprising some of the best IT staff augmentation services in Poland helps you make a winning decision.
Feel free to email us about a company that can grab a spot on this list. We will feature it if it meets the parameters of a superior IT outstaffing service provider.